LCRK 2x2 Relay - Sun 17th Dec 2023 (Event Organisers: Caroline and Wade)
It is on again. One last blast before Christmas. It is a lot of fun so why not give it a go. Family teams welcome.
Enter a team of 2 boats, singles or doubles or combo. Each team boat does 4 alternate laps x 2km. That makes it 8 laps per team. You will be surprised how tiring the 4 laps can be. First team boats need to be ready to start at 7:45am. Lap change overs is from a standing start.
This months theme is Christmas of course. Please enter by sending an email to lcrkers@gmail.com and give your team name a Christmas theme.
Handicaps will be issued late Saturday afternoon before the relay on Sunday via email.
LCRK 2x2 Relay - Sun 19th Nov 2023 (Event Organisers: Caroline and Wade)
To acknowledge and to pay our respects to the traditional custodians of the country on which Lane Cove River Kayakers Club stands we celebrated the last 2x2 event of this year in the name of the Dreamtime. A total of 20 members signed up with many being regulars to this increasingly popular event. The race took place in its usual format as a 2000m relay sprint race and proceeded as a social brunch where we told Dreamtime stories to our fellow paddlers to share and learn about the aboriginal Dreamtime. Read the FULL report at the link above (8 page PDF)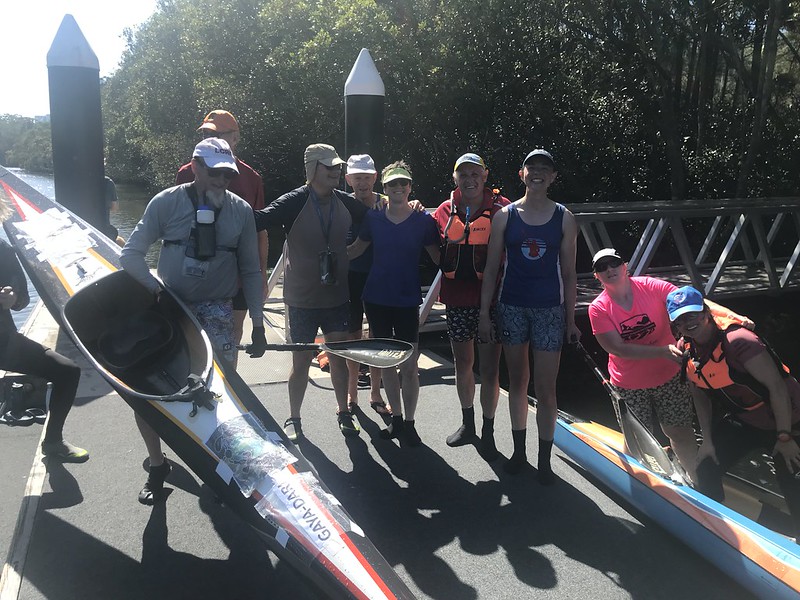 2 x 2 Background
This is a fun handicapped team event starting at around 7:45am (depending on your handicap) and finishing within 2 hours, followed by a post race gathering and debrief. Enter as a team of 2 boats or enter as a single and we will try to match with someone.
It starts and finishes at the pontoon, with changeovers at the pontoon as well. It is a great social event too. All standard of paddlers are welcome.
The event is currently focusing on 4x 2000m sprint bouts for each paddler of a team of two. This is a very valuable exercise when leading wash ride packs and to practise managing physical and mental exhaustion. It is a mental exercise just as much as a physical one as 2000m (estimated 10 minutes) is a long distance when paddling at 80 - 100% effort.
The plan is to have teams of 2 boats again, alternating between 2000m sprint efforts from the pontoon to the 6km marker and return. Deep water changeover is at the pontoon. The team member not sprinting will keep paddling at 50-70% effort upstream of pontoon to recover and to stay warm. The relay is completed when each team has completed 2x 4x 2000m (16 000m of sprint total). We also encourage parent/child teams to enter (children under 16 years of age in double kayak with parent).
1 Nov - Post HCC BBQ
This Wed 1 Nov (ie straight after the Hawkesbury Classic), is a non-paddling night. The club will host a complimentary/free/gratis BBQ and paddlers and landcrew will share their stories from the Hawkesbury Classic. ALL LCRKers and landcrew welcome regardless of whether you paddled the HCC or not – please make sure you're there!
5:30pm Site set-up (help appreciated)
6:00pm BBQ preparation
6:30pm Welcome
6:45pm have the first 5 paddler reviews
7:15-30pm Serve BBQ
8:00pm continue with paddler/support crew reviews
Paddle Australia Olegas Truchanas Award 2022-23 - Richard Barnes
At the Paddle Australia Awards on 28 Oct 2023, Richard Barnes was the 2022-2023 winner of the Olegas Truchanas award - for his Blue Moon adventure, and sharing of the experience.
The Olegas Truchanas award recognises a canoeing activity/touring trip which best exemplifies the spirit of Olegas Truchanas, who shared his passion for the natural environment through photography, publishing environmental issues and teaching young people how to face the challenges of life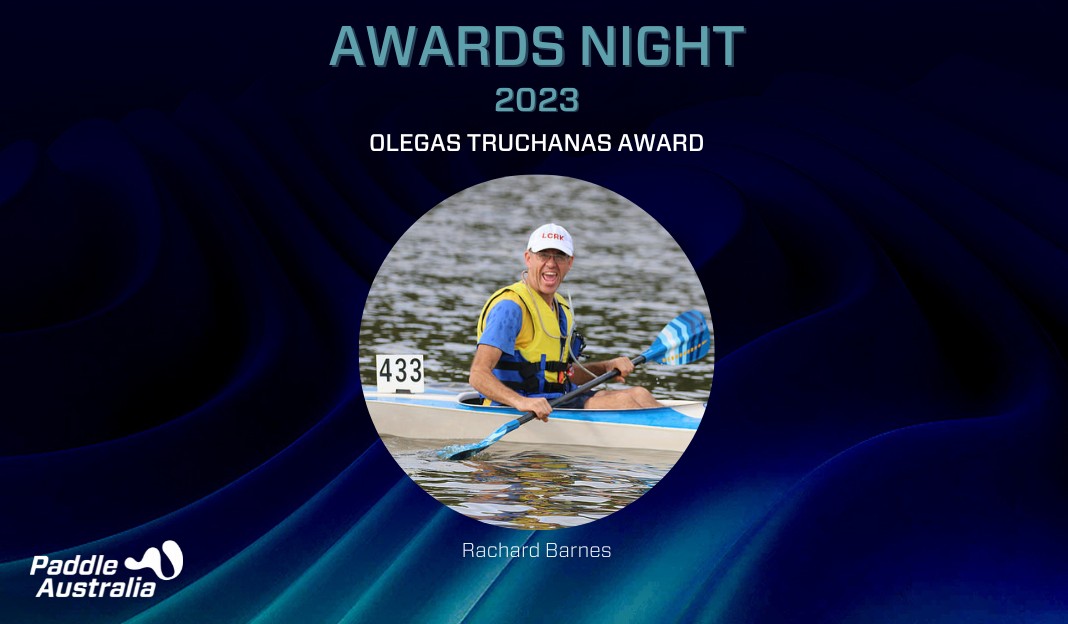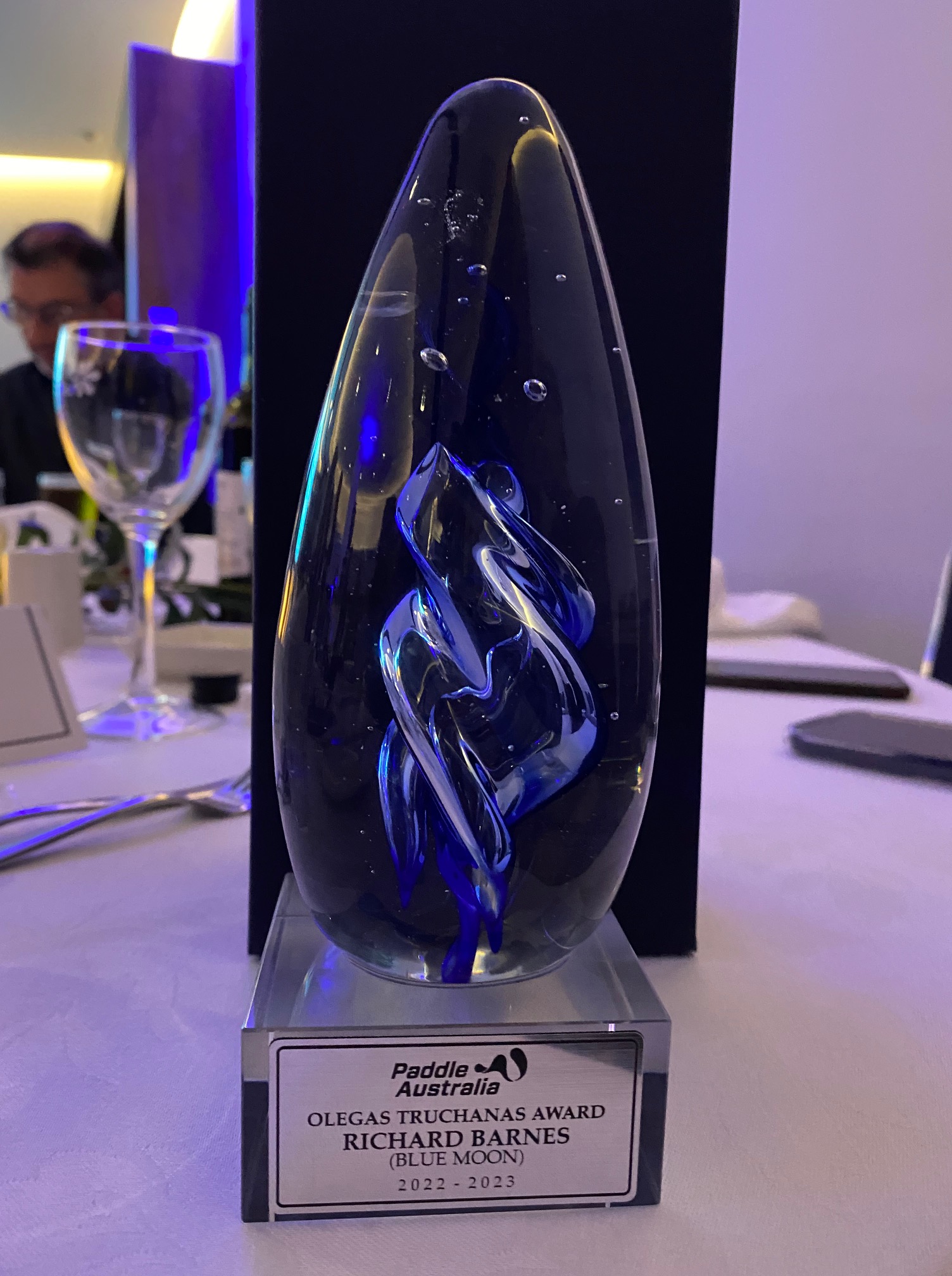 Read about all the awards via the Paddle Australia website here
 


LCRK 2x2 Relay - 24 Sep 2023
from Caroline M
'Surely two distinct creators must have been at work . . .'" (Darwin, 2001)
Charles Darwin was right, Australia is so distinct from the rest of the world that he claimed that two different creators were at work and in all honesty everyone who arrives in Australia recognizes that this place is beyond weird!
It was the long period of isolation that caused an independent evolution. After too much tension (in the plate tectonics) we left our mother continent Gondwana over 45 Million years ago. Since then we had a love-hate relationship with letter A-continents. Firstly we separated from America, then Africa, then Arabia and eventually we split up with Antarctica (she was way too cold) and decided to move up north into the hot and dry zone until we ran into Asia. What a surprise!
Back then we had our healthy boundaries with Asia, the Wallace line. Only few animals were crossing between Asia and Australia via small connecting landmasses or by water. Those more recent additions to Australia mixed with our original and most ancient Gondwana component (Palaeoendemic taxa). Most of Australia's land mass was now situated in a desert or semi-arid climate and fauna and flora were forced to evolve in such conditions or would go extinct. Unfortunately much of Australia's megafauna did not survive such climatic stress. Sheep-sized echidnas, hippopotamus-sized marsupials, horse-sized kangaroos and 3m/500 kg big flightless birds would make modern human life and also my job as a veterinarian interesting. We would be paddling in Lane Cove River National Park with 2000kg giant carnivorous goannas, with 10m long snakes and 2.5m sized turtles with horned heads and spiked tails.
What is left of Australia's ancient fauna are down-sized and well adapted weird creatures that are endemic to Australia only. Half of our birds and most of our mammals do not exist on any other continent. Close to all of our amphibians and reptiles are exclusively found in Australia. Also close to all Australian flowering plants do not exist anywhere else in the world.
Unfortunately following prehistoric extinctions through climate change further historic mass-extinctions have occurred after the arrival of European settlers, mostly due to habitat loss and alteration, over-exploitation and introduction of new predators. It is important that we become aware of the uniqueness of Australian Wildlife and understand that there is no equivalent anywhere else in the world once gone.
This morning, Sunday 24th of September, four teams of weird Australian animals have gathered to celebrate their weirdness and to co-inhabit the Cam-mer-ray-gal land with our local native fauna. Luckily no megafauna was present!
All representatives were well adapted to aquatic habitats but could not be any more diverse. Team "Platypuses" (Andrew P. and Kevin) and Team "Echidnas=mc2" (Esther and Merry) represented the evolutionary oldest and the only egg-laying group of mammals, the monotremes. The platypus and the echidna are the only surviving members of this order. Their weirdness lies in being stuck anatomically between a bird and a mammal. They just could not decide! Team "Black Snakes" (Phil and Matt S) represented the family of elapids, a relatively new addition to Australia as they have their origin in sea snakes that have crossed the Wallace line from Asia. They are common along river banks and shallow waters where their main prey consists of frogs, reptiles and small mammals. Black Snakes do not lay eggs like many other snakes but give birth to live young (ovo-viviparous). Yes you read it right, in Australia Mammals can lay eggs and snakes can give birth to live young!
The last weird animal was represented by Justin and Derek, team "Dugongs". Weirdly those enormous marine mammals are more closely related to elephants than to wales or dolphins. Dugongs have relatives in other parts of the world, such as the manatees, and originate from four –footed plant-eating land mammals that decided for a different lifestyle 60 million years ago. Now living completely under water, they still eat sea-grass and live up to 70 years similar to elephants.
Today's performance of teams was well reflected in their physiological adaptations.
Team "Platypuses", with their enlarged front feet webbing, paddled to the podium position.
Driven by its predatory instincts Team "Black Snakes" came alarmingly close to team "Platypuses" in second position.
Echidnas are evidently swift in the water, as we could see today and in Esther's Facebook video recently. Team "Echidnas=mc2" came third.
Team "Dugongs" kept true to their very nature in taking it slowly, but surely beating anyone else in longevity.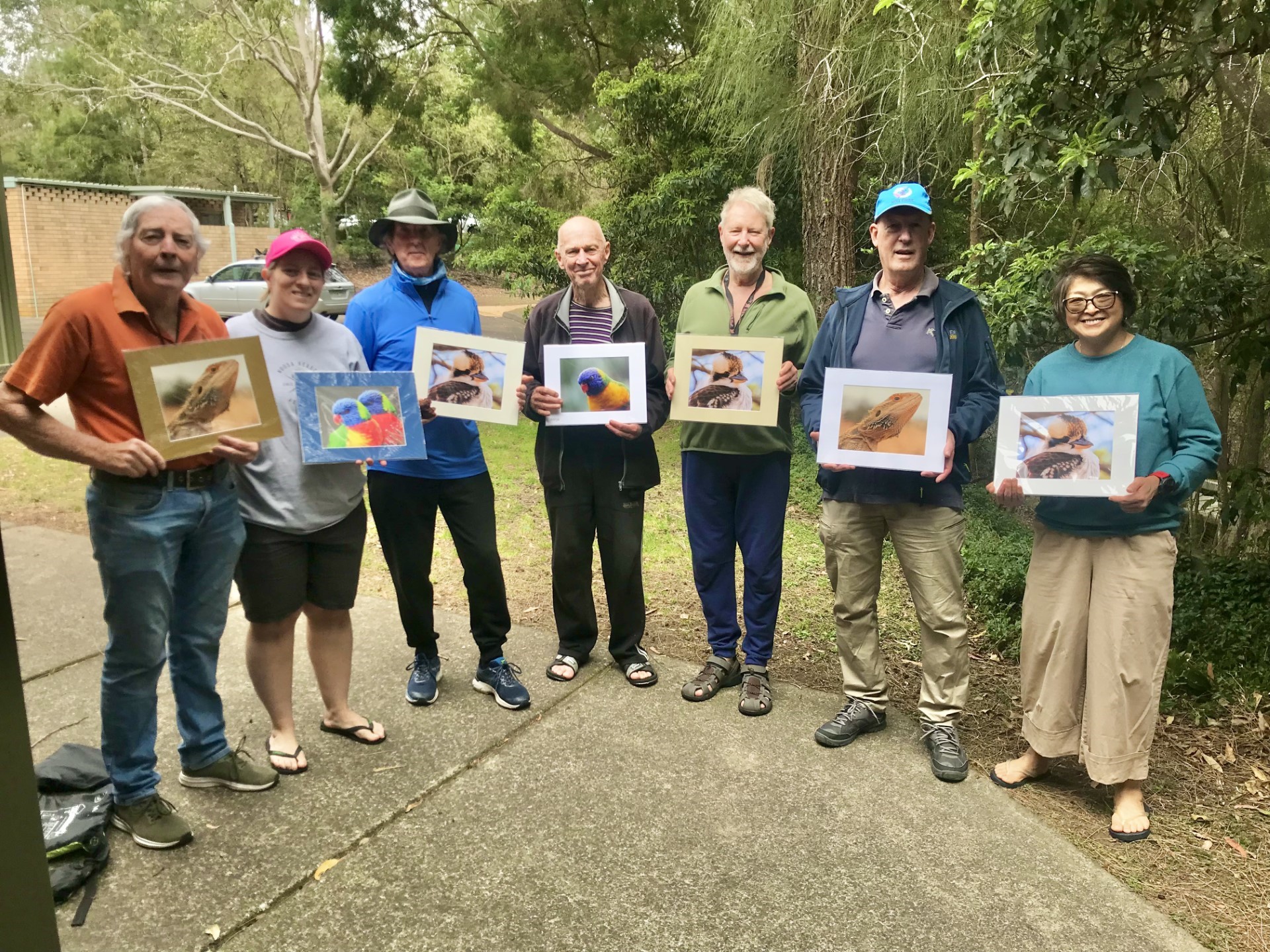 Nationals – Encounter Lakes, South Australia 5-7 Apr 2024
Paddle SA has released some information so it is time to do some preparatory thinking for next years nationals. James H has been asked to be team manager again for next year, and wants to try and help build team NSW/ACT for bigger and better things next year. Details of next years nationals:
Location: Encounter Lakes (man made winding course which promises to provide great racing conditions)
Portage: Beach style in and out at this stage
Dates 5-7th April 2024
There are a number of houses in the area which you can book very close to the course, so round up your friends and get a group together. Websites like booking.com allow free cancellation so best to reserve your accommodation soon (other states are starting to do this). There are also caravan parks and hotels near by.
PNSW Senior Paddler of the Year 2022-23 Richard Barnes
PaddleNSW has recognised the amazing exploits, as followed by thousands of enthusiasts throughout the year, of Richard Barnes and the Blue Moon adventures.
Richard Barnes is nominated by LCRK for Senior Paddler of the Year. While his incredible feat in February 2023 for paddling solo from Tasmania to New Zealand is well documented and would normally guarantee inclusion as a finalist in the Senior Paddler category on its own, his nomination extends to how he has enthusiastically and unselfishly embraced sharing his story and his message of pursuing adventure to scouts groups, kayak clubs and community groups far and wide.
His nomination also includes his genuine enthusiasm for all aspects of paddling. Not many club members and friends escape his loud "g'day" as they pass him and his regular doubles partner (his sister, Linden) in marathon events for which he would be in that rare group of "paddlers who attend all events". He continues to compete in the adventure series all over Australia, white water events all over the world, has completed more than 40 Hawkesbury Classics and lines up again for 2023, and has crossed Bass Strait 6 times with the 7th scheduled for next March.
Richard is admired within the paddling community. His passion for paddling and energy are infectious and he is responsible for introducing many people to the sport. A true ambassador for paddling and a very fitting winner of the 2022/23 PNSW Senior Paddler of the Year award.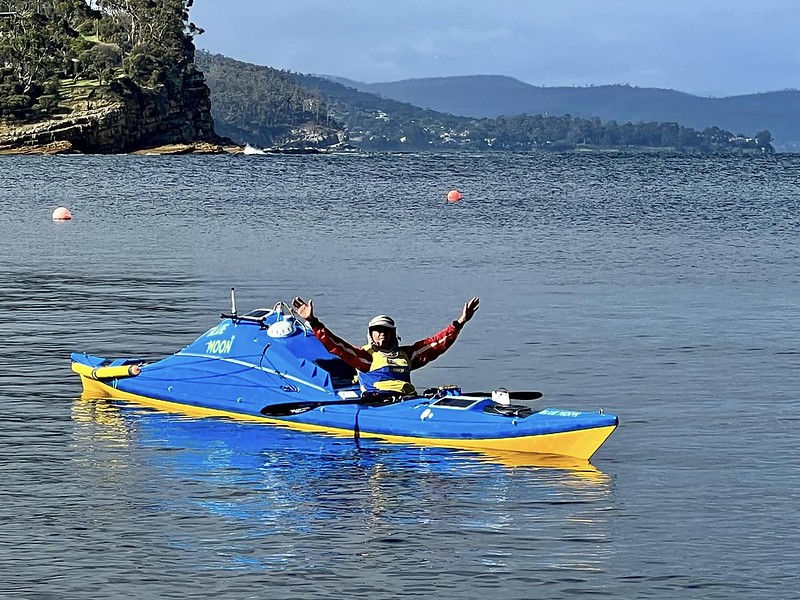 Yukon 1000 2023
Below - pictures of LCRKers Esther Wheeler and Steven Morrison at the finish line. Race time 7 days, 9 hours, 59 minutes (Photos: Yukon 1000 Organisers)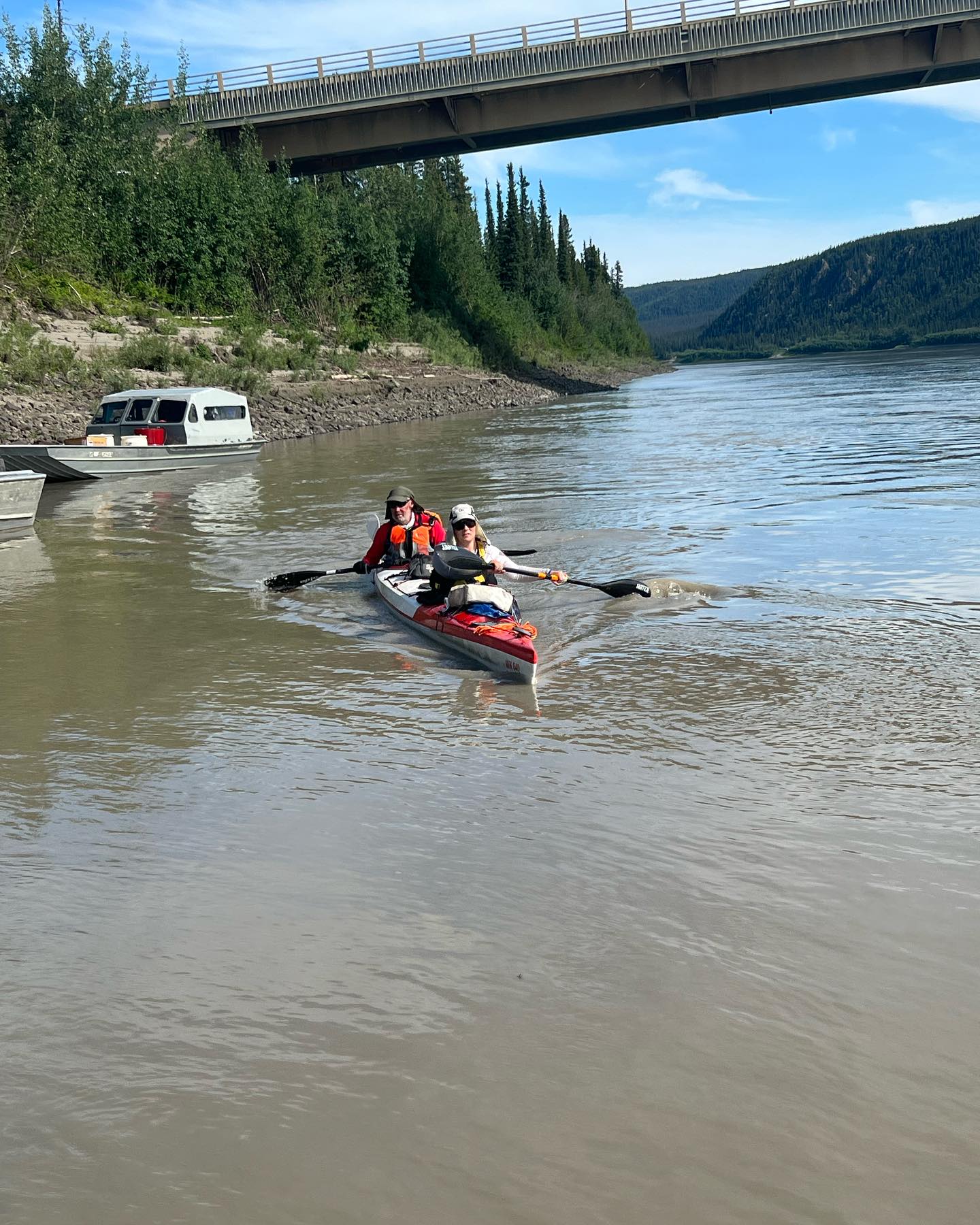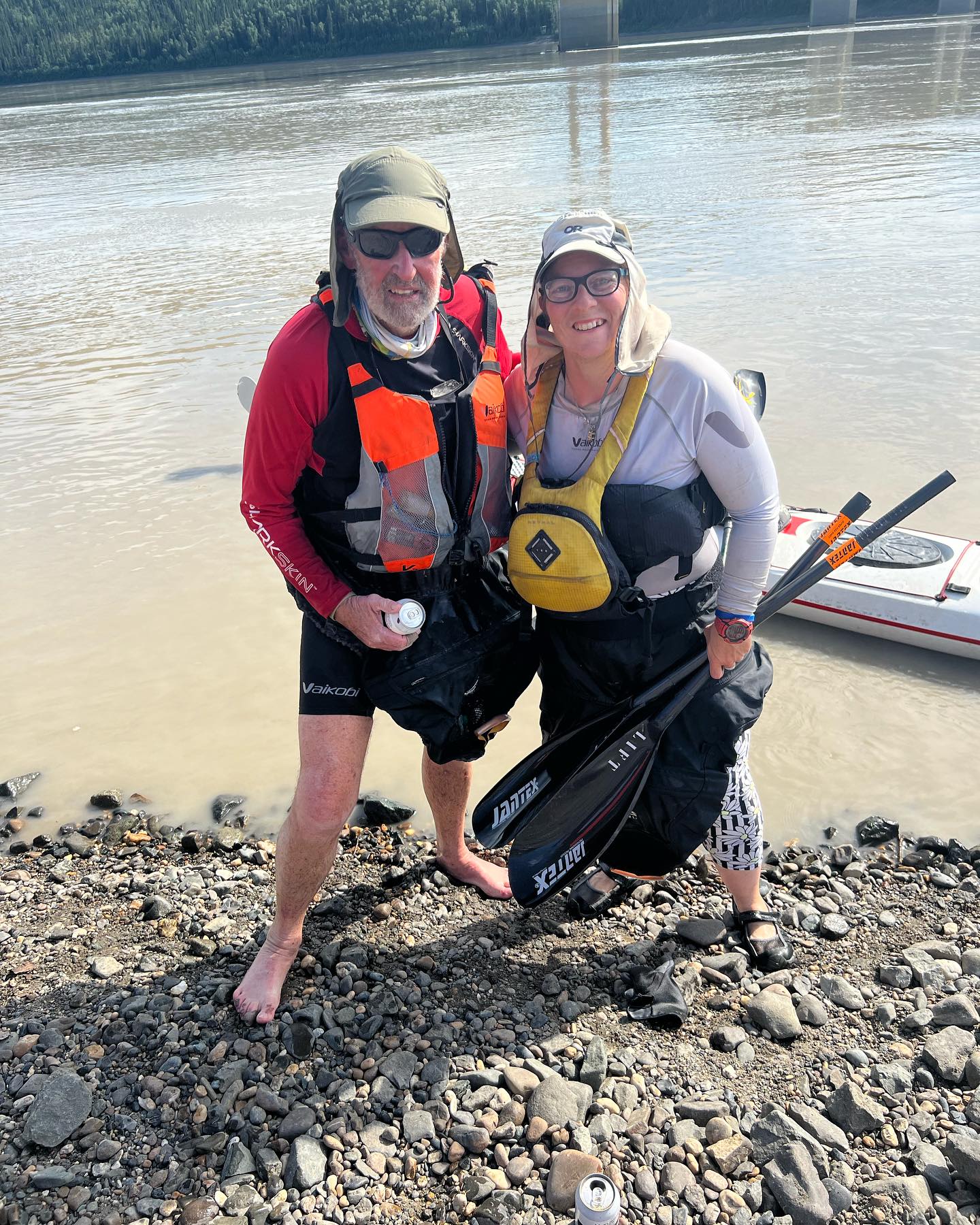 LCRK Club Grand Prix, August 13th.
With pure determination and a good handicap everything is possible at a LCRKC Formula 1 Grand Prix. Five teams have registered.
There was: 1. Team Webber/ Ricciardo (Tim McNamarra and Derek Simmonds for Australia, Red Bull racing team)
2. Team McLaren (Tim, Thomas, Nicola and Dylan Binns for Britain)
3. Team Jack Brabham/Sterling Moss (Andrew Pearce and Kev Mulally for Britain)
4. Team Lauda/Hunt (Justin Paine and Wade Rowston for Austr(al)ia and Britain)
5. Team "Keep your boots on" (Australian champions Tony Hystek and Nam Nguyen)
There was no cloud in sight but somehow the air was charged with energy. I sensed excitement and passion amongst the teams. I could feel the scream of the inner engines in each paddler prepared and ready to give it all. I felt alive by just being here.
Boats were lined up at the pits, all of them prodigies in design and engineering. For whoever is new to Formula 1, there were single and double seated racing boats, equipped with two wings. The length of each boat is regulated to 5.2m. Most engines were more or less 1.6 litre four-stroke turbocharged 90 degree V6 double-overhead camshaft reciprocating contractile muscles fibres, equal to 1000 horsepower. There was just one concern of mine, none of them had breaks, helmets or head neck support, but anyway….
Team McLaren showed their best performance with a 3 minutes PB compared to last month and a total win of the Grand Prix, based on handicap. McLaren was again unleashing their young elites, this time with a lot more racing experience. Thomas (10) and Dylan (12) could be the hope and future of LCRKC, at least to bring down the average age of 55 years of our club members!
The newly established team "Leave your boots on!" was interrogated by the race director before the race for the legitimacy of their team name. After critical inquiries the race director was informed of an Australian cultural tradition to drink champagne out of boots. Though it appeared bizarre, the race director is inclusive of any cultural background and traditions and team "Leave your boots on" made it to second place on the podium.
Jack Brabham and Sir Sterling Moss were also a new combo and took the third position. While Sterling was the greatest driver never to win the Formula 1 World Championship, Brabham was the first and still is the only man ever to win the Formula 1 world championship driving one of his own cars, thanks to his engineering background.
The established combo and well known Aussie duo Webber and Ricciardo, now having a rather peaceful sporting relationship, were 1.5 minutes slower than last month. Both are very optimistic and the slightly lower performance was presumably due to a strong tide and a change in boats. Webber started in his usual and rather reliable racing boat, however Ricciardo swapped over last minute to one of his faster vehicles, an Aussie design named after a hopping potoroine marsupial. In his pre-race interview he mentioned that he hasn't been paddling it for some time, which could explain the slower times this time around. His fans are assured he's setting himself up for a promising race season to come.
I haven't seen Niki Lauda for over 10 years, the last time on a flight between Vienna and Frankfurt actually while he was flying the airplane of his own airline "Niki". During the LCRKC Grand Prix Lauda was accompanied by his best friend and supporter, the legendary J. Duffy, who was giving technical advice and mental support to boost Lauda's performance. Niki actually relayed with his close friend and main rival James Hunt. Hunt, now close to 90 years of age, has paddled his first competitive race in 3 years. We are glad to have him back racing!
Handicapping appeared extremely challenging this time. Competitors were from a wide demographic range between 10 and 89 years of age, presumably anything between 10kg and 100kg of muscle mass, between 1.2m and 2m of body height, between 1.5 hours and 30 years of paddling experience. This was a true exercise for our handy-capper Wade R.. Results below:

LCRK 2x2 Relay - 16 Jul 2023
from Caroline M
"....that was a great event. So well organized with really close finishes thanks to accurate handicaps. And to top it off, delicious muffins and prizes for all the winners who signed up for a fun morning. This is my third and I'm hooked. They are such friendly " races" thanks to the atmosphere you create. To top it off, what a great report, complete with photos. We all had a good time." Derek Simmonds
".... it was a lot of fun and the boys did well to do the full 8km. There was enough rest in between each set for us to recover. And thank you for your encouragement Grace, support crews are so important! With thanks, Jerry Seinfeld, George, Elaine and Kramer :)
Broughton Island Trip Report 23-25 April 2023
As a lovely change from flatwater racing or harbour / ocean racing, 5 LCRK members (Ruby Ardren, Anne Cumming, Nam Nguyen, Lee Wright and myself) and one ring-in (James Johnson, who has paddled the odd LCRK TT over the years) joined professional tour-guide Adrian Clayton for a 2 night trip to Broughton Island from 23 to 25 April. After a 3-hour drive from Sydney, we set out from Jimmy's beach at Hawks Nest around 11am on Sunday.
The weather was glorious and the sea relatively calm, but Adrian still had a few incidents to deal with. About 10k in, after passing Cabbage Tree Island, he noticed that Lee's sea kayak was travelling very low in the water. We rafted up and put a hand pump to good use, emptying maybe 20 litres of water. It appears the problem related to a packet of chips that expanded in the heat, popping the front hatch, and soaking the interior, including most of Lee's food for the trip.
Next, one of the party started paddling off to the side of the group, which we discovered later was in order to discreetly deal with seasickness - that required about 5 subsequent detours until it was fully dealt with.
A tow rope was also put to good use, with Adrian deciding to put in some resistance training in order to keep the group going while Nam bailed out some water - a problem later fixed by a change of spray skirts - the replacement skirt being far more water resistant.
It was still an enjoyable crossing, although when we arrived at Looking Glass Isle, it soon became clear that we wouldn't be paddling through Con's Cleft. Instead we traversed a bumpy passage between Looking Glass and Broughton, where Adrian's rescue skills were again put to the test after Anne capsized and was heading for the rocks.
We completed the 22.7km crossing in 4 hours 20, then set up camp at a fabulous campsite in Esmeralda Cove, and tucked into a tasty dinner and a wide array of mostly alcoholic beverages.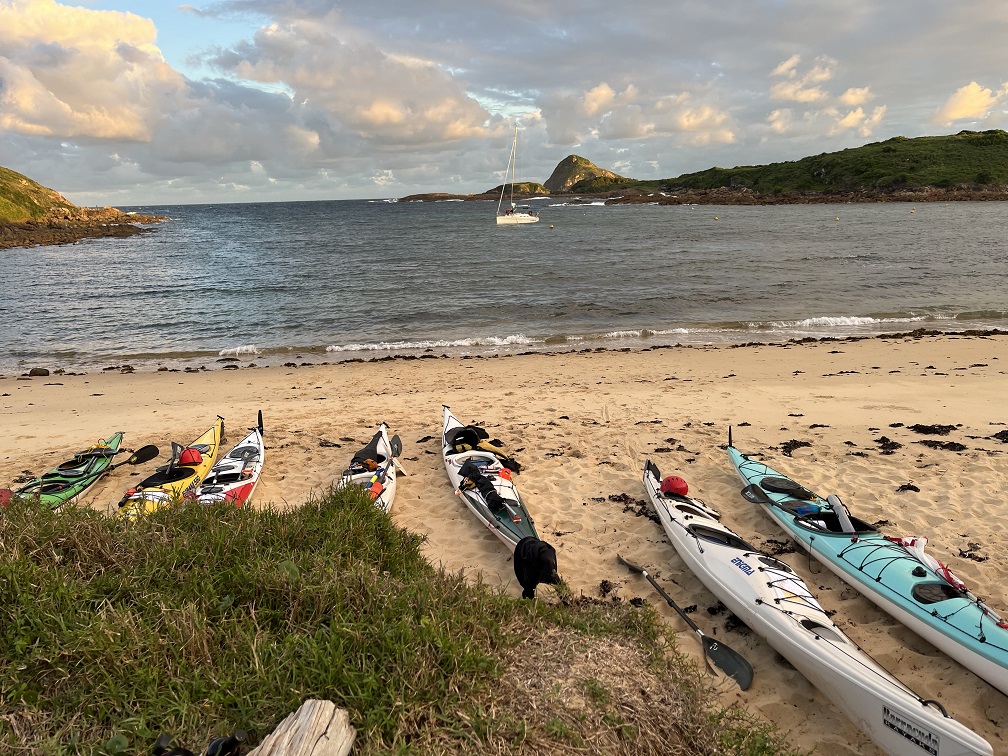 On Monday, we circumnavigated Broughton Island - 16km of exploring sea caves, spotting turtles, shearwaters, flying fish, and eagles. Then Ruby and I went for a snorkel / swim in Esmeralda Cove, while the others walked to the summit of Broughton Island.
On Tuesday, Adrian, Nam and I made an early start, for one last crack at paddling through Con's Cleft, but we'll have to label that voyage Don's Disappointment, as the conditions were still too rough. Oh well, I guess I have a good excuse for another fun trip to Broughton in the future.
The return trip to Jimmy's was nearly an hour shorter than on the way across, but a little further, as we went around Cabbage Tree Island to check out the seal colony, and I tacked my way south east, catching a bunch of runners. We also paused for a navigational exercise - taking bearings to 3 landmarks so as to simulate giving our location to emergency services. And Nam tried out his sail. Then we were met by a greeting party of dolphins as we paddled past Yacaba Point, which was a lovely way to cap off a fantastic trip. Thanks very much to Adrian for leading us. I'll be back.
LCRK 2x2 Relay - 02 Apr 2023 by Caroline Marschner
It wasn't a normal Sunday morning, definitely not one of those normal people would wake up for and those who did secretly wished they did not! It was dark, it was wet and it was pouring down. I expected a few more text messages to arrive before 7am to tell me: "…it's not on Caroline!", but only a few people cancelled for good reason.
Arriving at the shed at 7:30 am I saw some not so keen eyes looking at me and waiting for the call to go to the next coffee shop for bacon and eggs… now!
But no, wait! We did better than that! As a team, we came up with a strategy to keep everyone safe and sound during the 2x2 relay and changed the approach slightly. Our hard-boiled paddlers went for a full time trial in one go to stay warm and our hard-boiled spectators (the second half of the team) got all the umbrellas and rain jackets out to cheer everyone up from the pontoon before teams changed after 12km.
After the first lap Kevin M., a Blackbird, paddled past the pontoon and shouted out loud something that sounded like a warning but we did not understand what he said and just smiled back at him and shouted back "Go Kevin"! After the third paddler gave us a heads up while paddling past, we got the message that there was more than what we could see from the pontoon.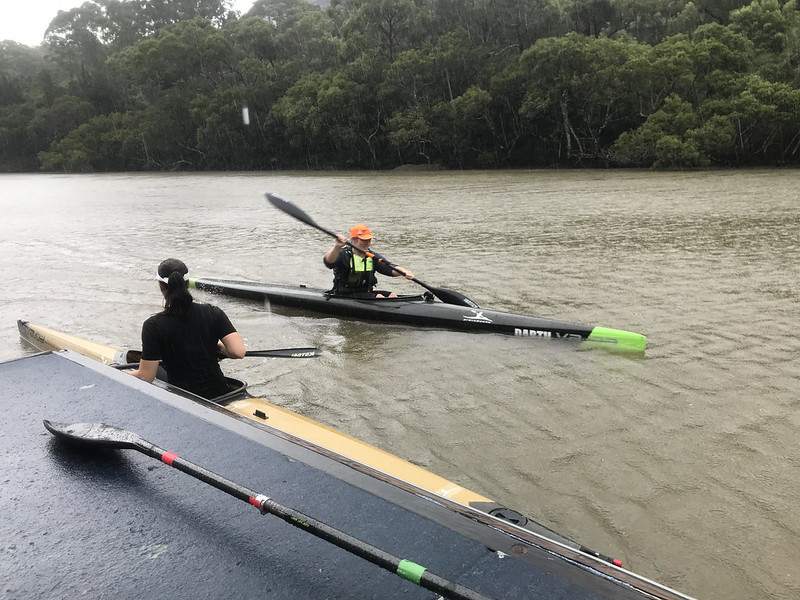 Above: Esther W. rips by the pontoon while Caroline M. prepares for changeover with teammate. Photo: Duncan J.
The wind wasn't very strong but the rain was and the flow of the river. I was the second starter of my team Blackbirds and the rain did not ease. My boat filled up with water, the eddies changed my race-line on every corner and I was very confused when the water moved sideways under my boat.
The Rocket man, John D., gave us all a heads-up to take a wide turn behind Fullers Bridge, but thanks to my ignorance I did not take that serious and I almost hit the concrete. Tim B. took the turn even more extravagant than me and went sideways between the pylons! Luckily there was no damage to his boat, but it certainly looked cool!
Everyone was awake by now, dragging more or less driftwood around the course. The enthusiasm did not slow down from our spectators on the pontoon either. Wade R. and Chris J. managed to paddle a full 20km on their own in preparation for up-coming events. Well done!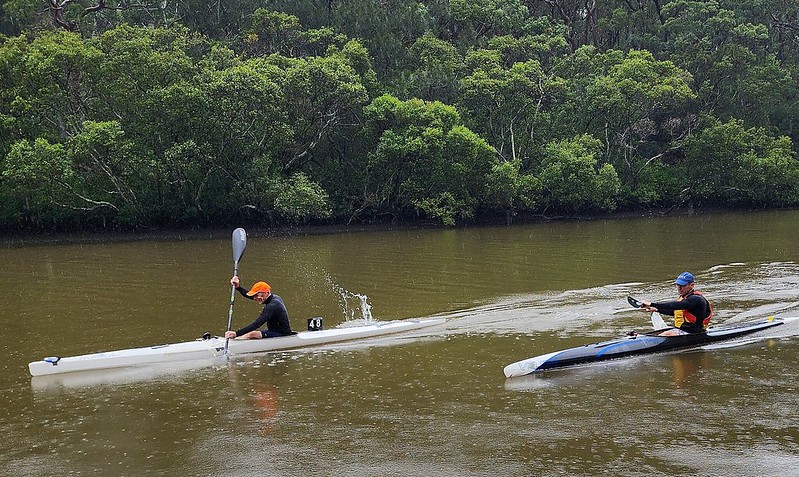 Above: Team "WheelieBinns" (Esther and Tim) edge out "The Rocket men" (John D. an Jeff H.) in a flying finish. Photo: Kevin M.
All team members generously stayed for a group photo and to celebrate the pre-birthday of our Mr. President, Duncan J., who had his 70th Birthday on Monday, 3rd of April. We all had a birthday carrot cake at the shed and even the sun came out for a while.
How did we make a morning like that so enjoyable? The elements did and a good attitude! It was a fun paddle at least for my fun-barometer. Some more feedback from other paddlers:
 My first 2X2 and I loved it. I thought it was great fun once I woke up and got on the water. An atmospheric immersion experience… Derek S., on behalf of the Optimists
 I had a great time, again! And thanks for the cake Caroline. Worth getting soaked for! Esther W., on behalf of the Wheelie-Binns
 Thank you! I am happy we didn't call it off. Kevin M., on behalf of the Blackbirds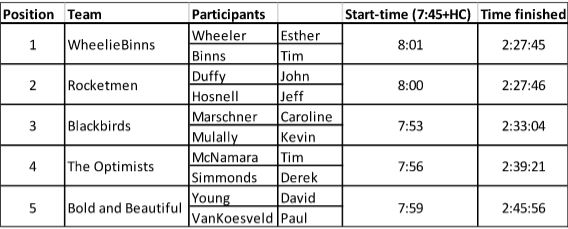 Clean Up Australia Day - 5 Mar 2023 by Caroline Marschner
A big thank you to our LCRKs for helping at the CUAD 2023. A total of 21 people were involved in the event and we cleaned up major areas along Lane-Cove River. Due to high tide in the morning we hosted the event from 2- 5pm in the afternoon, a bit warm but participants came up with creative ideas to stay cool and protected from the sun. Naomi and Andrew P. kept themselves cool by getting stuck in deep mud, Chris J. was covered in full PPE that ensured almost no sunlight would hit his skin. Grace brought her own pool with clean water and truly enjoyed watching everyone else work.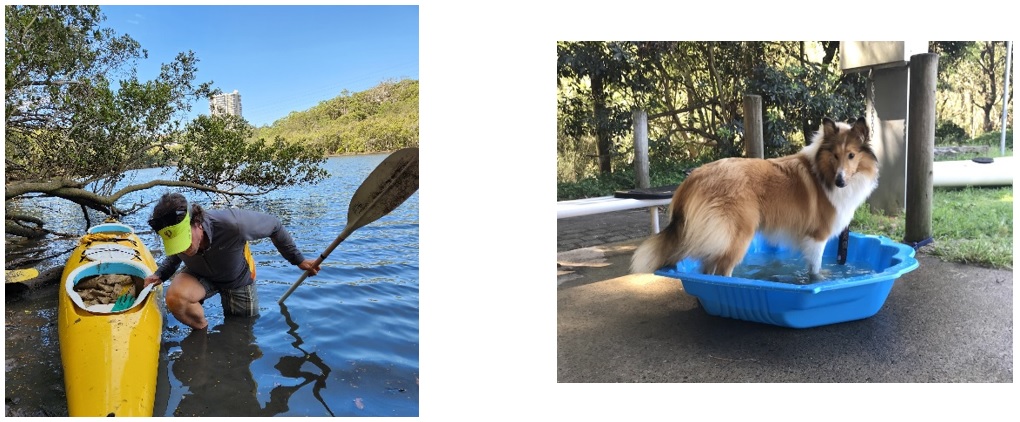 Ready for the battle against litter and equipped with bags and gloves our ground forces walked up north and south from the pontoon accessing river banks from land. Our marine specialist corps took out larger flagships such as carriers, cruisers or smallish frigates to collect larger or smaller items respectively from every possible corner of the river. No submarine was reported at any stage, some marines went overboard but could be found eventually.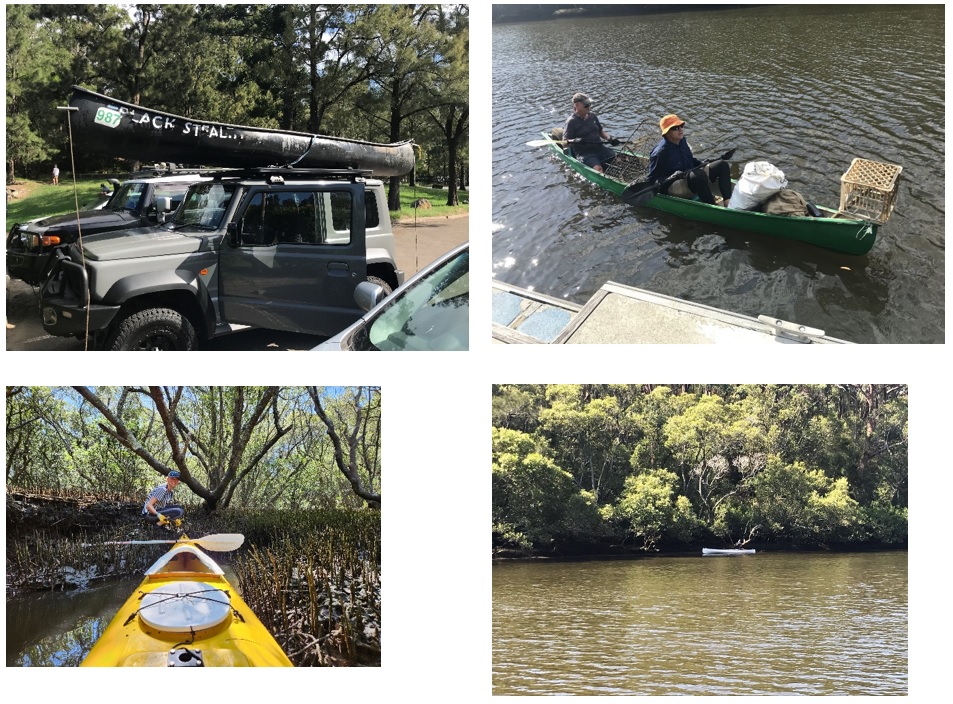 Due to higher demand cadets, Frank H., Thomas and Mathew A. and Thomas H. were recruited, ready to take on their duty. Though cadet Franky later reported it was "not funny" to be left alone in one boat with Rodrigo and dad Craig. No official complaint was lodged and Rodi and Craig definitely enjoyed themselves.
 

A total of 20 bags were filled and many other larger items were brought home such as crab nets, a spade, buckets and tires. We were happy to see much less rubbish collected compared to last year, which is a good sign.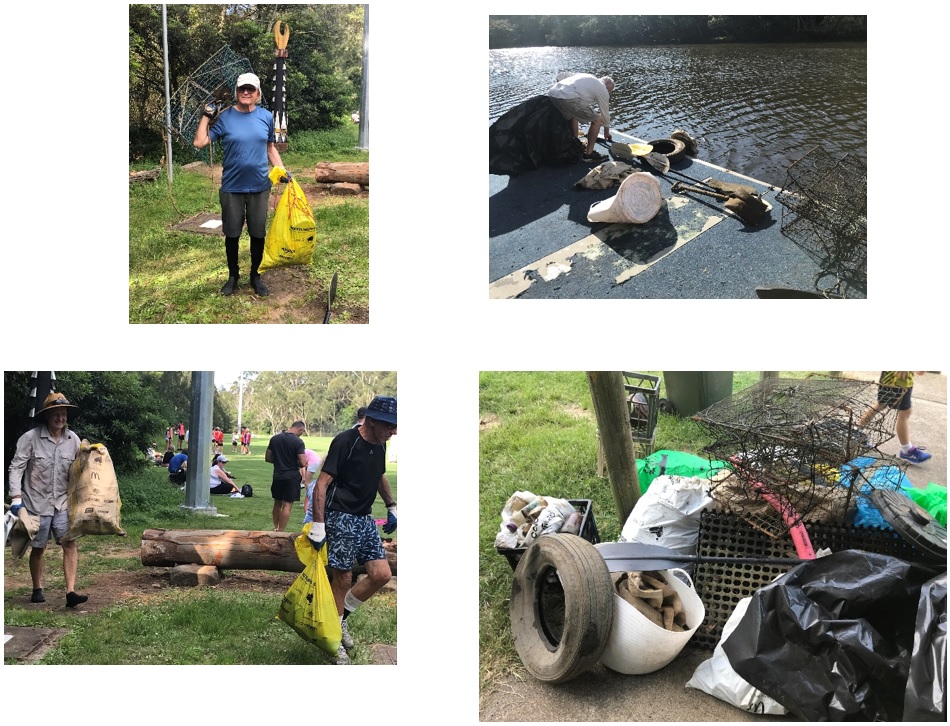 After a proper personal and boat clean, everyone enjoyed a cool or hot drink and some healthy snacks. We took 2 group photos so all comrades could be dismissed from their service in time.
Thank you to Richard, Thomas and Matthew Andrews, Duncan Johnstone, Justin Paine, Rodrigo Matamala, Chris Johnson, Craig and Frank Hutchinson, Paul Van Koesveld, James Farrell, Lee Wright, Andrew Pratley and Naomi Johnson, Matt Swann, Elke Van Ewyk, Wade Rowston, David and Thomas Hammond, Caroline Marschner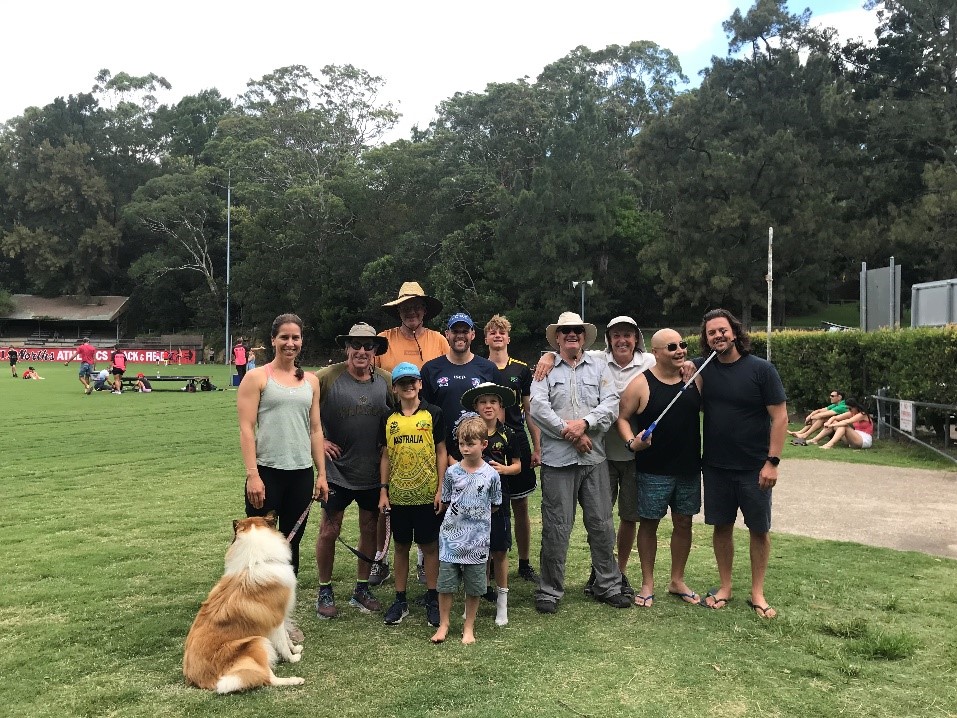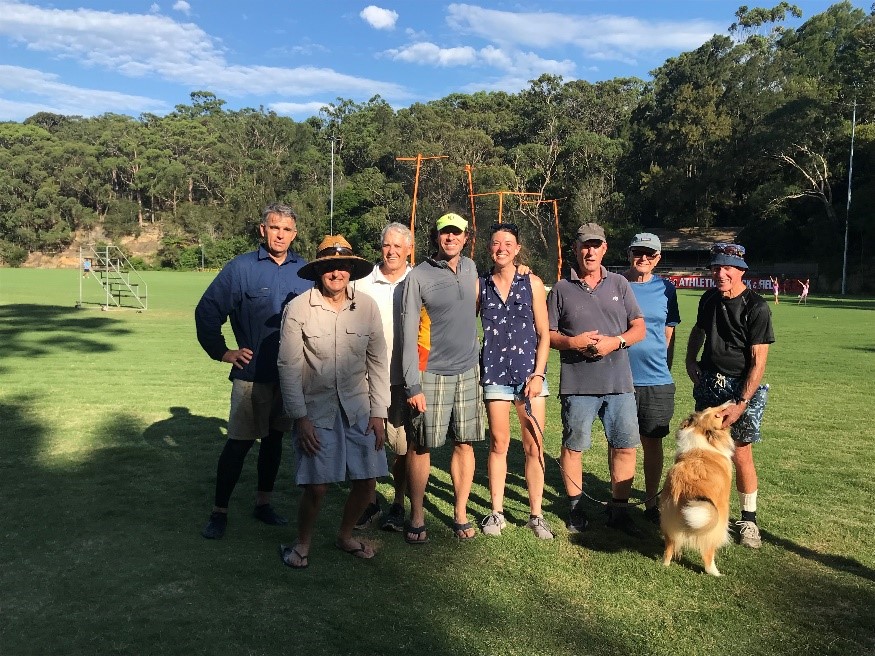 International Womens Day - Pink Paddle - 8 Mar TT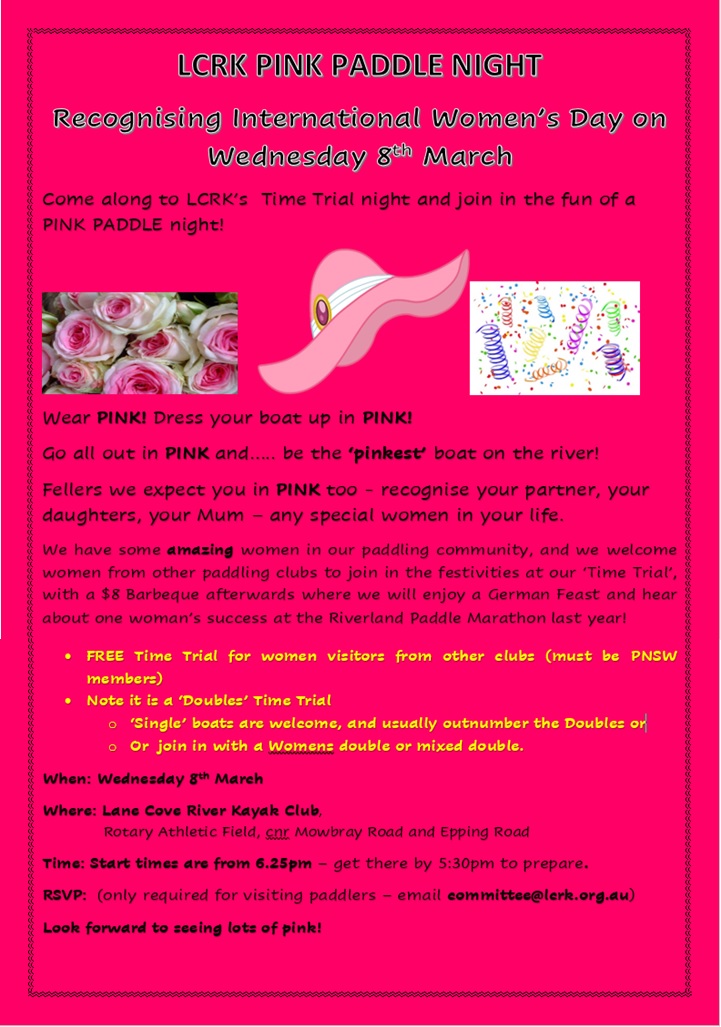 LCRK 2x2 Relay - 12 Feb 2023 by Caroline Marschner
We saw a solid turnout of 6 teams in the second Sunday morning "2x2 Relay". While some of the previous teams had entered again there were some interesting new combos. Team names were well chosen and perfectly suited for the winning team "The Rocket Men" with John Duffy and Jeff Hosnell. Helen McDonald and Lee Wright choose to be the "He-Lee-Copters", but neither of these 2 teams actually took off with their speed on the water. Hopefully we will see a launch next time guys!
It went very smoothly for the "Smooth Operators" with Tim McNamarra and Paul VanKoesfeld. This time 2nd over the line. The new team "Give me 5" with Peter Janecek and Tony Hystek appeared like David and Goliath joining forces during the final events of the End Time and came 3rd. Team "Beauty and the Beast" with Caroline Marschner and Duncan Johnstone did not appear what it seems while both had to paddle in Beast Mode to get to 4th place. Special shout-out for the team "Birthday Boys" with Phil Geddes and Kevin Mulally, 5th over the line. Phil celebrated his birthday with us on the exact day, 12th of February, and Kevin's birthday was 3 days earlier, 9th of February. Happy Birthday Boys!
It was a warm and sunny morning and the pontoon was rather lively with many other recreational kayakers coming in and going out. It appeared like a kayak carnival at the pontoon with 2 packrafts, 2 double sea kayaks, several skis, an outrigger, and a bunch of white-water boats. Everyone was very accommodating and helpful. Thank you to our LCRKers for helping the ladies in Hawkesbury style double sea kayaks out of their boats and carrying it up while they were afflicted with muscle cramps. Also Li Xin joined us on the water, hopefully joining the relay next time. The event was finished before 11 am but the après-paddle went a bit longer at the café where we also celebrated our birthday boys.


Above: Results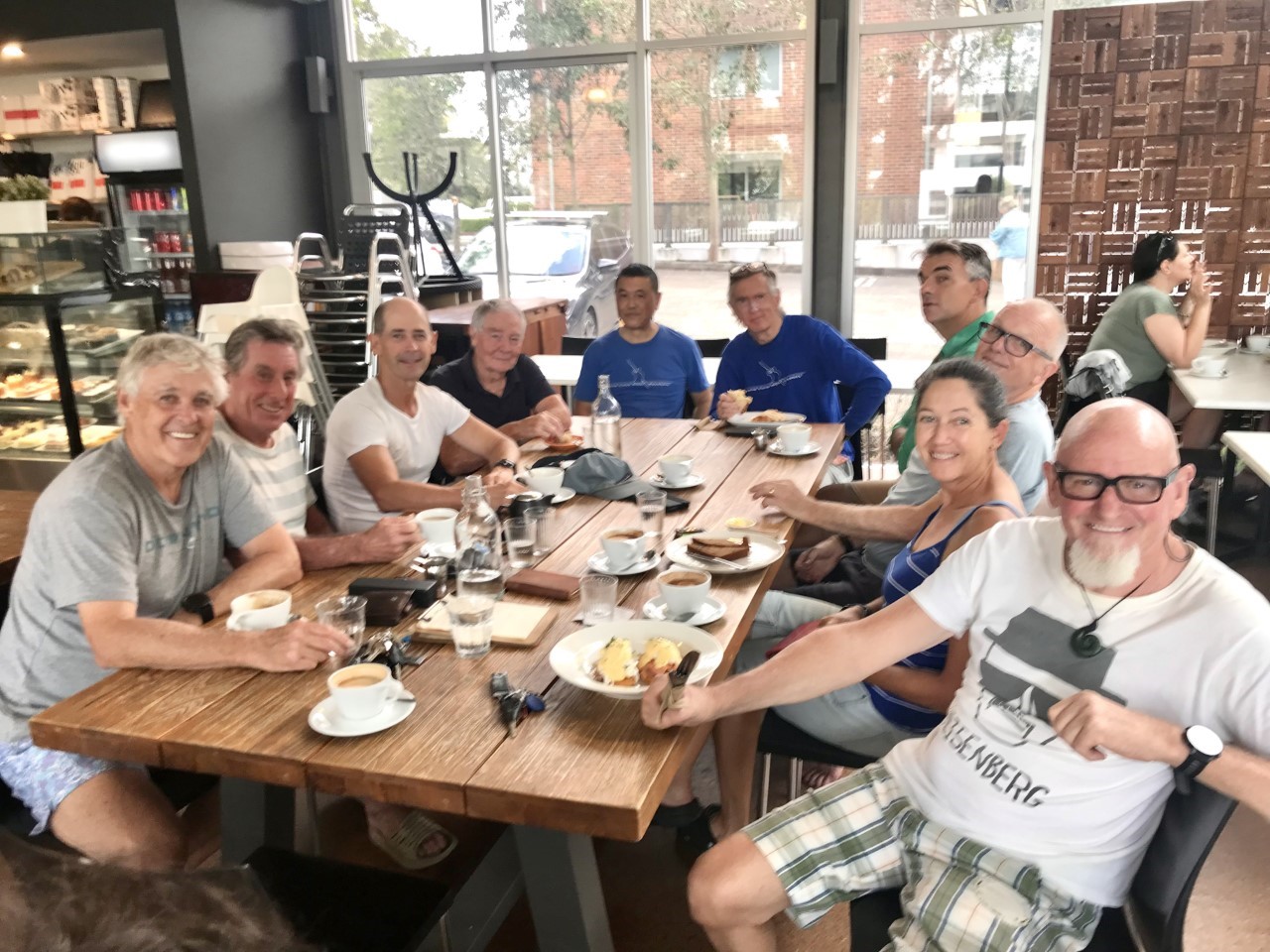 Above: Post paddle at the cafe
 


LCRK 2x2 Relay - 22 Jan 2023
What is more tiring? Paddling a 12km lap at TT pace with occasional wash ride (hopefully) or 2 x 6km laps at greater than TT pace with wash riding unlikely?
Well as it turned out 8 teams entered the inaugural Sunday morning 2x2 team relay last Sunday and had a lot of fun finding out. I am pretty sure most of us went home feeling like we had done a regular TT plus more.
Starting on fixed team handicaps, most teams started 10 mins each side of 8am. The chase was on. Mike Thom got the front markers team 'Secret Trainers' off to a great start. The back markers team 'The Budha Brothers' had a lot of work to do attempting to plough down the field. Harry Janecek from 'The Locals' team attempted an early start but was pulled back by the starter.
The first relay change overs for all teams went perfectly, as if they had been doing it for years. The subsequent laps saw some changes in team positions as faster and slower team members paddled through their laps.
This event is run from the pontoon so there is lots of encouragement called out as paddlers go by. Turns out it is a good social event.
As the race went on the field came closer together. Esther Wheeler paddled strongly in club K1 Darth, well under her 12km Cup handicap (which may have been set some time ago in canoe) and has been duly noted by by the handicapper. Caroline Marschner paddled well with beautiful technique after a long break from paddling.
In the end there was just 10 mins between the first finishing team and the last in. Great effort by all teams. On finishing each lap it was clear each paddler was giving it their maximum effort. Special mention to the fast finishing 'Budha Brothers', Roddy Matamala & John Burkett who made their way through the field for second place.
Next 2x2 Relay will be on Sunday 12 Feb. Why not join in the fun and get a good workout at the same time? Check the TT report for details in the week before. Here are the results.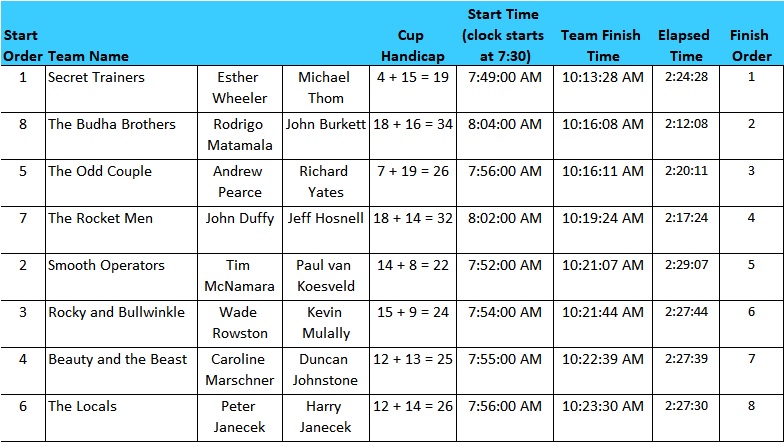 Above: Results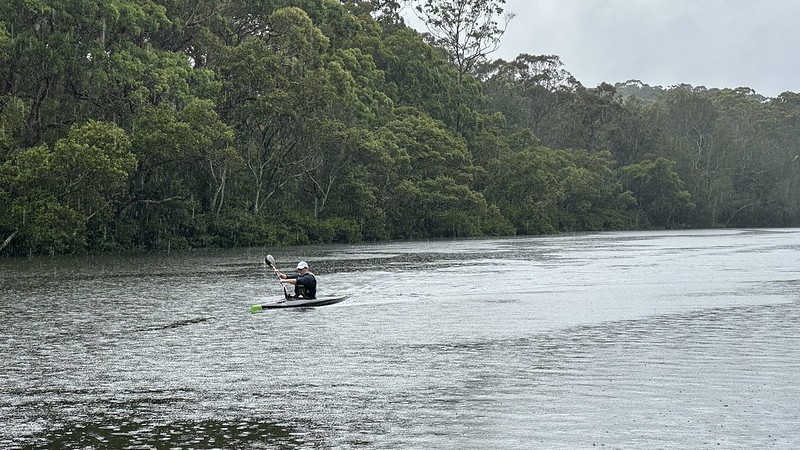 Above: Esther from the winning team (Photo Rodrigo Matamala)
 

 


Portugal ICF Canoe Marathon Masters World Champs.
Results for NSW Paddlers:

Race 2: Jeff Hosnell – 10th K1 Men 70-74
Race 2: Geoff Horsnell – 15th K1 Men 70-74
Race 8: Brett Greenwood – 1st K1 Men 55-59
Race 8: Darren Lee – 10th K1 Men 55-59
Race 19: Laura Lee – 1st K1 Women 40-44
Race 22: Jason Ware – 11th K1 Men 50-54
Race 23: Daniela Torre – 2nd K1 Women 50-54
Race 24: Fiona Rae – 2nd K1 Women 55-59
Race 25: Pauline Findlay – 3rd K1 Women 60-64
Race 26: Chris Visser/Jeff Hosnell – 5th K2 Men 65-69
Race 32: Michael McKeogh/Jason Ware – 13th K2 Men 50-54
Race 33: Brett Greenwood/Darren Lee – DNS K2 Men 55-59
Race 36: Daniela Torre/Laura Lee – DNS K2 Women 40-44
Race 39: Pauline Findlay/Fiona Rae – 2nd K2 Women 55-59
Race 46: Laura Lee/Jason Ware – 12th K2 Mix 35-49
Race 47: Brett Greenwood/Daniela Torre – 1st K2 Mix 50+
Race 47: Darren Lee/Fiona Rae – DNF K2 Mix 50+
Race 47: John Young/Pauline Findlay – DNF K2 Mix 50+
Full results here
PNSW Club Forum (online 5 Sep) and AGM (online 22 Sep)
A message from Peter Tate, PNSW CEO on 1 Sep:
Hello Clubs,
I've received a handful of registrations for the PNSW AGM to be conducted online Thursday 22nd September. We need eight more handfuls to secure a quorum. Registration for the AGM is essential. The good news is RB will be sharing his BM story after the formalities are complete (that doesn't mean you can deliberately log in late). Another reminder in coming weeks.
In the meantime...
This coming Monday evening 5th September is our next PNSW Club Forum. Three topics...
1. Proposed amendments to the PNSW Constitution - background paper is attached. We will be voting only at the AGM, so this Forum is the only opportunity for open discussion on the proposed changes.
2. Bron Powell and the PNSW Environment Committee will update Clubs and Paddlesports on the Environment Guidelines and projects such as SUPtember.
3. $50M in facility funding is available throughout NSW for "Places to Swim & Paddle". Simon Wilkes, President of River Canoe Club, will share how his club secured $300,000 (yes you read that correctly - $300K). Your club could too. Don't miss this Forum.
(Please contact LCRK Committee if you'd like the link to the 5 Sep online Forum. RSVP details for the AGM are at the link above)
Sella River Race - Spain - Aug 2022
by Bruno Colos Every year, on the first Saturday in August, canoeists from all over the world come to Asturias, Spain to take part in the Sella River race. More than one thousand kayaks, skies and canoes battle it out to be first home over the 20-kilometre course on the Sella River, which runs from the village of Arriondas to the finish line in Ribadesella. On the shore, thousands of spectators enjoy themselves, shouting and encouraging the participants.
That day, first thing in the morning, the river train sets out from Oviedo and Ribadesella packed with people to see the start. At 11 o'clock, while the canoeists get ready on the river, colourful crowds of people in fancy dress make their way through the streets of Arriondas to watch the race, either on foot or on board all kinds of strange vehicles. At 12, the traditional verses to mark the start are read out and the competition is officially underway, with a stampede of canoes towards the river and the excited shouts of the spectators. On the way, the river train and the unusual motor cavalcade accompany the competitors in a joyful atmosphere.
Once at the finish line, the party transfers to the Campos de Ova, where trophies are awarded to the winners in each category and there is a huge picnic. There is food, cider, song, dance… When night comes the fun continues in Ribadesella until the early hours, with its terrace bars and open-air parties.
This sporting event has been held since 1930. It is full of music and colour, and has become one of the most important dates on the international canoeing calendar.
The oldest canoeing competition on the international calendar, the Descent of the Sella in Spain, once again attracted huge crowds, and more than 1000 participants from around the world.
It was the 84th edition of this incredibly popular race, and this year 1283 canoeists from 16 countries took to the water. It was estimated more than 200,000 spectators lined the banks of the Sella
One of our members Bruno Colos took on this challenge last weekend with an amazing result. His words after the race "I was so grateful to have participated in the Sella in this 84th edition!!
As a kid always wanted to participate in this magnificent and competitive event!! What a honour it is to be surrounded by so many talents canoeist, athletes of the highest level and with great preparation, without a doubt an experience I've always dreamed of and today I was able to get.
I highly recommend to everyone to do Sella at least once!!
It was a great race and pure excitement before, during and after the race!! So happy I had the opportunity to do it.
Though, very tough!! I had to run for 600m with 22kg boat (Plastic Surfski Nelo 510 ) to the shore because there were many boats in line and everyone started at the same time.
I was fighting for the 4th position in SS1 with Spanish boys, but suddenly I got dizzy in the last 6km to go and had to stop, recover then keep going. Was an incredible experience. Overall I came 9th, not bad for first Sella.
I hope some you might get inspired and do it next year."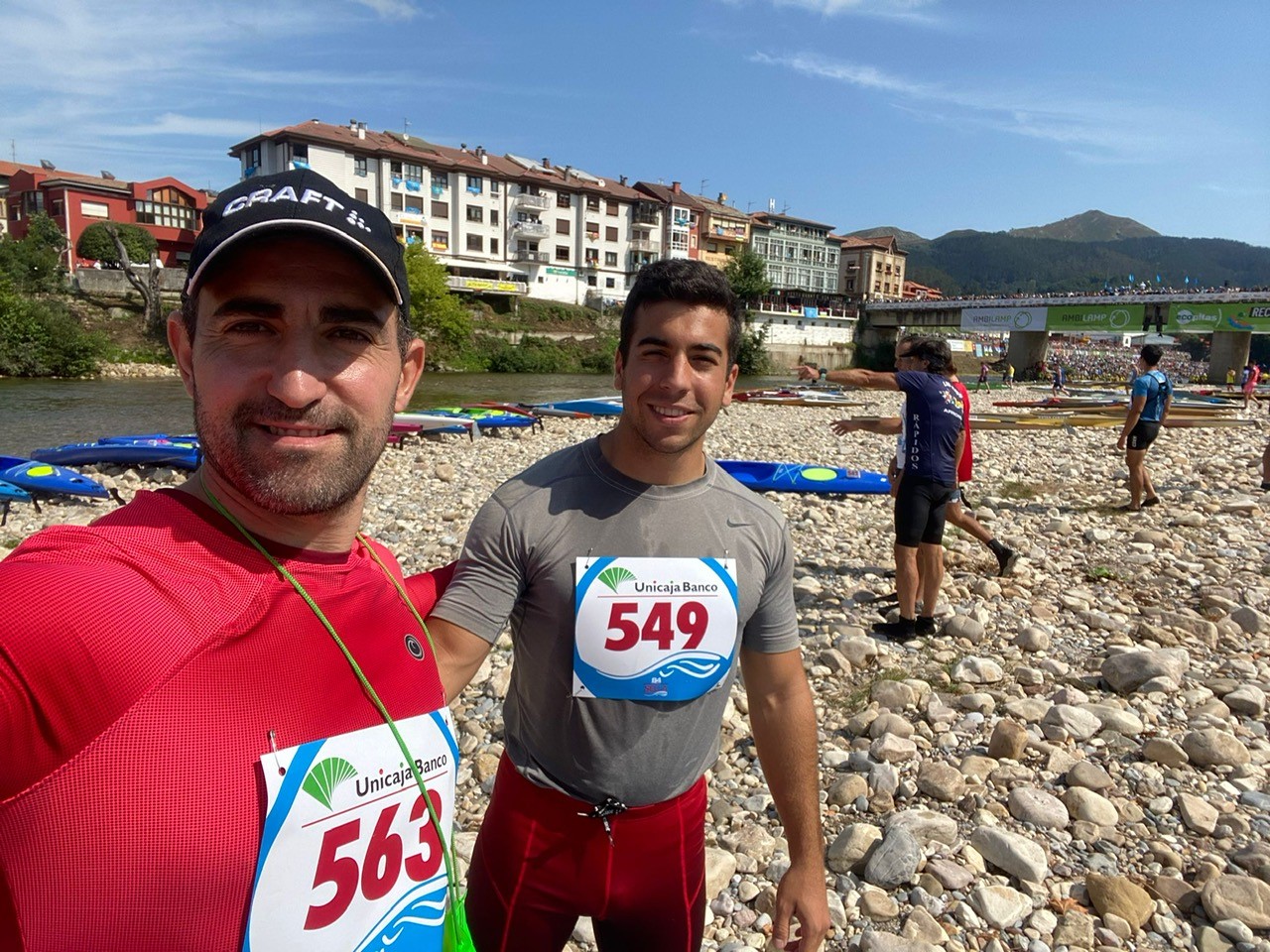 Clean Up Australia Day - 13 Mar 2022
by Caroline Hempel
* CUAD Flickr Pix
This year "Clean-Up Australia Day" took on another dimension and meaning after the floods hit NSW. A substantial raise in water level and drifting rubbish prompted us to cancel the original event a week earlier, on the 6th Mach, with significant rain still falling on that Sunday morning. Lucky we did as the actual flood hit Sydney a few days after. Hence on the 13th of March we had an even more rewarding "Clean-Up Lane Cove River"- Day.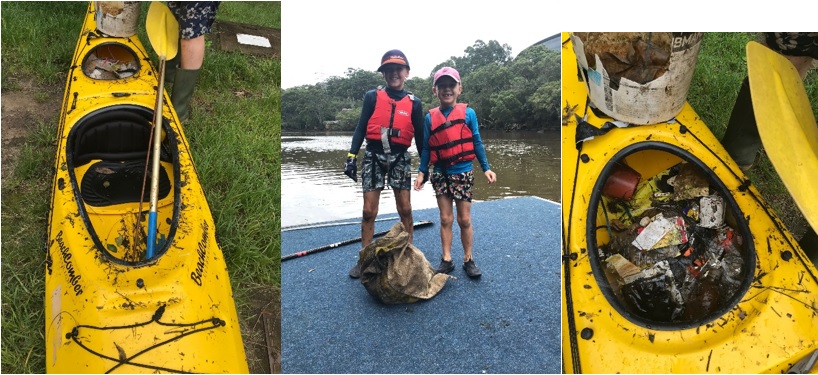 Our members were extremely supportive. A crew of 20 people (from which were 5 land rats and 15 water rats) managed to clean up a significant part of our beloved river from Fullers Bridge to Sugarloaf Point. Thanks to the great sacrifice of individual participants and our club we had a fleet of mostly plastic kayaks but also a ski, a TK2 and 2 big canoes. All boats and folks were covered in serious mud afterwards, required extensive cleaning but everyone secretly or obviously enjoyed it.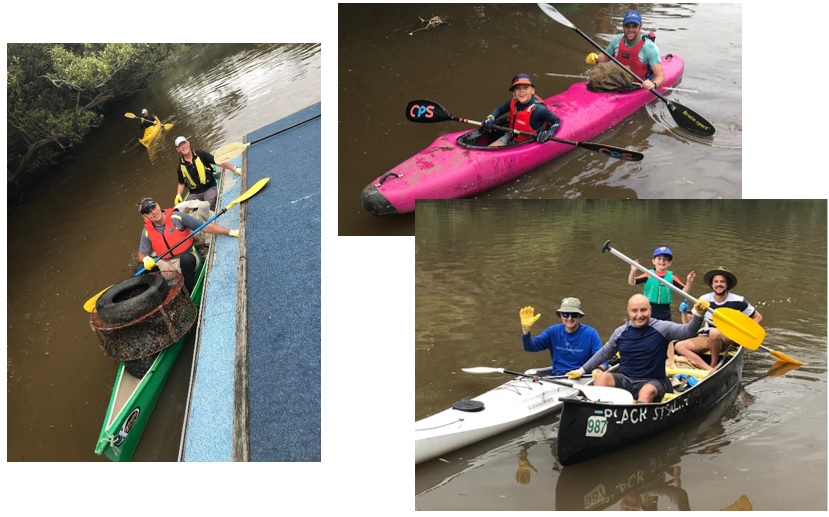 The event started at 9am, crews were set to their allocated section of the river and were supported by the 2 canoes which were placed on both distant ends of the covered area.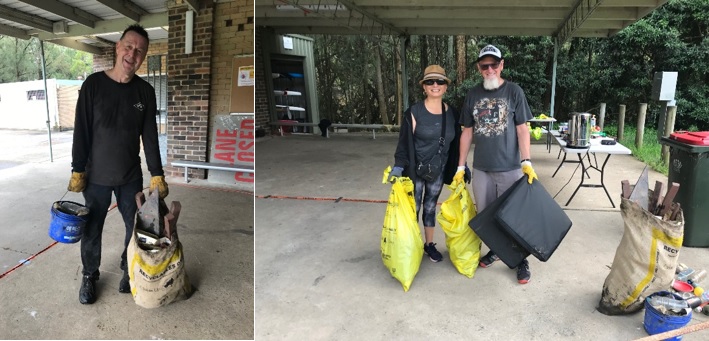 Our land crew didn't have any easier job walking on soggy ground and picking up more mud covered rubbish.
 

"Clean-up Australia Day" organisers provided all equipment including gloves, bags, paperwork and a scale so we were able to do the stats afterwards. A total of 135 kg of rubbish was collected by 12 pm! A major shout-out to everyone! The type of rubbish that was found leaves room for great stories (can't wait to hear yours). I was considering a Tennis court nearby, a casualty lawn mower, a Lane Cover River mud crab business (our newest local health food business)? Amongst other things there were milk crates, a garden rake, buckets, fishing lines, and all kinds of plastics. Unfortunately no hundred dollar bill this year!
 

Not to forget to mention that Mike Thom took on a serious job cleaning Wirong boat ramp from a thick layer of toxic mud with his portable pressure cleaner and hopefully with PPE.

Afterward the clean-up everyone, but one, was rewarded with hot or cold drinks and homemade pumpkin muffins. The kids evidently had a good sugar hit and enjoyed each other's company.
  

Some extra keen members kept working weighting and packing up the rubbish for council clean-up.
Thank you to all participants (see list below), also PaddleNSW, "Clean-up Autralia.org.au" and Willoughby Council, for a successful event. There's definitely more rubbish out there so I encourage every paddler to continue to pick up pieces of plastic on land or on the water. List of attendees: John D., Laura and Jeff H., Matt S., Duncan J., Andrew P., Jeff T. Jeff C., Richard+ Tom+ Matthew A., Chris J., Craig+ Franky (alias Dinosaur) H., Wade R., Craig S., Mike T., Rodrigo M., Don Johnstone, Richard Y., Anjie L., Dave H., Caroline H. (event coordinator and author of this report)