Paddling from Australia to New Zealand 2022
Everyone needs goals and dreams. This is the story of a dream to paddle a kayak solo and unassisted from Australia to New Zealand. The goal is to inspire more people to be more active and adventurous and to follow their own dreams.
Useful Links
The Boat - Infographic
Infographic below shows key features of the boat design and tracks of previous Trans-Tasman crossings by kayak. Shows Richard's during the first 2021-22 attempt - and updates for the 2022-23 attempt. Courtesy of Mario Lendvai of Broken Yellow.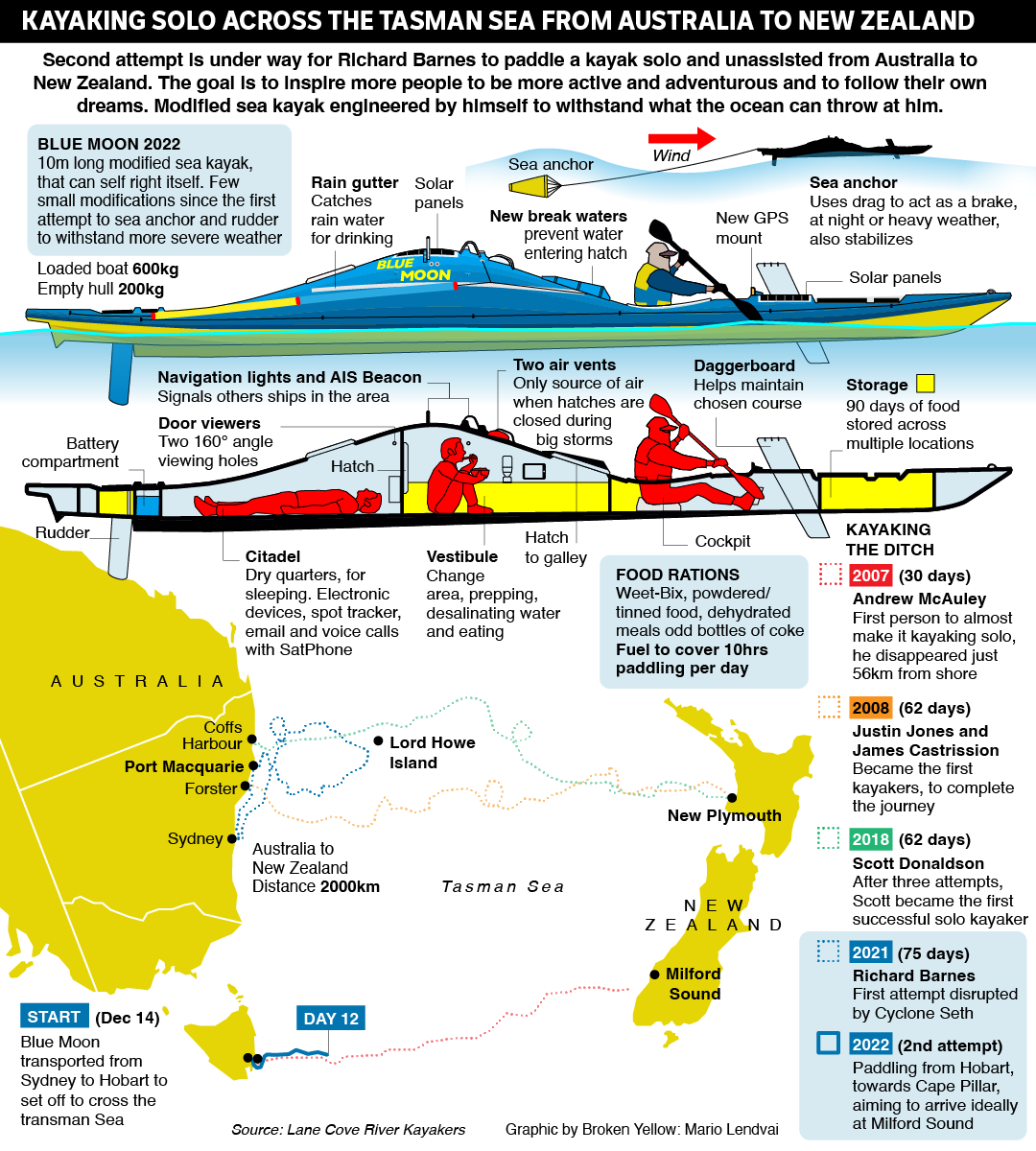 Day 54 (Afternoon Sun 5 Feb) - P is for Peace
Don't get me wrong, a layday is a very pleasant gift. However I feel the urge to progress, so will be glad to be paddling again tomorrow.
People ask and always will - why? Why spend 70 days out on an ocean, alone?
Paddling along yesterday, and in my cabin today, I think the answer to the quest has been bubbling to the surface.
Cyril Derreumaux is the paddler who recently arrived in Hawaii from California. Now that's hard to beat. Within his trip stories, there is one on finding why he wanted to do his trip. Well worth a read.
There are many contributory positives, like:
Seeing the birds
Finding the fish
Great food
The challenge
Great sunrises and sunsets
support from facebook friends
However underlying all these, is having the time to truly relax, or finding peace. A refuge from the hustle bustle, the deadlines, the responsibilities. Voices have been mounting to sort out arrival timing and plans post landing. A little voice inside whispers, let me finish the journey first in peace. There will be days, years, to get back into responsible mode.
Encouragement is always there for each of you to adventure, and perhaps also find peace within the adventure.
So a big thank you, to work, family, friends and supporters, for this once in a bIue m00n opportunity, to experience peace and tranquility, on a grand scale
[Ed: Website for Cyril Derreumaux is here]
[Ed: 24hr progress map will be updated in the morning as usual....]
Day 54 (Morning Sun 5 Feb) - Lay Day
This feels very strange but quite luxurious.
I have let the sun rise, if there was one in my grey world, and slept on.
The wind is humming through my ventilators but both hatches remain shut, with waves randomly washing across both.
The waves outside are manageable.
My validation for staying indoors is that wind, waves and current are all trying to push me south, and my paddling today would be like headbutting a brick wall. Overnight I drifted more than 40km south, my worst flotsam experience so far. I am pinning hopes on upcoming forecast southerly winds taking over from tonight.
Meanwhile, breakfast is a leisurely affair, slowly enjoying all the regulars.
It must be Sunday. Good morning in particular to all my GPUC supporters.
Day 53 - Redirection
It seems that the weather is keen to whisk me off for an even bigger adventure toward Antarctica.
Despite dedicated effort over the last four days to end each day further north than the morning's starting point, I have slipped dramatically south. Add drift overnight which is also southbound, and my latitude has increased by over 100km in those four days.
The dream of ending at magical Milford Sound is now beyond practical reach.
Invercargill on the south coast of South Island has a Port (Bluff), and so is now the likely target landing. That or Riverton.
As a bonus it is closer than Milford has been for a few days, well within 400km.
So long as I can escape the southward conveyor. My hardworking weatherman Roger B forecasts winds tomorrow morning from the north, but a change in the afternoon and then winds with a southerly component to help me north till at least next Thursday.
So hang on in your couches, angle them round a little, and lets head off together towards Invercargill (Bluff/Riverton).
[Ed: Richard reported conditions as 'decently rough' last evening and plans a sleep-in till the wind swings to south in afternoon.]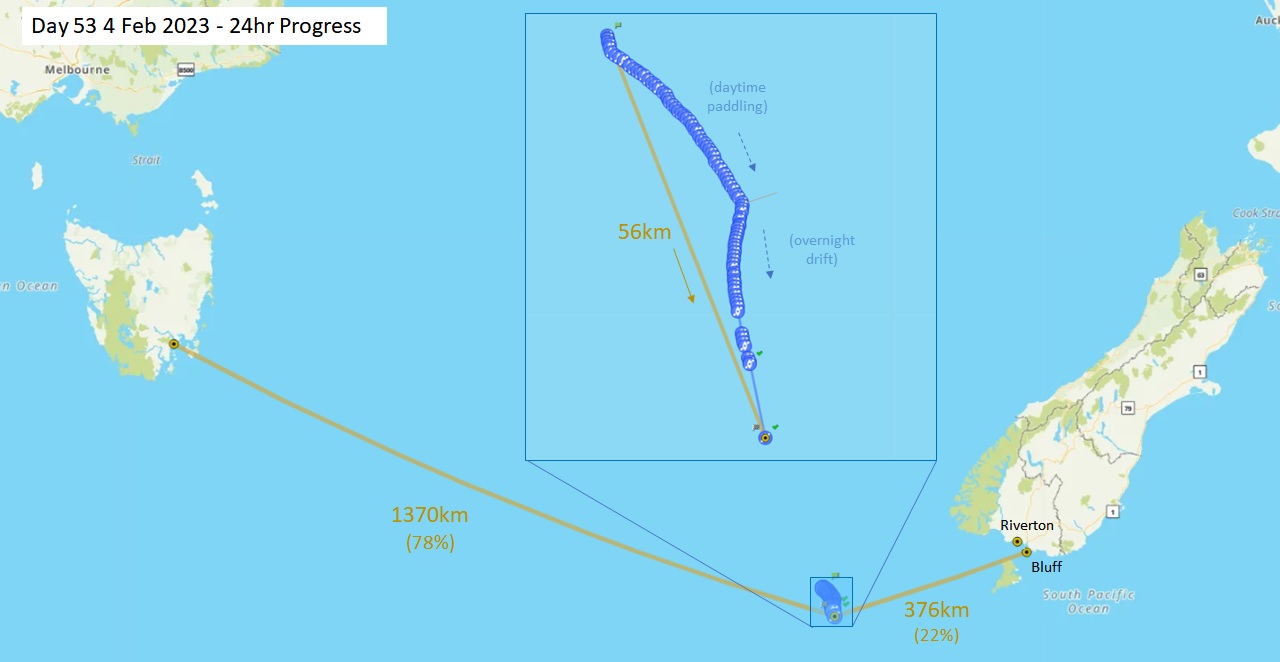 Above: 24hr Map now shows distance to Bluff and location of Riverton
Day 52 - Adventure Enablers
Two shout outs today.
Dave is the first. Dave and I met at Sydney Uni Canoe Club, and learnt to whitewater there. We paddled the Franklin together. Tomorrow he will be competing in the Cradle Mountain Run, vying to be the competitor who has completed the most number of runs. As well, he is part of the organising committee. Saturday morning before sunrise, entrants will set out on this iconic trail, doing in one day what takes hikers usually five. Dave traditionally makes the Anzac biscuits available at Narcissus Hut to power people round the final lake stage. Good luck Dave.
Shannon O'Brien is the second. Rapidly approaching is the postponed Massive Murray paddle. Shannon took over organising this huge event post Red Cross then YMCA. It was in my mind because the distance raced down Australia's longest river is 400km, matching how far I have to go to get to NZ. Shannon provides the logistics to support both racers and finishers. I would be on the Murray's if not out on the Tasman, and will be back in November for the next running. I encourage anyone who feels the urge to do the longest canoe event in Australia to give it a go. A new final day paddling in Gunbower forest is sure to add special interest.
Alongside AJ Hackett - Dave and Shannon help provide outlets and options for adventuring, whenever the urge grabs you.
['Ed: Not sure if Richard will paddle today – strong winds from north next ~24hrs. Hard day and hard work ahead...]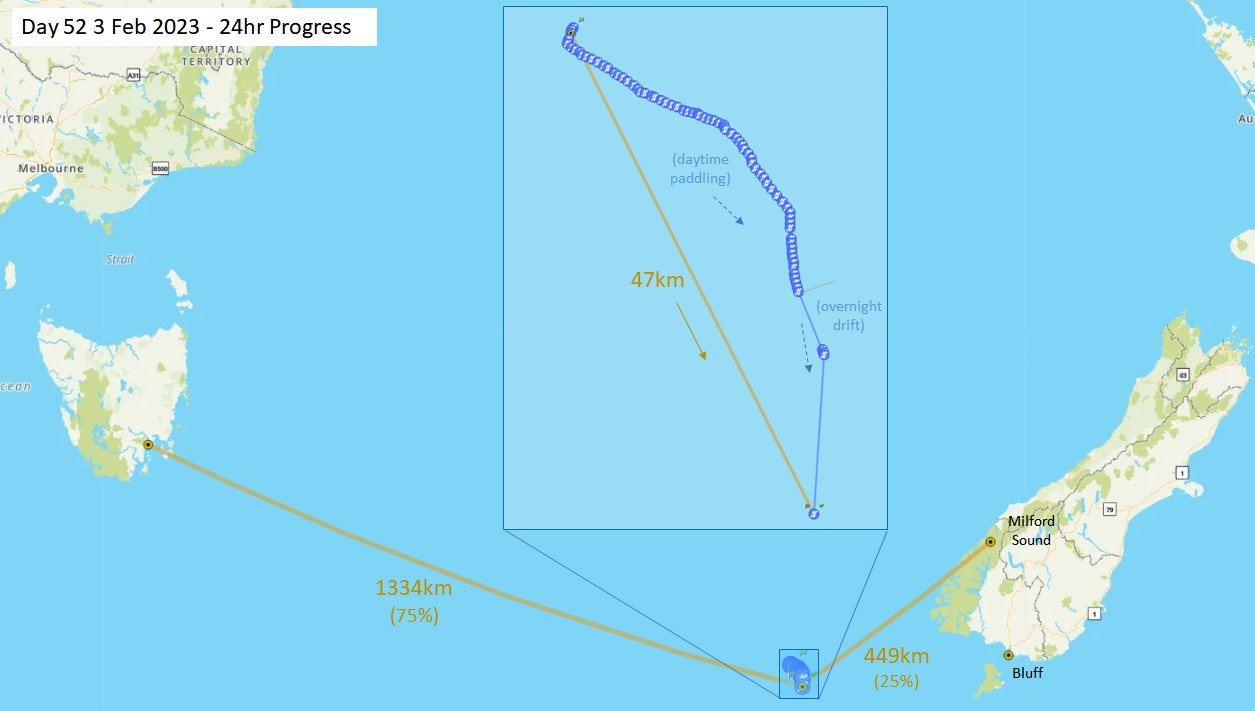 Day 51 - Fishy
I paddled along today wondering why I had seen so few fish.
The sum total for the journey is pretty much:
the mini whales, or maxi dolphins, highlight of the whole trip
3 sharks, the family that stayed around for quite a few days
a couple of pods of dolphins, one yesterday
two seals, one just on 700 km to go, and one two days ago, which did make me wonder what their range from land might be
One game fish, big long pointy nose, etc, way back
today, a sparkle of a school of hundreds of tiny fish leaping through the air. No sign of what might have been chasing them.
It had been suggested to take a fishing line. With nothing visible, even less chance of catching anything. If I had been relying on fresh fish, there might well have been a big hole in my diet. Or is it like what Christophe has suggested in some of his cartoons, that all the fish are lining up at BIue M's stern, just out of this not-very-flexible paddler's sight?
It will be interesting to observe whether the fish quotient increases as the NZ coastline gets closer.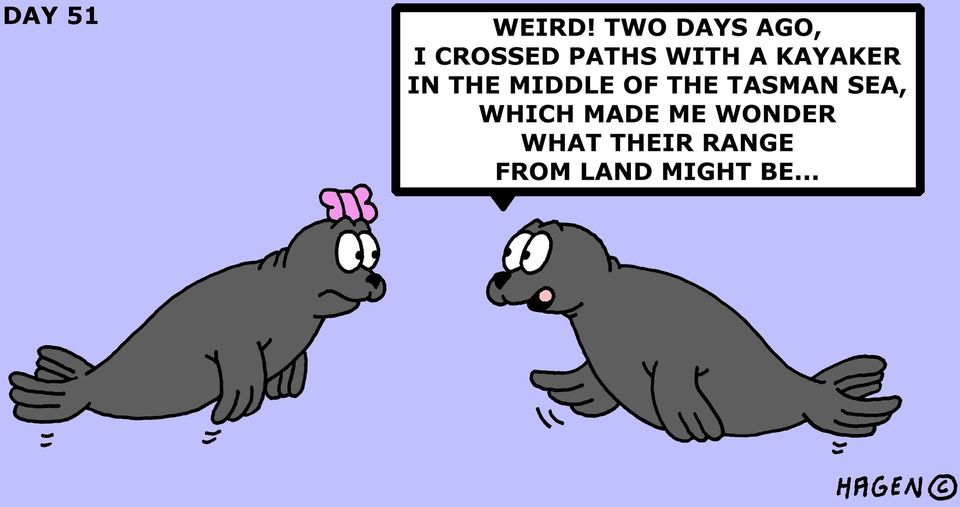 Above: With thanks to Hagen Cartoons!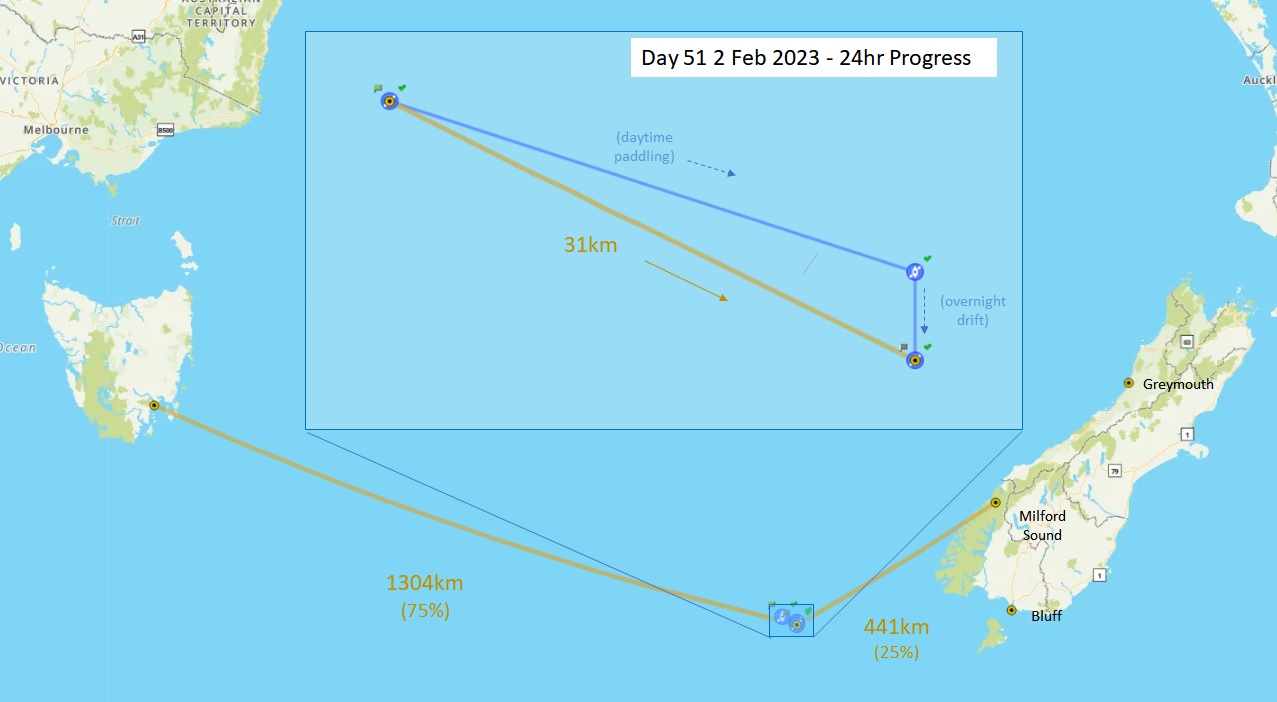 Day 50 - Food Supplies
In planning this adventure, one of the significant decisions was how much food to pack. Too many epic adventures either get cut short, or the person runs on strict rations to make supplies last to the end. My plan was to take 100 days of food.
At day 50 I should theoretically be half way through. An audit to see how well I was sticking to the menu was in order.
Food consumption has been aided by most supplies being packaged in weekly grab bags. Weetbix is my staple for breakfast. Every night I see the boxes, as they still line my bedroom. I started with 8 boxes, and still at box 3.5, so safely within budget at 7 or 8 per day. I need powdered milk for the weetbix, and muesli, soup, desserts and cups of milk to drink. Started with 8kg, still to reach 4kg.
I have one flatbread a day, with vegemite, peanut butter or marmalade. Its hard to sneak another whole piece, so they are safe. The spreads are more at risk. I know I have been overindulging in peanut butter, but brought 4 big jars to account for that. Marmalade and vegemite are both just into jar two territory. Lunchtime staple is vitaweats. Max 8 per day. Haven't exceeded that budget, but also haven't checked the overall cache, so a tiny uncertainty. I had planned on one or two filling tins per day, things like sardines, average 1.6. Have rarely had more than one. So there are banking up spare sardines and tuna, perhaps if I could find a shark or tempt a shearwater?
Dinner has two staples, a cup-a-soup and a dehydrate main. These are disappearing strictly one per night, so are the most regulated of all. They are supplemented by couscous, pasta, deb and peas, all of which seem to be slightly in oversupply, lagging behind consumption of the staples. I have always loved desserts, and am making sure not to get ahead of the weekly ration. Otherwise this would be at high risk of excessive depletion. Surprisingly, snacks are way behind. The urge or perhaps time to snack never seems to arise. Arnotts biscuits I am up to day 20. Muesli bars hardly touched. Biltong aplenty. Nuts are one exception, where my mouthwatering supply gets raided for breakfast and first thing when finishing paddling for the day. This may well be my achilles heel.
Perhaps the outcome of the audit is that I can slow down and stay out here paddling a while longer? Definitely starvation is not threatening.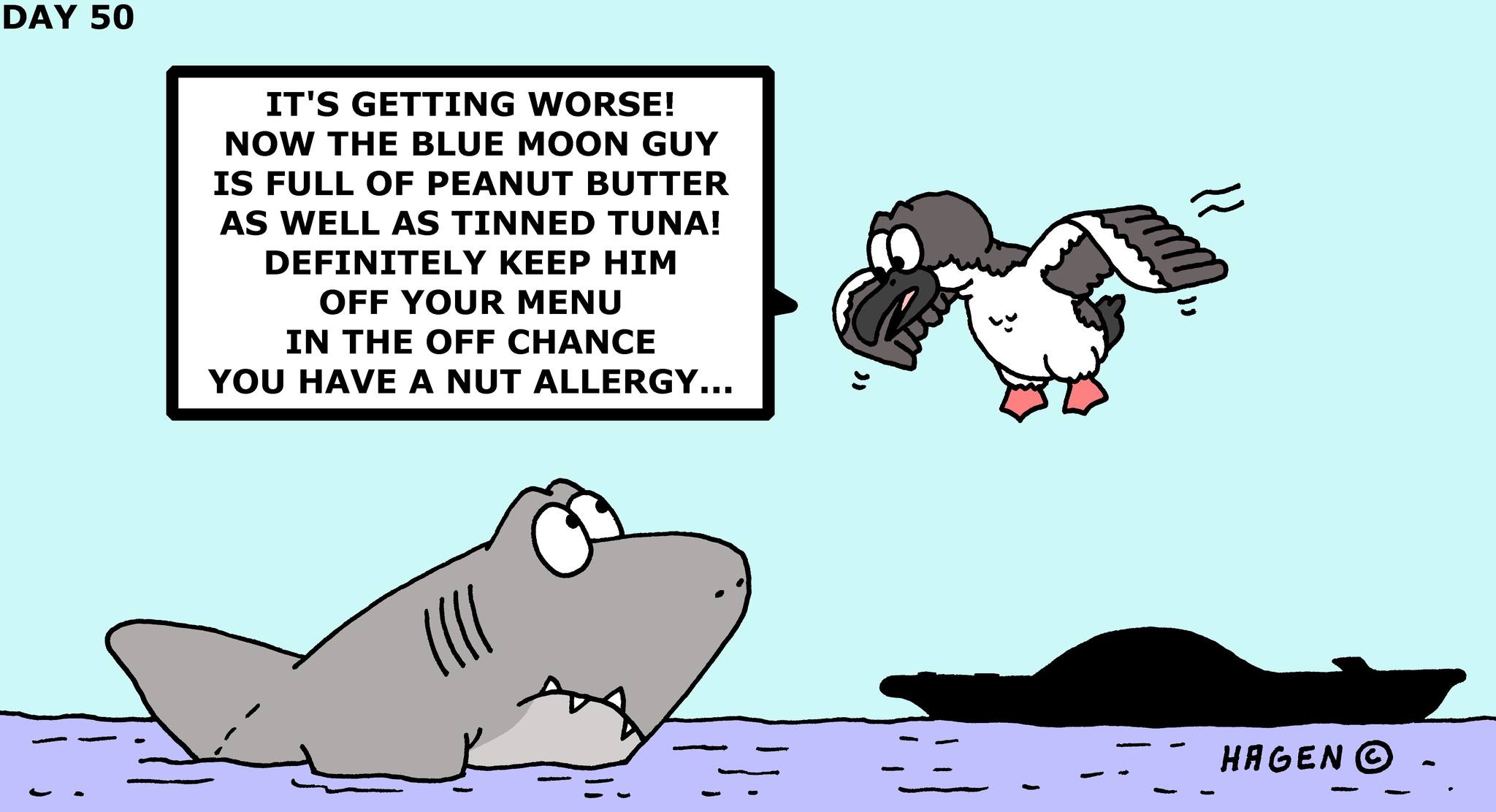 Above: With thanks to Hagen Cartoons!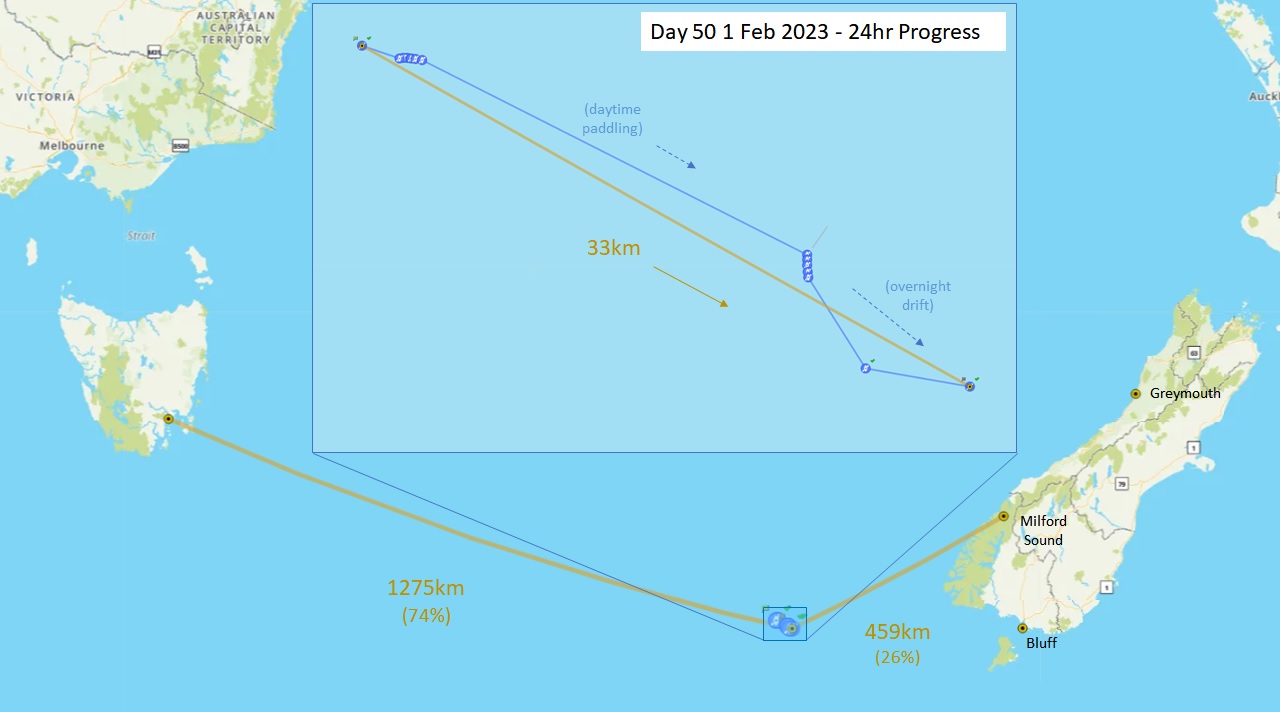 Day 49 - G for Grand
A part of me wants to experience rougher weather - the thrills, to see what it is like, to see how BM and I measure up. Another part of me really enjoys the quieter moments.
It reminds me of a stretch of the Franklin River, called the Great Ravine. It contains four of the biggest rapids on the river, but also has three beautiful, serene and quiet runs between the rapids. Is either better, or do they coexist to highlight the differences. I can remember at the time, being a relative novice to white water and at the height of the No Dams issue, being particularly happy to float and recover on the quiet parts.
I have now had two calm afternoons in a row on the Tasman Sea. This afternoon felt particularly grand. Warm sunshine. No wind. Tiny wavelets not thinking of breaking. It was almost dry paddling. BM was tracking along with little need to steer. No hidden currents so speed was fine. An albatross landed nearby a couple of times for a chat. It made me feel unstoppable, if only a desalination session didn't beckon. I could paddle along not concentrating, absorbing nature all around, and letting thoughts flit lazily through my mind.
Definitely a grand moment.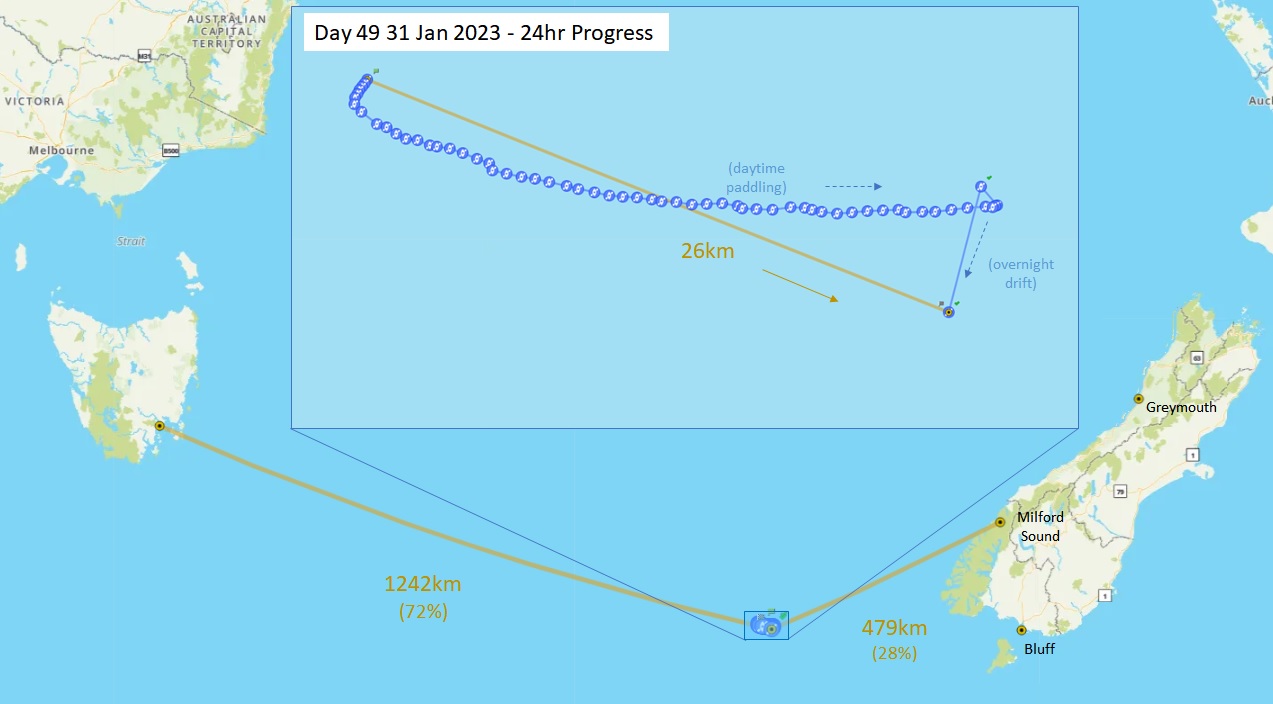 Day 48 – Soup Disaster
There have been two occasions on Tasman II when I have been put to the test and found short of the right stuff.
The first was when I lost my main sea anchor and broke the rudder restraining system, the story of which was shared on day 35.
Two nights ago, just after midnight, I spilt my soup.
It was to be dinner's final course, a hot cup to send me happily to sleep.
Unfortunately at the critical moment, a big wave crashed into BM and sent lots of things flying.
It generally had been fairly flat and calm, and soup was in a lidded cup. Nevertheless, the outcome was a cupful of mess spread all round the vestibule, and liberally over me. Reflecting from this distance, it was disappointing to miss out on the contents, and to have to clear up the mess.
In that moment of shock, I was not sure whether to cry or scream abuse at the wave. Many inanimate bystanding objects got caught in the crossfire, and lamed for what was essentially my own lack of care. Things might well have gone overboard as the punishment for this innocence, if the hatches had not both been shut.
Ultimately a sponge and bucket got the soup overboard and the vestibule back to a semblance of order, and I retreated to my bedroom, lying there contemplating my grievances.
Partly because of being solo, perspective comes more gradually.
What I needed was a large dose of Ian's literary magic.
He has taken verse 3 of Banjo Patterson's Mulga Bill and reworded it to cover the great soup disaster. Thought up in a day, it just has to be shared with everyone. Thanks Ian for helping put minor incidents in their rightful place.
'Twas Barnacle Barnes, from Collaroy, that sought his boiled water
That perched atop the gimballed stove, chicken soup on order
He turned the flame down a tad, drooling for the flavour
But ere he'd done a dozen stirs, BIue M00n hit a wave-ARR!
Cup left the shelf, flew through the knees, outcome was quite certain
Soup drizzled down the walls 'n floor, hunger pangs now hurtin'
(vs original verse 3 below) or see the whole poem here
'Twas Mulga Bill, from Eaglehawk, that sought his own abode,
That perched above the Dead Man's Creek, beside the mountain road.
He turned the cycle down the hill and mounted for the fray,
But ere he'd gone a dozen yards it bolted clean away.
It left the track, and through the trees, just like a silver streak,
It whistled down the awful slope, towards the Dead Man's Creek