5 December 2014: December Kayak Kapers Available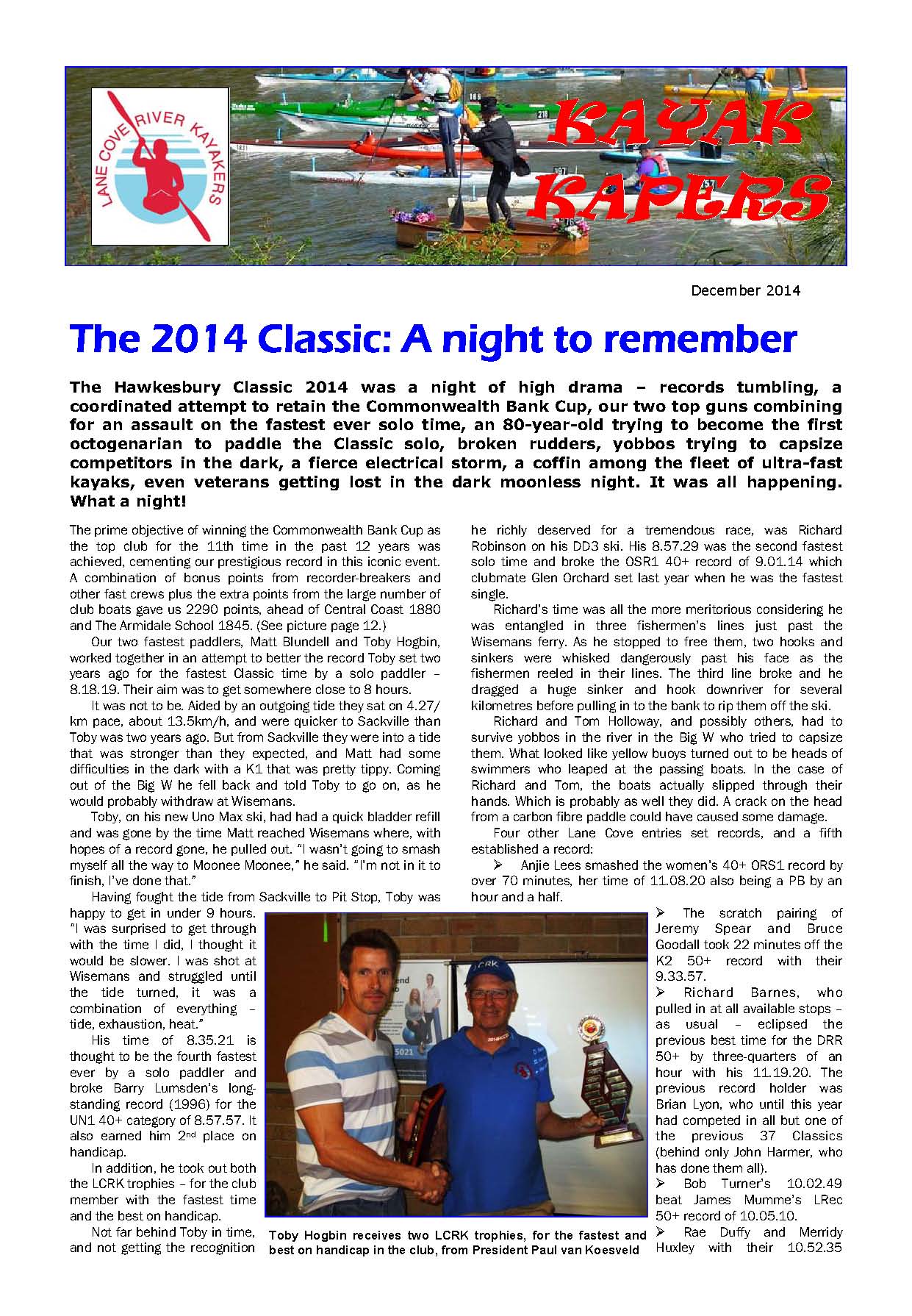 The December 2014 issue of Kayak Kapers is a Hawkesbury Classic special, with full details of how
Lane Cove performed in this great annual race. In it you'll find:
Detailed results of from the full LCRK fleet
Individual reports from every LCRK competitor
The inside story of Tom Simmat's coffin trip down the river
How Justin Paine became the first 80-year-old to paddle the Classic solo.
You can download this issue and earlier issues of Kayak Kapers free to your own computer.
10 October 2014: October Kayak Kapers Available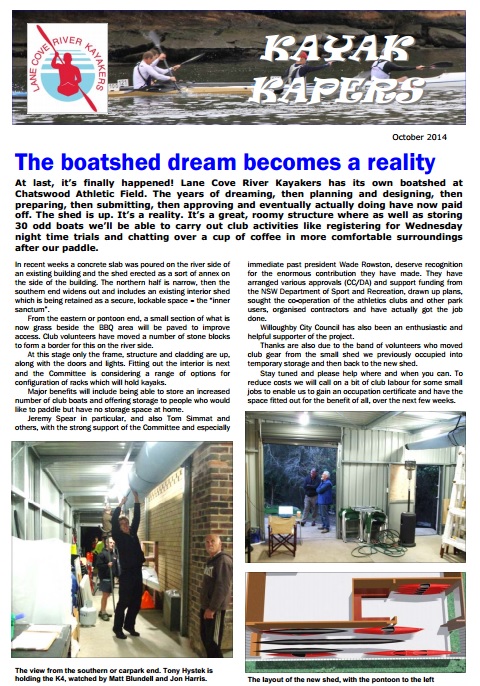 It's been years in the planning, but at last Lane Cove River Kayakers has its own boatshed. The proof lies in the photos in the October issue of Kayak Kapers. Also in this issue:
Lane Cove will field a slightly smaller Hawkesbury Classic team than last year but it's a very strong one.
The bad weather which has dogged the Marathon 10 series this year continued for the race on Lane Cove River but it was still a highly successful day.
Richard Barnes tells what it's really like to paddle 1600km through the wilds of Canada and Alaska.
You can download this and earlier issues of Kayak Kapers free to your own computer.
You can download this issue and earlier issues of Kayak Kapers free to your own computer. .
5 Oct: 2014: Sprint Series - Round 2
Conditions were perfect at SIRC on Sunday a good number of entries and some very flat water led to some excellent results. Paddlers from LCRK were Wade Rowston, John Greathead, Tony Walker and Derek Simmonds. Also Gaye Hatfield (MWKC) and Ella Beere (AKC). Helping to run the event were Roger Dean, Matt Swann and Nigel.
Photos
Results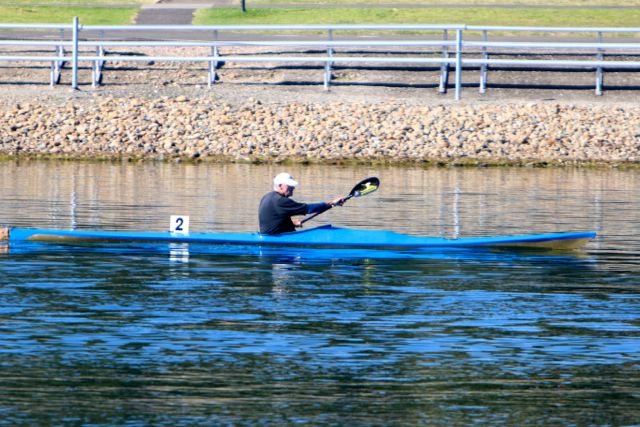 Tony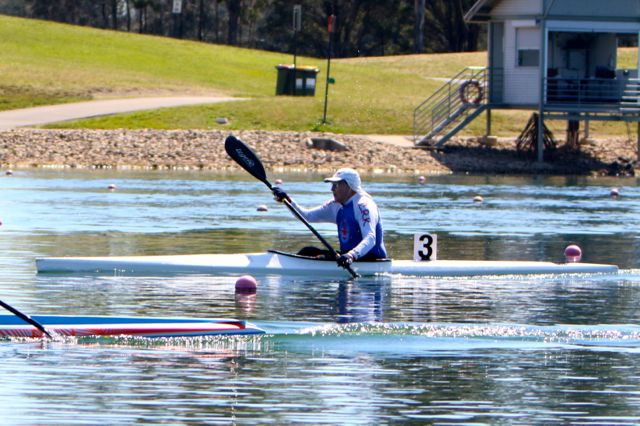 John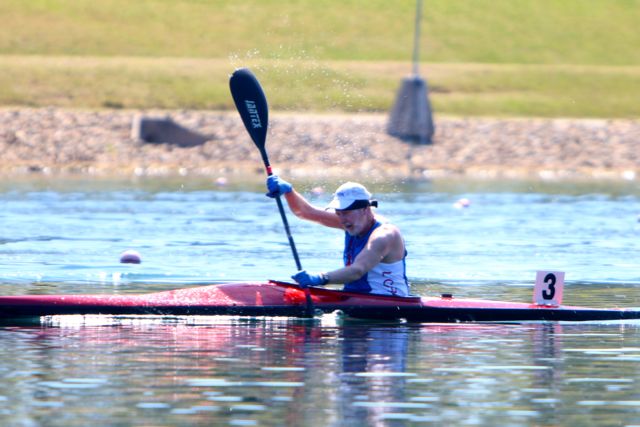 Derek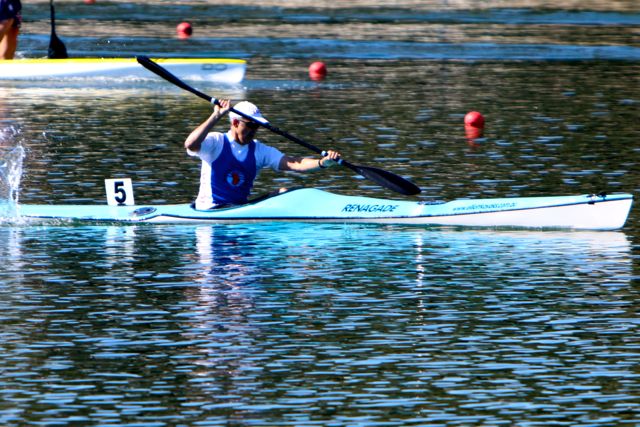 Wade
27 Sept 2014:Wonderful Weather in Wagga Wagga for Last Round for 2014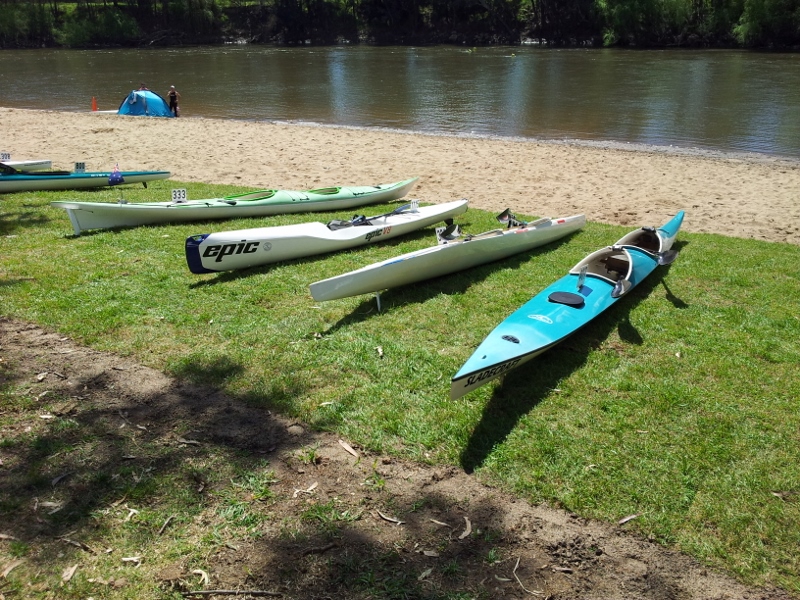 Wagga Wagga turned on the best weather of the Marathon season for paddlers who made the trip down. There was the biggest contingent of LCRKers present for some years with most staying at the caravan park and camping site right next to the river.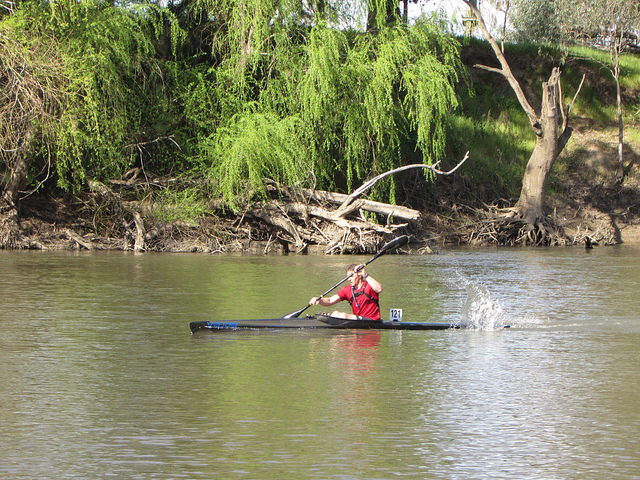 Toby Hogbin wins Div 1
The fast flowing Murrumbidgee makes it a course with a difference. The flowing water sees paddlers hugging the river bank to seek shelter from the river current in the upstream leg and then sticking to the middle of the river on the downstream leg to gain maximum benefit.
LCRKers paddled well and there were some excellent performances as contenders for their division pushed hard for a result.

Ruby and Anjie powering along in Div 6
In Div 1 the tricky, fast flowing 'narrows' section of the course saw Matt Blundell go for a very rare swim which allowed Toby Hogbin to get a 200m jump. Matt turned on the after burners and just missed out catching up to Toby by 2 seconds to take second while Toby claimed 1st. Rob Manning had another excellent marathon to take 1st place in Div 4.
It was also good to see Tim Hookins back paddling in the Marathon series after getting a turbo charge fitted to the ticker.
Club points were picked up by the following paddlers with the following results:-
Div 1 - 1st Toby Hogbin, 2nd Matt Blundell Div 2 - 3rd Tony Hystek Div 4 - 1st Rob Manning Div 5 - 2nd Wade Rowston Div 6 - 2nd Ruby Gamble, 3rd Anjie Lees
Also giving it their best at Wagga was Tom Simmat, Tim Hookins, Duncan Johnstone, Alanna Ewin and Danielle Seisun, Richard Barnes and partner.
The 2014 Paddle NSW Marathon Series Annual Presentation was held after the race in the evening and LCRKers picked up a number of well earned series results. Congratulations to:-
LCRK 2nd Place - Club Points Score
Div 1 - 1st Matt Blundell (Highest Points Score),2nd Toby Hogbin
Div 2 - 2nd Tony Hystek
Div 3 - 2nd David Young (Most Improved Male Paddler)
Div 5 - equal 2nd Duncan Johnstone, Wade Rowston
Div 6 - 1st Ruby Gamble
Alanna and Danielle Seisun (Encouragement Award)

13 Sept 2014: Myall Classic Challenges Paddlers Again!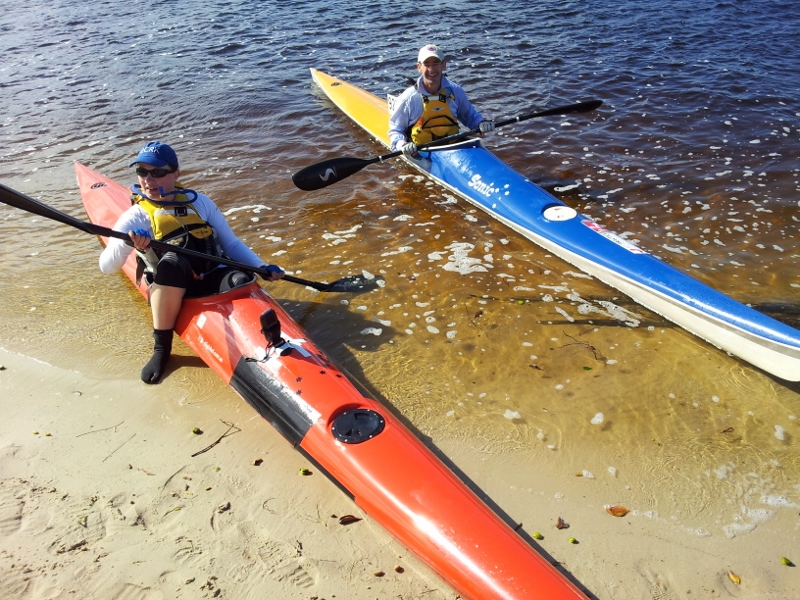 Ruby Gamble and John Duffy relieved and happy to finish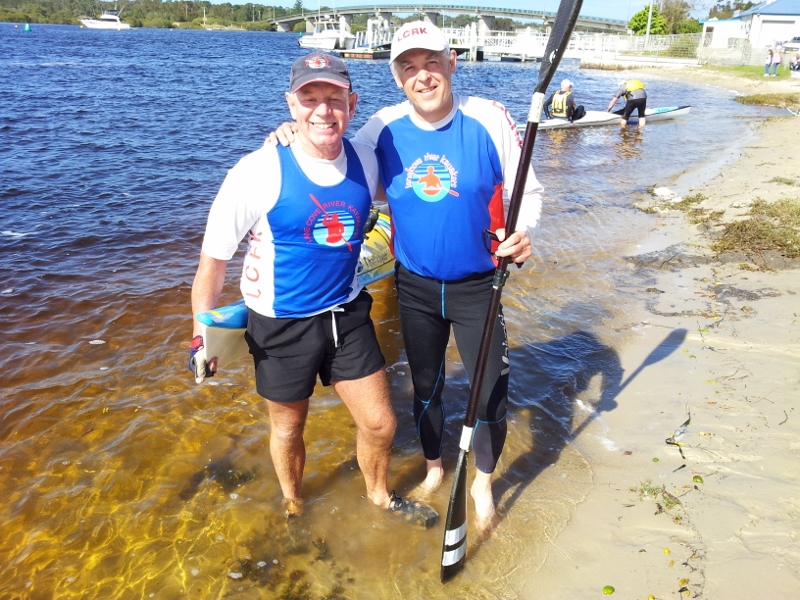 Tony Carr and Duncan Johnstone performed well
A revamped Myall Classic, now run by PaddleNSW, attracted a record 250 paddlers for the 47km, 27km and 12km out and back courses. Organisers Tony Hystek, Tim Hookins, Gaye Hatfield, Bob Turner, the marathon committee and all the volunteers did a great job and ran a superb event. The innovation of varying start times was a good idea and well received as it meant most paddlers finished within a couple of hours.
There was a steady north easterly blowing over the course which increased during the day and made the last 3-4 kms a real challenge in the exposed parts of the course. Paddlers were hit by large wind chop from the side and there were numerous capsizes. The wind direction also mean that the outward leg was into the wind and with the tide approaching high, there wasn't great assistance from the rivers tidal flow, depending on when and where you were on the river.
For the first time for many of us paddling, we experience a Police launch approaching at high speed with sirens blaring. There had been a boating accident further upstream with people injured that they were attending too. The Police boat put out a sizable wash which was just another challenge for paddlers on the day.
LCRKers performed well and as is often the case, found it to be a good warm up event for the Hawkesbury Classic . Congratulations to Matt Blundell who took out the new 'Fastest Single Paddler' trophy for the 47km.
06 Sept 2014: Lane Cove Marathon - Smooth waters for Home Marathon (Marathon Series - Race 9)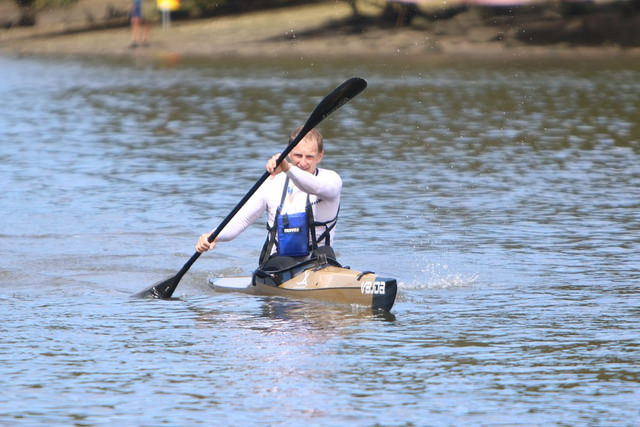 Matt Blundell breaks away from the pack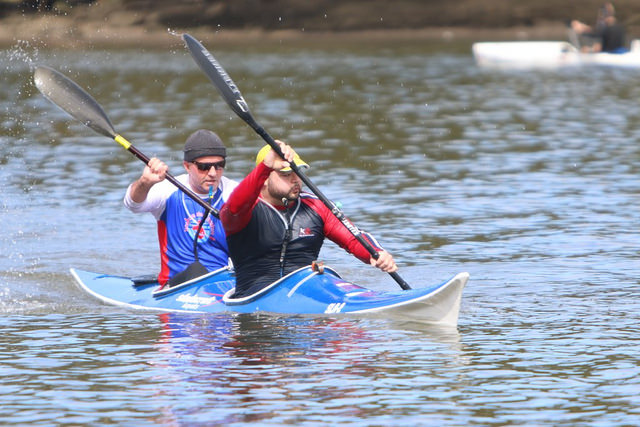 Keg and Dave power to the finish line
LCRK members had a good day on the water as well as on the organising/volunteering side of things.
Club points and podium placement paddlers:
Division 1: Matt Blundell (1st), Toby Hogbin (3rd)
Division 2: Tony Hystek (1st)
Division 3: David Young (2nd and only one second behind 1st - congratulations David)
Division 5: Ross Fraser and Ken Holmes (3rd) and getting stronger
Division 6: Craig Ellis (1st) with Steve Newsome 2nd.
Division 7: Meg Thornton (1st), Anne Lloyd-Green (3rd)
Division 10: Don Rowston and Jon Harris (3rd)
These paddlers were supported by many strong and keen paddlers: Richard Robinson (Div 1, 5th);, Matt Acheson (Div 2, 12th); Dave Hammond & "Keg" D'Andreti (Div 3, 12th), Tom Simmat (Div 3, 13th) with new member Justin Ryan (7th); Rob Manning (Div 4, 5th), Duncan Johnstone (Div 4, 9th), Jeremy Spear just back on the water (Div 4, 13th); John Duffy (Div 5; 4th, just 2 seconds behind 3rd) and Phil Geddes (Div 5, nipping up to 6th on the last bend); Rae Duffy and Merridy Huxley (Div 6, 4th), Ruby Gamble (Div 6, 5th and getting stronger), Don Andrews (Div 6, 7th - welcome to the team), Anjie Lees (Div 6, 12th and welcome to K1 paddling), Tony Mathers (Div 6, 13th and welcome back to the fray); Neil Duffy (Div 7, DNF) and Rozanne Green ( a very good ranking paddle); Tony Carr (Div 8, 9th); Tony Walker & John Greathead (Div 10, 6th), Joy Robinson (Div 10, 9th); Justin Paine (Div 11, 8th).
LCRK can't be accused of providing a short course this year. Between a "fullish length" course and a very low tide, only one paddler in the whole field achieved a time likely to result in being moved up a division. Most of our paddlers able to hit the water in an ICF craft did so. It isn't clear how we compared to other clubs in ICF craft points but no-one beat us in portaging points: 3 of the 4 "portagers" were LCRK paddlers and it was on land that Matt Blundell made his last lap break for a great win.-'
30 August 2014: Cronulla Sutherland Marathon tests LCRKers again (Marathon Series - Race 8)
Continuing the trend this series of challenging conditions, paddlers were greeted by strong wind gusts and rain squawls at the Cronulla Sutherland Marathon at Grays Point. Thrown into the mix was an SES boat patrol, cruising up and down the course at the ready to help, but also throwing up a tricky, short and sharp wash which claimed some experienced K1 paddlers. Craig Ellis and Don Andrews returned to marathon racing after long breaks.
There were a few regular LCRKers absent but still we posted some excellent results.
Points scoring results where achieved by:-
Div 1 - Matt Blundell 2nd, Toby Hogbin 4th
Div 3 - David Young 3rd
Div 6 - Ruby Gamble 1st
Div 7 - Anjie Lees 1st
Also making the trip to Grays Point and and taking on the course were Robert Manning, Ross Fraser and Ken Holmes, Phil Geddes, Justin Paine, Tony Carr, Wade Rowston, Tony Hystek, Don Rowston, Steve Newsome, Tony Walker and John Greathead.
Well done everyone. Next is our home marathon.
August 2014: June Kayak Kapers Available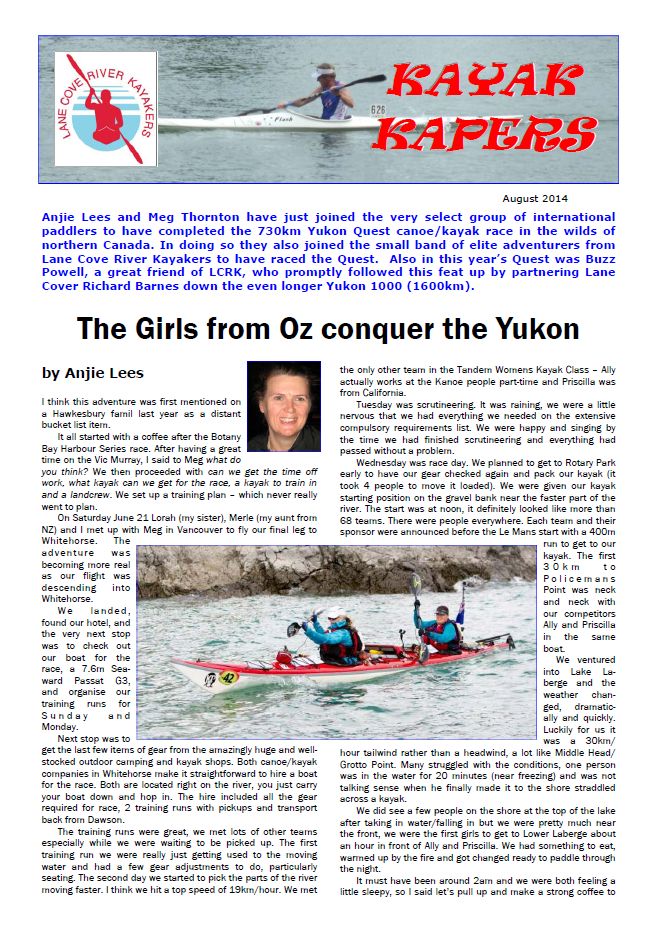 Read the August 2014 issue of Kayak Kapers and ride 730km down the fast-flowing Yukon River in northern Canada with the Girls from Oz as they win their category in the Yukon Quest. Also in this issue of Kayak Kapers:
Tom Holloway tells you how to calculate your time for the Hawkesbury Classic
Who's Who in the likely Lane Cove fleet for this year's Classic
Why insurance fears forced a change in the Murray Marathon dates
Eight inventive ways to paddle across a river loaded with a bike.
You can download this issue and earlier issues of Kayak Kapers free to your own computer. .

18 July 2014: Blustery Burrill Lake tests LCRK Marathoners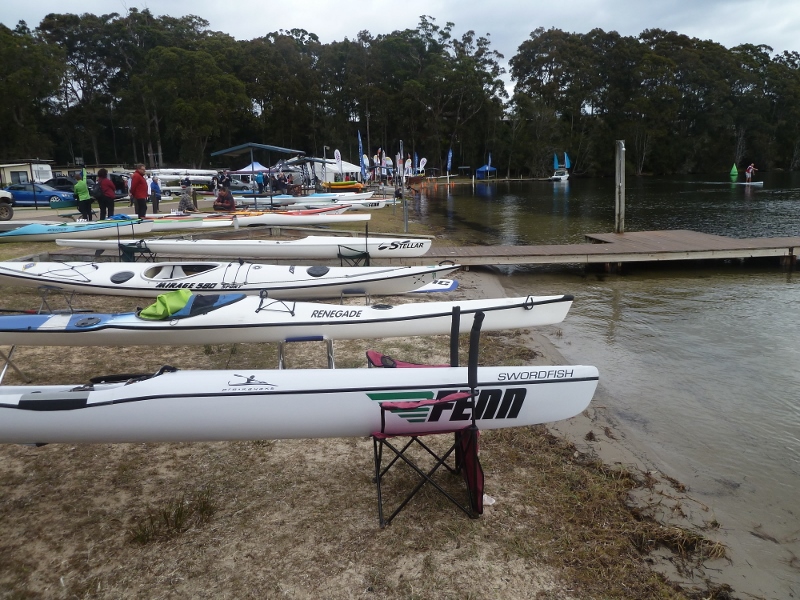 The 6th race of the Paddle NSW Marathon Series at Burrill Lake on the south coast on Sat 18th July proved a challenge for everyone with strong winds hitting the paddlers from all angles. The organisers did the best they could to alter the course to minimise the impact of the 'gale force' winds that were forecast and materialised.
Seemingly unaffected by the strong wind gusts and rough water, Matt Blundell excelled again to win Div 1. He was followed by Toby Hogbin in second place also paddling for LCRK. Phil Geddes was blown off his ski but managed to get going again quickly and still managed to win Div 6. Well done!
Points scoring results where achieved by:-
Div 1 - Matt Blundell 1st, Toby Hogbin 2nd
Div 2 - Tony Hystek 4th
Div 3 - David Young 4th
Div 4 - Robert Manning 2nd
Div 5 - Duncan Johnstone 4th
Div 6 - Phil Geddes 1st
Div 7 - Neil Duffy 3rd
Also making the trip to Burrill Lake and giving it their best shot were David Hammond Tony D'Andreti, John Duffy, Wade Rowston, Tim Hookins, Ruby Gamble, Alanna Ewin Danielle Seisun, Anjie Lees, Raewyn Duffy Merridy Huxley and Don Rowston.
6 June 2014: June Kayak Kapers Available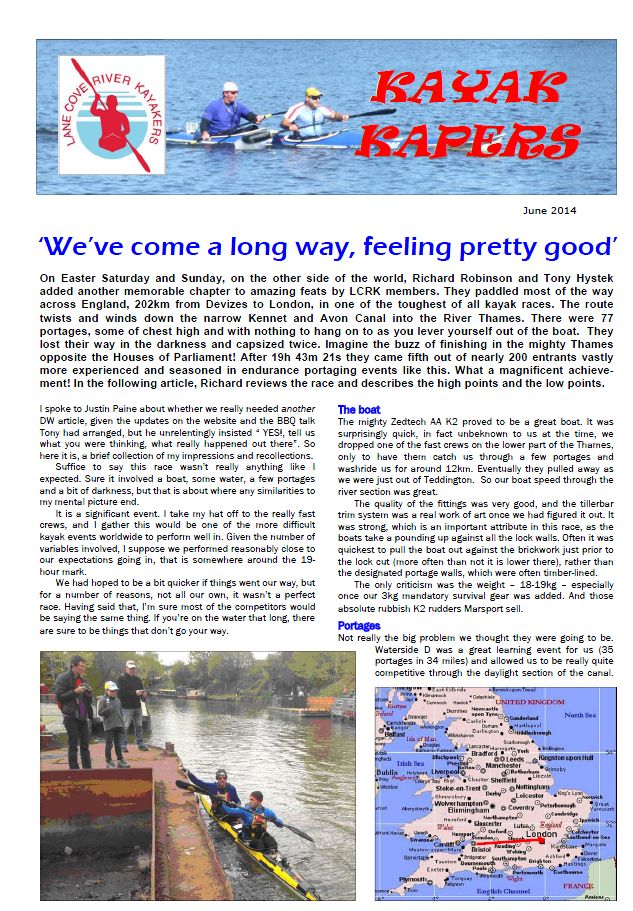 Read the first-hand account of how two Aussie paddlers raced their kayak almost the width of England in one of the world's toughest challenges, the Devizes to Westminster. It's in the June issue of Kayak Kapers, together with an account of the concerns facing landcrew in supporting them over a 19-hour period. Also in this issue of Kayak Kapers:
The national marathon championships – to portage or not to portage?
Lane Cove's big improvers in the M10 series
A marathon racing club organises the Middle Harbour open water event
You can download this issue and earlier issues of Kayak Kapers free to your own computer. .

4 June 2014: Festival of Light
On Wednesday 4th June LCRKers joined in the spirit of Sydney's Vivid Festival of Lights by creating their own mobile light installations. Joining in the fun the fun were Gaye Hatfield, Oscar Cahill, Tim McNamara, Jana Osvald, Derek Simmonds, Tom Holloway, Tony Carr and Wade Rowston, See more photos at Photos.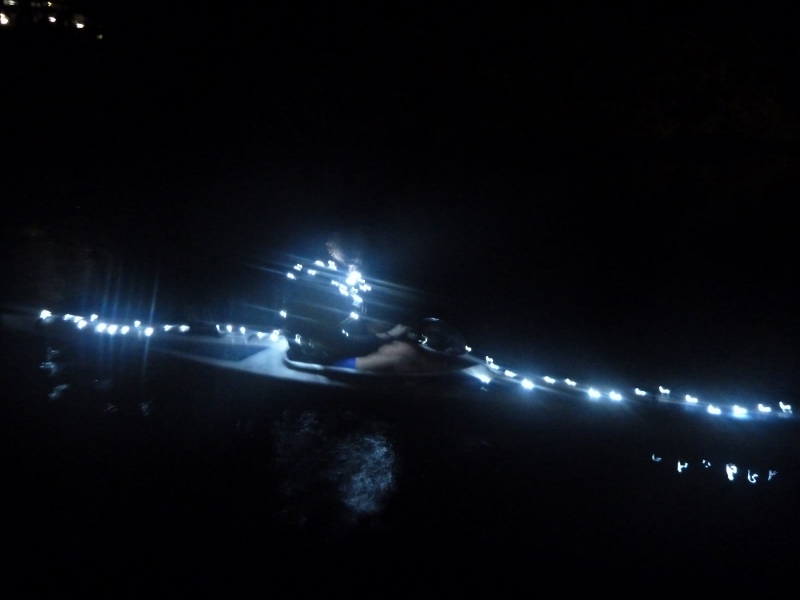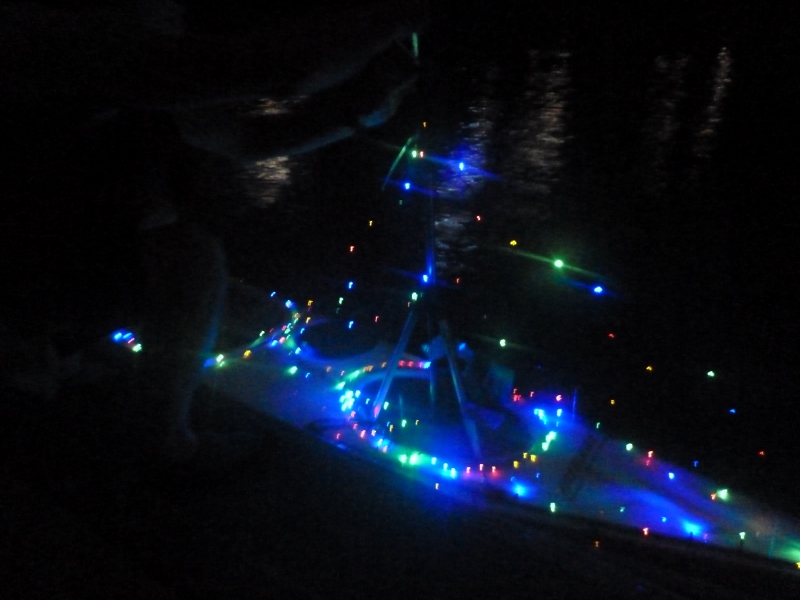 10 May 2014: LCRK Hosts Middle Harbour Challenge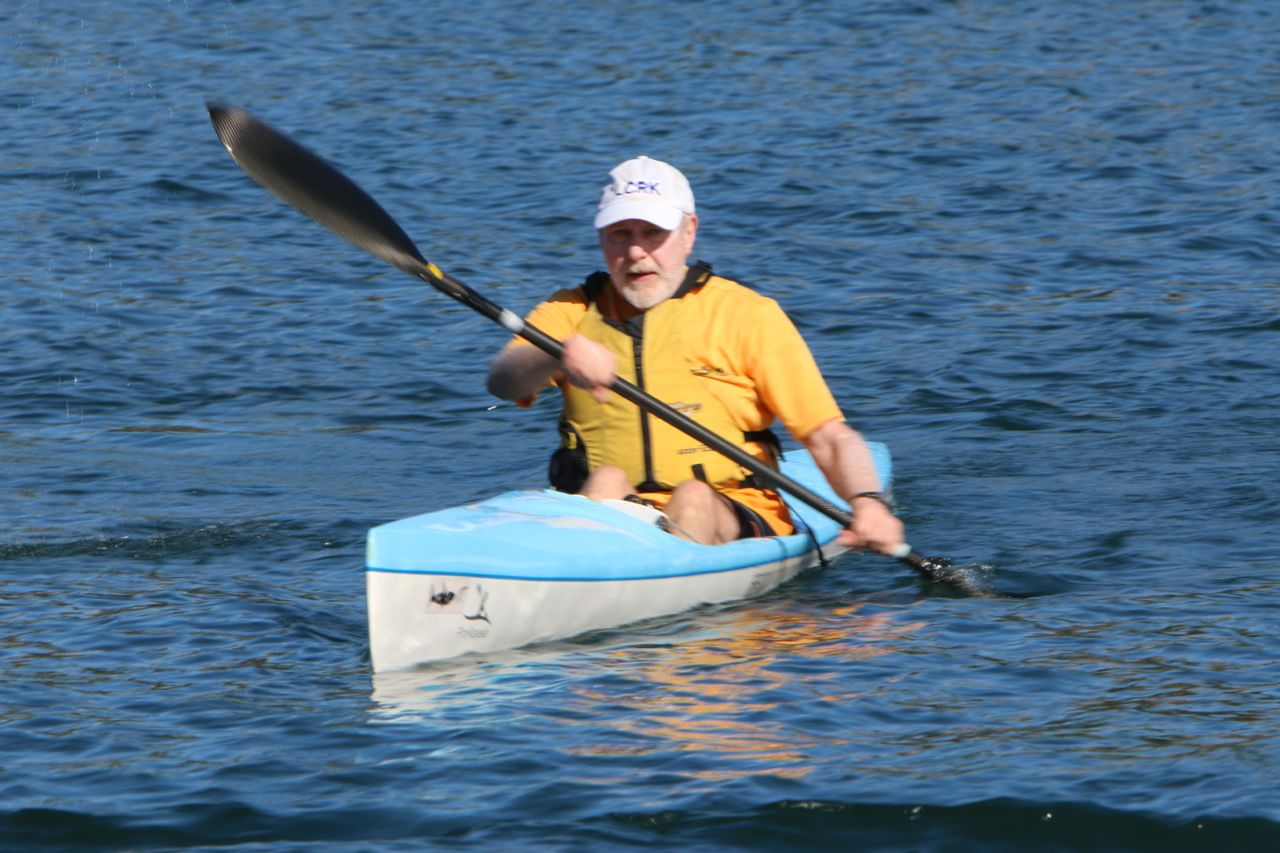 LCRK members participating in the event were Matt Blundell, Toby Hogbin, Tim Hookins, Derek Simmonds & James Mumme.

A quick thank you to everyone who contributed to the smooth running of the Harbour Series race at Clontarf. It was the first time LCRK as a club has run one of these races in the Harbour Series so it was a new experience for many of us who hadn't paddled in the series before.
We were lucky to have a beautiful day and relatively smooth conditions except for some testing sections across middle head.
Thank you to Phil Geddes first of all, for leading the organisation of the event and on the day. He has worked tirelessly for the last couple of weeks ensuring everything was in order.
Also thanks to Duncan Johnstone, Paul Gibson, John Duffy, Derek Simmonds, Tom Simmat, David Young, Paul van Koesveld, Jon Harris, Oscar Cahill, Alanna Ewin, Tony Hystek, Tim Hookins and Wade Rowston who all played important roles.
Thank you and well done to everyone!
11 May 2014: The Fish & Chip Paddle
On Sunday 11 May 2014 Lane Cove River Kayakers are hosting a day paddle on Broken Bay – considered by some to be Sydney's most picturesque waterway. We'll put in on Pittwater at Palm Beach and make our way to Patonga in order to partake in the fancied fare from the local fish & chip shop (optional). The route we take will depend largely on the conditions on the day but the intention is that we get to have a good close-up look at Lion Island, either on our way to or back from Patonga. We'll paddle along an unspoilt shoreline featuring gnarly angophoras and some amazing Hawkesbury sandstone. The pace will be relaxed and there will be a couple of shore stopovers along the way. We may have to contend with some swell. Genuine sea kayaks only (secure buoyancy chambers, all-round deck lines, etc). Spray skirts and PFDs must be worn at all times on the water. Pre-trip briefing at 9.00am, anticipated finish time 3.30pm. Distance as much as 25km. The paddle will be led by Adrian Clayton, Australian Canoeing L2 instructor and Sea Guide. If more information is required please contact Adrian via email or phone. Otherwise, please register with PaddleNSW online if you wish to participate.
20 April 2014: Devizes to Westminster - 5th place, amazing!
Tony Hystek and Richard Robinson completed the gruelling 202km (77 portage) Devizes to Westminster International Canoe Race in 19:43:21. Coming 5th out of 125 finishers and over 50 who couldn't make the distance. Lots of details in their tour updates and the race results. One wrong turn and two swims - after they've had a shower and a good rest we'll get the rest of the story. Photos
18 April 2014: Australian Canoe Marathon Championships
Congratulations to LCRK members Anjie Lees, Ann Lloyd-Green, Tom Simmat, Tim Hookins and Matt Blundell for some excellent performances at Ballarat. Check out the results and photos.
6 Apr 2014: April Kayak Kapers Available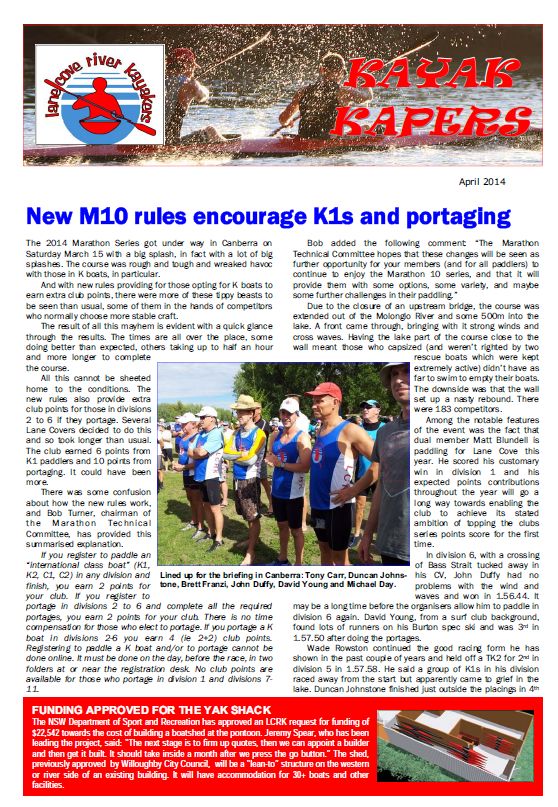 The first race of the Marathon 10 2014 series in Canberra attracted a record 183 entries, and a good number of them went for a swim in conditions made difficult by wind and cross waves. You can read about the race and how the new rules for portaging, K1s and K2s apply in the April issue of Kayak Kapers. Also in this edition:
Tony Hystek and Richard Robinson face 77 portages when they race 202km across southern England at Easter.
Ever wanted to make your own kayak rudder? Phil Geddes tells in a blow-by-blow DIY guide how to do it.
Some LCRK veterans of the Murray Marathon have interesting thoughts about the future of this great race.
You can download this issue and earlier issues of Kayak Kapers free to your own computer. .

30 March: Sprinting on a Sunday Afternoon!
The club was determined that our new monthly sprint training endeavour would be conducted to the highest standards from the start:
All ICF events – OK, just the 200 metre event; 500 metres would have been around the corner.
Course measured to the millimetre – we think we got it within 10 metres (long) before the buoys drifted a bit.
Four fully marked lanes – well, we got sufficient buoys out to mark 2 lanes, 2 boats per lane.
ICF classes – well, a sea kayak, two long-rec craft, three skis, a "geriatric" (i.e. wider than a masters) K1, a real K1 and a sonically fast bumblebee mixed it up.
Still water course – downstream with an outgoing tide.
ICF elimination structure – well, handicapping seemed to be introduced about half way through and we finished with an all-in handicap run.
State of the art timing and recording system – a bit of paper and a smartphone app were spotted.
Finish line cameras – the officials said they were too busy to use the smartphone camera but we think they were laughing so much they forgot.
A huge field – nine paddlers (Christian, Don, Jeremy, Jon, Nigel, Oscar, Phil, Paul and Paul).
A huge crowd – 2 ducks, 1 cormorant and many fish.
Events conducted on schedule – actually, they were right on time.
A top team of officials – we did achieve this through starter Wade (sitting in his Canadian canoe) and Roger and Duncan on the pontoon at the finish line. They also managed to come up with some humerous handicap decisions on the run and Wade's second counting for the handicap starts began slowly then sprinted.
Just for the record, the fastest recorded run of just under 48 seconds was achieved by Christian Cox in his ski. The rest were somewhere between that and 78 seconds. You never know, but times might eventually end up on our website. Strangely, given our extreme fitness, the first run was generally the fastest.
The club's prime aim of achieving a bunch of happy and exhausted paddlers ("I never realised that 200 metres was so far") was certainly achieved after 5 runs each.
The paddlers grinned widely, warmly thanked Jon Harris for working up the arrangements, the course setters for their buoy hauling efforts and the officials for their flexibility and good humour. Everyone then headed for home, determined to improve on Sunday 27 April (e.g. better off the line, fewer "Aagh" wobbles, less thrashing, staying in your own lane and maybe even "get fitter/stronger/technically better") with more club mates to duel with.
A lighthearted and fun start to something that will grow.
15 March 2014: Marathon Round 1 - Carnage in Canberra!
After the first round BGCC leads the club points on 68. LCRK is second on 22 closely followed by CCCC, WCC and MWKC. Full story on the LCRK 2014 Marathon page
Full results - More details in Kayak Kapers soon.

02 March 2014: Clean Up Australia Day at the Pontoon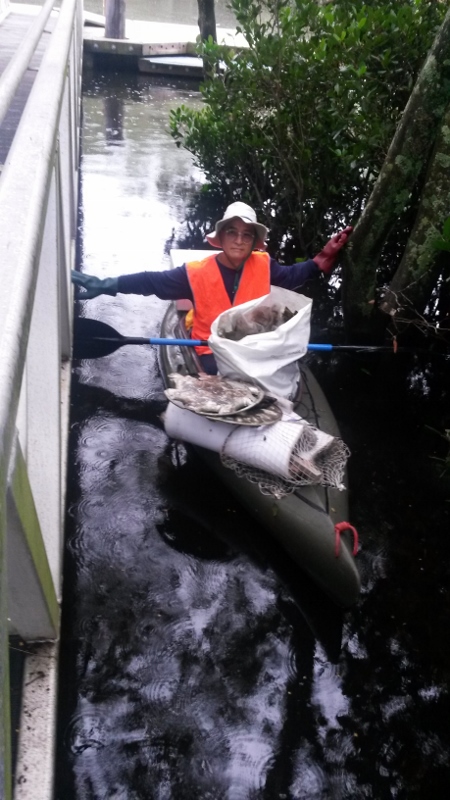 Kenji finds a box of old bait + more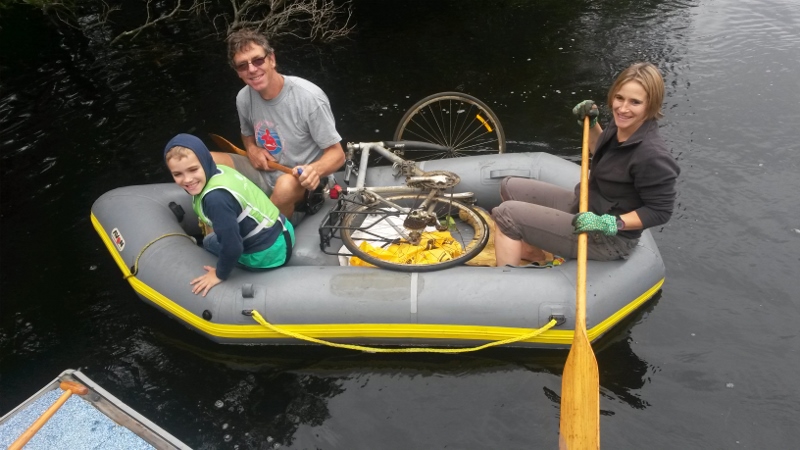 Guy, Tony and Joy recover a bike from the mangroves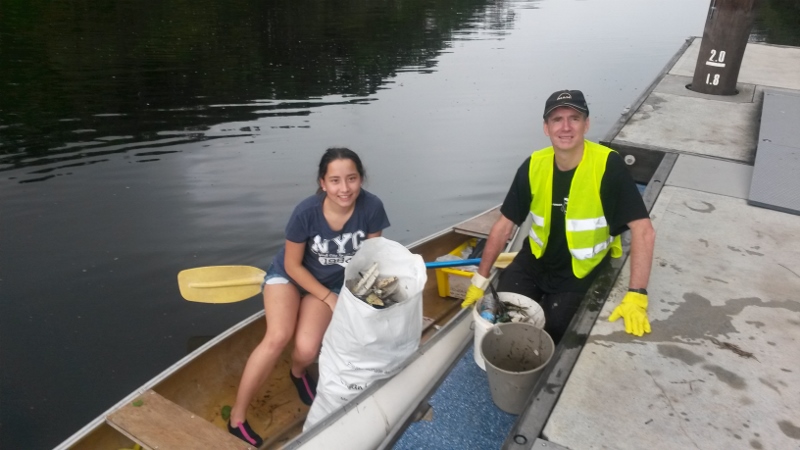 Emer and Oscar recovered lots of rubbish from the high tide mark
We had another very productive Clean Up Australia Day (morning) on the Lane Cove River on Sun 2nd Mar. Some rain showers and a mega high tide added to the challenge of sloshing around in the mangroves retrieving rubbish. Many thanks goes the organiser Jon Harris and the following LCRK club members who participated in the clean up. John Duffy, Paul Gibson, Joy Robinson and son Guy, Oscar Cahill and daughter Emer, Kenji Ogawa, Tony Hystek, and Wade Rowston.
More photos and details in the next Kayak Kapers.
11 Feb 2014: February Kayak Kapers Available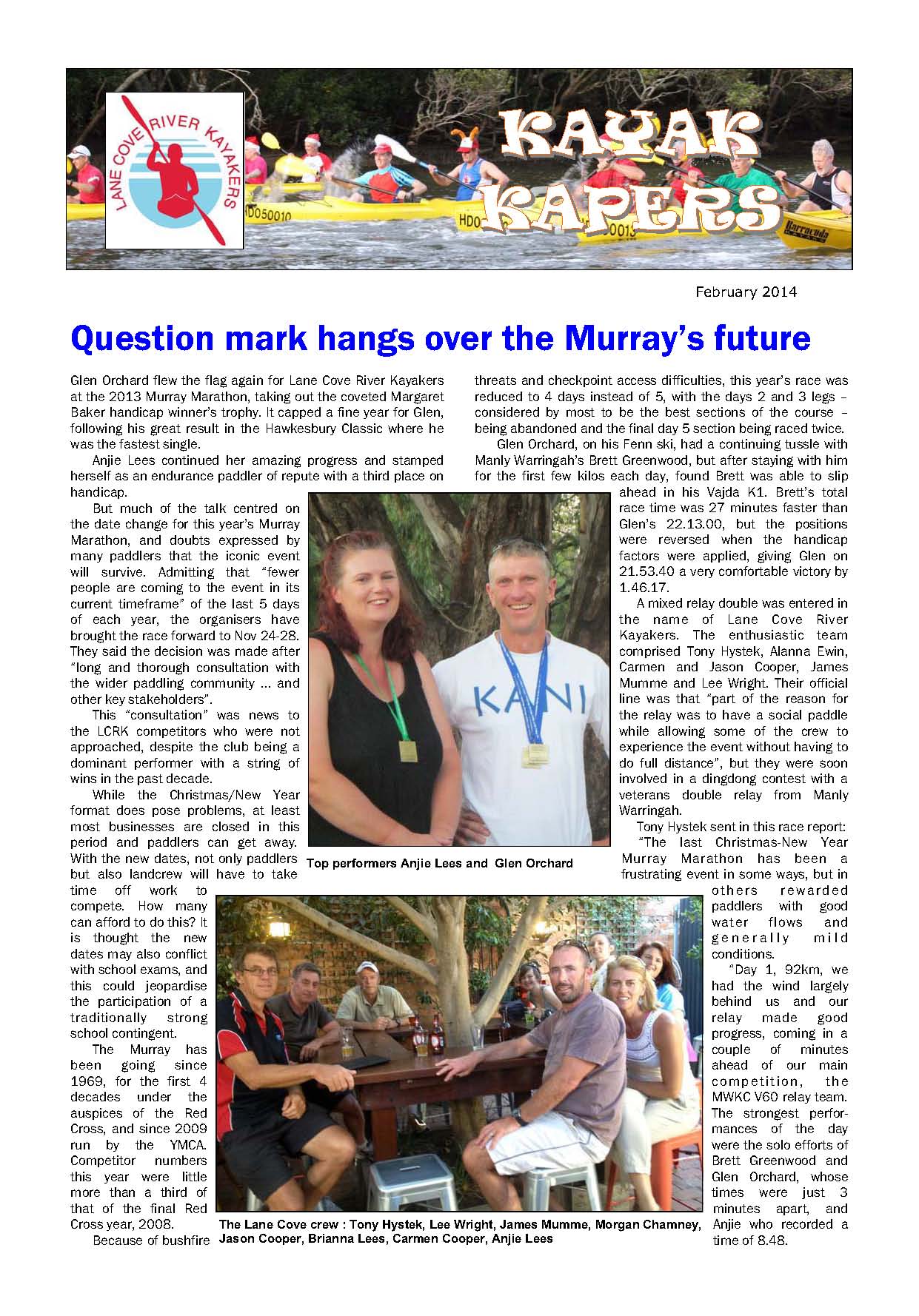 Read the February 2014 issue of Kayak Kapers and find out why a question mark hangs over the future of the Murray Marathon, which has been run every year since 1969. This was the last Christmas-New Year Murray, will it succeed in its new time slot?
Also in this issue:
The 24-hour Canberra marathon produced some remarkable performances.
Lots of great pictures from the LCRK Christmas paddle and BBQ.
All you ever wanted to know about how your rudder works.
You can download this issue and earlier issues of Kayak Kapers free to your own computer. .

18-19 January 2014: NSW Sprint Championships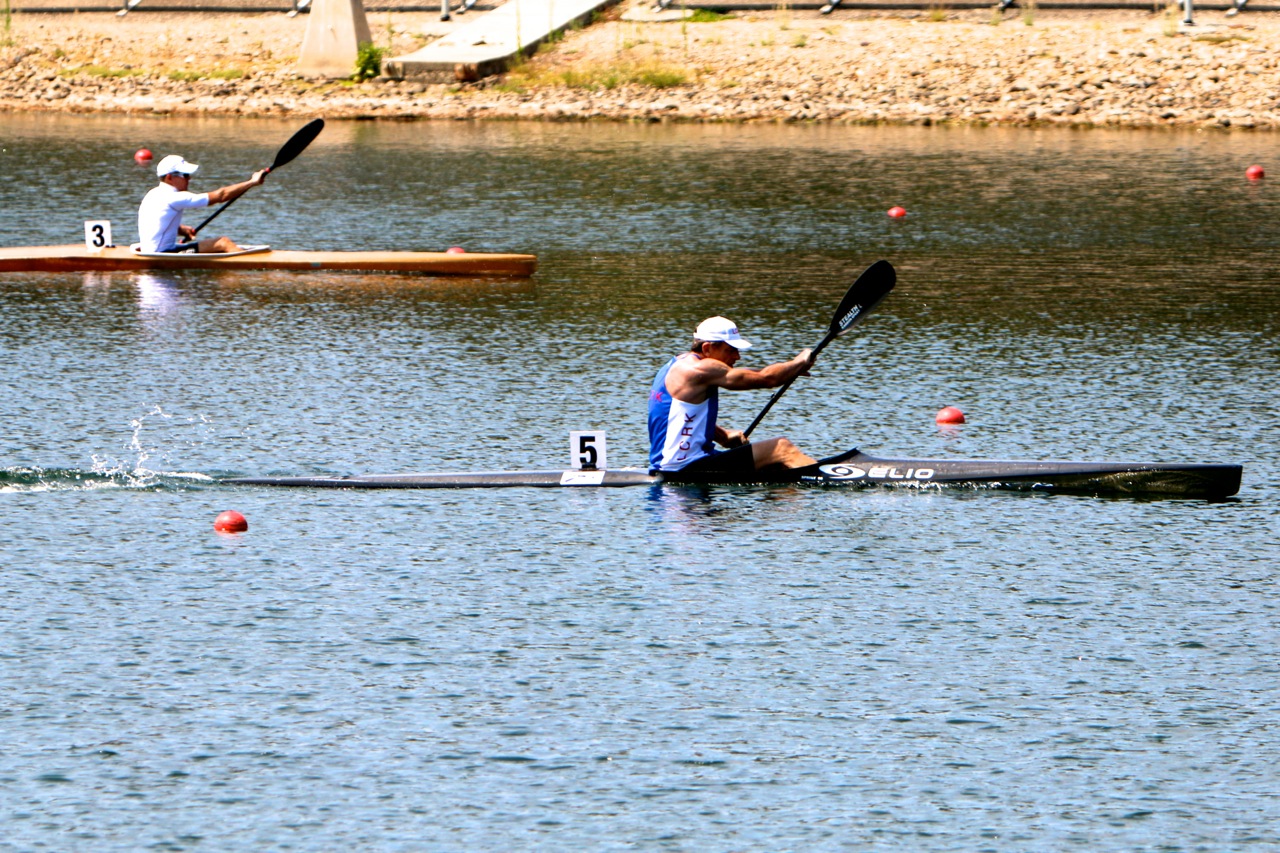 Tony Hystek in the lead
The 2014 NSW Sprint Championships were run at the Sydney International Regatta Centre. There was an excellent turnout of over 140 competitors including several London Olympians, many Rio hopefuls, juniors, veterans and paracanoers.
Thanks to Roger Dean, John Greathead, Tony Walker, Wade Rowsten, Tony Hystek and Nigel for assisting in the running of the event.
This year LCRK only had one paddler on the water, Tony Hystek. However Tony made a clean sweep of the Mens K1 55 events winning the 1000m, 500m and 200m.