Wed 21 Dec - LCRK Xmas Party & Awards Night
The annual Xmas party was well attended last night with 50+ in attendance including Members and their partners/families - all clearly in a festive mood. Check out the photos on Flickr here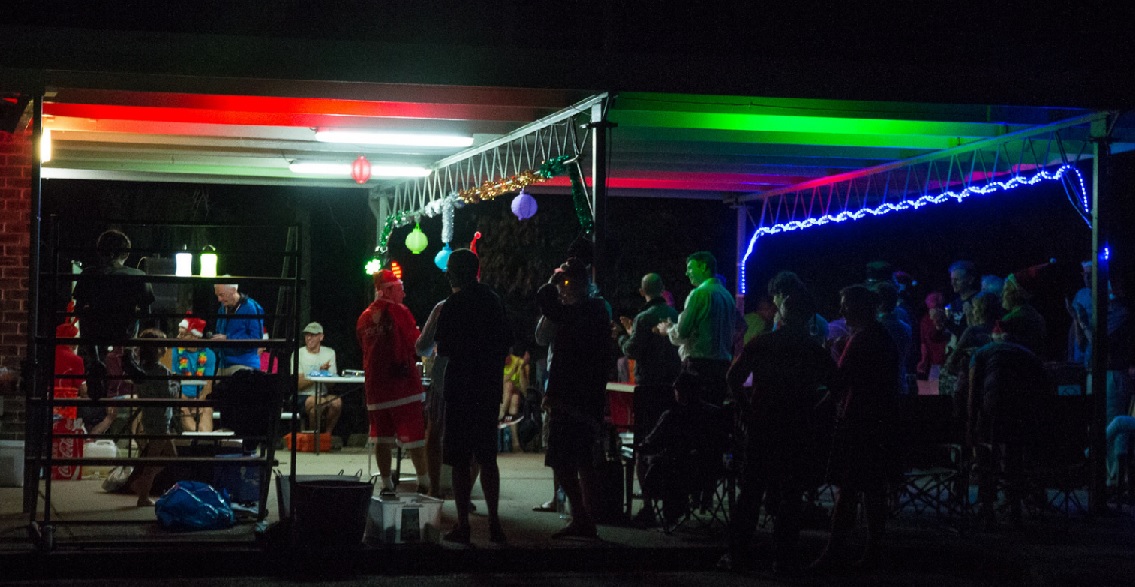 Above: the LCRK Xmas Party and Awards night 2016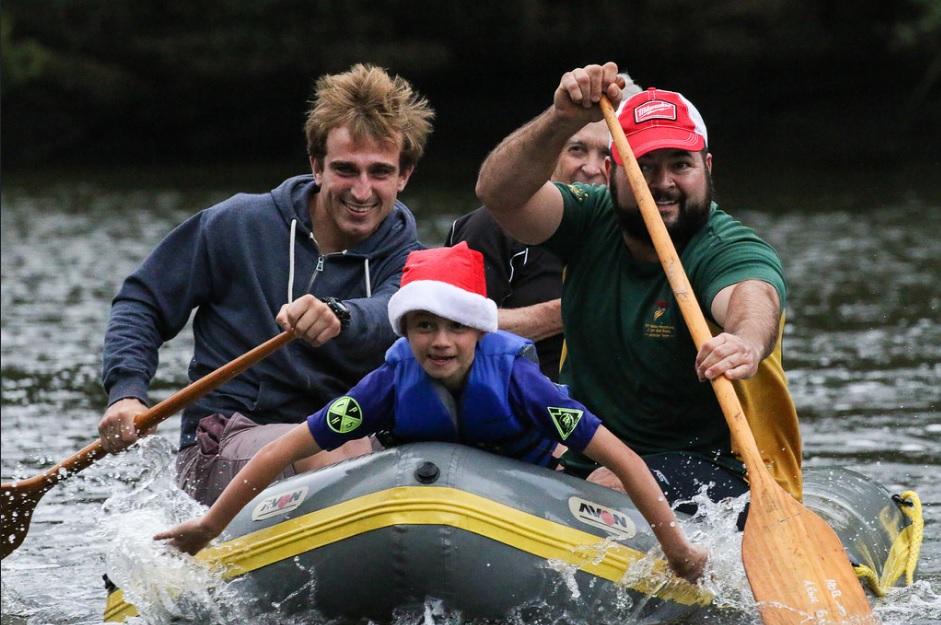 Above: A leisurely paddle
The on-water activities consisted of an extended relay race between the 'White A-K Team' and the 'Red L-Z Team'. Teams were tasked with navigating the GPS measured 250m sprint course alternating between a 3 seater raft, then a 2 seater double then a single seater. The relay continued either until a clear winner was established or the game dissolved into total disarray - we're not sure which! The various boats were pushed to speeds well beyond manufacturers specifications and occasionally in a straight line. Regardless the Red's were deemed winners with the Whites alongside them in 2nd place. A range of prizes were awarded based on conspicuous behaviour on and off the water.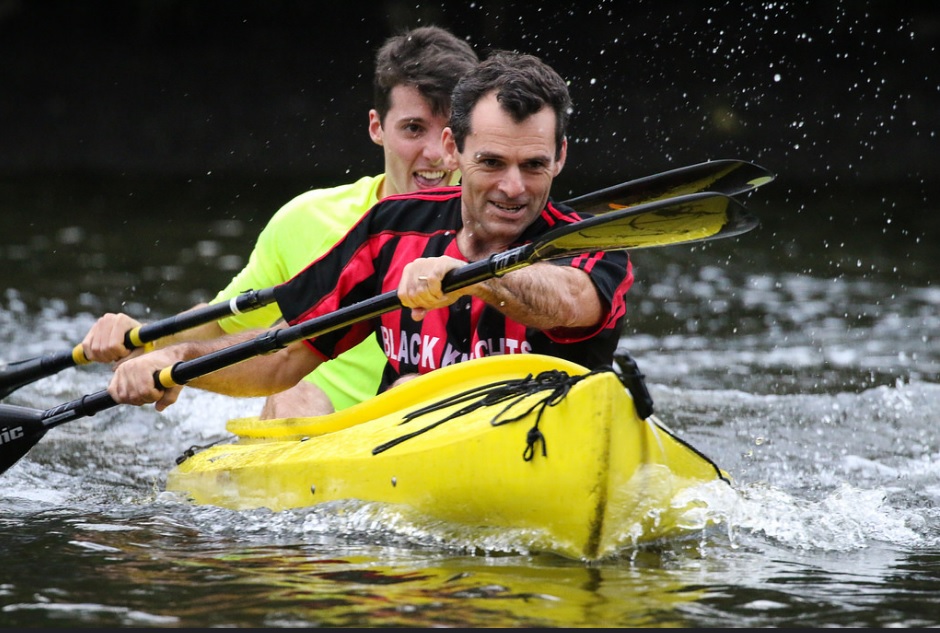 Above: Crudslime Rich and Harry getting on the plane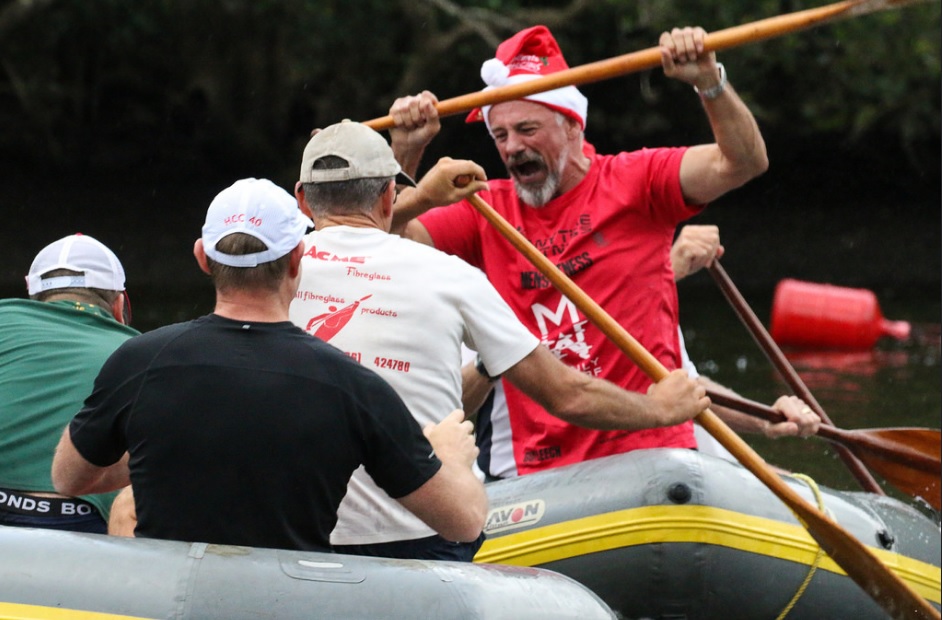 Above: Jezza the Viking repelling boarders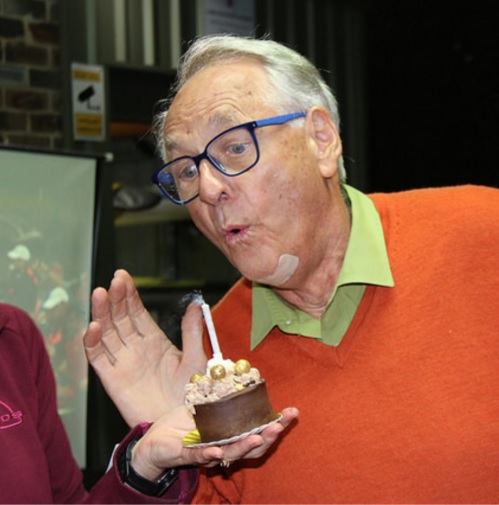 Above: Don attending to the candle
The evening was also an opportunity to celebrate the 80th birthday of long-time LCRKer Don Rowston who shared some stories of over 25 years paddling on the river. Don's sage advice on turning 80 was to "keep doing what you're doing" - and we're sure to see him in the 2017 Marathon series doing just that!
The Awards part of the evening was present by our President Phil Geddes. Details of the various winners are provided below. Phil did single out a number of individuals/groups for recognition:-
Nigel Colless – A deep appreciation for his contribution to the Timing System and Wednesday night Time keeping
Roger Deane and Mark Sier - Unparalleled contribution to our monthly Wednesday BBQ
Don Rowston – who turned 80 last week. Don has made a long term contribution to club, is one of LCRK's founding group, and appears as a frequent Marathon Series competitor in Doubles and Single. He also has a couple of boats on long term loan to the club - and gives the most popular shoulder massage at Wisemans!
LCRK Members for contribution to events and our marathon. The contribution and involvement of the members to club events is what has made this year so successful. A special thanks to members without whom the LCRK Marathon would not be as successful as it was.
LCRK Committee – Many thanks to them for wide spread contribution to all events. Their willingness to pitch in and spread the workload has been fundamental in producing a great club.
Many thanks are certainly due for the evening. Thanks to Alanna for organising the bulk of the food - and succeeded in setting a new benchmark for the Xmas Party BBQ menu. Also helping coordinate the evening were Jeff Tonazzi and Ian Wrenford. Our seasoned BBQers were again Roger and Mark - thanks guys! Also of note Tony Hystek for running the on-water activities and the fancy lighting. Loan boats were kindly supplied by Tony Carr (two doubles), Adrian Clayton (4 singles) and Tony/Alanna (two rafts). Photographers included Tom Holloway and Jana Osvald (check out the Flickr album). Thanks to Ruby Ardren for researching the awards. Extra desserts and savouries were kindly supplied by a number of people (too many to name!). And there were extras on hand at every turn to help with the whole night. Thank you everyone!
2016 Awards
research by Ruby Ardren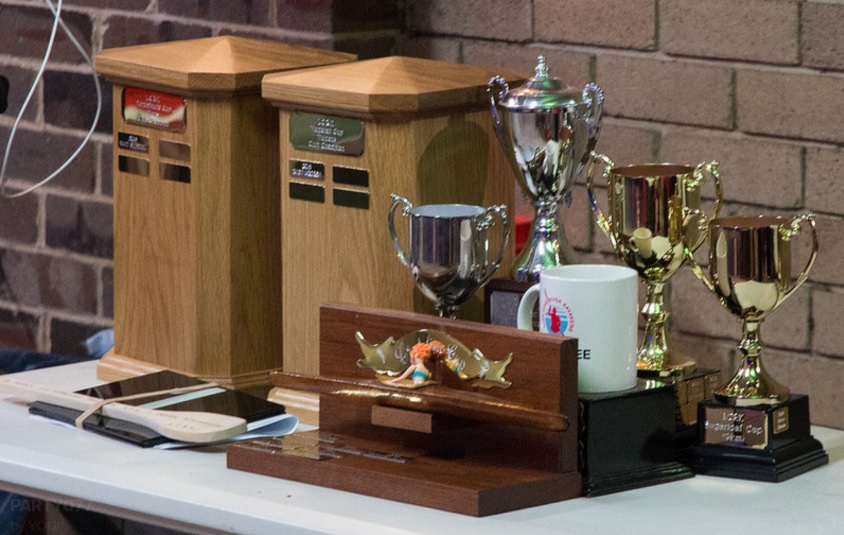 Above: The trophy table
Lane Cove has had a spectacular year. We won back the Commonwealth Cup for the Hawkesbury Classic with a landslide win that included multiple new record times. We also won the Marathon Series, which until the last race in Wagga was a very close call, but a slew of points in Wagga brought us home for a comfortable win. Individual paddlers in the club have done extraordinarily well, participation in the weekly time trials has increased (even during Winter), and a whole lot of paddlers have advanced onto more challenging boats.
The club has a range of awards that recognise improving paddlers and those that have just had a great year.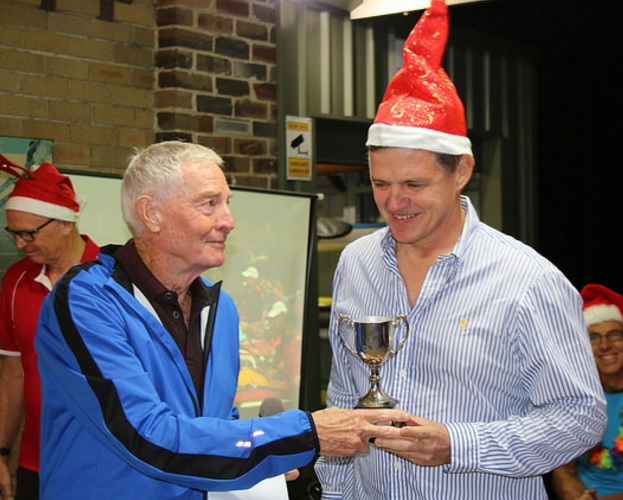 Above: Rookie of the Year - Rodney White
We got to know our Rookie award winner earlier in the year through a profile in the club ENews. He was a total novice to paddling when he came to the club, but thought it looked straightforward. He didn't mess around with the 6km distance for long, jumping to the 12km in February, only to finish in 92 minutes. Not being a great way to make friends with the timekeepers, he reverted to the 9km time trial for a few weeks before returning to the 12km to finish in 74 minutes in April, taking nearly 20 minutes off his time in two months. It seems the dark didn't agree with him, as on his next paddle (after daylight savings ended) he went for a swim in the dark, then another, and another. There were about six capsizes in total, a quick lesson in deep water re-entries from Tony Hystek and a DNF for the night. He swapped boats for a bit, got some weekend training sessions with Tony to complement the lessons he'd been getting from Phil Geddes, and managed to reduce his time to 67:42 prior to the Hawkesbury. In his first Hawkesbury he did just under 12 hours, so this very well-deserved award goes to Rodney Walker.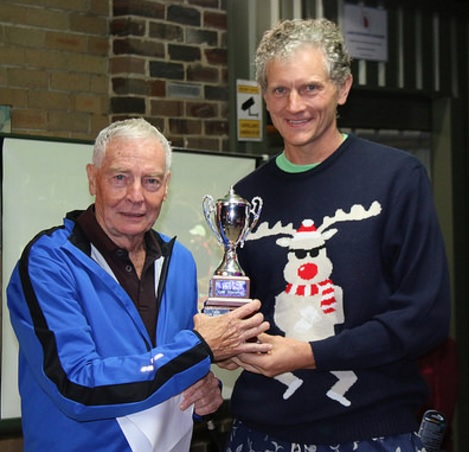 Above: Most Improved - Don Johnstone
Our Most Improved paddler began the year with a post-Christmas dawdle over 78 minutes, dropping back to his pre-Christmas form of times in the high sixties only a couple of weeks later. He steadily improved throughout the year, achieving a PB of 60:07 in the Wednesday time trial. In the Marathon series, he moved to a new division each race, starting in Division 7, and by the fourth race, paddling in Division 4, where he stayed for the remainder of the year. He scored three firsts, two seconds, and one third, making him a high point scorer for the club. He placed first in Division 4 in his final completed race of the year. While he has had a slight hiccup later this year that has made him slow down a little, Don Johnstone is justifiably the Most Improved.


There was a humdinger of a competition this year for every one of the competitive cups.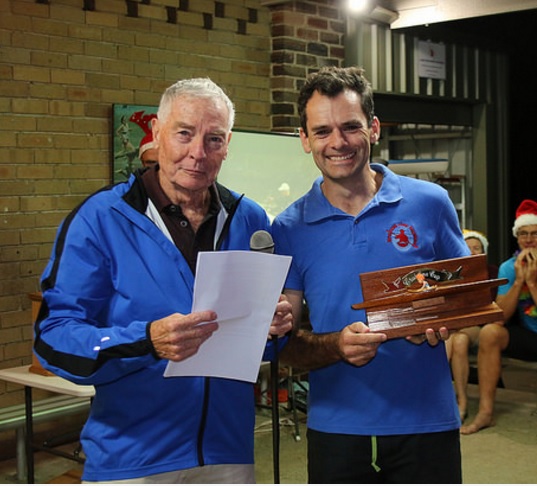 Above: Crudslime Cup - Richard Yates
In the 12km Crudslime Cup, Michael Jones was a clear early leader until he bowed out due to work commitments, and Don Johnstone looked a sure thing until he lost heart and his first placing in the final Cup race of the year. Richard Yates snuck into first place, surprising many bookies who had placed favourable odds on Naomi Johnson to be the one who would challenge the cup. In the end, Richard won the Cup with a comfortable lead of 8 points over Don, and 21 points ahead of Naomi.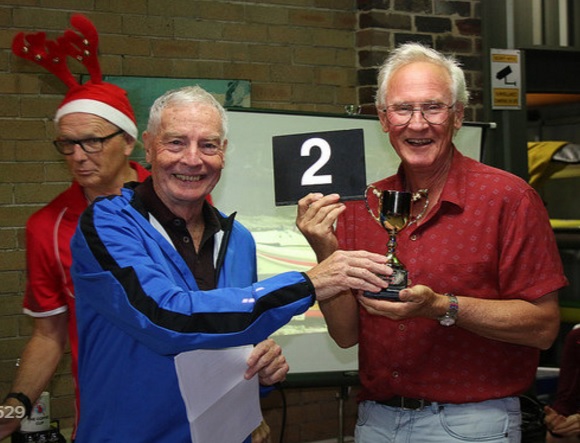 Above: Sugarloaf Cuf - Peter Harris
Being a transition distance between the 6km favoured by newcomers and those returning from or living with injury and the end target of the 12km time trial, the 9km time trial doesn't have many paddlers who commit to the distance over the entire year. This meant that competition for the inaugural Sugarloaf Cup was between only two paddlers, but didn't mean that competition wasn't fierce. After being neck and neck all year and both taking turns in the lead, Alanna Ewin finally conceded in the final race to Peter Harris. Peter pipped Alanna at the post in December literally passing her on the line and taking the Cup home. We can't say he didn't work for it!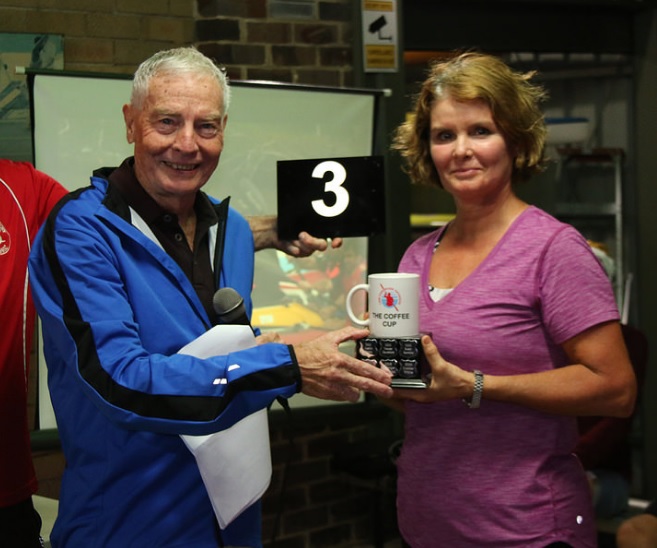 Above: Coffee Cup - Louise White
Despite both spending the latter part of the year competing in more social Wednesday time trials in the 9km distance, Louise White and Ian Wrenford continued to paddle in the Coffee Cup throughout the year to take their closely fought race to the bitter end. Louise was the final victor, but both should be very proud of the improvements in their paddling this year and both should be seen on the 12km course at some stage in 2017.
In another close race, Matt Swann nearly lost his lead by sitting on his laurels and missing the final Doubles Cup race of the year. Alanna and Tony missed out on sharing the cup with Matt by one point, after several new pairings in the December race pushed them down the points table. It's a well-deserved win for Matt, who has dedicated himself to doubles pairings this year. His most common partner in crime in time trials and the Hawkesbury was Duncan Johnstone who came fourth on the points table, only three points behind Matt.
We introduced another two cups this year to recognise the male and female paddler with the best average of their best fifteen results for the current year. The men's cup is called the Turrumburra cup, Turrumburra being the indigenous name for the Lane Cove River. The women's cup was called the Womerah Cup - named for the paddle steamer that used to work the Lane Cove River.
While most may say that Matt Blundell was always going to be the winner of the Turrumburra Cup, he didn't do it easily. With Dave Coward, Toby Hogbin and Andrew Love biting at his heels, he definitely had the advantage of paddling more races, thus allowing him to drop some of his slower times, and ending with an average of 51:38 and a range in his 15 best times of 49:39 to 52:19. Matt paddled 32 time trials in 2016, with only Tom Simmat, John Duffy and Adrian Clayton completing more than that. There are only 48 races in the year, so that's a pretty good total. An impressive 37 paddlers qualified for the Cup, which shows the club has a strong core of regular paddlers.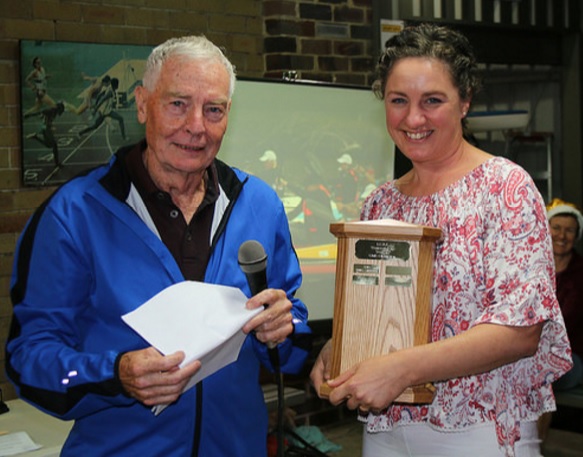 Above: The Womerah Cup - Ruby Ardren
The Womerah Cup was a more straightforward affair with only two paddlers qualifying. Ella Beere was distracted by other commitments, and Anjie focused on the K4 this year - convincing many other paddlers to try it out with her, even Jo Brigden-Jones. So the battle was between Ruby Ardren and Naomi Johnson, with Ruby managing to stay in her K1 for just enough races to qualify for and win the Cup, with an average time of 68:10 and a range in her best 15 times of 66:00 to 69:40. Naomi picked up her speed towards the end of the year and was close behind with an average of 69:58, so next year's competition should be close.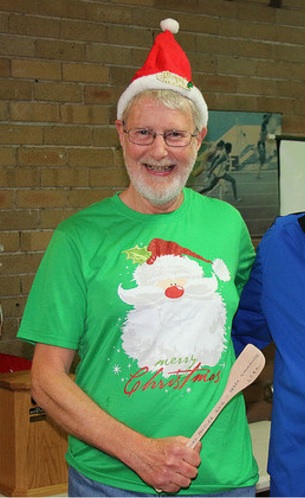 Above: Most Unimproved - Derek Simmonds
And because we sometimes need to have a laugh at ourselves, we asked members to self-nominate for the Most Unimproved Paddler award, which will give them the opportunity to exchange a wooden spoon for their paddle, as it may not make any difference to their times. The winner by a thin margin was Derek Simmonds who had clearly spent more time analysing his lack of performance than it seemed paddling.
The full text of Derek's self-nomination whilst made available for the judges, has drawn out a newfound competitive streak in Derek and he has asked that his tactics not be published to improve his chances of winning(?) a matching spoon this time next year. Those wishing to compete should carefully observe his technique - when he's around of course
Ben Ward 40 Miler - 10 Dec 2016
by Naomi Johnson
After doing the Hawkesbury in a K2 with my sister Sophie, the thought of a 63km daylight paddle down the Murray sounded both rather pleasant and easily achievable. In many ways the Ben Ward 40 miler, run by Cobram-Barooga Canoe Club, is just that: a fun day of racing which everyone can tailor to their own kayaking goals. Following the first day course of the Massive Murray Paddle, the race runs from Yarrawonga to Cobram with both full-distance and relay options. While the trek down to the Yarrawonga on Friday 9th December was rather longer and hotter than anticipated (I swear the GPS didn't say seven and a half hours the first time round), it was great to be back by the Murray River, and to feel the anticipation of a start against the sweeping backdrop of the Yarrawonga dam.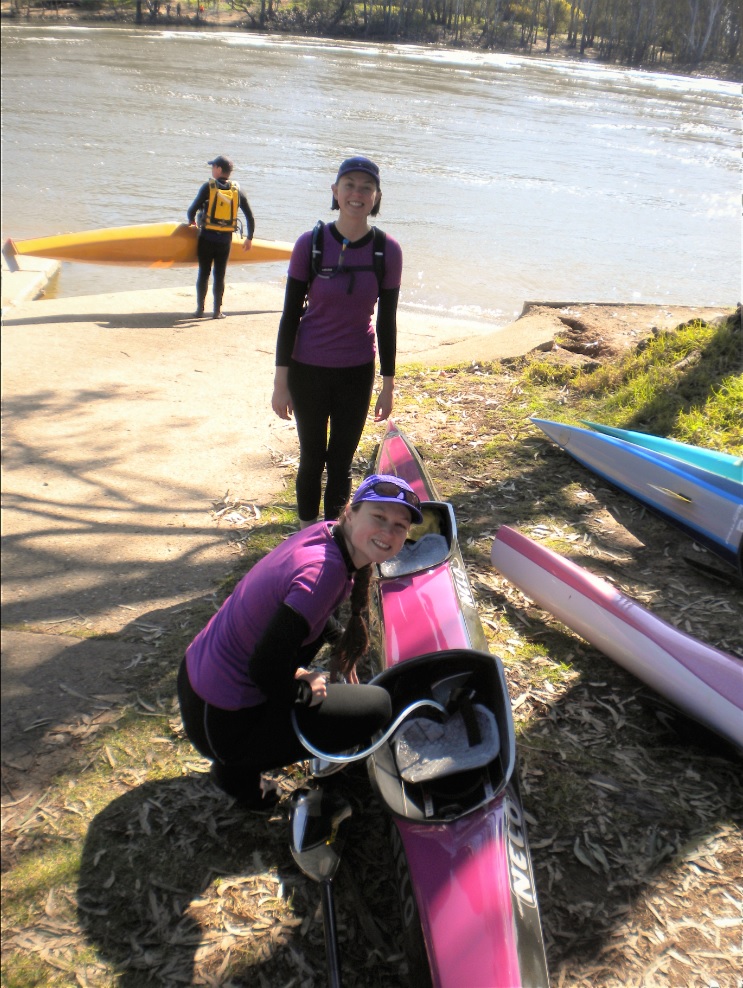 Above: Naomi and Sophie at the start
As the sole K2 in the event, Sophie and I ended up in the final start at 9:30am, along with a threesome of K1s who sped quickly off into the distance. We were only last boat on the river for a short while though, and spent the rest of the day seeing how many other boats we could pass! Of the 41 boats racing, 17 were doing full distance while the rest were either single or double relay crews. It really is a build-your-own event, with several of the K1 relay teams in particular consisting of only two paddlers. Whoever drew the short straw had two 23km legs to contend with!
Historically, this race was one of the warm-ups for the Murray Marathon, and a great way for the schools teams to test their relays in the sometimes challenging river conditions. Despite the major marathon's new look and time of year, it was still the school crews that made the Ben Ward an event of colour and noise, and made up most of the 16-strong TK2 relay category. Sophie and I helped fish out a Camberwell Grammar team who were slowly sinking their TK2 on the second leg, and later passed three boats from our old school Strathcona. We finished the race in a time of 5:15:33, about 12 minutes faster than when we last did it in 2012. 13th overall and the 4th fastest full distance boat, it was great to feel that we could paddle such a long race with relative ease. It was certainly a great help psychologically to know the tide wasn't going to turn against us! We had a great time out on the water, occasionally chatting with other boats but for the most part content that despite the distance of Melbourne and Sydney we can still find opportunities to paddle together, and with such a stunning location as well! Our landcrew Frazer and Kieren were wonderful, braving flies, heat and rather confusing driving directions to meet us at each checkpoint.
Though it's certainly a road trip down to Yarrawonga, it would be great to see a few more NSW boats there next year. Cobram-Barooga are keen to get more interested in the headline Saturday race, and there's also a fun laps-based relay from Cobram on Sunday for those keen to extend the weekend. Better yet, there is absolutely no requirement to paddle a TK2!
My Murray 2016
by Tom Simmat
A big change but perhaps for the better.
This is my eighth or ninth Murray "Marathon", I have lost count, I have won it on handicap four times and was leading single outright this year for a couple of days.
Then it clicked what this event is now all about.
I had stopped a couple of times to help a K1 paddler get back in his boat, and gave my thermal to Mad Mick who had fallen in three times on that day and was suffering from hypothermia. Mad Mick was paddling a canoe made out of a corrugated roofing sheet. Very slow and very, very tippy.
I had slowed down to have a chat to Bill Robinson who has paddled over 20 Murrays.
The last couple of years the entry numbers have plummeted and The YMCA lost money as did The Red Cross on the previous years.
So now this event is called The Massive Murray Paddle under the new stewardship of Shannon and his crew at Sydney Harbour Kayaks. The event is now run lean. Gone are the crowds of volunteers and the other volunteers that looked after the volunteers. Big is not necessarily better.
But there still was a buzz, and I would say an even bigger buzz than before, albeit a different buzz. There were about one hundred and thirty boats and about three hundred and fifty paddlers, with land crew built up to about six hundred participants. Two schools, The Blues and Brothers, a number of other large groups, ex-army support, CWA, father and son teams, Grandmother and grandson teams and perhaps twenty very individual competitive racers.
But while there are still trophies for the fastest outright and on handicap, this event is no longer about an ultra-marathon race on the Murray River, but about the Murray River itself.
So, the event is over schoolies week. Between the end of school and the rest of their lives. For these kids an introduction to expedition kayaking, an introduction to themselves, and an introduction to the Murray River. For the Blues and Brothers, reintroducing aboriginal kids to this Murray river and their heritage. Kayaking expeditions and even kayak racing will rub off on a few.
As for me, fastest single, fastest on handicap; Been there done that.
Next year I am going to paddle a boat that is not on a knife edge, a boat in which I can sit up and look around at this magnificent water way.
I congratulate Shannon and his team for taking the Massive Murray Paddle in this new direction.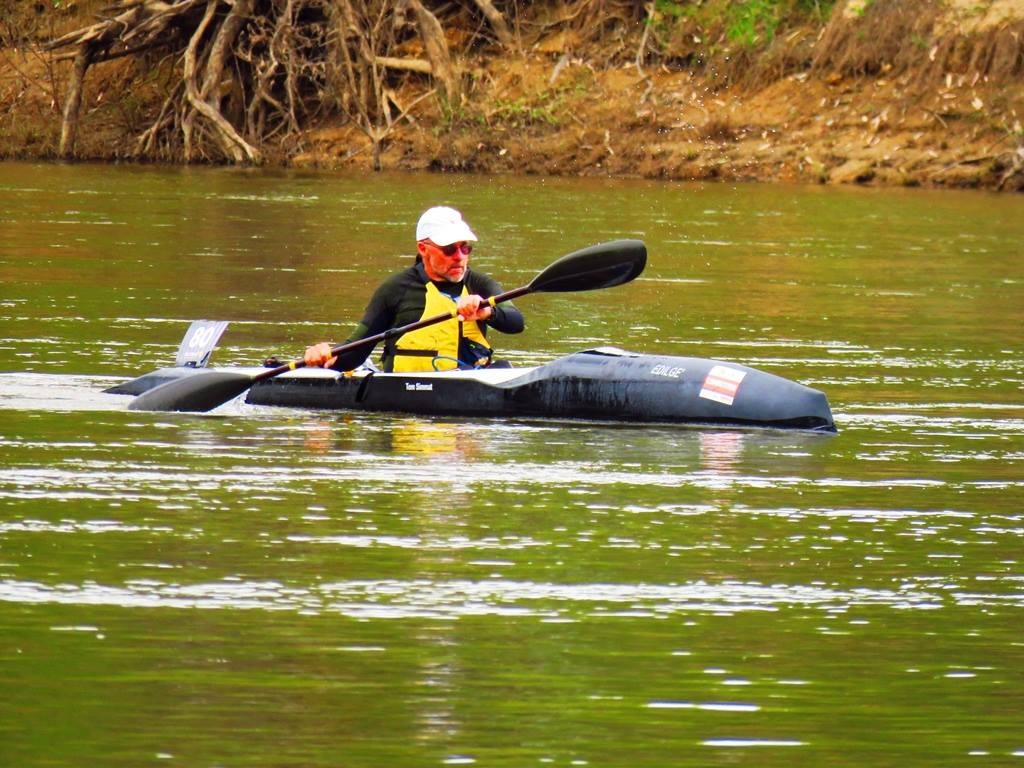 Above: Tom Day 2. Photo: Massive Murray Paddle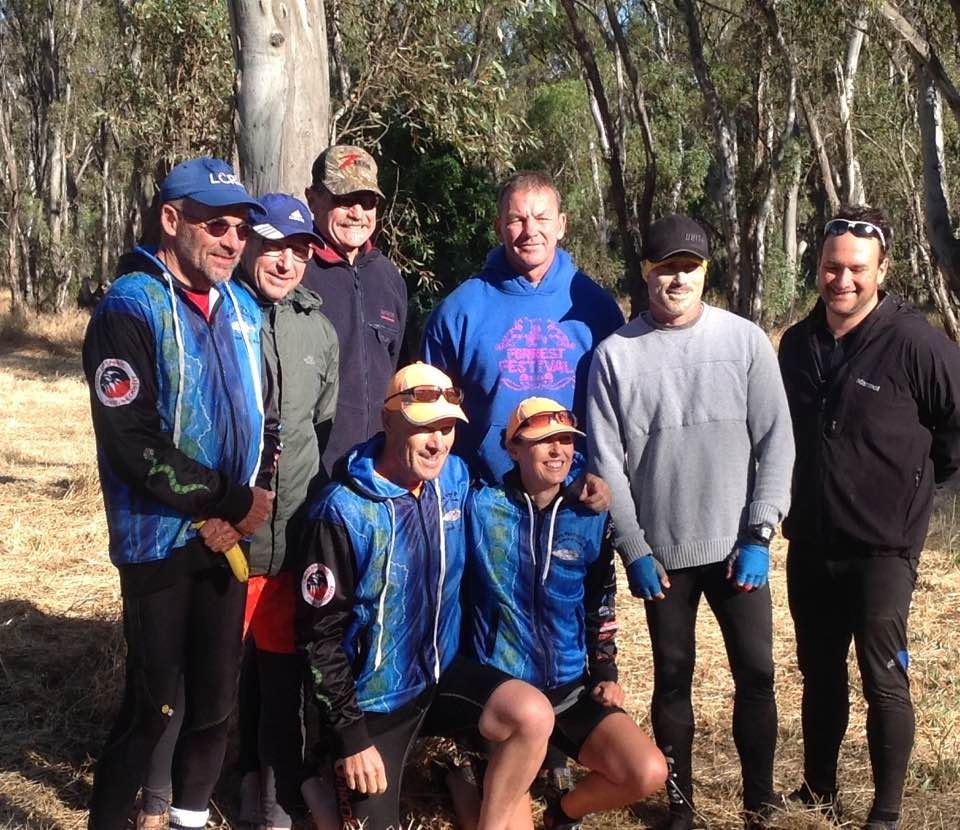 Above: The 'fast' group. Photo: Christine Simmat
19 Nov HCC Awards Dinner
On Saturday 19 Nov a small contingent of LCRKers were present at the HCC Awards Dinner and were delighted to reclaim the Commonwealth Bank Cup for the most successful club in the 2016 event; this is a reward for the large number of keen LCRKers of all abilities and experience who entered and tried hard; congratulations all. As you might notice, the Cup itself deserves a good polish and Richard Yates has offered to provide the muscle. Central Coast Canoe Club was second this year. Newy club members attended in numbers and will hopefully add to our competition in coming years.
Individual trophies were presented to paddlers in attendance. Tony Hystek received the trophy for the fastest 60+ single, joining Tom Simmat who has won it many times. Adrian Clayton's performance as fastest 70+ paddler was also recognised and we have the large trophy for the fastest mixed double to pass on to Joy and Richard Robinson after their excellent performance. We have also collected to pass on to members a number of other medals and awards. Also presented on the night was the trophy for the fastest 50+ paddler which went to Carlos Perez (pictured below with Tony) who paddled his ORS so fast he beat our David Young who also broke the previous ORS record.
Once again our Peter Fitzgerald was recognised as the highest sponsorship raiser, even without around $3,500 in direct and delayed donations; Peter and his SHOcKers paddling mates, Darren, Craig, Graham and Brendan, are a wonderful addition to our club.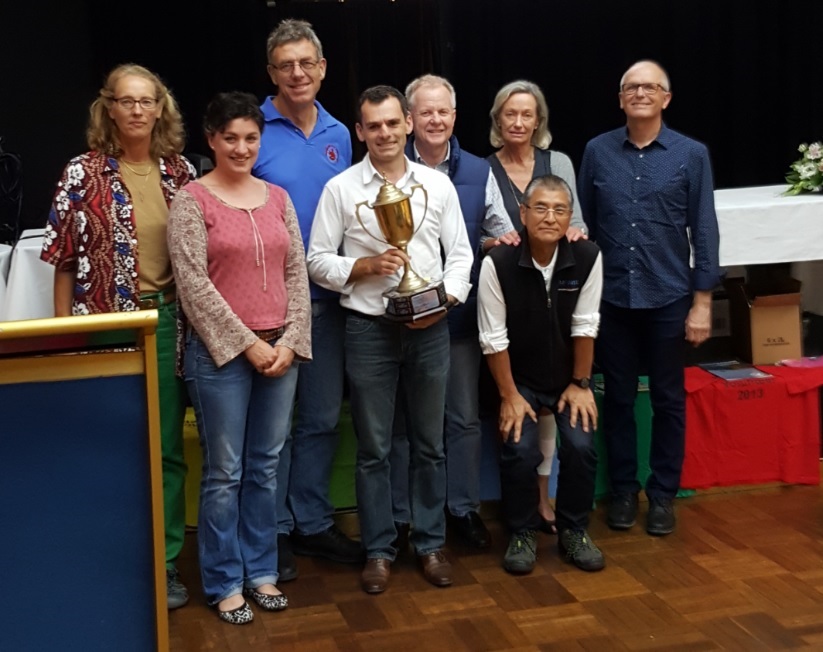 Above: LCRKers and the Commonwealth Bank Cup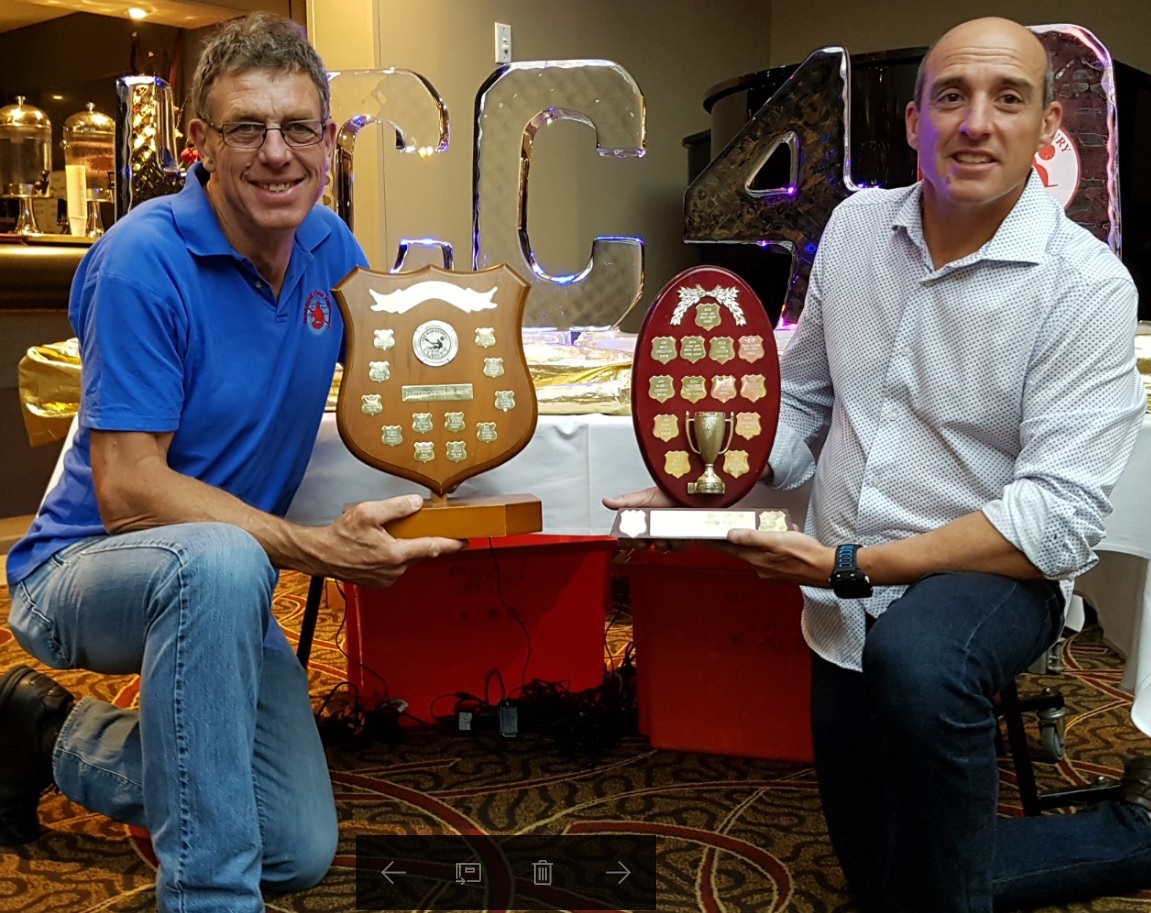 Above: More Cups and the wonderful ice carving by our Kenji Ogawa
21-25 Nov Massive Murray Paddle
The Massive Murray Paddle is an amazing 5 day paddling adventure race, that raises funds to assist local community-driven programs. You can paddle for one day, two days or the entire 5 days. Set your own personal goals. The distance badges you could aim for include 50km, 100km, 200km or 404km
Sat 17 Sep 2016 - Myall Classic Report
The Myall Classic is a major ultramarathon event on the NSW paddler's calendar. It is held on the Myall River at Tea Gardens each September, taking both competitive and recreational paddlers up the Myall River and return. Competitive distances offered are 12km, 27km and the premier 47km course is seen as a perfect shakedown for the Hawkesbury Canoe Classic held in late October.
Race Report (from Naomi Johnson)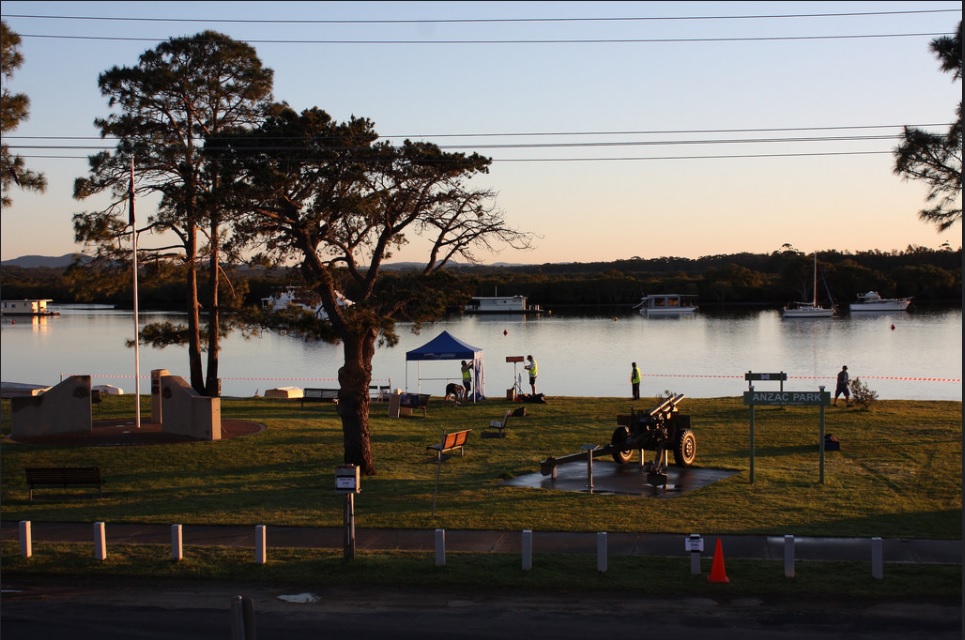 Above: Myall - sunrise
Standing along the bank at Tea Gardens on Saturday morning, LCRKers looked out on a relatively still river and a clear blue sky. What better conditions for a race? Organisers Tony Hystek and Alanna Ewin had been up since the crack of dawn preparing the course, and there were an impressive 320 paddlers set to compete in 230 boats. All were busying themselves with preparation of food, drinks systems and seats for the traditional Hawkesbury warm-up race. While many from the club are old hands, and some were defending race records, others were tackling the race for the first time. There was a buzz of excitement and pre-race nerves, with all keen to see what the day would bring. After all...it' only a Myall.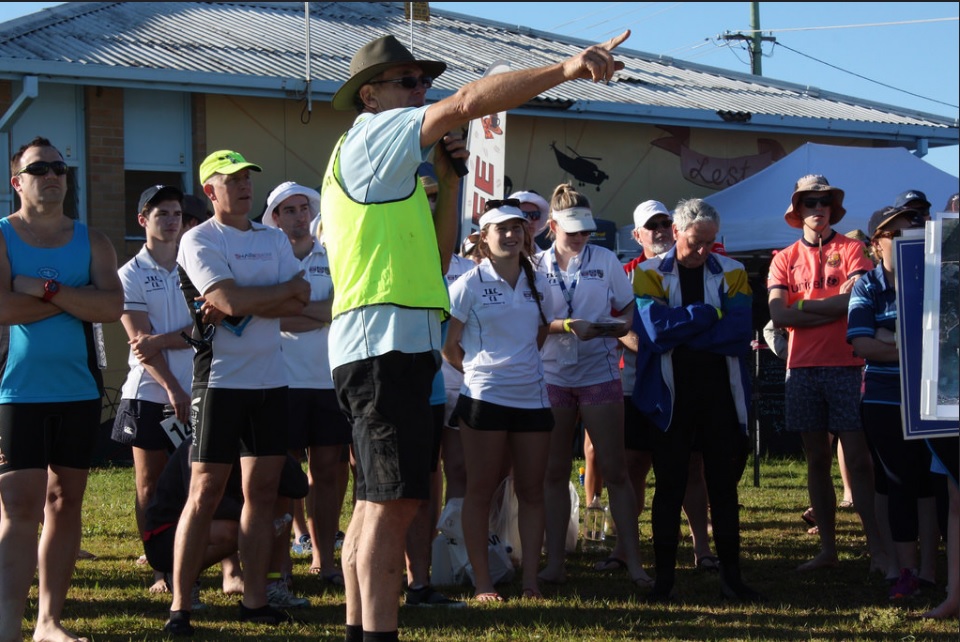 Above: Tony's 8am Race Briefing - "I have a dream..."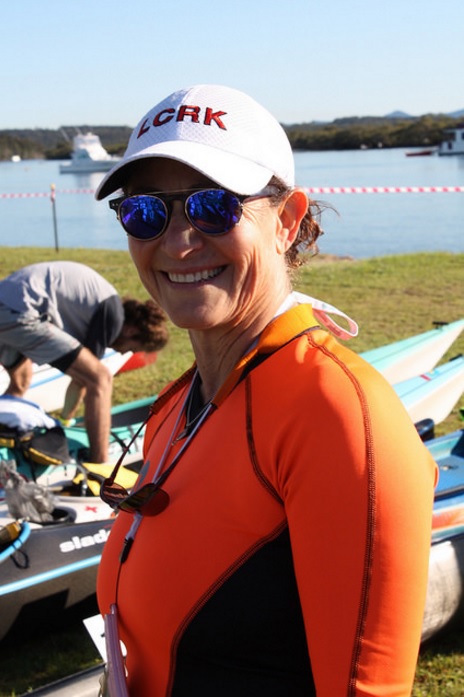 Above: Roz Green
Those in the 8am start realised that the calm conditions were deceptive, with a strong tide causing a bit of havoc for the 100 plus boats. Many were pushed past the start line before Tony had given the call of go, and those in the second line might well have made the best choice! Craig Ellis (on a flying trip from Adelaide) and Richard Yates were soon leading the pack, with flat water ahead and the "super tide" spurring them on. Only a little further behind, and the Masters 50+ Men's Singles was quickly shaping up to be an all-LCRK affair, with Wade Rowston, Phil Geddes and Lee Wright leading the pack. Lee had taken a quick dip just before the race, missing the start but quickly catching Wade and Phil at the front.
The 9am start was equally crowded, though with a bit of let-up in the tide. Naomi and Sophie (another flying trip, this time from Melbourne) Johnson found themselves in an unfamiliar boat right next to the men's K4, but despite the feeling of being in a washing machine managed to stay upright. Doubles pair Andrew Love and Tony Hogbin weren't letting a K4 get in the way of their dash for line honours – they were out in front from the very start and stayed that way. Three hours and 27 minutes later, they flew past Craig and Richard to make it first through the finish gates.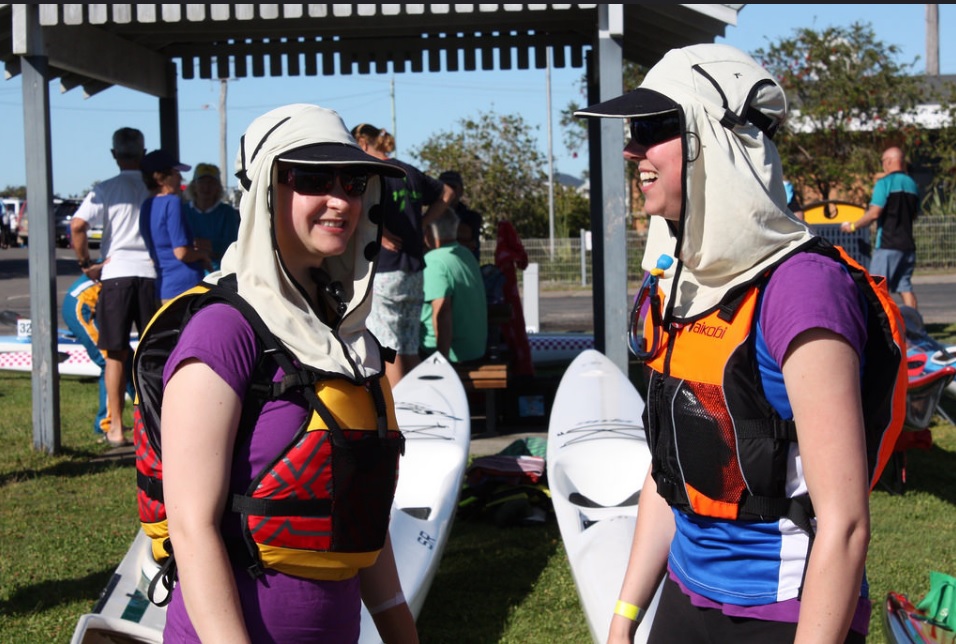 Above: Sophie & Naomi Johnson - fastest womens crew!"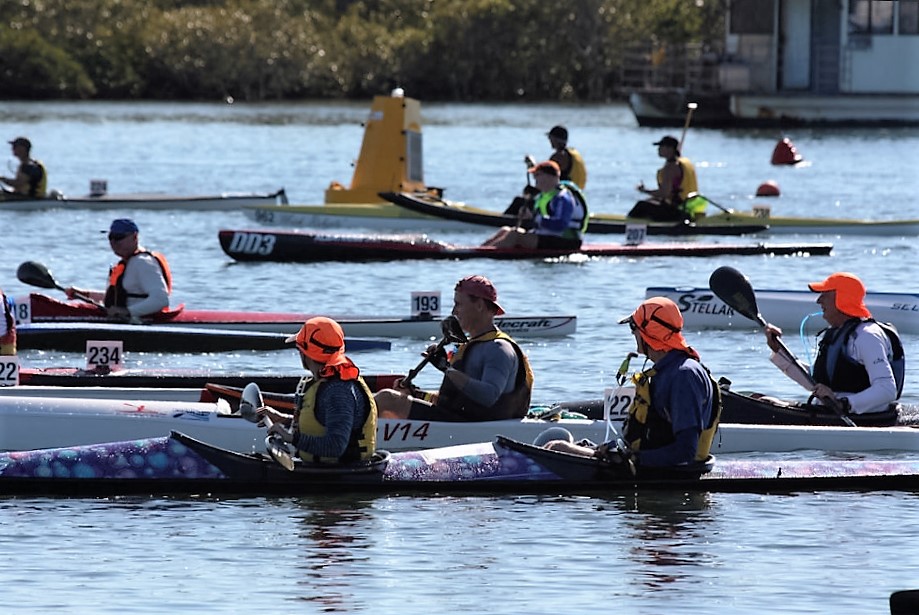 Above: David Young in the 9am start
For most of the rest of us, we were looking at four or five hours in the boat. The course wound through the wider southern end of the Myall River for three kilometres before the river narrowed and eddies of wind and current calmed a bit. With barely a glimpse of civilisation for most of the next 20kms, we paddled through pristine national park, gradually forming into small racing packs. The surrounding calm was an odd counterbalance to the mood of many paddlers – constantly watching for an overtaking boat or opportunistic move. As the morning progressed the heat rose, and the shadier top end of the course was a welcome relief after a few hours in the sun.
The top turn was also where things began to hurt, as many paddlers pushed past their regular 20km racing distance into ultramarathon territory. Meanwhile, back at the start line the 27km and 12km distances were getting underway, with several LCRKers setting out to complete the shorter distances. The day continued to impress, with clouds staying at bay until everyone was off the water. Once the calm of the really big starts had subsided, there were even rumours of dolphins spotted in the southern end of the course!
As in previous years, the impressive turn out from Lane Cove saw impressive results in a number of categories. With their blistering time of 3:27:15, Andrew and Tony were deserving of the new record for Open Men's Doubles, while Matt Blundell, who had stayed with them for the first 5kms, went on to defend his record and take out the Open Men's Singles in a time of 3:48:54. Flying along from the start, C2 pairing Jason Han and Kim Navera set the Open C2 record at 4:36:06, and Darren and Reece Williams took the Vet/Junior Doubles record down to an impressive 5:16:33. Competition was also fierce in the shorter courses, with David Coward setting the Open Men's Singles record for 27kms at 2:09:22.
Beyond the records there were many other impressive performances. In the 47km Open Women's Singles Suzie Rhydderch (3rd), Ruby Gamble (4th) and Anjie Lees (8th) all paddled strong times, while Rozanne Green was victorious in a tightly fought Masters 50+ Women's Singles. In the Open Men's, other Lane Cove Paddlers were Brendan Trewartha (2nd), Rodrigo Matamala (8th) and Don Johnstone (9th), with Don reportedly taking a little time to "crank through the gears into full race mode" but staying right on point from there. One would've been forgiven for thinking that the Masters 50+ Men's Singles was an all-Lane Cove affair, with six paddlers in the 8am start and then another three at 9am. David Young raced to an impressive second place in a time of 3:58:22. In the 47km Open Doubles, Glen Orchard and partner Jason Cunningham took out second place, while the Johnson sisters were the fastest women's crew on the course. Pairings of Chris Quirk and Stuart Myers (2nd) and Duncan Johnstone and Matthew Swann (6th) were impressive in the Masters 50+ Doubles.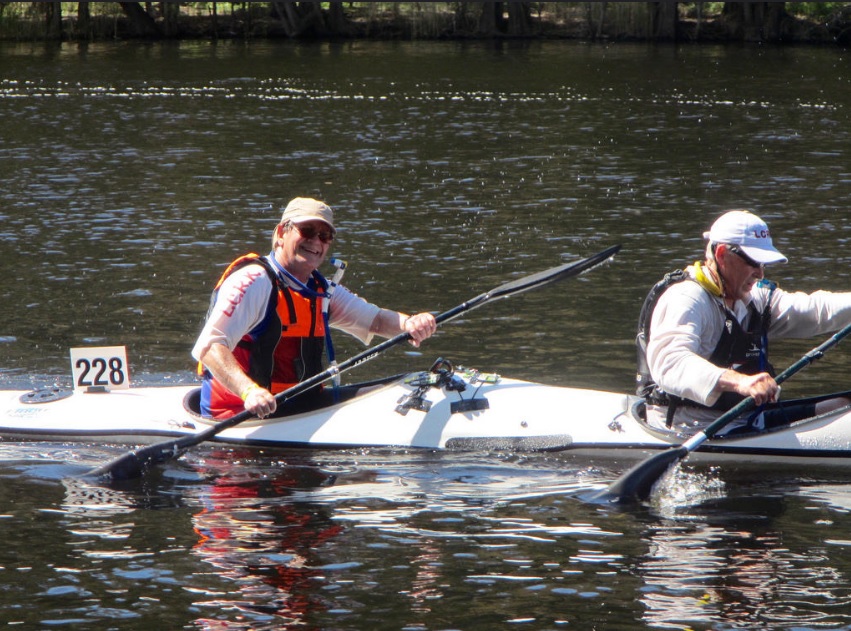 Above: Matt & Duncan at the top turn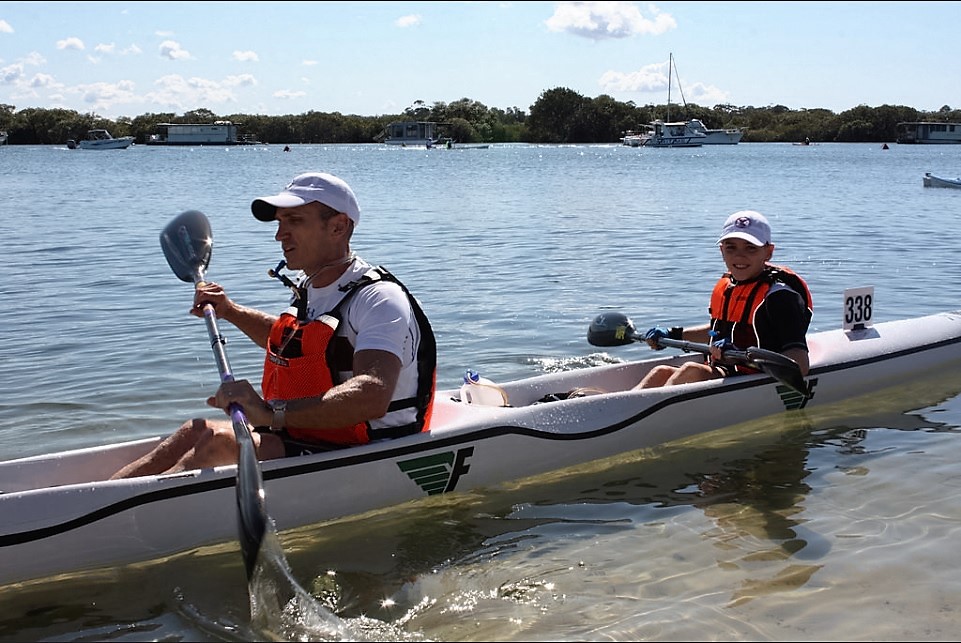 Above: Rich & Guy Robinson 1st in vet/junior doubles
Over 27km, the Masters 50+ Men's Singles saw Tim Hookins ad Derek Simmonds race to 3rd and 5th respectively in a strong field, while Warwick Sherwood and Greg Morris took out 1st place in the Masters Doubles. Pete Coway came 4th in the Open Men's Singles, while Johanna Dimet and Stuart Reid finished a strong 2nd in the Open Doubles, and Richard and Guy Robinson came 1st in the Vet/Junior Doubles. Of the two Lane Cove paddlers to undertake the 12km course, Don Rowston was 4th in a hotly-contested Men's Singles, and Allison Bilbow 2nd in a field of five despite a quick dip en route. All in all, the Lane Cove family numbered almost 50 on the water, and it was wonderful to hear the calls of encouragement as boats passed one another.
Special mention must also be made of those that made the race day run so smoothly. Along with Tony, big thanks to Margaret Heine and Alanna for "doing everything", safety officer Rodger Deane, safety boat driver Clayton Anderson, and Jason and Carmen Cooper who came on board at the last minute to hand out finishers medals. Thank you also to all the fantastic land crew who made sure that we were properly fed and hydrated. The Hawkesbury Canoe Classic is now only six weeks away, and if the Myall was anything to go by, the Lane Cove team is going to be a tough one to match.
6-7 Aug 2016 - Avon Descent
A group of intrepid LCRKers (including support crew) embarked on the 2016 Avon Descent - and provided regular updates via social media. Some extracts of the running commentary are shown below.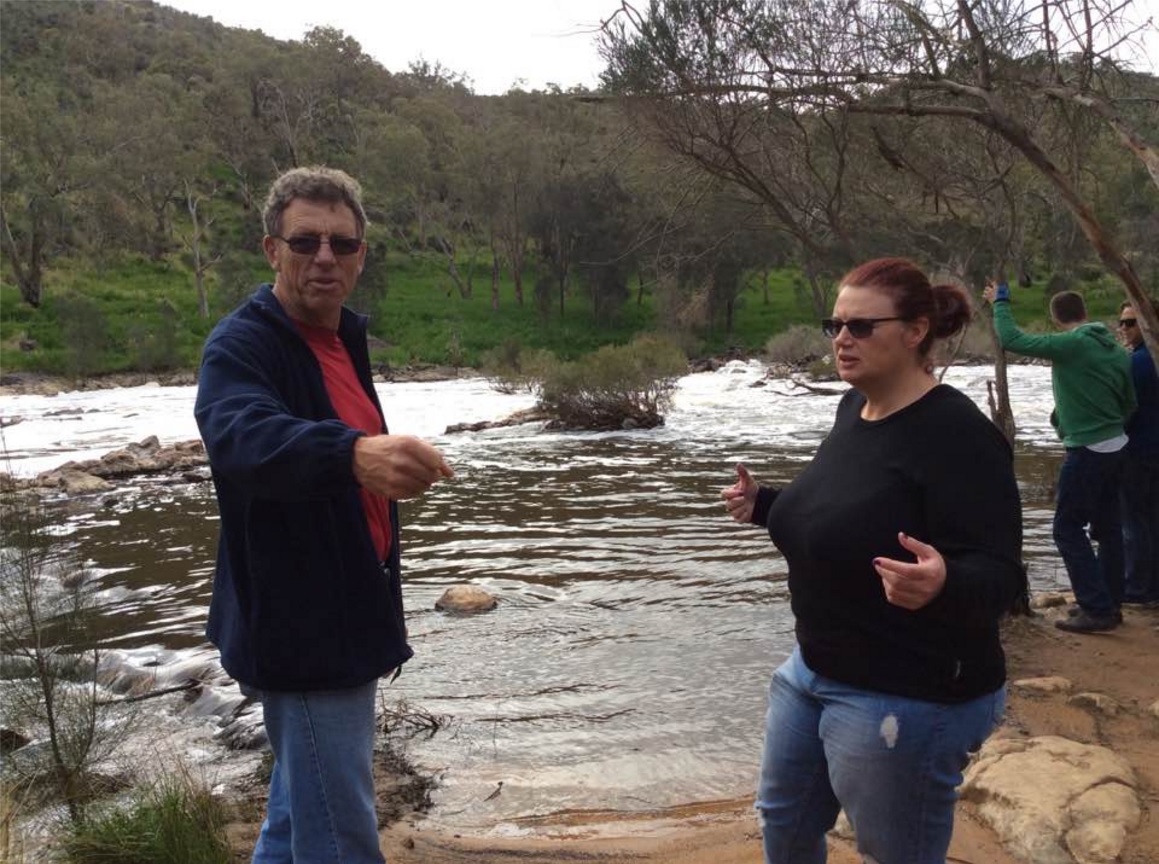 Above: River recce on arrival
Alanna Friday 5 Aug (Day 0): Well we arrived today and have done a little reccy up to Bells Rapids - everyone happy and I'm being given landcrewing instructions by Tony and Anjie here. We have a great crew along for the Avon Descent: Brett And Jill Greenwood, Toby Hogbin, Ryan Cousins, Stu Innes, Lorah Chetcuti (Anjie's sister) and our own Matty Blundell. David Little and Pauline Finlay (David's landcrew) will arrive tonight! Lots of chatter about who's portaging and who's shooting Extracts and Northam Weirs. Lots of excitement and anxiety for all to share! Tomorrow we will head up to scrutineering via the river to scout out some good landcrewing spots and check out the rapids!
Alanna Friday 5 Aug (Day 0): Extracts Weir apparently will be portage by most of our crew on the other side. I think Anj is going to shoot it. Had a good day. scrutineering done and looking forward to a good nights sleep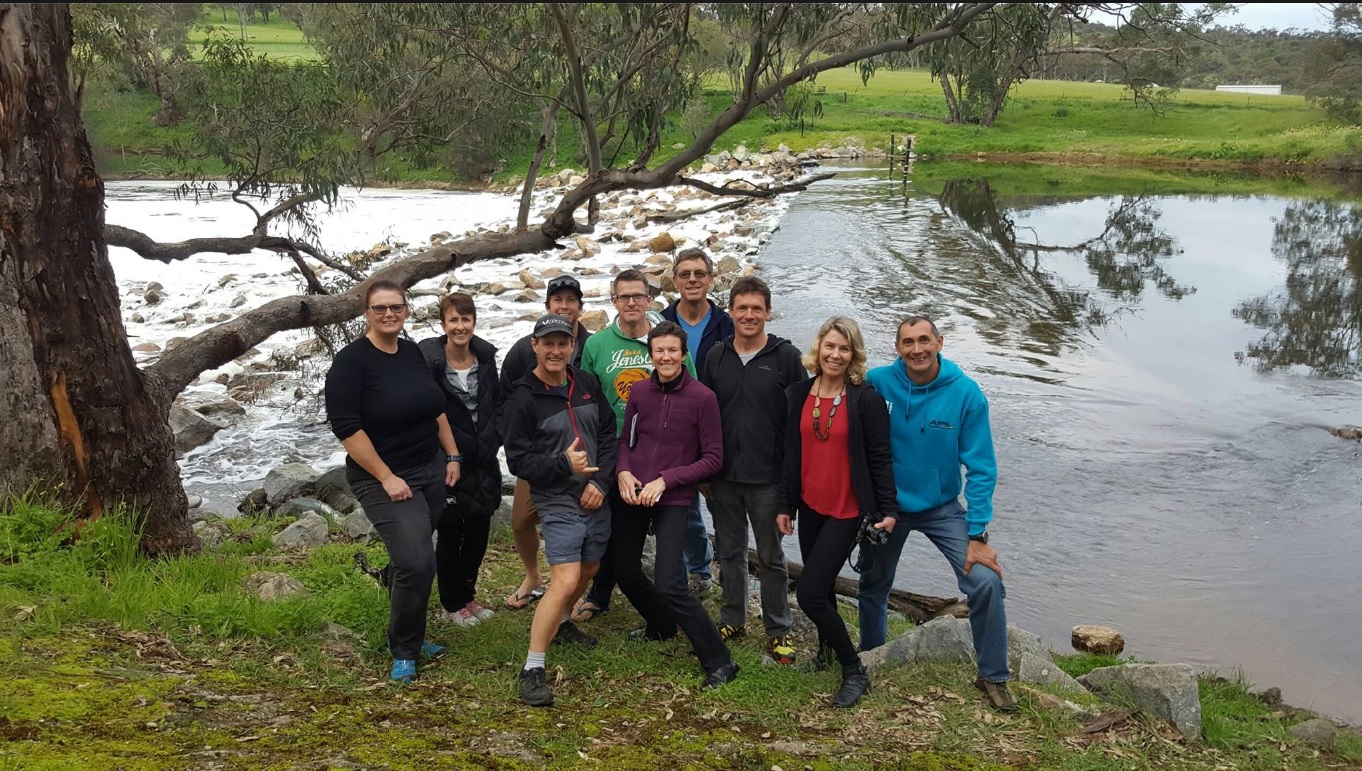 Above: Group pic at Extracts Weir one of the first obstacles for Day 1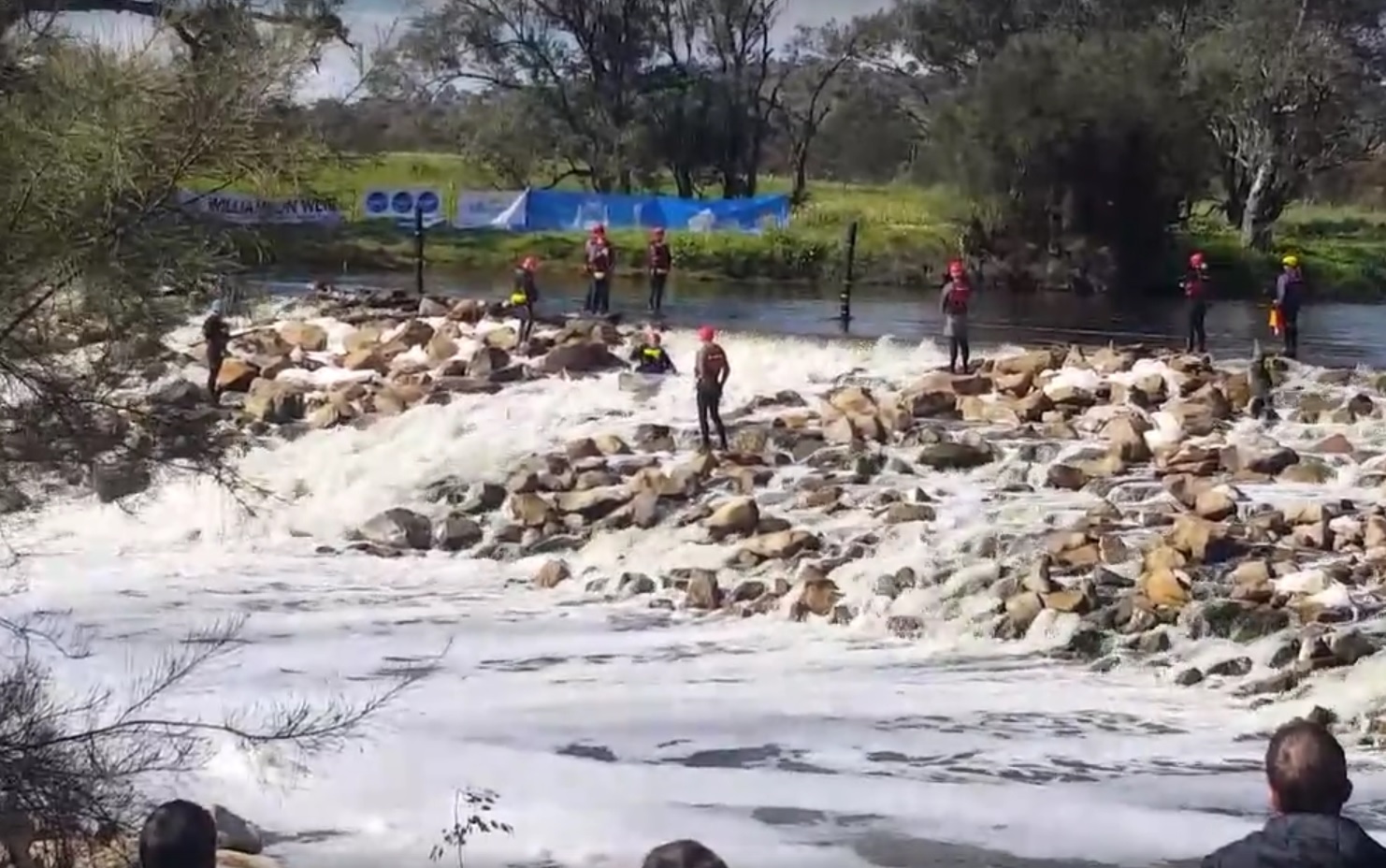 Above: Anjie shooting the Extracts Weir (Image Lorah Chetcuti)
Alanna Sun 6 Aug (Day 2): Since then there have been a few swims by a few paddlers, Tony's mouth was bleeding last time I saw him(he said he whacked himself) Anjie and David are still around the upper Swan bridge at the moment and I'm at the finish win Jill waiting on Brett, Stu and Toby and Ryan who should be in very soon!

Thu 28 - Sun 31 Ju 2016 - ICF Junior & U23 World Champs
Many LCRKers have been closely tracking Member Ella Beere's performance in the ICF World Championships. After initial disappointment of a disqualification in the 500m Semi Final (not sticking to middle of lane or something) - Ella then won her 200m semi-final, then the following day went on to get 4th in the FINAL in a stellar time of 42.663 seconds (16.87km/h average). Watch it on Youtube:
30 July 2016 Semi-Final (skip to 55 minutes, Race 188. Ella is in the yellow/green kayak in Lane 4 - fourth from the far side)
31 July 2016 Final (skip to 44 minutes Race 222. Ella is again in Lane 4 - fourth from the far side).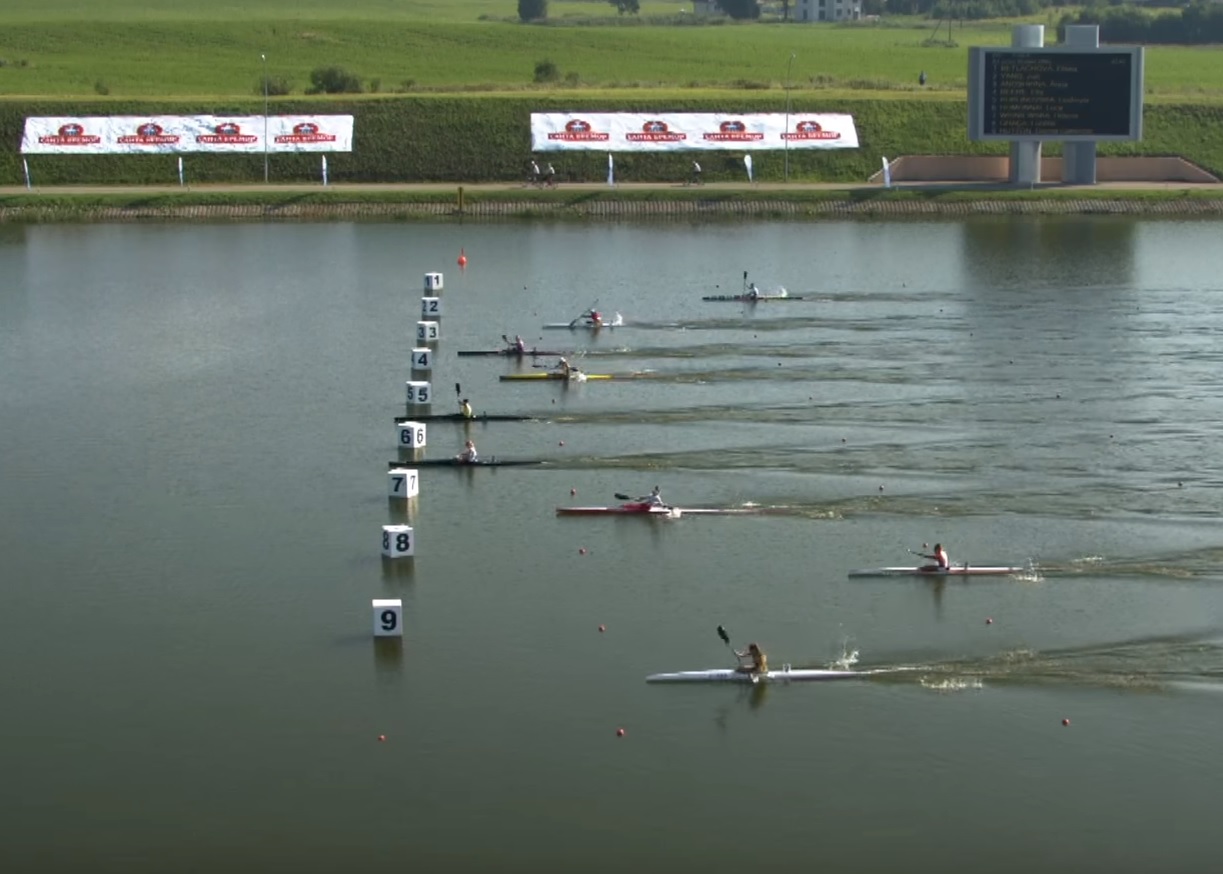 Above: Ella Beere's excellent 4th place in the 200m Final


The Canoeing Australia website provided the following news release "Australia has finished without a medal at the Junior and U23 Sprint Canoe World Championships in Belarus, but there have been several encouraging performances four years out from the Tokyo Olympics.
One of the most outstanding performances came from 18-year-old Ella Beere, who bounced back from an unlucky disqualification in her junior K1 500 semi-final to finish fourth in the final of the K1 200.
"In three days I went from an extreme low to a result I'm really proud of," Beere said. "Getting fourth is really tough, but I'm already looking forward to next year and am more motivated than ever."
Australia's U23 K4 1000 team of Sean Lohse, Tom Norton, Simon McTavish and Jayden Ellis finished eight in their final, while there were several strong results in B finals.
Callum Dunn and Ben McLean finished second in the B final of the U23 K2 500, while the junior K2 women's 500m team of Ruby Bracken and Caitlin Burt Poloai finished second in their B final.
Fran Kidd and Rebecca Mann were a close third in the B final of the U23 K2 500, while Brianna Massie was fourth in the B final of the U23 K1 500.
The junior men's K4 team of Luke Morton, Oliver James, Jakob Hammond and Josh Jones-Rew also took fourth place in their B final".
Fri 29 Jul 2016 - LCRK AGM and Social Event
Our 2016 AGM and Social night was held at North Ryde RSL on the evening of 29 July with approximately 50 attendees. The LCRK Constitution sets a maximum term of 2 years for the President - and Paul van Koesveld stood down from this role (although retains a position on the Committee). Nominations for the Committee were uncontested and saw the appointment of new President Phil Geddes, Vice President Duncan Johnstone, Secretary Wade Rowston and Treasurer John Duffy.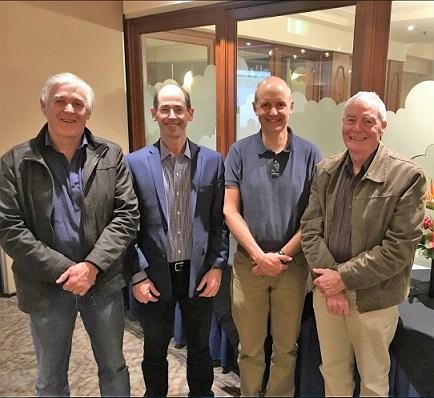 Above: from left, Duncan Johnstone, John Duffy, Wade Rowston, Phil Geddes
Other changes included:
Stepping forward as new 'ordinary' committee members were Alanna Ewin, Richard Yates and Don Johnstone.
Stepping down were Tom Holloway and Anjie Lees - both having provided significant contributions to the Committee and the Club for many years.
Continuing on the Committee are Ruby Ardren (nee Gamble), Jeff Tonazzi, Oscar Cahill, Ian Wrenford and Paul van Koesveld.
Thank you to everyone stepping up/down/across - but particularly to Paul for his leadership this past period! As Paul highlighted in his outgoing Presidents report LCRK is well served by a large number of Members willing to help out, get involved and basically 'get stuff done'.
A number of awards were made:-
Media Contribution Award (The Frank McDonald Memorial Prize). in previous years this was awarded for material published in Kayak Kapers. From 2016, the award now spans across the Clubs various communication channels including the website, Flickr, YouTube and our unofficial Facebook page. The winner was David Young for his excellent series of Marathon Reports (and the associated effort that goes into drumming up support and getting the enthusiastic participation we now see). There were some serious runners up though covering a range of long distance events, personal challenges, photographic excellence and the weekly TT reports. To see a sample - just keep scrolling down this page, and have a look at some of the content under articles and photos on the right hand side bar.
The Vivid Award in recognition of the most outstanding light and sound installations at our themed night during Sydney's VIVID festival. In 2016 this was jointly awarded to:
Ian Wrenford – Star Wars X-Wing Fighter with supporting sound track
The K4 Dancing Queen – Disco and light show (Anjie, Suzie, Gaye, Anne Lloyd-Green)
Tim McNamarra – The Tardis (seemingly gravity defying)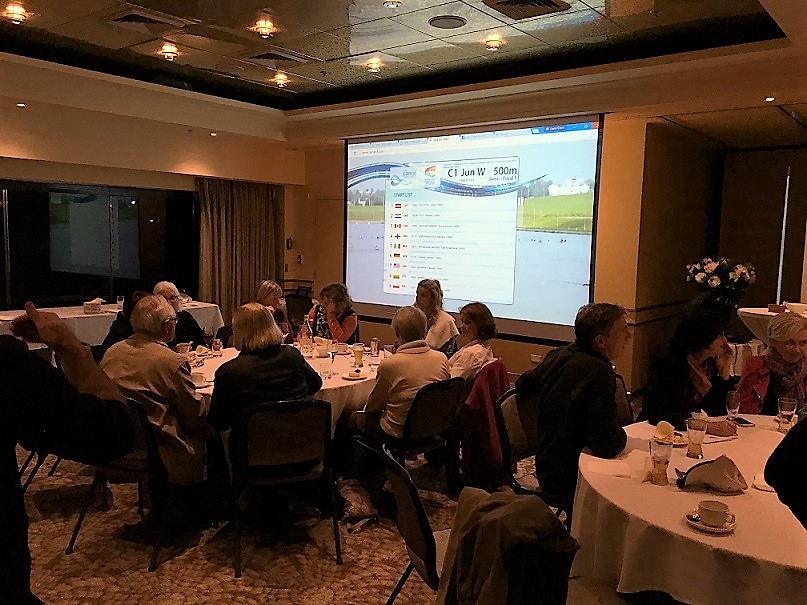 ICF Champs streaming in the background at AGM
Following the formalities, the evening progressed to the more social aspects with a backdrop of the 100's of images taken across our various activities. Coincidentally, the evening coincided with the streaming of the ICF Under 23 and Junior World Championships in Minsk - and some of our more technology minded Members were able to set this up so we could watch Ella's 500m Semi-Final - we only wish it had been the Finals night where Ella came home 4th in the 200m Sprint!
Sun 7 Aug 2016 - PaddleFest - Lake Macquarie/Speers Point
If you are heading up to Marathon #7 at Cockle Creek on Sat 6 Aug - you might like to make a weekend of it and stay over for the activities at PaddleFest an event organised by Rotary with HVPS helping out with the kayaking components. Events include 5km and 10km kayaking events as well as 500m Sprint options. Check out the website here for further detail.
HVPS have kindly provide a few options for accommodation in close proximity if you were wanting to stay over:
Caravan Park - Belmont Bayview Park (about 20mins on other side of Lake but recommended)
Motel - Warners at the Bay
Motel - Pippi's at the Point offers motel style accommodation in Speers Point.
Motel - The Esplanade Motel at Warners Bay
13 Jul 2016 - Doubles night, BBQ and some (Wedding) cake
Many members would know that Ruby Ardren (nee Gamble) was married last weekend on election day. A a result Ruby actually made it to page 3 of the Telegraph (with a photo of her voting in full wedding regalia). To help us celebrate, Ruby and new hubby Caoimhin (& fellow paddler) will be paddling a Double next week (how appropriate!) AND in their wedding kit. LCRKers are encouraged to get into the spirit by wearing something wedding-ish - maybe a veil, an appropriate top hat. If you're serious about the Doubles Cup - then ideally choose something that will help you look (and paddle) your personal best? Otherwise just go for the looks... Ruby is also providing a cake to supplement the BBQ - the bigger dress-up effort you've made - the more cake you'll get!!.

11-13 June 2016 Riverland Marathon (South Australia)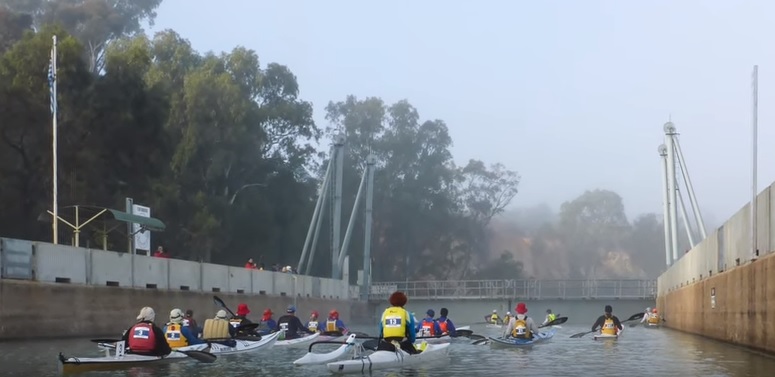 Above: Riverland Lock
The Riverland Paddling Marathon (RPM) has been hosted by the Marathon Canoe Club of SA since 1988 - and is a series of 6 possible events over 3 days on 1 weekend in the chilly month of June'' LCRK fielded the paddlers shown below (which includes provisional outright results for each event (5 boats in the Marathon 200 event, 1 boat in the Relay 200).
| LCRKer | Crew | Boat | Class | Event | Time | Result* |
| --- | --- | --- | --- | --- | --- | --- |
| Tony Hystek | Alanna Ewin | OR1 | Mens Vet 55 | M200 | 19:09:16 | 1st |
| Tom Simmat | Christine | OR1 | Mens Vet 65 | M200 | 21:03:54 | 3rd |
| Duncan Johnstone | Clayton Anderson | OR1 | Mens Vet 55 | M200 | 22:57:21 | 4th |
| Ross Fraser/Ken Holmes | Sue & Meg | RKL2 | Mens Vet 55 | M200 | 24:14:00 | 6th |
| Anjie Lees | Clayton Anderson | K1 | Womens Vet 35 | M200 | 24:54:08 | 7th |
| Craig Ellis/Richard Yates | Sally & Michaela | OR1 | Mens Vet 45 | R200 | 19:53:32 | 2nd |
* Results are outright results for nominated Event and have been extracted from the MCCSA Provisional Results - we're not 100% they're signed off yet??
Thu 9 June Report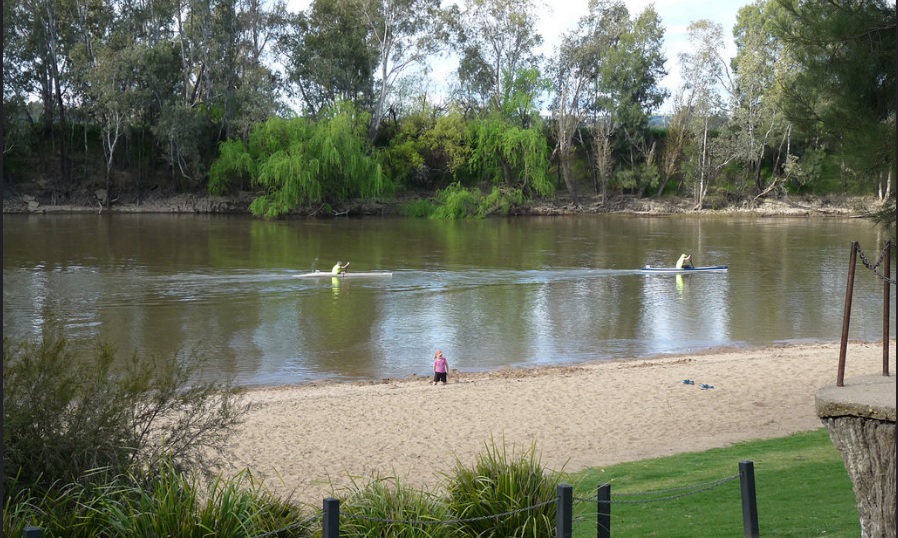 From Duncan @8pm: Anjie, Clayton and I left Sydney around 2pm and have been driving in strong winds and rain all day. Arrived at Wagga Wagga around 7:15pm this evening and staying at the curiously named Wagga Beach Caravan Park. It's a long way from any beach but apparently in the 1800's the local council created a beach by trucking in sand (from Collaroy?) to a long sweeping inside bend of the river which became the social centre of Wagga on hot summer days. This is also the site for the last race of the Marathon Series (Sat 1 Oct!), and something to look forward to later in the year.
We highly recommend stopping in at the Thirsty Crow in the main street. A great brewery and food to boot. It must be popular as it was full on a Thursday night. Tony and Alanna drove further towards Hay as did Ross and Ken, both cars having left earlier in the day. Weather is looking very ominous but we're remaining optimistic for a bright start on Saturday.
From Tony @11pm: Currently ensconced at Darlington Point, a gem of a place 100km shy of Hay. Very nice Caravan Park with cabins right on the banks of the Murrumbidgee (which is flowing well) and an excellent meal of Genuine Italian heritage Pizza and Pasta from a restaurant across the bridge in town. Perfect place for Lane Covers to stop en-masse next year. Murray River levels don't seem to have been affected by the rain though...and are still looking sluggish at best. Hoping for some improvement tomorrow.


Fri 10 June Report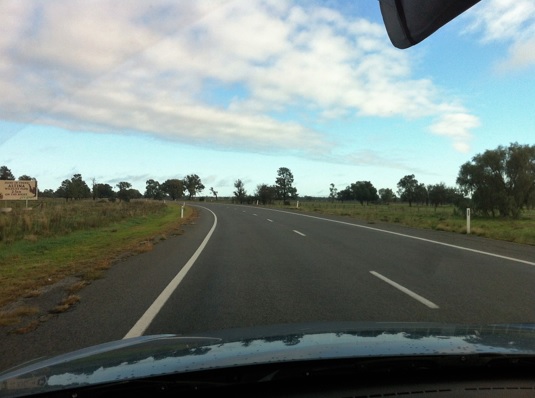 Above: Duncan making for Hay while the sun shines
From Duncan @9:30am: just out from Hay. The weather is lifting and looking brighter. There is water everywhere in fields and billabongs. Looking lovely and green.
From Anjie @4:30pm: Arrived at the Berri riverfront ready for the start of the Riverland Paddling Marathon in the morning.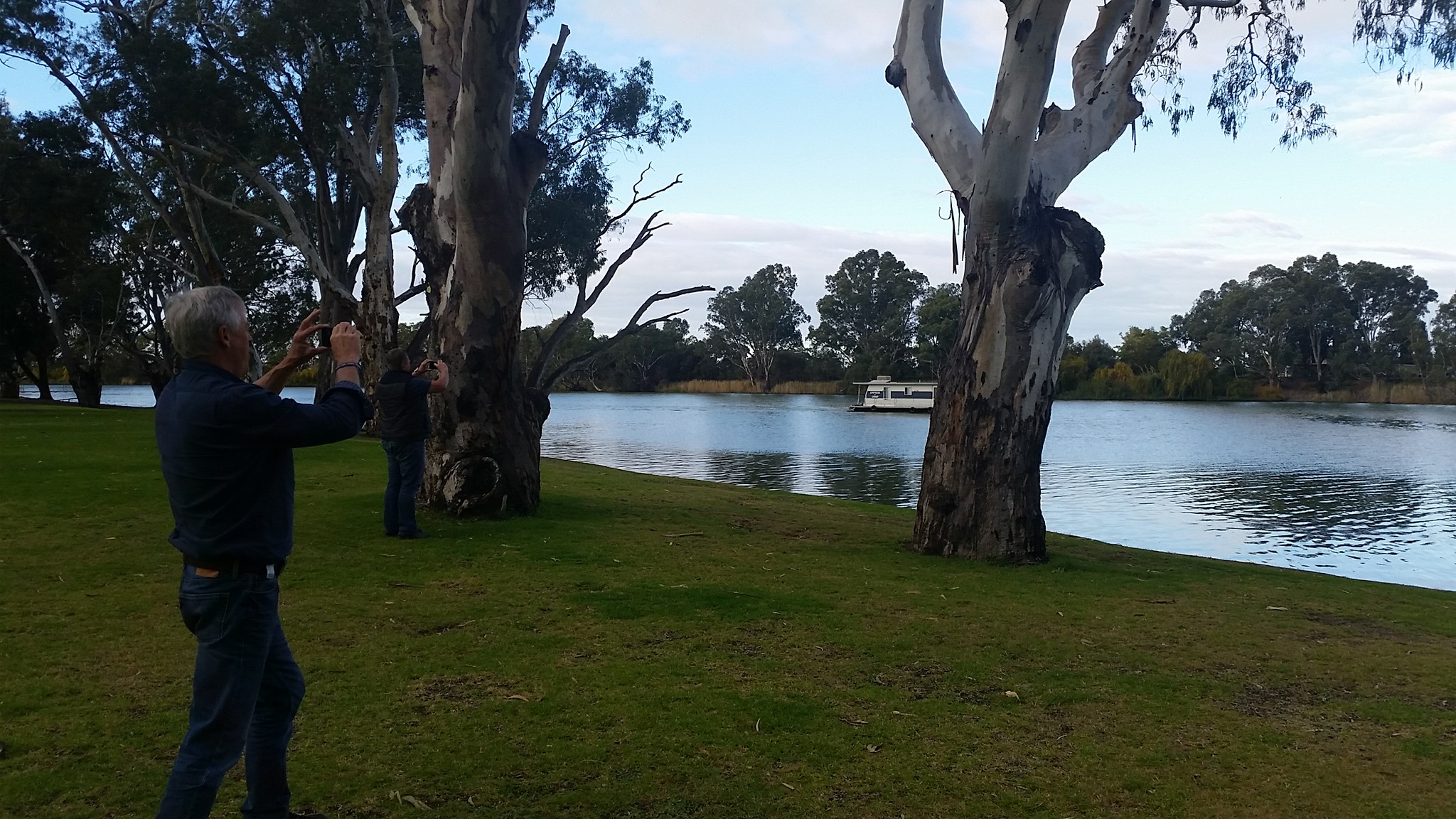 Above: Berri - sussing out a washride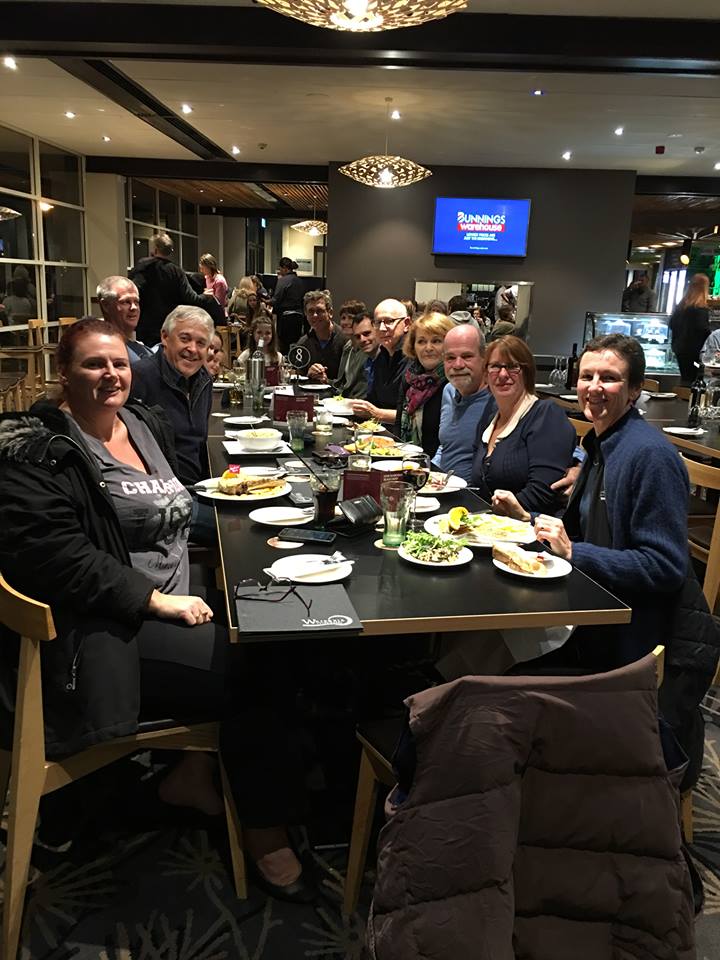 Above: Meals selected from the carbery
From Duncan @10pm: Everybody very upbeat about starting tomorrows Riverland 200 in Berri!


Sat 11 June (RPM Day 1) Report
From Alanna @7am: It's warm this morning - about 7 degrees- looking like a great day ahead. Just waiting for the sun to rise...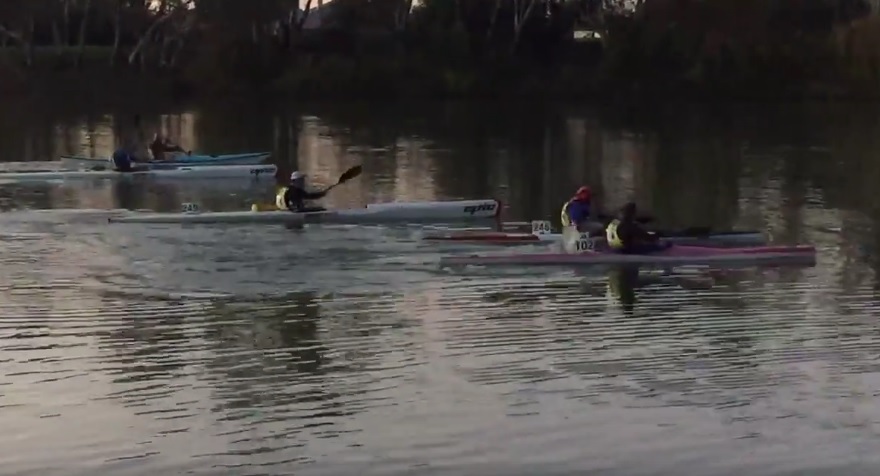 (see the Rich Yates start video on facebook
here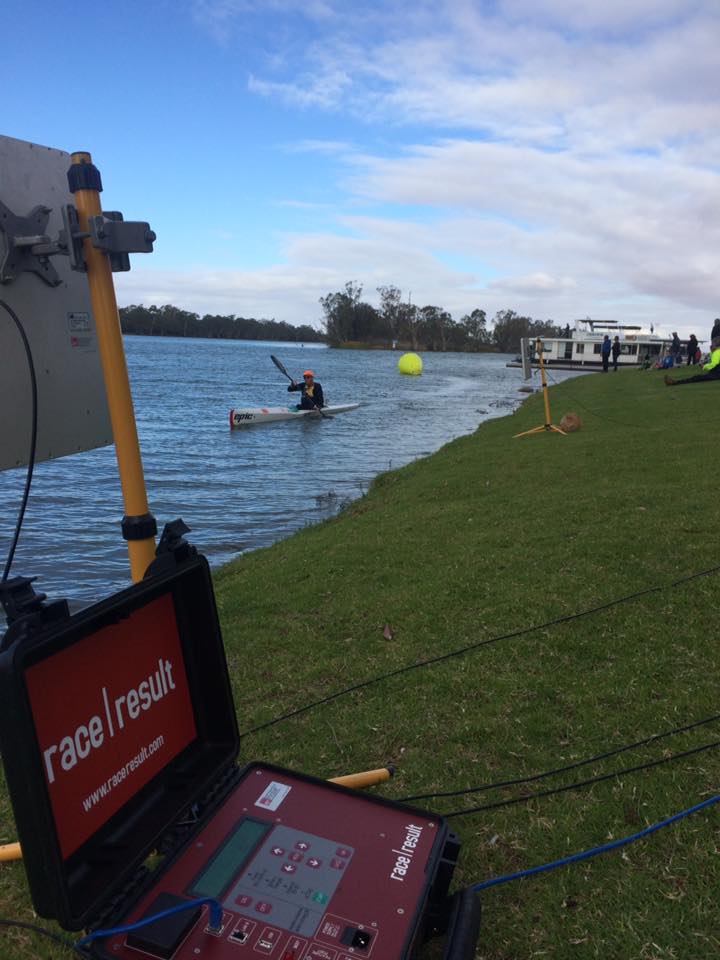 Alanna @3pm: I'm now just waiting for Tony at the finish line. The wind has made the second part of the race a bit slower and more challenging but overall great weather! And he's in (see photo)! First man home full distance. I just asked him how he feels and all he can say is 'made it'
Sun 12 June (RPM Day 2) Report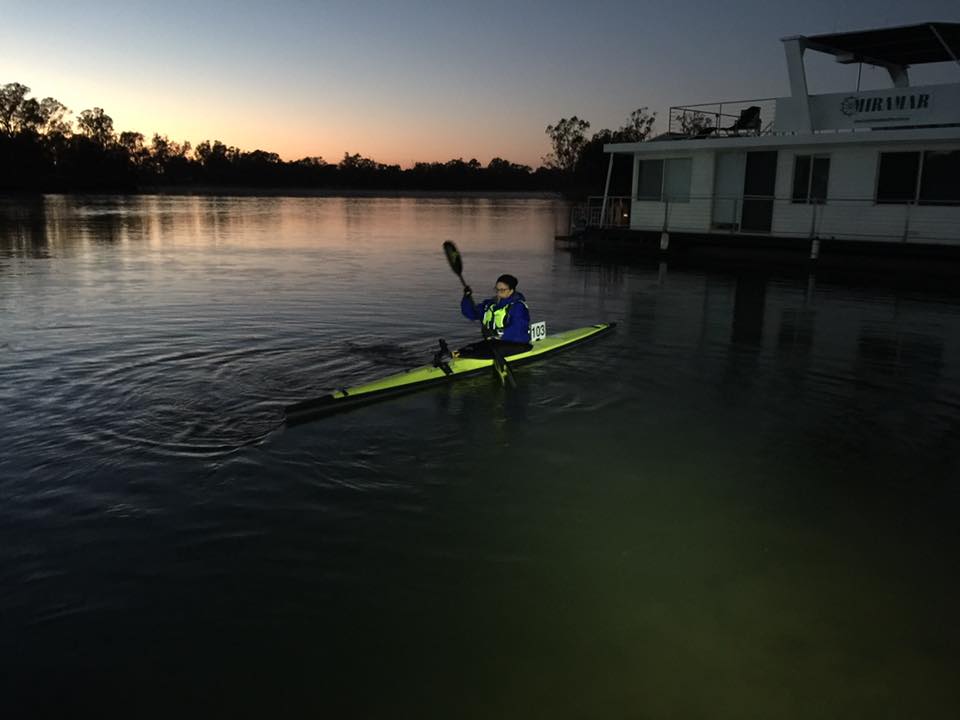 Above: Anjie readies for the start (Photo: Craig Ellis)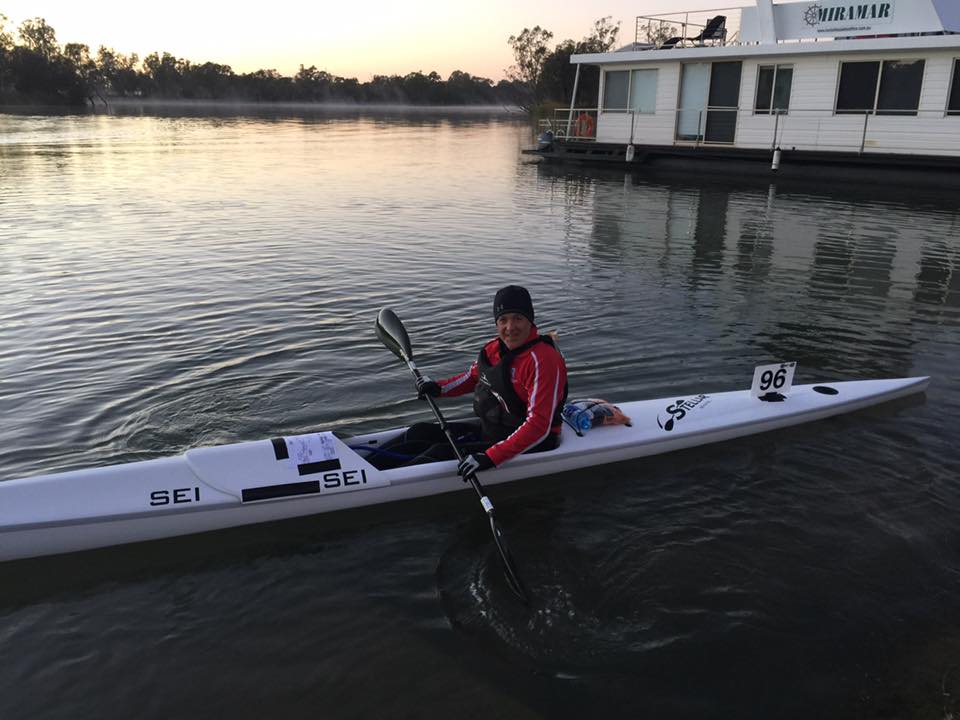 Above: Duncan readies for the start (Photo: Craig Ellis)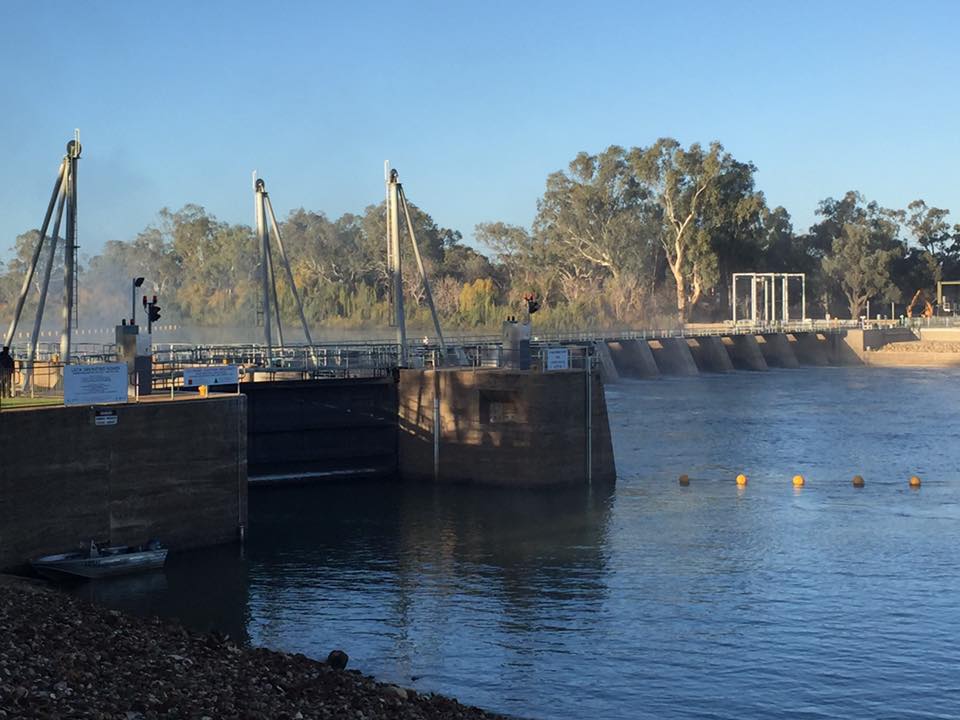 Above: Waiting at Lock 3 for arrivals (Photo: C. Ellis)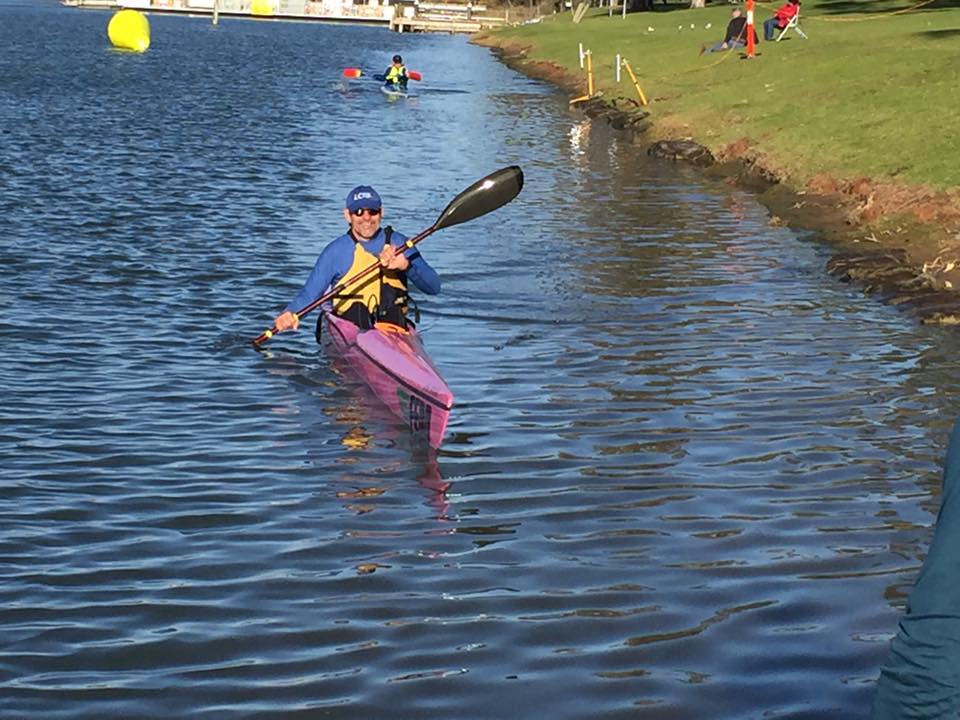 Above: Tom finishing (Photo: Craig Ellis)


Mon 13 June (RPM Day 3) Report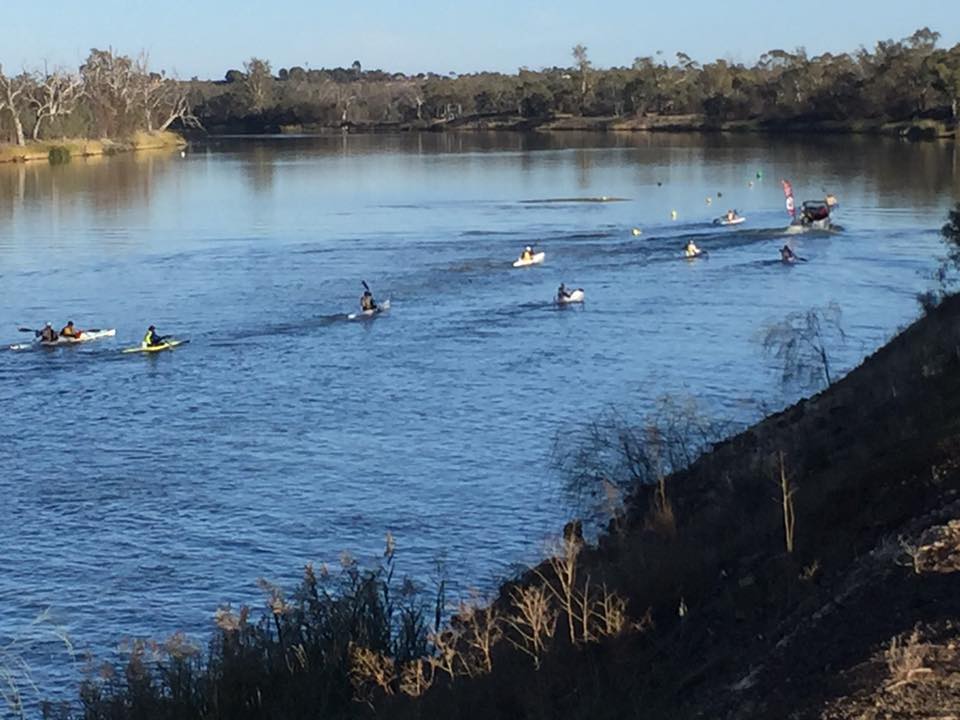 Above: just exited Lock 2 (Photo: Craig Ellis)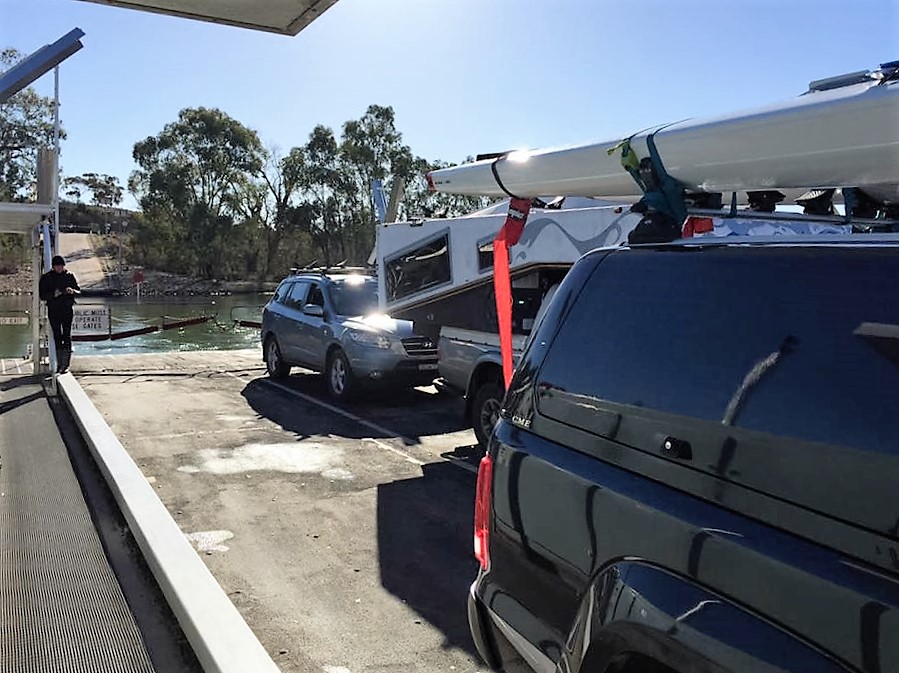 Above: Car ferry cameraderie (Photo: Craig Ellis)

From Alanna @4pm: It's a wrap. Everyone finished, everyone's happy (but maybe a bit sore) and I think we've all had a great weekend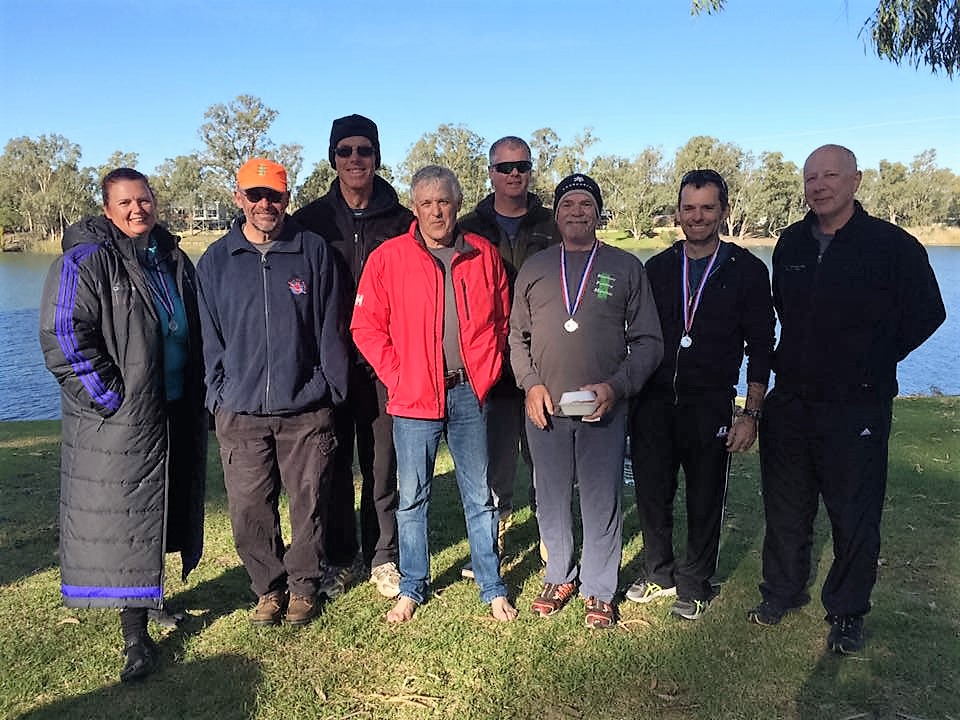 Above: Finished (& ready to paddle the return leg!) (Photo: Alanna Ewin)
25-28 Mar 2016 Devizes to Westminster International Canoe Race
Race report with thanks to LCRKer Chris Quirk
Why would anyone ever do the DW- it's a long way away, the weather is miserable, its expensive, its probably the most logistically challenging race to organize for getting a boat, the boat mostly gets wrecked, organizing support crew, clothing, getting local knowledge and of course even doing the 4 day event it is certainly the toughest race I have done!!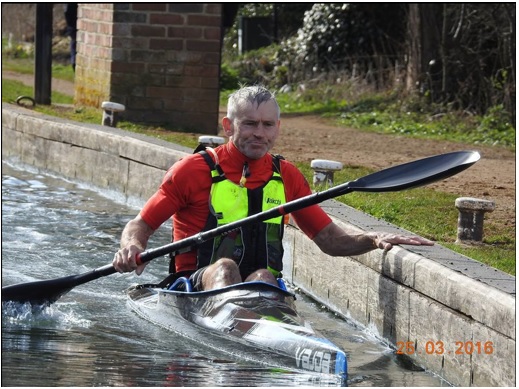 Above: Chris about to take on another portage (Day 1)
Well,
... Forget the Hawskbury, forget the Myall, forget the Murray, and indeed forget all other races. If your considering any marathon races, the DW is the one!! Indeed, if you're not into racing, the DW is the one. The only decision is whether to go the non-stop or do the 4-day race, two very different challenges.
In brief, the main race is a non Stop Canal and River flat-water race from Devizes to Westminster Bridge, 200 Km's. Very unique in that you start whenever you want, and the toughest part of the race is the last 30 Km when you are not at your best, on a river with 6-8 Km currents and eddies, boat wash and standing waves!! Those of you who have done the HCC, imagine getting to Mooney Mooney and... Yes, Paddling back to Windsor!!!. Then throw in Portages. Easy I here you say. Yeh, that's what I thought, come to a gentle beach, have a little walk and then back in? Not so, step up some 1.2 m, lean back down and grab the Kayak if it is still there, slip down a muddy verge, walk/jog/run in freezing mud and put it in on the other side, slide down a similar wall and hope to land in the boat (managed to stuff this once and I can assure the water isn't as warm as here!!)... And do this 77 times. Having taken up paddling about 10 yrs ago as I was struggling with running, Portaging and running is not really my thing any more. As my daughter said, "Dad you look as though your running, but you don't seem to be going anywhere, you just seem to waddle!" (which supports what I have said before, at this age the difference between a sprint and a jog 'Is just the look on your face!')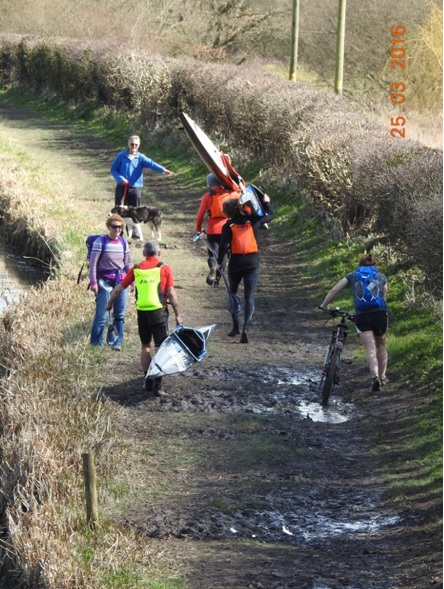 Above: Tow Path
Having become obsessed with the DW non-stop about 4 years ago after getting sent a link from that boy Hystek (my wife has not yet forgiven him!), the non-stop has been in my sites. I'm sure Tony and Richard would confer, one of the problems with the non-stop is obtaining local knowledge as you need to navigate the River and portages at night with no directions, so some time spent over there before the race is a must. This was a luxury I did not have, combined with not being able to find anyone as stupid as I, I decided to do the 4 day race in a single. Yes although the Non-sop I suggest is the ultimate Ultra-Marathon, the 4-day race was fantastic. Paddle about 55-60Km per day down beautiful canals and rivers, stay in quaint towns and Pubs and chat to people down the River. Of course this year, Day three was rainy, storms with 110 Km winds, hail and somewhat cold, and for the first time in the history of the race, Day four was cancelled. Very disappointing but the correct decision. I know we have pretty good cameraderie in the paddling community over here, but I have never seen anything like this. The canal portages are littered with people with offers of help, supply of water, biscuits, and jelly beans or whatever you may need. This was probably the most heart-warming experience from the race. I dare say you could arrive at Devizes with or without a boat, someone would lend you one and also support you the whole way. I could have got through with no support at all and relied entirely on the kindness of other support teams and the DW Marshalls alone - a great community over there, Thank you to all of them.
As you know Richard and Tony had a very successful DW race 2014 and having witnessed the race I can tell you that was a great achievement. Between then and myself we now have a lot of first hand knowledge about this race and the challenges involved. With this in mind, it would be great to build some enthusiasm and go over for the DW as a club. You wont regret it!!
13 Mar 2016 - State Marathon Championships
It was a perfect hot summers day on Narabeen Lake for this years NSW State Marathon Championship and it was supurbly hosted by MWKC.
If you mananged to navigate your way through the PaddleNSW and then Australian Canoe websites to successfully enter the event then you deserved a medal ... which, as it happens, actually occurred for many LCRKers. The State event is organised into Junior, Open then 5 year age groups and boat classes so fields are often small within your race category and you are in with a good chance of a medal (Gold, Silver or Bronze). The K1 classes were well attended and very competitive and portaging was compulsory for nearly all age groups.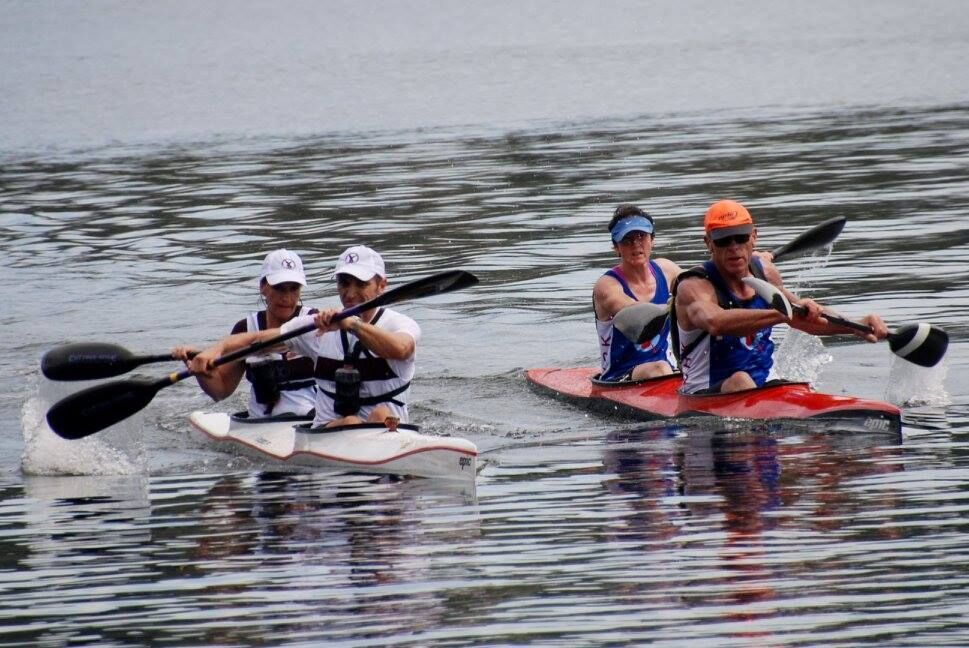 Close race: Richard and Joy, Tony and Alanna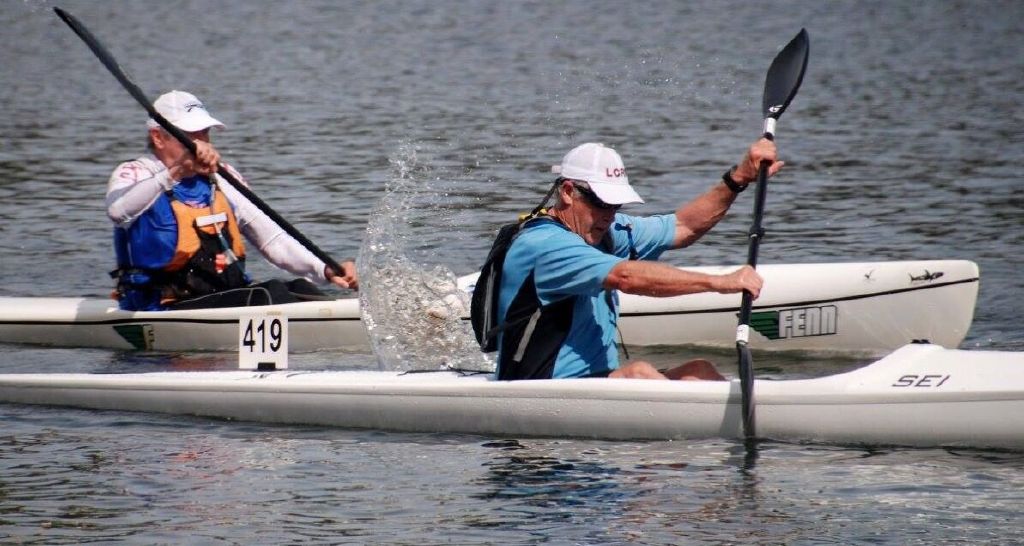 Duncan in the foreground, Tim close behind


Singles races were conducted in the morning and doubles in the afternoon. If anything it was a little hot on the downwind legs in the humidity and searing sun. Being their home course MWKC paddlers put in a great performance and dominated many classes. LCRKers put in a good performance as well.
Congratulations to the following LCRKers on winning medals. See a full list of results here.
Singles: Matt Blundell (paddling for MWKC), Richard Robinson (paddling for MWKC), Tony Hystek, Derek Simmonds, Don Johnstone, Duncan Johnstone, Tim Hookins, Elke van Ewyk, junior Guy Robinson (paddling for MWKC), John Greathead, Tony Walker, Don Rowston, Anne Loyd-Green (paddling for MWKC).
Doubles: Richard and Joy Robinson (paddling for MWKC), Tony Hystek and Alanna Ewin, Tom Simmatt and Tim Hookins, Don Rowston and Jon Harris, John Greathead and Tony Walker.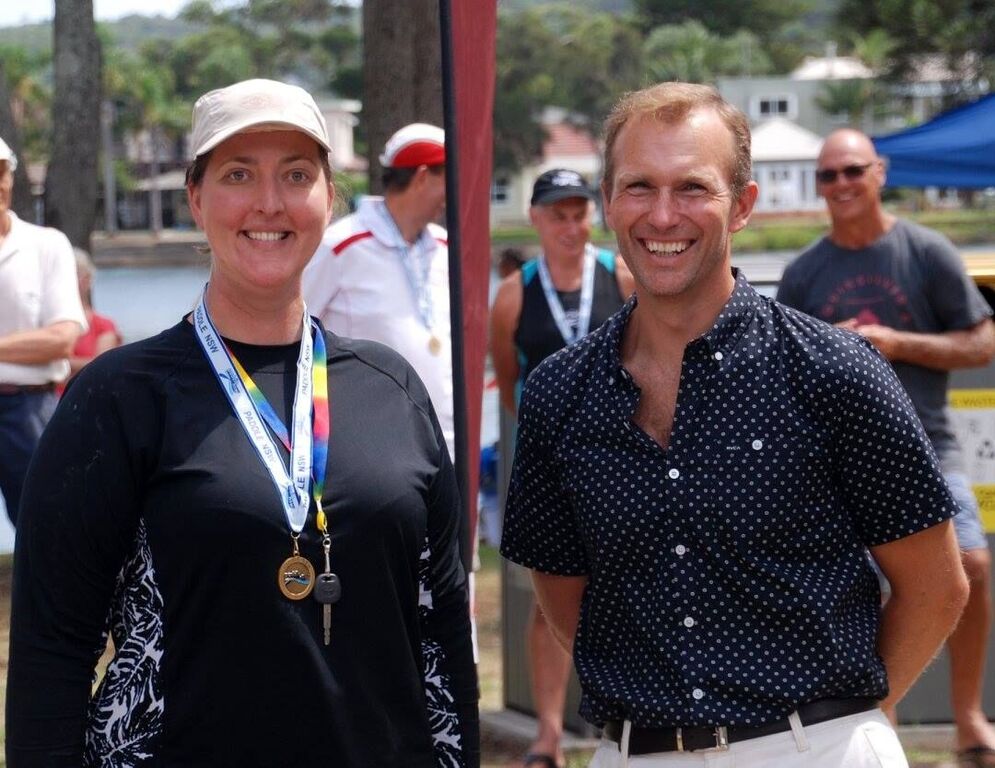 Elke presented with Gold!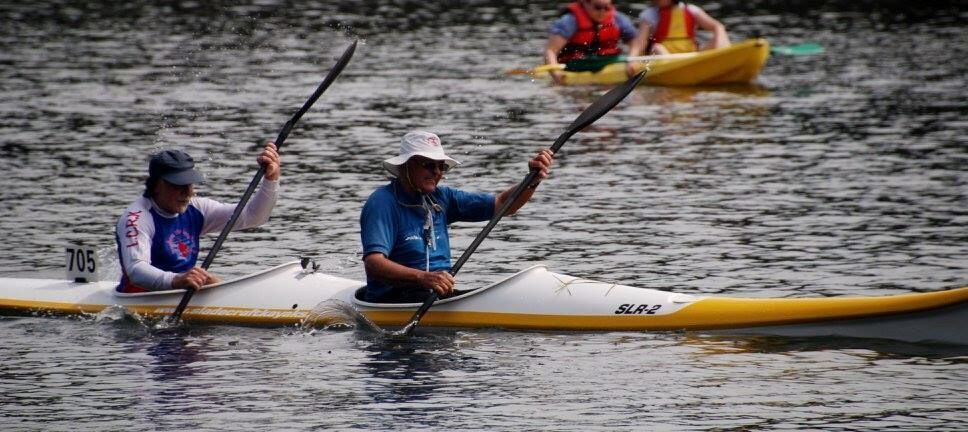 Jon and Don take out gold


Photos courtesy of MWKC and Jill Greenwood.
Bass Strait - Jan-Feb 2016
Meg Thornton, Louise & Alan Foulkes, Richard Barnes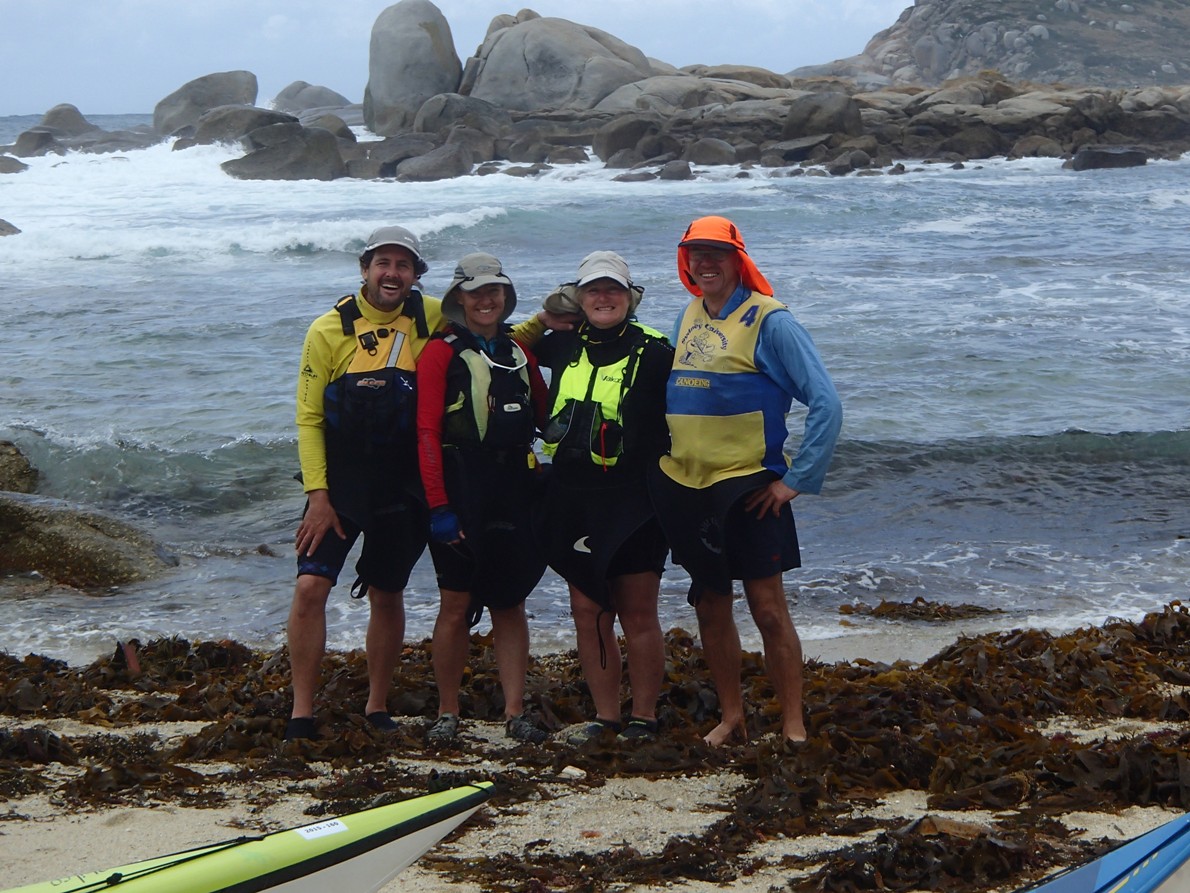 Above: Team Basstacklers on route
It seems that there are a lot of people who have Bass Strait on their Bucket List. With only a small nudge, they can be tempted to launch into a grand adventure. This was the case for the team who crossed this infamously rough stretch of water a few weeks ago. So what are the basic ingredients, and how big a nudge should you need?
To dispel the most common myth: no, there is no need to sleep in your kayak. There are about 600 islands in Bass Strait, and some are strategically on the paddling line. The longest hop is 60km as an albatross might fly, or 70km as we wandered. Whilst this may seem a breeze at Wednesday evening cruising pace, realistic speeds with a laden boat in choppy water ranges from a best of 7kmh to pace as slow as 4kmh, and translates to around a 13 hour continuous paddling day.
There are four big legs. Three hops from Wilsons Promontory, the start in Victoria, to Flinders Island. The fourth jumps from Flinders to the NE tip of Tasmania. Our party took 11, 8, 13 and 6 hours respectively for each of these legs. Check out the route map (1 page PDF 0.3MB).All the other paddling days follow coastline, so can be as short or as demanding as you wish to make them. We had some very cruisy days, with time for a pub dinner at Whitemark, and a change-of-pace hike up 750m Mt Strzelecki.
How far is it? Our party paddled 404km, exactly matching the distance of the Murray Marathon. Depending on your viewpoint, this is an awfully long way, or an entirely achievable goal. For anyone who has done the Hawkesbury, the distances are realistically achievable. Three of our team already had Hawkesburys or Murrays in their paddling pasts, so distance endurance was ok.
How rough is it? That depends on your patience. Our team's plan was to take three weeks holiday. Deducting a few days either end for travelling to and from our origins in Sydney, Canberra and Brisbane, that left 18 potential paddling days. Ultimately we did most of our paddling toward our goal on 10 of them, or only about half. The other days were spent camped on islands waiting for windows of fine weather. Four days we were holed up on Hogan Island, a 3km long rock, 50km off Victoria. As well as a lighthouse, this rock also has a hut, and a weather station. We knew from the shaking and leaking in the hut that the weather was not good for paddling. The recorded weather confirmed 110kmh average windspeeds for a prolonged part of one night. Winds like that generate kayak-defeating swell and seas. So it can be dauntingly rough. But it can also be idyllically calm, with time to wait for the highs and lows to align themselves over the Strait. On two of our big crossing days, we had extended periods of glassy calm. Meg would suggest that we also had our share of rougher stuff, so there is a need to have a reasonable level of sea skills for the rapid changes that may come by. Forecasting is amazingly reliable, and internet coverage via mobiles for Bureau of Meteorology forecasts is now available at all landings.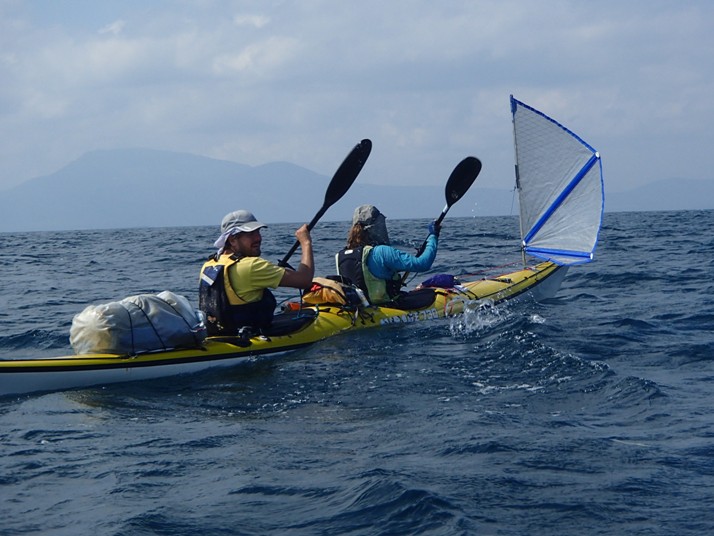 Above: sailing'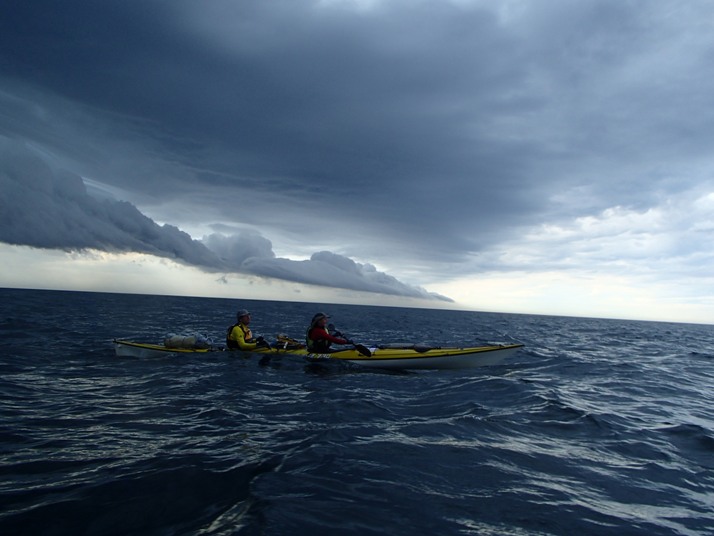 Above: approaching storm
Do you need to be able to roll? On the days our team made its crossings, there were no capsizes. We had set out comfortable that three of the team were unlikely to achieve a roll in the heat of battle. We had some exploratory paddles round Hogan where Meg was capsized in tricky surf. Righting the boat and scrambling back on board, then using an electric pump to bail worked very effectively in these instances. The overall crossing was in ways a test of novices. Al and Lou had done no more expedition sea kayaking than our two training paddles off Sydney and Moreton Bay as their ocean paddling prior to Bass Strait. Perhaps this showed up most in the time and trials of the first packing of the kayaks with all the required equipment. Noviceness was not a showstopper to completing the expedition. Far more important is a positive state of mind, and our team had bucketloads of that.
Our craft for the crossing were a double Mirage 730, a Mirage 580 and a Seaward. The Seaward is a North American design not dissimilar to the Mirage, although with more chines and a flip-up rudder. All boats performed admirably. We would agree that stability is a far more important quality than speed in choosing the right boat. Stability also means more space, a thing at a premium for 18 days camping gear, food and safety equipment.
Team compatibility is perhaps a primary criteria for a successful crossing. We had agreed that we would stick together no matter what, and that required patience from the faster paddlers. The double was naturally quicker, and also had a sail, so often had to throttle back to wait for the singles. Like checkpoints on the Hawkesbury, we made every hour on the hour a break to rest, regroup, snack, bail or do whatever else, principally to keep the group together, and ensure no one was left behind. For meals, we took our own breakfasts, lunches and snacks, but assigned a single dinner cook on rotation each night. That made cheffing every fourth night fun, lazy for those not cooking, the menu varied, and communal time more expansive and relaxed.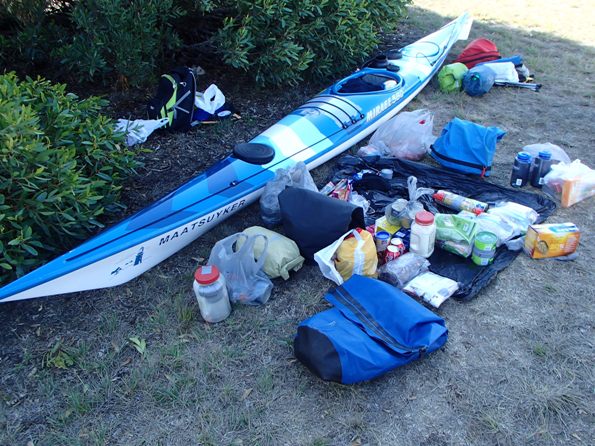 Above: the gear for 18 days'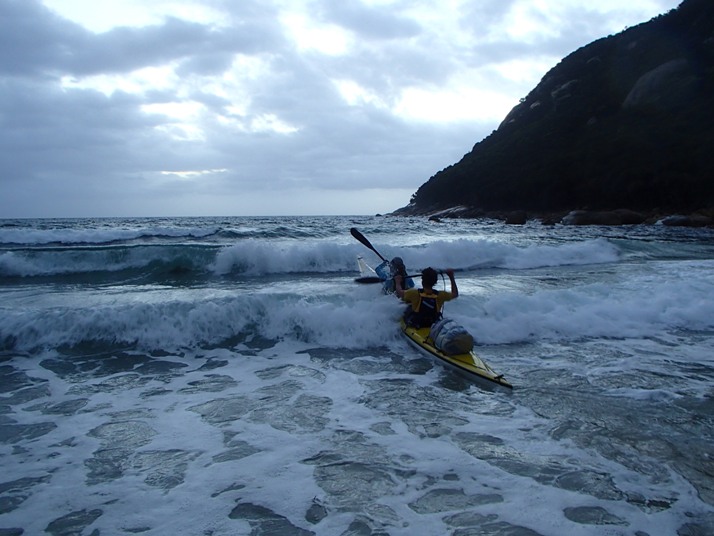 Above: launch from Deal Island
So does that take care of some of the hurdles? What then are the positives? Maybe No1 is the sense of achievement on landing in Tasmania. We shared that moment with champagne and Al & Lou's father, who was acting as our landcrew, sorting out transport logistics. It was a very happy gathering, particularly as we had just beaten 9kmh currents in Banks Strait.
The wildlife along the way is fascinating and fascinated. There are two seal colonies well worth a visit. One is just off Hogan Island, the other one-third through the longest day's paddle. Seals are incredibly inquisitive, and leapt off their rocks to swim toward us for a closer look. We watched both seals and dolphins diving under the kayaks for a look at us from all angles. We were entertained by albatross, mutton birds, and gulls all diverting from their fishing to glide in and give us a once-over look. Perhaps the wallabies and rats are a little too friendly, with food at risk of being stolen by both bouncing versions.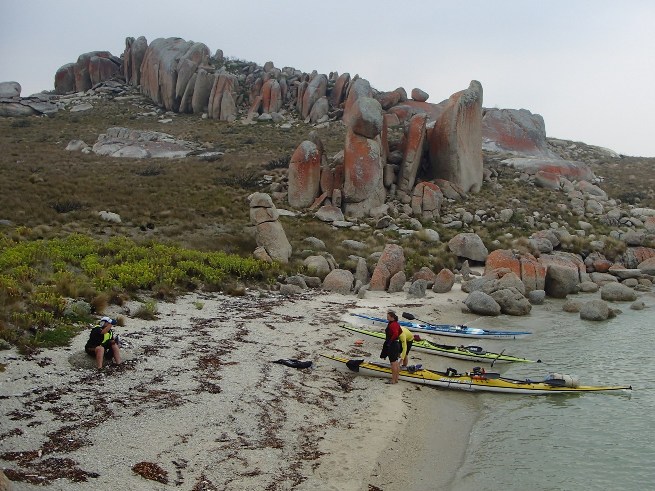 Above: Clarke island granite
Campsites are wild and remote. You are definitely on your own, both in terms of safety, and having the whole universe to oneself. Imagine camping near a penguin superhighway. Right on dusk, hundreds of penguins arrive in a wave of flippers, then squark their way up their path to nests in the scrub beyond. There are far more stars than you will ever see round Sydney too.
Scenery is spectacular. The area excels at granite sculptures, and shades of orange. The moods of the sea add blues and greens, whilst the sun and sky can add from brilliant to storm grey. Check out the photos for more of the adventure. Be Tempted. Then just do it.
Ella Beere National Sprint Results and National Selection
Congratulations to Ella Beere on her National sprint results last weekend and selection in the national team again. Her results at the Australian National Sprint Championships in Western Australia where she was competing in the U18 category; Gold in the K1 200M, Gold in the K1 500M, Gold in the K2 200M and Silver in the K2 500M. There's a couple of links below where you can read all about it - well done Ella!!
State Marathon Championships Narrabeen - 13 Mar
Entry for the 2016 PNSW Marathon State Championships is now OPEN! This year the Marathon State Championships will be held on the beautiful Narrabeen Lakes, on Sunday 13th March, hosted by Manly Warringah Kayak Club. Continuing the format from 2015, there will be Singles Events in the morning session, with Doubles events held in the afternoon. click here to enter at the official PNSW website
NOTE: MWKC advises Warringah Council has opened up additional car parking facilities for the event. Click here for details including access points.
Note this event is independent of the PNSW Marathon Series events (next of which is 10 April in Wyong).
6 Mar 2016: Clean Up Australia Day - a burp heard around the world
from John Duffy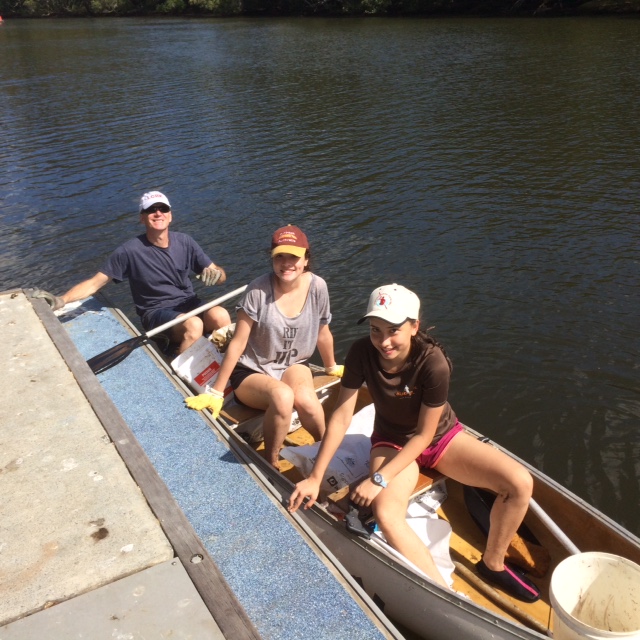 Above: Oscar, Emer & Ciara Cahill – CUAD regulars
That reverberation many heard on Sunday afternoon wasn't thunder, it was Lane Cove River burping in appreciation of 20 large garbage bags of rubbish being removed from the mangroves and river bank.
It was hot and muggy for Clean-Up Australia Day on the river on Sunday but that didn't stop an energetic band of 16 volunteers, including members' family who joined in the worthwhile activities.
Despite quite extensive clean-ups 1km each side of the pontoon in past years, the busy bees still managed to extract at least 100 kgs of plastics, cans, balls and styrofoam in addition to the usual milk crates, car tyres and fish traps.Unfortunately no number boards from the time trials - but one of the more unusual finds was a number of coconuts (still intact but rather past their use by date). The strip that offered up the most rubbish was the area of a hundred metres downstream from the factory and walk bridge. A separate team from the local Rotary club filled another 10 bags from the sports field and the car park.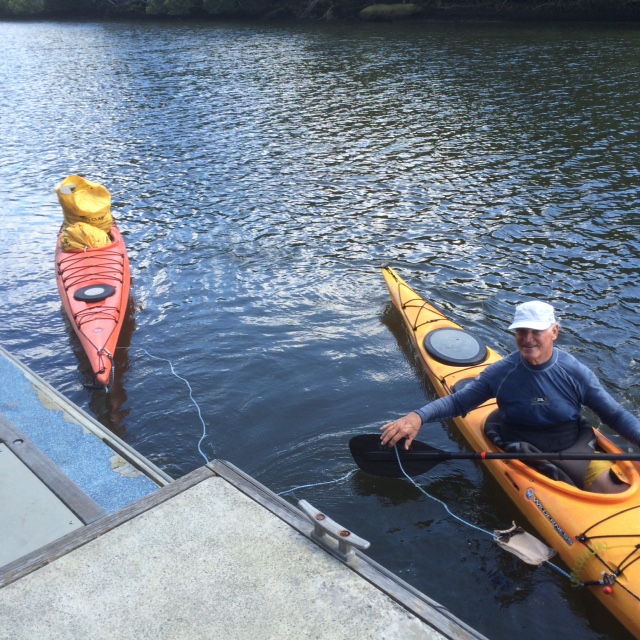 Above:Adrian returning on his second trip
Above: Jeff Tonazzi with his spoils
There was a great roll-up including John Duffy (co-ordinator), Jon Harris, Oscar Cahill and his two daughters Emer and Ciara, Ian Wrenford and his son Lachie, Jeff Tonazzi, Mike Bridges, James Farrell, Adrian Clayton, Paul van Koesveld, Kenji Ogawa, Tony Hystek, Alanna Ewin and Duncan Johnstone. It was pleasing to see a mix of both newer and older Members making their contribution.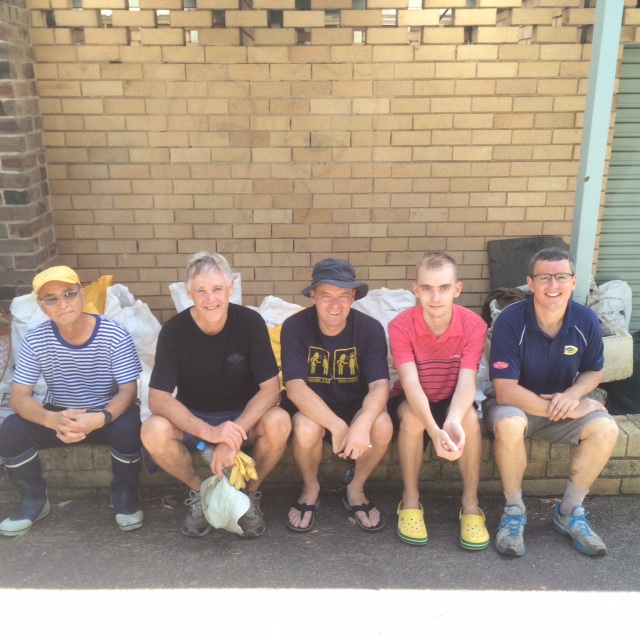 Above: Kenji, Duncan, Ian, Lachie, Mike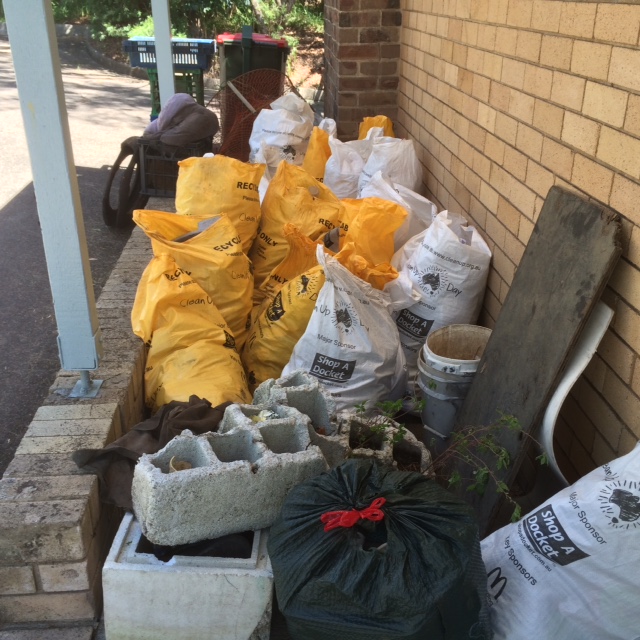 Above: rubbish from river, carpark & grounds
Adrian Clayton was the most industrious and innovative; bringing along one kayak for transport and another as a pack mule. It took Adrian two trips to cart all his and Paul's rubbish back to the pontoon from beyond the factory.
With so much debris removed, we expect PB's aplenty in March.
Thanks for all those who volunteered to get sweaty and dirty. The riverbank will only be free of rubbish until the next week of heavy rain, but there is definitely less rubbish buildup than previous years, including less plastic and cans caught up in the mangroves, so this annual activity is making a difference.