---
Round 9, Wagga, Sat 1 Oct
Race Report (from Naomi Johnson)
A windy finale the 2016 marathon series as the Lane Cove team trekked down to Wagga Wagga. Thrills, spills and stellar performance aplenty, Lane Cove finished the season as deserving Club Champions and the team to beat in 2017.
A trip down to Wagga Wagga isn't to be undertaken lightly, especially in such high winds as the weekend threw at us. The journey down was a hazard for some, with Phil Geddes racks losing a battle with the wind, and Naomi calling an eleventh hour check (via Facebook) as to whether the race was still on. Meanwhile, David Young and Allison Bilbow had a much more leisurely drive through the mountains, reporting snow along the way. The race itself had a change of location – with the Murrumbidgee River swollen almost beyond recognition, paddlers were instead set loose on Lake Albert to Wagga Wagga's south.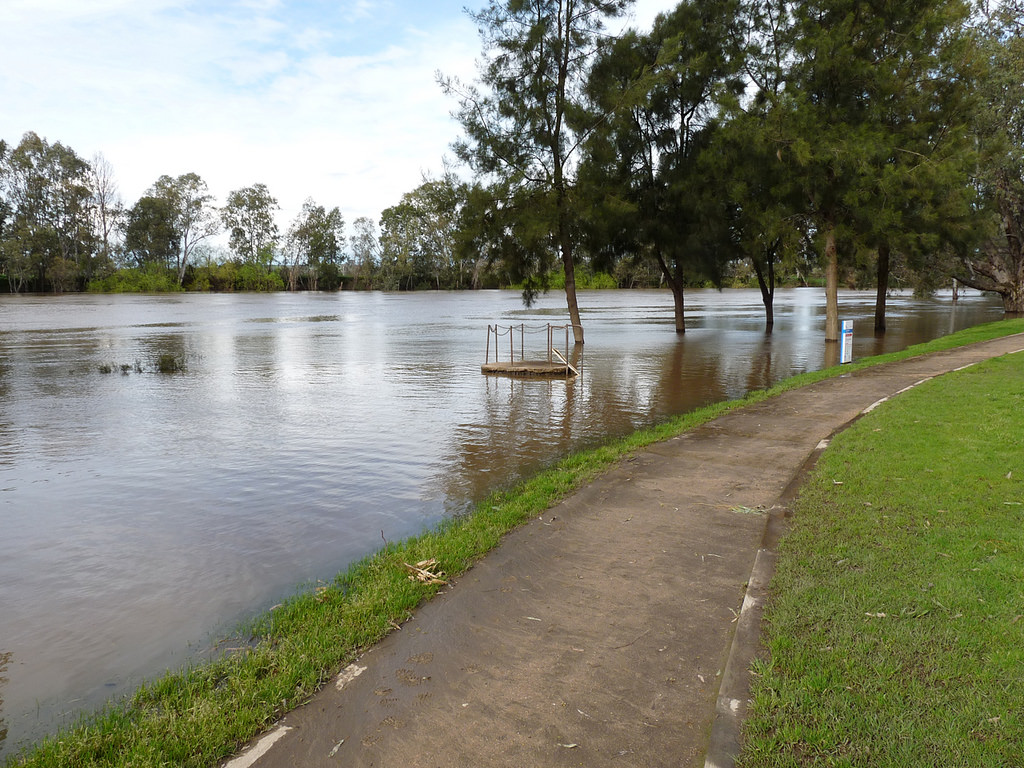 Above: A swollen Murrumbidgee River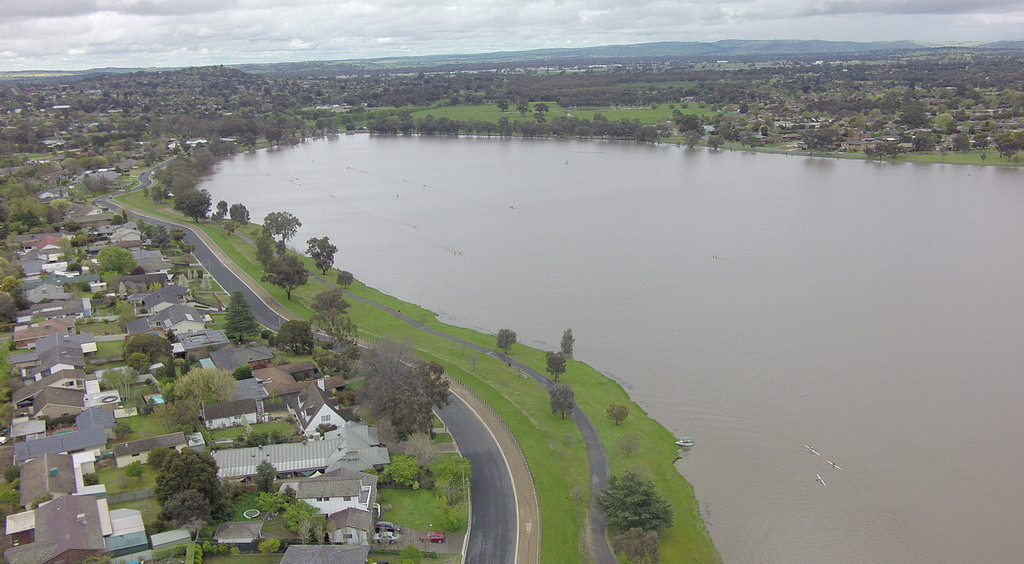 Above: Drone footage of paddlers on Lake Albert
While Lake Albert's water levels were at least normal, the wind still wreaked havoc with boats. The course's upper turn was particularly hazardous, with boats buffeted by the wind and perfectly perpendicular waves alike. K2 duo of Tony Hystek and Alanna Ewin reported a rudder on full lock for the whole race just to stay in a straight line, and there were a few swims as well. Wade Rowston decided to get his over and done with before the start, while Phil was spotted executing a graceful deep water entry near the top of the first lap. Paul van Koesveld was surely in the running for the Nemo award with two dips, though competition for the big fish was particularly heated and it was ultimately returned to Hunter Valley.
Lane Cove finished off the series with another strong race and paddlers in more than half the divisions. The combined Div 1 to 3 start saw Tony and Alanna put in another strong performance, with a season best of 2nd in Div 1. Meanwhile, David Young just missed out on 3rd in the race itself, but after a strong 2016 series was 2nd overall in Div 2.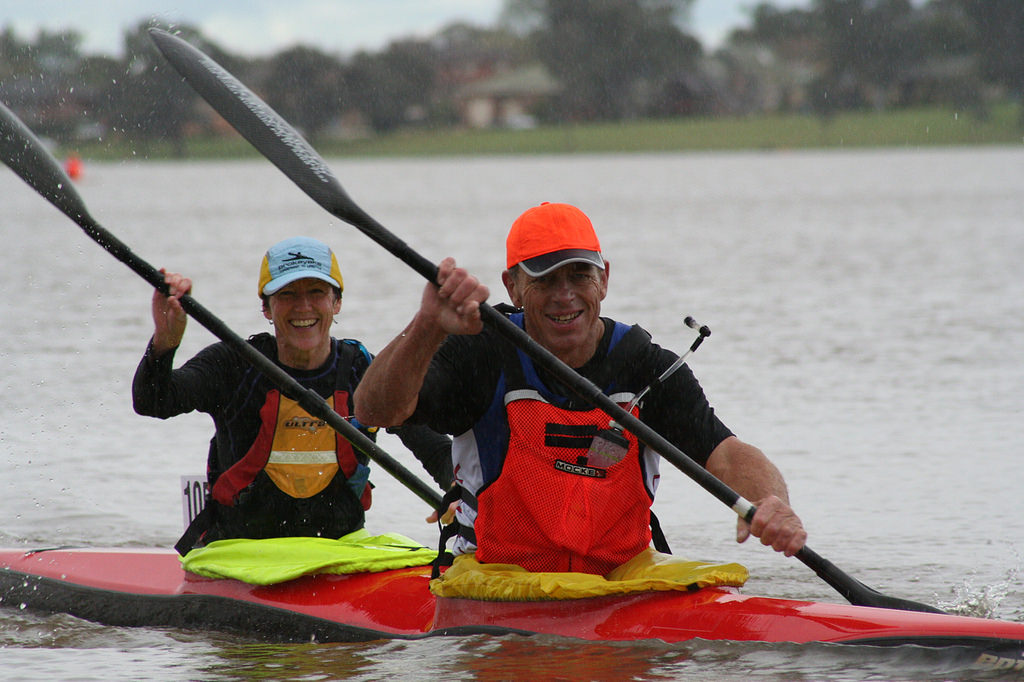 Above: Tony and Alanna finish in a series best 2nd place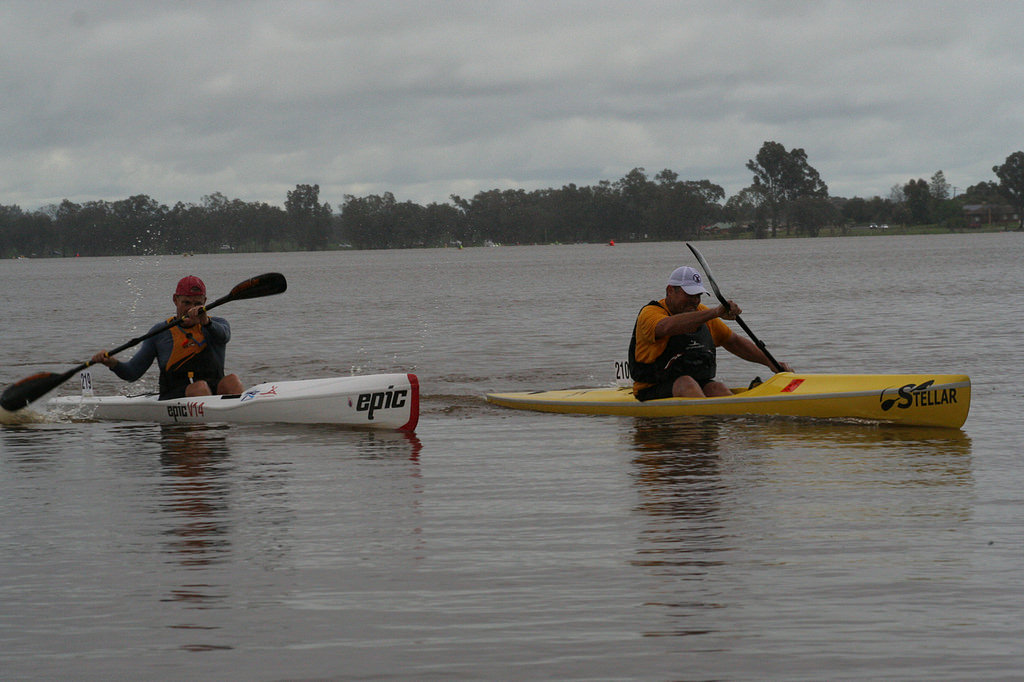 Above: David Young in a final sprint

The Div 4 to 6 start was somewhat reminiscent of the recent Myall in size, and thanks to the glut of boats and blustery conditions many were aiming simply to stay out of trouble and in the boat! Despite this, there were some impressive finishes in both Divs 5 and 6. Rodrigo Matamala showed he is in top form, with 2nd in a time that will probably see him start next year in Div 4. Wade finished in 5th and Phil in 7th despite their respective swims, and Wade took out the season trophy for 2nd in Div 5.
Div 6 turned into a race of the gentlemen, with David Hammond going out strongly on the start only to be caught by Jeffi Tonazzi on the second lap. The duo soon did away with the non-Lane Cove paddler in their pack, racing towards the finish only to stop just short of the line. Reporting from the pontoon, Ian Wrenford heard an argument of: "you go", "no, you first", "go on, take the points", "but I don't need the points". It was Bob from PaddleNSW who ended the dispute, declaring "come on you guys, I'm not going to give you a draw – it's 622 then 601" for perhaps the slowest photo finish in history. Three minutes later, Naomi Johnson finished in a series best 5th place, which would probably have been 4th were the course a few hundred metres longer!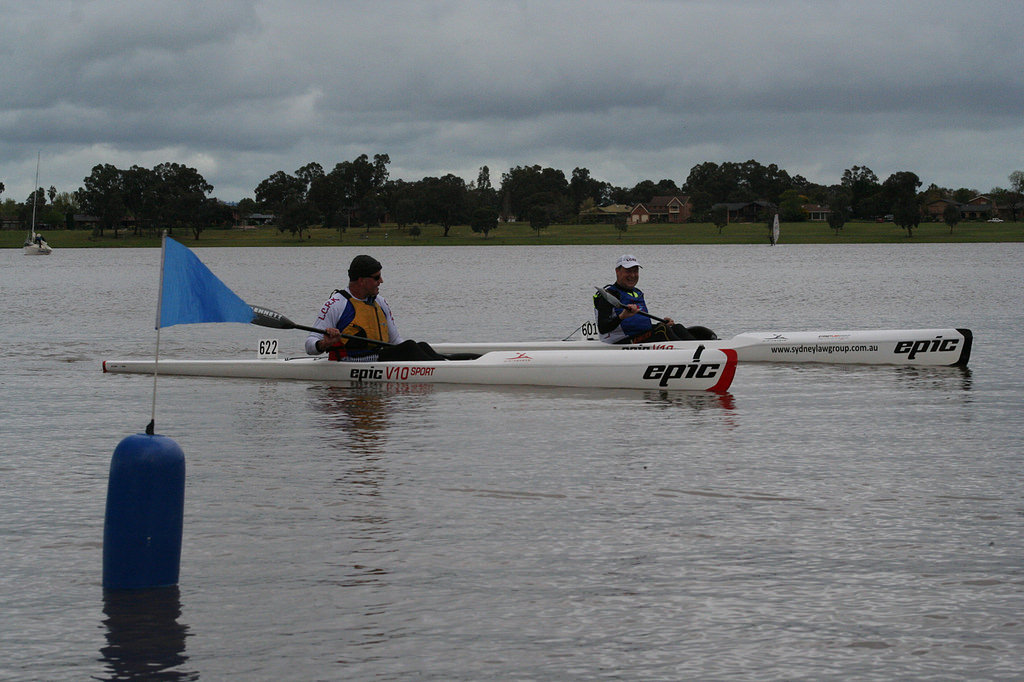 Above: After you, I insist!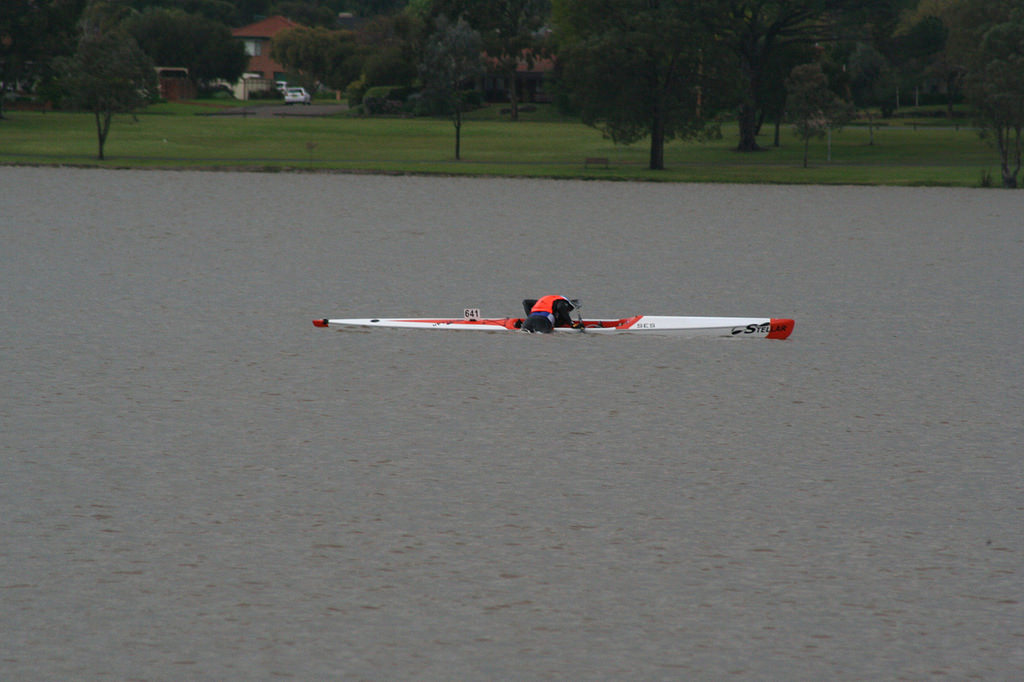 Above: Paul in a graceful deep water entry
The great results continued in the shorter divisions, with Tim Binns winning Div 8 in a time of 1:22:22. David Veivers was 2nd by just two seconds in Div 10, and Allison took out 4th a few minutes later. Div 11 saw Ian Wrenford in 2nd and Don Rowston in 5th, while Lachlan Wrenford snatched crucial club points in a spring for 4th place in Div 12.
Once everyone was dry, thoughts turned to the presentation dinner, held at Wagga Wagga's William Farrer Hotel. And the Lane Cove table had plenty of reason to cheer: following a brilliant season, LCRK were crowned Club Champions for the first time since 2007! The trophy is testament to the dedication of paddlers throughout the year, and across all the divisions.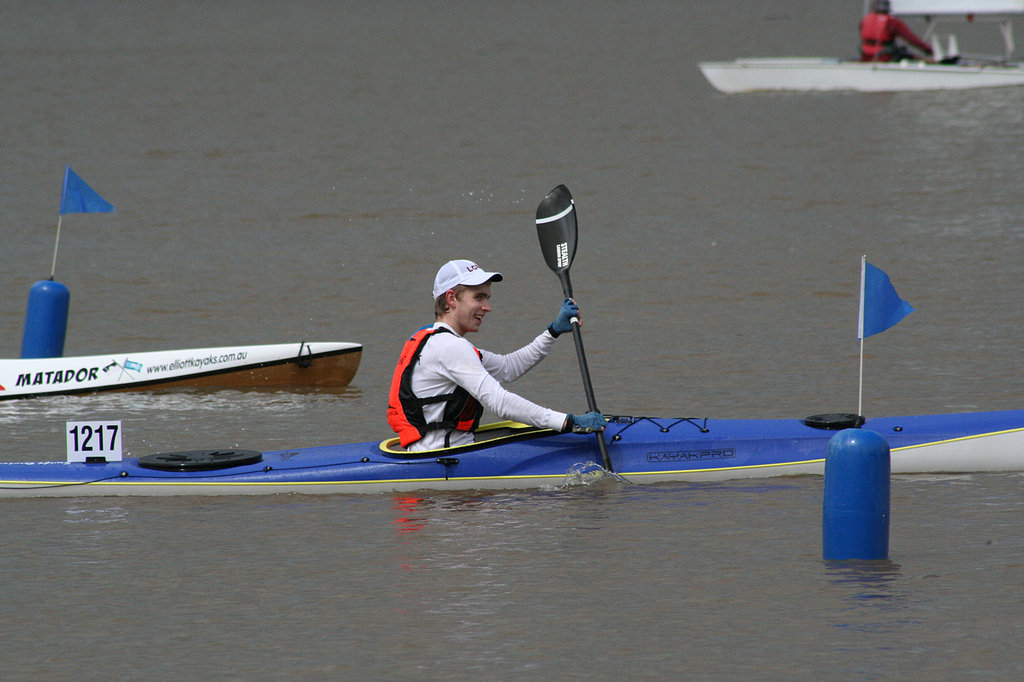 Above: Lachie Wrenford all smiles as he finishes 4th in Div 12
Alongside David and Wade's individual trophies for 2nd place in Div 2 and 5 respectively, LCRK paddler were the recipients of a number of special awards. Two paddlers – Lachlan Wrenford and David – were among some 22 paddlers to have competed at all nine races in the 2016 series, an impressive feat considering the travel distances involved. Lachie's name continued to be called, as he was also the recipient of both the 'Best Junior Performance' award for the Wagga race, and a PaddleNSW Encouragement Award. The other Encouragement Award went to Naomi, who also received the 'Best Female Performance' award for the day. Don Johnstone's outstanding season was celebrated with Most Improved Award – over the first seven races of the series he catapulted from Div 7 to Div 4, finishing in the top four paddlers consistently and improving his time by a total of eight minutes.
Well done to all who paddled in the Marathon Series this year, be it in just one race or the whole lot. It would be great to see even more in 2017, and with 5, 10 and 15km distances as well as the full 20km there really is a race and a division to suit everyone.
---
Round 8, Burrill Lake, Sat 3 Sep
Race Report (from Naomi Johnson)
Blustery yet beautiful, the penultimate race of the 2016 Marathon 9 series took place at Burrill Lake on Saturday. Despite the distance, Lane Cove put on another strong performance to maintain their position at the top of the club standings, with a number of outstanding individual performances as well.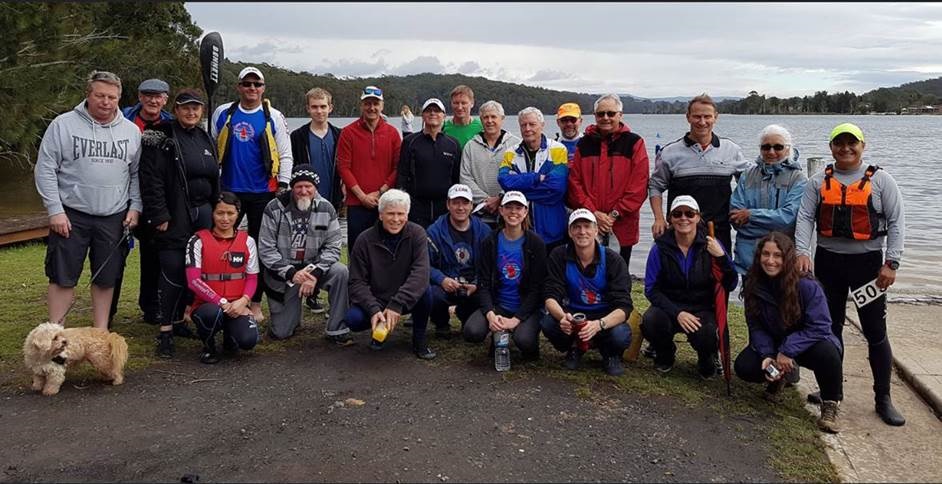 Above: Most of the LCRK contingent - what's with the windjackets?
Burrill Lake has been a regular on the marathon calendar for a while now, and all arrived bright and early to the Big4 caravan park. Some had driven down on Friday in torrential rain, while others had left Sydney at the crack of dawn, yet the most important question was about the race-day weather. How strong were the winds? Would they cancel the race? The race briefing was inconclusive, as the weather radar was predicting particularly strong winds right on 11am. Finally the call was made: we would be racing, with only a slight change of the course so that we spent less time right in the middle of the lake. There was a quick flurry of boat swapping as LCRKers made sure they had the right craft for the still blustery conditions, with Bruce Gynther deciding to undertake his maiden voyage in a ski rather than go for a swim! Then it was all to the start line and each division was released into the wind.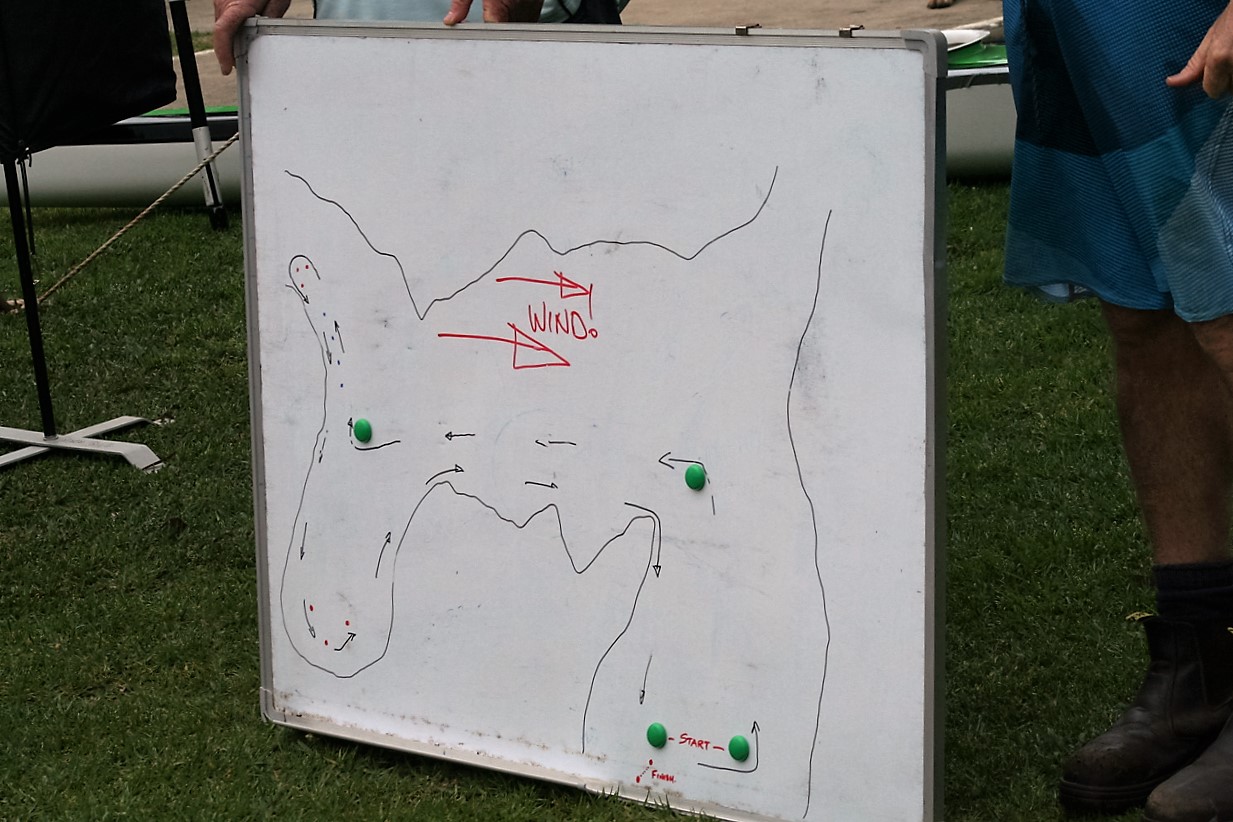 Above: the adjusted 'windy' course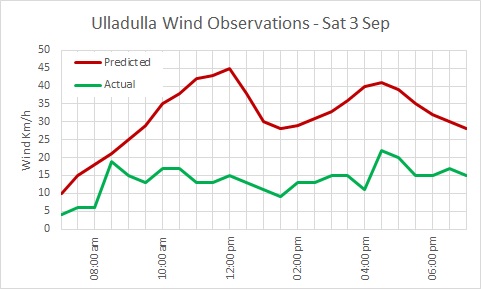 Above: the wind forecast (vs actual)
The race course took us on 5km laps up to the sheltered western end of the lake, straight into the oncoming westerly wind to get there. The first lap was particularly daunting, with gusts that churned the lake into a mess of waves and wash. The first 500m of the course seemed bad enough, but the wind's full force only came after the first left hand turn. The morning's drizzle seemed set to develop into more substantial rain as well. Everyone gritted their teeth and dug in, hoping that things might subside even a little.
To everyone's relief, the decision to push start time back paid off. Those doing 10, 15 and 20kms breathed a sigh of relief as they started out for lap two – the wind had calmed just enough so that we could relax and focus on racing rather than not falling in! There were still a few swimming sessions, and a rumour that Phil Geddes might have wanted to test the water temperature as well. Conditions continued to improve, and by lap four the sun even made an appearance.
Though LCRK's turn-out reflected the long trip from Sydney, we were still the club to watch both overall and in a number of divisions. Despite the new boat, Bruce Gynther took out division 4, while Rodrigo Matamala achieved a season best time to win div 5. In div 6, Jeffrey Hosnell and Paul van Koesveld took first and second places respectively, while Oscar Cahill came in in just under an hour to snatch first place in div 10. Third place was also a popular position, with Matt Blundell, David Young and Anjie Lees picking up four club points in divs 1, 2 and 7 respectively.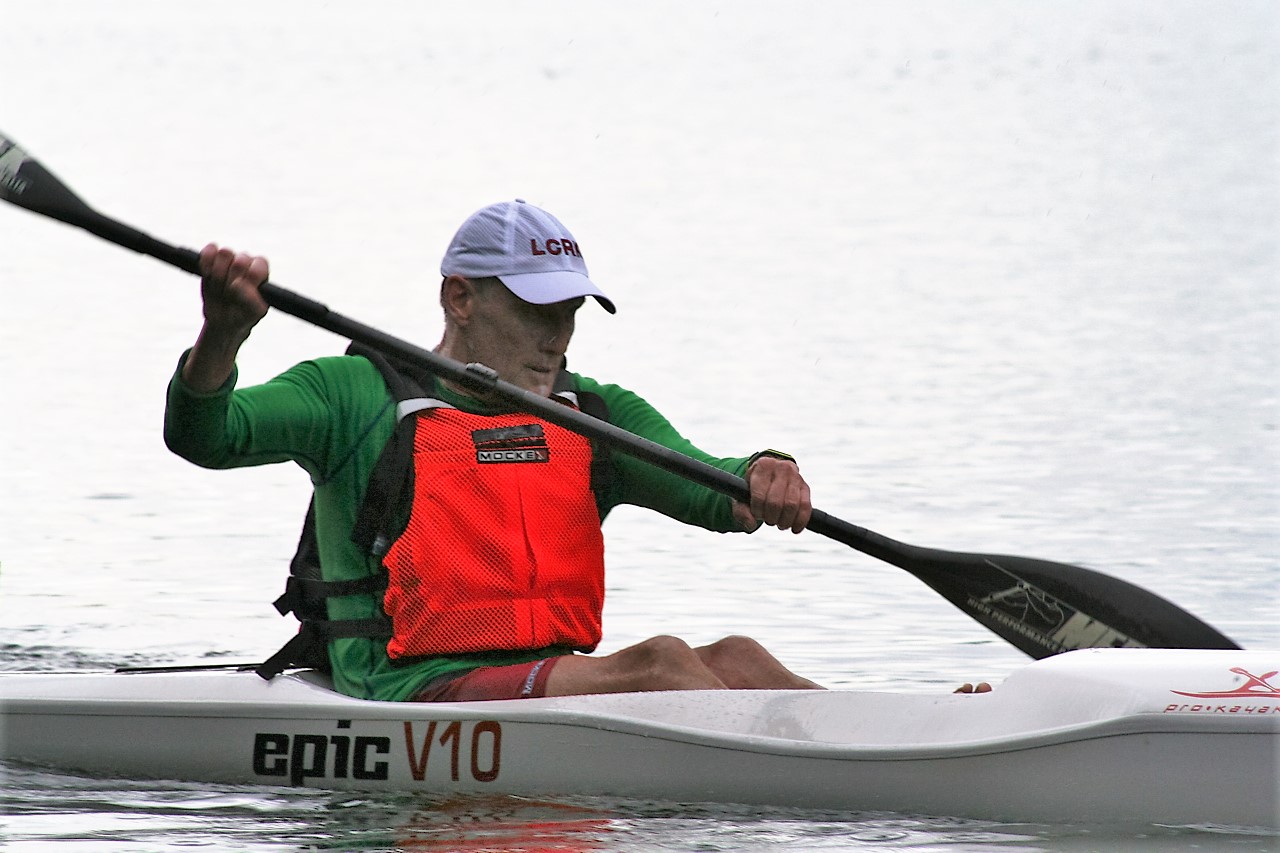 Above: Bruce on his way to Div 4 win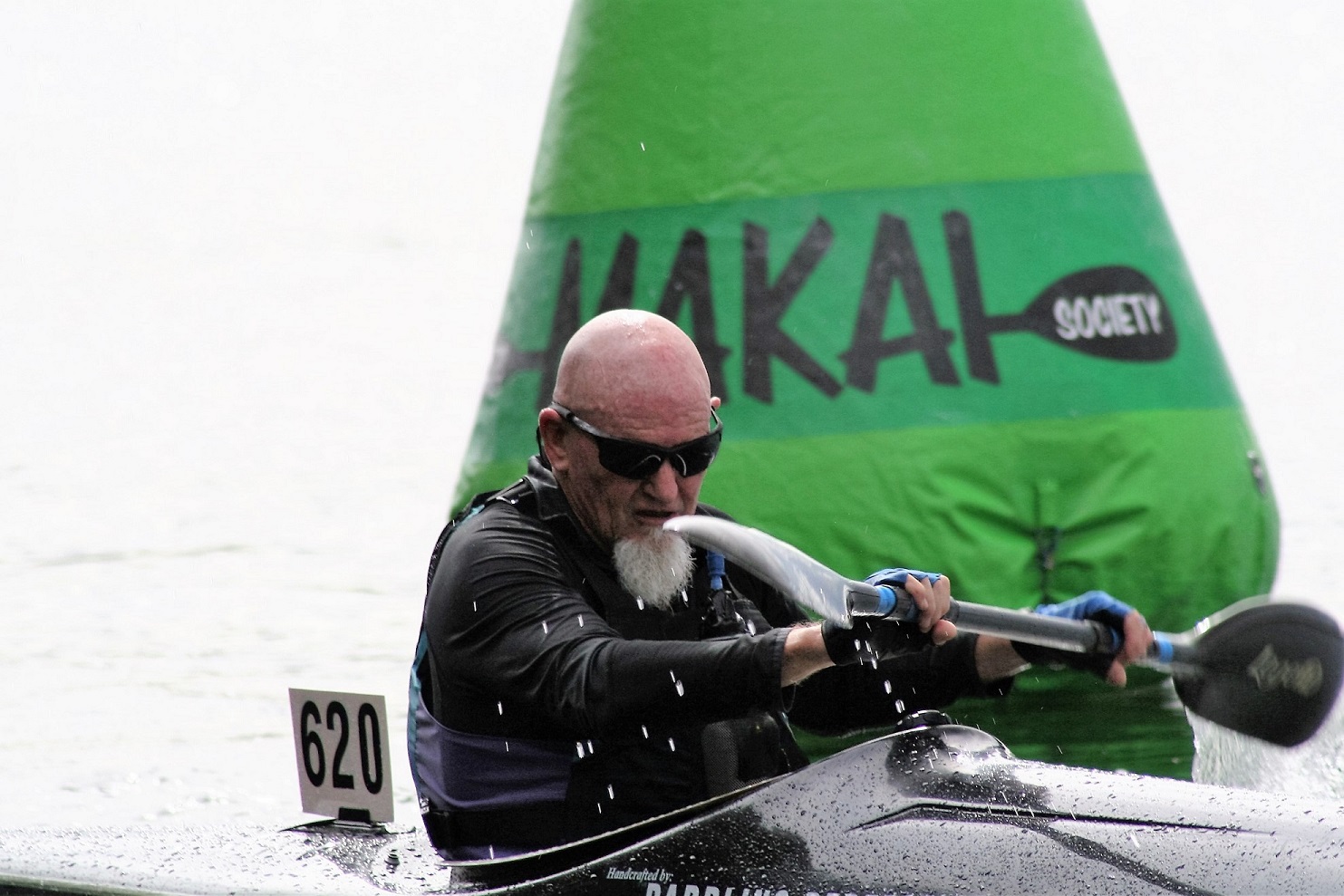 Above: Jeff takes out Div 6
While Tim McNamara and Don Rowston completed their ranking race in a double long rec, everyone else was racing for points. Lachlan Wrenford came 5th as the sole LCRK paddler in div 12, while dad Ian came 4th in div 11, followed by Maya Gibson (paddling for ACCA on the day) came 7th, and Allison Bilbow got a series PB to finish 7th in div 10. Div 6 – usually a good place to spot LCRK paddlers – continued to be busy with Naomi Johnson and David Hammond a little way behind Jeff and Paul but still achieving 6th and 12th places respectively. Wade Rowston (5th) and Phil Geddes (9th) were strong competitors in div 5, while Tom Simmat and Duncan Johnstone took out 11th and 12th in div 4, finishing a matter of seconds apart.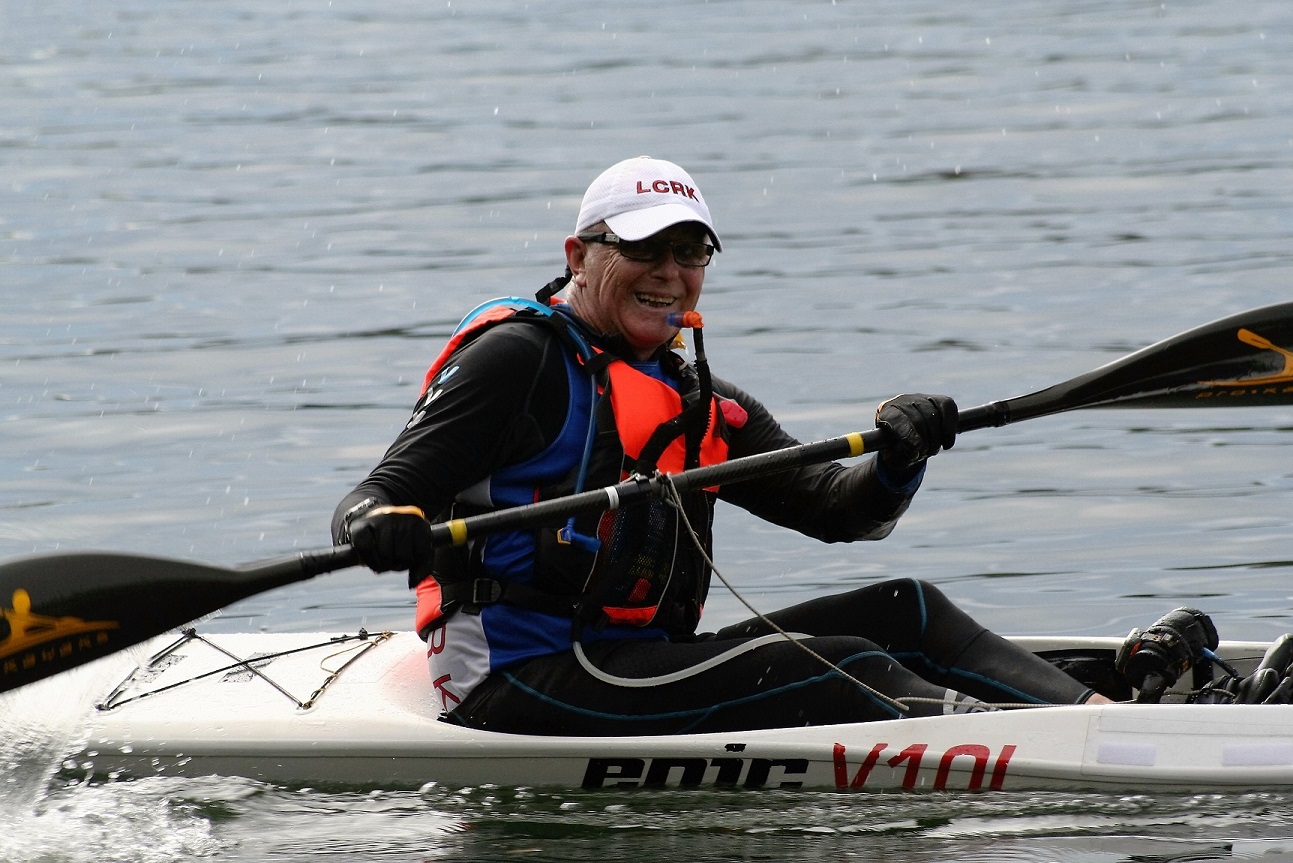 Above: Paul smiles his way into Div 6 2nd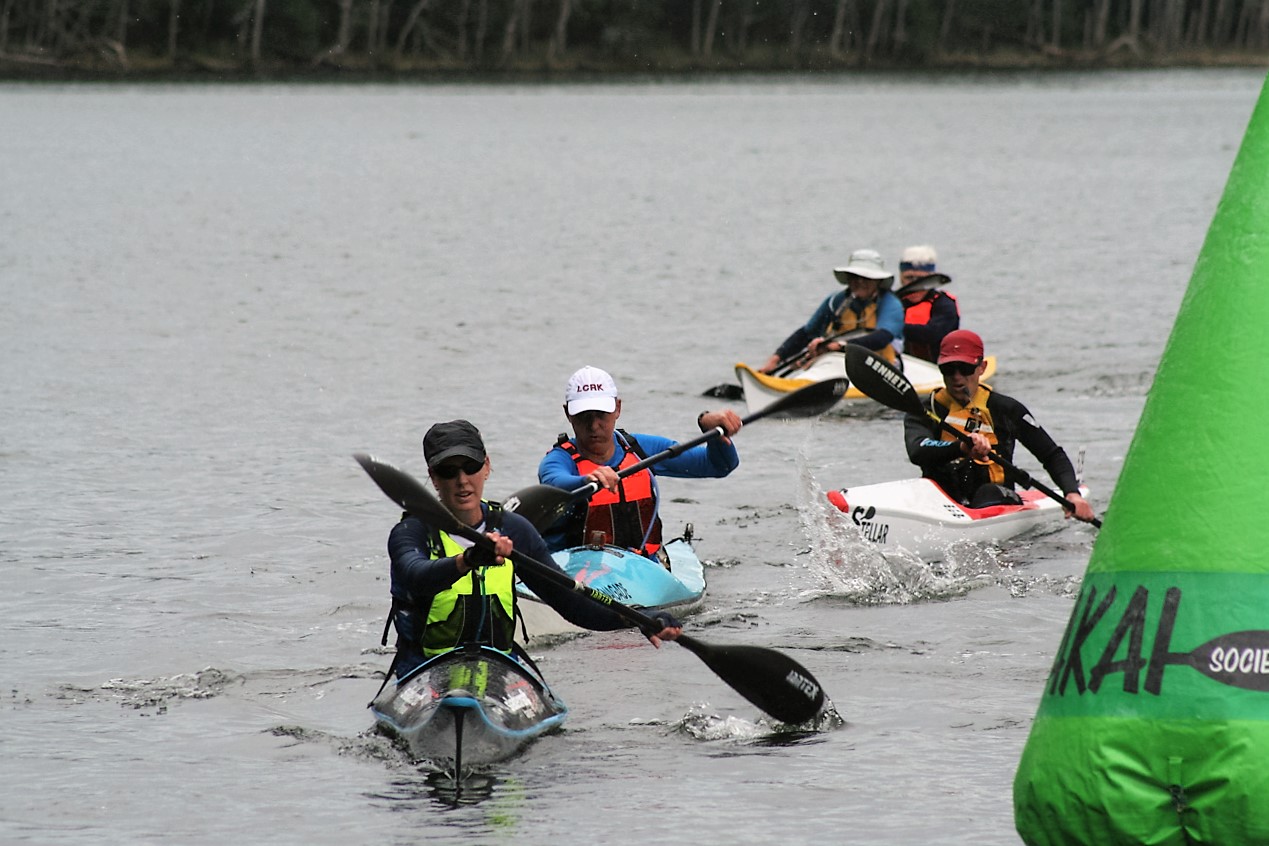 Above: Wade and the Don/Tim double
With only one race to go in the 2016 series, LCRK is sitting with a solid lead at the top of the club standings, showing that strong numbers and an enthusiastic team spirit really makes a huge difference. Special thanks to those that helped out – organising transport, carrying boats and taking photos – whether they paddled as well or stayed (relatively) dry on the bank. The grand finale is at Wagga Wagga on October 1st, and we're looking forward to equal enthusiasm, with plenty of paddlers wearing the Lane Cove colours!
---
Round 7, Teralba, Sat 6 Aug
The inaugural HVPC held Marathon 9 event at Cockle Creek was a well attended meeting with some 130+ boats with LCRK contributing some 23 entries and 26 paddlers.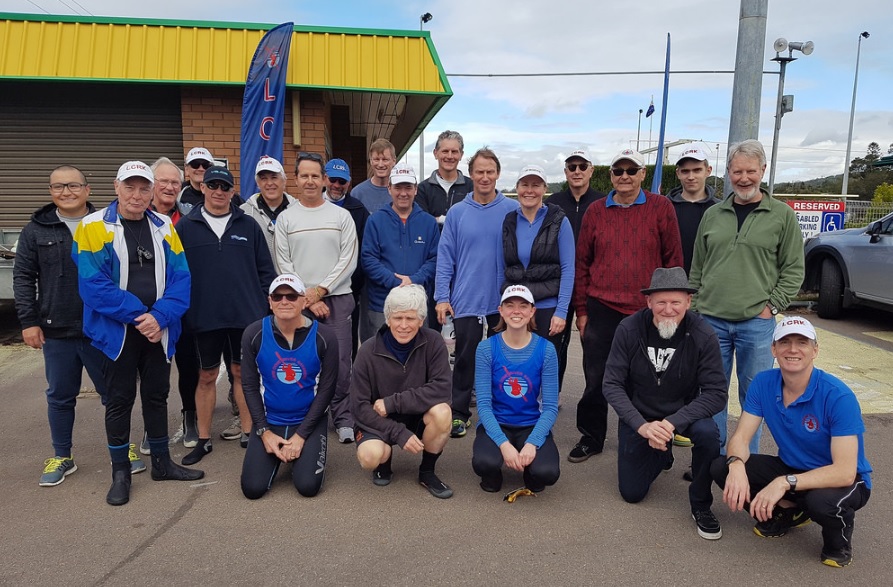 Above: Most of the LCRK contingent - clearly not singlet weather

HVPC must be congratulated on putting on an excellent event with the weather holding off to produce a pleasant paddle. Times were a little slow due to shallow water and a slightly longer distance of between 20.25 and 20.04 Km depending on whether you crossed shallows or stuck to the channels.
  


LCRK results were sufficient to extend our lead in the club championship with LCRK now on 244 to MWKC on 196 and BGCC on 180.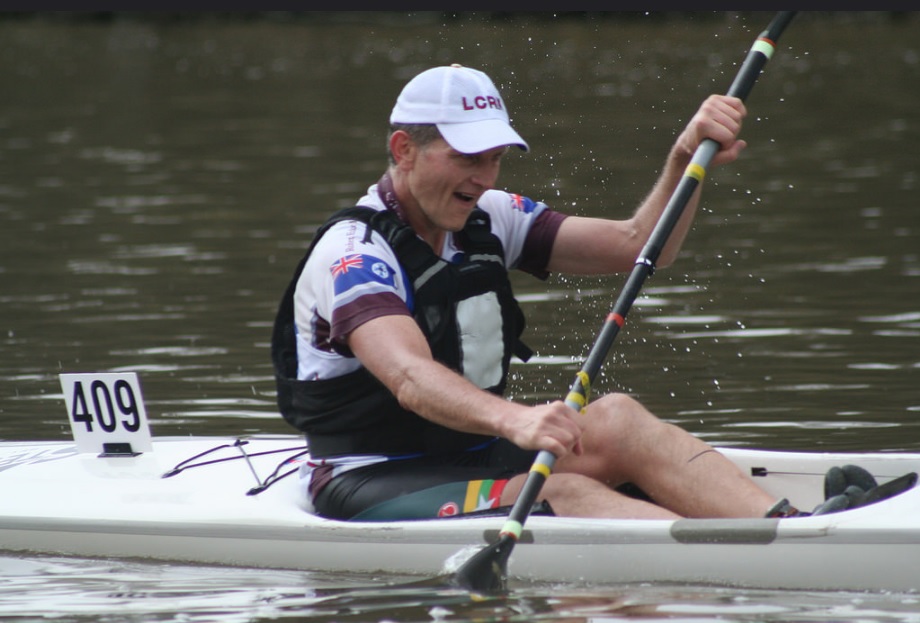 Above: Is Don, is good! 1st in Div4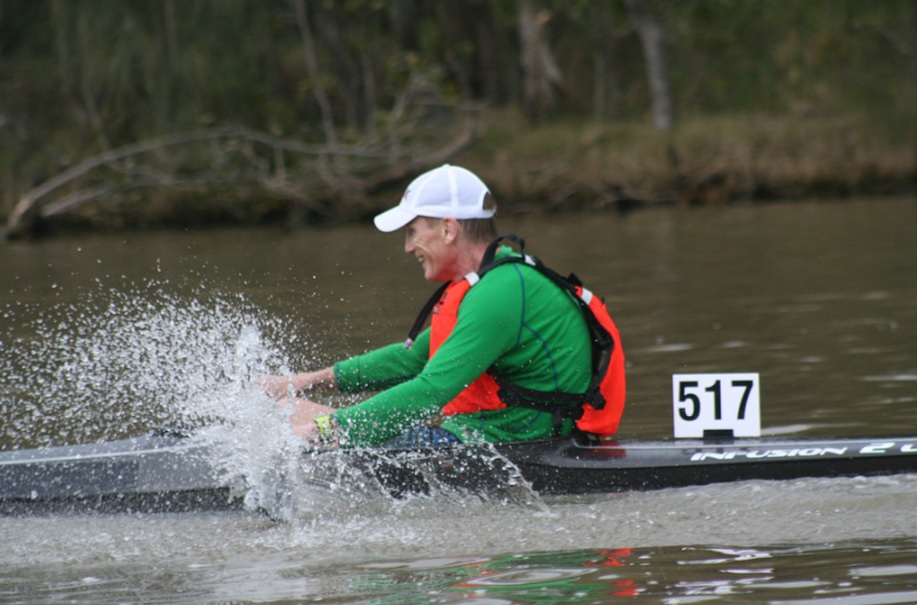 Above: Bruce Gynther's smile says it all - 1st in Div5
LCRK contributors were:
| Division | LCRKer | Position |
| --- | --- | --- |
| 2 | David Young | 7th |
| 3 | Duncan Johnstone/Matt Swann (Double) | 4th |
| 4 | Don Johnstone | 1st |
| | Tom Simmat | 6th |
| 5 | Bruce Gynther | 1st |
| | Jeremy Spear | 2nd |
| | Tony d'Andretti/Brad Hughed (Double) | 3rd |
| | Don Rowston/Jeff Collins (Double) | 5th |
| | Phil Geddes | 7th |
| | Rodrigo Matamala | 11th |
| 6 | Jeff Hosnell | 5th |
| | Naomi Johnson | 8th |
| | Paul Van Koesveld | 9th |
| | Derek Simmonds | 12th |
| | David Hammond | 17th |
| 7 | Tim McNamara | 7th |
| 10 | Oscar Cahill | 2nd |
| | Peter Harris | 6th |
| | David Veivers | DNS |
| 11 | Allison Bilbow | 1st |
| | Ian Wrenford | 7th |
| | Ross Fraser | Ranking |
| 12 | Lachlan Wrenford | 4th |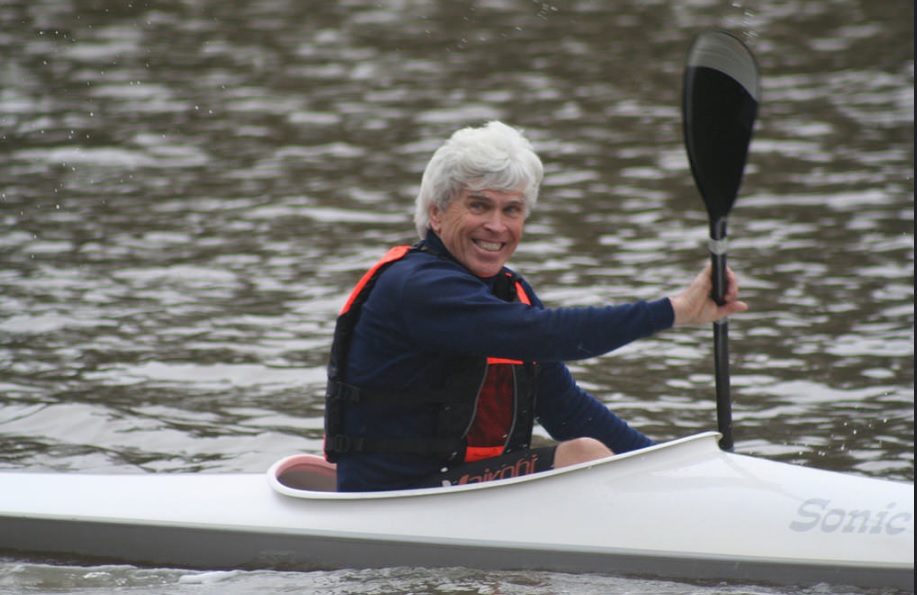 Above: Tim McNamara - thinking of 1st!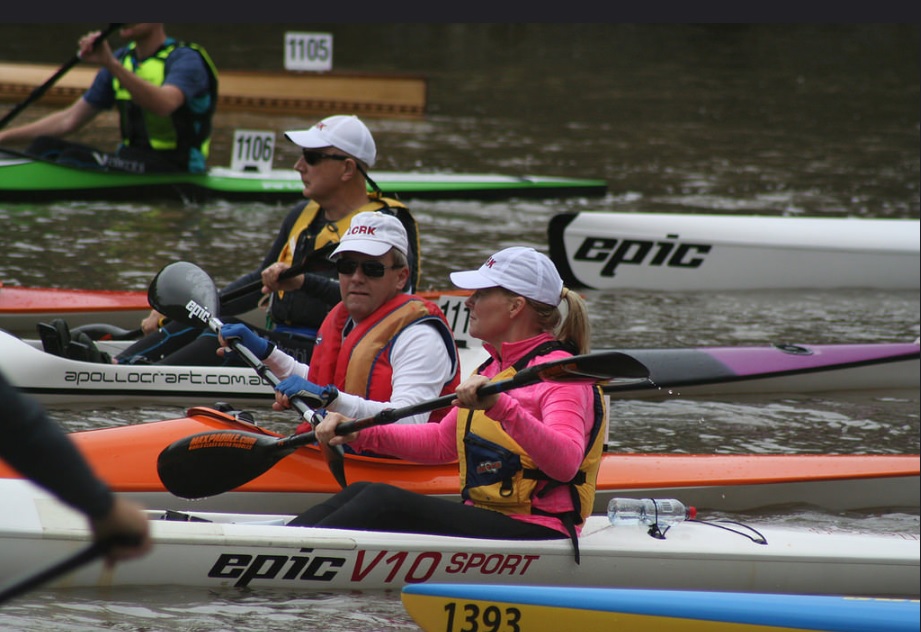 Above: Allison (1st!), Ian, Ross Fraser in the Div11 start

Many thanks to all those LCRK paddler who turned up and supported the club, having a good day with it. and thanks to Nettie Harris for much of the photo coverage.
Burrill Lake at the BIG 4 caravan park is next on the agenda on September the 3rd. Competition should be very keen here for the club championship so lets see if we can up our numbers. Again registration is on line only so get in early. Likewise accommodation for this one is keenly sought after so if you are going get in contact with the Big 4 Caravan and cabin site and book early, make sure you mention you are coming for the Marathon Series as they are giving priority to participants. .
---
Round 6, Brisbane Waters, Sun 17 July
The challenge set leading into race 6 was to maintain our slender lead in the Marathon Series. Despite some members being absent with the flu, and others recovering, not only did we manage to hold on to our position but we remarkably extended our lead over Manly Warringah and Burley Griffin with some fantastic performances at Davistown by the 27 Lane Cove paddlers who participated. Despite the race briefing outlining the course, many paddlers were left bewildered as to the layout and what beacons were to be rounded. This was evident in the first lap but by the second lap, with the blind leading the blind, all paddlers seemed to be navigating a similar route by the second lap.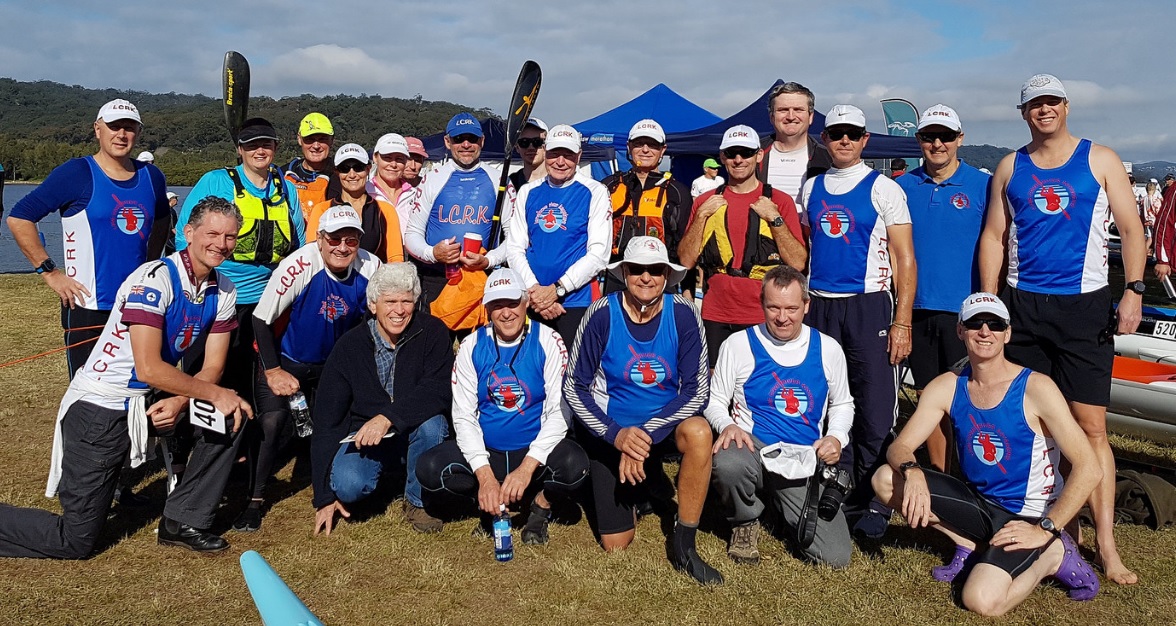 Above: Most of the LCRK contingent
Leading the way again in Division 1 was Matt Blundell as he returned to the podium with a 3rd placing (4 club points) following a solo effort for much of the 25km. In Div 2 Justin Ryan's timely return to form saw him take silver after a hotly contested sprint for a win and secure 6 points points. Not far behind was David Young in 5th place. In Div 3 the recently formed doubles combination of Duncan Johnstone & Matt Swann had a very successful paddle to finish 4th, just losing out in another close sprint finish by a second. Peter Manley followed them home in 8th position.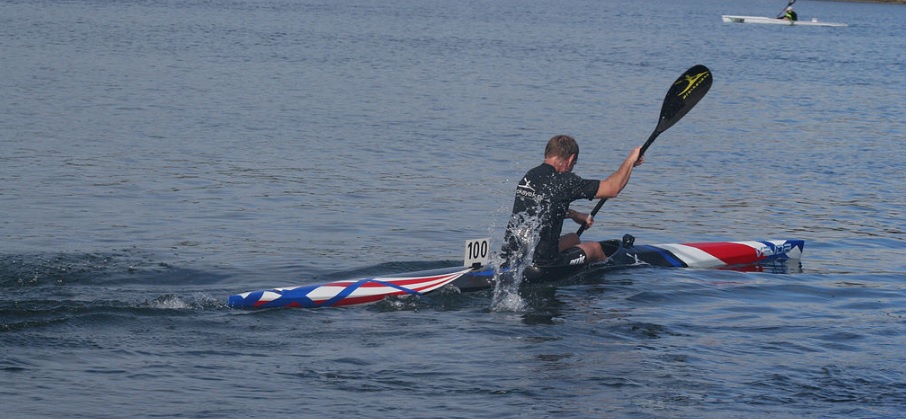 Above: Matt Blundell motors away from the portage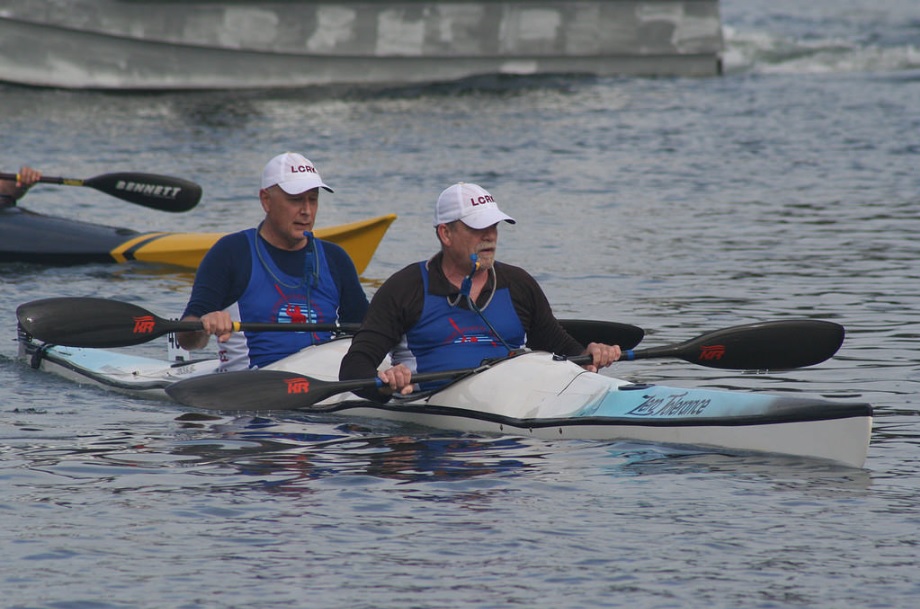 Above: Ken & Ross cruise home
Don Johnstone continued his impressive list of podium finishes with another 2nd place in division 4, and he too was pipped to the line in a sprint. [Note to committee… maybe we need to recommence some sprint training sessions on the river]. Don was followed home by Tom Simmat in 7th position and doubles pairing of Ross Fraser and Ken Holmes in 13th. Six paddlers represented Lane Cove in division 5 and we nearly achieved a clean sweep on the podium. Jeremy Spear maintained his recent perfect run of victories with his 3rd consecutive 1st placing, prevailing in a 3-way sprint finish that included Richard Yates who come in 3rd. Following this pack in were Wade Rowston in 4th, returning doubles pairing of Don Rowston / Jeff Collins in 6th and Phillip Geddes in 11th.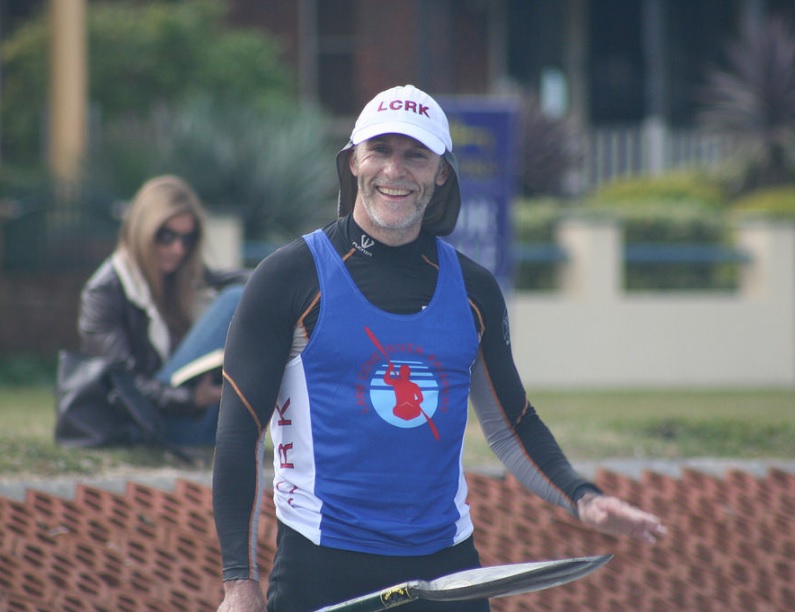 Above: Tim reflects on his Div 8 2nd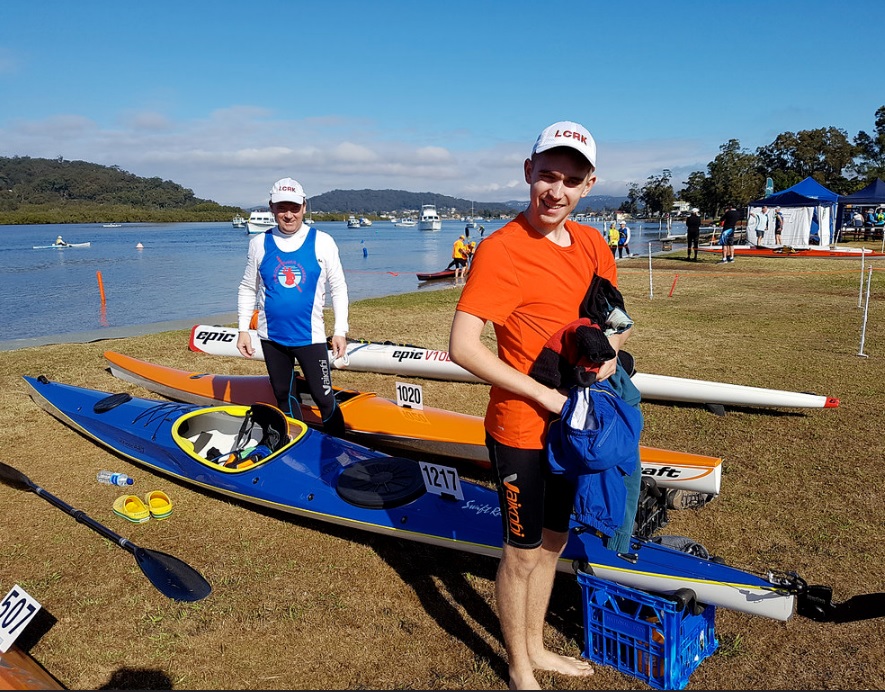 Above: Wrenford father and son

Above: Oscar sprints to Div 10 2nd
In division 6 Jeffrey Hosnell paddled to a courageous 2nd position followed by Paul van Koesveld in 3rd. Rozanne Green returned to the podium in div 7 with a 4 place with David Vievers completing his first 20km distance with a resolute 8th placing. Tim Binns who also looks like he is returning to form had an excellent race and secured a 2nd position in div 8 and in the process earned the club valuable 6 points. He was followed home by Tim McNamara in 7th position. Oscar Cahill continued his recent good form but unfortunately lost out in another sprint finish to record a another 2nd placing in div 10. He was followed by Ian Wrenford in 10th position, while Ian's son Lachlan, paddling in div 12 recorded a 5th placing.
It is good to see that prospective Lane Cove paddlers are joining in the Marathon Series despite the season drawing to an end. Allison Bilbow successfully completed her ranking race in division 10 while old stalwarts Anjie Lees and Suzie Rhydderch combined in a K2 to finish their ranking race in division 4.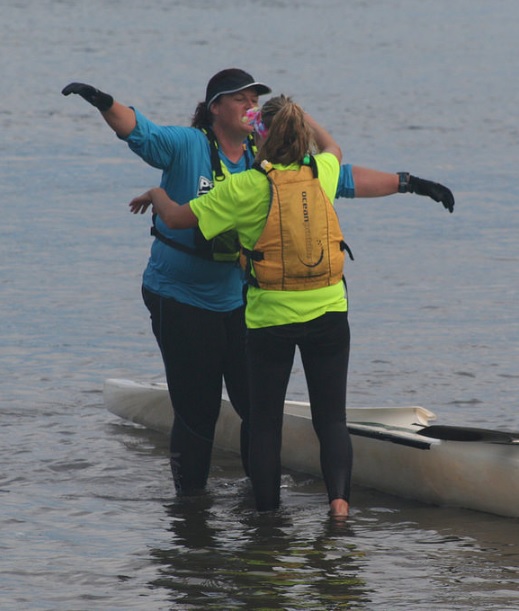 Above: Anjie and Suzie - 'we were flying'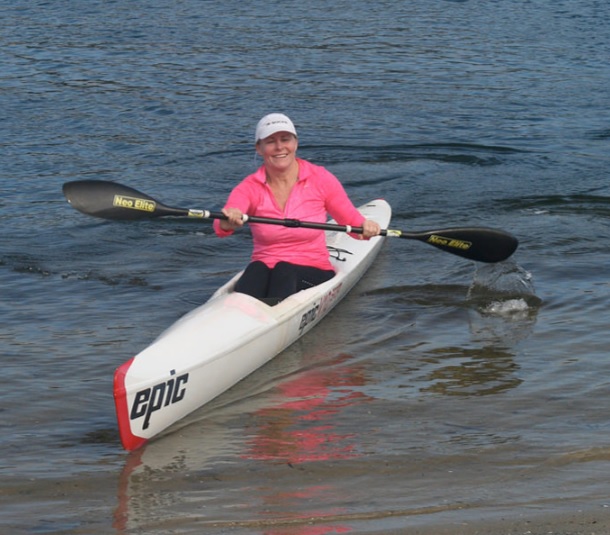 Above: Allison Bilbow - 'piece of cake!'


Peter Manley's wife Lesley kindly took over camera duties and is responsible for most of the photos on the LCRK Flickr and PaddleNSW Flickr sites (see links above this report). A big thanks to Lesley with this approach perhaps setting a model we can use to improve coverage at other events.
---
Round 5, Woronora, Saturday 25 Jun 2016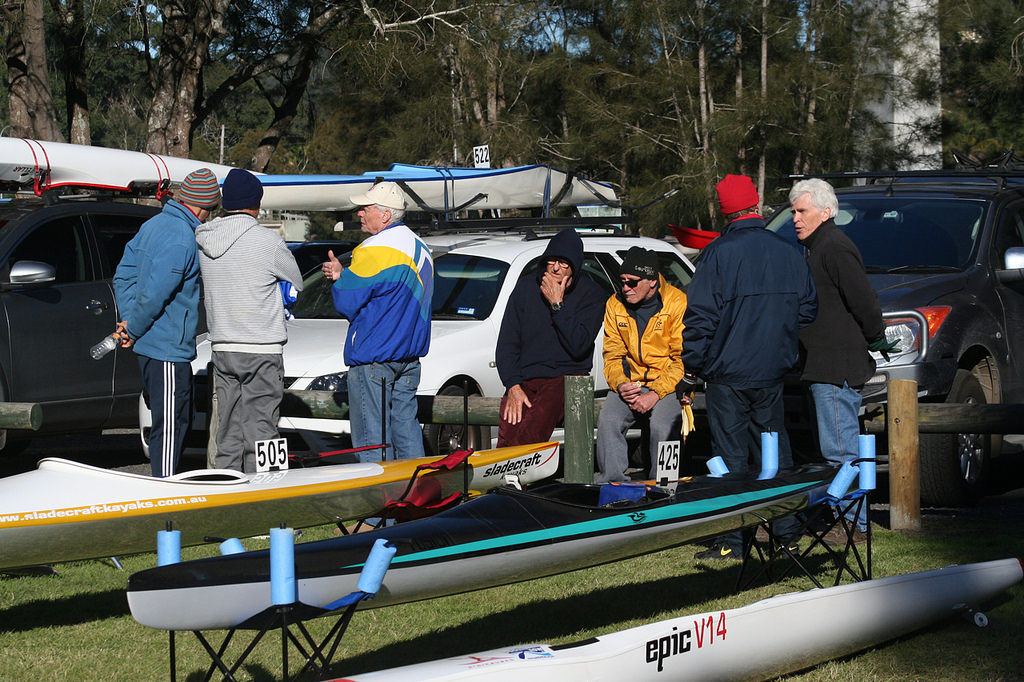 Club members discussing tactics before the race


What a beautiful day the Shire put on for us and a great turnout of paddlers not only from Lane Cove (24 paddlers) but from clubs all over NSW. For a change, the course was laid out close to the prescribed 20km in distance, so this time most paddlers paddled the course within their divisional time.
There were however 2 exceptions to this with once doubles partners Tony D'Andreti and David Hammond paddling well above themselves in division 7 to be elevated to division 6. Another pleasing aspect to this race was that Lane Cove has representation in all 12 divisions except for division 9. Hopefully we can get representation in all divisions next race.
In division 1, Matt Blundell just missed out on a 4th placing by one second, while the mixed doubles pairing of Alanna Ewin and Tony Hystek finished in 7th place. David Young, newly promoted to division 2 narrowly missed out on line honours and had to settle for second place in a sprint finish, with another new division 2 paddler Justin Ryan coming home in 6th position. While in division 3, Peter Manley come home in 6th position followed by Tom Simmat in 10th.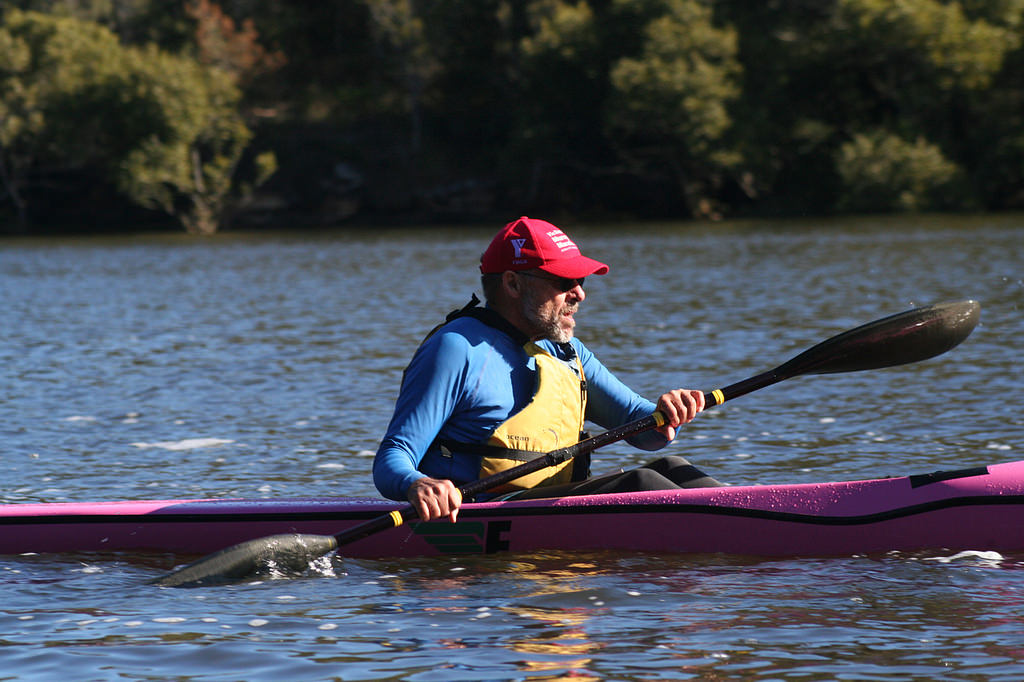 Tom Simmat in Divsion 3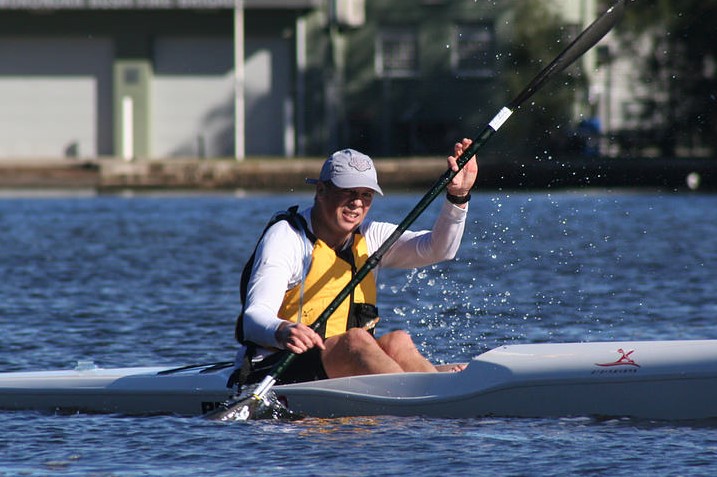 Peter Manley powering to the finish


Don Johnstone continued his impressive run of podium finishes (5 in a row) with a 3rd place in a very crowded division 4 – 23 starters. Duncan Johnstone, still recovering from his Riverland paddle came in 17th. In division 5 Jeremy Spear took out his second consecutive victory and was closely followed by Wade Rowston in 3rd, and doubles pairing of Don Rowston and Jon Harris in 7th. Jeffrey Hosnell, following his move from division 9, and in only his third race took out line honours in division 6, and was closely followed in 2nd spot by fellow Lane Cove paddler James Farrell, in his first official race after ranking at race 4. Congratulations to you both. Derek Simmonds paddled his best race in a while to finish in 8th place.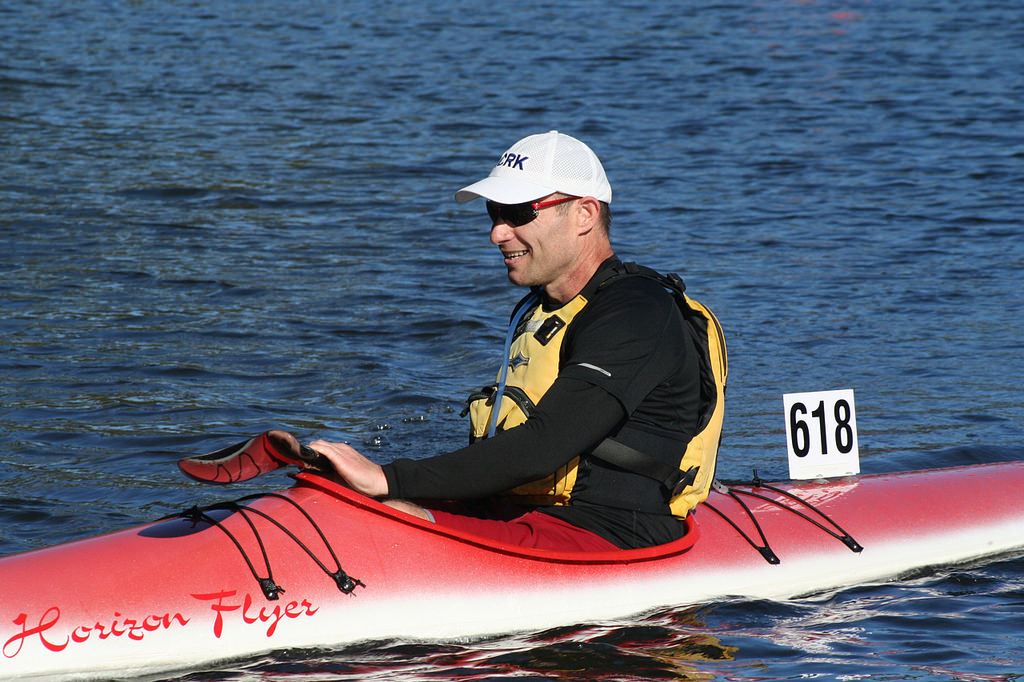 James paddling to 2nd place in div 6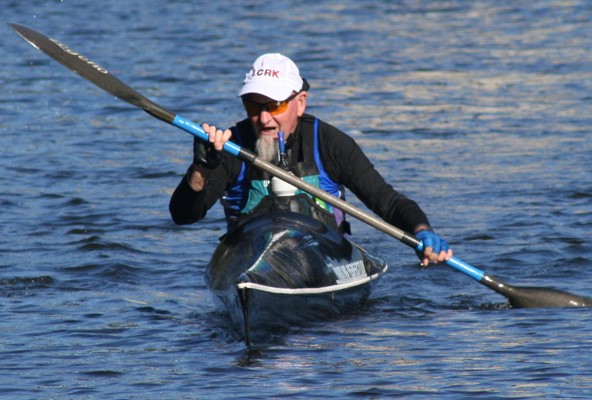 Jeffrey taking line honours in div 6


As mentioned above, the competitive spirit of both Tony D'Andreti and David Hammond must have urged each other on as they recorded a 1 / 2 finish in division 7 with Tony crossing the line first. Anjie Lees (I believe she may have had a swim), also recovering from a superb and record breaking Riverland, came in 6th. The Tim's, McNamara and Binns represented the club in division 8 and come in 7th and 11 respectively. Following on from a series podium finish late last year and early this season, Oscar Cahill after missing the last couple of races found the going tough with some rudder troubles and finished in 12th place in division 10. He was followed by David Vievers in 14th. Louise White in her Long Rec finished the 10km division 11 course in 7th place followed by Jason Han who finished in 12th place padding a C1. Lachlan Wrenford was our sole representative in division 12 and come across the line in 6th place.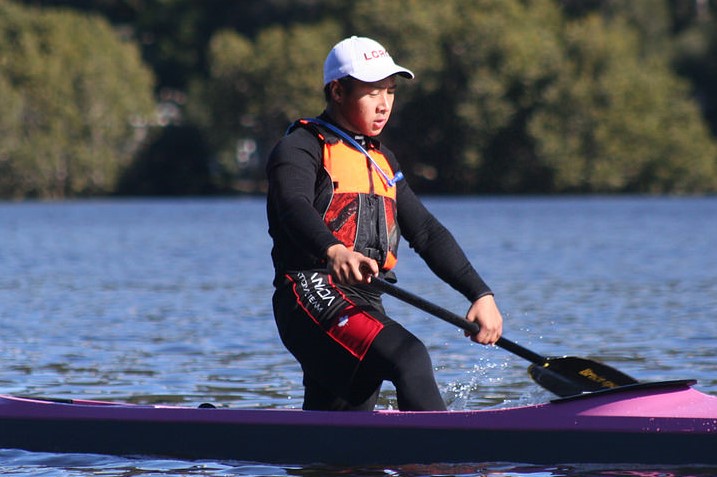 Jason in his C1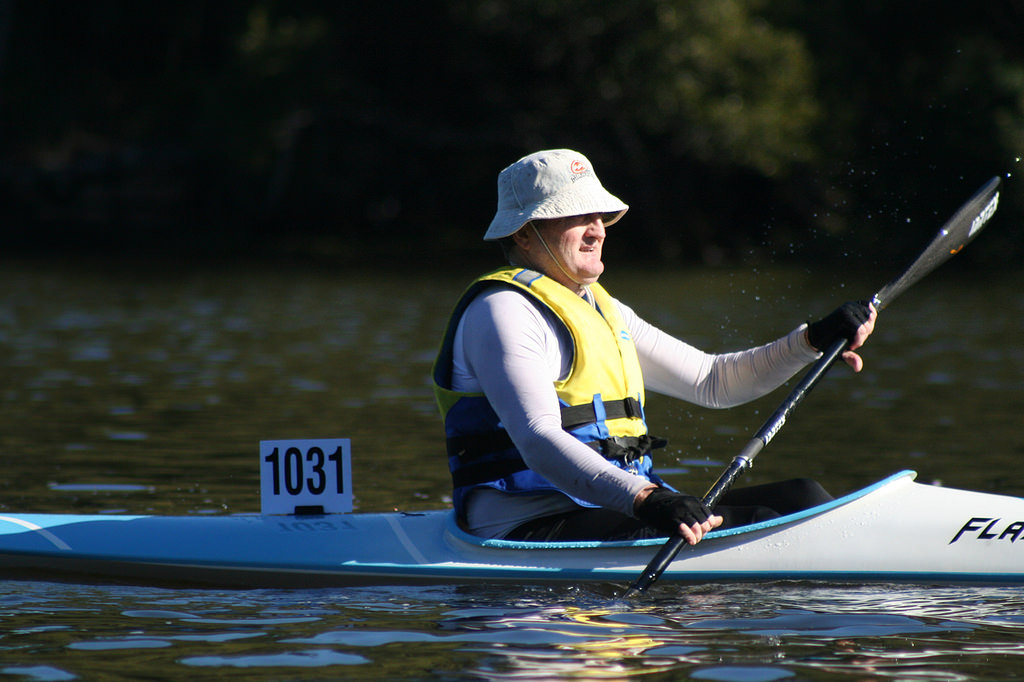 David paddling to 14th in division 10


With all these great performances, it is no wonder that Lane Cove tops the marathon series ladder on 166 points, 6 points ahead of Manly Warringah, and 18 points ahead of Burley Griffin.
---
Round 4, Lane Cove - Sunday 29 May
Host Club: Lane Cove River Kayakers
Location: Rotary Athletics Field, Lane Cove North
* LCRK photos can be found here (Flickr)
* PaddleNSW photos can be found here (Flickr)

Round 4 took the marathon 9 series to Lane Cove this weekend, and who better to dispel any suggestions of the oncoming winter with a race to remember. The sun was shining, there was a roaring BBQ, and the forecast wind seemed to be subsiding just a little – we were in for a great day.
Of course, for many the day had started very early indeed, with a band of dedicated volunteers busy before the crack of dawn. This included the safety boat personnel launching rescue boats and assisting the race course coordinators laying out the multitude of red and white buoys to mark out the winding course, the parking attendants ensuring that the parking area was well utilised, the canteen staff preparing food and slaving over a hot plate in preparation of the hungry armada of paddlers, the boat marshals who herded over 130 craft inside the halo UTS running track, and those who assisted with the launching and retrieval of boats to / from the pontoon. A special mention must go to Phil Geddes, who's exceptional planning and organisational skills ensured that the day went off without a hitch. Any early worries about parking (of cars) were quickly dispelled, particularly when Manly Warringah turned up nearly all in the one bus. Meanwhile, the staging of racing craft was so closely planned with half the athletics oval marshalled into neat rows of divisionally-organised kayaks. As Ruby Gamble (of Windsor Nemo fame) was one of our boat marshals, it was suggested that this precision might all be part of her cunning plan to pass the large fish swiftly and surely to its next owner. It worked... Liz Pratt from Windsor being the new recipient.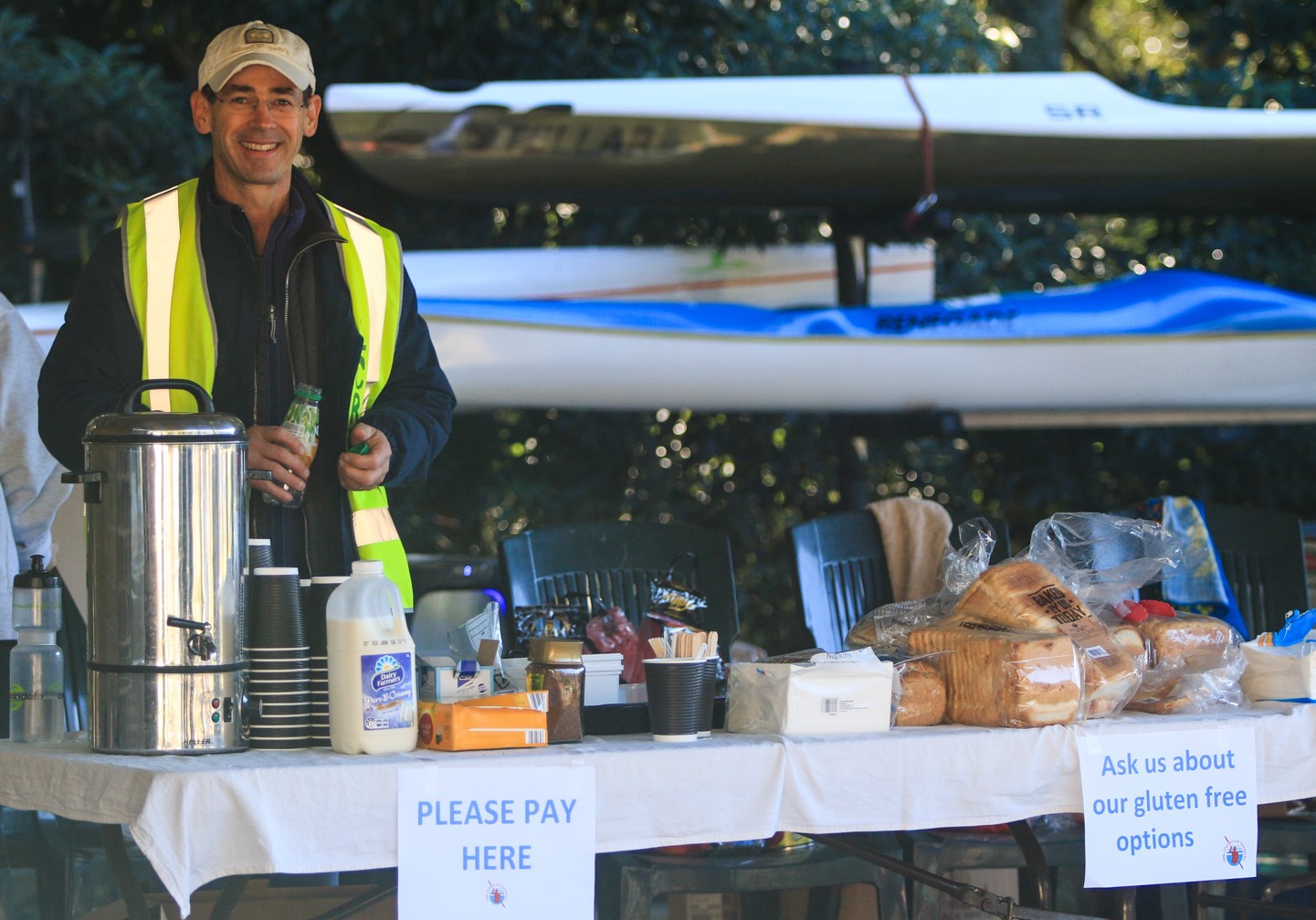 John manning the canteen before the rush of hungry paddlers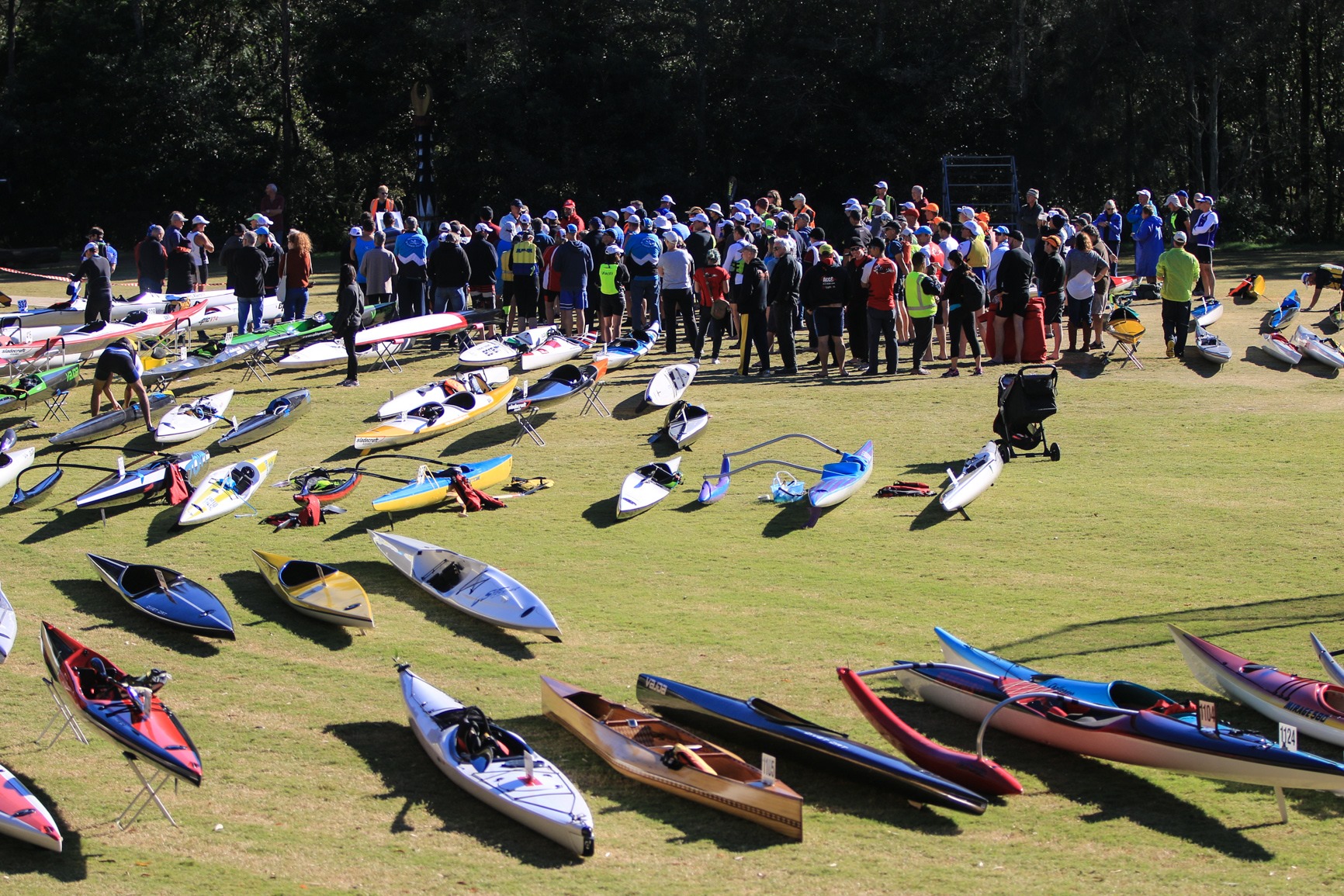 Race briefing adjacent to the athletics track


Similar attention to detail was being shown at the canteen, overseen by John Duffy. Alongside a rather gourmet savoury offering, there was an almost overwhelming selection of baked goods from members as well. Maybe some more paddlers need to show off their skills after Wednesday night time trials? On the water, and several great crews of LCRK-manned power boats and sea kayaks kept an eye on proceedings while also cheering us along. Special mention must go to the party boat captained by Oscar Cahill who had the music blaring and seemed to be having just a little too much fun out on the water. The paparazzi were also plentiful, including Tom H, Jana and Nigel scurrying from bank to bridge, rescue boat to pontoon, to capture some amazing shots of paddlers and surrounding landscapes. With the course lap a little under 10km, some fast times were registered across all divisions that will leave the new handicapper (congratulations to our own Don Johnstone) scratching his head regarding who goes up (that includes Don himself), and who goes down a division. Thankfully the warnings about rogue row boats, pleasure craft and potential winds down by the bottom turn did not materialise and a fabulous race ensured.
To the race itself, and LCRK put on a strong show despite the somewhat reduced numbers. Division 5 was the standout, with a stellar show of six Lane Cove boats, who then took out all but two of the top eight places! After racing neck and neck, Jeremy Spear, who ditched his K1 for the tried and trusted Sladecraft Sonic, just pipped Claudio Battistel for line honours, while Richard Yates and Wade Rowston took out fourth and fifth. The pairing of Don Rowston and Jon Harris crossed the line just a few seconds ahead of Rodrigo Matamala. Ever consistent in his racing, Wade now has a narrow lead on the overall ranking in Div 5.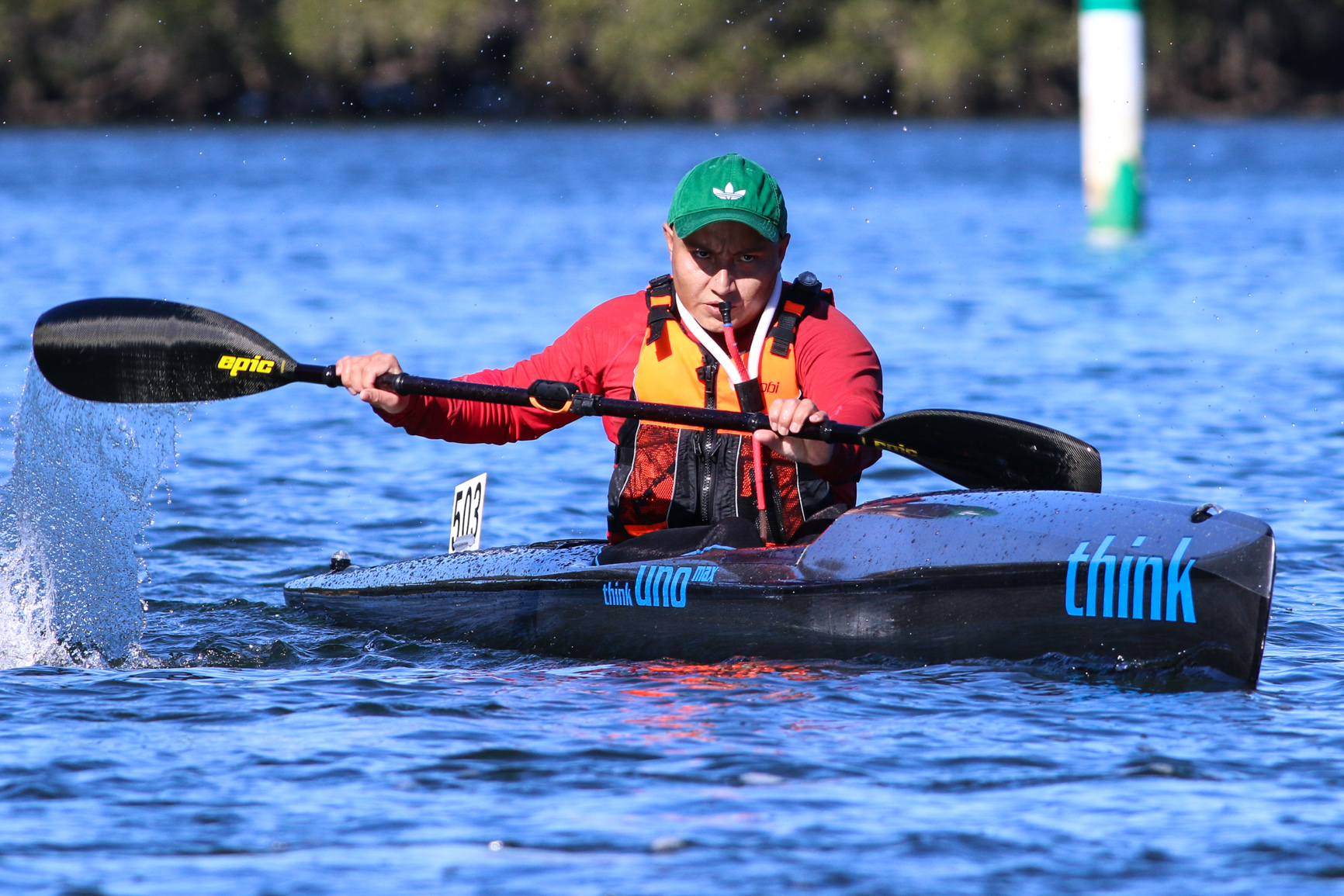 Rodrigo on his way to 8th position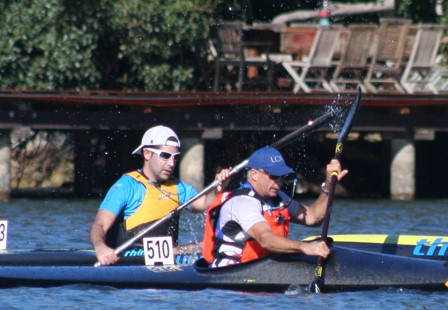 Jeremy pipping Claudio to the line in Div 5


Up in the speedster divisions, the flying K2 of Alanna Ewin and Tony Hystek dashed round the course in a time of 1:36:32, while Glen Orchard gave an impressive solo effort of 1:41:16. No LCRK representatives in the rather petite Div 2, though we more than made up for it in Div 3 with Justin Ryan and David Young taking out the top two places. In a tight race, doubles pair Duncan Johnstone and Matt Swann crossed the line within a minute of the top places, and Peter Manley came in with only one more minute's gap.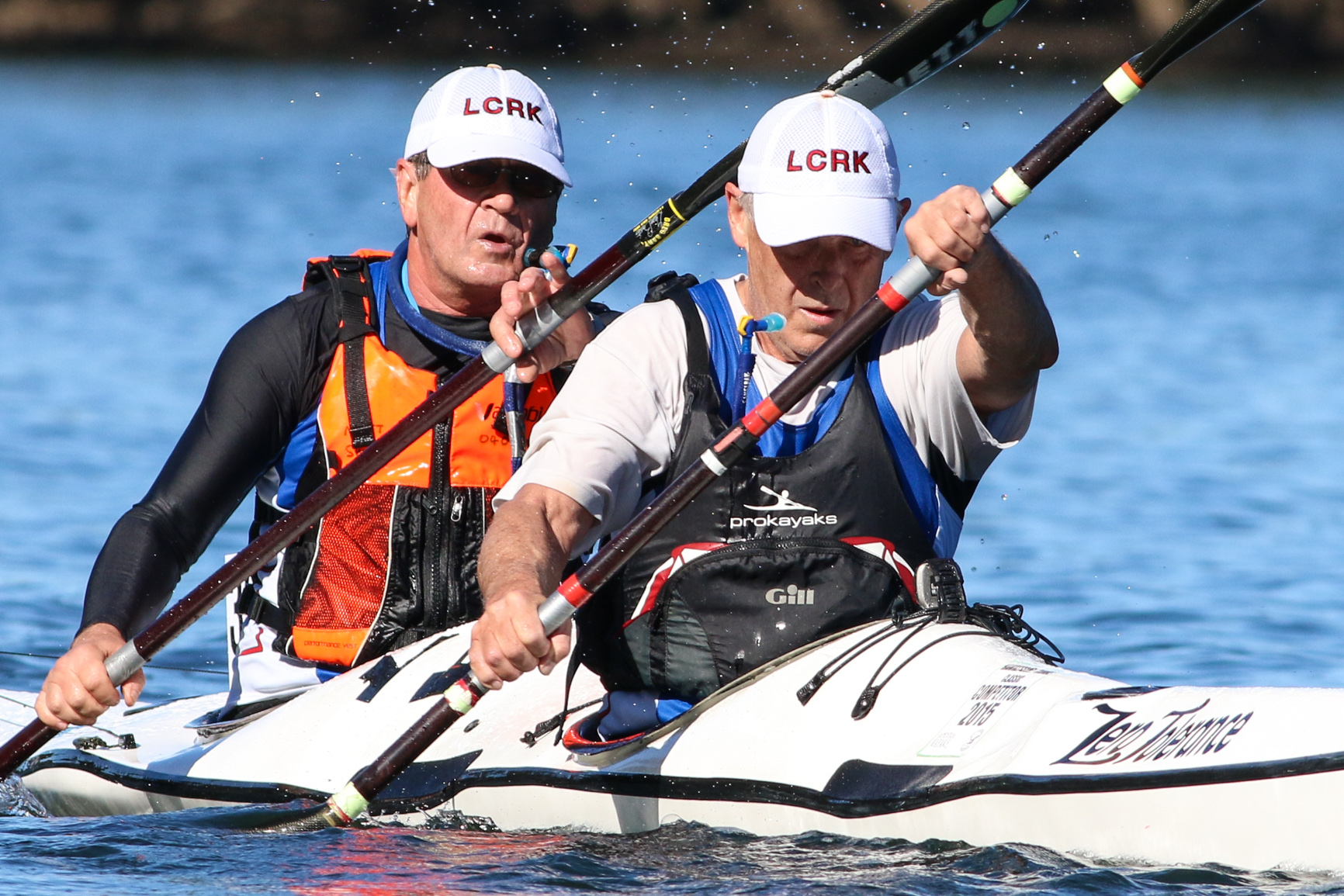 Doubles combo of Duncan & Matt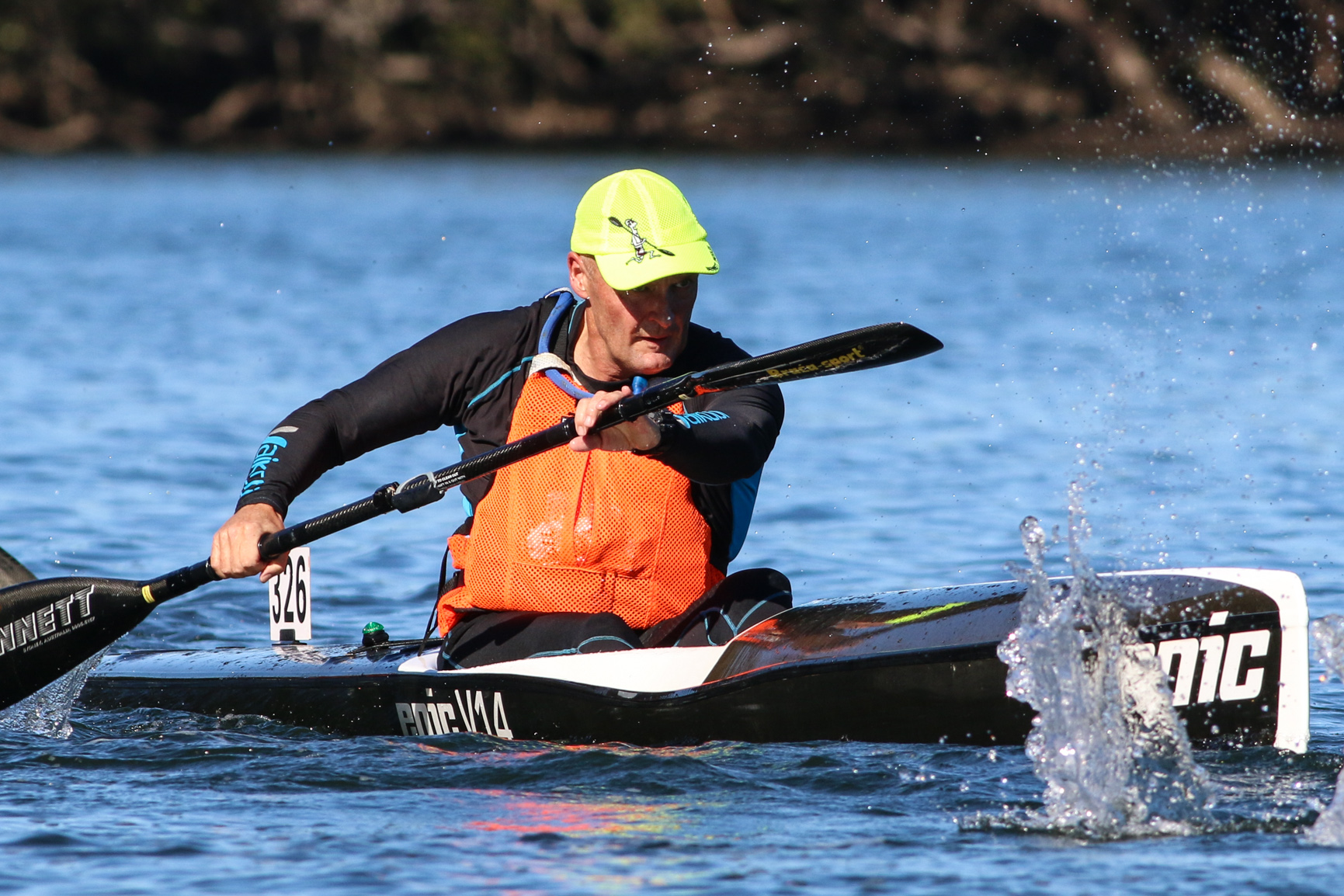 Justin taking line honours in Div 3


This race saw a small hiatus in Don Johnstone's aim to paddle in every division by the end of the year, though he did take out a hotly contested second place in Div 4 (in a time that should probably see him bumped up to Div 3 anyway). Div 6 was a little slimmer than usual, but saw Paul van Koesveld take out third place and Naomi Johnson finish a few minutes later. James Farrell and Rod Walker completed their ranking races in Div 7, and it looks like both will be bumped up to higher divisions based on their performances.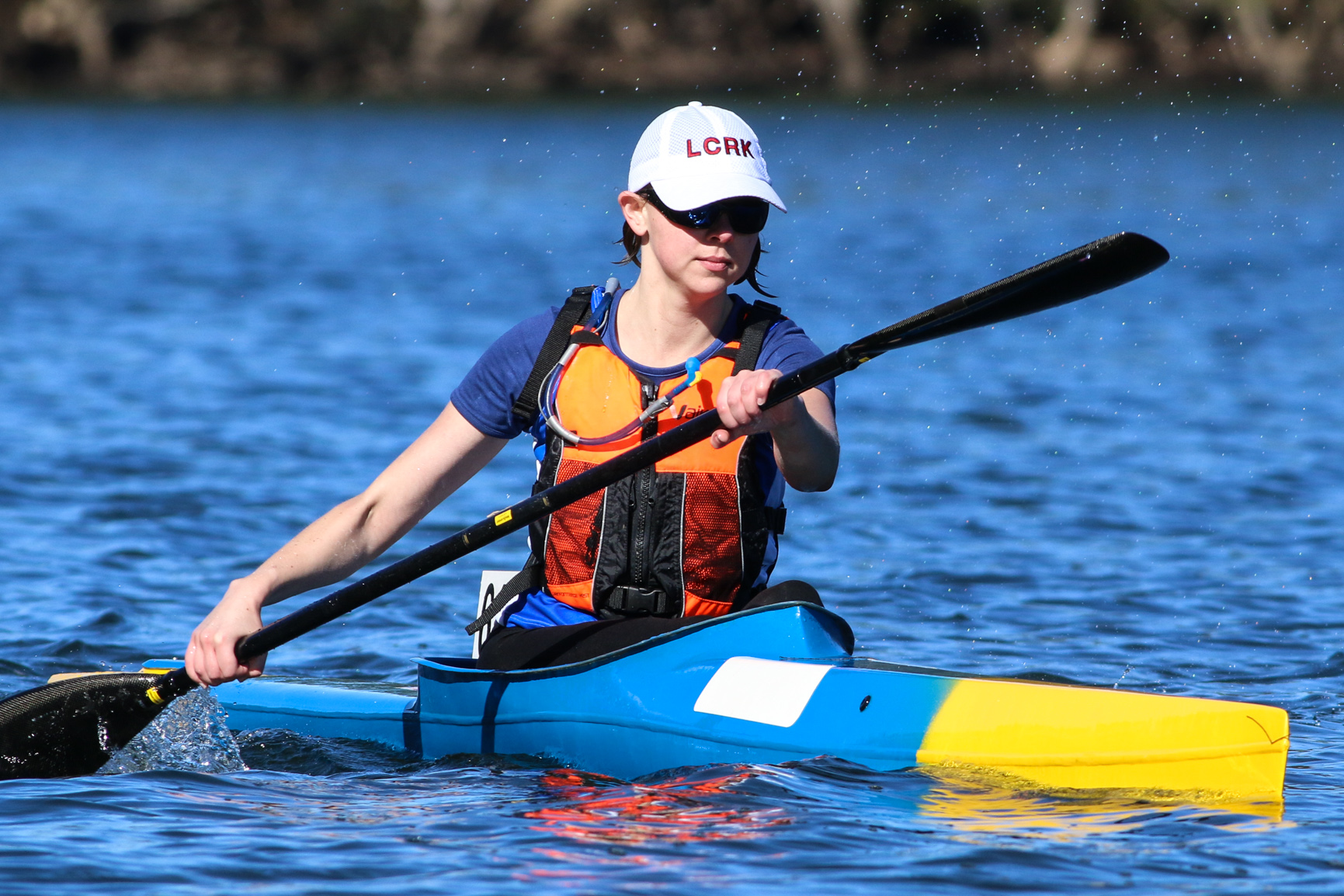 Naomi best result to date, 8th in Div 6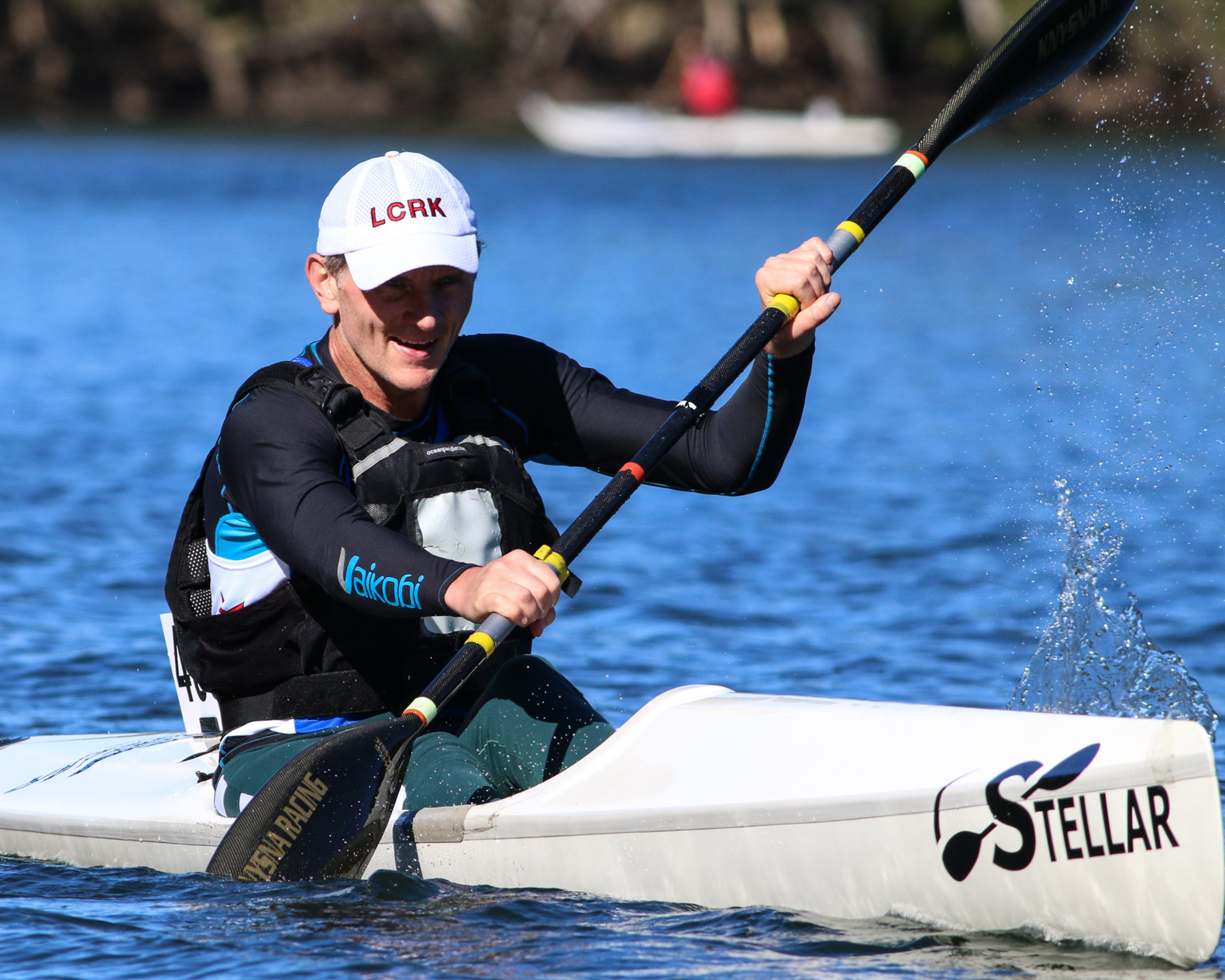 Don on his way to victory in Div 4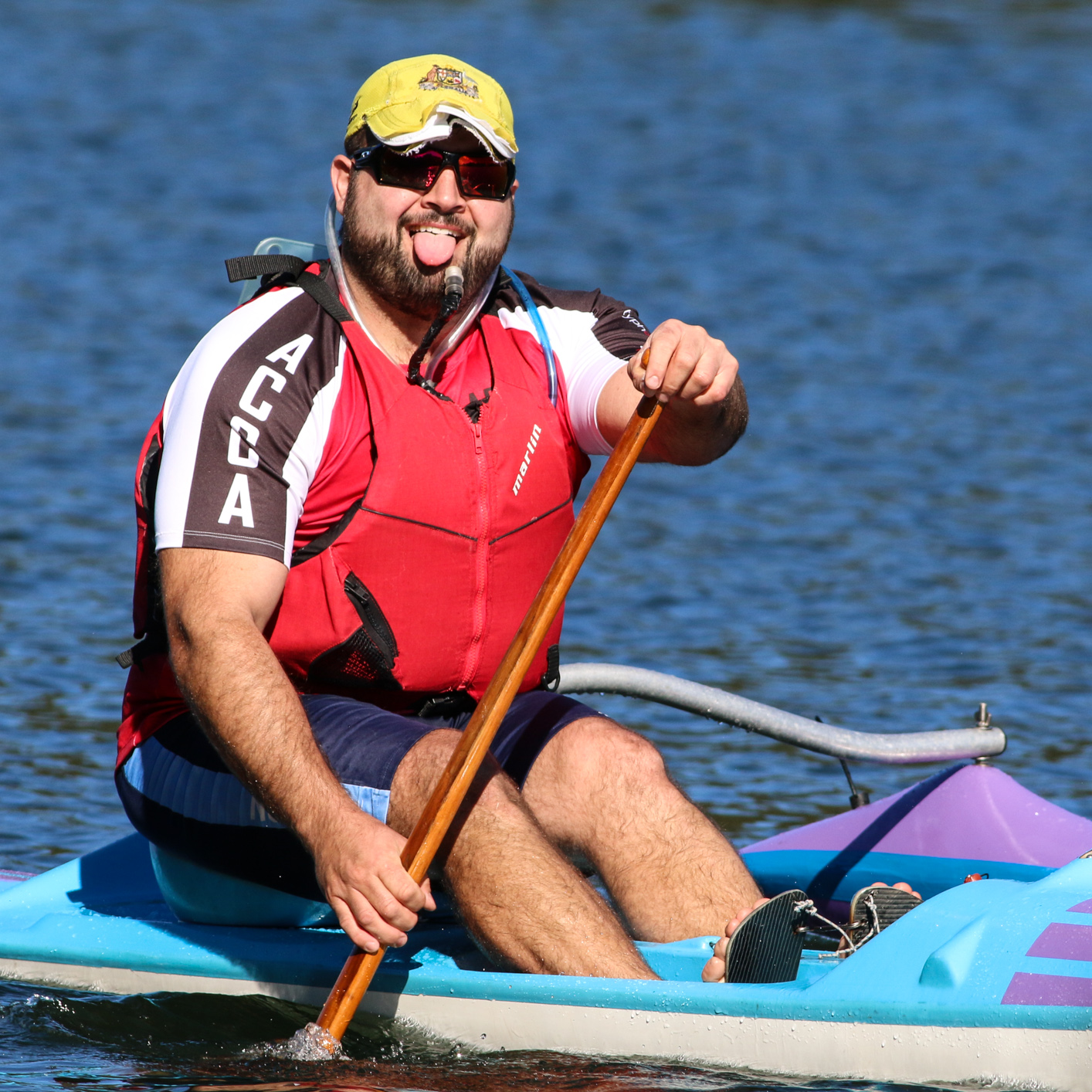 Tony swapping his ski for an outrigger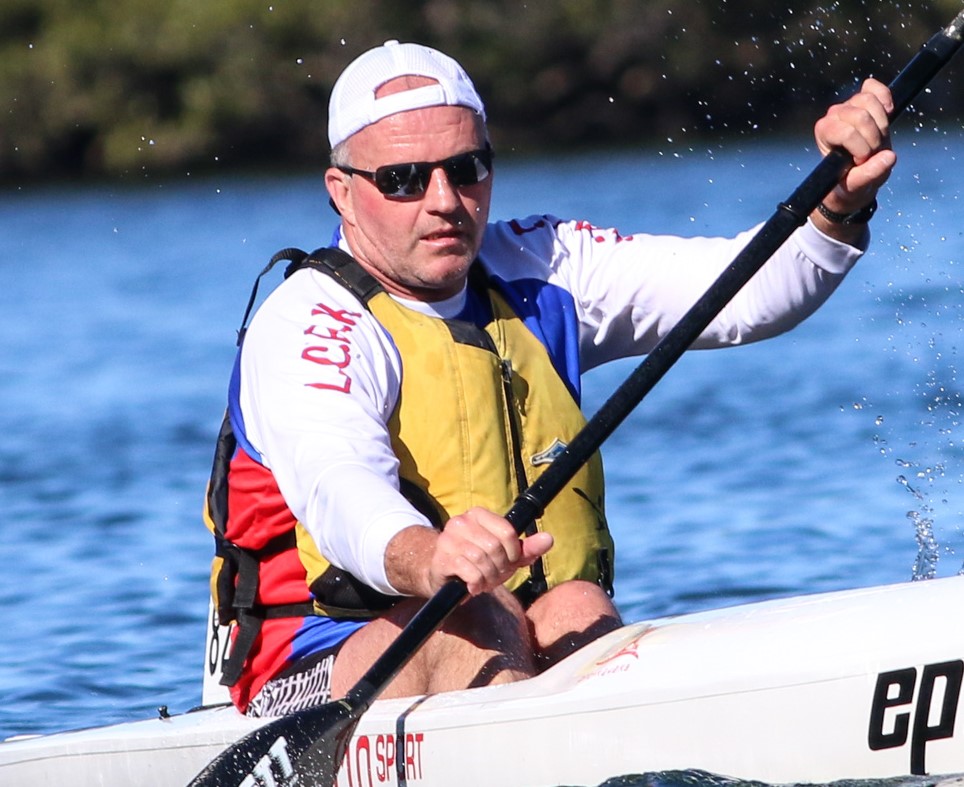 David paddling to 8th in Div 8


Competition was still hot in the shorter races, with Bruce Goodall our only paddler to place; second in Div 9. David Hammond and Tony D'Andreti took out side-by-side places in Div 8, while Jeffrey Hosnell and Robert Llewellyn-Jones achieving the same feat in Div 9. David Veivers and Louise White kept the LCRK spirit alive in divisions 10 and 11, while Lachlan Wrenford was just outside the club points by a matter of seconds in Div 12.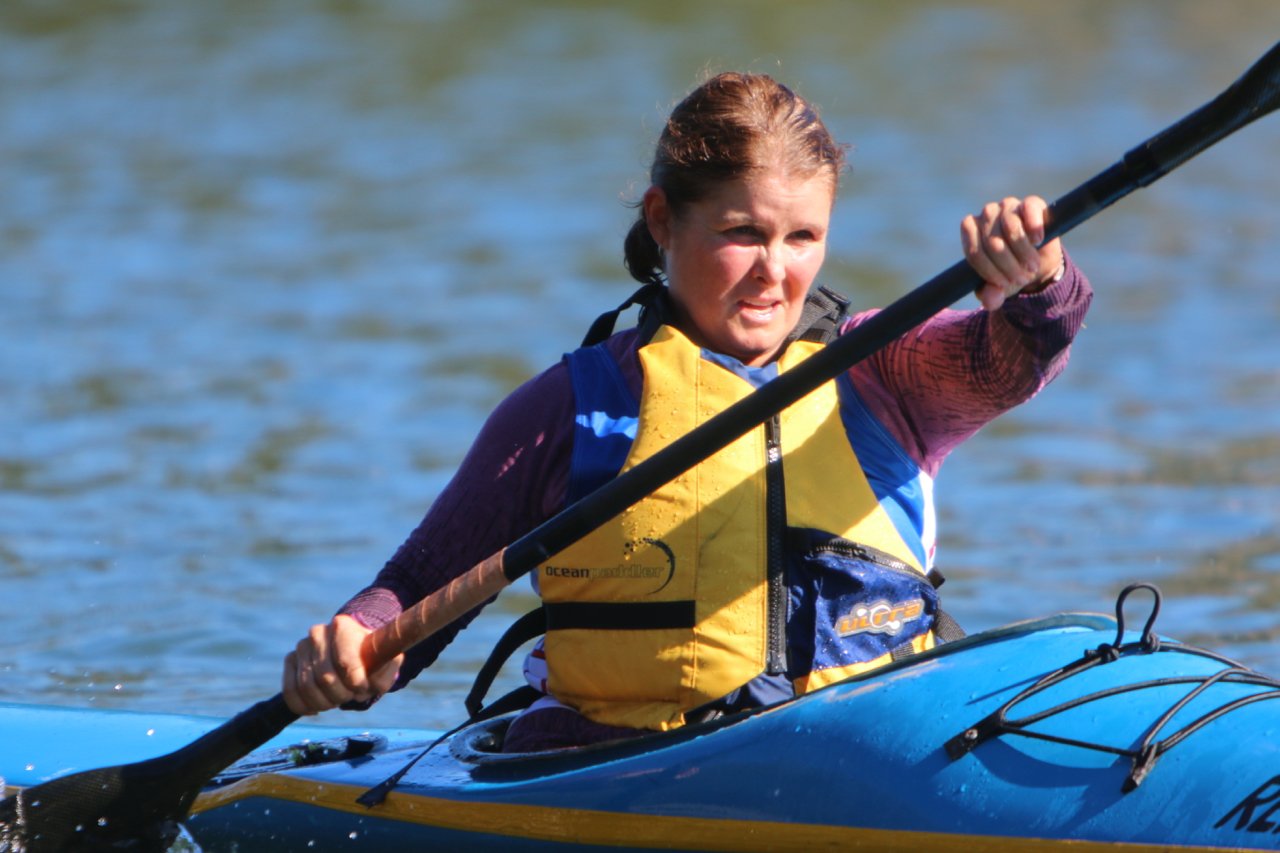 Louise paddling to a creditable 6th in Div 11


The overall series rankings are also beginning to take shape, with a number of our consistent paddlers looking strong in their division. Lachlan Wrenford (Div 12) and Paul van Koesveld (Div 6) are both sitting in a sly second, while Louise White is ranked fourth in the massive Div 11. The overall numbers are perhaps the most telling though, with Lane Cove tied at second with Burley Griffin for the overall club ranking! Though there might not be quite the Lane Cove hospitality on June 25th, it would be great to continue our enthusiasm for the Woronora race down in the Shire.

written by Naomi Johnson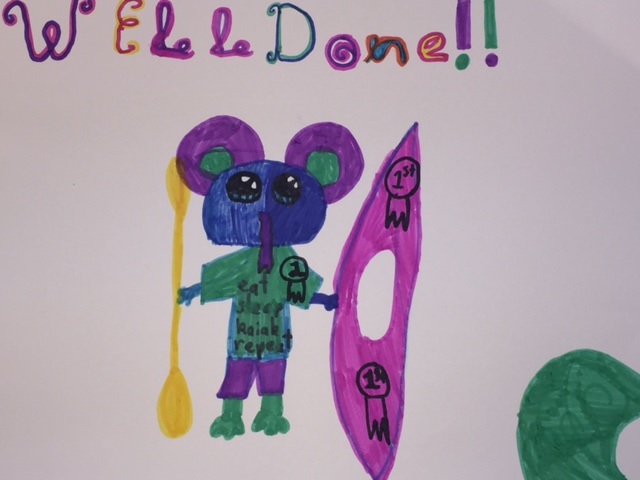 Above: Appreciative words about our members efforts organising and participating in the 2016 LCRK Marathon from
Emma Llewellyn-Jones (aged 8). The T-shirt reads "Eat, Sleep, Kayak, Repeat!




---
Round 3, Windsor - Saturday 30 April
Host Club: Windsor Canoe Club (WCC)
Location: Macquarie Park, 1 Wilberforce Road, Windsor
* Paddle NSW results page
* LCRK photos on Flickr

Windsor Canoe Club put on another fantastic race day, and despite the lack of the mandatory caffeine hit prior to the race (the coffee van was nowhere to be seen), we all seemed to survive and put in another great performance. The turn out by Lane Cove paddlers was fantastic… 33 boats entered, well above MWKC with 20 boats and BGCC with 18 boats. Even more pleasing is the great response to our recent call to arms for new paddlers to join the fun and competitiveness of the marathon series. Last race saw 3 new paddlers; Bruce Gynther, Robert Llewellyn-Jones, David Vievers complete their inaugural race, and this was repeated this race with another 3 paddlers successfully complete their ranking race. Mark Hempel paddled in division 3 and achieve a great time that will keep him there for the short term as we are anticipating he will slash his times in the near future. Rodrigo Matamala debuted in division 5 and paddled a time that would have earned him a podium finish, so we are also expecting him to place well next race. Jeffrey Hosnell completed his ranking race in the tough 9th division (10km) and will hopefully be vying for club points in the near future. And we are finally starting to get great representation in the lower divisions that is paying great dividends with the club points tally.
There were many fast times recorded and announced at the race prize giving with some paddlers times well below the divisional range. This left many paddlers nervous and wondering whether they would be promoted up a division, but for most, their fears were allayed when it was announced that the course was a few 100 metres short. Needless to say that did not stop Don Johnstone from being bumped up to div 4, the pairing of Don Rowston and Jon Harris being bumped up to div 5 and Robert Llewellyn-Jones moving into division 9. Talking about prize giving and awards, our very own Ruby Gamble received the race "Nemo" award for an outstanding and very audible capsize in front of the race stewards. She was not alone in the swimming stakes, but as it was a grandstand performance, she deserves the award. Ruby is hoping to hand it over to another wet paddler next race to avoid the embarrassment of being the longest recipient holder.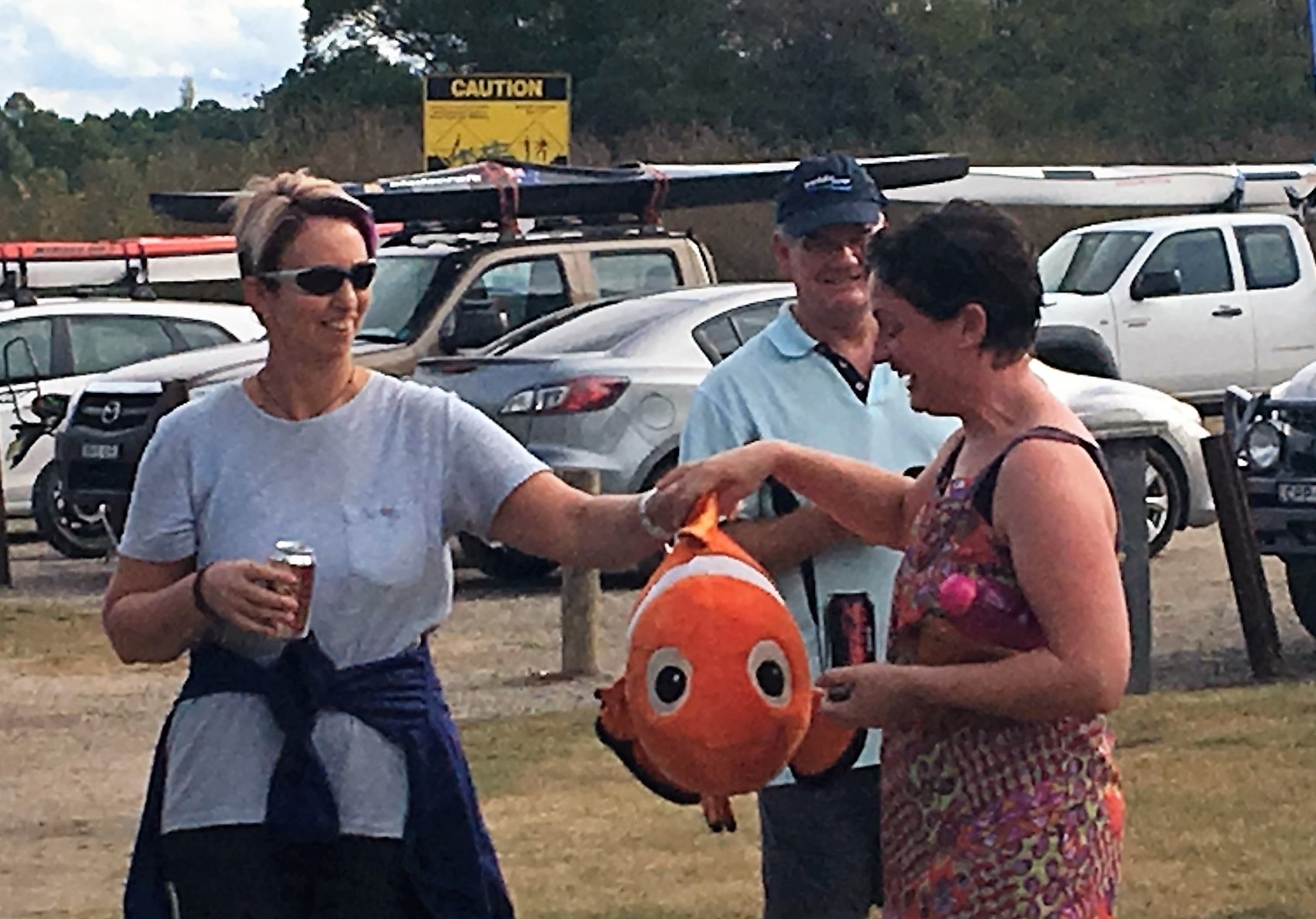 Ruby begrudgingly receiving Nemo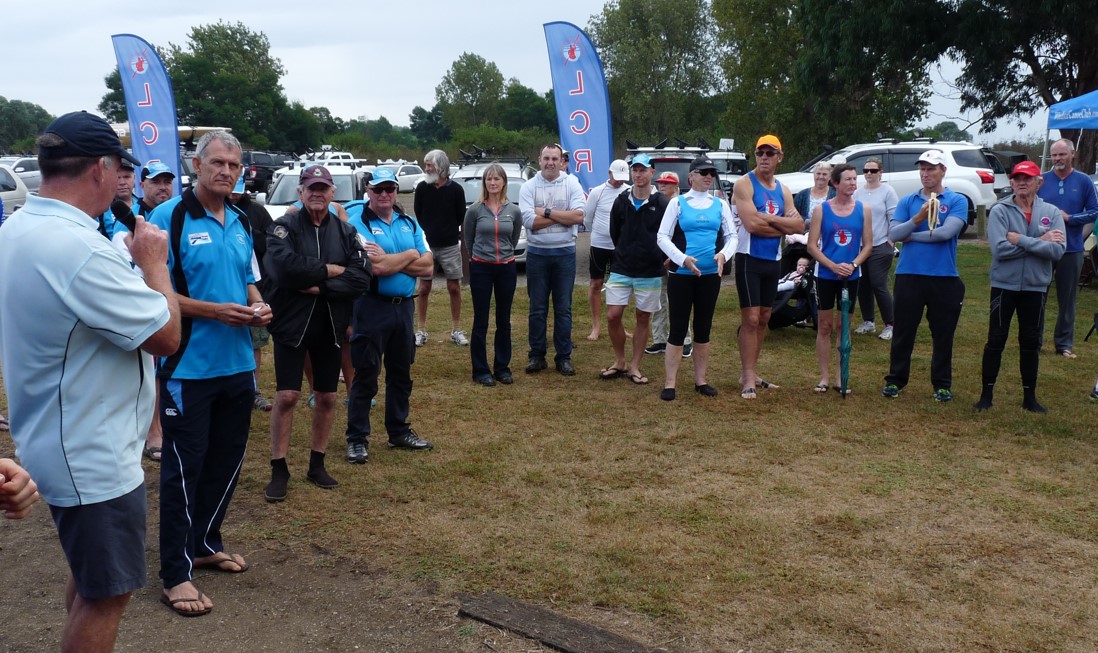 Bob at the Race briefing


So to the results.
In division 1 Matt Blundell was again narrowly beaten to the line by his nemesis Brett Greenwood but he is inching closer to victory each race.. it is now down to 1 second (from 2 seconds) so statistically a dead-heat is predicted at our Lane Cove race.. Exciting riverside viewing not to be missed on 29th May. Not to be out done, our ever improving doubles pairing of Allana Ewin and Tony Hystek gained a very commendable 5th placing.
We have no representation in Div 2, and in Div 3, despite being well represented we could not muster any club points. David Young come in 5th with Peter Manly and Tom Simmat, both recently promoted, coming in 11th and 12th respectively. Double pairing of Ken Holmes and Ross Fraser have started to "click" and achieved their first podium finish in division 4 with a gutsy 3rd place. Duncan Johnstone and Jeremy Spear found the going a little tough and finished in 15th and 16th respectively. Expect Jeremy to bounce back once he masters the balance in his new K1.

Don Rowston powering to victory in div 6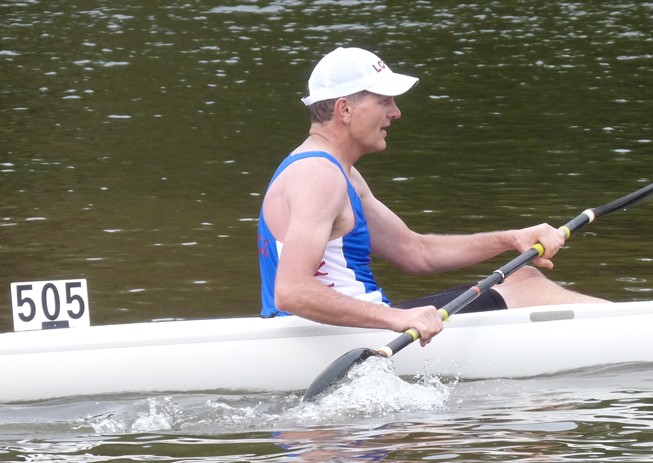 Don Johnstone catching a breather after winning div5


Despite being prompted up into a higher division in each of the last 3 races, Don Johnstone achieved his 3rd consecutive podium finish by winning division 5. He was closely followed by Wade Rowston with his 2nd consecutive 3rd placing and another race PB. Phil Geddes paddled consistently to finish 8th. Don Rowston, having tasted victory recently, partnered with old friend Jon Harris to record yet another one in taking out division 6. Not far off the pace in 4th was Jeff Beere in his first official race. He was followed by Paul van Koesveld (6th), Matthew Swann (8th), Naomi Johnson (11th), Derek Simmonds (13th) and Ruby "Nemo" Gamble in 14th. Anjie Lees was our sole representative in div 7 and managed a creditable 5th place.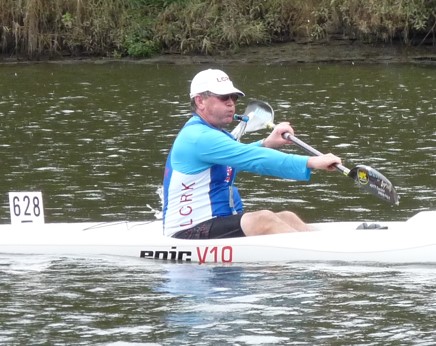 Matt blowing off steam on his way to 8th in div6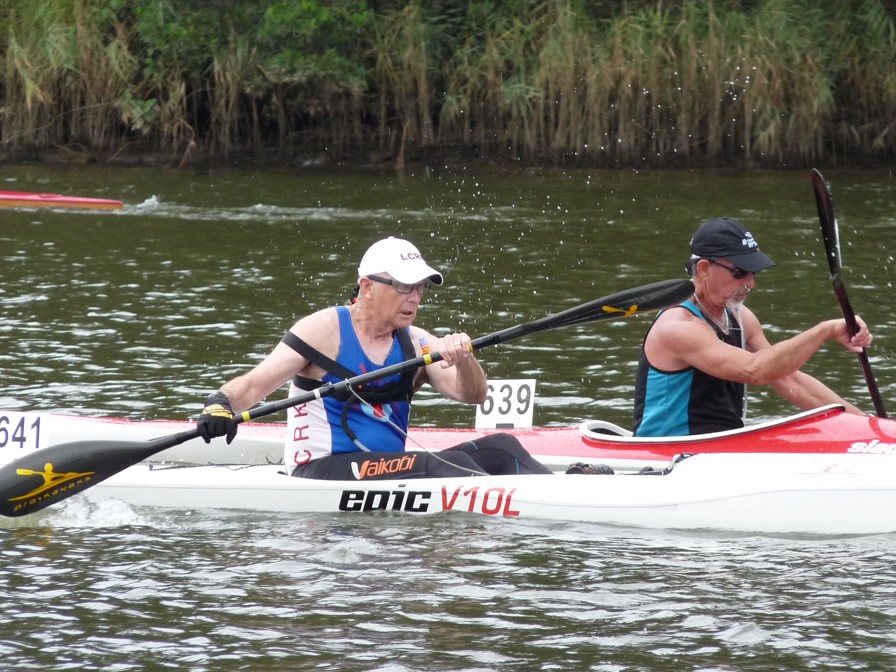 Paul winning the sprint to finish 6th


Not for a long time have we had good representation in div 8 and we were ever so close to claiming club points with Tim McNamara coming in a very respectable 5th, closely followed by Tony D'Andreti in 6th and David Hammond in 10th position. Bruce Goodall brushed off the cobwebs that had accumulated on his racing paddle over the last 18 months to take line honours in division 9 and earn 8 valuable club points. His feats were matched by Robert Llewellyn-Jones in his first official race as he took gold in division 10. He was followed by David Vievers (13th), Ian Wrenford (14th) and Meg Thornton (15th). Louise White also narrowly missed out on club points with a great showing to come in 5th in div 11 and should be up on the podium next race given the top 2 place getters will be promoted. In division 12 Lachlan Wrenford and Jason Han (C1) came in 6th and 7th respectively.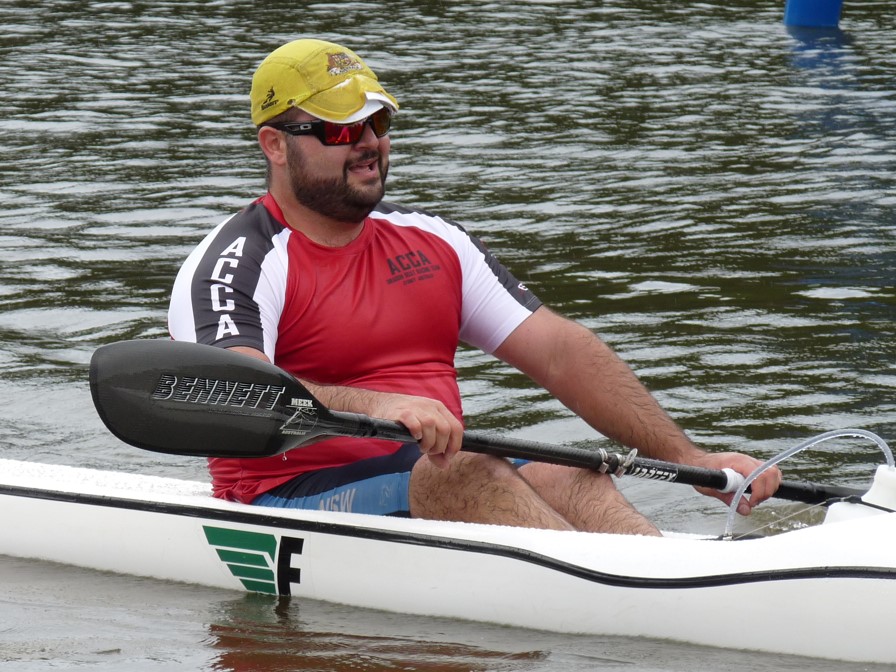 Tony - I'm glad that's over!!! - 6th in div 8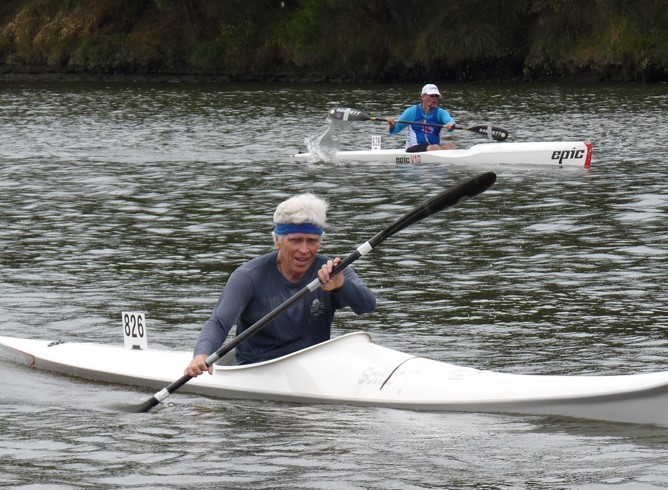 Tim sprinting to the line for a 5th placing in div 8


So as a club how did we go? We are lying 2nd on 100 points, and not behind Burley Griffin, but just 12 points behind Manly. Burley Griffin however are hot on our heals 4 points in arrears. This is the closest I have seen the club competition for a long while, so keep up the quality training and see you all at our own Lane Cove race on 29 May.
---
Round 2, Wyong - Sunday 10 April
Host Club: Central Coast Canoe Club (CCCC)
Location: Tacoma Reserve, Wolseley Ave Tacoma
First Start: 11:00AM
* Marathon #2 Wyong Results

With ideal racing conditions, a great turnout of 32 Lane Cove paddlers and combined with some exceptional individual performances enabled us to leapfrog our way up the club standings to 3rd place.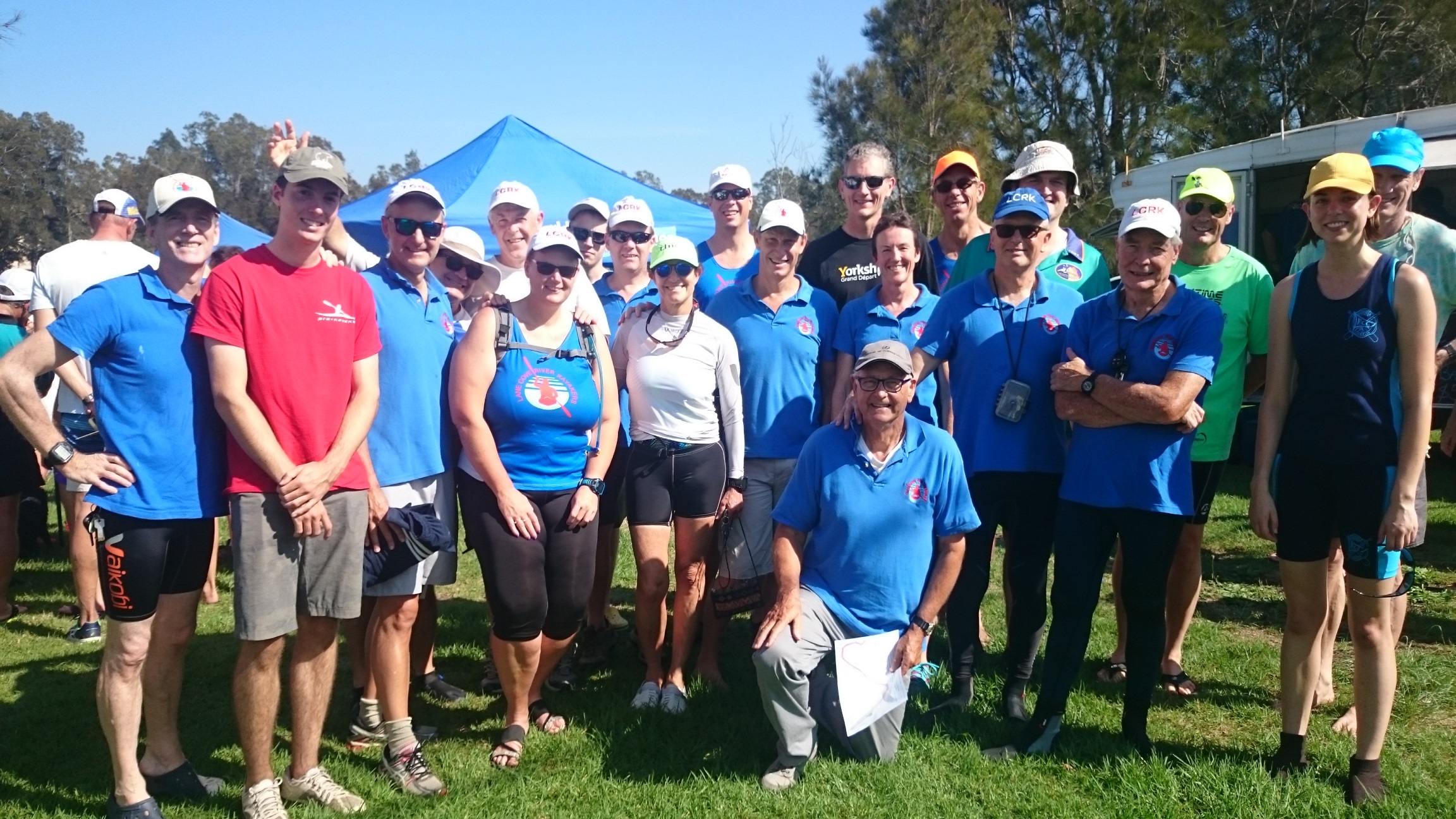 The Lane Cove contingent at the race briefing
Brett Greenwood took out line honours closely followed by our own Matt Blundell. Not to be outdone our doubles pairing of Tony Hystek and Allana Ewin again defied the sceptics and completed the course in well under (5 minutes) the division 1 cut-off time to finish in a respectable 6th position. It looks like our Australian medalists are destined to be regulars in Div 1 for the foreseeable future.
Andrew Love blew the competition away in Div 2 to record yet another win and 8 valuable points, but unsurprisingly with a very quick time it sees him promoted to Div 1. Matt Acheson also had a great paddle coming in 3rd while David Young brought up the rear in 8th. Our sole representative in division 3 was Justin Ryan who paddled in the lead bunch for 75% of the race before succumbing to the pace and heat resulting in a bout of retching. Despite this he finished in 7th position.
Recently promoted to division 4, new comer Peter Manley let the charge with a great 3rd placing and 4 valuable club points. He was closely followed by Tom Simmat, and with both recording times well under 1hr:50min will see them up in div 3 next race. Doubles combination of Ross Fraser and Ken Holmes paddled in a similar time to last year to record a 13th place with Duncan Johnstone in 17th. In division 5 Wade Rowston paddled his best time in nearly 4 years to claim 2nd position followed by Bruce Gynther in his ranking race, and Phillip Geddes in 5th.
Seven Lane Cover paddlers battled it out for line honours in division 6 and the underdog Don Johnstone surprised everyone to not only be the 1st LC paddler across the line but also take out line honours & 8 well deserved club points. The downside of Don's exceptional effort is that he jumps a division and finds himself in div 4 next race. Paul van Koesveld come in 4th followed by Matthew Swann (11th), Naomi Johnson (13th), Rozanne Green (17th), and doubles pairing of Don & Harry Rowston.
Anjie Lees on her comeback trail provided club representation in div 7 and managed a creditable 4th placing. In div 8 Tim McNamara also paddled strongly to finish 4th followed by ex-doubles pairing of Tony D'Andreti (9th) and David Hammond (12th). Oscar Cahill continued his good form in division 10 with another podium finish – 2nd place, followed by Peter Harris (10th), Ian Wrenford (13th). Both Robert Llewellyn-Jones and David Veivers completed their ranking race in div 11 and in division 12 Jason Han on his kneeling Canadian Canoe achieved a 5th placing with Lachlan Wrenford in 8th.
It was great to see 3 new paddlers (Bruce Gynther, Robert Llewellyn-Jones and David Veivers) take up the challenge of Marathon racing and successfully complete their ranking race.
From the individual performances at race 2 there is currently only one stand out paddler who is a real contender for "The most improved unimproved paddler", or "The most unscrupulous wacked-out paddler". Our own Derek Simmonds registered for 20km paddling in div 6, and then in his splendid solitude decided on the second lap to turn at the Div 8's 15km course markers recording a relative quick time. He was however caught-out and duly disqualified. You see Derek spent the previous afternoon in guided meditation with a Buddhist monk. It seems that he was still embodied in a paddling trance, and still reeling from the enlightenment that he was seeking and ultimately attained. What that enlightenment was (or still is), no one but Derek will know.
---
Round 1, Canberra - Saturday 27 February
Host Club: Burley Griffin Canoe Club (BGCC)
Location: Molonglo Reach, Morshead Drive, Canberra
First Start: 11:00AM

Welcome all Lane Cove Paddlers to another season of marathon racing. Race 1 in Canberra provided near ideal conditions for racing with an overcast day accompanied by a slight breeze. Unfortunately these conditions seemed to assist the other clubs more than Lane Cove with LCRK again ending up down the club competition ladder, in equal 5th place on 16 points, well behind the predicted leader Burley Griffin on 42 points. Whilst we did have a few outstanding achievements, and many personal bests (shows that some of us have been training over the summer), we also had our fair share of trials and tribulations.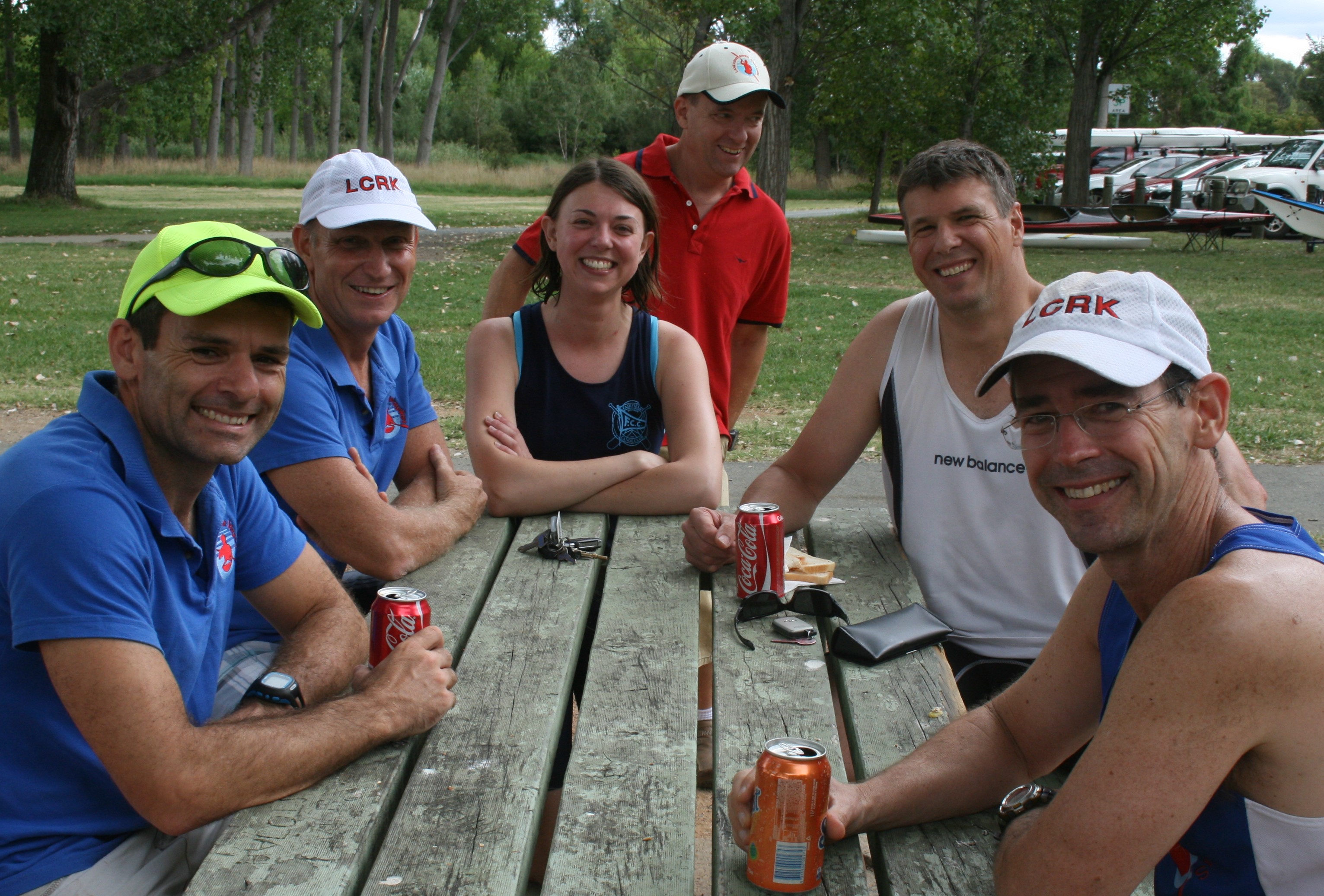 Post race discussions over a non-alcoholic beverage
Over two hundred paddlers in 175 boats started in one of the 12 divisions, with division 11 (10km in over 60 minutes) hosting 28 boats. Lane Cove was represented by 22 boats with four paddlers competing in either their ranking or their maiden race… welcome aboard.
Division 1 paddlers seemed to step up a level, obviously in preparation for the NSW State Champs with some phenomenal times. Toby Hogbin has again elected to paddle for us and achieved a very creditable 8th. Lane Cove created history with their first ever female competitor in division 1. Alanna Ewin and Tony Hystek teamed up and in their ranking race, much to the surprise of many, paddled an excellent time that will keep them in division 1 for the next race. Following last years successes, David Young stepped up to division 2 and found the going tough, very tough and finished in 8th… well behind the pack. His promotion left a void in division 3 where we had no representation.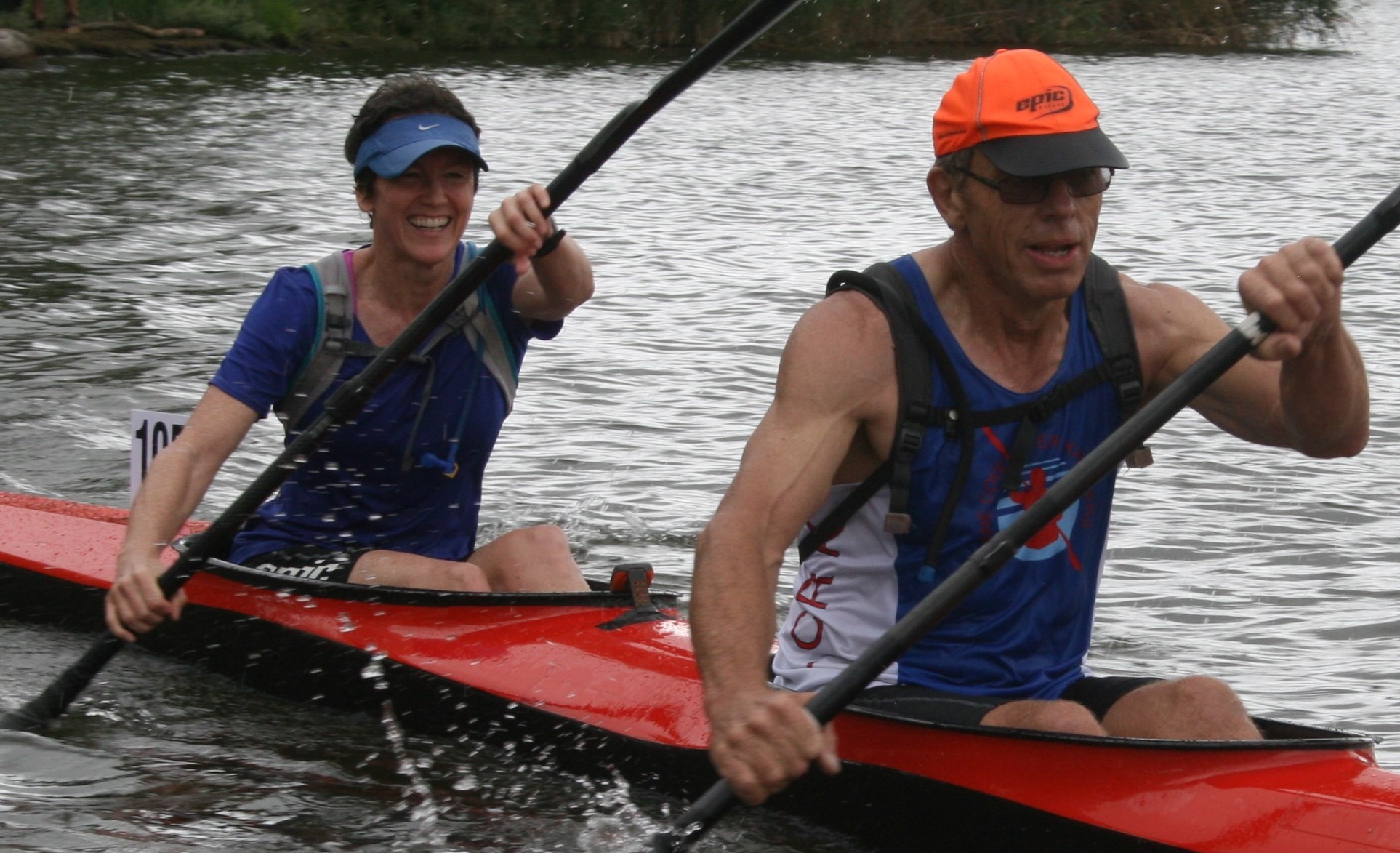 Tony pairing with our first DIV1 lady Alanna. Congrats!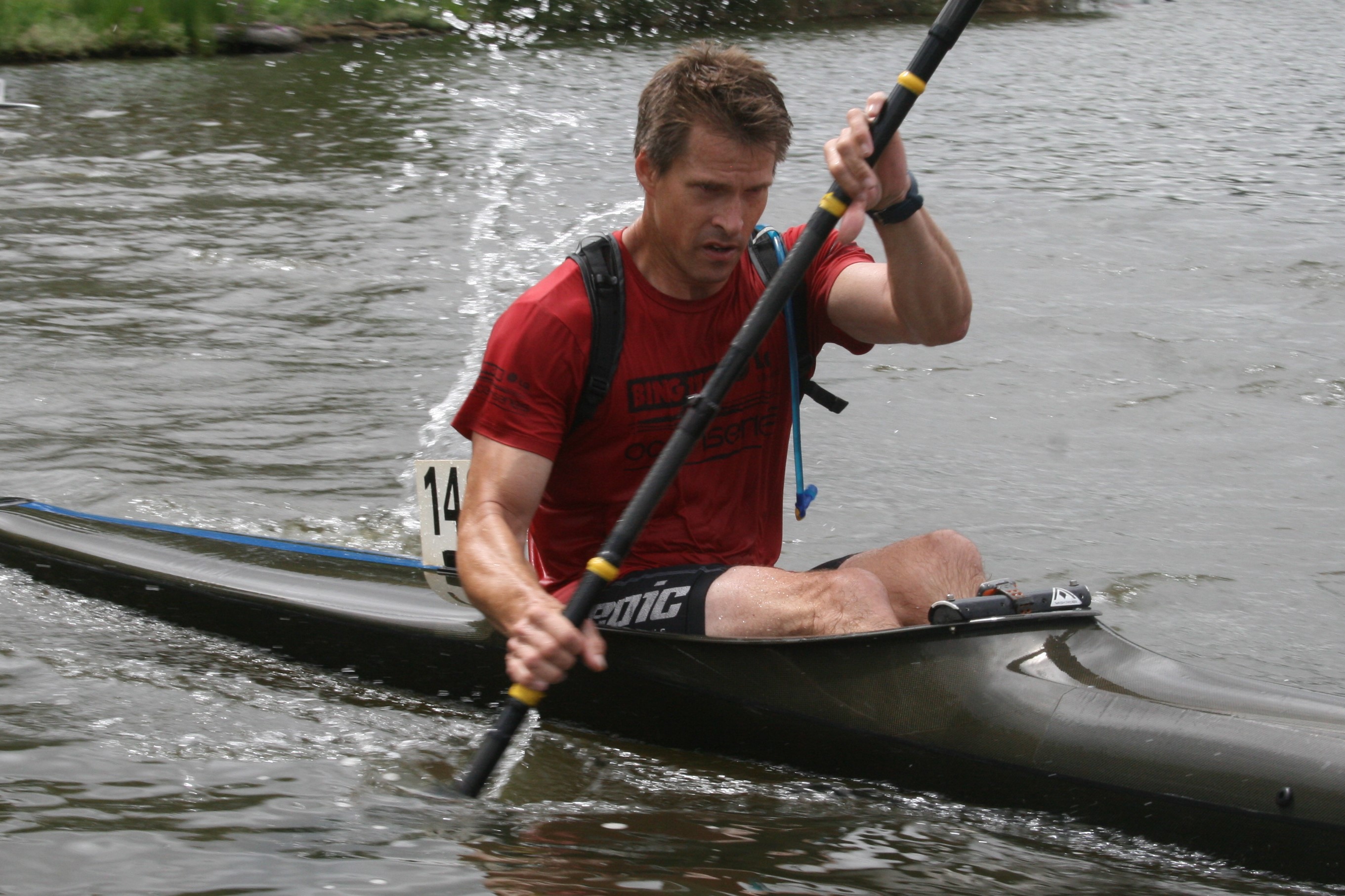 Toby after a successful portage.. LCRK top paddler


Traditionally Lane Cove excels in divisions 4, 5, 6 and 7, and while we had the numbers, some excellent performances were unfortunately not rewarded by placings, bar a few exceptions. Tom Simmat achieved a commendable 4th position in division 4, with a time nearing his best from last year and bordering on promotion to div 3. He was followed by a flotilla of paddlers, John Duffy in 11th (recently promoted and also nearing his best time from last year), Ross Fraser and Ken Holmes in 12th, Robert Manning in 14th, Duncan Johnstone 16th (welcome back Rob and Duncan), and the instigator of the Laurel and Hardy comedy pool party.. Jeremy Spear in 19th.. more on that later. Wade Rowston paddled to 6th place in division 5 with a time approaching his best in a while, and with the top 5 paddlers all being promoted to div 4, am expecting Wade to be in the medals next race. Phil Geddes also paddled a PB in attaining his 9th position. The first of our newcomers, Peter Manley paddled an exceptional time in his ranking race that will see him move up to division 4.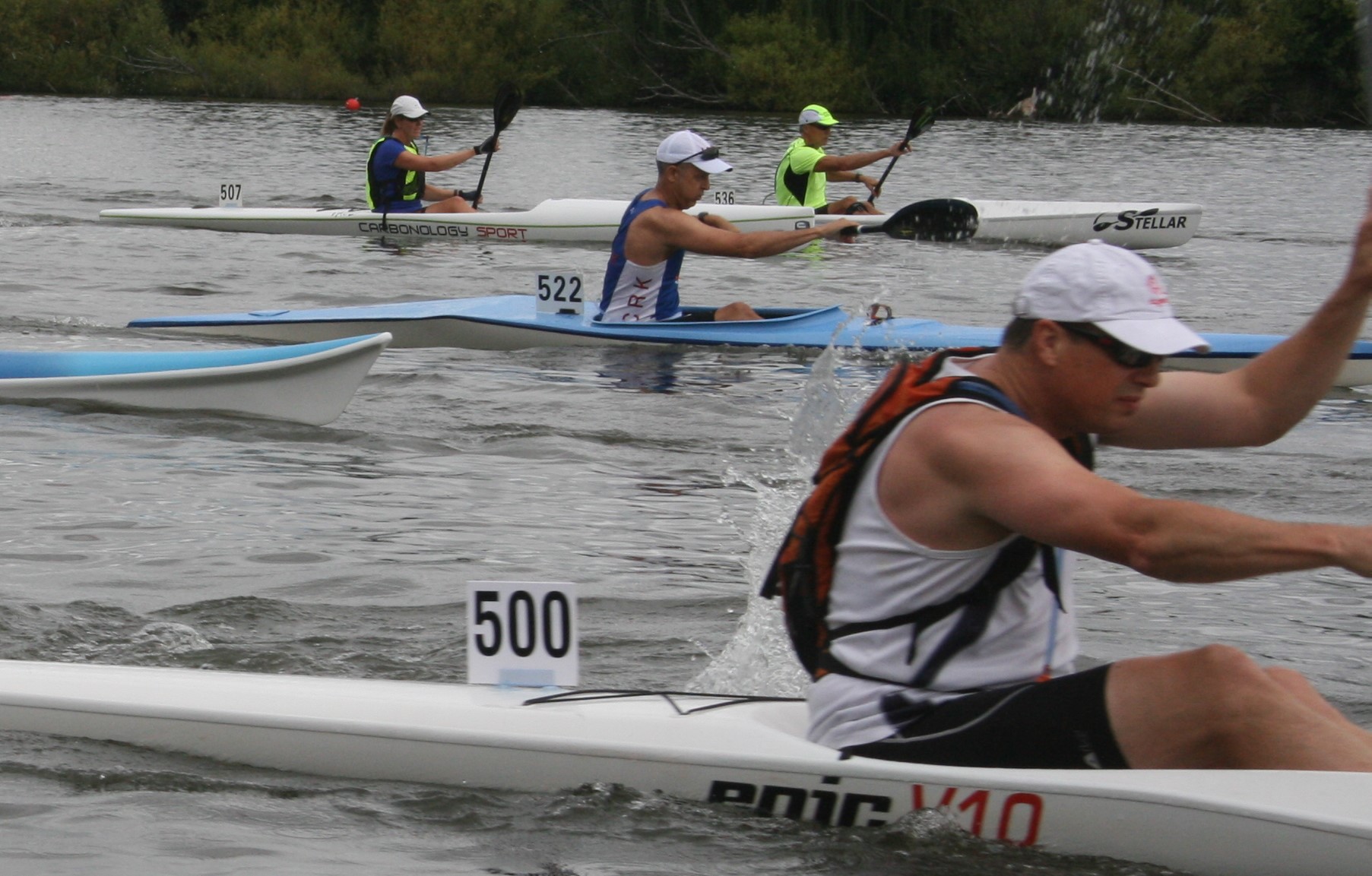 New comer Peter (500) and veteran Wade at the start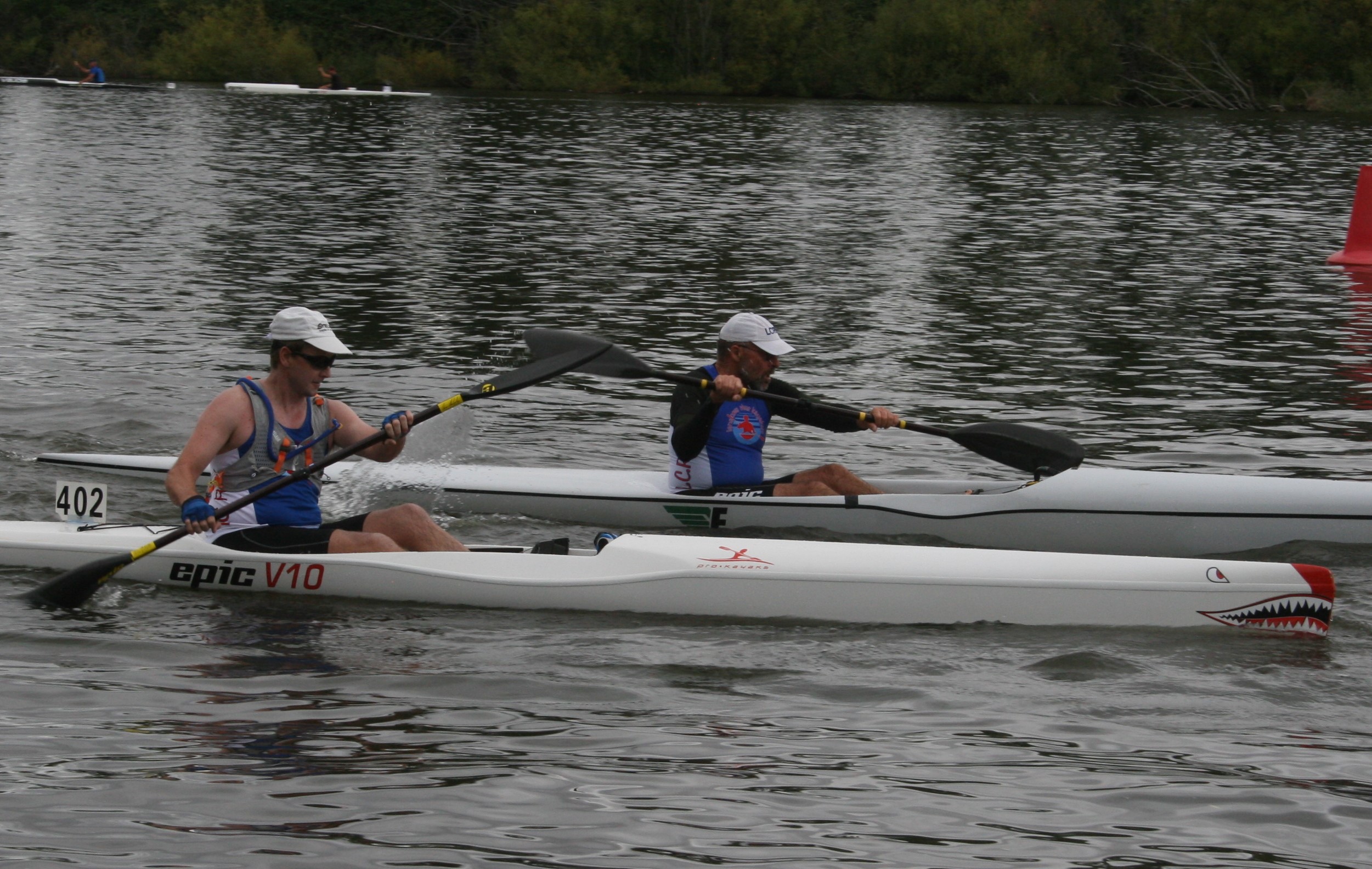 Tom & Robert (with distinctive nose) fighting it out


Richard Yates smashed his PB time by over 4 minutes in his gutsy 2nd placing in division 6 which will see him move in division 5. A similar situation applies to Tim Hookins following his creditable 4th as he yo-yo's back up to div 5. Paul van Koesveld who had his time adjusted as part of his cameo performance in the Laurel and Hardy act finished in 7th spot and was followed by our second newcomer Naomi Johnson who completed her ranking race. Don Johnstone was our sole representative in division 7 following his transition from the 10km distance and was aptly rewarded with a win in a time that will see him paddle in division 6 next race.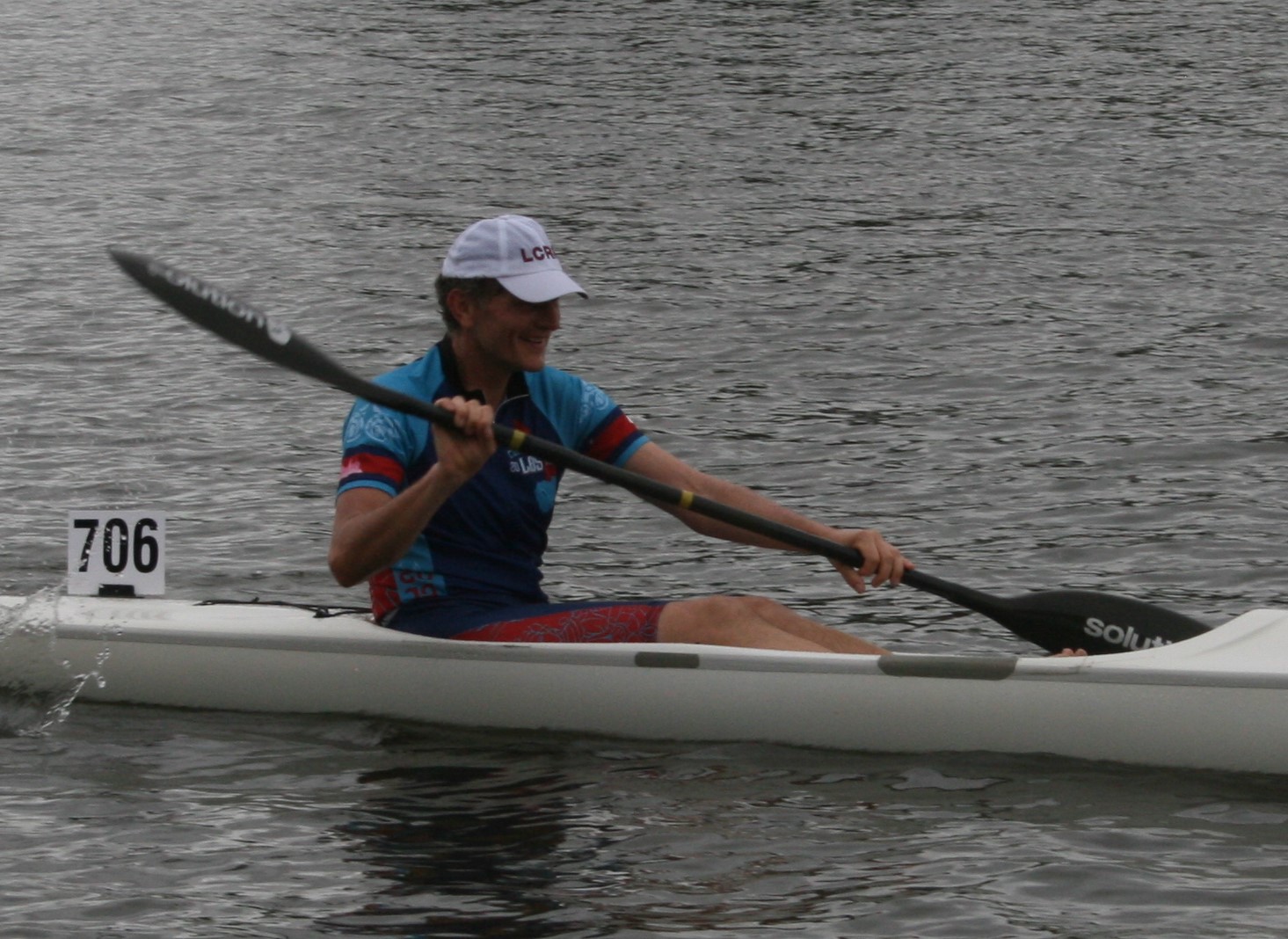 Every smiling Don.. our only victorious paddler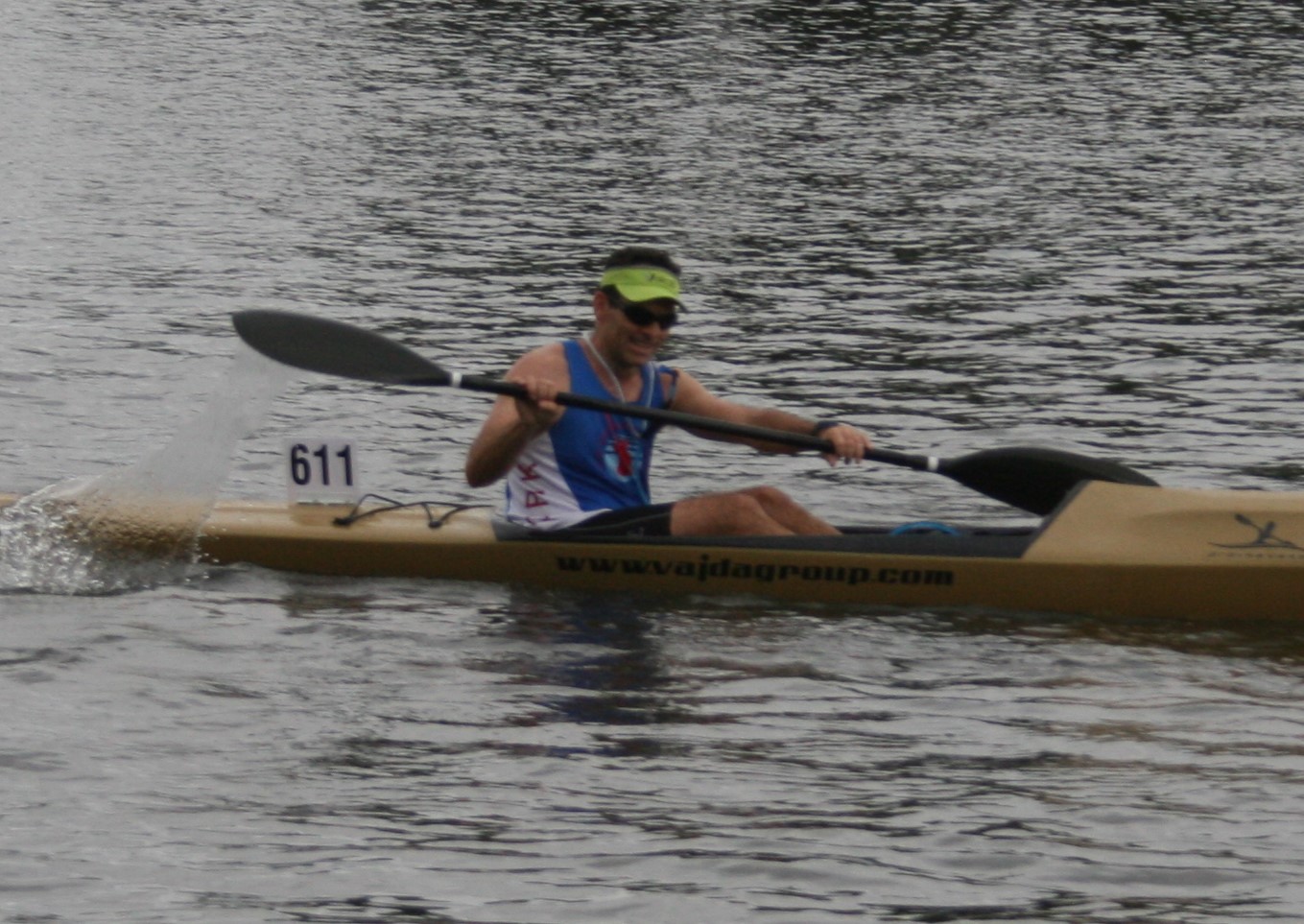 Richard paddling well to a 2nd place in DIV6


It was disappointing to see no Lane Cove paddlers in Division 8 or 9, and only one, Peter Harris holding the fort with a 12th placing in division 10 in his inaugural race. Ian Wrenford, another much improved paddler smashed his PB by over 6 minutes in achieving a 7th placing in division 11. He was followed by Louise White in 10th place competing in her first Marathon race. Division 12 saw Lane Cove represented by Jason Han in his distinctive C1 paddling into 5th position closely followed by Lachlan Wrenford in 6th .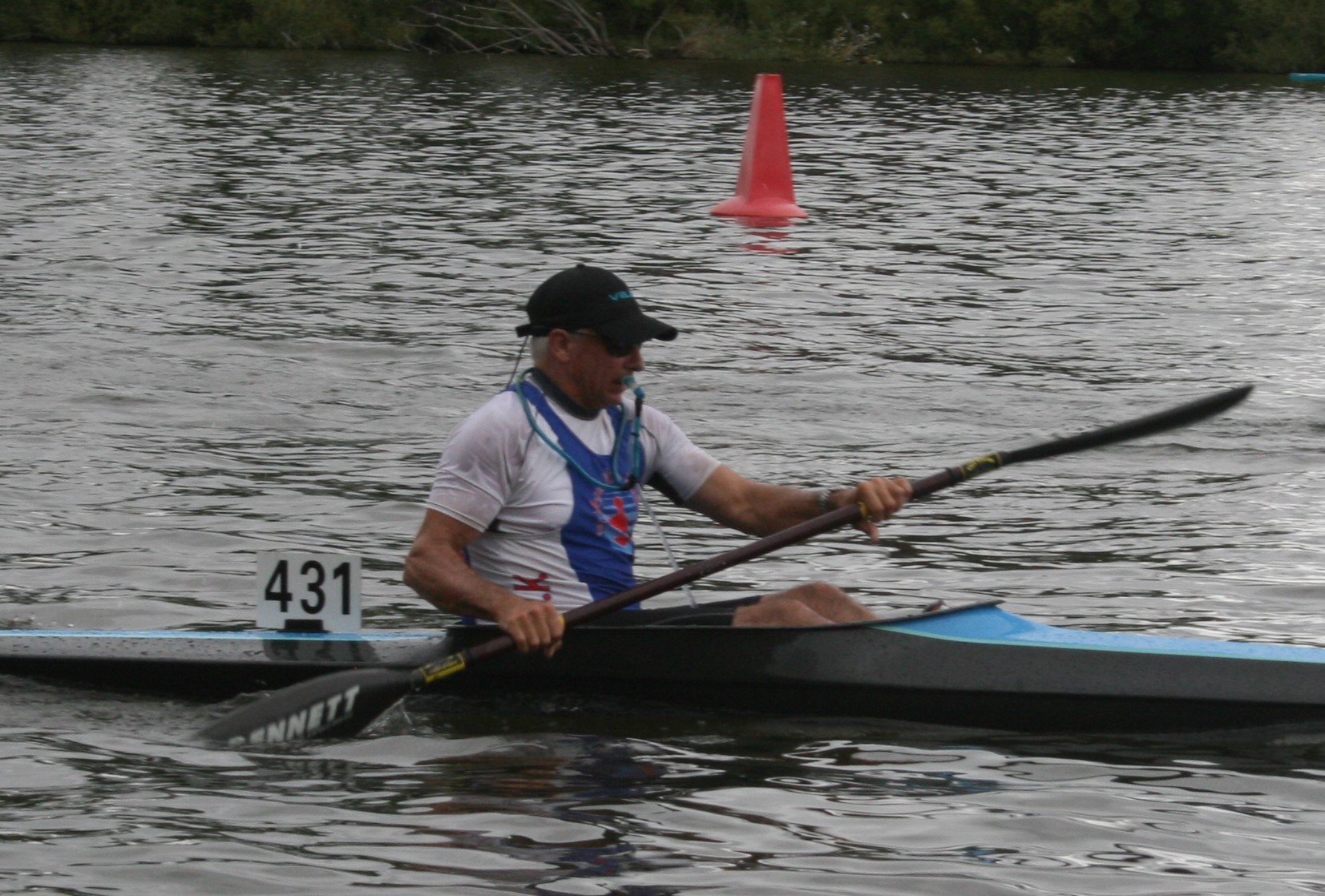 Jeremy in concentration mode.. nearing the 17km mark
And now to the memorable performance of the day. Jeremy Spear always likes a challenge and decided to race in his new, you beaut, super-fast but tippy K1 Vajda. Starting cautiously (see the concentration as he negotiated the turbulence at the start) Jezza bravely made it to the 17 km before falling in at a section of the river where there were steep banks on either side. Naively he (Laurel) made his way to trees on the river's edge but alas, as the water was deep right to the edge it didn't give him any standing point. Several unsuccessful attempts were made to get back into his K1 that left Jezza contemplating his options. Help was at hand in the form of Club president Paul van Koesveld (Hardy) in his ski who saw the drama unfold and offered his assistance with another deep water re-entry. This time the re-entry was successful, albeit temporary as Jezza fell in again shortly after. Again good Samaritan Paul returned to the scene, and in trying to keep out of the race line, nudged into the trees, leaned too much on a dead branch that in turn broke off and he too joined in the pool party. In his despair at joining the party, Paul somehow got not only his leg entangled in fishing line, but his rudder, that in turn made it difficult for him to remount his craft, and once on, difficult to continue with the race. Alas, qualified help was now at hand for both party goers with the arrival of the Inflatable Rescue Boat. Assistance was provided to and greatly appreciated by both paddlers, who after their 10 minute pool party were sent on their merry way. The moral of the story.. fall out either where there is a sand bank close by, or next to a rescue boat.