27 Jun - 1 July - Yukon River Quest
Per the official website: The Yukon River Quest is an annual marathon canoe, kayak and stand-up-paddleboard race. Paddlers come from around the world to test their endurance, racing day and night to the Klondike on one of North America's great rivers. It is open to solo and tandem canoes and kayaks, solo SUP, and C4 and Voyageur canoes.
It's summer in the Yukon which means average min/max temperatures in the 8-23 celsius range (although 36 celsius was experienced back in 2004). Summer that far North means they days are looooong with a ~4:30am sunrise and a ~11:30pm sunset. And civil twilight runs from ~11:30pm to ~4:30am which means it never quite gets dark! That's why they call the YRQ the "Race to the Midnight Sun"
LCRKers Tony Hystek (Team #41 Sheepstations) and Peter Fitzgerald (Team #5 SHockers Lane Cove) are both heading over to tackle the Yukon River Quest. Details will be added here as reports come in. The tracker above will give you their current locations once the race starters (find them in numerical order by Bib #)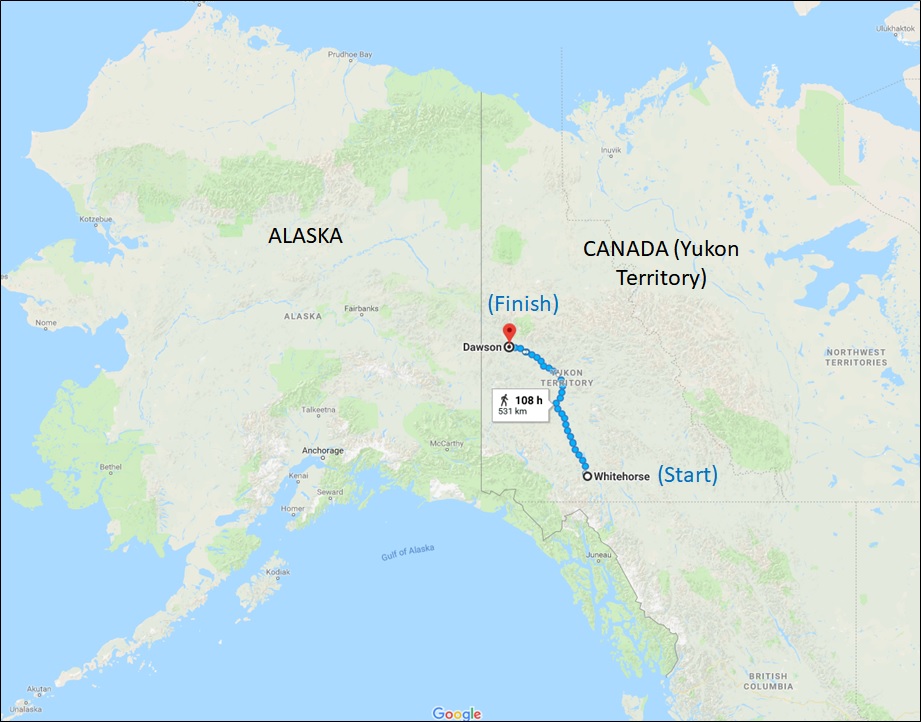 Above: Google map showing general location of event - and proximity to Alaska. Blue path is showing the walking route - it's shorter than the paddle!
Putting iconic Australian paddling events into perspective - the race briefing for the YRQ includes the following snippets:-
If you are lucky you will see "charismatic mega-fauna": moose, bear, sheep, fox, etc. Nine times out of 10 they see you, you do not see them. They are not interested in the race, or the racers. Don't make them interested in you, keep your distance.
It can be hot: Drink enough, watch your electrolytes. If you are hot, dip your hat in the water. If you run out of water, drink the river. Dehydration is an immediate threat, giardia takes much longer to affect you
The YRQ is a RACE, not a trip down the river. Be good sports! No interference with another team's progress or you could face disqualification. Do not dawdle. Drop out and become a tourist if you have to, but do not waste safety boat and volunteers' time. You have 14 hours to reach the end of the Lake, 35 hours to get to Carmacks, and '84 hours to get to Dawson.
Lake Laberge: The lake is long - 49 km. In good weather, crossings take 6-7 hours (faster teams) to 8-10 hours (slower teams). Teams must make the crossing by 2 a.m. Thursday to remain in the race. The lake can be rough with waves up to 2m (6 feet)
If the lake becomes too rough and unsafe for passage after teams are on the lake, an airplane will signal teams by waving its wings (weather permitting). Use good judgment! Teams should pull off at the safest spot possible. Watch for a return of the plane waving and dipping its wings when it is safe to resume. If weather is too bad to launch a plane, use your own good judgment and stay on shore until it is safe to proceed.
Live Reports
Tony Hystek 180624: Been a few days without WiFi so a bit of catching up to do. Now, where were we…oh yes, the search for sheep stations in Hawaii. They're here somewhere (evidence), but no substantial sightings. We must abandon… Off to Vancouver, which is remarkably similar to Sydney, only more compact. We met our travelling companions Eric (Alanna's brother), and partner Liz. A nice feel about the place. Bit of shopping at the HUGE outdoors shop MEC (could have spent a week there), and off to Whitehorse. We collected our land yacht (RV), and attempted to get a local phone connected, without much success. Left it too late to get a spot in an RV park for the night so we joined the multitudes in Walmart carpark for the night. We sure did feel trashy! A sleepless night, with the street sweeper circling the carpark most of the night. Day 2 and we are off to Skagway for a ride on the White Pass train following the route of the gold rush prospectors to the headwaters of the Yukon…spectacular scenery, and 2 brown bears thrown in for wow factor. Back to Whitehorse and the first test paddle today…after doing an hour's work sanding the shoddy repairs in the rented Epic 18x sport. One saving grace…the boat is incredibly light for this model….maybe they forgot a layer of fibreglass? It's a roughie but a goodie. Hire company is a bit lackadaisical but nice nonetheless.
Peter Fitzgerald 180624: Fitzies have arrived in the Yukon - carb loading at the Dirty Northern Pub first - then off find kayak which looks like Barnesy Kermit ! Green and white
9-11 June - Riverland Paddling Marathon


Above: Results for the LCRK team]]
Hosted by the Marathon Canoe Club of SA since 1988 the Riverland Paddling Marathon (RPM) is not just a marathon it is a festival of paddling marathons with 6 possible events over 3 days on 1 weekend in the chilly month of June each year. Every June long weekend paddlers from all over the country gather on the Murray River in South Australia's beautiful Riverland to meet, greet and most importantly to paddle.
The Six events which run consecutively over the weekend include –
The Murray 200 – a 208 km continuous paddle over 3 days from Berri to Morgan
The 200 Relay – the same 208 km course from Berri to Morgan but paddled in relay with baton exchanges
The Murray 100 – a 93km course over 3 days covering sections of the longer Berri to Morgan course
The Murray 50 – a 49km course over 3 days, sharing day 1 and 3 with the Mini and day 2 with the M100
Single day paddle – on Sunday of the event weekend, 26km from Devlins Pound to Waikerie
Mini-marathon – an opportunity to try the event by paddling 11 or 12km on any single day or on multiple days

From LCRK for 2018 we have a number of paddlers - including Kyla Johnstone, Duncan Johnstone, Ruby Ardren Rich Yates, Keg D'Andretti, Craig Ellis, Tony Hystek and Alanna Ewin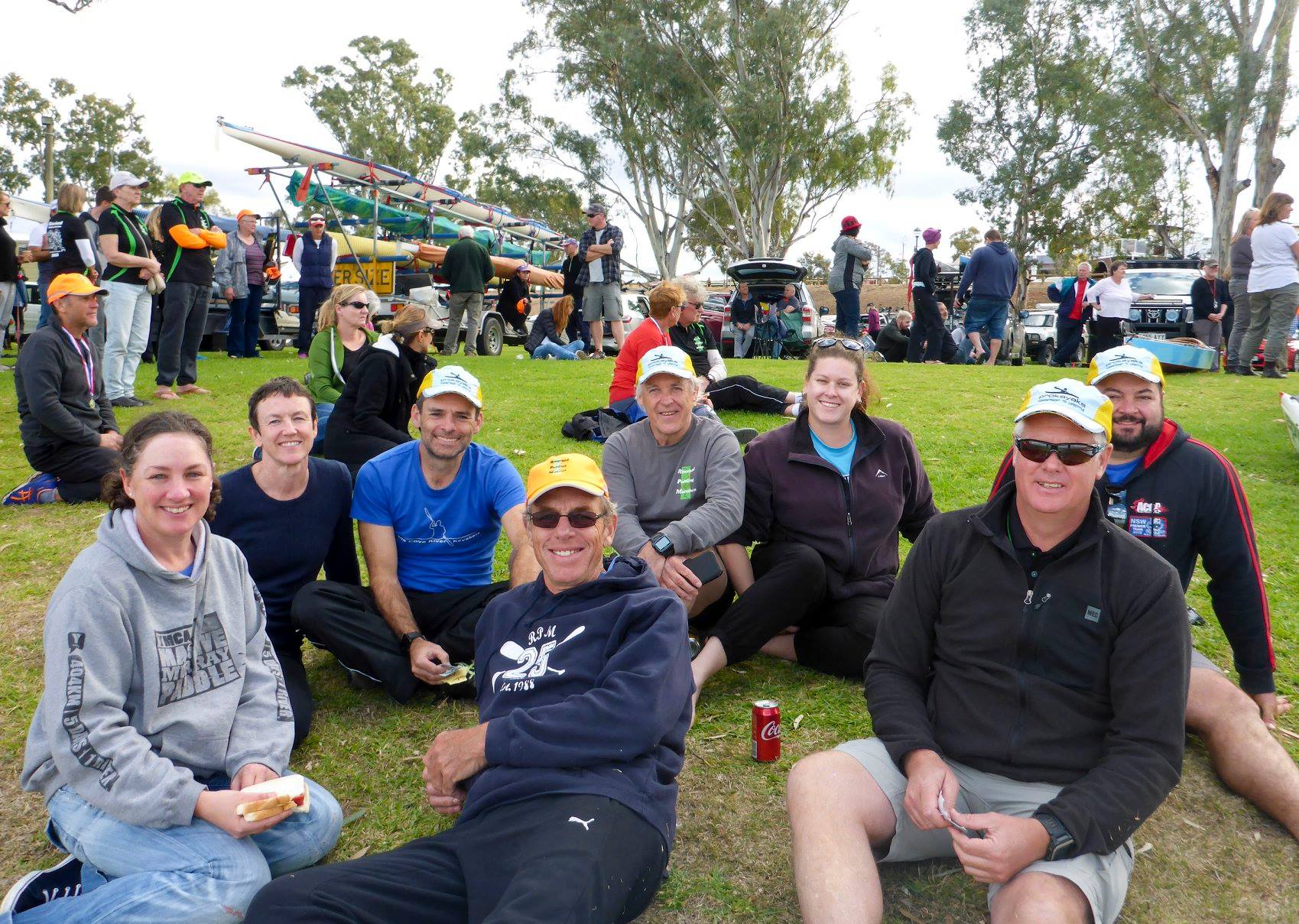 Above: The LCRK team
Fri 8 June
Ruby: After the first day's racing I'm behind Kyla by a nose. Duncan Johnstone hasn't yet found his boat or his team and Tony Hystek is way behind because he's elected to take the scenic degustation route.
Alanna: On way to RPM, some of us on the Hay Plain, some of us in a plane over the Hay Plain and Craig Ellis just plain old waiting for everyone to arrive. Breakfast involved a few different carb loading strategies....

Above: On the road again...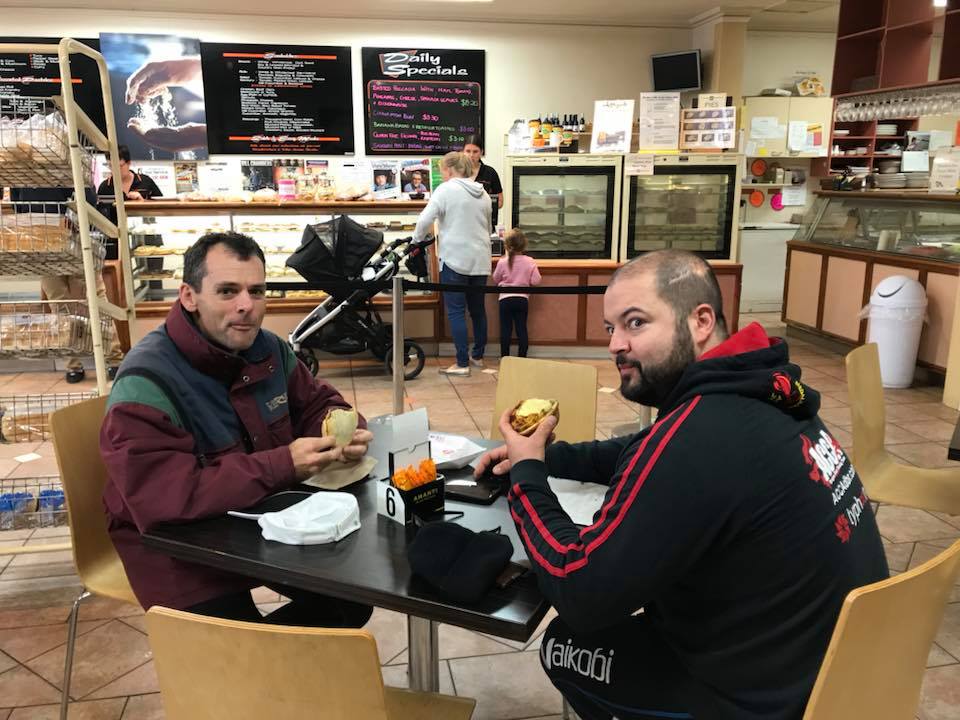 Above: Rich n Keg - carbing up?
Sat 9 June
Alanna: Kyla will get cracking soon on her RPM100. She got to sleep in unlike the full distance bunnies up before dawn. Everyone off to a good start and the sun has come up now after some very welcome rain overnight.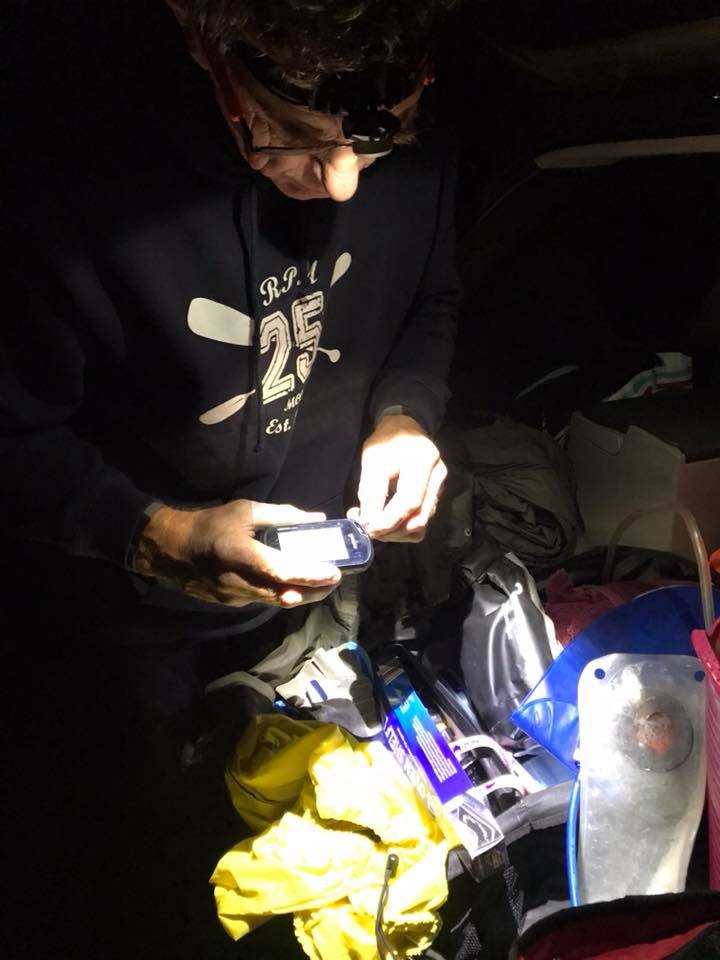 Above: Tony making sure he paddles downstream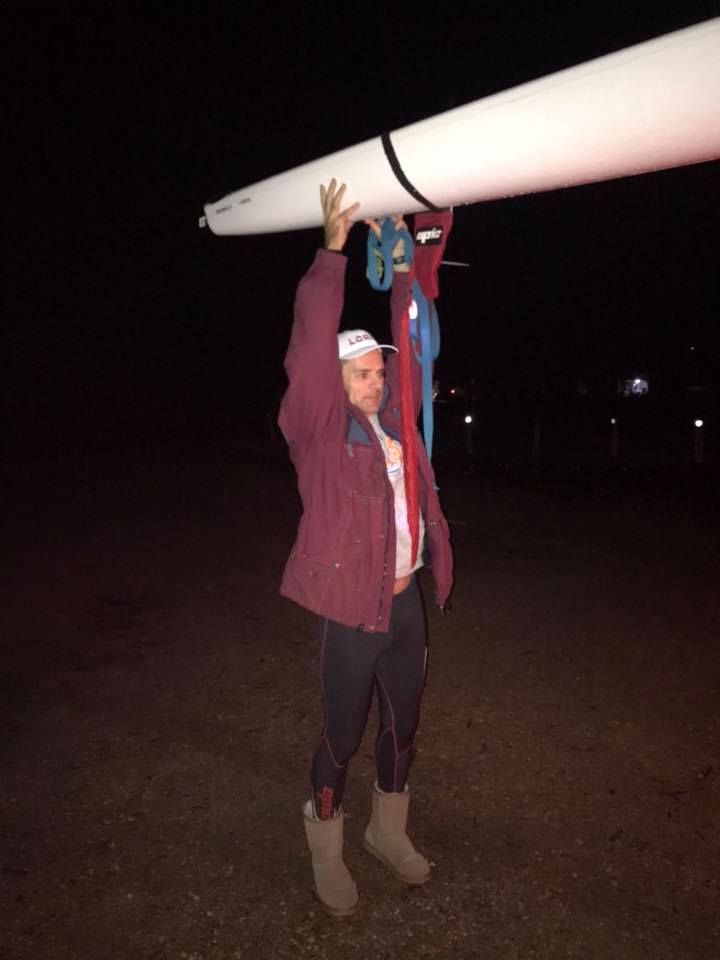 Above: Rich helping get the boat off the kayak stands
Sun 10 June
Alanna: Day 2 catchup- all well and happy and did some great times. Tony Hystek not particularly enjoying the 18x as he can't really race, but then it's all about Yukon prep right??
Ruby: Absolutely wrecked tonight because I stayed on wash rides all day that really pushed me. 69km today (7:00:05 so again about 10km/hr), running total is now 145km in 14:49:38. Have to get up again in the dark tomorrow to do another 63km and then start the drive home. I'm in the blue kayak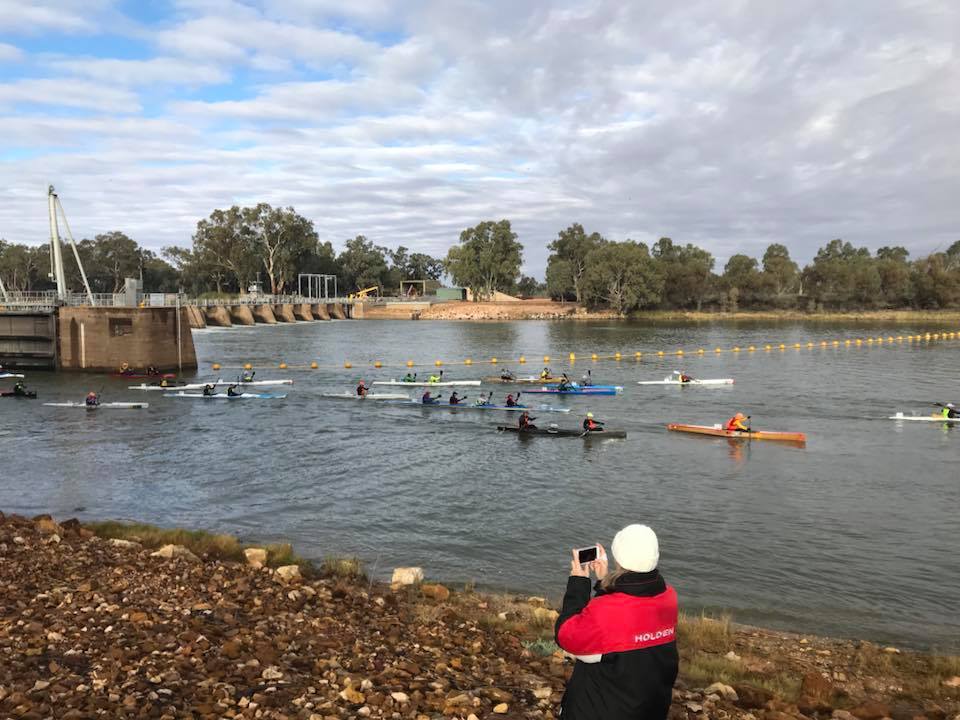 Above: Another lock - another day.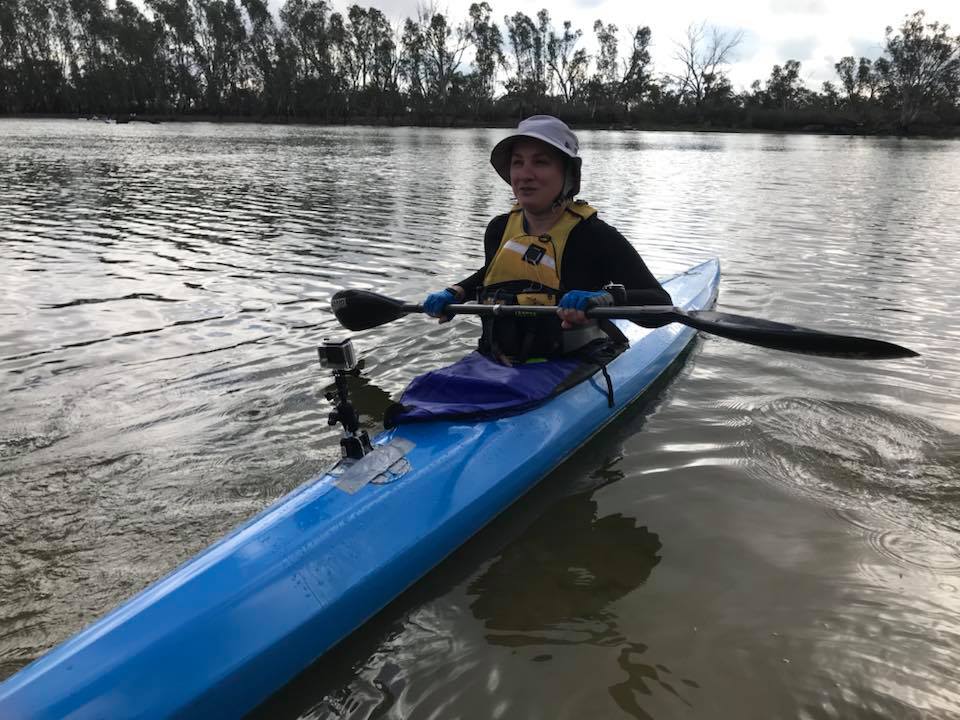 Above: Ruby - wrecked, and relieved!
Mon 11 June
Alanna: Last day of the RPM and everyone's feeling it. With a headwind dampening the spirits and the relay suffering rudder problems they've been doing it a bit tougher. Happy landcrew though with coffee cakes and brekky at The Claudo sangria winery checkpoint! Oh and Kyla is out. Pulled up sick this morning with her cold returned.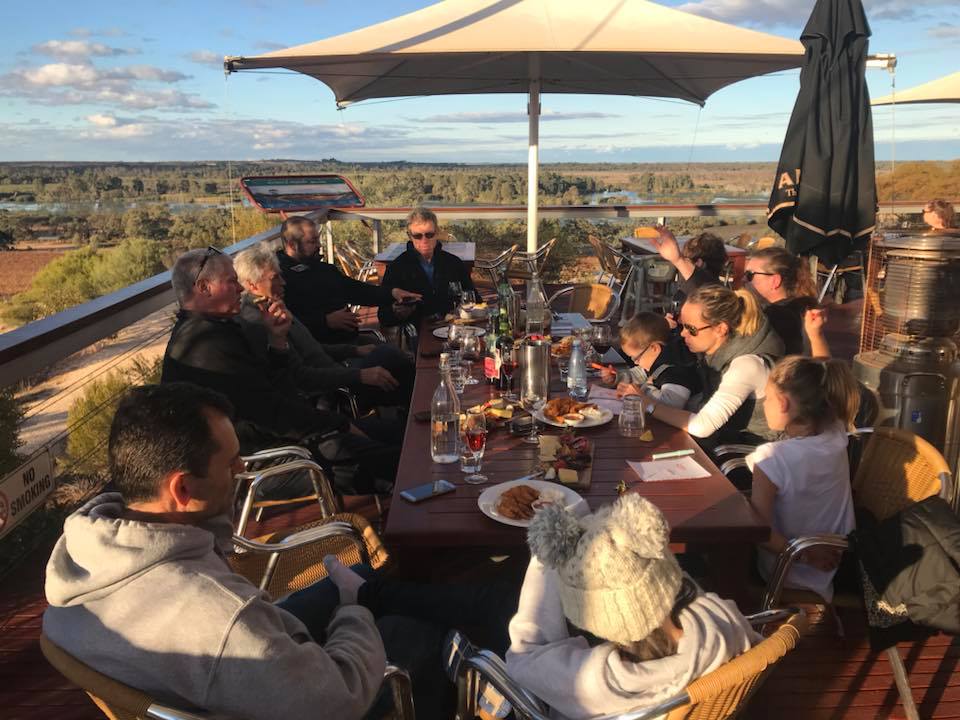 Above: check out that backdrop!
Alanna: All done! Ruby Ardren second lady home - not by much and a good record set! The relay team hammered it home after yet more rudder trouble steering them up the garden path. Although Sally Ellis said the lads didn't try hard enough because they didn't puke when they got out of the boat! I'm just hoping they didn't beat our time from last year or I might have to do the race again! The big fella Tony Hystek managed yet another of the prized orange caps for fastest vet 55 in the 18x (that gave us all a bit of a giggle). Kyla Johnstone enjoyed her day 3 as landcrew. Soaking up the sun we chatted the day away as we waited at riverside checkpoints for our paddlers to come through. All in all a great club and family weekend as usual. Fabulous to have the Yates and Ellis partners and kids along again. They visited the zoo and wineries and cheered on the paddlers from the winery this morning! Thanks everyone for the well wishes and support. We've all had a ball.

Above: Tony coaches a K4 (Photo: Carolyn Cooper).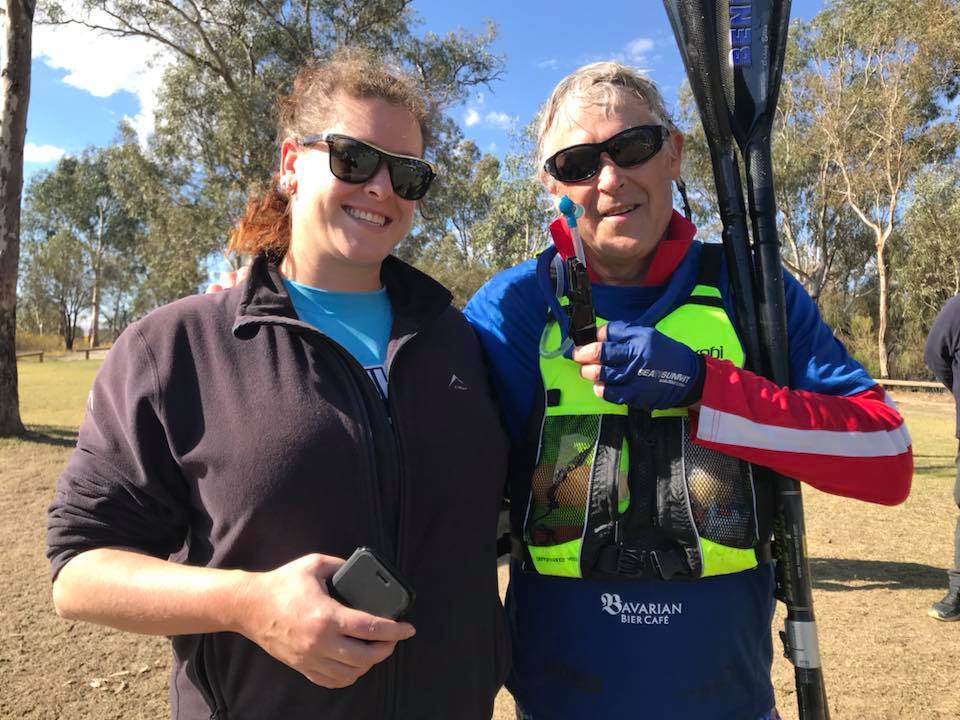 Above: Duncan and Kyla - tis done!
31 May - LCRK does VIVID (as part of our normal TT)
This event coincides with Sydney's annual VIVID festival. It's an opportunity to light up your boats, yourself and the river with a bit of a light and sound show. Contributions range from the simple (recycled Christmas lights, glow sticks etc) to more extravagant programmed LED light shows and kayak modifications.
Check out the Flickr album and Youtube footage at the links above ....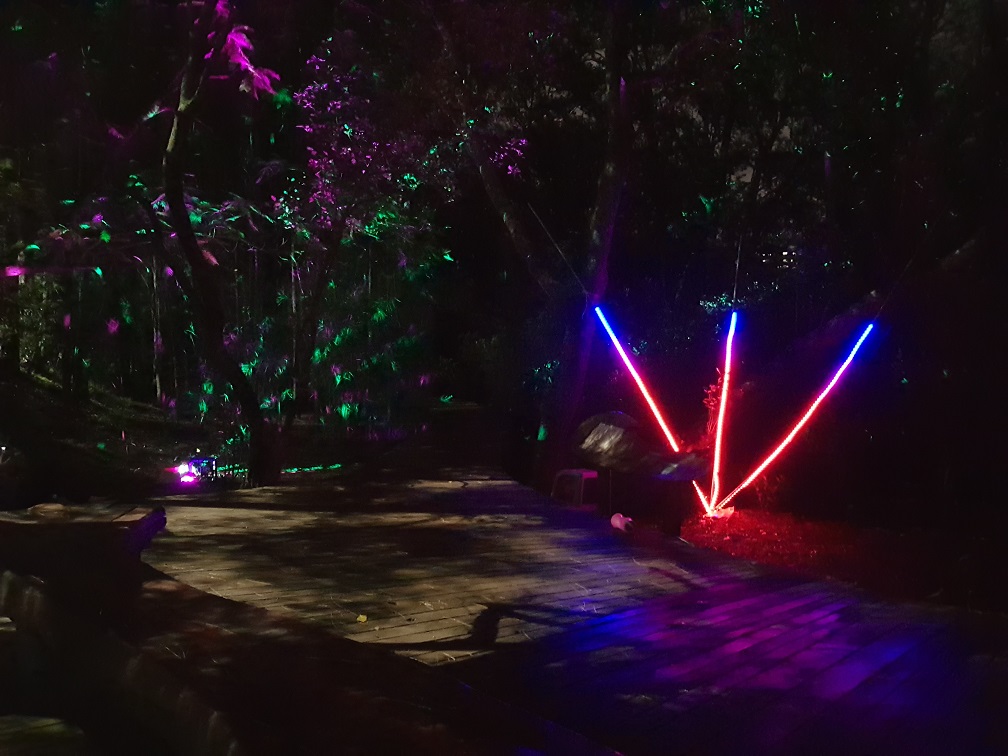 Above: 2018 LCRK Vivid - the pontoon walkway - Photo: Oscar Cahill
4 March 2018 - Clean Up Australia Day Report
Clean Up Australia Day 2018. We had a great turnout for Clean Up Australia Day this year with nearly 20 folks turning up for a few hours on Sunday Morning.
Feeling empowered in my official fluoro vest, I quickly put folks to work in various different parts of the river. Double kayaks, canoes and skis were dispatched upstream as far a Wirrong Boat Ramp while Adrian Clayton towed his garbage kayak downstream for others to fill with Crudslime accoutrements. Others took to the carpark and banks of the river on foot.
Bags were quickly filled, particularly around the carpark. More than once Jeff Collins was seen lugging a bulging bag of rubbish back to the shed, like some Anti-Santa, despite the smile. The boats returned with mother lodes of rubbish including sofas, tyres, bottles and rusty boat snaggy bits of metal. Most of it from downstream.
Oscar and Daughter Emer turned up with the widest canoe I have ever seen. Great for this type of work. It fit better sideways on the roof of Oscars car. As well as Emer, we had Dave Hammonds two kids Areti and Thomas plus Chris's son Robert. What a good parent and child bonding opportunity!
Out of interest it seems the most common rubbish type was bottles, both glass and plastic. I was encouraged (but not surprised) to see a distinct lack of tape remnants, Gu sachets and other paddling mess around the shed and river.
Not much in the way of treasure, Oscar found most of a $5 note and has generously offered it to the person who finds the missing corner next Wednesday night. Johns number remains at large somewhere on the river. On a barter system of 30 seconds per kg of rubbish found, the following folks should have PB's of around 53.30 next Time Trial:
Chris Johnson, Rodrigo, Jeff Collins, Adrian, Don, Kenji, PVK, James P, Duncan, Warwick, Wade, Oscar, Dave H, John D and Pete M (55:30). Being supervisor I've awarded myself the course record, sorry Matt. (I told you the fluoro vest was empowering).
Thanks everyone involved. It's a satisfying job. Well done.
Rich (Thanks John Duffy for all lead up organising work)
22 Apr 2018 - LCRK Marathon Series #5 - Special Doubles Round
Lane Cove Marathon – paddler options Our Lane Cove Marathon, Round 5 of the 2018 Marathon Series is on Sunday 22 April. This Round has been nominated as the 2018 Doubles Round with the intention of attracting additional paddlers to try the joys of competitive doubles paddling and maybe even to try competitive Marathon paddling itself while sharing the effort, risk and reward with a mate. If you haven't tried a Marathon Series event or haven't competed for a number of years, this is a great way to get a taste of competition AND help our club compete for the Brian Norman Club Trophy for the most successful club in the 2018 Marathon Series.
What does this offer on 22 April? In additional to the up-to 50 club points that participants can earn depending on their race position, a further 80 club points is offered for each doubles craft that finishes, irrespective of position in the race. The usual rules apply to the competition for the up-to-50 points: paddlers need to enter the correct Division – PNSW will police this, especially for new Marathon Series combinations.
Unlike in any other Round, a doubles combination does NOT need to have completed a ranking race beforehand to earn club points on 22 April. A combo can come together just for that day (but, hopefully, some will really enjoy the experience and continue to compete together).
What does this mean for you and LCRK? Points up for grabs - 80 Club points per double that finishes PLUS - 40 Individual points to each individual doubles paddler that finishes PLUS - Individual place points as normal
Here's where we are currently at - firstly the almost definitely (subject to any late shuffling):
| Paddler 1 | Div | Paddler 2 | Div | Doubles Div | Boat | Boat source | Entered? |
| --- | --- | --- | --- | --- | --- | --- | --- |
| Suzie Rhydderch | 4 | Mitch Coffey | 1 | 1 | Carbonology Blast | Own | yep |
| Tony Hystek | 1 | Alanna Ewin | 6 | 1 | K2 | own | yep |
| Tim Binns | 2 | James Pralija | 3 | 1 | Epic V10 | Ewin/Hystek | yep |
| Mark Hempel | 2 | Caroline Marschner | 8 | 1 | V10 | Own | yep |
| Trevor Nicholls | - | Brendan Trewartha | - | 1 | Red 7 ski | Fitz | yep |
| David Young | 3 | Peter Manley | 3 | 2 | Carbonology | LCRK | yep |
| Craig Salkeld | - | Peter Fitzgerald | - | 3 | Carbonology ski | Fitz | yep |
| Naomi Johnson | 4 | Alex Brown | 4 | 3 | Vadja Tornado | LCRK | yep |
| Richard Yates | 4 | Keg D'Andreti | 6 | 3 | Sladecraft SLR2 | Own | yep |
| Greg Morris | - | Warwick Sherwood | - | 3 | Zero Tolerance | Own | yep |
| Don Johnstone | 4 | Jeff Hosnell | 5 | 3 | Stellar ski | Jack Kesby | yep |
| Stuart Reid | - | Johanna Diment | - | 3 | Stellar S2E ski | Own | yep |
| Rob Hiley | - | John Rowberry | - | 4 | Knysna G42 ski | Own | yep |
| Darren Williams | - | Graham Cleland | - | 4 | Mirage 730 | Own | yep |
| Anjie Lees | 7 | Meg Thornton | ? | 6 | K2 Club | LCRK | yep |
| Tim McNamara | 8 | Jana Osvald | ? | 8 | Simon K2 | Geddes/van K | yep |
| Kerrie Murphy | - | Wendy Andrews | - | 8 | Popemobile | LCRK | yep |
| Tom Simmat | 4 | Tim Hookins | 5 | 8 | Sladecraft | Own | yep |
| Matt Swann | 6 | Bruce Goodall | 9 | 9 | Zero Tolerance | Own | yep |
| Paul Burges | 10 | Dave Veivers | ? | 9 | Vulcan | LCRK | yep |
| Duncan Johnstone | 5 | Phil Geddes | 5 | 9 | Stellar Double | Own | yep |
| Matt Blundell | 1 | Liberty Blundell | - | 13 | ? | Own | yep |
NOTE: Master tactician Duncan Johnstone has been overseeing and addressing questions, giving advice etc - and is still happy to take questions..
Below is an evolving list of LCRK volunteers who are helping to make this all happen.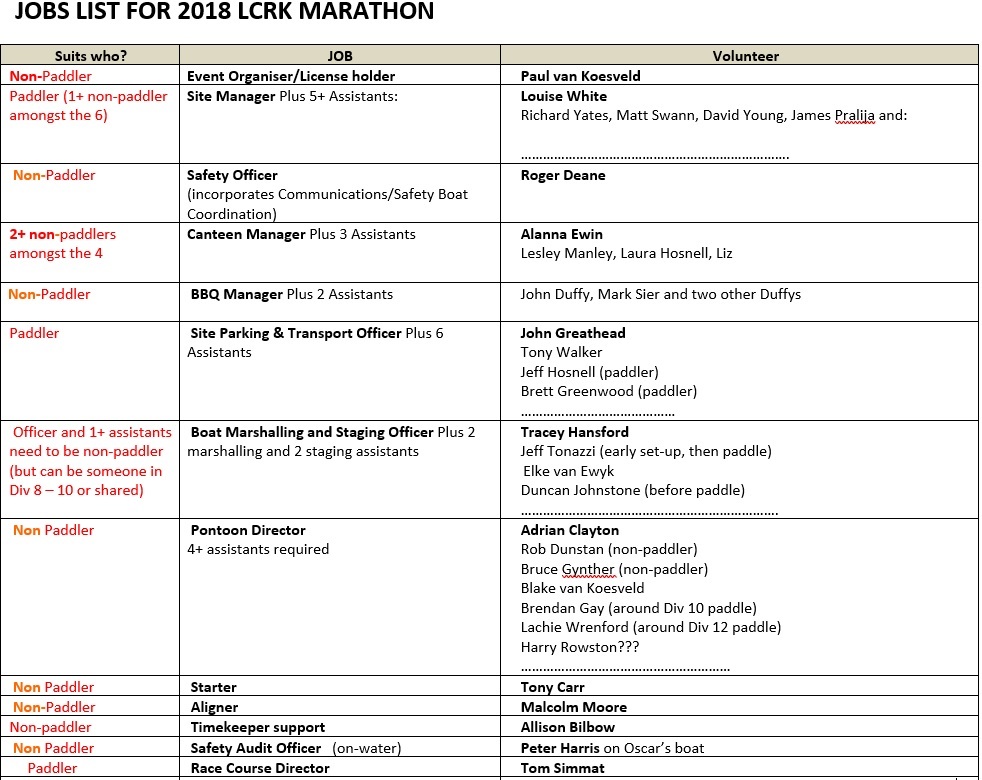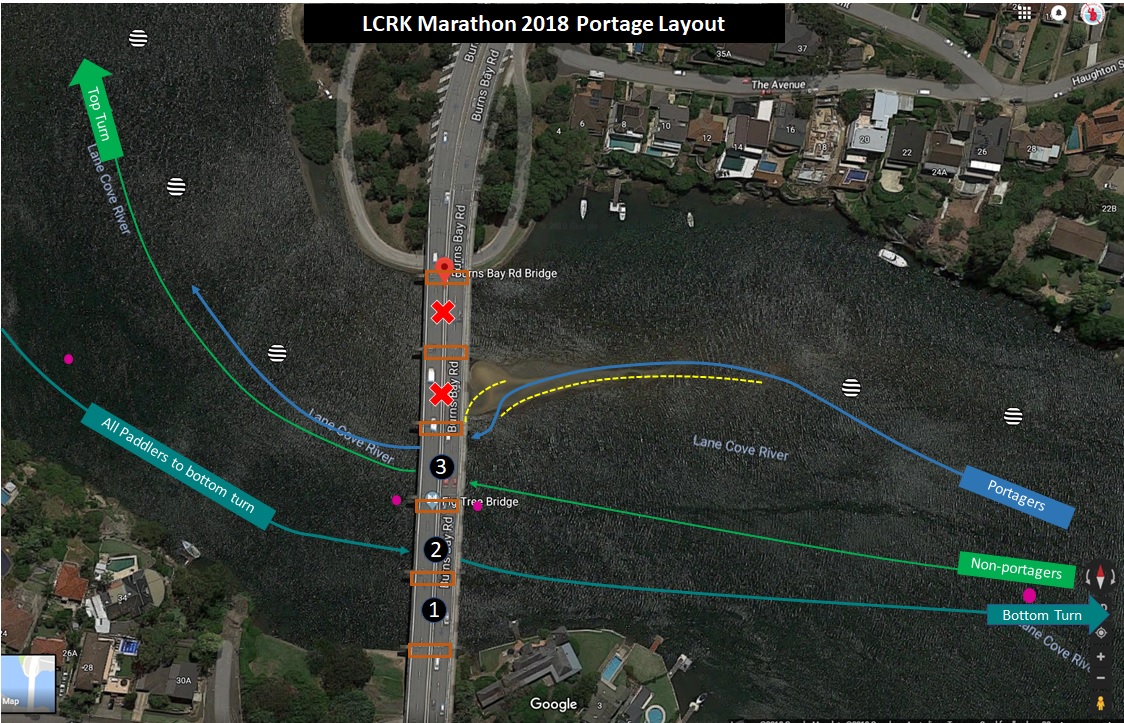 Here's the offsite parking detail for Avian Crescent Lane Cove: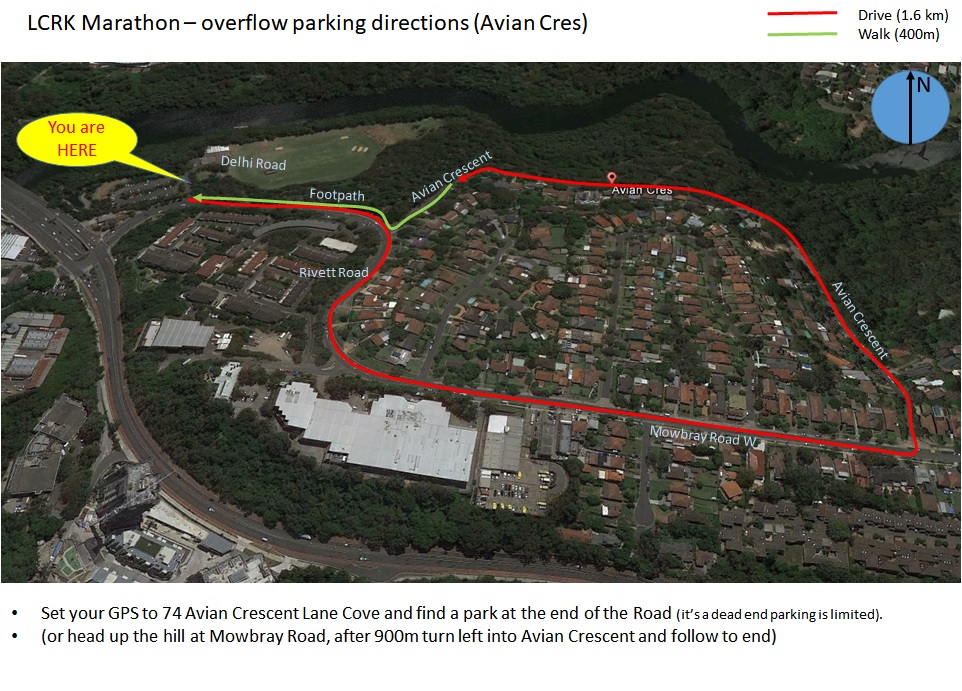 and for Magdala Road North Ryde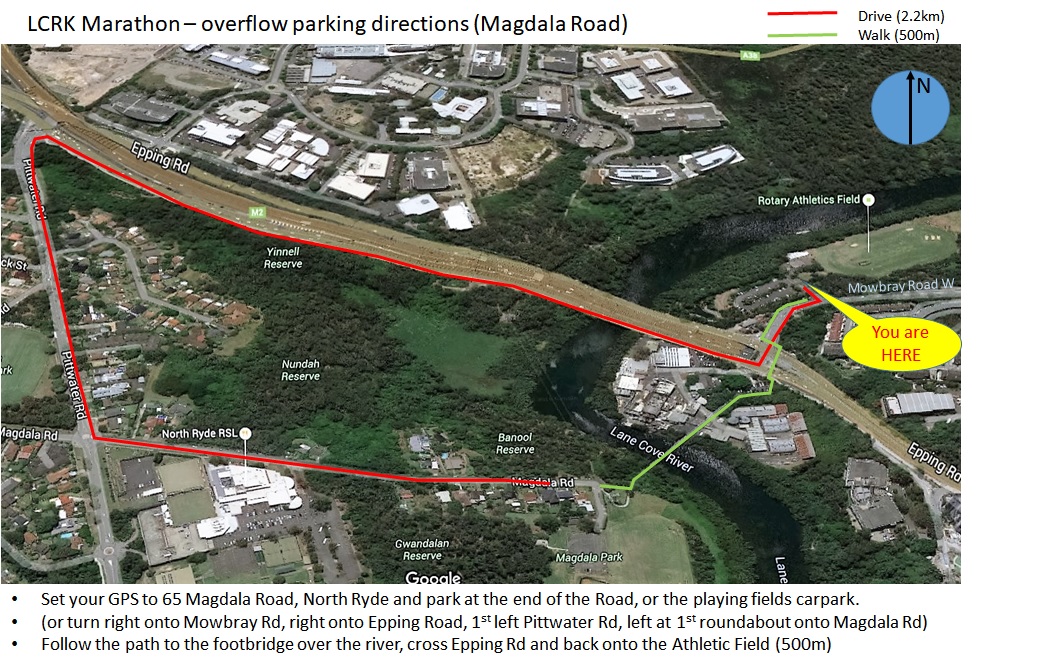 Paul van Koesveld (LCRK Marathon rustler)
18-20 May 2018 - AC Marathon Nationals - SA
The Australian Canoe Marathon Technical Committee and Paddle South Australia hosted the 2018 Australian Canoe Marathon Championships between 18 and 20 May 2018 at Westlakes, Adelaide, South Australia.
Only a few LCRK members in attendance - but check out the results anyway!
January 2018 - Classic Bass Crossing
Nicole Bartels, Kevin Kelly and Richard Barnes (words by Rich)
 

When is an expedition to the summit of Mt Everest complete? When the expeditioner reaches the summit? When this person is within 100m of the summit? Or when the party has made it safely back to Base Camp? Did Andrew Macauley make it in his kayak to NZ when he was in sight of land? These thoughts went through the minds of the Classic Bass team as we waited for windows of calm weather around Flinders Island. We had made it across the "big" crossings, from Wilsons Promontory to Flinders, via Hogan and Deal Island hops. These legs were respectively 55km, 45km and 65km, or 9.5hrs, 7.5hrs and 12.5hrs paddling time. Then there were only the shorter legs along coastlines of the Furneaux Group Islands and a final crossing of Banks Strait to negotiate. We had waited a day on Hogan Island, as a storm with windspeeds recorded over 100kmh swept over us. It was hard even to walk up to Hogan Lighthouse, let alone be out in a kayak that day. Then we had waited 4 full days on Deal Island as winds over 20 knots kept us cosily off the water. There was plenty to see and do on Deal, including walking up to the highest lighthouse in the southern hemisphere, and sharing tea and scones with the current lighthouse caretakers, Jo and Justin and their seven year old son Murphy.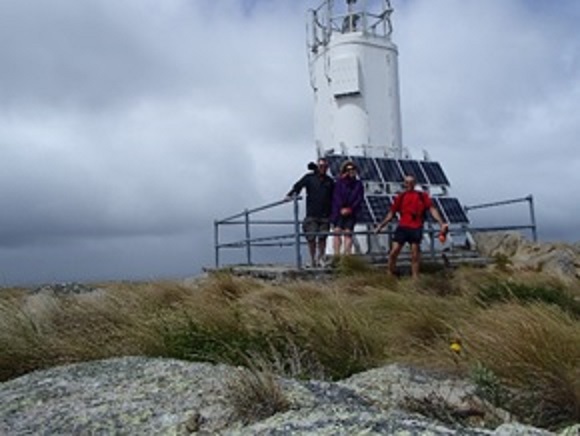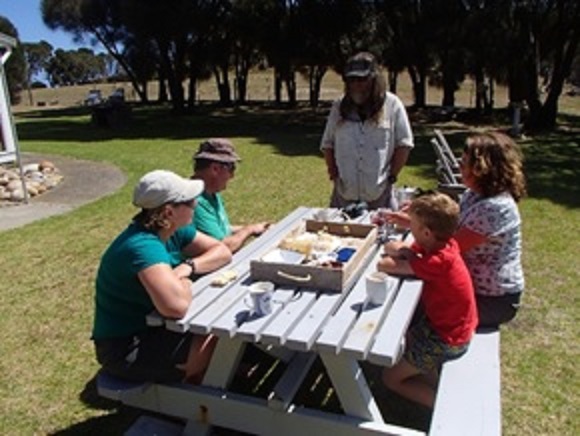 Above: 100kmh winds at Hogan Island lighthouse ..and.. Scones with Deal lighthouse caretakers
However five days waiting meant there were few spare days left if we were to make it to Tasmania in time to catch Spirit, the ferry to get us back the easy way across Bass Strait northward to Melbourne. Could we hitch a lift on the barge that services the little town of Whitemark on Flinders, or even fly out from one of the grass strips on Cape Barren or Long Islands, and still claim to have crossed Bass Strait?
Fortunately weather forecasting is more reliable now than ever in the past. On my first crossing in 2001, we tuned in on a crackly radio with a wire aerial strung between trees, to hear someone reading a forecast for the whole of Tasmania for the next day. Now forecasts come via BOM on the internet to mobile phones, with predictive maps for windspeed, swell and wind direction, in 2-hourly increments up to four or five days into the future. For our last week of paddling, they showed generally relatively strong winds, but with small windows of calm. And so it turned out.
Ultimately, we targeted two relatively calm weather windows to make the final crossings of Banks Strait, splitting the 35km distance from Clarke Island to the NE tip of Tassie into two with our final camping night midway on Swan Island. These were to be our two hardest paddles. Our one and only team capsize occurred on the leg from Clarke to Swan, just off Swan Island. Strong counter currents slowed our pace so the weather window became too short to reach Swan Island. Just off the lighthouse, the rising wind broke the top off big steep swells, and Kevin got caught by one of these breaking giants. However Kevin has a great party trick, a re-enter and roll. Whilst his kayak was upside down, he did an underwater somersault to get back into an inverted seating position in the cockpit, then proceeded to roll up. It would be impressive at Lane Cove, but it was doubly so in rough water.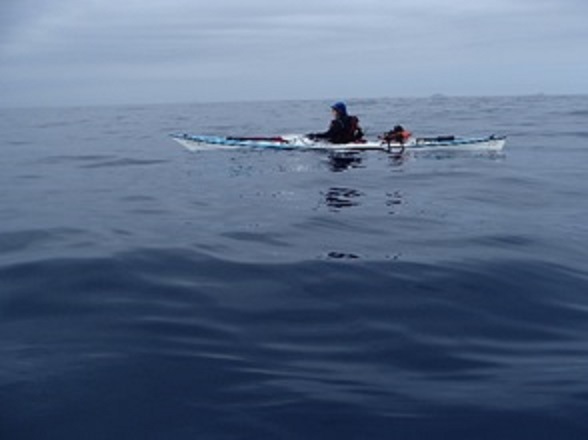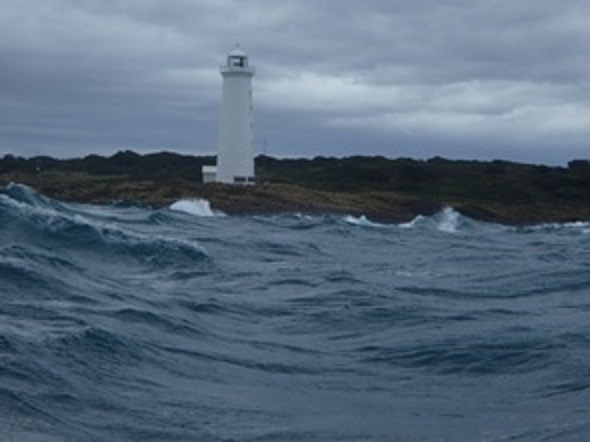 Calm weather along Wilsons Promontory ..and.. Rough weather off Swan Island lighthouse
The very last paddle was a mere 7km direct from Swan Island to Little Musselroe Bay. The weather decided to have a final hurrah, and combined with strong adverse tide to thwart our expedition arrival. For the whole Bass Strait crossing, we covered just on 400km, in a total time in the kayaks of 76hours. That is an average of just under 5kmh. Not quite Matt, Dave, Brett or Stu's 12km lap speed at Lane Cove, but realistic for Mirage kayaks each weighing around 200kg fully loaded. Our final 7km took 3 hours, an average just over 2kmh. As we wryly noted, we could have walked the kayaks along Musselroe Beach faster than we were able to paddle. The moral is that the journey is never over, until we step across the finish line. For us, that was a greeting from our invaluable landcrew Dee Taylor and Andy Singh, two of the original team from Rivers Canoe Club who had planned to be paddlers on this crossing. From a starting crew of ten or so hopefuls, just two, Nicole Bartels and Kevin Kelly, had made that finish line. Both are Hawkesbury Classic regulars, so perhaps that is a key step in training for a Bass odyssey.
I had joined Nicole and Kevin only a few months before the trip. One reason was to help make sure their dreams were realised. Another was to use this crossing as a trial for a prototype Tasman sea kayak. This prototype started life as former LCRK member Ken Holmes' Classic-completing Mirage 730.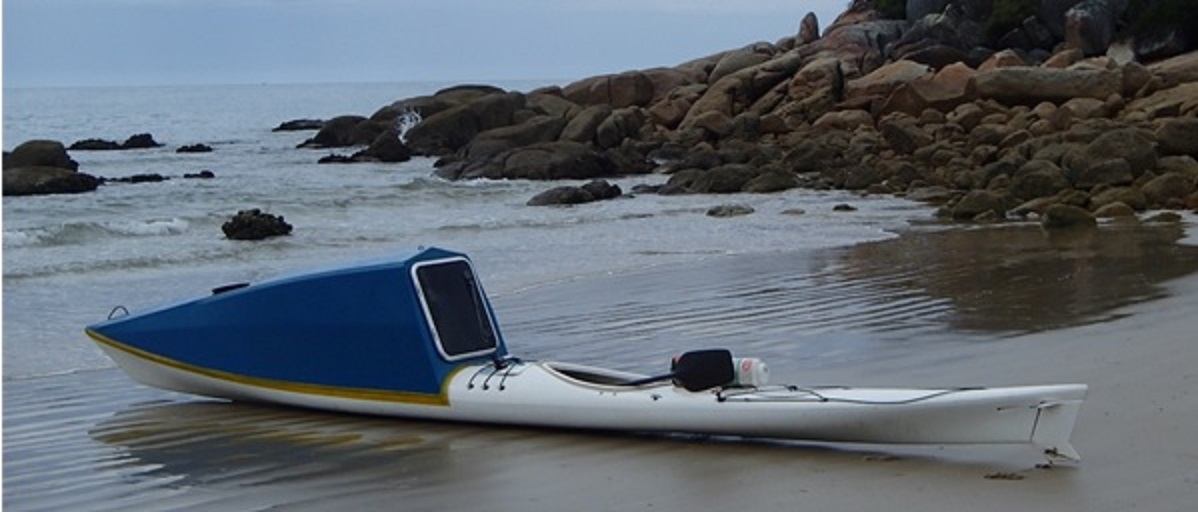 Above: Prototype One
With a lot of guidance from LCRKer Tom Simmat, I constructed a pod over the front cockpit large enough to potentially be sleeping quarters. It certainly solved all issues of lack of space for equipment, but did bring its own set of steerage problems in strong winds. In the time we waited on Deal Island, I constructed a fin out of our emergency fibreglass repair kit to try to help control my prototype kayak's wayward wanderings.
Equipment
Space is at a premium in a single Mirage. We set off from Port Welshpool with 15 days food supply, and about 20 litres of water each. Add in tent, sleeping bag, stove, clothes and spares, and the last of the equipment usually ends up sharing the final corners of the cockpit with the paddler. Food and equipment sums to around 75kg, and made the 580s float just below the deck join line. Both Kevin and Nicole still found room for luxuries such as sleeping mat and pillows. Oddly, Kevin pulled out a grater on Deal, along with real potatoes, and set about making us hash browns. Kevin's occupation is chef, so he also couldn't be parted from his creamer, a huge device which is pressurised by C02 cannisters and turns longlife cream into whipped coffee mousse. Kevin is not a camper, and borrowed a tent and camp chair from John Duffy. He commented on being woken by sore elbows when his arms slipped off his narrow camp mat and rested alongside on the hard ground.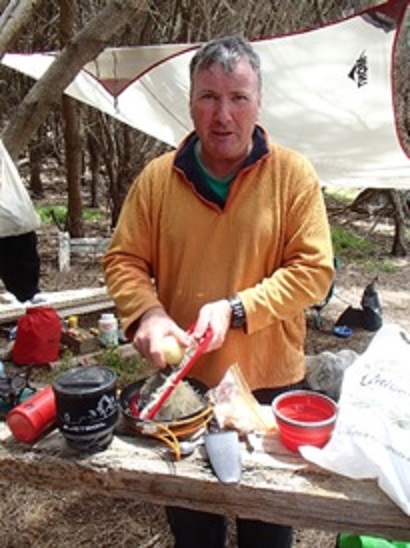 Above: Chef Kevin and his grater


Inner Sister Island
One of the goals of this trip was to try to camp on Inner Sister Island, off the north tip of Flinders. It promises safe landings with beaches on both sides. This would be something new and a little unique, as this island is not part of a regular crossing being slightly north of the most direct route. We set out from Deal with our bearings set for Inner Sister. Along the way were the landmarks Wright Rock and Craggy Island. Wright Rock is only 20km from Deal, but is small and only visible from about 10km. At about that distance one's sense of smell confirms its proximity, as the large seal colony there is very smelly. We'd aimed to paddle in amongst the seals. However tide had other ideas, and after battling counterflow, our closest pass to the seals was 3km before we turned away. Next waypoint Craggy, where the ebbing tide looked like it would sweep us past its northern rugged shore, on course for Inner Sister. After a few more hours paddling, we were closing on Craggy. The tide turned, and suddenly was flowing strongly SW, against our course and into the rising westerly breeze. I promptly got seasick and threw up. Nicole got nervous running downwind in the big swells that developed. Kevin chimed in with a preference to head for whichever was closer of Inner Sister, or the traditional Flinders landing at Killiecrankie. Consulting our GPS, Inner Sister was 22.3km northeast, whilst Killiecrankie was 22.2km east. Destiny diverted, Inner Sister remains an elusive goal for some future Bass journey.
  

Above: Flying porpoise show

The Wrap
Bass Strait remains a paddlers' Mecca, combining so many of the features which create an epic journey. At 400km and 16 days, the time and distance are of grand proportions. Paddling is at times out of sight of land, so there is a real reliance on self to achieve the day's destination. The campsites are pretty wild and special. Some, like Whitemark, are relatively suburban, with access to showers, a hotel, general store, cafes and a bakery. The wildlife is always interesting, and interested. Seals are abundant, and always inquisitive. So too are the gannets and large Pacific gulls, whilst albatross fly by imperiously. Penguins are so human in their characteristics, especially when their regular path from sea to burrow is blocked by one of our tents. We were particularly lucky this trip to have a pod of killer whales glide toward and around us. The sea can be wild, but with patience there is always a window through which to paddle safely. Scenery always amazes and alone is adequate temptation, in particular the red lichen-covered granite boulders and sculptures round Cape Barren, Clarke and Flinders Islands.
 
          

Above: Campsites at Thunder & Lightning Bay and Rebecca Bay
Sun 28 Jan - Paddle4Good - Newcastle
Newy Paddlers has shared details of a fundraising paddle event (~10km) being held Sun 28 Jan. Go to the link above for all the details.
"Paddle 4 Good" this year is supporting a local Women's Refuge that is in need of appliances for their venue. The refuge is a community based organisation and is currently self funded which is why they are in seeking assistance. The Refuge helps women and families that are under enormous stress and do amazing work in finding these women and families support in housing, financial, counselling and legal assistance. Please note that all proceeds will be going to the Women's Refuge
When: SUNDAY, Jan 28th, 2018
Registrations: will open from 8:00 - 9:00am
Race briefing 9:15am
Race starts 9:30am (slower boats will be sent first)
Where: Throsby Creek "Beach" - Tully Street Carrington (Newcastle)
Cost: A donation of $10 (entry fee) which all proceeds are going to the women's refuge.
Sun 3 Dec - Deepwater Re-Entry Workshop
LCRK hosted a FREE workshop session for Club members at Narrabeen Lake to improve skills to get back into your own boat in deep water, and assist others do likewise. The event was over-subscribed - so much so that we ended up splitting it into two sessions the first being for K1's at 8:30am and the second for sea kayaks, recs and skis at 10:00am. We're still doing a final count but something like 20-25 Members took advantage of the workshop in great weather conditions.
Our trainers were Tony Hystek, Tracey Hansford and Adrian Clayton - who all sacrificed more than a couple of hours to provide Members with the benefit of their knowledge and experience. Thank you Tony, Tracey and Adrian!
Tony took on an early K1 class who spent quite some time wrangling their kayaks through the assisted and unassisted cowboy/cowgirl/scramble technique. A good crowd had gathered on and off the beach to observe - including Phil Geddes, Paul van Koesveld, David Young and Allison Bilbow, dropping in during morning paddles.
For the 10am session Adrian and Tracey pick up the sea kayak/rec kayak class and taught a variety of techniques for assisted recovery including heel hook, and seal launch - although couldn't find any takers to try out the T-recovery and eskimo! From there we moved through to self-rescue technique including seal launch, cowboy/cowgirl/scramble, and some ski techniques - with varying degrees of success it should be noted - but invariably with the confidence to continue to practise and refine. Tony in the meantime took on the ski group and took them through their paces.
Overall, it is fair to say that the average skill level has moved ahead in leaps and bounds, and this will no doubt pay some dividends for our overall safety back on the Lane Cove River. Special thanks are also due to Alanna Ewin for making this happen - it didn't happen by itself!
 

There will be future opportunity for the same or similar workshops - well worth doing for the safety of yourself and fellow paddlers.
Sat 2 Dec - Working Bee
This working bee was all about the Club boats - fitting foam, foraging floatation, fettling footplates, fixing fibreglass. There was (as always) a great turnout of Members including Phil Geddes, Ian Hoffstetter, Tony Hystek, Rodrigo Matamala, Dave Veivers, Dave Young, Paul van Koesveld, Louise White, Jeff Hosnell, Duncan Johnstone, Allison Bibow, and Peter Harris (who have we missed?).
 

Work completed was extensive and is a bit of a blur (no doubt due to the time spent with heads buried inside boats) - but is known to include:
Ascent Double - Floatation added, seats modified to give better location and fixing.
Pope Mirage double - Extra fast ion added, seats modified, new footplate front and back, carry handles removed and holes plugged, number holder added. Rudder ground down for better fit.
Sonic - Foam reinforcing for back deck, footplate cabling repaired and cable guides replaced.
Barracuda - Split hull repaired, rudder recabling assessed for replacement.
Club K2 - Floatation added front, center and back, number holder replaced.
Grey Nurse K2 - Floatation fixed in, both combings temporary repair.
Both TK1's - combing re-fixed to Hull, footplate retaining wires replaced.
Carbonology Double - number holder added.
 

20-24 Nov Massive Murray Paddle
"The Massive Murray Paddle is an amazing 5 day paddling adventure & paddling race, that raises funds to assist local community-driven programs"
A contingent of LCRK paddlers are tackling this event including Tom Simmat, Richard and Linden Barnes, David Hammond, Meg Thornton, Cathy Miller and our adopted WA paddler Michael Laloli (anyone else?)
Race report soon!!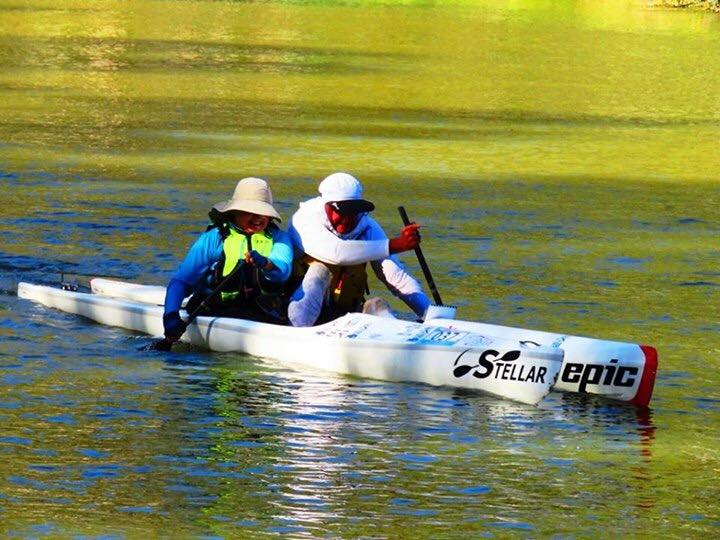 Above: Aussie ingenuity - Dave and Meg pair up (aTski2?) to complete the days paddling after Dave broke his paddle
23 Nov WomDomNom (Western NSW)
"WomDomNom" is a organised four day paddle starting from Wellington on Thursday 23 November 2017.
It is designed to be recreational paddle, with an emphasis to encourage paddling on the Macquarie River. It is a fully supported paddle, with your camping equipment transported between camping spots. All meals and soft drinks are provided over the 4 days, and you will be on the water for roughly 6 hours per day.
Why "WomDomNom"? It stands for Wellington on Macquarie (Wom), Dubbo on Macquarie (Dom), Narromine on Macquarie (Nom)!
Elke van Ewyk from LCRK is paddling this event in the LCRK Barracuda. Race report soon!!
Sat 25 Nov - The Doctor - WA
The Doctor in Perth, WA is Australia's most exciting ocean paddling event from Rottnest Island to Sorrento Beach covering 27kms (or vice versa depending on wind conditions).
The event is scheduled to race on Saturday 25th November 2017 starting at Rottnest Island and finishing at Sorrento Beach. This will be reversed if strong off-shore conditions prevail. In the advent of dangerous conditions on Saturday the event will move to Sunday 26th November.
We have a number of LCRKers paddling in the Doctor including Tim Hookins, Suzie Rhydderch, Dave Coward, Peter Conway, Chris Allchin, and we think Matt Blundell (who else??)
16 Sep 2017 Myall Classic
The Myall Classic is a major ultramarathon event on the NSW paddlers calendar. It is held on the Myall River at Tea Gardens each September on the last Saturday before the school holidays, taking both competitive and recreational paddlers up the Myall River and return.

Above: Myall Classic marshalling area from the water
Race Report – Naomi Johnson
Tea Gardens really is an idyllic little corner of NSW, and it didn't disappoint on Saturday, with a pink and orange sunrise greeting paddlers arriving early for the 2017 Myall Classic. A stoic crew of volunteers, many of them LCRKers, were up at the crack of dawn to launch safety boats, erect marquees, set up shop and, of course, take beautiful photos of the sunrise! By 7am though, the grass was teeming with paddlers and boats, with veterans of many Classics setting up alongside excited students preparing to take on the challenge for the first time. With three distances and five starts, there was a steady stream of briefings and strings of paddlers making their way onto the water.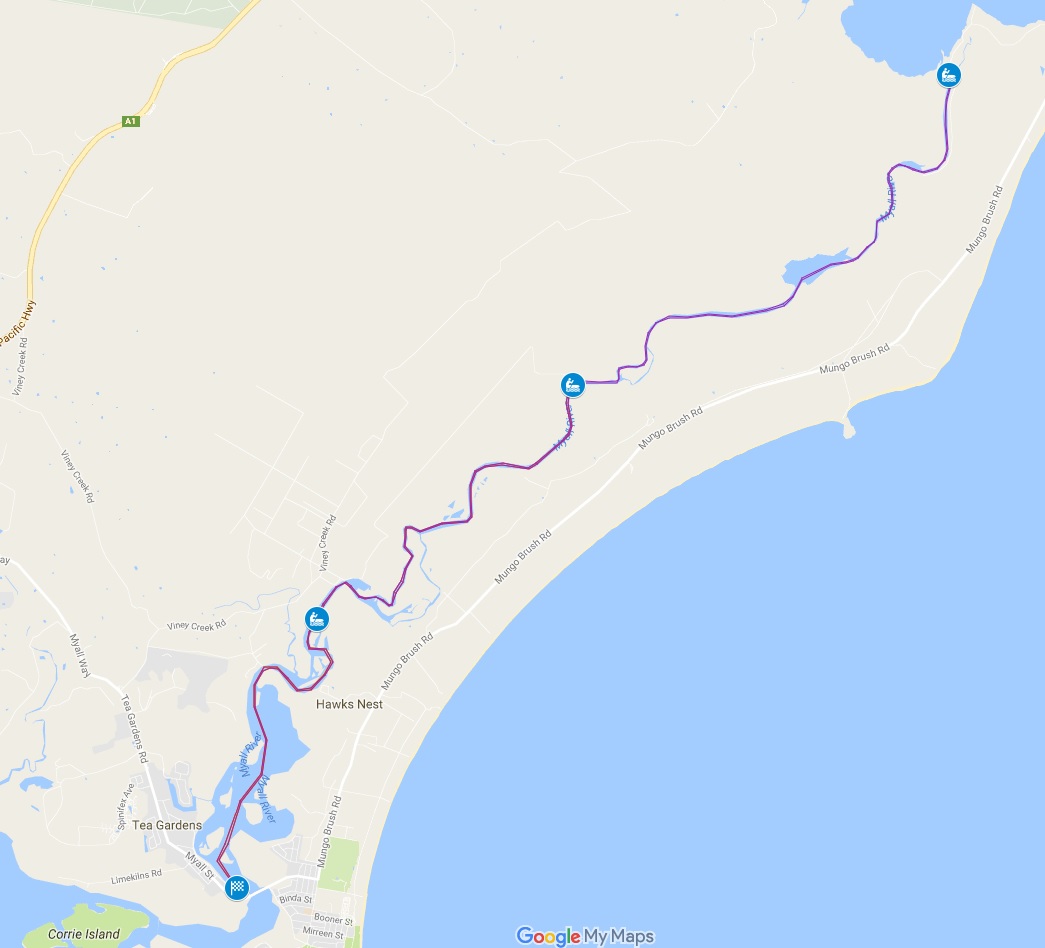 Above: The Myall Course 47km return
The first start at 8am was among the biggest, with those planning to paddle the full 47kms at a more leisurely pace than four and a half hours setting out in some 70 singles and doubles. The tide was thundering out, and all steeled themselves for a hard slog up to Mungo Brush and the top turn. With camera in hand at the 6km turn, Ian reported that most paddlers were still in good spirits at the end of their first forty or fifty minutes. However some had perhaps been a little optimistic about their abilities, and the final 8am-starting boat to reach the mark took 2h 17min, wisely deciding to transfer to the 12km course and head for home!
Those in the 9am start leapt off the line with an energy set to defy even the strongest of tides. Sisters Naomi and Sophie Johnson almost missed the start all together, accidentally jamming their rudder wire into a readjusted footplate and extracting it with only minutes to spare. Leading the pack, the phalanx of Toby Hogbin/Andrew Love, Matt Blundell, Brett Greenwood powered up the river in formation past the 6km mark at 0h 30min and then back down the river in exactly the same formation past the 6km some two hours and forty three minutes later.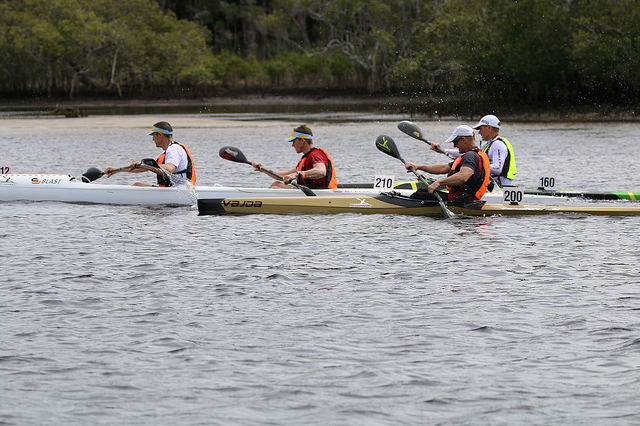 Above: The 'phalanx' powering home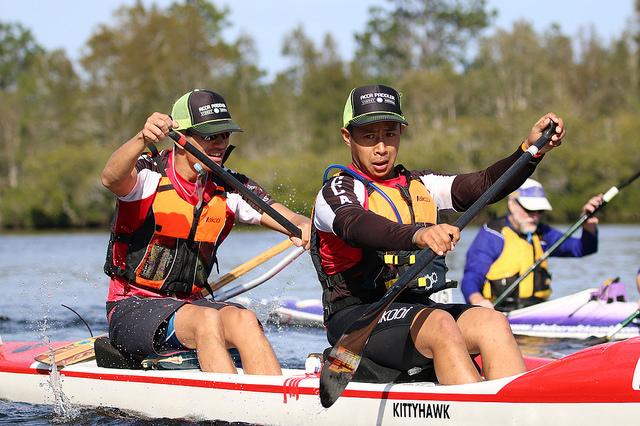 Above: Jason and Kim wondering what they've signed up for
Those paddling the 27 and 12km courses had the opportunity for a more leisurely morning, with starts at 10, 11 and 11:30am. Though they might have had the time for an extra coffee, all noticed that the winds were gradually getting stronger, even blowing a few student doubles round to face downstream within metres of the 10am start.
Though not quite as summery as last year, the course wound upstream through camping grounds and then densely forested banks. Twisting and turning round great loopy bends, it was easy to lose sight of the boats ahead, only to hit the next corner and be almost on top on them. Those with a keen race plan quickly drew together into wash packs, taking full advantage of any possible rest as the tide continued to sweep out. Thankfully, the top turn of both the 47km and 27km courses provided some relief, with paddlers finding themselves with the tide for a while rather than against it, at least for a while. Back down through the sheltered river and then out onto the broad water of the final few kms, it was clear the wind had if anything got stronger. Every stroke counted, especially when the still-low tide presented surprise sand bars and weed enough to trap a fleet of boats.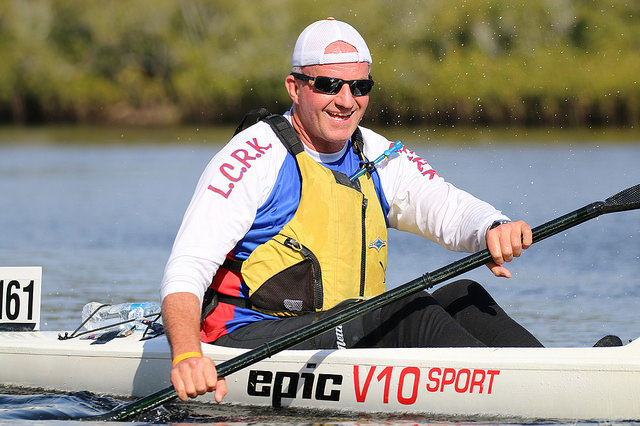 Above: Smiles from David H on the way upstream
Barely an hour's rest back at Tea Gardens, and the finish line was open from 12:30pm. A strong show of LCRKers in the entries was reflected in great racing across all the course distances. Over 12kms, Ann Lloyd-Green was first across the line in the Masters 50+ Women's, while Anjie Lees came 2nd in the Open Women's alongside all her work on the rego desk in the morning.
Over the 27km distance, it was 1st and 2nd for David Coward and Peter Conway in the Open Men's, while Derek Simmonds came 9th in an impressively large field of 14 in the Masters 50+ Men's. Rumour is that he did the 'usual' morning paddle from his Hawkes Nest holiday digs before the start, and then headed home by boat afterwards as well. Also a 1st/2nd affair was the Masters 50+ Doubles, where Warwick Sherwood and Greg Morris pipped the newly-formed duo of Matt Swann and Wade Rowston by about five minutes. Despite vowing that she hadn't spent any time in a boat, Roz Green put in a fantastic effort to finish 2nd in the Masters 50+ Women's, and a big well done to Elke van Ewke for her 2:14:25 paddle of a little under 27kms which had all the timekeepers convinced she'd outdone David Coward!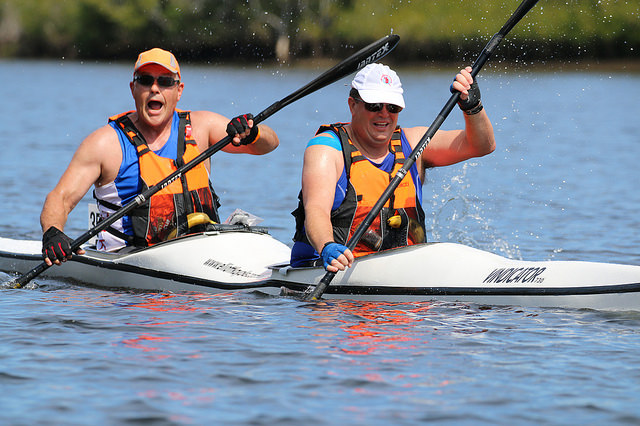 Above: Greg and Warwick amusing the photographers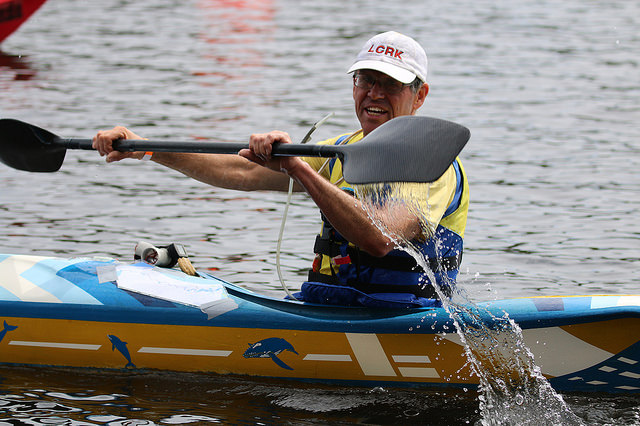 Above: Richard B still cheerful after 40kms
For those who paddled the full 47km distance, there were a number of big trophies up for grabs. Matt B's ever-speedy finish in the Open Men's ensured that nobody else was getting their name on the Mike & Shirley Eggleton Trophy for another year, and Suzie Rhydderch put in a phenomenal effort (which possibly included wash-riding a speed boat?) to win both the Open Women's race and the Murray & Liz Reece Trophy for the fastest women's boat. Darren Williams stormed home with son Reece to win the Vet-Junior Doubles Trophy in a field that will hopefully continue to see keen interest, while Toby Hogbin and Andrew Love teamed up to win with Sladecraft Trophy for fastest double, along with the speediest outright time for 47kms.
Also in the Open Men's, Brendan Trewartha finished 5th, Rodrigo Matamala 6th and Trevor Nicols 9th in a strong field of 14 paddlers. Tim Binns and Alanna Ewin were the fastest mixed double pair, finishing 3rd in the Open Doubles category ahead of Richard Yates/Craig Ellis (5th), Robert Hiley/John Rowberry (7th) and Jason Han/Kim Navera (9th) paddling a double outrigger. Good way to test a friendship? Naomi and Sophie J took out the rather slim field in the Open Women's Doubles, while Meg Thornton was the single Masters 50+ Woman to complete the 47km course – a stellar performance. Finally, the ever-popular Masters 50+ Men's race saw no fewer than 26 competitors, with LCRK paddlers Craig Salkeld (16th), Richard Barnes (18th) Jeff Hosnell (19th), David Hammond (20th), Phil Geddes (23rd) and Adrian Clayton (25th).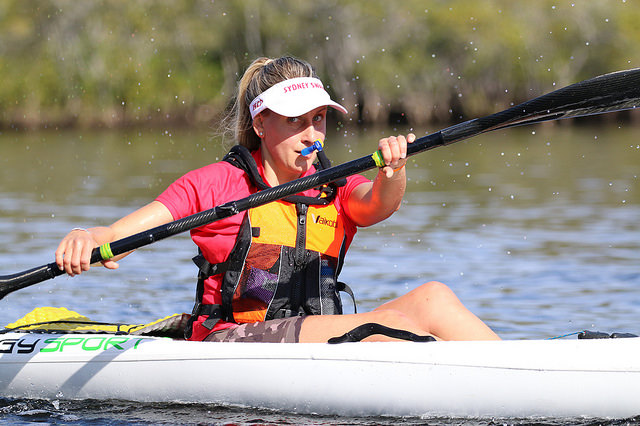 Above: Suzie Powering her way to Open Women's victory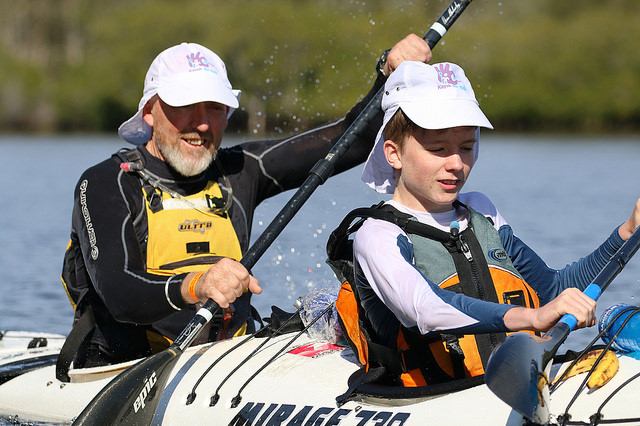 Above: The Williams team in the Vet-Junior Doubles
Congratulations to all who paddled – it really was a tough race for both body and mind. Whether we achieved goals or were a little short of them, the Myall is a great test for the upcoming Hawkesbury Classic, proving just how sore we can be after a few hours in the boat! A huge thank you to Tony Hystek and his team of tirelessly enthusiastic volunteers who dedicated hours, days and weeks of their time to making sure that the race ran without a hitch.
Since I've only got one pair of eyes, which for the best part of five hours were fixed on my sister a metre in front, here are a few other stories from the day: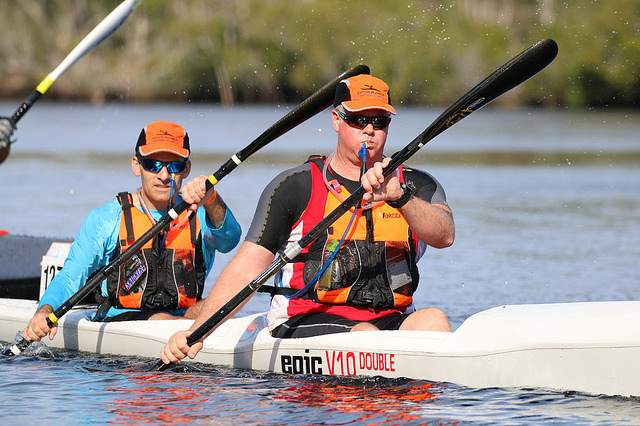 Above: Richard and Craig on a flying visit
Timing is Everything – Richard Yates
Craig (my FIFO paddler) braved the winds at Mascot aboard a Boeing 737 only to face stronger winds on Saturday's homeward paddle. We enjoyed a collegiate start with two other double skis forming a triumvirate across the narrow waters. Chris Quirk and a fast hipster in a horizon rocket (well he had a beard and he was quicker than us) hung onto the side wash in singles.
Stroke for stroke we matched each other 'til the top turn, then we leapfrogged one another home. Two boys in a stellar ski turned on the gas about 14km out and like mother Hubbard our cupboard was bare so away they went. Perhaps driving up on the morning for the early start took its toll. The tide pushed us home and despite the head and cross wind we finished fashionably on time for the finish to open at 12:30pm. Timing is everything.
We bolted back to Sydney so FIFO could make his connection. Thanks to Murphy the flight was delayed due to mechanical issues, and Craig of course offered to fix the plane with some spare gaffa tape.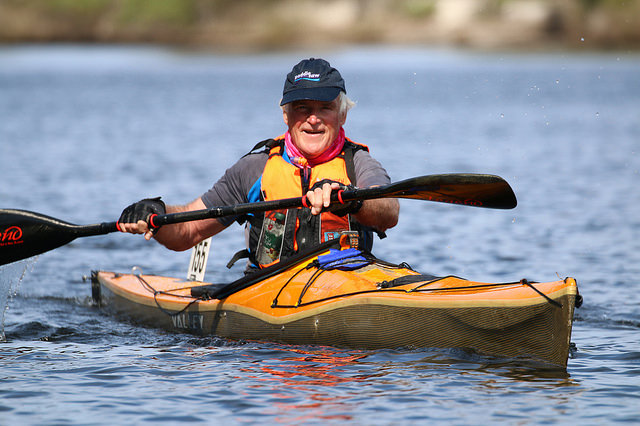 Above: Adrian with a newly fixed rudder cable
Rudder Cables, Tides and Wind – Adrian Clayton
Unfortunately I was unable to give my all to the Classic due to a snapped rudder cable two minutes into the 8:00am start. A return to the start to enlist some aid jerry-rigging the rudder system had me heading off 30 minutes after the start in a despondent state. It was a lonely paddle up the river against the flow. The only company I had from the Engels Reach mark (where I gave serious consideration to turning back) until the top mark were the later starting flyers who started passing me well before I reached the Brasswater. Shortly after rounding the top mark I started overtaking some of the 8:00am starters and this lifted my spirits. Another bonus was the surface flow that continued downstream much further than I expected (my downriver time was more than 8 minutes faster than my upriver time). The sting in tail was my rudder proving to be almost ineffective countering the wind coming across the broad expanse at Shearwater and I'm told my protestations (to put it mildly) could be heard some distance away!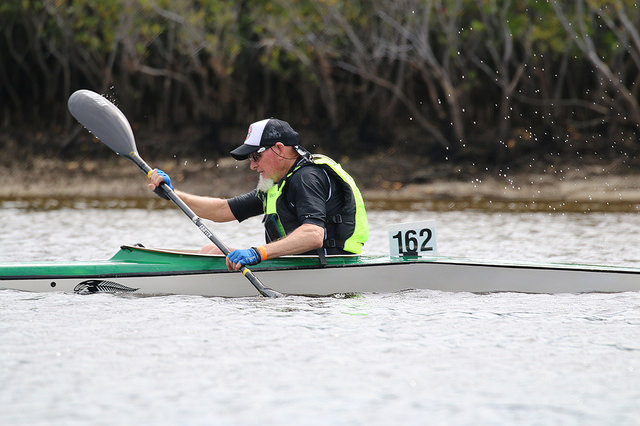 Above: Jeff almost there with his 47km K1 challenge
K1 for all weathers? – Jeff Hosnell
I did the 47k in my green K1 and got a shock at the start, finding that only myself and the guns were paddling them. I know why now, it was bloody hard with lots of support strokes. Nerve racking, and not enjoyable at all. Also had trouble with a leaky drink bladder, running out with 20kms to go. Asked the rescue team at the 27km turn if they had any water, they gave me two bottles, and it got me to the finish line. I can tick this of my bucket list now!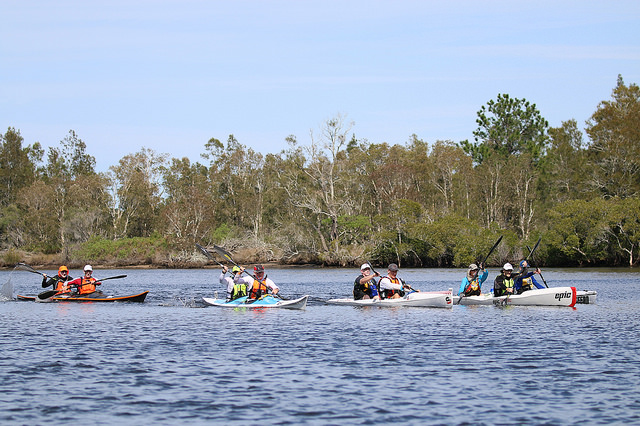 Above: Tim and Alanna, 2nd from the right
47km debut – Alanna Ewin
Having never paddled together, and with Tony's encouragement, Tim Binns and I entered the 47km Open Doubles. A couple of runs together at Lane Cove suggested the combination worked, and indeed race day proved it! My synch wasn't as good as with Tony (sorry Tim), as Tim rated much slower. But this was to my advantage – my arms got a lot less tired and miraculously I didn't suffer any fatigue.
This sort of distance is new to me, and I wasn't keen, but we had a corker of a paddle together, achieved a very respectable time and had a good time doing it! We started cautiously, taking it easy off the start, cruising up the river with a few other paddlers. Tim was struggling to contain his enthusiasm, and once we spotted a pack ahead we made it our mission to catch them. The idea was to washride them for a bit of a break, but we caught them just before the turn buoy, where refuelling plans broke up our group and we ended up headed for home with a single and a few doubles. It came down to a final kilometre sprint with them that went in our favour.
The most striking thing about my experience was enjoying paddling with a group for the entire race. I'm usually paddling on my own (or our own with Tony) and have never experienced the encouragement of group paddling, how fast it makes the day go and how much incentive the company gives you to get cracking. It was thoroughly enjoyable and despite the tides and winds, we simply had a great fun race!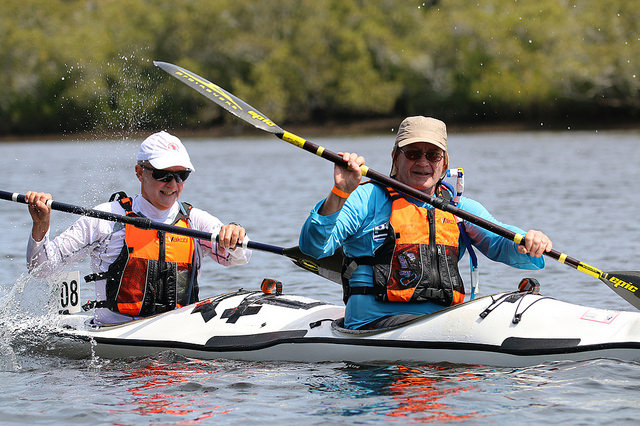 Above: Matt and Wade with the scenic course
Wind for Two in the 27kms – Wade Rowston
The 11am start only had about 12 boats in it and I was in the back seat of the double with Matt Swann. By then the wind was almost a gale from the west and the tide was ripping out. Most started shakily, except for Dave Coward and Peter Conway who cruised off into the distance seemingly unaffected by the wind and tide. The first 3 or 4kms were no fun at all, with a strong gusting wind from the left and big side chop in the broadwater areas, and it was a demoralisingly slow paddle against the tide all the way to the 27km turning buoy. We began to spot 47km paddlers heading home. None seemed happy, except for cheery Richard Barnes, though even he seemed to be only about 70% of his usual chipper self, and Matt B who probably hadn't noticed the tide at all he was going at such speed.
It took us about 1hr 35mins to get to the turning buoy, and while most thought the tide change was due at around 12:30pm, it was still flowing out as we rounded the buoy. We had a good ride home, with slackening winds and chop on the broadwater area spurring us on for the final few kms. We had to sprint at the end to stop one of the singles sneaking away but still like most other paddlers were much slower than we had initially hoped.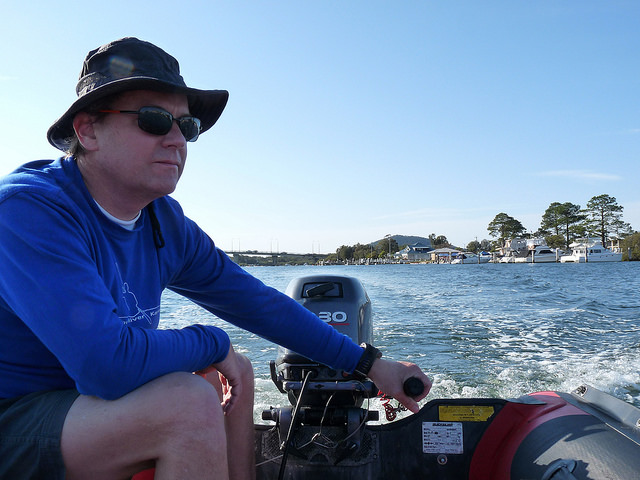 Above: Safety boat captain Ian finds himself in a photo!
View from the rubber ducky - Paul van K
Firstly, it needs to be known that Ian W and I were on the water much longer than any paddler: 7:30am to 3:00pm. OK, OK, we were generally lolling about but about a thousand photos were shot.
Our role had two stages and two elements:
Stage 1 at the 6km turn The paddlers: the highlight was the smiles and silly expressions of joy from many paddlers and the grim determination of the others. Most smiles came from the university and school paddlers but I do recall eliciting great smiles from Richard B (of course, and he even crossed over the river for a smile and a chat), Anjie, Darren and Reece, Annie L-G, Rozanne G, Elke, Dave H, Peter C, Derek and both Jeff J and Matt S/Wade R (sort of). Wazza S wins my silly-expression-of-joy award and he did it while he and Greg M were maintaining a great pace. No smiles from Matt B, Andrew L, Toby H, Dave C, Suzie R and such serious types but it was great to watch them at pace, both against and with some tide. The quiet smiles from the tired 12km paddlers turning back with the tide was also a joy to see.
The rubber ducky crew: a bit cold initially but protected from the early winds at our own private picnic ground.
Stage 2 at the broad water (as distinct from the Broadwater) with the afternoon cross-wind up The paddlers: not too many smiles but much determination amongst the experienced paddlers and eyeball rolling hope from those struggling to finish. No rescues required.
The rubber ducky crew: now getting a bit cold and wet as we patrolled the gaps between the little islands that provide some wind protection. Escorted the last school/double home.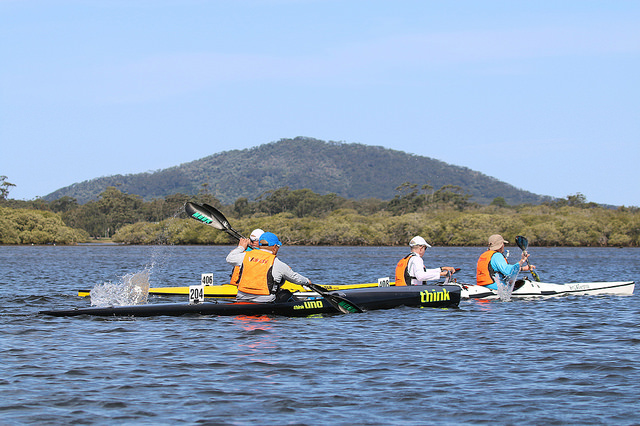 Above: Idyllic views despite the wind as Rodrigo catches a ride with Matt and Wade
Message from the Race Director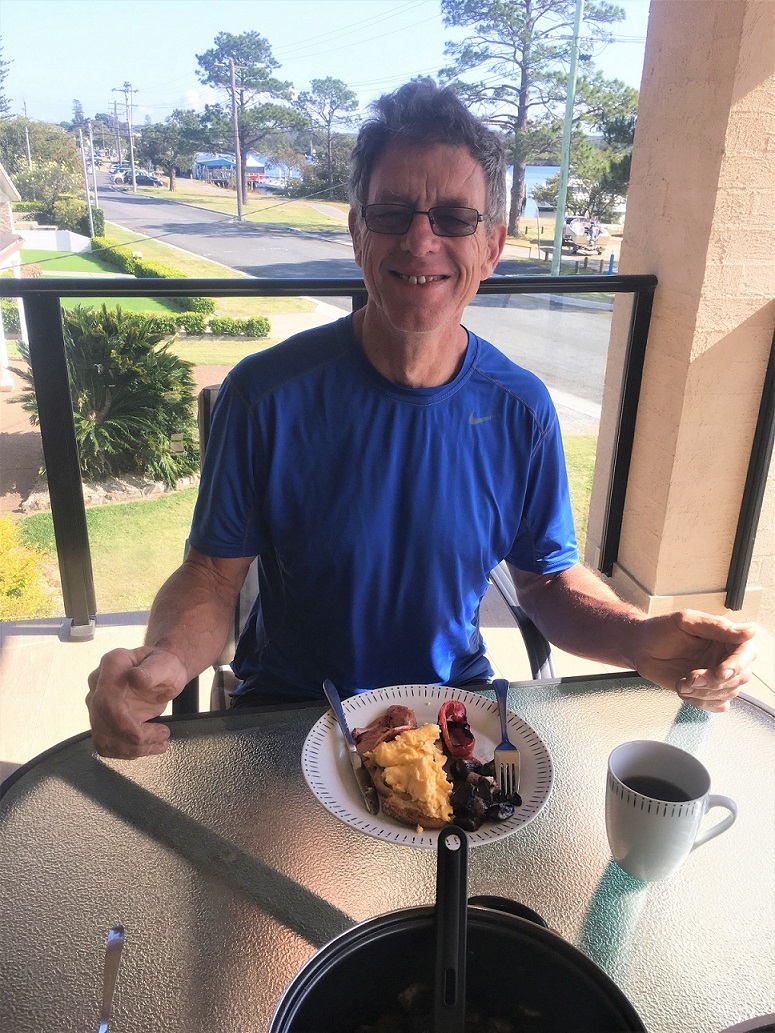 Above: Tony tucks into a Classic Big Breakfast the morning after
The Myall Classic couldn't run without LCRK. Big statement, but without the selfless assistance of LCRK club members, we wouldn't be set up in time, process the entries, ensure cars were put where they belong, crew the safety boats and pack up everything afterwards.
Toby Hogbin hand crafted and donated yet another set of magnificent trophies for our winners. Paul VK ensured Ian Wrenford maintained focus on photography at the 6km turn – a hefty task with some 280 paddlers to capture on camera. Roger Deane kept tabs on SMS messages from the safety boats, putting the Uni students to shame with his dextrous thumbs. Anjie Lees served up a storm of number boards and wristbands at the rego desk, while Alanna Ewin did all the shopping and prepared lunches to keep the volunteers happy and energised. Phil Geddes helped with all number of things as befits a man of his talent, then paddled 47km, got out, and helped pack everything up again. Remarkable. A similar donation of assistance from Matt Swann kept things moving during setup and packup. Anjie's Clay piloted the top turn IRB with Newy's Ian Davey, from Mungo Brush down to Brasswater and back, reporting all paddlers made the top turn by 11.30am and apparently getting a spot of fishing in along the way.
Once again, LCRK performed generously and beyond all expectation. Thank you all.
Tony H
July 2017 Tony Carr's Venice Trip
Just another Wednesday …
Most of us know that Tony Carr runs the kayak touring and training company Freedom Outdoors. He has 2,500 paddlers on his books and organises day trips around Sydney, weekends away and longer trips to Fiji, New Zealand, Ningaloo Reef in WA, Antarctica and soon, Croatia.
LCRK Wednesday night regular Adrian Clayton helps Tony with many of his trips and a number of LCRK members have taken part in them.
Tony has just returned from running back-to-back trips in Italy. LCRKer Richard Diaz accompanied Tony on one of these and on a recent Wednesday they paddled the canals and lagoon in Venice. "We got special permission to kayak the Grand Canal and that was quite a thrill," said Tony (see pic, Tony with back to camera). The groups went on from there to Parma, the Italian Riviera, Cinque Terre National Park, Elba Island and Florence. Next year Tony has trips planned to Abel Tasman National Park in New Zealand, Ningaloo Reef, Fiji, Italy again, Croatia and possibly the Antarctic. If you'd like to get onto Tony's mailing list, email him at tonycarr@ozemail.com.au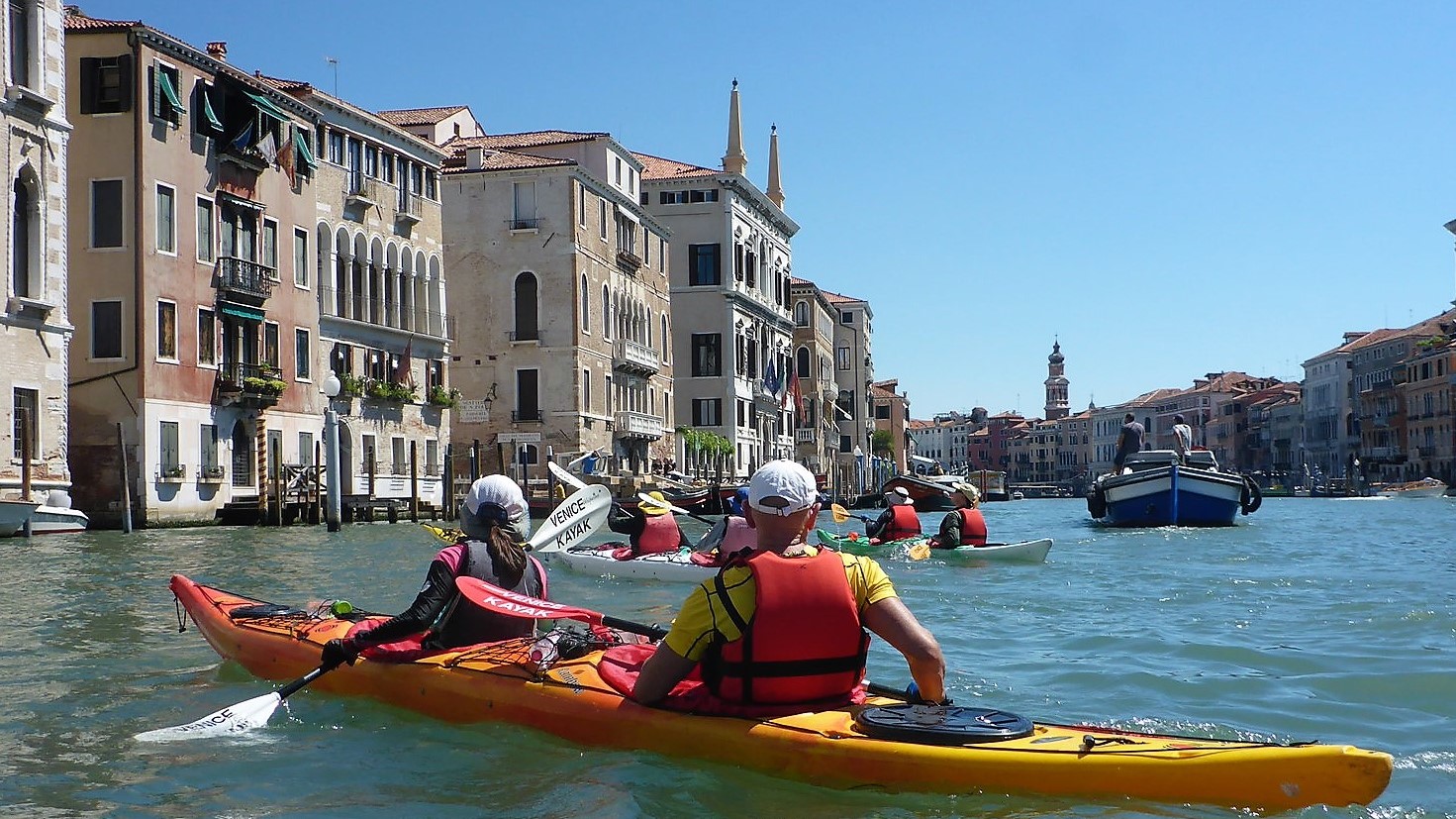 Above: Time trials in Venice - Tony Carr
21 July 2017 LCRK AGM
The LCRK AGM was held last Friday 21 July at North Ryde RSL with around 40 in attendance. The 'AGM' part of the evening took under an hour with the rest of the meeting devoted to more social pursuits.
In terms of the 2017-18 Committee - the 'executive' roles were picked up by Phil Geddes (Prez), Duncan Johnstone (Vice Prez), Alanna Ewin (Secretary) and John Duffy (Treasurer). And the 'ordinary' roles were picked up by Wade Rowston, Rich Yates, Louise White, Tracey Hansford, Paul van Koesveld, Oscar Cahill, Ian Wrenford. (hope I didn't forget anyone there!!)
A special welcome to incoming committee Tracey Hansford and Louise White who'll provide some necessary balance to proceedings.
And extra special thanks to outgoing Committee Members Jeff Tonazzi, Ruby Ardren, Don Johnstone for the time and effort they have put in (and still will!!).
There were a couple of annual awards made:-
1. Media Award (for contribution to all the 'content' LCRK produces)
Awarded to Naomi Johnson - for her prompt and interesting reports on the Marathon Series races (and all the other regular report too!!).
And also Ian Wrenford for many of the weekly TT reports, and the series of local history articles.
2. Vivid Award (for our annual 'light show' accompanying the Sydney Vivid festival)
Awarded to Oscar Cahill for his psychedelic LED kayak lighting (self-programmed!), and the above-water and below-water lighting on the pontoon on the evening.
June 2017 - NSW Community Sports Awards - awards for paddling Volunteers
See copy below of a report on the above event from the PNSW Facebook page 1 July 2017. Winner Roger Deane is of course a Life Member of LCRK and has been heavily involved with our Club (as well as his other pursuits) for many years/decades. Congrats to Roger, and also to Robert and Nick!!
Congratulations to three of our wonderful volunteers. Robert Walker, Roger Deane and Nick Naughton were recognised for their outstanding service to paddling at this week's NSW Community Sports Awards held at Parliament House.
Robert - Finalist in Community Sport Administrator of the Year category for his innovative and very successful Beginner's program at River Canoe Club.
Roger - Official of the Year finalist and integral to the Hawkesbury Classic for 17 years. Our premier starter at so many state sprint races.
Nick - Mr Central Coast Canoe Club. Over 65 years of significant and passionate involvement in our sport. A humble recipient of the Distinguished Long Service Award and Nick was quick to acknowledge the wonderful support of wife Margaret too.
Thank you all for your magnificent contributions, and indeed to all our volunteers in each and every club and paddlesport. It is great to see PaddleNSW on the podium sharing the limelight with other back-page sports. Enjoy your time on the water folks and remember to thank our volunteers next time you paddle.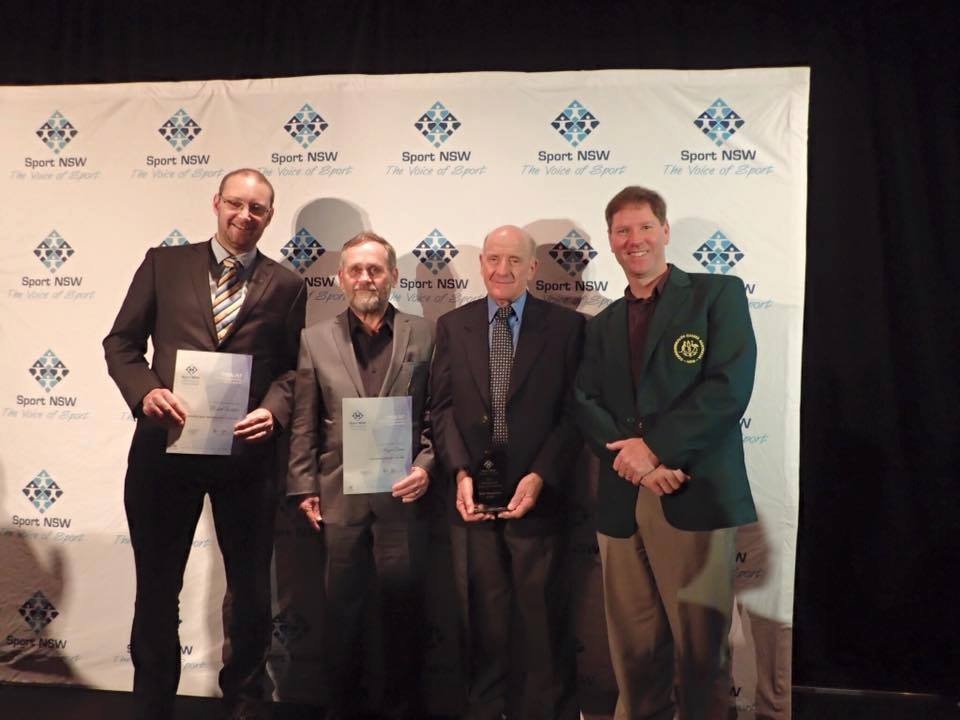 Above: Robert Walker, Roger Deane and Nick Naughton receive awards - with Peter Tate. Photo: PNSW
10-12 June 2017 Riverland Marathon (South Australia)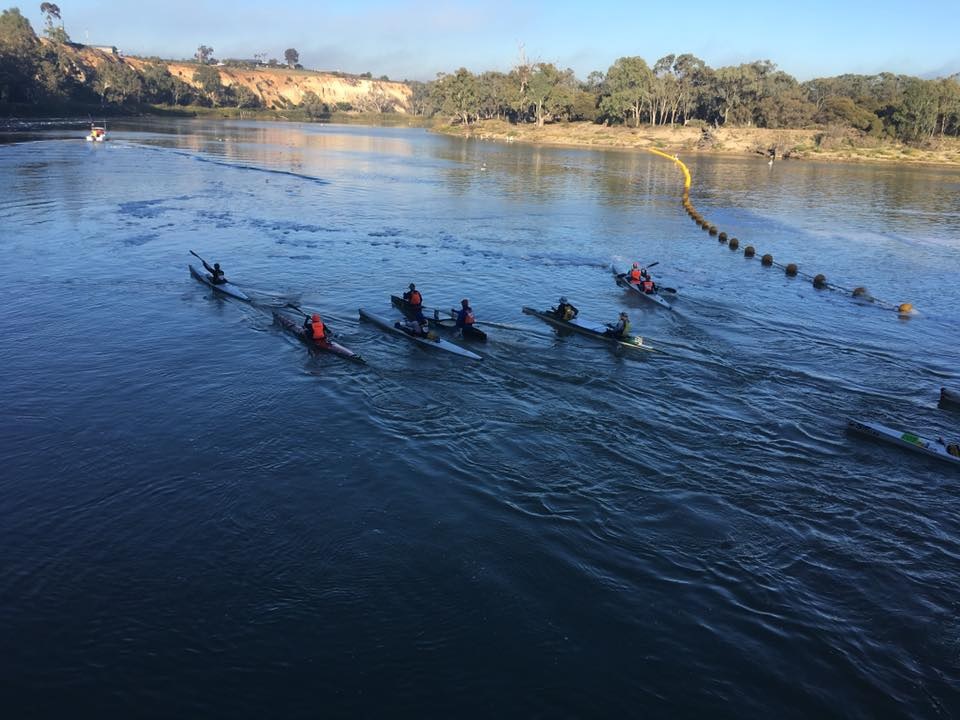 Above: Riverland Lock
The Riverland Paddling Marathon (RPM) has been hosted by the Marathon Canoe Club of SA since 1988 - and is a series of 6 possible events over 3 days on 1 weekend in the chilly month of June. LCRK entrants were Rich Yates, Tony Hystek, Alanna Ewin, Craig (in a Double-ski relay). Kyla Johnstone, Tim Binns and Dave Hammond (Double 200), Tom Simmat 200. Meg Thornton 200, Richard Barnes and Linden Barnes in Kermit (Double 200).
'Live' race reports, initially on Facebook have been brought over to this web page as they arrived.

Above: River on arrival Photo: DJ
As can be seen from the table below - there were some great results including 1st outright, 1st double and also acknowledging all those who completed the iconic event!

Thu 8/6/17
3pm Duncan J. "Great, we'll be there. Looking forward to seeing everyone. For all you jet setters, we've almost reached Goulburn on our trek west. U don't know what you're missing!"
5pm Duncan J. "Just out of Gundagai. What a gorgeous evening. Crisp 12 degrees. Love the winter"
5:30pm Alanna E "We've just landed in Adelaide. It's raining!! You guys are making me miss that road trip - but not the Sydney traffic Dave, or the bad back it always gives me. We just have to tell them by Saturday about dinner. I'll book us all in!"
9pm Dave H. "We're at the dog on the tucker box but our meal is not worth a photo. Good night all. We have an hour or so to go for today"
Fri 9/6/17

8am Christine S. "Hi all. We left Sydney 6pm on wed night to avoid traffic. Stayed o'night in the Jugiong Showgrounds ( we are grey nomads now). Last night at Hay caravan park, Vonnie and Michael? from the kayak club near the airport are here also travelling to the race. Our gypsy van makes life very social. Everyone wants to have a chat."
6pm Duncan J "Wishing you all a wonderful and enjoyable RPM200/100 tomorrow. Another amazing 3 days on the most beautiful part of the mighty Murray await you. Fair weather and fair winds. I look forward to cheering you all on the river. Go LCRK!"
Sat 10/6/17

RPM Day One (from our local correspondent: Rich Yates)
After a loooong drive to Waikerie (or a not so long drive and flight for the FIFO paddlers) day one is an early start on the chilly banks of the mighty Murray. Registration happened in the dark while the starter loaded the starters rifle with 100 grains of buckshot.
Today we were treated to a full moon setting as the first start lined up. Meg, in a very selfless gesture tested the temperature of the water with a quick dip and could confirm that the water was as cold as it looked.
The first leg of 12k was like a quick Wednesday night TT as a warm up for the day. Staggered starts see all the boats of various speeds arrive at the lock in close proximity.
The second leg of 27km saw all the boats leave the swirling waters of the lock together. The fleet is diverse with plenty of singles, skis, doubles, c1s and c2s a k4 and a sup. Most are doing the full 200 with Craig, Richard, Tony and Alanna paddling in the 200 relay. Tom Simmat is paddling a ski as is Meg Thornton. Tim Binns and Dave Hammond are in the blue double while the Barneses are showing Kermit the way downriver. Kyla Johnstone is paddling the 100 in the LCRK Club Renegade.
Conditions have been ideal with the worst waves being provided by, ironically, the safety boat. Craig and Richard went toe to toe, literally, with the K4 and swapped some gelcoat. Tim and Dave also made friends with a washriding k1. Predictably Tony znd Alanna ate up the miles in speedy style. Tim and Dave had a blinder finishing in a great time. We are still waiting for official times and results but spirits are high in the whole Lane Cove contingent. Clear skies and cool temps are forecast for tomorrow. Stay tuned.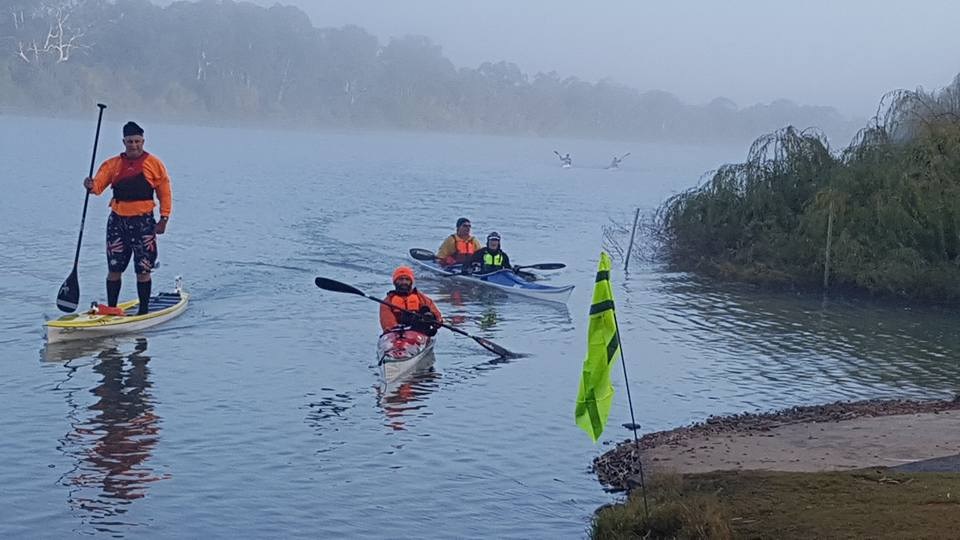 Above: Dave n Tim into checkpoint
Sun 11/6/17

RPM Day 2 (from local correspondent Alanna Ewin)
Beautiful morning and a warm 3 degree start has smiles on everyone's dials! Lock 3 day 2 Alanna Ewin and Tony Hystek nailed it this morning. Did our 20km Div one time. Boys headed out looking strong. Timothy Binns and David Hammond still hammering along and looking good. Tim's hands a bit second hand. Rich and Lynden happy as Larry - not even cold but can't do the crossword this morning because it's a bit hard with pogies on! Tim Simmatt soldiering on looking a bit cold but found his precious ladder in lock 3 to hold on to so all is well. Meg Thornton cheery and really enjoying the scenery and sunrise. Just another day on the Murray.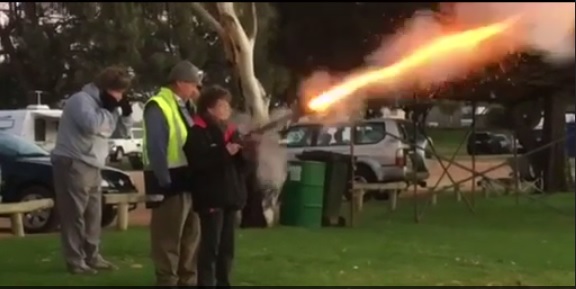 Above: Real muzzle-loaded starting guns!!

RPM Day Two (from our local correspondent: Rich Yates)
Day 2 of the RPM saw perfect paddling conditions. A chilly and foggy start had the 200 starters off at dawn for the 20km first leg.The relay K4 switched legs matching up their A crew with Tony and Alanna who had the bit well and truly between their teeth and set a cracking pace as usual.
We could have portaged across the dock as it was full of carp. All the Lane Cove contingent made solid starts and rafted up together waiting for the gates to open.
Leg 2 was another 23km in calm waters with only 1 motor boat to deal with. The wakes are lively and bounce around off the cliffs. No fun for the tippy boats. The second checkpoint was at Devlins Pound, a pumping station on the side of the river. This was also the start for Kyla and the rest of the 100.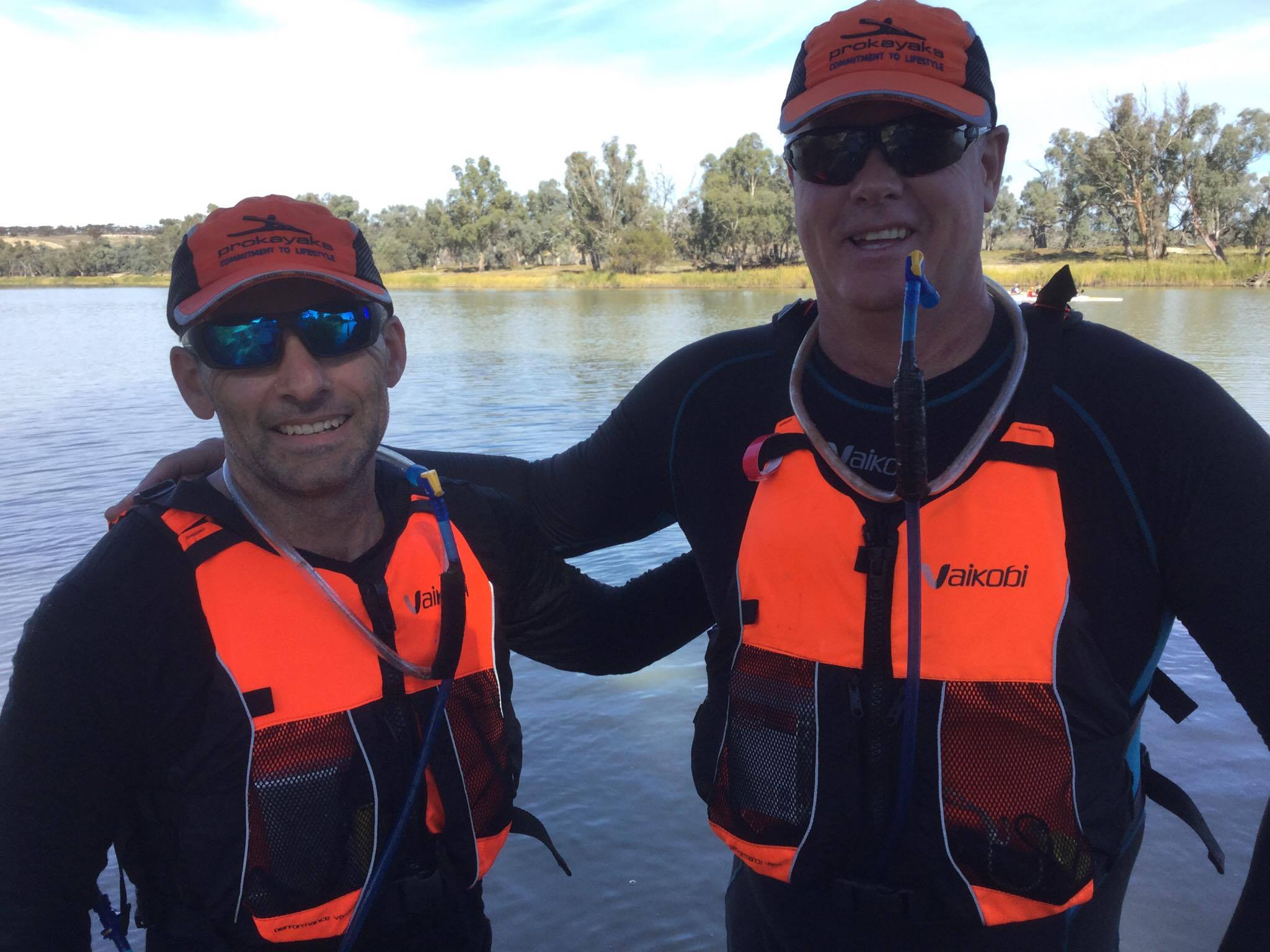 Above: Rich & Craig at finish of their last leg Day 2
The last leg into Waikerie is a heartbreaker with the finish just beyond the ferry crossing, paddlers are often stopped within a stones throw of the finish. Tony and Alanna finished as strongly as they started as did Tim and Dave who are outright 2nd, leading the K4 relay team. Some tendon issues for Tim to deal with but I'm sure tomorrow will be a boomer for them. Another solid day for Tom, Meg, Kyla and team Barnes.
We make Race dinner at the Waikerie Club before early nights all round. Race results are hard to find online so we are relying on our own maths at this stage.
''Early pre dawn start tomorrow. Craig lost rock paper scissors with Tony so we get a turn at the start line. Go Lane Cove.''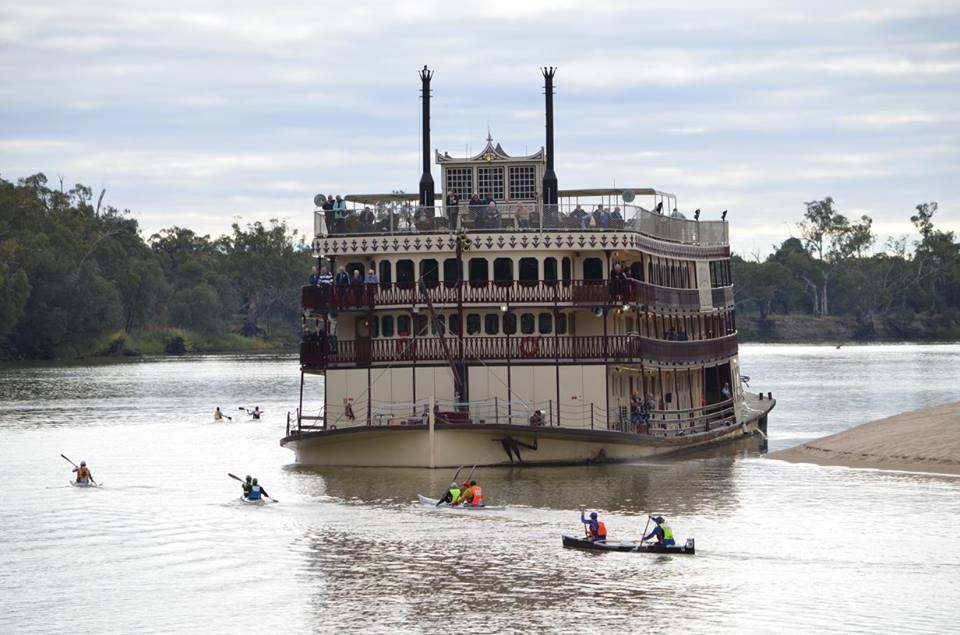 Above: Tim & Dave off the bow of the 'Princess' PWAAAAAAAAAARRRRRPPP!!!! Photo: MCC SA
Mon 12/6/17
Watch this space!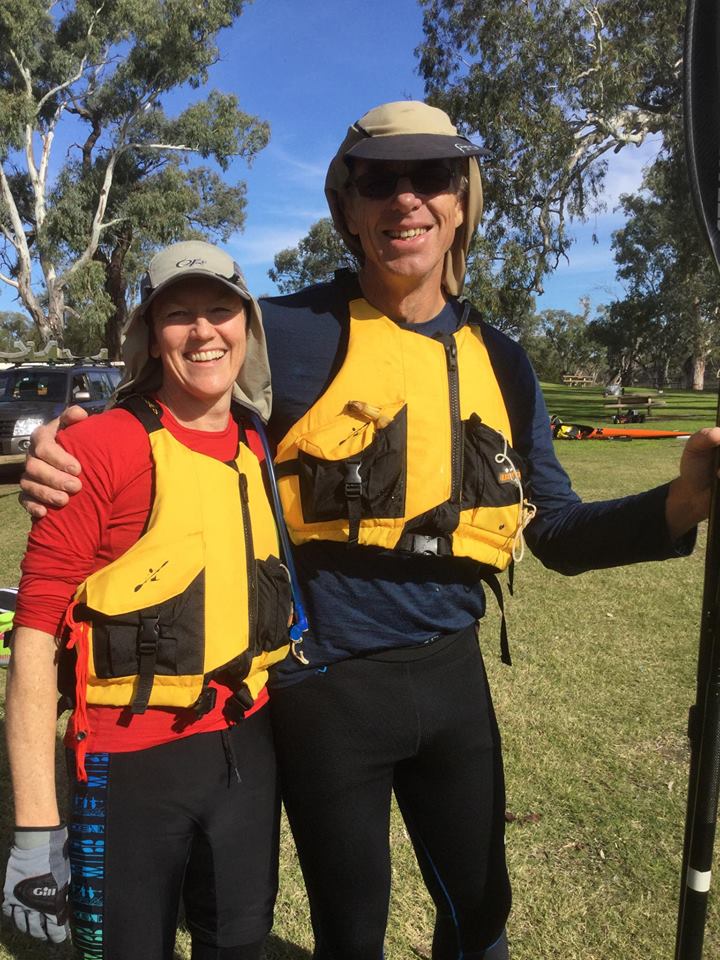 Above: Alanna and Tony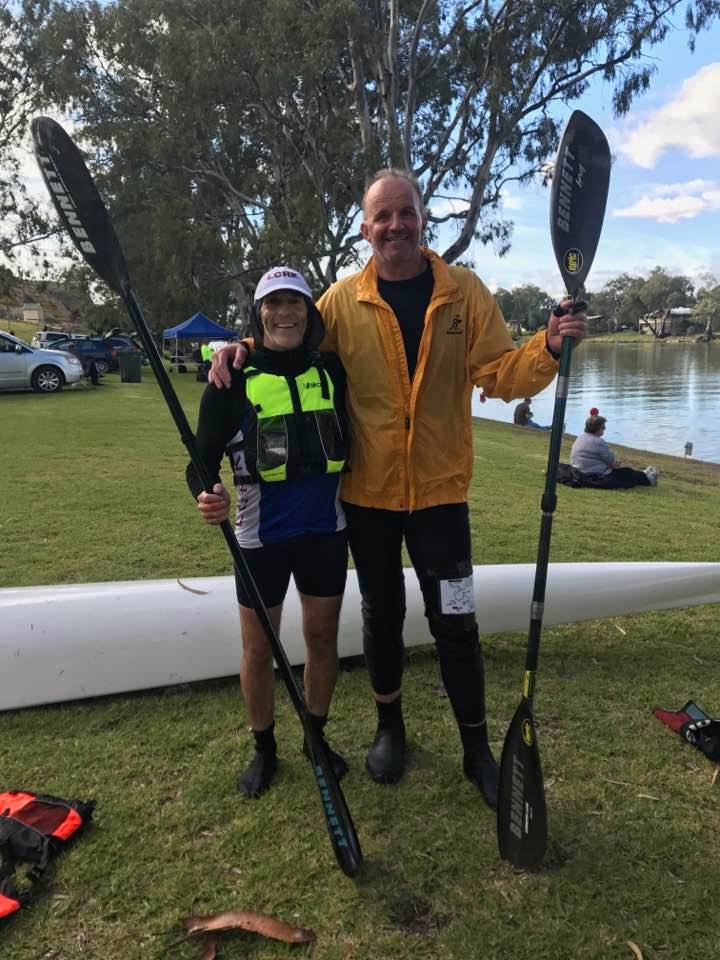 Above: Dave & Tim -1st full 200km paddlers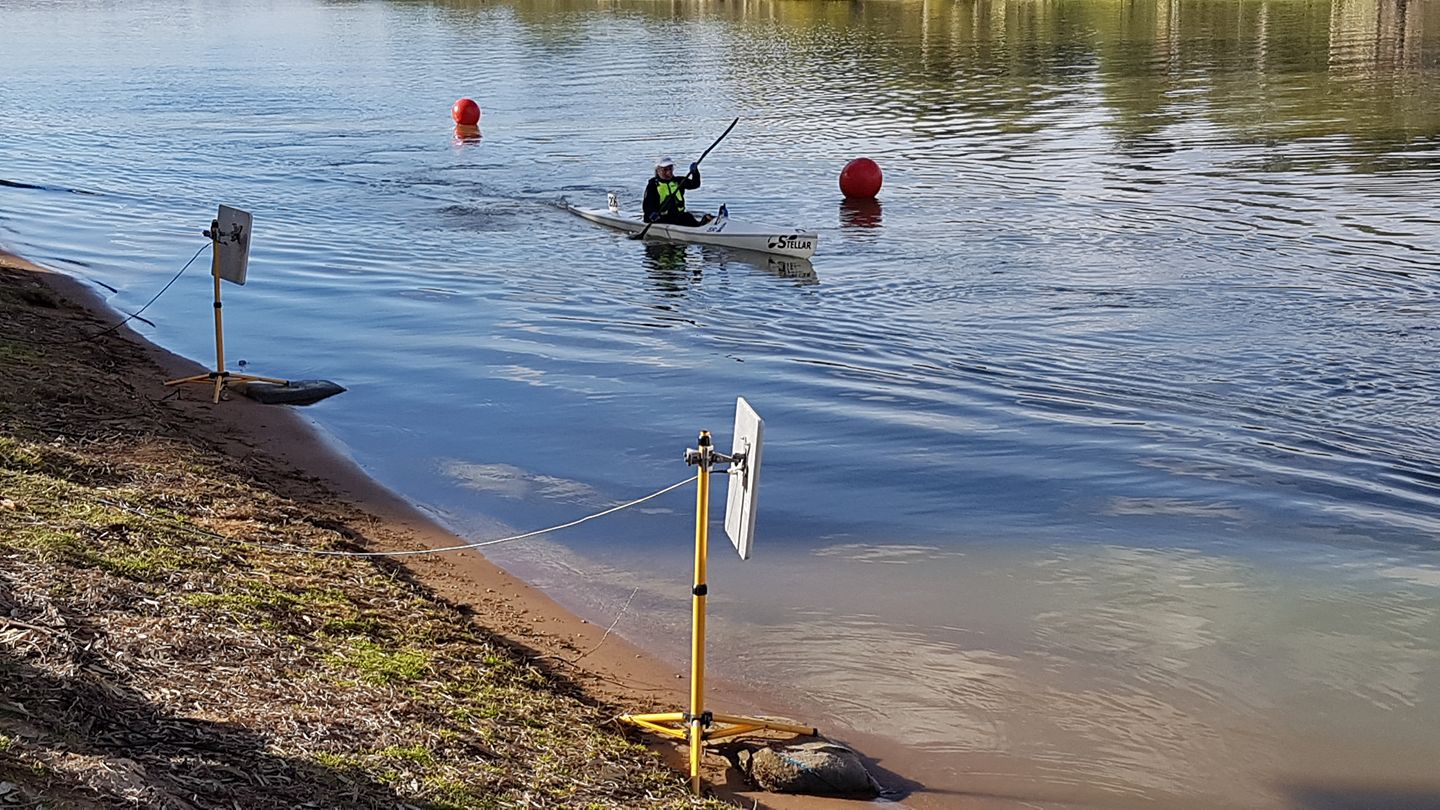 Above: Meg finishing!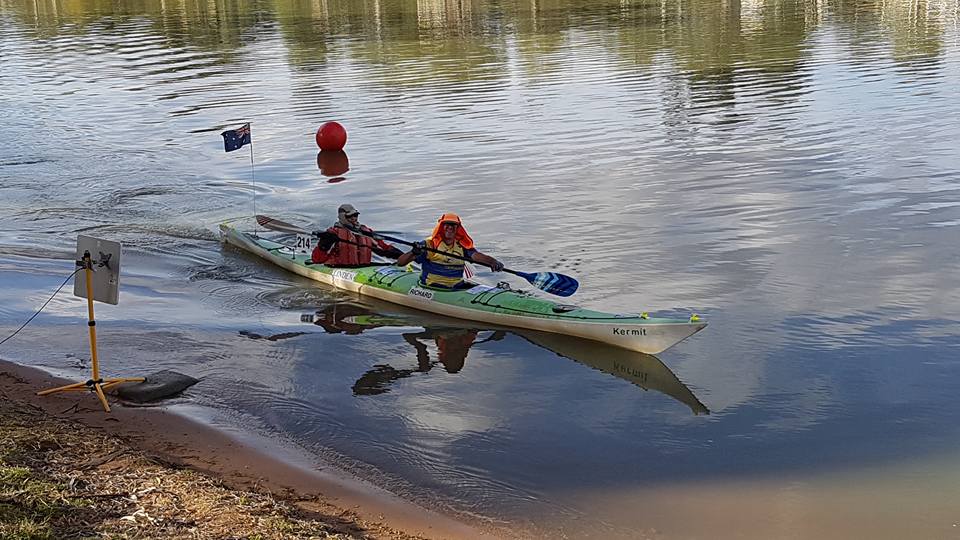 Above: Richard & Linden Barnes finishing
21-30 Apr 2017 World Masters Games - Auckland NZ
The World Masters Games were held in NZ from 21 to 30 April 2017. A number of LCRKers attended and the results are available from the above link. Attendees include Richard Barnes, Matt Blundell and Tony Carr.
We'd LOVE a report from those who attended!!
10 Apr 2017 - 2017 MARATHON WORLD CHAMPIONSHIP TEAMS ANNOUNCED
An extract from their home page: A warm welcome to the on line home of the ICF Marathon Masters World Cup 2017, which will be held at Camps Drift in Pietermaritzburg, KwaZulu-Natal, South Africa from 4 to 6 September, in the days before the ICF Marathon World Championships. Pietermaritzburg lies in the heart of a province known as the Kingdom of the Zulu, and we look forward to extending typically warm African hospitality to each and every visitor to this event. In the great Zulu tradition befitting greeting the King, we will recognise all the 2017 title winners in the Zulu language : "Bayete!" Hail the champions!"
As reported by Canoeing Australia: The Marathon World Championship and Masters World Cup Teams have been selected after athletes raced for a spot at the 2017 Canoe Marathon National Championship at Sydney International Regatta Centre, Penrith from 11th to 12th March 2017. Australian Canoeing would like to acknowledge all athletes that competed and nominated for selection on their efforts throughout the event.
Our very own David Young has been selected as part of the Mens Masters Team along with Marc Brehin (SA) John Donkersloot (QLD), Rain Metsoja (QLD), Mark Rickard (QLD) and Neil Thomson (SA).
Congratulations David!!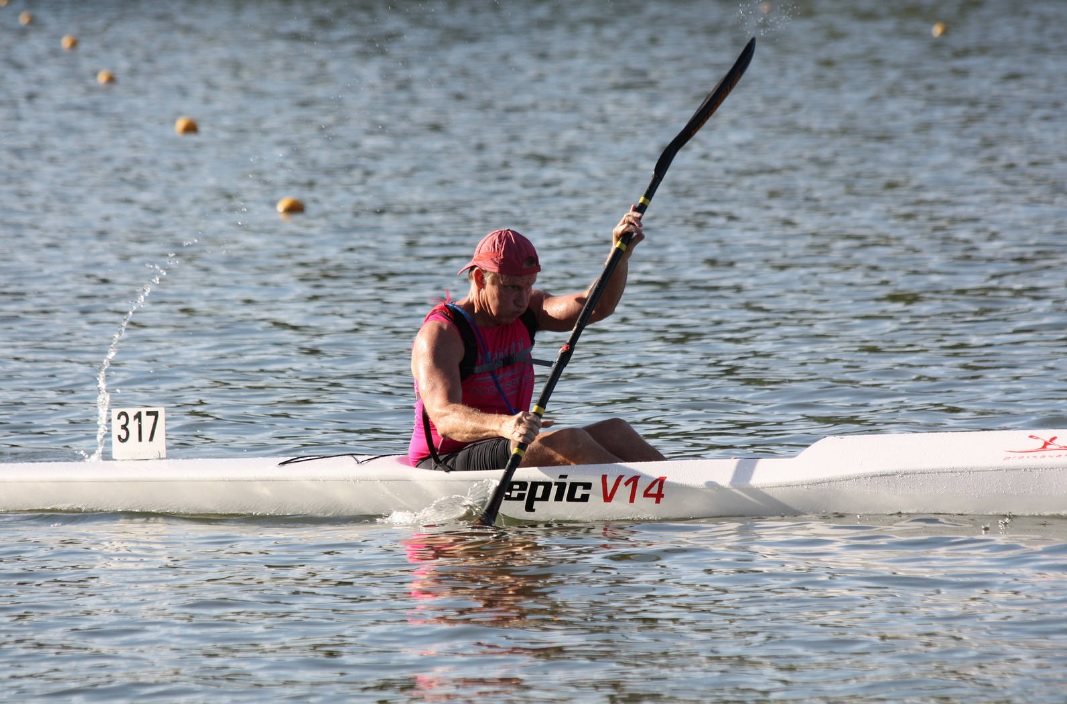 Above: David in action at the Penrith SIRC earlier this year. Photo: Alanna Ewin
Sun 5 Mar - Clean Up Australia Day Report
From John Duffy (Coordinator)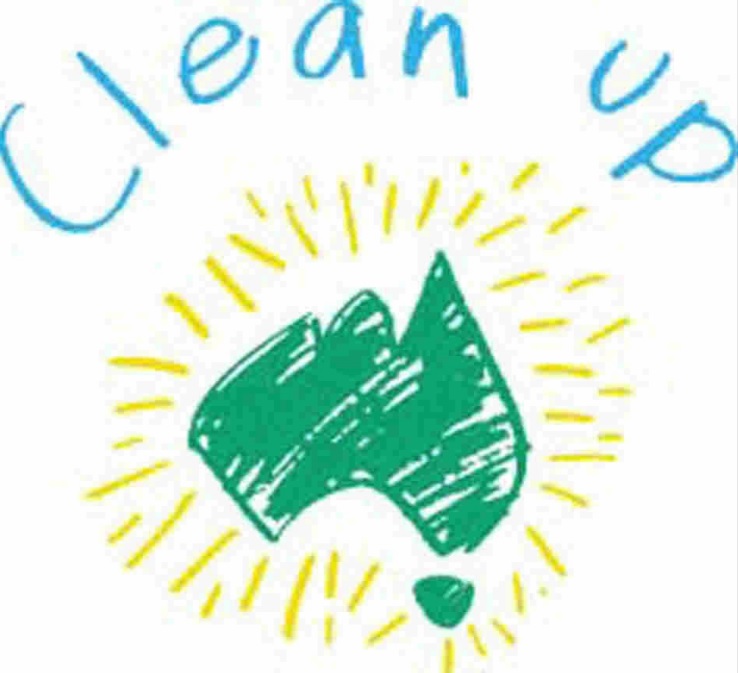 A very enthusiastic group of 23 members and their families left no mangrove unturned on Sunday 5 March and extracted a breathtaking 30 huge bags of rubbish from the river and its banks. And that was only between Wirong and the pump station just downstream from the footbridge; just imagine what is still out there along the rest of the river.
I read somewhere over Christmas that these sort of clean-up activities rate near the top of volunteering experiences in terms of feel good and satisfaction indexes; I'm not surprised because while the amount of garbage was somewhat depressing everyone really enjoyed helping out and "giving back" to a river which is the source of so much pride and enjoyment for LCRK.
Above: James, Sophie and Liv with a raft load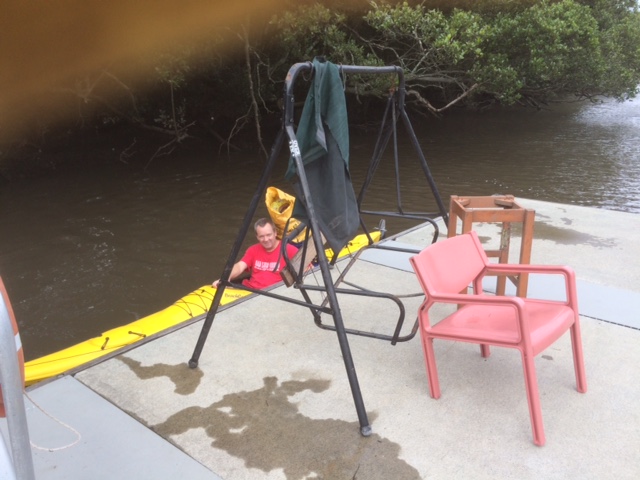 Above: Ian hiding behind the 'big stuff'
The surprise collections included a very large plasma TV from the carpark, two chairs, a huge rusty fishing trap, a swing set, a number of large pieces of sheet metal and the obligatory milk crates. I would like to think the dead duck that Richard Yates stuffed into a bag was the result of me hitting it last Wednesday at high speed, but sadly it was more likely due to the poor thing choking on Lane Cove styrofoam.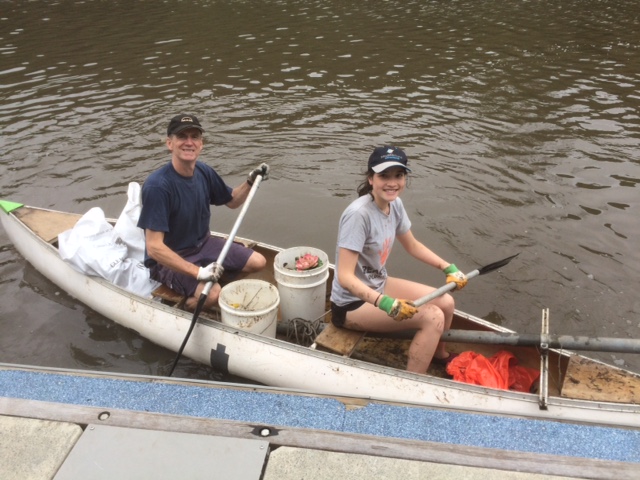 Above: Oscar and Ciara with an esoteric collection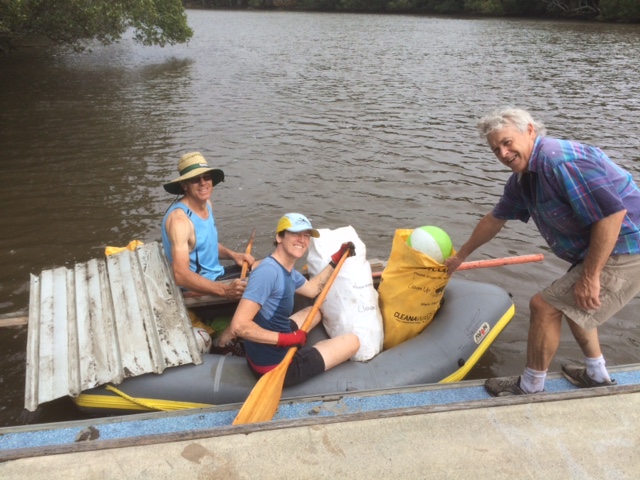 Above: Alanna, Tony and Duncan (how did the steel get there?)
I would like to thank all these people for helping out; Duncan Johnstone, Jeff Tonazzi, Rodney Walker and his daughter Sophie with friend Liv Hutchinson, Oscar and Ciara Cahill, Don Johnstone, Richard Yates, Phil Geddes (extra thanks to Don, Richard and Phil for cleaning up the dead tree blocking the turn at the Steakhouse), Tony Hystek and Alanna Ewin (and for bringing their rafts), Ian Wrenford, Lee Wright, Karen Darby, Paul van Koesveld, Jana Osvald, Tim McNamara, Adrian Clayton, James Farrell, Matt Swann, and Dave Hammond and his kids. Terribly sorry if I have missed anybody.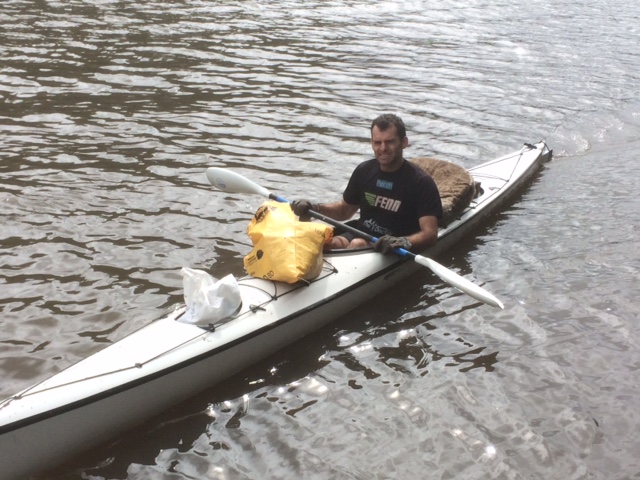 Above: Rich returns from duck hunting expedition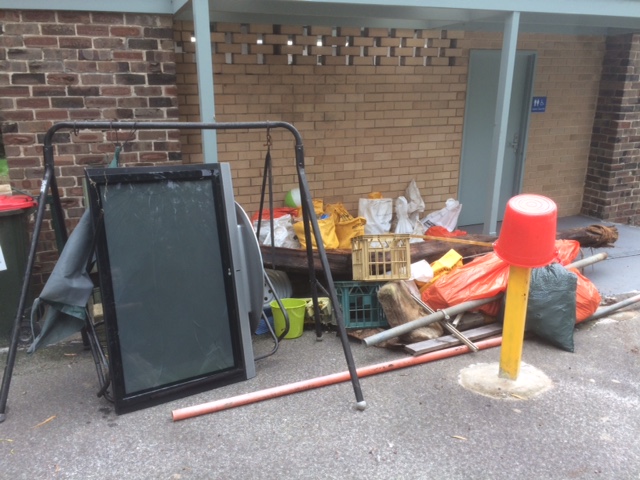 Above: More loot
We unfortunately live among litterbugs and we can only do our little bit to help reduce that, but it all counts. Well done to the Clean-up Australia initiative.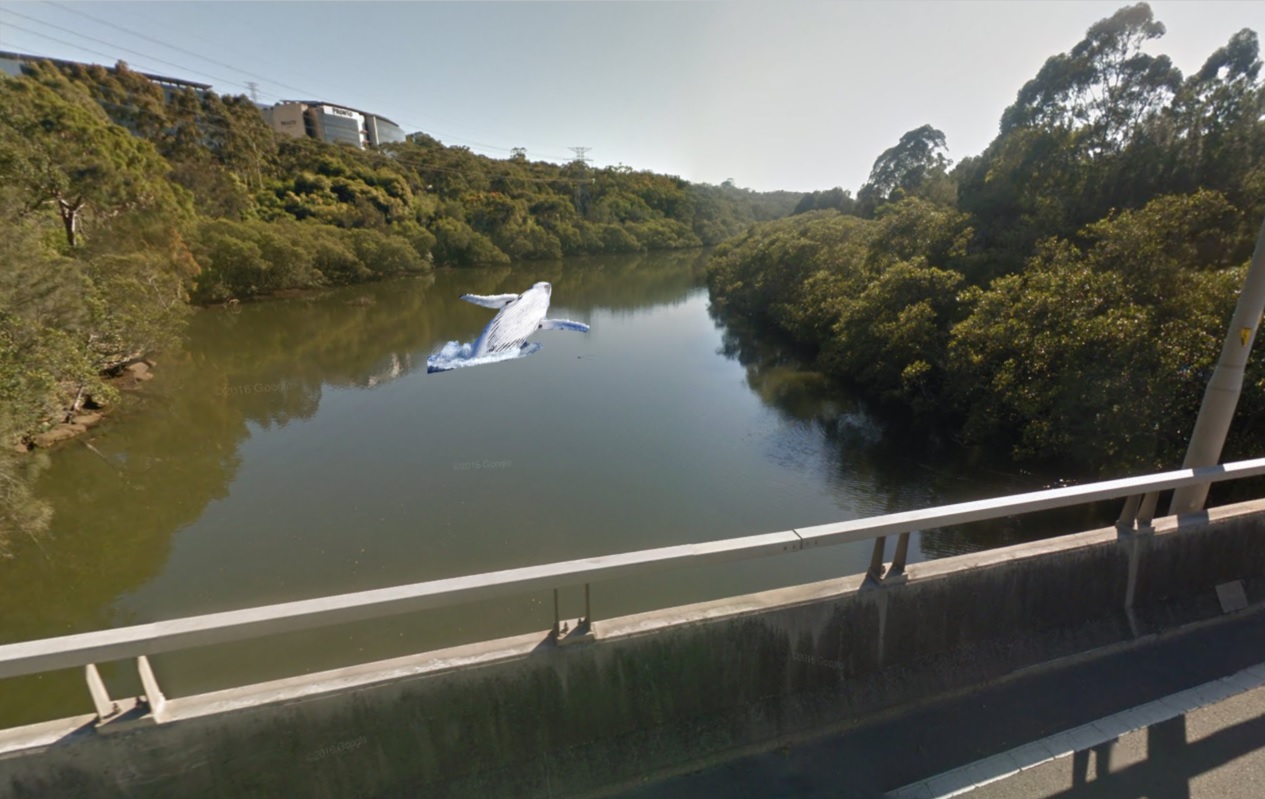 Above: Sighted on the way home - a northbound humpback mistaking the freshened up River for the Eastern Australia Current...
State Award to PaddleNSW Chair Tony Hystek
Sport NSW is the industry body for sport in New South Wales - an independent not-for-profit organisation, representing NSW sporting organisations as The Voice of Sport. As part of their activity, Sport NSW hosts the prestigious Sports Awards, recognising outstanding achievements in sport across 16 categories, covering athletes, teams, coaches, officials, organisations, events, organisations, & Distinguished Long Service.
The spectacular Awards Gala Dinner is held in February each year and attracts around 400 guests including the 'who's who' of sport in NSW. At the 2016 Awards Ceremony held on 23 February, Tony Hystek was awarded the Volunteer Director of the Year award for his many activities associated with PaddlesNSW and our sport. Tony was a very deserving winner for all the work he does, and only the second ever winner in our sport, behind Olympic medalist Jessica Fox. The Awards have been held since 1992.
From Pete Tate and the PNSW Website...
At the 2016 NSW Sports Awards held last week, PaddleNSW Chairperson Tony Hystek won the coveted Volunteer Director of the Year Award. Tony has been very busy managing the Myall Classic and the Parra Paddlefest, whilst also chairing the PaddleNSW Board of Management and the PNSW Safety Committee, and leading our representation to NSW Maritime for fairness in lifejacket legislation. Apparently despite all this service on behalf of our members, he still has time to paddle - in marathon, open water and sprint. Tremendous effort Tony
We had another recipient at the gala event in front of 450+ dignitaries, with mercurial volunteer Helen Tongway receiving a Distinguished Long Service Award. It is great to see Helen's outstanding contribution to Burley Griffin Canoe Club, PaddleNSW and AC over 26 remarkable years duly recognised.
In an auspicious evening for our sport on the industry's night of nights, PaddleNSW also had three other finalists for 2016 annual awards. Jessica Fox was narrowly pipped for Athlete of the Year by Rio gold medal sailor Tom Burton. Rio sprinter Dylan Littlehales was a finalist in the Young Athlete of the Year with a Disability category, and Pauline Findlay in the Masters Athlete of the Year category.
Congratulations to all our finalists and we hope 2017 is just as rewarding.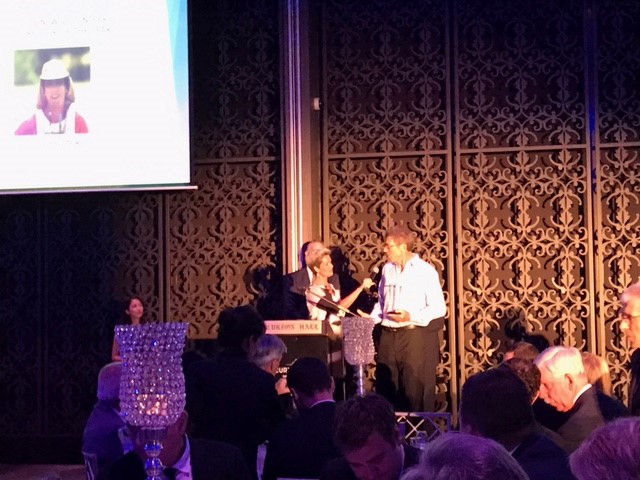 Above: Tony receives the Award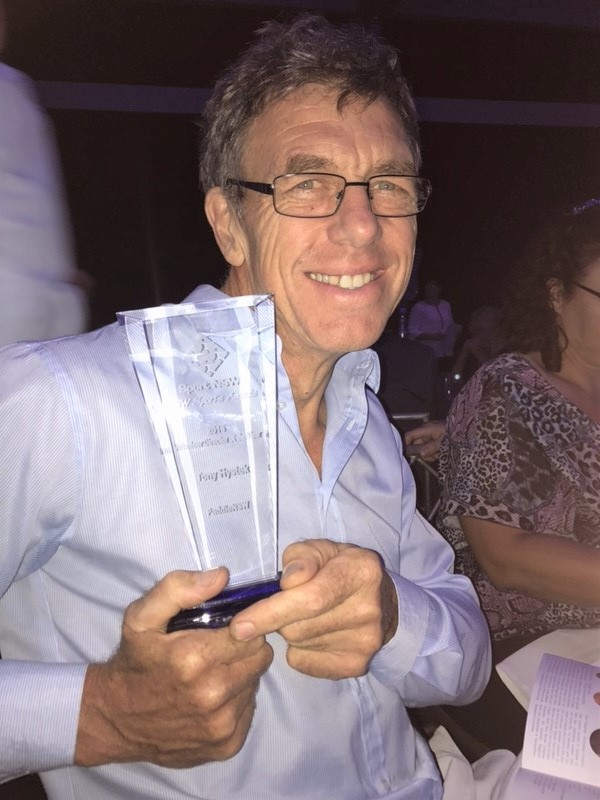 Above:Tony and the Award
Sun 12 Feb - Parramatta Paddlefest LCRK Report
Parra PaddleFest Website: here
The inaugural Parramatta Paddlefest was held on Sunday 12 Feb from 3pm to 7pm - a PNSW initiative aimed to to showcase paddling to the community.
It started bright and early, hot and humid with Lane Cove volunteers arriving to set up the water entry slides for boatercross and slalom, and stages for boat access to the river. Ian Wrenford, Adrian Clayton, Richard Yates, Ross Fraser, Wade Rowston, Duncan Johnston, Anjie Lees and Tracy Hansford all got stuck in and pulled it together with guidance from Tony Hystek. Then on to the PA, timing, Lane Cove marquee, signage and a whole lot of bunting, all ready for the big day.
Down the other end of the river, Heidi Cheney and her canoe polo team set up the polo field, and Lynn Parker managed the Come and Try boats for passers-by. The Polo provided non-stop entertainment and come'n'try an opportunity for spectators to get themselves on the water.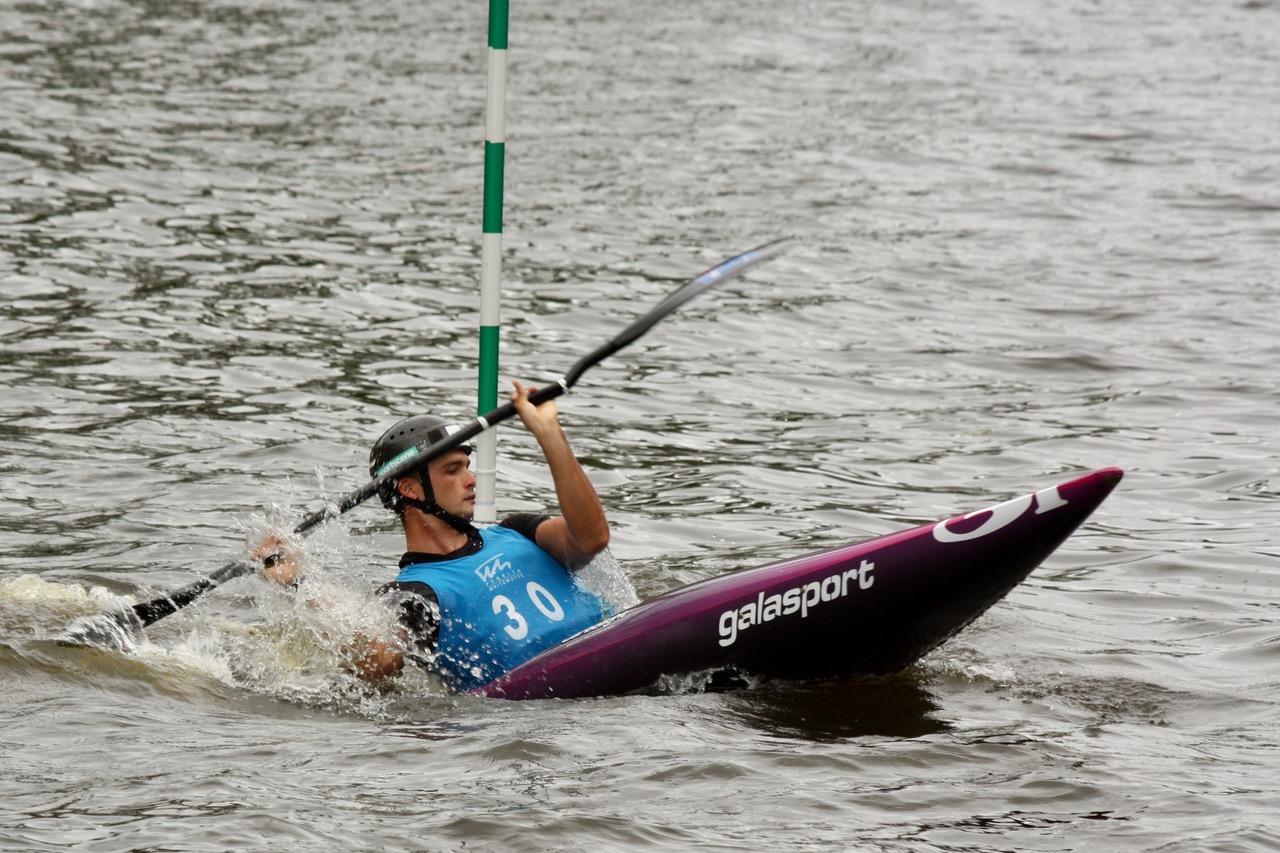 Above:Lucien Delfour - 2016 Rio Olympian
As the day cooled down for showtime at 3pm, we saw very impressive contributions from Canoe Polo paddlers, Ros Lawrence's Slalom crew and Come'n' Try paddlers dominating the river and making a big splash on the paddling stage. The slalom and boatercross slide entries into the water were spectacular and a whole lot of fun. Well done Tony Hystek with the idea and construction of those slides to give the day the splash it deserved. The slalom paddlers set up a great event course and what an entertaining lot they are! Alternating commentary on each other they showcased their sport with gusto – having the spectators in stitches with their cheeky outlook and fun attitude. Lane Cover's Duncan, James Farrell, Wade and Naomi Johnson all had a go at boatercross, mounting the slides with trepidation hidden behind excited grins! John Thearle and James enjoyed pushing them down the slides to ensure their quick getaway!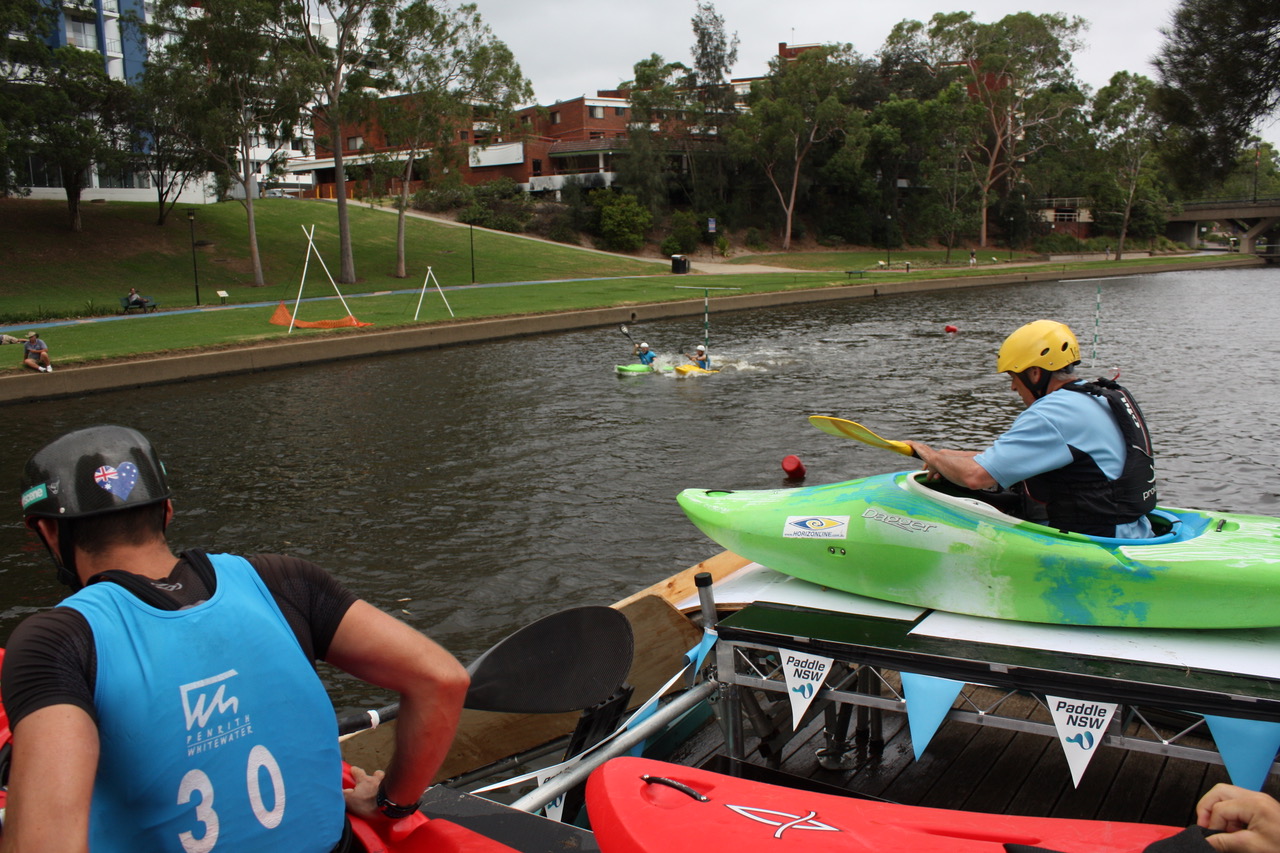 Above: Duncan on the launch ramp
Above: Duncan off the launch ramp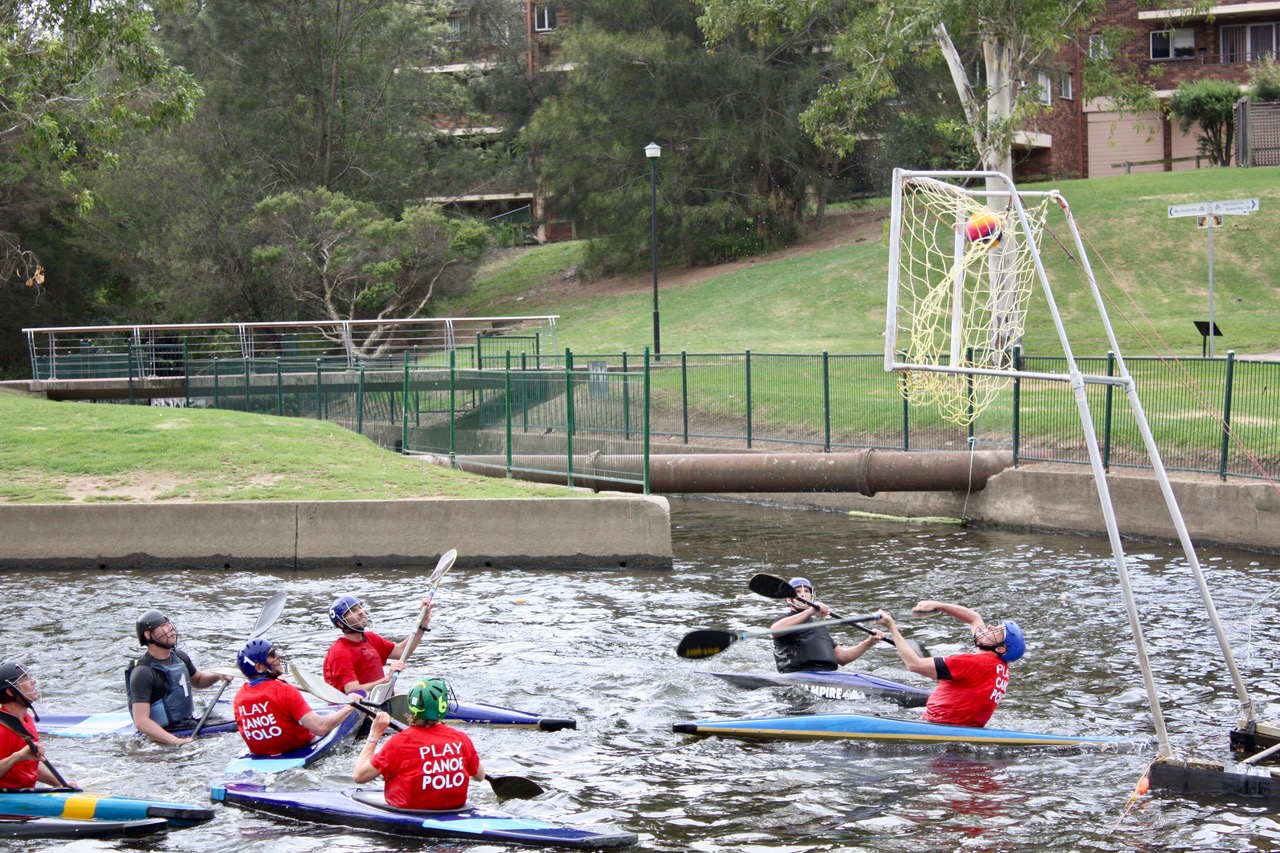 Above: Richard Barnes at left in the thick of the polo
The Canoe Polo was a hoot, with Richard Barnes showing us all how it's done in style! Naomi, Wade and James got themselves kitted up in polo paraphernalia and had a go too. James learned that keeping a canoe polo boat upright might not be quite as easy as it looks! Games were played throughout the afternoon and the argy-bargy made for a most entertaining show of a great team sport. Once again, the calibre of the paddlers and their cheerful inclusive demeanour did them proud.
Spectators lapped up the opportunity to have a go a kayaking with the Come'n' Try boats at a premium and queues to get on the water. The catch cry seemed to be 'is there a club we can do this with in Parramatta'? Tracey Hansford was a champ, helping get new people into boats and paddling around the river with them, giving assistance and good cheer. Dave Hammond, Bruce Goodall and Joy Robinson bought family along to enjoy the day too!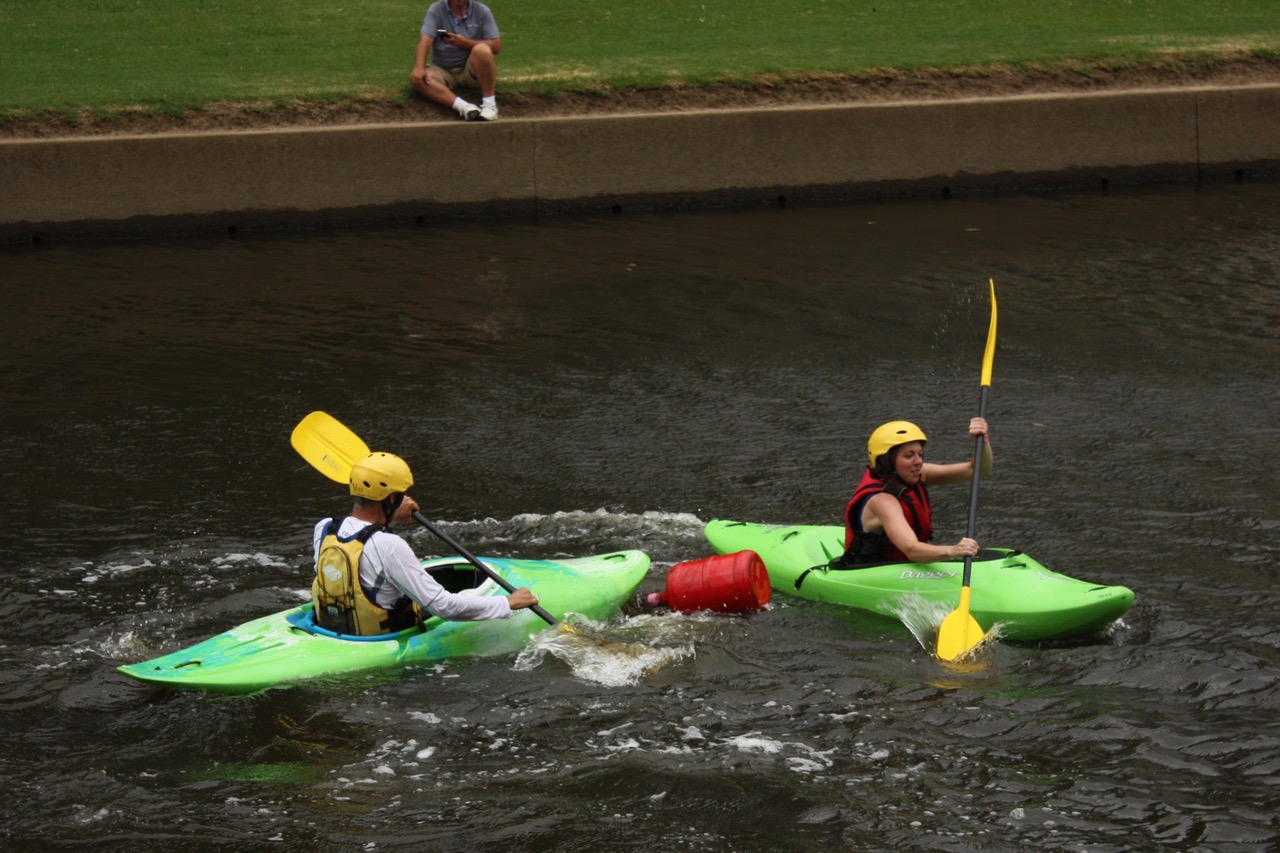 Above: Wade & Naomi boatercrossing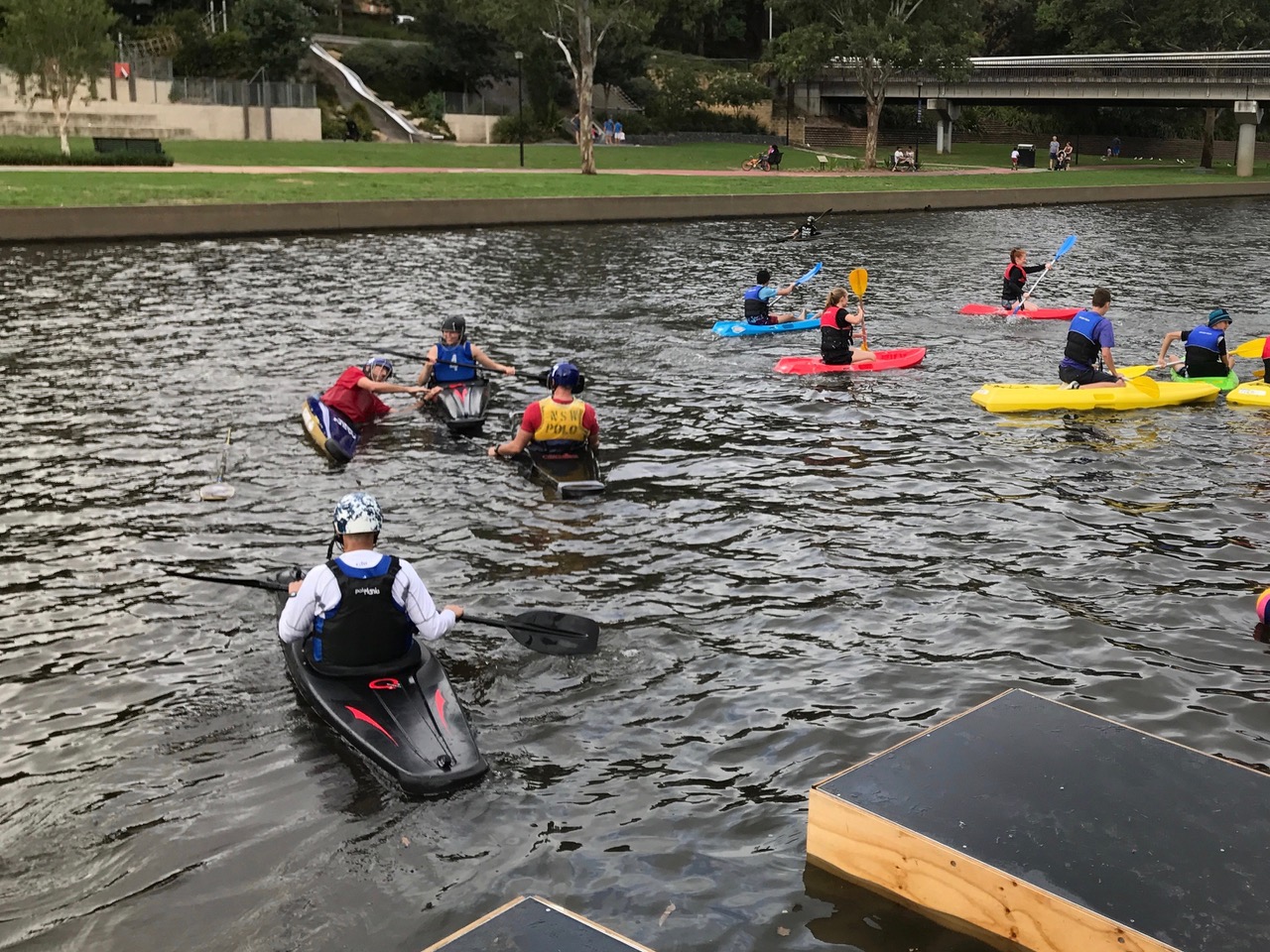 Above: Richard coaching, James, Naomi, Wade
Sprint was a bit light on competitors but certainly entertaining, and the reports from the paddlers was that it was pretty hard work! Roger Deane was our Starting Captain and did a fine job as always, while Anjie, Adrian, Paul VK and John Thearle ensured the Lane Cove paddlers had the benefit of any doubt about timing. Laura White provided an informative commentary, and entries from Jason Han, Wade, Bruce Gynther, Naomi and James helped turn it into an event. Naomi did the girls proud paddling like a champion, coming in first in her field and wining a bit of prizemoney too-boot! Jason provided the canoe sprint showcase holding up well under the conditions, and showed us just how you get back into a canoe and get on with the race! Bruce held his own against some serious competition and the other lads did LCRK proud too.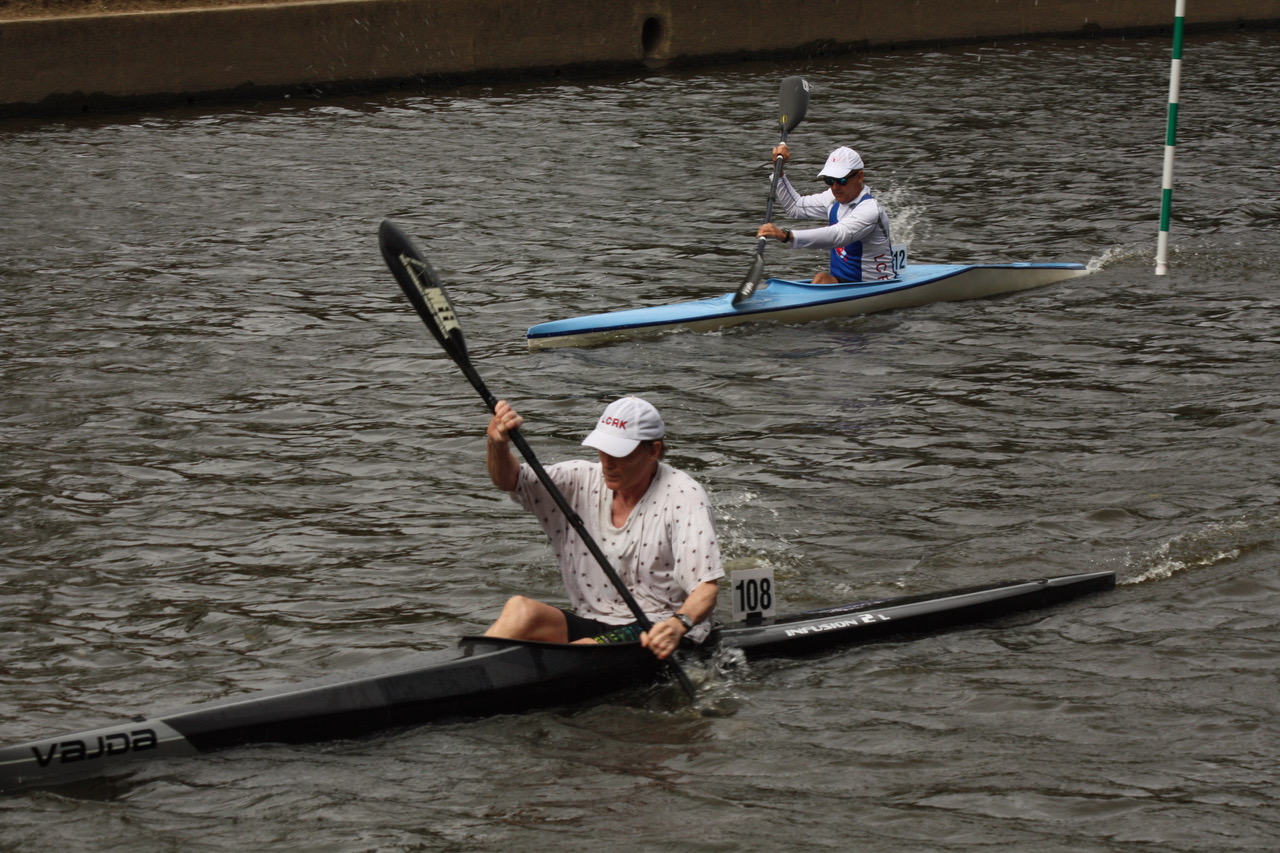 Above: Wade & Bruce sprint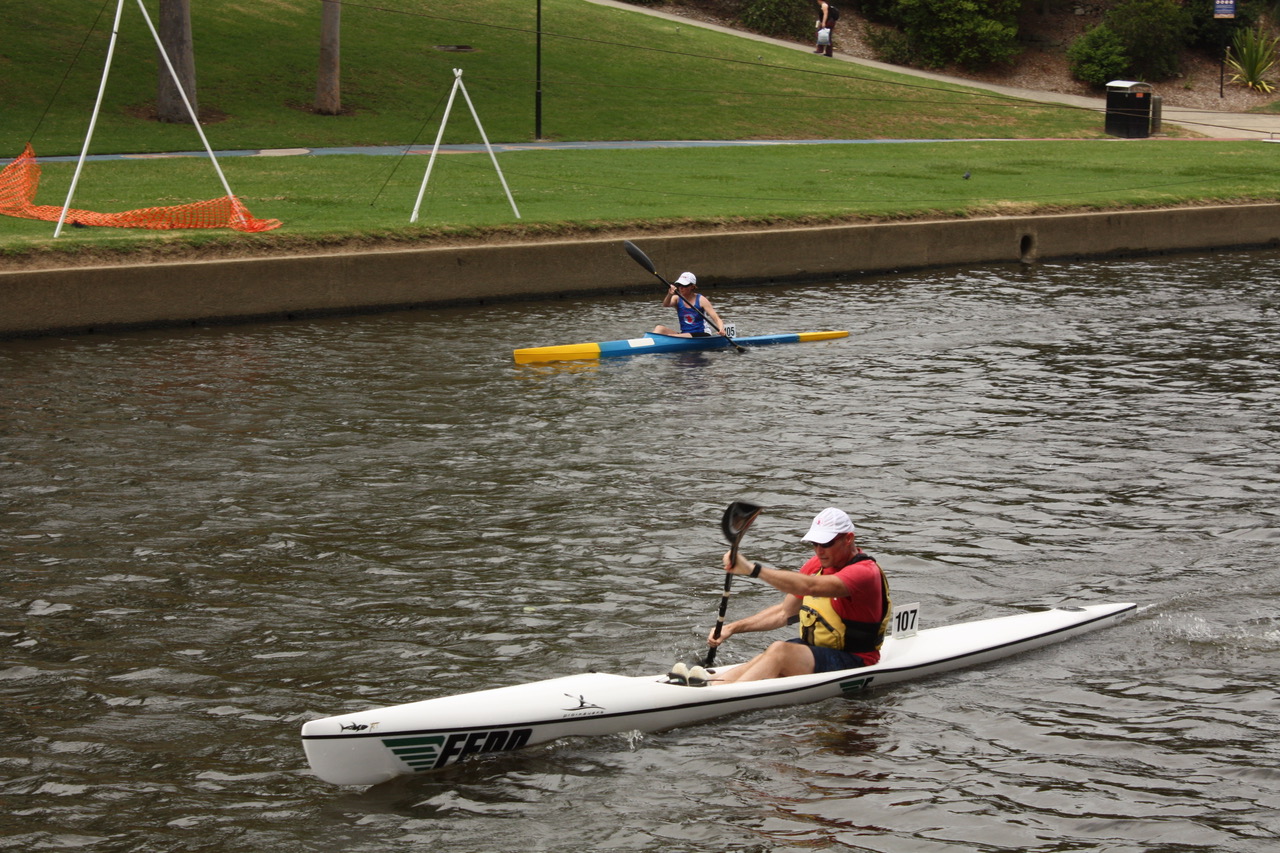 Above: James & Naomi sprint
Prizemoney totalled nearly $3000 and was distributed amongst the winners of the Slalom and Sprint entrants, who were very pleased to be rewarded for having a go. It was heard by one sprinter that he'd never won so much money! As they say, you've got to be in it to win it.
A big shout out to all the Lane Cover's that put in the hard yards setting up, participating in and packing down this event. Heartfelt thanks come from Tony Hystek who knows this day would not have happened without your participation. And thanks too to those who stayed until well past their bedtimes, helping dismantle and pack into trucks an enormous amount of equipment: Paul VK, Duncan, Naomi, John, Anjie, and Wade. It was a long but rewarding day. Heartfelt thanks too to all the fabulous non-LCRK volunteers who made this day such a great success – there are just too many to mention in this LCRK article, but I will mention Luke Hagan from Southside who championed along with LCRK's all day from set up to pack down. Invaluable assistance!
I think the flavour of the day was just a whole lot of fun. If you missed it this year, come along next year, bring the family, get them on the water too, and show them what you do best!
Alanna Ewin