26-31 December 2013: Murray Marathon
18 December 2013: Christmas Party and Presentation Night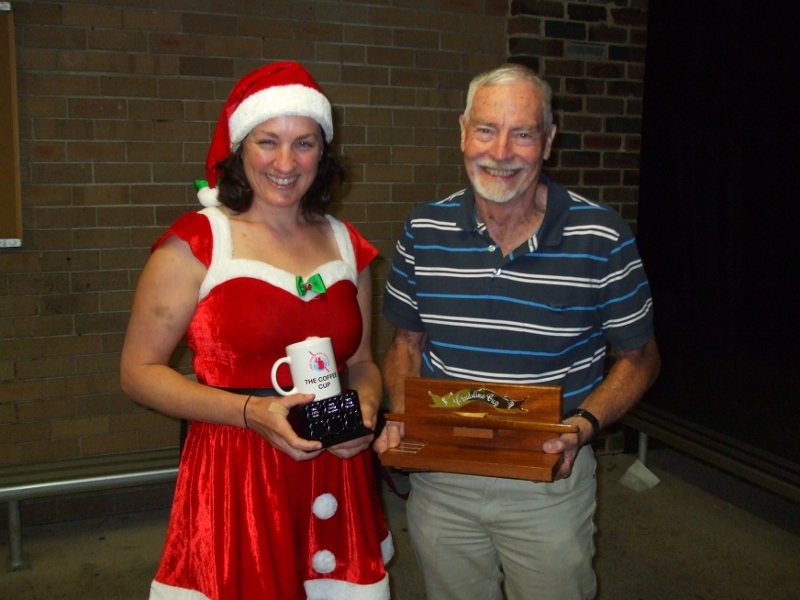 Ruby Gamble and Phil Geddes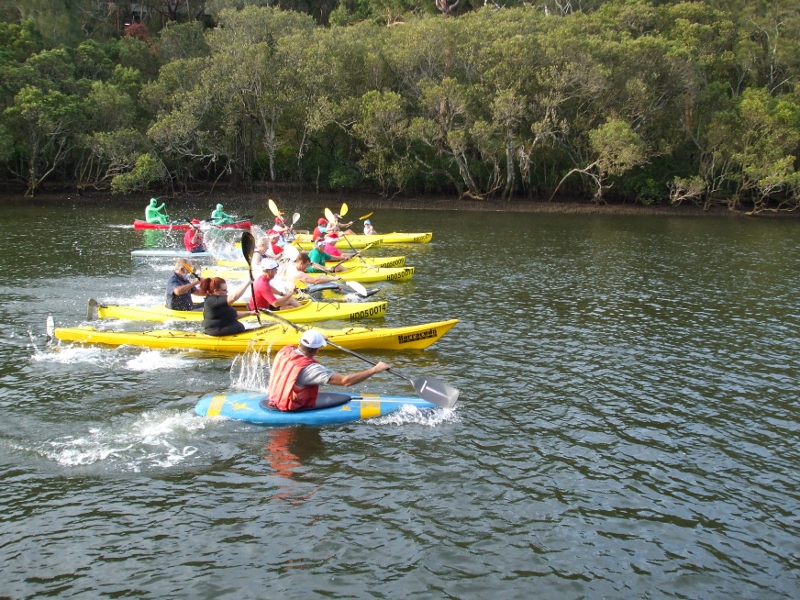 Novelty Slow Boat Races
Fun and games at the Christmas Party BBQ and Presentation Night at the river on 18th December. See the photos taken by Justin and Phil G at our photo gallery.
Congratulations to the 2013 award winners:
Crudslime Cup: Phil Geddes
Coffee Cup: Ruby Gamble
Most Improved: John Duffy, Jeremy Spear
Rookie of the Year: Dru Spork
More details to follow in the next Kayak Kapers.
6 December 2013: December Kayak Kapers Available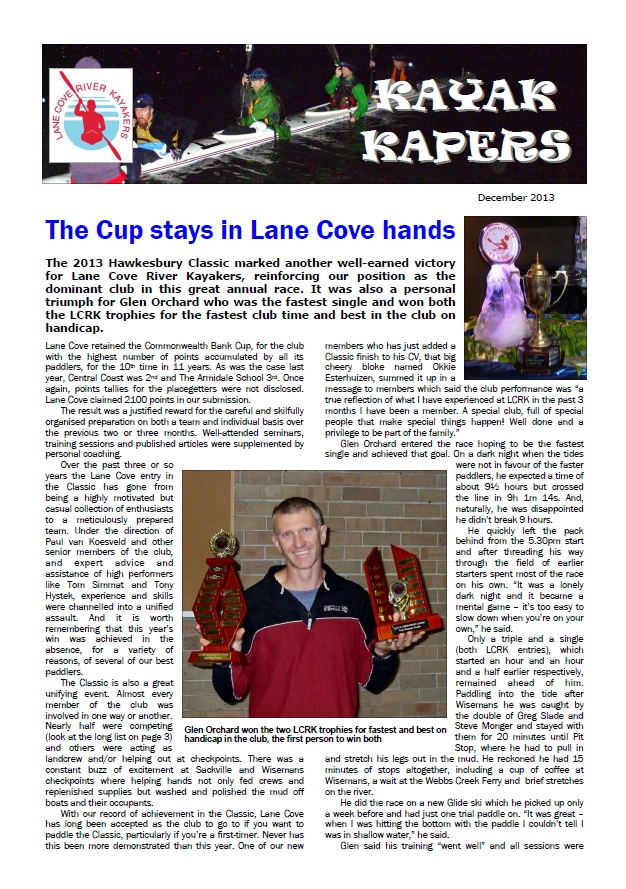 The December issue of Kayak Kapers is a 16-page special on the 2013 Hawkesbury Classic, featuring 120 photographs and first-hand reports from LCRK's competitors on how they fared in the race. There are detailed descriptions from Chris Quirk and Tom Holloway on how they modified existing boats to qualify for different categories. Also in this issue is a racy article by Tim Hookins about his experience in competing in the famous Fish River Marathon in South Africa recently with two strangers in a K3. You can download this issue and earlier issues of Kayak Kapers free to your own computer.
You can download the December issue and earlier issues.

23-24 November 2013: BGCC 24 Hour Challenge
Fantastic weather greeted around 100 paddlers for the ever popular BGCC 24hr Challenge, this year raising money for the Marymead Charity. The course laid out by the organisers consisted of a 4 km loop (much the same as the Marathon 10 course) with the objective to complete as many laps as possible in the 24 hours from 10.00am Saturday to 10.00am Sunday.
LCRK was represented by 4 paddlers, Anjie Lees and Richard Barnes paddling solo in an Epic V10 and Mirage 580 respectively, and Tony Hystek and Richard Robinson paddling Tony's Epic Legacy K2 as part of their preparation for next year's Devizes to Westminster (DW) canoe race.
As always, such events would be impossible without the help of land crews, and this year's competitors were expertly supported by Alanna Ewin, Joy Robinson and Brianna and Aaron Lees. Tom Simmat assisted Richard Barnes and provided some support for the Organisers.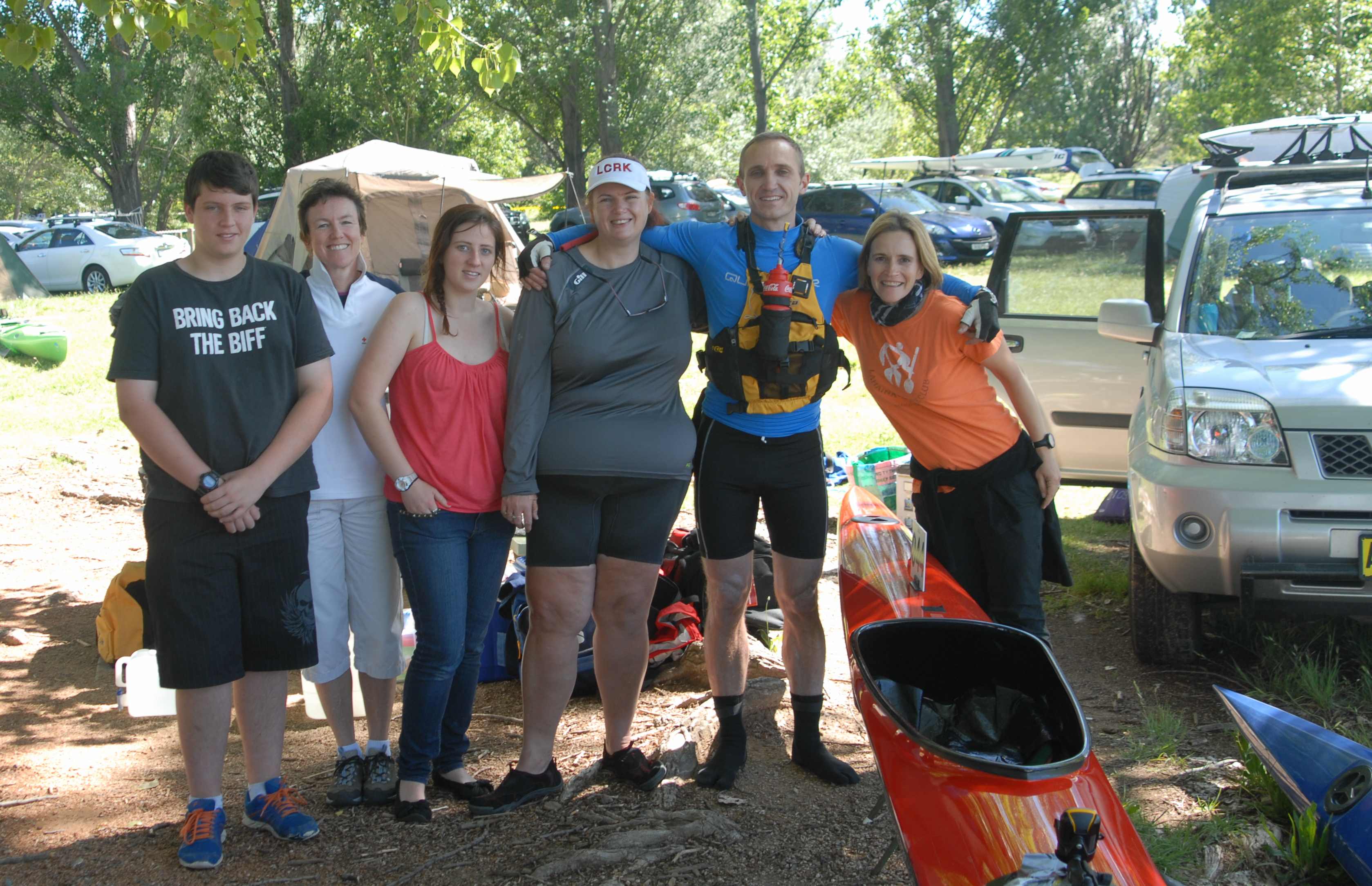 Everyone fresh before the start
Racing commenced at 10 am with a light but freshening westerly breeze which persisted until well into the evening. Temperatures topped out at a pleasant 23 degrees and dropped to a cool 6 during the night. Everyone welcomed the lovely full moon and enjoyed a spectacular light display as storms passed by many miles to the east.
As is becoming the norm, LCRK had some standout results with Richard Barnes knocking out a jaw dropping 49 solo laps! (196km) and taking the honour of the longest distance for a solo competitor. In fact the fastest relay teams only managed just over 60 laps, that really puts Richard's effort into some perspective. Just as astonishing is the fact Richard didn't even get out of his boat!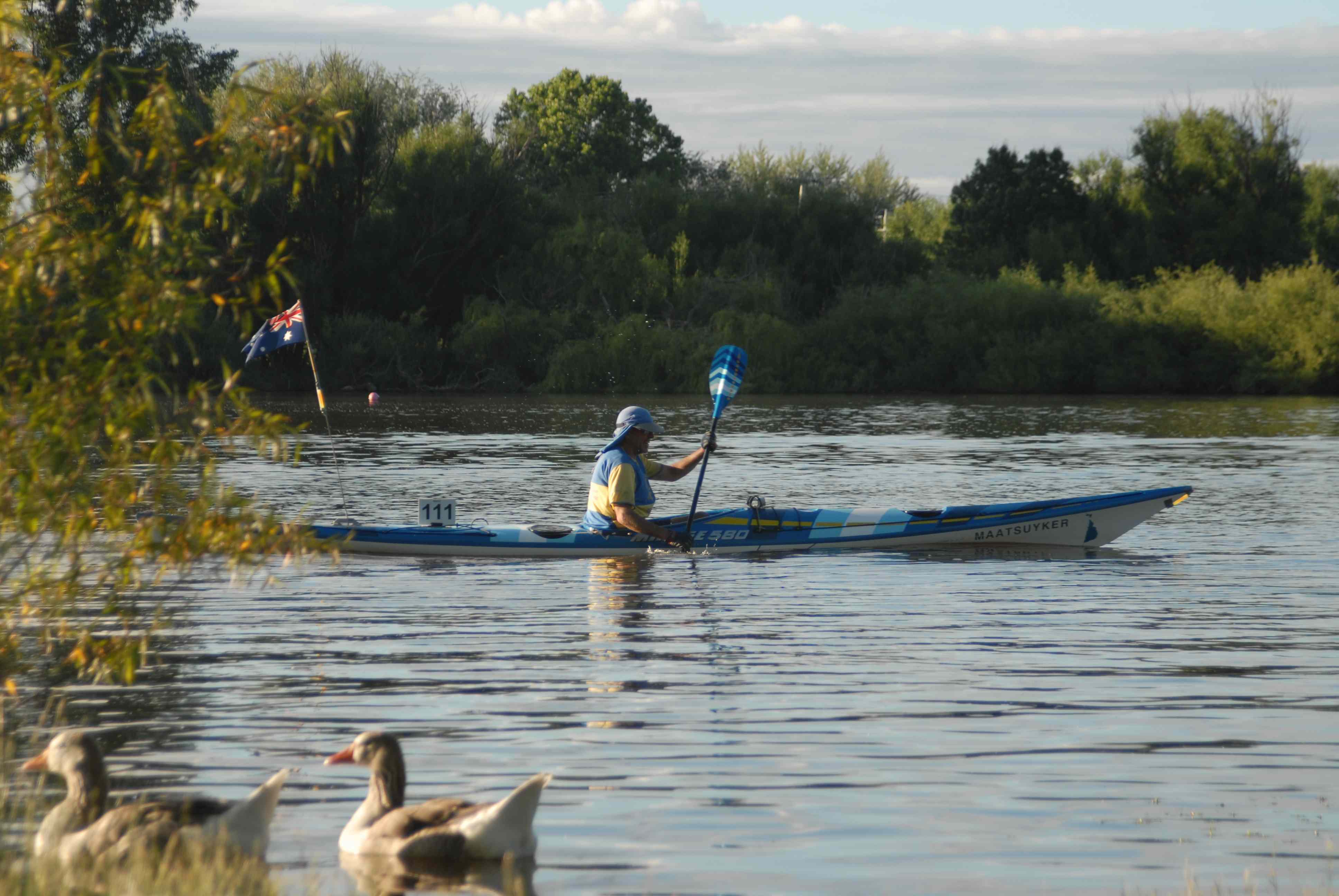 Richard paddles his way to first place
Anjie took out second place in the outright solo individual competition and first place solo individual women's competition, completing an amazing 40 laps (160km) and beating quite a few relay teams, what an outstanding effort! Anjie looked almost as fresh at the finish as when she had started 24 hours earlier.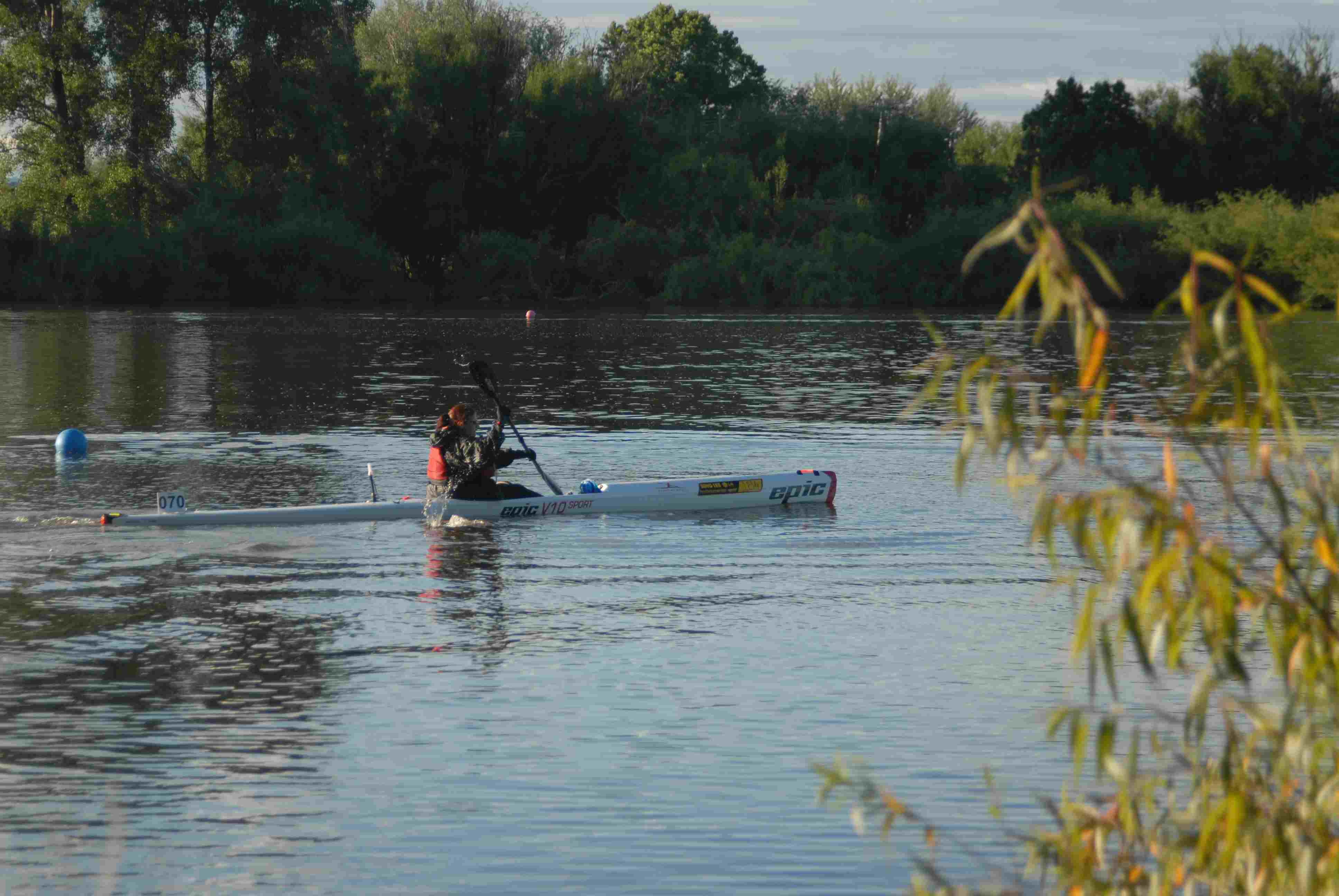 Anjie heads out for yet another lap
Tony and Richard, as part of their DW preparation, chose to portage all but a handful of laps, and completed 41 laps (164km) in around 17 hours, placing them second to Richard Barnes in the solo competition. It was a great opportunity for them to experiment with nutrition, drink systems and clothing. Unfortunately for their land crew, all the portaging and drink/gear changes meant there was never a quiet moment, making the night almost as long for them as for the paddlers.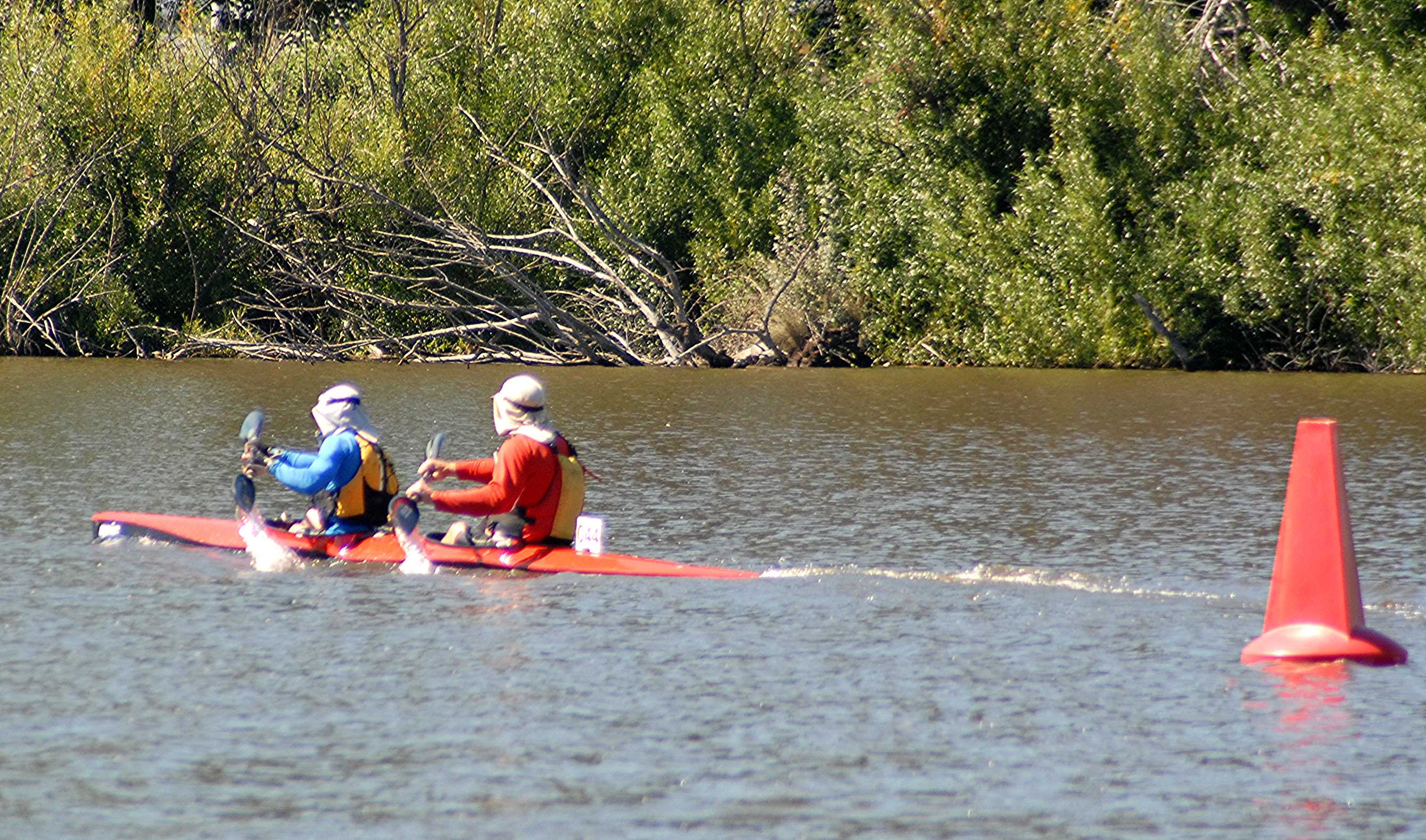 In all it was another outstanding result for Lane Cove in what is a great event to put on your personal "to do" list.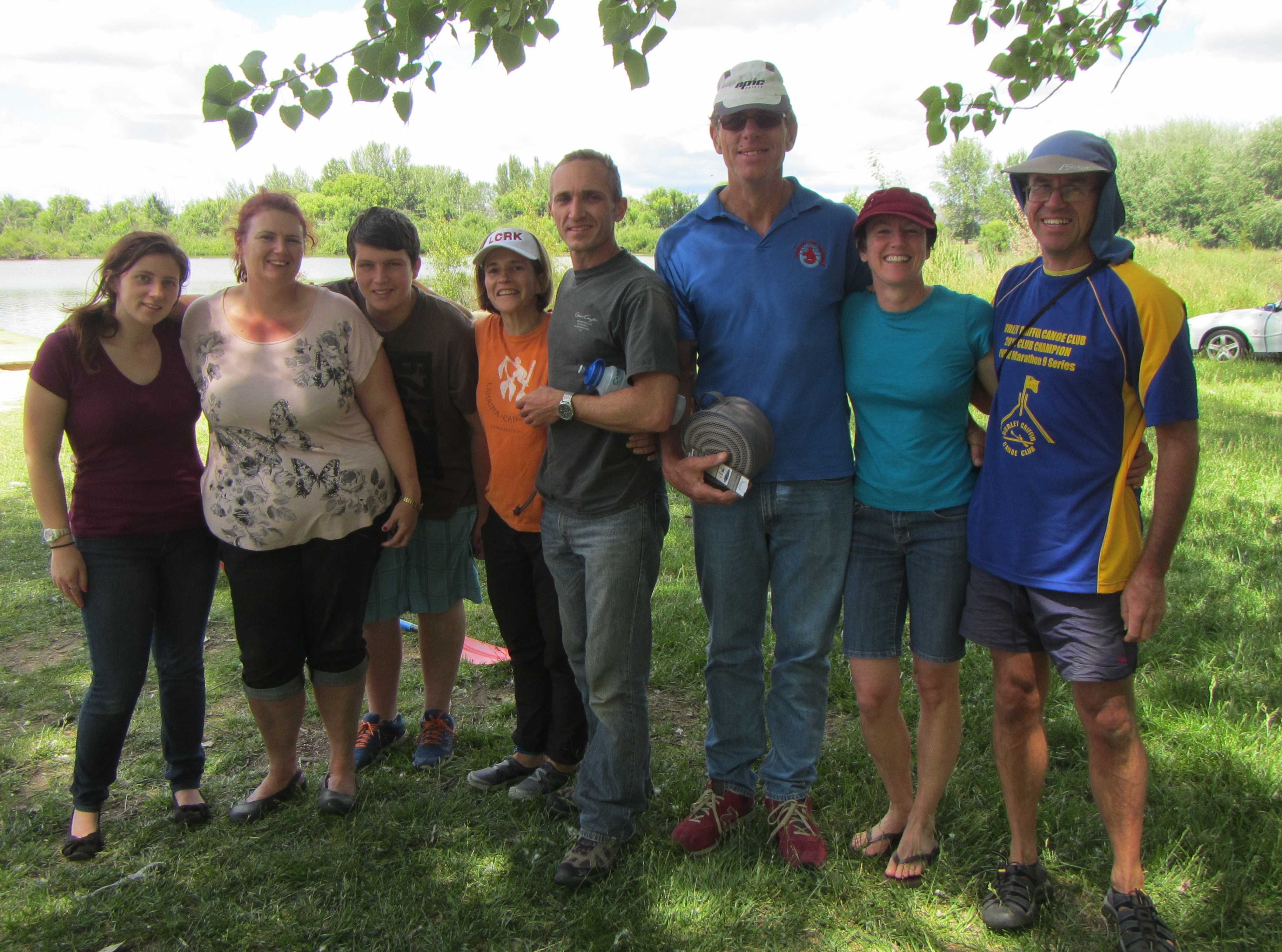 Happy finishers!
17 November 2013: Sprint Series Round 3, 3rd place!
Approximately 70 paddlers hit the water at SIRC on Sunday for the final round of the 2013 PaddleNSW Sprint Series. LCRK answered the call and was well represented on the water by Alanna Ewin, Craig Ellis, Derek Simmonds, Ella Beere, Guy Robinson, Joy Robinson, Michael Day, Richard Robinson, Ruby Gamble, Tim Hookins and Tony Hystek.
As usual LCRK also punched above our weight with volunteers Roger Dean, Tony Walker, John Greathead, Alana Ewin and Nigel helping to keep things moving.
The great news is that our on-water results helped to secure 3rd place in the Sprint Series club points, just behind sprint heavy-weights SNBKC and MWKC.
Some interesting links: Results - Sprint Series Club Points - PaddleNSW Article - Flickr Photo Album - Facebook Photo Album - Facebook Videos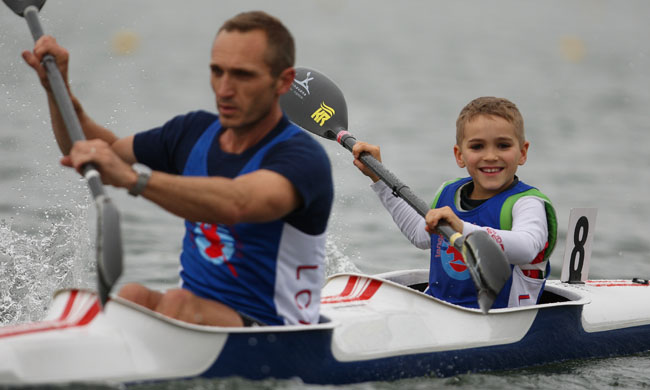 Richard and (future LCRK president) Guy
26-27 October 2013: Hawkesbury Classic
Another great turnout from LCRK at the HCC!
Watch Ruby's video

Some Preliminary Results:
Glen Orchard - ORS 40+ - 9:01:14 Class Winner!, Fastest LCRK Boat!
Chris Quirk, Stuart Myers, David Goodie - BoB3 - 9:16:54 Go the triple!
Jason Cooper 9:57:28 - BoB (Ocean Ski)- Sub 10!
Bob Turner -LREC 50+ - 10:07:17 Class Winner! Within 2 minutes of the record.
Peter Edney, Jack Kesby, Neil Raffan, Merrick Underwood - OK4 - 10:19:40 First Finish for Jack and Neil!
Tom Holloway - MREC Open - 10:25:05 Class Winner!
John Thearle, James Mumme - LREC2 40+ - 10:29:55
Nick Chai - MREC 40+ - 10:35:39
Dave and Keg - OLREC2 - 10:37:35 Class Winner!
Phil Geddes, Paul Van Koesveld - LREC2 60+ - 10:45:46
Jeremy Spear - UN1 50+ 10:47:36 Class Winner!
Glenn Philpott - ORS1 40+ 10:47:41
Dee Ratcliffe, Raewyn Duffy, Merridy Huxley, Clare McArthur - LK4 - 10:53:59
David Young - ORS 50+ - 10:59:35
John Duffy - MREC 50+ - 11:02:31 Class Winner!
Matt Swann - LREC 50+ - 11:15:37
Cathy Miller, Trevor Waters - Mixed LREC2 50+ - 11:15:45
Craig Ellis - BoB (Ocean Ski) - 11:27:05
Jeffrey Tonazzi - MREC 40+ - 11:58:50 First Finish!
Timothy Hookins - ORS 60+ - 12:04:01
Paul Seaberg -ORS 40+ - 12:16:18
Okkie Esterhuizen - ORS 50+ - 12:19:03
Caron Jander - L ORS 40+ - 12:19:12
Derek Simmonds - LREC 60+ - 12:19:20
Kenji Ogawa - LREC 60+ - 12:35:37
Anjie Lees - L ORS 40+ - 12:38:25
Meg Thornton - L ORS - 13:14:40
Ruby Gamble - L MREC Open - 13:53:25 PB!
Ann Lloyd Green - LTK1 60+ - 14:02:57 RECORD!!!
Richard Barnes - Outrigger 50+ - 14:23:34
Adrian Flemming - BoB1 - 14:27:04
Jonathan Peters - 40+ MREC - 14:39:44 First Finish!
Chris Thompson - BoB1 - 14:42:53
Richard Diaz 14:48:33 - BoB (Sea Kayak) - First Finish!
Bettina Otterbeck - LTK1 - 15:16:07 PB!
Heather Kent - L MREC 40+ - 15:27:39
Andrew Kucyper - BoB1 - 15:38:50
Bruce Goodall - Withdrew at Wiseman's
Christian Cox - ORS - 2:50:00 Withdrew at Sackville
Neil Duffy - MREC 50+ - 4:02:00 Withdrew at Sackville
Justin Paine - MREC 60+ - 4:06:00 Withdrew at Sackville
Shane Gibson - ORS1 40+ 4:15 Withdrew at Checkpoint E
Rob Manning, Ben Eagleston, C2 - 4:05 Withdrew at Sackville
Check out the photos and the results.
20 October 2013: Sprint Series Round 2
These was an excellent turnout at SIRC for the second round of the 2013 Sprint Series. Almost 60 entries despite clashes with the HSC, MWKC's 30th Anniversary, the Coolangatta Gold and HCC preparations. On the water LCRK was represented by Meridee Arratoon and John Greathead. LCRK volunteers included Roger Dean, Matt Swann, Tony Hystek, Alana Ewin, Danielle Seisun and Nigel.
Check out the results and photos.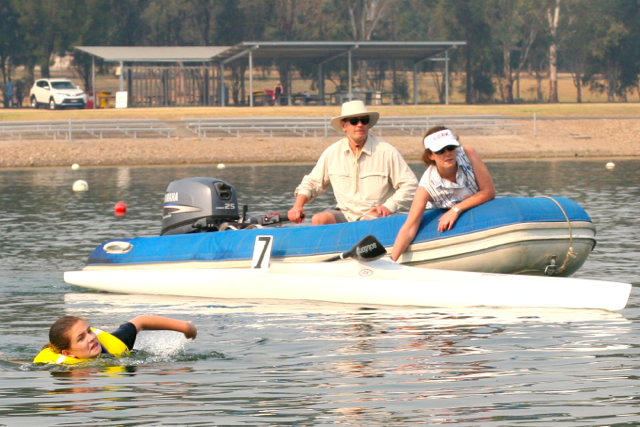 Matt & Danielle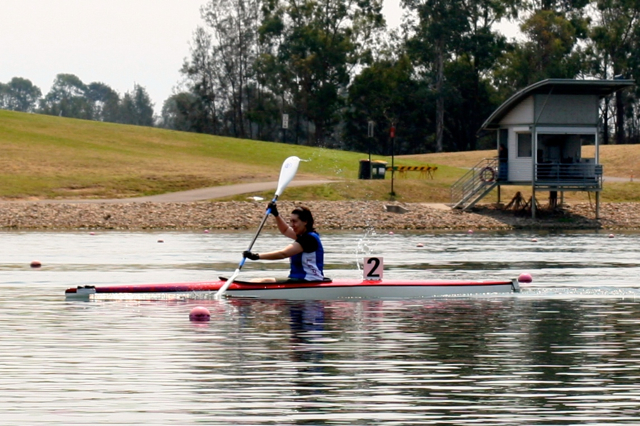 Merridee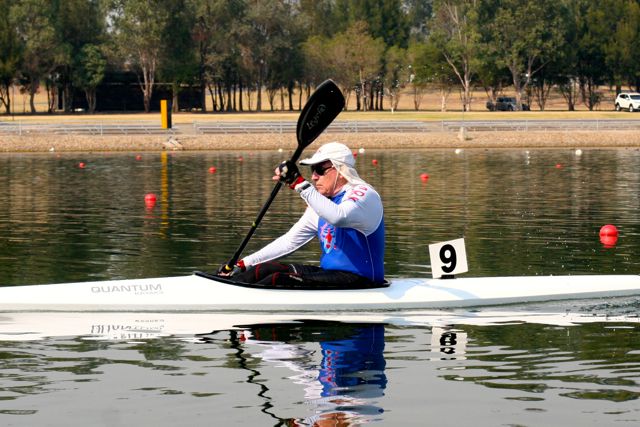 John
3 October 2013: October Kayak Kapers Available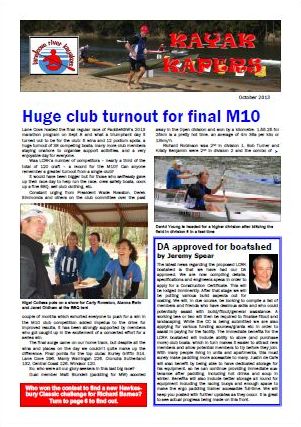 Who won the contest to find a new Hawkesbury Classic challenge for Richard Barnes? Find out in the October 2013 issue of Kayak Kapers. Also in this issue you'll find:
A comprehensive list of Lane Cove competitors for this year's Classic
More useful tips on preparing for and racing in the Classic
A swag of race results including marathons, sprints, the Myall Classic and the Akuna Bay Multisport
An amazing report on mud crabs bigger than a large dinner plate and powerful enough to nip off a kayaker's toe.
You can download the October issue and earlier issues.
14 September 2013: Myall Classic
8 September 2013: Marathon Series - Oh, so close!
An outstanding performance from LCRK in round 10. Club Points finished on:
1st BGCC - 314
2nd LCRK - 296
3rd MWKC - 226
Round 10 Podium Finishers (in every 20km division):
Div 1: Richard Robinson - 2nd (6 points)
Div 2: Bob Turner Kristy Benjamin - 2nd (6 points)
Div 3: David Hammond Tony D'Andreti - 2nd (6 points)
Div 4: Jeremy Spear - 1st (8 points)
Div 4: Jason Cooper - 2nd
Div 5: Paul Seaberg - 1st (8 points)
Div 5: Tim Hookins - 3rd
Div 6: David Young - 1st (8 points)
Div 6: Peter Edney - 2nd
Div 7: Anjie Lees - 1st (8 points)
Div 7: Meg Thornton - 3rd
Check out the full results and photos.
1 September 2013: Congratulations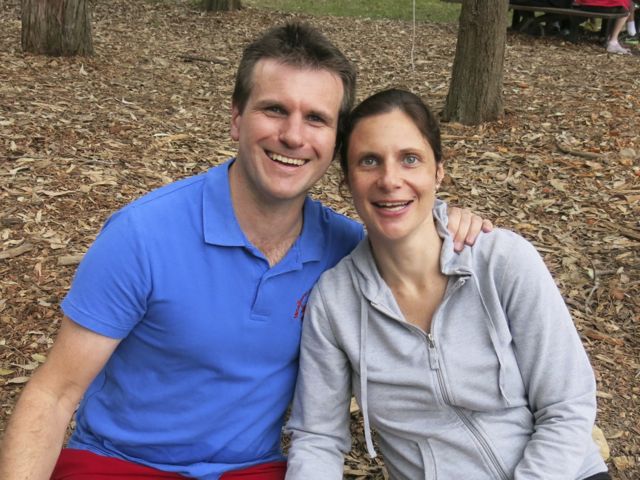 Congratulations to longstanding LCRK committee member Tom on his marriage to Trish (his longstanding HCC land crew).

24 August 2013: Marathon Series - Round 9
Well done to all who participated in round 9. Club Points are now:
1st BGCC - 278
2nd LCRK - 234
3rd MWKC - 204
Podium Finishers:
Open: Tony Hystek - 1st (8 points)
Open: Craig Ellis Steve Newsome - 2nd
Div 3: Michael Day - 1st (8 points)
Div 4: Jeremy Spear - 2nd (6 points)
Div 5: Paul Seaberg - 1st (8 points)
Div 6: Derek Simmonds - 3rd (4 points)
Div 7: Dru Spork - 1st (8 points)
Check out the full results.
17 Aug 2013: Sprint Series Round 1
On Saturday afternoon PaddleNSW held the first round of the 2013 Sprint Series. 57 paddlers participated in 32 races at SIRC. On the water LCRK was represented by Tony Hystek, Richard Robinson, Wade Rowsten and Merridee Arratoon. All did remarkably well against some very strong head winds at SIRC. The day ran smoothly due to the efforts of volunteers from several clubs. LCRK volunteers included Roger Deane, Joy Robinson, Alana Ewin, John Greathead and Nigel. Thanks also to the paddlers Tony, Richard, Wade and Merridee for helping out when they were not on the water. Check out the results. and the photos.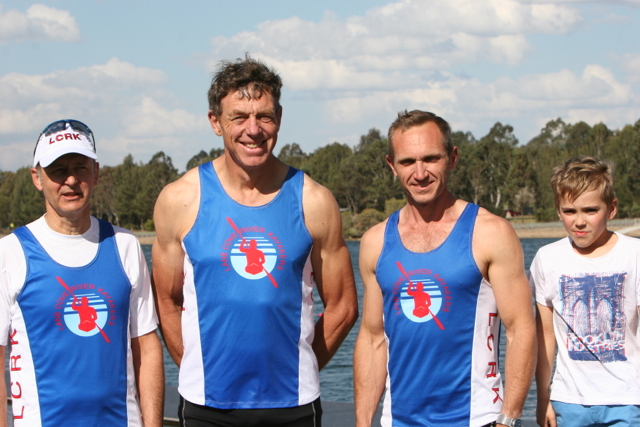 Wade, Tony and Richard moddling the new club
race singlet (and future member Guy).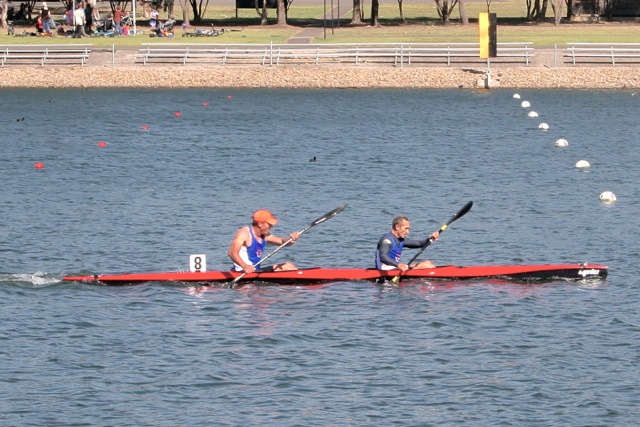 Richard and Tony winning their 1000m race
8 August 2013: Kayak Kapers August Issue Available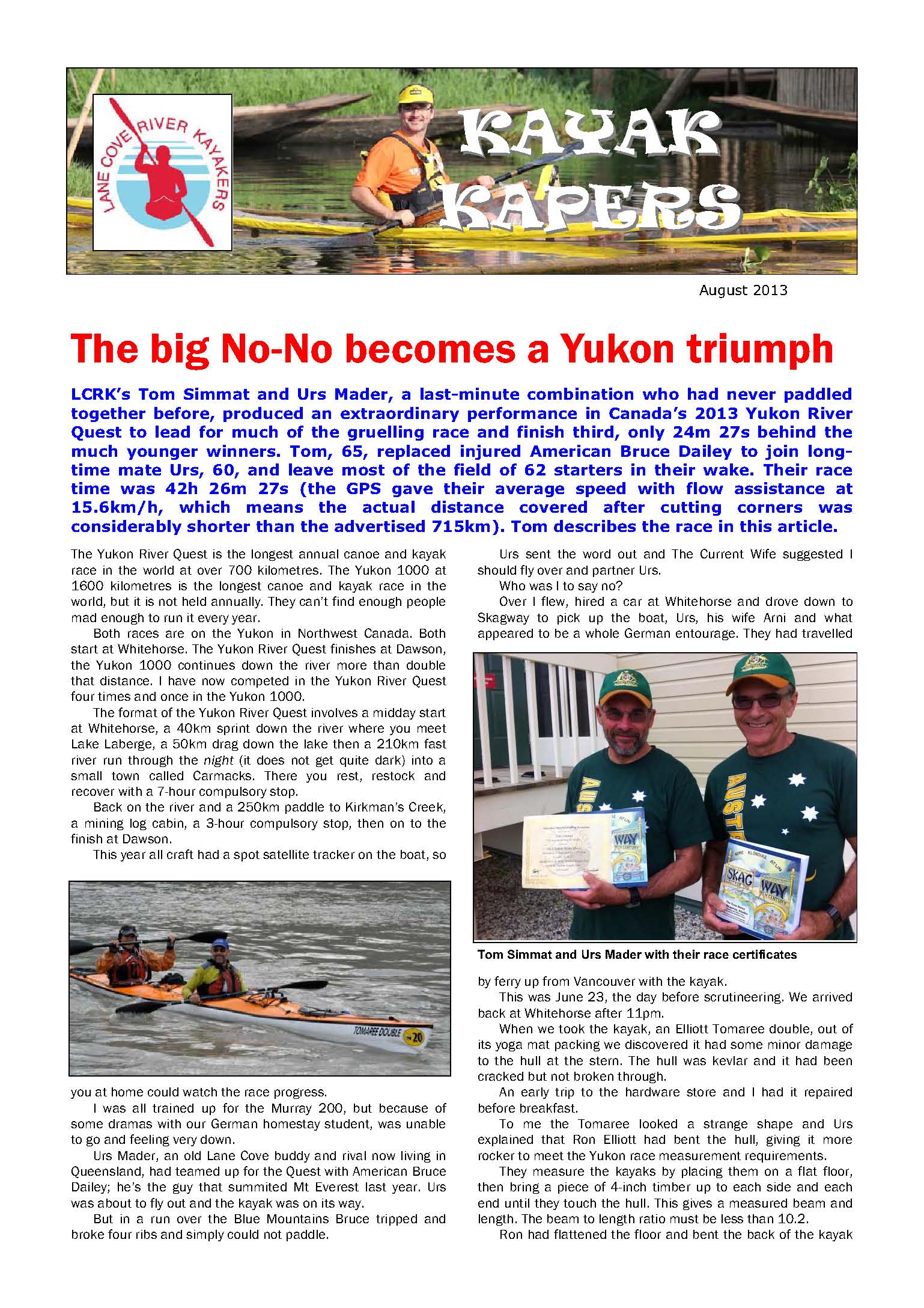 Are you going to do the Hawkesbury Classic this year? If so, you should read the August issue of Kayak Kapers which features two informative articles by classic veteran Tom Simmat on preparing a race schedule and planning strategies for the tides, plus an overview of the race.
Also in the August issue:
Tom Simmat and Urs Mader paddle together for the first time in Canada's Yukon Quest.
First-hand reports from Lane Cove paddlers in the Murray 200 and 1000.
How Andrew Benoit designed and built a collapsible kayak, then paddled it in Burma.
All the fun from LCRK's Annual Dinner.
You can download the August issue and earlier issues of Kayak Kapers free to your own computer.
August issue and earlier issues of Kayak Kapers are available to download

3 Aug 2013: Marathon Round 7 - We Are Still In With A Chance
After Race 8 at Windsor on Saturday we are still sharing equal second with MWKC, both on 192 points! Burley Griffin are still leading on 234. We are holding our own with MWKC and closing the gap on BGCC reducing their last race lead by 12 points. They were 54 ahead after Race 7 and are now leading by 42.
LCRK paddlers really got behind our bid for the Club Cup in Race 8 at Windsor on Saturday, with Kate Lord, Joy Robinson, Tony D'Andreti, John Greathead, and Alanna Ewin and Danielle Seisen joining the campaign for the first time this Series. A big thanks to all who signed up, and please continue to support our club effort in the final two races if you can. Some good teamwork, encouraging fellow Lane Covers and wash riding in Divisions also contributed to our result. Most were wearing our colours which really helped us stand out.
Apart from our two champs, Tony Hystek and Richard Robinson, who both climbed the podium in the very competitive Open Division (Tony first and Richard third), our strength in this Race was in Divisions 5 – 10.
LCRK Club Cup point scorers were:
Open Tony Hystek - 1st (8 Points)
Open Richard Robinson - 3rd
Div 5 Wade Rowston - 2nd (6 Points)
Div 6 Paul Seaberg - 1st (8 Points)
Div 8 Craig Ellis, Steve Newsome - 2nd (6 Points)
Div 9 Jason Cooper - 1st (8 Points)
Div 10 Joy Robinson - 3rd (4 Points)
With only 42 points between LCRK and the leaders, BGCC, we need to strategically enter as many Divisions as possible and get as many of Team Lane Cove in fastest four positions as we can. Promotions after the Windsor Race should ensure we continue to podium in the lower Divisions and of course between Tony and Richard we have Open covered.
A timely intelligence leak from BGCC is that last year they were 50 points behind the leaders after the second last race and with a big effort they still managed to clinch the Club Cup. It's not over.....
Second last Race, Race 9 is over the beautiful and varied Swallow Rock Course on Saturday 24th August. Enter it in the diary and register on line.
22 July 2013: Sprint Series Round 1 - Entries Open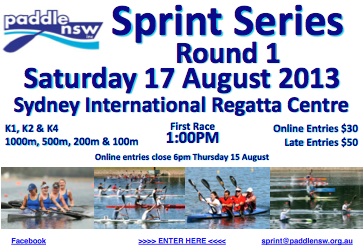 20 July 2013: Marathon Round 7, LCRK LEAPS INTO EQUAL SECOND
Very competitive racing by LCRK paddlers in Race 7 at Burrill Lake on Saturday elevated us to equal second in our bid for the Club Cup. On 152 points, we are now level with MWKC but trailing Burley Griffin who are on a creditable 206 points. After the previous race at Woronora we were in third on 114 points, behind MWKC on 140 and Burley Griffin on 156.
Our stunning Club gain was due to a record number of podium finishes by LCRK paddlers. Unfortunately Series rules only allow one top four finisher in each club per division to contribute towards club points. This is why we need to maximise entries in all divisions.
Our Club Cup recovery was the result of points contributions by the following strong paddlers:
Tony Hystek - 1st Open: 8 Points
Matt Swann - 1st Division 6: 8 Points
Craig Ellis Steve Newsome - 1st Division 8: 8 Points
Tim Mcnamara - 2nd Division 4: 6 Points
Wade Rowston - 3rd Division 5: 4 Points
Anjie Lees - 3rd Division 7: 4 Points
With three races to go it's far from over. With more great teamwork and excellent times we are still in with a chance to bring home the silverware.
Get behind LCRK's Marathon 10 Club Cup effort and sign up for the next race at Windsor on Saturday 4th August. Details below.
http://www.paddlensw.org.au/event/round-8-marathon-10-series
8 June 2013: LCRK wins Div 4 and Div 6 in the Marathon Race 5 at Woronora
Tom Holloway paddled brilliantly to take out Division 4 in perfect conditions on the Woronora river in Race 5 of the Marathon series. Equally impressive was Richard Lindsay who won Division 6 by a good margin in perfect time i.e. fast enough to win his division but also avoid getting promoted. Wade Rowston picked more points for the club with a 3rd position in Division 5, just missing out on second place by a metre, whilst Don Rowston made it a good day for the Rowstons by coming in 4th in Division 10.
Matt Blundell (dual member), paddling for MWKC, was once again unstoppable in Division 1 but was challenged all the way.
Other LCRKers paddled strongly in their respective divisions to finish in good positions but just missing out on placings.
BGCC and MWKC remain ahead of us on the club points score but with a big push for the remaining rounds could still be caught.
The next event is at Penrith on Sat 29th June.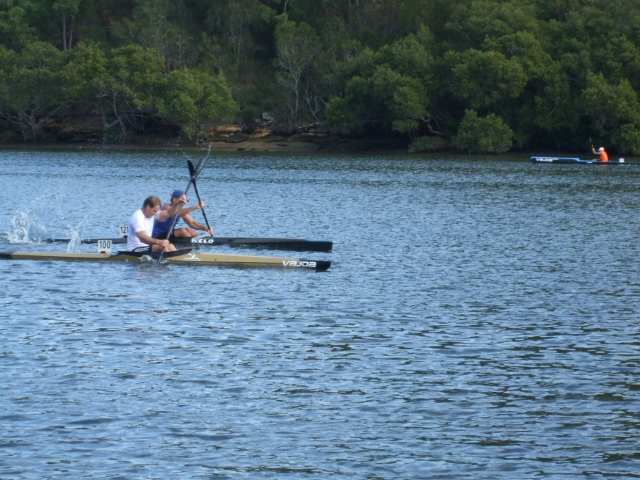 Matt Blundell - sprint to the finish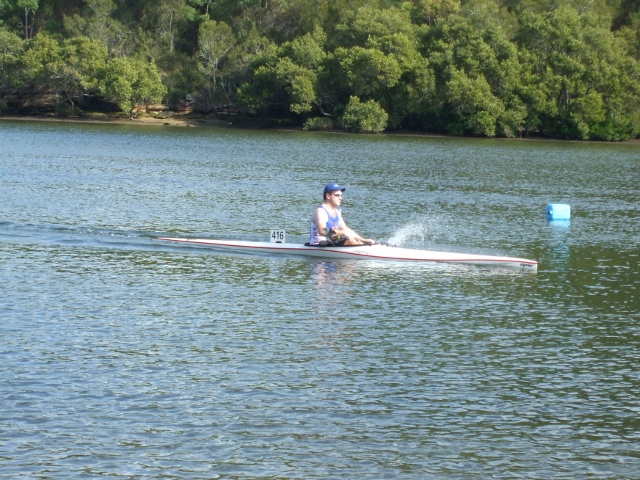 Tom Wins Div 4
8 June 2013: Kayak Kapers June Issue Available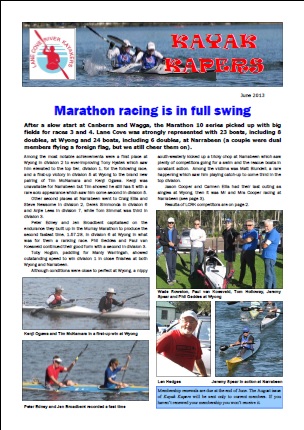 Come racing down New Zealand's fastest flowing river, the mighty Clutha, with world champion paddler Matt Blundell. In the June 2013 issue of Kayak Kapers, Matt gives an exciting blow-by-blow of a 4-day race down the rapids of this great river. It was one of three testing races which he won in as many weeks in New Zealand and northern Queensland. Also in the June issue:
• Renowned paddler Tom Simmat reveals the secrets of successful washriding.
• Lane Cove members give their views on how putting extra weight in your boat affects its speed.
• Paddle NSW's marathon racing series is now in full swing.
June issue and earlier issues of Kayak Kapers are available to download

26 May 2013: Closing The Gap Towards Marathon Series Club Cup at Narrabeen
After the fourth Race in the Marathon Series at Narrabeen today, Lane Cove is now on 96 behind Burley Griffin on 116 and Manly Warringah on 114. With six races yet, the Club Cup is far from decided. If we continue to place Lane Covers 1st-4th in as many Divisions as possible we still have a good chance.
Thanks all those Lane Cove paddlers who gave it their best today. Conditions were difficult with choppy water mainly from wash from the large number of boats and at times from motor boats rescuing swimmers. Wind was stronger than expected in the first half. Even some notables had a swim.
Congratulations to the following points contributors to LCRK's Club Cup effort: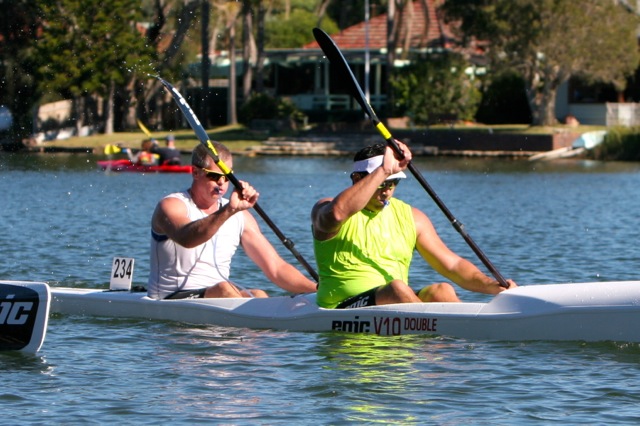 Craig Ellis and Steve Newsome (2nd Div 2 - 6 points)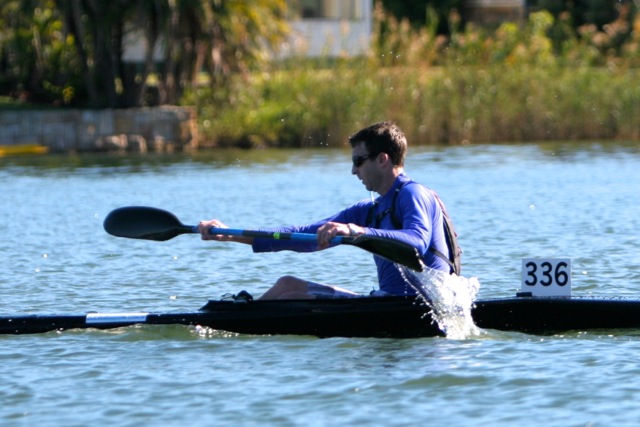 Michael Day (2nd Div 3 - 6 points)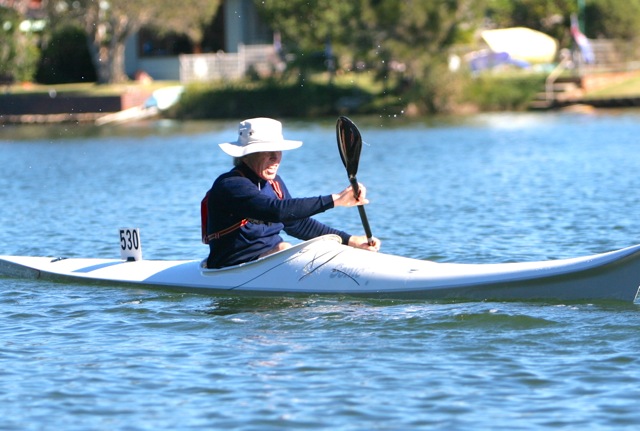 Tim McNamara (2nd Div 5 - 6 points)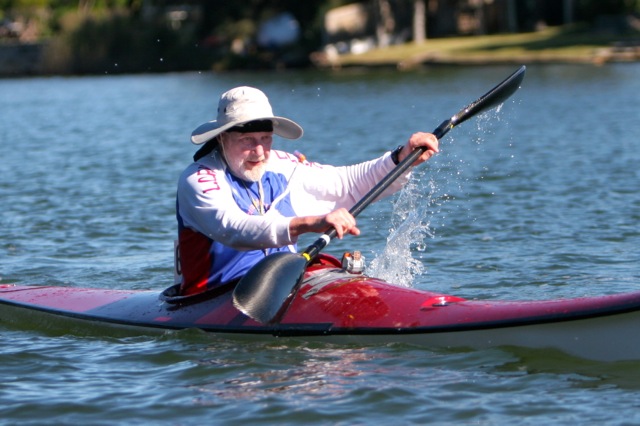 Derek Simmonds - (2nd Div 6 - 6 points)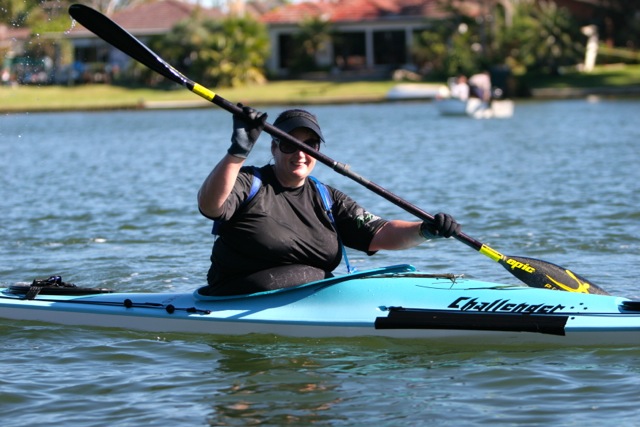 Anjee Lees (2nd Div 7 - 6 points)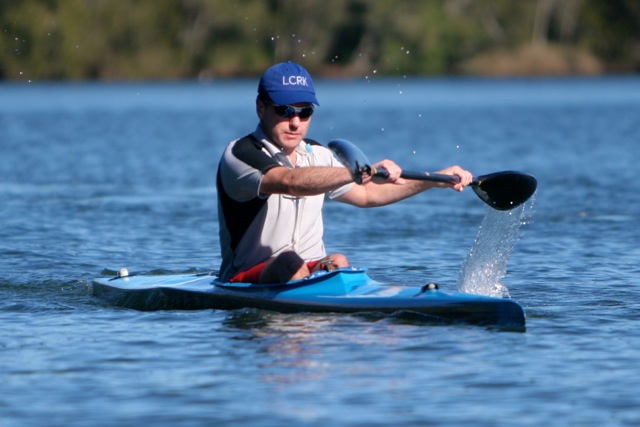 Tom Holloway - (4th Div 4 - 2 points)
Congratulations to dual member Toby Hogbin (paddling for MWKC) for winning Division 1.
Check out the Full Results and the Photos and More Photos.
Next Race is Race 5 at the lovely Woronora course on Sat 8 June. Let's put in another big effort to continue to close the gap at the half way mark.
5 May 2013: Excellent Club Results at Wyong
Lane Covers turned out in numbers for the annual Wyong marathon series race on Sunday May 5 - it's a favourite venue for many of us - with 22 boats competing and were rewarded with some impressive results.
Dual member Toby Hogbin (paddling for Manly Warringah) won division 1 in the very smart time of 1.32.30 and Tony Hystek as usual looked to be flat-chat all the way in winning division 2 in 1.38.15. In division 4 Phil Geddes and Paul van Koesveld continued their good form with a 2nd. In division 5 the new pairing of Tim McNamara and Kenji Ogawa left all in their wake for a first-up victory, with Jeremy Spear 3rd and Len Hedges 4th. Peter Edney and Jen Broadbent brought their Murray Marathon form to Wyong to record the second fastest time in division 6 in what was for them a ranking result. Anjie Lees was 2nd and Andrew Kycyper 3rd in division 7.
The weather was autumn at its best, the water was slightly bumpy in parts but nothing unsettling. All in all, a great day's racing and a chance to catch up with old friends.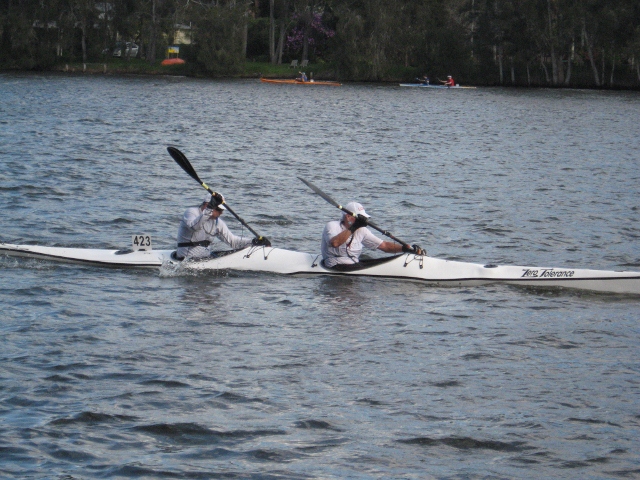 Phil Geddes and Paul van Koesveld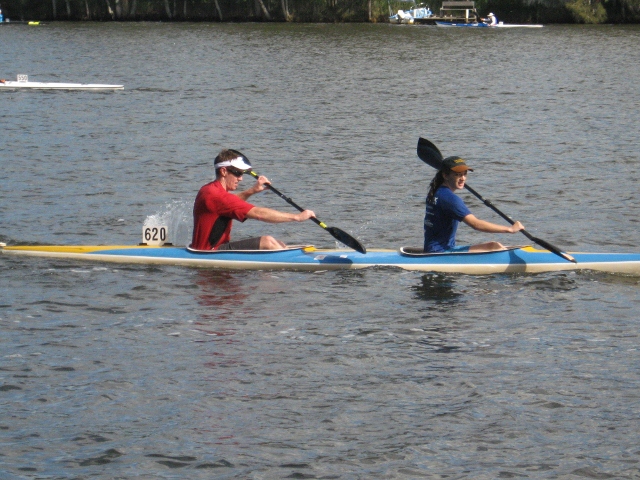 Peter Edney and Jen Broadbent
13 April 2013: Perfect Day in Wagga
It was a beautiful day in Wagga for Round 2 of the State Marathon Series, however the course was very tough and slow. Apart from the expected river flow, there were some very shallow sections and also standing waves for about a 50 metre section just before the top turn. There were quite a few swimmers. In most divisions only the first 2 or 3 managed to paddle a time that met the divisional time bracket!
Only five LCRK entred boats managed to make it to the marathon after it was rescheduled to a week earlier. Tom Simmat, unfazed by the conditions came 3rd in Div 3, Anjie Lees took out Div 7, and Alanna Ewin and Danielle Seisun grabbed 3rd in Div 8. Richard Lindsay finished mid field in Div 6 and Wade Rowston was towards the back of Div 4.
The always brilliant Matt Blundell won Div 1 and Toby Hogbin came in 3rd, both paddling for MWKC.
Great effort everyone! Hopefully we will get a lot more boats to the Wagga Marathon next year.
5 March 2013 - Kayak Kapers April Issue Available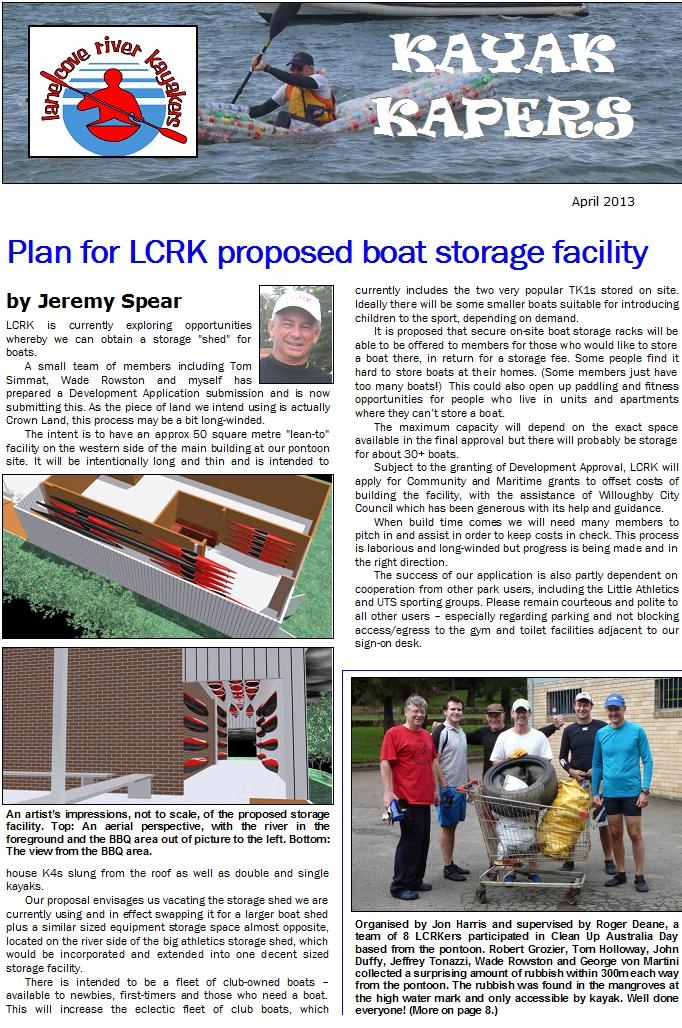 If you put extra weight in your boat, perhaps to make it more stable, is it going to slow you down? And if so, by how much? According to a study by Tom Holloway published in the April 2013 issue of Kayak Kapers it's only a few seconds, but that might be the difference between winning and losing.
Also in this issue of Kayak Kapers you'll find:
• Details of how Tom Simmat built a kayak from 1000 plastic bottles fished out of Sydney Harbour and raced it from the Harbour Bridge to Manly.
• Ruby Gamble's description of white water kayaking on the Snowy and Murray.
• Plans for a Lane Cove River Kayakers boatshed are outlined.
April issue and earlier issues of Kayak Kapers are available to download

21 Mar 2013: Marathon Round 2 Date Change
Marathon Series Round 2 at Wagga Wagga scheduled for 20th April has had to be moved due to an unforeseen "huge" Regional touch football competition being held on the same weekend - accommodation has been booked out already.
So the new race date for Wagga Badge Canoe club race is Saturday the 13th April
Please note -school holidays start Friday the 12th so if you are planning on paddling at Wagga -book now!
The Wagga Wagga City Council (WWCC) information page lists all sorts of accommodation – see http://www.waggawaggaaustralia.com.au/accommodation/
16 March 2013: Marathon Round 1: Burley Griffin Canoe Club
Congratulations to all LCRK members who participated at Canberra.
Div 1: Tony Hystek
Div 3: Tom Simmat
Div 4: Phillip Geddes, Paul van Koesveld, Tom Holloway; Wade Rowston
Div 5: Jeremy Spear, Duncan Johnstone
Div 6: Derek Simmonds, Matthew Swann, Richard Lindsay, Nicholas Chai
Div 7: Anjie Lees
Div 8: Bert Lloyd, Don Rowston, Alanna Ewin, Danielle Season
Div 10: Tracey Hansford
Also to LCRK members Matt Blundell, Toby Hogbin, Ann Lloyd-Green, Bob Turner, Kristy Benjamin who paddled for other clubs.
Full Results - After round 1 LCRK is 3rd on club points.
4th Mar 2013: Clean Up Australia Day on the Lane Cove River
Organised by Jon Harris and supervised by Roger Deane a team of eight LCRKers participated in Clean Up Australia Day based from the pontoon. John Duffy, George von Martini, Robert Grozier, Tom Holloway, Jeffrey Tonazzi and Wade Rowston collected a surprising amount of rubbish within 300 metres each way from the pontoon. Collected via a kayak there was a car tyre, shopping trolley, large sheet of heavy duty plastic (not a composting ground cover) and about 12 large bags of glass and plastic bottles. The rubbish was found in the mangroves at the high water mark and only accessible by kayak.Well done everyone! More info in the next Kayak Kapers.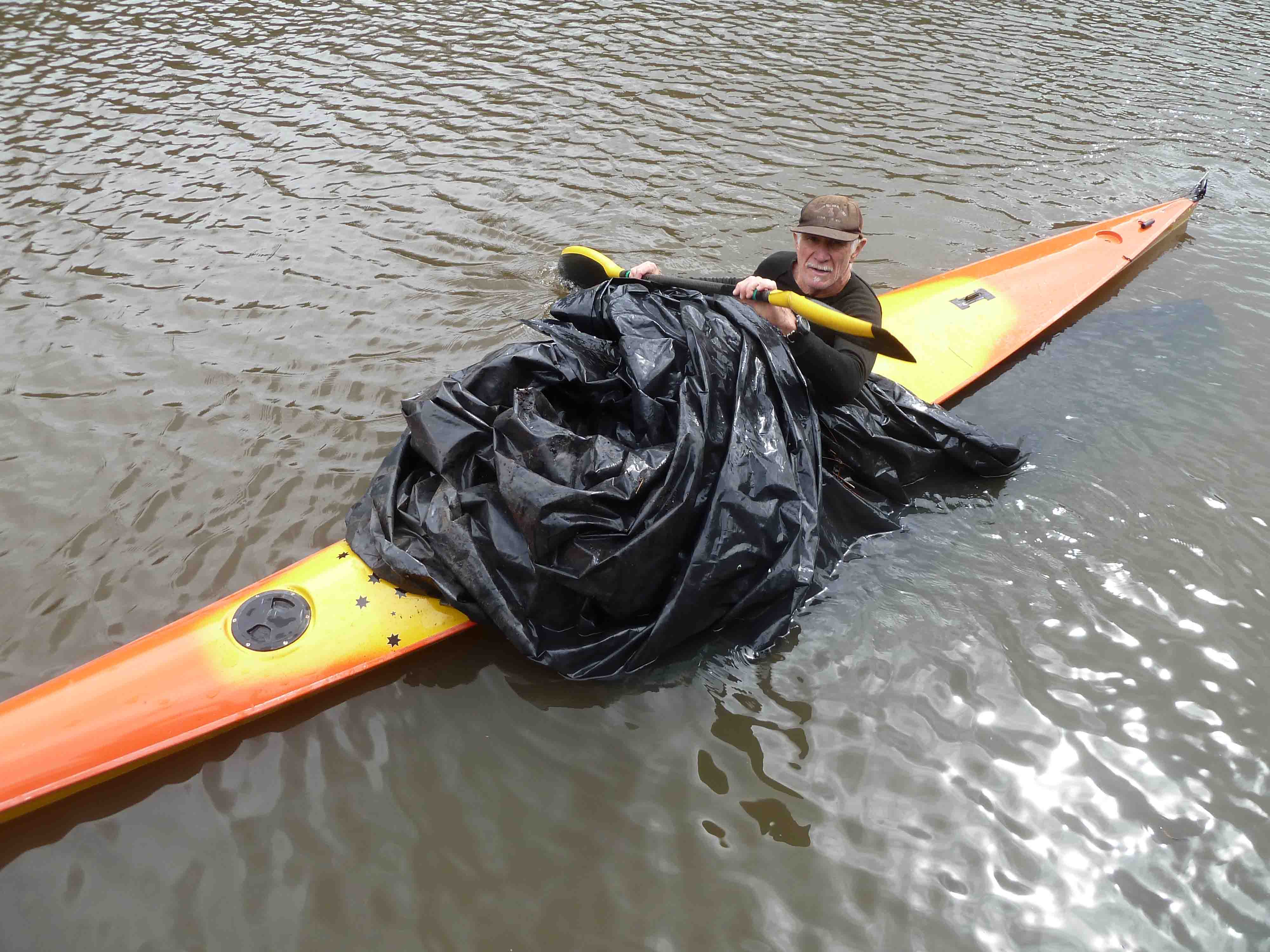 Jon Harris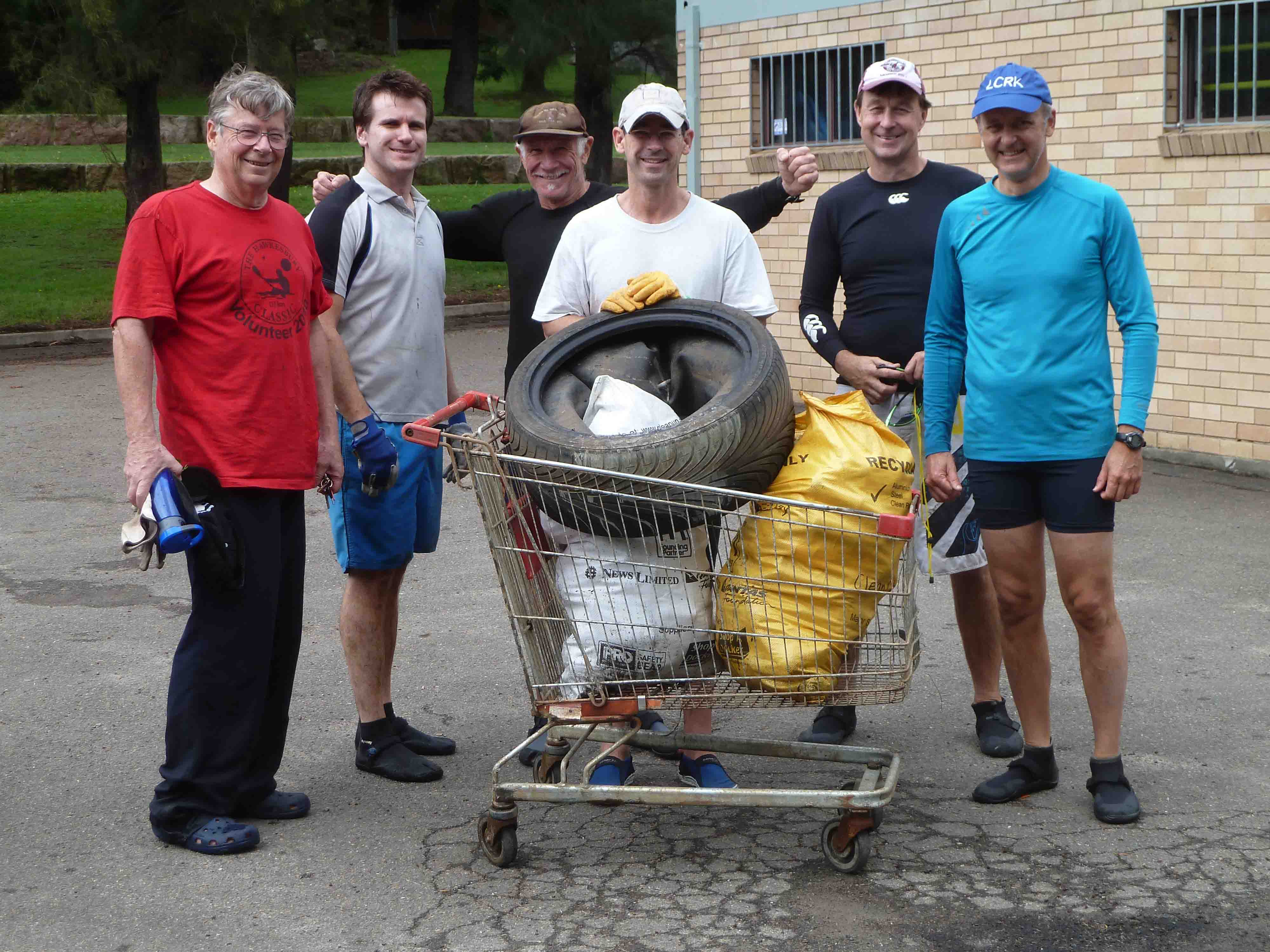 Some of the rubbish found
6 Feb 2013: Kayak Kapers February Issue Available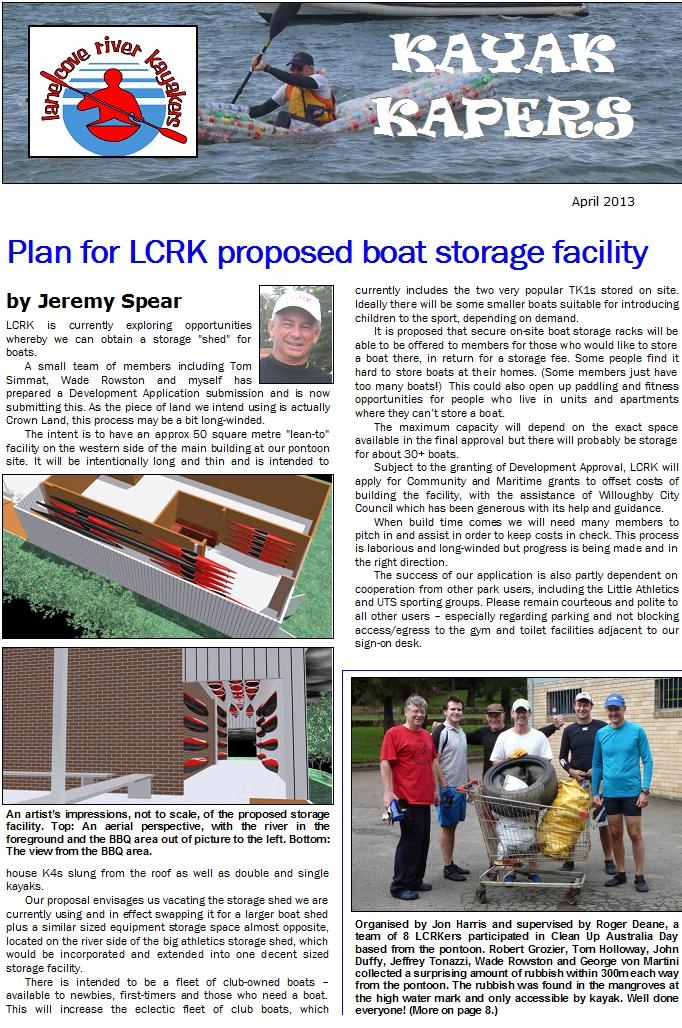 The February 2013 issue of Kayak Kapers contains extensive coverage of the Murray Marathon and highlights the amazing performance of Rae Duffy in winning both the Hawkesbury and Murray on handicap. Also in this issue:
John Duffy gives a first-hand report on the Lane Cove River Kayakers expedition across Bass Strait
Matt Blundell takes you racing down the rapids of New Zealand's Waimak River
Discover the wonders of kayaking in the Galapagos with Danielle Seisun
Head down the Macquarie River with Paul Gibson
Find out why the Myall Classic is at risk
The February issue and earlier issues of Kayak Kapers are available to download

12-13th Jan 2013: Huge Weekend at the 2013 PNSW State Sprint Campionships
Last weekend saw the running of the PaddleNSW Sprint Championships at the Sydney International Regatta Centre (SIRC). It was a massive program with over 170 competitors, in 138 races, over the two days and was a significantly bigger and more complex event than any of the PNSW Sprint Series Regattas held throughout 2012. Furthermore, it featured at least six London Olympic paddlers including the Gold Medal winnning K4 team, and competitors from interstate and overseas (GB, NZ and Japan). Have a look at the photos.

Weather conditions for Saturday were forecast to be extreme with temperatures above 40 Degrees at Penrith, however thankfully a level of high overcast cloud kept temperatures below forecast. Sunday was far more mild and only interrupted for around 30 mins by the brief passing of a thunderstorm. In contrast to the sometimes windy conditions experienced at some of last year's Sprint Series, there was little if any wind, so conditions were perfect for setting some good times. Yet again the preparation of SIRC was excellent and weed-free.
As usual, LCRK made an outstanding contribution to the running of the two day event with the following LCRKers helping out; Wade Rowston, Roger Deane, James Mumme, John Thearle, Tony Hystek, Alanna Ewin, Paul Van Keosveld, Steve Paget, Tim Hookins, Joy Robinson, Richard Robinson & Nigel.
It must be said that Lane Cove continues to make a far larger relative contribution than many clubs, especially considering Sprint is not this club's primary focus. Well done to all of you for giving so much back to the sport!
With such a large contingent running the event we had fewer competitors than would normally be the case however Jason Cooper, Craig Ellis, Steve Paget and Tim Binns paddled recording the following times;
Jason Cooper : K1 1000m 4.48 K1 200m 50.7
Craig Ellis: K1 1000m 5.04
Jason and Craig: K2 1000m 4.35
Tim Binns: C1 1000m 5.54 C1 500m 2.49 C1 200m 58.7
A highlight of the regatta was the Gold Medal winning Australian K4 team cover the 1000m in 3.02 (that's 19.7 kmh). It is a fantastic event. Let's hope next time LCRK can get some more boats on the water.
Find out more about PaddleNSW Sprint