16 Dec 2015: New Cups for 2016!
At the 2015 Xmas event, announcements were made on 3 new Cups for 2016.
1) Sugarloaf Cup – is the name for the new Cup for the 9km course. Sugarloaf Point is situated close to the turning buoy for the 9km course. The first qualifying race will be on Cup night, the 6 January 2016.
2) and 3) Fastest Paddler Cup. There will be a men's cup named the Turrumburra Cup (Turrumburra is the Aboriginal name for the Lane Cove River) and an equivalent women's cup (name yet to be decided). To win the Fastest Paddler Cup, the paddler must have the fastest average time over any fifteen 12km timetrials in a calendar year, and must be a LCRK member. Whilst the clubs fastest paddlers are well known – the key to winning here will be consistent attendance – making sure you ARE on the water on a fast night, rather than simply paddling just on Cup nights.
Also announced were some small changes to the Crudslime and Doubles cup handicapping. "established paddlers" will only have their handicap increased following TWO better-than-handicap performances (rather than the current "one" performance). Established paddlers consistently complete 12km in under 70 minutes. The change is intended to better deal with the vagaries of the river on 'fast' vs 'slow' nights.
16 Dec 2015: LCRK Xmas function
LCRK held our Christmas party and awards night on Wednesday 16 December. The weather forecast was ominous having earlier in the day had 200+km/h winds recorded at Kurnell, hail and heavy rain – later declared as a natural disaster. Our off-water cardboard boat activity was rapidly looking like turning into an on-water paper mache event. Luckily the rain cleared and we ended up with a pefect balmy evening.
Firstly the serious part of the evening, being the awarding of Trophies:-
The Andrew McAuley Trophy (awarded to a member who has undertaken an extraordinary task and is an ambassador to the spirit of kayaking) with no specific contenders in 2015, was retained by Anjie Lees.
Crudslime Cup (12km). Awarded to Oscar Cahill. Oscar was an early leader in the competition and held on to his lead to take out the Cup with 418 points. Tim Dodd and Matt Blundell were snapping at his heels on 406 and 402 points respectively. The Cup was closely fought, with a handful of paddlers in the running still at the final race of the year.
Coffee Cup (6km). Awarded to George von Martini. The first time this cup has been awarded twice to the same paddler. George was the only paddler to complete nine Coffee Cup races, and ended the season 53 points ahead of Ian Wrenford in 2nd and Peter Harris in third.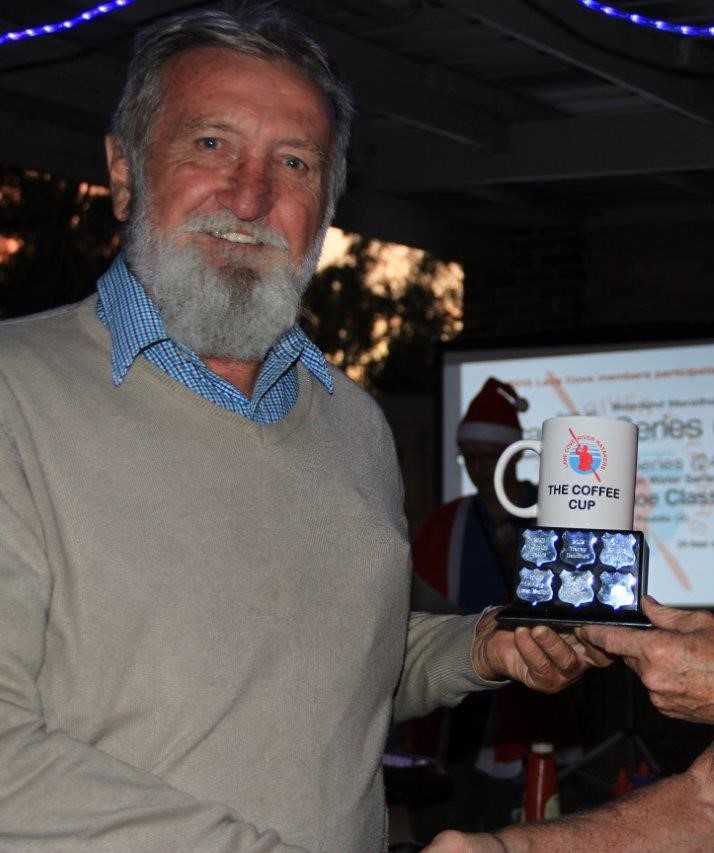 George Von Martini with the Coffee Cup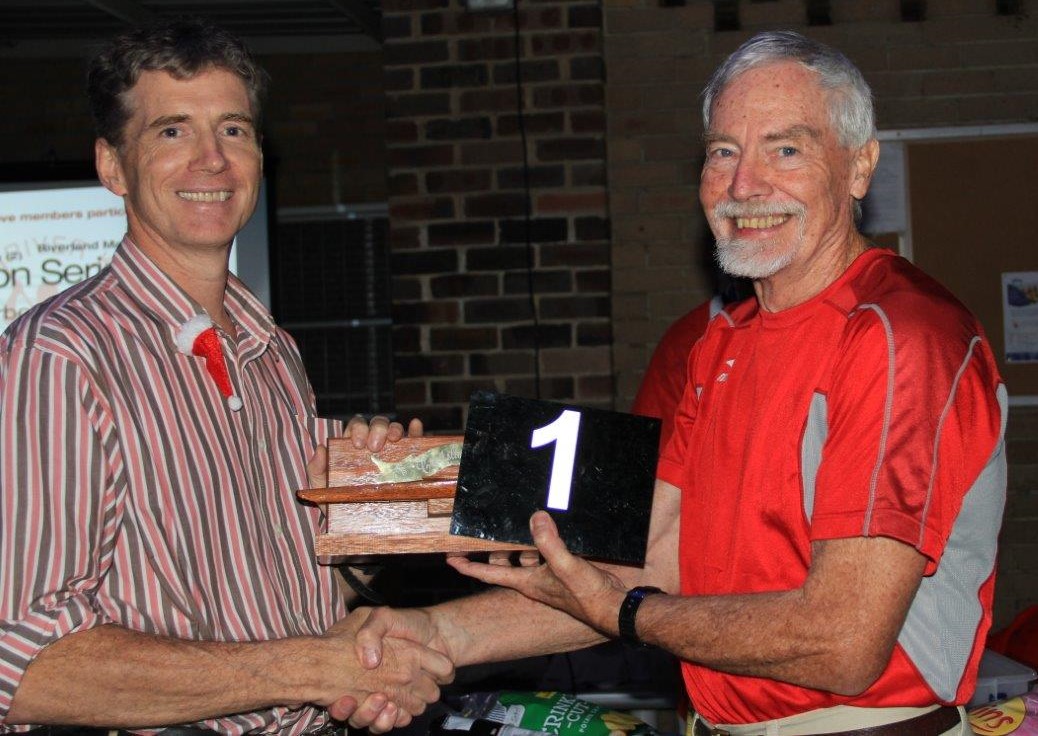 Oscar Cahill accepts the Crudslime Cup and new boat number
Doubles Cup (12km). Awarded to Anjie Lees. Anjie scored an impressive five first places with Meg Thornton, David Young, Ruby Gamble, and Tony Hystek, and also paddled with Suzie Rhydderch. With a point score of 443, only Phil Geddes on 423 was able to hold close (the rest apparently demoralised when the competition got too fierce).
Rookie Award. Awarded to Don Johnstone. After having a late start to the year in July with the 6km course, Don improved his times by eight minutes, before switching to the 12km course in September, where he improved his times by another five minutes by the end of this year.
Most Improved Award. Awarded jointly to David Young and Ella Beere. David Young is a much stronger paddler than a year ago, taking out Division 3 in the marathon series, taking a couple of minutes off his time in the 12km time trial (no mean feat when you're paddling close to 60 minutes), and taking an hour off his HCC time to win a record. Ella Beere backs up last year's most improved award with another, improving her time several minutes to reach a sub-60 time of 59:03 (a new Club Women's record). She has also had marked improvements in sprint times, winning multiple National events and representing Australia in the world sprint championships.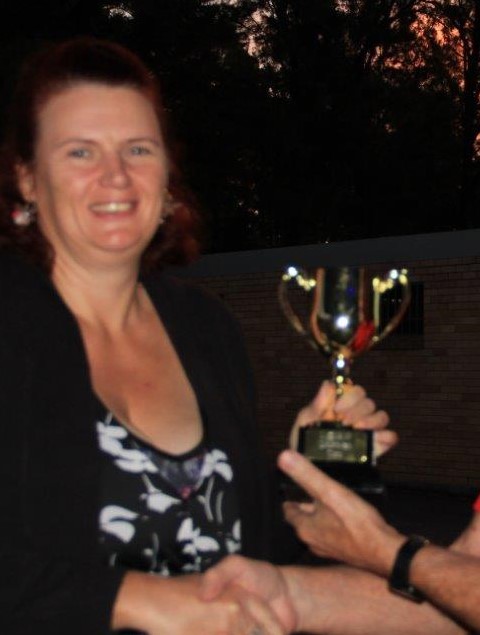 Anjie Lees - Doubles Cup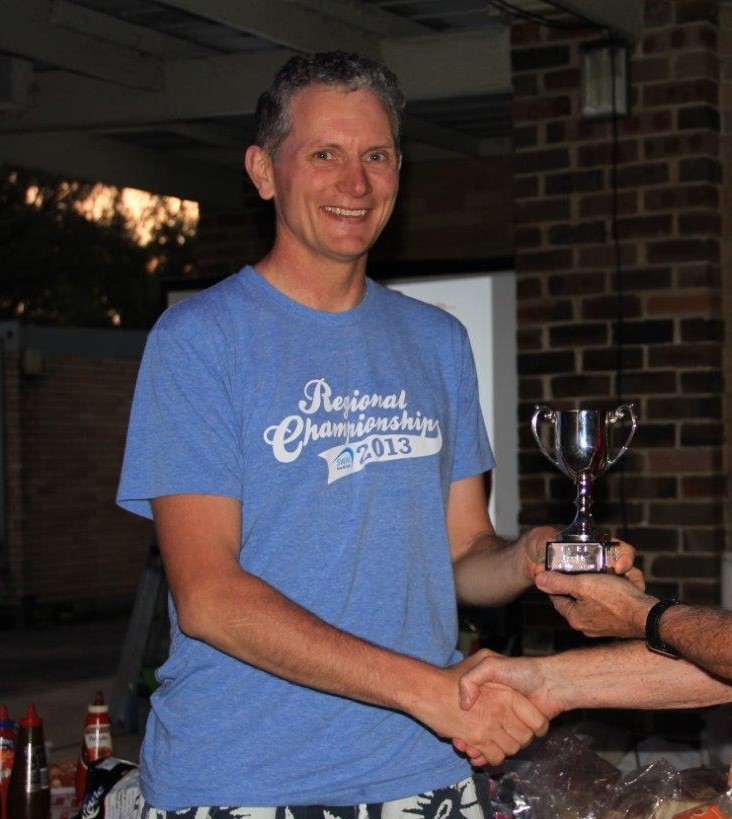 Don Johnstone - 2015 Rookie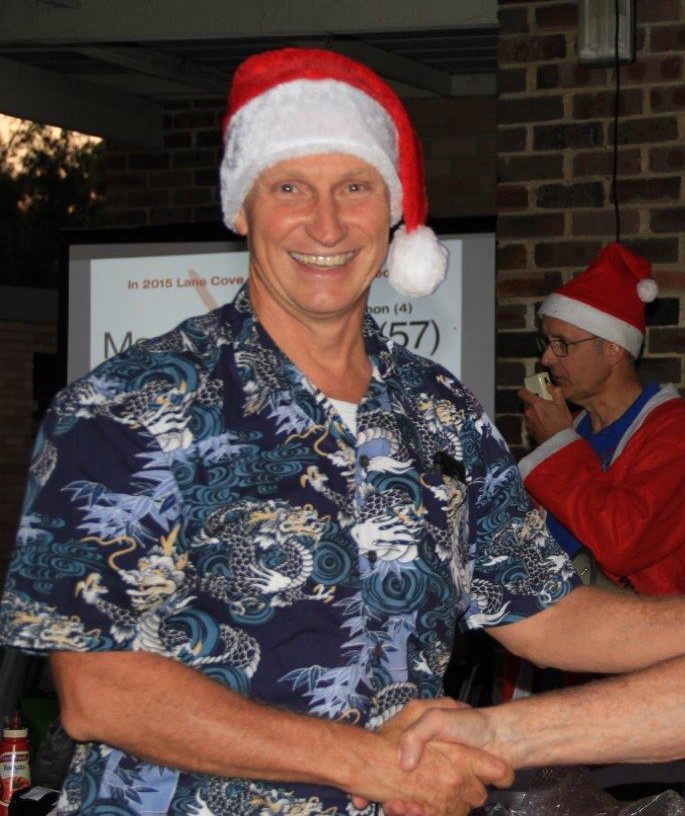 David Young - most improved
Most Unimproved Paddler. Because we sometimes need to have a laugh at ourselves, we also asked for self-nominations for the inaugural 'Most Unimproved Paddler' award. The prize was a hotly contested wooden spoon offered as a free upgrade for their paddle, with the hope it may make a difference to their times. The winner was Jana Osvald whose moving submission had many close to tears.
The off water cardboard boats competition was very well subscribed with many a cardboard box coming out of the woodwork to be re-crafted into a range of boats. Substantial effort and imagination went into many of the boats including a Viking Ship (with Viking), Yellow Submarine (with pirate), Noahs Ark (with animals), a Gondola, a Tall ship, apparent tributes to the Costa Concordia (slab sided cruise ships), washriding yakshoes, as well as the latest craft from well known manufacturer Cardboardology. Organiser Ruby Gamble was delighted with the turnout and had little need for the contingency boats for those who had not had time for a DIY job. There was a beauty parade, followed by the field and track events (and the anticipated cosmetic damage). The final awards were as follows:-
Best Family entry – the Cahill family for a highly decorative version of Noah's Ark complete with Australian animals 2x2. And ideally suited to weather conditions earlier in the day.
Best Rush Job – to Tony Hystek and Alanna Ewin for a superbly decorated tall ship (a schooner?). Alanna fulfilled the role of graceful figurehead whilst also providing navigational support for Admiral Hystek towering above the poop deck.
Best Double – no entries, although some of the singles needed only 30 seconds with a Stanley knife to qualify
Best Single – Ian Wrenford for his Cardboardology Special K – a 4 metre craft with clean lines and an ineffective rudder, closely pursued by Viking Phil Geddes in his long boat and Pirate Rozanne Green in Ruby's Yellow Submarine.
Slalom Race – Michael Mueller shredded the competition in a minimalist but very fast boat that looked suspiciously like a cardboard box.
Donut Dunking – Duncan 'Dunkin' Johnstone cleaned up after a faster finishing Oscar Cahill graciously classed himself as a DNF (having polished off the donut on the foredeck of Noah's Ark, and having already taken out the family award).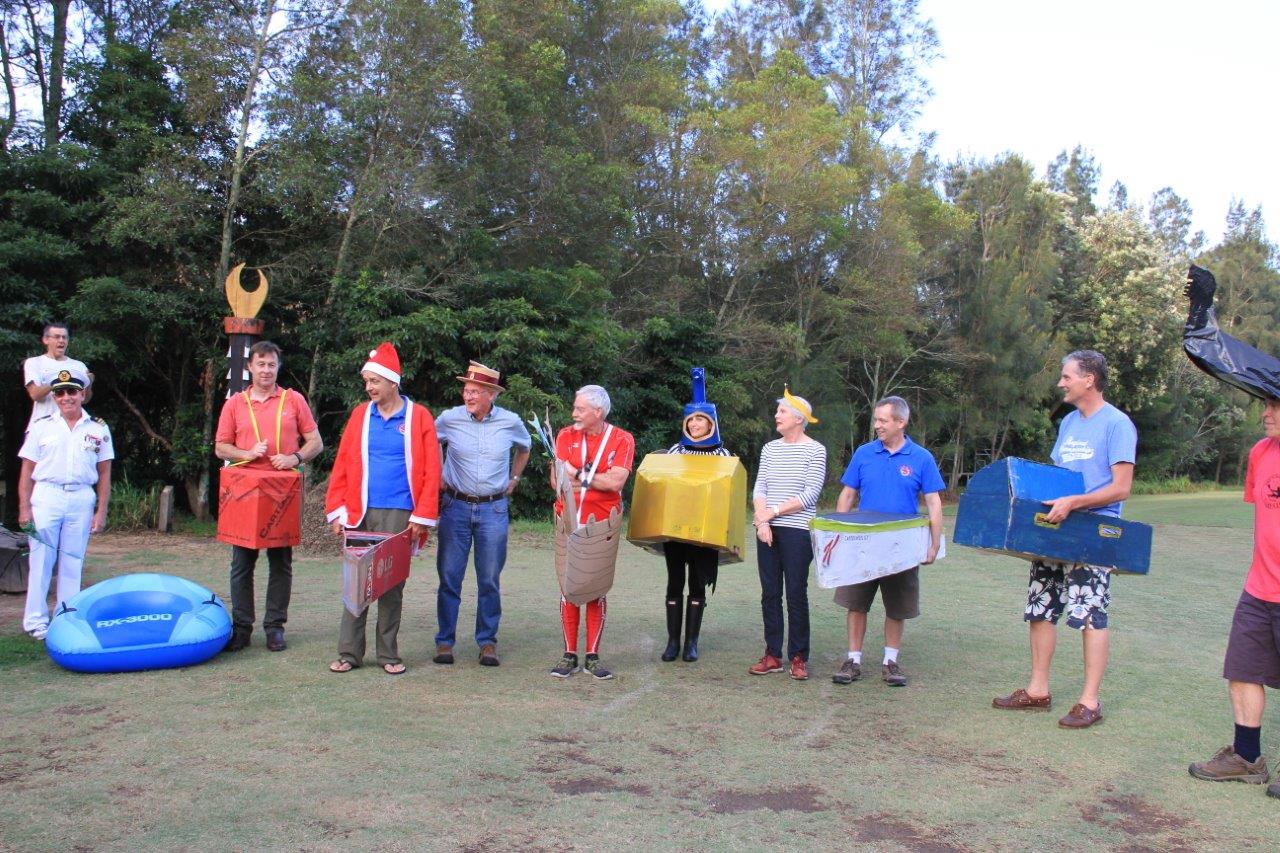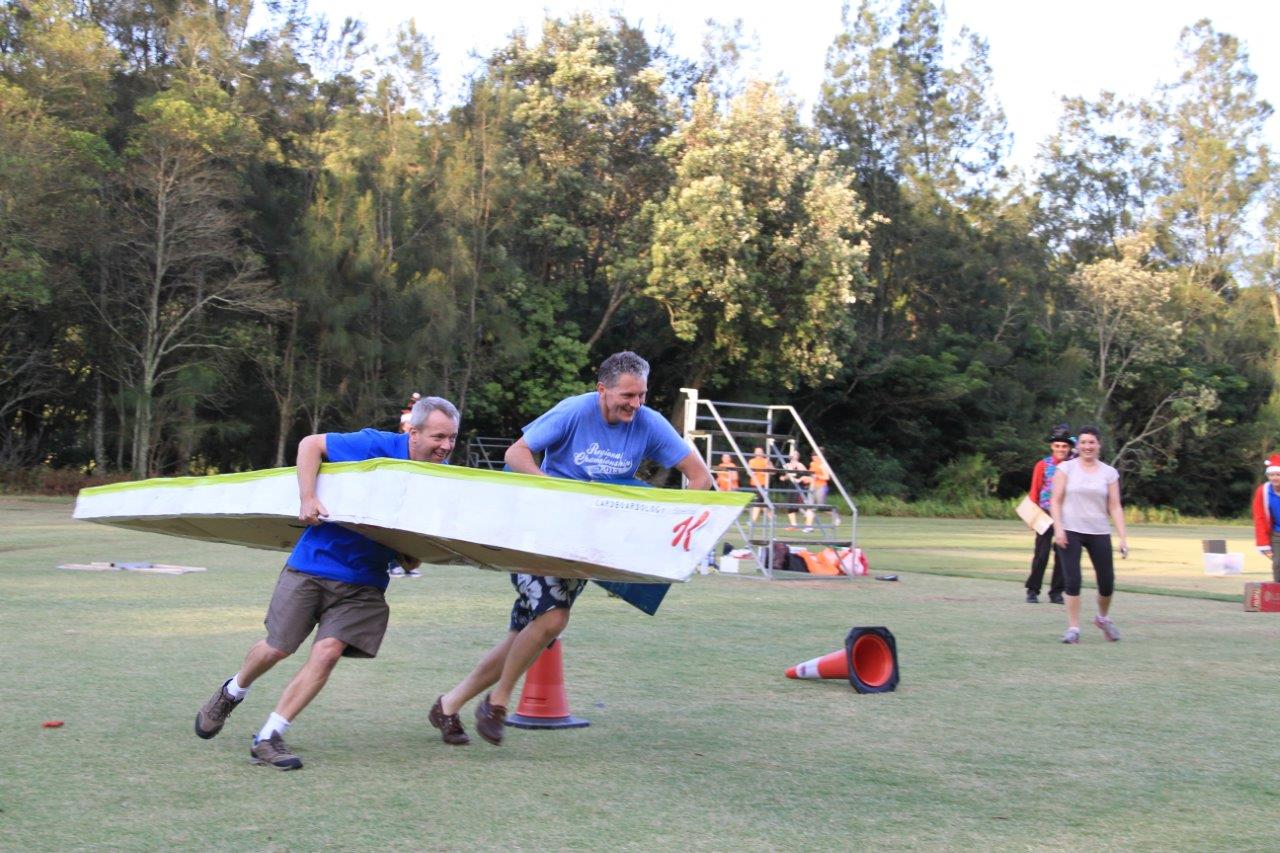 Special thanks to Ruby Gamble for coordinating the event and a lot of work behind the scenes, all the people who brought the sweet treats, Jana for the photos and also our ever-reliable BBQ team of Roger Deane and Mark Sier. And all the helpers who helped out generally (lots of helpers!).
16 Dec 2015: BGCC 24 Hour Report
(from Richard Yates)
I'm not sure if it was the excitement of Anjies world record last year, the offer of a weekend away camping with your mates or the proximity to Fyshwick but Team Pablo (Craig Ellis, Duncan Johnstone, Steve Newsome and Richard Yates) jumped at the chance for another tilt at the BGCC 24Hr Challenge . This time in Single skis.
For those unaware of the race it is a friendly event put on to raise money for charity. This Year's event raised money for Autism Spectrum . The course is 4.3km circuit around Molonglo Reach. Unlike the Marathon course it stops just short of the lake so we are confined to the narrow waters. The river is lined with willows, blackberries and fishermen.
We take our events very seriously at Team Pablo, so after setting up the glamping site, we rock paper scissored to see who was to lead us off. Craig took the honours and was ahead of the field by two boat lengths after 25 metres. (Nothing like a sprint start to a marathon race to keep the opposition guessing) Craig led the field of 20 odd boats around the course for a quick lap before handing over to Duncan, then Richard then Steve.
Watching the flotilla, we recognized the distinct style of a lone paddler poking along the course. Clad in a wrap around sun hat, a Sydney University Canoe Club T-Shirt aboard a 30kg short rec boat flying an Australian Flag Mr Richard Barnes was also here to take the challenge. While Team Pablo took turns, one lap at a time for the first 10 hours, Mr Barnes was planning 24 Hrs on the water, opting to not leave his boat for anything.
Averaging 24-25 minutes a lap for the first few hours, we had our own friendly intra team competition going. With nearly an hour and a half between paddles, the race was on to see who could eat the most cupcakes from the local Girl Guide cake Stall. (Congratulations Steve, although Duncan gave it a nudge too).
Out on the water, the race continued with teams of SUPS from the NAVY and Nearby Duntroon duking it out. The NAVY boys, being heavily tattooed and bearded looked at home on the water, however, being NAVY boys they looked just as comfortable with a can of beer in hand between laps. I think they bought their own steward down to cook their BBQ meals for them. The competition for most comfortable campsite experience was going to be a tight one.
Nightfall was swift and surprisingly dark and cold. The field thins out a bit as it begins to feel like the race will go on forever. (This was Team Pablo's problem last year) However, based on the formula of 1 Tim Tam per man per lap we managed to keep a boat out on the river at all times.
By 8pm we had covered enough laps to have have lost count, but had convinced ourselves we were on the way to 60 laps. We switched to double laps, lowered the tempo and ordered pizza for dinner. Our manservant arrived in Craig's son Decklan. (We would show the NAVY boys how to run a glampsite.) Barnesy meanwhile kept clicking over the miles, lap by lap. Does anyone else know of a paddler who can paddle and solve cryptic crosswords simultaneously? He nearly had it cracked except for 7 down.
We all enjoyed paddling alongside Barnesy to have a chat, (he is fond of a chat you know). I nearly ran the poor man down at about 1:30 in the morning, I was paddling up to him when he stopped, unaware of my presence and did a 90 degree drift turn into my path. Out with the anchors, he apologised, saying he was having a "coca cola moment", a euphemism if ever I heard one. Richard was also concerned about the mess in his boat, having provisioned it for the full 24 hours. By then it was getting a bit messy with all sorts of debris and food remnants he was concerned about rats in the bilge and spent the next few laps looking to procure a ships cat to sort things out. Darkness and fatigue do strange things to your mind.
The midnight to 5am shift was shared between Craig, Richard and Duncan. After a couple of laps at 2am I returned to camp, tried to wake Steve. The vacant stare and incoherent mumbling coupled with the snores from elsewhere in the tent suggested that squeezing out another lap was an easier proposition than securing a fresh replacement. Steve's lightning lap times later in the morning, however, proved that the extra snooze was worth it.
Duncan ever the conscientious paddler had his phone alarm set for his graveyard shift, but was up before it and on the water at about 4 am when it went off. He neglected to inform us of the PIN code required to silence the alarm so we were constrained to 10 minute snooze intervals until Duncan finished his laps. Dawn broke, eventually, with Duncan's special breakfast of Rice cream followed by 2 minute noodles and a coffee. Mmmmmmmm. However it took the arrival of the Girl Guides with fresh cakes and eggs cooked to order to raise Steve from his slumber.
Our tactician, Craig, was busy overnight doing the numbers and planning when to switch back to single laps and up the pace. He did a splendid job and after very very gutsy laps from Duncan Steve and Craig, we set off as a team to paddle the last lap together. Having spent the last 24 hours either on the water solo it was a great way to finish the race.
This fun event was very well run by BGCC, with hourly prize giveaways, Fancy dress, and photo competitions. The focus of the event is really to have a good time with lots of happy but weary faces at the presentation.
Team Pablo managed, in the end to take out the most laps of any team (55, evenly shared, which is about 236km) and the fastest lap. Richard Barnes also took out the most laps by a solo competitor.
We were also fairly sure we took out the prize for biggest tent, most food eaten, best manservant, biggest glowstick (Steve)most severe sunburn, (Craig's legs) but were outdone on the sleep stakes by the NAVY team however I think their slumber time was assisted by Carlton and United's finest.
Richard Barnes, having paddled for 24 Hrs refused all offers of a lift and insisted on walking the 5 km to Canberra Station. The irony of the sunburn his feet received on this jaunt is not lost on him. I am also pretty sure he had the train carriage to himself for the trip home. (I have it on good authority he was woken up at Woy Woy Station by one of Ruby's mates. )
I would encourage everyone to have a go at this event next year. It can be as challenging or leisurely as you like. It's a great weekend away, one you can also share with your non paddling significant other. It will test you physically and mentally , but it is far from boring. Some Lane Cove Teams going head to head would be a great contest. Give it a try, bring your family, you will have a great time.
P.S. Before leaving I checked out the impressive line up of boats in the BGCC club house. Lets hope a few well placed scuba weights even things up a bit in the marathon series next year eh ;-)
28 Nov 2015: The Doctor - AC Ocean Racing National Champs
(from Tim Hookins)
"The Doctor", this time incorporating the AC Ocean Racing Champs 2015, was once again held in Perth in perfect downwind conditions on Saturday 28th November starting out from Rottnest Island 27 km back to Sorrento ending on the beach near Hillarys.
The 27 km race was won by Cory Hill, 2015 AC Paddler of the Year, in a time of 1 hour 35 minutes and 43 seconds, 17 seconds ahead of Jasper Mocke from South Africa. Jasper beat his brother Dawid into third place by11 seconds. This, over a race of 27kms in 25-30 knot winds!
(For the full report at the AC website go here)
14 Nov 2015: HCC Awards Dinner
(from Tom Holloway)
We congratulate The Armidale School (TAS) on their successful 2015 Hawkesbury Commonwealth Cup campaign. With Lane Cove numbers down slightly TAS's effort proved a little too strong. Third place was taken by Central Coast. It was a close finish - just two extra Lane Cove paddlers would have clinched it, as would another of our paddlers coming within an hour of a record. Thanks and congratulations again to all our paddlers. We hope to see everyone there for our 2016 campaign - every boat counts!
We also congratulate TAS on winning the fundraising trophy. They collectively raised over $30,000, with many $1000+ efforts amongst their young entrants.
Finally, we congratulate our own Peter Fitzgerald for winning the solo fundraiser award. Peter amassed over $18,000 for the Arrow foundation - a truly massive effort. As we heard at the dinner, these funds are going to good use on multiple fronts. Michael Papadimitrious - one of Arrow's researchers - gave a overview of recent breakthroughs in their dendritic cell immune therapy research. This research will soon enter clinical trials - paving the way for new Myeloma therapies.
The Hawkesbury Committee has indicated that following reduced boat numbers they will be reviewing the event with the aim of restoring the classic to its former 600+ boat status. They are seeking open feedback, and will have an open meeting in mid January to discuss. Should you have any feedback, please forward it to the HCC committee and/or attend the meeting.
Thanks again to the Hawkesbury Committee for all their hard work organising this iconic event!
24-25 October 2015: HCC Race Report

Crede quod habes at habe
Well, another Hawkesbury Canoe Classic is over. It was a beautiful moonlit night, some LCRK paddlers well and truly broke a number of records, and many others challenged themselves through their own races. The Club had 30 boats starting with 35 paddlers. Indications are that over half of Club members were involved in some form – either paddling, landcrewing, or just generally helping out before, during or after the event. The 2015 Hawkesbury Classic was a little down on the usual LCRK participation – due to a combination of planned and unplanned absences from Club Members and an unexplained drop in the usual influx of HCC newcomers to the Club. Our numbers were nevertheless bolstered by some long term LCRK supporters – more of which later.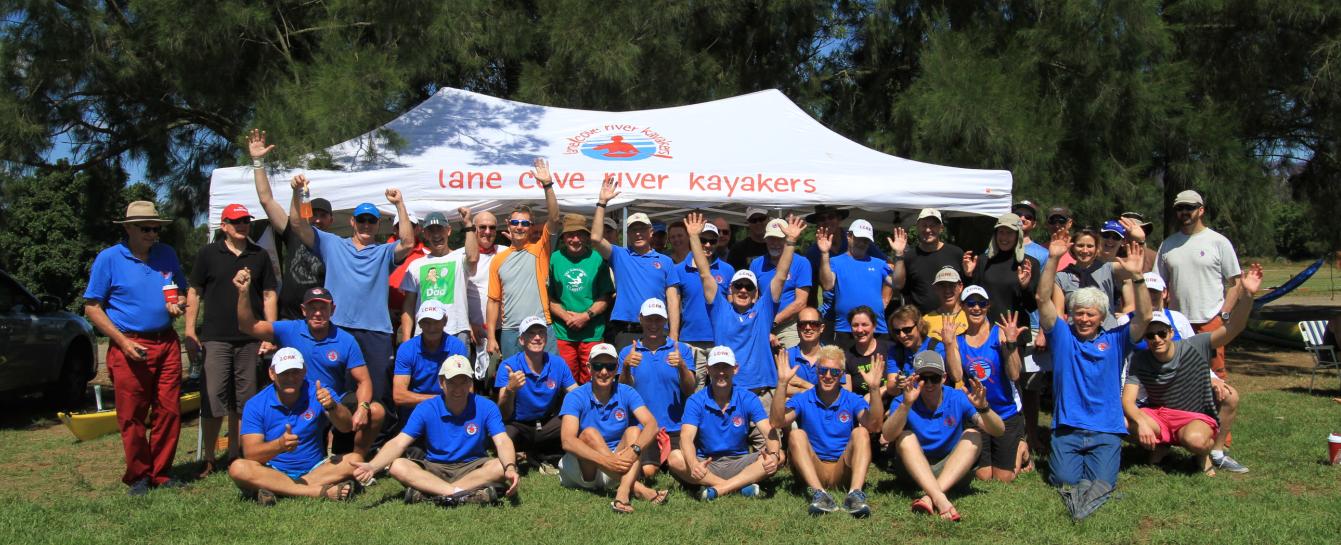 Paul Van Koesveld offered the following message prior to his departure on a well earned overseas trip: "a quick congratulation to all our paddlers who put in many wonderful performances in the river. Much more important is our thanks to the many club members who selflessly supported our paddlers as landcrew and/or LCRK base volunteers - there is nothing like being knee to thigh deep in cold river water into the early morning hours to make you feel alive, highly appreciated and maybe keen to paddle instead next year. Tony H again provided wonderful equipment and transport support. Thanks also to Brianna Lees and her friends for the excellent catering they provided to LCRKers at Wisemans. Many of us also volunteered directly to the HCC organisers in roles such as scrutineers, showbag assemblers, marshals and, of course, Roger Deane at the centre of the action on the day and heavily involved all year along with Richard Barnes in making the event happen".
At Windsor, it was clear that the representation from the New England region was formidable with several local schools TAS, NEGS and PLC Armidale banding together and the University of New England (DDS Kayaking Club) well represented. A corner of Macquarie Park was a veritable sea of students, parents, kayaks, buses and 4WD's and reportedly made up a 5th of 2015 HCC entrants! A great effort and exactly the sort of participation the HCC needs, although our long term dominance of the Commonwealth Cup now has some serious competition. Will we retain for 2015??
In terms of results, we had an excellent showing, raising the bar for 2016 substantially in a number of categories.
We had five record breakers. Glen Orchard our fastest finisher, took 6 minutes off the ORS V40 category finishing 1st in his class in 8:51:35. Joy and Rich Robinson paddling in SSK2 Mixed 40 took a full 1hr off the existing Open Record. Roz Green took 28 minutes off the ORS L50 record to finish in 12:47:59. Anjie Lees took a full 1hr 20 minutes off the UN1 L40 record to finish in 11:41:14. David Young broke the ORS V50 category by some 20 minutes finishing in 9:25:03.
Two more paddlers were within 1 hour of the record; Tom Holloway completing the LREC Open in 10:28:37 (around 50 minutes off the record) and Ruby Gamble in LREC Open in 10:48:01 (around 45 minutes off the record). Peter Fitzgerald came in first in the Brooklyn or Bust category (9:48:30) and good placings were evident across the categories.
The full list of LCRK performances is shown in the table below.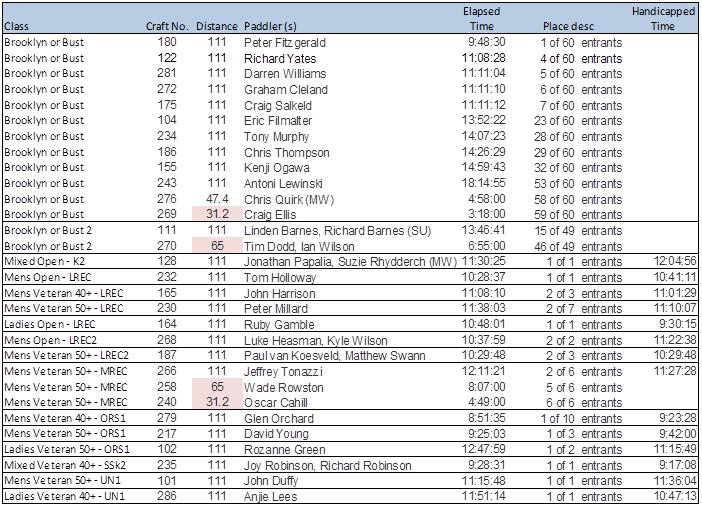 The perpetual LCRK trophies were awarded at the post HCC BBQ on Wednesday 28 October and went to:
| Fastest Lane Cove Finisher | Fastest Lane Cove Finisher on Handicap |
| --- | --- |
| Glen Orchard finished in a time of 8:51:35 in his Fenn Glide, shaving some 6 minutes off the ORS V40 record – all the more impressive given the tides on the night. He was the fourth fastest paddler in the 2015 HCC (the fastest being Boat #200 (Monger, Smith) in 8:44:00) | Joy and Richard Robinson paddling a SSK2 finished in an overall time of 9:28:31 with a handicapped time of 9:17:08. They were actually the 7th fastest paddlers in the overall race |
| | |
The HCC reports some $145,000 of committed fundraising form the 2015 event. LCRK has in total contributed some $30,000 – noting that over HALF of this is due to the efforts of Peter Fitzgerald (in particular) and his team (an informal group of buddies who go by the tag of SHOcKers - Sydney Harbour & Ocean Kayakers).
Funds raised go to the Arrow Bone Marrow Foundation and you can read about them here. Darren from the SHOcKers has actually been a beneficiary of the Arrow Foundation and his journey can be read at the Arrow website here. His 2015 race report is well worth a read as well.
For an extended version of this report – including stories from individual paddlers and volunteers – please
download the PDF report (1.6MB).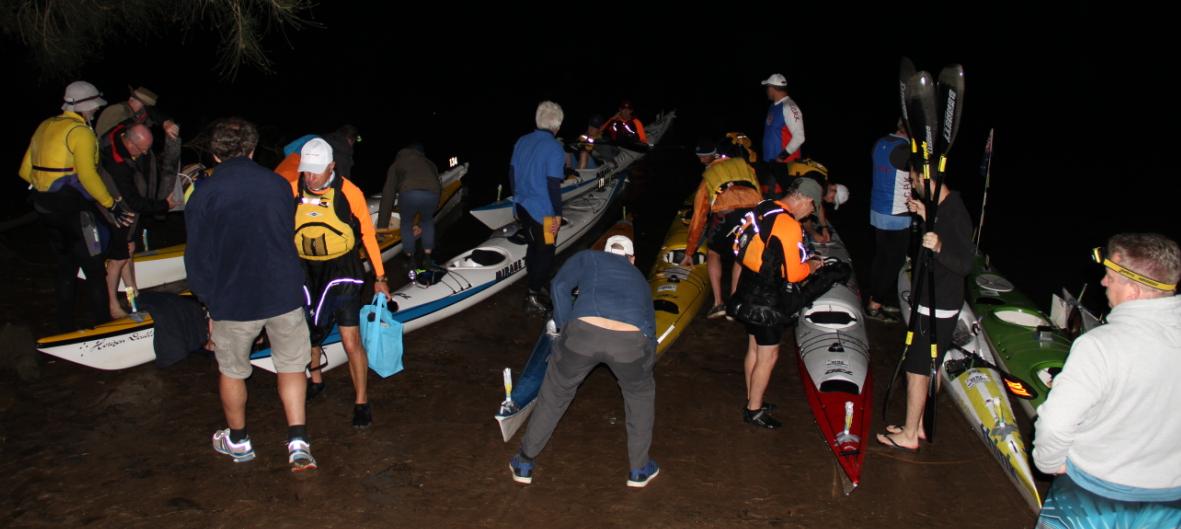 Above: Wisemans stop - kayaks, paddlers, volunteers
17 October 2015: HCC Calculator
LCRK is please to provide this Microsoft Excel based 'calculator' which is preloaded with 24-25 October 2015 tides all the way up to Windsor and incorporating associated tidal and riverine flows. To use, download the tool, open up Excel, adjust ONLY the yellow shaded cells ie:-
Update your Windsor start time
Update your expected base speed (either constant for whole 100km, or you can slow yourself down as your energy flags)
Adjust your expected stop time (eg if it's 1/2hr then enter as =0.5/24 to keep excel happy!)
The calculator will then derive your ETA at respective checkpoints, including adjustments for current.
The course map (separate worksheet) will be automatically updated and can be printed out on a single A4 page for you &/or your landcrew.
Print out different versions eg at 9km/h, 10km/h, 11km/h base speed - you'll know by your first stop which one you should be using!
Note that whilst there's a bit of science behind this tool - there are many other variables in play including wind, how you use the currents etc. Use the tool in conjunction with all your planning.

Download the calculator(this will undergo some post-HCC tuning based on actual GPS experience)
For those wanting more detail. The calculator identifies tides at Fort Denison (HH, LL, H, L), then adjusts that tide all the way up to Windsor some 5-7 hours later. Current patterns have been modelled for 3 sections of the river (between stops) using data from MHL, DPW etc. Your ETA at a particular checkpoint is adjusted based on your base paddle speed and the anticipated current at the time you are travelling. Short or long stops will affect the tide you catch (or are caught by). Further fine tuning CAN be done - but no point over-engineering it, you might be affected by winds, unplanned swims etc. Good luck!
12 October 2015: Paddle NSWAGM Awards
Congratulations to the award winners at the weekends PaddleNSW AGM including LCRKers Anjie, Ella and Bob!:
Male Paddler of the Year: Lachie Tame
Female Paddler of the Year: Jessica Fox
Young Paddler of the Year: Ella Beere
Paddler with a Disability: Breanna Reid
Masters Paddler of the Year: Anjie Lees
Team of the Year: Burley Babes Canoe Polo
Coach of the Year: Brian Trouville
Official of the Year: Bob Turner
Administrator of the Year: Lynn Parker
Volunteer of the Year: John Preston
Event of the Year: National Marathon Championships
Distinguished Long Service Award: Brian Trouville
26 September 2015: River Runs Deep at Wagga
A small band of Lane Covers made the scenic journey up to Wagga Wagga for the penultimate race of the series, and we came home with some valuable wins and placings, and to the surprise of us all, enough club points to just nudge Manly Warringah out of second place in the club standings. We were treated to a glorious day on Saturday with a fast flowing Murrumbidgee River following the release of water. With most participants driving up on Friday night it provided ample opportunity prior to race start to become familiar with the technical aspects of approaching and turning around the turning markers in the fast flowing water....
more

12 September 2015: As Good as it Gets at the Myall Classic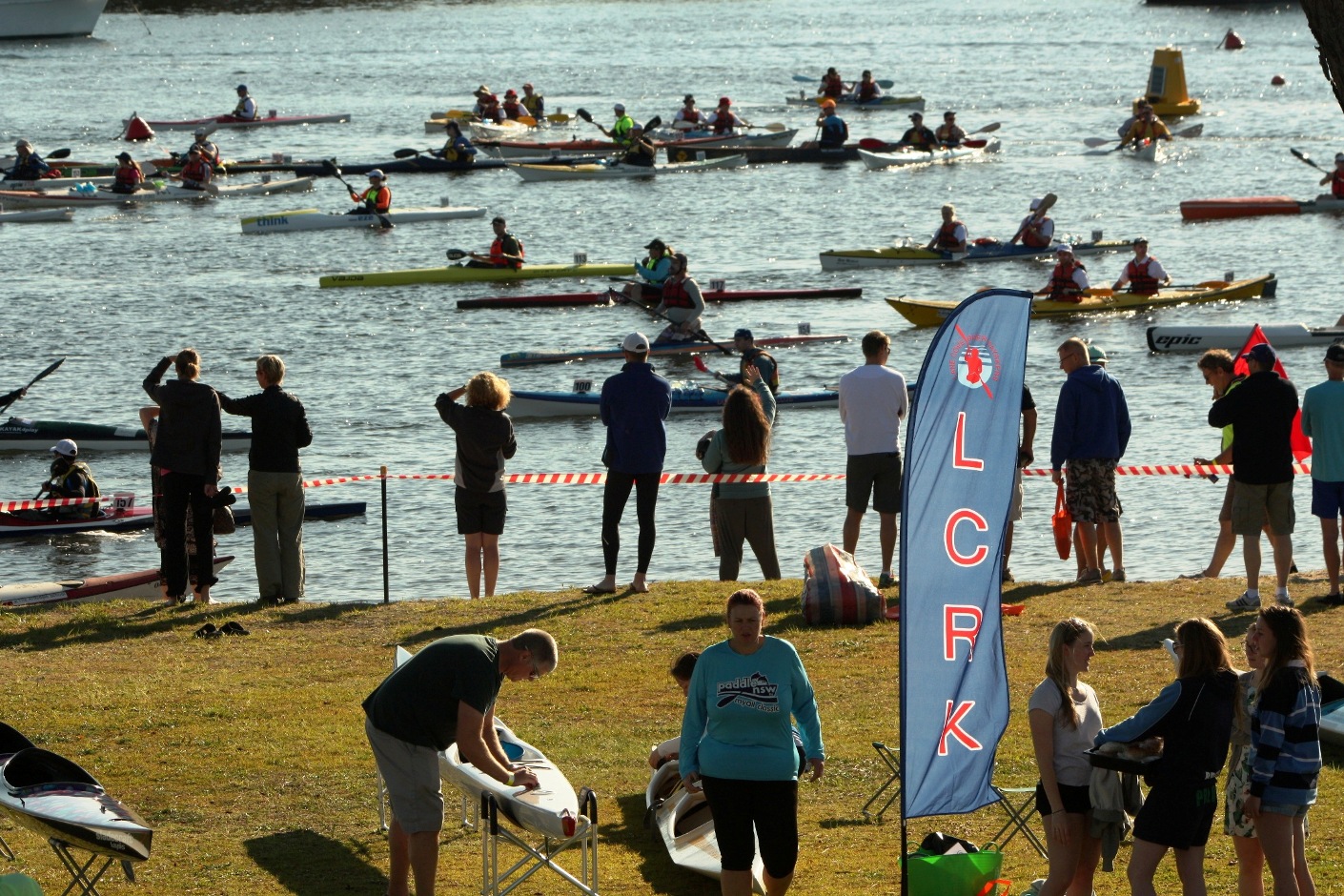 The first of the two, big, long-distance events on the NSW calendar happened on Saturday. As usual Tony Hystek, as key organiser, Bob Turner, Gaye Hatfield and Tim Hookins were integrally involved in the Myall Classic's planning and running on behalf of PaddleNSW. The critical Safety Manager role was performed by Ken Holmes. Also spotted at Tea Gardens, working to make the event a success, were Alanna Ewin, Danielle Seisun, Anjie Lees, Ruby Gamble, Joy Robinson and Lawrie Kenyon. Notice anything in common? Yes, these LCRK members and others more than pulled their weight amongst volunteers from other clubs – thank you all. The team produced an excellent event appreciated by close to 300 paddlers.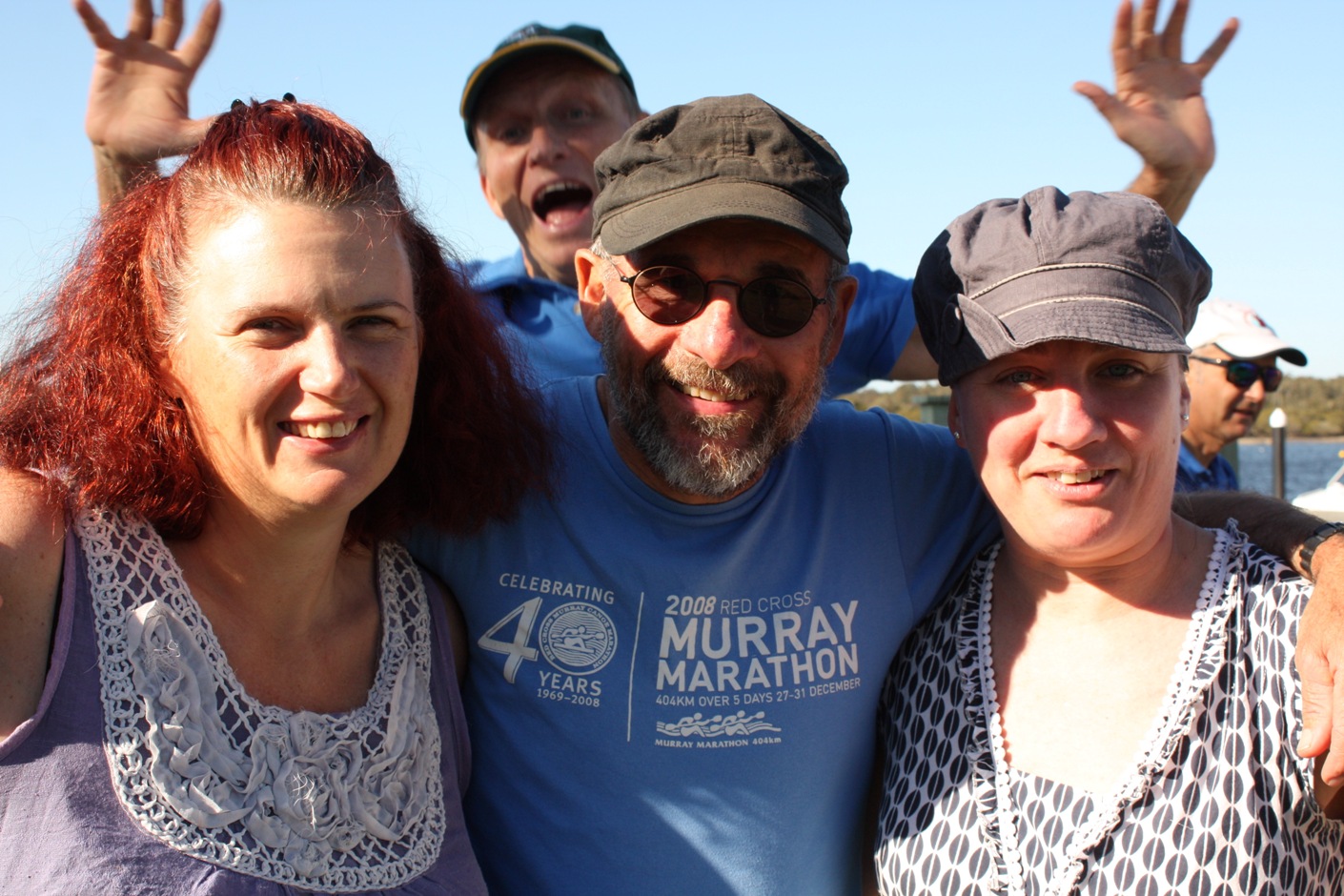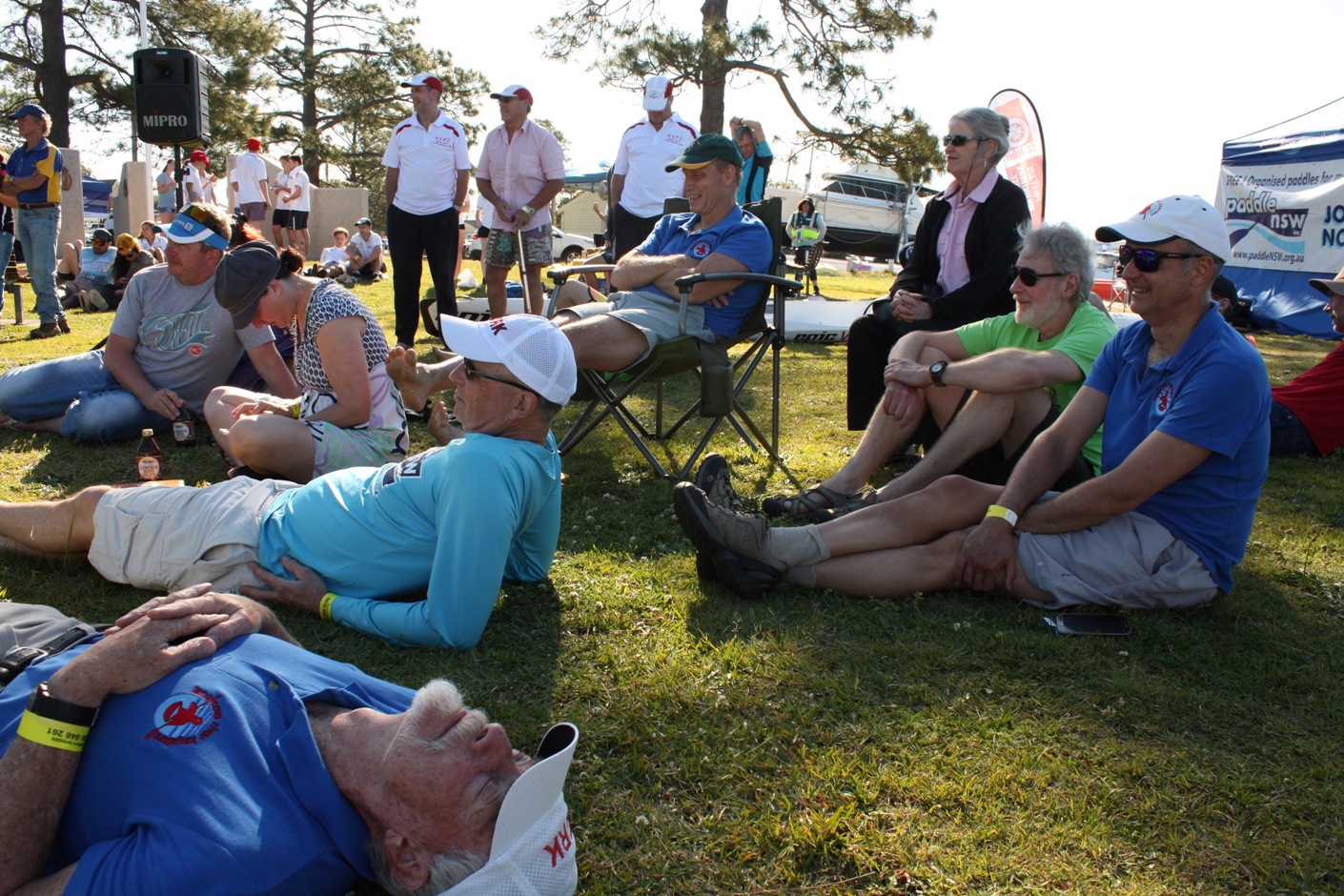 This year, the organisers were particularly clever, not only organising a sunny day and a more favourable tidal flow in the Myall River than I thought possible but they also negotiated out most of the easterly afternoon crosswind that can make the last few kilometres very difficult for tired paddlers. There is no formal competition between clubs at the Myall but LCRK members and friends of the club performed well. With two start times for each distance, a lot of friendly banter is still going on as to which start had the best of the tides. Anyway, participants and times:
Class
LCRKer
Time
Comments
47km
Open Male Single
Matt Blundell (MWKC)
3:54:07
Fastest single
Rob Manning
4:38:53
John Duffy
4:39:47
Open Double
Glen Orchard with Jason Cunningham
3:40:20
Fastest double
Andrew Love with Stuart Innes
3:40:23
Suzie Rhydderch and Gene Burns (MWKC)
4:05:33
Ruby Gamble and Anjie Lees
4:21:14
As usual, a swim then a new record
Open Female Single
Meg Thornton
5:59:29
Masters 50+ Male Single
David Young
4:14:10
Tom Simmat
4:18:20
Chris Quirk (MWKC)
4:23:59
Wade Rowston
4:41:00
Paul van Koesveld
4:41:07
Phil Geddes
4:48:33
Neil Duffy
5:18:10
Eric Filmalter
5:24:28
Masters Female 50+ single
Rozanne Green
4:58:55
27km:
Open Doubles
Craig Ellis with Jason Cooper
2:25:07
Alanna Ewin and Danielle Seisun
3:06:59
Masters 50+ Male Single
Jeremy Spear
2:28:49
Tim Hookins
2:42:46
Derek Simmonds
2:43:33
Masters 50+ Double
Duncan Johnstone and Matt Swann
2:27:46
12km:
Veteran/Junior Doubles
Richard and Guy Robinson
1:10:31
and
OC6 over 47km
Steve Newsome and many others
3:57:31
Record
30 August 2015: Home game at Lane Cove marathon
Now that the euphoria of our marathon has died down it is time to reflect on how well we as a club went. Despite the number of overall entrants being lower than previous years, hopefully attributed to the change of venue and date, the organising committee led by Phil put on an extremely well organised and successful event.. Congratulations all involved... more
15 August 2015: 24 paddlers, 22 boats, 22 points off 2nd at Grays Point marathon
Either there was a wicked party on the Saturday night before Race 7 at Sutherland that most Lane Cove paddlers were invited to but I was not, or there was a power failure in the Lane Cove area and the alarm clocks failed to ring … why you may ask?…. because the number of Lane Cove paddlers participating was our lowest turnout for this series this year. Nevertheless, in tough and slow conditions the devoted army of 24 paddlers in 22 boats withstood the onslaught from the shire clubs to gamely hold on to our third position in the club points...more
26 July 2015: More good points at Narrabeen marathon
In the paddling world, "club" size does not matter; it's the spirit within the club that matters. One would have expected that the sight of the massive Manly Warringah club house accommodating hundreds of boats would deter any other club for even attempting to challenge MWKC for podium finishes at their home ground, but it did not deter Lane Cove. Out of the 34 LCRK boats (39 paddlers) that raced, 11 boats (32%) attained podium finishes (1st, 2nd, 3rd or 4th placings), that included 4 divisional wins and 3 second places.... in total 52 club points were earned. This great effort consolidated our 3rd position in the club standings, 36 points behind 2nd place MWKC and more importantly now 50 points ahead of Hunter Valley... more
4 July 2015: Independence Day Fireworks at Penrith marathon
Mad, Mad, Mad!! That's what people are calling the 28 Lane Cover Marathon Paddlers, and for that matter all the others who ventured out to Penrith and endured a very chilly 1C morning. And you know it is cold when Richard Barnes rocks up wearing a fleece top over his tee shirt, albeit he still had shorts and flip-flops on! Thankfully with clear skies the sun gradually warned up the air and with a still morning racing commenced with the temperature at a mere 7C (for those non-marathon paddlers who paddled the last two weeks' time trial… the temperature was 7C when we finished)... more

24 June 2015: June Kayak Kapers Available
In this issue:
70+ paddlers and the Hawkesbury Canoe Classic
Joan Morison tribute
Oceania and National Canoe Marathon Championship report by Meg Thornton
Washriding tips by Tom Simmat
Lane Cove's Sea Fury by Ian Wrenford
Nature notes - the Shag by Jon Harris
You can download this issue and earlier issues of Kayak Kapers free to your own computer.
20 June 2015: A perfect day for paddling at Woronora marathon
Another very good outing was had by Lane Cove paddlers at Woronora for Race 4. With 32 paddlers paddling in 26 boats (slightly down from the last race) we managed to consolidate our 4th position in the club standing with some outstanding contributions specifically from two of our newly formed doubled combinations. In my pre-race report I mentioned the possible threat from Cronulla Sutherland Kayak Club given that we are on their home turf and only 2 points ahead, well we managed to hold them off and actually increase our lead over them to 6 points.... more
24 May 2015: Good Conditions and Good Results at Wyong Marathon
WOW… What a difference 3 weeks can make… after Race 2 we as a club were languishing back in 7th in the club standings, and now we have hurtled our way up to 4th. Lane Cove paddlers turned out in force for Race 3 of the PaddleNSW Marathon Series with 35 paddles trekking up to Wyong.. make that 36 with Jeff Beere who just had to roll out of bed onto the course, paddling 31 kayaks with great success. And that success can be partially attributed to our new ranked paddlers.... more
3 May 2015: Near Perfect Conditions for Windsor Marathon
After a fortnight of heavy rain it was a surprise to many of us that Race 2 of this years PaddleNSW Marathon Series was on at all, let alone the conditions being near perfect. There was some fresh water flow working against an incoming tide which seemed to provide no advantage one way or the other. Thirty one LCRKers turned up to give it their best.... more
1 April 2015: April Kayak Kapers Available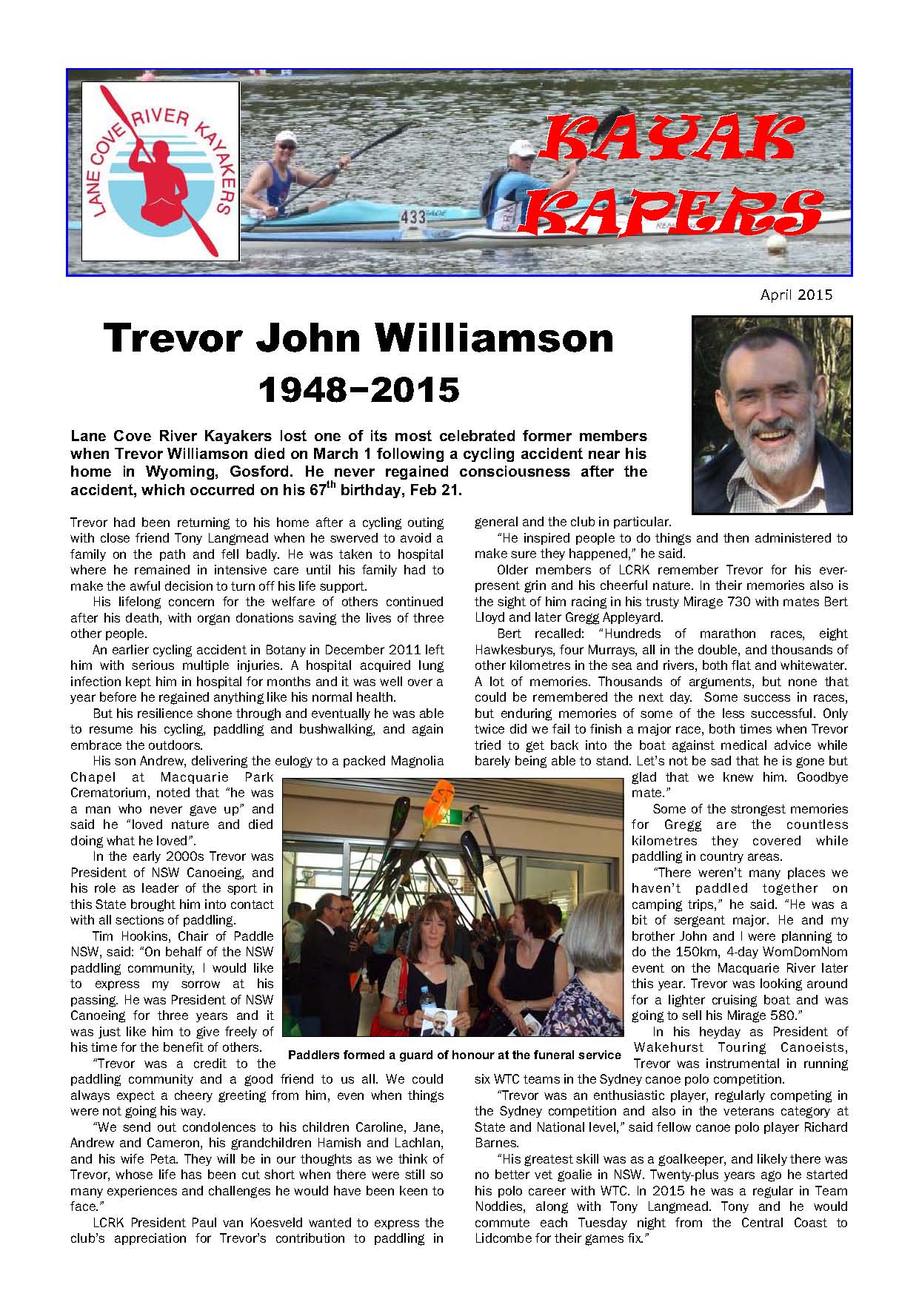 Still only 16 years old, Ella Beere has just won National and State Under 18 sprint titles, and topped this off by becoming the first female ever to break one hour for the Lane Cove River Kayakers 12km time trial course. What does the future hold for this extraordinary talent? Read about her amazing feats in the April 2015 issue of Kayak Kapers. Also in this issue:
Paddling loses one of its best with the death, following a cycling accident on his 67th birthday, of Trevor Williamson.
Tom Holloway tells how we came within a whisker of having a major highway running up the middle of Lane Cove River.
Peter Janecek relives the glory days of paddling on Lane Cove River a quarter of a century ago.
You can download this and earlier issues of Kayak Kapers free to your own computer.
You can download this issue and earlier issues of Kayak Kapers free to your own computer.
01 March 2015: Cleanup Australia Day - Lane Cove River - 2015
The mystery of the motorbike continued today with the discovery of the second wheel on the riverbank by Oscar Cahill and daughters Gara and Emer during LCRKs' Cleanup Australia Day contribution (see explanation in the next Kayak Kapers). We had 17 LCRK members scouring the river banks about 1km each way from the pontoon on both sides of the river, on land and on the bush tracks. There were around 20 bags of rubbish and recyclables collected in a 2 to 3 hour period. Well done LCRK!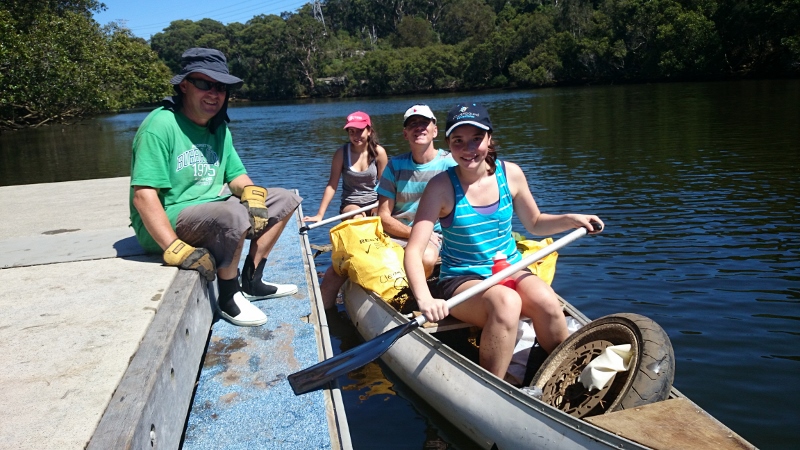 Ian, Gara, Oscar, Emer with motorbike wheel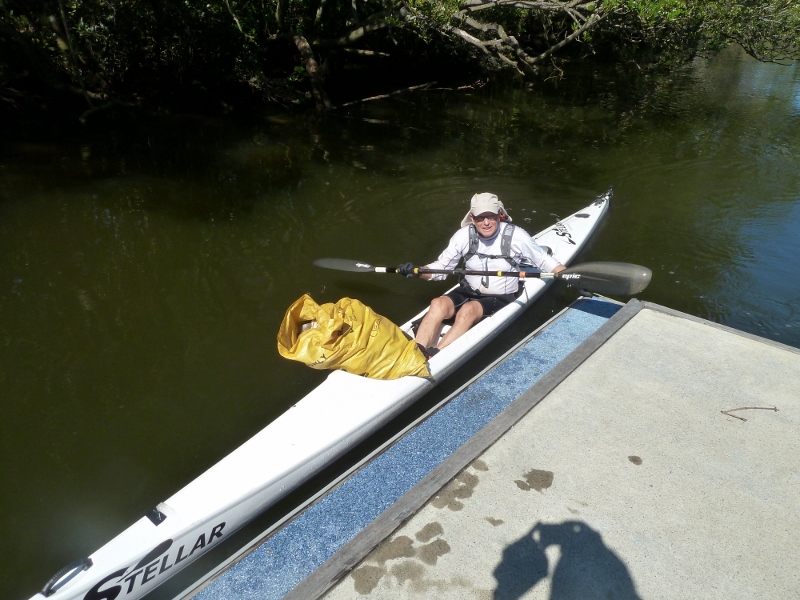 President Paul brings back a loaded bag to pontoon
Many thanks to the following participants for your contribution (in order of sign on): Peter Harris, George von Martini, Karen Darby, Paul van Koesveld, Phil Geddes, John Duffy, Duncan Johnstone, Jon Harris, Kenji Ogawa, David Hammond (with son and daughter), Tom Holloway (with son Max), Oscar Cahill with daughters Gara and Emer, Ian Wrenford, Matt Swan and Wade Rowston.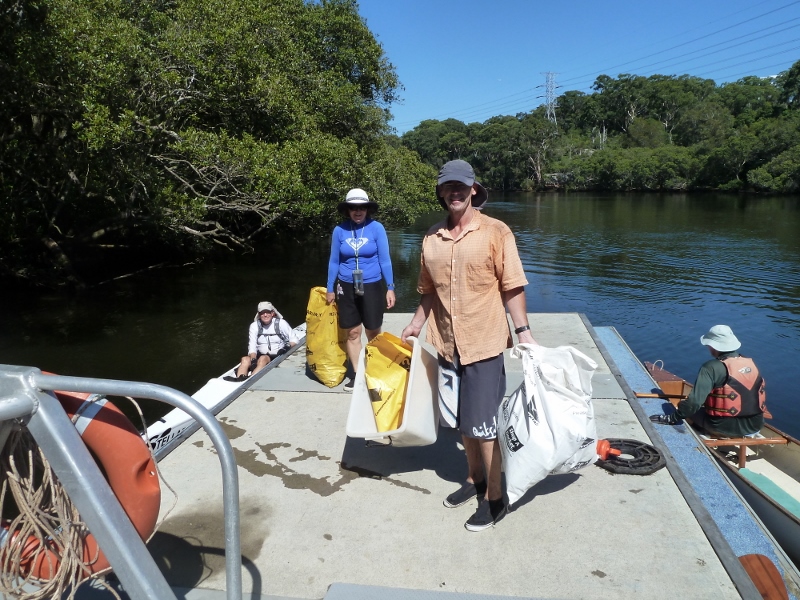 Karen and John - waste management at pontoon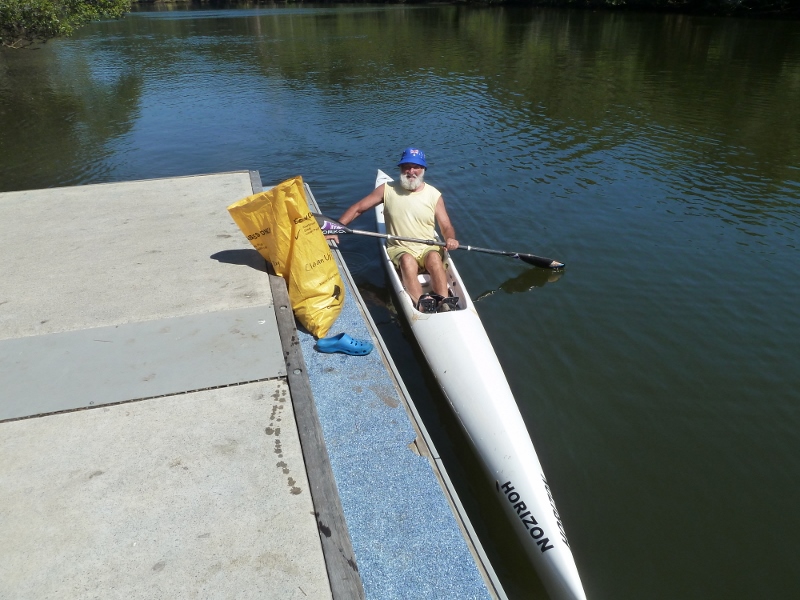 George von Martini with another bag of recyclables
21 February 2015: Glorious Day in Canberra for First Marathon in 2015
Checkout the details on the 2015 Marathon Page
6 February 2015: Was 2014 the Last Murray Marathon?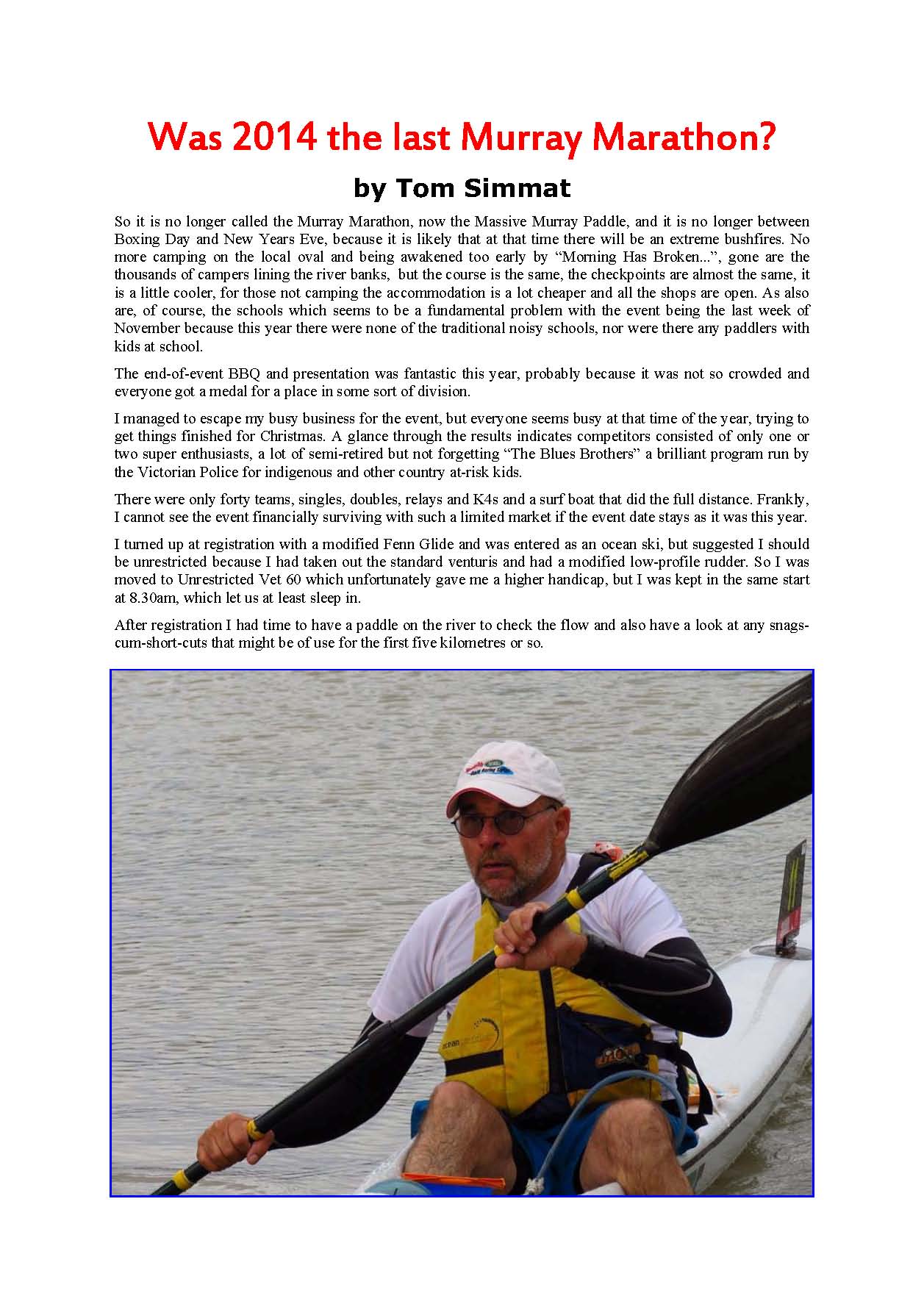 Go for an exhilarating ride down the Murray with veteran Tom Simmat on what may be the last-ever Murray Marathon. Tom, who has won this event almost as many times as he has fingers to count them, explains why this iconic event may disappear from our racing calendar.
6 February 2015: February Kayak Kapers Available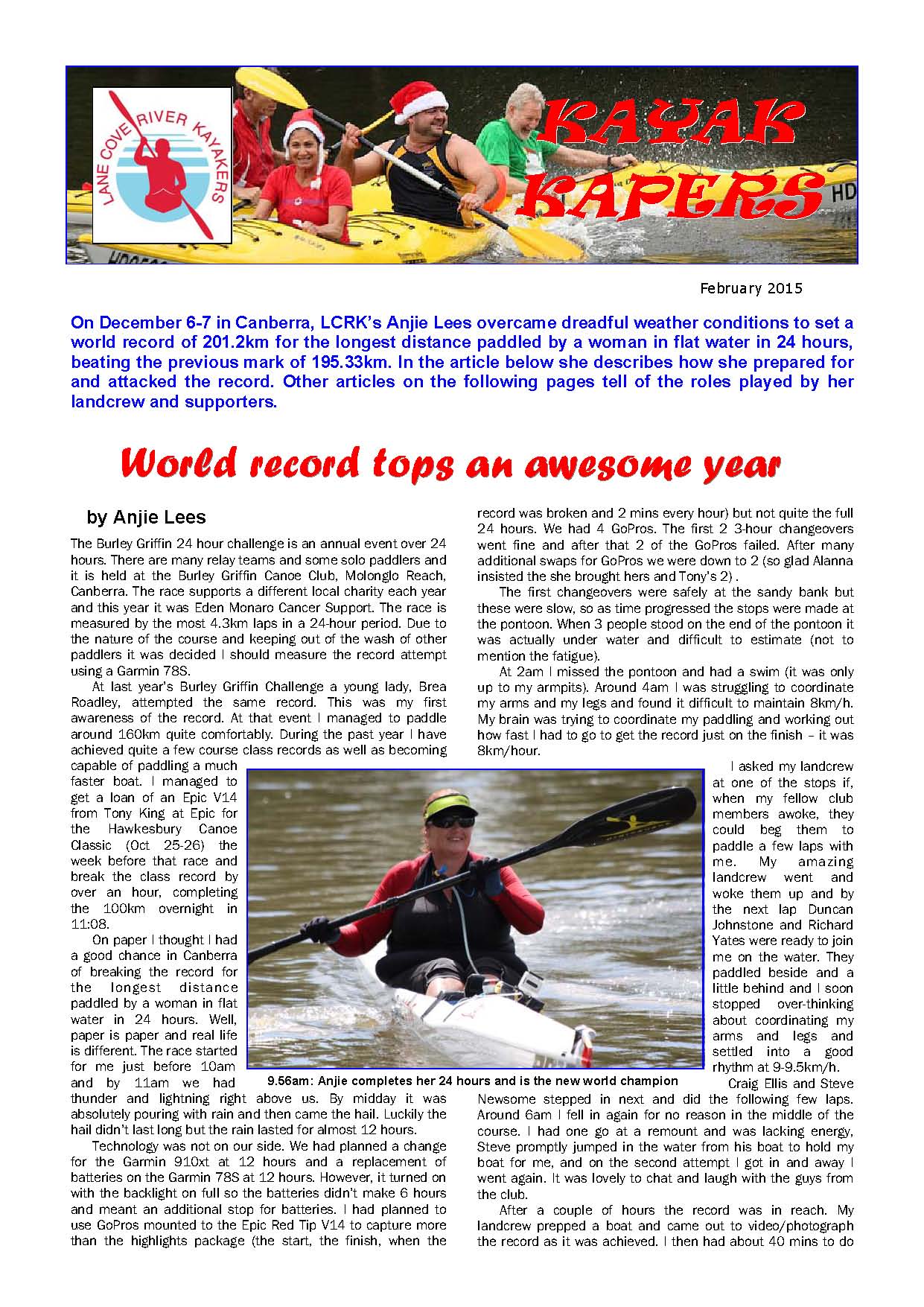 On Dec 6-7 2014 Lane Cove's Anjie Lees overcame violent weather conditions to break the world record for the longest distance paddled by a woman in flat water in 24 hours. You can read the full story of this remarkable achievement, including her own report and those of her support crew, in the February 2015 issue of Kayak Kapers.
Also in this issue:
Has the Murray Marathon had its last race?
LCRK's Christmas Paddle and BBQ, and Awards Night.
Martin Dearnley puts Don Anderson's new flared-hull K1 through its paces.
A Paddler's Diary for 2015, listing all the major events.
You can download this issue and earlier issues of Kayak Kapers free to your own computer.
You can download this issue and earlier issues of Kayak Kapers free to your own computer.