November 2020 - Reverse HCC to celebrate 19 years of living!
by Trevor Nichols

With the HCC cancelled and in a moment of exuberance, Darren Williams mentioned to a few of us that it might be fun to paddle the length of the Hawkesbury socially. Darren found an article from an early HCC when it was once 100 mile, and with the pain of last year's HCC long forgotten 100 miles seemed like a tremendous plan, so Craig Salkeld, Don Johnstone and Trevor Nichols signed up.
Don and Trevor did a recce paddle in early Oct from Devlin Road at Castlereagh down the Hawkesbury towards Windsor. Well that was the idea.... Because there had not been much rain, the water level was low and they spent a lot of time portaging around rapids and in 2 hours had only paddled as far as the Bells Line of Road bridge where the river becomes tidal! So the plan was changed to start from this bridge and "only" paddle the ~110kms down to Deerubbun Reserve (Mooney Mooney) as going through rapids and portaging with skis was not appealing.
We decided on paddling over 2 days so we could stop overnight to rehydrate and watch the mighty Wallabies in action. Darren found a lovely cabin exactly halfway between Windsor and the finish called Clifftonville Lodge which we highly recommend (google it - waterfront and road access). Having dinner from their BBQ area above the river watching the sunset was a highlight. We chose 6th – 7th of Nov as we would still have our fitness from the Morison 50 and it marked the 19th anniversary of Darren's bone morrow transplant. Being given an 8 month life expectancy due to his Leukaemia diagnosis then a 20% survival chance for the transplant is a good reminder why we need to enjoy the camaraderie, fitness and joy of life on the water that paddling offers us. One drawback of this weekend was the tides were more suited to starting from Mooney Mooney than above Windsor. Luckily Fitz quickly worked this out and suggested we consider doing the event in reverse. Naturally we ignored his advice and continued our planning.
As usual the week before the event involved a lot of text messages between us to finalise planning and to share some excitement / nervous energy. With the pain of the last 25km of paddling into the tide during the Morison still fresh we wisely decided to start at Mooney Mooney. Thanks Fitzy. We even could have a leisurely 9am start to maximise the run in tide.
Day 1
Come Saturday and the conditions were promising with a fairly stiff southerly predicted from mid-day. First stop was at a new cafe in Spencer that has just opened. They do a mean breakie roll even though they are a Thai restaurant- we highly recommend supporting them. After that, we had a nice down-winder and running tide to Wisemans. Just what we all signed up for!! We even had a massive cruiser came past with a swell that would interest ocean paddlers. Don began smiling as he saw the wave and managed to get several bursts of speed as a couple of waves went past. His new GPS told him he reached over 20kmh! He was still grinning by the time we stopped for our next feed at Wisemans. We learnt this weekend that Don is truly a yes man; would you like extra everything on your breakie roll Don? There's a huge cruiser travelling at 30 knots kicking up a 2m wave Don, should we try to wash ride? We've now paddled +100km so Don should we sprint the final few K's? Don's answer is always yes!
The final 10km of day 1 was a prelude to day 2. Many ski boats zooming past and a slight head wind. We arrived at Cliftonville just before 4pm where Darren's wife Anne had arrived with all our bags, cold beer and the finest steaks on offer. Life was good and then the footy started. Life got better for most of us. Darren being a Kiwi knows his rugby and shared with us his views on the ref's top notch officiating.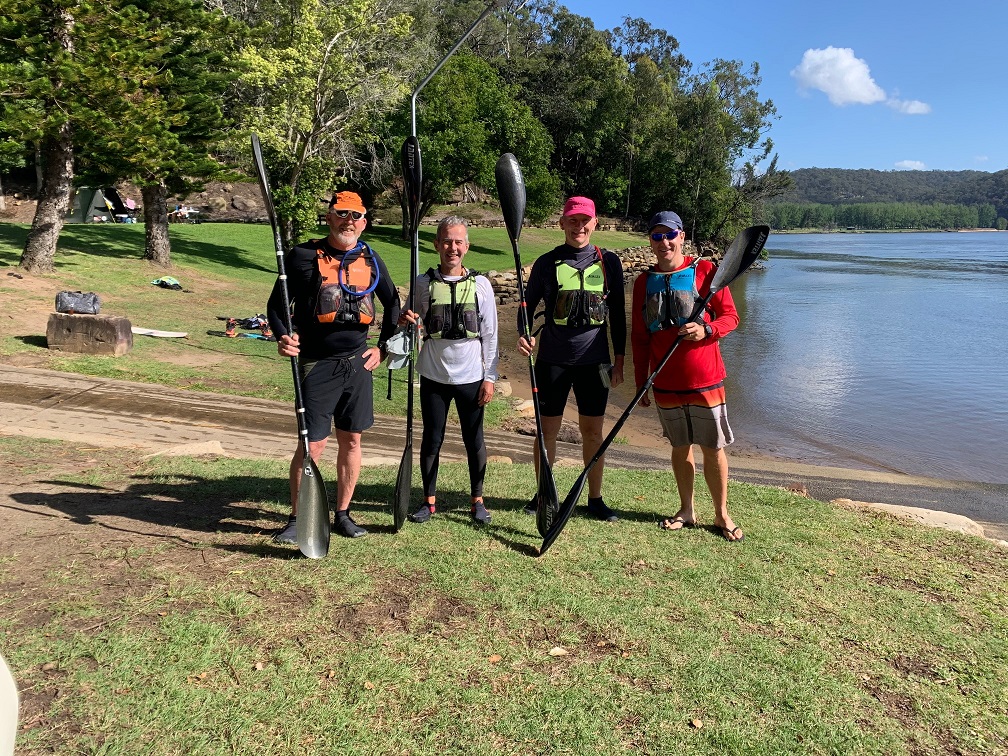 Above: Cliftonville's ramp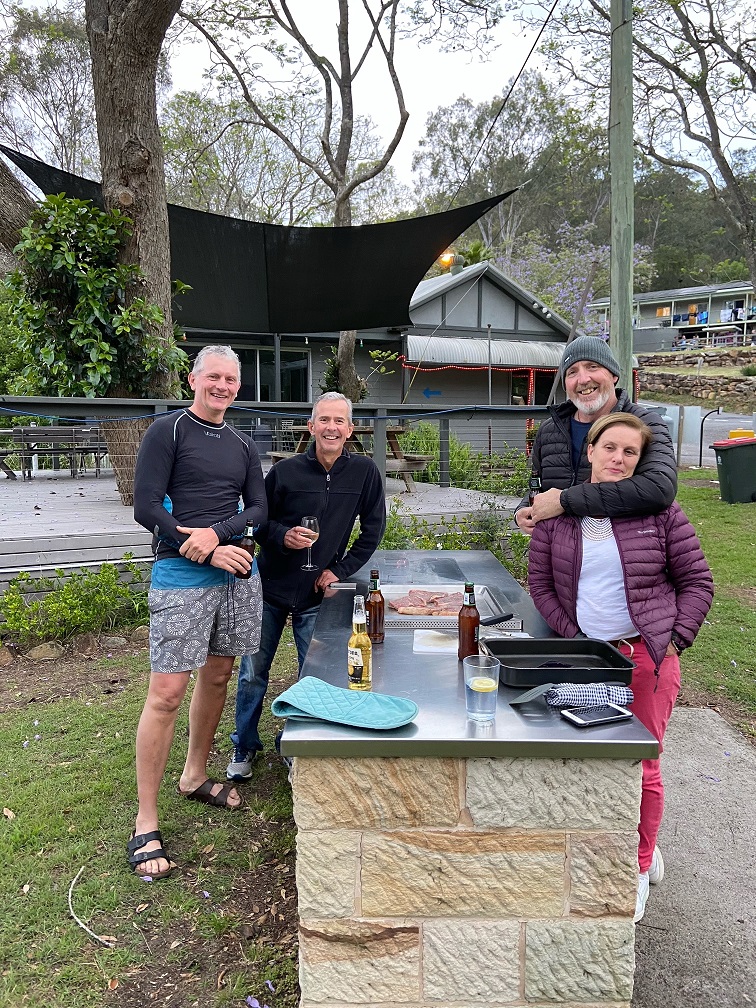 Above: Steak n plonk

Day 2
After 30 minutes of day 2 we knew we were going to get some serious practice at handling bumpy conditions with all the wake boarders, skiers and lunatics racing their boats along the river. Keeping the paddling line gets somewhat perilous when crossing someone attempting a water speed record. Luckily they are easy to hear coming with not only thundering/wailing inboard/outboards, but also even louder Aussie rock classics. We did a bit of a side trip up the Colo river to regain composure - it looks just beautiful and does not get much boat traffic. Watch this space for a future expedition...
None of us had actually seen the river up to Sackville in daylight so enjoyed that experience. Wasn't that the tree/boat buoy/reeds I hit that year in the HCC?? After a packed lunch on the beach where the HCC stop is, we continued for the last leg thinking surely the tide will start running soon. It never really did and perhaps some of this was due to flow from recent rains? The boat traffic was nonstop for 30kms making us a bit slow and appreciative of the slog back for all the Morison competitors. We quickly decided to finish at Windsor and not near Richmond at the Bells Line of Road bridge.
Overall a fun weekend with great mates on a beautiful river. Just don't mention the rugby....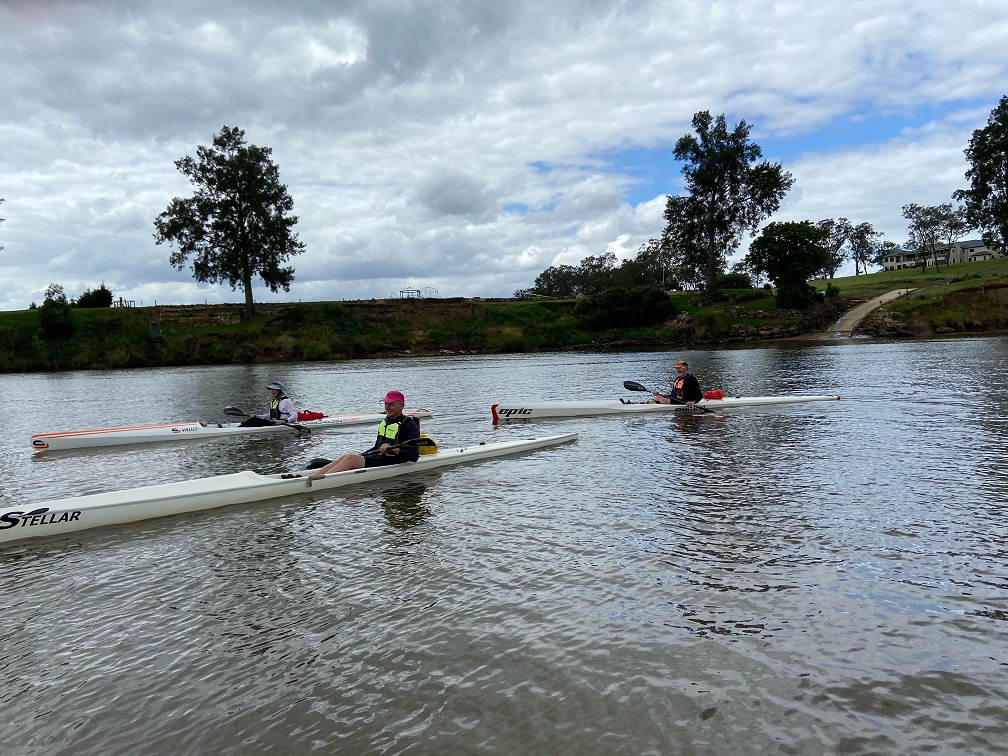 Above: Pitt Town pit stop
October 2020 - Clarence 100 and more
by Jeff Hosnell
2020 Recap
What a year 2020 has been I had so much to look forward to National's and then World's in Norway teaming up with Rob L-J! but then Covid arrived and our life's changed, all racing called off, time trials postponed. Duncan and I were lucky we travelled to Albury and Batemans for races early in the year so we had those good memories.
Thanks also to Brett at Australian Paddle Sports for organising the Virtual races to coincide with the cancelled marathon race dates. We at least had something to push ourselves to get better, and a chance to say hi on the water to other paddlers. When on the water I think we all noticed the amount of recreational paddlers on the water, I think the sale of boats must have increased during the lock down.
We finally had a chance to do an actual race in late August at Windsor and we had a good turn out and everyone did there best to limit the contact with others, then we were told Wyong was on 30k's I was so looking forward to that race then it was cancelled, again we had the virtual race to at least have a go, Duncan and I also did the Gregory River Race as a virtual we received a great Polo and Hat and stubby cooler hopefully next year we will go and do it for real.
Then all the Ultra Marathon Races were cancelled in order Myall, Hawkesbury and finally Clarence, Duncan and I had made our accommodation bookings for Myall and Clarence and decide we would still go and treat them like a race.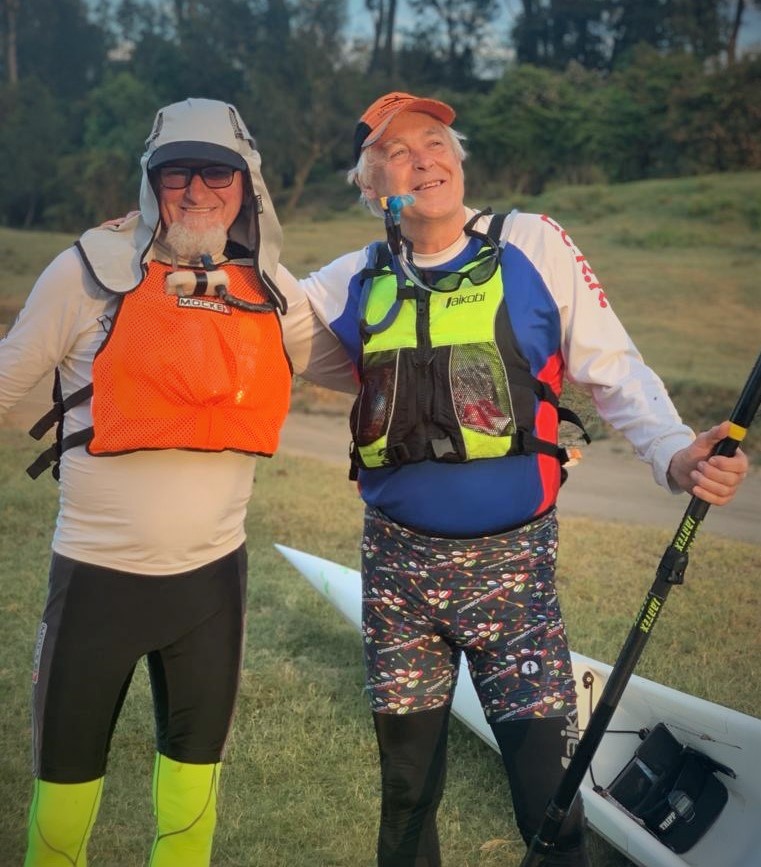 Above: Jeff and Duncan - visions of a real kayak race?
Myall Classic
Saturday morning start for the Myall we had a good paddle tide coming in and for a few km's we were flying I was in the front in Zero then the river offered no help so a hard slog to the top turn, during this time I noticed Duncan kept hitting me on the right shoulder I thought it was to go faster but this started happening all the time, so on the return trip we switched spots much better I tried so hard to hit Duncan but couldn't reach I must lengthen my paddle next time, we were happy with 4.44hrs. Pity no others came up for the weekend.
Clarence 100
There was a good turnout of Lane Cove Ultra Marathon Paddlers, Brett, James, Wade, Michael, Daniela, Rodrigo, Karen, Annie L-G, Duncan and Jeff. There were about 30 paddlers who came up to race or just to have a paddle. Ben the organiser supplied us the best times to start each day these were very helpful, each day we had 2 start times early for recreational, slower and SUP's then the faster paddlers 30mins later, at the start one of Ben's friends from the race organiser's was there to take names and give us information about the river, he was also at the half way point and finish ticking of names a big thank you.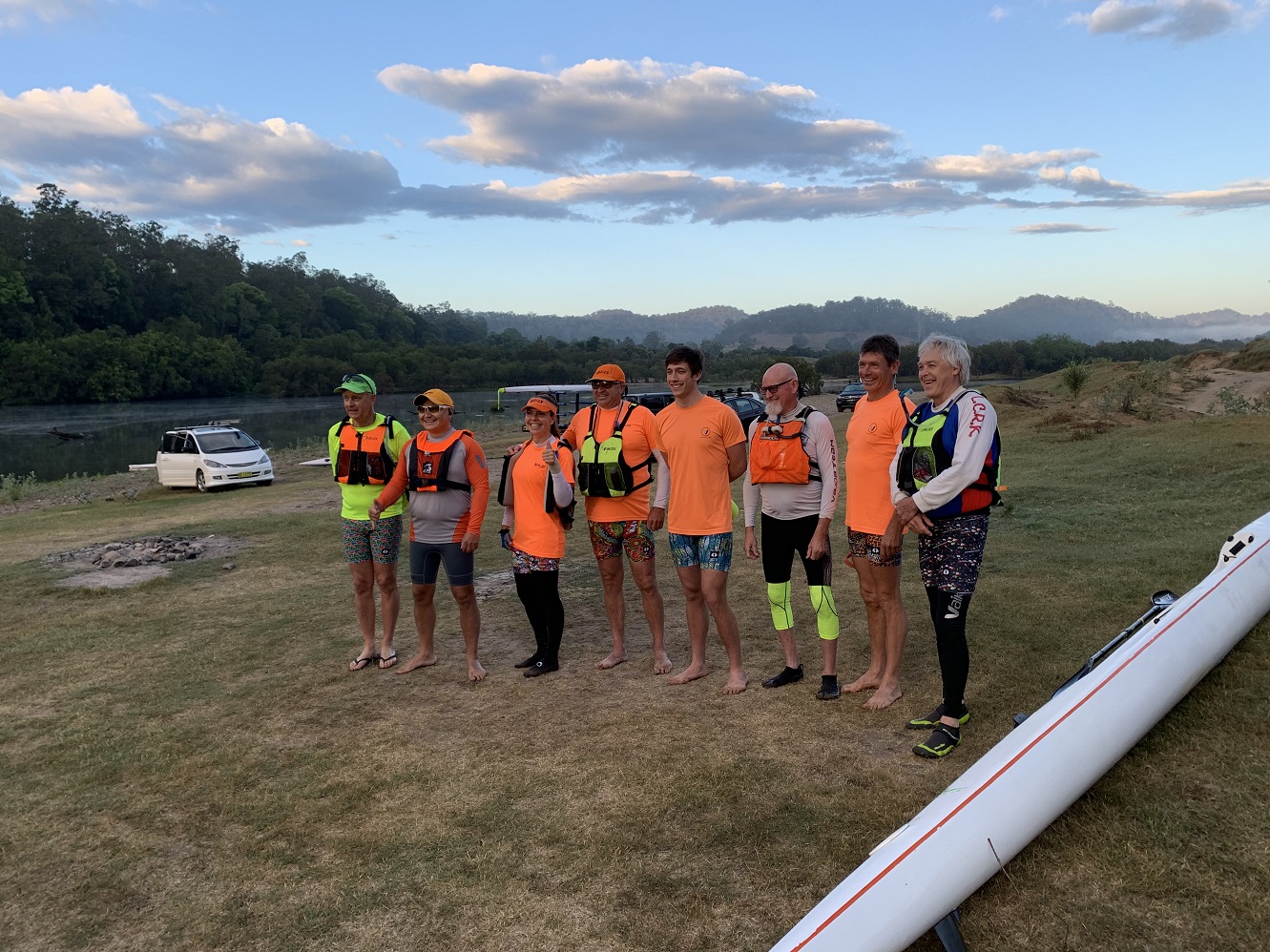 Above: Most of the LCRK crew
Duncan and I decided to paddle a ski instead of Matts Zero, on the Monday before we left we tried the LCRK clubs V10 and Carbonology, I have only paddled a ski once before, after taking each up and back to the top bridge 3kms Duncan wanted the V10 I wanted a challenge so we decided to take the other.
Day 1 42kms Copmanhurst to Grafton We were to start with Rodrigo, Daniela and Michael but they didn't wait for us so they were always 500 meters in front of us. Wade started with Brodie.
Well 40+Kms is a lot different to 4kms, about the 20km mark my left arm was hurting and I was chafing on my lower back, I was pushing back on my seat to try and get leg drive but I couldn't get any, so the whole 40kms it was all arms.
The conditions were fast and the ski was easy to get speed, but the first day we found it very tippy so lots of slap supports coming in stroke, stroke, slap etc.
Daniela, Rodrigo and Michael had a great paddle although Daniela went a bit hard and Rodrigo and Michael were suffering at the finish as a result.
Brett, James and Brandon in a ski from Wollongong who won it last year started 15mins after us, the conditions were perfect for the K1's. Their time was so much faster than last year, Brandon did amazingly to stay with them.
That afternoon I sent out a request to our club paddlers on how I can get leg drive and be more comfortable, I had a great response and moved my foot pedals further forward to get off the back seat.
Day 2 Grafton to Maclean 44kms We started with Daniela and Rodrigo. Wade, Michael, Brett and James didn't paddle, again smooth conditions out-going tide but today we had a deep fog you couldn't see the sides of the river you could only see a few feet in front of the boat this was with us for nearly 10kms, we took the front and Daniela and Rodrigo on either side, it was a very fast paddle straight down the middle, last year we had to hug the banks it was so windy and in-coming tide Duncan and I took nearly 30 minutes off last year's time. I thought we all had a great paddle but Rodrigo told us later he really struggled - he really wanted to call it a day so many times, he just kept saying to himself another km and then call it a day, then I had trouble with my foot strap and stopped 3 or 4 times - he said that saved him.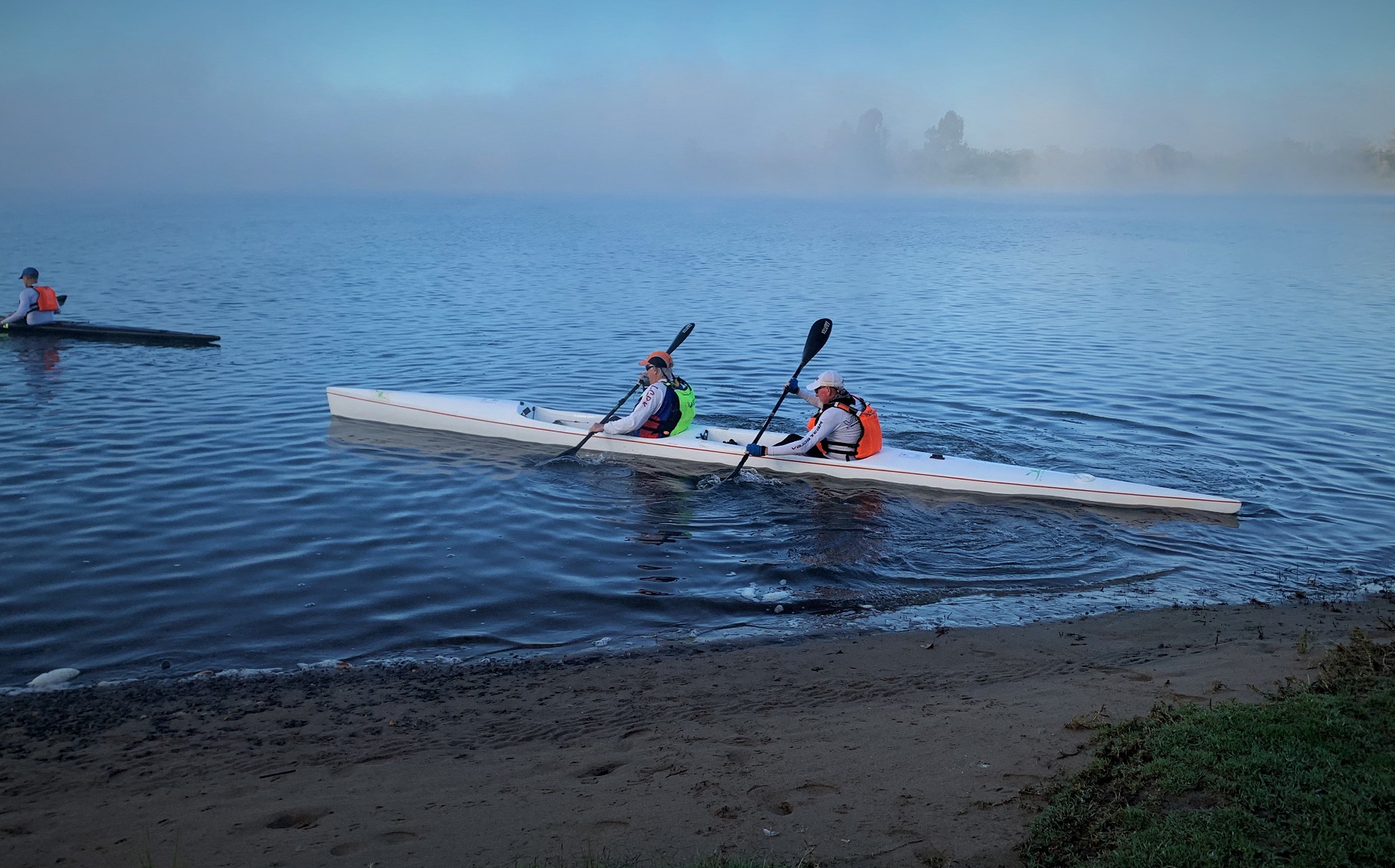 Above: Deep fog at the start
We had such a fun time paddling together Daniela singing Opera and me a couple of Beatles and Queen songs.
Day 3 Maclean to Yamba 24kms This leg last year was really bad - strong cross winds in coming tide, lots of capsizes! This year the river was like glass!
Today Michael joined us and we set off at a really fast pace again Duncan and I in front it was really fast hitting 13's 14's 4.42min kms splits I have never gone under 5min kms! Again straight down the middle, then Brett and Brandon caught us and Daniela jumped on their wash and it was on, following them pushed us then after 3-4kms Daniela had found it too hard and dropped off their wash. Amazing effort, she had put nearly a km space between us and we couldn't close the gap. Towards the end there is an island with channels left and right, last year we were told you had to go right, I was always looking where Daniela was going and she would have been following Brett, she went left and we were in that channel and were flying. Duncan wanted to go right and me left - well the boat nearly got split in half but in the end we went left! It was a great choice we were hitting high 13's the hairy part was we had to go through a narrow break in the storm wall with incoming tide and side chop Rodrigo and Michael could see we were having trouble and gave us plenty of room which helped them because they also found it tricky, after lots of support strokes we got through and hit the finish line 1hr 57 (vs last year 2hrs 20). On this leg we had everyone on the water, SUPs etc, so everyone stayed and supported the boats as they came in!
I would like to make special mention about the paddle Karen H did over the 3 days, she is a new paddler from Manly but comes to Lane Cove often, she had never paddled further than 20kms on her own so to take on the Clarence 100 is truly amazing, on the second day both her hands had large blisters and burst. She was so determined to paddle day 3, the ladies in our group rallied around and got her hands wrapped, Wade volunteered to paddle with her - he said she just kept going averaging around 11kms hr well Done both of you!!!
All in all I have had some great races in 2020 even though they didn't happen.
Bring on the Morison 50 Race!!!
I have fond memories of Joan Morison - when I first came from New Zealand I paddled with her club, and she was so kind, she lent me the clubs Canoe and I took my daughter and dog up Woronora river and camped up the gorge for 4 days.
October 2020 - Richard Barnes Q and A
An excerpt of the article below - click on the link above for the full 6 page PDF
In December this year Richard Barnes is planning to paddle his purpose-built kayak, Blue Moon, out of Sydney Harbour across the Tasman Sea to New Zealand. His goal is to be the first person to complete the journey solo and unsupported, and without making landfall on the way. Early in August Richard took the time out between his job and his expedition preparation to answer some questions put to him by your editor about his quest.
Richard: Well, I'm coming up to 60 years old. If all goes according to plan I'll have my 60th birthday alone in the middle of the Tasman Sea. I am a civil engineer by profession. I got introduced to paddling through Venturers within the Scouting movement. I started paddling white water, then tried canoe polo and then got serious about marathons and did my first Hawkesbury Classic in 1981. I'm down to do my 40th HCC this year. In 2014 I did the Yukon 1,000, paddling a double with the legendary Buzz Powell. I'm a member of the Sydney University Canoe Club and we've done white water paddling in New Zealand, Nepal, Ecuador and Chile. Sea kayaking came later – a little at first then a sampling in Patagonia and the Antarctic. In 2007. I paddled a Mirage 580 around Tasmania with my very good friend Phil Newman paddling his Greenland kayak....
Sep 2020 - PNSW Awards
We're delighted to report that two LCRKers have been recognised in the annual PNSW AGM awards. Details below including nominations.
Naomi Johnson – PaddleNSW Female Paddler 2019/20
Naomi had a huge 2019/20. Serious focus on training led to Naomi competing in 2019 as part of the Australian Team at the ICF Canoe Marathon World Championships in Shaoxing China where she paddled a double kayak with Windsor paddler Laura Lee competing against Olympic level female paddlers. A key local achievement was the 2019 Hawkesbury Canoe Classic seeing Naomi cross the finish line at Mooney Mooney just before 2:45am in an official time of 9hrs 28 mins 55 secs. In doing, so Naomi achieved a number of firsts:-
Broke the existing HCC Women's Open K1 record by almost half an hour.
Set the fastest EVER Women's time in the HCC's 43 year history
Was the fastest finishing woman on the night
Was fourth fastest single boat on the night (male competitors in first three positions)
Was fourth fastest on handicap for the night.
Naomi whilst particularly pleased to have set this record is keen to see more female paddlers competing in the HCC and kayak racing generally. Before its' ultimate cancellation Naomi was instrumental in promotion and publicity for the 2020 HCC event.
Her outstanding achievements in 2019/20 were recognised by Paddle Australia when Naomi was announced PA Open Female Marathon Paddler of the Year, and now leading female paddler in NSW & ACT can be added to the CV.
Naomi had this to say: Many thanks are in order for this award, most importantly to Lane Cove for both the nomination and your belief in me throughout last year. I set myself some pretty crazy goals, and it was great to have such an enthusiastic team and cheer squad behind me when the going got tough (and it always does!). I don't think that the Hawkesbury Classic record would have been possible without the club, both for your huge wealth of knowledge, and the buzz that you bring to the night itself. Records and goals aside, paddling is such a fun and community-focused sport, and I really hope that this factor will help it to become even more diverse and vibrant in years to come. And also a big shout-out to Tony H, whose coaching award is incredibly well-deserved. Thanks for your patience, belief in me, pushing my beyond where I felt comfortable, and in the Classic for letting me chill out on your wash most of the way to Wiseman's!
Tony Hystek – PaddleNSW Coach of the Year 2019/20
Fittingly – Tony Hystek has been recognised for his ongoing Coaching efforts with PNSW Coach of the Year. Below is the nomination. As a coach, Tony is committed to engaging with the whole range of paddlers at their own level. He is the regular volunteer coach of Lane Cove's Tuesday/Friday morning squad, leading a mixed-ability group of up to 16 paddlers with an eye for inclusion and core skill development. In 2019/20, this group has included one open-age Australian representative paddler, high-performing masters, and several who have been paddling for less than two years or are new to K1s.
The camaraderie and sense of team growth fostered in the squad is important for many of these paddlers, giving them a sense of structure in their paddling, and a community who are all committed to improvement.
Outside the squad, Tony is extremely generous with his time, always finding the space to work with a new paddler on basic technique or to work on specific skills with individual club members. Though he has personal paddling goals, he seems to take the greatest pleasure from seeing those around him improve and achieve their goals, and as such is an irreplaceable part of the LCRK paddling community. Congratulations to PNSW Life Member Tony and thank you for all the selfless work you do at club and state level.
Tony provided this reflection on receiving the award: Coaching is something that improves over time. I'm grateful that LCRK has given me the time to build up my coaching skills, and the patience to put up with my sessions that may not have been ideal. There is still more work to be one. The camaraderie of the morning squad, and the willingness and gratitude of those individuals who sought specific training has made coaching a very rewarding paddling activity for me. Thank you LCRK.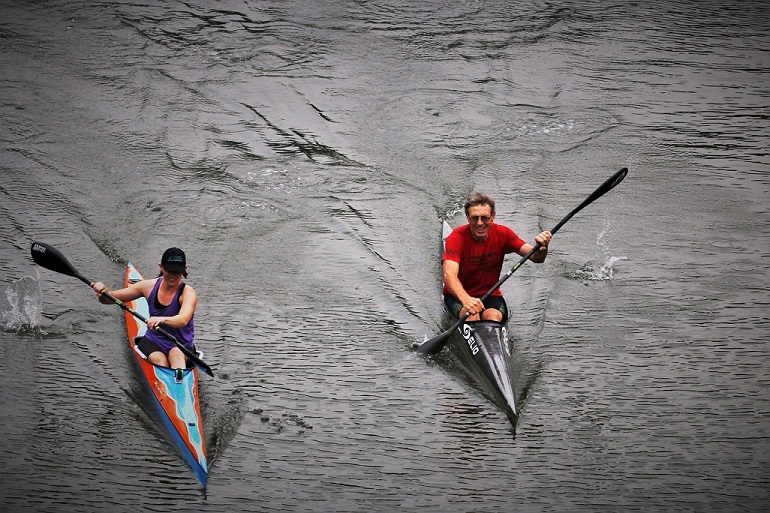 Above: Coach of the year accompanies Female Paddler of the year - Jan 2020 TT
Sunday 16 Aug - LCRK AGM
The Annual General Meeting of Lane Cove River Kayakers Incorporated will be held on Sunday 16th August 2020, 11.00am, seated outdoors (to be Covid compliant) in the carpark of the Rotary Athletics Field carpark. Wet weather arrangements are under the canteen shelter. RSVP's are ESSENTIAL - email the Committee
Sun 1 Mar - Clean Up Australia Day - LCRK
Satellite photos of NSW over summer just showed bushfire smoke covering Sydney and the whole east coast. Contrast that with today's photo that shows a brilliant sparkle bouncing off Lane Cover river because 20 volunteers worked to give our favourite waterway a good scrub.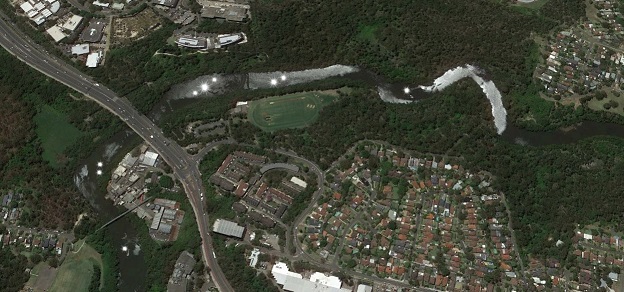 Excluding the two wheelie bins collected, there was less "big stuff" to pick up this year on account of previous successful clean up days but the early February flood in the river deposited significant amounts of small items that are just as big a blight on the environment. Some 30 bags of rubbish were extracted from the river banks between Wirong and the 6km turn; unfortunately we could probably pick up another 30 bags if we went back tomorrow.
The biggest job was the 3 hours spent removing the tangle of logs at Fullers bridge. A big thank you to Trevor Nichols who brought his purpose built motor boat and worked with Don Johnstone and Darren and Anne Williams to untangle it all then shift the wood to a location for Maritime to hopefully pick-up. Darren even went home to collect his chainsaw so the big logs could be cut up and moved above the high water mark.
Oscar Cahill and Ian Wrenford concentrated on removing the hundreds of plastic bags high up in the mangroves but only managed to get as far as the first rocks upstream from the pontoon (Fairyland rocks). There is much more to do but that will have to wait to another day. Stay tuned.
Jeff Collins was happy with himself when in the first 15 minutes he found a $5 note in the mangroves near the pontoon. He was ecstatic when he then found a $100 note at another spot. Despite our insistence that he respect the "finders keepers" rule, Jeff graciously donated the $105 to the club. (That story should get more kids along next year.)
Many other volunteers worked tirelessly in the mangroves, the car park and athletics oval to pick up lots of trash. I am sure they all went home with the same feeling of satisfaction that they have when they cross the finish line on Wednesday night time trials.
The crew collected the obligatory car tyres and old rusty fish traps, but plastic in all its forms represented the bulk of the trash. It really is a sad reflection of society, however with our great club's help much of the rubbish does get removed (around our area anyway). But of course there is more to do.
It was a hot and humid day and not easy work trudging around so it was really appreciated that 20 club members volunteered, and were able to enjoy a hearty BBQ prepared by Justin Paine at the end. The club is grateful to these members who were able to help out … Oscar Cahill, Ian Wrenford, Kenji Ogawa, Duncan Johnstone, Don Johnstone, Trevor Nichols, Darren Williams (and wife Anne), Justin Paine, Jeff Collins, Matt Swann, Tony Hystek, Rodrigo Matamala, Paul Gibson, Jeff Tonazzi, Merry Sugiarto, Wade Rowston, Peter Manley, Naomi Johnson and Chris Johnson.
Thanks to Willoughby Council for attending to the truckload of rubbish now near the amenities block and of course a RIP to Ian Kiernan – founder of Clean Up Australia – who died in October 2018 but whose legacy lives on.
Until next year (or until the next call up to finish what we started) …
John Duffy Site Supervisor
Sun16 Feb - Oura to Wagga Bidgeee Bash
Quoting from their website: ''The iconic Oura to Wagga Bidgee Bash is back after ten years!
Quoting from WCC FB post: Well, the Oura to Wagga race has been run for 2020, albeit after the course was altered after the river dropped around 80cm in the last couple of days. Although we had smallish numbers, it was pleasing to see those that attended enjoy themselves despite the low water.
The Mitta Mitta club had the most members represent their club out of the visiting clubs, and their members performed admirably, with Russell Wood and Emma Flower being the fastest male and female respectively.
A very big thankyou for all those that took the time and effort to take part. It's the visitors that make events like this worthwhile and the Wagga Bidgee Canoe Club very much appreciates your involvement. There were plently of volunteers who made the day possible, who also deserve our gratitude. Thankyou to all.
Sat 11 Jan - 20 Groynes (Dolls Point Paddlers)
Thanks to the generosity of Dolls Point Paddlers and the Sutherland Shire Canoe Club, all proceeds from this Saturday's 20 Groynes Race will go to bushfire affected communities on the South Coast.
The detail below is copied from the Entry Page
Welcome to the second running of the "Dolls Point 20 Groynes", ......a Community Paddling event.
The "20 Groynes" is a Community Paddling event, run this year over 4 hours, offering a paddling challenge on the ever changing waters of Botany Bay, where competitors will paddle a 4 kilometre lap course, completing as many (or as few) laps as possible within the four hour period.
Paddlers should expect to pass at least twenty (20) of the infamous Botany Bay 'Groynes' each hour.
This is intended as a 'fun' event, and paddlers of all craft and ages are encouraged to enter.
You can paddle the full distance/time on your own, or you can get a few mates together, have a bit of fun, and paddle the event as a Relay.
Relay Teams can be any combination of boats/gender/ages (Singles, Doubles, Combination)
As an example, in the "Relay" category, it is absolutely acceptable to enter a Team made up of combination of OC6's, OC2's and Ski's, and even SUP's, paddled by a mix of ages and genders.
''You must nominate a Team Name in your entry, whether you are a Team of 1, or a Team of 20. It is important that in Teams of more than 1, that ALL paddlers enter EXACTLY the same Team Name.''
Your Entry Fee also includes a drink in the bar at the Georges River 16' Sailing Club afterwards, where the Presentations will be made while we all enjoy a few laughs and swap some tall tales.
All entries close at midnight Thursday 9th January.
Paddler Check-in from 7:00am on race day, and Race Start at 8:00am.
Presentations, Drinks and Lunch in the bar from 12:45pm.
PARKING
A dedicated parking area has been provided for this event, and is accessed via McMillan Avenue, Sandringham. Please DO NOT use Sanoni Avenue or park in the 16' Sailing Club Car Park. It is important that we leave the public car parking available for the Club and Kiss the Barista (Coffee Shop) customers.
A Parking Permit will be provided to you when you enter the McMillan Ave car park