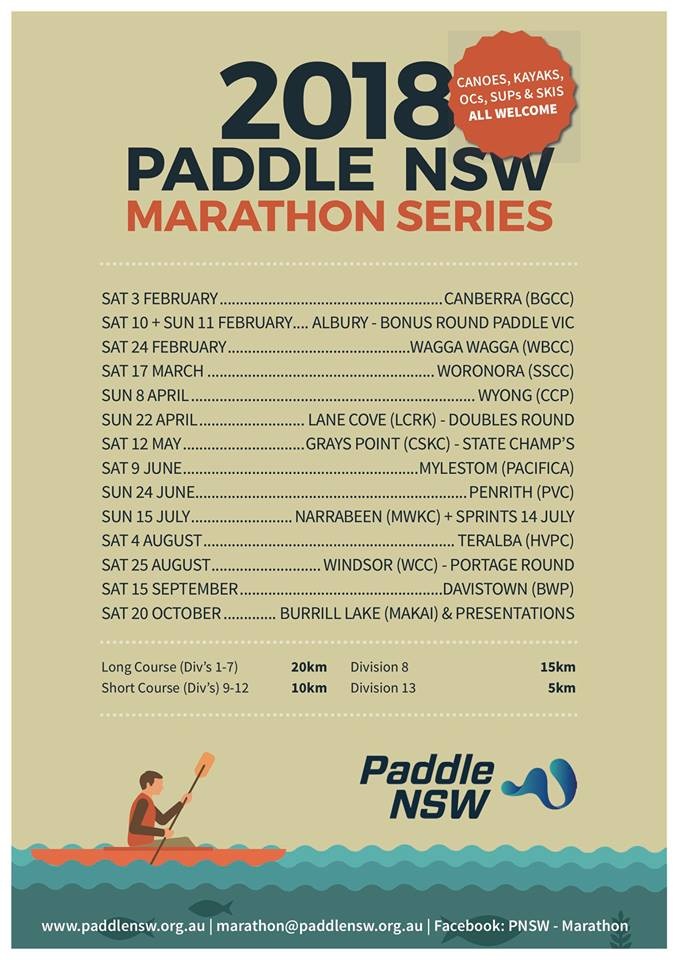 Club Point Score - after Round 11 (official)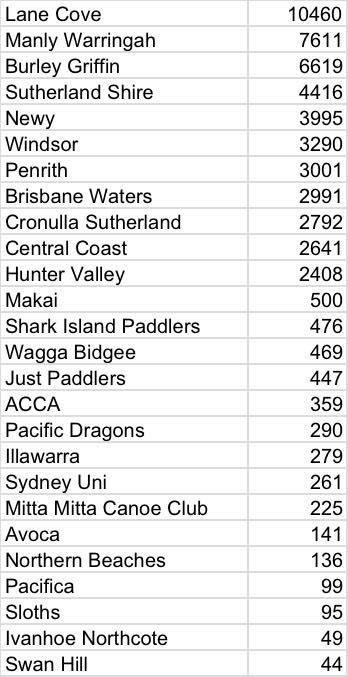 Above: Brian Norman Club Trophy standings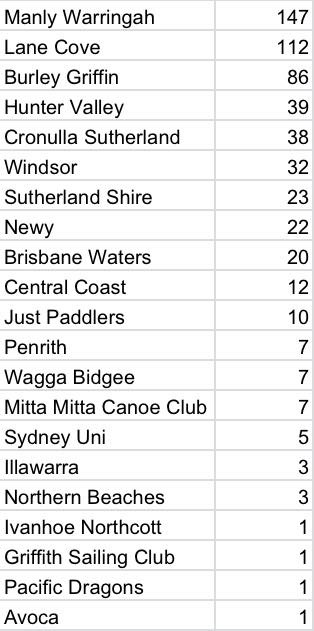 Above ICF Points Trophy standings
Round 12, Burrill Lake (South Coast) - Sat 20 Oct
Race report by Naomi Johnson
For the second year running, the marathon series finale and presentation dinner was hosted by Makai Paddlers at Burrill Lake. Thunder storms held off just long enough for an exciting day of racing on the lake, with some paddlers tying up divisional points while others turned their sights to something a bit different.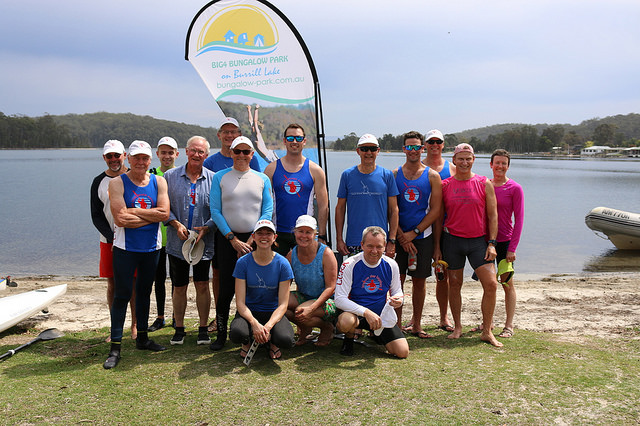 Above: A small but enthusiastic Lane Cove team ready to take on the marathon season finale.
Numbers were a little down on previous marathon races, probably a combination of HCC training, other races on the same weekend, and the prospect of a long drive down the coast. Those that did make it down to the Big4 Caravan Park were rewarded with clear conditions and very little wind on the lake – perfect racing conditions. The course was a little different from the previous two years, taking paddlers due north before a sharp left turn into the rest of the lake. With minimal speed boat wash, fewer turn buoys and plenty of long, straight stretches, it was a great course and seemed particularly suited to the skis.
Div 1 was shaken up by the new doubles pairing of James Pralija and Peter Manley. Both recently promoted, they felt that it would be better to hop in the double ski together rather than slog it out near the back of Div 1 alone. With two training sessions under their belts and some innovative shower-turned-portage handles purchased from Bunnings, the duo were in the fray of the race from the very start. A tight wash pack formed after every portage, with the singles deciding that James and Pete were definitely the best ride. As for the portage itself...well let's say there might be a little more practice in order there. Or maybe a new knee for Pete! The final straight saw the boys neck-and-neck with Brett Greenwood (Manly), before James got over-excited and revved his stroke rate up to "cyclone". Pete missed a stroke and braced before the pair got back in sync, with the error costing them 0.9 of a second off the winning time of 1:34:54. Stewart O'Regan rounded out 3rd place in the tightly-fought race.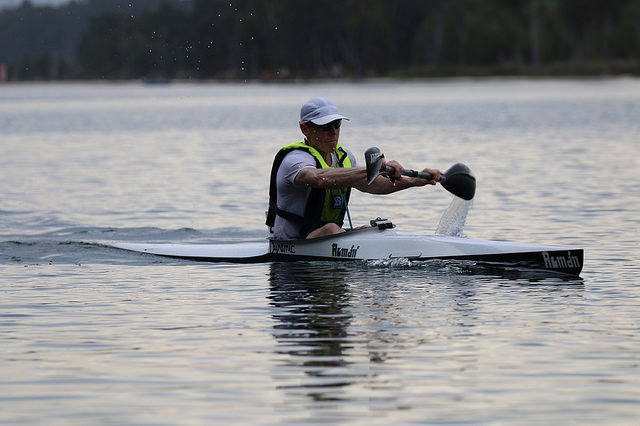 Above: Ian shooting to 2nd in Div 2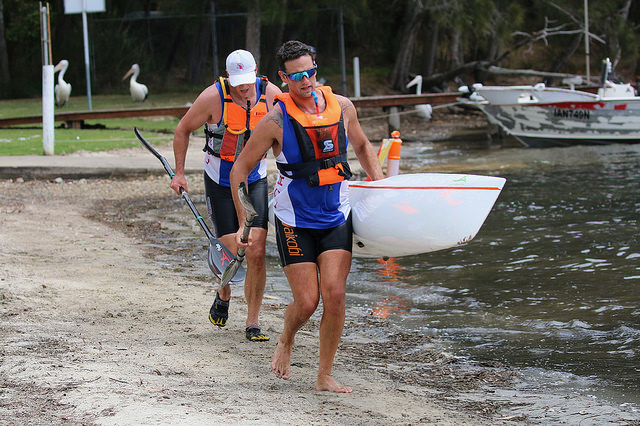 Above: James and Pete on the portage
There was plenty of action in the other 20km divisions as well. In Div 2, Peter Faherty/Gareth Stokes (Sutherland) finished off a stellar season by finally clinching 1st place, while Ian Hofstetter was coaxed down to Burrill Lake with the promise of a divisional trophy and finished in 2nd. Kieran Babich was looking strong in the early portages but had to finish his race early with a sore back. David Young was the only Lane Cove paddler in Div 3, paddling to 2nd in what looks like good Hawkesbury form.
Though somewhat diminished when compared with races earlier in the year, there were still a solid four LCRKers in Div 4. Don Johnstone stuck with the race leaders for long enough to make it count, finishing in a solid 3rd, while Naomi Johnson fell off the wash a little earlier and came in 4th. Wade Rowston (8th) and Tom Simmat (9th) rounded out the field.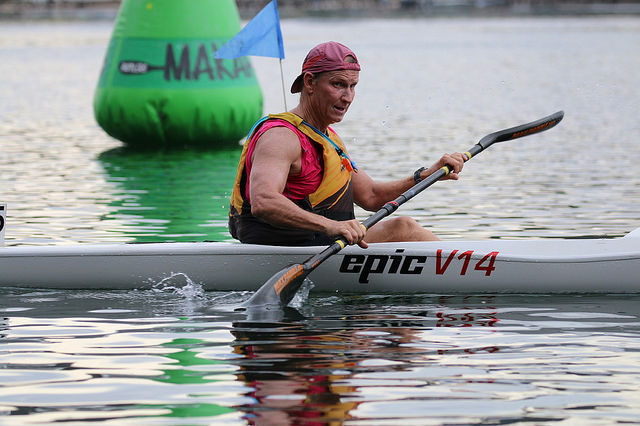 Above: Not even a Div 3 win makes David smile!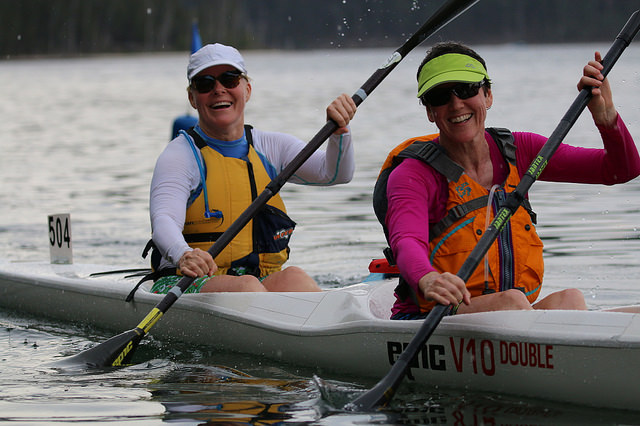 Above: Alanna and Alison finishing their ranking race.
Following a strong season in Div 5, Ruby Ardren (Manly) was the second paddler to finally crack 1st place on the day, finishing with a solid lead of thirty seconds over Allison Bilbow/Alanna Ewin in their ranking race. The duo were convinced that they were at the back of the Div 5 pack for most of the race, only to be told by Ruby on the final lap that they were in the lead! Also ranking were new partners Raewyn Duffy/Alison Curtin, who will be paddling the HCC for Lane Cove and wanted to get in some kms. The pair shot to a comfortable Div 5 time despite ranking in Div 7, and we're hoping to see them on the water together in next year's marathon series as well. Lindsay Frost finishing 2nd in Div 7, while birthday girl Gaye Foster (Manly) was 3rd in Div 6.
With no Lane Cove paddlers in Div 13, and Bob Turner (8th, Sutherland) holding the fort in the 15km Div 8 race, it was up to our 10km paddlers to secure a few more last-minute club points. Phil Geddes finished 7th in Div 9, while Div 10 saw Paul Van K (3rd) pip Peter Harris (5th) by about a minute and a half. Ian Wrenford was 2nd in Div 11 – no doubt spurred on by the desire to take close-ups of the final portage – and Lachie Wrenford finished 4th in Div 12.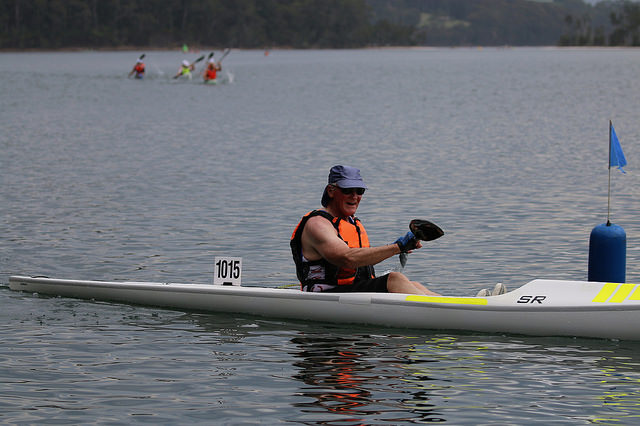 Above: ...just ahead of Pete Harris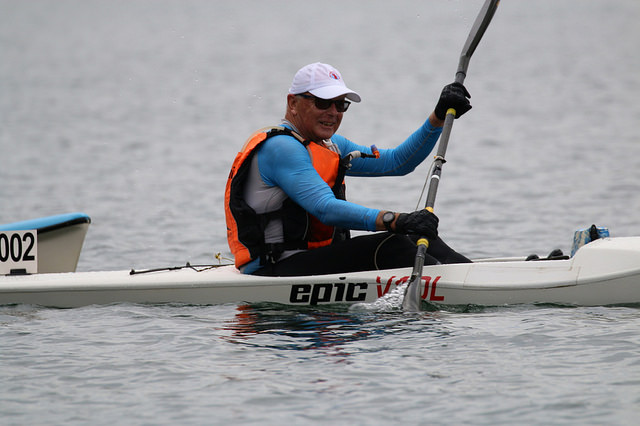 Above: Paul Van K finishing in Div 10...
No sooner had we all dried ourselves and washed boats, the skies opened and the weekend's promised thunderstorm began. Thunder crashed and the deluge of water threatened to fill any boat left out in the open a little too long. Luckily, the end-of-season dinner and presentations was held at the Ulladulla Ex-Servo, where we were treated to an excellent evening of food and company. The event was well-attended and spirits were high as we celebrated achievements through the year. Wade was particularly fortunate in the lucky door prizes, taking away a Jantex paddle donated by Australian Paddle Sports. What great motivation to train through the summer!
Lane Cove paddlers and friends reflected a strong marathon season with podium positions across the board:
Div 1: Brett Greenwood (1st, Manly) & James Harrington (3rd, Manly)
Div 2: Peter Faherty/Gareth Stokes aka 'The Hobbits' (1st, Sutherland) & Ian Hofstetter (3rd)
Div 3: David Young (1st) & Greg Morris/Warwick Sherwood (3rd)
Div 4: Naomi Johnson (3rd)
Div 5: Jeff Hosnell (2nd)
Div 7: Lindsay Frost (2nd)
Div 10: Peter Harris (3rd)
Div 11: Ian Wrenford (2nd)
Div 12: Lachie Wrenford (2nd)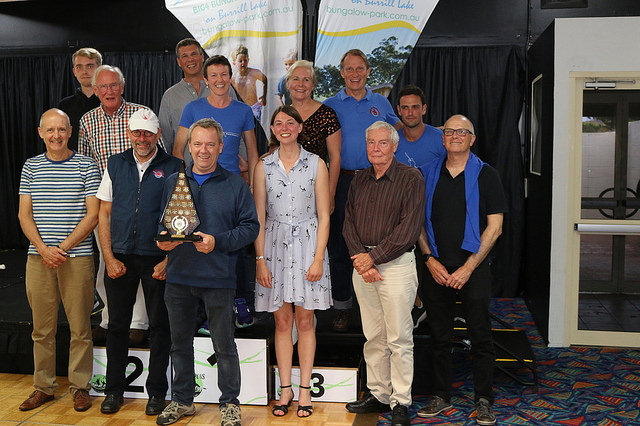 Above: The Lane Cove crew with the Brian Norman Trophy.
In acknowledgement of his stunning rise through no fewer than five divisions over the course of the season, James Pralija received a trophy for most improved paddler. Hopefully next year he can pick a division and get on the podium! And then of course there were the club trophies. Thanks both to a solid paddling cohort at every race and a particularly stellar field at the doubles round, Lane Cove was again the winner of the Brian Norman Trophy for the best-performing club. Manly again took out the ICF trophy, though LCRKers should be proud of a solid 2nd place in this category as we gradually see more paddlers in K1s and K2s.
Thanks are due both to Makai Paddlers for hosting such a great event, and to the 2018 Paddle NSW Marathon Committee for their tireless work to make all twelve races in the series run smoothly. Thanks also to Lesley Manley and Ian Wrenford for their work behind the camera throughout the season, capturing great shots no matter what the weather. That's it on the marathon calendar for this year...but then there's 2019!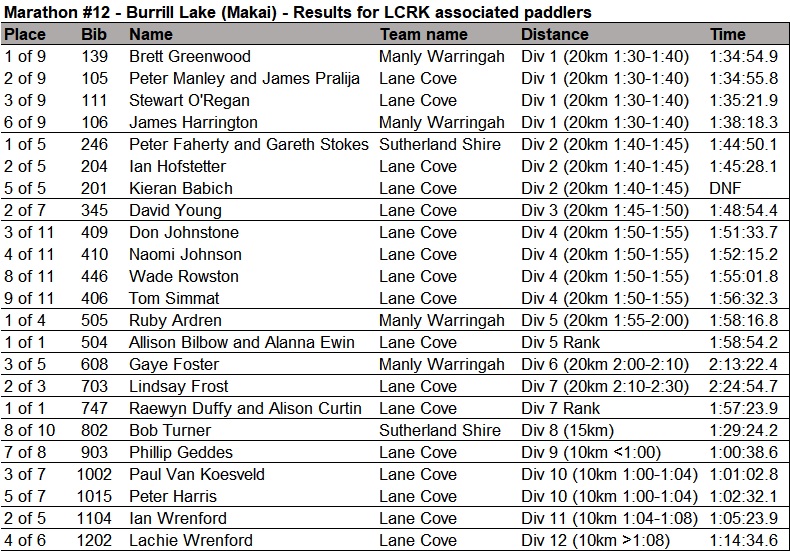 Above: Results for LCRK-associated paddlers at Burrill
Round 11, Davistown (Central Coast) - Sat 15 Sep
Race Report by Naomi Johnson
Spring had finally arrived for Round 11 of the 2018 Marathon Series, with Lane Cove heading up to Davistown and Brisbane Waters for a sweltering day of racing. But far from sunshine and daisies, gusting winds and a proliferation of speed boats made for one of the most challenging races of the season so far.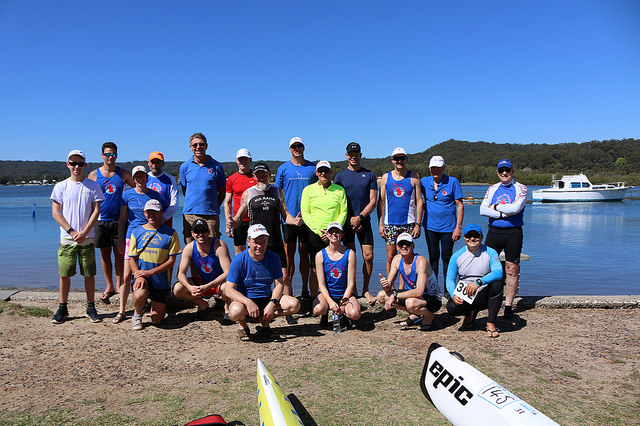 Above: A happy and summery Lane Cove team, some only a little while before everyone realised just how windy it was!
Drive through Gosford, hang a right and you'll arrive in picturesque Davistown on Brisbane Waters. Enjoying the relaxation of a not-too-early morning, paddlers were in high spirits about the penultimate race on the marathon calendar. Pete Manley, newly promoted to Div 1, came with an even newer birthday boat, and Alanna was back in the K2 with Tony. Though the course was looking more than a tad confusing, with multiple turns and plenty of decoy buoys thrown into the mix, the general consensus was to just follow the person in front. Oh, and watch out for the ferry.
No sooner, though, had we all bundled out onto the water than the wind started up in earnest. One minute glassy and inviting, suddenly the course was covered in large ripples and even some small waves. Only one swimmer was reported on the start line, but things only got tougher with the realisation that there were going to be a lot of power boats sharing the course. Some were kind, slowing down and taking a wide berth, while others just zipped through and churned everything up. But we wouldn't paddle marathon if we weren't good at carrying on no matter what, and despite the conditions every Lane Cove paddler finished their race.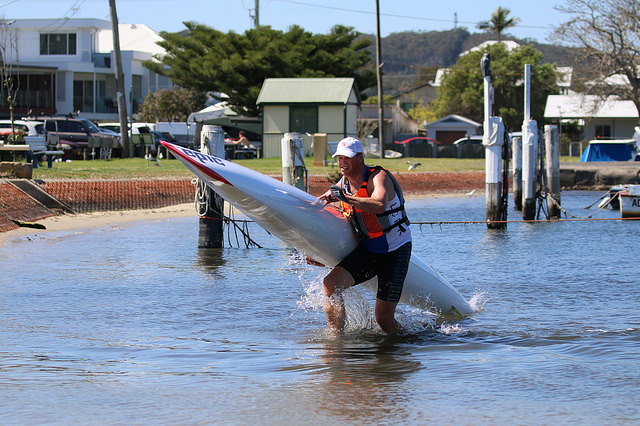 Above: Pete Manley dives into a portage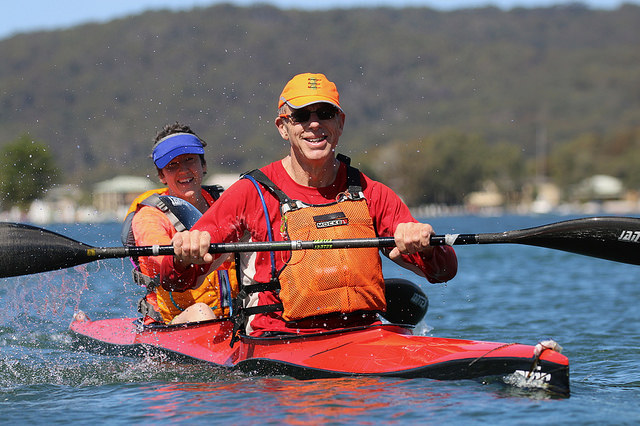 Above: Tony and Alanna back in the K2.
That said, racing a shorter distance certainly looked like a good option! In Div 13, John Greathead was the sole LCRKer, paddling to a solid 8th. Lachie Wrenford (5th, Div 12) had his maiden swim from the K1 (after more than a year, that's pretty impressive), and then a second for good measure. Big thanks to Peter and Gareth in the supersonic for helping him back in after the second dip. Ian (2nd, Div 11) was one of the few to thoroughly enjoy the race, reporting that his Marlin was perfect for the conditions, and then taking full advantage of the weather to resume his summer photography waist-deep-in-water pose afterwards. Peter Harris finished 4th in Div 10, and is looking like a strong contender in the overall division, while Phil Geddes finished 7th in Div 9.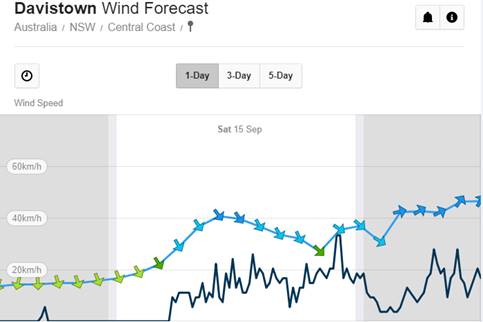 Above: Does that mean it was due to be even windier?!
Then there were those crazy enough to slog out 20kms, or four laps, of the Davistown course. Regular wash packs were pulled apart, with the only group of more than two boats visible by lap three being Kieran and Ian hanging doggedly on to a Brisbane Waters double in Div 2. Even the usually tight-knit leaders of Div 1 were widely scattered – possibly due to Brett Greenwood still being in Europe? Returning to the K2 for the first time in a few months, Tony Hystek/Alanna Ewin reported a mid-race pit stop to empty out excess water, ultimately finishing in 4th. Pete Manley, proudly paddling his birthday V12, successfully completed his maiden portages and had a swim "right near the oyster beds" for good measure to finish 5th.
There was plenty of LCRK action in Div 2, with half the division wearing blue and white, and Peter/Gareth showing vocal support despite their poorer colour choice! James Pralija stormed to 1st in 1:46:06, which placed him quicker than most of the Div 1 boats. Guess where he'll be paddling at Burrill? A couple of minutes behind, Kieran Babich (3rd) chose to throw in a few portages for good measure, with Ian Hofstetter and Mark Hempel placing 4th and 6th respectively. In Div 3, David Young (newly demoted) found himself neck-and-neck with Jeremy Spear (newly promoted) in the final sprint. Jezza squeaked over the line just a second ahead to claim 2nd, with David finishing in 3rd. Rodrigo Matamala finished in 7th, possibly missing his ski a bit in the blustery conditions!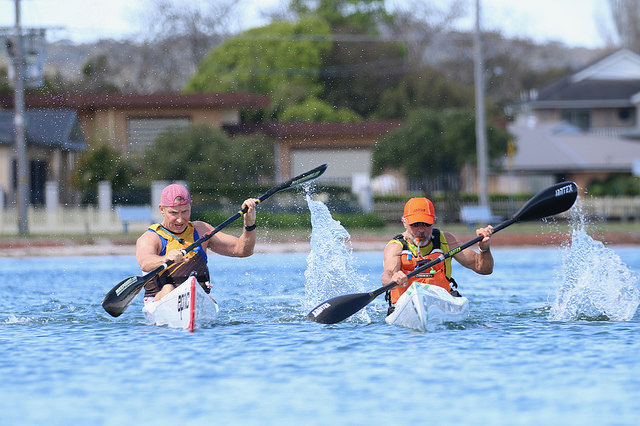 Above: David and Jezza sprint for the line.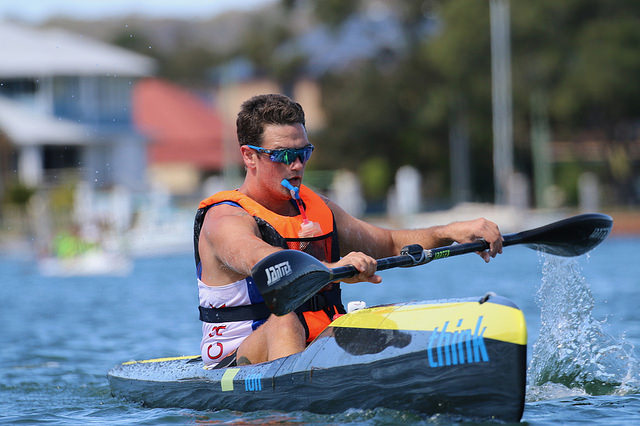 Above: James paddling towards Div 1.
With Rodrigo and Jezza out of the Div 4 picture, things were in need of a shake-up. Newly promoted Jeff Hosnell (10th) struck out strongly in the opening lap, while Naomi Johnson (7th) ended up being carried off on a speedboat wash at 90 degrees to the race course! Tom Simmat (8th) took a quick dip at the end of the first lap, then Wade Rowston (9th) stopped to give Oscar a hand on the third, and finally Jeff succumbed to the tricky current rounding a buoy coming into the final lap. A quick ride on the safety boat, and he was back in and dashing through the final 5kms in pursuit of Wade. Amazingly, the four all finished within a minute! Meanwhile, Richard Barnes (4th, Syd Uni) seemed thrilled with the conditions, which were probably easy-going in comparison to his recent Avon Decent.
While Oscar's dramatic swim at the finish line was captured in full photographic detail, his earlier swim was the rather hairy open stretch of the course.
"I had a super fun day on Saturday. They were tough conditions but the most fun! On the third lap, going across the wind I got caught between the waves and the wash of a jet ski and a power boat and decided to take a refreshing swim. A big thank you to Wade the hero who pulled up and got me back in. All this against a 3km/hr current and a tight division championship! Super dude Wade! It's fantastic to be part of an amazing club with incredible people. Also thanks to Tom for stopping and offering help too and the rescue rib. But no thanks to the jet ski or the power boat, neither of which stopped to help!" - Oscar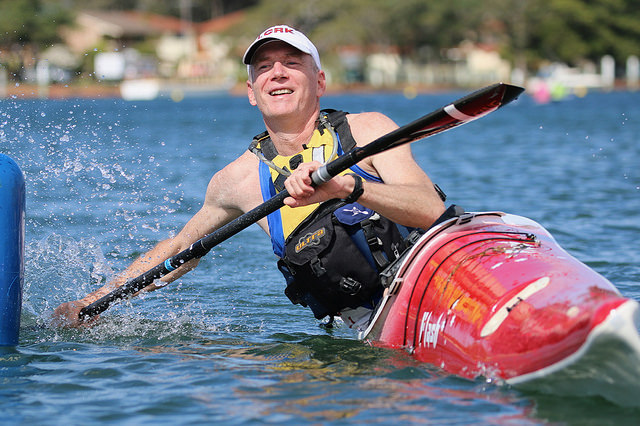 Above: Oscar shows how the victory swim is done.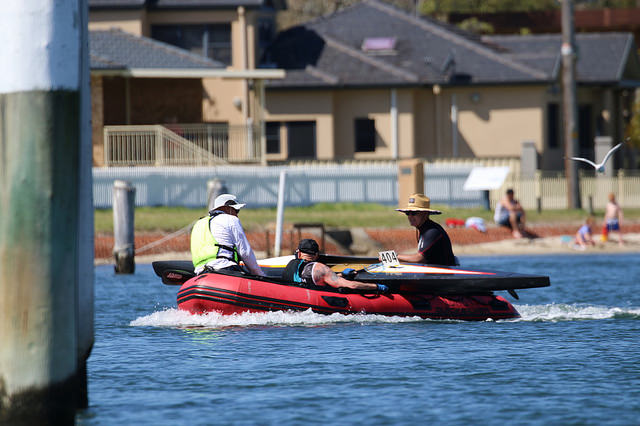 Above: Jeff takes a quick ride on the safety boat.
Also in Div 6, Gaye Foster finished 8th for Manly, while Ruby Ardren finished 3rd in Div 5. Lindsay Frost was the sole LCRKer in Div 7, finishing the 20km course in 2nd place. Despite the tough conditions most paddlers finished with a smile on their face (Pete M?), happy to have survived the heat, wind and waves. Thanks to Lesley Manley and Ian for their great photographs, and to Brisbane Waters for hosting the event.
The final race of the 2018 Marathon Series is at Burrill Lake on Saturday 20th October, and like last year it's followed by a dinner and awards presentation. This was a great night in 2017, and it would be fabulous to have as strong a turn-out from Lane Cove this time round!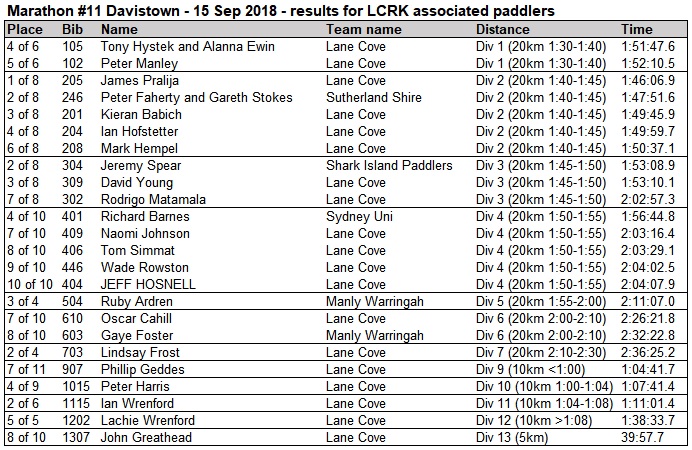 Above: Results for LCRK-associated paddlers at Davistown
Round 10, Windsor - Sat 25 Aug
Race Report by Naomi Johnson
Spring still seemed a little way off as Lane Cove headed to Windsor for Round 10 of the 2018 Marathon Series. A special event on the marathon calendar, this round invited everyone to try portaging no matter what their division or craft. It added a fun spice and some great photo opportunities to a heated day of racing.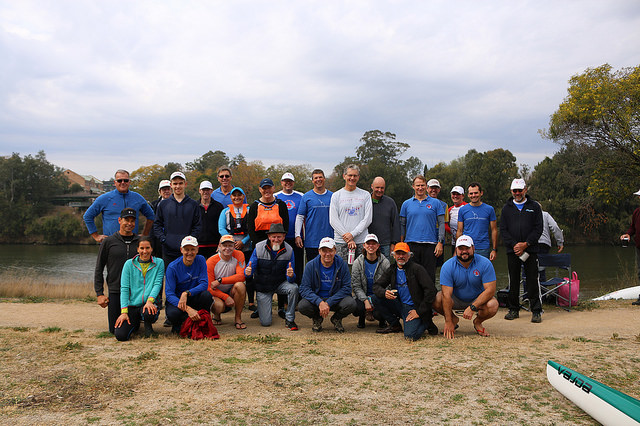 Above: Cold but not raining. The Lane Cove team at Windsor.
'Light rain and storms developing in the late morning' was the forecast as we arrived at Windsor on Saturday morning. In true Hawkesbury fashion, the tide was ripping out, prompting Tom Simmat to try and rip part of the underside of his car off with an annoyingly-placed rock. Despite the predictions, rain confined itself to a sprinkle, and storms too stayed away for the whole race.
Portaging is usually only confined to Div 1 at the NSW marathon series races, though it is commonplace for ICF boats at state, national and international competitions. The theory is that marathon paddling doesn't inflict quite enough pain as is, and the best way to increase the threshold is to make competitors hop out of their boat every lap of the course, squeeze in a quick jog with their boat in tow, get back in and keep paddling as if nothing has happened! At least, that's how easy the Div 1 paddlers make it look. For others, the shock of breaking their rhythm to extract themselves from their ski was only heightened by the realisation that the portage was a rather long 80m run in dry sand. All in full view of Lesley/Ian with the camera of course.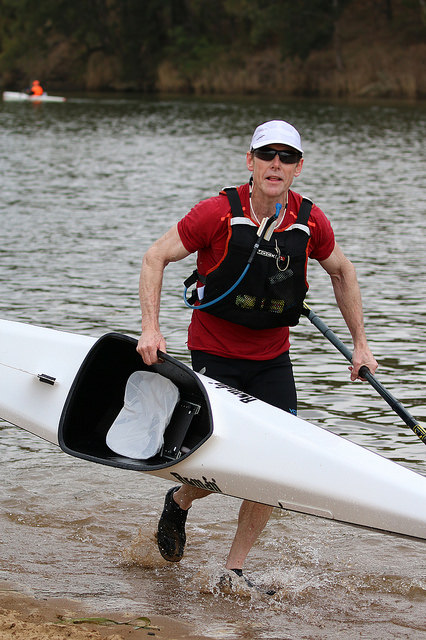 Above: Ian at the start of portage No. 2
Following the recent flurry of promotions, Div 2 boasted the most Lane Cove representatives, with six singles in the mix and Peter Faherty/Gareth Stokes (3rd) paddling for Sutherland. Pete Manley (2nd) opted to save his debut portage for another day owing to a funny knee, while Ian Hofstetter (4th), James Pralija (5th), Tony Hystek (8th) and David Young (10th) threw themselves into the run with gusto. Techniques varied greatly, with David opting for over the shoulder, Tony and Ian the favourite down by the side, and James an innovative hug-your-ski-for-dear-life approach. It was also great to see Justin Ryan (7th) back for his first race since states in May.
Div 3 would have been looking very bare indeed but for some new (or recently-promoted) recruits. Choosing to forego the portage in favour of a fast sprint, Rich Yates/Keg D'Andreti stormed to 1st place, with rumours that strains of "the boys are back in town" were emanating from the boat not yet confirmed. Greg Morris/Warwick Sherwood finished 6th, while Rodrigo Matamala added strong portages to his first ever Div 3 race and finished in 9th. The best boat exit award (at least the best captured on camera) goes to Kieran Babich (ranking, now in Div 2), who seemed to glide into each portage effortlessly. Maybe he practices squats?
Above: Kieran shows everyone how it's done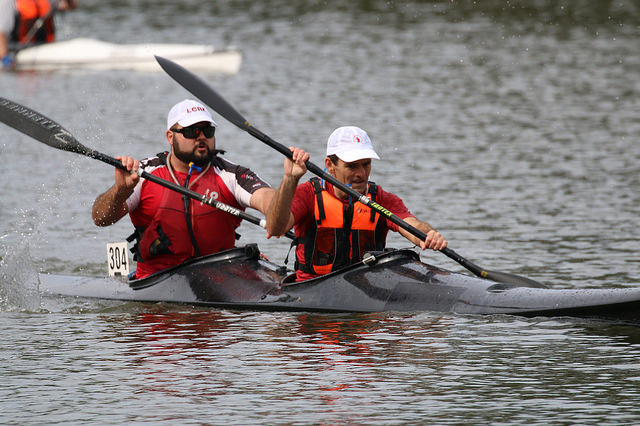 Above: Rich and Keg put down the power.
The trickiest parts of a portage are without a doubt the exit and re-entry into the boat. While it feels safer to stop the boat completely before hopping out, it's easier to balance while still in motion. With the very best of intentions to stand up then hop out (à la Kieran), one can often resort to one leg over the edge, or indeed even the less elegant face-to-water solution. Just don't get water in the boat, because that weighs it down on the run!
With a host of Lane Cove boats in Div 4, the competition became two very different races. Jeremy Spear was quick to speed off at the front (aiming to catch up with Rodrigo?), foregoing the portage and taking out the division in a quick enough time to earn himself a ticket up to Div 3. A little further behind, LCRK crews constituted the portage section of the race. Don Johnstone (5th) completing his maiden portage smiling all the way, while Richard Barnes (Syd Uni, 6th) paddled and ran with his usual gleeful grin. Naomi Johnson (8th) pipped Wade Rowston (9th) on the line after realising that boat on the shoulder was the way to go, and Tom Simmat (10th) decided on lap three that he was going to have a crack at the portage. Confirmation of 1/3 of an ICF point is still pending!
Div 5 was a slightly slimmer field, with just eight boats on the start line. Jeff Hosnell (1st) paddled a fabulous race that saw him catch the back of the Div 4 pack. Don't worry Jeff – you'll be racing with them next time! Rob Llewellyn-Jones finished in 4th, while Ruby Ardren (Manly, 8th) showed yet another portaging option: stick your whole arm in. Gaye Foster (Manly, 12th) and Derek Simmonds paddled in Div 6, while Lindsay Frost (8th) was the sole LCRKer in Div 7. Regular Anjie was out with the K4 team getting in some kms on home water.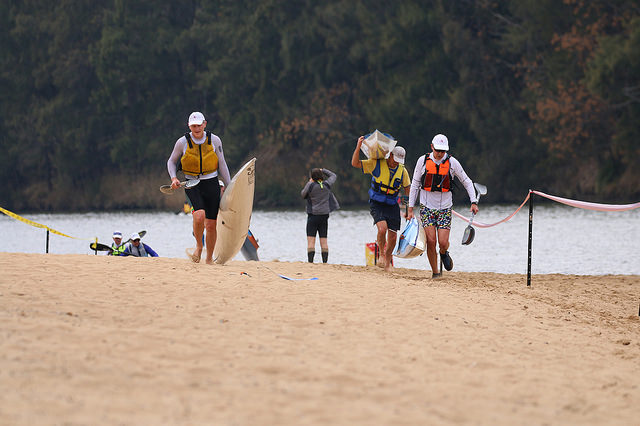 Above: Don and Wade modelling just how long the portage is.
By the end of the portage, one is inevitably puffed out and questioning why then even registered for the race in the first place. A little lie down on the sand might be looking appealing, but the task at hand is getting back into the boat and then getting out the way of anyone else storming along behind. Do you push the boat into motion and then jump in, risking another face-to-water outcome? Or spend more time sitting yourself in and checking that everything is in order? Either way, the aim is to regain composure as quickly as possible and get back onto that friendly washride!
In Div 1, where portages are supposed to look easy, Brett Greenwood (Manly) took out the race, with duo of Peter Fitz/Brendan Trewartha working hard to earn 3rd place. Caroline Marschner/Mark Hempel looked cool and collected on the portage, helped along by a set of handles on their ski, but were spotted with some coordination problems on re-entry.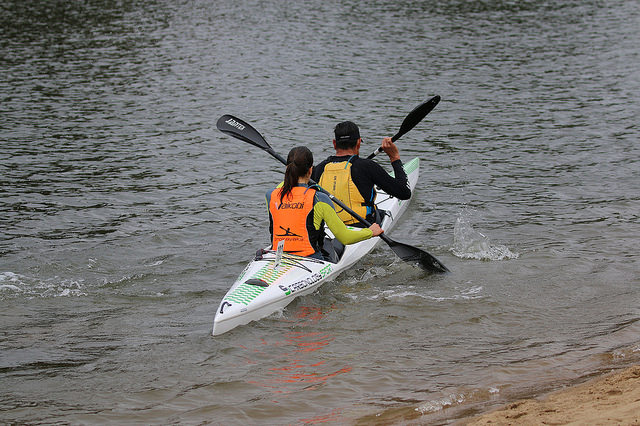 Above: Mark and Caroline differ on the right right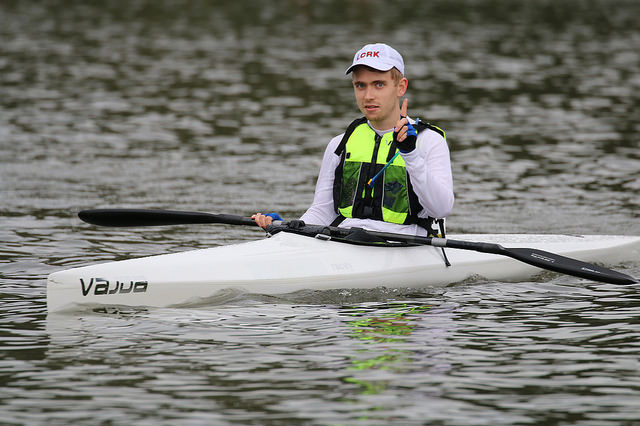 Above: Lachie takes out Div 12.
Numbers were a little down in the shorter courses, with all claiming age or a focus on individual points as a reason for not portaging. Paul van Koesvald (3rd) joined regular John Greathead (8th) in Div 13 – great to see him back on the water as recovery from his hip surgery progresses. Lachie Wrenford put in a stellar effort to win Div 12 and Ian was 4th in Div 11. Regular Div 10 paddlers must have been scared off by the prospect of a portage, but Phil Geddes (6th) was holding strong in Div 9.
With ten of twelve races in the bag for the 2018 season, LCRK has a very comfortable lead on the overall points tally, though not quite enough portagers to improve on 2nd in the ICF cup. As for the individual divisions, there are a few that are going to come right down to the wire. The action continues in Davistown on Saturday 15th September, and it would be great to see big Lane Cove contingents heading into the final races.
Thanks as always to Lesley Manley and Ian Wrenford for their fabulous photos!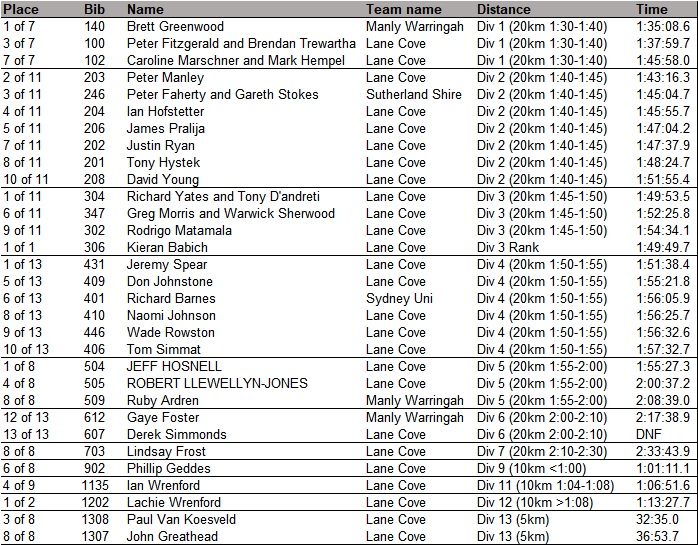 Above: Results for LCRK-associated paddlers at Windsor
Round 9, Teralba - Sat 4 Aug
Race report by Naomi Johnson
The heat was on in Round 9 of the 2018 Marathon Series, with the racing season beginning to ramp up towards its climax. The Teralba race on Cockle Creek has become a regular on the marathon calendar since 2016, and only a couple of hours up the Pacific Highway towards Newcastle it made for a great daytrip north.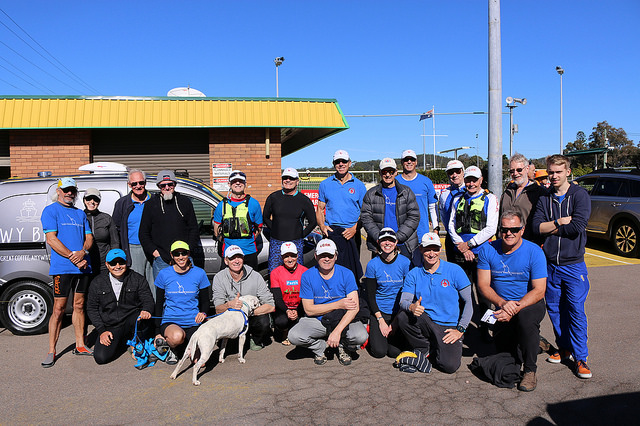 Above: Most of the Lane Cove paddlers ahead of the Teralba race. It almost felt like spring was on the way!
For some, the day didn't exactly start off plain sailing. The drive north has some notoriously windy spots, and Anjie was unlucky enough to have her ski picked up by a big gust on the way over the Mooney Mooney bridge.
With the pointy end of the racing season in sight, some felt it was time to make their move. In Div 4, Rodrigo Matamala was in the lead from the start, producing his third outright win for the season and finally earning himself a ticket up to Div 3. Finally, breathes the rest of the field, where Jezza Spear stuck out the front charge to finish 4th, followed by Don Johnstone (6th), Naomi Johnson (9th), Wade Rowston (11th) and Tom Simmatt (12th). Wade reported a bee landing on his boat coaming in the first five minutes of the race, and then stoically sitting there for a full four laps. Another motivation for paddling faster perhaps?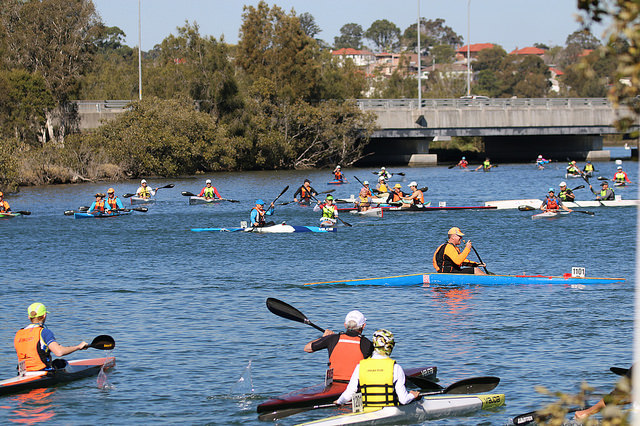 Above: Close to 150 paddlers warming up.
While Rodrigo might now have to put holes in some boats to secure a Div 4 trophy, his promotion is a welcome addition to rather sparse Div 3. Following a flurry of promotions (think Pete Manley and James Pralija), the division boasted only two LCRK boats. Matt Swann/Duncan Johnston finished 4th, ahead of Greg Morris/Warwick Sherwood in 6th, with the latter boat attempting a K1-esque inside passing manoeuvre on the last turn. With angles a little awry, the duo avoided imminently T-boning Matt and Duncan by capsizing, a feat that unfortunately wasn't captured on camera!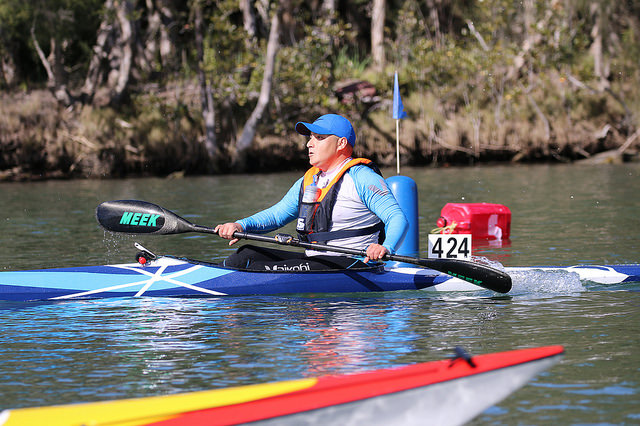 Above: Rodrigo finally gets a pass up to Div 3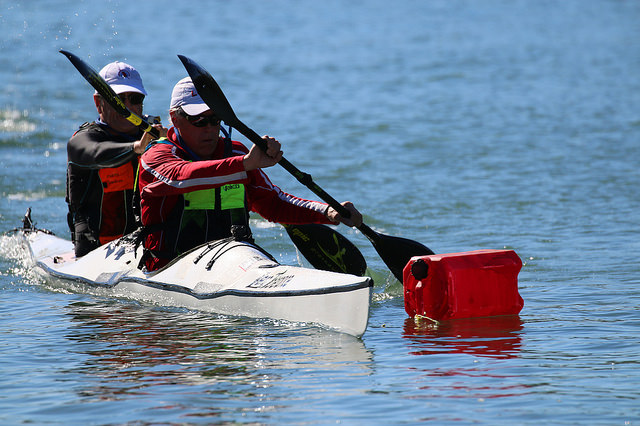 Above: Matt and Duncan pre-T-bone
Div 2, on the other hand, was looking very healthy, with Pete Manley adding to his flurry of recent PBs and bettering his Narrabeen result to take 1st place in his new division. He might need to watch that he doesn't get another promotion! Rounding out the pack were Peter Faherty/Gareth Stokes (4th, Sutherland), James Pralija (5th), sprinting past Tony Hystek (6th) in the final stretch and David Young (7th). Photos suggest that both James and Tony took full advantage of the double wash on their way round the course. In Div 1, Brett Greenwood (Manly) continued his unbeaten season to finish in 1st, while Suzie Rhydderch/Mitch Coffey came in 9th.
The racing course at Cockle Creek is a great one for spectators, with paddlers completing their start, finish and bottom turn within view of the RSL. From there, the course headed upstream, dodging shallow sandbanks in what was otherwise a relatively straight and hazard-free paddle. Some have claimed it's the best course of the year, though on further questioning this might be because the 20km distance passes a pub eight times!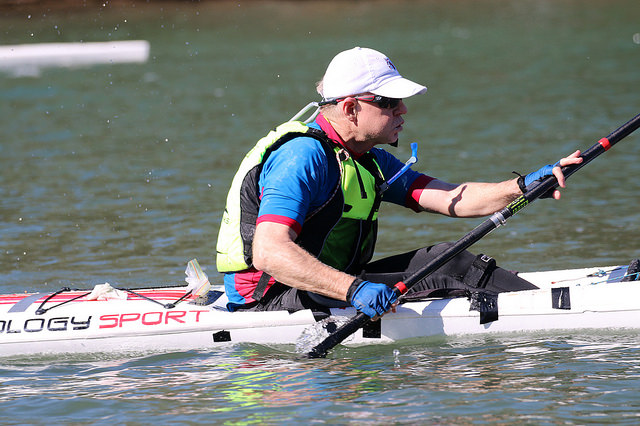 Above: Peter and Allison cheerful in Div 10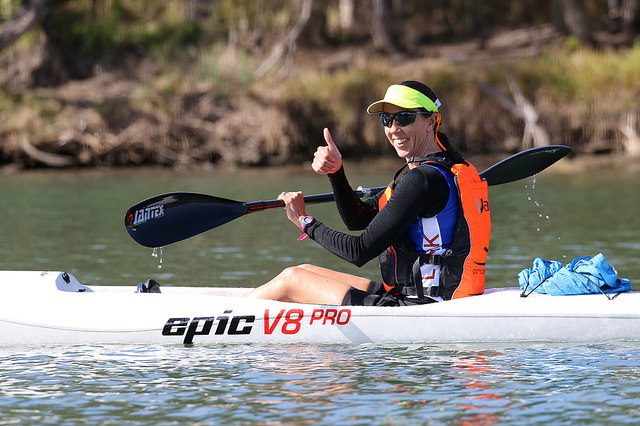 Above: Kerrie finishes her ranking race
A big surprise of the race was Rob Llewellyn-Jones, who stormed through his Div 5 race to finish first in 1:56:37, faster than a couple of the Div 4 boats. A few minutes behind, Jeff Hosnell finished in 5th. Div 6 was once again sent off before the main pack, allowing for plenty of cheering on the start line. Oscar Cahill (5th) was the top-place Lane Cove boat, followed by Gaye Foster (10th, Manly), ever-cheerful Ann Green (11th, Manly), and Derek Simmonds (12th) in what looked like a new ski. With Anjie heading for home prematurely, Lindsay Frost (6th) was the sole paddler collecting points in Div 7, while Kerrie Murphy looked like she was having a ball completing her ranking race.
With so many paddlers completing 20km courses, numbers were a little light-on over the shorter distances. Over the 15km course, Div 9 regular Phil Geddes finished in 7th, while 5km regular John Greathead wins the biggest smile of the day prize paddling to 5th in Div 13. Over 10kms, Peter Harris (4th) pipped Allison Bilbow (7th) in Div 10, while Ian Wrenford finished 4th in Div 11 after spending over 7km of his race washriding the winning C1. Lachie Wrenford finished 2nd in Div 12, where there seemed to be more ranking paddlers than those competing for points.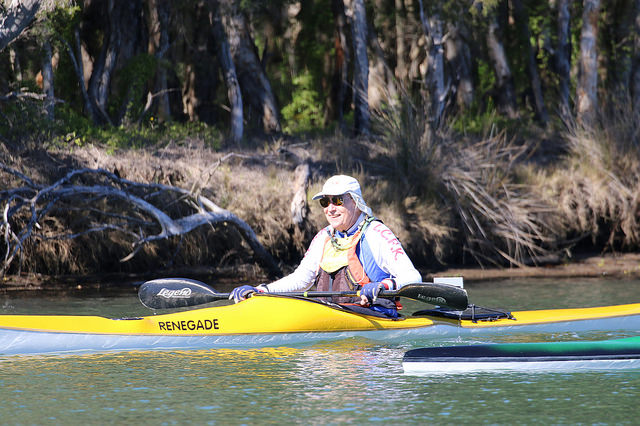 Above: John in the Div 13 start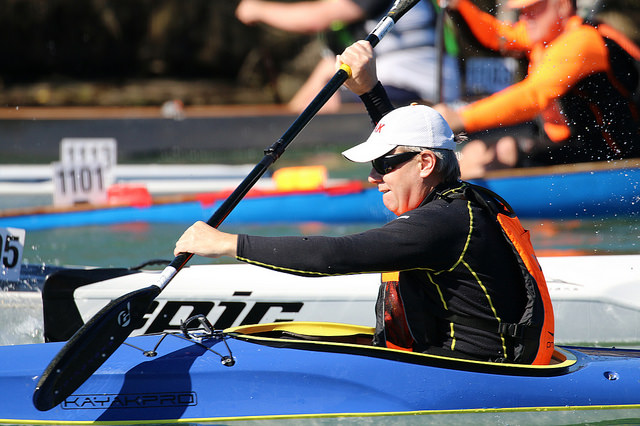 Above: Ian with eyes fixed on the C1 wash
Thanks to both consistent participation and the sheer number of paddlers, Lane Cove is now well-positioned at the top of the club points tally. We could probably even take a race off if it were only those points that mattered (don't tell Paul), but of course there are still a few other trophies in the mix. Round 10 takes us to Windsor for the season's new 'portage round'. Yes, that's for everyone, and what's more it looks like we all get ICF points for giving it a crack. So choose a light boat, practice some squats and let's see whether we can get in and out of boats a little quicker than we do on Wednesday nights!
Thanks to Hunter Valley Paddle Sports for hosting a great day of racing, and to Ian, Oscar (candid cam) and Frazer for their excellent photography.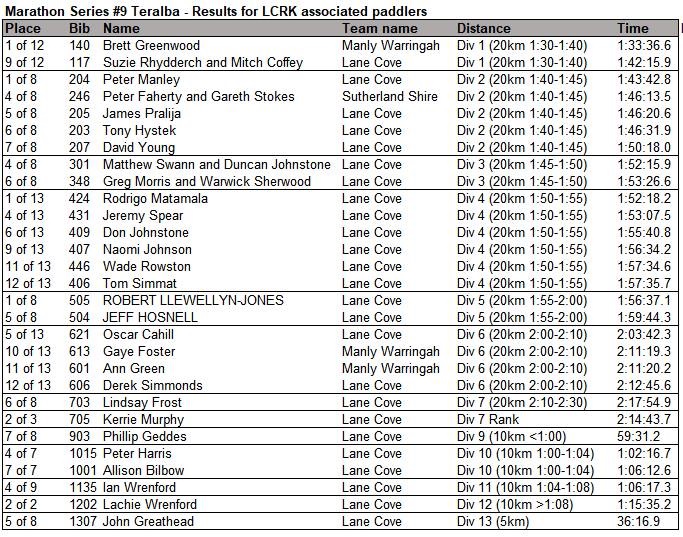 Above: Results for LCRK-associated paddlers at Teralba
P.S. There has been some discussion over the elephant photo; with some saying they absolutely saw it, while others are a little more dubious. Frazer, who was on camera duty for the first half of the race, would like to confirm that there certainly was an elephant, her name is Genevieve, and she is partial to a swim but doesn't see the point of kayaks.
Round 8, Narrabeen - Sun 15 Jul
Race report by Naomi Johnson
The chilly winter weather continued for Round 8 of the 2018 Marathon Series hosted by Manly Warringah Kayak Club on the Narrabeen Lagoon. With only a light wind and an otherwise perfect July day it was a much easier race than the 2017 edition, and a strong Lane Cove turnout ensured a clean sweep of all the divisions from two to seven.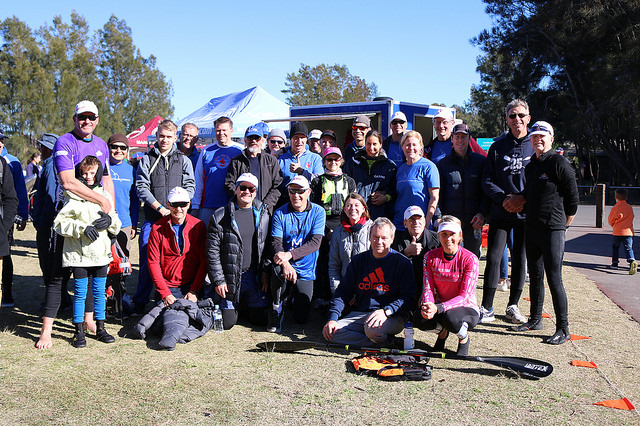 Above: Cold but happy, the Lane Cove team ahead of the Narrabeen race.
The race started from Bilarong Reserve across the lagoon from the Manly clubhouse, and volunteers had been out in force from early in the morning laying course, set-up area and portage run. At the request of paddlers going to the World Championships in Portugal, the course was laid clockwise rather than the usual anticlockwise. This, along with the lagoon not being open to the sea, made for a new and exciting course that took paddlers around Big Island and over to the western side of the waterway. Despite some panicky practice of tight 360 degree right-hand turns during the regular LCRK Friday morning training session, the course was beautifully laid with sweeping rather than tight turns at either end.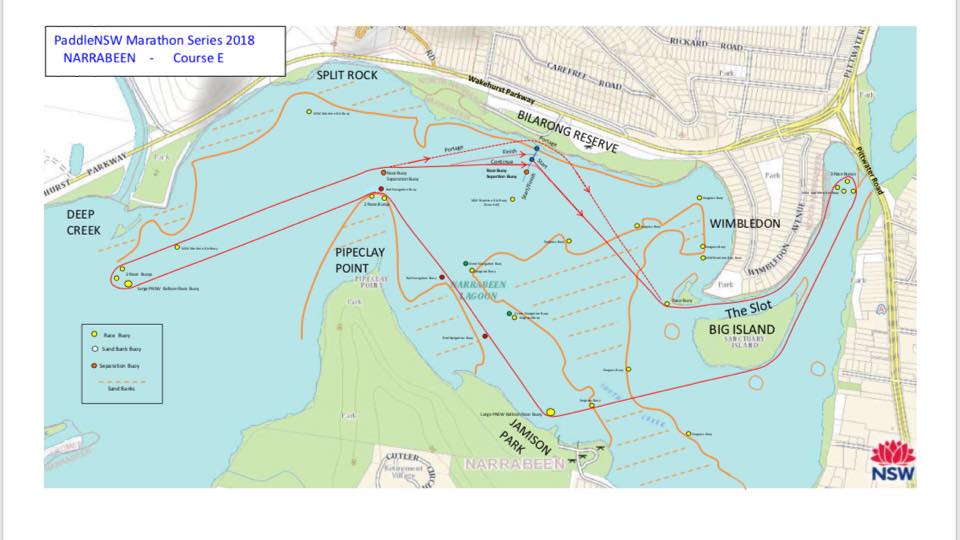 Above: The newly designed Narrabeen course - a great success!
It was great to see that Matt and Liberty Blundell's partnership for the Lane Cove doubles round has sparked more interest in inter-generational paddling combos. Matt and Liberty returned to the Div 13 ranks, taking out the race in a solid time of 26:30 ahead of 5km regular John Greathead in 11th. Meanwhile, David Hammond revealed the reason for his 'doing a Barnsie' paddles in recent weeks, teaming up with son Thomas to complete their Div 12 ranking race in a solid time of 1:06:35. Just six seconds behind Ian Wrenford, it looks like they're headed for Div 11 when they next compete. Also paddling the 10km distance were Lachie Wrenford with a strong 5th in Div 12 and Ian with a 4th in Div 11. Peter Harris (5th), Allison Bilbow (8th) and Jana Osvald (11th) put on a keen Lane Cove show in Div 10 despite Peter and Allison stopping to help another paddler with a deepwater re-entry. Peter apparently became quite the celebrity with the guest dragon boat crew on the second lap while trying to manoeuvre around their hefty wash at the bottom turn. Ian, approaching the turn as Peter pulled away, called out "Go Peter", which was then picked up and continued by the full dragon boat chorus!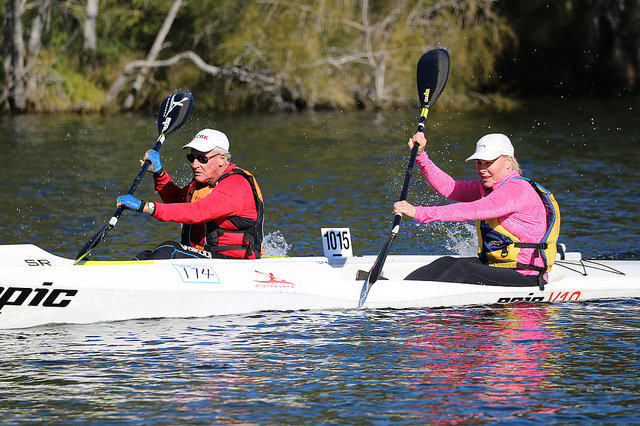 Above: Peter and Allison cheerful in Div 10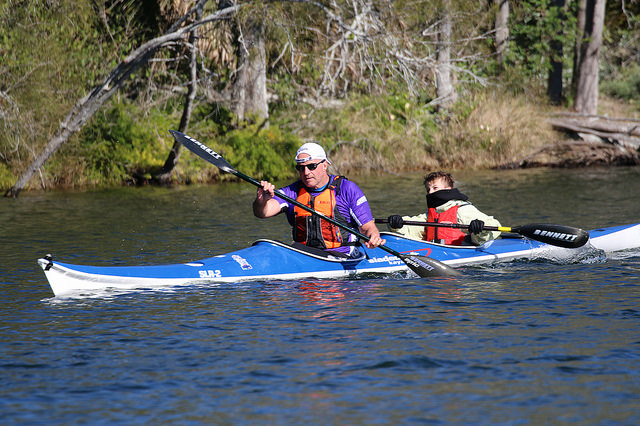 Above: Team Hammond in Div 12
Finishing off the 10km divisions was Phil Geddes, paddling to a solid 9th in Div 9. In Div 8, Len Hedges paddled to 8th while Richard and David Barnes (flying the SydUni flag of course) opted to take out a double downriver boat. The pair were easy winners in the biggest smile category, possibly because they were putting out such a phenomenal wash that everyone passing them was obliged to stop for a chat to get their breath back! While the early wind had died down by the time we started racing, the shallow water and breezy conditions still made for a fair share of challenges. Just after rounding Big Island, paddlers were faced with a head-on slog into the wind as they crossed a sand bar to the second major turn. Later on, as they headed out to the far turn the wind seemed to change direction subtly with every lap, stirring up the water just a little too much to feel completely comfortable.
This didn't stop the storm of Lane Cove paddlers pushing at the top end of their 20km divisions. In Div 2, it was one, two, three for Mark Hempel, Pete Manley and Ian Hofstetter, with the group looking like they stuck together almost until the final sprint. Tim Binns (7th) and Tony Hystek (8th) rounded out the division, with Tim still shaking of a cold and Tony doing battle with jetlag. Joining them in Div 2 for the next race will be James Pralija and David Young, who secured 1st and 2nd in Div 3 with times just under the 1:57:00 mark, despite James not quite getting off the start on time. A little way back in the Div 3 mix were the two Lane Cove doubles of Matt Swann/Duncan Johnstone (6th) and Warwick Sherwood/Greg Morris (8th).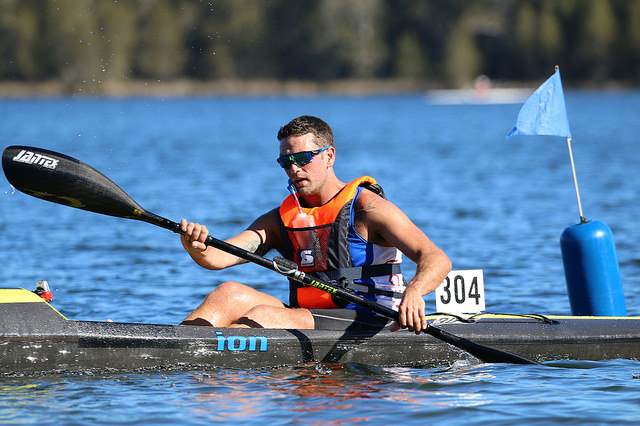 Above: Div 3 winner James
Above: A sandwich of LCRK doubles
Div 4 had its usually high turn-out of LCRKers, with Rodrigo Matamala and Jeremy Spear storming off with the lead pack from the get-go. In what seems to have become quite a regular display in this year's marathon series, the pair swapped 1km leads and finished in a close 1st (Rodrigo) and 3rd (Jezza). Seriously, is there not an option for promotion by popular vote?! Despite missing the start by half a minute, Don Johnstone breezed his way to 9th, followed by Naomi Johnson (10th), Tom Simmat (11th) and Wade Rowston (12th).
With only five paddlers in Div 5, it was another case of one-two for Lane Cove, with Rob Llewellyn-Jones and Jeff Hosnell sticking so close together that the finished 8 seconds apart and were almost impossible to capture in individual photos.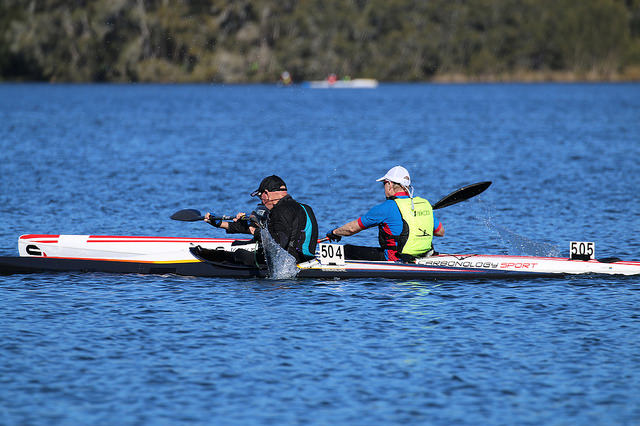 Above: The Rob-and-Jeff duo of Div 5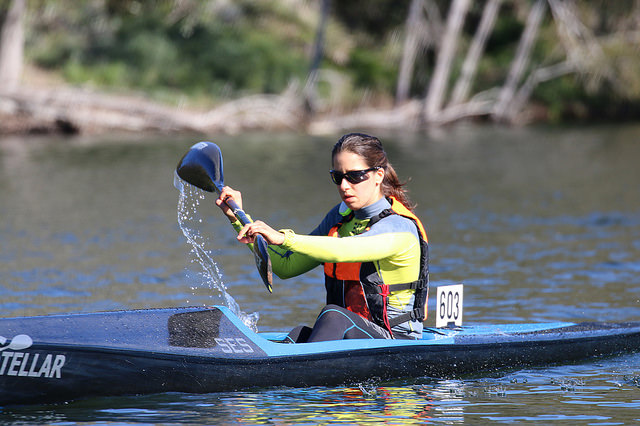 Above: Caroline and her new ski in Div 6
Div 6 once again set off in the early starts with Div 7, giving everyone plenty of time to get around the course at their own pace. Caroline Marschner was a new and exciting addition to Div 6, paddling her new blue ski to 1st place in a time of 2:00:15 which will see her in Div 5 at the next race. Ever-smiley Oscar Cahill finished in 7th, followed by Ann Lloyd-Green (12th) and Gaye Foster (15th) paddling for Manly. And in a slim Div 7 field Anjie finished the sweep of line honours in a time of 2:15:00, while Lindsay Frost finished 5th.
With a well-laid portage run and many top paddlers gearing up for Portugal, everyone in Div 1 took the opportunity to portage. Suzie Rhydderch/Mitch Coffey in the double ski reported that this gave them an opportunity to catch some of the other boats, so we might be seeing more of them portaging in the future! Brett Greenwood (Manly) took out the race just ahead of James Harrington (Manly) with Lane Cove paddlers Stewart O'Regan (5th), Andrew Love (6th) and Suzie/Mitch (10th) all finishing in their usual blistering times.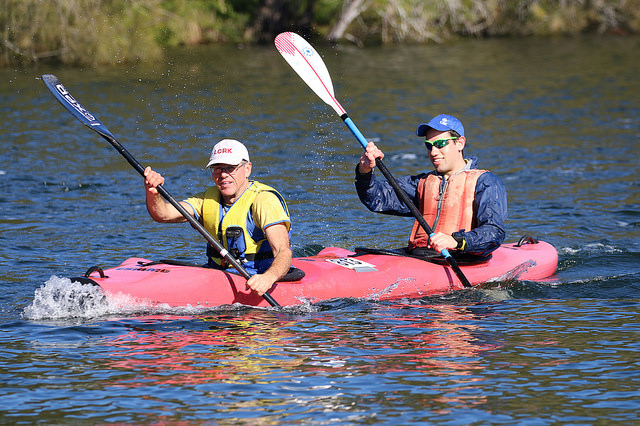 Above: The double trouble Barnes team
Thanks to the photography team of Lesley Manley, Ian and Lachie Wrenford for capturing the race in such detail. Lesley decided to forego the start-line photos in favour of a spot some 800 metres into the race. The photos are great, capturing the heat and focus of the early race in close proximity. Ian followed this up by braving the cold water to cover the finish as closely as possible: waist deep in the lagoon! Also worth checking out are Lachie's drone shots of the course, tipped to become a regular feature at future races.


Round 9 is a little further afield, with a quick dash up the Pacific Highway to Cockle Creek at Teralba. Lane Cove is looking very strong in the overall club points, and there are also some individual paddlers both old hands and new well placed for trophies in their divisions. With only four races left in the series, though, it's still anyone's game.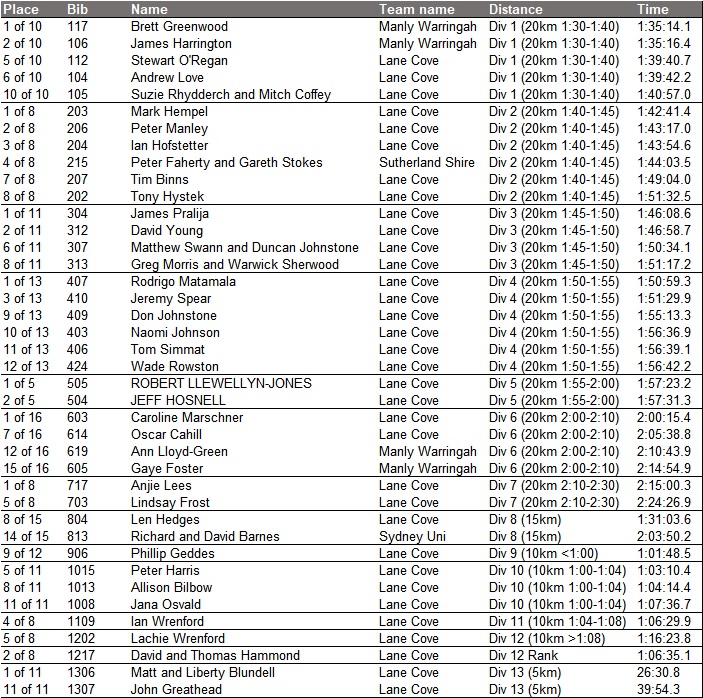 Above: Results for LCRK-associated paddlers at Narrabeen
Round 7, Penrith - Sun 24 Jun
Round 7 of the 2018 Marathon Series was a lot closer to home, and with the promise of a newly designed course on the Nepean River in Penrith there was a strong Lane Cove turnout. A single up and back loop that took us deep into the gorge, the race was both a beautiful view of a remote river spot, and a rather different marathon experience to those so far.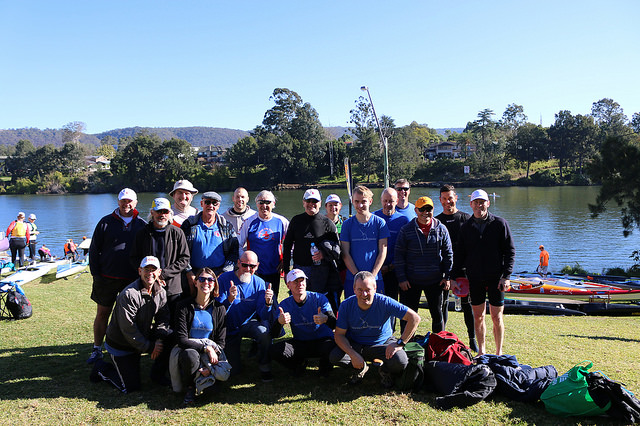 Above: Most of the LCRKers paddling at Penrith, with plenty squinting into the winter sun.
The day started off on the uncomfortable side of chilly, with paddlers picking up boats from the Lane Cove shed noting ice on the ground at around 8am...along with Adrian Clayton heading out for a paddle! By the time we arrived at Penrith, though, the sun was shining and everyone was debating whether to wear long or short sleeves. With a race briefing that suggested both taking along a camera and steering clear of kneeler C1s, it was clear we were in for a fun day on the water.
Penrith hasn't been on the racing calendar since 2015, but unlike the regular lap-based races of the marathon series, the Nepean River offered a rare chance for an up-and-back loop. Some were excited about the prospect of a race with only one turn, while others quickly saw that this was to their disadvantage! The course was wonderfully laid, with clear turning buoys for each of the four distances and then very little need for other markers along the relatively straight, pleasantly roomy course. It was little wonder that all but four Lane Cove boats opted for the 20km option.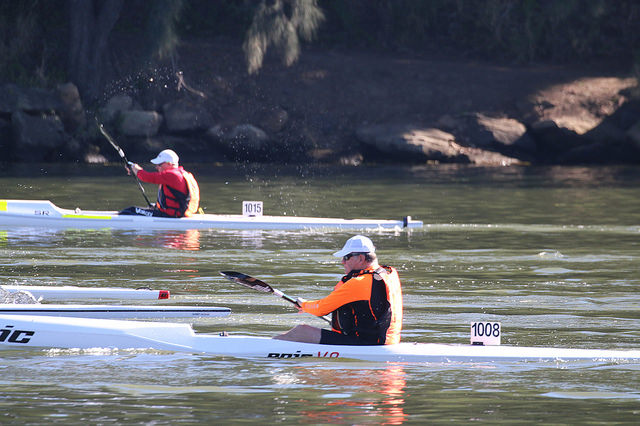 Above: Peter and Paul in the Div 10 start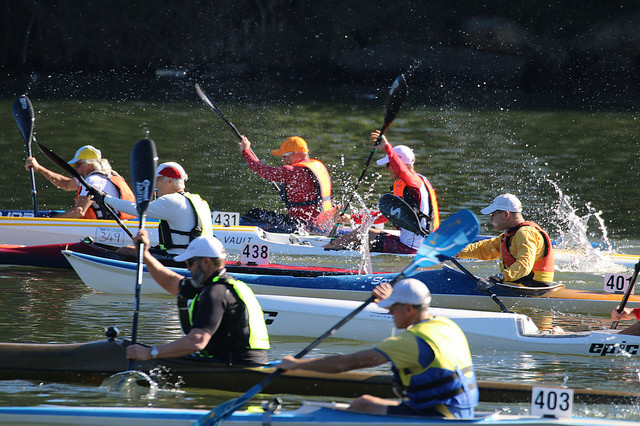 Above: Division Lane Cove churning up plenty of water
Div 4 continues to be Divisions Lane Cove, with a whopping nine of the 15 boats racing for us, along with Richard Barnes (12th) in the mix with his Sydney Uni colours. After a brisk bunch start (the report writer had a great view from the back), the usual suspects of Rodrigo Matamala and Jeremy Spear found themselves in the front pack along with relatively new Div 4 paddler Trevor Nichols. Trevor sped off in the second half of the race, claiming 1st in a fantastic time of 1:45:49 with a ticket to Div 3 thrown in for good measure. Rodrigo (2nd) and Jezza (3rd) are surely headed that way soon as well! Rounding out the field were Don Johnstone (6th), Graham Jeffries (9th, having reportedly not paddled 20kms in "some years"), Lee Wright (10th), John Duffy (13th), Wade Rowston (14th) and Naomi Johnson (15th with a lot of coughing).
In Div 3, Peter Manley also earned himself a promotion, finishing 2nd in a time of 1:41:16 which is rumoured to be a PB. James Pralija, David Young and Matt Swann/Duncan Johnstone stuck relatively close together to take out 5th, 6th and 7th, while Alex Brown's ranking race in the LCRK Bettong would've earned him a place right in the middle of the Div 3 field. Competition was even fiercer in Div 2, where Mark Hempel won in a time of 1:39:07 and Ian Hoffstetter finished 4th only 38 seconds later. Ian was paddling his new Roman Dynamic in its first race, and by the look of his finish line photos is very happy with his purchase!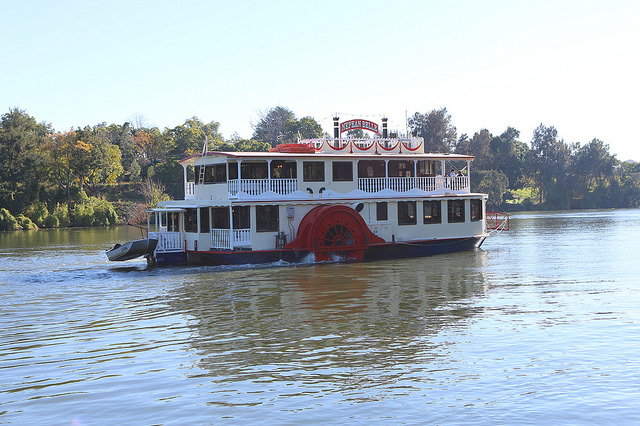 Above: Our paddle steamer competition
A great part of the race was that PVC had secured a full river closure for the event. Well…almost a full river closure, with the paddle steamer Nepean Belle a beautiful floating presence to keep us company. It was a particularly impressive sight to see the steamer waiting patiently as the final boats in Divs 4 to 7 crossed the narrows on the home stretch.
Div 1 saw lots of Lane Cove friends and regulars take to the water but only Dave Coward officially flying the Lane Cove flag. He finished 5th in another bunch sprint, only 20 seconds behind Brett Greenwood (1st) and James Harrington (2nd). Regular ski duo Suzie Rhydderch/Mitch Coffey paddled for Mitch's home club Penrith, finishing in a strong 7th.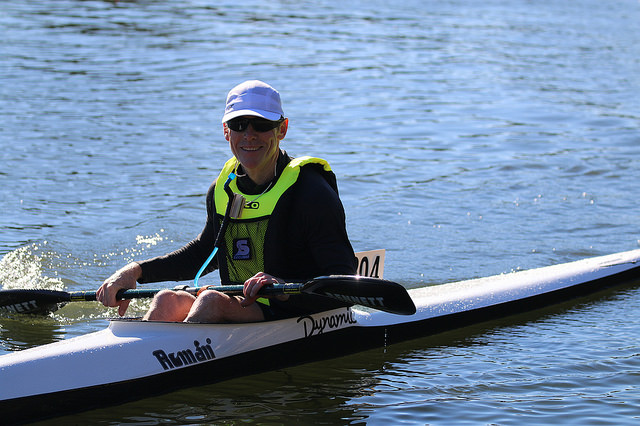 Above: Ian excited about his new boat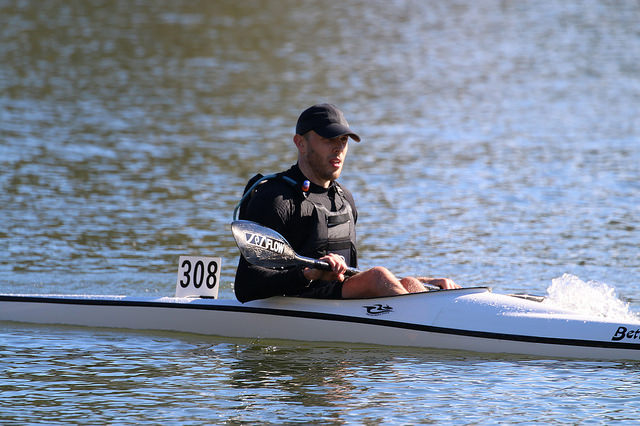 Above: Alex completing his ranking race
Another change in Sunday's race format was that Div 6 started just after Div 7, giving everyone ample space to complete the race without any time pressures. In Div 7, Lindsay Frost finished 6th and Anjie Lee 7th, with Anjie bringing back substantial quantities of weed from upriver [no, not the smoking variety]. Oscar Cahill (5th) was the highest-placed LCRK boat in Div 6 ahead of Derek Simmonds (10th), David Hammond (12th) and newcomer Chris Johnson in his ranking race. David Veivers and his ski took a ride in the safety boat after not feeling 100% at the start and then a swim at the 11km mark. Finally in the 20km divisions Div 5 saw Ruby Ardren finish 4th with a new PB of 1:54:20 (and a massive grin to match!) just in front of Jeff Hosnell in 6th.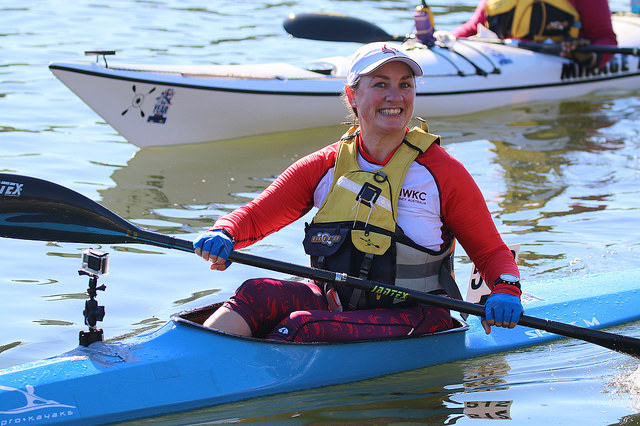 Above: Ruby's big PB grin!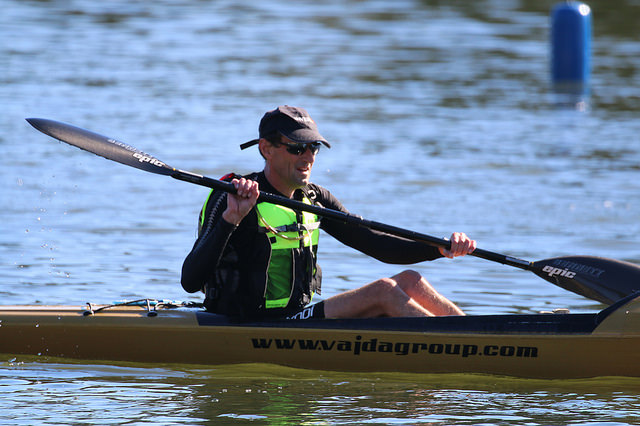 Above: Graham J mulling on the benefits of 20kms
Lane Cove numbers were a little down in the shorter divisions, with just four paddlers choosing the 10km option. Lachie Wrenford posted a 2 minute PB of 1:14:08 to finish 2nd in Div 12, while Ian was 7th in Div 11 and Peter Harris (7th) and Paul Burges (9th) padded in Div 10. Thanks to Ian and Frazer for capturing the race on camera despite a lot of winter glare.
With consistently strong turn-outs across all the races so far, Lane Cove is careering ahead on the club points tally, with a 1,100-odd point lead on Burley Griffin. Next up is Narrabeen on Sunday 15th July, with the marathon race continuing despite cancellation of the sprints race on the Saturday. Let's hope the Narrabeen lagoon isn't quite as windy as last year?
For those who want MORE of this course, PVC has extended the following invite: Penrith Valley Canoeing hold a Club Championship series roughly one a month through to November. They are 12 or 6 K races with the next one being on the 8/7. If you wouldn't mind passing on a invite to the broader Lane Cove group it would be much appreciated. The venue is at the rowing club, cost is $10 pay on the day. Rego is at 8.00 with the first start at 8.30.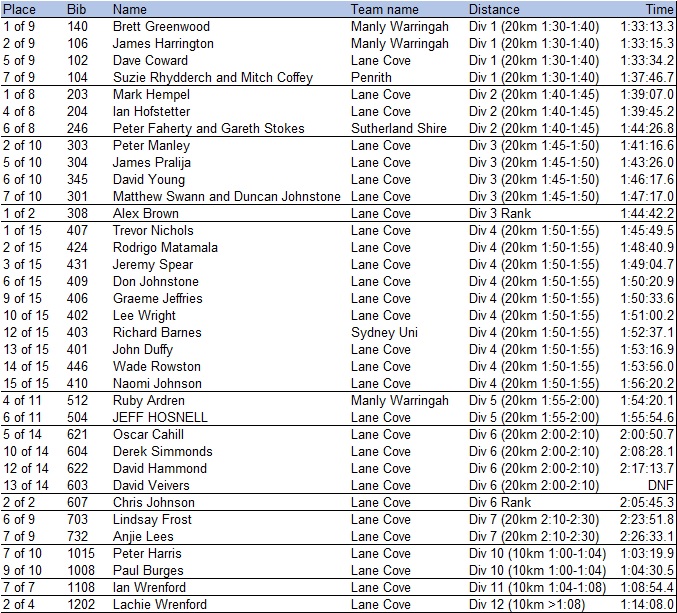 Above:Results for LCRK associated paddlers at Penrith


Round 6, Mylestom (Coffs Harbour) - Sat 9 Jun
The Mylestom round of the Marathon Series was run in 2017 for the first time and was well attended and attracted plenty of positive comment. Mylestom is about 30 south of Coffs Harbour and a reasonably pleasant freeway drive now that much of the freeway roadwork has been opened up between Port Macquarie and Coffs. It's a great tidal course on the Bellinger River. This year was a beautiful Autumn day (well for us Sydney dwellers) in almost balmy conditions - but only attracted 56 boats for whatever reason. For those who DID attend it would have to be one of the most chilled out races of the seasons. Just on half the boats were paddling 10km or less - leaving some easy points spoils for those in the 20km Divisions.
LCRK had 8 paddlers including (now local North Coaster) Jonathan Harris, Peter Harris (no relation!), Anjie Lee, Wade Rowston, Lindsay Frost, Jeff Hosnell and Lachie + Ian Wrenford. Many had partners/family in tow including Carly, Clayton, Nettie, Laura (+ Mum and Dad).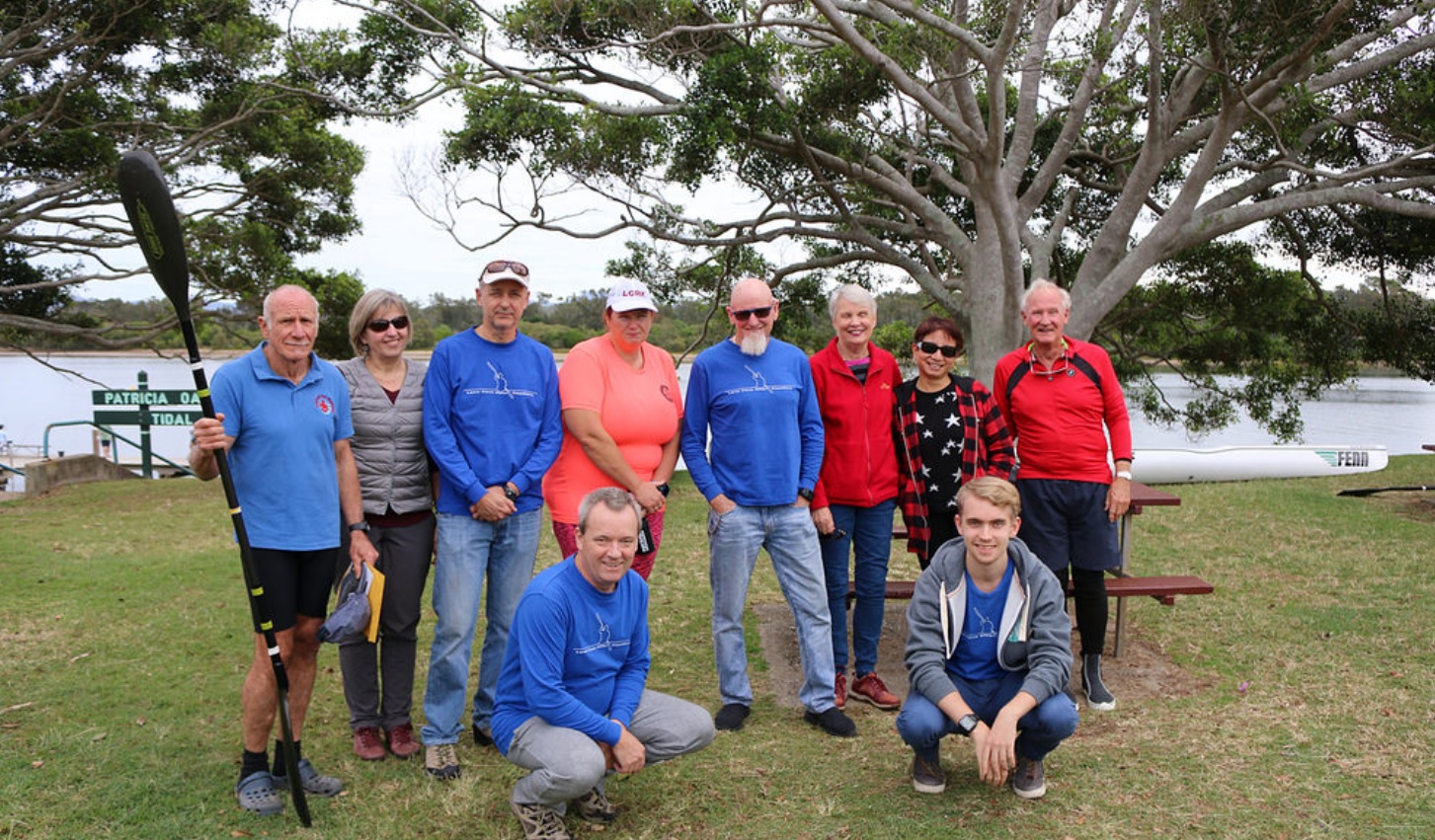 Above:Lcrkers + family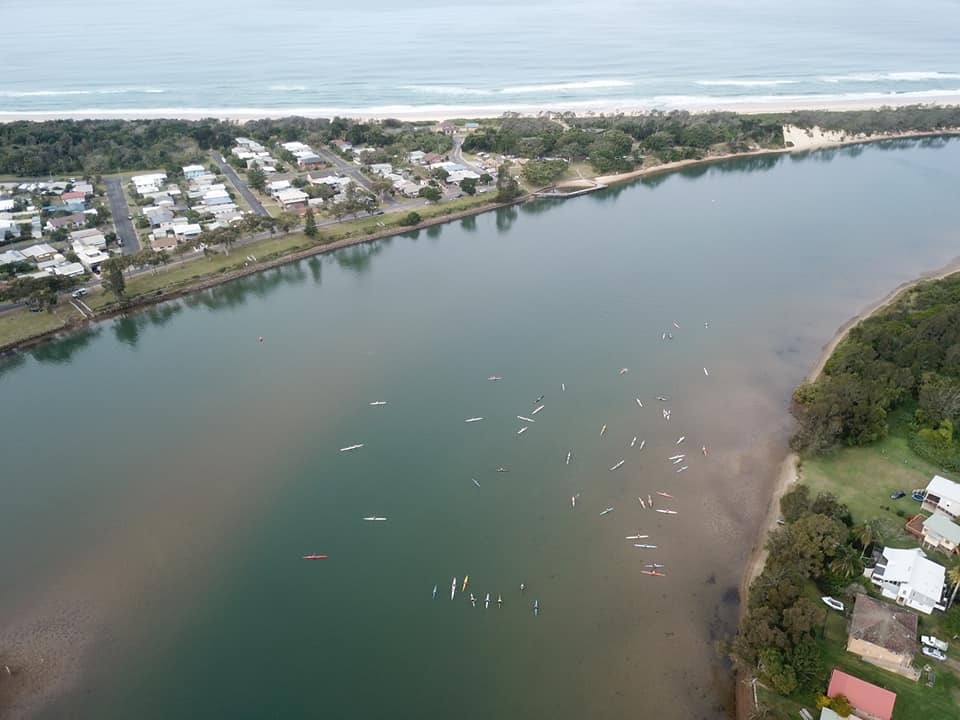 Above:Start Line looking East from drone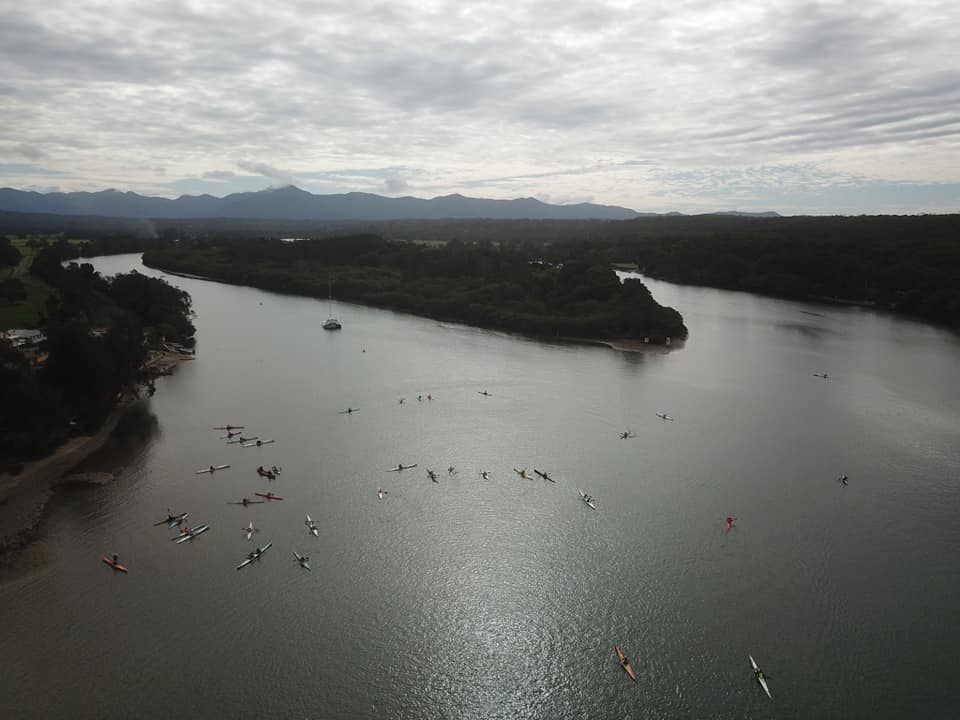 Above:Start Line looking West from drone
The course was identical to last year - with the start on the 'other' side of the river - sticking to the left hand side of the bank (and outside of the navigation channel) up to the top turning point just shy of the North Coast Railway bridge. The course was a little bit 'long' (around 250m) - mainly due to the paddle from the top turn buoy back to the finish line in front of the pool and this added a couple of minutes to most of the times.
In terms of results -
Wade was 3rd in Div 4
Jeff was 4th in Div 5
Anjie and Lindsay came through with 2nd and 3rd respectively in Div 7
Peter Harris was 5th in Div 10
Jonathan Harris cleaned up with a 1st in Div 11, and Ian a little way behind with a 3rd place.
Lachie was 4th in Div 12
This selection was sufficient for LCRK to extend our lead a little in the Club points - we'll definitely need more paddlers at Penrith to maintain the current healthy lead.
Thanks to Carly Rowston for taking on camera duties for the first half of the race - some great long shots of the start with the Coffs hinterland in the background. Check out the link above.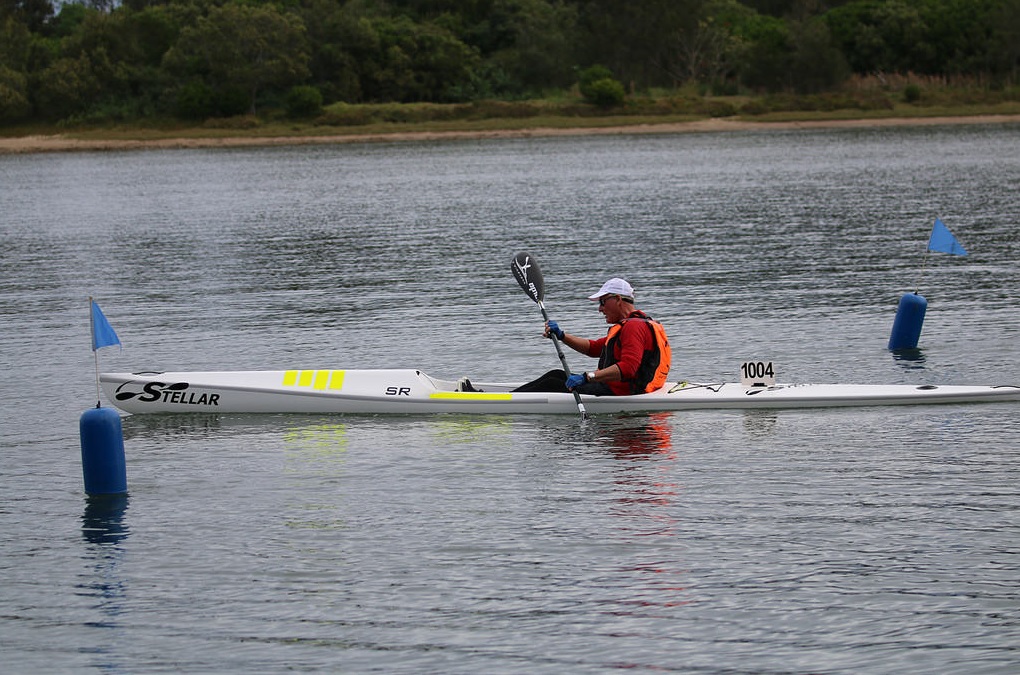 Above:Peter Harris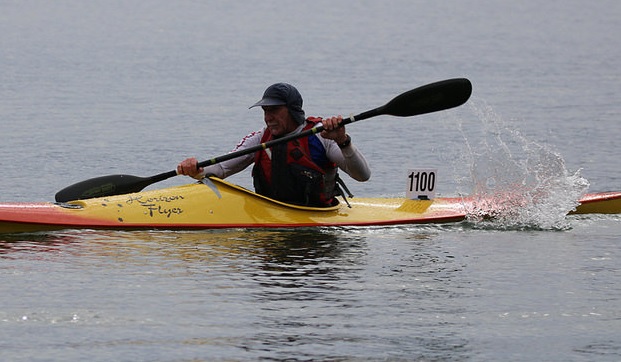 Above:Jonathan Harris (no relation)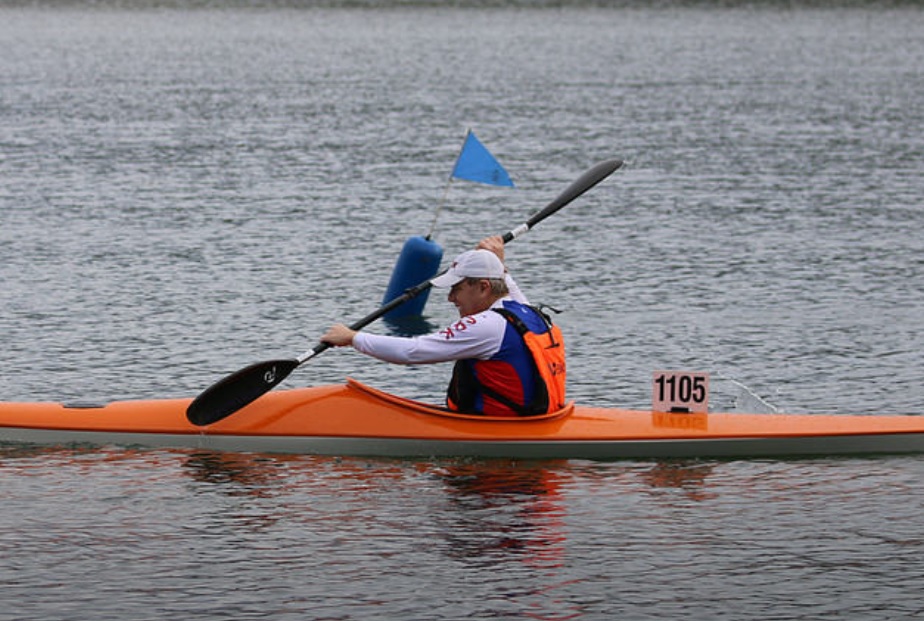 Above:Ian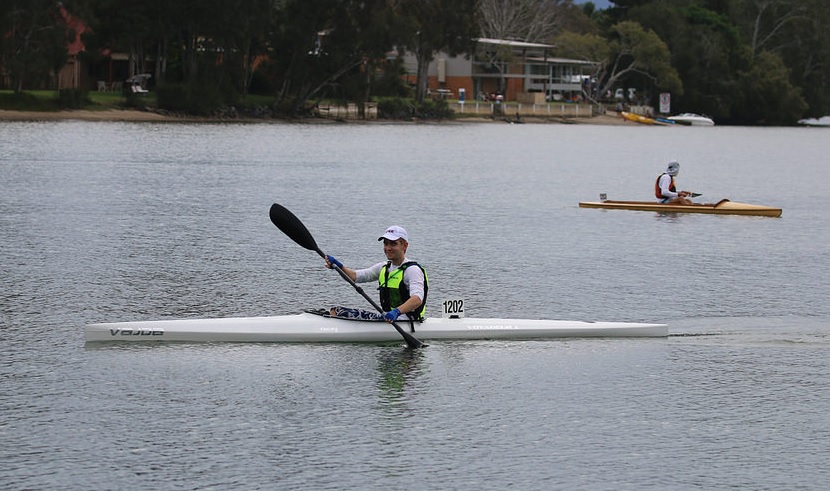 Above:Lachie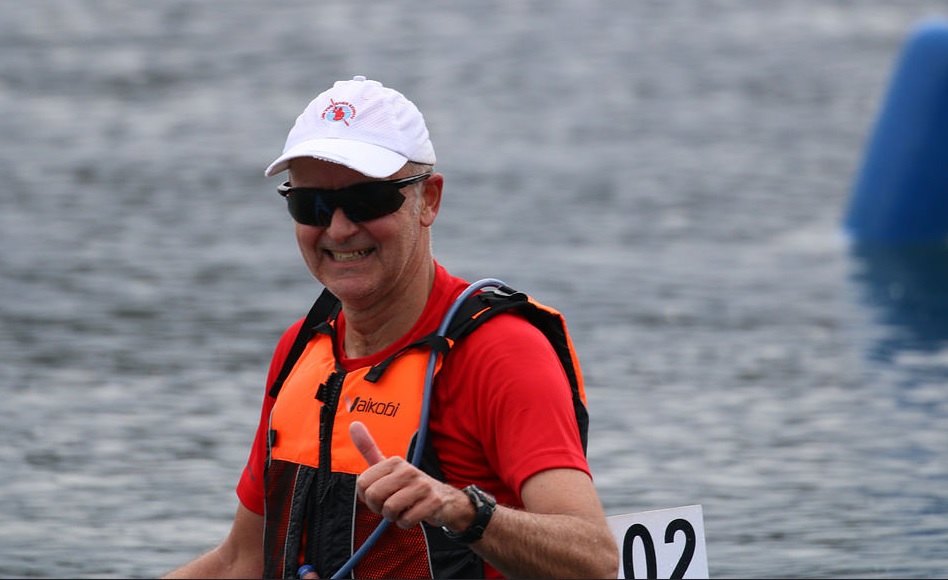 Above:Wade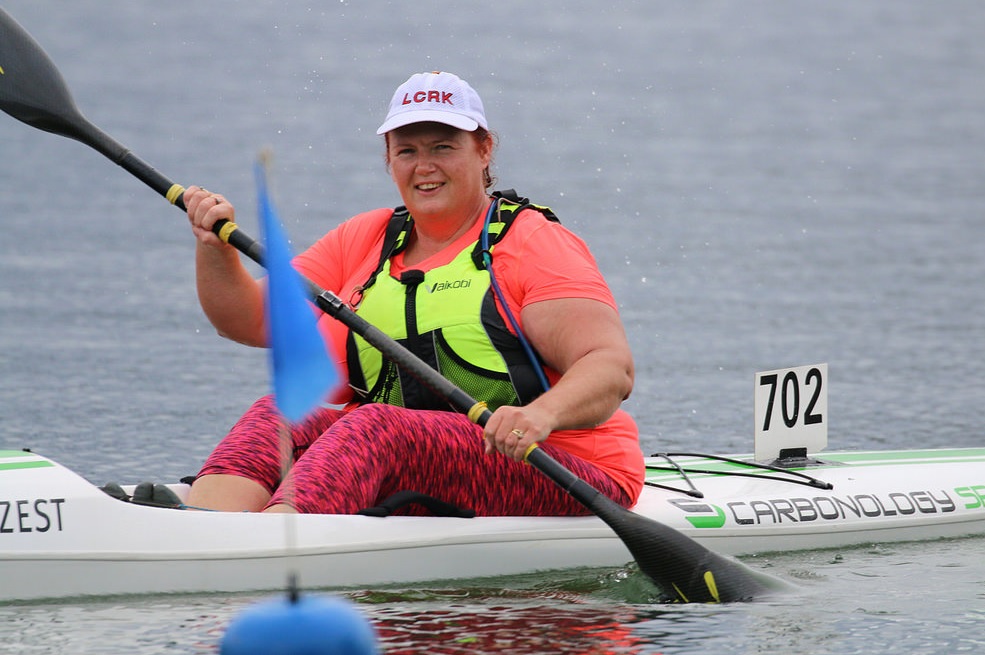 Above:Anjie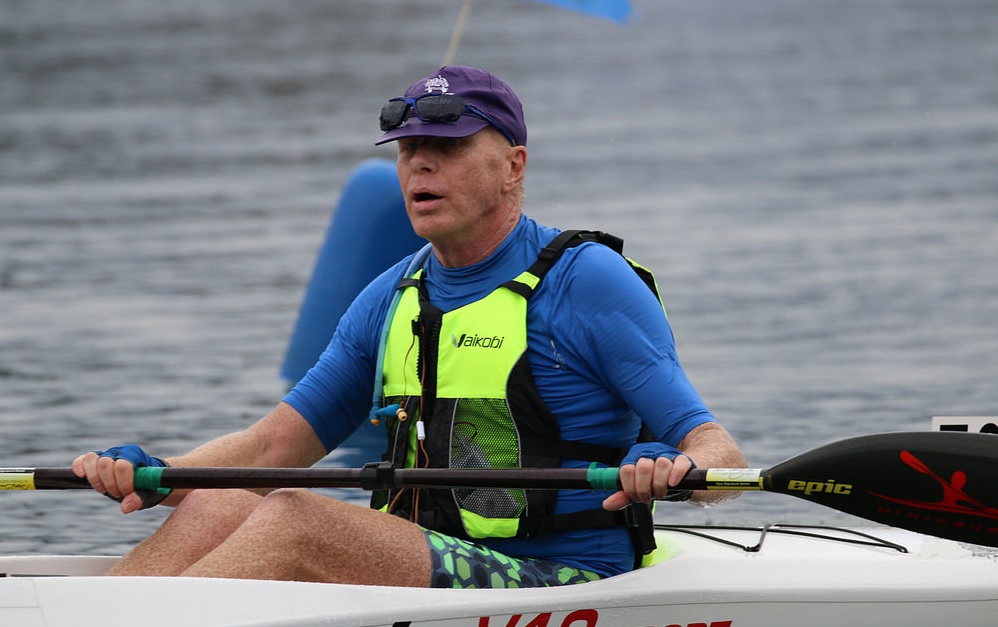 Above:Lindsay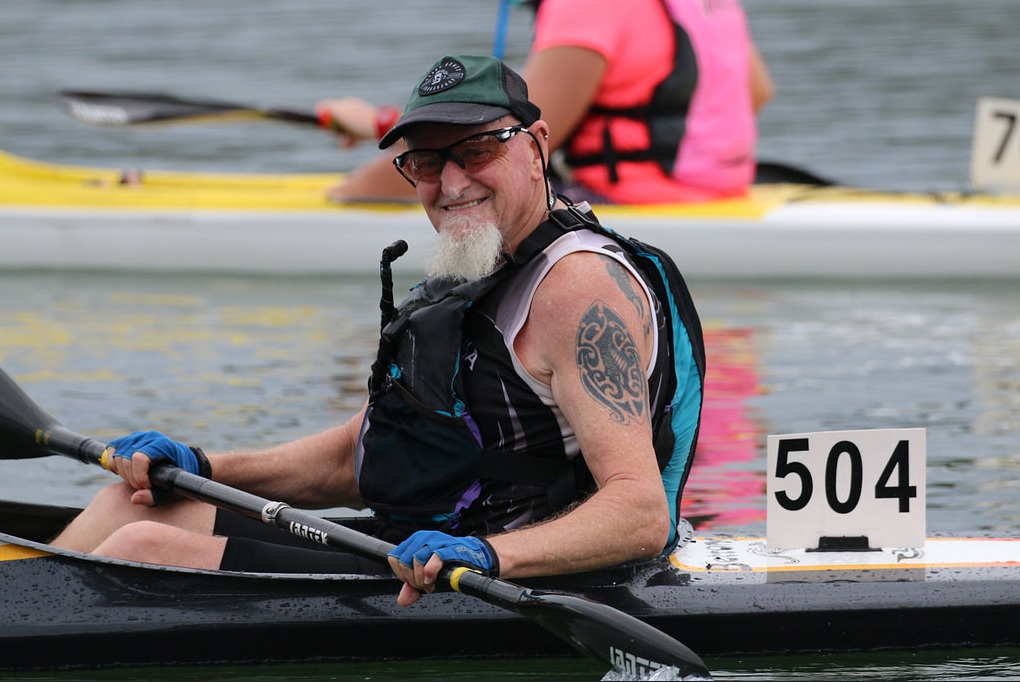 Above:Jeff

Pacifica work with the local Bowlo to provide a presentation (WITH medals) and the opportunity for a great meal. There was excellent attendance from the paddlers.


Above: LCRKer 2018 results ]]

Above:The rail bridge above top turn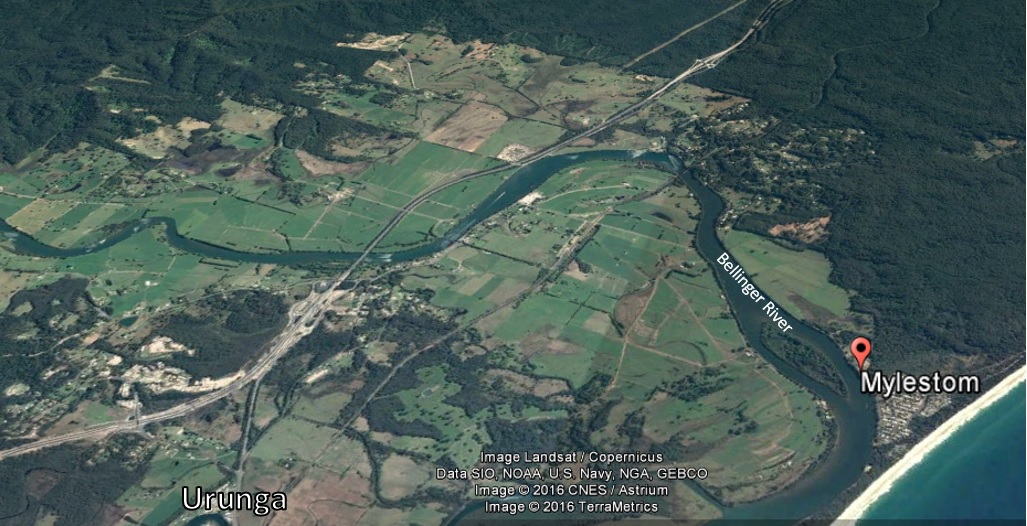 Above: Course location - in 2018 it was 5km laps heading North to the left of that island from the village at bottom right of the map
States - Grays Point - Sat May 12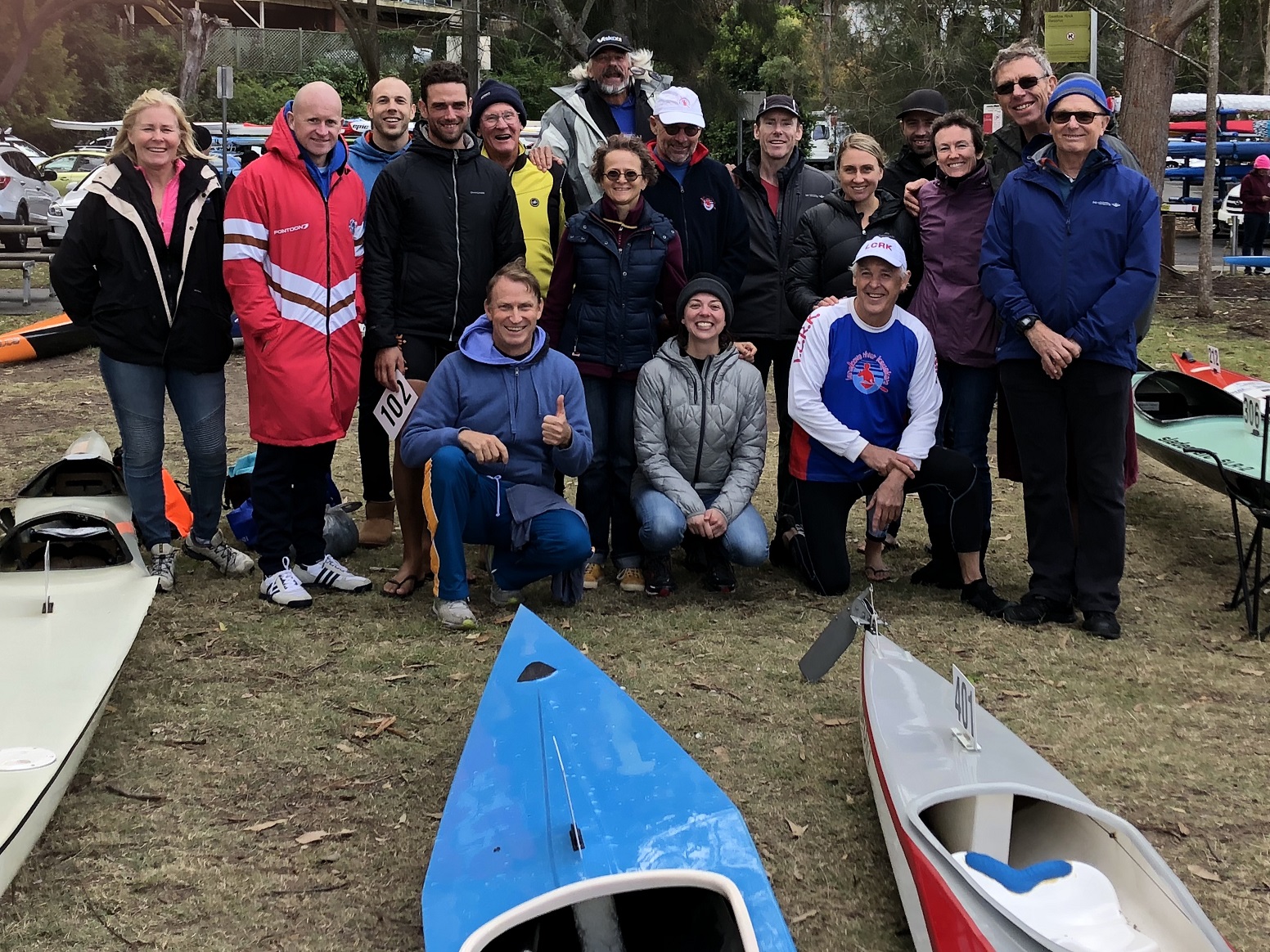 Above: Some of the LCRKers - looks cold eh?
NEWSFLASH Paddle NSW has advised that the 2018 Champion Club at PNSW State Marathon Championships is...Lane Cove! By just 6 points! That's only 2 place getting paddlers... Top score was LCRK 119, closely followed by MWKC on 113 and Newy on 88 (probably the highest participation rate for a growing club).
Race Report: Jana Osvald
Expecting 28 knots on the coast I came prepared with both my ski and K1. On arrival the wind felt about 10 knots, so having been encouraged by Suzie, I pulled out my K1. Many others predicted that this was definitely a "ski territory". The wind picked up and by Briefing it was howling. However, equipped with a sand bag under my seat, I persevered. And it seemed that everybody was euphoric – like little kids with wind in their hair. South west hit hard at the start, and I was thinking there is no way I can stay up. Anjie was my rock, I was following her; the other ski paddles in my group had gone. Soon I learnt that conditions were pretty constant: getting hammered paddling upstream and feeling warm and cosy with the wind behind after the top turn. There was a lot of usual encouragement from many Lane Covers. Bottom turn was challenging as the cross winds hit unprotected bay and it was very hairy on a number of occasions. I could only use my "good" stroke, that I recently practised on Phil's Friday drills, on downstream stretches. Up the stream it was more like – lean into howling gust, brace wide and hold on to the straps. Everybody was managing, I only saw one girl skilfully climbing into her K1 after 3rd round. Dash to finish, it felt so slow, as the wind picked up, surely to about 20 knots. I made it. Seems I did a " Stephen Bradbury", as apparently I received the first place in my category and some points for the club. Ha – better than home cooking on Saturday morning – eh ? I was pretty worn out but many were lining up for more in their doubles for the afternoon onslaught. Well done Lane Cove!
View from the back of the afternoon pack: Paul van Koesveld
There aren't many ways in which being old has paddling advantages but getting medals at our State Championships is one. More-so if you are paddling in a doubles race.
Peter Harris has paddled very few doubles since his return to kayaking after many years away from paddling. Phil Geddes and I induced him to try out our double ski on the Friday before last at Narrabeen with me in the back seat. We didn't fall out so Peter agreed to try paddling on our Doubles Night where we tried very hard to fall out and went a fair way to achieving that. Luckily we had both already entered the State Championships so could not back out.
Peter knew from his morning singles race that his muscles/tendons (somewhere around the tensor facia lata area) were already tired so it was agreed that we would just paddle steadily and hopefully more smoothly than we had on the Wednesday evening.
With the aid of a small drop in wind speed from the morning gales, we achieved that magnificently. The only problem was when Peter's tired muscles started to give out with a bit over one km to go and he had to lean right back periodically to relieve the pain – not the best position to maintain balance – but Peter was determined to finish and fought on. We didn't fall in until when blocked after the finish line; standing up in the water fixed all Peter's pain and we were GOLD medalists in the 70-74 Men's double ski category; no silver medal was awarded.
Not too bad, we thought, for two old blokes with two knee replacements, one hip replacement and a second approaching fast, a herniated disc, busted bicep and a few other things. Peter said never again but we will see ...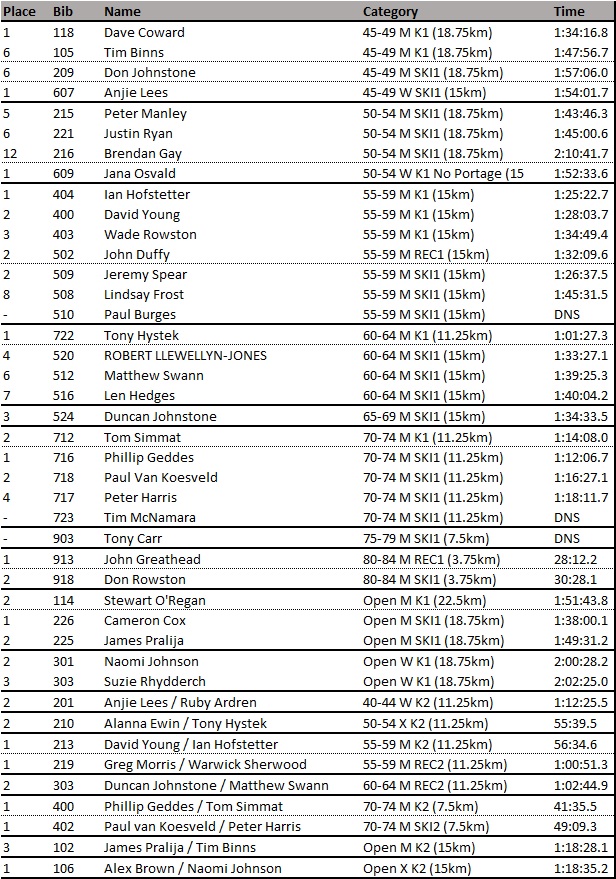 Above: LCRK results for States
Round 5, Lane Cove - Sun Apr 22
Race Report by Naomi Johnson
Round 5 of the 2018 marathon series was Lane Cove's chance to shine. A new addition to the marathon calendar, the 'doubles round' challenged regular and new doubles pairings alike to have a bash at the course. The result was a record turn-out of both paddlers and boats, with some 220 competing and a fabulous fleet of 73 doubles across the 13 divisions. With a phenomenal volunteer effort from a host of LCRKers, the day ran like clockwork and there was a great vibe both on and off the water.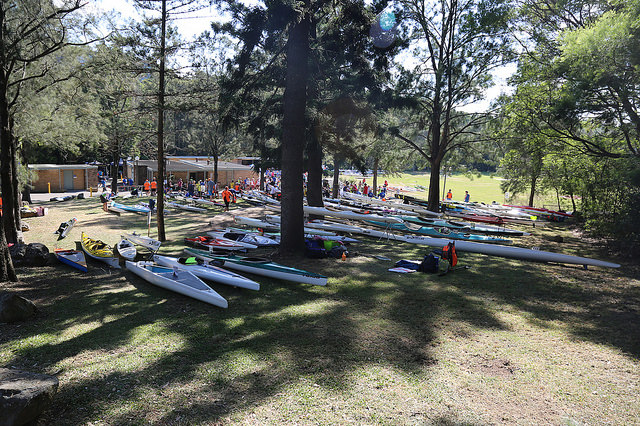 Above: A view down the marshalling hill!
For many of the volunteers, including Oscar Cahill, the day started right at the crack of dawn:
"Myself and Peter Harris were in Safety Boat 1 and their day started at 6am, along with 2 other crews (Ian/Maya and Clayton Anderson/David Johnstone), at Burns Bay boat ramp. After a briefing from Ian, we set off with Tom Simmat to lay our delegated 23 marker buoys. In all, over 40 are on the course!!! (Paul: Can someone straighten out our river!) But it was made easy with pin point GPS drop points set up online on Google Maps for us. The river was almost totally free of debris so we were back in good time at the pontoon for a sausage sandwich before 9am, and then back on the water just after the race briefing." - Oscar
Above: The early bird canteen briefing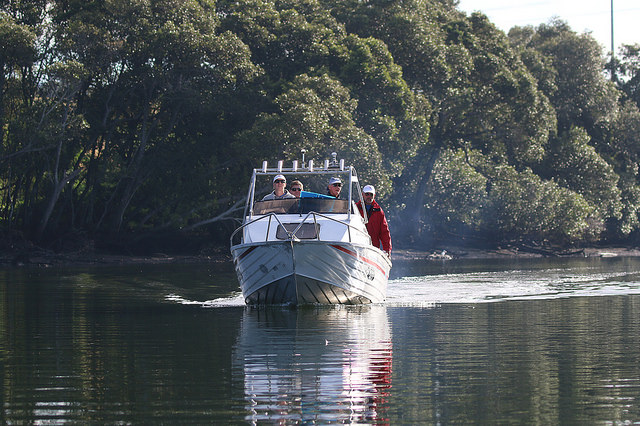 Above: Laying the race course
In the meantime there was also plenty of activity going on back at home base, with a veritable army of LCRKers setting up the site to welcome some 220 paddlers and 145 boats. The marshalling area, first aid tent and all important coffee cart were in place by 8am, and anyone paddling a Lane Cove club boat arrived to find their craft had already been moved to the correct marshalling area! Alanna Ewin (canteen captain extraordinaire) and her team of Lesley, Laura, Li, Carly, Liberty and Emma were busy chopping veggies and preparing the canteen. And Rob L-J, Mark Seir and John Duffy's sons Mackenzie and Campbell had the BBQ fired up in time for anyone who races on sausage sandwiches, with John D himself absent but getting everything organised behind the scenes.
With our little pontoon the only way for paddlers to get onto the water, marshalling was of paramount importance. Tracey Hansford and Elke van Ewyk, along with Duncan Johnstone and Jeff Tonazzi (who also fitted in a paddle) ensured that all made it down to the pontoon in an orderly fashion, with Adrian Clayton and a gaggle of helpers ensuring that we made it onto the water:
"Activity at the pontoon was reasonably hectic but we seemed to get competitors launched without causing a delay in the race proceedings (but it did get very tight with the later divisions). We benefited greatly from the work Tracey and Elke were doing in the marshalling area. Brendan Gay did a great job directing competitors to their launching stations and the assistance provided by Blake vK, Bruce Gynther, Harry Rowston, Lachie Wrenford and Rob Dunstan was much appreciated by those paddlers inexperienced with launching from a pontoon. Despite the complications with race numbers with our checklist, prospective member Jane Crowe did a great job keeping us informed of how we were progressing.
Assisting some paddlers alight from their kayaks at the end of the race was hard work. The efforts made during the race left many with insufficient energy to clamber back on to the pontoon and they were very appreciative of a helping hand from one of the LCRK pontoon team. The methods adopted by some paddlers getting from their kayaks back onto the pontoon did provide some amusing sights and comments." - Adrian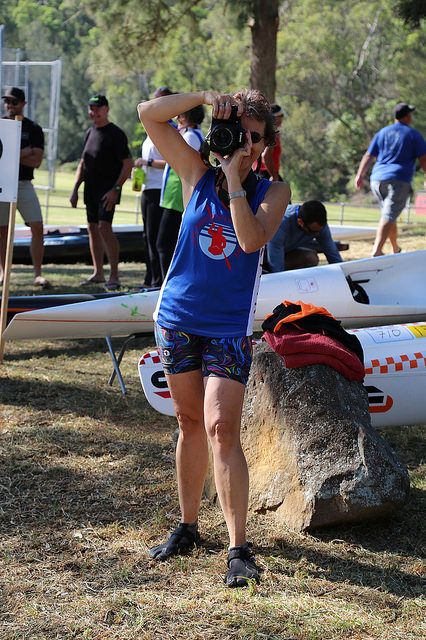 Above: Jana on pre-race photo duty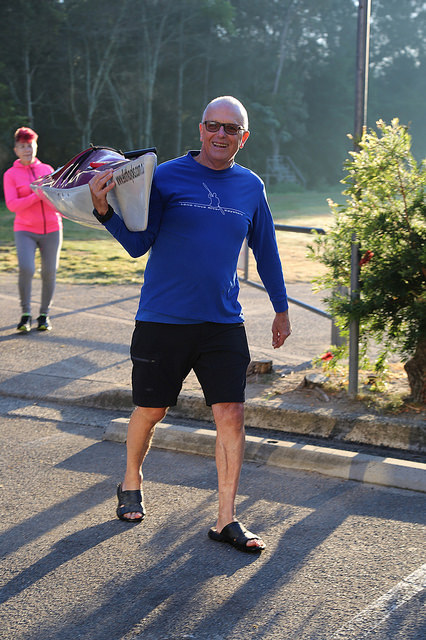 Above: Paul and the boat delivery service
So to the race itself, with Lane Cove managing to field an impressive team of 59 paddlers in 38 boats (21 of them doubles) in addition to running the day. Tony Carr was the master of ceremonies for the starts, which took place just upriver of the Epping Bridge. The doubles round challenge resulted in some very tight starts indeed, with more than 15 boats shuffling up to the line and fixing beady eyes on the first marker buoy. Div 1 saw the most impressive Lane Cove turn-out to date, with eight boats in the field of 14. Five of them were doubles, with relatively new pairings Mark Hempel/Caroline Marschner, Tim Binns/James Pralija and Brendan Trewartha/Trevor Nichols (we assume these guys had sat in a boat together before) joining regulars Tony/Alanna and Suzie/Mitch. Single or double, K-boat or ski, everyone had to portage, and Wade Rowston had the best view in the house as portage marshal:
"On lap 1 a tight group of 4 which included Brett Greenwood, Stew O'Regan, James Harrighton, and Andrew Love arrived and then were gone before we knew it. Other Div 1ers arrived in small groups with the big double skis being hardest to manage. Everyone did well though especially Mark Hempel and Caroline Marschner who had handles on their double ski.
On lap 2 the lead group was down to three. Brett, Stew, and James came into the portage full steam ahead. Brett didn't miss a beat and was up and running in one motion without slowing at all. Stew and James had only slightly less efficient entries to the portage but it was enough for Brett to make a decisive break of 2 lengths as they paddled away from the portage. Others came in and were all a little better second time around. Hopefully everyone enjoyed it." - Wade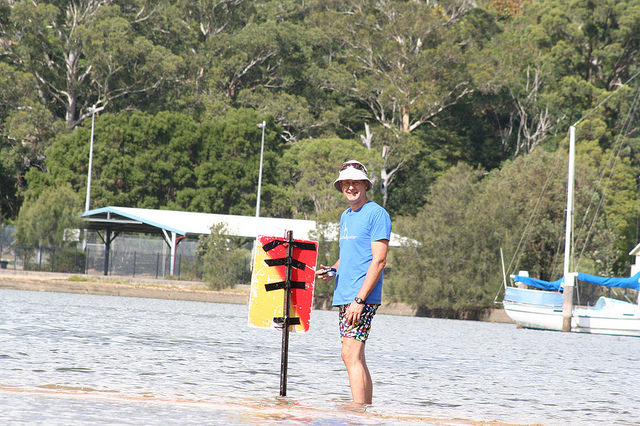 Above: Wade at the portage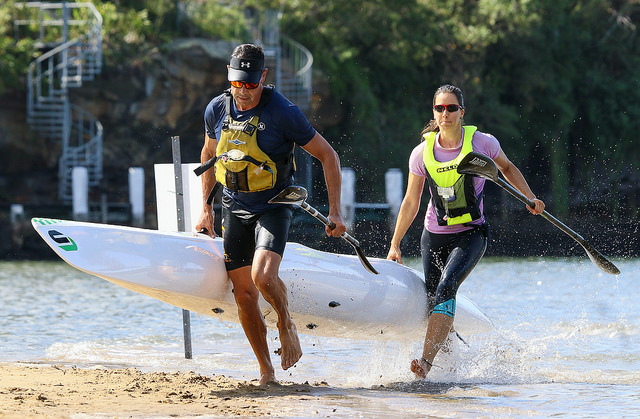 Above: Mark and Caroline on portage No. 2
Following the final portage, Stew O'Regan hung on to finish in 2nd with a fantastic time of 1:34:37. The fastest double was Tim/James (4th), followed by Brendan/Trevor (7th), Suzie/Mitch (8th), Dave Coward (11th), Caroline/Mark (12th), Tony/Alanna (13th) and Andrew Love (14th). It was particularly great to see three LCRK mixed doubles crews fighting it out in the top division!
The racing was particularly fierce in Div 2, with six doubles (one of them Lane Cove) in a field of 11 boats. The combo of Pete Manley/David Young looked like they were fuelled by something more than coke and chips, speeding off at the start and literally not looking back for 20kms. According to Pete, it was all part of the plan:
"Both Dave and I felt the weight of expectation from other LCrKers and family before the start. We had heard stories about another gun team during registration which also left me questioning if we could do it. Thankfully we could. Dave barked a few instructions my way, but they were useful - I know my place." - Pete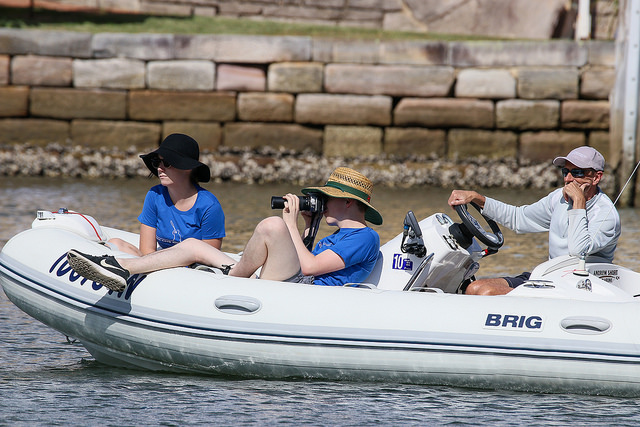 Above: A tranquil safety boat moment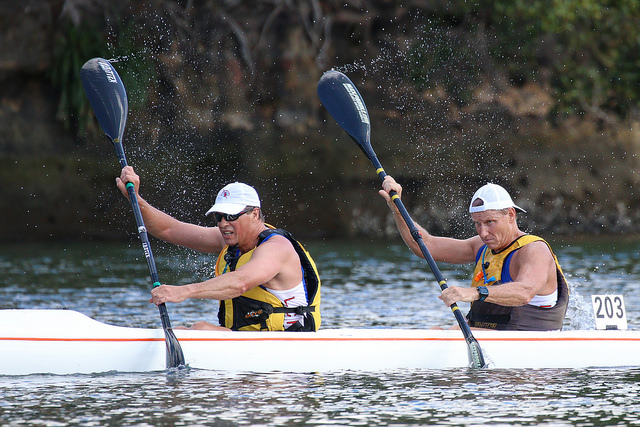 Above: Pete and David concentrating
Also in Div 2, Ian Hofstetter finished in 4th, with Justin Ryan in 10th.
Literally just behind them, Div 3 has only nine boats but was looking like the Lane Cove showdown of the season. Regular LCRK pairings Rich/Keg and Greg/Warwick were joined by semi-regular duo Stuart Reid/Johanna Diment and scratch crews Naomi Johnson/Alex Brown, Craig Salked/Peter Fitz and Don Johnstone/Jeff Hosnell in a field where there was just the one single. Rich/Keg sped off at the start line, putting in a solid 300m sprint to the first marker buoy. The jury is still out on whether this was some brilliant diversion tactic...or a gross misinterpretation of how long the race was. From there they were quickly caught by Naomi/Alex and Craig/Fitzy, who went on to set the slightly more sedate pace for the rest of the race. Both crews proved that time trial problems often return in longer distances, with the K2 Vajda Tornado becoming increasingly less comfortable for Alex in the final 5kms, and Craig/Fitzy needing to take a pit stop for weed removal purposes on the second lap. The K2 crew just held it together for line honours in a time of 1:43:41, followed by Craig/Fitzy (3rd), Rich/Keg (4th, no doubt with another sprint at the end), Don/Jeff (7th), Warwick/Greg (8th) and Stuart/Johanna (9th). Welcome also to Pete Conway, who completed his ranking race!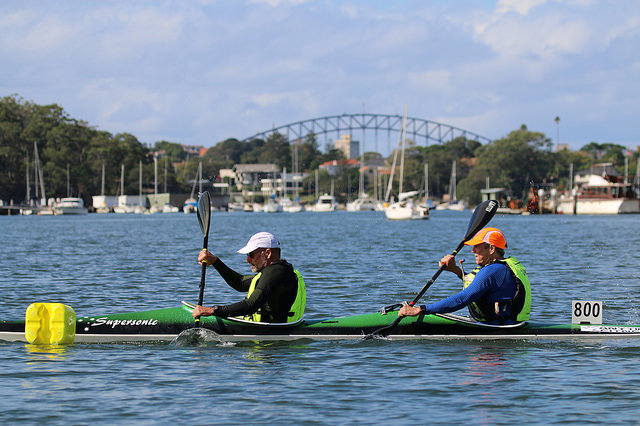 Above: Tom and Tim round the bottom turn
Lane Cove doubles were a bit slimmer on the ground in the rest of the 20km divisions, apparently because we struggled to find pairings that wouldn't end up in Div 3! Regular Div 4 faces Jeremy Spear and Rodrigo Matamala decided to stick with their singles, finishing in 2nd and 5th respectively, with doubles crews John Rowberry/Robert Hiley (7th) and Graham Cleland/Darren Williams (13th) rounding out the field. Derek Simmonds finished 5th in Div 5, with Anjie Lees/Meg Thornton looking strong on the first lap but ultimately registering a DNF, and Linsday Frost finishing a solid 3rd in Div 7.
With the doubles round welcoming many new paddlers and some even newer partnerships, it was great to see so many boats in the 10 and 15km divisions. Div 8 was the biggest of the day, with 20 boats lining up across what felt like a very small river indeed! Both with some serious doubles experience under their belts, Tom Simmat/Tim Hookins finished 3rd, with singles Chris Allchin and Jeff Collins in 5th and 11th. New pairing of Jana Osvald/Tim McNamara finished 9th in the Paul vK/Phil G K2, reporting a fun paddle despite the challenges of steering a longer boat and some backseat driving and coaching from Tim! With perhaps the biggest smiles of the whole race, Kerrie Murphy/Wendy Andrew finished 18th in their first ever marathon race – hopefully they'll be back for more!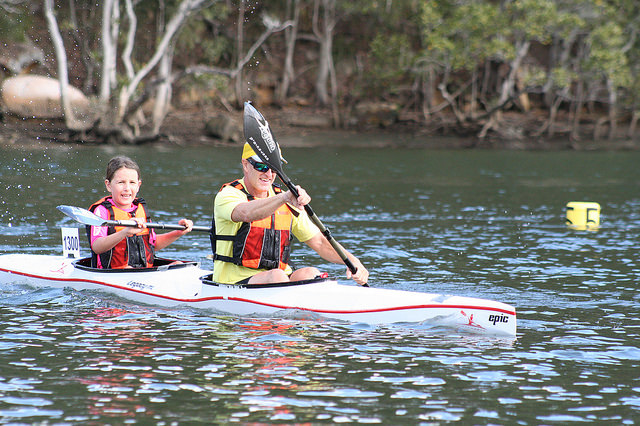 Above: Team Blundell in Div 13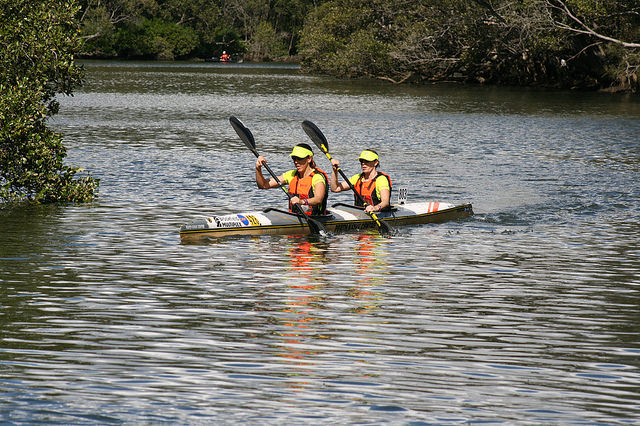 Above: Kerrie and Wendy in their first marathon
Div 9 was almost as busy as Div 8, with a fantastic turnout of 15 doubles in a field of 19. Regular marathon duo Matt Swann/Duncan Johnstone decided to spread their expertise, resulting in Duncan/Phil Geddes and Matt/Bruce Goodall finishing in 7th and 9th respectively in a blisteringly fast race. New duo of David Veivers/Paul Burgess finished 18th in what's rumoured to be their first doubles race. Brendan Gay took out 7th in Div 10, while Lachie Wrenford clinched 2nd in a race that was suddenly full of outriggers! There were also three LCRK boats in Div 13, with Matt Blundell teaming up with daughter Liberty to win the race in a time of 27:06. Jeff Tonazzi finished 2nd, sacrificing the longer paddle in favour of volunteering, and it was great to see Don Rowston (9th) back on the water as well!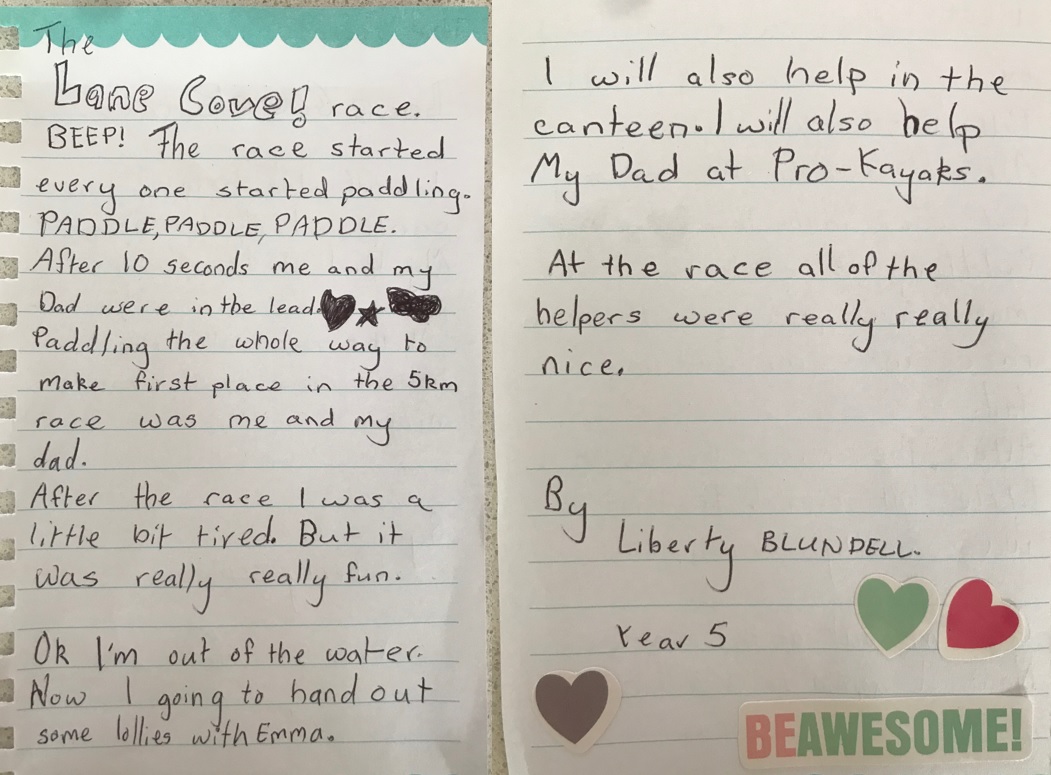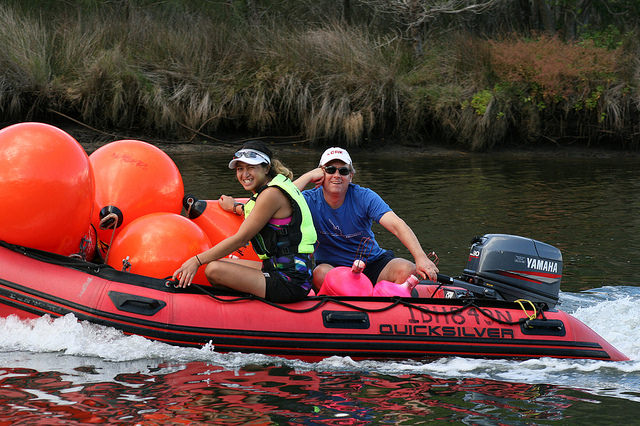 Above: Ian and Maya in the afternoon
If there are a few regular names that don't appear to be on the list, it's because they were busy volunteering on the bank and in safety boats. A big thank you to everyone who gave some of their time to help the day run smoothly, be it moving boats, setting up, manning the portage, or contributing delicious baked goods to the canteen. Particular mention must go the safety boat crews: Oscar Cahill/Peter Harris, Ian Wrenford/Maya Gibson, Clayton Anderson/David Johnstone, Graeme Jeffries/Annalise Wrenford/Mark Patterson and Tony Murphy/Karen Darby in Kermit. Ian and Maya were stationed at the bottom turn-buoy, fulfilling both the role of safety boat and on-water paparazzi:

"The race itself was largely uneventful from a Safety Boat perspective with light winds, and little river traffic at the bottom end of the course – and apart from keeping a good lookout is probably the easiest part of the job. The main rescue to report was a 'tinny' with a young family on board and a dodgy motor – who were towed upriver 2 or 3 times perhaps thinking their motor was going to just fix itself." - Ian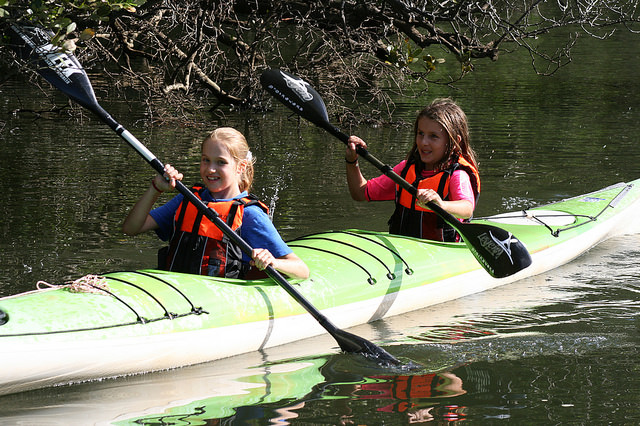 Above: Future Div 1 winners?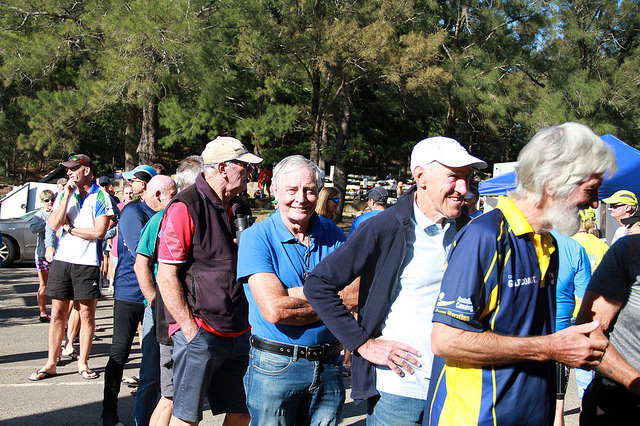 Above: Phil in the rego queue
And on the topic of paparazzi, did anyone notice just how many angles we had covered?
"Lane Cove again provided excellent coverage of the event. Jana Osvald and Louise White captured some great shots of the activities at the Athletics Field before and after the event, Oscar Cahill was nicely positioned on the safety boat at the start and top turn, Mark Patterson was on a Safety Boat and picked up some of the 5km turn action as well as portage, Tom Holloway was in the thick of the action at the Portage and underneath Fig Tree Bridge and Ian Wrenford was on the bottom turn safety boat. There are around 700 shots loaded to the LCRK Flickr Album (LCRK member focussed) and 1000 shots to the PNSW Flickr (broader coverage of the whole event). Most of the pictures were loaded the same night – and with everyone having synched date/time on their cameras it all came together very nicely. Thanks everyone!" - Ian
With racing done and many heading for home, the bustle of activity continued for a little while longer.
"After the race, buoys had to be collected, boats motored back to Burns Bay and put back on trailers. By the time I trailered my boat and the last of the buoys back to the club house, everyone had left apart from Paul V who thought his day was over. Wrong! But it wasn't long before the last of the gear was back in the shed and locked up for another 12 months! It's a long day but so much fun. It's also a completely different way to experience our beautiful river. Why would anyone paddle!" - Oscar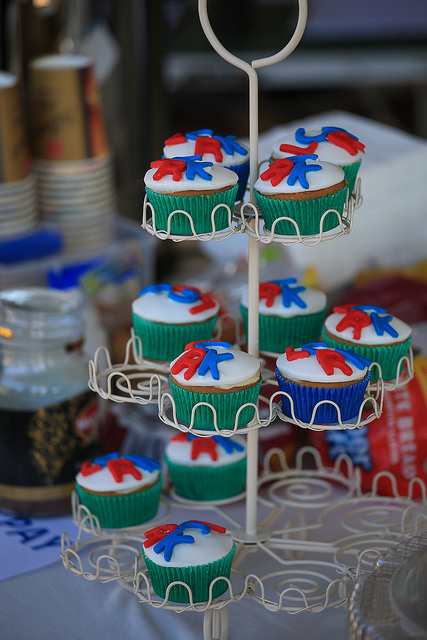 Above: Beautiful LCRK cupcakes from Carly!
A few works from president Phil Geddes on the day:
"Sunday saw the biggest turn out for a LCRK Marathon – ever. The new Double Round format not only attracted a record number of paddlers (220) but also a record number of doubles (73). Once again the club has risen to the occasion and not just handled this huge event but delivered an notable one. LCRK members once again gave exceptional support providing 59 entrants and 21 doubles but also completed the contribution with the essential 24 non paddling volunteers necessary to make the event run. As usual many of the paddlers filled volunteer roles before and after paddling.
Ours is not an easy venue to run such an event from but our members not only made it look easy but turned it into one of the most exceptional rounds on the calendar. A phenomenal effort from a very engaged club, congratulations all round. Many accolades and thanks must also go to Paul van Koesveld and his management team who organised and led the charge with many weeks of effort leading up to a full on day ensuring once again a smooth and very enjoyable Lane cove marathon. Fantastic."
An extract of the race results below....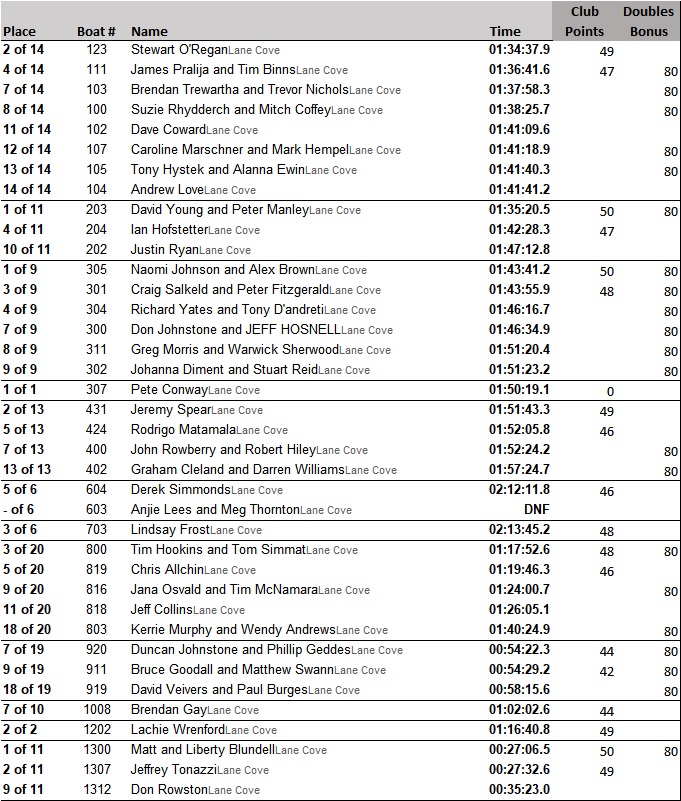 And a few dishonorable mentions in the timing department: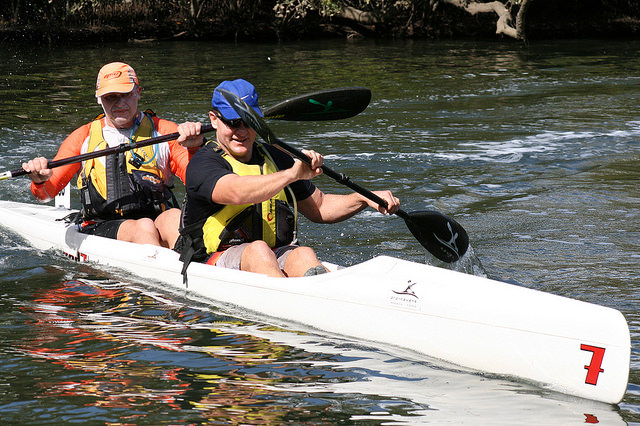 Above: Ok...so this was while turning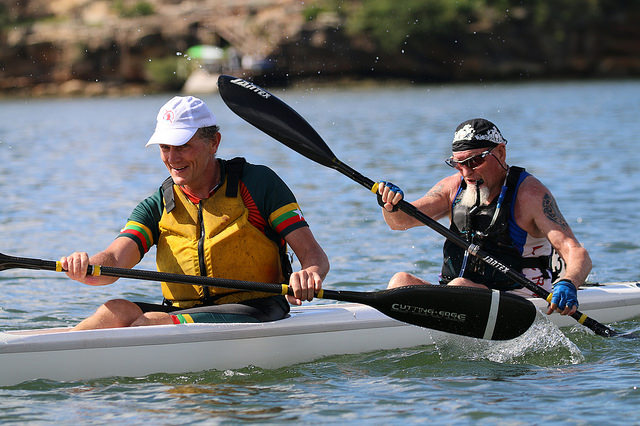 Above: Smiles totally make up for it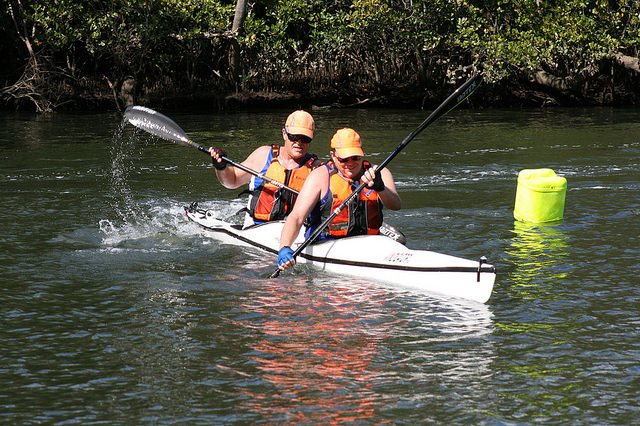 Above: Report writer's choice prize. Colour coordination 10/10...timing....umm!
Round 4, Tacoma (Wyong) - Sun Apr 8
Address: 7 Wolseley Avenue, Tacoma NSW (actually that's the house opposite the start line)
Marathon No. 4 took us to Wyong/Tacoma for an unseasonably hot day of heated racing. With a record LCRK turnout of 44 boats across all 13 divisions there was a great vibe on the water and some fantastic results.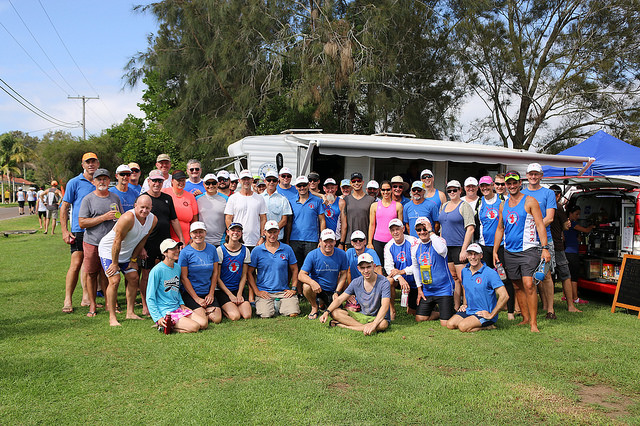 Above: Lane Cove out in force for a hot day of racing at Wyong
The day must've dawned very early indeed at Tacoma because by the time the 'I'll give myself plenty of leeway' group arrived at around 9:15am there was already a solid walk from the end of the parked cars to the start line. By briefing, the snaking cars and boats had grown still longer, and the sun was beginning to beat down as fiercely as it did in February.
It was Rodrigo's birthday, so let's start with Div 4. The biggest start of the day, Div 4 boasted 21 boats with plenty of skis and a few doubles in the mix for good measure. To say the water was rough is a bit of an understatement! Rodrigo and Jeremy Spear broke away quickly in a tight pack of about five boats, and proceeded to be a speck on the race horizon for the next hour and a half. When the gloves came off for the final sprint, Rodrigo crossed the line first in a strong time of 1:51:22 in his new K1, with Jezza taking out 3rd just 6 secs behind. Fantastic work on such a hot day! Rounding out the strong Div 4 field were Naomi Johnson (8th), Tom Simmat (10th), Don Johnstone (12th), Lee Wright (17th) and John Duffy (18th), with Trevor Nichols looking strong in his ranking race. Wade Rowston, along with several other paddlers, decided to take the safe and sensible option of a DNF rather than push on in the heat.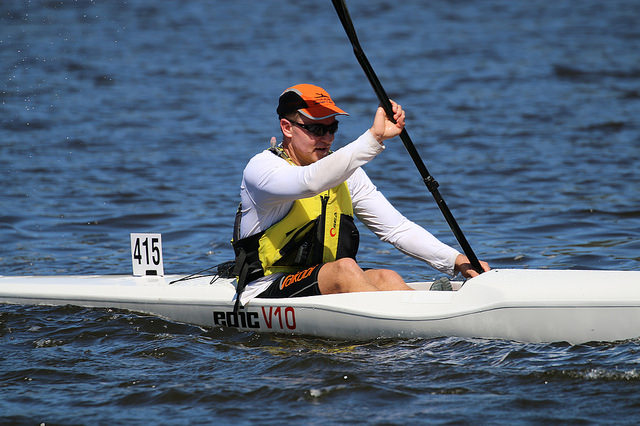 Above: Trevor paddling his ranking race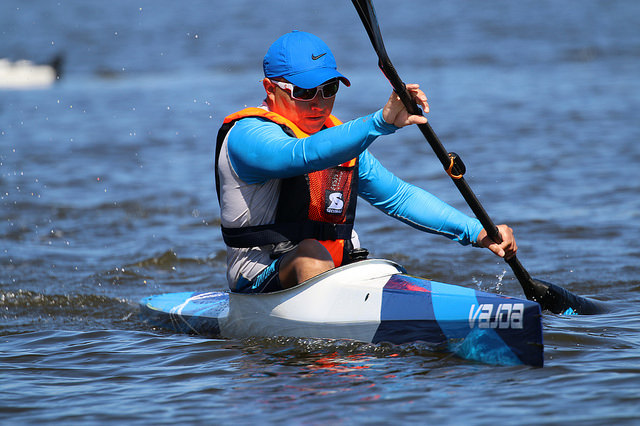 Above: Rodrigo powering to victory in Div 4
Where did all the hoards of Div 4 paddlers come from? Well apparently Div 5,which was down to just six boats. Still plenty of Lane Cove action though, with Jeff Hosnell crossing the line 3rd followed by Tim Hookins (5th) and Phil Geddes (6th). Only slightly more boats in Div 6, where Oscar Cahill was the top LCRK finisher in 8th, followed by the duo of David Hammond and David Veivers in 10th and 11th. Linsday Frost (5th) and Anjie Lees (9th) where the Lane Cove paddlers in Div 7 – an awesome effort from both to spend so long out in the water in that heat!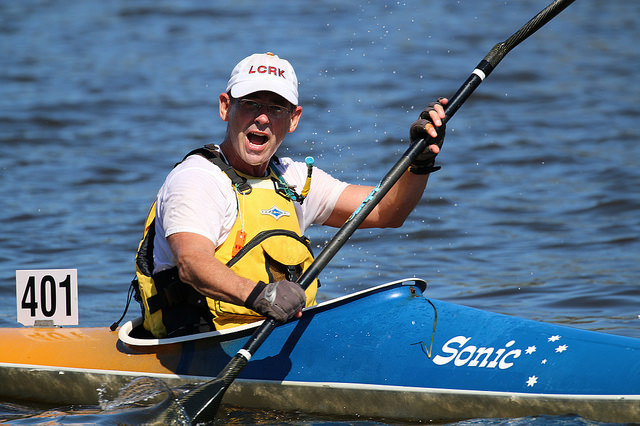 Above: John Duffy ordering a cold beer for the finish!
On the topic of heat, yes, it was a lot hotter than usual. Though pipped by Monday 9th as 'Sydney's hottest April day on record', the thermometer was certainly sitting a lot higher than everyone expected. Here's to a cooler outlook for the upcoming races? Or maybe the secret to Lane Cove success is we can out-swelter the competition?

Paddlers were out in force in Div 3, with the trio of Lane Cove doubles continuing their showdown. Peter Manley took out the division in a time of 1:45:59, apparently narrowly avoiding a promotion, followed by David Young in 3rd. Keep your eyes peeled for that doubles combo at the Lane Cove marathon on April 22nd! Of those doubles already getting in some early training Richard/Keg finished in 5th, Matt Swann/Duncan in 10th and Greg/Warwick 11th, with James Pralija rounding out the division in 9th. A slimmer Div 2 saw Mark Hempel speed into 1st with a time of 1:42:02, and Tim Binns finish 6th just a minute and a half later.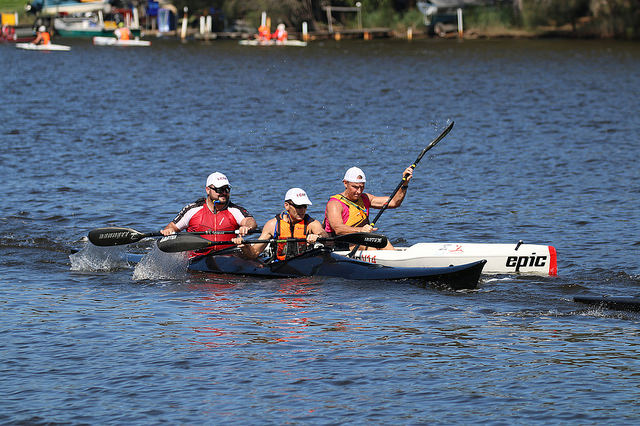 Above: More Div 3 action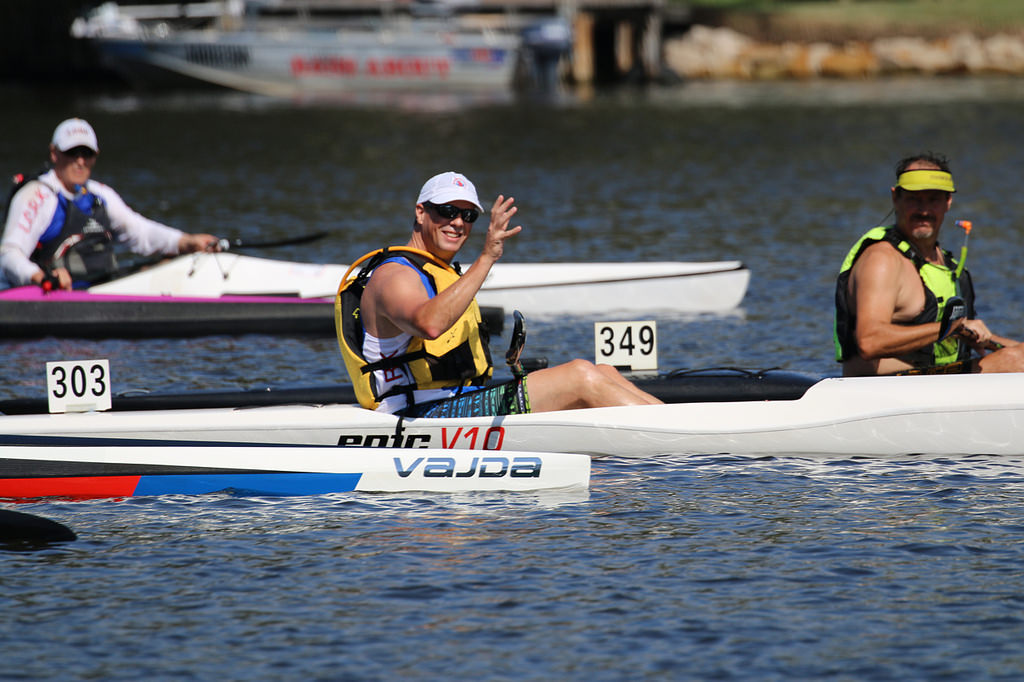 Above: Pete M in the Div 3 start
Has anybody else noticed that there are suddenly a lot of Lane Cove boats in Div 1? What was last year 'that other division' fought out by Stewart O'Regan, Tony/Alanna and a bunch of guys going so fast we couldn't read their boat numbers suddenly has a few more LCRK paddlers. Stewart finished 2nd in a blistering 1:33:18, just two seconds behind Brett Greenwood (paddling for Manly), with David Coward taking 3rd only half a minute later. Recently promoted from Div 2, Cameron Cox finished in 7th, followed by Suzie/Mitch (10th) and Tony/Alanna (11th).
Despite a clear preference for the 20km divisions, there were also plenty of Lane Cove paddlers in the shorter distances as well. Robert Dunston and John Greathead finished 3rd and 6th respectively in Div 13, with no LCRK boats taking up the option of grandparent/grandkid doubles (we're looking at you, Rowstons!). Chris Allchin won Div 8 in a time of 1:21:55, with Jeff Collins (4th) and Caroline Marschner (6th) both completing their first marathon series race.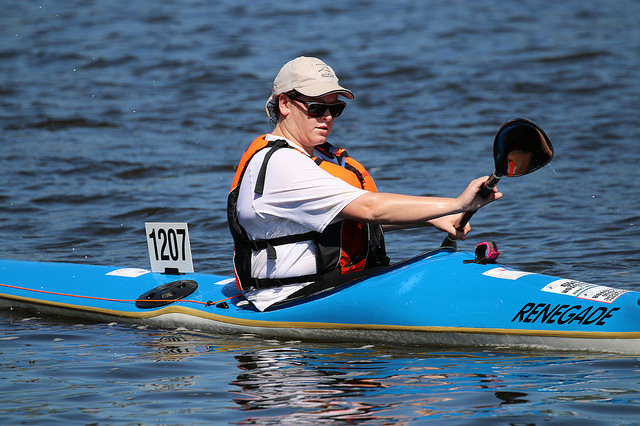 Above: Kyla rocking Div 12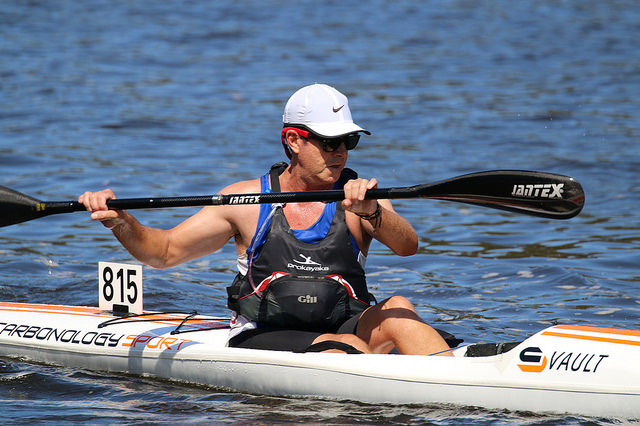 Above: Jeff C in Div 8
Kyla Johnstone was first over the line in Div 12 with a time of 1:10:21, and Lachie Wrenford finished 3rd. Ian Wrenford was the sole LCRK boat in Div 11, finishing in a solid 4th and for the first time this year not immersing himself in the water to take finish line photos. The final two 10km divisions were both rather full, with 15 boats in Div 9 and 20 in Div 10. Len Hedges and Paul van K finished 13th and 15th respectively in Div 9, while Peter Harris (13th), Paul Burges (16th) and Brendan Gay (18th) were in the Div 10 field. With new rules in place allowing paddlers to stay in the 10km divisions rather than bump up to longer distances, it looks like these races are going to continue to be hotly-contested.
With so many boats and excellent performances across a number of divisions, it's hardly surprising that Lane Cove has taken the lead in the club points tally. Let's keep the ball rolling in round five, where we're on home turf and have the bonus points of the doubles. As always thanks to Lesley Manley and Ian Wrenford for their superb photos, to Paddle NSW for their continued efforts to get everyone involved, and more broadly to everyone on the bank who cheered us through a hot race!
An extract of the race results below....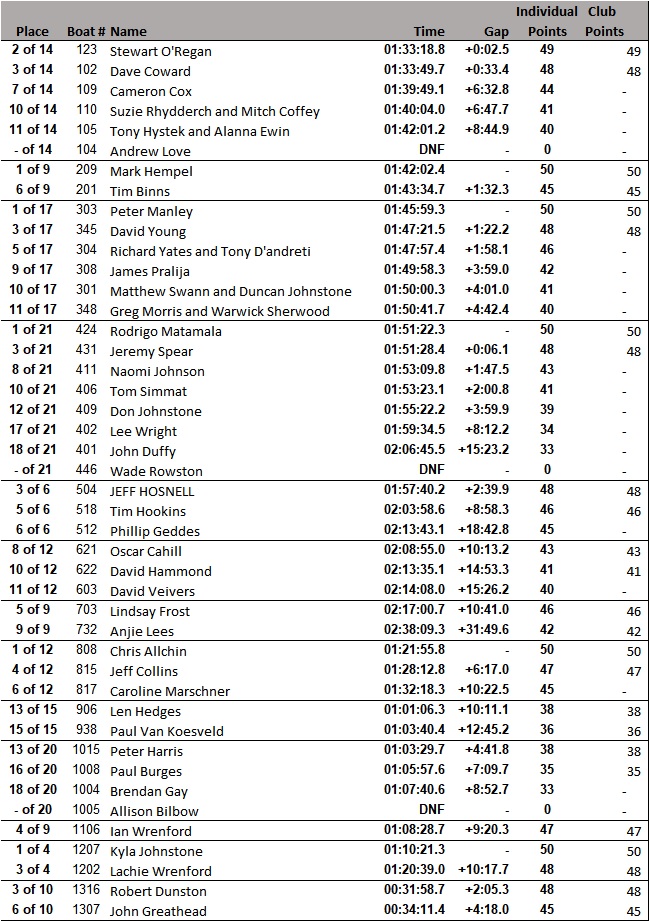 Round 3, Woronora - Sat 17 Mar
Race report by Naomi Johnson

Round three of the 2018 Marathon Series took us to Woronora for stunning views and a hot day of racing. Finally a little closer to home, Lane Cove was out in force with paddlers in every division and some great performances from old and new faces alike.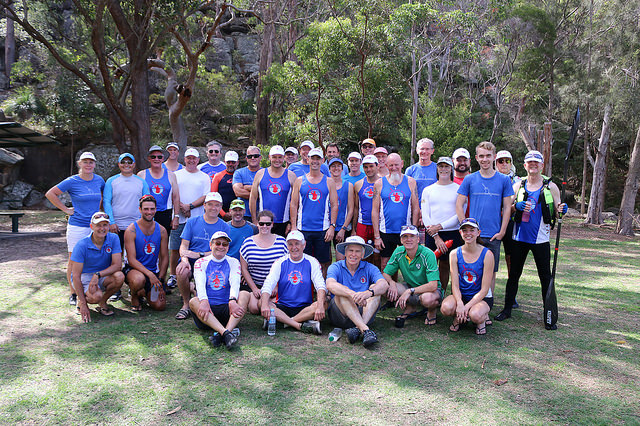 Above: Bright in blue - almost all of the Lane Cove team at Woronora
There was no way around it; the forecast for Saturday's race was hot from the outset. The idyllic course at Woronora starts at Burnum Burnum Reserve and winds up the river, passing houses and parkland, and going over plenty of shallows. It's quite the spot for the spectators too, with sweeping bridges giving a bird's eye view of the final run into the finish. And while the setting was picturesque, the heat was a killer out on the water.
With a race closer to home, Lane Cove fielded a team of 40 paddlers in 35 boats, and plenty were beginning to find their rhythm for the season. Div 3 was the biggest start, with 18 boats lining up across a thankfully wide river. Among them were no fewer than three Lane Cove doubles, with Matt Swann/Duncan Johnstone (14th) and new marathon series pairing Richard Yates/Keg joining 2017 regulars Greg Morris/Warwick Sherwood (11th). Could this trio turn into one of the big showdowns of the year? Also in Div 3, Peter Manley finished in a fantastic 2nd place and David Young in 6th.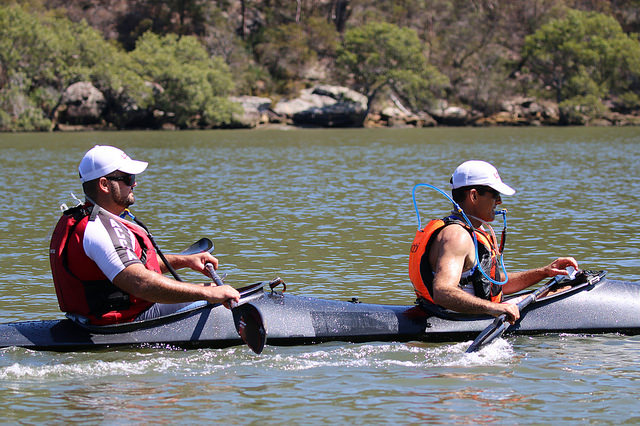 Above: Richard Y and Keg complete their ranking race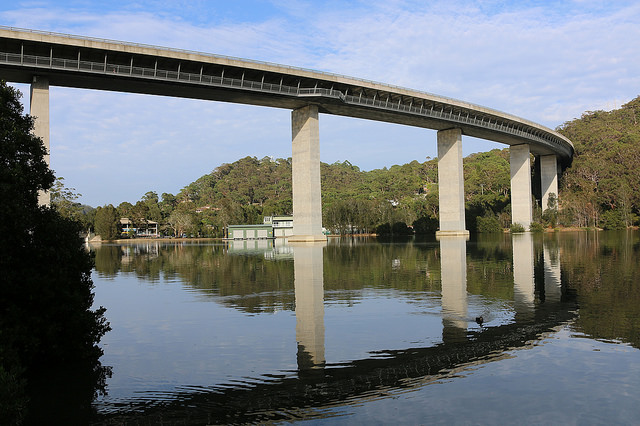 Above: Woronora Bridge looms over the finish
A division down, and the competition was no less fierce...at least for 5th place! With six paddlers in Div 4, LCRK looked set, with Rodrigo Matamala, John Duffy and Lee Wright all storming off in a quick start. We slowed a little in the final lap, but managed to take out every place from 5th to 9th (in order: Tom Simmat, Rodrigo, Naomi Johnson, Lee, John) with Don Johnstone finishing in 11th. Wade gave paddling a miss, but came along to pick up a brand new Quantum Tornado (see picture!) for the club. Let's hope someone will take it out at the next race.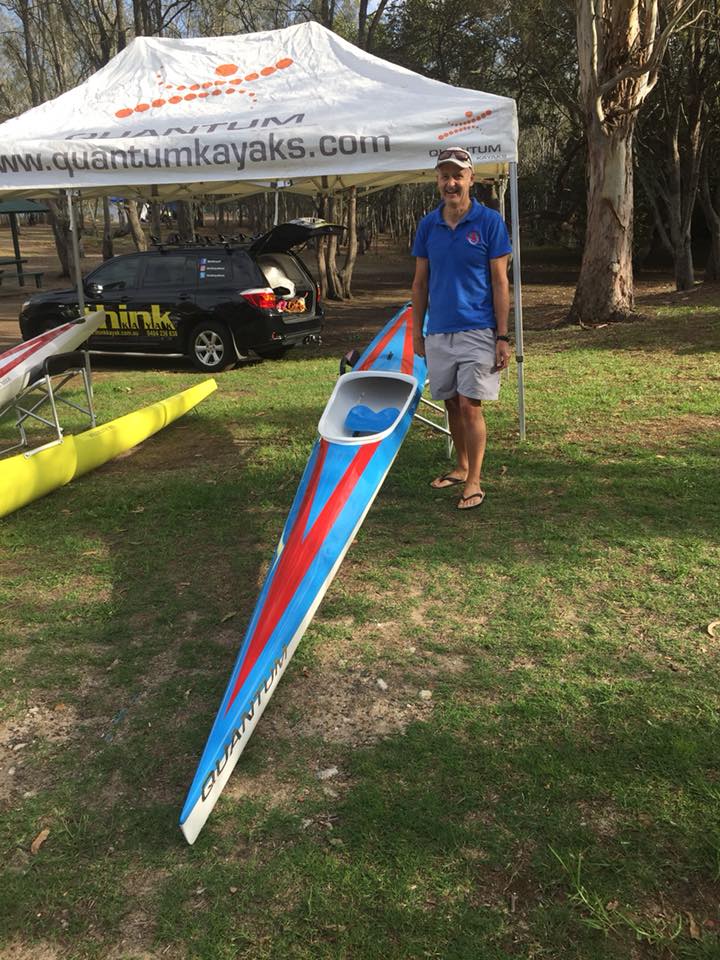 Above: Wade with the club's new Quantum Tornado
Divs 5 to 7 were a little thinner on the ground, possibly because everyone keeps getting promoted! In Div 5, James Pralija stormed to victory in a time of 1:48:31, passing every Div 4 boat while he was at it – a fast track to Div 3 in order no doubt. Paddling at a more division-appropriate speed, Rob Llewellyn-Jones and Jeff Hosnell finished in 3rd and 6th respectively, while David Veivers and Oscar Cahill finished 10th and 12th in Div 6, and Lindsay Frost 4th in Div 7. Oscar spared no expense or colour to let everyone know it was St Patrick's Day, decorating his boat with Irish flags and providing fellow paddlers with a soundtrack to match.
Not only was it St Patrick's Day, but it also turned out to be a bit of a Family Day for Lane Cove paddlers. Along with the familiar faces of our regular landcrew, we welcomed Pete M's parents, Jeff H's parents-in-law, and Naomi's parents on a weekend trip up from Melbourne. Her dad Steve is soon to take up kayaking, and has promised a father-daughter showdown at one of next year's marathon series...stay tuned?!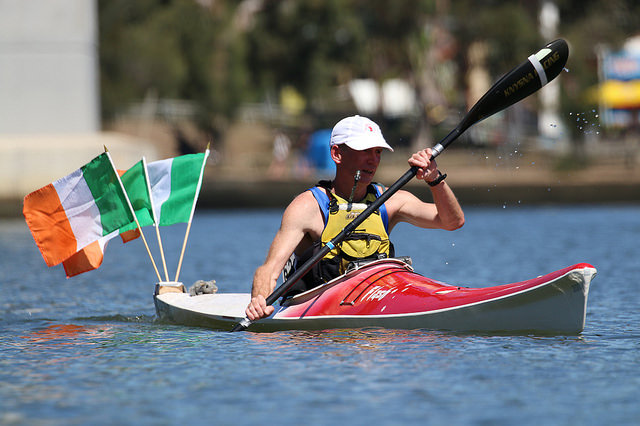 Above: Oscar decked out to celebrate St Patrick's day
In the 10km divisions, Allison Bilbow took the opportunity for maximum cool-off efficiency, opting for a quick dip and boat re-entry right on the start line. The tactic seems to have worked, because she finished 2nd (just 9 secs off!) in Div 11, and looks like she might be heading for Div 10 very soon. Paul Burges (3rd) and Ian Wrenford (6th) rounded out the division, with Ian quickly submerging himself in the water at the finish to cool off, and get close-ups of everyone else crossing the line. Brendan Gay took out Div 10 in a solid 59:35, while Peter Harris pulled over with cramps and was passed by most of Div 11, crossing the line in 7th and still with a smile. The 10,000m sprint, aka Div 9, has so far been LCRK-free, but Graham Jeffries decided to give it a go (apparently there was some advice from Don J involved) and finished in a credible 10th.
Lachie Wrenford was the sole LCRKer in a small Div 12, taking two minutes of his 10km PB to finish in 4th, while John Greathead finished 4th in Div 13, apparently feeling his shoulder more than the heat. Jeff Tonazzi and Tim McNamara both lined up for the increasingly-popular Div 9, earning 9th and 11th respectively in the 15km event.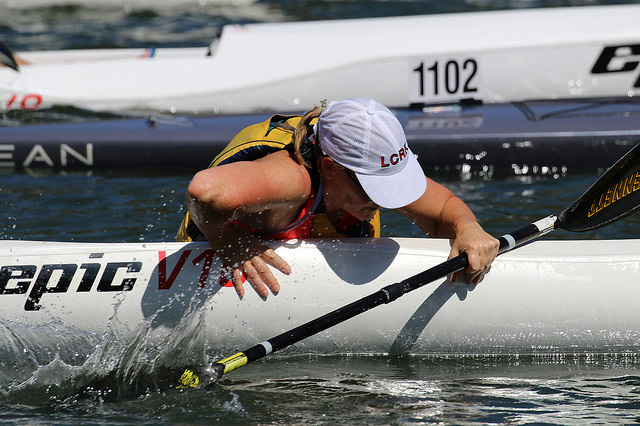 Above: Allison demonstrates her cooling off technique!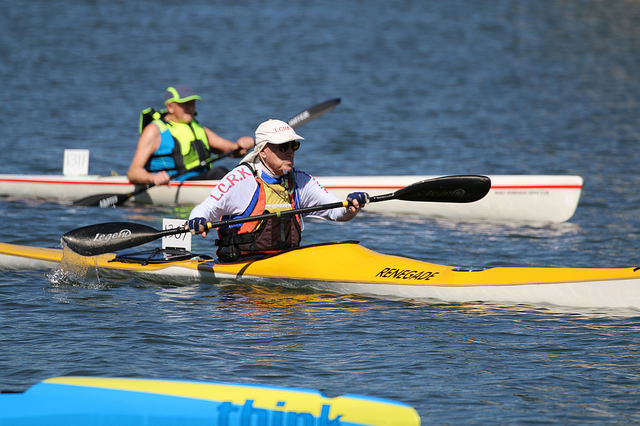 Above: John Greathead in Div 13
With the top divisions rather sparse at Wagga, it was great to see them so full of LCRKers at Woronora. Div 2 welcomed Tim Binns to the ranks, with the trio of Tim, Ian Hofstetter and Justin Ryan taking out places 4 to 6 respectively. And while Brett Greenwood took out Div 1 for Manly, there were a record five boats in the mix paddling for Lane Cove. Dave Coward finished in 1:33:34 (yes, definitely 20kms) to clinch 3rd, while Andrew Love and Stewart O'Regan claimed 5th and 6th. Suzie Rhydderch teamed up with Mitch Coffrey for a Div 1 debut and 12th place, while Div 1 regulars Tony Hystek/Alanna Ewin paddled their first race of the season to finish 14th. Another doubles show-down in store as the year progresses perhaps?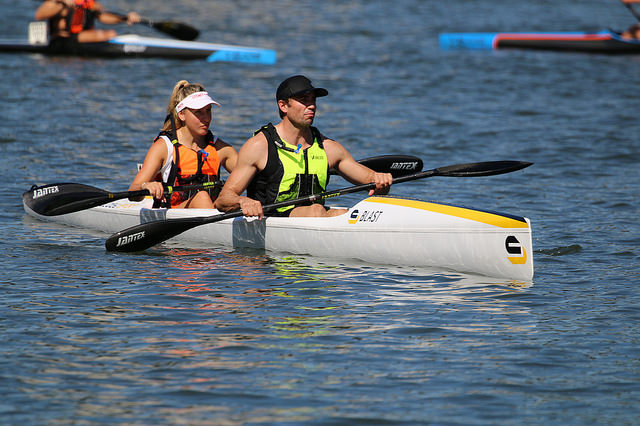 Above: New pairing of Suzie and Mitch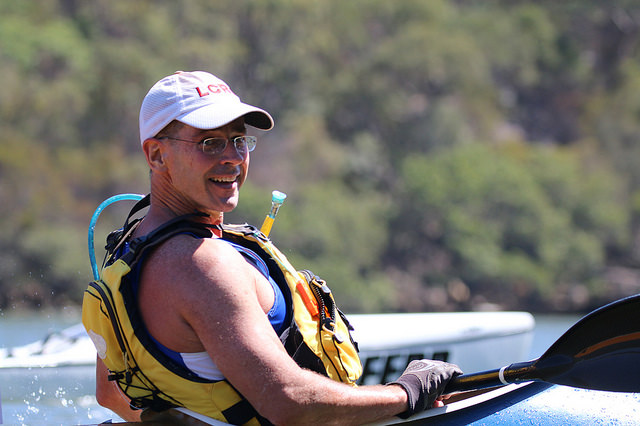 Above: John D flashes a smile at the finish
Despite the draining heat, it was a stunning day of racing, with the Woronora River providing a beautiful panorama and Sutherland Shire Canoe Club making everything run smoothly. The boat washing station was particularly welcome, with several LCRKers taking the opportunity to have a quick cool off as well! Thanks also to Lesley Manley for her superb photos.
On April 8th, we take a short run up the Pacific Highway to Wyong for the fourth race of the season, and with Lane Cove edging ever closer to the top spot in terms of club points it would be great to see another strong turn-out. Oh, and has the committee mentioned the Lane Cove doubles round on April 22nd?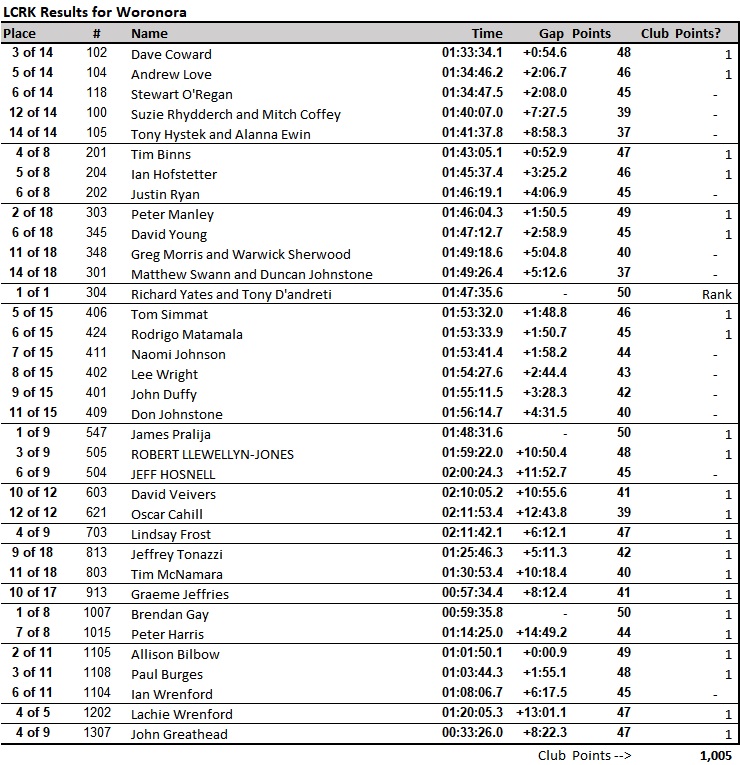 Round 2, Wagga Wagga - Sat 24 Feb
Race Report by Naomi Johnson

For the second regular race of the 2018 marathon series, a small but dedicated team of Lane Covers trekked down to Wagga Wagga. A gloriously sweltering day awaited, the sort of day where you'd much rather be submerged in the waters of the Murrumbidgee than sitting on it. The river was as challenging as ever, with a few wet paddlers and plenty of fun to be had through the race.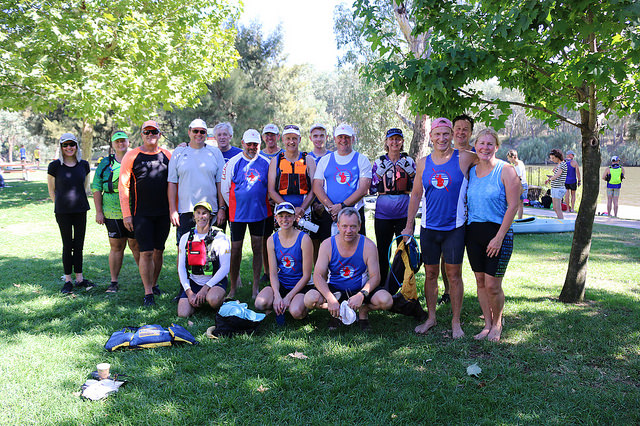 Above: A small but speedy Lane Cove team set to do battle with the Murrumbidgee
On Ian Wrenford's 2017 Christmas Party calculations of distance-to-paddle, Wagga Wagga is quite the commitment. While some snuck days off or half days on the Friday to arrive before the light faded, others packed in the full 9 to 5 before the drive, rolling into the ever-popular Wagga Beach Caravan Park around midnight. Saturday dawned bright and clear, with the temperature already feeling high before the briefing. A major change to the course this year was that paddlers weren't required to cross the river up near the top turn, instead making a clockwise turn around the island. Pre-whinging about right hand turns aside, it was a welcome alteration, with the current less likely to catch paddlers and sweep them round without warning.
With a smaller-than-average LCRK team (everyone paddling the Bridge-to-Beach?), Div 1 and 2 were left to other clubs to battle out. But we made up for it elsewhere. In Div 3, Tim Binns' goal of promotion seems to have been realised, with a stellar performance to win the division by almost two minutes despite complaints of an upset stomach while paddling. David Young reverted to the ski to secure himself second place, and Warwick Sherwood/Greg Morris finished in 8th. Rumour is that Warwick is so dedicated to paddling that he interrupted a holiday in Noosa to fly down to Sydney, road trip down to Wagga with Greg, paddle and then head back to the holiday!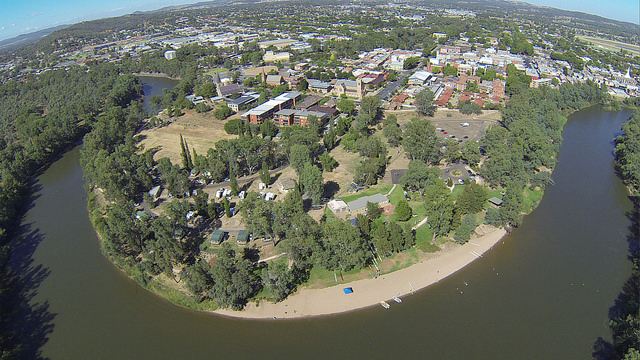 Above: Wagga Beach from above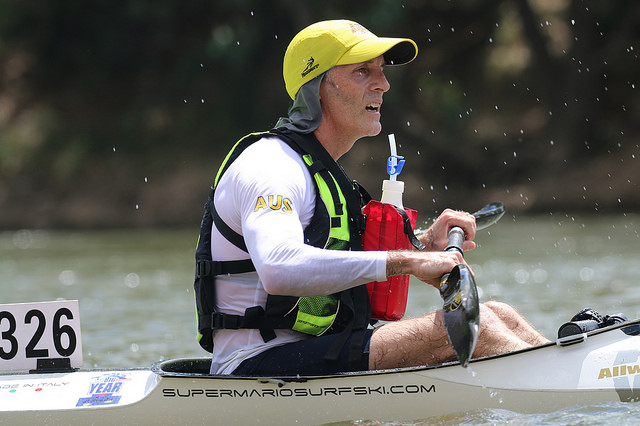 Above: Tim takes out Div 3
Div 4 was a much smaller than in Canberra, with Naomi Johnson taking full advantage of a gentle start to stick with the front pack and eventually take out both the division and the prize for fastest woman on the day. Tom Simmat and Wade Rowston both opted for more stable boats than in Canberra, finishing in 6th and 7th respectively.
Quite possibly a record, Div 5 posted only three entries for the day, with two of them from Lane Cove. Rob Manning finished 2rd and Duncan Johnstone 3rd. Div 6 saw Ruby Ardren (MWCK) take second place, Linden and Richard Barnes (SydU) 6th, and Lindsay Frost 9th. Rae Duffy was a welcome addition to the Lane Cove team, paddling to 3rd in Div 7, while Anjie Lees (6th) reported an early swim.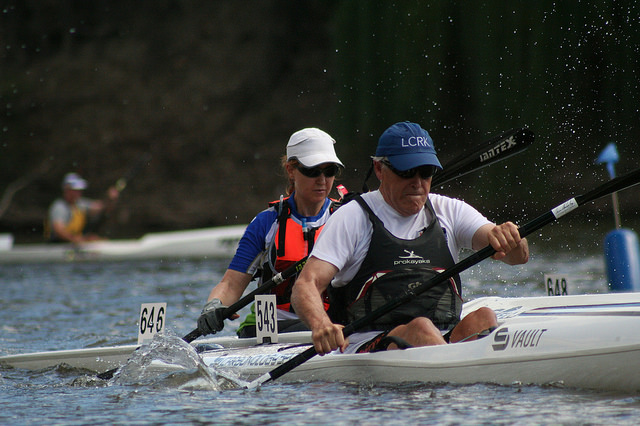 Above: Duncan in Div 5, with Shannon Duffy behind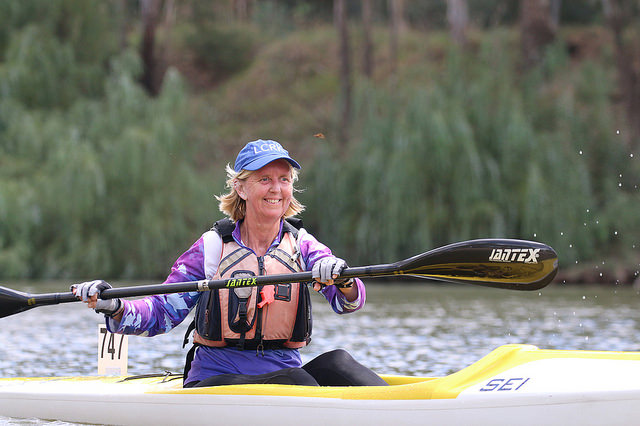 Above: Great to have Rae Duffy along for the race
A favourite part of the Murrumbidgee River course is the point at which a strong cross-current joins the main river, conveniently also the spot where paddlers need to cross the river and join the left-hand bank in order to pick their way upstream for the next 2 kms or so. Some were dreading it, while others (aka Tom) saw it as a tactical advantage to gain a few metres on the competition. It caught more than a few paddlers unawares, including Allison Biblow who used her warm-up lap to confirm that it wasn't a good idea to paddle straight into the large green marker bouy in the middle of the current!
Lane Cove numbers were a little down in the shorter distances – perhaps the lure of the Bridge-to-Beach on Sunday? Or indeed the thought of a ten hour round trip for only an hour in the boat? Lachie Wrenford was 2nd in Div 12, while Div 11 saw Lane Covers take out three of the top places. Despite a swim during the race itself, Allison finished in 2nd, followed by Ian Wrenford (3rd) and Paul Burges (4th). Jeff Tonazzi was the sole LCRKer in Div 8, paddling to second in a group that this time started just after Div 4 – good to keep them on their toes!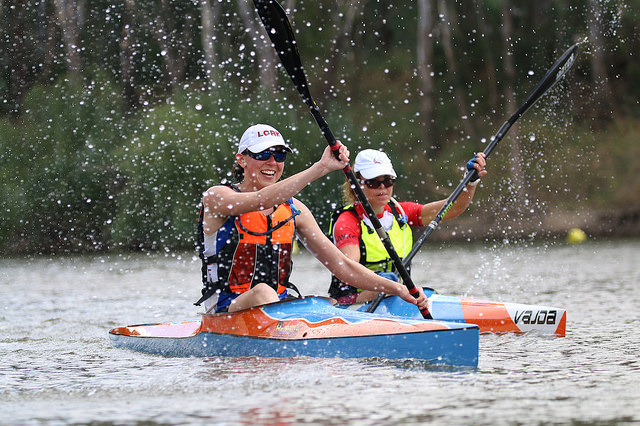 Above: Naomi enjoying a cool shower (thanks Allison!)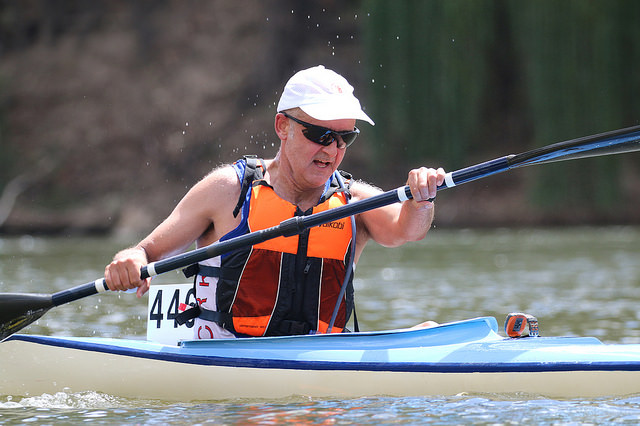 Above: Wade in Div 4
Thank you as always to Ian for masterminding and taking such lovely photos, along with those who gave lifts and boat lifts down to the race. And special mention goes to Tom and anybody else who packed themselves up after the race and departed for Sydney in time for the Bridge-to-Beach on Sunday morning! The third race of the season is in Woronora on Saturday 17th March, and it would be great to see a Lane Cover or several in every division!
Round 1, Canberra (BGCC) - Sat 3 Feb
Race report by Naomi Johnson

With the start of February comes the start of the 2018 Marathon Series. The first race of the season saw a strong Lane Cove team trek down to Canberra for a day of sunshine, showers and a test (or perhaps reassessment) of holiday paddling endeavours.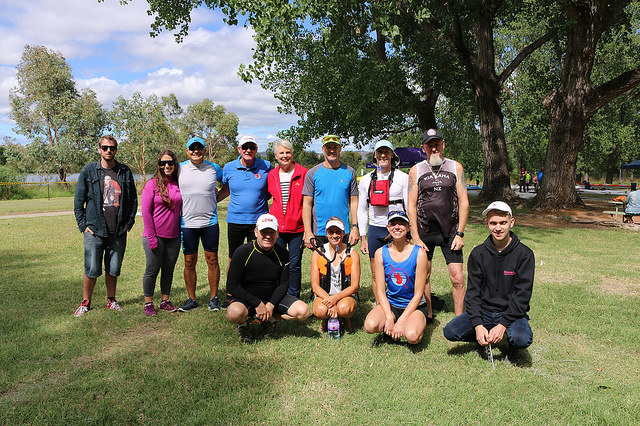 Above: Some of the Lane Cove team and landcrew
Apparently it was tipping it down with rain in Sydney at about 5am on Saturday morning – a cool and drizzly start to a day which turned out almost idyllic racing conditions. Most set off early in the morning to head for Canberra, and anyone watching the Hume from sunrise would've been distinctly surprised at the number of kayak-carrying cars dashing south. By the time we arrived in Canberra the ground was dry (had it ever been wet down there?) and the sun was shining on an almost calm Molonglo River.
Lane Cove fielded a strong team of 25 boats, with particularly solid numbers in divisions 4 and 5. While some were raring to go with their 2018 paddle goals, others were, shall we say, still getting back into shape for the year. Div 5 saw impressive performances from Lee Wright and John Duffy in 2nd and 3rd, with Lee taking out a ski and John sticking right behind him for most of the race. Tim Hookins (5th), Jeff Hosnell (7th) in his new Bettong K1, Suzie Rhydderch (8th), Rob Manning (9th), Duncan Johnstone (12th) and Ruby Ardren (13th, MWCK) rounded out the competitive paddlers, with Lane Cove making up almost half the division. James Pralija completed his ranking race in a time that would've seen him in the thick of the field.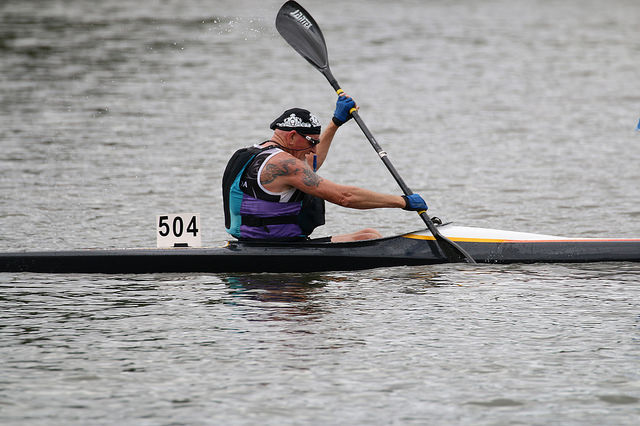 Above: Jeff H in his new Bettong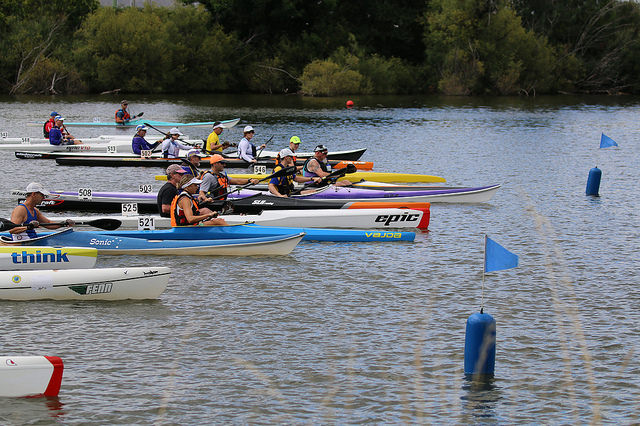 Above: Div 5 ready to head off


Another four Lane Cove paddlers, along with Richard Barnes in the Syd Uni colours, lined up for the Div 4 start. For those just moved up from Div 5, it was a bit of a shock to the system, with a fast and ferocious start and an initial lap that left many panting for air. It was a division of new(ish) boats, with Rodrigo Matamala (7th) and Naomi Johnson (9th) in brightly-coloured Romans, Wade Rowston (13th) in his new light-blue Bettong, and Tom Simmat (14th) in a boat that is either new or he hasn't paddled since Naomi started writing the race reports! Richard was the dark horse of the division, starting at the back of the pack to spend two laps 'catching up with old friends' before rocketing past nine or so boats in the final 8kms to finish 4th!
Div 3 saw familiar faces of Tim Binns (an impressive 3rd) and Peter Manley (5th), along with David Young stepping down a division following his Christmas wrist surgery. Both Lane Cove paddlers in Div 2 were ranking, with Cameron Cox pulling off a particularly impressive time of 1:37:33 – surely that'll mean Div 1 next time! With 2017 regular K2 of Tony Hystek/Alanna Ewin absent, the sole Lane Cove paddler in Div 1 was Stewart O'Regan. Several thrilling portages later (check out the photos) he finished 3rd in a heated sprint for the line. 2018 sees a big change in the way that club points are allocated across all the divisions and races. This year, the top two boats in each division for each club earn club points, no matter where they finish. Bigger clubs still have an advantage, but it does mean that they can't monopolise divisions in quite the same way by knocking other clubs out of the points entirely. To maximise Lane Cove points, then, we need to have at least two boats per division, a great goal for the season!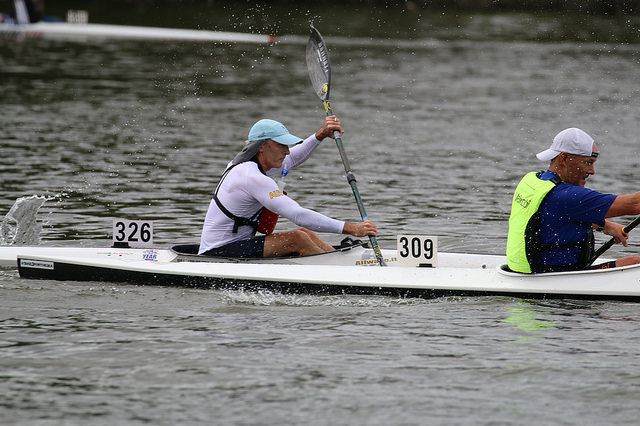 Above: Tim racing to 3rd in Div 3
Above: Stewart on the portage run
On that note...in the slightly more laid-back 20km divisions LCRK faces were a little scarcer. Div 6 saw David Hammond paddle to a solid 10th in what he has declared will be a 'very small' 2018, and Lindsay Frost finished 12th. Anjie Lees (8th) and Gaye Foster (5th, MWKC) paddled in Div 7.
The other big shake-up of the 2018 season is that there are now four different 10km divisions, with Paddle NSW acknowledging that some might want to race the shorter distance at speed without being promoted to 20kms. Time-based divisions 9 to 12 allow paddlers to be competitive no matter what their speed or distance goals. Though there were several familiar LCRK faces in amongst the action in these groups, we could certainly do with a few more racers to maximise on club points!
Peter Harris and Allison Bilbow jumped back into Div 10, with Peter finishing in 9th and Allison declaring she was 'just happy to finish' in 12th. In Div 11, Brendan Gay showed some early season form finishing in 2nd with a time that will probably see him in Div 10 next round, and Ian Wrenford finished in 5th. Lachie Wrenford steps up to 10kms this season, posting a 1:22:22 for his first crack at the distance.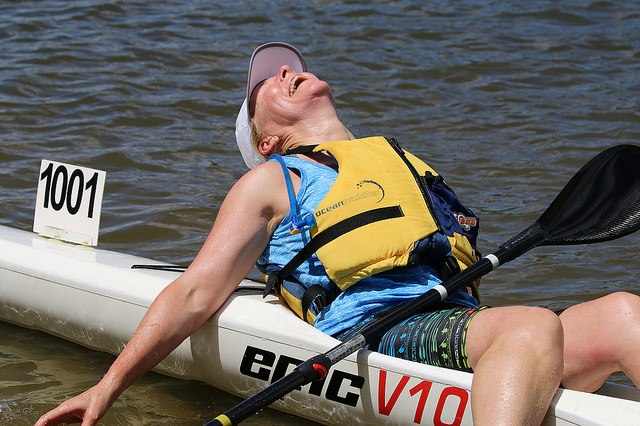 Above: Allison, happy to have finished or exhaused?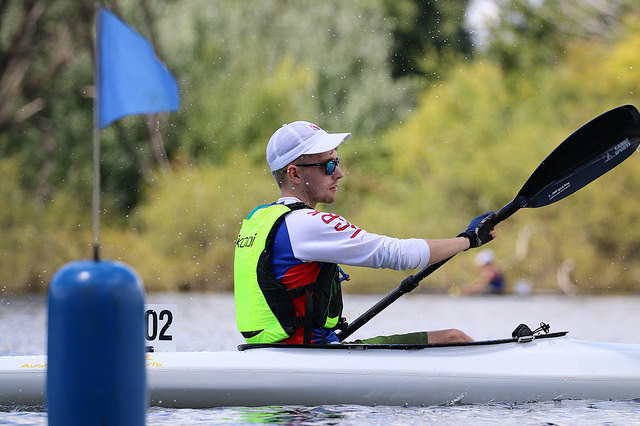 Above: Lachie finishing off his first 10kms
The 5km and 15km distances certainly haven't been forgotten in the 2018 system, with Div 13 proving particularly popular. Of the 17 boats who lined up on the start line it was really pleasing to see six juniors having a go at the sport. Meg Thornton went for something a bit different in the maiden race of the year, paddling a SUP round in a time of 1:01:16 for what we're guessing is the single-bladed race of her Very Big Year? Finally, Div 8 took on a bit of a twist this round, with officials deciding to start the group ahead of Div 4 rather than in their usual spot behind Div 6. There was certainly confusion for some on the start line (the lesson: always stay for the whole briefing), but the goal of denying Div 5 and 6 paddlers a potential washride was certainly achieved. Jeff Tonazzi, the sole LCRK paddler, finished in 3rd, and took full advantage of the new start position to get in some washrides of his own!
On Sunday, the annual Burley Bash attracted a small but dedicated crowd of paddlers, and with sun glinting on a glassy Lake Burley Griffin it looked like a great day of racing. There were four distances of 30kms, 16kms, 5kms and 3kms, with the Splash Bash and Dash Bash new additions to this year's race. Over 30kms, Richard Barnes finished in 2:43:45, with new guest boat in the Lane Cove time trials Gareth Stokes and Peter Faherty clocking the fastest time of 2:23:04. Keen to get in a few more kms at the start of her Very Big Year, Ruby Ardren paddled the 15km course in 1:18:06.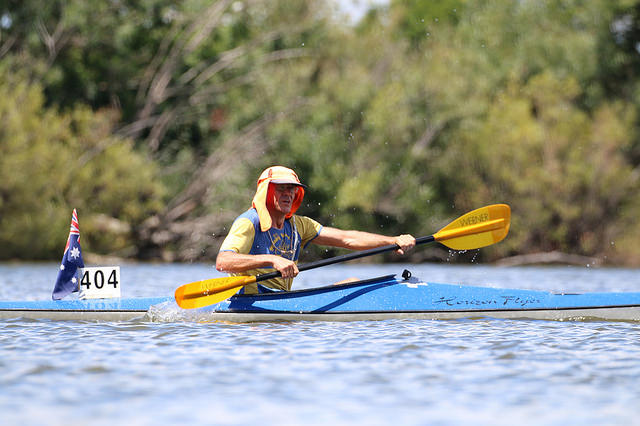 Above: Richard Barnes cranking up that pace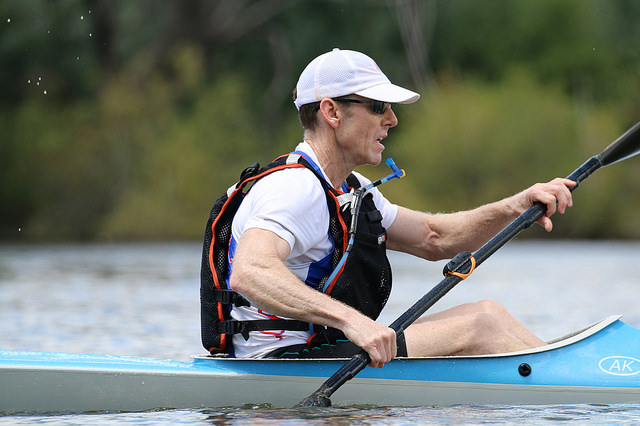 Above: Ian Hofstetter completing his ranking race
Driving down to Canberra, be it for the day or the weekend, is a big commitment, and it was great to see such a strong LCRK turn-out. Thank you in particular to those who provided lifts for both people and boats, to president Phil Geddes for his very detailed advice on lifejackets and hot weather paddling, and to Leslie Manley and Ian for their brilliant camera-work. February continues to present races for the steely travellers, with an optional round in Albury on Sat 10th and then Wagga Wagga on Sat 24th. Then again, just think about how many early points you could get in the bag!


Round x (optional), Albury (Mitta Mitta) - Sat 10-Sun 11 Feb
PNSW Facebook (at 25 Jan) says "This is an optional race...earn points towards your series and race against mates from Victoria. Frank Harrison Memorial. Singles race on Sat and Doubles race on Sun. More details to come"
The Mitta Mitta website advises the race is in "Albury, NSW, starting at either the Weir Wall (26 km) or Waterworks (16km). No Portage' - the Frank Harrison Memorial course - ie 16km or 26km downstream.