---
Round 1, Canberra - Saturday 21 February
Host Club: Burley Griffin Canoe Club (BGCC)
Location: Molonglo Reach, Morshead Drive, Canberra

Glorious Day in Canberra for First Marathon in 2015
It was a beautiful day in Canberra with a huge field of paddlers (over 200 competitors) that saw 26 LCRKers entered in 9 divisions enjoy the best race conditions seen on the Molongolo River for a few years. Club points where hard to come by and once again we have got off to our traditional slow start for the year in the Club competition. The host club BGCC were well organised for their home marathon and scored major points across a large number of divisions.
Rob Manning - 3rd in Div 4
Jeremy Spear 2nd in Div 5
Rob Manning pick up from where he left off last year and came in 3rd in Div 4 with another strong paddle, just missing out on second by a whisker. Jeremy Spear battled it out the whole way with Larrissa Cleverly from MWKC in Div 5 and just got pipped at the post and came in second. A great effort by Jezza. Alanna Ewin also performed well in Div 7 paddling on her own instead of the usual double and picked up some valuable club point by coming in 4th.
There were other good performances from Warwick Sherwood in Div 7 and Dave Hammond and Jason Tan in Div 5 who all placed well but were classed as ranking race and could not be allocated points.
It was also a series of firsts for new LCRKer Claudio. It was his first visit to Canberra, first marathon event in Australia and first time he spotted a large brown snake crossing a river! It was also spotted by a few other paddlers but fortunately everyone managed to avoid it.
http://www.paddlensw.org.au/page/results/marathon-series
Check out the photos.


---
Round 2, Windsor - Sunday 3 May
Host Club: Windsor Canoe Club (WCC)
Location: Macquarie Park, Windsor
First Start: 11:00AM
Near Perfect Conditions
After a fortnight of heavy rain it was a surprise to many of us that Race 2 of this years PaddleNSW Marathon Series was on at all, let alone the conditions being near perfect. There was some fresh water flow working against an incoming tide which seemed to provide no advantage one way or the other.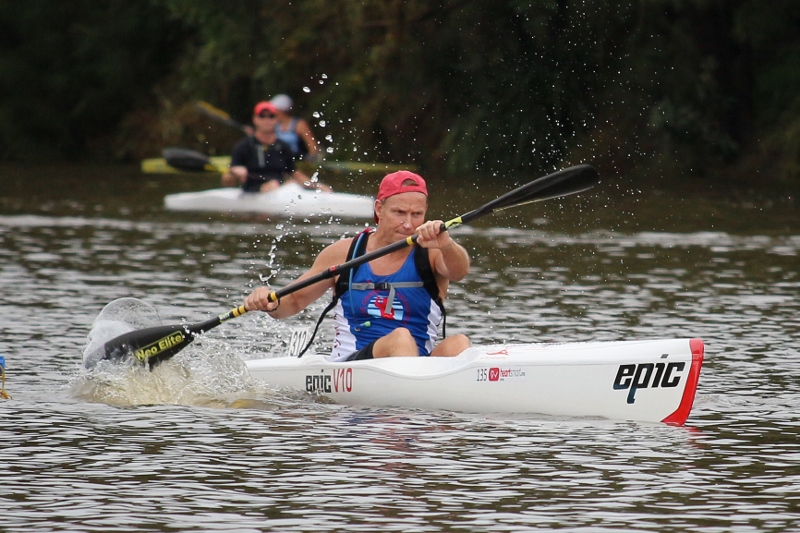 Strong performance by David Young in Div 3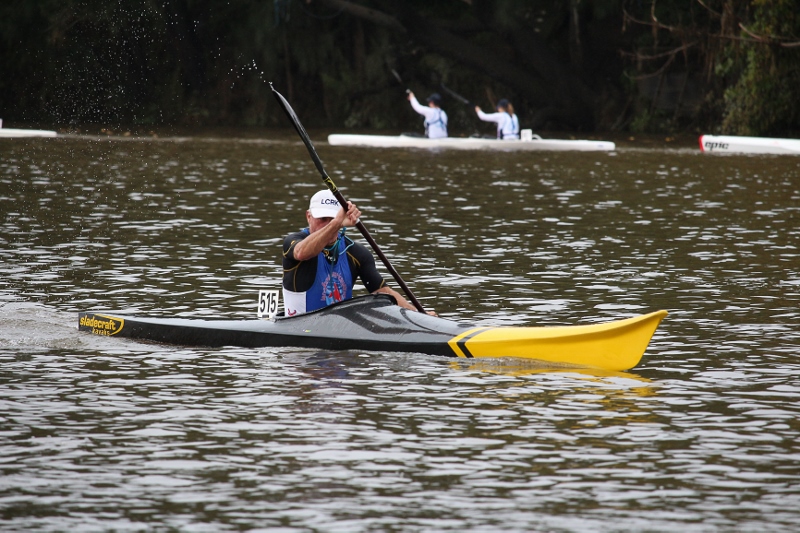 Jeremy Spear Won Div 5
Thirty one LCRKers turned up to give it their best. However Club points were once again hard to come by. Jeremy Spear excelled in Div 5 to win on the day and earn top points and a promotion to Div 4. David Hammond and Jason Han finished strongly to take 2nd in Div 5 with Wade Rowston 4th. Matt Blundell, paddling for MWKC this year, was 2nd in the very testing Open division. David Young scored club points as well by coming 4th in Div 3.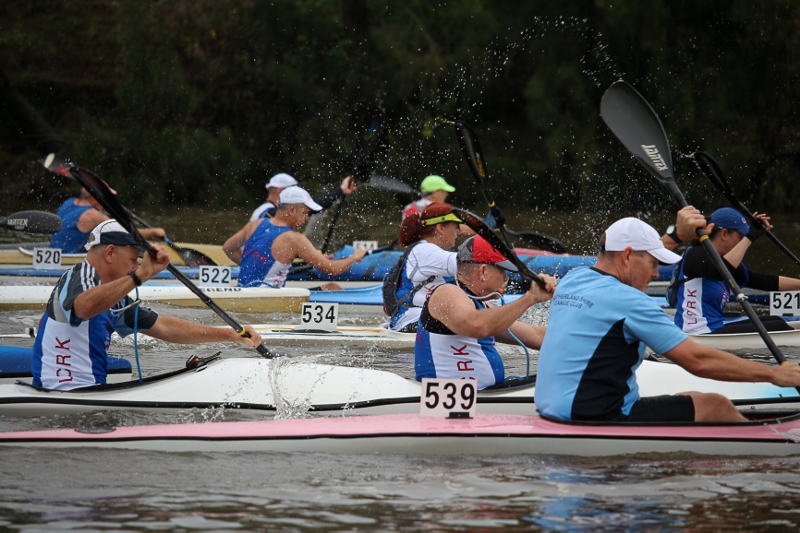 Strong Contingent of LCRKers in Div 5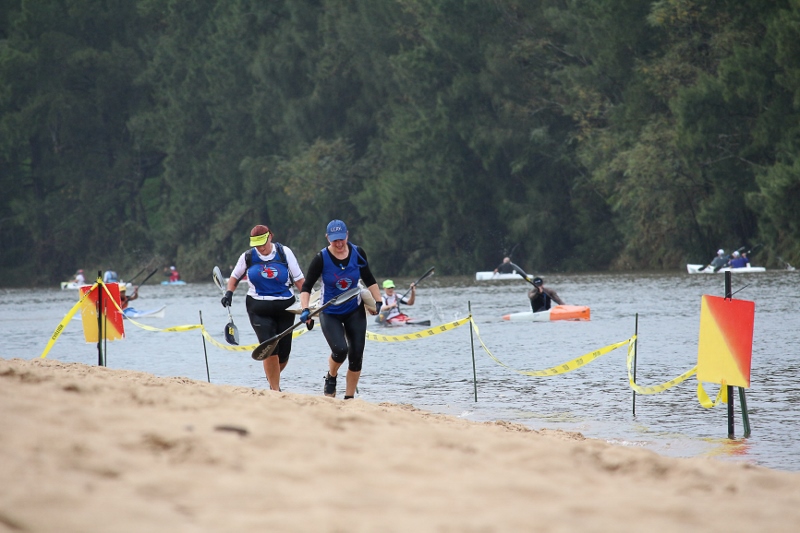 Anjie and Ruby portage

Results were as follows:
Open: Matt Blundell (2nd) (Paddling for MWKC)
Div 1: No LCRKers
Div 2: Glen Orchard, new LCRK member Suzie Rhydderch Gene Burns (Paddling for MWKC) - both Ranking paddles
Div 3: David Young (4th), Tom Simmat and Richard Barnes (Paddling for Syd Uni)
Div 4: Rob Manning
Div 5: Jeremy Spear (1st), David Hammond & Jason Han (2nd), Wade Rowston (4th), Ross Fraser& Ken Holmes, John Duffy, Anjie Lees & Ruby Gamble (Ranking)
Div 6: Tim McNamara, Jeff Collins, Paul van Koesveld, Peter Millard, Derek Simmonds
Div 7: No LCRKers
Div 8: Tim Hookins, Jeffrey Tonazzi, Tony Carr, Matt Swann, Claudio Battistel
Div 9: No LCRKers
Div 10: LCRK member Dave Salter & Dave James (Paddling for MWKC) (1st), Don Rowston and Harry Rowston (Ranking), Oscar Cahill (Ranking)
Div 11: Tracey Hansford, Justin Paine, Ian Wrenford (Ranking)
Div 12: No LCRKers
Photos by Tom Holloway.
---
Round 3, Wyong - Saturday 17 May
Host Club: Central Coast Canoe Club (CCCC)
Location: Tacoma Reserve, Wolseley Ave Tacoma
First Start: 10:00AM

WOW… What a difference 3 weeks can make… after Race 2 we as a club were languishing back in 7th in the club standings, and now we have hurtled our way up to 4th. Lane Cove paddlers turned out in force for Race 3 of the PaddleNSW Marathon Series with 35 paddles trekking up to Wyong.. make that 36 with Jeff Beere who just had to roll out of bed onto the course, paddling 31 kayaks with great success. And that success can be partially attributed to our new ranked paddlers.
With a slight chill in the air, and a full Wyong river emptying into Tuggerah Lake we psyched ourselves up for a 2 x 10km lap course rather than the 4 x 5km course… and no portages.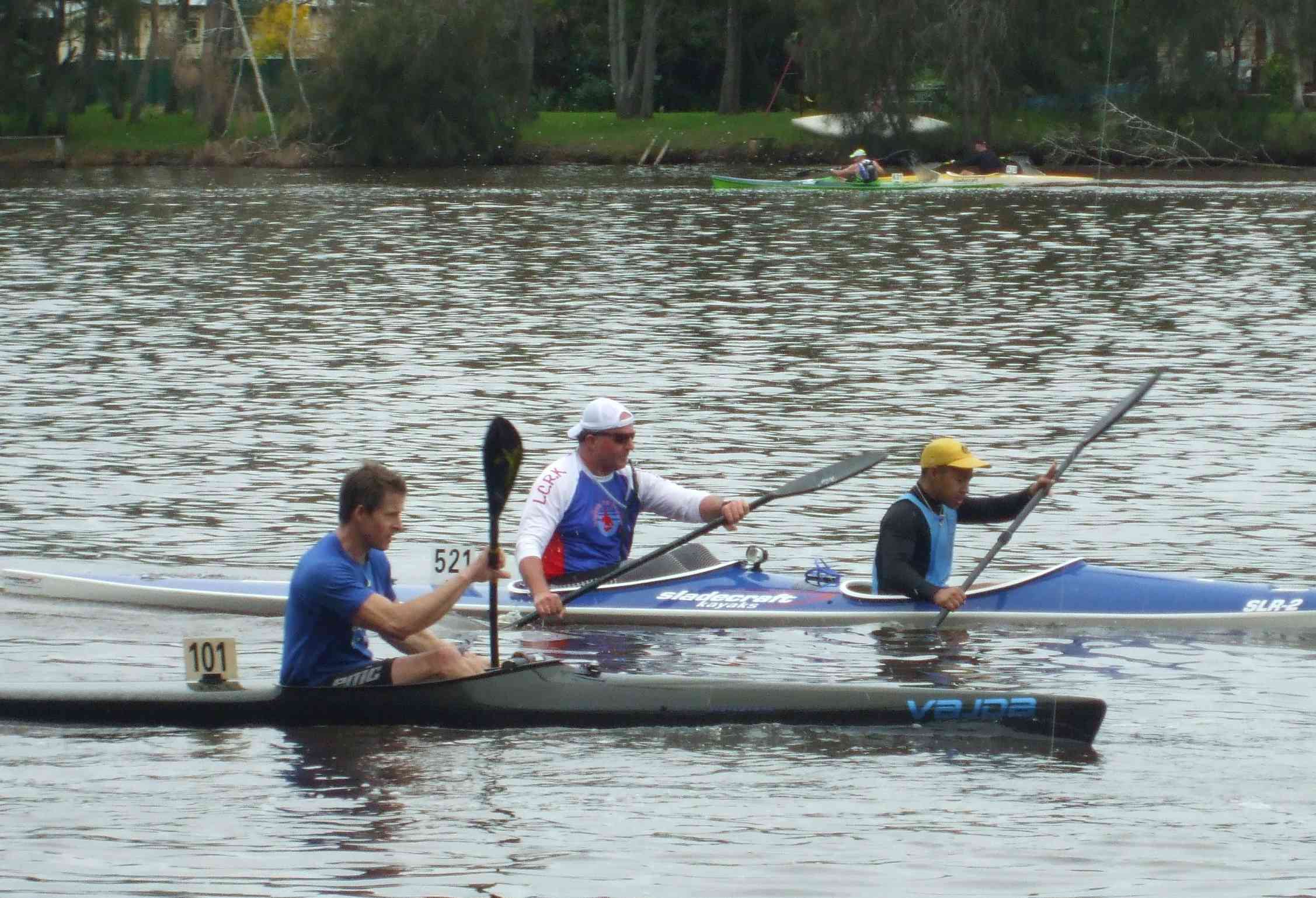 Toby - Fourth in Open Div with Dave & Jason 5th in Div 5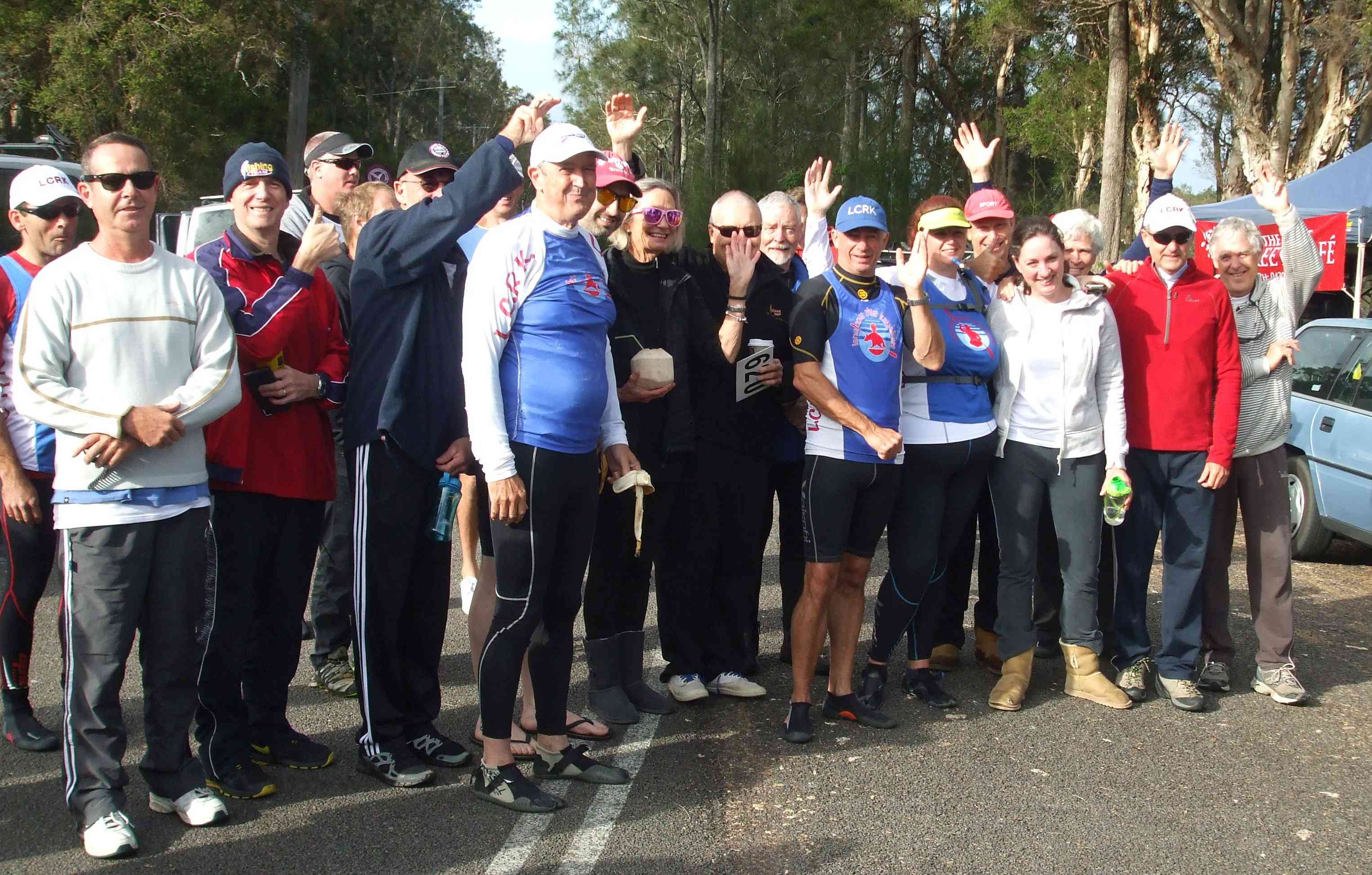 Happy bunch of Lane Cove paddlers before Race 3


Toby Hogbin held the flag for the club in the open division and secured us 2 vital points (4th) in what looked like a strenuous 25km race. We had no representation in Division 1 and eagerly await Tony Hysteks' return. Having said that, Glen Orchard who ranked at the last race in Division 2, stormed into second place (6 points) with a superb time that may elevate him up to Division 1. Three paddlers, Matt Acheson, Tom Simmit and David Young paddled in Div 3 with David achieving a fourth placing, and Tom a refreshing swim.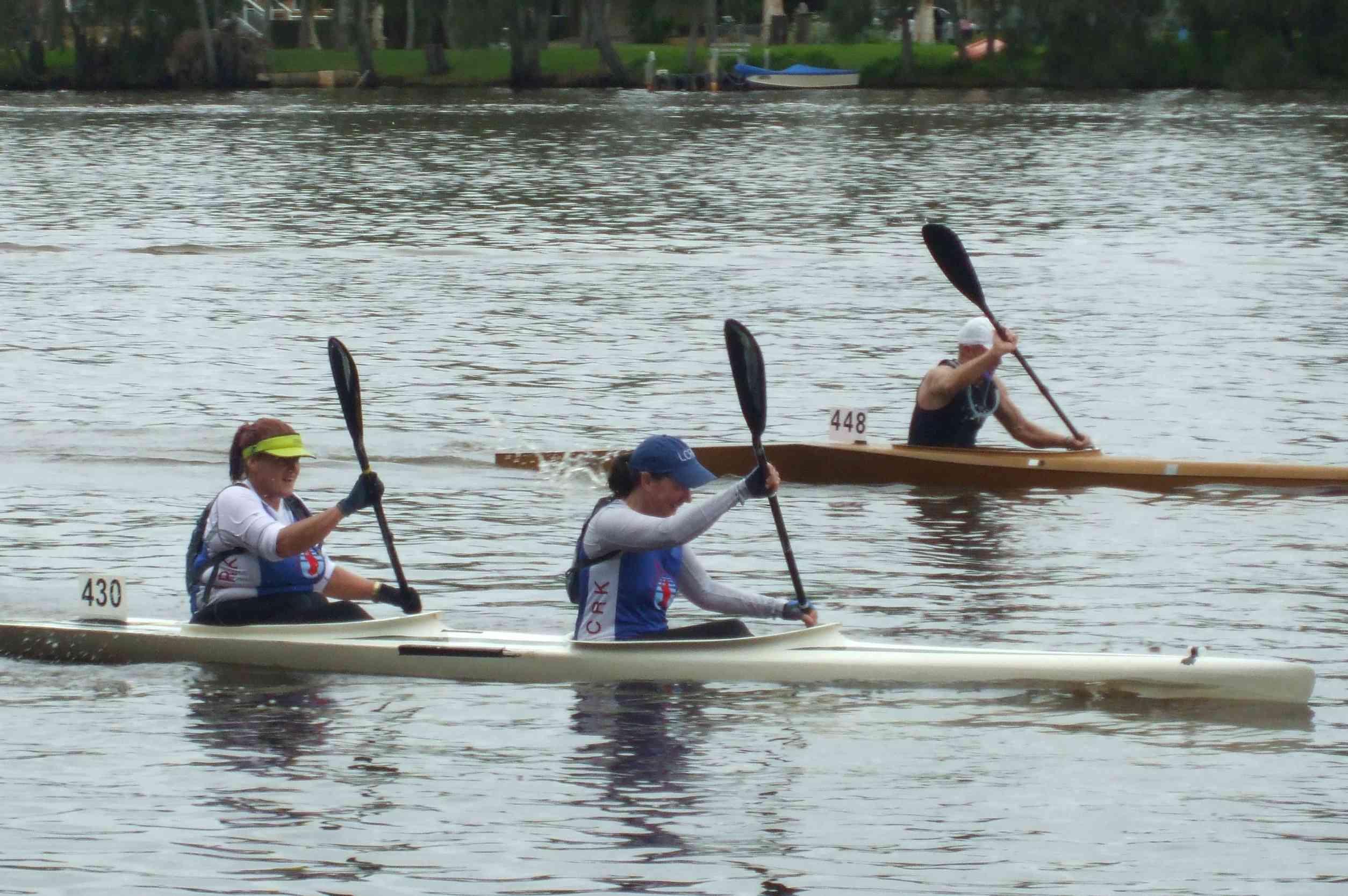 Ruby & Angie powering to inaugural win in Div 5
Despite the effects of the flu, Ruby Gamble together with Anjie Lees won a nail-biting sprint to the line in Div 4 to secure a creditable win and 8 points in their first official race together. Jeremy Spear who won Div 5 in race 2 found the paddling in Div 4 a little more competitive and finished a creditable 6th, and only just over a minute behind the ladies. A little further down the field was Duncan Johnstone.
Division 5 comprised 6 LCRK boats, nearly half the field and was won by the doubles combination of Ross Fraser and Ken Holmes who improved their time by nearly 7 minutes from the previous week. Another double, David Hammond and Jason Han just missed out on the points finishing 5th, closely followed by Wade Rowston. A little further back were Philip Geddes, Craig Ellis and Tony D'Andreti.
Div 6 also had good Lane Cove representation with 5 paddlers competing in a division where the times are just bizarre. Despite paddling exactly 1 minute below the divisions qualifying time Tim McNamara could only manage a 5th position, nearly 5 minutes behind the leaders. Hopefully the top 4 will get bumped up and Tim will be rewarded for his strong paddling next race. Not far behind Tim were Paul van Koesveld, the double of Don Rowston & Jon Harris, Peter Millard & Derek Simmonds.
We unfortunately did not have any representation in Div 7 (paddling 20km's between 2hrs 10mins to 2hrs 30mins) and I again urge any prospective Marathon 10 paddlers that paddle our 12km time trial in over 67 minutes to give this division a go.
The Jeff's… Collins and Tonazzi gave the Div 8 15km a good hit-out with Jeff Collins finishing a very creditable 4th and 2 valuable club points, just 5 seconds off 3rd place. He was closely followed by Jeffrey Tonazzi in 5th position.
Div 9, the 10km sprint was not contested by any brave Lane Covers but Div 10 was represented by doubles combination of Tony Walker and John Greathead; and Oscar Cahill who improved his time by 2 ½ minutes over his ranking time last outing.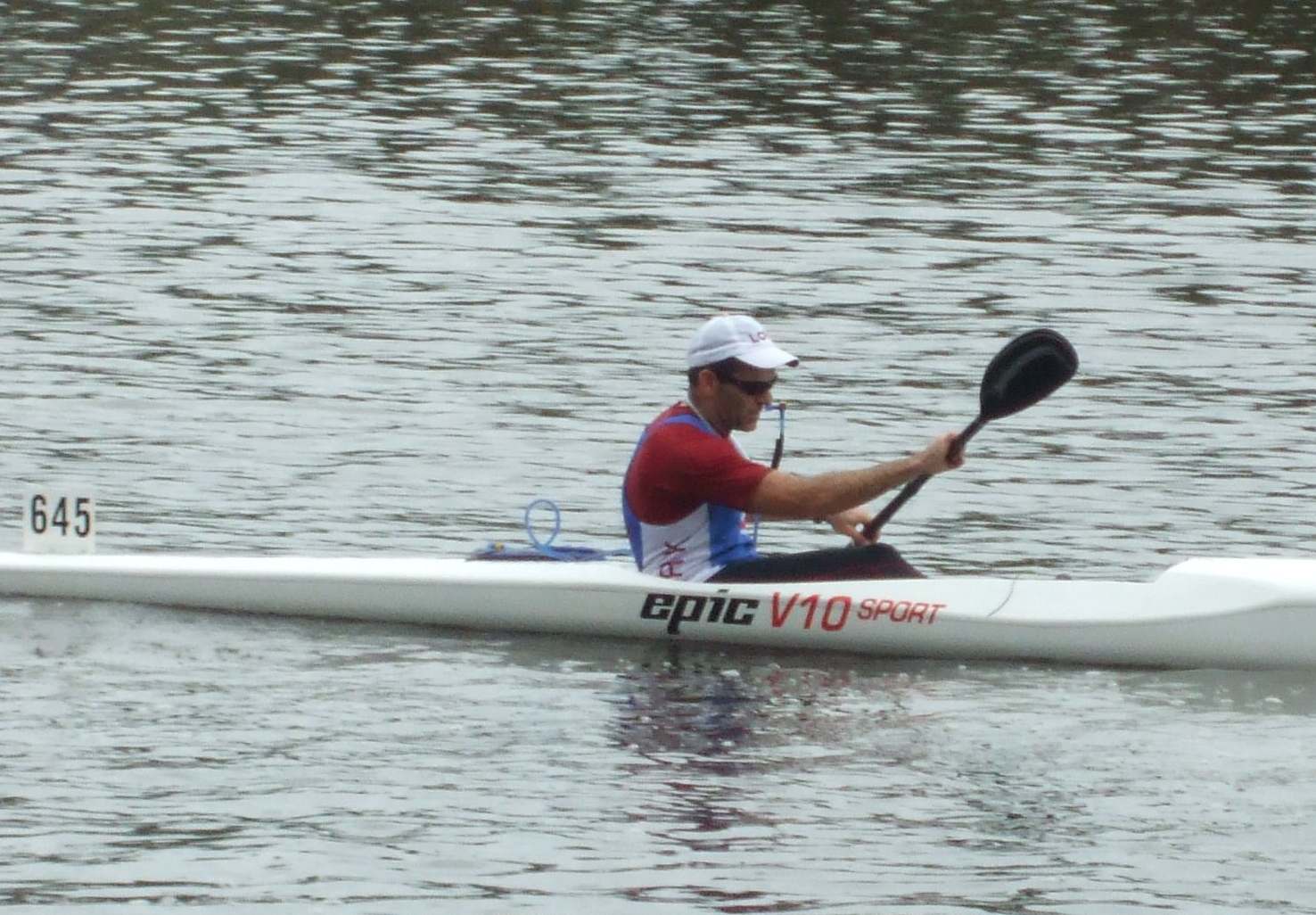 Richard in this ranking race in Div 6
And finally in Div 11 where Ann Lloyd Green held on to earn a fantastic 4th position. She was followed by Tracey Hansford, the ever consistent Justin Paine and Elke Van Ewyk who made a welcome return to marathon 10 racing after a 3 year absence.
It was again pleasing to see 4 new paddlers partaking in the Marathon madness with their ranking race. Father and son pairing of Tim & Oliver Hookins could give the regular Div 4 paddlers a run for their money as could Jeff Beere and Richard Yates who both paddled very competitive races in Div 6 and could well be on the way securing future club points. John Harrison may well be joining them in this division.
---
Round 4, Woronora - Saturday 20 June
Host Club: Sutherland Shire Canoe Club (SSCC)
Location: Burnum Burnum Reserve, Woronora
First Start: 10:00AM

Another very good outing was had by Lane Cove paddlers at Woronora for Race 4. With 32 paddlers paddling in 26 boats (slightly down from the last race) we managed to consolidate our 4th position in the club standing with some outstanding contributions specifically from two of our newly formed doubled combinations. In my pre-race report I mentioned the possible threat from Cronulla Sutherland Kayak Club given that we are on their home turf and only 2 points ahead, well we managed to hold them off and actually increase our lead over them to 6 points.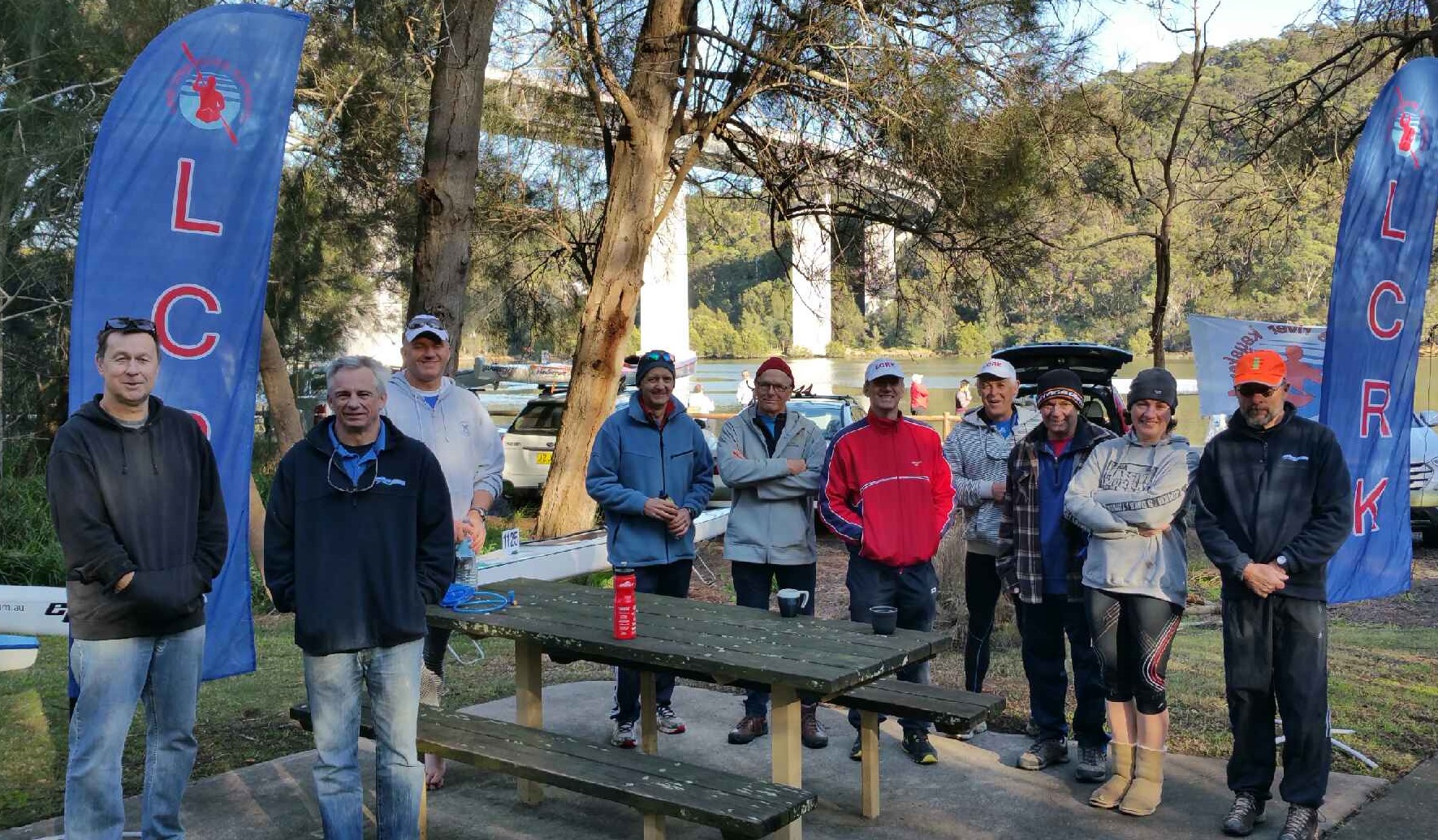 Club members congregating before the start
A perfect day for paddling was presented to us for the new 2 x 10km course. As expected there was bedlam just after the start as craft had to negotiate a narrow channel and circumnavigate an island with overhanding mangroves and shallows. Then the river opened up and paddlers got into their rhythm, formed their respective groups and proceeded up to the 5km turning markers. It was not all smooth sailing as we weaved our way up river with numerous shallow spots slowing down those unfamiliar with the channels... definitely home ground advantage helped the shire paddlers.
We have no representation in the Open Division but Glen Orchard in his first race in division 1 following his promotion had a blinder and secured third place. Despite a cooling off swim, Tony Hystek paddling in division 2 achieved a commendable 8th place in a very tough division.
David Young continued his run of third placing's in division 3 with a frenetic and very close sprint finish. Not far behind was the new doubles combination of Duncan Johnstone and Matt Swann in their ranking race and will be a force to be reckoned with soon. Tom Simmat came in a creditable 10th.
We had some amazing 1st & 2nd place performances in both division 4 and 5 with the ever improving doubles combination of Anjie Lees and Ruby Gamble taking the win in div 4 followed by Jeremy Spear in 2nd; and David Hammond and Jason Han victorious in div 5 with Craig Ellis hot on their heels in second. Ross Fraser and Ken Holmes had their first race in div 4 after being promoted and managed in a credible 8th position, just over a minute behind the our leading ladies, with Robert Manning a bit further behind. The ongoing ding-dong battle between John Duffy and Wade Rowston continued with John just nudging out Wade to take 4th place in div 5 by 1 second.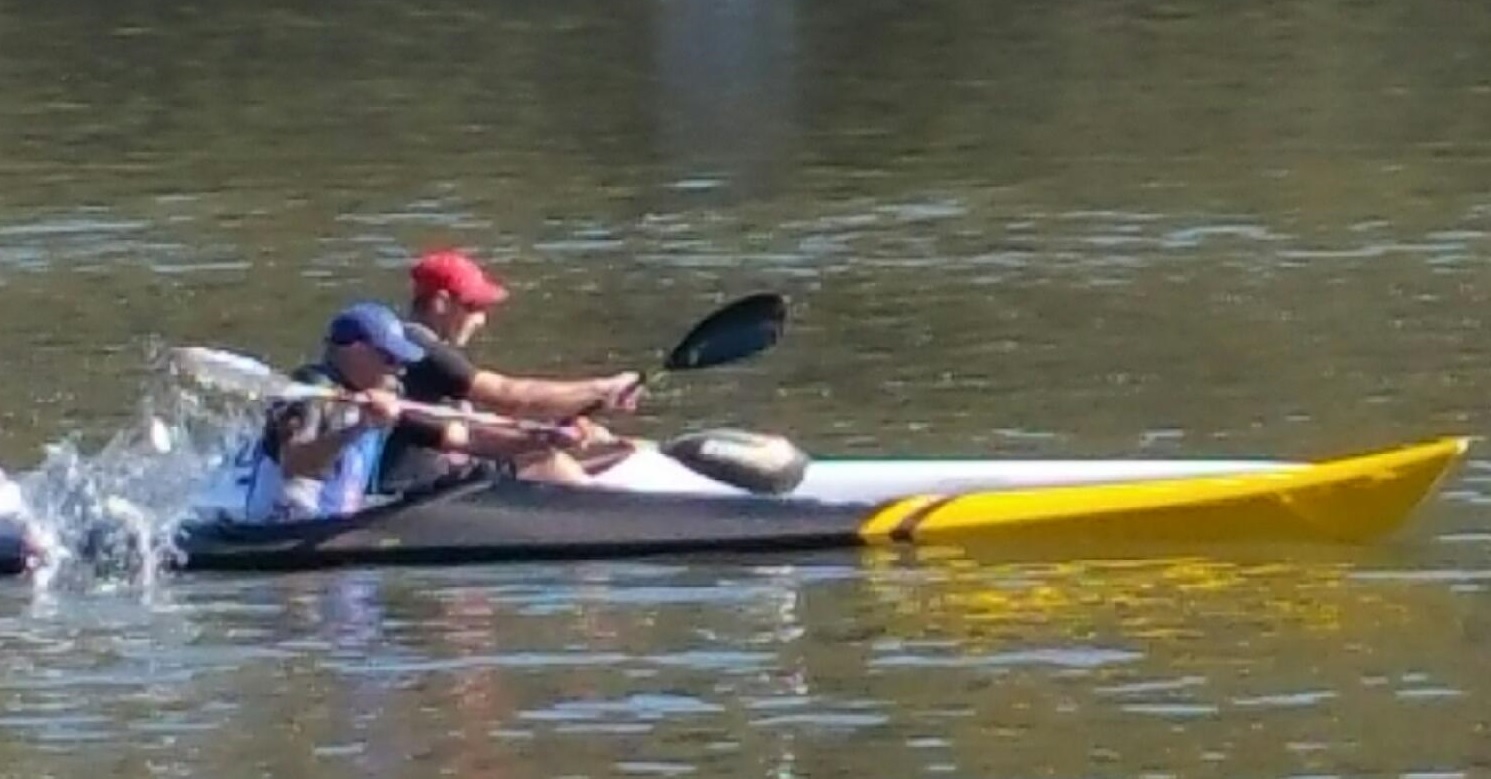 Jeremy just holding on for 2nd in a very close finish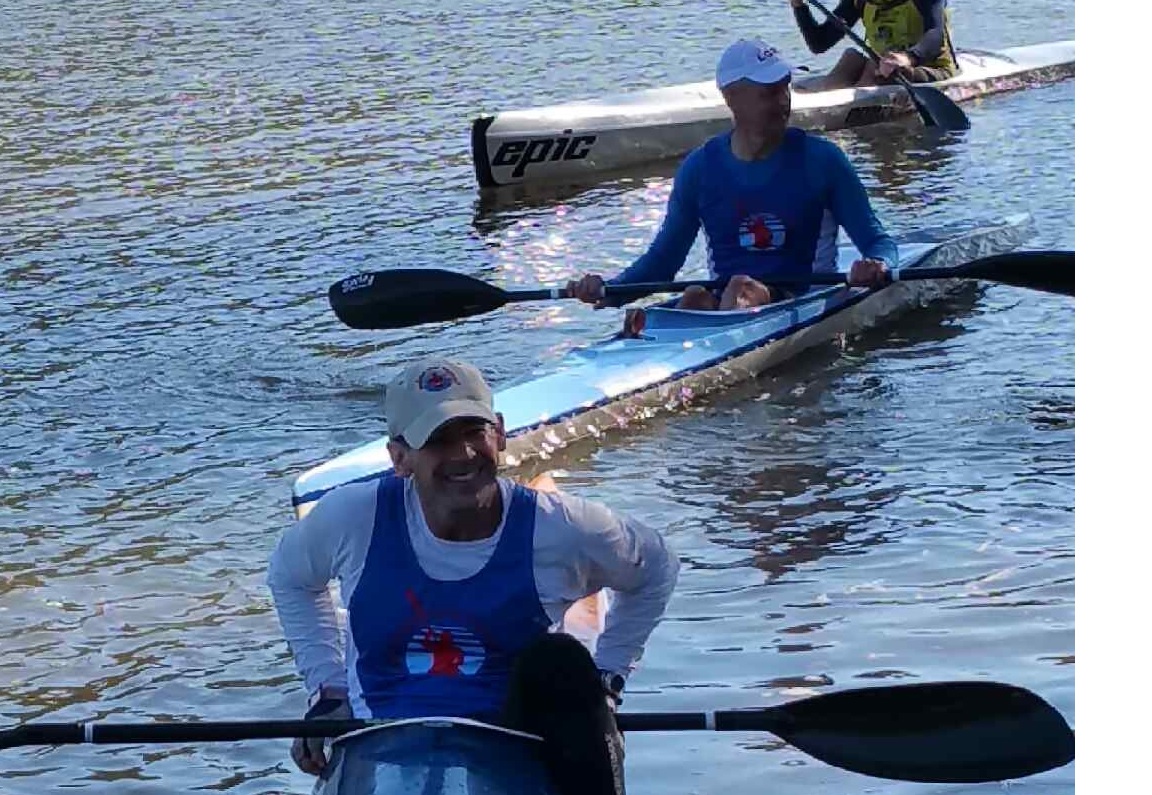 Winners are grinners..John after piping Wade


Tim McNamara finally secured a well-deserved second placing in div 6 beating his previous time by over 2 minutes. As a result of this great performance it looks like Tim will be in div 5 next race. Nevertheless, Richard Yates looks like stepping into Tim's shoes with a great 4th place in his first official marathon 10 outing. Other notable paddlers lining up for div 6 honours are Paul van Koesveld (10th), doubles combination of Don Rowston & Jon Harris (11th), and Rozanne Green now that she is back from her extended holiday…
Meg Thornton was our lone representative in division 7 and only just missed out on the points coming in 5th. The 15km division 8 event seems to becoming a tactical battle ground with gun paddlers now entering this division in the quest for club and personal points. Despite improving their times considerable since their last outing Tim Hookins and Jeffrey Tonazzi fell down in the placing's to finish 10th and 11th respectively.
While division 10 had a large contingent of 21 boats we were represented by the lone pairing of Tony Walker and John Greathead who carried the flag with a respectable 12th position. Equally impressive were the number of boats in division 11, with 32 starters with three LC paddlers; Oscar Cahill in 8th, Tracy Hansford in 16th and Ian Wrenford in 19th.
---
Round 5, Penrith - Saturday 4 July
Race Information and Entries:http://www.paddlensw.org.au/event/2015-marathon-10-series-race-5-4th-july-penrith-pvc-945
Host Club: Penrith Valley Canoeing (PVC)
Location: Nepean River, Penrith
First Start: 10:00AM

Mad, Mad, Mad!! That's what people are calling the 28 Lane Cover Marathon Paddlers, and for that matter all the others who ventured out to Penrith and endured a very chilly 1C morning. And you know it is cold when Richard Barnes rocks up wearing a fleece top over his tee shirt, albeit he still had shorts and flip-flops on! Thankfully with clear skies the sun gradually warned up the air and with a still morning racing commenced with the temperature at a mere 7C (for those non-marathon paddlers who paddled the last two weeks' time trial… the temperature was 7C when we finished) .
But the cold did not deter our LC paddlers who nearly created history by being victorious in all the divisions where we had representation. Brilliant performances resulted in wins in Div3, 4, 5 & 7 and in some cases achieved 1st and second or third placings; and it was these results that propelled us up the club points ladder to be in third place on 118 points.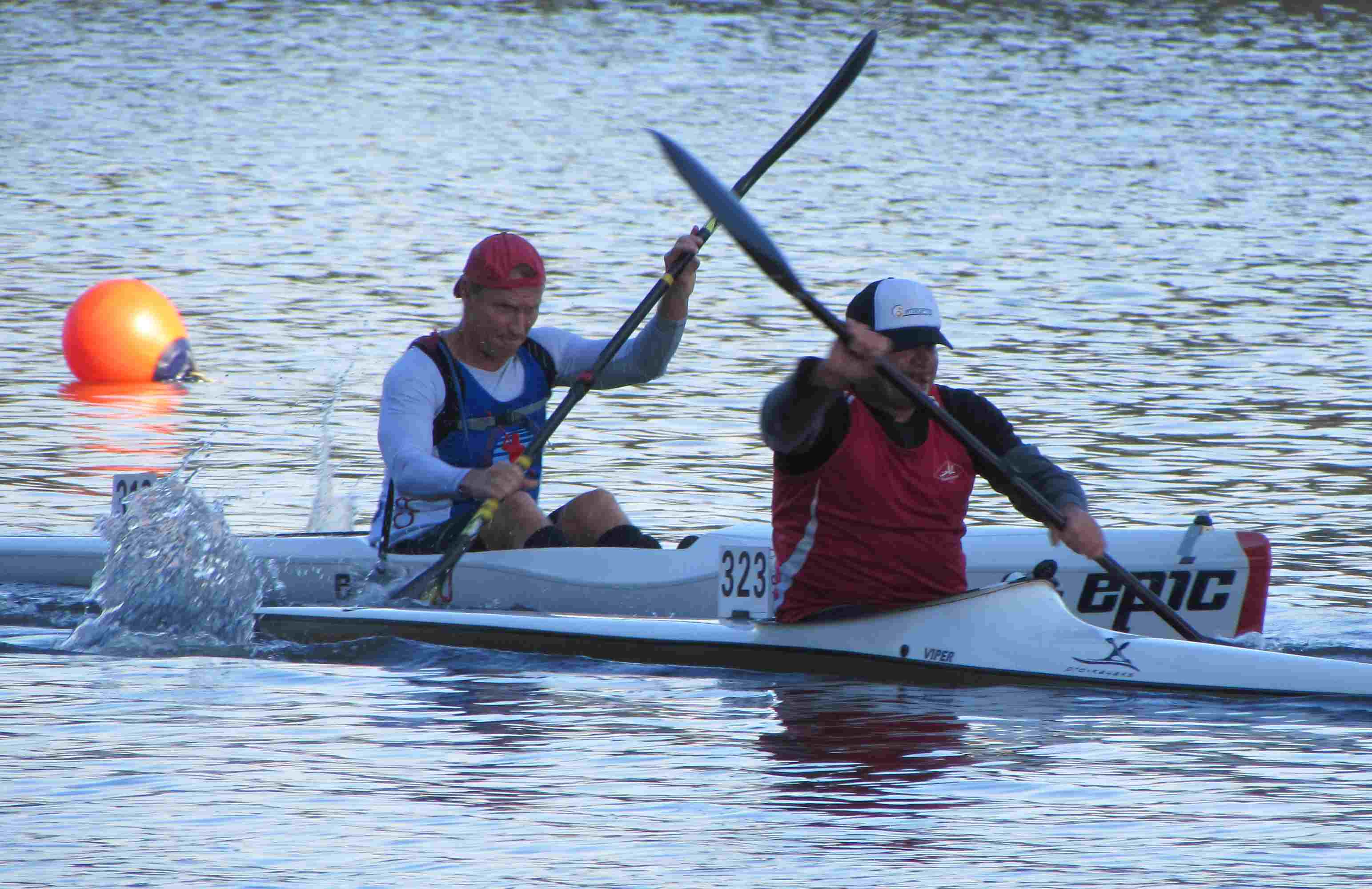 David paddling to his win in Div 3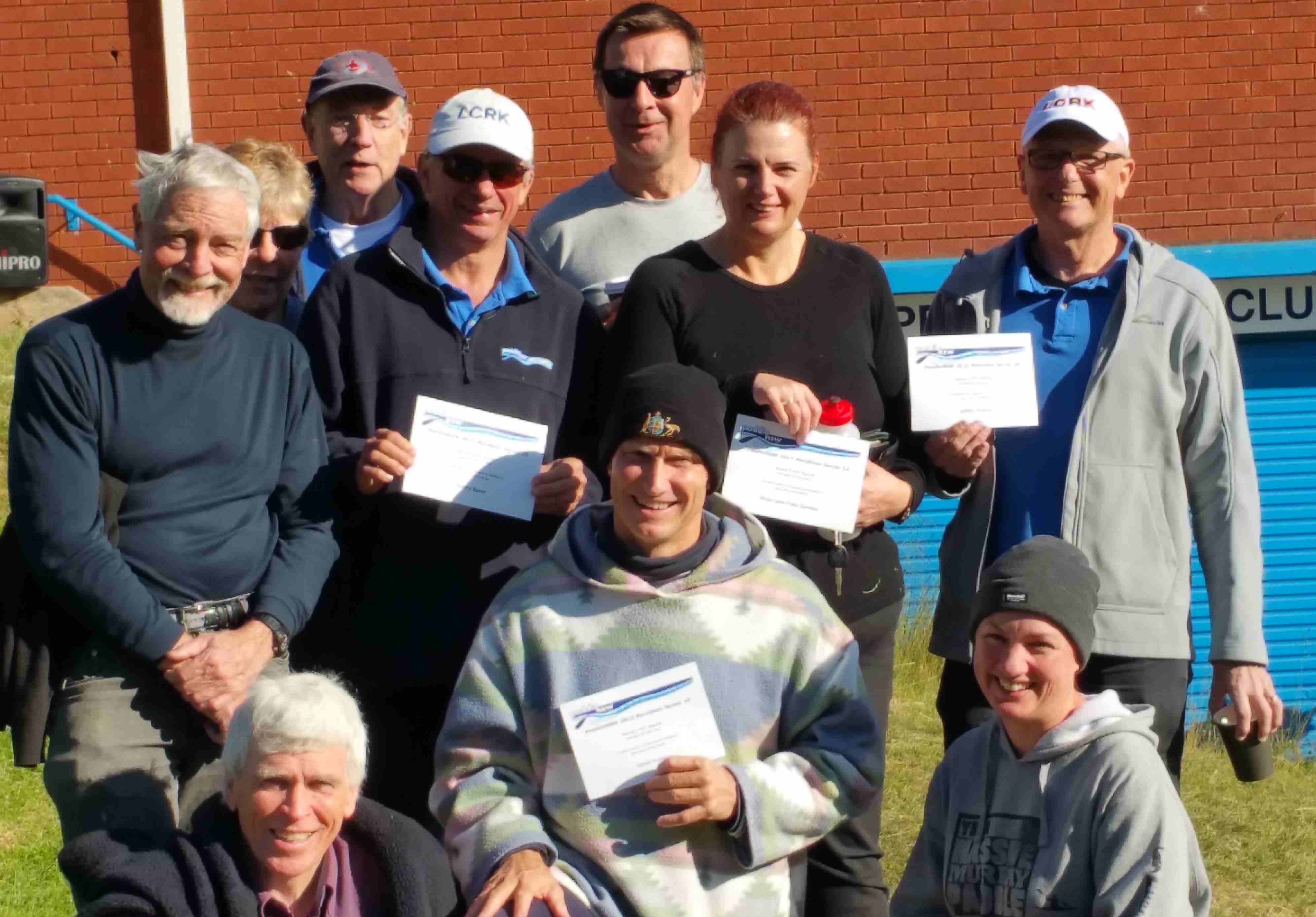 Another successful outing by Lane Cove paddlers


We had no representation in the opens, division 1 or division 2 but will take some credit for the excellent victory by regular time-trial double pairing of Suzie Rhydderch and Gene Burns (MWKC) in Div2. David Young finally broke his string of 3rd placings in division 3 with a first place, closely followed by a Lane Cove Phantom paddler.. Justin Ryan. Unbeknown to David until last week, Justin has been paddling the series on and off for 2 years and finally they combined to produce a brilliant 1 / 2 finish. Tom Simmat had an excellent start and stayed with the leading group for the first part of the race to finished in 10th place.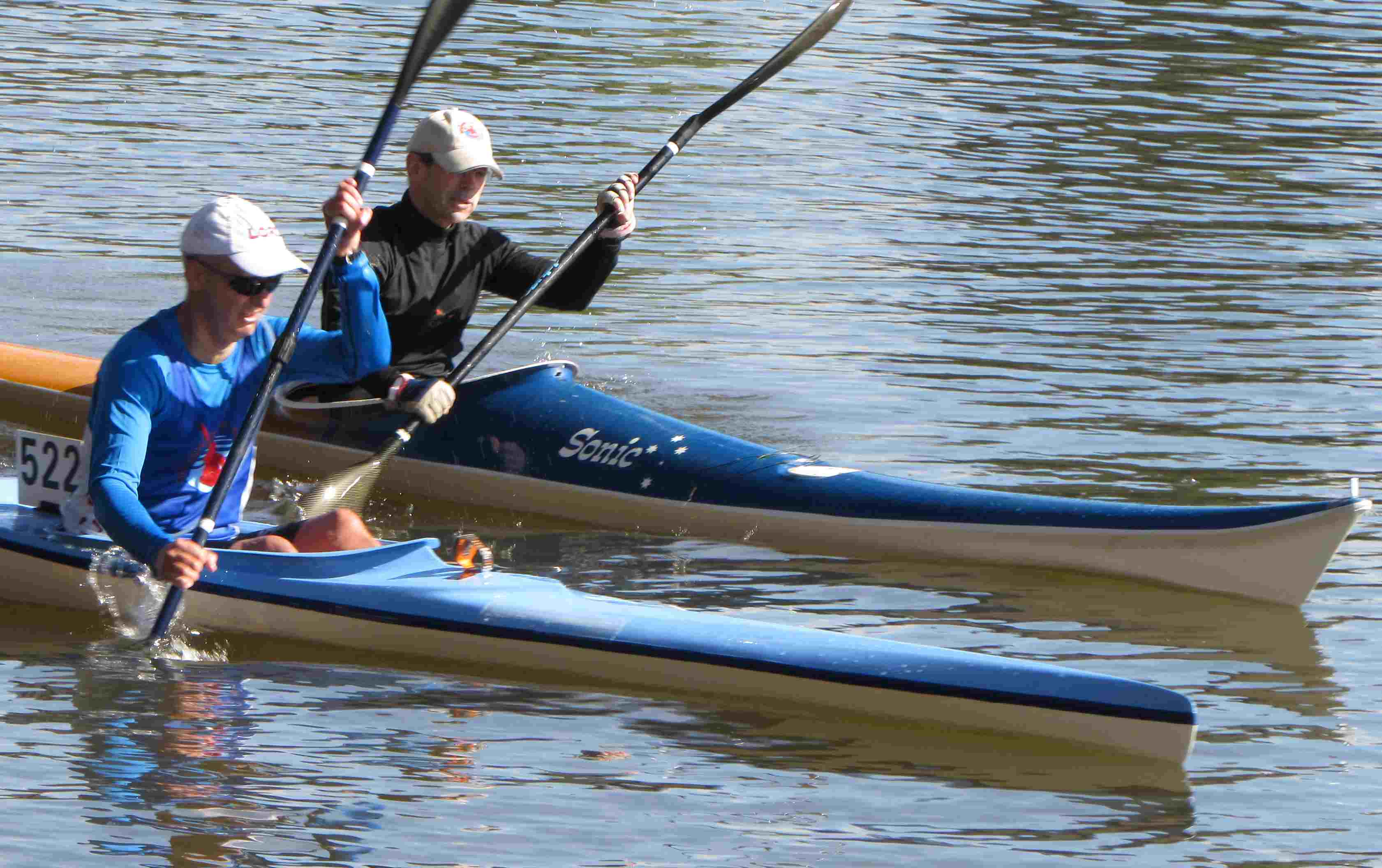 Sweet revenge.. Wade narrowly holding off John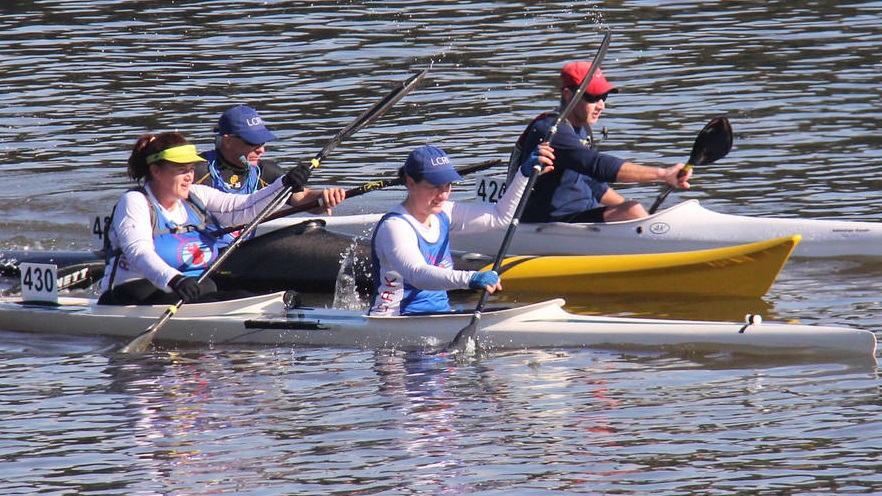 Tight battle in Div 4. Anjie & Ruby with Jeremy


Our stalwart ladies pairing of Anjie Lees and Ruby Gamble again romped home with a nail-biting win in division 4 with an ever improving time that will unfortunately now move them up a division. Jeremy Spear paddled a respectable 3rd and the responsibility for club points in this division now falls on his shoulders. Our strength in division 5 again shone with doubles pairing of David Hammond and Jason Han taking out line honours closely followed Craig Ellis in second. The ding-dong battle between John Duffy and Wade Rowston again materialised but this time it was Wade who powered home (or did John slack off !) to gain some revenge finishing 6th and 7th respectively. Tim McNamara who was promoted to division 5 after his brilliant paddle last outing (he started this race in division 6 due to a numbering error) finished a credible 9th with Phillip Geddes in 14th position. Another dark horse emerged from this division with regular LC paddler Tony D'Andreti teaming up with an outrigger specialist Brad Hughes to paddle their ranking race in a phenomenal time that would put then in contention for division 3 honours. Persuasion is required for get them to paddle under the LCRK banner rather than ACCA.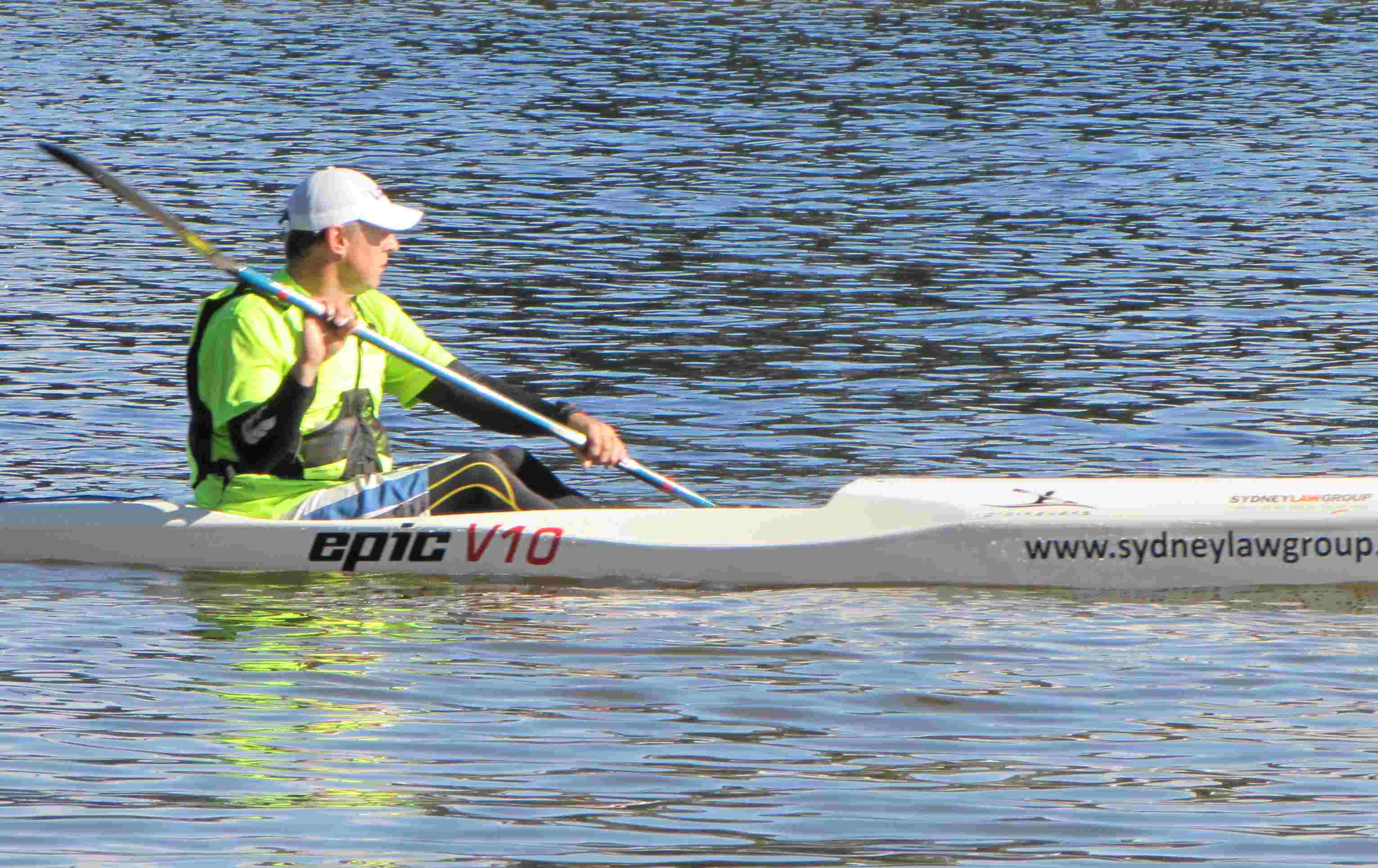 Ever so casual Jeff on his way to victory in Div 7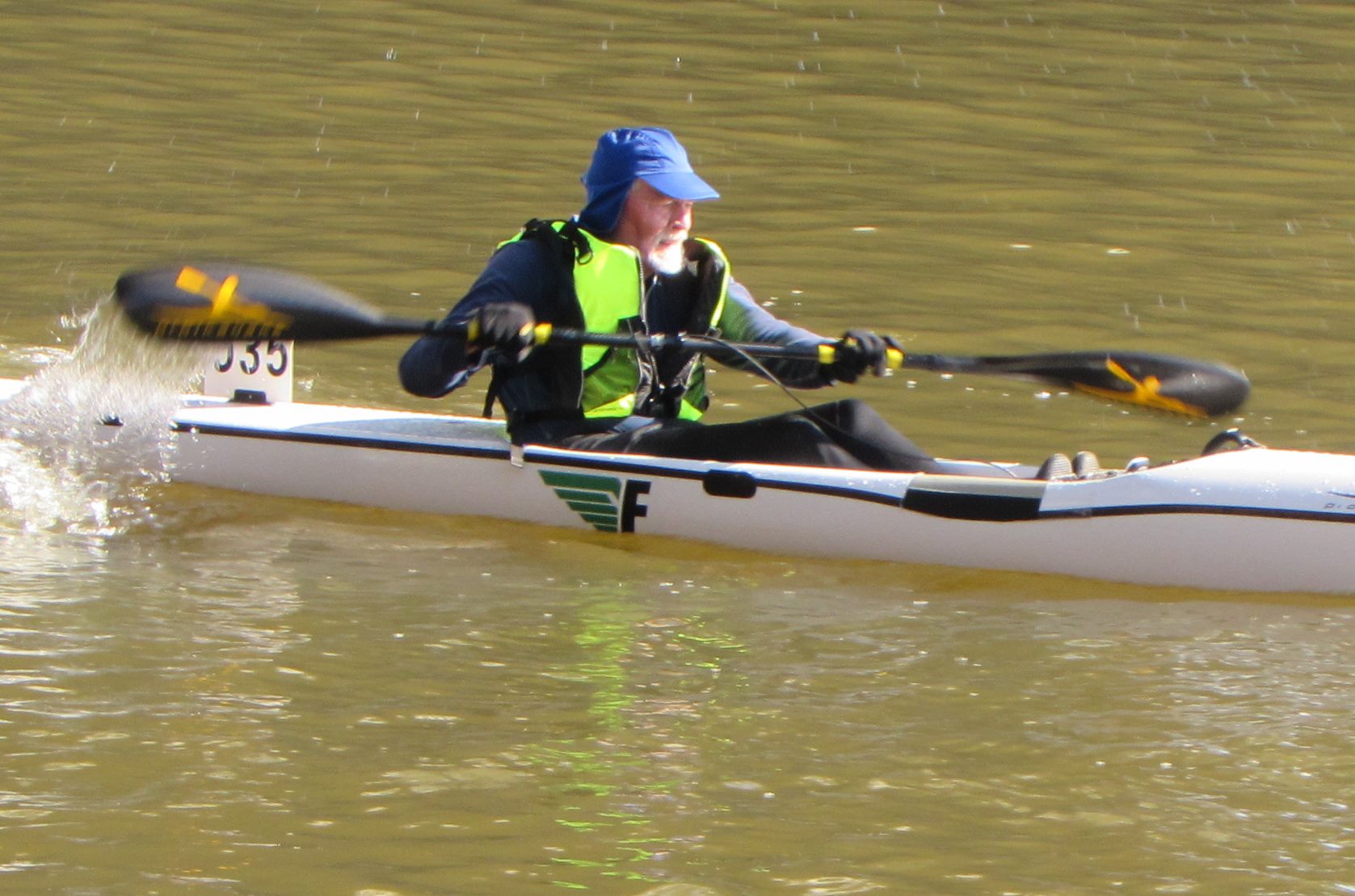 Phillip paddling to a creditable 14th in Div 5


With our once strength in division 6 now being diminished by our ever improving paddlers being promoted to division 5, it was left to Richard Yates - 11th, Paul van Koesveld – 12th and Rozanne Green – 14th to fly the LC flag in this division. Hopefully Richard who achieved a personal milestone in not falling while paddling a borrowed Vajda will master this craft and see his times improve dramatically. Jeff Tonazzi blitzed division 7 to earn the club 8 valuable points with a time that will see him move up to division 6. Another call for those LC paddlers doing the time trial in +/- 70 minutes to join the mad, mad, mad marathon paddlers in div 6 & 7.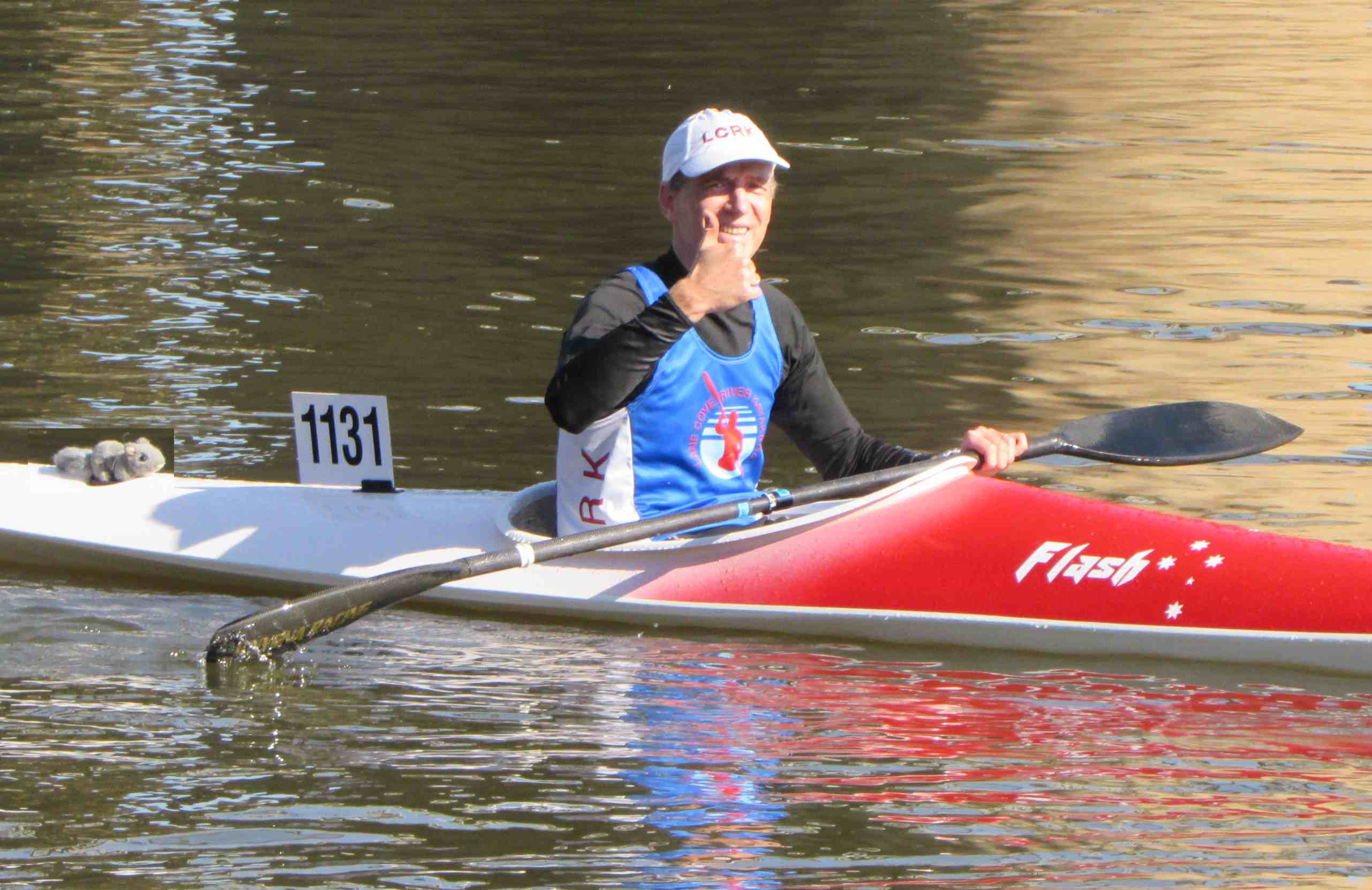 Thumbs up from Oscar after his 4th place in Div 11
In the 10km division 9 Tim Binns completed his ranking race with a credible 2nd position so should be in the running for club points next outing. Division 10 is also proving a tough playground for the club with doubles pairing of Tony Walker / John Greathead and grandfather/son pairing of Don/Harry Rowston finishing 2 seconds apart in 10th and 11th positions respectively. Joh Harris was a little further back in 13th. In only his fourth race since joining the marathon series the ever improving Oscar Cahill paddled an outstanding race to secure 4th place in division 11 and 2 valuable club points. Tracy Hansford and Ian Wrenford paddled consistently to finish 13th and 19th respectively in the same division.
In division 12 Ian Wrenford's son Lachie paddled his sea kayak around (literally - nearly in circles) the 5km course in his first race. A move up to a faster club boat (with a rudder) will see a much fast time being rewarded with personal and club points.
Finally congratulations to Marathon Series paddler Darren Lee (CSKC) who took out 1st place in K1 50-54 age group at the European Cup Masters held in Slovenia. It certainly reflects favourably on the very high quality of paddling here in NSW.
---
Round 6, Narrabeen - Sunday 26 July
Host Club: Manly Warringah Kayak Club (MWKC)
Location: Berry Reserve, Pittwater Road,Narrabeen
First Start: 10:00AM
PNSW Photos
LCRK Photos

In the paddling world, "club" size does not matter; it's the spirit within the club that matters. One would have expected that the sight of the massive Manly Warringah club house accommodating hundreds of boats would deter any other club for even attempting to challenge MWKC for podium finishes at their home ground, but it did not deter Lane Cove. Out of the 34 LCRK boats (39 paddlers) that raced, 11 boats (32%) attained podium finishes (1st, 2nd, 3rd or 4th placings), that included 4 divisional wins and 3 second places.... in total 52 club points were earned. This great effort consolidated our 3rd position in the club standings, 36 points behind 2nd place MWKC and more importantly now 50 points ahead of Hunter Valley.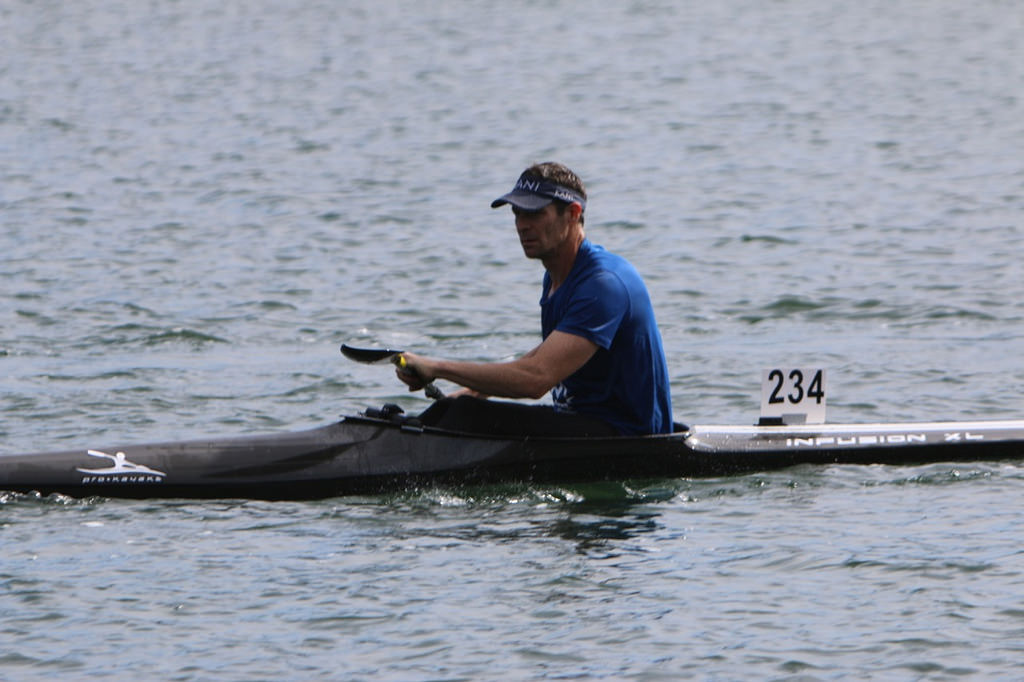 Andrew having asserted his dominance in Div 2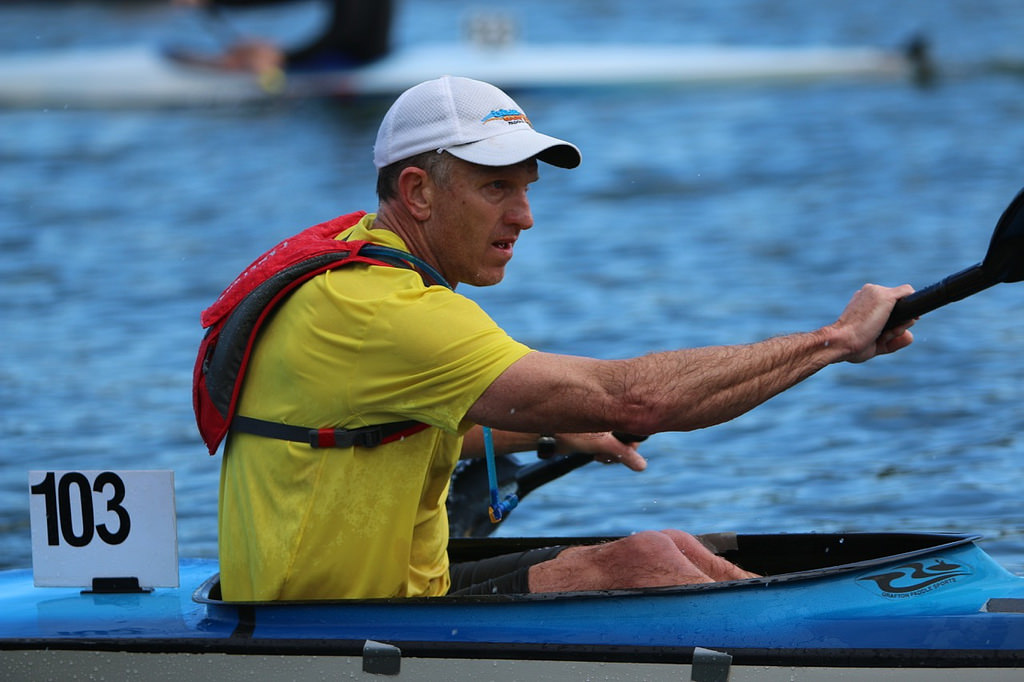 Glen's tactical paddle rewarded with a win in Open Div


On a beautiful Winters morning our charge was led by Glen Orchard in the Open Division (25km) whose tactical decision to paddle up a division (from his recently promoted Division 1) paid of handsomely with a fantastic win that will now surely puts him in the running for most improved paddler. It was in Division 1 (20km) where Manly Warringah strength and numbers were most evident fielding 8 of the 10 paddlers. In the midst of the MWKC armada Toby Hogbin achieved a very creditable 4th, not too far off the time of familiar rivals Matt Blundell & Kieran Babich. Andrew Lowe in his second race (first qualifying race after his ranking race in Race 4) halted the winning run of double pairing of Suzie Rhydderch and Gene Burns (MWKC) to record a fantastic win in Div 2. This was followed up by another good win by David Young in Div 3, again closely followed by Justin Ryan who unfortunately was piped at the post in a 3-way sprint finish to be placed 4th. Doubles pairing of Anjie Lees & Ruby Gamble, recently promoted to Div 3 found the going a little tough but finished a creditable 9th, with Tom Simmat hot on their heels.
The responsibility assigned to Jeremy Spear to take charge in Div 4 did not materialise as he bravely paddled to 5th place... a temporary lapse we hope given his time was nearly 4 minutes slower than his previous outing. He was closely followed by Ross Fraser / Ken Holmes (10th) with newly promoted pairing of David Hammond / Jason Han (14th) also finding this a little challenging in their new division.
Division 5 is fast becoming the Lane Cove challenge cup with 6 of the 10 paddlers vying for honors. John Duffy paddled an excellent race for finish second, closely followed by Tim McNamara in 3rd , in his second official Div 5 race... great paddle. Wade Rowston managed a creditable 5th, closely followed by Tony D'Andreti, Phillip Geddes & Tim Hookins in 7th, 8th and 9th respectively.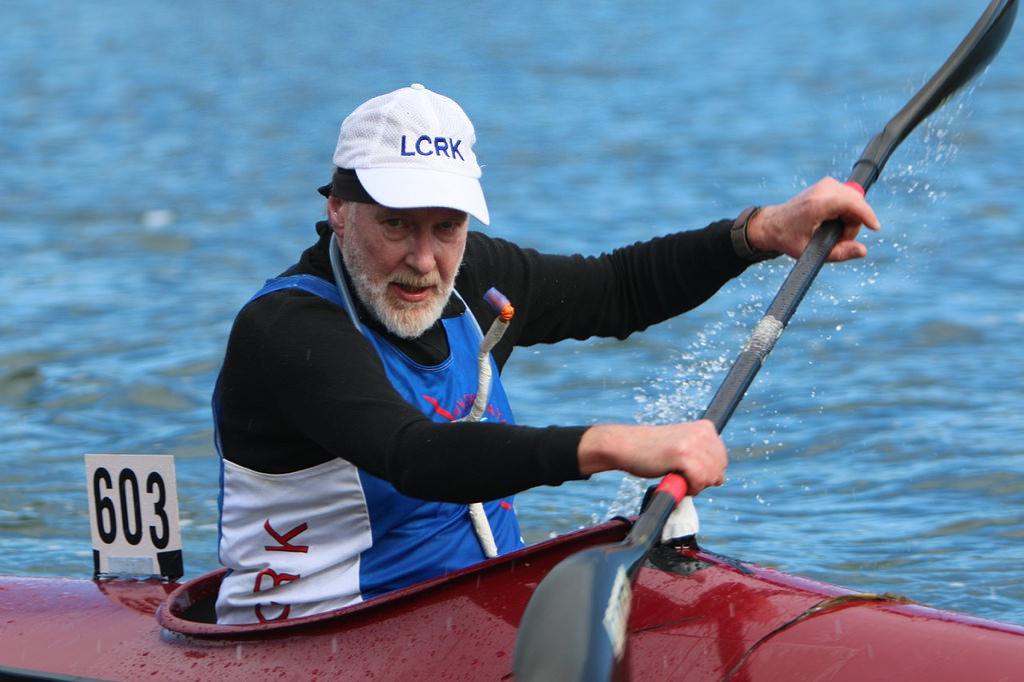 Derek leading home Peter and Paul in Div 6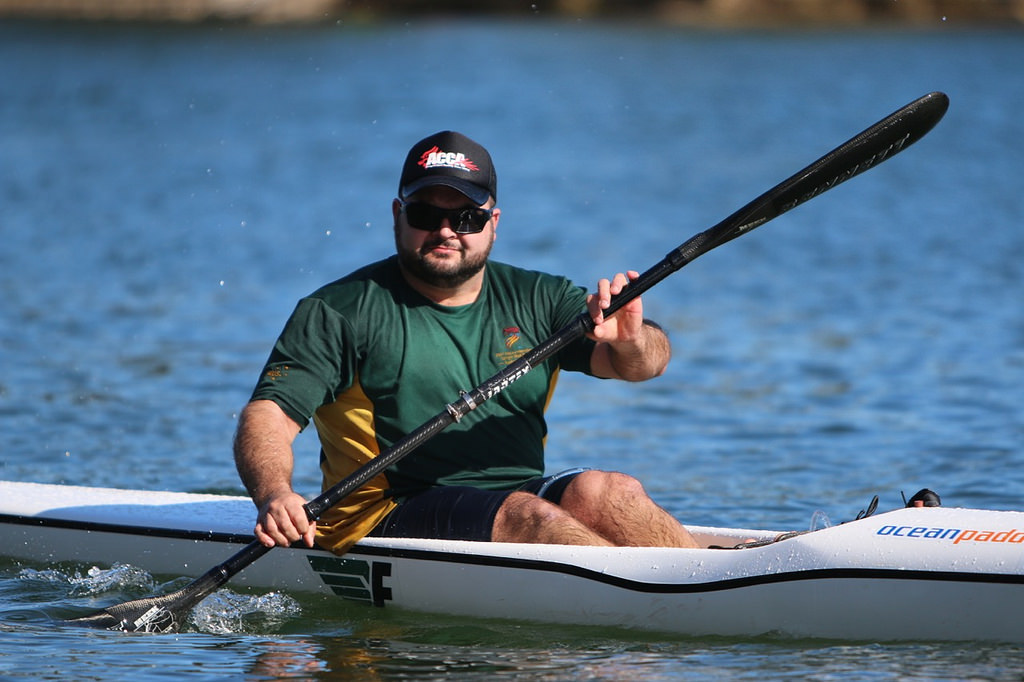 Tony powering to a 7th place in Div 5


Following his promotion to Div 6, Jeffrey Tonazzi managed a very respectable 7th, closely followed by the ever improving Richard Yates in 9th, and Derek Simmonds, Peter Millard & Paul van Koesveld in 11th, 12th and 13th. Rozanne Green's recent demotion to Div 7 was particularly short lived as she blitzed the field by well over 8 minutes for an emphatic victory; consequently she is again back in Div 6. Attention... We are looking for up & coming paddlers for Division 7 as we now have no representation in this division.
In the 15km Division 8 saw grandfather / son pairing of Don & Harry Rowston paddle to 8th position, and pairing of Tony Walker & John Greathead to 17th in Div 10. In Div 11, the ever improving Oscar Cahill bettered his previous 4th placing with a fantastic 2nd position only 21 seconds behind the winner... next race Oscar! He was followed by Jonathan Harris (6th), Tracey Hansford (14th) and Ian Wrenford (22nd).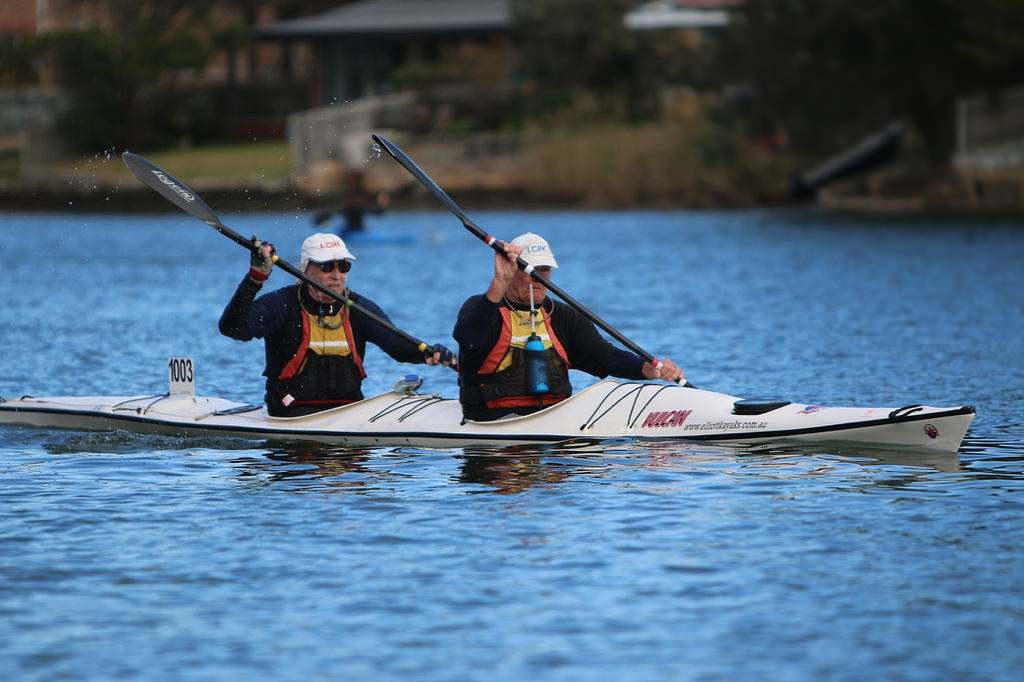 Tony Walker and partner John Greathead in Div 10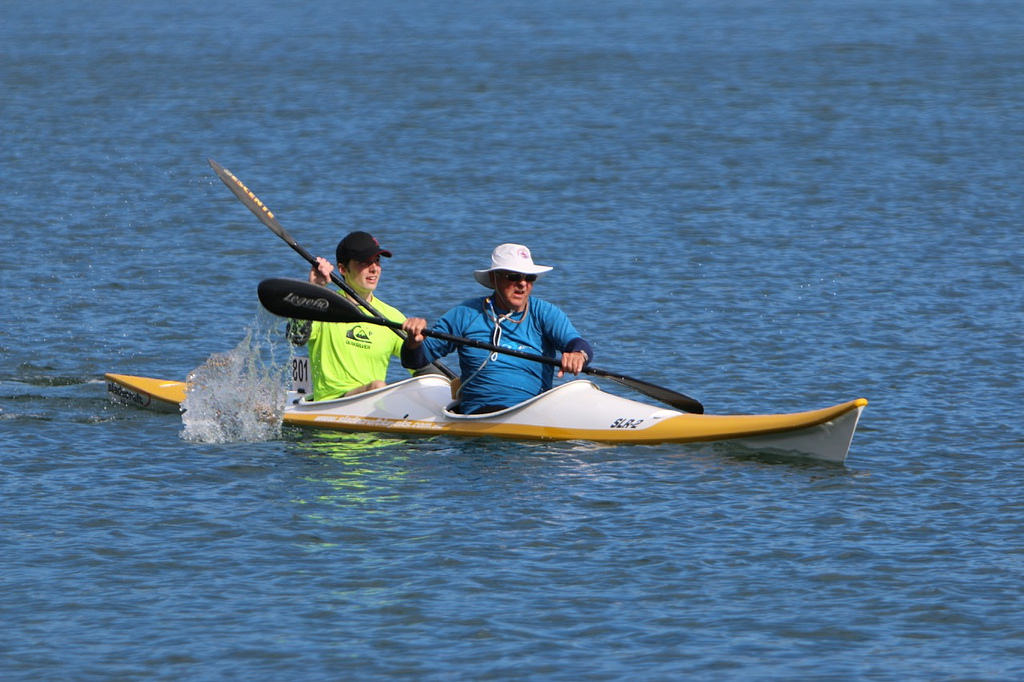 Grandfather/Son pairing of Don & Harry Rowston in Div 8


In the 5km division 12 Tim Binns in his first official race just missed out on a maiden victory finishing second, a mere 12 seconds behind the winner. Lachlan Wrenford (now paddling a craft with a rudder) smashed his previous time by over 13 minutes to finish 4th... and within 1 minute of the winner... an opportunity begging for a victory next race. Don Johnstone completed his ranking race in this division and Christine Simmat (Tom's better half) paddling in a double made a valiant effort with her ranking race.
---
Round 7, Grays Point- Saturday 15 August
Host Club: Cronulla Sutherland Kayak Club (CSKC)
Location: Swallow Rock Reserve, Grays Point
First Start: 10:00AM

Either there was a wicked party on the Saturday night before Race 7 at Sutherland that most Lane Cove paddlers were invited to but I was not, or there was a power failure in the Lane Cove area and the alarm clocks failed to ring … why you may ask?…. because the number of Lane Cove paddlers participating was our lowest turnout for this series this year. Nevertheless, in tough and slow conditions the devoted army of 24 paddlers in 22 boats withstood the onslaught from the shire clubs to gamely hold on to our third position in the club points. It was not from the lack of trying, but no one managed to gain a divisional win. We did however achieve 2 second placings thanks to Tom Simmat and Tim Binns. This was supplemented by third placings for David Young, John Duffy, Oscar Cahill and Tracey Hansford. These podium finishes secured our third position, interesting enough reducing the margin to second place to only 22 points. However podium finishes a plenty by the local Cronulla Sutherland club saw them leap frog Hunter Valley into fourth place, just 32 points behind us.
Lane Cove had no representation in both the Open and Division 1, while in Div 2 Tony Hystek still recovering from the flu gallantly flew the flag for us, while acting as the local water safety officer for those with an affinity for a biathlon. David Young continued his run of podium finishes in Div 3 just being piped to third in a very close sprint finish. Not far behind were the ladies pairing of Anjie Lees and Ruby Gamble finishing 8th.
Tom Simmat settled quickly into his new division 4 with a fantastic 2nd place, also just being piped to the line in a sprint finish. He was closed followed by Jeremy Spear in 6th, barely 30 seconds behind. In Div 5 John Duffy followed up on his previous race success with a hard fought 3 place, unfortunately on the losing end of another sprint finish… maybe we all need to participate in the Sprint Series to develop our sprint skills. He was following by a group of LC paddlers comprising Wade Rowston, Warwick Sherwood and Tim Hookins finishing in 5th, 6th and 7th respectively. Division 6 was well represented by doubles pairing of Don Rowston / Jon Harris finishing in 7th, Derek Simmonds in 10th, Rozanne Green 13th and Paul van Koesveld in 16th. Also in recovery mode Tim McNamara elected to paddle 15km and achieved a creditable 8th in Div 8.
No one elected to paddle in division 9 or 10 but in Div 11 Oscar Cahill recorded his third consecutive podium finish with a fantastic 3rd place. In his first official race Don Johnstone achieved a commendable 15th position and will no doubt soon be pressing Oscar for those club points. Our best turnout and success was achieved in division 12 where Tim Binns recorded a great 2nd place, his second in a row; followed by Tracey Hansford in 3rd for her inaugural podium finish; John Greathead in 4th, with Ian Wrenford in 6th just holding off his son Lachlan in 8th position.
---
Round 8, Lane Cove (LCRK) - Sunday 30 August
Host Club: Lane Cove River Kayakers
Location: Rotary Park, Lane Cove
First Start: 10:00AM
* LCRK photos
* LCRK Marathon Video from K2
* Paddle NSW photos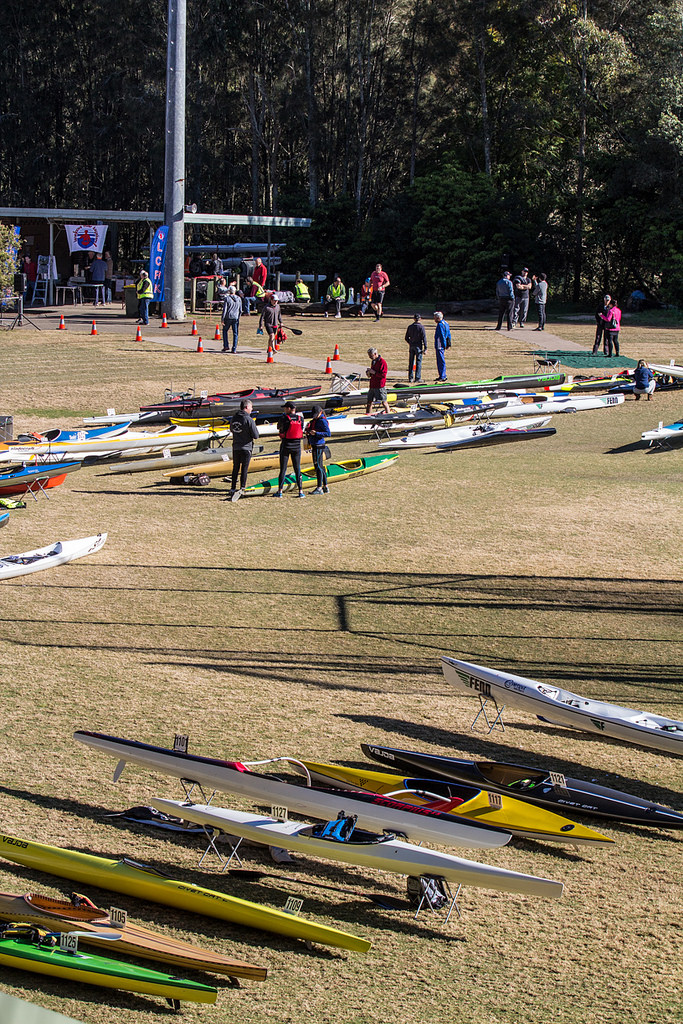 Athletics track as our Kayak pound


Now that the euphoria of our marathon has died down it is time to reflect of how well we as a club went. Despite the number of overall entrants being lower than previous years, hopefully attributed to the change of venue and date, the organising committee lead by Phil put on an extremely well organised and successful event.. Congratulations all involved.
With so many members helping out on both the water and on land, only 20 LCRK paddlers in 18 boats registered for the event. Thoughts of a disastrous outcome in the club points race were thankfully unwarranted as we again put on another tremendous performance cheered on by the "unbiased" locals in the safety boats. By the slow times recorded in all divisions it was evident that the course was not only longer than 10/15/20km's, but the conditions tougher than expected.
We had no representation in the Opens and Division 1, but our lone representative in Div 2, Andrew Love continued his unbeaten run with a great victory edging out regulars Suzie Rhydderick and Gene Burns. Justin "Phantom" Ryan paddled a fantastic race to deservedly win for the first time in division 3 with David Young gaining third place. Our ladies pairing of Anjie Lees and Ruby Gamble found the going tough and finished a creditable 8th.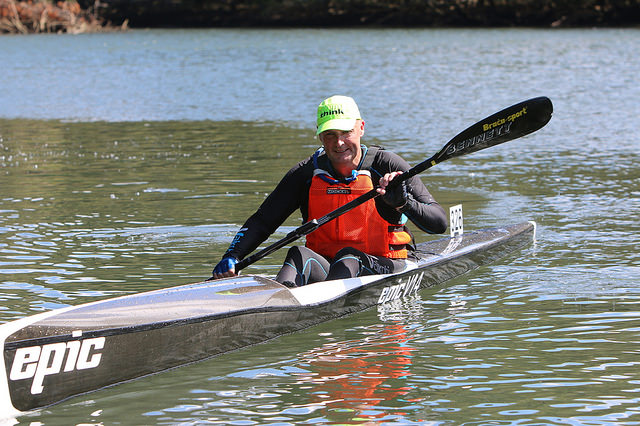 All is revealed.. The Phanton - Justin wins Div 3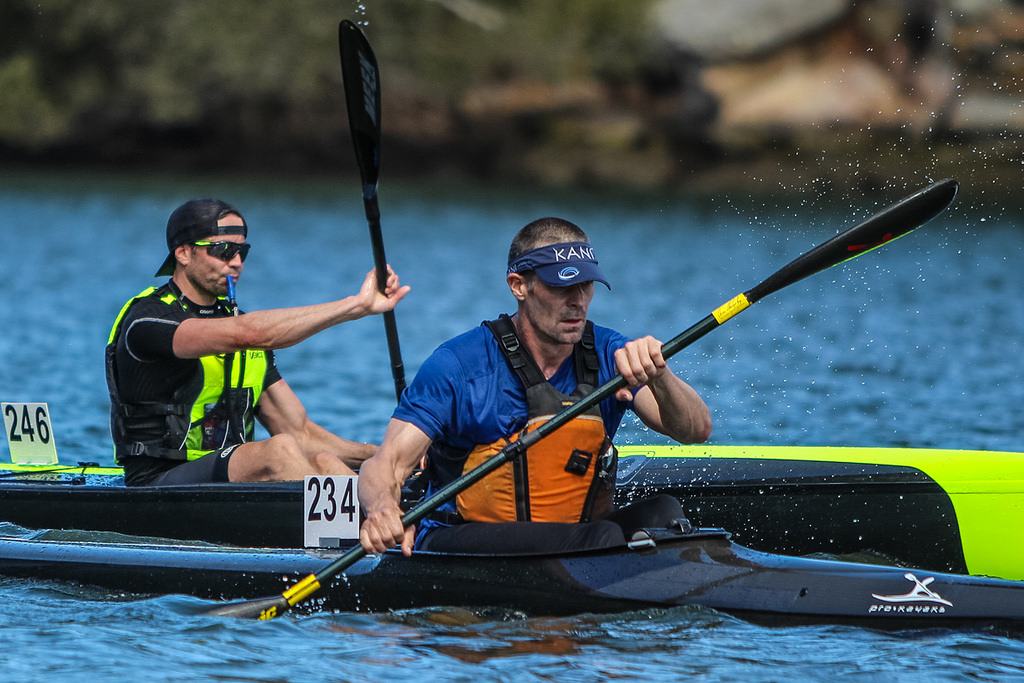 Another dominant performance by Andrew in Div 2


Lane Cove were extremely close in achieving a Quaddie of wins but missed out by a whisker. Our sexagenarian Tom Simmat just got piped at the line in a sprint finish to take second place in Div 4 and was closely followed by Jeremy Spear in fourth. Lane Cove does not often have a trifecta in a division, let alone two paddlers from the same family in different boats on the podium. The Rowston family did just this with doubles combination of veteran Don Rowston and Jeff Collins teaming up to the surprise of everyone for their inaugural win, followed by John Duffy in second and Don's son Wade Rowston in third.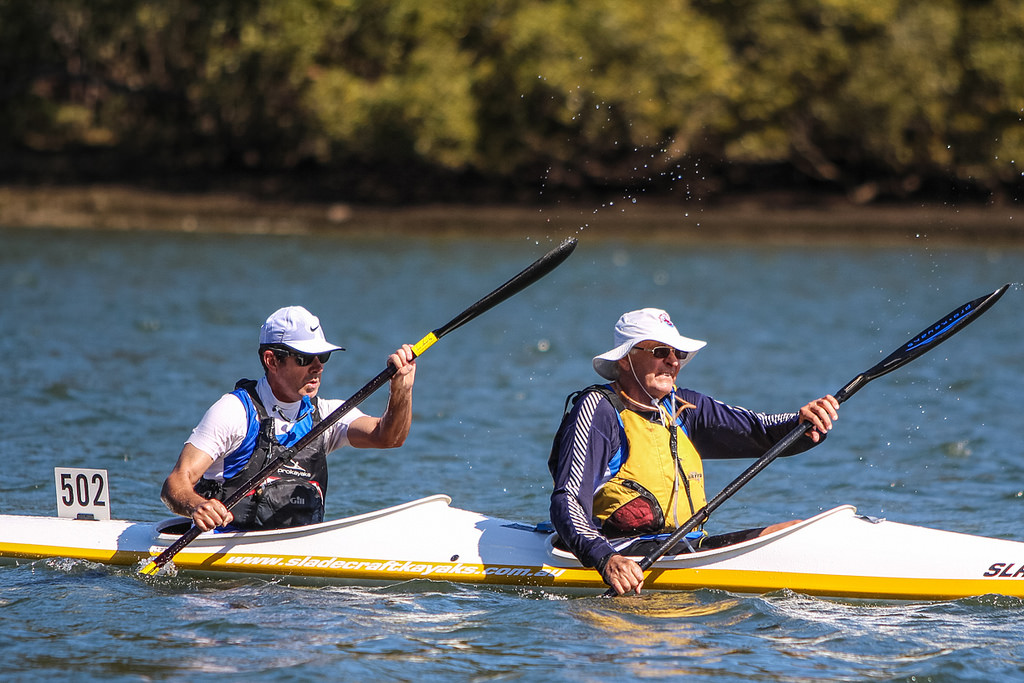 Great paddle by Don & Jeff taking out Div 5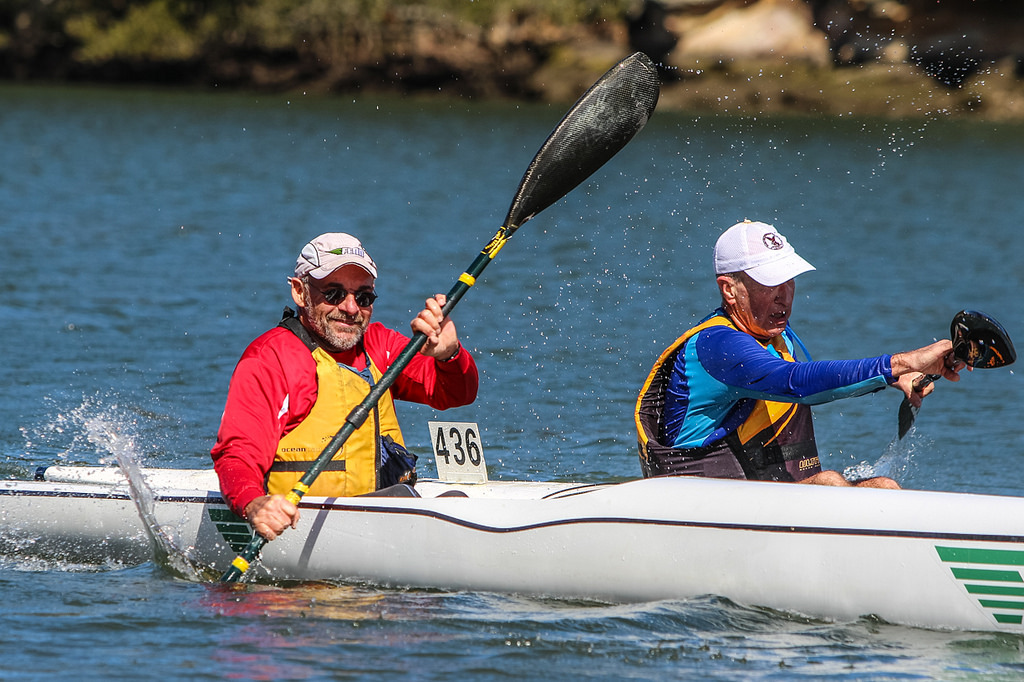 Tom managing a smile on his way to 2nd in Div 4


In division 6 Tim Hookins paddled to a gutsy 4th place while Peter Millard grinded out a 6th place. Similarly in div 7 Tim Binns stepped up to the 20km distance and toiled to record a creditable 4th place. Tim McNamara again elected to paddle the slightly shorter distance offered by division 8 and this tactical ploy paid off this time with a third place. He was followed by Claudio Battistel in fourth place who completed his first Marathon 10 race…. Well done. Greg Morris also in his first race placed 9th.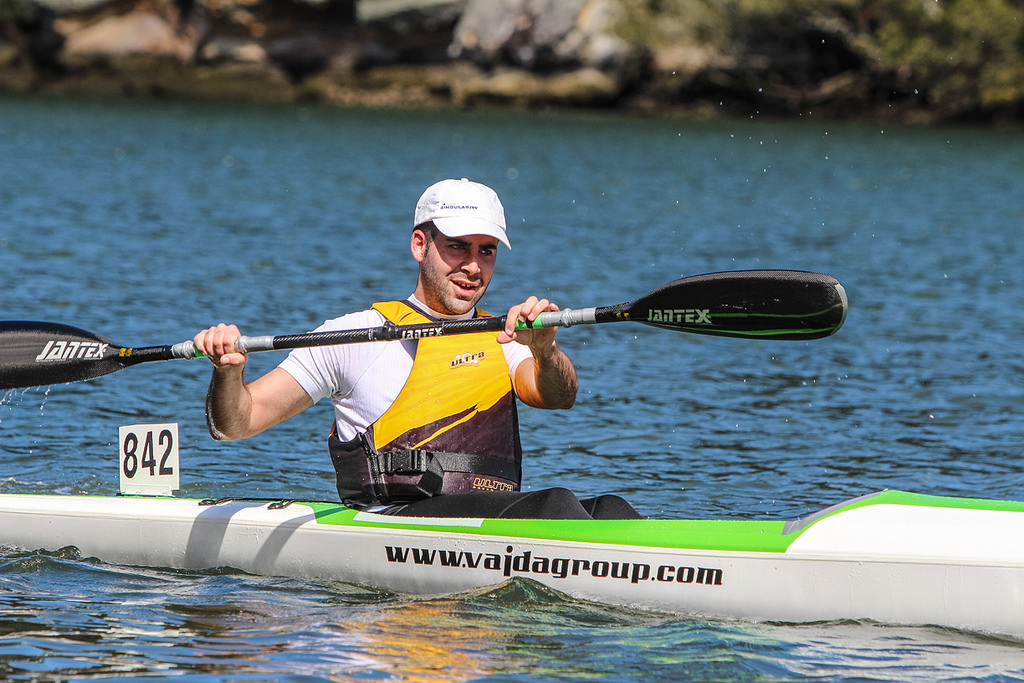 Claudio's rewarding 4th place in Div 8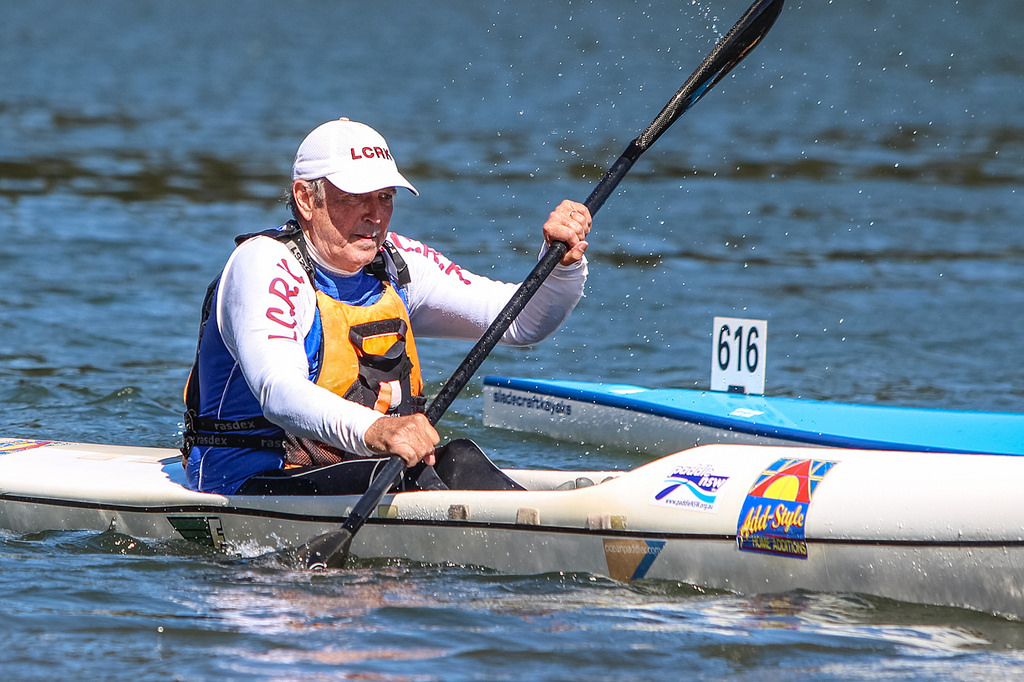 Tim gutsy paddle earned him a 4th place in Div 6


We only had one representative in each of division 10, 11, and 12. Meg Thornton battled to a 7th place in Div 10, Don Johnstone finishing 8th in Div 11 and Tracy Hansford achieved her first podium finish with a tenacious third place in Div 12.

Tracey paddling to 3rd in Div 12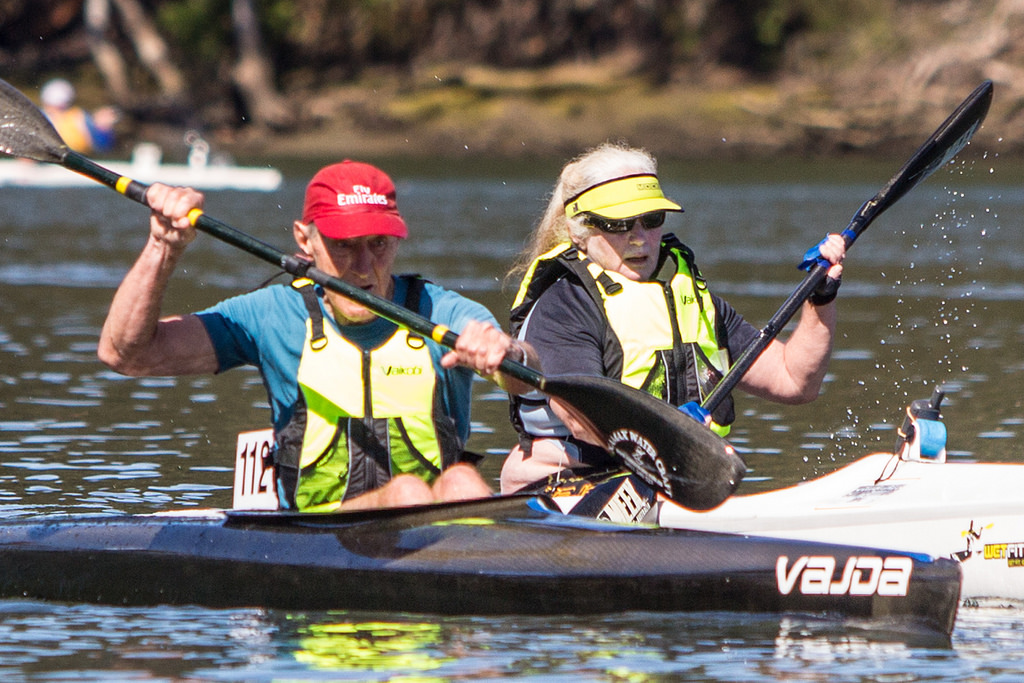 Meg in the thick of things in Div 10


All these superb results cemented our third placing in the Club standing, and most pleasing is that we are now only 6 points behind Manly Warringah, having outscored Manly by 14 points and Burly Griffith by 10.. so a great result
---
Round 9, Wagga Wagga (WBCC) - Saturday 26 September
A small band of Lane Covers made the scenic journey up to Wagga Wagga for the penultimate race of the series, and we came home with some valuable wins and placings, and to the surprise of us all, enough club points to just nudge Manly Warringah out of second place in the club standings. We were treated to a glorious day on Saturday with a fast flowing Murrumbidgee River following the release of water. With most participants driving up on Friday night it provided ample opportunity prior to race start to become familiar with the technical aspects of approaching and turning around the turning markers in the fast flowing water. Given the final leg of the 5 km course was a turn around the downstream markers and a 50 metre sprint to the finish, getting the inside line and turning with pinpoint precision proved invaluable for some… notably Tony Hystek. Lessons were also learnt prior to the race regards when and how close to hug the banks when paddling upstream, and learning by experience seemed to be the norm for many by hitting objects (branches, rocks and concrete pylons) lurking just beneath the water.
In all, of the 100 entrants, Lane Cove had 16 paddlers in 14 boats. There was no Opens division, and we had no representation in division 1, incidentally won by regular Wednesday night time-trialist Kieran Babich. Tony Hystek is gradually reclaiming his form after a bout of illness and secured a 2nd place in division 2 following a well-executed final turn and sprint. David Young continued his consistent form with a 2nd place in division 3, followed by doubles pair of Anjie Lees and Ruby Gamble in 8th.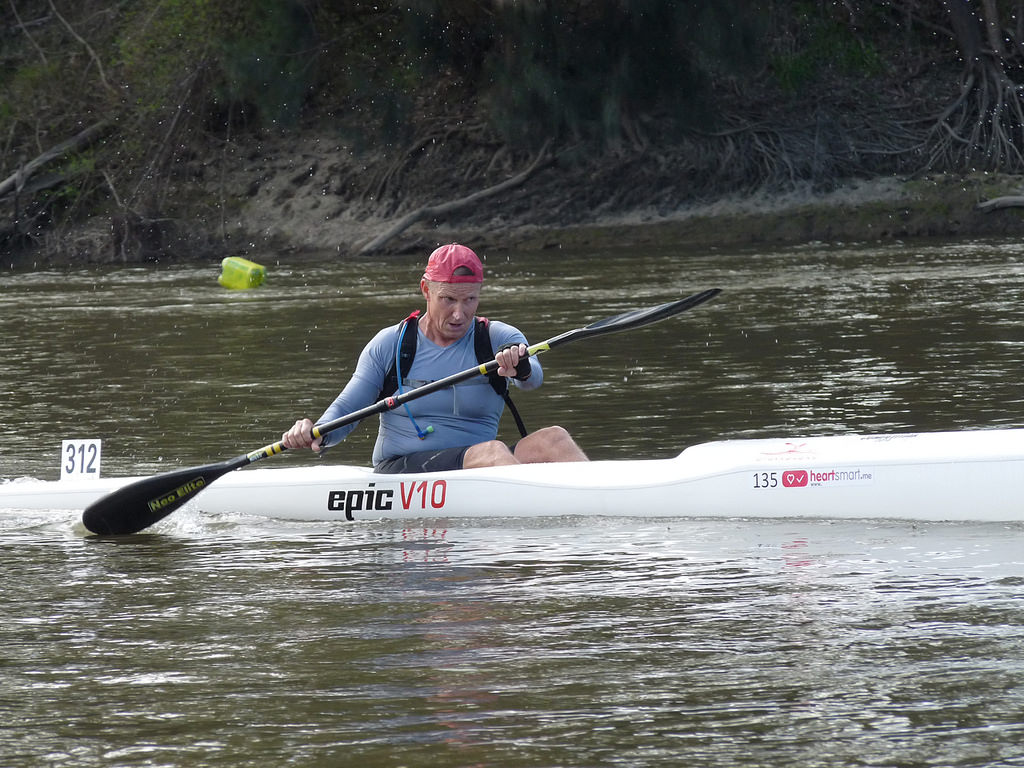 David feeling the strain of a hard race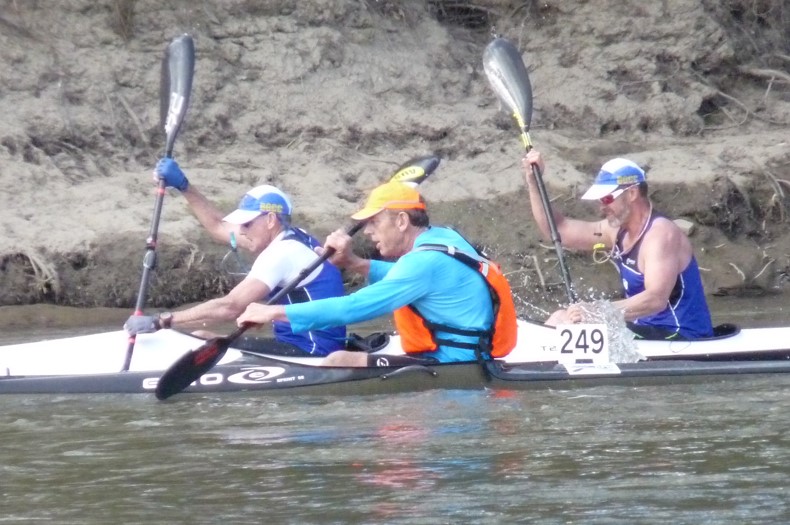 Tony's tactical inside line on the last turn paid off


Division 4 was loaded with local and Canberran paddlers achieving good times but thankfully completing their ranking race. This left the door open for Jeremy Spear to claim his inaugural win in this division and 8 valuable club points. Not to be out done, Wade Rowston also had his inaugural win in Division 5, but also his first win in any division for many years. … Congratulations both of you. Wade was followed in by Phillip Geddes and Warwick Sherwood in 5th and 6th respectively.

Wade sprinting to the line for his win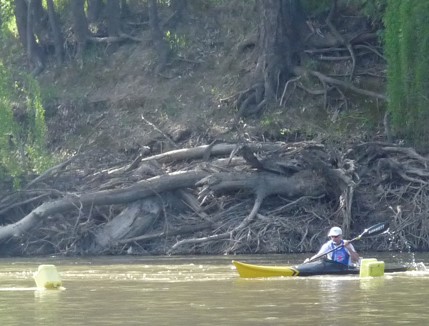 Jeremy taking the final turn to perfection


In division 6 Paul van Koesveld paddled to a creditable 4th place, followed by our other ladies double pairing of Alanna Ewin and Danielle Seisun in 8th position.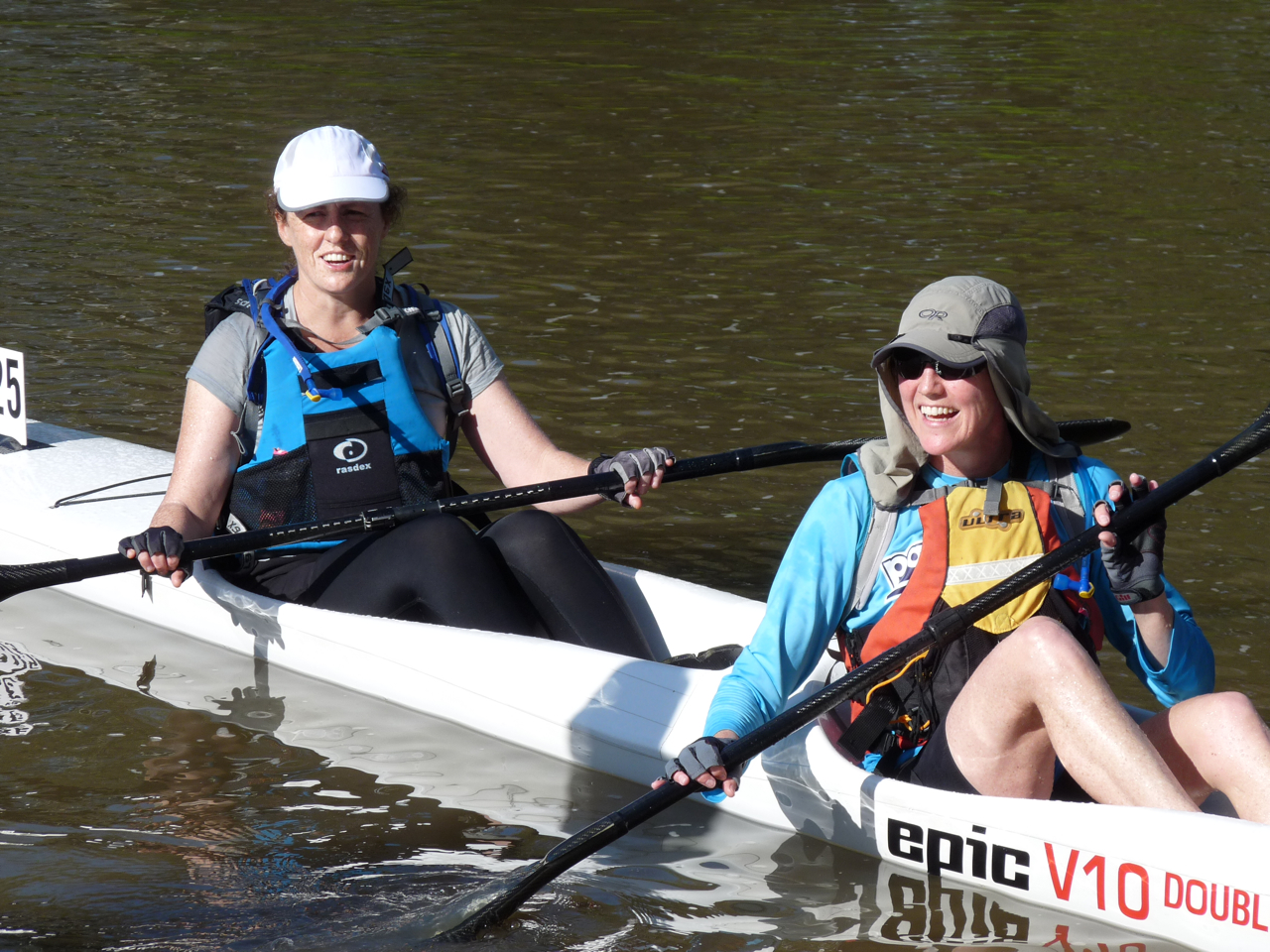 Alanna & Danielle managing a smile after 20km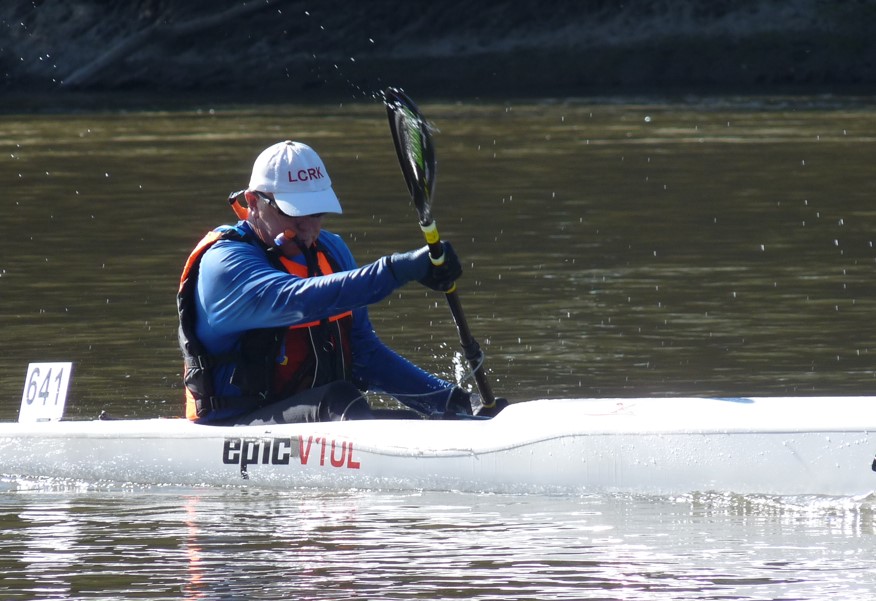 Paul finishing in style


Unfortunately we had no representation in divisions 7, 8, 9 or 10, while in division 11 Don Rowston and Ian Wrenford flew our club colours coming in 7th and 8th respectively. Tracey Hansford secured 6 vital club points with her 2nd placing in division 12, followed by Lachlan Wrenford in 4th, and Elke Van Ewyk also completing the 5km course.
The celebrations extended from the afternoon's prize giving to the William Farrer Hotel where we were treated to a fantastic meal.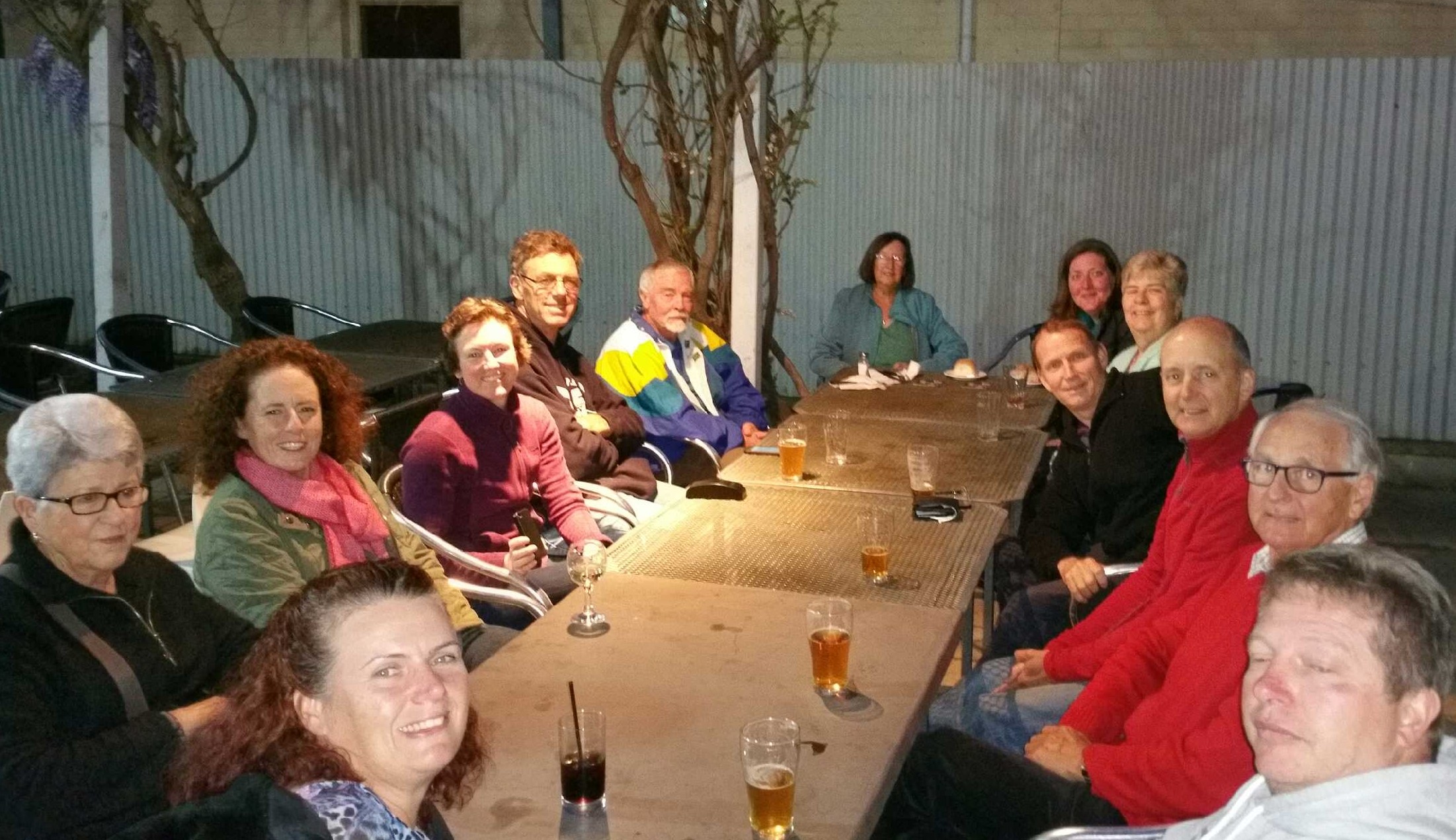 Celebration drinks before dinner


---
Round 10, Burrill Lake (Makai) - Saturday 17 October
Host Club: Makai Paddlers
* Makai photos on facebook
* PaddleNSW Photos

What a great weekend we all had in Burrell Lakes as part of the MAKAI Paddlers Lake Lunacy and PaddleNSW Marathon Finals. And didn't we do well!!! Despite our paddler numbers again being well down compared to some of our previous outings (13 paddlers in 11 boats) we never-the-less held off a strong challenge from Manly Warringah (284 points) to maintain our grip on second place (296 points) in the club championships, with Burley Griffin out in front on 366 points.
Toby Hogbin, in his comeback race after sustaining a nasty finger injury, was our sole representative in division 1 and persevered through finger cramps and numbness to finish in 7th place. We had no representation in division 2 while in division 3 David Young ended his run of placings with a strong win and a race personal best. Not to be outdone, the ladies double pair of Anjie Lees and Ruby Gamble in possibly their last outing together for a while put in a very strong performance to achieve their own PB time and a creditable 6th placing.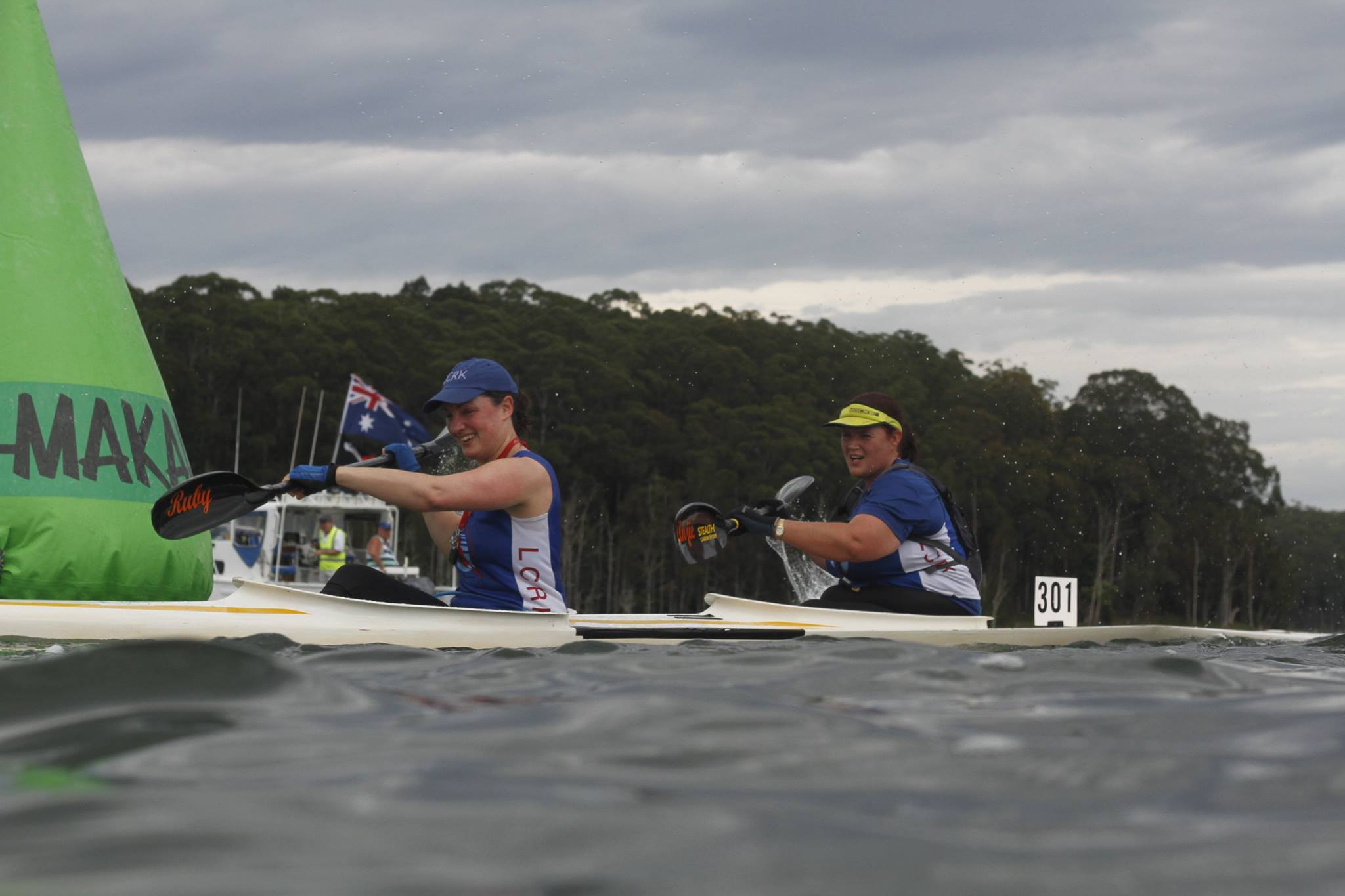 All smiles with Ruby and Anjie on their way to a PB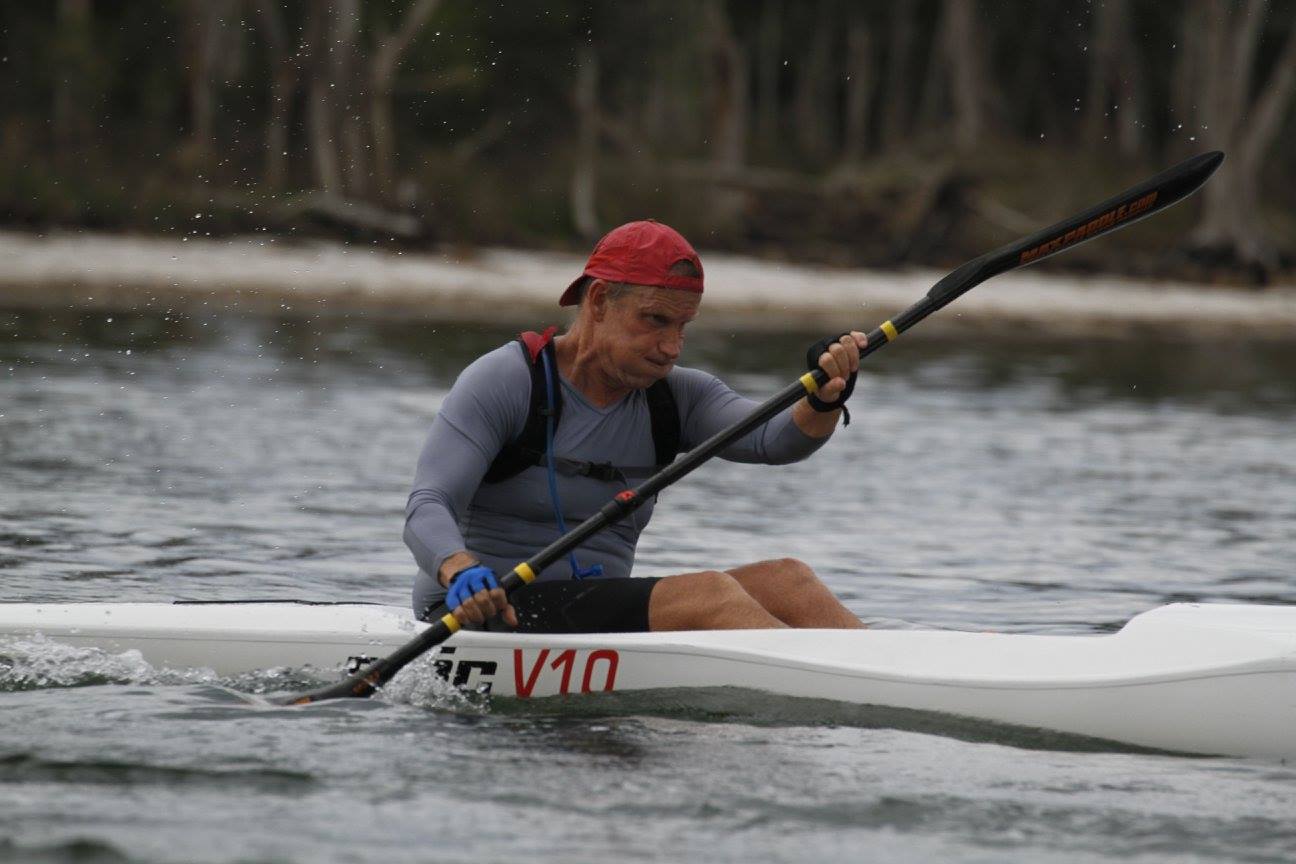 David about to blow a gasket. Why can't this be fun?


Jeremy Spear in division 4, fighting for divisional honours and up against some tough competition achieved a 6th placing.. was it enough to win the division?.
Meanwhile in division 5 the ding-dong battle between John Duffy and Wade Rowston continued to the bitter end with John edging out Wade to take 2nd place with Wade closely behind in third. Both paddlers were also in contention for divisional honours.. was John's 2nd place enough to surpasses Wade's lead?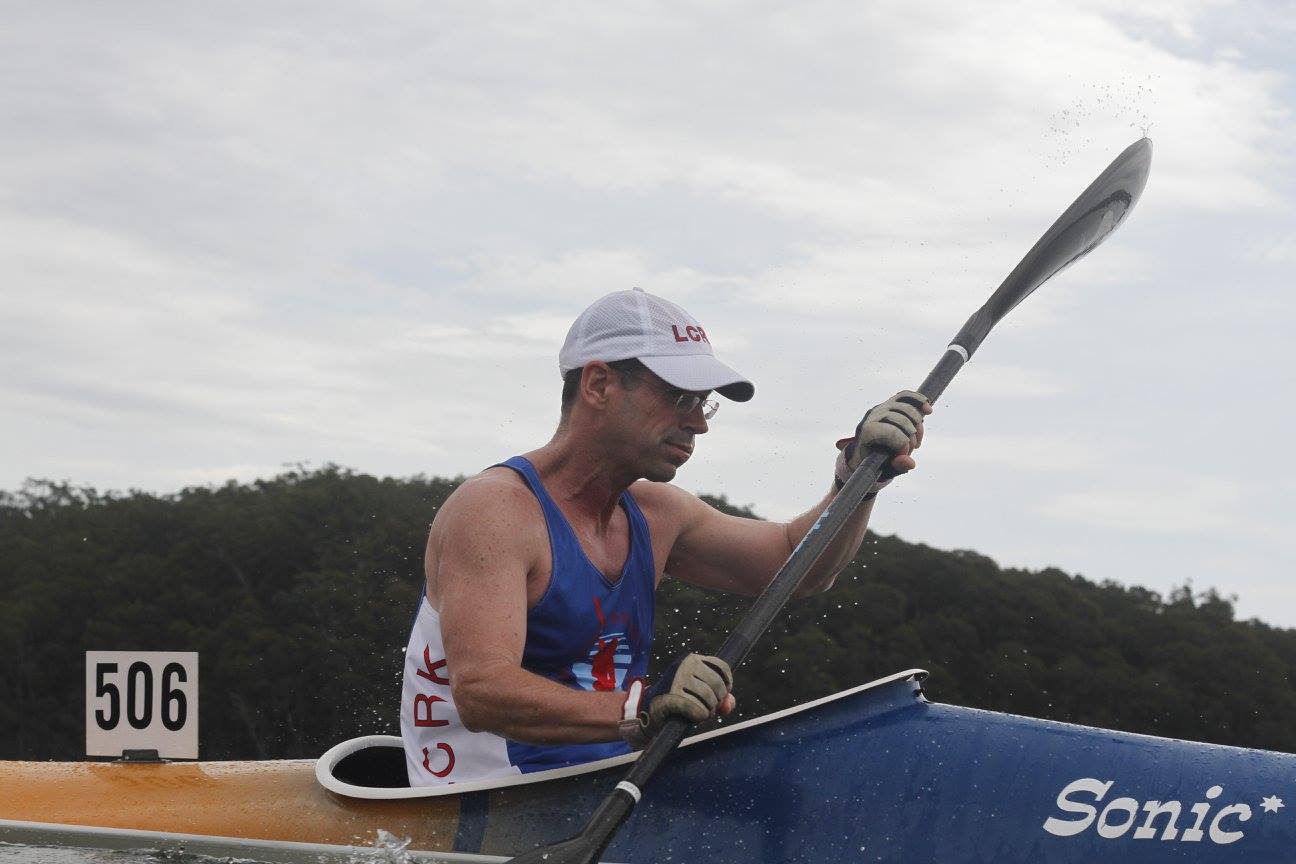 John's showing determination to hold Wade at bay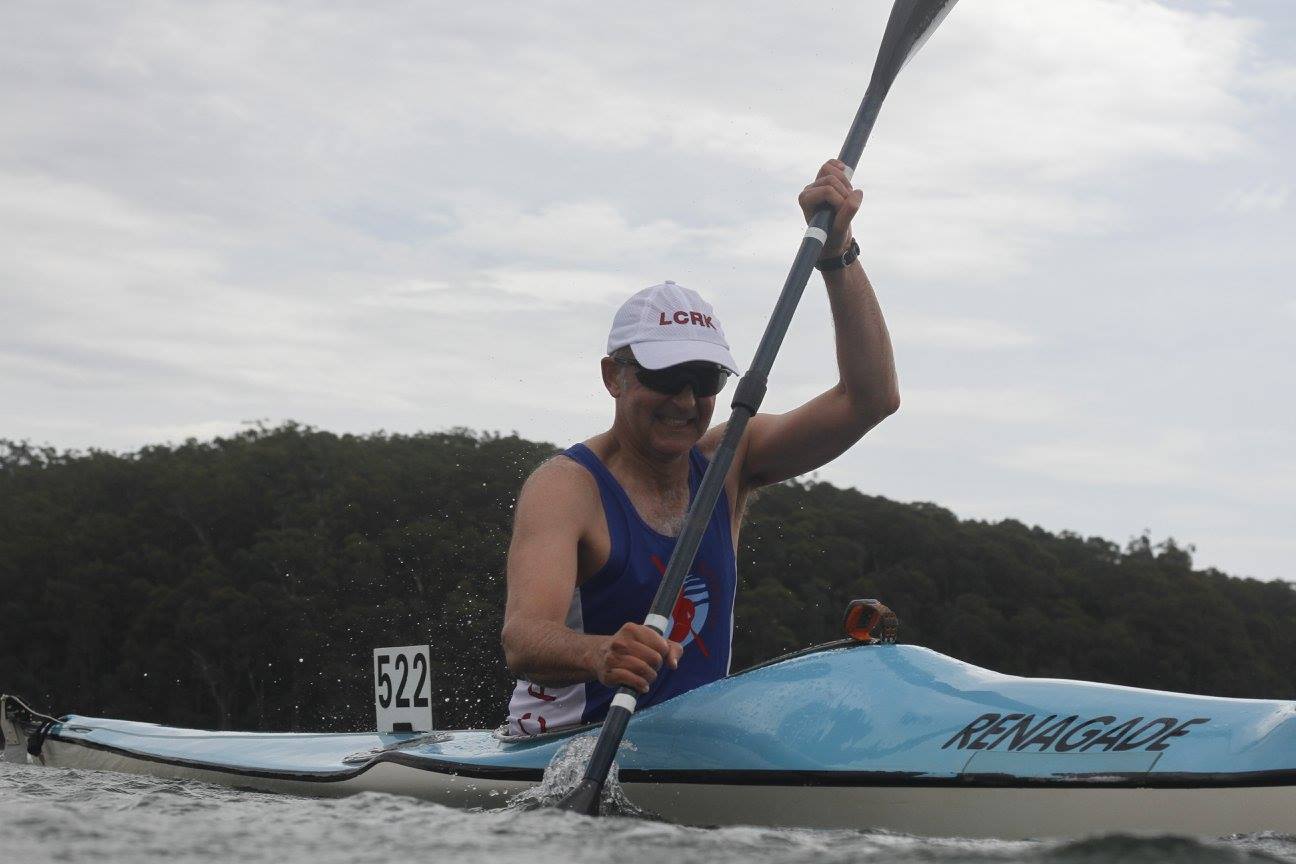 Wade desperate to catch John


While the attention was on the John / Wade battle, the newly formed doubles combination of Paul van Koesveld and Matthew Swann made a stunning debut in their ranking race that will most probably see then in division 4 next year.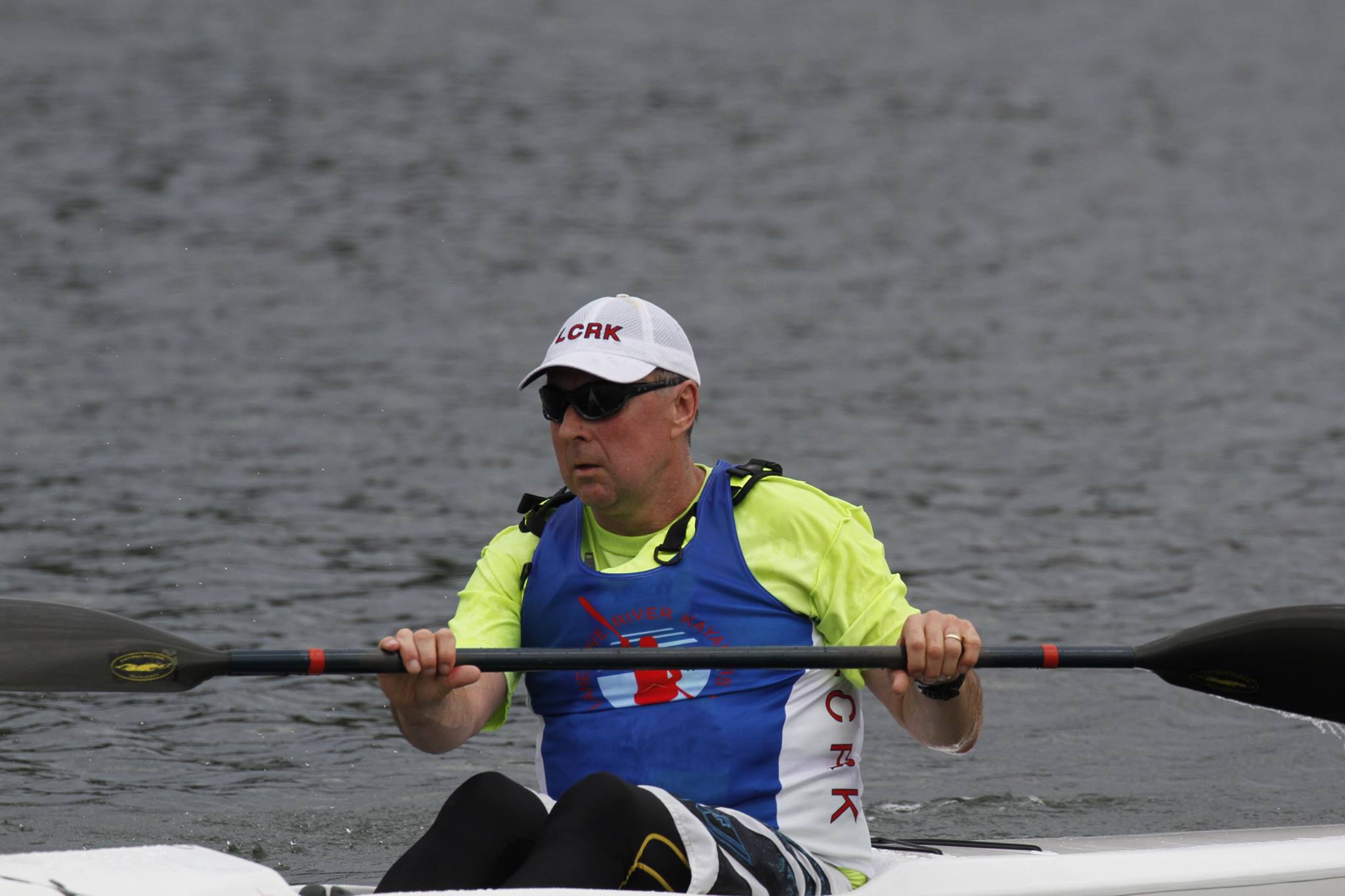 Jeff deep in concentration... about time Mr Casual!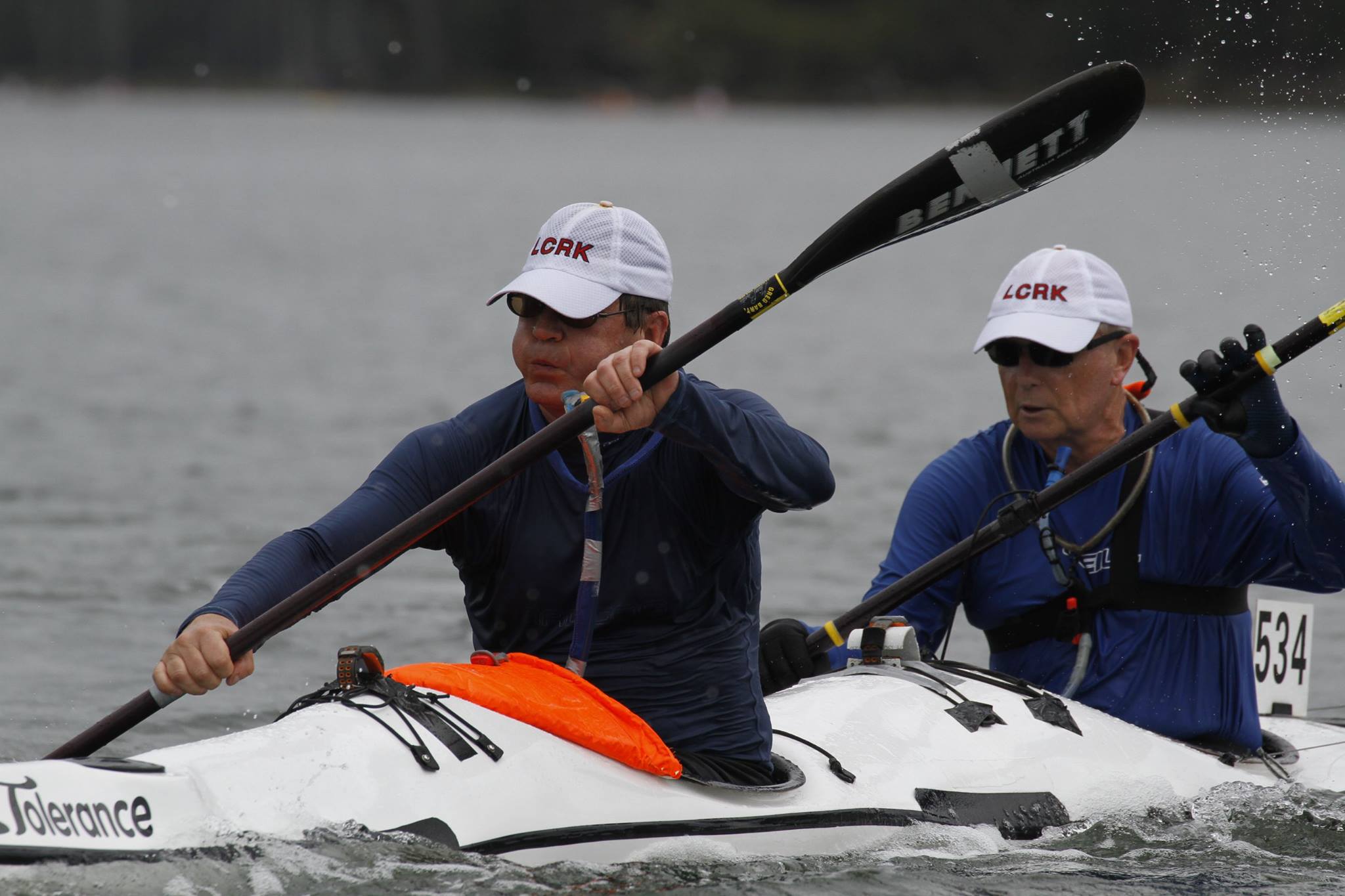 New doubles combo putting in the effort


Jeffrey Tonazzi was our lone representative in division 6, and in only his second race in this division managed to third place. Our representation in the remaining 6 divisions was unfortunately a little scarce with Tim McNamara managing a credible 5th place in the very competitive division 8; Elke Van Ewyk and Don Rowston represented the club in division 11 and Tracey Hansford again securing valuable points with a 3rd placing in division 12.
---
2015 Marathon Series Summary

Firstly, congratulations to all Lane Cove Marathon 10 paddlers who paddled this season and contributed to another fantastic and successful year. Our special thanks must go out to the PaddleNSW Marathon committee who organised such a great series, and especially to Gaye, Bob, the timekeepers and to the other helpers.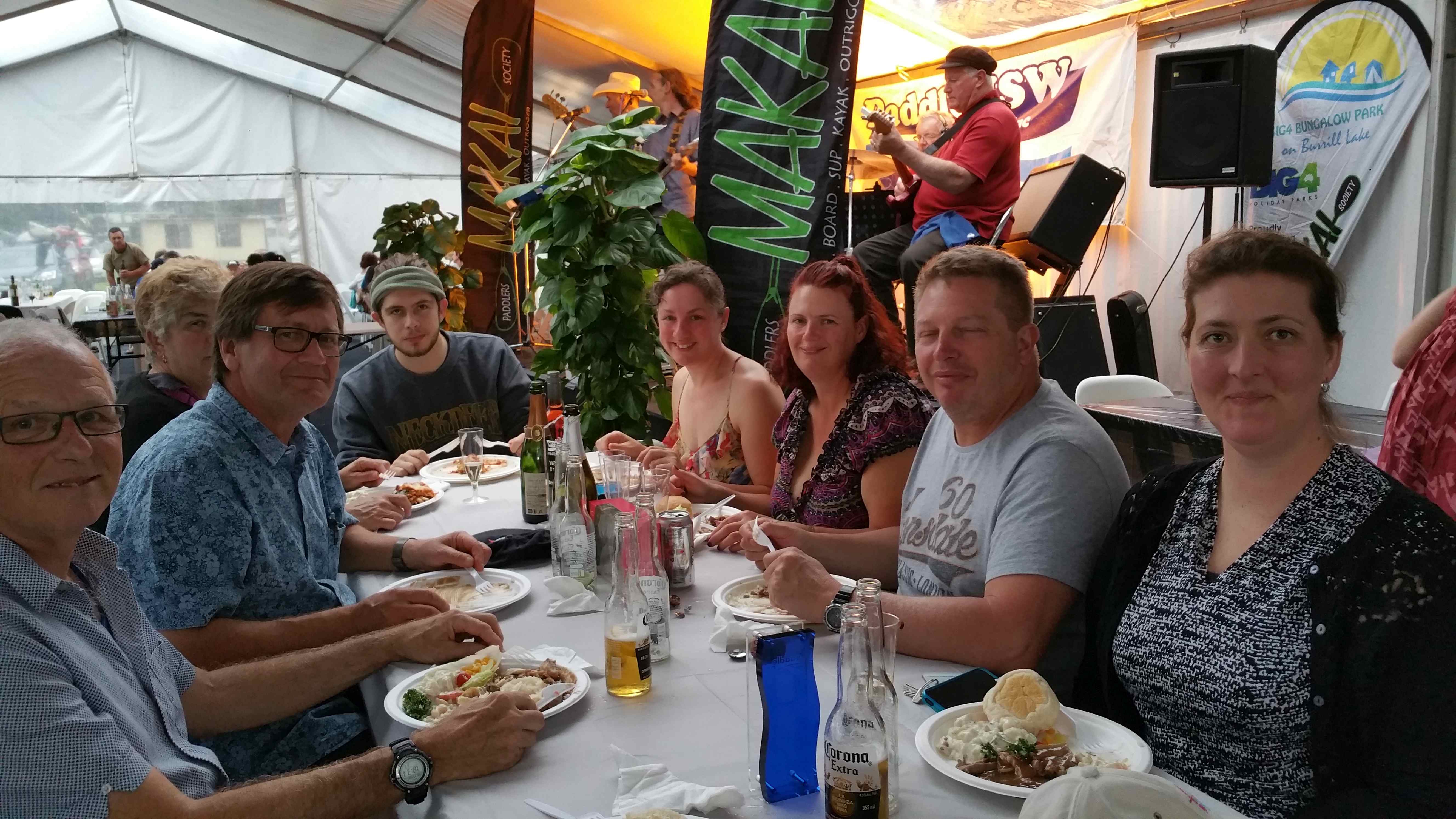 Celebration dinner


The end of season price giving was held after the final race, followed by dinner and a boogie woogie... a great evening.
We sure had a great year and many club members received awards. For the second year in a row we came second in the club championship points table behind Burley Griffin. Standing were:
Burley Griffin Canoe Club: 366
Lane Cove River Kayakers: 296
Manly Warringah Kayak Club: 284

One of the most pleasing achievements is that over the last 9 races on the 10 race series, Lane Cove outscored Burley Griffin… it was race 1 in Canberra where BGCC gained a massive advantage over all over clubs.
The efforts of the paddlers in helping us to 2nd place overall translated into success in the battles for divisional honours. Consistent results throughout the year by David Young was rewarded by David taking out the Series title in Division 3. Taking out third place in the same division was the double pairing of Angie Lees and Ruby Gamble. Given that they started off in division 5 and completed the majority of their races in division 3 this was a great achievement... they must be in the running for most improved paddlers! Another notable accomplishment was Tom Simmit who came in 5th position.
In a very close battle, Jeremy Spear took out the division 4 series title by just a single point. Given that Jeremy started off in division 5 this too was a great effort.
A similar close battle enraged in division 5 between our own John Duffy and Wade Rowston who fought tooth and nail until the bitter end. Unfortunately whilst these two were focusing on their own ding-dong battle, an unforeseen ex-division 6 double trumped them both to relegate Wade to 2nd and John to 3rd, split by just a point.
In division 6 Paul van Koesveld managed a 4th placing overall, in division 11 Tracy Hansford's consistency was rewarded with a 3rd place overall and a late new comer to marathon racing Lachlan Wrenford achieved a third placing in division 12.
The Most Improved Female(s) award deservedly went to Anjie Lees and Ruby Gamble.
The following paddlers are to be congratulated as they have paddled in all 10 events:
Jeremy Spear
Wade Rowston
Tracey Hansford

And those who managed 8 or 9 races,
David Young
John Duffy
Ruby Gamble
Anjie Lees
Paul van Koesveld
Tim McNamara

Other results:
Brian Norman Club Championship.
BGCC 366, LCRK 296, MWKC 284, CSKC 212, HVPC 192, WCC 172, CCCC 126, SSCC 122, PVC 78, SNBKC 40, BWP 38, JP 34, WBCC 14, ICC 12, PDDBOCC 8, ACCA 6
PNSW ICF Club Trophy.
BGCC 304, MWKC 294, HVPC 290, LCRK 176, CSKC 164, WCC 156, CCCC 116, JP 66, SSCC 62, SNBKC 34, WBCC 32, ICC 30
Division Winners.
Open Sacha Vujanic
Div 1 Brett Greenwood
Div 2 Richard Fox / Russell Lutton
Div 3 David Young
Div 4 Jeremy Spear
Div 5 Bruce Sherlock / Janet Small
Div 6 Jeff Buchan
Div 7 Kieran Lomas
Div 8 Stephen Shelley
Div 9 Lyle Mead
Div 10 Peter McGee
Div 11 Allan Newhouse
Div 12 Litsa Polygerinos

Most Improved Female(s) - Anjie Lees / Ruby Gamble
Most Improved Senior - Jeff Buchan
Outstanding Paddler(s) - Judy Greenidge / Jill Parker (Ducks)
Encouragement Award - Steve Dawson
Highest Points - Graeme ison

---