---
Round 1, Canberra (BGCC) - Saturday 15 March
Host Club: Burley Griffin Canoe Club
Location: Molonglo Reach, Morshead drive, Canberra
Event Information
Round 1 Photos

With strong winds blowing and the race course extended into the lake by about 500m this year due to the up river bridge being closed, conditions were very rough and many racers capsized. There were two rescue boats fully occupied helping paddlers back into their boats.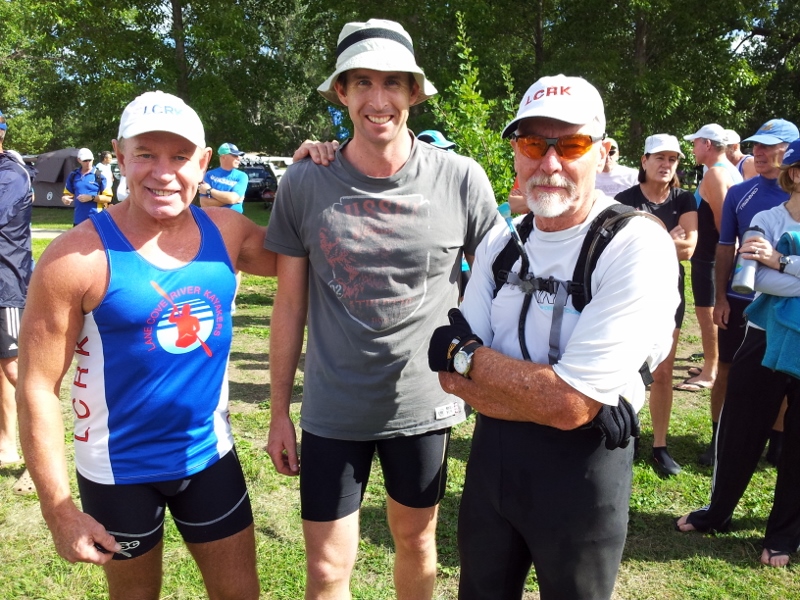 Tony Carr, Michael Day and Phil Geddes at the Race Briefing

There was an excellent contingent from LCRK but some of our more fancied paddlers were hamstrung by the conditions. However, it didn't stop Matt Blundell winning Div 1 (8 points) paddling for LCRK. John Duffy also excelled with 1st place in Div 6 (8 points) with David Young coming 3rd. Wade Rowston was 2nd in Div 5 (6 points) with Duncan Johnstone 4th.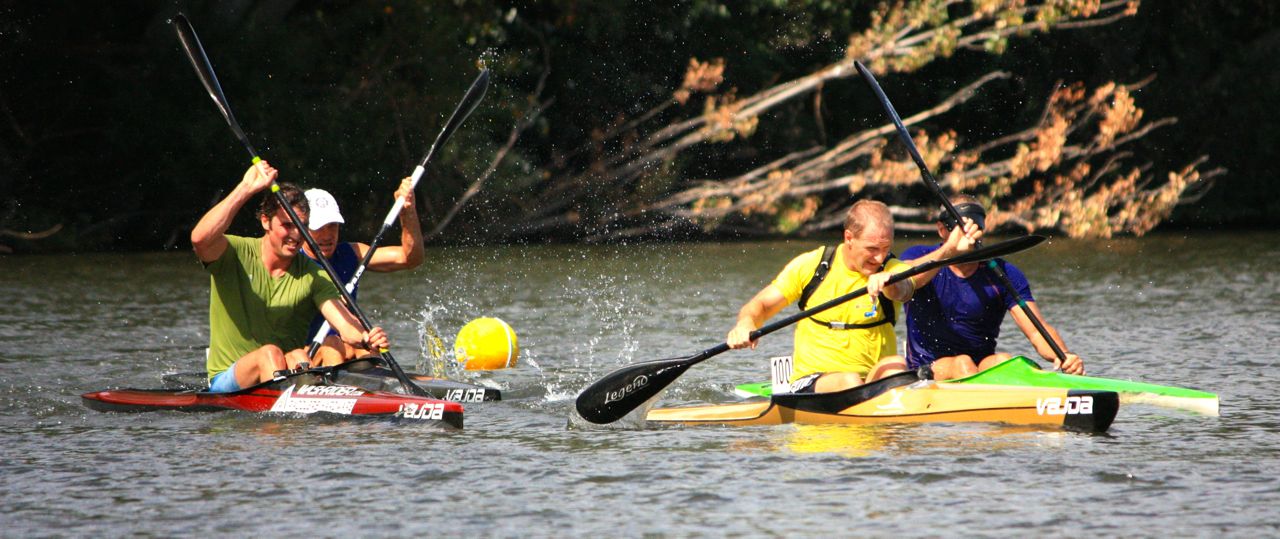 Matt Blundell setting the pace in Division 1

LCRK was also represented by Michael Day, Dave Hammond, Tony D'Andreti, Tom Simmat, Jeremy Spear, Phill Geddes, Tim Hookins, Robert Manning, Anjie Lees, Bert Lloyd, Don Rowston, Phil Newman, Shane Gibson, Ruby Gamble, Meg Thornton, Tony Carr, Ian Wilson and Brett Franzi.
Check out the photos.

---
Round 2, Wyong (CCCC) - Sunday 4 May
Host Club: Central Coast Canoe Club
Location: Don Small Oval, Wyong River, Tacoma
Event Information
Round 2 Photos (PNSW)
Round 2 Photos (LCRK)

Despite difficult conditions on the Wyong River on Sunday, with a great turnout and some memorable results we posted 50 points toward the Club Cup. With a head wind like a wall on some laps, we reduced Burley Griffin's winning margin by 24 after one race and are now trailing them by 50 instead of 78 after Race 1! This augers very well for the long haul.


Matt Acheson bringing home 2 K-boat points
We are clearly in second and no longer sharing first loser, ahead of Central Coast who are in third spot after 46 on home territory. Windsor are fourth on 38 followed by MWKC on 34 and Cronulla Sutherland on 30 with other clubs trailing.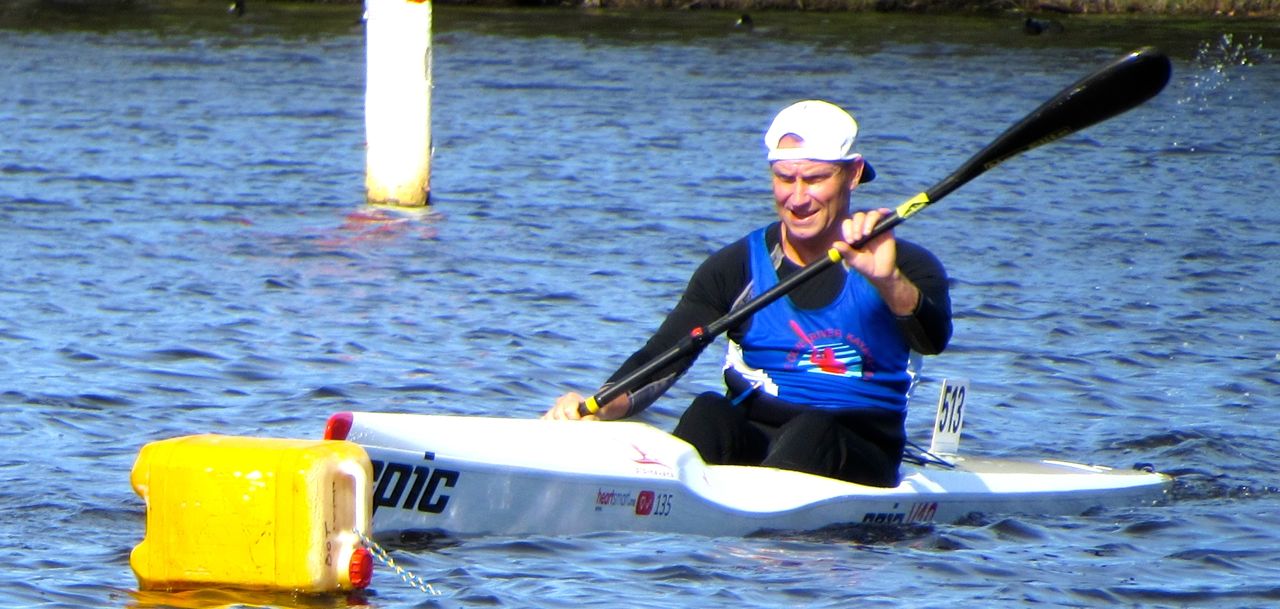 David Young on his way to winning Division 5
An interesting discrepancy between Round One and Two points awarded to Burley Griffin Club has emerged and is somewhat of a conundrum. They were awarded 116 for Race One, but only posted as 104 after Race two. Guess what has happened. No prizes though.
The following LCRK paddlers toughed out top four podium positions and contributed to our Club Cup bid:
Matt Blundell 1st, Div. 1 8 points
David Young 1st, Div. 5 8 points
Wade Rowston 4th, Div. 5 0 points ( David was 1st)
Phil Newman 3rd, Div .6 4 points
Ruby Gamble 3rd, Div. 7 4 points
Tony Walker and John Greathead 3rd, Div. 10 4 points.
If Race Two is a predictor, we can feel positive about our Series Club Cup bid. It's a bit early to get too relaxed yet though.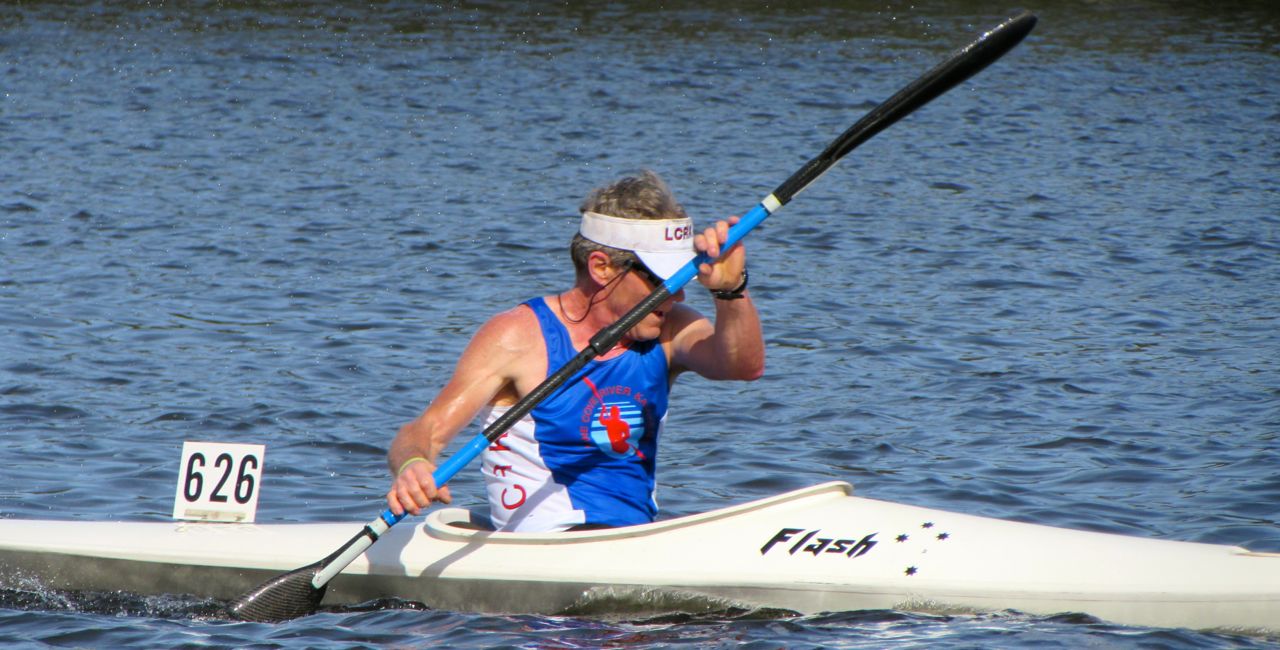 Phil Newman our top finisher in Division 6 with 3rd place

---
Round 3, Woronora (SSCC) - Saturday 17 May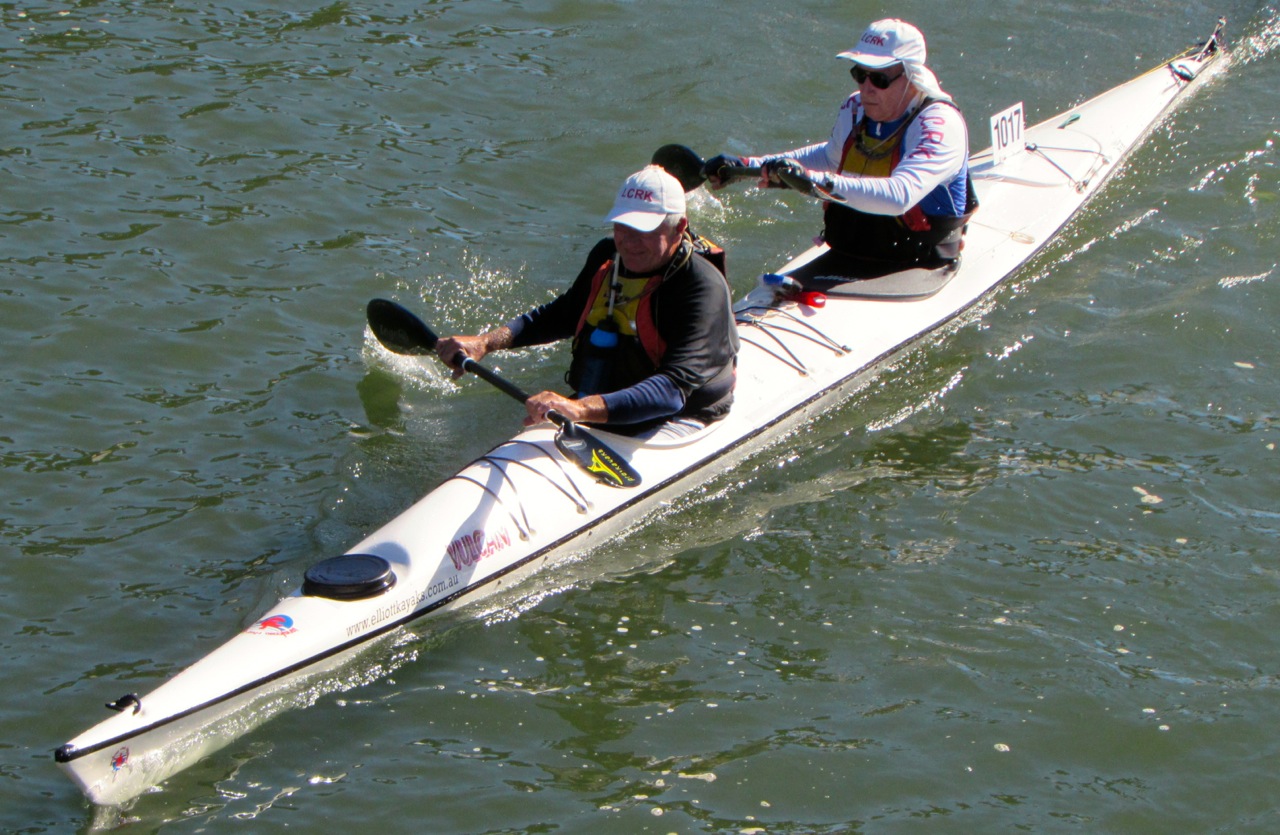 John & Tony
Host Club: Sutherland Shire Canoe Club
Location: Burnum Burnum Reserve, Woronora
First Start: 9:45AM
Event Information
Round 3 Photos (PNSW)
Round 3 Photos (LCRK)

Good conditions at Woronora and some excellent results by LCRK paddlers.
Matt Blundell - 1st, Div 1 - 8 points
Tony Keg D'Andreti and Dave Hammond - 3rd, Div 3 - 4 points
David Young - 2nd, Div 4 - 6 points
John Duffy - 1st, Div 5 - 8 points
Tim Hookins - 3rd, Div 5
Ruby Gamble - 2nd Div 7 - 6 points

It was also a great effort by Tom Simmat to paddle and portage a K1 around the course under bumpy conditions.


Tim
Also representing LCRK and trying hard to pick up points for the club were Tony Hystek, Phil Geddes and Paul van Koesveld, Tim McNamara, Wade Rowston, Duncan Johnstone, Burt Lloyd and Don Rowston, Derek Simmonds, Anjie Lees, Tony Walker and John Greathead, Alanna Ewin and Danielle Seison, and Justin Paine. Richard Barnes was there as well representing Sydney Uni.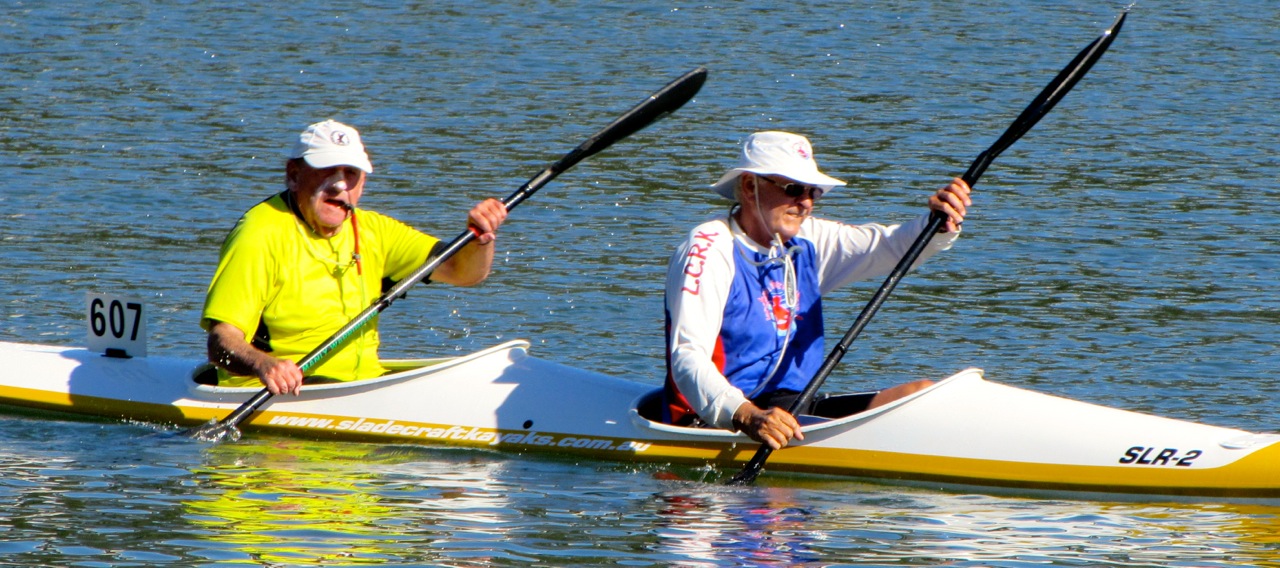 ---
Round 4, Narrabeen (MWKC) - Sunday 1 June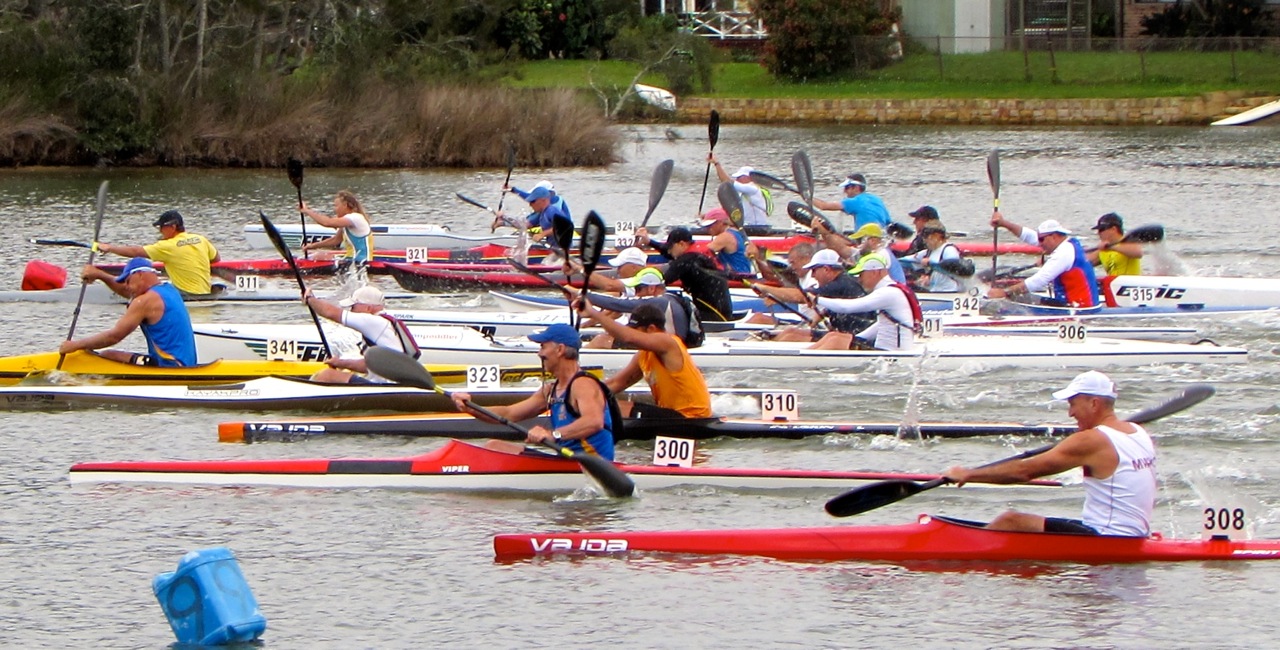 Host Club: Manly Warringah Kayak Club
Location: Berry Reserve, Pittwater Road,Narrabeen
First Start: 9:45AM
Event Information
Round 4 Photos (PNSW)
Round 4 Photos (LCRK)

The forecast for the first day of winter wasn't good but fortunately it turned out to be a perfect day for paddling. With very little wind the Narrabeen Lake course was smooth all the way but the multiple shallow sections proved challenging. LCRKers achieved some excellent results.
Matt Blundell - 1st, Div 1 - 8 points
Tony Hystek - 2nd, Div 2 - 6 points
Ruby Gamble - 2nd Div 6 - 6 points
Alanna Ewin and Danielle Seison - 1st Div 7 - 8 points
Michael Day, Matt Acheson and Tim Hookins paddled K1s and portaged to pick up extra points for the club. Also new combo Don Rowston and Jeff Collins won Div 6 convincingly but as it was Jeffs' first marathon it was deemed a qualifying paddle and no points were awarded.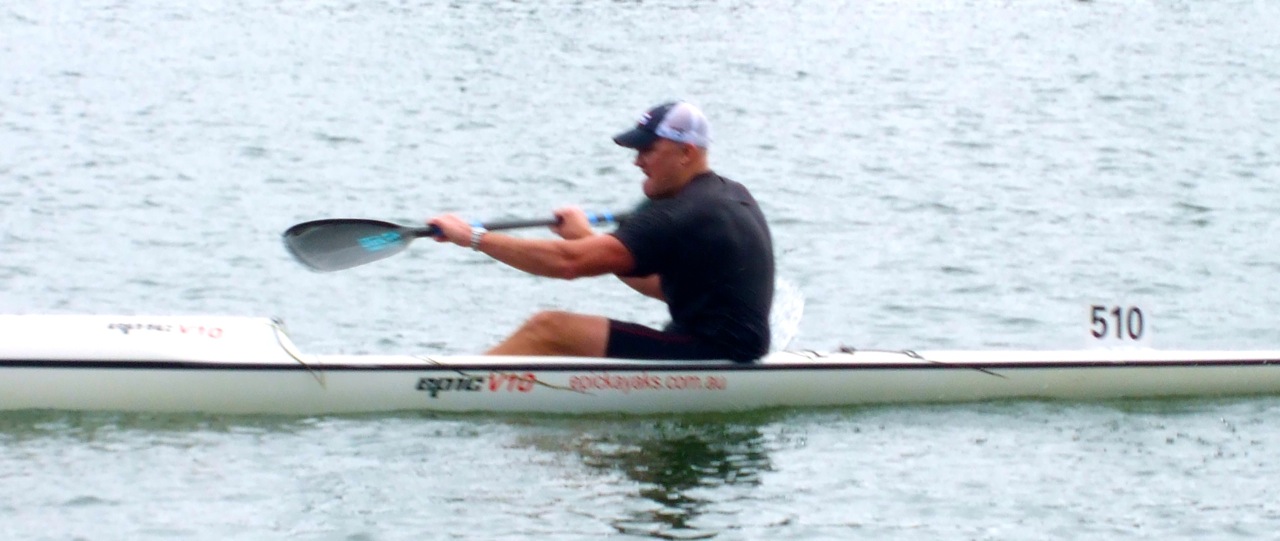 Christian
Other LCRKers competing were David Young, Tom Simmat, Keg D'Andreti and Dave Hammond, Richard Barnes (paddling for Syd Uni), Wade Rowston, Duncan Johnstone, Phil Geddes, Christian Cox, Anjie Lees and Meg Thornton, Phil Newman, Derek Simmonds, Tony Walker and John Greathead, and Justin Paine. Details in next Kayak Kapers.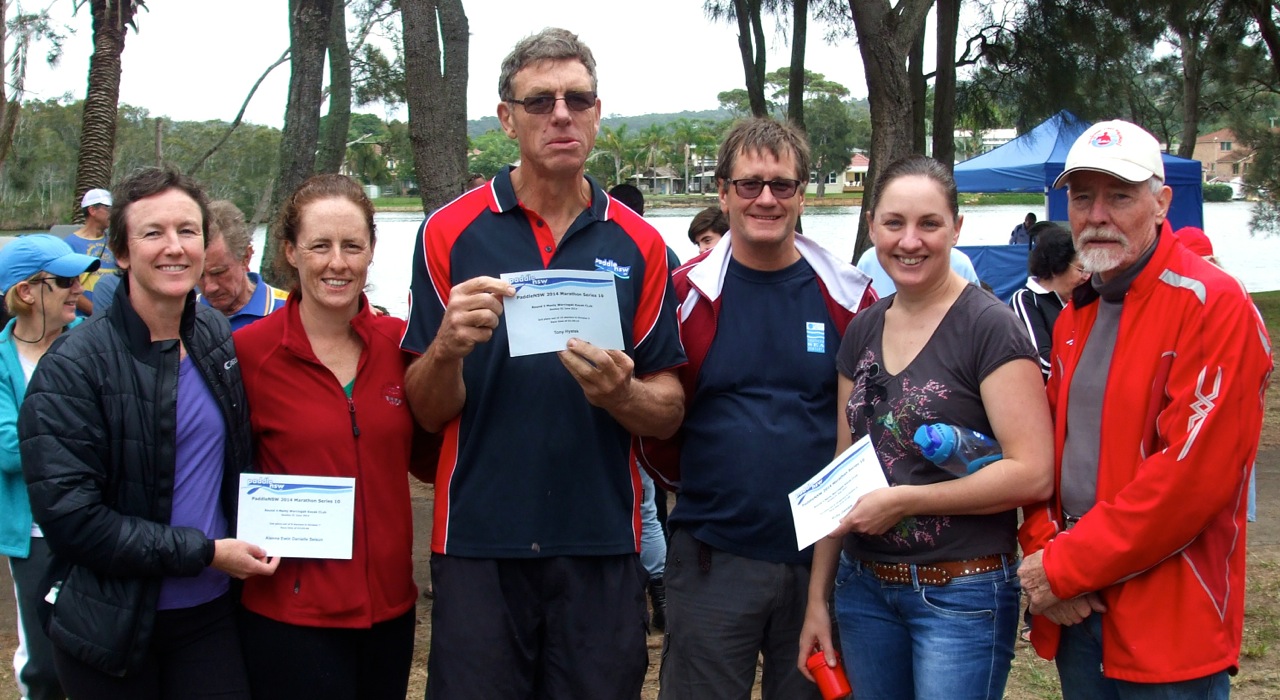 Alana, Danielle, Tony, Matt, Ruby & Phill

---
Round 5, Penrith (PVC) - Saturday 28 June
Host Club: Penrith Valley Canoeing
Location: Nepean River, Penrith
First Start: 9:45AM
Event Information
Enter Here
Round 5 Photos (PNSW)


---
Round 6, Burrill Lake (Makai) - Saturday 19 July
Host Club: Makai Paddlers
Location: Princess Highway, Burrill Lake
First Start: 9:45AM
Event Information
Blustery Burrill Lake tests LCRK Marathoners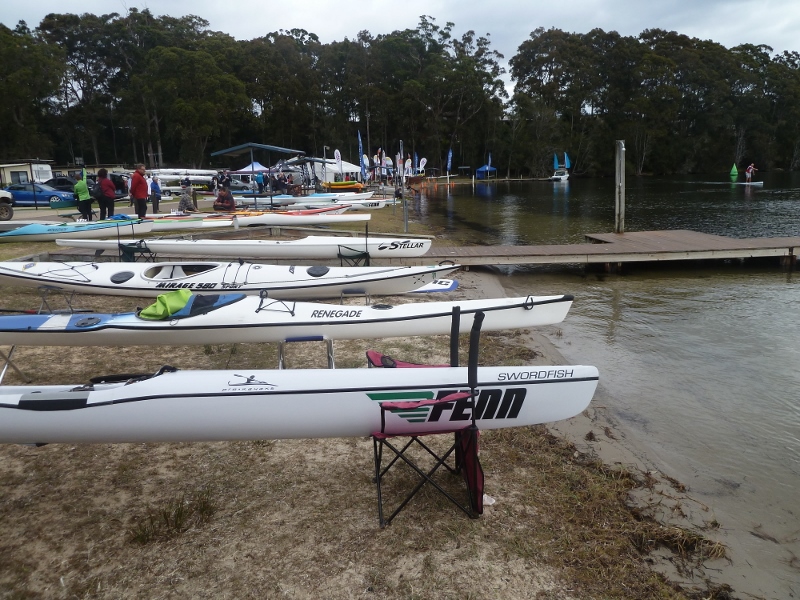 The 6th race of the Paddle NSW Marathon Series at Burrill Lake on the south coast on Sat 18th July proved a challenge for everyone with strong winds hitting the paddlers from all angles. The organisers did the best they could to alter the course to minimise the impact of the 'gale force' winds that were forecast and materialised.
Seemingly unaffected by the strong wind gusts and rough water, Matt Blundell excelled again to win Div 1. He was followed by Toby Hogbin in second place also paddling for LCRK. Phil Geddes was blown off his ski but managed to get going again quickly and still managed to win Div 6. Well done!
Points scoring results where achieved by:-
Div 1 - Matt Blundell 1st, Toby Hogbin 2nd
Div 2 - Tony Hystek 4th
Div 3 - David Young 4th
Div 4 - Robert Manning 2nd
Div 5 - Duncan Johnstone 4th
Div 6 - Phil Geddes 1st
Div 7 - Neil Duffy 3rd
Also making the trip to Burrill Lake and giving it their best shot were David Hammond Tony D'Andreti, John Duffy, Wade Rowston, Tim Hookins, Ruby Gamble, Alanna Ewin Danielle Seisun, Anjie Lees, Raewyn Duffy Merridy Huxley and Don Rowston.
---
Round 7, Windsor (WCC) - Saturday 9 August
Host Club: Windsor Canoe Club
Location: Macquarie Park, Windsor
First Start: 9:45AM
Event Information
A strong team of LCRKers made the trip to Windsor on Saturday to represent us in the Marathon Series in perfect weather conditions.
The following paddlers achieved a podium finish for themselves and club points for LCRK: Division 1: Matt Blundell 1st giving us 8 points with Toby Hogbin 3rd, keeping our main contender clubs out of the points. Division 2: Tony Hystek 2nd giving us 6 important points. WAS HE IN THE OLD BLUE AND YELLOW BOAT OR BACK IN HIS GOOD ONE????? Division 5: Duncan Johnstone 1st (8 points) and expected promotion to Division 4. Division 6: Ross Fraser and Ken Holmes 1st (8 points). Division 7: Ann Lloyd Green 1st (8 points) in the Frank McDonald Flash.
Also paddling hard were: Division 3: a bunch our paddlers - Dave Hammond and Tony D'Andreti 7th , David Young 8th, Tom Simmat 10th and Bruce Goodall 11th ; Division 5: Wade Rowston 7th ; Division 6: an even bigger bunch of our paddlers - Phil Geddes 4th , Derek Simmonds 5th , Bert Lloyd and Don Rowston 6th , Ruby Gamble 9th , Alanna Ewin and Danielle Seisun 14th , Anjie Lees 18th and Jeff Collins in his ranking race; Division 8: Ton Carr 9th .
Special mention: Matt and Toby continue to be inspirational in Division 1. Duncan picked up the leading group late in the last lap and finished strongly to win Division 5 by a metre. New members, Ross and Ken took many minutes off their times in their previous two 20km outings, not only gathering maximum points in Division 6 but expected promotion to Division 5. Anjie showed great bravery in taking her newly acquired K1 into battle after just a couple of test paddles and kept her swims down to one in the first lap. Inspirational.
---
Round 8, Grays Point (CSKC) - Saturday 30 August
Host Club: Cronulla Sutherland Kayak Club
Location: Swallow Rock Reserve, Grays Point
First Start: 9:45AM
Event Information
Continuing the trend this series of challenging conditions, paddlers were greeted by strong wind gusts and rain squawls at the Cronulla Sutherland Marathon at Grays Point. Thrown into the mix was an SES boat patrol, cruising up and down the course at the ready to help, but also throwing up a tricky, short and sharp wash which claimed some experienced K1 paddlers. Craig Ellis and Don Andrews returned to marathon racing after long breaks.
There were a few regular LCRKers absent but still we posted some excellent results.
Points scoring results where achieved by:-
Div 1 - Matt Blundell 2nd, Toby Hogbin 4th
Div 3 - David Young 3rd
Div 6 - Ruby Gamble 1st
Div 7 - Anjie Lees 1st
Also making the trip to Grays Point and and taking on the course were Robert Manning, Ross Fraser and Ken Holmes, Phil Geddes, Justin Paine, Tony Carr, Wade Rowston, Tony Hystek, Don Rowston, Steve Newsome, Tony Walker and John Greathead.
Well done everyone. Next is our home marathon.

---
Round 9, Lane Cove (LCRK) - Saturday 6 September
Host Club: Lane Cove River Kayakers
Location: Blackmans Park, Lane Cove
First Start: 9:45AM
Event Information
Event Flyer
Photos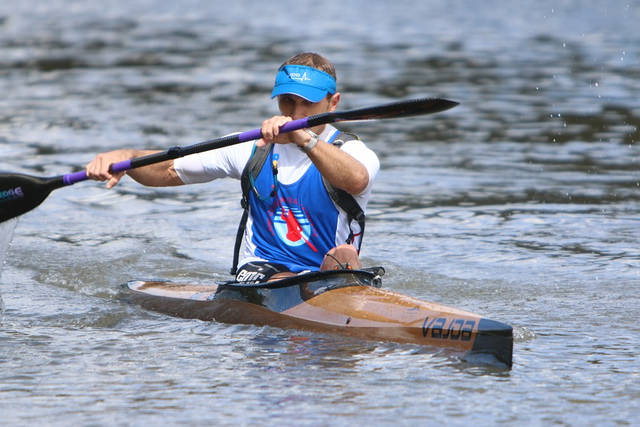 Richard Robinson competing in Div 1
LCRK members had a good day on the water as well as on the organising/volunteering side of things.
Club points and podium placement paddlers: Division 1: Matt Blundell (1st), Toby Hogbin (3rd) Division 2: Tony Hystek (1st) Division 3: David Young (2nd and only one second behind 1st - congratulations David) Division 5: Ross Fraser and Ken Holmes (3rd) and getting stronger Division 6: Craig Ellis (1st) with Steve Newsome 2nd. Division 7: Meg Thornton (1st), Anne Lloyd-Green (3rd) Division 10: Don Rowston and Jon Harris (3rd)
These paddlers were supported by many strong and keen paddlers: Richard Robinson (Div 1, 5th);, Matt Acheson (Div 2, 12th); Dave Hammond & "Keg" D'Andreti (Div 3, 12th), Tom Simmat (Div 3, 13th) with new member Justin Ryan (7th); Rob Manning (Div 4, 5th), Duncan Johnstone (Div 4, 9th), Jeremy Spear just back on the water (Div 4, 13th); John Duffy (Div 5; 4th, just 2 seconds behind 3rd) and Phil Geddes (Div 5, nipping up to 6th on the last bend); Rae Duffy and Merridy Huxley (Div 6, 4th), Ruby Gamble (Div 6, 5th and getting stronger), Don Andrews (Div 6, 7th - welcome to the team), Anjie Lees (Div 6, 12th and welcome to K1 paddling), Tony Mathers (Div 6, 13th and welcome back to the fray); Neil Duffy (Div 7, DNF) and Rozanne Green ( a very good ranking paddle); Tony Carr (Div 8, 9th); Tony Walker & John Greathead (Div 10, 6th), Joy Robinson (Div 10, 9th); Justin Paine (Div 11, 8th).
LCRK can't be accused of providing a short course this year. Between a "fullish length" course and a very low tide, only one paddler in the whole field achieved a time likely to result in being moved up a division. Most of our paddlers able to hit the water in an ICF craft did so. It isn't clear how we compared to other clubs in ICF craft points but no-one beat us in portaging points: 3 of the 4 "portagers" were LCRK paddlers and it was on land that Matt Blundell made his last lap break for a great win.
---
Round 10, Wagga Wagga (WBCC) - Saturday 27 September
Host Club: Wagga Bidgee Canoe Club
Location: Wagga Beach, Wagga Wagga
First Start: 12:45AM
Event Information
Photos

Wonderful Weather in Wagga Wagga for Last Round of 2014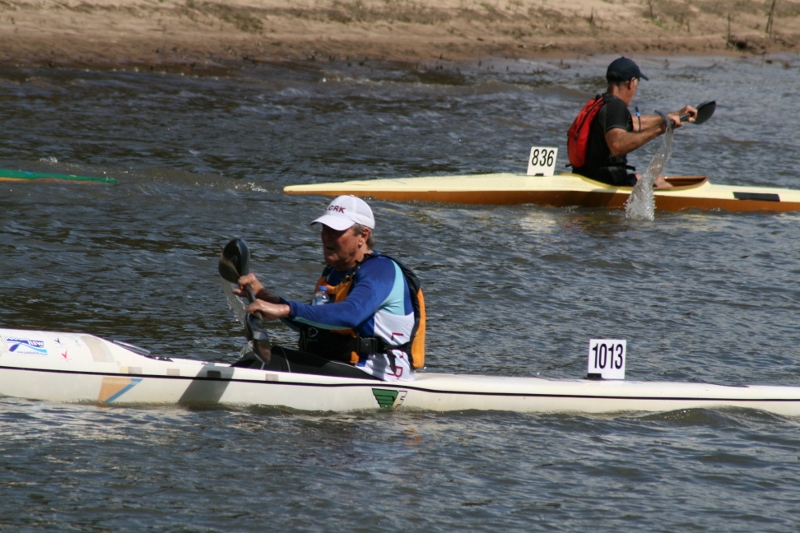 Tim Hookins racing again
Wagga Wagga turned on the best weather of the Marathon season for paddlers who made the trip down. There was the biggest contingent of LCRKers present for some years with most staying at the caravan park and camping site right next to the river.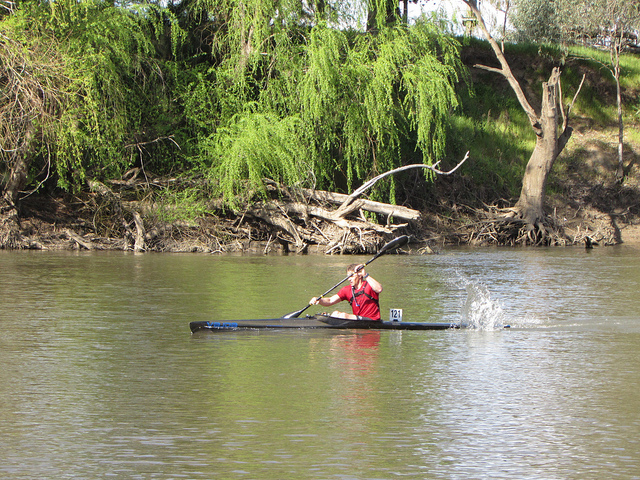 Toby Hogbin wins Div 1
The fast flowing Murrumbidgee makes it a course with a difference. The flowing water sees paddlers hugging the river bank to seek shelter from the river current in the upstream leg and then sticking to the middle of the river on the downstream leg to gain maximum benefit.
LCRKers paddled well and there were some excellent performances as contenders for their division pushed hard for a result.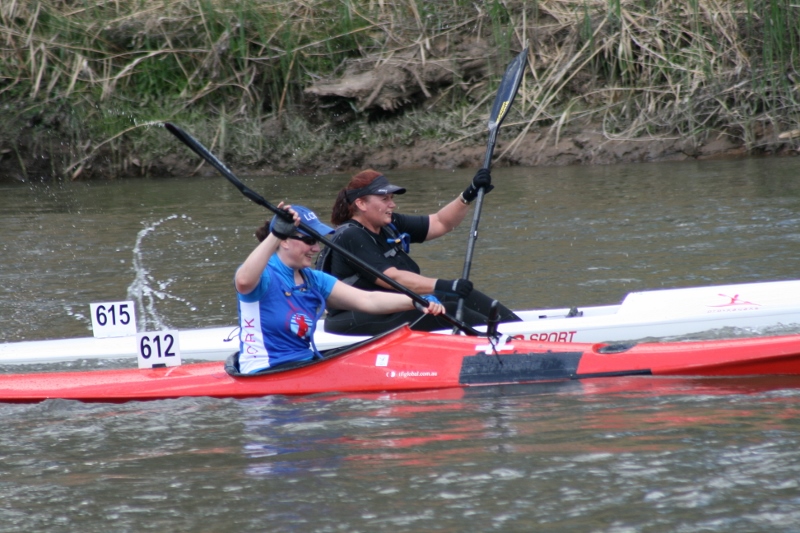 Ruby and Anjie powering along in Div 6
In Div 1 the tricky, fast flowing 'narrows' section of the course saw Matt Blundell go for a very rare swim which allowed Toby Hogbin to get a 200m jump. Matt turned on the after burners and just missed out catching up to Toby by 2 seconds to take second while Toby claimed 1st. Rob Manning had another excellent race to take out 1st in Div 4.
It was also good to see Tim Hookins back paddling in the Marathon series after getting a turbo charge fitted to the ticker.
Club points were picked up by the following paddlers with the following results:-
Div 1 - 1st Toby Hogbin, 2nd Matt Blundell
Div 2 - 3rd Tony Hystek
Div 4 - 1st Rob Manning
Div 5 - 2nd Wade Rowston
Div 6 - 2nd Ruby Gamble, 3rd Anjie Lees
Also giving it their best at Wagga was Tom Simmat, Tim Hookins, Duncan Johnstone, Alanna Ewin and Danielle Seisun, Richard Barnes and partner.
The 2014 Paddle NSW Marathon Series Annual Presentation was held after the race in the evening and LCRKers picked up a number of well earned series results. Congratulations to:-
LCRK 2nd Place - Club Points Score
Div 1 - 1st Matt Blundell (Highest Points Score),2nd Toby Hogbin
Div 2 - 2nd Tony Hystek
Div 3 - 2nd David Young (Most Improved Male Paddler)
Div 5 - equal 2nd Duncan Johnstone, Wade Rowston
Div 6 - 1st Ruby Gamble
Alanna and Danielle Seisun (Encouragement Award)
---