And some other Marathon events to slot in...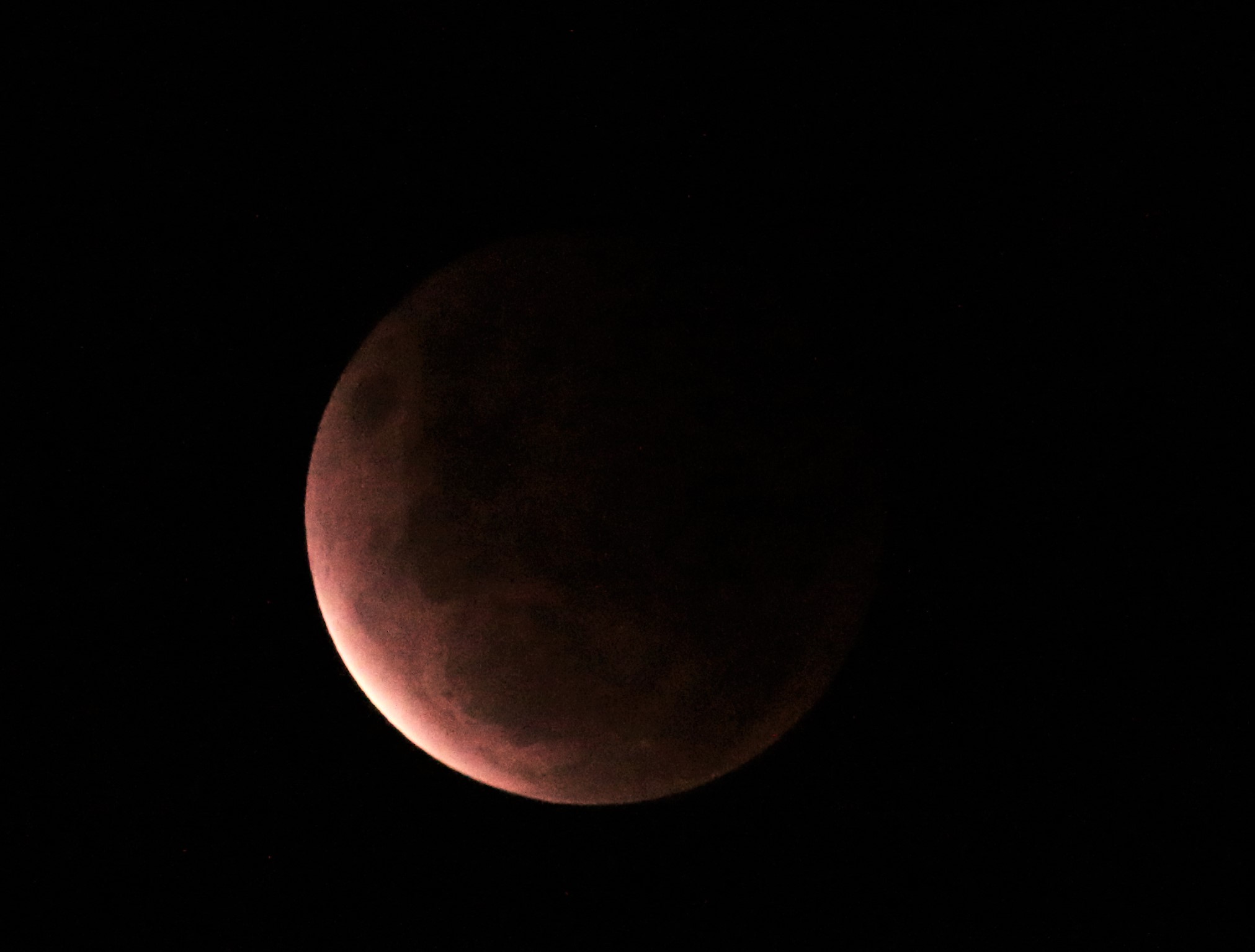 Round 11, Burrill Lake (Makai) - Sat 14 Oct
Race Report by Naomi Johnson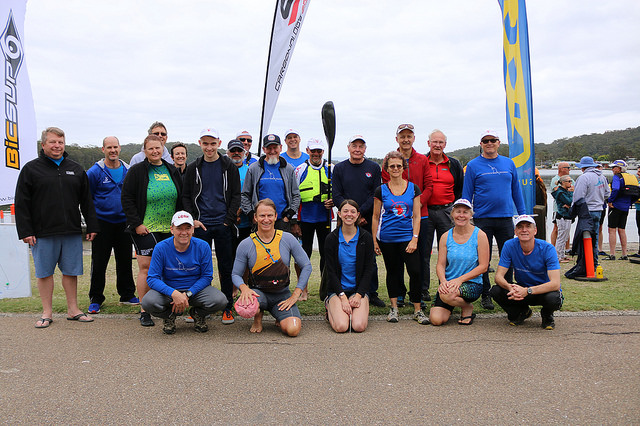 Above: Most of the Lane Cove paddlers ready for the marathon series finale
Sunny and warm with just a hint of a breeze, Burrill Lake was the place to be on Saturday for the grand finale of the 2017 marathon series. A three-hour drive south of Sydney, the idyllic south coast venue is set in the midst of a caravan park, and many chose to make a weekend of the trip. With ten races down, some were up for a fun and relaxed paddled, while others had their eye on points and divisional trophies.
Those who paddled Burrill Lake in 2016 will remember stormy weather, with laps of gusty winds and scary waves. Not so this year, with the water beckoning invitingly. Starting from the Big 4 Caravan Park, the course wound north and west into the sheltered part of the lake, with plenty of turning buoys to contend with and a great final stretch into the finish. With Lane Cove paddlers in almost every division, it was a great race for the spectators as well as those on the water.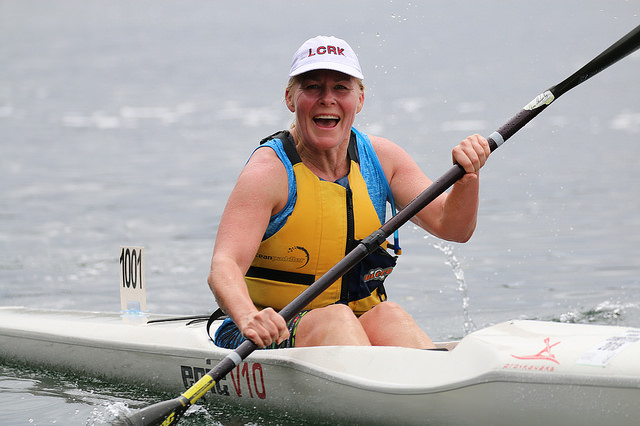 Above: Allison with the biggest smile of the day!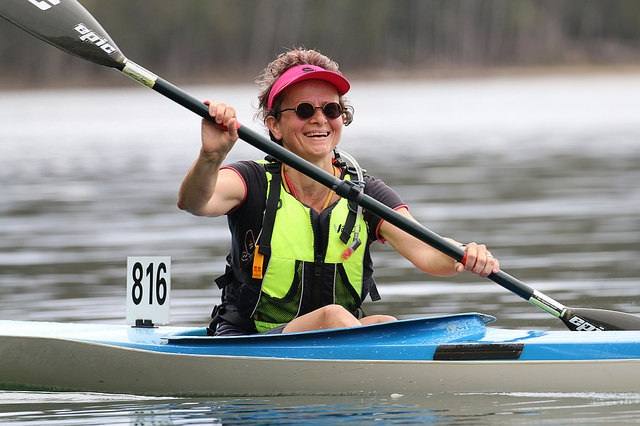 Above: Jana finishing her first 15km race
A real shift in the 2017 season has been the popularity of the 10km divisions, and once again Div 10 was full to bursting with 20 boats on the start line. Allison Bilbow (7th) and Peter Harris (13th) were among them, with Allison possibly the happiest finisher of the entire race! Ian Wrenford was not so fortunate, withdrawing after 5kms due to a seat he described as 'unbumfortable', though probably because he was keen to grab the camera from Lesley Manley to start snapping shots himself. Thanks to both Ian and Lesley for such great action shots of the race! Also paddling 10kms were Brendan Gay (2nd) and Anjie Lees (3rd) in Div 11, and Paul van Koesveld (10th) in Div 9 – great to see him back in the marathon series after a back injury.
Over 5kms, Lachie Wrenford was 2nd, and still enjoying the K1, while Clayton Anderson trundled out his ski to place 4th. Stepping up from 10 to 15kms, Jana Osvald was the sole LCRK paddler in Div 8, with a faster average speed despite the longer distance. In Div 7, Gaye Foster (2nd, MWKC) posted a fantastic season finale PB, taking five minutes off her previous best time for the season.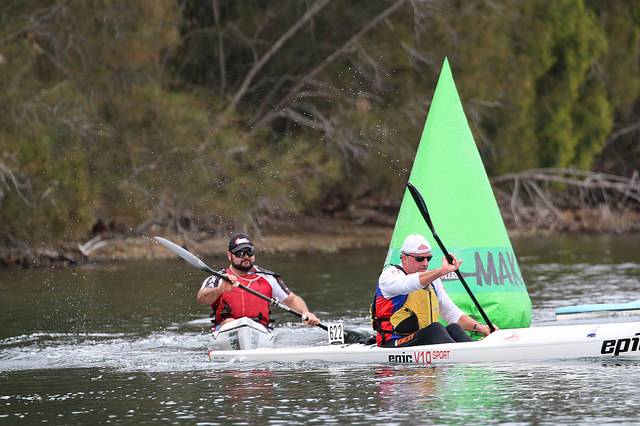 Above: David and Keg round the turn buoy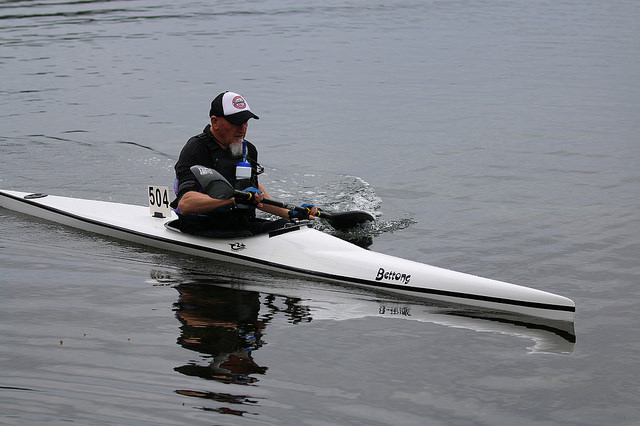 Above: Jeff getting acquainted with the new club Bettong
Div 6 saw Oscar Cahill stepping up from 10 to 20kms, and though his time of 2:07:36 put him among the last boats on the course, he was all smiles and the finish and clearly keen to stick with the longer distance. A little further ahead in the pack, Tony D'Andretti (3rd) and David Hammond (4th) rounded out division's Lane Cove contingent. Racing was tough in Div 5, with no fewer than four paddlers getting a bit over-excited and earning themselves a ticket to Div 4 for next year. Among them were Wade Rowston (1st) and Naomi Johnson (2nd), who finished two seconds apart after a final sprint for the line. Jeff Hosnell (9th) looked very happy in the club's new Bettong, and Phil Geddes finished in 11th.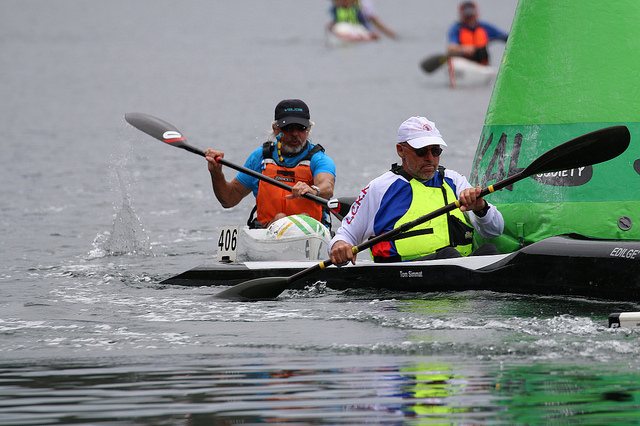 Above: Tom and Jezz in Div 4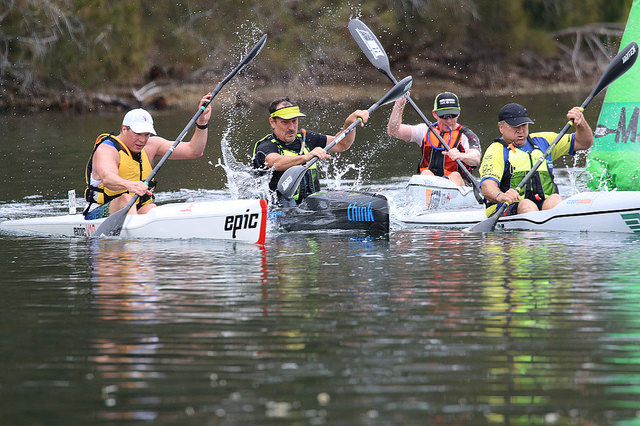 Above: Peter Manley in a heated Div 3 sprint
Div 4 might have almost been called laid-back, with Jeremy Spear already sure of his victory in the overall points. Don Johnstone pipped him in the final sprint for 3rd, with Jezza taking 4th and Tom Simmat 8th. The Warwick Sherwood/Greg Morris train in Div 3 continues to improve, posting another PB time for 8th place, while Peter Manley came out best in a big bunch sprint for 3rd. David Young was the only LCRKer in Div 2, posting a strong 6th to follow his successes at the World Cup. In Div 1, Stewart O'Regan flung himself round the course, portages and all, to finish 2nd by mere seconds, while Tony Hystek/Alanna Ewin in their double ski took things at a slightly more sedate pace. Out for a planned 'HCC training run', the duo got a bit more than they bargained for when they bent the rudder and had to execute a quick fix after the first lap. All good HCC practice?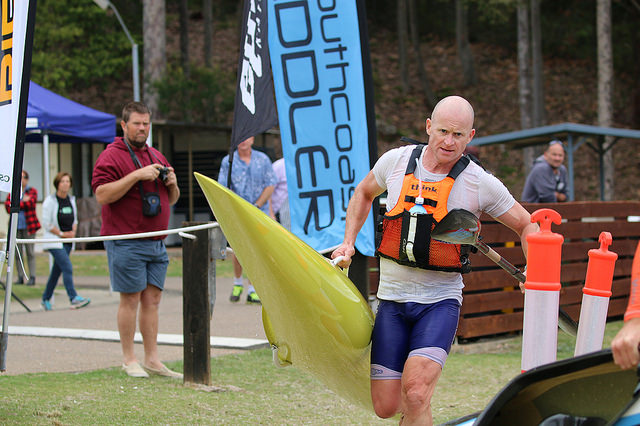 Above: Stewart focused on the portage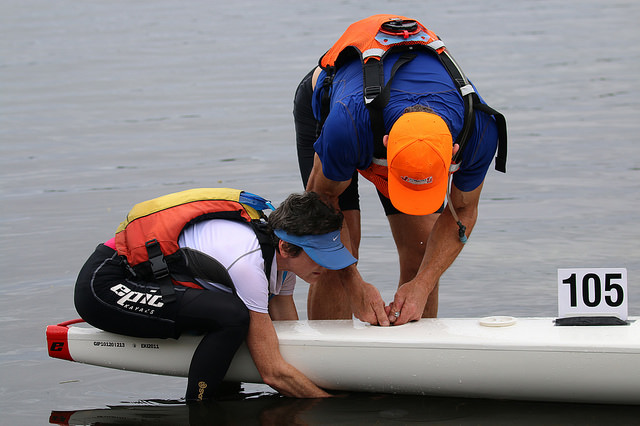 Above: Grand Prix-style rudder fixing from Tony and Alanna
Then it was time to party, with a fantastic awards presentation and dinner organised by Makai in a big marquee by the lake. With plenty to eat and drink, a swathe of lucky door prizes, a catchy band and wonderful enthusiasm for everyone it was a great evening. Lane Cove filled more than three tables, and, led by Allison and Jana, were some of the first to the dance floor as well!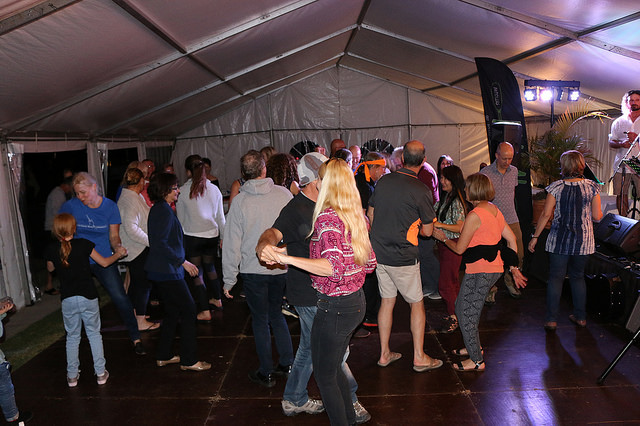 Above: Spot the Lane Cove team on the dance floor
Lane Cove presence across the whole season has been fantastic, resulting in a solid lead on the club trophy from early in the year. A strong turn-out race after race, along with several really outstanding individual performances, secured us top club for the second year in a row. Only problem is that we hadn't returned the trophy for a photo!
Across the day, special mention was made of Tony Hystek and Don Johnstone for their contributions to Paddle NSW. Stepping down from his position as Chair, Tony was thanked for his huge donation of time and energy to all things paddling (think Parra PaddleFest and Myall Classic to name the big ones). It probably comes as no surprise that he was spotted assessing two new coaches after the race finished. Don received a big round of applause for his work on race entries and handicapping, and seemed to feel even more relief than everyone else as he talked us through the new Webscorer system for 2018.
Awards were made to division winners, along with a couple of trophies for special achievements:
Div 1: 2nd – Stewart O'Regan
Div 2: 3rd – David Young
Div 3: 1st – Peter Manley
Div 4: 1st – Jeremy Spear, 3rd – Don Johnstone
Div 5: 1st – Wade Rowston, 3rd – Naomi Johnson
Div 6: 3rd – Jeff Hosnell
Div 7: 2nd – Gaye Foster, 3rd - Gaye Hatfield (both for MWKC)
Div 10: 1st – Oscar Cahill
Div 12: 2nd – Lachie Wrenford

Lane Cove boasted two of the 100% awards, with Lachie Wrenford and David Hammond finishing every race on the calendar.
Tony and Alanna were awarded Most Outstanding Paddlers for their continuous efforts, smiles and portages in Div 1 despite tough competition, and Naomi came away with Most Improved Paddler for the year.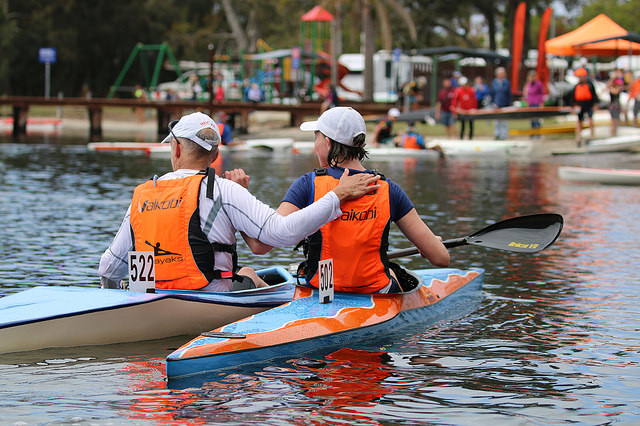 Above: Wade and Naomi at the finish
A Different Perspective on Div 5 by Wade Rowston
As Naomi writes the race report it's difficult for her to report on her own performance so here is a special report. In Div 5 the series result came down to the last race of the season with 4 paddlers in contention. From the onset Naomi quickly made her way to the front of the pack in her new Roman Sail K1. At the first turning buoy she drew level with the lead paddler and fellow contender John Denyer (SSCC). Naomi and John took it turns at the head of lead pack of 7 for 2 ½ laps setting a cracking pace. Then the lead started to change but Naomi was always one of the paddlers taking turns to lead. I manage join Naomi at the front by the end of the third lap. Without much being said we immediately set about increasing the speed and taking it in turns to lead. By the time we turned right into the home straight we only had one other paddler in immediate contact. We surged again to try to drop him and Naomi nearly dropped off my wash but as expected she found that extra gear and came back strongly. By the time we hit the finish line together there was only a few centimetres between us. Naomi's time at 1:47:41 was nearly 5 minutes faster than her previous best (compared to Windsor which was also a short course) and would have earned her 3rd place in Div 4 on the day. Congratulations Naomi on a great race and being awarded the 'Most Improved Paddler' this year.
Nature Notes 19 - Satin Bower Bird – Ptilonorhynchus violaceus
from Jonathan Harris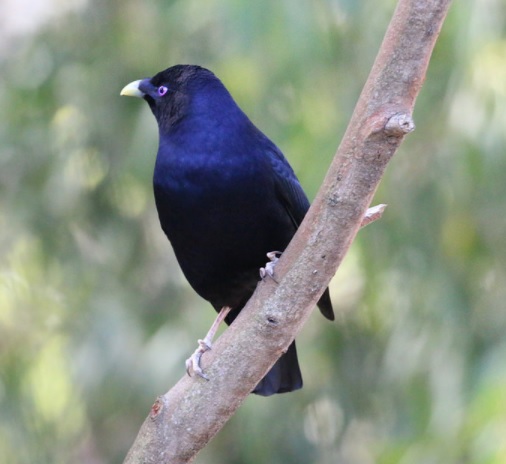 Above: Burrill Bower Bird busy eyeing off the blue LCRK merchandise
Hello everyone in LCRK ! After taking a pic of a satin bower bird at the recent Burrill Lake marathon, Ian Wrenford asked me to write a piece about this interesting bird.
Fortunately where we now live just north of Coffs Harbour they are numerous, and their bowers are in the rainforest near our house. They are endemic to wet forests and the surrounding areas, although we used to see them occasionally when we lived in Normanhurst.
The satin bower bird is a medium sized bird, one of about 18 in the ptilon. family and is surprisingly long-lived. The male only moults and receives his iridescent black plumage after about 7 years but until then looks much like the female. Females are olive-green above, brown wings and tail and cream body underneath with a dark scalloped pattern. Both have electric blue eyes, the male has a white beak and the female a dark beak. They mainly eat fruit but will scavenge anything including insects, soft vegetable matter, foliage, etc. What sets these birds apart is their courtship and mating ritual.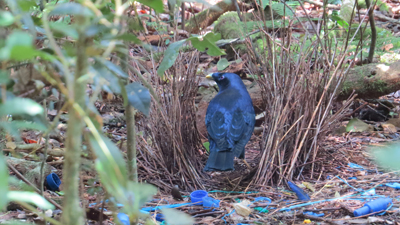 Above: A Bower's bower
The male builds a bower (see photo) and decorates it to attract a female. The construction is of dry sticks glued together chewed foliage and saliva, always facing north-south and built on the forest floor. The decorations are anything blue in colour such as parrot feathers, flower petals, and manmade objects like pegs, bottle tops, straws, pieces of plastic bags and so on. If a female passes by the male, he performs an elaborate dancing ritual, offering his decorations to her. He postures, flaps and vibrates his wings, fans his tail, hops and dances all with much chattering and calling.
If the female is impressed she enters the bower for mating, then flies away to begin nest building, lays 3-4 eggs and raises the young with no help from the male. The male simply maintains his bower and continually redecorates in the hope of attracting the next female. After 3 weeks the chicks are fledged and she guides them to a nursery area where she raises them until they leave to become independent.
Immature males spend their leisure time practicing building bowers and perfecting their courtship rituals. The breeding season is from September to February but the male must guard his bower through the year lest another male move in and take over. There is however suspicion that use by multiple males occurs. The adults are mostly solitary but the younger ones are sometimes seen in small flocks.
Altogether an interesting bird !
Round 10, Grays Point (CSKC) - Sat 26 August
Race report by Naomi Johnson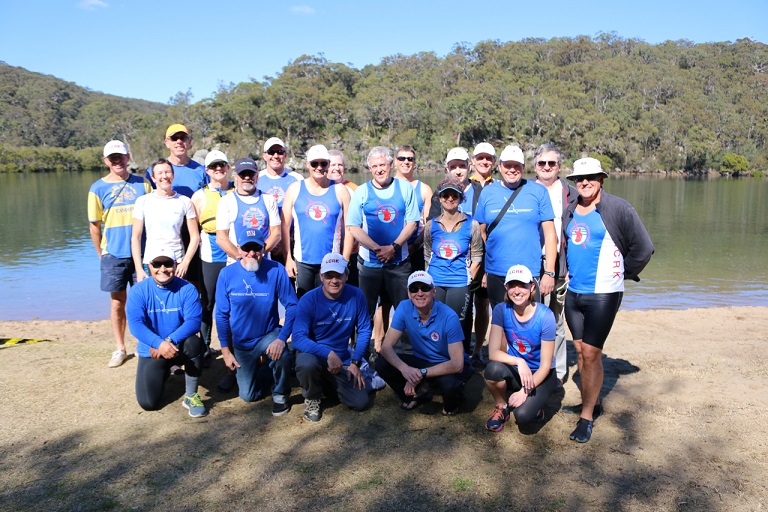 Above: Group photo (most of us) showing the idyllic conditions
Pleasant weather was back for the penultimate race of the 2017 marathon series, with Lane Cove paddlers out in force to greet it. Held at Grays Point on the northern end of the Royal National Park, it was for many not much more than a hop and skip of a Saturday morning drive away. Conditions on the water were thankfully much less windy that the last two races. Brisk gusts of Thursday and Friday calmed to a slight breeze that paddlers only really felt down the bottom end of the course. 5km laps gave spectators great views of all the paddling action in a race that seemed just a bit too sunny and warm for the tail end of winter.
Those arriving early were surprised to pass Richard 'Rocket' Barnes hurtling down the hills of Grays Point on his bike in the all-too-familiar Sydney Uni T-shirt. Rumours that he had pedaled the 40-odd kms from home and was towing his boat have since been quashed...but none were at all surprised to hear that version of the story either!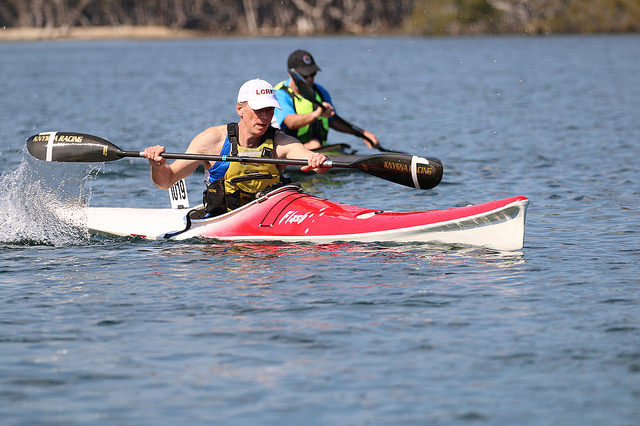 Above: Oscar sprints to win Div 10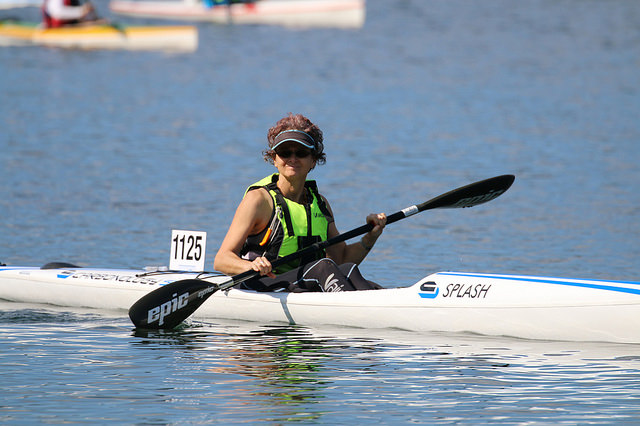 Above: Jana ready to go in Div 11
Oscar Cahill and Ian Wrenford made their call on having Div 10 'covered', with Oscar holding out in a tight sprint for first place and a series PB of 1:00:17, and Ian rounding out a strong field of 16 paddlers. Marone Fine split the difference for 8th place, also in a series PB time of 1:02:55.
Lane Cove numbers were a little down for the rest of the shorter courses. Div 11 saw Brendan Gay and Jana Osvald both post series PBs, earning themselves 5th and 7th respectively in a tight field. John Greathead (7th) and Lachie Wrenford (8th) were flying the LCRK flag in Div 12, with Dave Salter (9th, paddling for Manly) rounding out the field. A special mention goes to Lachie for being one of a very small handful of paddlers on track to have completed every race this season. And he's still paddling a K1!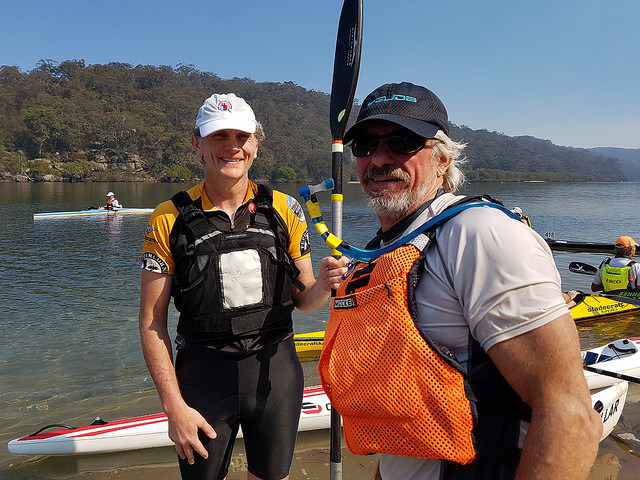 Above: Don and Jezza at the finish
Oscar's may have been the only Lane Cove win of the race, but 2nd is still pretty awesome, and second it was in Divs 4, 5 and 6. In Div 4, Jeremy Spear finished 2nd in what looks like a very tight sprint (but wasn't), followed by Rodrigo Matamala (4th), Tom Simmat (5th), Don Johnstone (8th) and Richard Barnes (10th). Don reported he was 'hunted down' by a pack of Div 8 hot-shots, who came up on either side and suddenly included him in their diamond. Whether they were trying to do him a wash-riding favour or not, Don found himself with nowhere to put the paddle, and ended up in the water right in front of the starters' tent. Richard's unusual place at the back of the field came courtesy of his choice of craft, paddling the entire 20km course in a borrowed We-no-nah canoe. And a time of 2:21:00 is pretty good when you've only got the one paddle blade!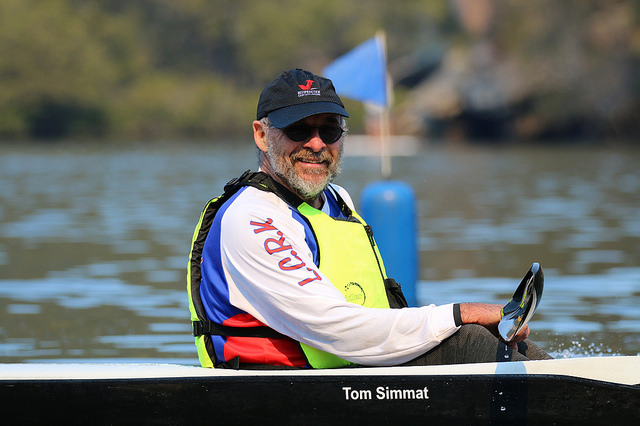 Above: Tom all smiles in Div 4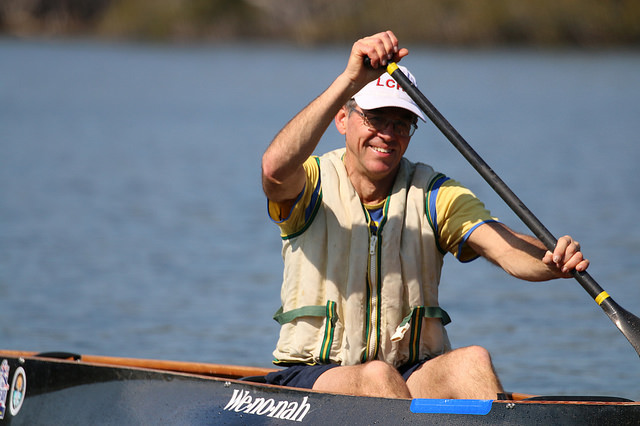 Above: Richard in the We-no-nah canoe
Nine of the 16 starters in Div 5 were Lane Cove boats, yet a full flush of LCRK boats in the top four evaded us again. Lee Wright paddled a strong race to come 2nd, followed by Suzie Rhydderch (4th), John Duffy (5th), Wade Rowston (6th) and Rob Llwewllyn-Jones making his 20km debut in 7th. Naomi Johnson (9th) had a fun and rather fast first half of the race in Alanna's K1, but then got on the wrong side of a speedboat wash to earn herself a swim and the Nemo award! Phil Geddes and Ken Collins both looked at the start but didn't quite make it the full 20kms, and Duncan Johnstone (11th) also joined Div 5 to practice his portages ahead of the Marathon World Cup in a few weeks' time.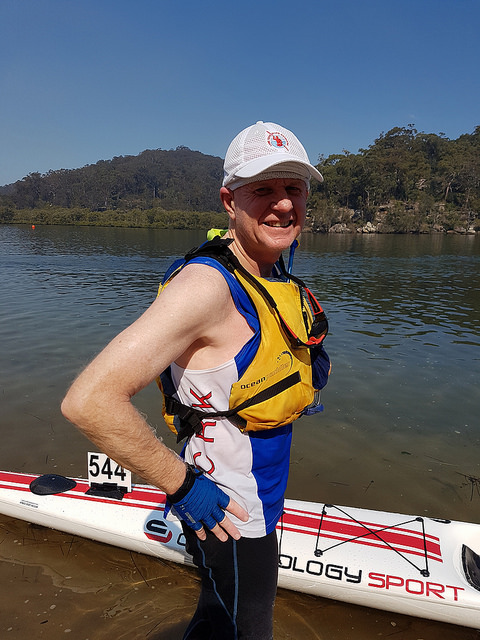 Above: Rob completed his first Div 5 race
In Div 6, Jeff Hosnell just won out on a final sprint to earn himself 2nd, along with a long-awaited passport up to Div 5 for the season finale. David Hammond finished in 11th, and it sounds like he cheered on every single Lane Cove paddler he crossed paths with along the way! Meg Thornton and Gaye Foster were familiar faces in Div 7, with Gaye taking out the top spot for Manly.
The speedster divisions proved themselves as speedy as ever, with tough racing and tight finishing times. Div 3 saw Peter Manley maintain his streak of 3rd place finishes (he's up to the trifecta now) and the ever-improving Greg Morris/Warwick Sherwood duo cross the line in 9th. With David Young already on his way to South Africa, the sole Lane Cove boat in Div 2 was Justin Ryan, who finished 11th right on the heels of a Manly double. Numbers were stronger in Div 1, with Stewart O'Regan and Matt Blundell finishing 3rd and 5th respectively in a blisteringly fast field. Alanna Ewin/Tony Hystek rounded out the Lane Cove boats in 7th, providing some amusement for onlookers when their first portage re-entry took a bit of a tumble and they had to try again.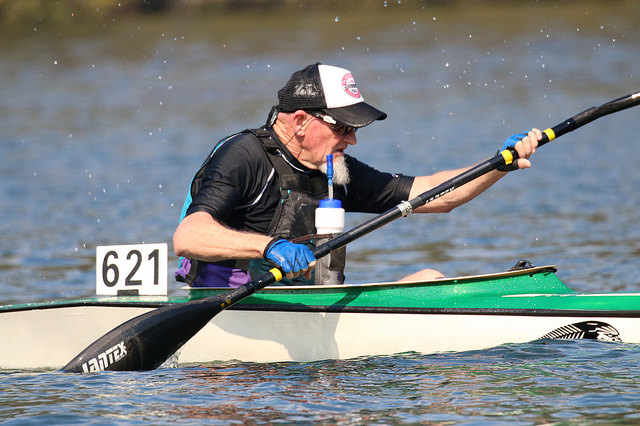 Above: Jeff focused in the final seconds of his race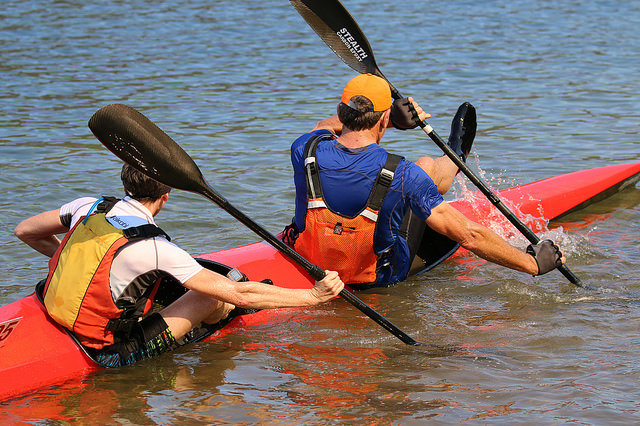 Above: Alanna and Tony - first swim of the season?
Thanks as always to photographers Lesley Manley and Ian Wrenford for their superb coverage of the race. The Myall Classic is next on the horizon, providing a perfect training opportunity for the marathon season finale at Burrill Lakes on October 14th. Seriously…after a brisk dash up and down the Myall over your chosen distance, a few laps of Burrill Lake will be a piece of cake. At least, so long as it's not as windy as last year!
Round 9, Teralba = Cockle Creek (HVPC) - Sat 5 August
Race report from Wade Rowston
Fortunately the forecast winds of up to 45km westerlies did not eventuate. However, there was still some solid gusts of wind sweeping across, and seemingly up and down the course, as well as some nasty little wind darts just to keep us on edge. The north/south running course did offer some protection from the winds so there was no wind chop whipped up and it took a lap for everyone to work out how to avoid most of the shallow sections. The numbers of competitors were a little down but still there was plenty of close racing. Many thanks to host club Hunter Valley PaddleSports Club for running an excellent event.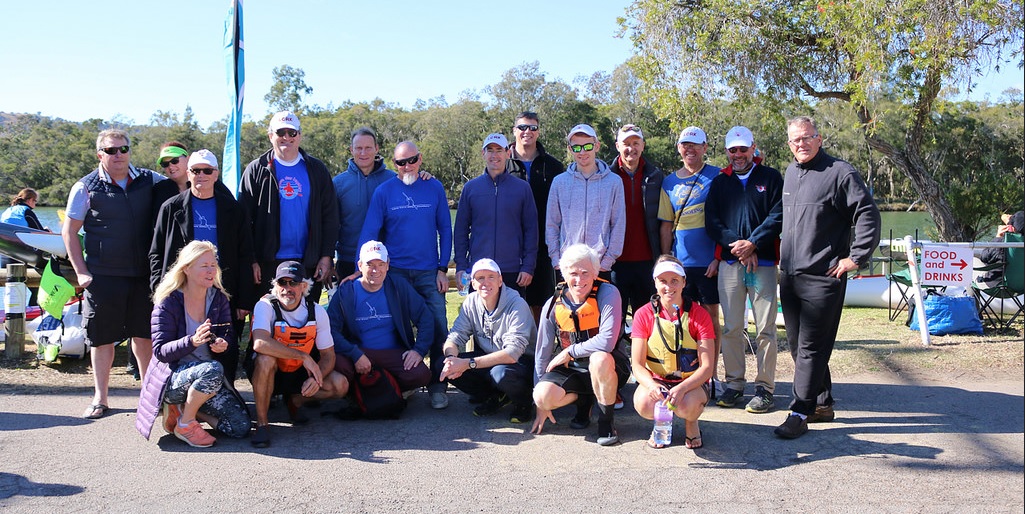 Above: Most of the LCRK contingent. Remember - group photo straight after race briefing!



It was another very good club day for us. We are now 80 points ahead on the club points tally but let's not rest on our laurels. Congratulations to all LCRKers who managed to pick up a top 4 positions. Not sure if this has happened before but LCRKers took out 3 of the top 4 club points earning positions in three divisions! Div1, Div 4 and Div 6. Technically LCRK took out the top 4 positions in Div 4 but on paper Richard Barnes always paddles for his beloved Sydney Uni. We also picked up 2 of the top 4 spots in Div 3 and Div 5. That's a very solid club performance across the 20km divisions.
Div1: The sprint to the finish was actually on leading to the last turn as a favourable inside line was the ideal set up for the final 250 metres to the finish. Matt Blundell did well as usual but had to settle for second. Andrew Love had another strong paddle to hold on to the lead group until near the end and came in 3rd. Stewart O'Regan put in another very solid performance for 4th. Tony Hystek and Alanna were a bit off the pace this time with Tony unable to get the usual leg drive happening due to a dickie knee.
Div 2: David Young flew the flag for us and came in 8th in a very tough division.
Div 3: Peter Manley and Tim Binns had a LCRK duel to the finish with Peter just getting the chocolates on the day for 3rd, only 2 seconds ahead of Tim in 4th.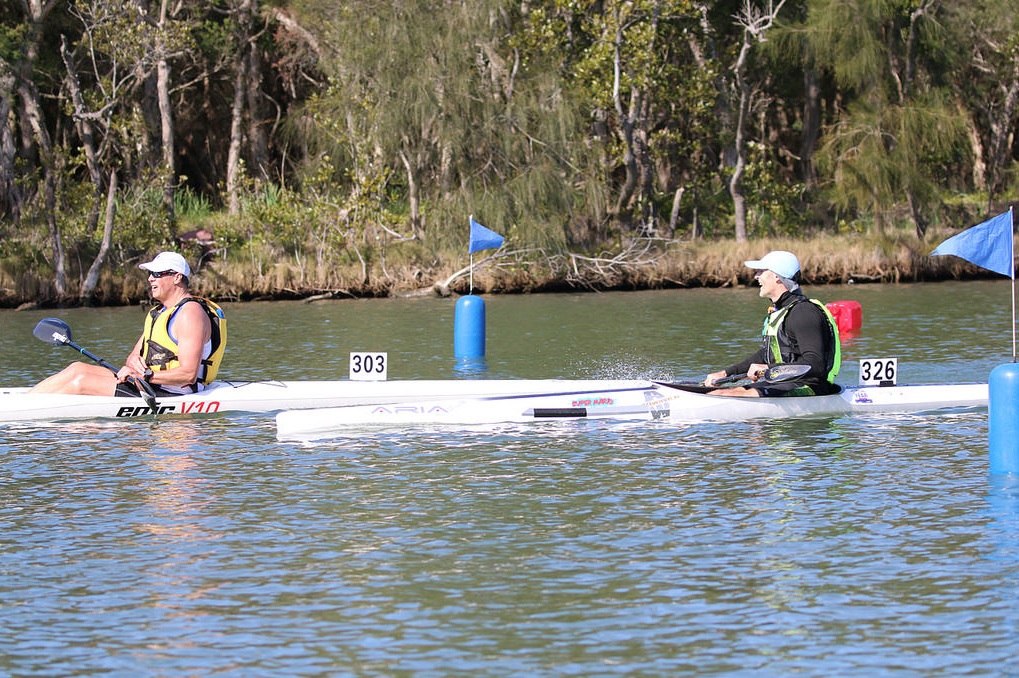 Above: Pete & Tim 3rd n 4th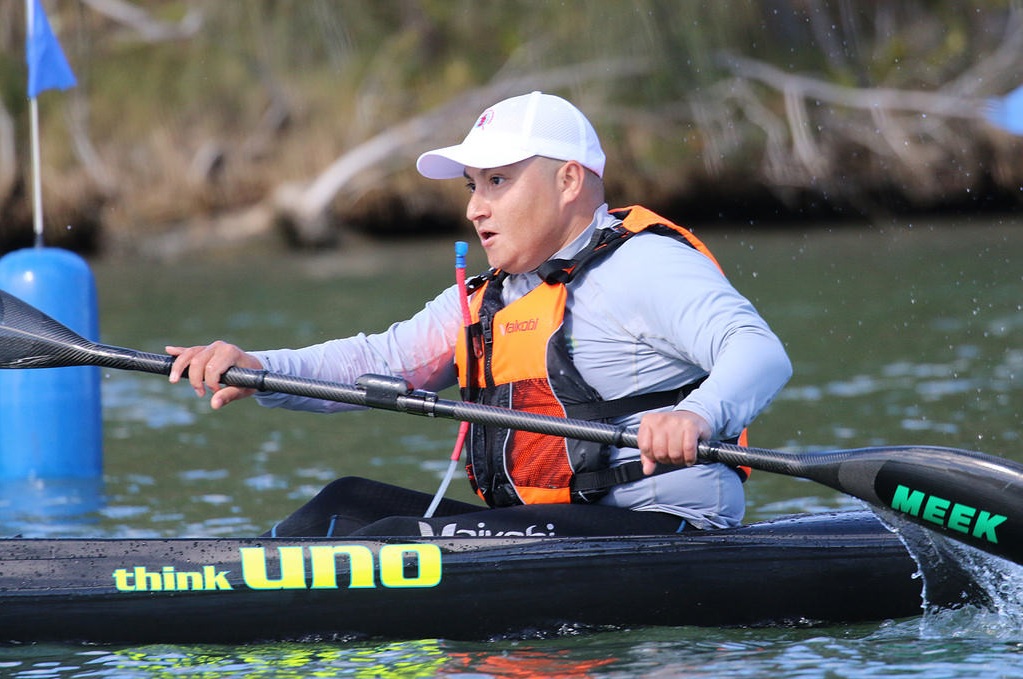 Above: Rodrigo 1st again
Div 4: Well hopefully you have not booked a long holiday and handed in your resignation at work based on the winnings on placing a lazy $100 bet on the quadrella for a LCRK 1st to 4th clean sweep. Congratulations again to Rodrigo Matamala who went back to back for 1st place. Jezza Spear still recovering from a lingering cold is down to about 50 coughs/km and did very well for second place. Richard Barnes (paddling for Syd Uni), out for a social paddle, still managed 3rd and Tom Simmat wasn't collecting seaweed this race which allowed him to paddled well for 4th. John Duffy, in only his second marathon after a long break, found the going tough on the day and came home in 10th.
Div 5: Another LCRK race within a race between Suzie Rhydderch and fast finishing Wade Rowston saw Wade just getting there by a metre for 3rd with Suzie 4th after a very solid paddle. Warwick Sherwood, this time on a single ski rather than a double, did well for 6th and Phil Geddes finished well in 7th.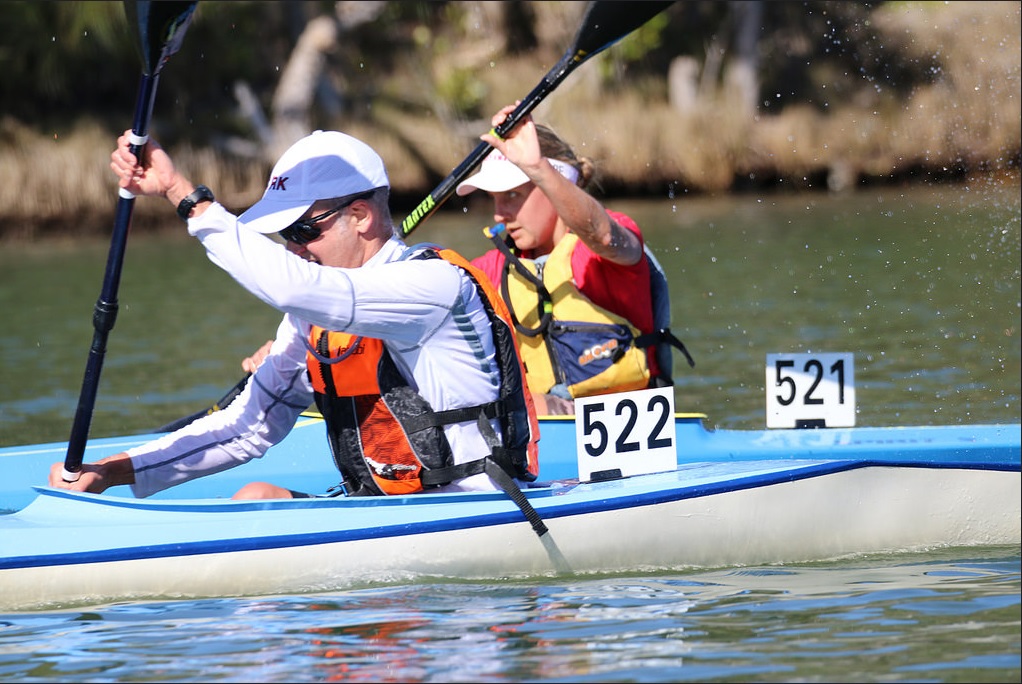 Above: Wade edges out Suzie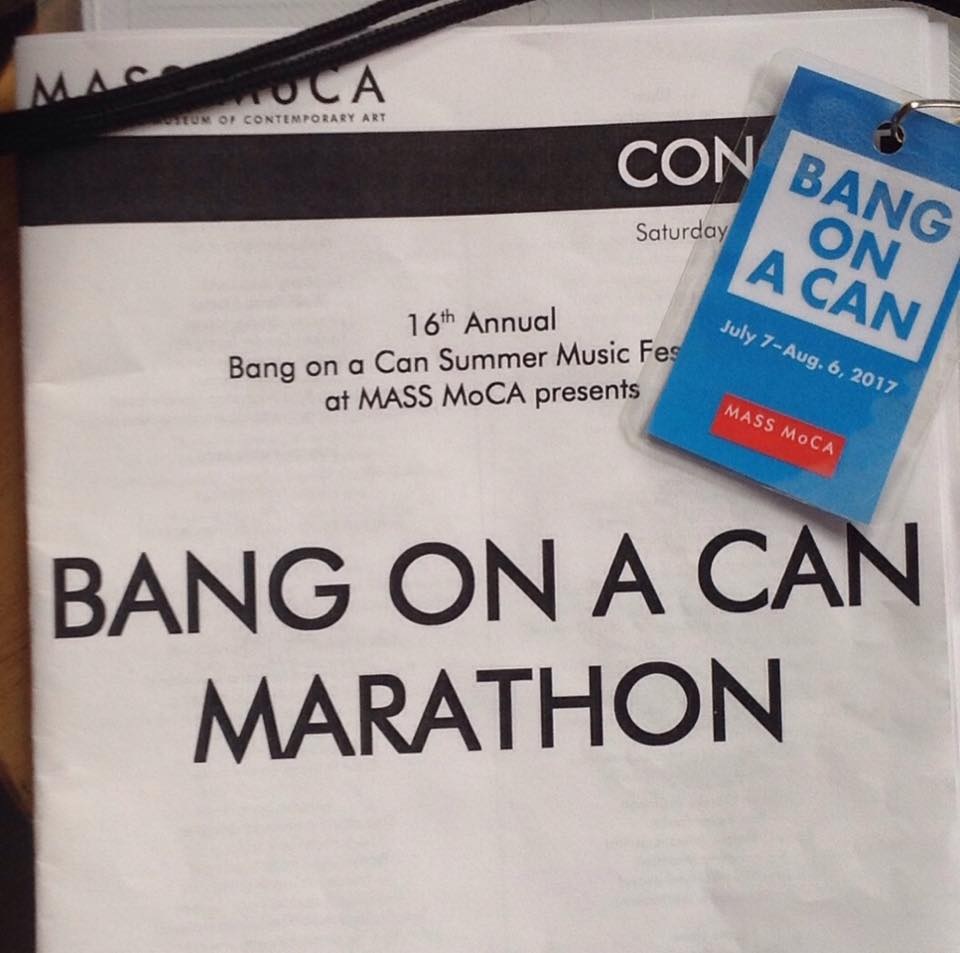 Above: Naomi - excused with a permission note

Div 6: A big pat on the back and congratulations for Tony (Keg) D'Andretti for taking out a runaway 1st place. Jeff Hosnell was exactly 1 min behind in 2nd place and big Dave Hammond came in 4th with a strong paddle. David Veivers was a bit surprised to find he had been promoted to Div 6 and came home in 12th. It was a tough day at the office for Derek Simmonds who was 13th.
Div 8: A lot of fast paddlers in Div 8 this time around which saw Tim McNamarra do a good time for 8th place. Ann Lloyd Green (paddling for MWKC) did well for 11th place.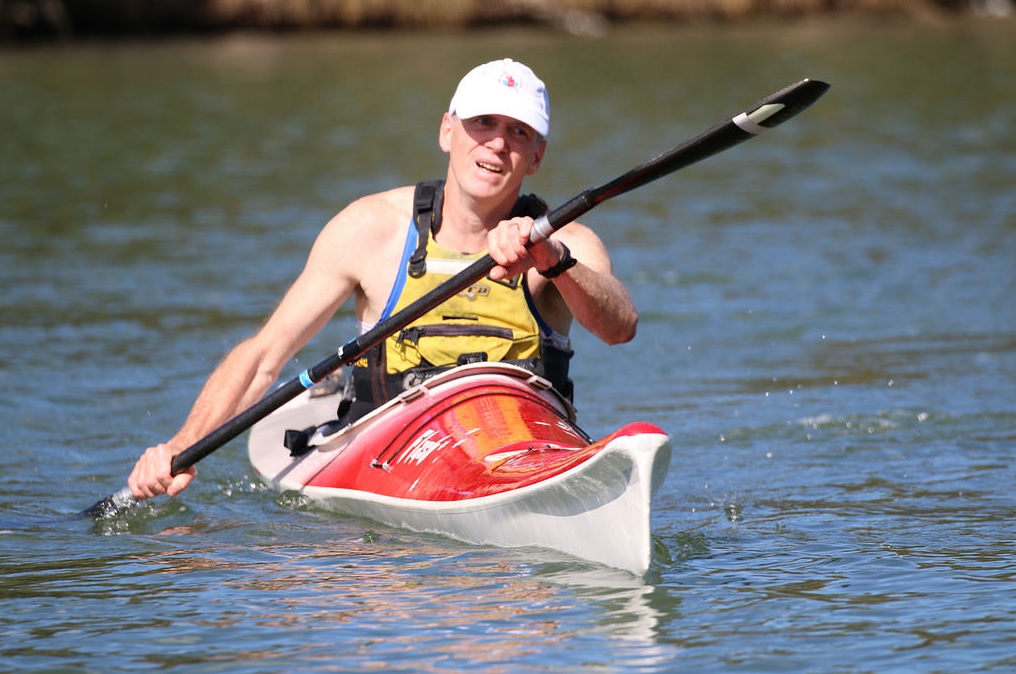 Above: Oscar - time for a breather
Div 10: Mr Reliable, Oscar Cahill had to call on a bit of extra 'grunt' to just edge ahead of 2 other boats for 3rd place. Oscar has been awesome sticking to the 10 km event for the race season and consistently winning club points, but he is now ready for 15km. Ian Wrenford expecting difficult wind brought his slow boat and was a bit slower than usual for 14th place.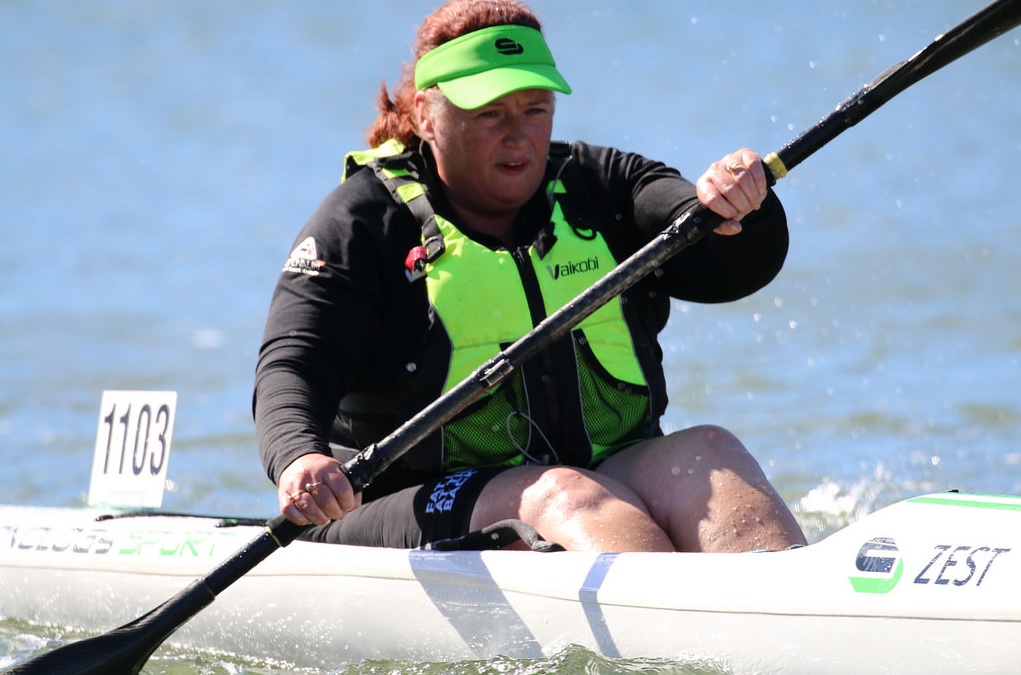 Above: Anjie - it's not easy feeling green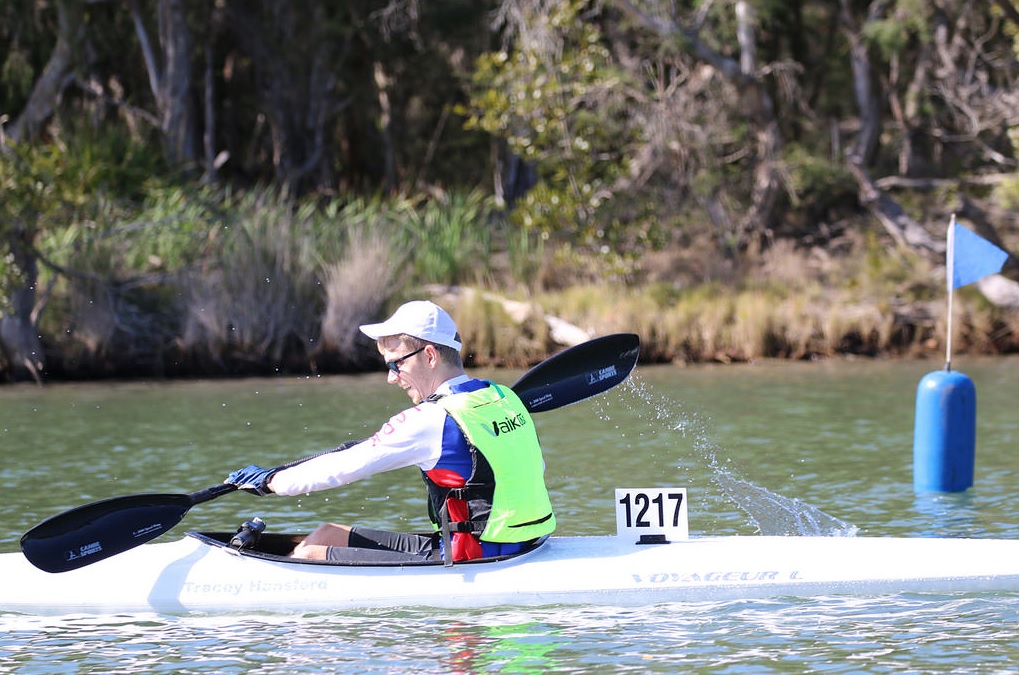 Above: Lachie - liking that boat

Div 11: Anjie Lees, starting to show signs of recovering from illness paddled well for 8th.
Div 12: Lachie Wrenford did well to claim 5th in Tracey Hansford's K1 whilst she recuperates (thanks Tracey!).
Many Thanks to photographers Lesley Manley, Ian Wrenford and Paul van Koesveld (Paul's pix and some video will be loaded during this coming week - we'll include a link with the TT report this week).
Round 8, Narrabeen (MWKC) - Sun 23 July
Race Report - from Wade Rowston Wow what a day! Congratulations to all LCRKers who managed to complete the course in testing conditions, especially if it was without a swim and close to your usual time. Give yourself a pat on the back. Despite the tricky conditions LCRK paddlers still scored a good swag of club championship points to help us retain a healthy lead.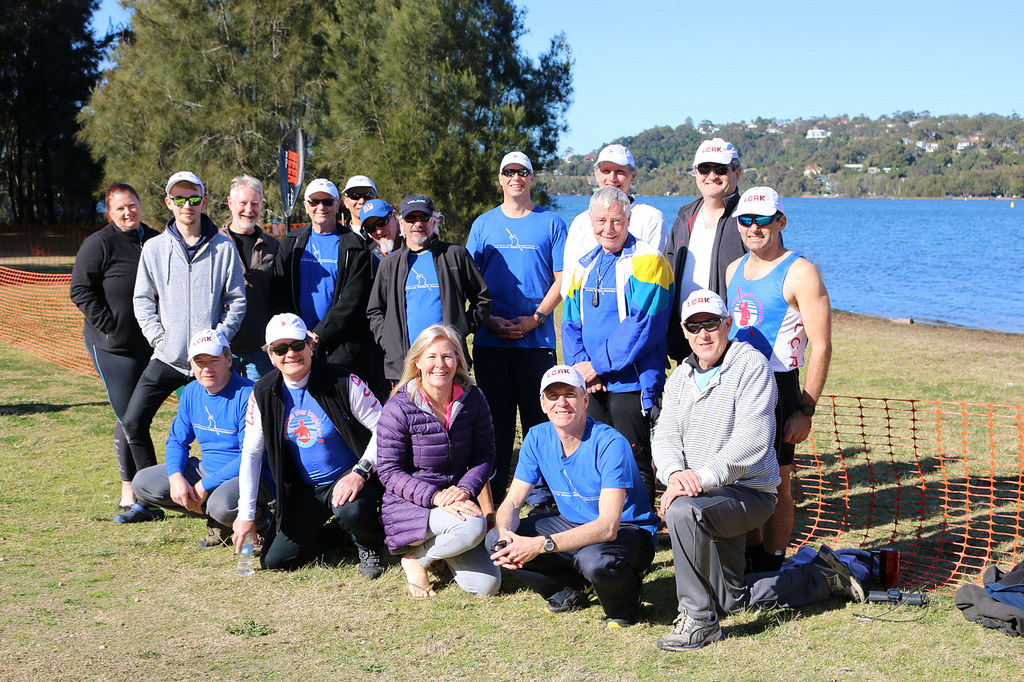 Above: About half of the LCRK contingent. Remember - group photo straight after race briefing!



On arrival at MWKCs' great new location for the event at Bilarong Reserve on the north side of Narrabeen Lake, conditions were perfect on the water. However, as the race start approached, a solid gusty south westerly sprung up and was quickly generating a considerable wind chop as it drove across the lake. Many K1ers started to look a bit twitchy even before hitting the water and others in tippy boats expressed concerns.
That's the way it panned out, with only the best K boat paddlers managing to get through without a swim. Around the section of the course known as Wimbledon (named so because it is adjacent to houses backing on to the lake in Wimbledon St) there was large cross chop and bounce back that sent numerous paddlers into the drink. I think we can record that as a straight sets victory to the lake.
Another spot on the lake that reintroduced paddlers to the sport of swimming was the main lap turn located further out from the finish line, well into the lake. Many rescues were performed by fellow paddlers which was great to see (especially if you were being rescued) while the safety boats were being kept busy by other swimming paddlers.
There was a high rate of withdrawals too as paddlers decided the effort of just trying to avoid a swim was not much fun compared to being an active participant in a race. Despite the tricky conditions the majority of paddlers completed the course with some LCRKers actually excelling in the conditions.
Div 1: A great result for Tony Hystek and Alanna Ewin in their K2 in picking up 3rd place. Stewart O'Regan was only a few seconds behind. Well done to Andrew Love who returned to marathoning with a ranking race in a sensational time that would have taken second place.
Div2: David Young swapped his ski for a K1 as he prepares for Marathon World champs and did very well to complete the course in 11th place, including portages.
Div 3: Mr Consistent, Peter Manley paddled strongly to claim another 3rd place with Tim Binns following through in 4th. Div 3 also welcomed the double of Warwick Sherwood and Greg Morris for the first time. Unfortunately they were hindered badly by their rudder continuously collecting seaweed. They needed Tom Simmats' seaweed harvester to paddle in front of them.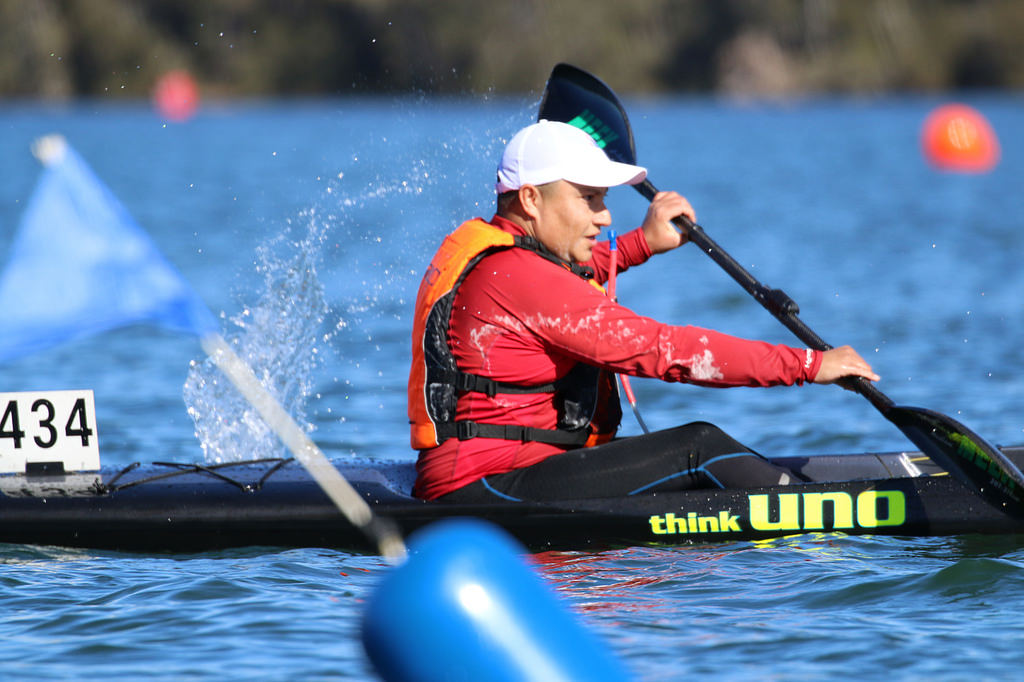 Above: Rodrigo powers thru to 1st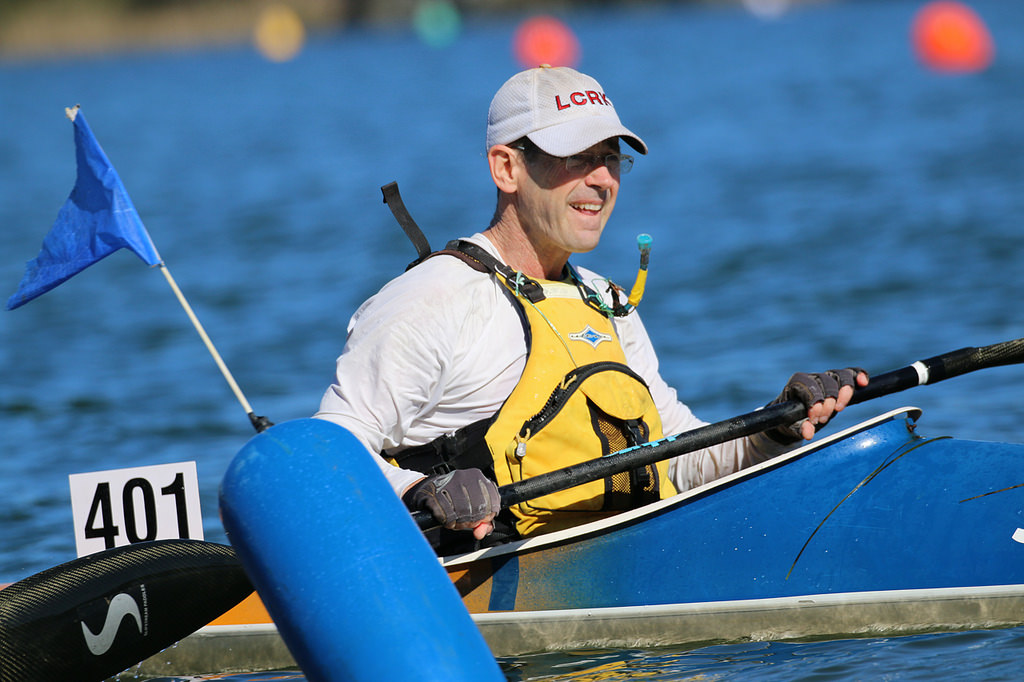 Above: John in his element
Div 4: A round of applause please for Rodirigo Matamala who claimed a clear 1st spot . He has been training in his K1 but sensibly reverted back to his trusty ski for the day. Jezza Spear coughed and spluttered his way around the course and still managed an excellent 3rd with Don Johnstone (5th) and Tom Simmat (6th) a couple of minutes behind. Div 4 welcomed back John Duffy who has not made it to a marathon due to injury since February last year. Well done John in taking 7th place.
Div 5: Tim Hookins called on his Harbour and Ocean paddling skills, and a return to vintage form, to claim 3rd place. Richard Yates (5th), Suzie Rhydderch (6th) and Phil Geddes (7th) all kept up strong performances for LCRK in this Division. Wade Rowston bailed out at the half way mark as did Matt Swann.
Div 6: Tony (Keg) D'Andretti, after performing a rescue paddled on strongly for a well deserved 2nd. Big Dave Hammond, after organising a stack of boats for his Dragon Boat club friends (The Sloths), performed well and battled on to pick up 7th. Derek Simmonds and Jeff Hosnell pulled out early in the difficult conditions.
Div 7: No LCRKers? Any takers for one of the least competed Divisions?
Attach:190723oscar.jpg Δ | Above: Oscar returning a serve at Wimbledon

* Div 8: Rob Llewellyn-Jones, a recent big improver, paddled 15km for the first time and claimed 5th spot followed not too far behind by Tim McNamara in 7th. Rodney Walker, despite leaving his paddle back at the LCRK shed, managed to borrow one, and got 10th. Alison Bilbow also tackled the 15km for the first time and came 13th. Well done.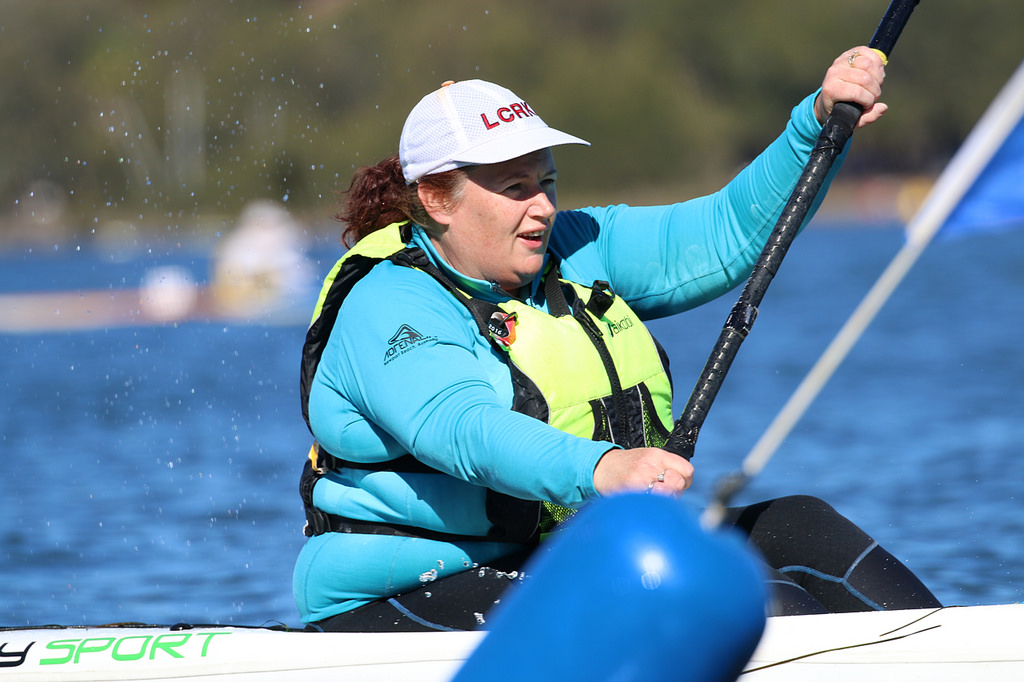 Above: Anjie happy with the conditions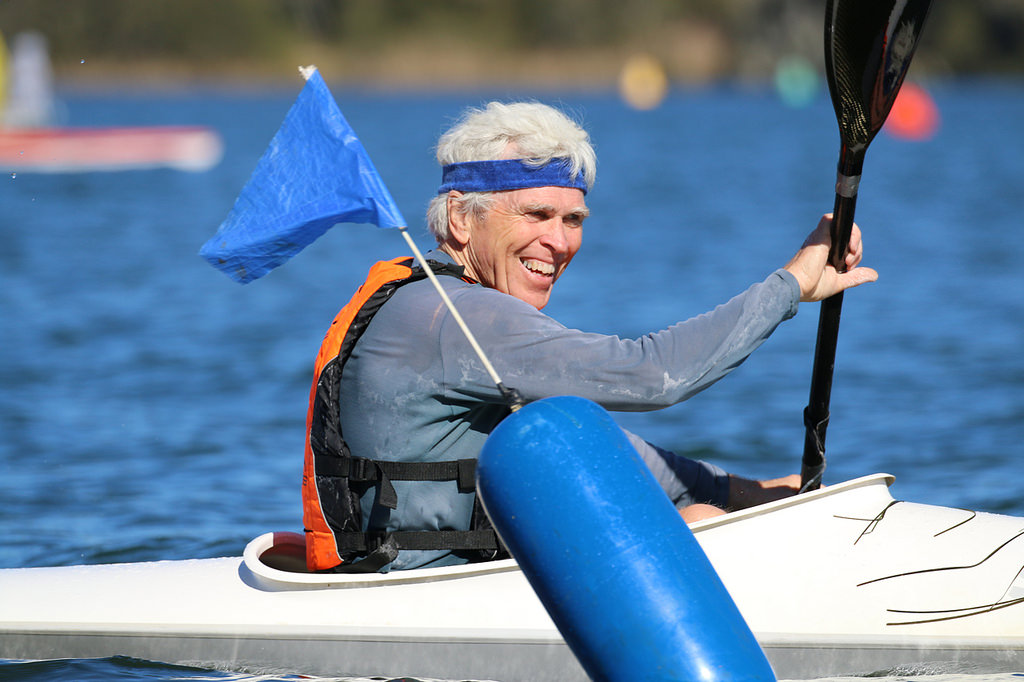 Above: Tim happier
Div 9: Nick Chai flew the flag for LCRK and paddled a very good time for 6th.
Div 10: Mr Reliable, Oscar Cahill picked up another second place to help add the club points tally. David Veivers also paddled well for 8th and welcome to Brendan Gay who claimed 18th. Duncan Johnstone and Ian Wrenford decided the shore was a much more enjoyable location for the day and withdrew early.
Div 11: This was a huge division with many Dragon Boat racers from the Sloths and ACCA clubs coming along to have a go at marathon in various single and double craft. The smartest paddler of the day was Jana Osvald who decided, given her very light weight, that extra weight would be required for the day. She added lead to the floor of her K1 for stability and paddled very well to take 2nd place. Well done and congratulations Jana. Anjie Lees, not feeling her usual 100%, took on the shorter course and came home in 10th.
Div 12: Lachie Wrenford and John Greathead (pretty much the youngest and oldest marathoning LCRKers) flew the flag for LCRK taking a very creditable 8th and 11th respectably.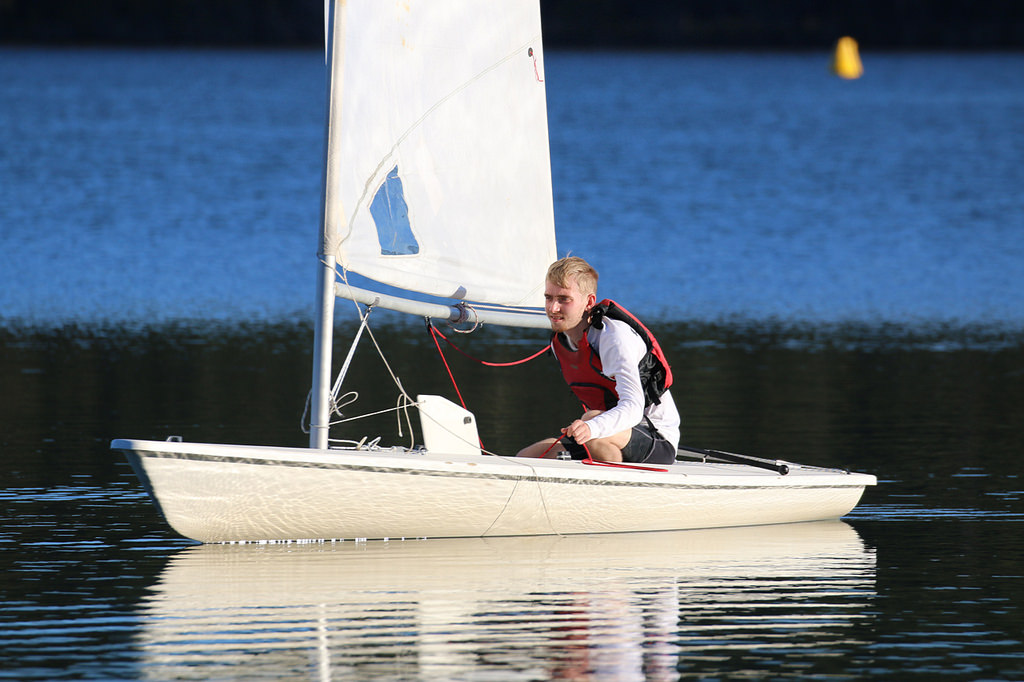 Above: A post race sail. Ideal kayaking conditions.
Apart from the challenging conditions this was an excellent event run by MWKC at a great new venue which has a lot more parking than the traditional base. Superb organisation and food. Congratulations and thank you to MWKC and the PaddleNSW officials. Photos from the event are available on Flickr at the links above - thanks to Lesley Manley, Ian Wrenford and Paul van Koesveld for the coverage (Paul's photos are going to be added to the existing album by Wed 26 Jul).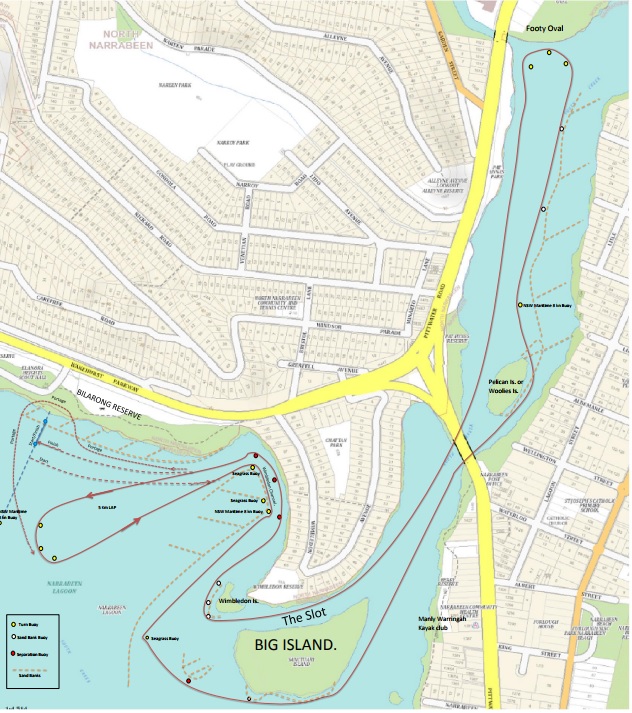 Above: The revised course layout for Marathon #8 at Narabeen
Round 7, Davistown (Brisbane Waters Paddlers) - Saturday 24 June
Beautiful but breezy, plenty of weed and the odd ferry to contend with, Round 7 of the 2017 Marathon Series took us to Davistown.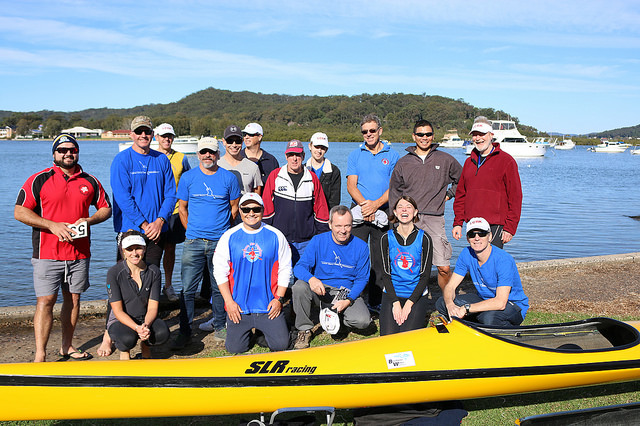 Above: Some of the Lane Cove team. Others were still deciding how many layers to wear!
Even those who listened attentively at the race briefing weren't a hundred percent sure of the course layout, which looked clear on the laminated maps but became baffing when we gazed out through the small army of moored power boats. Once on the water, though, things became a little easier to navigate, and by the time Div 4 and 5 starts were underway there was a steady line of colourful boats and lifejackets to follow along the course.
The Div 7 start at 10:45am might well set a marathon series record, with not one boat sitting on the start line as the "Ready, go!" was given, and all paddlers having to be called again. Officials weren't keen to give them a second start, just telling them to get a move on so that the other divisions could get underway! On the other end of the scale, Div 10 was not for the faint-hearted, with some 25 boats jostling for a good spot on the start line. Five of them were Lane Covers, and an hour later Oscar Cahill (who actually made the start this time) finished in first place. He was spurred on by a sea turtle sighting at the final turn, reporting that: "I saw what looked like a log sticking up out of the water but when I paddled along side it, it turned around and looked at me! As soon as it saw me, it ducked and swam gracefully away in under my kayak." Did anyone else catch a glimpse? Continuing her great form, Allison Bilbow finished some 30 seconds later in 3rd, followed by David Veivers (11th), Peter Harris (12th) and Ian Wrenford (20th). Nic Chai was also back for the 10km course, newly promoted to Div 9, and cruising to a respectable 8th.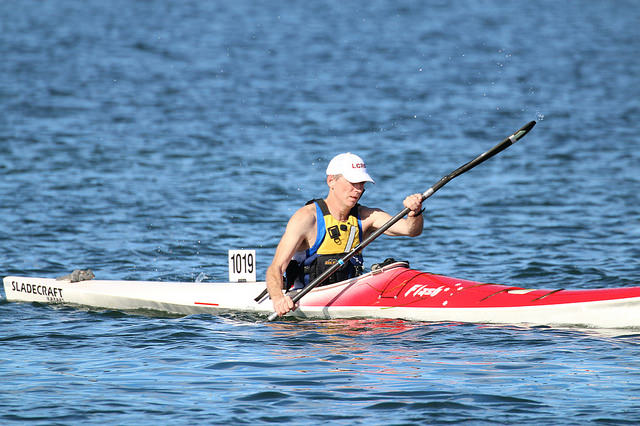 Above: Oscar sprints to win Div 10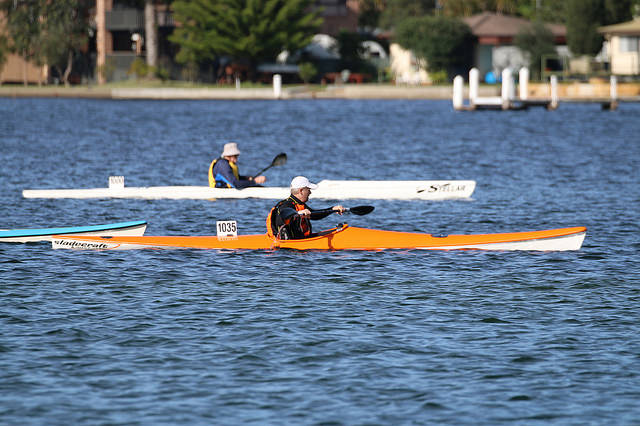 Above: Ian and David V line up for the Div 10 start
Over the 5km distance, John Greathead and Lachie Wrenford continue to be the regulars, finishing in 6th and 7th respectively. Great to see that Lachie was back in a K1 despite the bumpy course! Word is that he made it round the whole course before taking a quick dip before the finish to check water temperature. Brendan Gay paddled his first marathon series race in Div 8, finishing in 16th behind Tim McNamara (6th). Not only was navigation a challenge, the weather and course conditions provided plenty of added interest as well. For some it was the wind and waves, for others the weed which became increasingly prevalent as the tide went out. It seemed to get everywhere, sticking under the boat's nose and in the rudder, then wrapping itself around wrists and paddles when we tried to plough through it. And for a few it was both, with several paddlers spotted just after the far turn sitting stock still in the water trying to remove weed from their boat without getting blown in. Those who practice back-paddling were at a distinct advantage!
Numbers were down in Div 6, with only three Lane Cove paddlers in the starting 15. Jeff Hosnell and David Hammond shadowed each other for most of the race, finishing in 4th and 5th, while Derek Simmonds finished in 9th.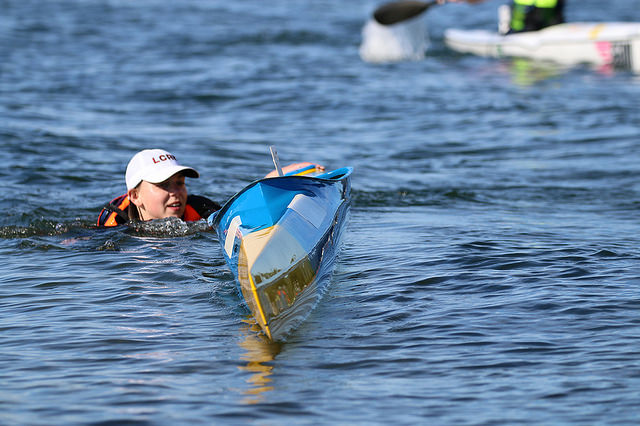 Above: Naomi's graceful finish in Div 5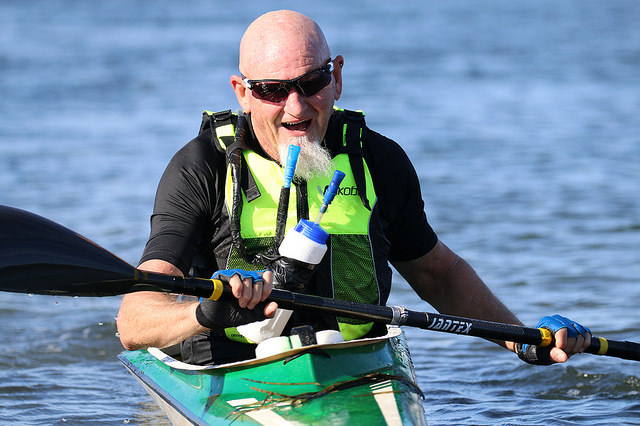 Above: Jeff all smiles at the finish
Division Lane Cove (Div 5) started and finished with sprints, and by the first turn Suzie Rhydderch and Naomi Johnson were in a leading group with an SSCC paddler. Suzie put in a phenomenal effort to stick with not only her Div 5 quarry along with a fast pair of Div 8 paddlers, finishing in a phenomenal 2nd place. Naomi ended up a little way behind in a totally different battle, but thanks to a burst of ferry wash, over-enthusiasm in the sprint and some egging on by Richard Barnes ended up in the water just a few metres from the finish line! She finished in 4th, followed by Wade Rowston (5th), Phil Geddes (6th), Tony D'Andreti (9th) and Lee Wright (10th, and very pleased he brought his ski).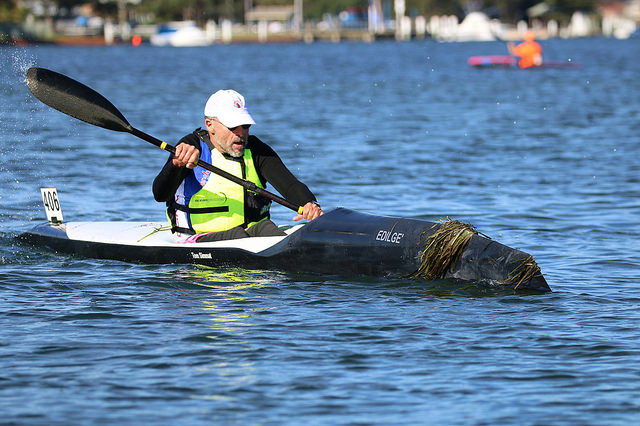 Above: Tom with his weed-breaker
The racing was tough from start to finish in Div 4, with 2nd to 5th finishing within 30 seconds of each other in a final sprint. Jeremy Spear took 5th, while Richard Barnes came in 3rd paddling his K1 for SYDU. Rodrigo Matamala (7th, where was your K1?), Tom Simmat (8th) and Don Johnstone (9th) rounded out the fast field. Tom's boat seemed to attract weed like no other, and by the end of two hours there was a veritable art installation draped over the front. Apparently a number of other paddlers tried to wash ride in the hope of a weed-free race!
The Tony Hystek/Alanna Ewin duo was back in Div 1, and fresh from their recent Riverland victory posted a strong 5th along with a few trademark portages. Brett Greenwood (paddling for MWCC) took out the top spot in a news-grabbing sprint – you can watch the coverage via Facebook. Racing was tough in Div 2, with a dozen paddlers lining up at the start. David Young and Justin Ryan finished in 6th and 8th respectively, and while David was sensible to paddle a ski in the choppy conditions, he was spotted later trying out yet another K1. And Div 3 was Lane Cove perfection, with Mark Hempel and Peter Manley taking out the top two spots in a field of 12. Only problem is that Mark's time would've seen him contesting a place in Div 2, and that's where he'll be in the next race.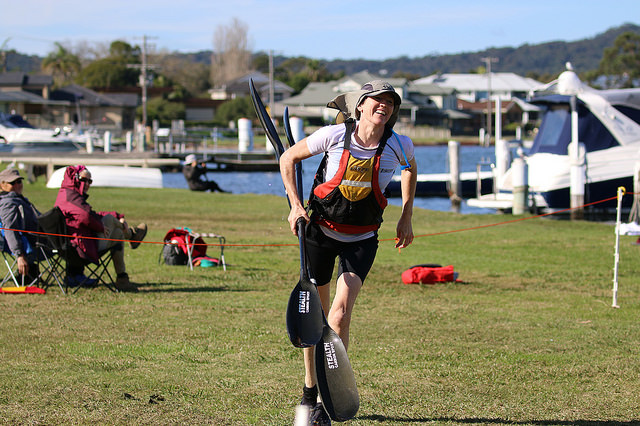 Above: Alanna possibly enjoying the portage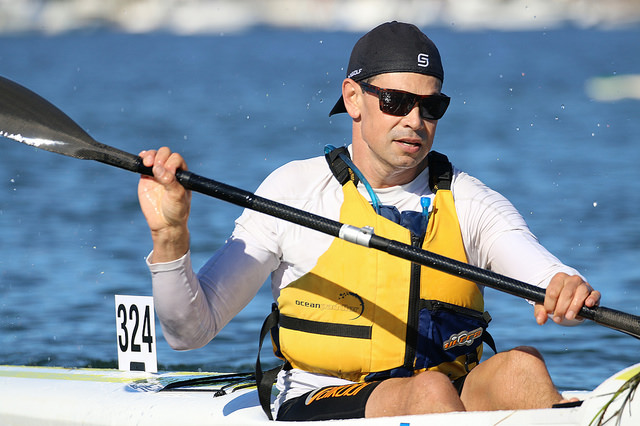 Above: Mark takes out Div 3
Lane Cove is now some 50 points clear at the top of the club cup, and the best way to keep us there is to head for Narrabeen on July 23rd. Thanks as always to the brilliant photographers Lesley Manning (awesome portage shots!) and Ian Wrenford for capturing the race with humour and great detail. And congratulations to everyone who paddled – it was a tough course but a great day of racing!
Results for those paddling for LCRK at the event (or Members/Visitors regularly out on our Time Trials) are shown below: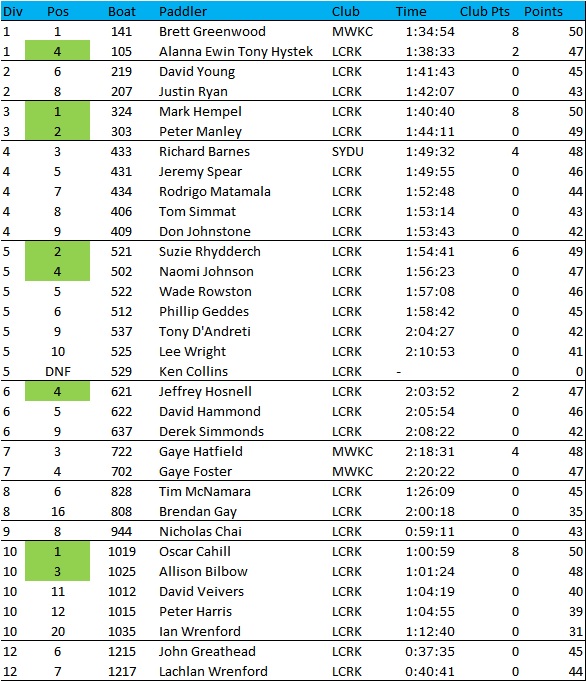 Round 6, Mylestom, Coffs Harbour (Pacifica) - Saturday 3 June
Race Report by Wade Rowston
Last Saturday, 3rd June 2017, the sleepy little coastal hamlet of Mylestom, near the mouth of the Bellinger River, about 20km south of Coffs Harbour, was the location of Race 6 of the PaddleNSW marathon series. Pacifica Canoe club did a great job hosting the event and setting a course that was protected as much as possible from a solid south westerly breeze which surged to a strong breeze at times. The start line was about 400 metres upstream from the race base and on the far side of the river with the 5km loop course being further upstream from there. Not great for the spectators but much appreciated by the paddlers in 130 boats. Upon finishing the last lap, paddlers then headed back across the wide and windy part of the river to the finishing buoys. As it turns out that extra finishing leg meant the course ended up about 20.5km and explains some of the slightly slower times. Fortunately too the incoming tide and a slightly reduced wind made the finish stretch much less daunting then it had been earlier in the day.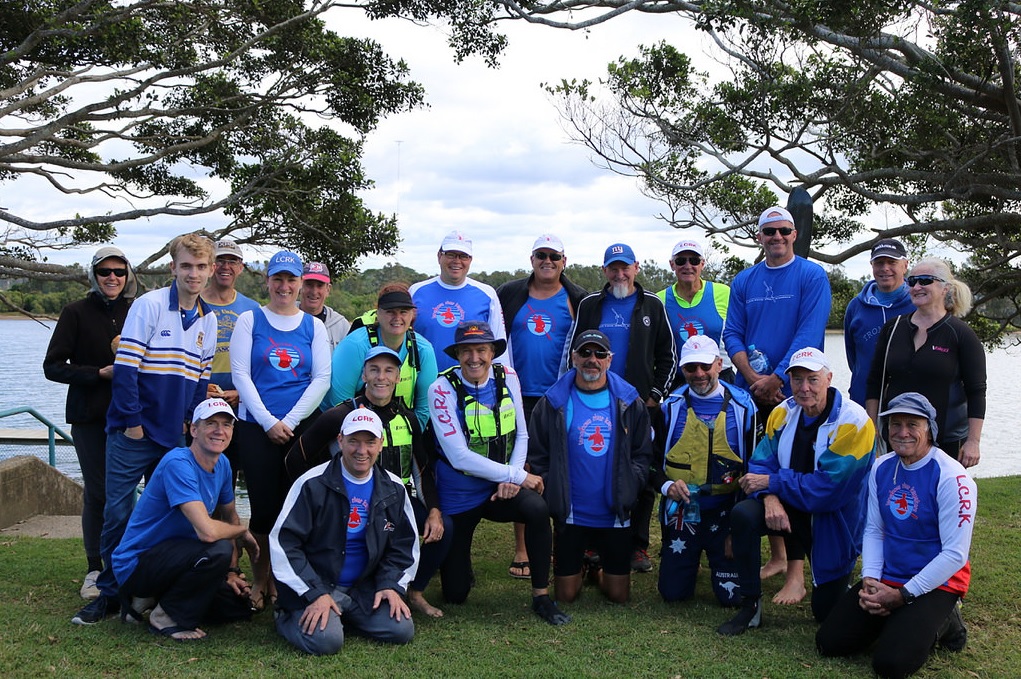 Above: Most of the LCRK pack
For the first time this event was shared with the Northern Marathon Series so there were lots of new people to meet and paddle against. Paddlers from as far north as the Sunshine Coast participated and lots of people managed to make it from Sydney and further afield. Well done to paddlers from Canberra and the south coast who drove for 9+ hours each way to participate.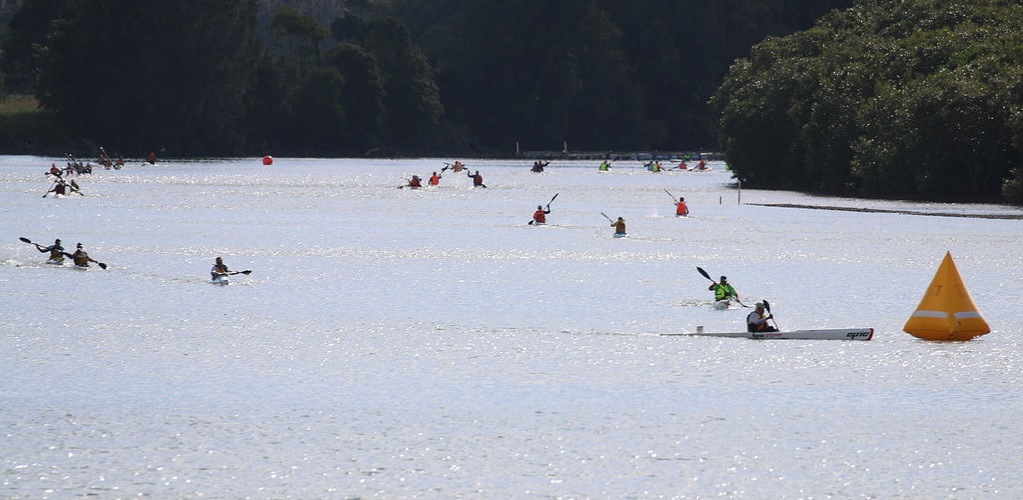 Above: Boats rounding the bottom turn (spot the LCRKers!)



Prior to the race, the consensus was that club points for LCRK may be tricky to pick up with the travel distance, a few injuries and recent divisional promotions coming into play. Happily it proved not to be the case. Congratulations to all LCRKers who attended and participated, and for picking up 5 divisional wins plus other key placings. This is even more remarkable as we had no representative in Div 1, 2, 8 or 9. Another great club performance and result.
Div 3: Tim Binns (7th) and Armand le Roux (3rd in Northern Series.) Armand paddled with LCRK in last years' HCC after becoming a member whilst visiting Sydney for a few weeks with work.
Div 4 :- a great finish by the big men Greg Morris and Warwick Sherwood saw them come in first. There is photographic proof that they can paddle in sync and showing they are improving in leaps and bounds as team. They put out a great wash from their boat so they had half the field attempting to washride them for most of the race. Newly promoted Jeremy Spear got a very respectable (5th) and Tom Simmat (10th).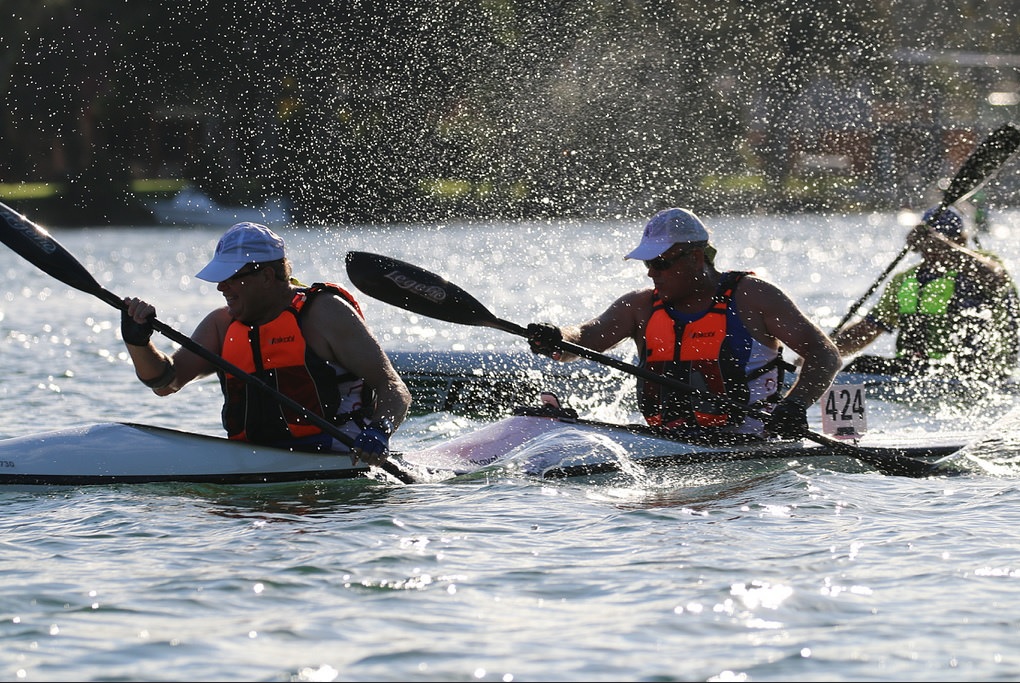 Above: Greg and Warwick in a powerful 1st place finish
Div 5: LCRKers made up 5 of a field of 11. Lee Wright chose to paddle a ski (he brought his K1 with him as well) and with Wade Rowston broke away early along with a double paddled by ex LCRKers and now local Belingen residents Merridy and Warren Huxley. Lee proved too strong in the final open water section to the finish line. LCRKers filled 6 of the first 7 finishers. Phil Geddes (4th), Tim Hookins (5th), and also newly promoted Ruby Ardren did very well to finish (7th).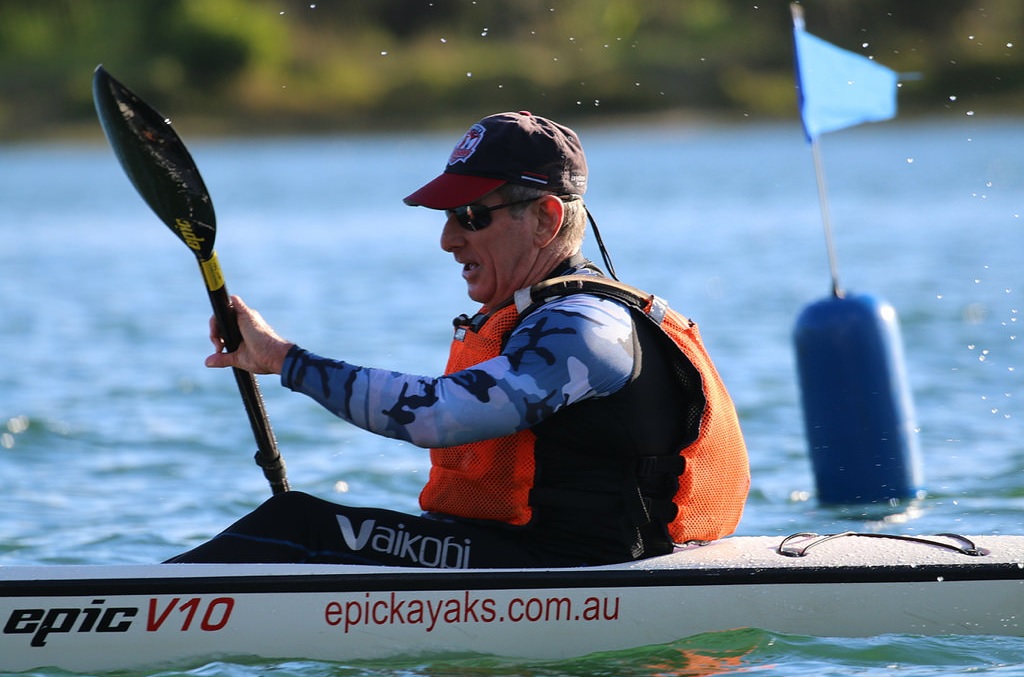 Above: Lee Wright 1st place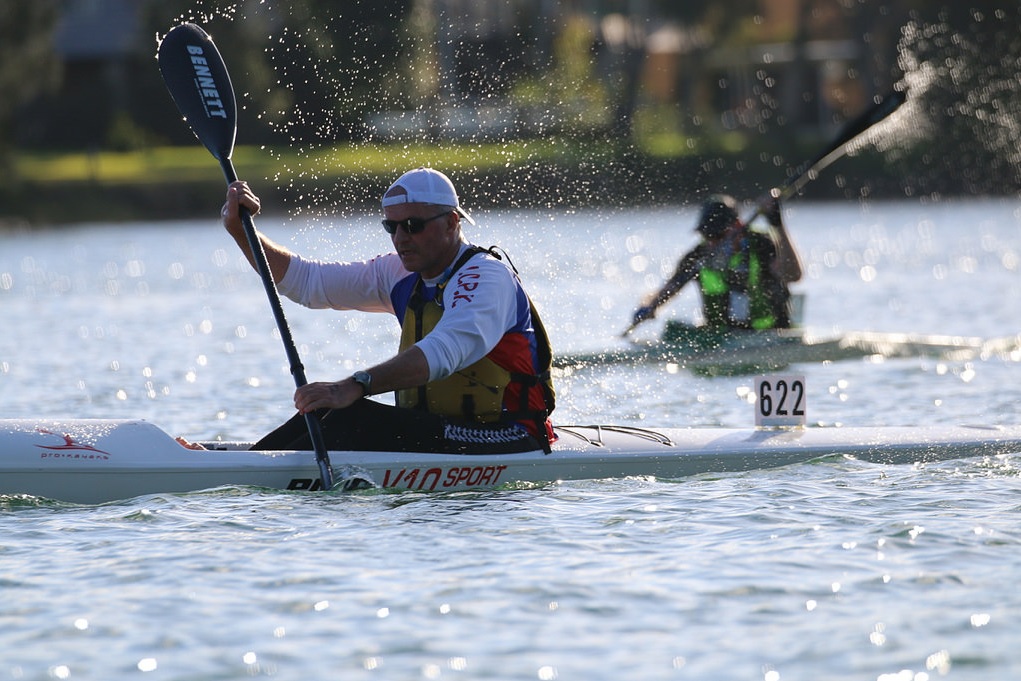 Above: Dave Hammond 1st (Jeff in pursuit)
Div 6: With Ruby now in Div 5 and Div 6 regular place getter Paul van Koesveld absent with a gardening injury, someone from LCRK had to step up to fill the void. Take your hat off to Dave Hammond for an excellent paddle and taking first place. Dave always tries his heart out and it's great to see him heading the field. Jeff Hosnell also did well in tricky K1 conditions to take 3rd place. Linden and Richard Barnes (8th) (paddling for Sydney Uni) had a drag race with Anjie Lees to the finish line. Ann Lloyd Green (9th paddling for MWKC) looked comfortable in her K1 in the finishing stretch.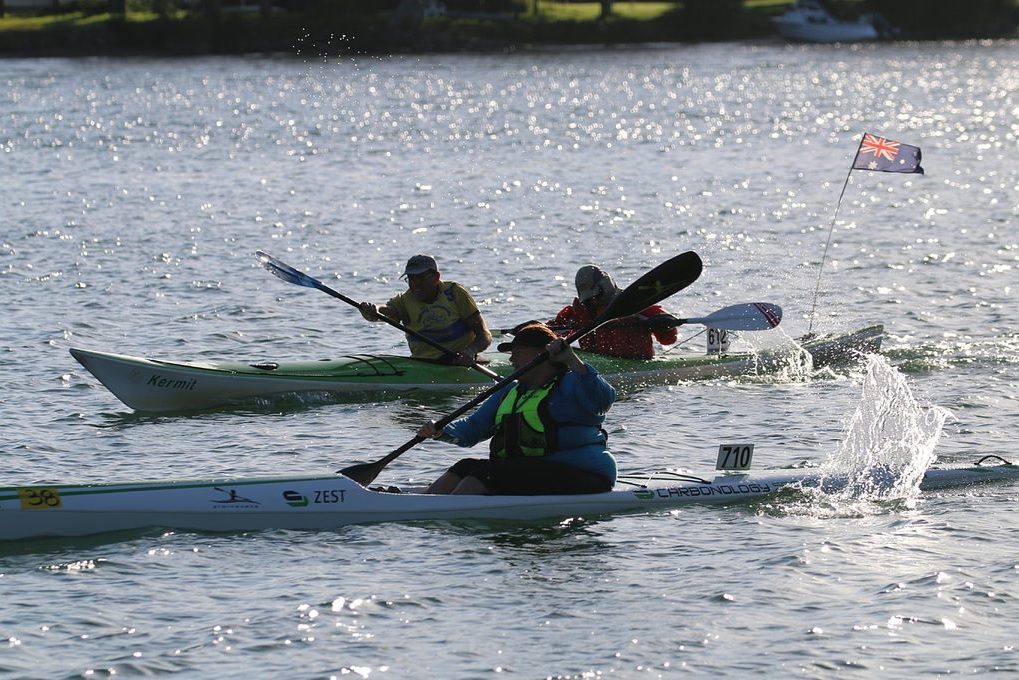 Above: Anjie vs Richard/Linden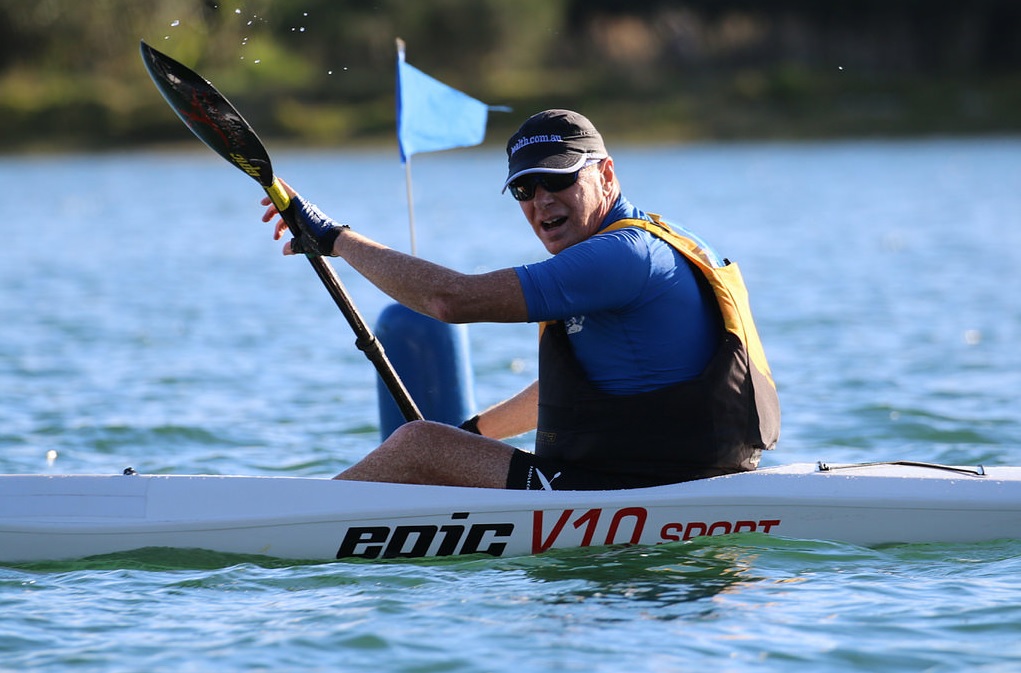 Above: Lindsay Frost in 1st place
Div 7: Well done to newish LCRK paddler Lindsay Frost who continues to improve and came in first. Gaye Hatfield (3rd paddling for MWKC), Gaye Foster (5th paddling for MWKC), Meg Thornton (6th) and Anjie Lees (8th) all handled the conditions well.
Div 10: Another very good and consistent performance by Oscar Cahill saw him finish in a clear second place. Ian Wrenford pushed along nicely into (9th) and Peter Harris not far behind in 12th.
Div 11: Now a local to Coffs Harbour since September last year, LCRKer Jon Harris heeded the call for a Div 11 paddler and cruised into a solid 1st place. Well done Jon.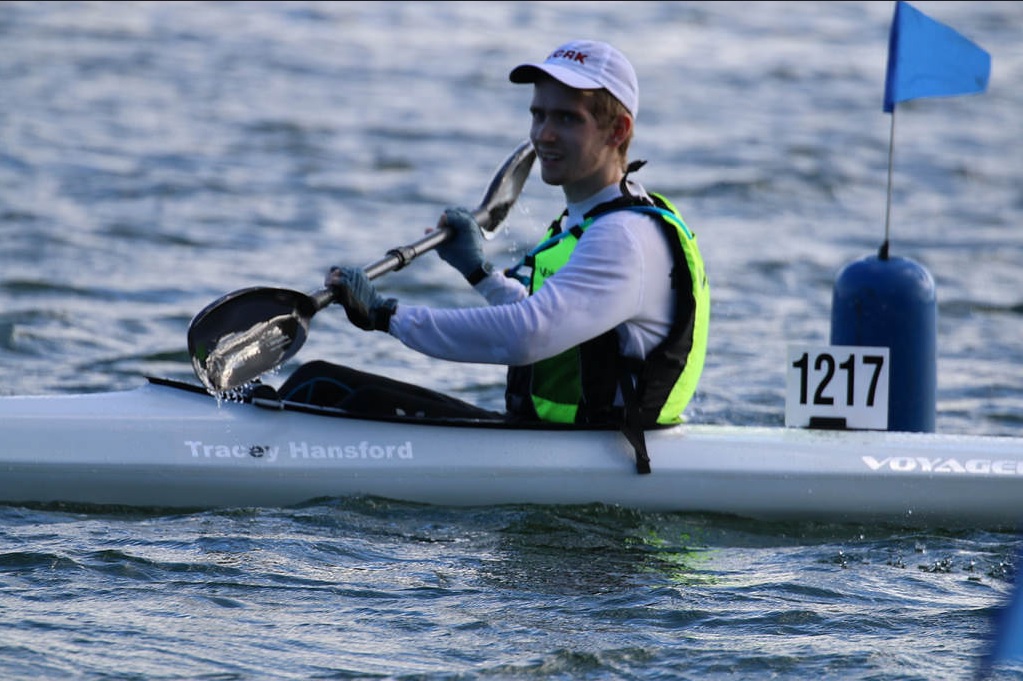 Above: Lachie in Tracey's K1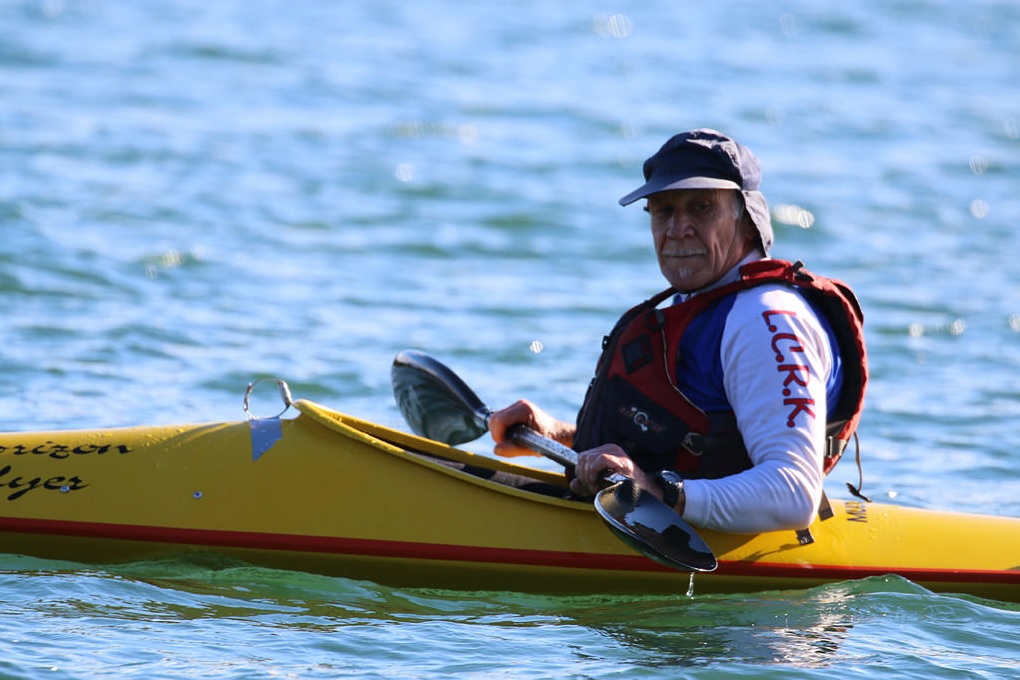 Above: Jon Harris back in Club colours
Div 12: Lachie Wrenford took up the challenge of jumping into Tracey Hansford's borrowed K1 and unfazed, finished in 3rd place.
Overall a very well run event at a beautiful venue and a chance to get away for a weekend. Many thanks to Pacifica Canoe club and PaddleNSW officials. Given its' success, it now looks like this will become an annual event. Thanks to Nettie Harris, Oscar Cahill and Ian Wrenford for photos, and well done LCRK!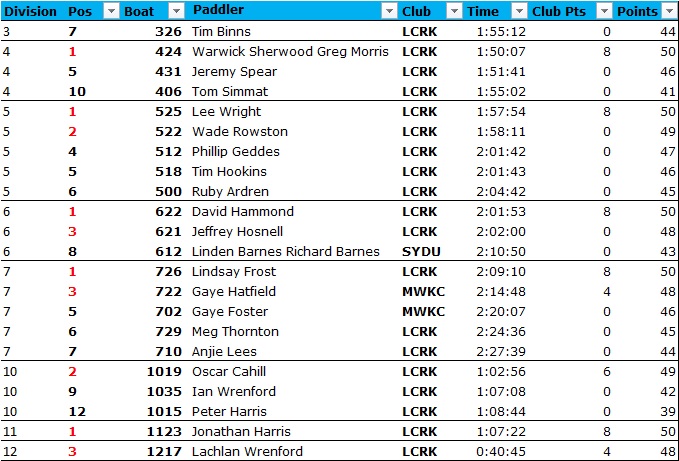 ---
Round 5, Windsor (WCC) - Saturday 20 May
Race report by Naomi Johnson
In the afterglow of hosting, Round 5 of the Marathon Series saw a strong Lane Cove team head for Windsor on the Hawkesbury River. Beautiful autumnal weather, fast times, and an ever-increasing lead on the club points – it was another great day of marathon racing.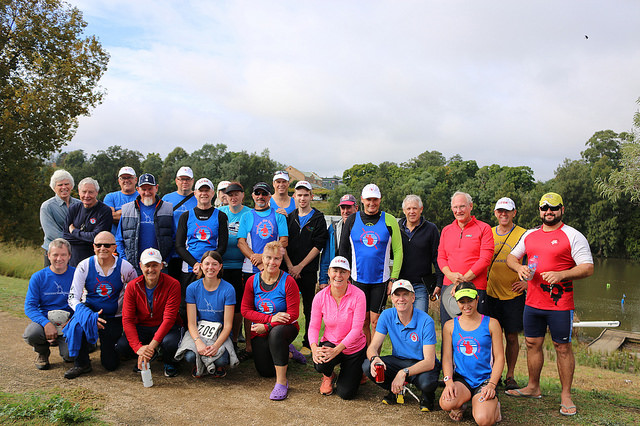 Above: Bright in blue, some of the 40-strong Lane Cove team
The forecast had been for rain, and yet as we rolled into Windsor in the morning the sun was beginning to shine. Half an hour later at the briefing, and everyone was reaching for the sunscreen! Heading upstream from the Hawkesbury Classic start, the race followed a 5km course and a steep bank made for great spectating around the start/finish and top turn. Following on from our successful home marathon last month, Lane Cove fielded an impressive team of 36 boats across all 12 divisions.
Starts came thick and fast, with a warning given at the briefing that there would only be a minute between each wave. Many were caught unaware, a few rather far from the start line at the time. Paddling in div 10, Oscar Cahill reported: "I completely missed my start and was literally at the bridge when I heard the start group call! So I spent the whole race in catch up mode and ended up clawing my way to 6th place with a respectable PB." Oscar might well earn the award for the most boats passed, with a dizzying 21 paddlers in div 10. Two minutes ahead of Oscar, Nicholas Chai took out 2nd in his first point-scoring race of the series, while Allison Bilbow (8th), Ian Wrenford (16th) and Peter Harris (18th) rounded out the Lane Cove field. Also paddling over the 10km distance, Maya Gibson claimed 3rd in div 11 and Rob Llewellyn-Jones 7th in div 9, both with a new PB. Tracey Hansford (2nd), John Greathead (4th) and Lachie Wrenford (6th) have become quite the regular div 12 trio this year, and all finished the 5km course with a PB under their belt as well! PB seemed to be the word of the day, with almost everyone coming off the water with their fastest marathon series paddle. Those with a Garmin reported the course was somewhat shorter than usual – a mere 250m per 10kms – but even allowing for that it was a fast race with some great times. Or else we've all hit our season peak already! Either way, let's hope the handicappers don't bump too many paddlers up based on the Windsor results, or else every Lane Cove paddler from div 4 and 5 will be paddling up a division.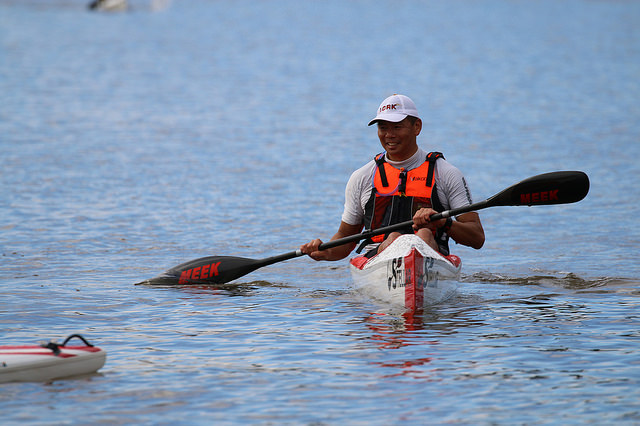 Above: Nick Chai finishes 2nd in Div 10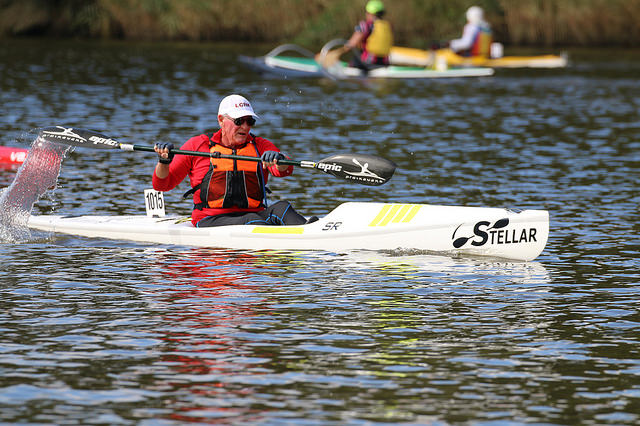 Above: Peter Harris in a final sprint
One boat that does need to be promoted, though, is the dynamic duo of Tony D'Andreti and Kim Navera. Given, their last doubles race at Woronora didn't go quite to plan (remember the outrigger and the broken paddle?), but it was clear from a few seconds into the race that they were a bit too fast for div 5. The pair sped off into the distance before many others had even registered the start, paddling past every boat in div 4 and finishing in a time that would've put them squarely in the middle of the div 3 finishers. Top club points were a great bonus though, and if the pair can pick a boat to stick with they'll be one to watch in the coming races. Also in div 5, Jeremy Spear took out 3rd (promotion, surely?) while Wade Rowston and Suzie Rhydderch stalked each other round the course to earn 5th and 6th only a few seconds apart. Naomi Johnson (7th), Phil Geddes (9th) and Lee Wright (10th) rounded out the field.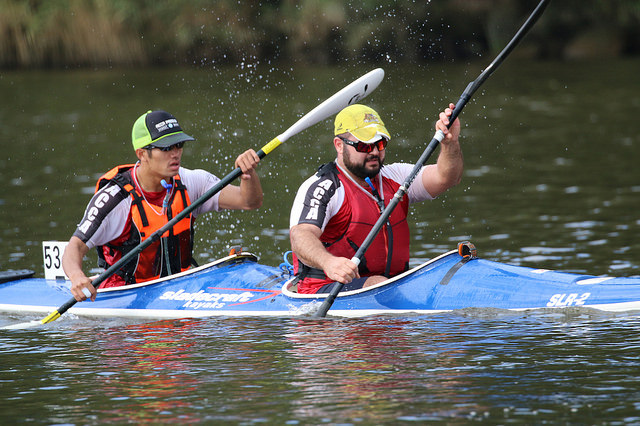 Above: Kim and Tony flying along
Div 6 was again packed with Lane Cove paddlers, or perhaps we should just say packed in general with some 20 boats lining up for the race! Ruby Ardren took out 2nd with a very quick (div 5?) time, followed by Paul van Koesveld (4th), Jeff Hosnell (9th, with a swim thrown in for good measure), David Hammond (11th) and Lindsay Frost (17th). Raewyn Duffy and Campbell Tiley completed their ranking race in a very respectable time of 1:57:23, but nobody is quite sure what happened to father-daughter duo Neil and Meg Duffy, who were caught on camera paddling and looking very pleased with their efforts!
A slimmer field in div 7 saw Jason Han take his bright green outrigger for a spin into 6th place, with Anjie Lees coming in just behind him in 7th. LCRK regulars Gaye Hatfield and Gaye Foster paddled (for Manly) to 5th and 9th, Gaye Foster following a swim. It was great to see two boats in the usually Lane Cove-free div 8, though with some 18 boats taking on the 15km distance club points proved a little difficult to come by. Tim McNamara made his 2017 debut in 7th, closely followed by Jonathan Peters in 9th. Also worthy of note, Ross Fraser teamed up with Central Coast Canoe Club partner Steve Hill to take 3rd in what looked like a heated contest for the top places.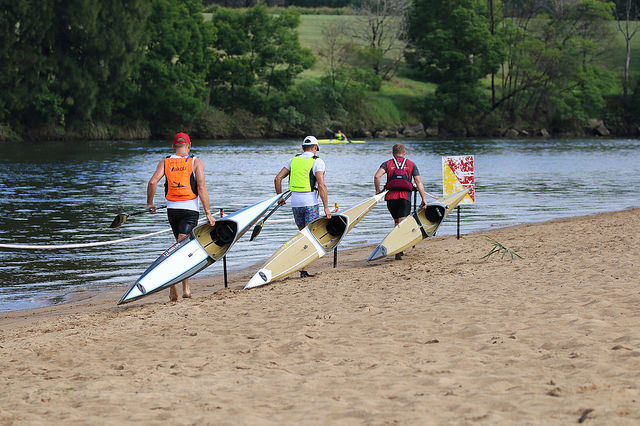 Above: Div 1 portages with Matt leading the pack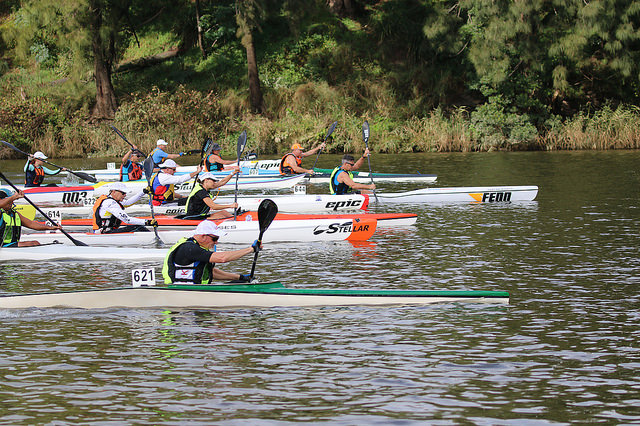 Above: Not much room in the Div 6 start
With a few regular faces otherwise engaged, Lane Cove paddlers were slimmer on the ground in the hot shot divisions. Matt Blundell was our sole div 1 paddler, finishing 3rd after dashing along not only in the boat but along the sandy portage a few times for good measure. Justin Ryan and Chris Quirk both posted PBs to finish 5th and 8th in div 2, while Peter Manley took 4th in div 3 after a heated group sprint. Richard Barnes (paddling for SYDU) made a season first appearance in a K1 to finish 3rd in div 4, with team Warwick Sherwood/Greg Morris posting yet another PB to take 5th and Don Johnstone 9th.
Race done, and many paddlers were keen for the day to last a little longer, taking full advantage of the beautiful conditions to hang around in the water and cheer on those crossing the finish line. It was a great vibe, and certainly spurred on a few LCRKers to sprint their final few metres. A big thank you to photographers Lesley Manley (first half) and Ian Wrenford (post-race) for capturing everything in such detail, and we're also looking forward perhaps to a few photographic contributions from Duncan Johnstone who was on the bank with an iPad.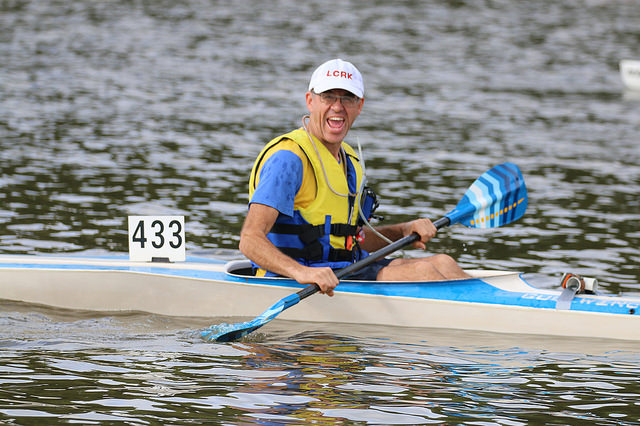 Above: Richard Barnes in his K1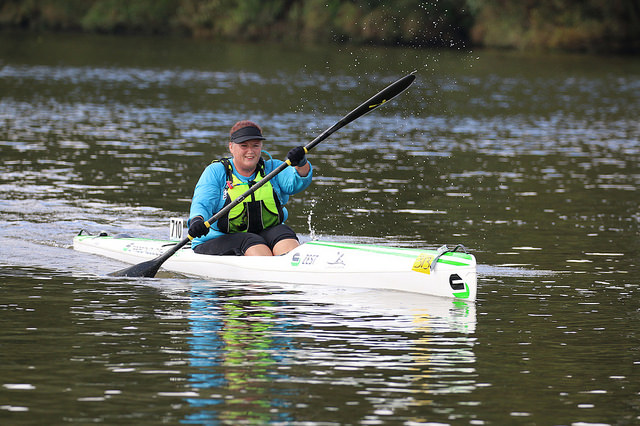 Above: Anjie paddles to 7th in Div 7
As we approach the series mid-point, the Lane Cove lead on club points has slowly edged out from slim to solid – we're now some 40 points out in front! As the leader boards in individual divisions slowly take shape, we're also seeing some early contenders for trophies there too. Next on the race circuit is Coffs Harbour on June 3rd, with those prepared to make the trek sure to be rewarded with slimmer fields and a crack at top points. Congratulations to all who paddled, and thank you to Windsor Canoe Club for hosting a great day of racing.
---
Round 4, Lane Cove (LCRK) - Sunday 30 April
Race report by Naomi Johnson
Round 4, and it was time for Lane Cove to play host to the 2017 marathon series. Alongside a veritable army of volunteers, a bake stall which almost collapsed the table and complementary fruit for paddlers, we had competitors in every division and some great individual race results.
By the time dawn broke over Lane Cove river volunteers were already hard at work preparing the site for a day of racing. Safety boats were launched, tables and marquees erected, and Paul van Koesveld was traipsing through the trees erecting signs. By the time visiting paddlers began arriving around 8am, there was a veritable bustle of activity. Parking marshals were out in force, boat marshalling areas labelled, and Alanna Ewin and John Duffy had arrived with food to feed the 180-strong paddling cohort and more besides. All was underway for a wonderful day, and thanks to coordination mastermind Paul van Koesveld (and his merry band) absolutely everything was planned for.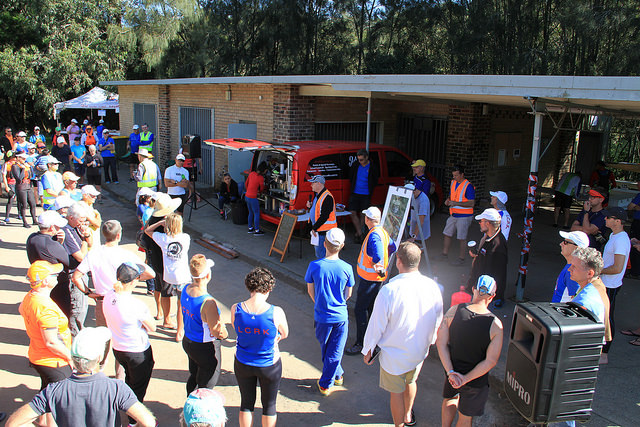 Above: Birds eye view of the briefing, welcoming 180 paddlers to race at Lane Cove (Photo: TH)
We knew space was going to be tight with over 160 boats and an athletics field that looks more like a large mud bath, but with Lane Cove paddlers taking the park-and-walk option and many visiting clubs bringing a trailer it was looking like we'd all fit – just! Boats of all colours, shapes and size began to fill the hillside, prompting many new acquaintances within each division and a chance for everyone to check out the competition. By the 10am race briefing all had shed winter layers for something a bit cooler, and Tom Simmat's light-hearted course description (complete with reasons for the variation in buoy colours) confirmed to everyone they were in for a great day of racing. Then it was all to the river in meticulously-marshalled order for the race start, via the cheerful team of (still more) volunteers helping all into their boats at the pontoon.
Alongside the impressive volunteer turn-out, Lane Cove also managed their strongest paddling team of the marathon series so far, with 40 paddlers in 35 boats across all 12 divisions on offer. As always, divisions 4, 5 and 6 were the favourites, and Lane Cove numbers certainly paid off with two division wins and plenty of club points across the board. Nicholas Slalom (div 7) and Nicholas Chai (div 10) completed their ranking race, while David Young and Allison Bilbow decided to give the tough div 1 a go in the K2. The course was a 10km one, taking paddlers down the bottom turn of our regular time trial course and out onto the wider water beyond. Safety boat team of Ian Wrenford and Maya Gibson reported three rescues at bottom turn, all thanks to speed boat wash. A few waves aside and racing conditions were perfect, with a warm autumn day and little wind. We really do have an idyllic spot!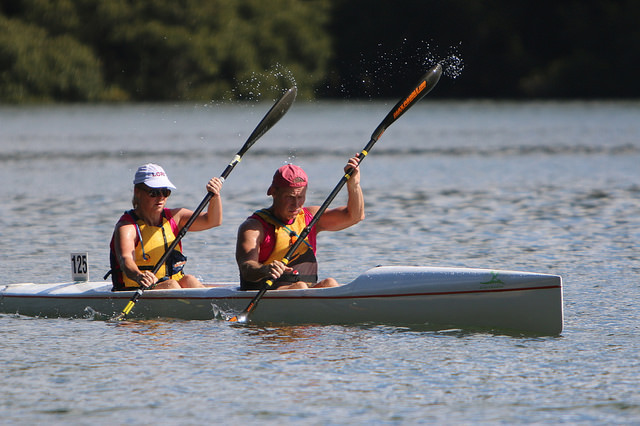 Above: Allison and David make their Div 1 debut (Photo: NC)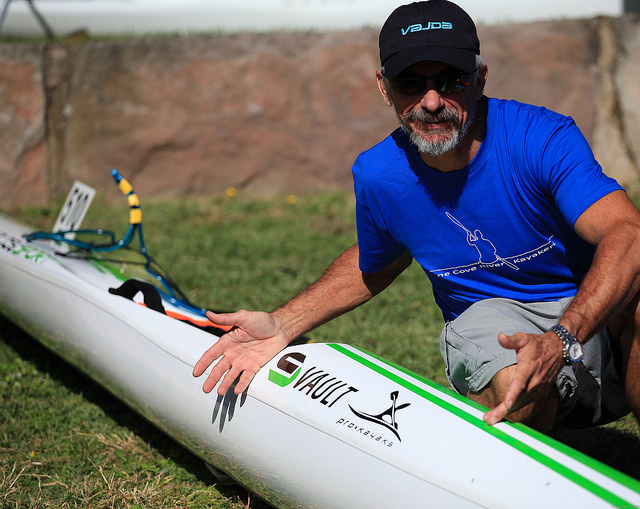 Above: Jeremy shows off his new ski (Photo TH)
It was div 4 that earned the title of 'division Lane Cove' this time round, with no fewer than four singles and two doubles amongst the field of 13 boats. Tim Binns took out the race with a phenomenal PB of 1:45:25 – five minutes off his previous best time – and along with third-placed double of Stuart Reid and Joanna Diment will be heading up to div 3 at Windsor. The Warwick Sherwood/Greg Morris double (4th) ensured that non-Lane Cove points were very few indeed, and Rodrigo Matamala snatched 5th just to make doubly sure. Don Johnstone claimed 8th and the Nemo award for his swim at the bottom turn, artfully captured by Ian (before or after he offered some assistance?) and Lee Wright was 12th.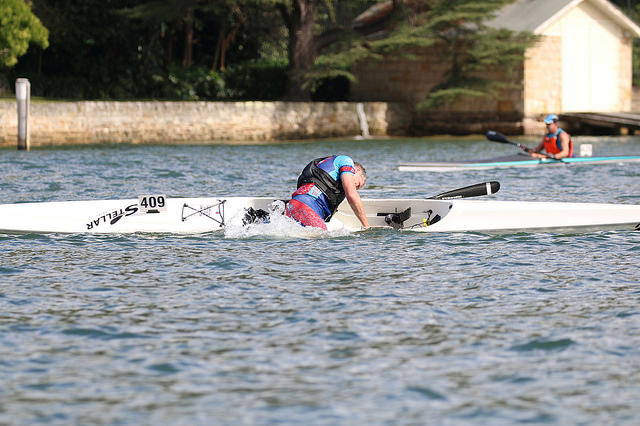 Above: Don demonstrates deep water entry (Photo: IW)
There were another six Lane Cove singles in div 5, and the final places looked remarkably similar to those in div 4 – 1st, 3rd, 4th, and 5th for good measure! Jeremy Spear took out a boat that looked remarkably like his new ski rather than the K1 he had planned on paddling the series in, clocking the best time he's done since Lane Cove last year to win the division. The only question is how he managed to avoid promotion? Wade Rowston (3rd) was only a minute behind Jeremy, Suzie Rhydderch and Naomi Johnson posted 20km PBs to come 4th and 5th respectively, and Tim Hookins (7th) and Phil Geddes (12th) rounded out a very strong field.
In the ever-popular div 6, there were another five Lane Cove paddlers in a field of 17 boats. Jeff Hosnell took 2nd place paddling impressively in his green K1, followed by Ruby Ardren (5th), David Hammond (7th), Derek Simmonds (12th) and Dom Connelly. A slightly slimmer field in div 7 saw Gaye Hatfield (paddling for Manly) take 6th and Meg Thornton 9th, while the 15km div 8 welcomed father-daughter duo Neil and Megan Duffy for their marathon series race.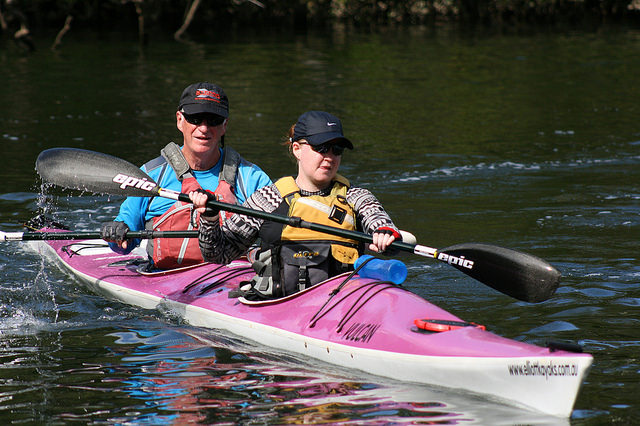 Above: Neil and Megan Duffy racing in Div 8 (Photo: OC)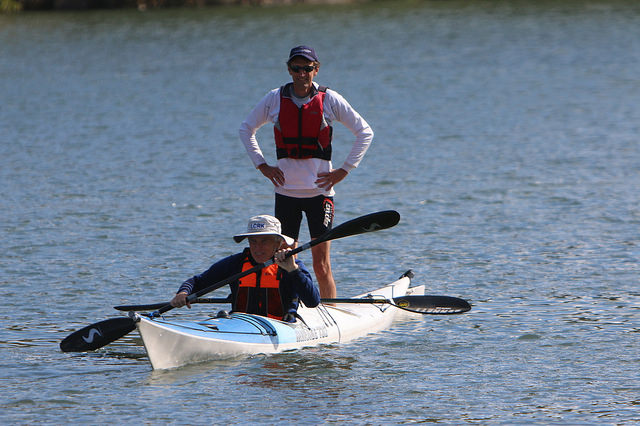 Above: Graeme demonstrating Mirage SUP (Photo: NC)
Among the army of volunteers, we were lucky enough to have no fewer than five club photographers documenting events. While Jana Osvald managed to leap from photos to paddling in the one morning, Nigel Colless and Tom Holloway were hidden along the banks for the entire duration of the race. Along with Oscar Cahill at the top turn and Ian at the bottom, there are some fantastic action shots along with a few surprises. Among them, the antics of Graeme Jeffries in the back of the safety boat Double Mirage 730 with Tim McNamara. Happily standing up in the back seat, it seems that Graeme was either trialling calisthenics or SUPing!
Div 9 was perhaps the most heated of all the races, with the first five paddlers (three of them Lane Cove) finishing within just over a minute of each other. Bruce Goodall took 2nd after what looks like a sprint for the line, followed by Rob Llewelyn-Jones (3rd) and Jonathan Peters (5th). Ross Fraser took 13th in div 10 in his first race since ranking last year, and the 21-boat strong division 11 saw Jana finish in 6th, Louise White in 12th and Elke Van Ewyk in 19th. Tracey Hansford earned 3rd in div 12, finishing less than a minute behind first place, and Lachlan Wrenford finished in 7th (but now 2nd in the Div 12 individual points).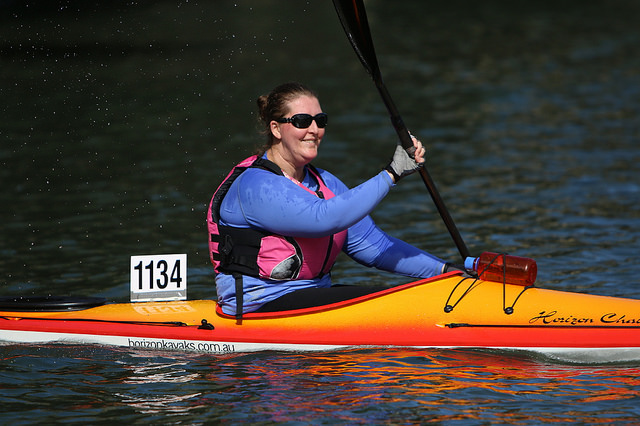 Above: Elke all smiles in Div 11 (Photo: NC)
Divs 2 and 3 were among the slimmest for Lane Cove, with only one paddler apiece. Nevertheless, Peter Manley earned club points with his 4th position finish in div 3 (and the prospect of an even better placing once two doubles are promoted up), and Justin Ryan came 6th in div 2. In speedster div 1, David Coward was 3rd, followed by the K2s of Tony Hystek/Alanna (a close 5th) and David/Allison (7th). Thanks to the impressive paddling turn-out we've again increased our lead in the club cup, with a 28-point margin over Manly. As always, our strength is in team spirit as much as in numbers, with many calls of 'go Lane Cove' from kayaks and safety boats alike as we made our way round the course.
Race done, and it was back to the bank, with the smiling boat monitors on the pontoon once again proving invaluable in getting all through nice and quickly. Though space in the change rooms might've been a little tight, all appreciated the warm showers and most importantly the plethora of BBQ and cake options available at the canteen. As the crowds gradually dispersed, another dedicated team of volunteers cleaned, packed and tidied away the day's activities. Many had been at set-up as well, yet all the chatter was about just how good a race we had managed to host. It was a wonderful day, and couldn't have happened without the 56 volunteers listed below who gave their time, expertise and smiles to make it a fun and smooth-running event.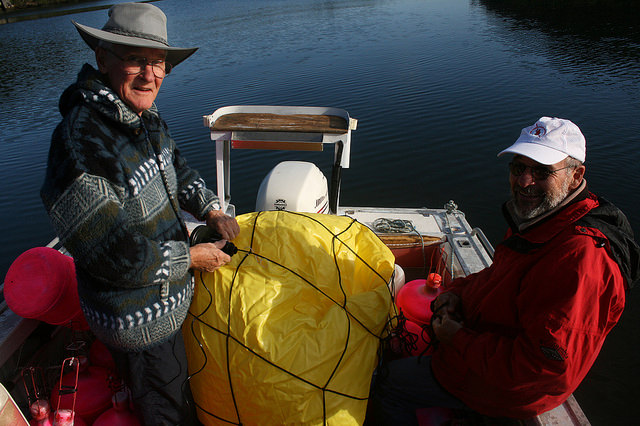 Above: Peter and Tom with a yellow blimp (Photo: OC)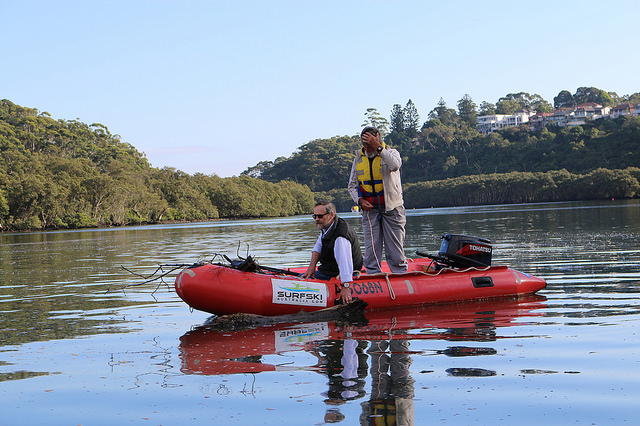 Above: Roger and George collect firewood for the BBQ (Photo: IW)
Thanks to all the volunteers!! On and off the water! WOW!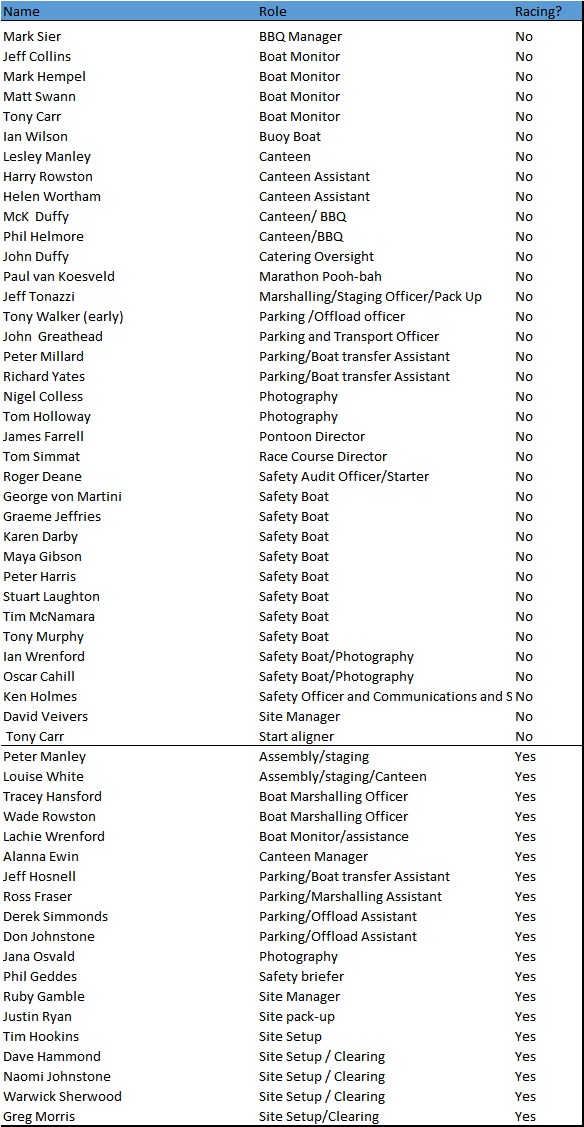 View from the BBQ - John Duffy
"Many hands make light work" so the saying goes, and that certainly applied at the Lane Cove marathon canteen. There were lots of wonderful volunteering, good humour, chatter, and detailed planning that went into staging a very successful pop-up to feed 180 paddlers and support crew.
The complimentary fruit offered prior to the briefing and also at the end of the race surprised many visitors and that generous but simple gesture contributed significantly to the LCRK event's reputation. The range of food and salads, including healthy, vegetarian and GF options and more types of bread than Bakers Delight, meant we catered to every palette. This was all possible through Alanna who has a checklist so detailed that we could charge other clubs the privilege of using it.
Thanks to all the helpers and to those who brought baked goodies. We will do even better next year and we would welcome any suggestions for improvement.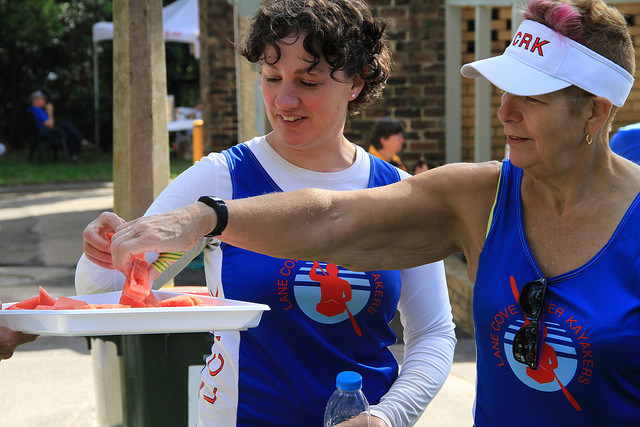 Above: Complementary fruit proved a hit! (Photo: JO)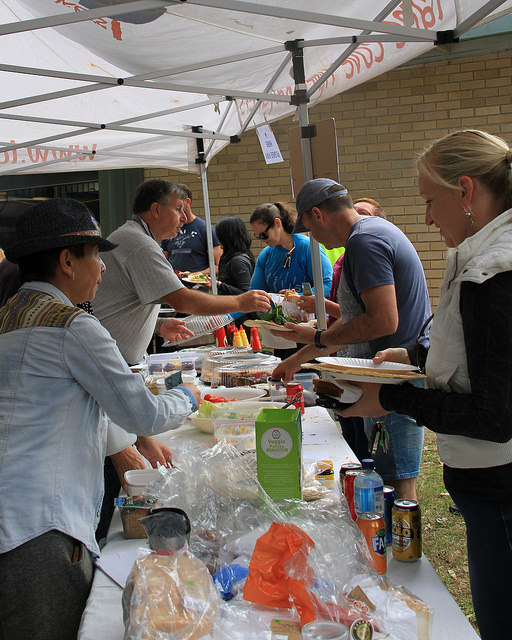 Above: The canteen in full swing (Photo: JO)
View from the Safety Boat - Oscar Cahill
Oscar Cahill and Peter Harris were in Safety Boat 1. Their race day on the water, along with the other safety boats, started at Burns Bay Boat ramp at 6am and most didn't leave the water until 4pm! So between laying the course, inflating those enormous yellow beacons that can be seen from space, to debris checking, race marshalling, photo taking, rescues, buoy collections after the race and getting all the stuff back to the pontoon and then motoring all the way back down the course back to Burns Bay Boat Ramp, it was a busy day. Oscar snapped his marine aerial off in the mangroves at the starting line, with a big cheer from the spectators looking down from the bridge! Luckily, at the end of the day, the tide had gone down enough to be able to see it sticking up vertically from the mud about two feet under the surface. Oscar and Peter only had one rescue to report that involved a tow back to the pontoon. The paddler was literally 200 metres from the finish line but had to stop with severe cramping. Safety boating is a long day but a completely different way to experience the race and well worth the effort.
Results for those of us left to paddle (!!) are shown below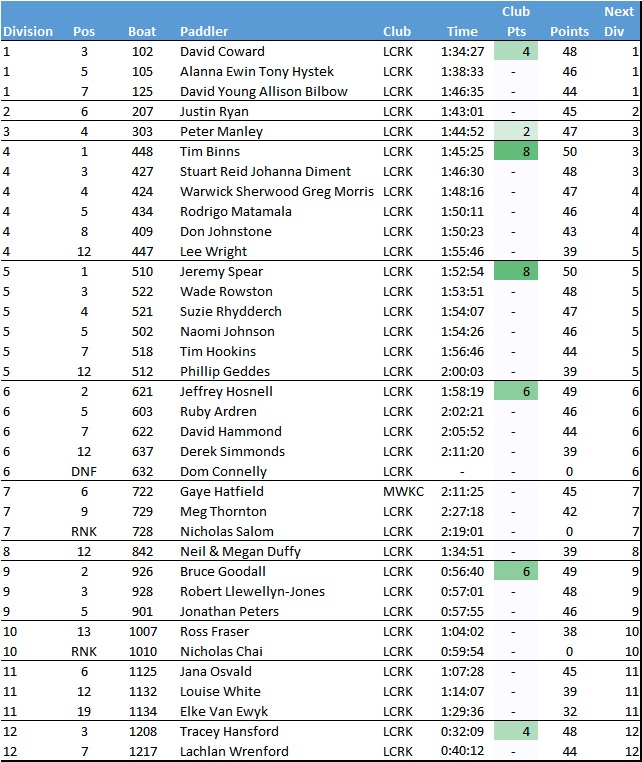 And a few messages of thanks:
''"Round 4 Marathon Series was held at Lane Cove . Beautiful weather, perfect paddling conditions and well hosted by Lane Cove River Kayakers. Once again they provided land crew for paddlers in and out of the water –thank you it was greatly appreciated We would also like to thank Paddle NSW timekeepers and committee once again for your time it doesn't go unnoticed…."'
Posted by Greg Hillier with the HVPS Facebook race report
"…..Lastly Lane Cove River Kayakers and the volunteers from Paddle NSW, you were magnificent. So well ran, extremely professional and the best cake stall this side of the primary school association of Australia. Newy Paddlers salute you."
Posted by Newy Paddlers with their Facebook race report
"I'd just like to pass on our congratulations and appreciation on behalf of the BGCC paddlers who came up for the Marathon series race on the weekend for the really well run and enjoyable event you held. The amount of volunteers was inspiring while the safety boats and course layout made it a fun, safe and easy to follow course. I hadn't paddled on your river before, but thoroughly enjoyed it."
Email from BGCC President Patricia Ashton
"Big thanks to the members of LCRK who all parked their cars in surrounding streets so visiting paddlers could use the car park. Always terrifically organized and so many helpers on hand to make pontoon entries easy."
MWKC race report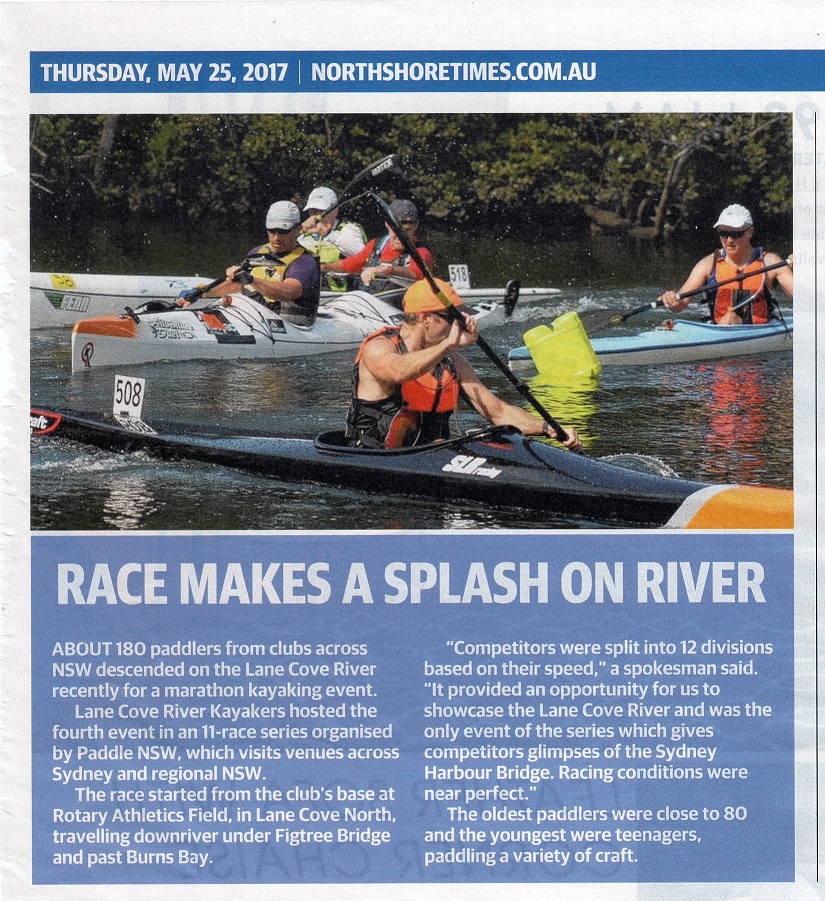 Above: North Shore Times Coverage 27 May 2017 (Photo: OC)
---
---
Round 3, Tacoma (CCCC) - Sunday 9 April
Race Report by Naomi Johnson
Everyone thought autumn had arrived...and then we went to Tacoma! With sunshine, only a little wind and new obstacles in the form of large yellow turning blimps, Wyong River provided a picturesque backdrop for what must surely be the grand finale of the summer season.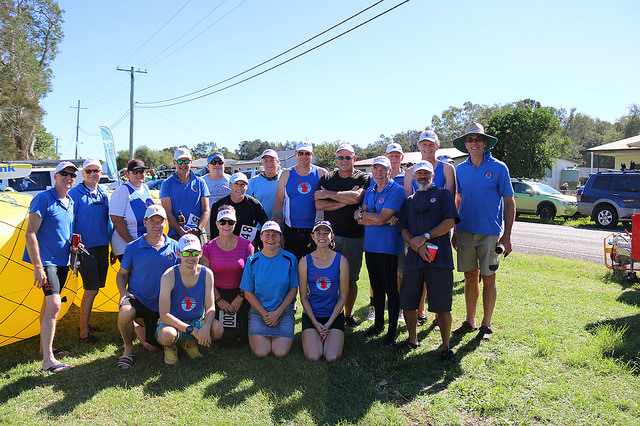 Above: Some of the 32 Lane Cove paddlers ready to race. Notice the massive yellow turning blimps to the left!
Only a few hours up the Pacific Highway, Tacoma proved almost as popular as the Woronora race, with 174 boats entered, 31 of them paddling for Lane Cove. This time though, there were cars parked for more than a kilometre along the river bank, boats tucked safely into shady spots between road and water. Any who had left Sydney in the chilly morning were soon peeling off layers and rubbing on the sunscreen as the temperature climbed, and many decided to take advantage of the last-minute lifejacket exemptions rather than risk overheating. From the bank the river looked deceptively calm, and there were more than a few rough patches thanks to wind and speedboat wash.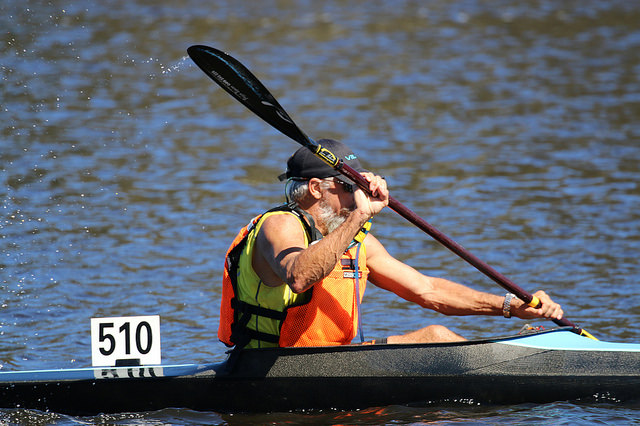 Above: Jeremy speeding along in his K1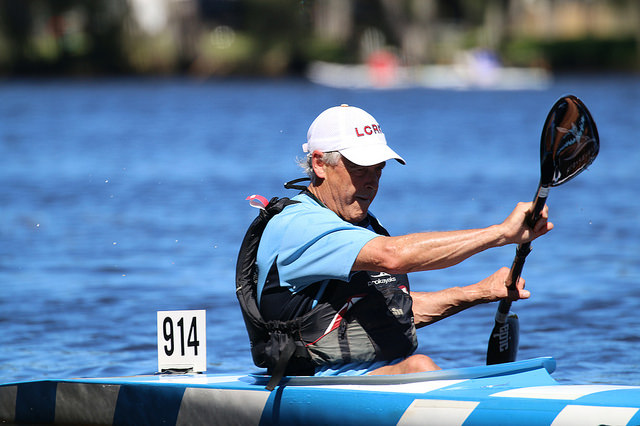 Above: Duncan with his new K1
Lane Cove paddlers once again excelled, winning no fewer than three divisions and securing precious club points in several more. Newly ranked and now with matching club strips to boot, doubles team Warwick Sherwood and Greg Morris won Div 5 in an impressive time of 1:51:59, which would've easily snatched them a second place in Div 4. Looking like they still had more in the tank at the end, they'll certainly be a boat to watch in the upcoming races. Tracey Hansford snatched line honours in Div 12 with an exciting sprint finish and Ruby Ardren took out Div 6 despite swimming after an altercation with large yellow turning blimp. The metre-high blimps were a new addition to the course, aiming to clarify the top and bottom turns, and while they certainly did that, they were also likely to be blown all over the place at a sudden gust of wind. Thankfully, they'll now be used only as signals rather than actual turning buoys, a relief to all those who felt one looming over them at some point during the race!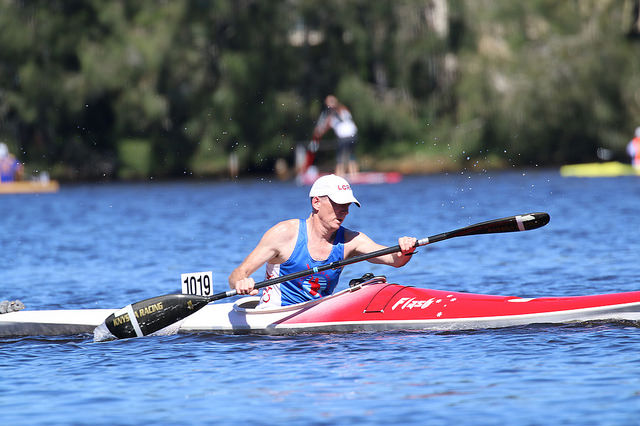 Above: Oscar sprints to 5th in Div 10
The biggest start this time around was Div 10, with a 23 boats lining up for the 10km dash. Just making it through the starting fray was quite a feat, with Oscar Cahill (5th), Allison Bilbow (11th) and Ian Wrenford (19th) all making their way round two laps of the new 5km course. In Div 9, Jonathan Peters placed 8th, and Duncan Johnstone finished his second marathon in a K1 with only the one swim after (apparently) trying to washride one of the inflatable rescue boats! Louise White's race didn't quite run according to plan when she was pushed into one of the yellow turning blimps by a pack of Div 1 paddlers, quickly losing her 4th place position. Thankfully, she was disentangled by a more helpful passer-by, and finished in a commendable 6th. There were a solid four Lane Cove boats paddling 5kms, with John Greathead (4th) and Lachlan Wrenford (8th) not far behind Tracey, while Clayton Anderson completed his ranking race. Also ranking were Jason Han and friend Jennifer Tjoe, paddling a TC2 in the usually Lane Cove-free Div 8. Spirits were high on the water, with new and veteran paddlers alike cheering each other on, and plenty of good vantage points for spectators as everyone headed for the finish line.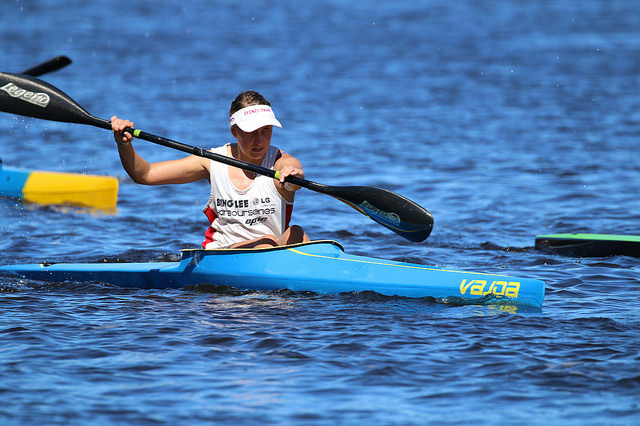 Above: Suzie dashes to 3rd in Div 5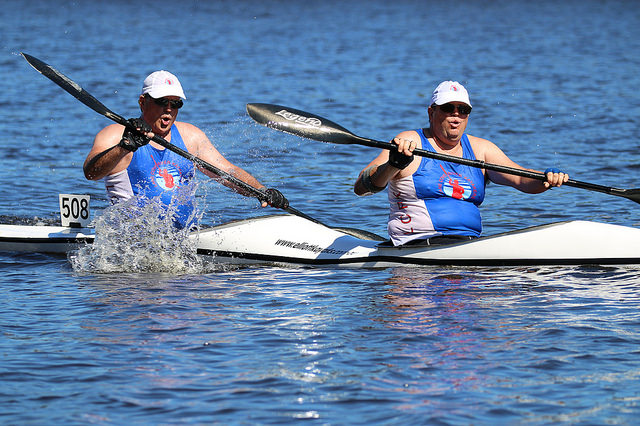 Above: Team Warwick and Greg win Div 5
There were Lane Cove paddlers in all the 20km divisions except Div 3 (where was Peter Manley?), and for many groups the challenge became not just securing club points by being in the top four but denying points to other clubs as well. Div 5 might just as well be christened 'division Lane Cove' with all seven paddlers from the club in the top nine places. There was plenty of drama through the race, with Suzie Rhydderch and Wade Rowston clashing paddles and going for a synchronised swim at the end of the second lap. Suzie was back in the boat in a flash, and spent the rest of the race speeding past all those who hadn't quite discovered their second wind to finish 3rd. Naomi Johnson hung on to 4th place (and Suzie's wash) to ensure that Div 5 points were few for non-Lane Covers, while Rob Manning (6th), Phil Geddes (7th), Jeremy Spear (8th) and Wade Rowston (9th) all secured valuable individual points. Jeremy was back in the K1, and with a goal of getting round the full 20kms without falling in the jury's still out on whether his quick dip was on or just after the finish line...or indeed whether the course might have been 20km-and-a-few-extra-metres by the GPS.
There was also a flush of Lane Cove paddlers in the top places of Div 4, with Don Johnstone claiming 2nd, Tim Binns 4th and Rodrigo Matamala 5th all within two minutes of each other. Lee Wright took the paddle at a slightly more leisurely pace to finish in 15th. Alongside Ruby's top place in Div 6, Paul van Koesveld claimed 3rd, followed by David Hammond (5th), Ann Lloyd Green (9th, paddling for Manly), Richard and Linden Barnes (11th, paddling for Sydney Uni) and Lindsay Frost. Div 7 saw Gaye Hatfield (paddling for Manly) again take 2nd place, followed by Gaye Foster (5th, also paddling for Manly), Angie Lees (6th) and Meg Thornton (7th).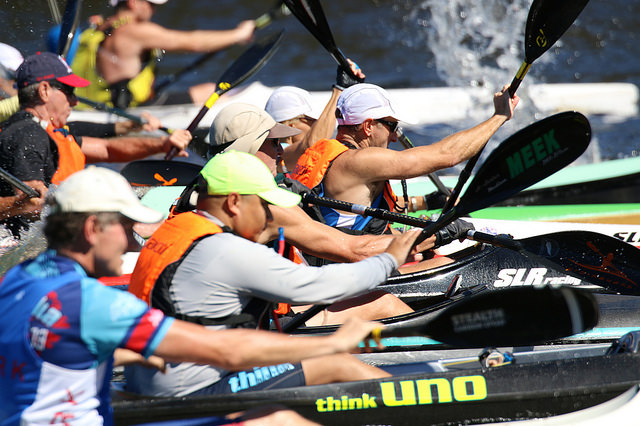 Above: Not much room to breathe in the Div 4 start!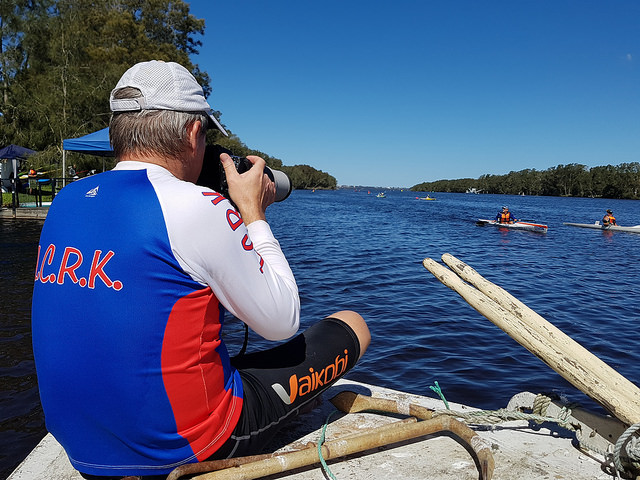 Above: Ian with the best vantage point for photos
There was a bit of a shake-up in the top two divisions with regular K2 duo of Alanna Ewin and Tony Hystek sidelined, leaving Stewart O'Regan the sole Lane Cove representative in Div 1. He claimed 4th with a time of 1:38:20 in a blisteringly fast field, while Tony decided that if he was racing solo he'd enjoy the view a bit more from Div 2. He and David Young paddled neck and neck for the whole 20kms, finishing only 6 seconds apart in 3rd and 4th respectively, while Justin Ryan rounded out the Lane Cove field in 6th.
With such a flurry of great performances, Lane Cove is slowly extending our slim lead on the club points tally, and there are several paddlers already looking commanding in their individual divisions. Thanks to Ian and Naomi's partner Frazer for taking excellent photos, and of course to Central Coast Canoe Club for hosting the race. Round 4 of the Marathon Series is at Lane Cove, and with no long travel and the delights of a familiar course it would be wonderful to see all hands on deck either as paddlers or much-needed volunteers!
---
Round 2, Woronora (SSCC) - Sunday 26 March
Race report by Naomi Johnson
A beautifully sunny day, the majestic sweep of Woronora River, and a host of Lane Covers both on and off the water. Whether or not it was indeed the last race of summer, the second race of the 2017 marathon series was a day of fun, challenge and a few notable firsts.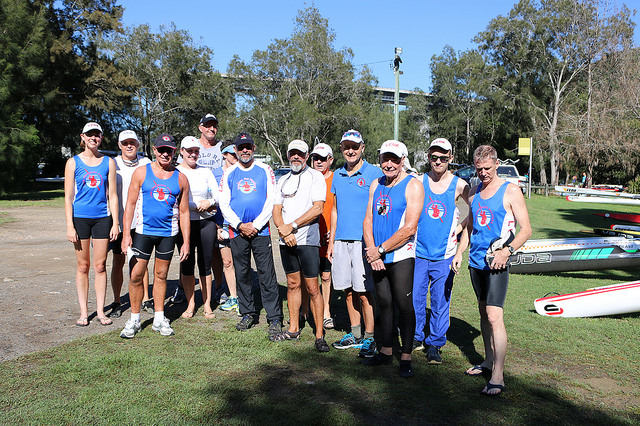 Above: Lane Cove paddlers ready to race (just some of the ~34)
With a race so close to home, the Woronra marathon was a great opportunity for LCRK to make our mark on the series. There was an incredibly strong turnout, with a total of 224 paddlers registered in close to 200 boats. Lane Cove was among the best represented clubs, with 34 boats competing in eleven of the twelve available classes. While some paddlers were coming off the back of recent competition at states and nationals, others were dusting off their boats for a serious start to the season and a few were even trying the series for the first time. Conditions were just about perfect, and the 10km course gave everyone plenty of room to paddle their best.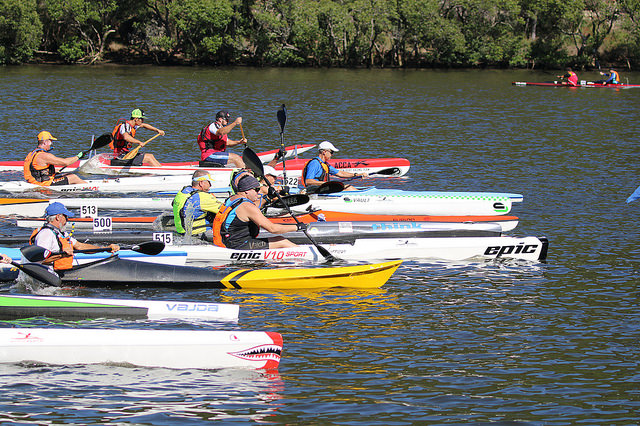 Above: Lane Cove colours out in force on the Div 5 start
Starting from Burnum Burnum Sanctuary, paddlers had a quick dash downstream for only a few hundred metres before the first turn round an island. With more than 20 boats in some of the starts, all were jostling for the best spot! From there, the course wound upstream and into increasingly shallow water, with the ferocious sun growing ever hotter. Spectators had great views of the race from pedestrian bridges, and though the odd speedboat might've slowed down a bit more for paddlers, the feeling on the water was almost universally one of fun and camaraderie. Woe betide those that didn't keep their eyes peeled at the bottom turn though – take too wide a line and one would've quickly ended up with a beached boat! Lane Cove made its biggest mark in Div 4, both in success and through the sheer number of paddlers. Seven Lane Cove boats lined up for the start, and an hour and fifty minutes later Tim Binns took out the sprint for first place. Close behind him were Don Johnstone (3rd), double duo of Stuart Reid and Johanna Diment (4th) and Tom Simmat (7th). Rodrigo Matamala (16th) and Bruce Gynther (18th) rounded out the group, while team Warwick Sherwood/Greg Morris completed their ranking race.
Div 5 was a similar spectacle, with Jeremy Spear taking out 2nd place after a heated sprint for the top three spots, and Rob Manning finishing in 4th a few minute later. Completing their ranking race, Tony D'Andretti and Kim Navera were looking great in their double outrigger until a rather forceful brace stroke in the final kilometres snapped Tony's paddle. The duo still managed to finish with smiles on their faces, and in fewer than two hours as well! Jeff Hosnell (9th), Phil Geddes (12th, including a scenic beach pit stop) and Wade Rowston all paddled strongly, Wade so strongly that he decided to call it quits after the first lap.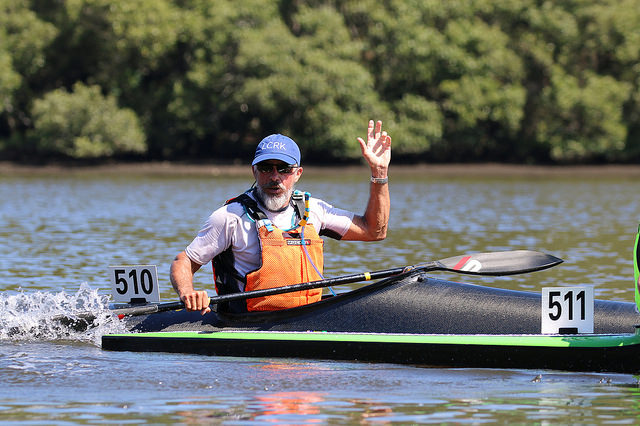 Above: Jeremy confirms his 2nd place in Div 5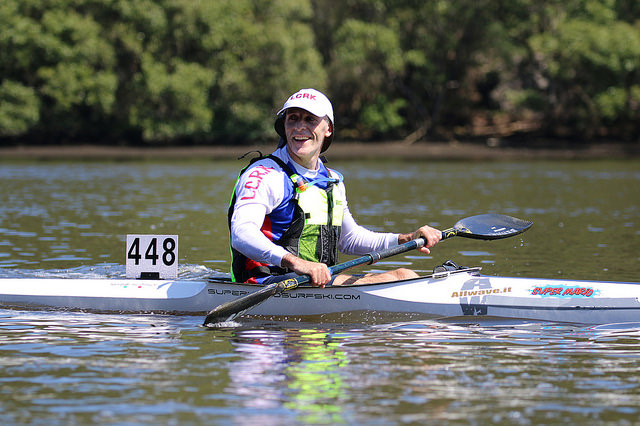 Above: Tim all smiles after his 1st in Div 4
Up in the slimmer speedster divisions Lane Cove paddlers were a little scarcer on the ground. In Div 1 Stewart O'Regan finished 6th, with K2 duo Tony Hystek/Alanna Ewin in 10th. David Young paddled to 5th in Div 2 and after two races is sitting with a one-point margin on the overall tally, while Justin Ryan finished in 8th. Peter Manley was the sole Lane Cove boat in Div 3, finishing 6th in a tight field. Clearly none of these paddlers were distracted by the money reportedly thrown off one of the footbridges – either by an appreciative pedestrian or a scheming club nobody is quite sure. Others were not so single-minded about their time, and it's rumoured one paddler came away with an impromptu cash prize of $45!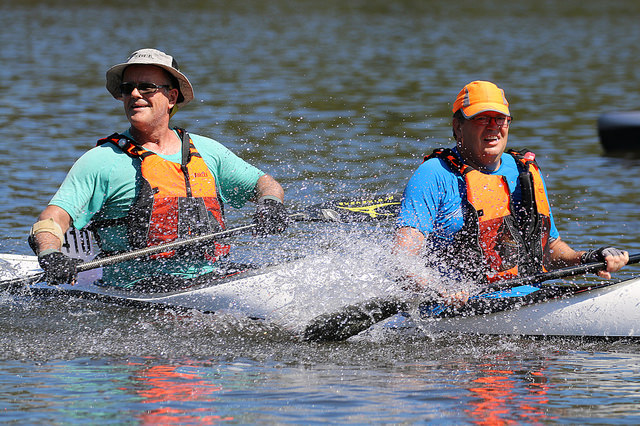 Above: Warwick and Greg complete their ranking race
Meanwhile, Div 6 was almost ready to split in two there were so many paddlers in contention. An impressive 24 boats lined up on the start line, with all keen to get a head start around the island turn. Naomi Johnson and Lane Cover Suzie Rhydderch (paddling for Manly but still with many a cheer from us) were among the first off the mark, paddling neck and neck for almost two hours. Suzie completed her K1 ranking race in impressive time and Naomi finished 2nd, with both earning a promotion to Div 5. Paul van Koesveld (4th), Ruby Ardren (9th), Anne Lloyd-Green (10th and paddling for Manly), David Hammond (11th) and Lindsay Frost (15th) fought their way through the sea of other paddlers, in what promises to continue being a jam-packed division in upcoming races. Div 7 saw Anjie Lees finish in 5th and Meg Thornton cross the line in 8th, with just enough time for the officials to register her boat number before she went for a welcome post-race swim. Lane Cove regulars Gaye Foster's 2nd place points and Gaye Hatfield's alas went to Manly.
Over 10kms there were two notable firsts. Duncan Johnstone chose the more leisurely distance to complete a debut race in his new K1, posting a solid 10th in Div 9 behind Rob Llewellyn-Jones in 5th. In Div 11, Jana Osvald completed her very first marathon series race, finishing just a few seconds ahead of Louise White in 7th. Oscar Cahill took our 2nd in Div 10, with Ian Wrenford and Tony Carr earning 12th and 13th respectively. Ian barely paused for breath between finishing his race and beginning to snap photos of fellow paddlers crossing the line (picking up from Lesley Manley). John Greathead (5th), Dianne Langan (7th and paddling for SSCC), Lachie Wrenford (9th) and Tracey Hansford managed to strategically avoid most of the shallow water paddling the 5km Div 12 course.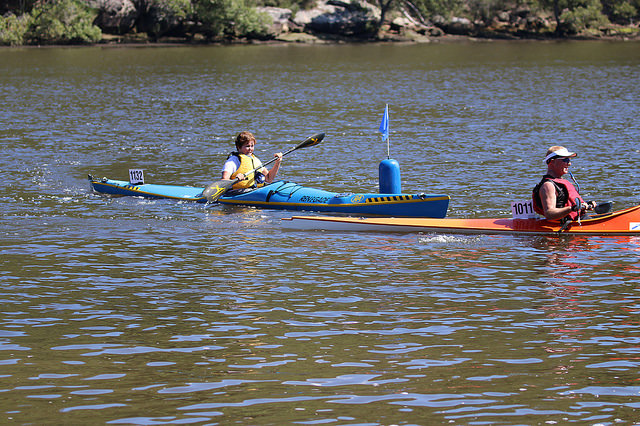 Above: Louise crosses the line in Div 11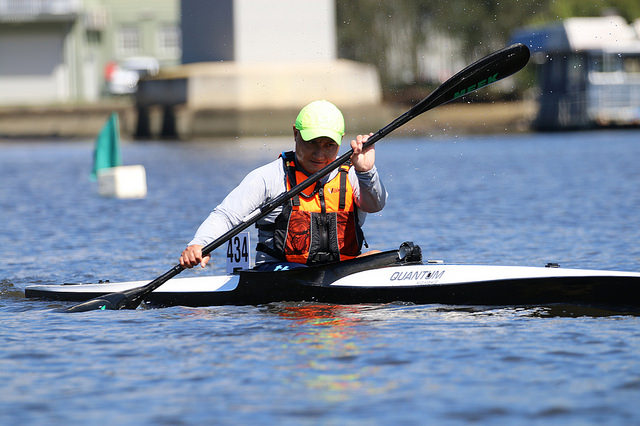 Above: Rodrigo determined in his final sprint
Thanks both to some impressive individual results and sheer force of numbers in the first two races of the year, Lane Cove holds a slim lead in the overall points tally. It would be great to see this success continue when we head up to Tacoma in less than two weeks. Well done to all on a fantastic race!
---
National Marathon Championships - SIRC (Penrith) Sat 11 - Sun 12 Mar 2017
Race report by Naomi Johnson
On Saturday 11th and Sunday 12th March, the International Regatta Centre in Sydney played host to the Australian Marathon Kayaking Nationals. It was a jam-packed two days of racing, classes (and portages) to suit everyone, and of course both medals and bragging rights up for grabs. What better way to paddle at a national level than on home turf and at such a spectacular venue?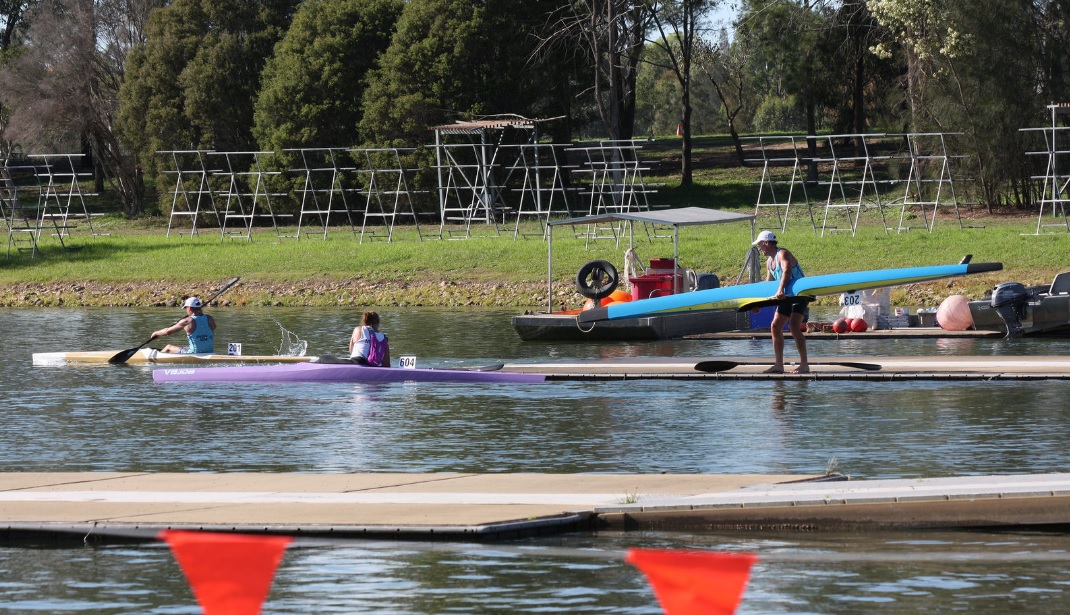 Above:Portage facilities - nice!
Marathon Nationals is split over the full weekend, with Vet/Open singles and junior doubles on the Saturday, and each age class contesting their alternative discipline on the Sunday. It made for a stunning two days of racing, with plenty to watch at every session. Like at States, the course took a shorter lap of 3.75kms, looping round the SIRC warm-up lake under a tight bridge and then into part of the main regatta course with plenty of vantage points for spectators. Portages were back, and though rather short in distance called for speedy pontoon exits before a quick dash up and down a small hill!
Lane Cove paddlers were up bright and early for their singles races on Saturday morning, with the 'morning' session kicking off at a brisk 8am. And with twelve paddlers across eleven different classes, there was plenty of Lane Cove action in the mix. With a seemingly infinite number of categories and starts there was once again a race and a distance for everyone, with many finding themselves racing someone bent on a totally different marathon! Don Johnstone (Vet 45 Ski) and Tom Stimmat (Vet 65 K1) both paddled great races, only to find themselves one lap short on crossing the finish line.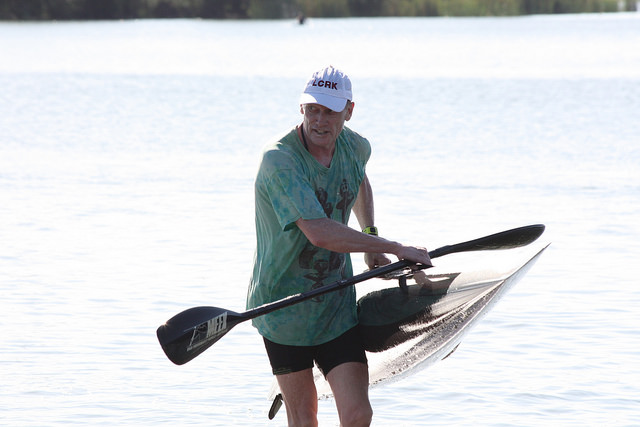 Above: Bruce looking determined on the portage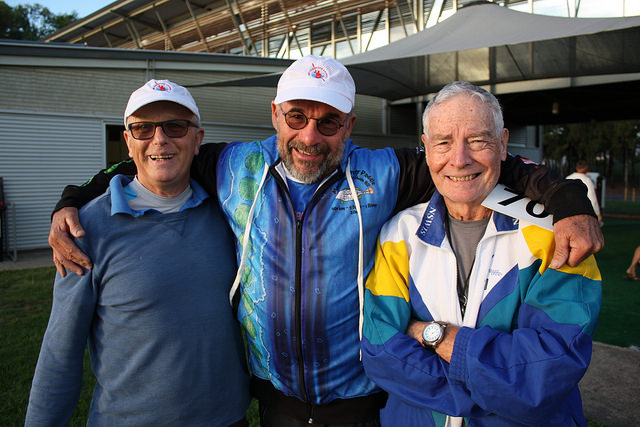 Above: Paul, Tom and Phil ready for their races
The K1 races were all hotly contested, with some in it for a place while others were racing their own times or even just aiming to complete all the portages in one piece. For Stewart O'Regan in the 22.5km Vet 40 K1, all aligned for a spectacular 1st place, and Tim Binns placed 7th in the Vet 45 K1 over the same distance. Both Bruce Gynther and Wade Rowston lined up for the Vet 55 K1, with Bruce pipping a Manly Warringah paddler for 6th and Wade rounding out the field in 9th.
Meanwhile, racing in the Vet 60 Tony Hystek continues to bemoan the lack of portages: "Some see that as a bonus, but I see that as enforced tenancy of a K1 seat for approaching 20km, while those younger get to stretch their legs once every 4km or so. Where is the fairness in that?" Poising himself for a sprint finish, Tony was unlucky enough to get sandwiched between the bridge pylon and his competition on the final lap, taking a quick dip and having to settle with the silver medal as a result.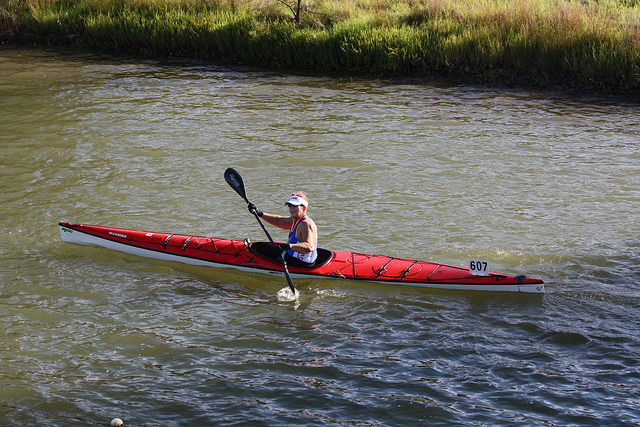 Above: Tracey on her way to victory in the Vet 55 Medium Rec
It was a flush of gold medals for Lane Cove paddlers in the Ski and Rec classes, with David Young (Vet 55 Ski), Tracey Hansford (Women's Vet 55 Medium Rec), Paul van Koesveld (Vet 65 Ski), Phil Geddes (Vet 70 Ski) and John Greathead (Vet 75 Long Rec) each taking out their respective class. Not content with just wining his own class, Phil stormed home in just over an hour to beat the Vet 70 K1s as well!
With the bonus of a lay-in, Naomi Johnson was the only Lane Cove paddler in the 'afternoon' (11am) session of selection classes, lining up with sister Sophie and a very strong field of nine boats to contest the Open Women's K1. After a swift start, the girls settled in for the long-haul of 26.25kms – seven laps and six portages – with the temperature rising into the afternoon. Competition was fierce in all of the selection classes, and avoiding the boys dashing through portages was a top priority. Naomi finished in a solid 6th after taking advantage of the portages to jump up from 7th, and was thrilled that she managed to paddle every lap at a consistent speed!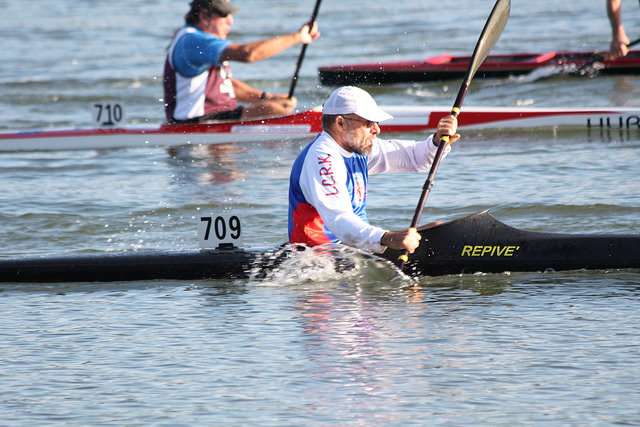 Above: Tom starts the Vet 65 K1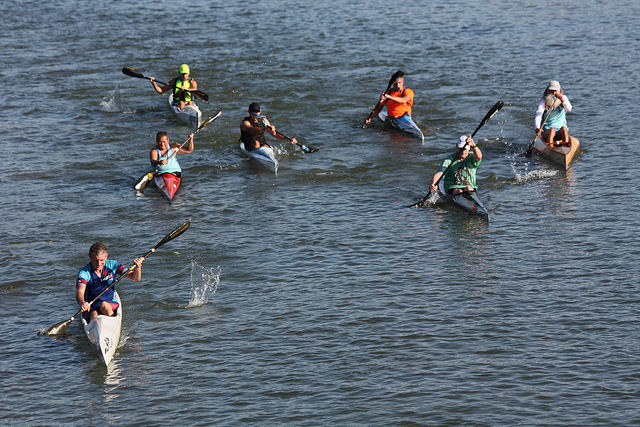 Above: Everyone after either Don or Bruce's wash!
On Sunday morning, a somewhat slimmer Lane Cove contingent stretched out aching shoulders and made their way to Penrith to do it again in the doubles. It was an all-K2 affair for LCRKers, though only two boats were deemed young enough to portage. In the Mixed Vet 50 K2, David Young and Alison Bilbow stormed through their 18.5kms and four portages to win gold, while Paul and Phil claimed silver in the Vet 65 K2. Meg Thornton teamed up with Dianne Chellew from Cronulla Sutherland to paddle a close race in the Women's Vet 60 K2, coming away with the silver medal and some new ideas of how to shake off wash riders. In the afternoon session, Naomi and Sophie teamed up for a crack at the Open Women's K2, completing another seven laps of the course in just over two-and-a half hours for fourth place.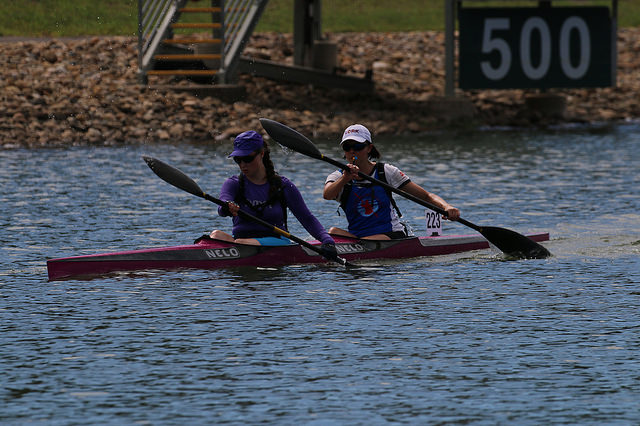 Above: Johnson Sisters on lap who knows what of the Women's K2!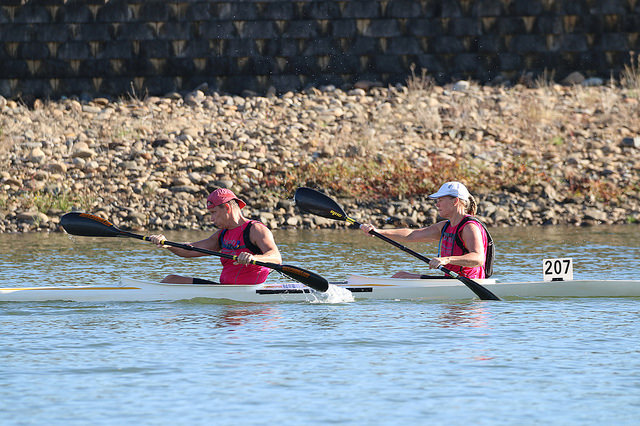 Above: David and Allison in the Mixed Vet 55 K2
A weekend like this couldn't have happened without volunteers, and there was a strong Lane Cove contingent on both days. A huge thank you to Roger Deane (top turn on Saturday, and also around on Sunday), John Greathead (deftly manning the bridge crossover), Duncan Johnstone and Ian Wrenford (safety boats on Sunday) both for giving up their time and for their enthusiastic cheers of support. Thanks to Alanna on Saturday and Ian on Sunday we have a wonderful collection of photos up on the Flickr page. A heartfelt thanks also from Naomi to those who stayed for the afternoon sessions – the races were long and hot, and Lane Cove cheers made the world of difference!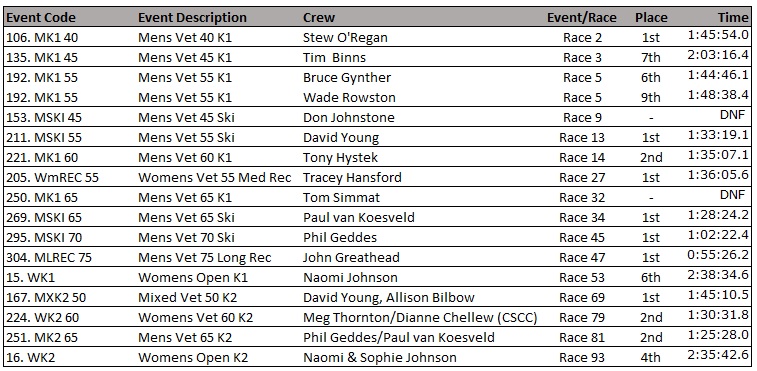 Above: Placings and times for Lane Cove paddlers

---
State Marathon Championships - BGCC (Canberra) Sat 25 Feb 2017
Race Report by Naomi Johnson
On Saturday 25th February, a strong team from Lane Cove made their way down to Canberra for the NSW State Marathon Championships. With singles and doubles contested on the same day, a myriad of different classes, and the fun and fall-outs of portages, it made for an exhilarating day of racing with plenty of thrills and spills along the way.

Above: Don and Jeff flying along in their afternoon doubles race
Perhaps it was the promise of 46 additional marathon series points, but there was a strong turn-out at Mongolo Reach for the earlier-than-normal start time of 10am. Rather than the simple time-based divisions of the marathon series, though, there were a dizzying array of different categories depending on one's age, gender and boat preferences. Or, if you were cunning, a medal for just about everyone! Along with the 'serious' selection categories, there were a huge range of different masters races, skis, SUPs and even a few juniors out on the water. Rather than the regular 5km laps, the circuit was only 3.75kms, with all 95 paddlers in the mornings races released onto the course in a matter of minutes. It made for an interesting day of racing, with a very different vibe from the regular marathon series.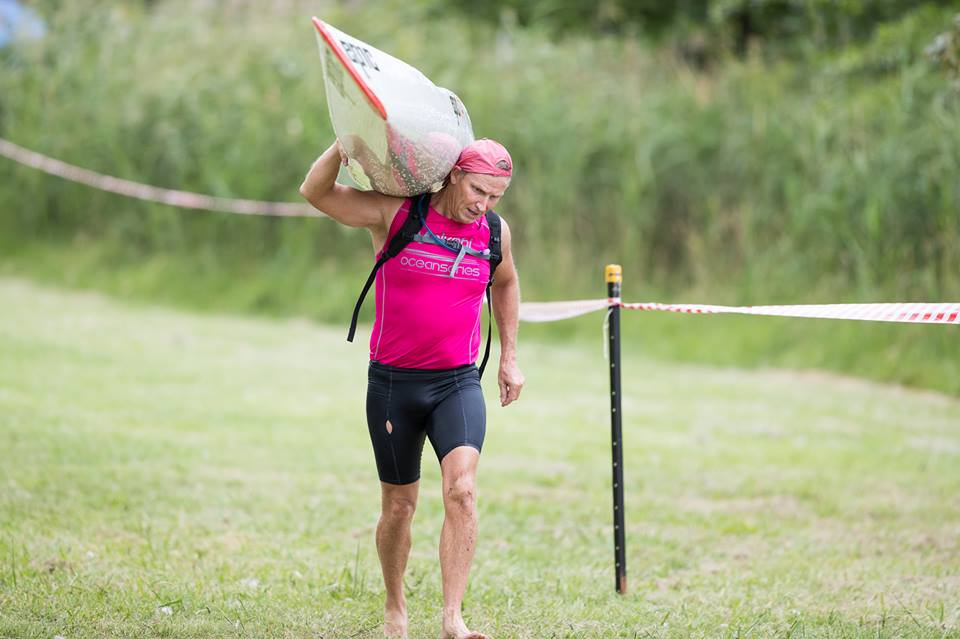 Above: David decides to run with his ski
After the argy-bargy of starts, tactics came into play. Several paddlers set up a convenient wash ride only to find that their quarry finished a few laps early, or didn't have to portage! Many were in a class completely unto themselves, and so the goal became picking off paddlers in front or trying not to get lapped by others. The shorter course made for lots of chances to cheer each other on, and Lane Cove was one of the loudest and most well-represented clubs out there. The highlight for spectators was definitely the portages, compulsory for selection classes and most other K1s and K2s, where competitors had to exit their boat each lap and run some 50m along the bank. Some threw themselves along as if their lives depended on it, while others took the run at a more sedate pace, all accompanied by plenty of cheering and a couple of candid camera moments. Honourable portage mentions must be given to David Young and Tony Hystek, both of whom decided a portage-free race wouldn't be enough fun and so added running in of their own volitation, and to Naomi Johnson, whose Open Women's K1 class earned her five portages, and who was still completing the final one when most other paddlers had already finished!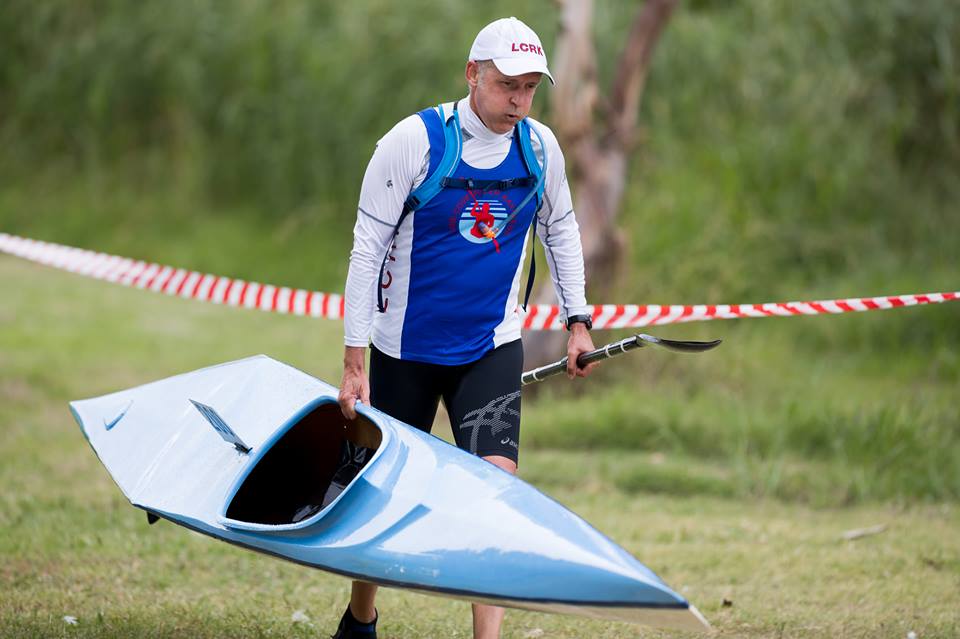 Above: Wade demonstrates a more sedate portage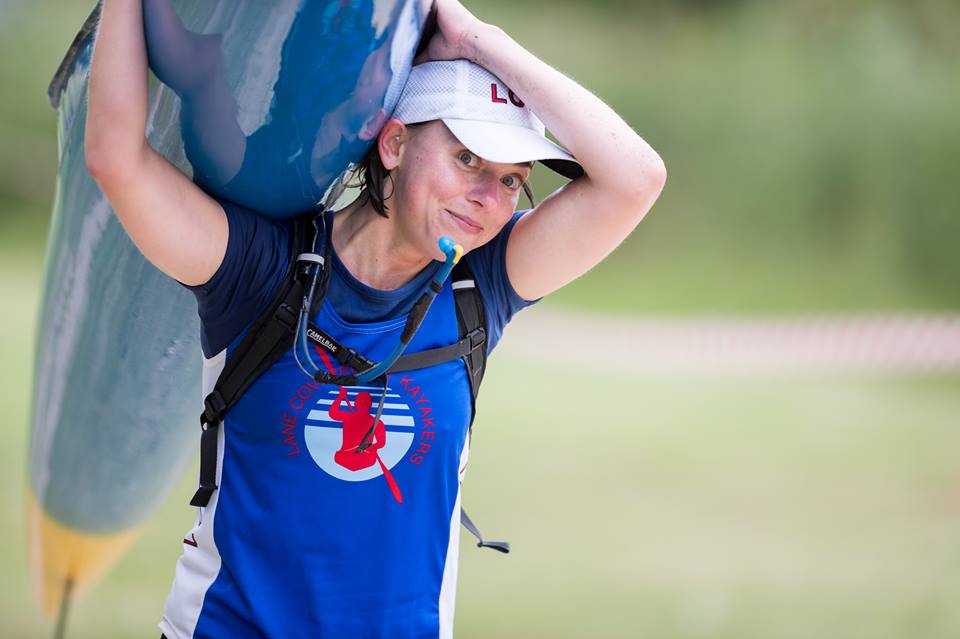 Above: Naomi still smiling on portage No. 4
With a myriad of different classes came a myriad of Lane Cove medals. In the K1 classes were Naomi (silver, Open Womens K1), Ruby Arden and Anjie Lees (silver and bronze respectively, Vet 40 K1), Stewart O'Regan (gold, Vet 40 K1), Bruce Gynther and Wade Rowston (gold and bronze respectively, Vet 55 K1), Tony (gold, Vet 60 K1) and Jeff Hosnell (silver, Vet 65 K1). The ski classes were also hotly contested, and saw Don Johnstone (Vet 45), David Young (Vet 50) and Phil Geddes (Vet 70) all take out gold in their respective classes, while Paul van Koesveld earned himself a silver in the Vet 65 category. Also in the singles mix, Tracey Hansford paddled to a gold medal place in the Womens Vet 55 Medium Rec, and John Greathead took out the Vet 75 Long Rec class.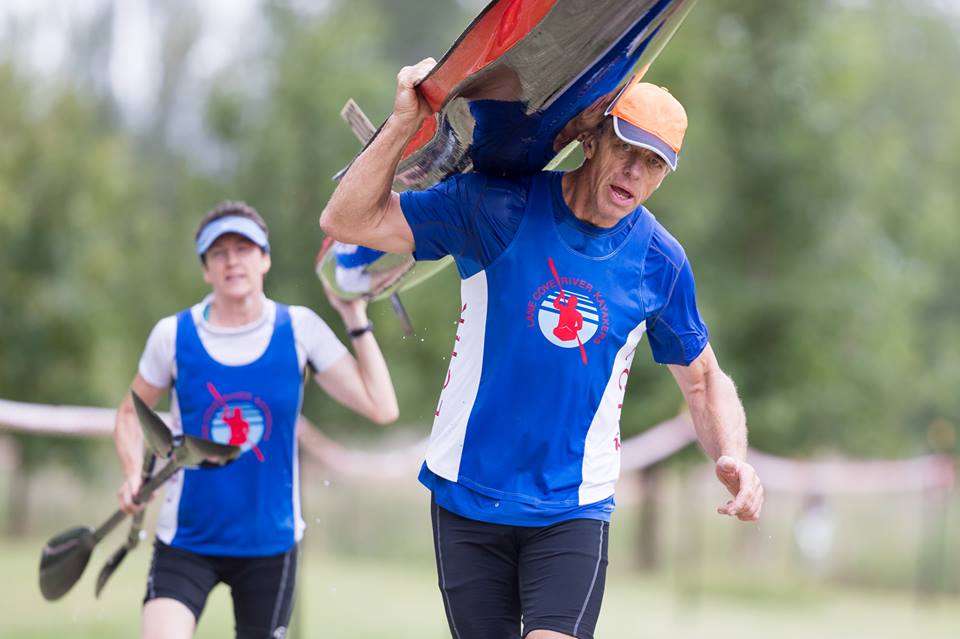 Above: Tony and Alanna with a rather unique portage style!
There was more fun to be had in the afternoon, with many of the same paddlers who contested the singles psyching themselves up for a doubles race as well. With only 37 boats out on the water, the format remained the same as the morning; short laps, portages and plenty of cheering. There were five Lane Cove crews across five different categories, and no fewer than ten gold medals at the end of the day! In the hotly contested Mixed Vet 100-129 K2 (that's combined age if anyone's wondering!), Alanna and Tony held off three other boats for their top spot on the podium, demonstrating a rather innovative team portage technique along the way. Not far behind them but in the Mixed Vet 100-129 Double Ski were David and Allison, who, spurred on by David's enjoyment of the morning portages, decided to add a few to the afternoon race as well! Paul and Phil took their new K2 for a very successful spin in the Mens Vet 130-159 class, while Jeff and Don formed a scratch duo for the Mens Vet 100-129 Double Unrestricted class in a boat borrowed from Jeremy Spear. Ruby and Anjie, paddling in the Womens Vet 70-90 K2, enjoyed themselves so much that they decided to add an extra lap and portage to their 15km event! Each paddled a total of 33.5kms and portaged seven times across their two races, earning the accolade of the furthest distance for Lane Cove paddlers.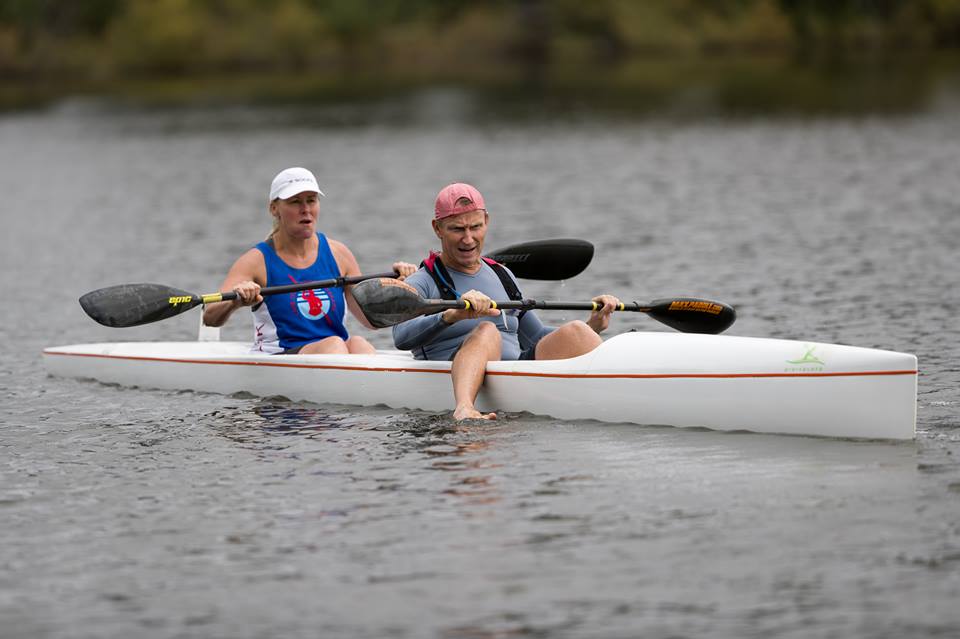 Above: David and Allison waiting for the doubles start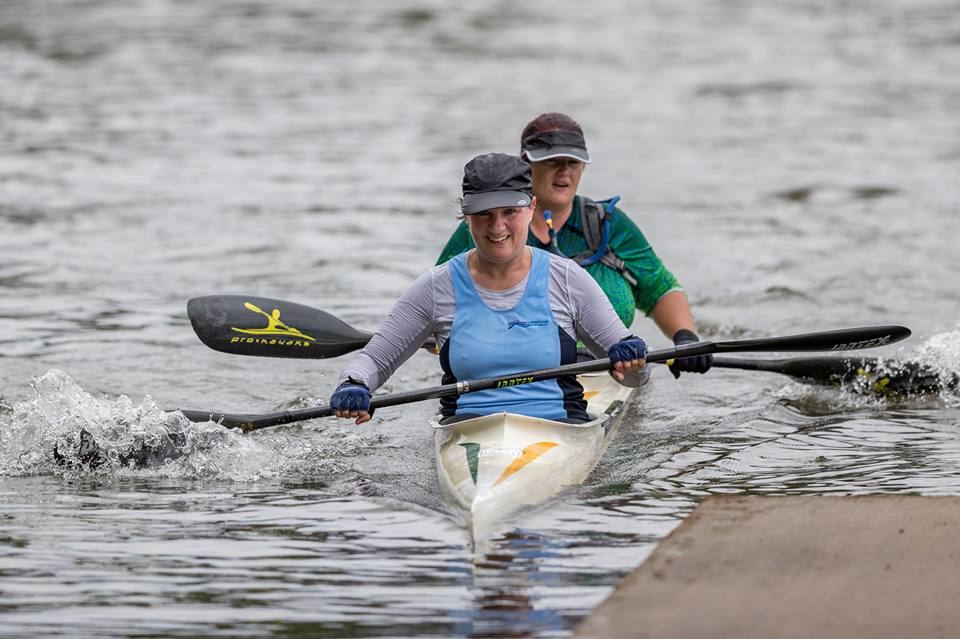 Above: Ruby and Anjie pull into the pontoon
The club's strength of numbers and team spirit really made the day, and it was great to see so many paddlers pushing to achieve a time and race to be proud of. Lane Cove was a close second to BGCC in a surprise new trophy for the most successful club, and looking in a strong place for the upcoming marathon series races. Congratulations to all who paddled, and heartfelt thanks to Paddle NSW for such a wonderful day of racing. All photos in this report courtesy of Michael Daniel Photography (see link above).
ATTENTION: Engraving labels for medals won by LCRK paddlers have been printed with your class, distance and time achieved. If you haven't already done so, please pick up yours AND the accompanying label with the race name and date. If you didn't get the race name and date label last night (March 1st), please remember to collect it next week (March 8th) as a memento of your state marathon achievements.
AND A POSTSCRIPT FROM PHIL GEDDES (President)
Gary Rake and Bob Turner, together with the PNSW and BGCC team deserve our congratulation on an excellent State Championships. Our competing members not only enjoyed the course but also appreciated the organisation and effort that went into organising and running it.
The atmosphere was relaxed and inclusive, something that goes a long way not only to the success of the event but to the ongoing sustainability of it. The event groups and start waves were well thought out and contributed to the incident free starts, a great feat given the pressures placed on the starts by the 3.75 laps. But all groups were away before the fast boys reached the start / finish line on their first lap return. Well done. The 3.75 km lap was introduced to conform with new international standards and will also be used for the upcoming nationals to be held at the Regatta Centre Penrith on the 10 – 12th March.
The Club championship, a perpetual trophy introduced here for the first time, was a nice surprise and a good addition to the event, I'm sure it will be on the agenda for a number of clubs next year. Hopefully we can expect LCRK to field an even bigger contingent for next year to improve on our second place this year. LCRK was distinguished by the best conversion ratio of all clubs, scoring 3.54 point out of a possible 4 for each member competing, so if we can up the numbers and keep the quality we should be in with a good chance next year!
---
Round 1, Wagga, Sat 4 Feb
Race report by Naomi Johnson
With the start of 2017 comes the start of another marathon series, and race one of eleven drew keen Lane Cove paddlers all the way down to Wagga Wagga. Weather forecasts for the day, while promising almost 40 degrees earlier in the week, reduced to a manageable but still warm day by Saturday. Yet there were still plenty of surprises in store – the race certainly threw everyone in the deep end, testing the boat handling and river reading skills of even the most experienced paddlers.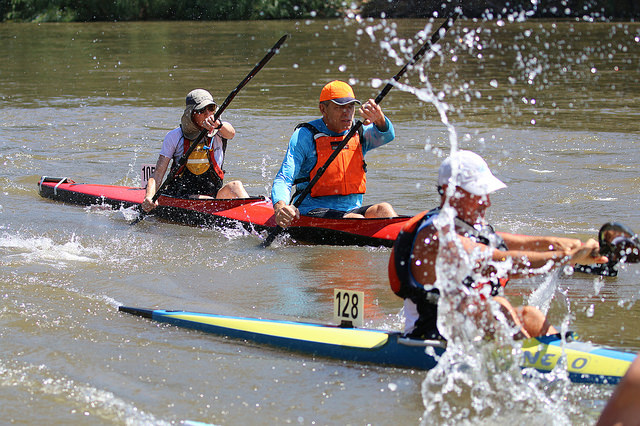 Above: Tony and Alanna in the Div 1 start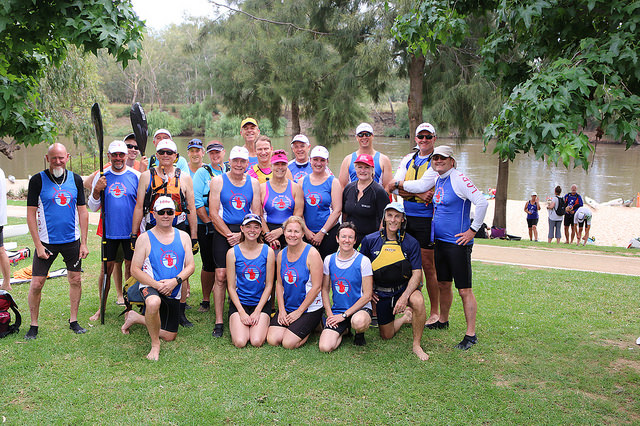 Above: Team Lane Cove ready to go
Despite the distance and heat, LCRK fielded a strong team, with paddlers in divisions 1-7 and 10-12. A late start resulted in a few paddlers being a little too enthusiastic out of the starting blocks, and a 'dishonourable mention' must go to both Ian Wrenford and Allison Bilbow for synchronised swimming at the very first bend. Ian explained he was following Allison's every move – sure that she'd been coached by David Young. Both quickly learned the lesson not to cross fast flowing water at a 45 degree angle! Ian also managed to lose his drink system to the depths of the Murrumbidgee River and had to take a quick pit stop to rehydrate at the end of lap one. At least that's what he said – a couple of spectators wondered whether he was on the hunt for ice cream!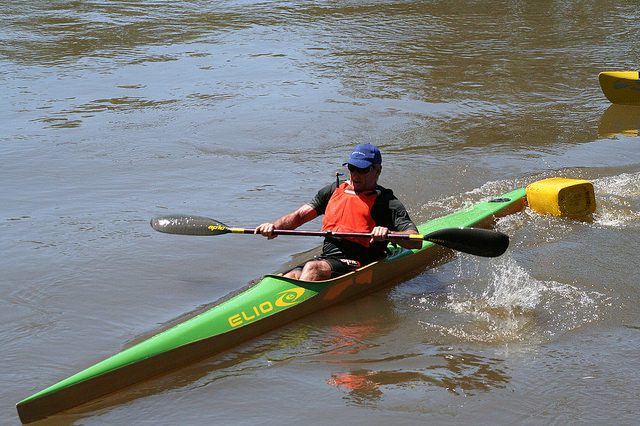 Above: Lee just before his dip at the nasty top turn
The river continued to prove tricky throughout the race, with two points on the course particularly hazardous. Rounding the green buoy a few hundred metres after the start, paddlers were advised to cross the river (and any oncoming boats) to get into the relatively gentle side current on the left. The treacherous current and cunning eddies claimed paddlers on every lap, and the well-placed rescue boat was kept busy. Naomi Johnson (the author can of course give herself constructive criticism) would have done better to watch the water rather than the boat she was trying to overtake on the third lap, so making her debut capsize of the NSW marathon series. The top turn was also a challenge, the water rushing round an island and taking both Lee Wright and Allison by surprise. Luckily there was a well-placed maritime rescue boat, along with a well-hidden photographer!
Across the board there were strong performances from Lane Cove paddlers. Top paddlers in the 20km divisions were David Young 1st in Div 2, Tim Hookins 1st in Div 5 (despite, we heard, a plea to be demoted to Div 6). There were a flurry of 3rds, with Stew O'Regan in Div 1, team Matt Swann/Duncan Johnstone in Div 3, Ruby Gamble with a sprint finish in Div 6, Anjie Lees in Div 7 and Tracey Hansford in Div 12. Tim Binns was 4th in Div 4 as was Allison Bilbow in Div 10 and Lachie Wrenford in Div 12. Paddling for other Clubs, Lane Cove regular Richard Barnes took out Div 7 in a LRec2 with sister Linden, and Gaye Hatfield was 3rd in the same division. Gaye also receives an honourable mention for retrieving Lachie Wrenford's cap from the willow trees by the top turn, and returning it to his head as she paddled past!
Also paddling 20kms were the ever-impressive team of Alanna Ewin/Tony Hystek (5th, Div 1), Peter Manley (7th, Div 3), Murrumbidgee River aficionado Tom Simmat (8th, Div 4), Rob Manning (10th, Div 4) Lee Wright (Div 4), Phil Geddes (6th, Div 5), Jeff Hosnell (7th, Div 5), Paul van Koesveld (5th, Div 6), David Hammond (7th, Div 6), Lindsay Frost (8th, Div 6) and Naomi Johnson (9th, Div 6).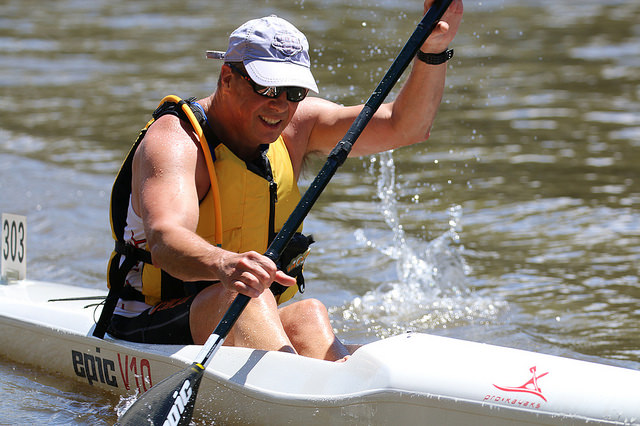 Above: Peter Manley with his eyes on the finish line

\\\
Above: Anjie and Phil heading upstream
Divisions 8 and 9 are looking for some Lane Cove entries in the coming races, but there was a strong show in the 10 and 5km distances. Tracey Hansford was the top performer over the shorter distances finishing 3rd in Div 12, with Lachie Wrenford 4th in the same division. Fresh from their swims, Allison and Ian finished 4th and 5th respectively in Div 10, while Meg Thornton was 5th in Div 11. Updated results on the Paddle NSW website show LCRK in a slender 1st place, closely followed by MWKC in 2nd then SSCC and BGCC equal third. With high hopes of defending the club trophy and thanks to the conditions on the Murrumbidgee River, everyone will probably be posting season PBs at Woronora!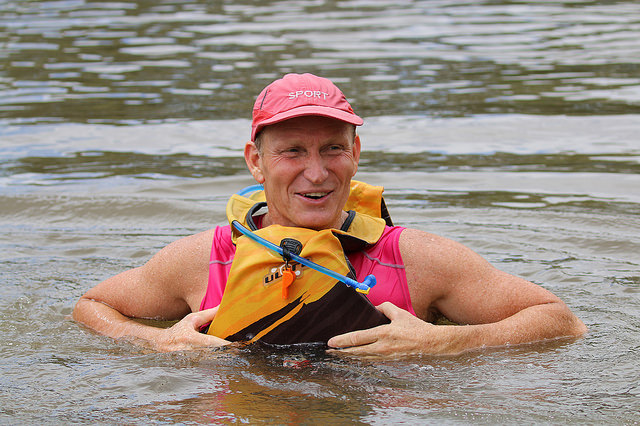 Above: David takes a post-race dip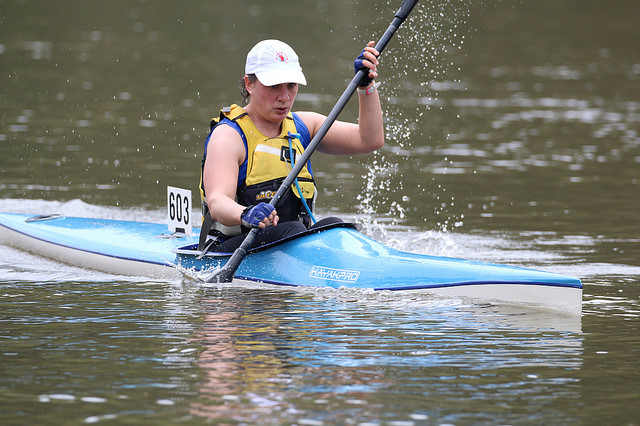 Above: Ruby sprints towards the finish line
Special thanks to Lesley Manley (Peter's wife), Keith Wrenford (at the top turn) and Ian Wrenford after he eventually finished for their wonderful photos, and to Matt Swann for keeping everyone entertained by losing his car keys. The unlocked car was turned upside down by a group of willing helpers, with the keys finally discovered in Matt's back pocket.
For the diary in coming weeks are both race #2 of the series at Woronora in Sutherland Shire on 26th March, and the Marathon State Championships in Canberra on Saturday 25th February. Those competing in Canberra can earn 46 individual points towards the marathon series, and it would be great to see a strong Lane Cove presence at both races.