Calendar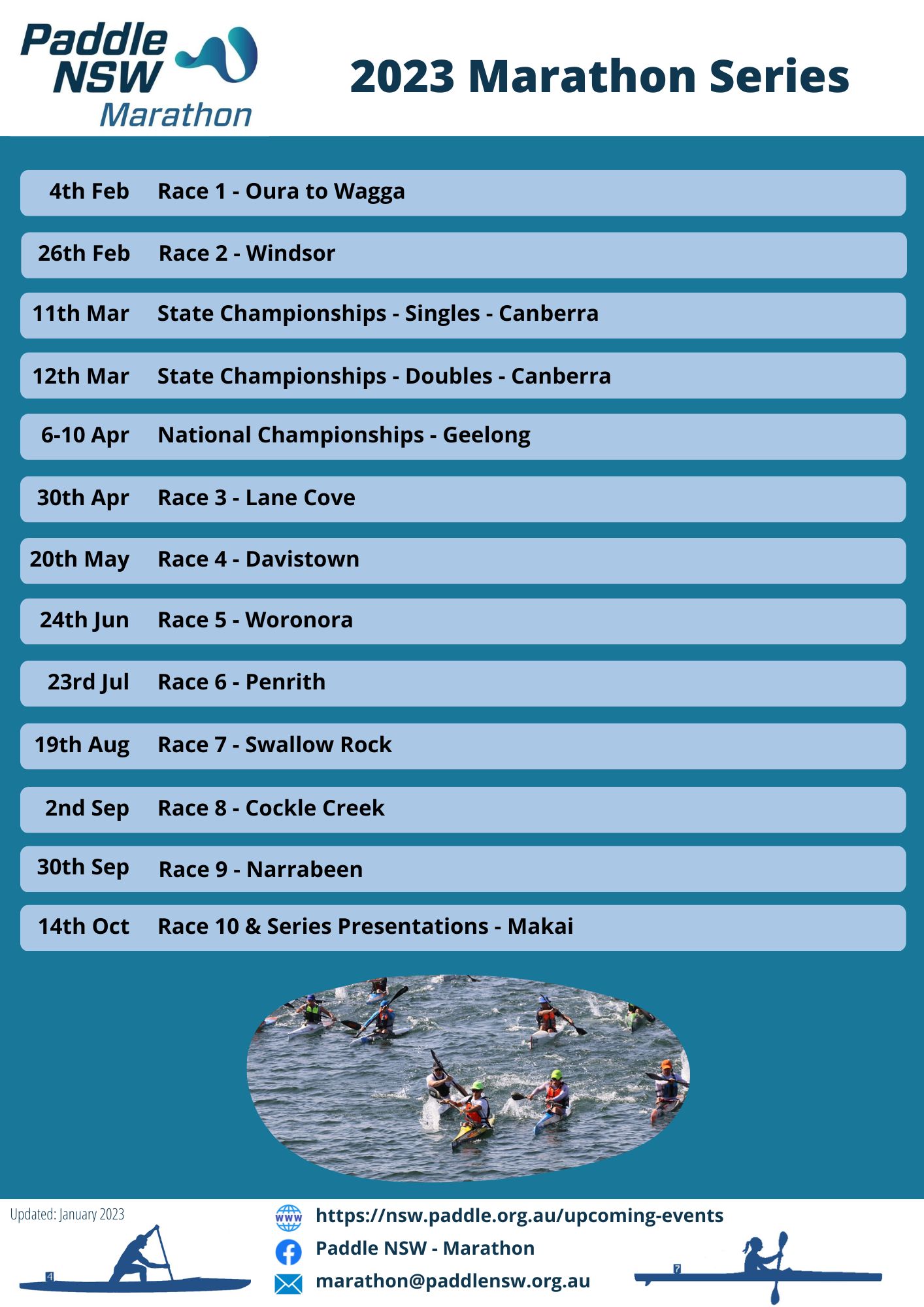 And some other Marathon events to slot in (check out the 2023 Ultra Marathon pages...
Links
Marathon Series Standings
Individual results for the 2023 Marathon Series are in the table below - great LCRK turn out!!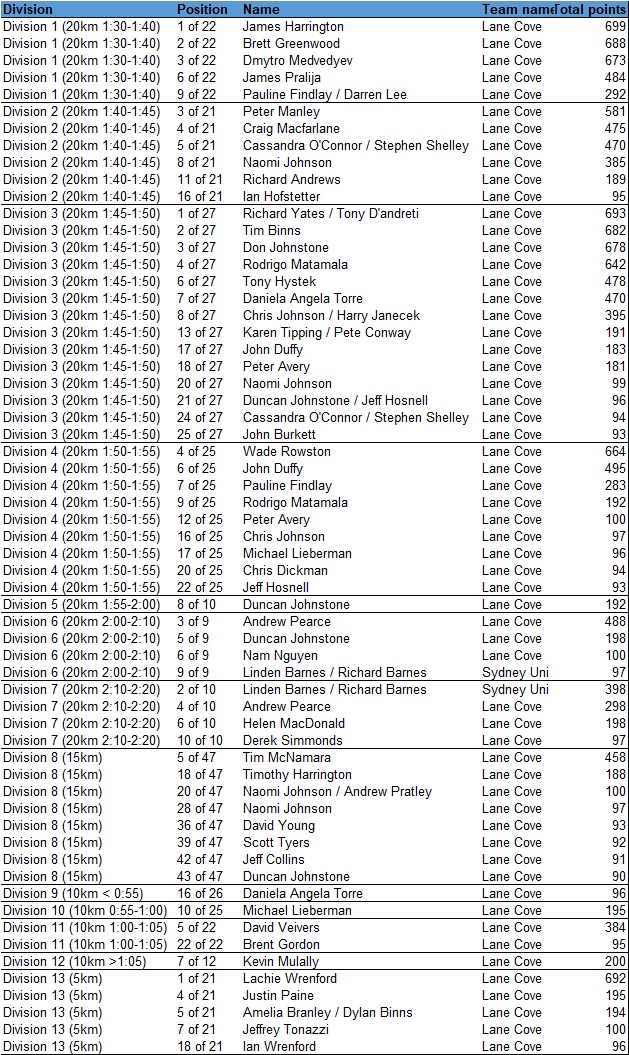 Point Scores for the Brian Norman Club Trophy (participation/results) and the PaddleNSW ICF Trophy have been updated after Swallow Rock Marathon #7.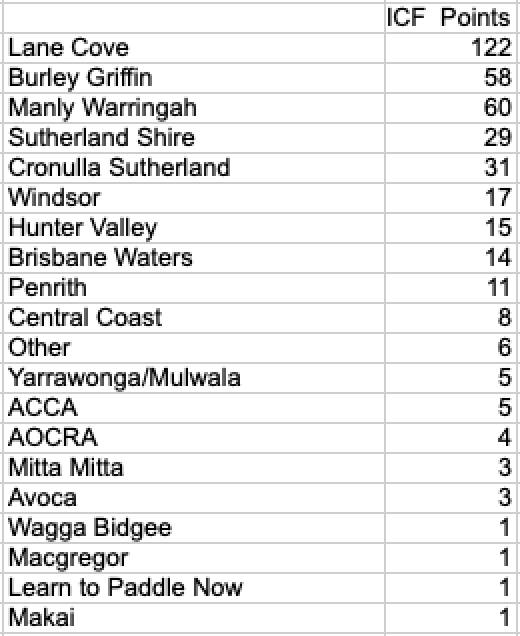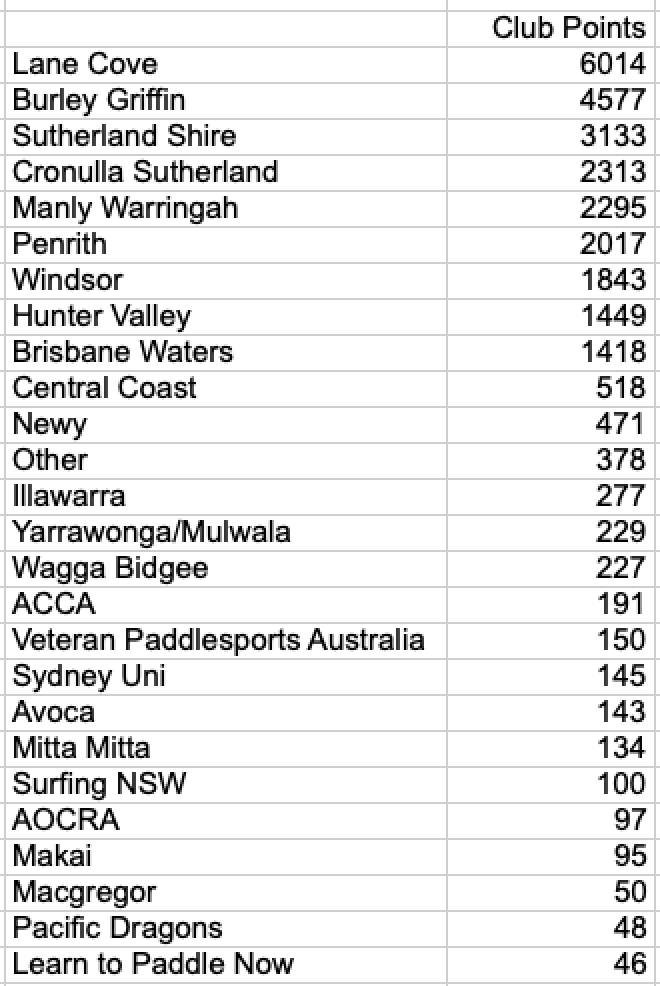 Marathon Series #10 - Burrill Lake - 14 Oct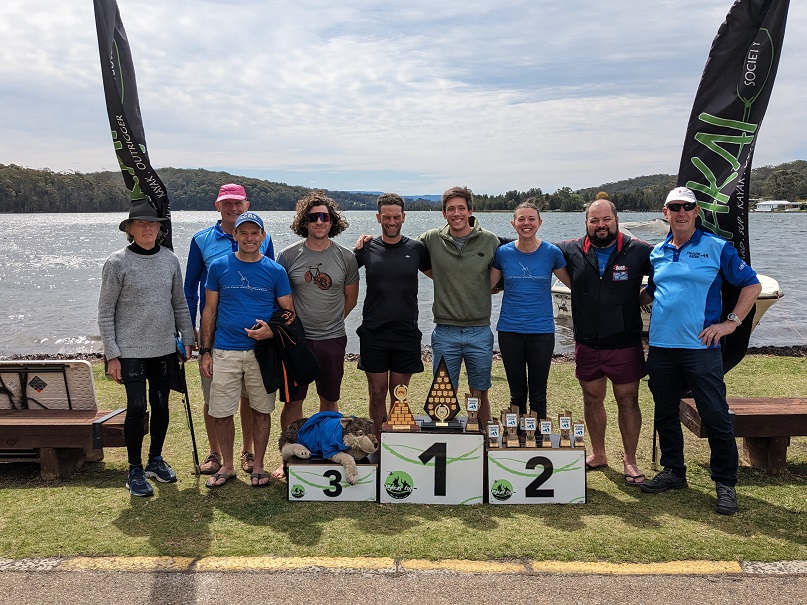 Above: LCRK team photo from Burrill

Burrill Lakes Marathon Report - from Andrew Pearce
8 LCRK paddlers turned out for the Burrill Lakes Marathon last of the year kick in the tail for all.
Paddlers placings are all shown on the finish results below, suffice to say the club was well represented in all results on the day.
While some had travelled down on the Friday night, myself and Don Johnstone had a nice drive down on Saturday morning leaving plenty of time, we should have anticipated the wind as we had to stop a couple of times to adjust straps, Andrew Pratley took an alternate path using the fire trails on his bike to meet Naomi at Berry on the way down, perfectly good highway but who are we to comment.
Start line for classes was out to the point into a 12-18klm head wind with building chop, not to bad but a sign that the race was going to be testing, left turn and long stretch into the bay on the south, with some protection from the wind, detours into the smaller bays just added more distance, left turn at the top mark and then a great ride down wind to the next mark, which was placed at the outer edge of the point and shallow water, this turn was probably the worst, as a sharp turn put us beam on to the short steep waves off the shallow water and the wind which condensed/accelerated against the shore which resulted in a double whammy, side wind and chop, tricky to get around and a few took a wider pass around this mark which proved a better angle, from there down to the last mark and then repeat 3 more times for the 20klm course. There were a number of casualties but fortunately all LCRK paddlers managed to get around the course without a swim.
This was followed by the Paddle NSW presentation and the collection of various trophies, including LCRK retaining the Brian Norman and ICF Marathon Club championship trophies. Interestingly there is some talk of changing the system next year with a City club and Country club award format, the details have not been worked out, but the indications are that this is to provide a more balanced approach and counter the dominance of the larger and more active clubs. I will bring this up at the next Paddle NSW board meeting in November.
The race was followed a short time later by a very collaborative and informative training session run by Margi Bohm (BGCC), and our own James Harrington, for those that participated all would agree that these kinds of sessions can only be a benefit, unfortunately midway through this session the wind picked up a couple of boats sitting peacefully on the grass and landed them in a different location with some minor damage (we had been out in this same wind only an hour or so earlier).
We all adjourned to the local club for an informal dinner which provided an opportunity to enjoy the company and common ground of our chosen sport, following this Margi rounded us up and back to the Recreation room at the caravan park to review the videos Gareth Stokes (Sutherland) had taken on the day, with more training tips and open proactive constrictive criticism. Perhaps we could look at this format into the future. For those that are not aware, Gareth suffered a health scare at the Narrabeen race and it sounds like his race days are on hold into the foreseeable future and we all wish him well).
But the weekend was not to end on Saturday night, 6:00 to 7:00 am we were back on the lake which was devoid of any wind, just dead flat water. Don Johnstone headed off for a quiet 29km circumnavigation of the lake, I did a 12km loop out to the surf beach and then met James H on the way back for some wash riding lessons and then back to the beach.
Unfortunately the Makai will not run next year as the participation levels experienced over recent years does not make it commercially viable, which is a real shame as this has to be one of my favourite races.
Don and I headed back and took a very scenic route, as despite the latest navigation equipment in my car, I should actually pay attention to the instructions. I cannot stress enough just how important these races are to keeping us all going, we must encourage each other to commit and do these races, if this means some car and accommodation sharing, it is not a bad thing as it gives us a chance to shoot the breeze, very much a case of use it or loose it.


Above: results for LCRKers and regular TTers
Marathon Series #9 - Narrabeen - 30 Sep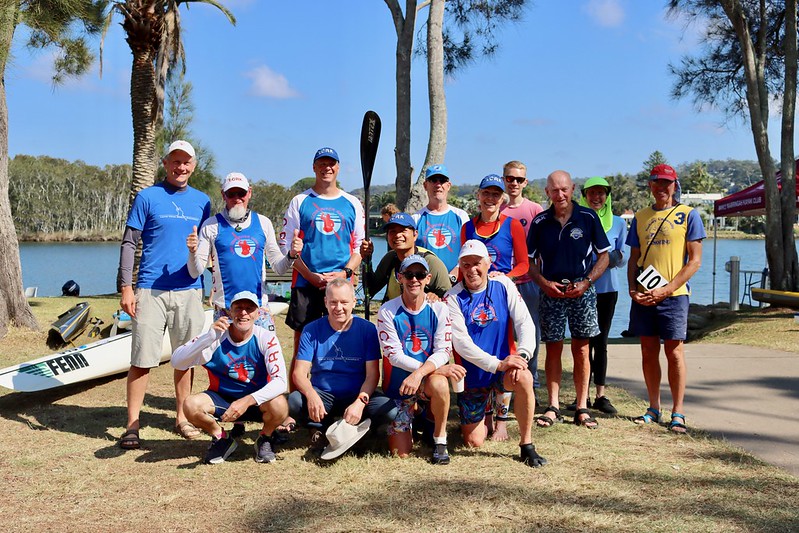 Above: Nearly everyone made it to the team photo


Above: results for LCRKers and regular TTers
Marathon Series #8 - Cockle Creek - 2 Sep


Above: results for LCRKers and regular TTers
Marathon Series #7 - Grays Points (Swallow Rock) - 19 Aug
Justin Paine has provided the following report on his experience at Swallow Rock (thanks Justin!).
Justin's Report
I hadn't paddled competitively since pre-pandemic days but encouraged by surviving Caroline's brilliant 4x2k Sunday morning relay, I decided to have a crack at the 5k race at Swallow Rock. That's an achievable distance for someone like me who is past the veteran stage and is now a claytons antique, old enough but lacking the quality of the genuine antique.
I have raced many times at Swallow Rock over the years. It's a lovely place.
It only took me two or three hours and a few phone calls for help over two days to crash through the online entry security firewall and successfully lodge my entry.
On race day I hitched a ride with Tim McNamara and we talked nonstop all the way down and all the way back. Well, I talked. Tim is either a patient listener or was concentrating on driving safely.
A fresh and chilly westerly was blowing when we arrived and we huddled in a group with some fellow Lane Covers.
"The wind is going to strengthen and come funnelling down the river," someone forecast. They were right. At race start I was in the final division to go – back of the pack – along with a handful of paddlers whose combined age probably didn't exceed mine by much. I knew I couldn't keep up with them and before long that's what happened. From then on it was pretty much like a solo training session.
A slog up to the top mark and an easier run downwind. Volunteers in rescue tinnies gave encouraging shouts. I wasn't sure of the race course and wandered around looking for the right track – a bit like Burke and Wills.
Approaching the bottom mark I was lapped by a couple of the faster 20k divisions. I didn't feel too badly about that, as I had given them a handy start at the front of the race. Tony Hystek gave me a shout as he sped past and coming out of the bottom turn Naomi Johnson chatted briefly before paddling on stylishly.
As I neared the finish there were shouts from Lane Covers on the bank.
So I achieved my goal of finishing. Never in doubt. Still feeling strong and wanting more bang for my buck, I paddled around for a while longer, checking out the bushland of the Royal National Park on the opposite bank of the river.
Later, over a sanger sandwich, someone – I think it may have been Kev Mulally - asked in a concerned tone "How did you handle the conditions out there – were you okay?"
"Mate," I replied, "I do most of my paddling on Parramatta River in the ferry wash. That was a breeze today." (pun intended)
(For the record, Kev stormed home from behind to win division 12.)
So for me it was a successful if brief return to competitive racing. It was great to be back rubbing shoulders, on the bank at least, with the racing fraternity.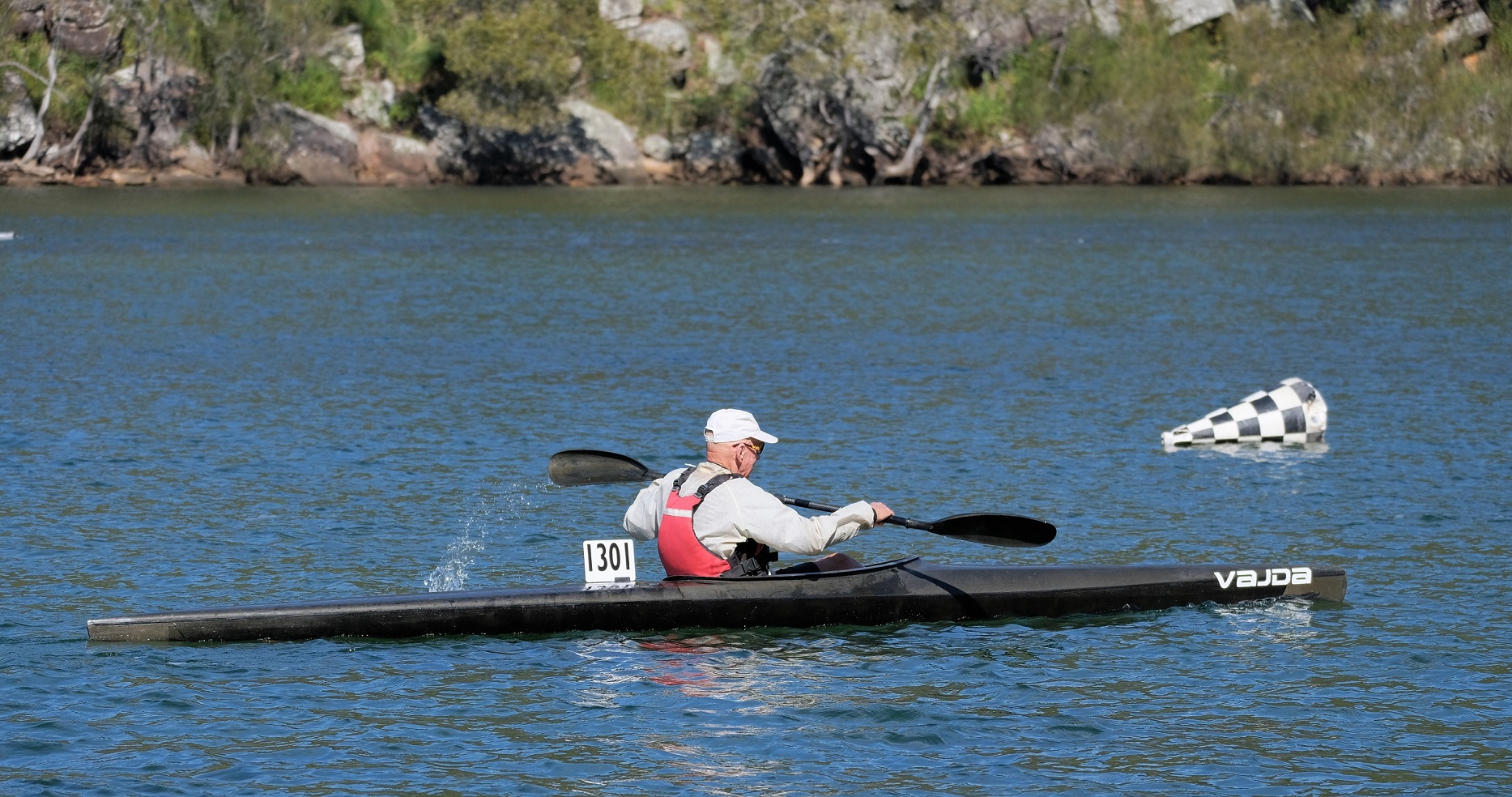 Above: Justin crosses the finish line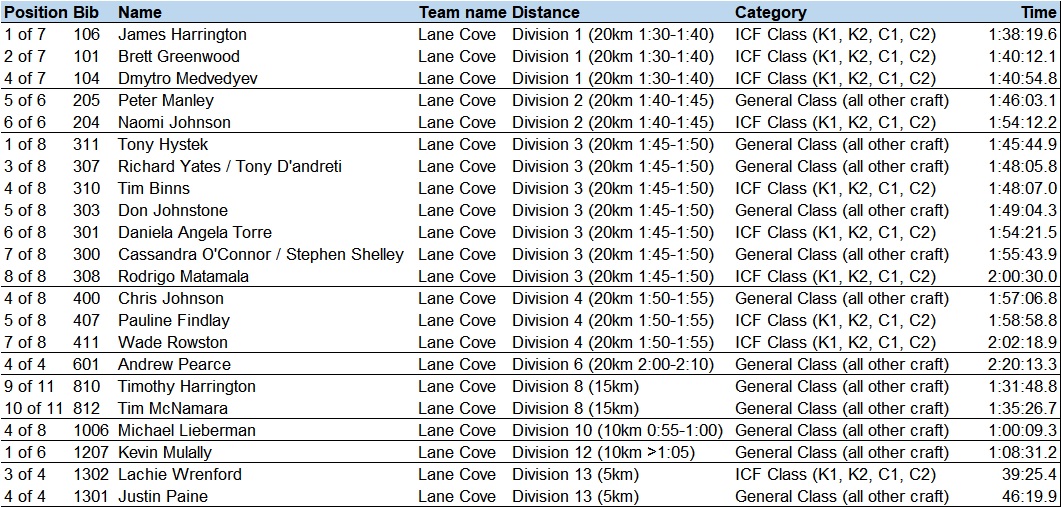 Above: results for LCRKers and regular TTers
Marathon Series #6 - Penrith - 23 July
Location: Rowing Club (same as 2022), Bruce Neale Drive, Penrith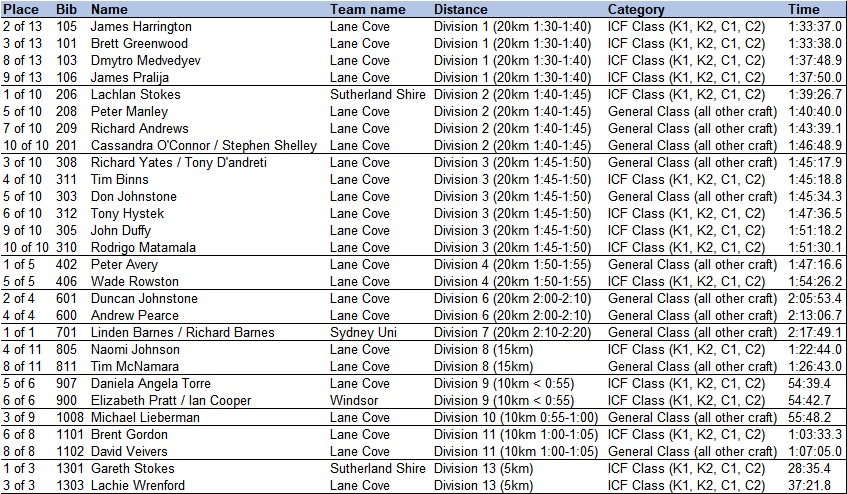 Above: results for LCRKers and regular TTers
Marathon Series #5 - Woronora - 24 June
Location: Burnum Burnum Reserve at Woronora - Sutherland Shire Canoe Club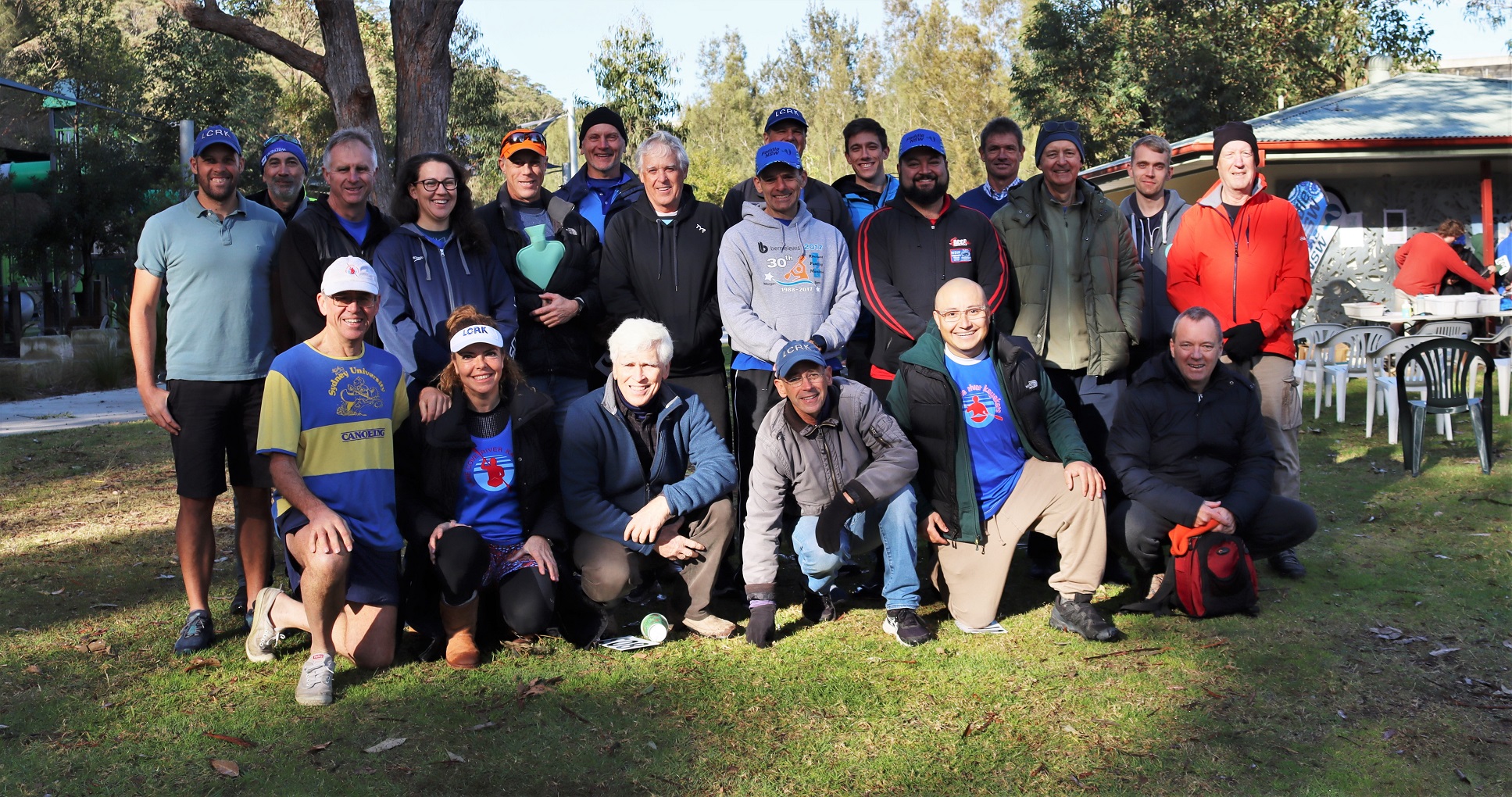 Above: Most of the LCRK paddlers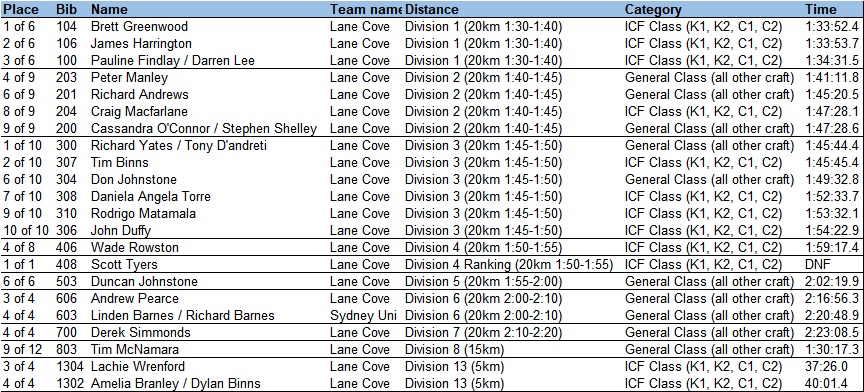 Above: results for LCRKers and regular TTers
Marathon Series #4 - Davistown - 20 May
Location: Restella Avenue, Davistown, Australia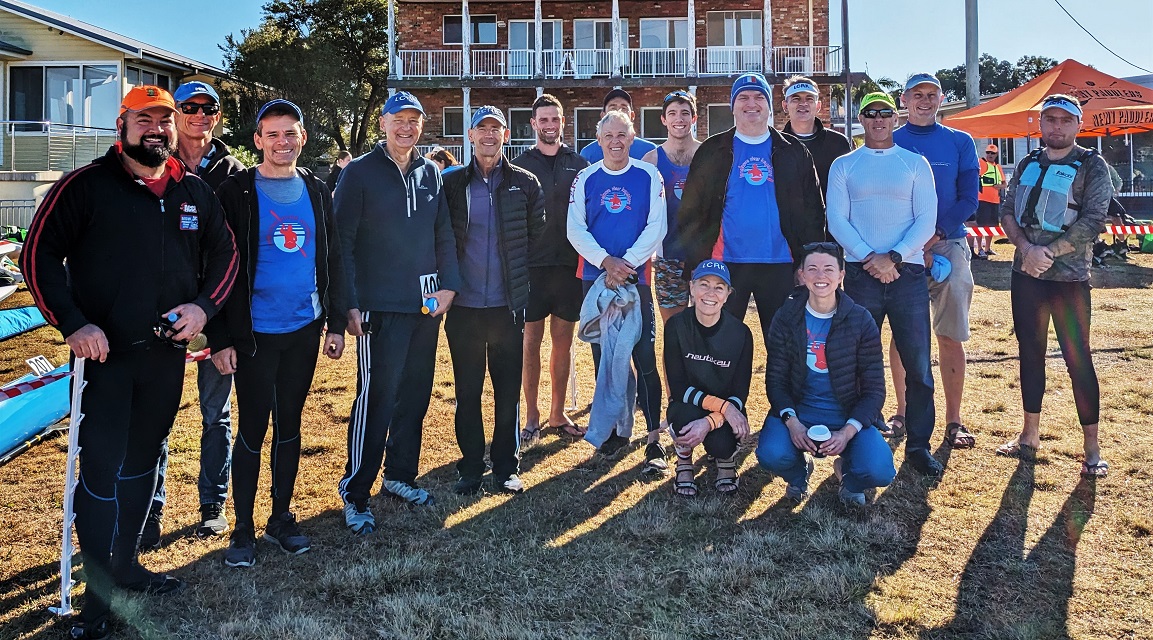 Above: Most of the LCRK paddlers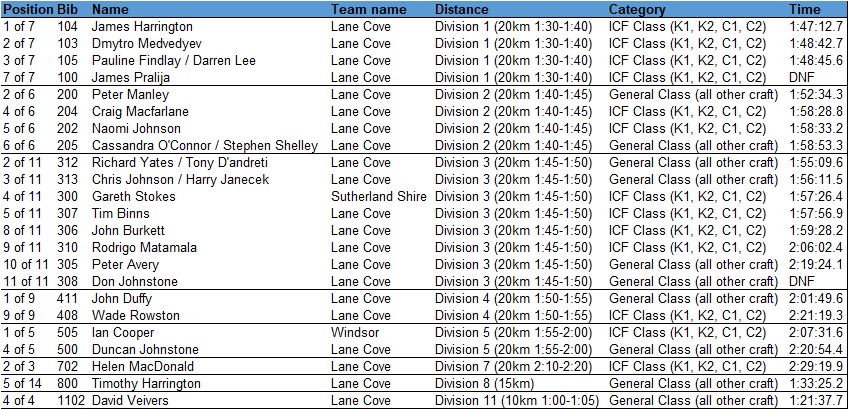 Above: results for LCRKers and regular TTers
Marathon Series #3 - Lane Cove - 30 Apr


Above: Most of the LCRK paddlers n volunteers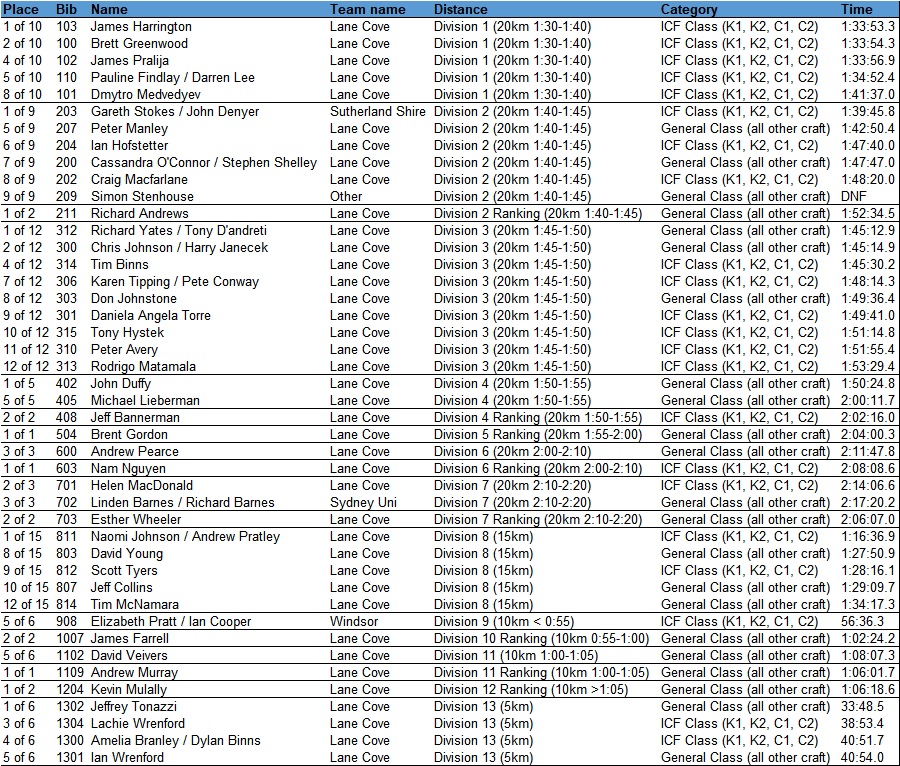 Above: results for LCRKers and regular TTers
Marathon Nationals - Geelong 6-10 April
The event was held at the Geelong Canoe Club, Marnock Rd, Newtown VIC 3220, situated on the banks of the beautiful Barwon River.
Jeff's View of Canoe Marathon Nationals 2023
I would like to say firstly how much I enjoyed these Nationals. This is only my second but Victoria's running of the event it is going to be hard to top. John Young and his team of volunteers were amazing and NSW helped a lot also.
The venue was spot on even though the weather Gods tried to spoil it.
I would like to thank our Manager James Harrington he was easy to find and communicate with. How he did this and still raced to the highest standards in all races simply amazing.
Friday's 5km sprints were great to watch I wish I had entered.
Saturday was Singles I was in the 70-74 there were 7 entries in the ICF class last year only one. I knew I was under done for the race breaking my wrist 3 weeks previously whilst in NZ to welcome Richard Barnes. So very little training in fact I hadn't done a 20km race since Woronora 2022. I was 3rd for most of the race but blew the last lap. Only 15 seconds between 3rd and 6th
Sunday Doubles with Scott Harris from Manly. Only 3 training paddles we did our best and finished second Bernie Cragg and Peter Murphy came third.
Sunday night James organised a team dinner at Belmont Hotel a great turn out of paddlers and family, again well organised by James
Sunday was mixed doubles we had some great crews but I think there were only 2 age groups in Masters so very hard to beat the younger paddlers I teamed With Jane Liddle from WA in a ski. We had a great fourth. My footplate wasn't locked and moved and was on a 2 notch angle and too close to me so I could move my legs so just concentrated on foot pressure on the plate. We were so happy we beat the couple in the same boat from Currumbin Waters.
Special mention to The Champion Ann Lloyd-Green 3 Gold Medals 🏅 and I must say doubles on Sunday she was faster in her single on Saturday, she was a machine. I must also thank Bob Turner for organising the NSW Caps and thanks to my little team of helpers John Duffy and Scott Harris for getting them to Geelong. It was so good seeing all our paddlers wearing them and especially when receiving there medals because it was so cold and wet most people were just wearing warm clothes.
Also a highlight was seeing all juniors and schools racing.
Looking forward to South Australia 2024 and I'll make sure I'm ready this time.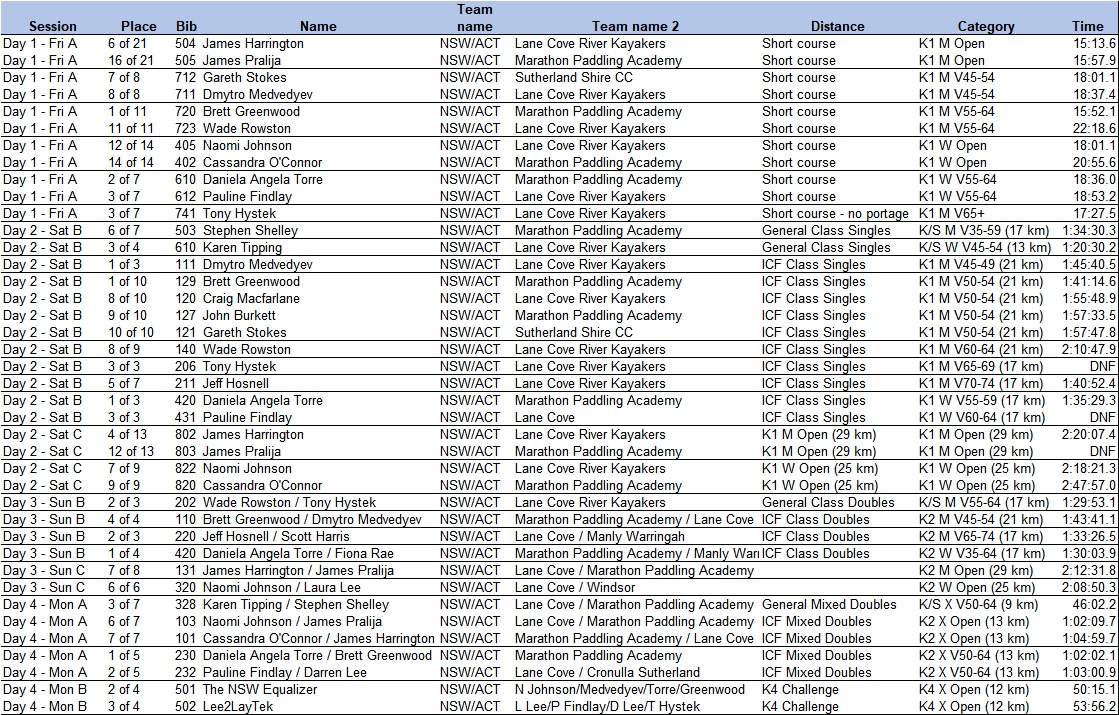 Results for LCRKers and regular TTers
Marathon States - Canberra 11-12 March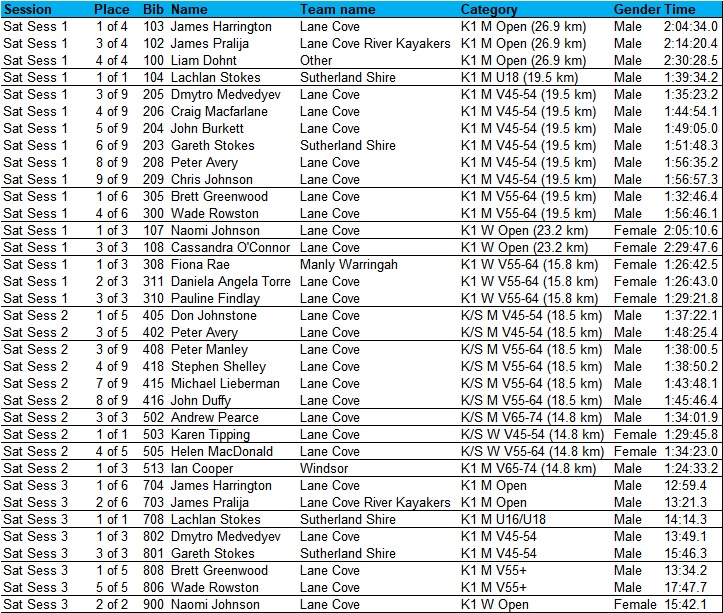 Above: Saturday Session (Singles) results for LCRKers and regular TTers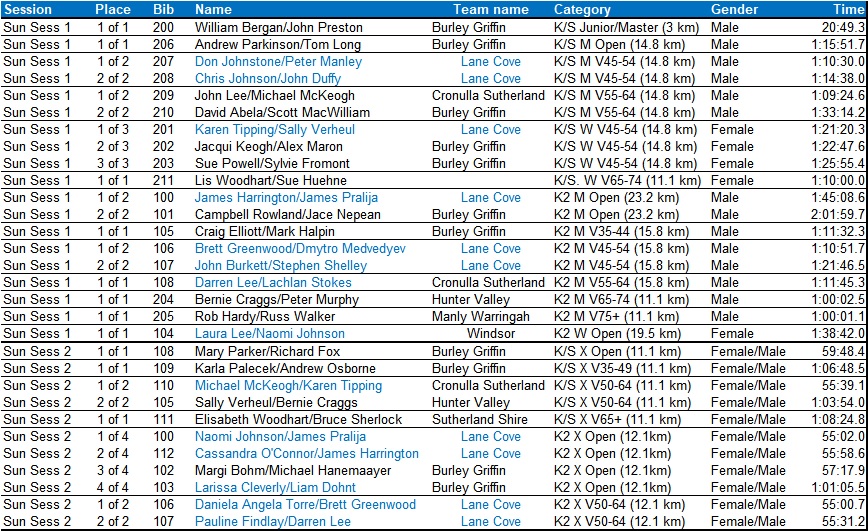 Above: Sunday Session (Doubles) results LCRKers in
blue
From James H: For those going to Nationals I strongly encourage you getting along to States being hosted by BGCC on the 10th and 11th of March. It is your best opportunity to practice portages and the championship race format. There will be Marathon Series club points awarded for participation - but no individual points
Welcome to the 2023 PaddleNSW Canoe Marathon State Championships to be held at Molonglo Reach, Campbell ACT (BGCC's Club location) 11-12 March 2023. Please read the Race Briefing (4 page PDF link above) and familiarise yourself with the new ICF Rules (16 page PDF link above).
A selection of comments below pertinent to your Entry(s). All paddlers must register (BOTH paddlers in doubles must complete their own registration).
Boat classes:
ICF Class is for ICF K and C boats and includes portage as specified by ICF Rules (for paddlers up to 64 years of age).
If you wish to be considered for selection to the PaddleNSW Marathon team to compete at the PA National Championships in Geelong, you need to enter this class.
You can still enter this class if you do not wish to be considered for selection (but you must portage as per ICF rules).
General Class is for all boat types (including ICF K and C boats) and paddlers are not required to portage.
SINGLES
- Saturday Session 1 11:00 - ICF Open, U23, U18, Masters (35-64)
- Saturday Session 2 14:00 - ICF Masters (65+), General Class (all ages), Para, Juniors (U10-U18), Novice Race & SUP
- Saturday Session 3 16:30 - ICF Short Course

DOUBLES
- Sunday Session 1 08:30 - ICF & General Class Open, U18, Masters, Para & Juniors
- Sunday Session 2 12:30 - ICF & General Class Mixed - All ages

For Masters competition, initial registrations will be in 10 year age groups. If sufficient entries are received, and both 5 year sub-brackets can be constituted, classes will be restructured and raced accordingly.
You can enter up to four (4) events.....(EG: Long Course Singles, Doubles & Mixed Doubles, and Short Course) Identify how many events you want to enter, and select your Registration Fee accordingly.
Any questions on the event or entry can be directed to events@paddlensw.org.au
Saturday Dinner and Medal Presentations will be at the Capital Brewery from 6:30pm.
Marathon Series #21 - Windsor - 26 Feb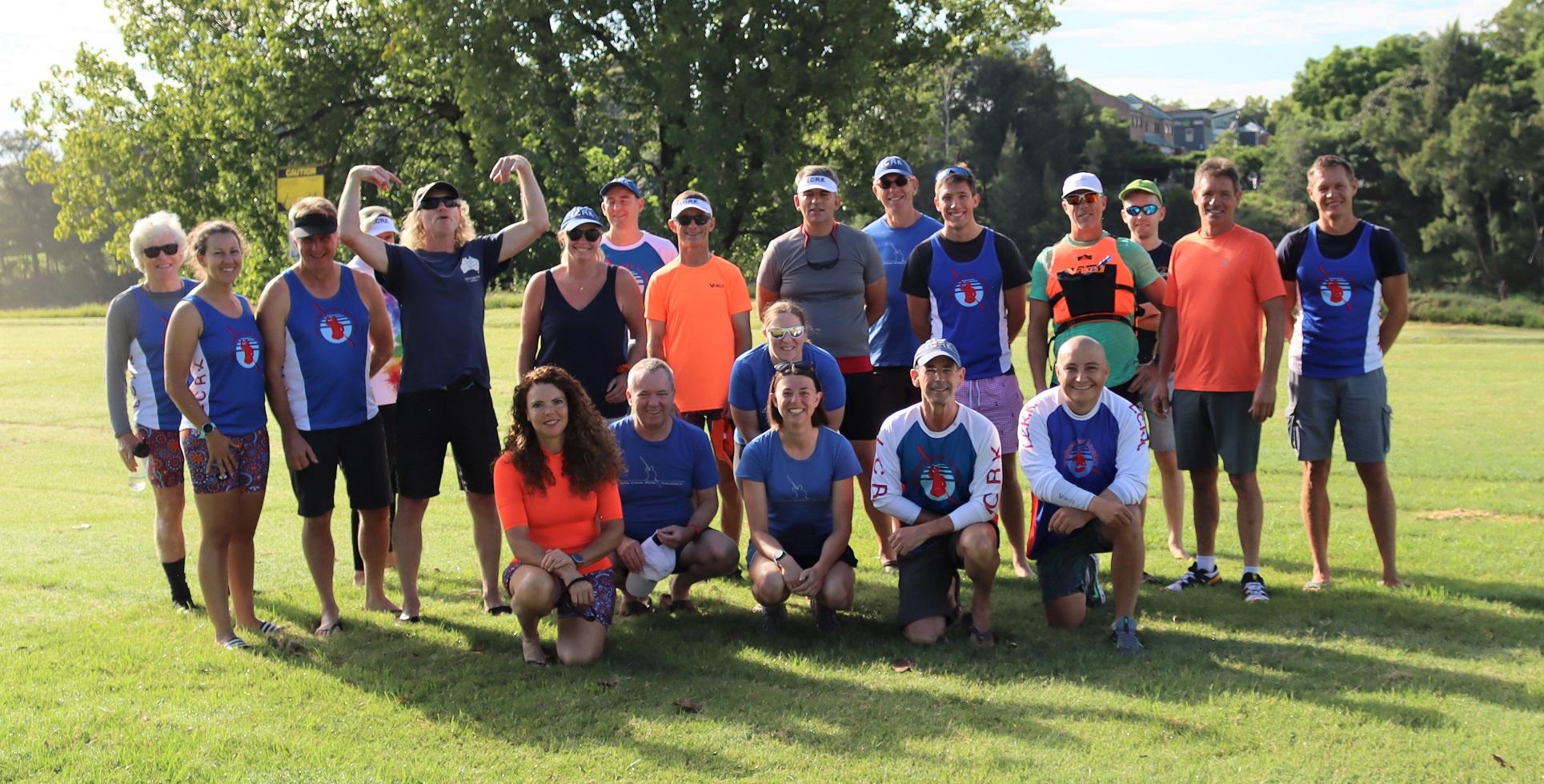 Above: Some of the LCRK Team - about 10 missing! Be There!
Helen MacDonald
A paddler once told me that when my knees became angry with ultra-marathon running, I'd be joining LCRK to get my racing fix!
Fast forward to a few months ago when I took my first tentative paddle strokes in Voyageur. After many hours on Lane Cover River with Adrian, Nam, Club Wednesday Time Trials and Tuesday + Friday squad; practicing technique and building confidence, I set myself the goal of being on a start line for a race in the 2023 NSW Marathon Series! Windsor Series Race 2 - (Div 7 - 20km cut-off Time between 2:10 and 2:20)
I got off to a very wobbly start, due to nerves and someone wanting to chat! Also the race was delayed start, due to some technical issue, so the Starter was faster (than I am used to).
Paddling well until Lap 2 when I steered way off course, got a calf cramp, looked down for my hydration hose and hit a semi-submerged branch and headed for an unplanned swim! It took just under 10 mins to be reunited with paddle and boat and back on the water ready to chase down the cut-off.
On the final lap I had to do a 5km PB! Perhaps it was the heat, but I'm sure Club Coaches Tony Hystek and Naomi Johnson were in my ear – "leg drive, wide arms, torso rotation"! It was total & absolute relief seeing that finish buoy with 2mins to spare!
What did I take away from Windsor – ask how to get the hydration hose sorted, learn to chat and paddle at the same time, don't get intimidated by faster paddlers to move off the race line, and most importantly everyone needs at least 2 pairs of Funky Pants from Australian Paddle Sports!
Can't wait for the next race…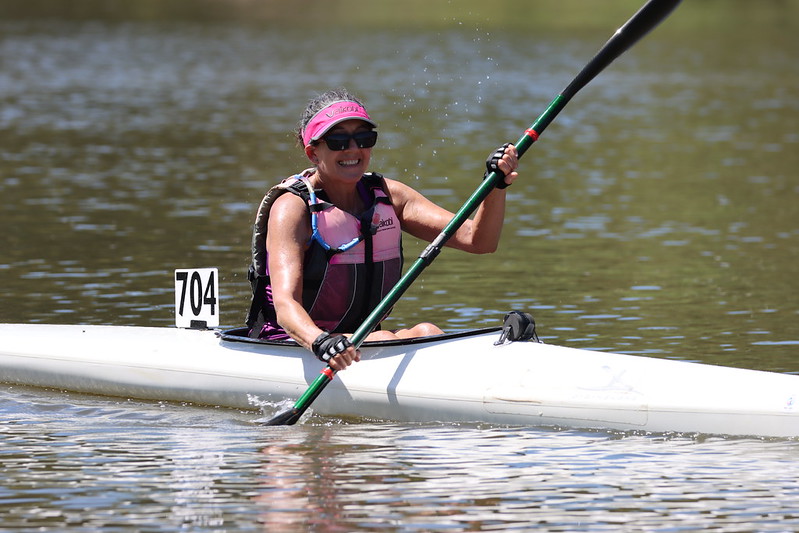 Above: Helen smiling at the finish (photo: Ian W)
John Duffy
I was fortunate to be placed 2nd in 2022 for Division 4. This exceeded my expectations but of course builds further expectations of improvement in 2023. But that is difficult. Div4 has a lot of handy older paddlers with a few coming more coming out of the woodwork this year; many have similar capability and most are capable of podium finishes which makes for great competition. I enjoy the physicality of the marathons and how they complement the Wednesday night timetrials (and vice versa). There is also good camaraderie in the division which contributes to the fun. Finishing each one, just like Wednesday nights, is a real high. My goals for 2023 are to do most of the events, and work on my fitness so I continue to enjoy them regardless of the position. Who knows, I might even progress beyond my old Sonic towards the end of the year but let's not get ahead of ourselves.
I found Windsor (my first marathon of the year) tough going and was thankful for washrides for most of the race. I would have been further down the ladder without that assistance. I drank 1.25L before the race and 600ml of electrolyte mixture during the event but was still noticeably giddy when I got out of the boat at the end. I had not experienced that before so a lesson for me on how to hydrate in those hot conditions in future. I wasn't sure what sides to take around some of the upstream debris but I learned there was no real advantage whatever line paddlers took. It was a good day out and good to see so many LCRKers on the water, as well as LCRK supporters.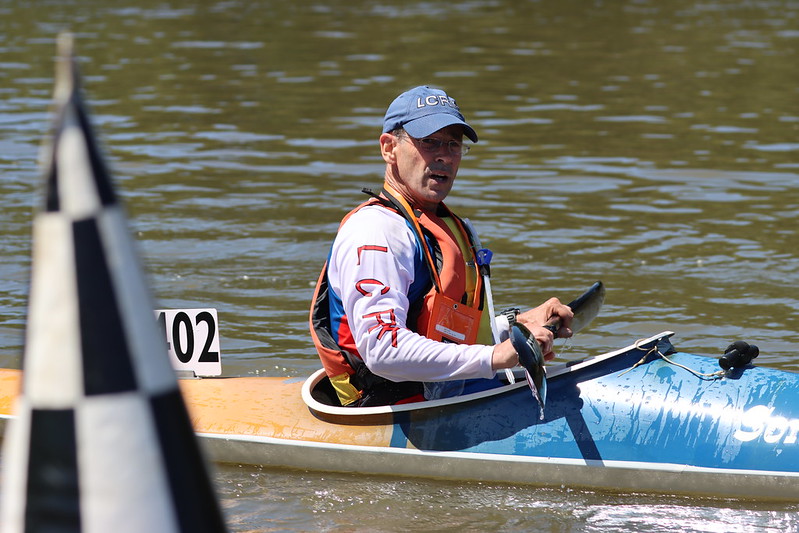 Above: John at the finish (photo: Ian W)
Chris Johnson
The Windsor race was the second Paddle NSW Marathon event for 2023. The course is 4 laps of 5km circuit, upstream & turns anti clock wise for 2.5km downstream (faster) – see Image 1 below. The start is the same location as the Hawkesbury Classic (fingers X'd the 2023 Race gets up this year with lots of paddlers). Circuit courses allow paddlers to get a view / gauge on other paddlers within their division.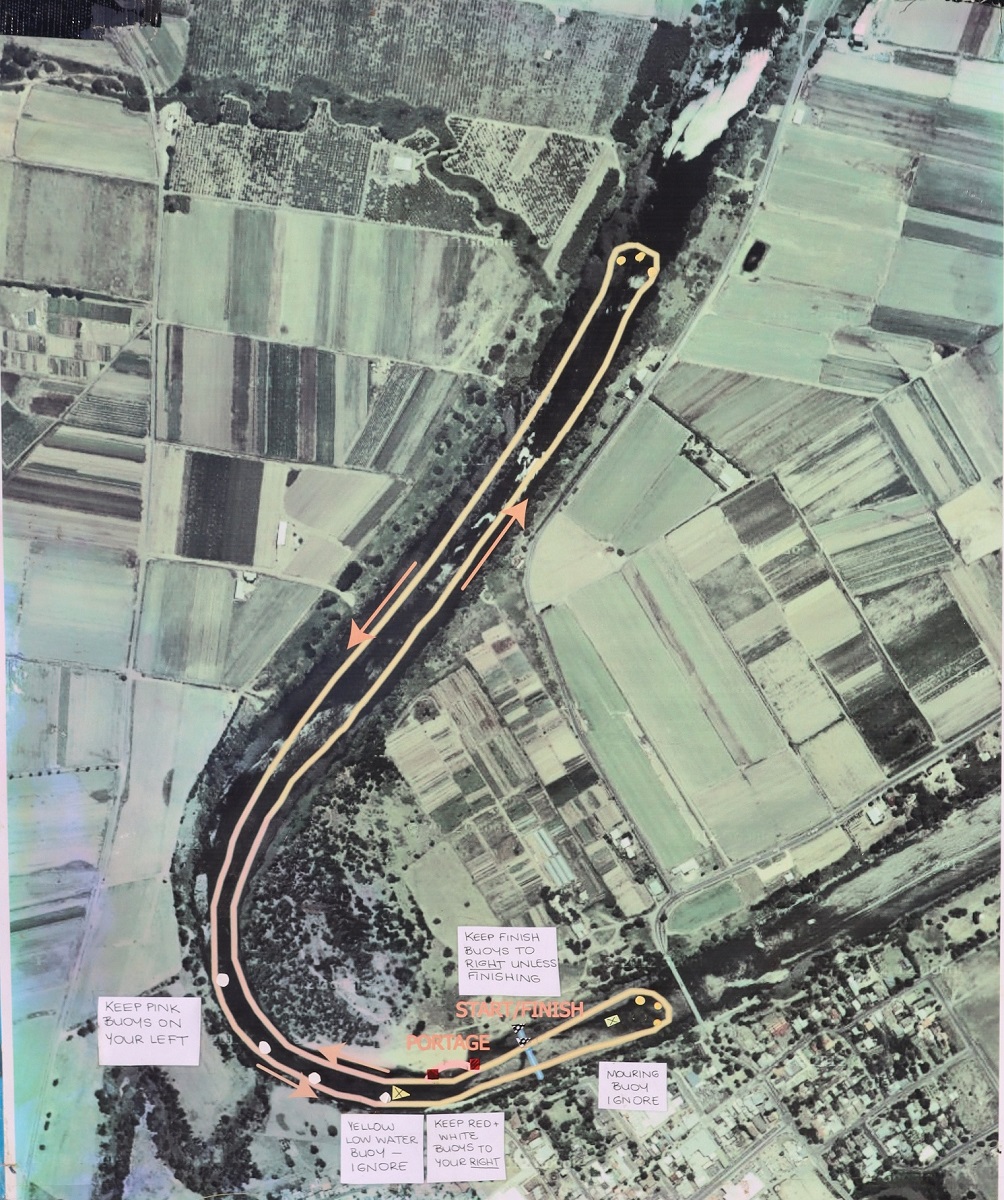 Weather & Tide
Forecast weather was for 30 degrees by 12 pm and not much wind (note kayakers normally train in early morning cool conditions - starting hard on a hot day can potentially impact final outcomes.). Tide was going to get lower as the 1 Hr 45 of race time paddling elapsed.
Race Start Minor Delay
The race was delayed about 20 – 25 minutes as the local rescue boats had an issue with fuel. The sun was out so most paddlers retreated to the tree shade to keep cool. Once the Windsor hosts organised some local support kayaks all paddlers were advised to get on the water for start. Thanks to Windsor Club for getting the local paddlers in position on the course.
Paddle NSW Windsor 2022 Race
In 2022 Harry Janecek and I paddled the same Windsor race (it was held in a colder time of the year) and we came 4th to Mick, Laura, and Naomi. This year our "arch rivals" the Lane Cove Club Doubles pairing of Keg + Richard (in Club races and they normally win) also joined us at the Division 3 start line. A 3rd Lane Cove double Pete Conway + Karen Tipping was also in Div 3, and a ski paddler Montannah Murray Cronulla Sutherland also was up the pointy end of the race.
First Lap of race
The starter was quick on the instructions & as per usual we were pretty much last off the line and again "playing catch-up". 250 metres into the course the river turns right & we gained on the other paddlers – but Harry kept telling me we were "cutting off" Daniela so steering adjustments made. We then headed to the middle of the river to allow plenty of room for other paddlers & proceeded to gain places.
By the first visit to the top turn a young Vic K1 paddler + Gareth was well out in front in Div 3 & a chasing pack was getting organised, it was definitely "uphill tide" to the top turn. Completing the first lap all 3 LCRK doubles were lined up behind each other, Harry + I ahead with Montannah close by.
Second Lap
We proceeded on, it was getting hot, we were yet to get close to Gareth + the VIC paddler – Harry was paddling great but we kind of wondered how much extra energy to expend to catch the leaders. Rounding the first right corner & avoiding the white buoys marking the tree obstacles / shortly after we saw on the right and unusual race sight of LCRK new squad paddler Helen McDonald, who was standing on a large tree branch whilst in the river holding her K1 & also looking for her paddle. We yelled over to see if she was AOK & then Gil K from Brisbane Waters paddled over to check what help might be required. Post race Helen said it was cramps that made her fall out – but amazingly she finished the 20km – great work.
Division 3 was beginning to string out with the K1 paddlers having to work extra hard in the heat, Windsor local Laura Lee finished early (but had a lot to organise on the day as host club).
Third Lap
The top and bottom turn were now interesting as the Doubles kind of turned wider and Montannah hugged the inside, plus other paddlers on the course were in the mix. The tide was impacting the right hand "up hill" turn after the start finish, but the Div 3 group of our Ski + Rich & Keg + Montanah were gaining on Gareth . In fact we got to Gareth just near the top turn & also incorporated Craig McFarlane from Div 2 – into the Div 3 group. At this stage of the race there was an option to put an effort in (but it was hot).
On the long sweeping left hand turn (around the Pink Cans) it was getting very bunched & tight and then suddenly there was a loud "thack" + massive "splunk / splash" & Gareth the favourite on the day was in the water! Gareth fell out in front of Pete & Karen (they had to nearly stop), plus Montannah also had to scramble to avoid & then try to catch up.
We rounded the bottom turn with our Ski + Rich & Keg + Montanah all turning side by side so the last lap was going to be hard work.
Final Lap
Just to get into the last lap felt like an achievement – it was very hot. The night before I had forgotten to pack my water container (on reflection me and Harry should have just carried 600 mm water bottles & had a quick stop & sip).
The final crossing of the sweeping right hand turn was exceptionally shallow & slow, it felt like a suction cup & I was not wanting to not damage my ski again (after Wagga).
The final top turn saw Rich & Keg + Montannah get ahead about 4 metres & they stayed there till the end of the race – whilst we were not able to get back to the lead . But we had a really great race. Photo above is crossing the finish line (what do they say 1,000 words per picture)?
Super effort from other LCRKers all in Div 3 - Roddy / Daniela / Coach Tony & Don J. They mostly looked really hot on the day & paddling long course K1 is hard work. Pete & Karen were a tad unhappy at the post race cool down swim that they lost touch (when Gareth fell out).
Anything Different for Windsor Next Year
Paddle a little bit slower pace or longer catch (technique)

Practice getting off the start line super fast

Practice 1 km efforts after a long session or in a long session (for end of race)

Take water pack hydration bladder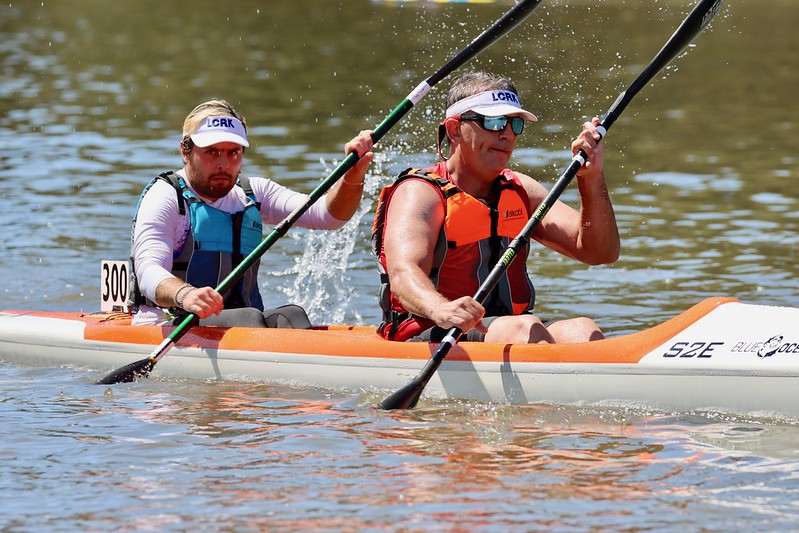 Above: Chris and Harry finishing (Photo - Ian W)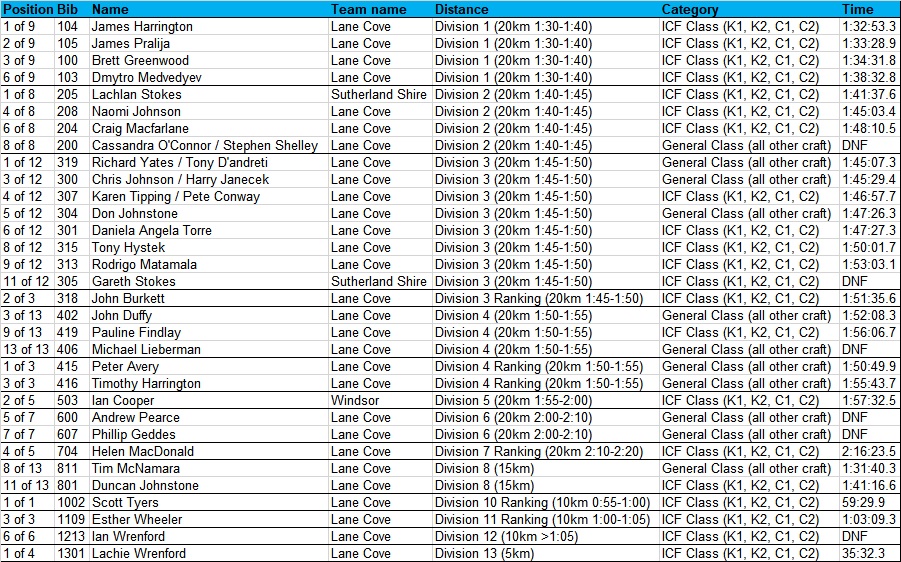 Above: Results for LCRKers and regular TTers
Marathon Series #1 - Wagga Bidgee Bash (and Dash) - 4 Feb
The Bidgee Bash, hosted by Wagga Bidgee Canoe Club, kicked off the 2023 Series with the favoured one-way, down river courses offered for all Divisions.
Divisions 1-7 raced from Oura Beach, Oura, to Wagga Beach (26 Km all downstream)
Divisions 8-12 raced from Braehour Reserve, Braehour Road, Forest Hill, to Wagga Beach (17 Km all downstream)
Division 13 raced from Eunony Bridge Reserve, Wagga, to Wagga Beach (7.5 Km all downstream)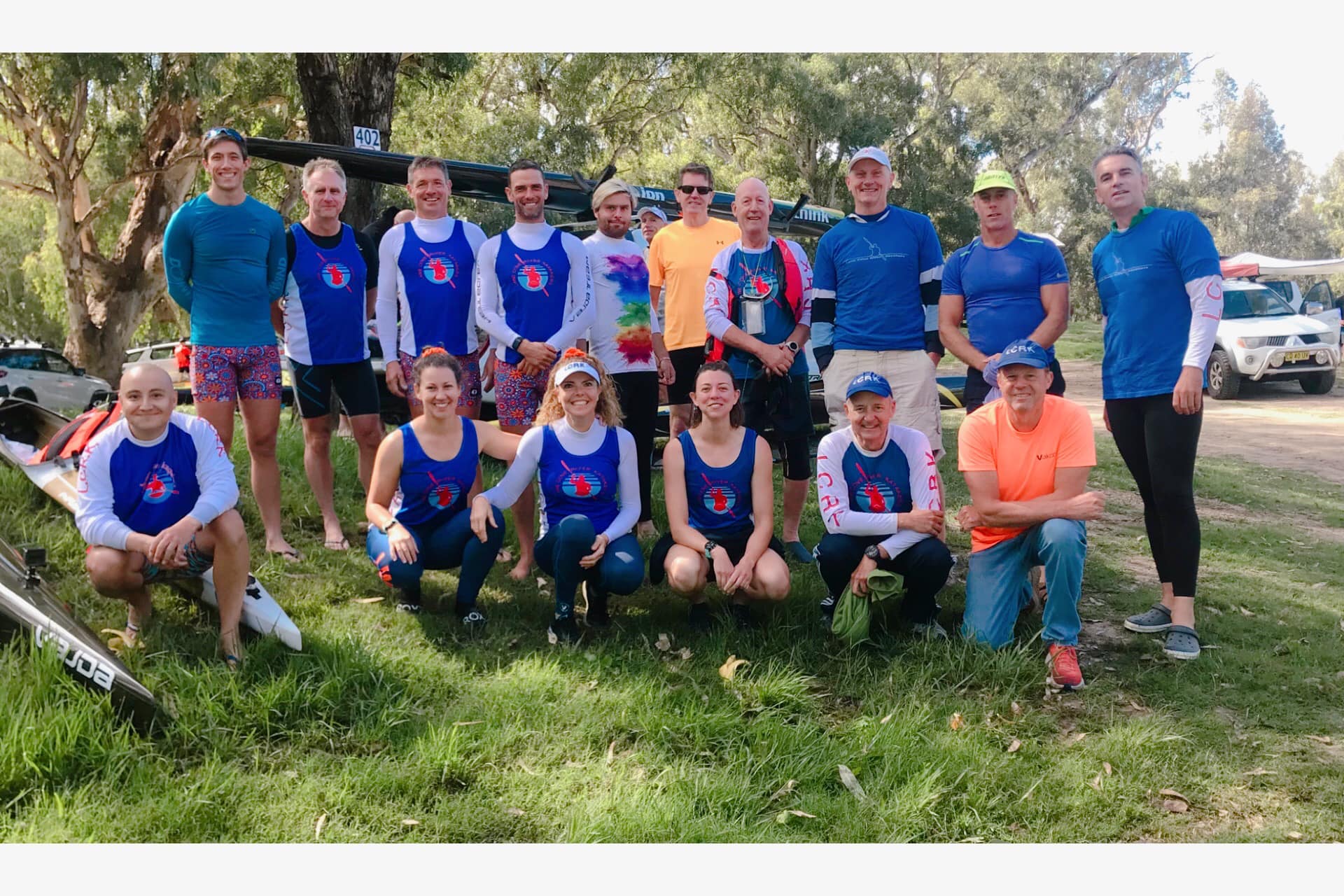 Above: Team photo - great show of uniforms!

Above: Results for LCRKers and regular TTers
Race Report
Chris Johnson
The Wagga race was first Paddle NSW Marathon event for 2023. The race is down river "one way", the water is flowing (not tidal) faster on some outside corners and there are shallow sections, a rapid and other obstacles to avoid. The one-way route makes it hard to gauge if other divisional paddlers are gaining, getting tired, or reserving themselves to the final stages.
Paddle NSW Marathon Races as prior Double
In 2022 Harry Janecek and I paddled the Lane Cove Club Doubles Cup series and did 3 Paddle NSW races. Whilst we normally dual against Keg + Richard (in Club races and they win), we had also placed at Windsor + Lane Cove Marathons last year. So we had some basic experience paddling as a double on circuit courses.
Type of Craft – Double Ski Stellar
The double Ski, is relatively stable (but narrow) and very light – but it is expensive to repair when things go wrong (see below). On reflection post race the Ski was probably an unfair advantage versus the K1's in Division 3. There was very little chance of us falling out on the course & having that extra confidence helped over 26 km. It was more or less point & paddle with the Ski going through the River's swirls & pockets. Comparatively if I had paddled my K1 in Division 4 the anxiety to stay upright would have been front of mind.
Motel Accommodation + Travel
Our motel of choice was the Allonville Gardens Motel just outside Wagga. Harry noted Saturday AM that CJ snores – which I apologised. Staying closer to town might be better next year. On the way to Wagga (Friday evening) we stopped at Gundagai for dinner at Services Club (the food was very disappointing) if only we had gone up the road to the Criterion Hotel (thanks Don for this tip we will use next year). Next year will also make a weekend of the trip to Wagga (as per wife's request upon return to Sydney).
Arrival at Start – What to Wear / Warm Up
Race Day we headed to Oura (short drive) arriving at 9:15 where paddlers + Lane Covers were getting organised. It was fresh (14 Celsius) at the start, jumpers were sparse, but it warmed up prior to the start, but it was not hot. I wore long paddling tights, long sleeve paddling top, was not overly hot during race. Club Photo – was taken & paddlers provided Dry Bags of gear to cars going to the finish.
Warm Up – As the start times approached paddlers got in their craft and paddled up stream for a "warm up" which involved doing two or three large circuits, turning in the current and then finding your Division "queue" to float down stream to the start.
Start – first 6 km
The host club on the morning provided a brief over view for how each Division starts, so we watched Andrew Pearce's Div 6 start to get some insight. For Division 3 the majority were K1 canoes & 2 other doubles, as we drifted towards the start line we stayed on the left hand side of the river, to keep away from the K1s, conscious that those craft might have a harder time getting off the line, compared to a stable ski.
Laura Lee (Windsor) and Simon Stenhouse jumped away at the start, our Ski got stuck behind Ian & Liz's Double (Windsor), which required a left hand manoeuvre to the outside of the course, to again go around the other paddlers and not through the pack of K1s, who were also in hot pursuit of Simon & Laura.
We learnt from 2022 marathons that our start technique (& assertiveness) can be improved, so at Wagga our pre race tactics were to not get left behind any paddlers who "went out hard". It took 10 minutes (or thereabouts) & some effort to catch up to Simon + Laura and once we got in equal / in front with them, they wash rode & we slowed the speed of the division to lower heart rates & kind of thought the rest of Div 3 would catch up.
6 km - Finish
At about 8 km Simon, who had been wash riding in second, stopped on a beach to empty his kayak. After the race he said Harry's paddle exit had filled his kayak. The rest of the race we paddled solo to the finish getting some speeds of 16 km ++, but also some "slower" speeds of 12 km. With 10 km to go we did see Cassie + Steve, and Craig from Div 2 and we finished just behind them across the finish line.
How to Navigate a River
Good navigation of the river can save time. I thought our Ski was being properly steered to outside corners, where the current was in our favour. Plus, where possible short cut some of the smaller corners. However post race Naomi suggested there was room for improvement. I guess if there was a kayak we could have followed that would have been easier? The final corner is quite shallow so next year will definitely take the wider way around.
Course Map
The course is a winding river, towards the end on the sharper corners, we hugged the river bank to try and save time, plus get out of the view of the chasing pack. Not sure how much of a time difference this would make. Perhaps going harder in the straight lines would make a faster time?

The Rapid – memorable in a $dollars sense / damage / water
On the map above (Gumly Gumly [?]) on the course there is a small rapid, which looked very exciting on approach. With zero rapids experience I was trying to recall what I had seen on YouTube, and what an upstream V actually means. There was only one V on the left hand side ........
Harry was providing some thoughts on what to do, we tried to get to the left hand side of the river, but the back of the ski got caught on the V, a large carbon gouging sound took place. However, we remained afloat, but with a large deep scratch to be repaired (& river water in ski post race). At the finish one of the Canberra paddlers shared they had taken a swim at this point in the race, so hopefully other boats were not damaged.
Last 6 Km
Kieran (Saturday squad prior) had mentioned when we went past the Riverina Water Treatment Plant / Eunony Bridge the end was quite close, so when we got to this point we made sure to see where the how close the rest of Div 3 was.
Post Race etc
Was very glad to get dry clothes from Don's car post race, get changed, BBQ sausage and re hydrate. Caught up with other local paddlers etc and then it was time to get the last mini bus back to the Oura start, grab the car, get back to finish line, load the Ski and drive back to Sydney.
Anything Different for Wagga Next Year?
* Stay the whole weekend
Might even visit the course sometime over 2022 to paddle the river to get to know it better?

The hydration bladder tube item was not working properly so need to rectify

If we were chasing down a leader in this event would have to think of how to approach river navigation etc

Some basic rapids reading (to avoid repairs) & tips before next year.
Mike Thom After much encouragement from Rodrigo and with support from club training squads and coaches I finally bit the bullet and signed up for my first ranking NSW marathon race. And did I pick a beauty. Wagga is a 26km down river blast where that takes around the same time we normally do 20km on the flat. You can really get some serious speed going, and the adrenaline pumping with all that moving water.
It was a bit of a trek to make the 5hr drive down from Sydney, but decided to make a weekend of it and even brought along my mum Mary as support crew. This proved to be a good call as nice to have a car at the other end (but they have shuttles or organise with other club members if needed).
Luckily the day was cooler than normal for this time of year and the river beckoned. I was a bit apprehensive at the start, but with lots of encouragement and words of wisdom from the other club members, I was looking forward to the challenge. Great to have a big supportive Lane Cove contingent to steady the nerves.
The start went well and I led off and we formed a nice lead pack of 4 that pretty much stayed together until the end. The swirls and eddys kept us on our toes, but all that training and wash riding practice did the job and I could just settle in and enjoy the experience.
I had heard stories of how competitive and tough the other competitors could be but found the paddlers around me were friendly and happy to work together, at least until near the finish. I kept hearing my coaches voices in my head reminding me to keep my form and technique together and not to blow up. After all it is a 2hr race (at least for Div 5), so kept things together then put the hammer down when I saw the finish line. Crossed first in my division so happy with my result and can't wait until the next one.
Heavily recommend the marathon series to anyone considering giving it a try. We have a strong core of paddlers who regularly do these marathons, but I didn't know what I was missing out on. Very different to the Wed night TT, but I found the extra distance relatively easy to train for and the addition of more tactics into a race rather than just paddling full out for 12km really interesting. Hope to have more new marathon paddlers join me for the next one.
James Harrington A trip down to Wagga is always one of the highlights of the racing season. Getting to do a down current river race really mixes up the season as you lean on water reading skills and a different form of balance. This year added lots of flow and great weather to really make it a spectacular event.
At the front end we had a large field with 12 on the start line. The flow made lining up hard and it ended up being a rolling start. The left side with the flow managed to push to the lead early but the whole start was together. After a couple hundred meters the pack started to settle but it was a large group which can lead to collisions and mistakes so myself and Michael started to put lifts in. By the 1.5km mark the front pack had dropped back to four (Brett, Paul, Michael and myself) in the lead group all taking leads. We carried on sharing leads till about 10km where a couple of longer attacks caught Brett out. At 16 Km some Eddie's gave me some clear water so I put the hammer down. Paul dropped back however Michael managed to close the gap on an inside corner. We carried on as a pair from there to the finish.
It was a great weekend away, unfortunately I missed presentations to go see family in the area. I encourage everyone to think about going next year the local club puts on a great event.
Frank Harrison Memorial - 21-22 Jan 2023
Murray River, Albury, NSW, 2640
There are two races over two days, with singles on Saturday and doubles on Sunday. You may enter one or both days. Standard entries close 8 pm, 18 Jan. Late entries (+$20) close noon, 20 Jan.
Wearing an approved Life Jacket / PFD (Personal flotation device) is mandatory for this event.
See the race flyer (above) for event classes and check-in and start times.
The race format is based on divisions (with classes for canoes). The guide to divisions (based on flatwater paddling speed with zero current over 10 km) is as follows: (n.b. Div 1-4 from Weir Wall, Div 5+ from Waterworks)
Division 1: >12.5 km/hr
Division 2: 12.0-12.5 km/hr
Division 3: 11.5-12.0 km/hr
Division 4: 11.0-11.5 km/hr
Division 5: 10.5-11.0 km/hr
Division 6: 10.0-10.5 km/hr
Division 7-10: no limit
Canoes - TC class: no limit.
Canoes - UC class (includes C, US pro, OC, SUP)
An outdoor pizza dinner will be held on Saturday night in the park near the finish line.