Calendar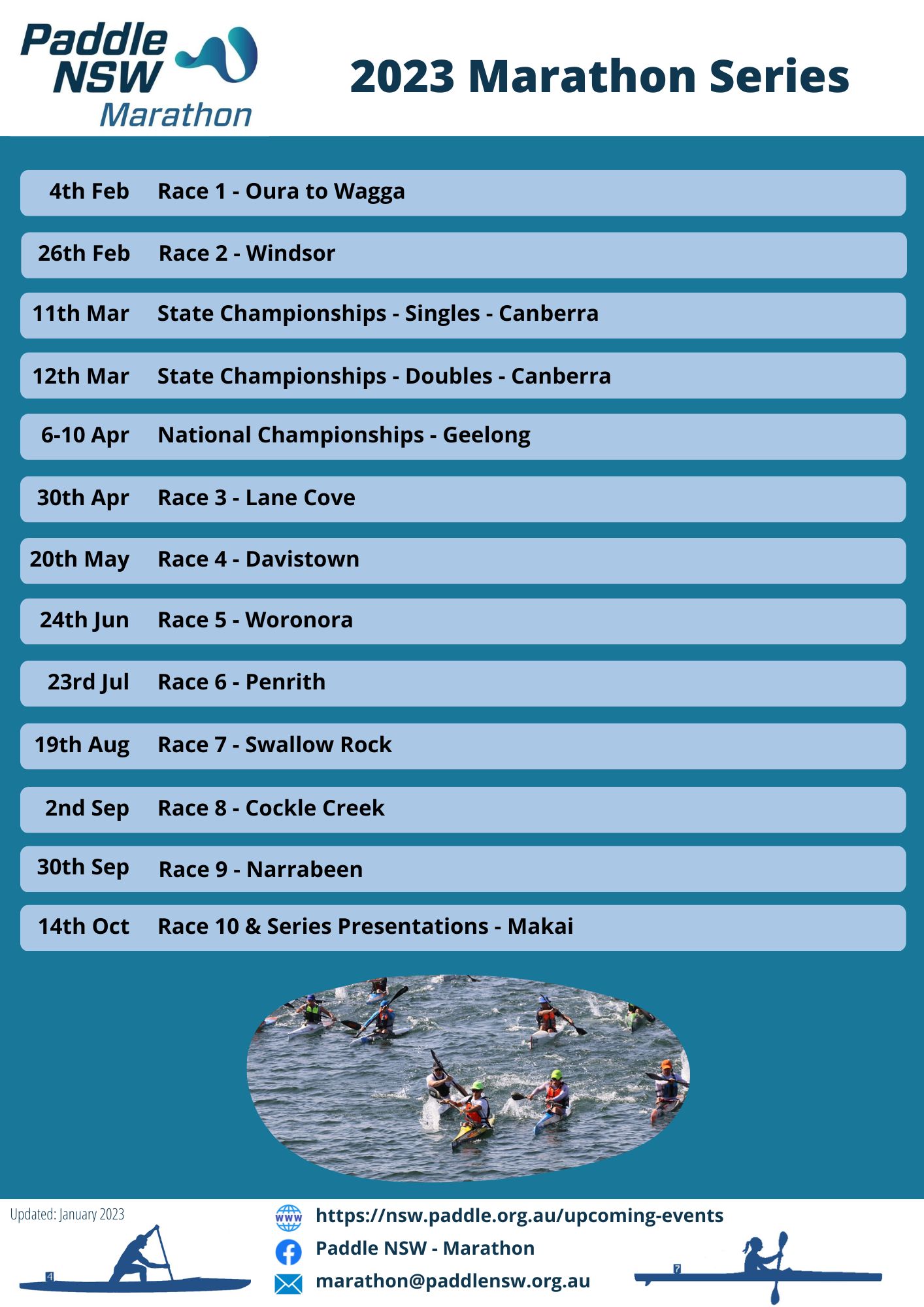 And some other Marathon events to slot in...
Links
Marathon Series #1 - Wagga Bidgee Bash (and Dash) - 4 Feb

Above: Results for LCRKers and regular TTers
The Bidgee Bash, hosted by Wagga Bidgee Canoe Club, kicks off the 2023 Series with the favoured one-way, down river courses offered for all Divisions.
Divisions 1-7 will race from Oura Beach, Oura, to Wagga Beach (26 Km all downstream)
Divisions 8-12 will race from Braehour Reserve, Braehour Road, Forest Hill, to Wagga Beach (17 Km all downstream)
Division 13 will race from Eunony Bridge Reserve, Wagga, to Wagga Beach (7.5 Km all downstream)
Please read the Competitor Information sheet attached to your Entry Confirmation Email for full course details, start and finish line directions, etc.
Division 7 will start at 10:30am, Division 6 at 10:40am, & Division 5 at 10:50am. All other Divisions will start from 11:00am.
There will be a mini bus at Wagga Beach for paddlers requiring transport back to the 3 start locations. The shuttle bus will leave Wagga Beach every hour at 12:45pm, 1:45pm, 2:45pm and 3:45pm (if required). You must pre-book the shuttle bus.
Please join us with your families & friends from 5:30pm on Saturday at the Palm and Pawn Hotel, 68 Hampden Ave, North Wagga Wagga for drinks and dinner.
The Bidgee Dash, on Sunday, will be a 3 x 2km Criterium Race Format at Wagga Beach, commencing at 9am for those looking to make a weekend of it and who are up for some fun, before heading home.
Frank Harrison Memorial - 21-22 Jan 2023
Murray River, Albury, NSW, 2640
There are two races over two days, with singles on Saturday and doubles on Sunday. You may enter one or both days. Standard entries close 8 pm, 18 Jan. Late entries (+$20) close noon, 20 Jan.
Wearing an approved Life Jacket / PFD (Personal flotation device) is mandatory for this event.
See the race flyer (above) for event classes and check-in and start times.
The race format is based on divisions (with classes for canoes). The guide to divisions (based on flatwater paddling speed with zero current over 10 km) is as follows: (n.b. Div 1-4 from Weir Wall, Div 5+ from Waterworks)
Division 1: >12.5 km/hr
Division 2: 12.0-12.5 km/hr
Division 3: 11.5-12.0 km/hr
Division 4: 11.0-11.5 km/hr
Division 5: 10.5-11.0 km/hr
Division 6: 10.0-10.5 km/hr
Division 7-10: no limit
Canoes - TC class: no limit.
Canoes - UC class (includes C, US pro, OC, SUP)
An outdoor pizza dinner will be held on Saturday night in the park near the finish line.