And some other Marathon events to slot in...
Marathon Series - Points progression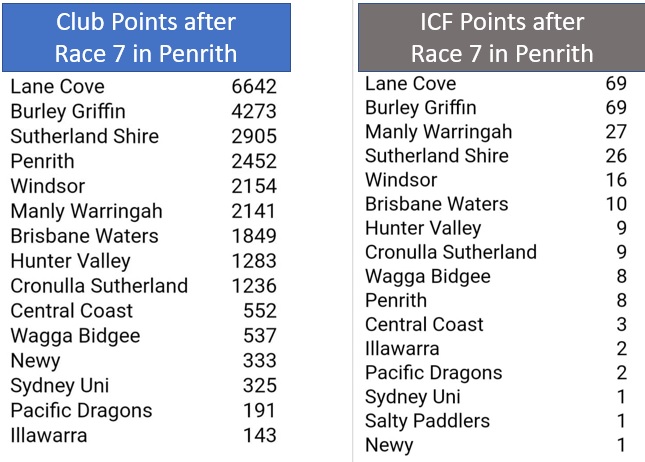 ...after Round 7
Marathon Series #8 MWKC Narrabeen - Sun 21 Nov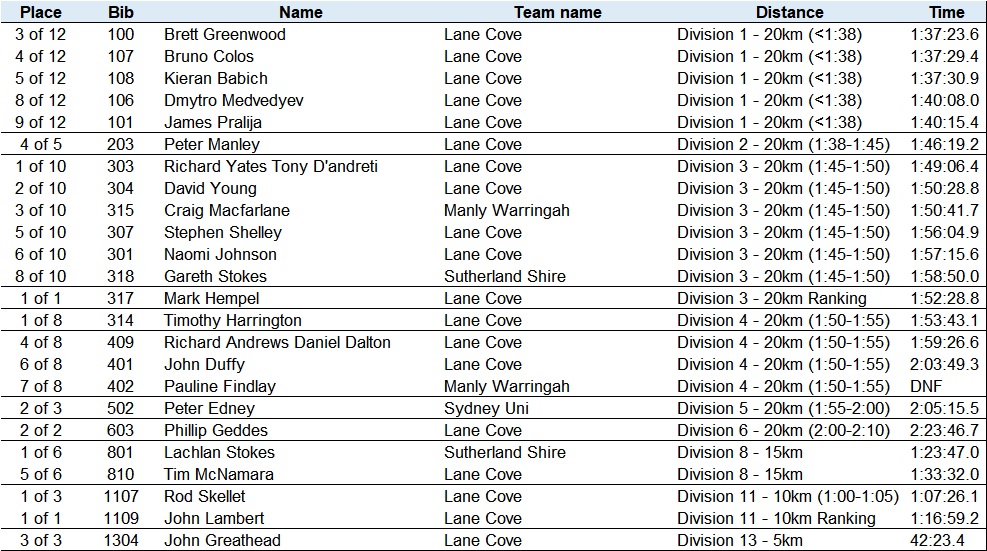 Results for LCRKers and regular TTers
Marathon Series #7 Penrith - Sun 13 June
Race 7 of the 2021 Marathon Series was run on the Nepean River at Jamisontown, hosted by Penrith Valley Canoeing.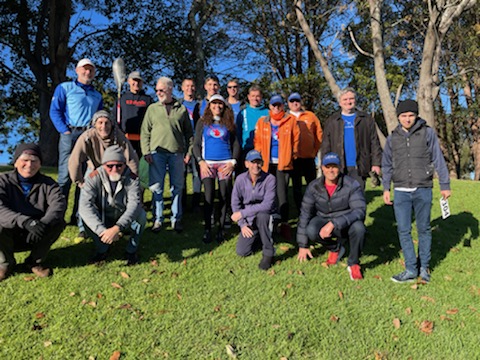 Summary from Jeff Hosnell
This was a race I earmarked to not do because of my previous experience back in 2019. I returned from France the week of the race and Duncan talked me into doing it. Well after a month of high 20s each day, Penrith was an overcast 14 and the gorge had no sun so it was bloody cold. When I finished I was shaking and couldn't get warm mainly because I couldn't find my wife to get into the car - then I was told by Phil that she and Liz were in the Coffee Club! I had left them there at 9am. I went over, shaking with cold, got my keys and said never again... Well this time I came back from NT 36c everyday, and then I did doubles TT with Tim on Wednesday night - that was so cold! But I saw the poor number of entries, and put my hand up, and I must say so many others did the same. We had in the end over 90 starters and Lane Cove had 22 of them - well done everyone! What a beautiful day in Penrith 18 deg's sunny all day the gorge was so wonderful.
It's a great race venue, especially now council have finished the upgrades to the parking area, across the road you have a number of cafes and restaurants - where I met Tim and David for breakfast.
PS: Seeing Ian and John Lambert at the 5km distance turn taking photos and video was nice, amazing photos Ian, looking forward to seeing Johns video because they will be front on and we can all ask Tony to look at them and tell us what we are doing wrong.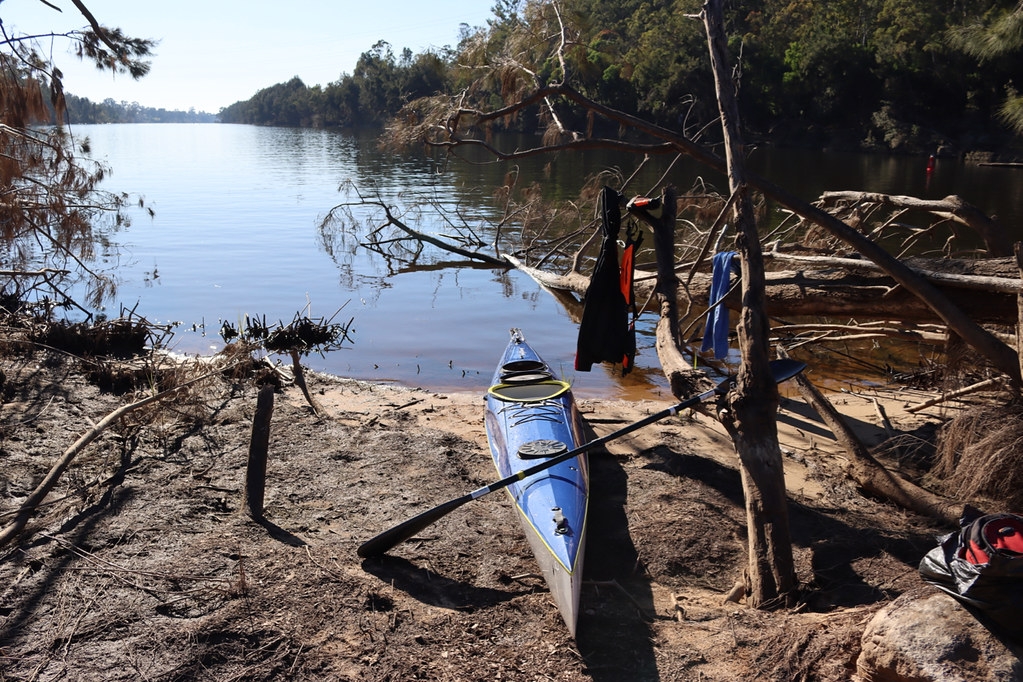 Above: Ians landing..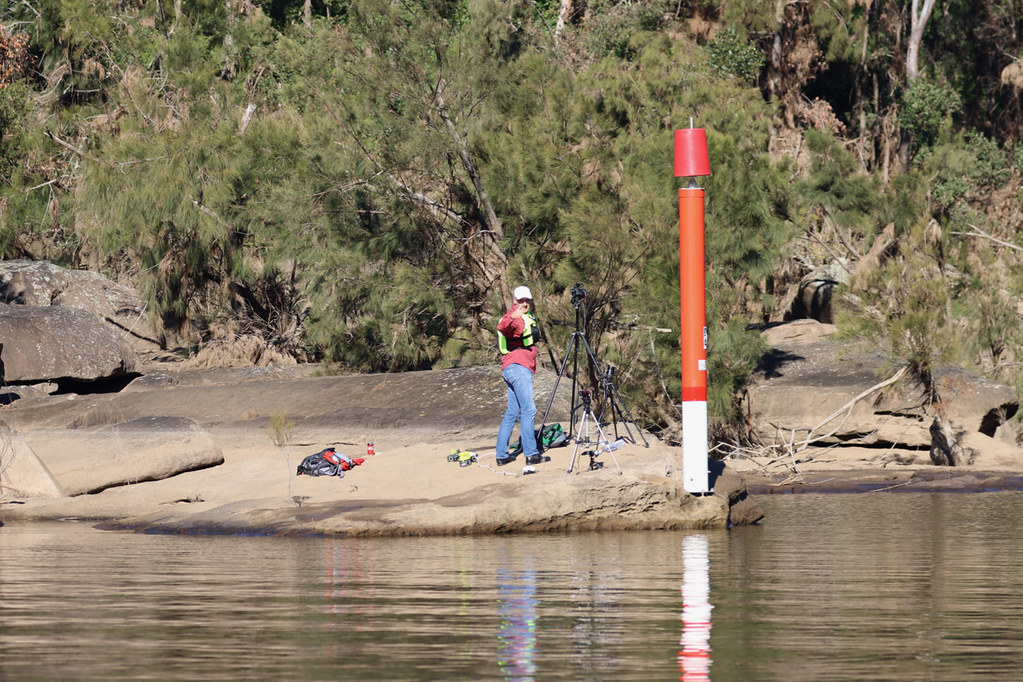 Above: Johns landing..
Race Summaries by Jeff
Division 1 with 9 starters we were represented by 4 paddlers Brett, James P, James H and Dmytro, with conditions so good and a straight out coarse 10kms out and back the race was going to be based on tactics and a strong sprint at the end, and this how it played out, with the top 6 only a little over 2 minutes separating them, in the long sprint Casey Haynes from Cronulla Sutherland got across the line just in front of James P with Brett 3rd and James H 4th and Dymtro 8th, this is the first race this year Brett hasn't won and probably for a while so we have a great story coming from our paddlers so I will leave it to them.
James Pralija reports: The Penrith round of the marathon series is always a stand out because it's an out and back course down a beautiful part of the river. The 2021 edition did not disappoint with a great set of entries in Division 1 - so much so that there were enough paddlers to form three separate packs!
The start was a rather quiet affair as I don't think most of us could hear the starter and reacted when everyone else took off! Casey, Michael, Cade and Mitch were on the left, while Brett, James, Dimi and I were on the right. The first four formed a bunch out in front, while we formed a chase pack behind. No point jostling for positions in a big pack if you don't have to, so we sat 50-100m back for the first 10km. It was a great way to paddle down the gorge and to see some of the remnants of the flooding.
The front pack made it to the turn just in front of a group of Div 6 paddlers, while we got caught behind, which put us a further 50m back. All is well and it was still a game of patience. We knew that so long as we remained within striking distance, we could be patient. After another 1-2km, Mitch dropped from the front pack and joined us. Fairly soon after, so did Cade, which left Casey on his own and the job of closing the gap a little easier. We picked up Casey with 5km to go, with the others dropping off at a similar point, so we had a tight group of four for the final part of the race.
Casey and I traded leads for the next two kilometres, getting a feel for who had the most energy. About 2Km to go, I came off the lead onto the first wash and Casey took up the lead. James challenged for the first wash, which put me back into the V - not where I wanted to be that close to the finish. I rested for a couple of minutes and then came around the back of James on the right and as I did so, Casey noticed and jacked up the pace. I had to bust my arse to get back onto the first wash, rest for a moment and then challenge for the lead in the final 500m. I knew Brett was making the most of this tussle by resting on the left wash. As the pace went up, Brett was right up there with us but dropped away with about 100m to go (I found out later was due to a broken foot strap). I couldn't quite get my nose in front of Casey, by which time I became so choc full of lactate, i was becoming more and more concerned with just staying in the boat and knew if that I had one bad stroke, I was going on. Casey paddled very strongly and held on for the win. All told, it was a fast race - it's not often races go under the 1:30 mark. I love racing with these guys - no one ever gives an inch but all are an absolute gentlemen in doing so.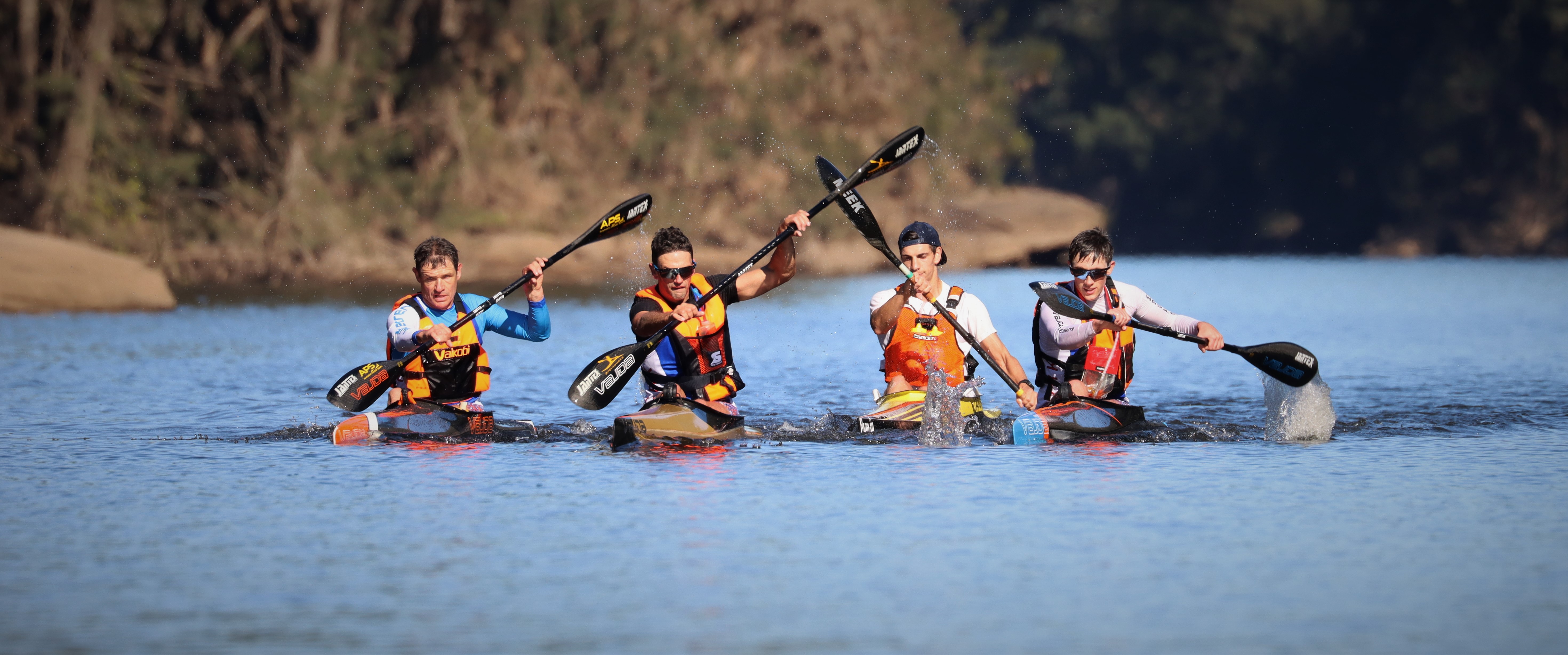 Division 2 with 5 starters and our ever consistent Pete Manley our soul racer, Pete finished a great 3rd only missing out on 2nd by 1 sec. Now the 2 paddlers in front are seasoned k1 paddlers so he did amazingly well to be this close.
Pete Manley reports: Have we already completed race 7 in the marathon series? Gee, that's gone fast. The Penrith marathon is a little different to the other ones in that it is a single loop out and back, which is better for me as a straight line is far easier for a fat boy on a ski. The course is attractive, running up the gorge but can be a bit chilly, which it was on the Sunday morning.
Thankfully by start time it was warmer, though there was still debate about how much to wear (short sleeves vs. long sleeves, thermal or not). Numbers were down and division 2 only had 6 boats (1 qualifier). No Trevor to show me up either.
A poor start saw me spat out the back while I watched the remainder of the fleet headed off in a pack. Oh well, I've signed up so keep paddling and see what I can do. As it was, the pack split up gradually giving me hope, and by the turn I had collected all but the front 2 paddlers (including the ranker) who had disappeared into the distance. From there it was a pack of 4 with me leading mostly. We were still in formation as we smiled for the cameras coming through the narrows, then the sprint was on from the bridge to the finish. By then unfortunately the pain killers had worn off and I couldn't prevent falling behind by 1 second for a 3rd placing. All said though, it was my best time for 20km in a couple of years so have to be happy with that.
Division 3 with 13 starters we were represented by 5 boats, Tim Binns, Warwick and Greg in the Double, Michael Lieberman, Daniela and Don Johnstone and also Gareth from Sutherland, I only know Tim finished 4th close behind the third place. When I saw Tim coming back down after the 10k turn, the front 3 boats were a good 200 to 300 meters in front of Tim and Laura from Windsor. Apparently Laura said to Tim we can catch them, so they went for it with Laura doing all the work (this is from Tim, so I am not stirring) and Tim is a great wash rider - I know because I sit in the back and get a nice ride in our double! Tim got to save all his energy and he went for it at the end, pipped Laura at the line - nice going Tim. Now Greg and Warwick came 7th, a great result because they have done very few races this year, I think they loved the out and back straight course not having to keep turning that massive boat. Don had a great paddle having a separate race with Michael and Daniella and proving too strong in the end, Don 10th, Daniela 12th and Michael 13th. I must mention Gareth - he finished 11th but hear from an embarrassed Warwick that Gareth went for a swim in a sprint to the finish line, I hope we hear more from Warwick about that.
Warwick Sherwood reports: Our quiet Sunday sleep in was ruined by Jeff's personal invitation for Greg and I to have a run in Div 3 at Penrith . He obviously needed more kilos on the start line and we fill the bill nicely To our horror there were 13 starters , all looking race fit , especially Don Johnstone Tim Binns , Daniela Torre and Mike Lieberman. Gareth Stokes rolled up as well.
The start must have blown a few heart rate monitors clear off the scale as the highway bridge faded behind the group. Daniela and Tim bolted with the rest of the LC crew trying to make the widening gap somehow go away. Things settled down and our group were towed forward towards the lead group by a massive guy who we suspect was on steroids ( he was angry enough).
The 2.5 and 5 k turnaround buoys slipped past with the Vindicator enjoying a long tow from our new angry friend, with a couple of skis hanging onto our impressive wake. Onwards towards the turn at 10k the stunning valley scenery was interrupted by the Div 1 and 2 paddlers ripping by. We decided that if we could paddle that fast we would appear a lot happier than they were…
The 10k turn went OK with a couple of skis we were now chatting with along side, and headed for home Running down a few stragglers on the way was nice as all the competitors were now against a solid tide.. Seeing the bridge on the last turn, the pace increased with our two drafting singles fresh and ready to sprint home
We managed to tangle with one of the singles on the way to the line which ended up with Gareth having a swim and managed to hold off a charging V11 on the line. A small split between the Div 3 paddlers indicated a close race and everyone looked happy with their efforts. Tim had a great run with a solid 4th with the balance of the team in the minors. Great day out for all!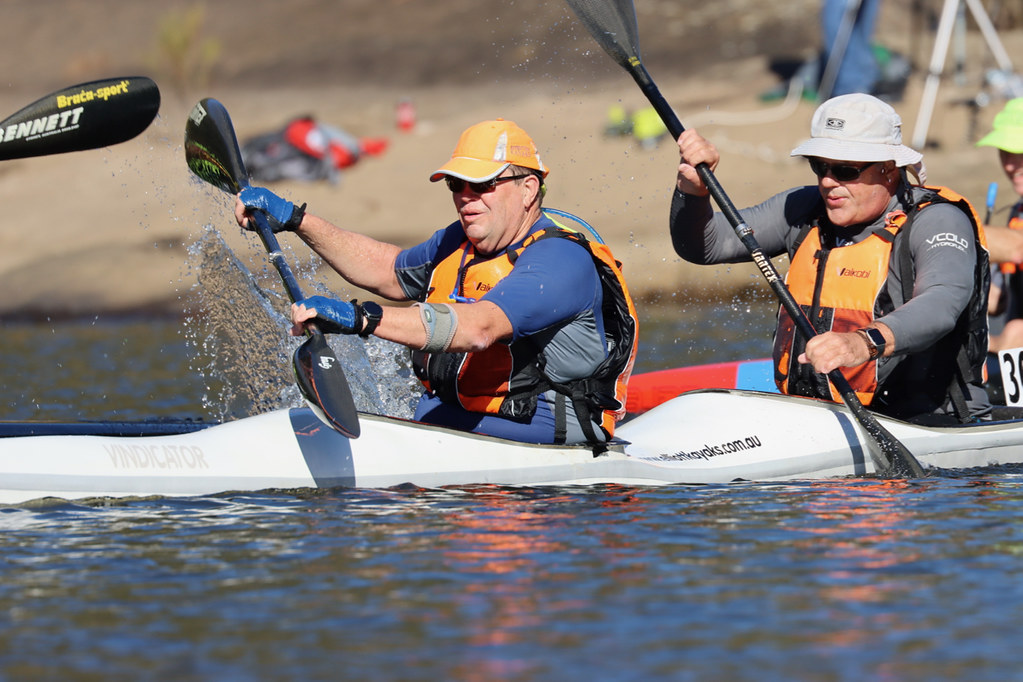 Don Johnstone reports: Penrith is perhaps my favourite course - a wide, calm, grand, Australian river that takes us towards the source of Sydney's water supply, then gently eases us back from our dream-time towards civilisation. It suits my current paddling style too - maintaining a steady pace so as to keep my heart rate in a narrow band of 153 to 163 bpm. There are no navigational difficulties, and almost no tactical opportunities like currents or turn buoys.
I was last off the line in Div 3 - because my heart doesn't currently allow for an excitable sprint at the start. Within a few km I'd hauled in Daniela, and paddled with her to gradually catch up to Mike L. Then at about the 6k mark I put on a mini-surge (heart rate rising from 157 to 161) and managed to open up a slight gap on them both, which I then maintained to the finish - even closing the gap slightly on the next group of Div 3 paddlers. Then 100m from the finish line a little bit of fortune came my way - by virtue of some misfortune for Gareth - who capsized in a final sprint for the line. He had just managed to remount, and I know from experience that he'd beat me hands-down in a sprint, so I didn't dally to ask after his welfare, and instead raised my pulse to 163 and pipped him for 10th - a very pleasing result.
And a special thank you to David Veivers' son Luke, who has been helping out with the timekeeping on a regular basis - for both the Marathon and the Harbour series - really good to meet a young man who is happy to sacrifice his weekend for the benefit of the paddling community.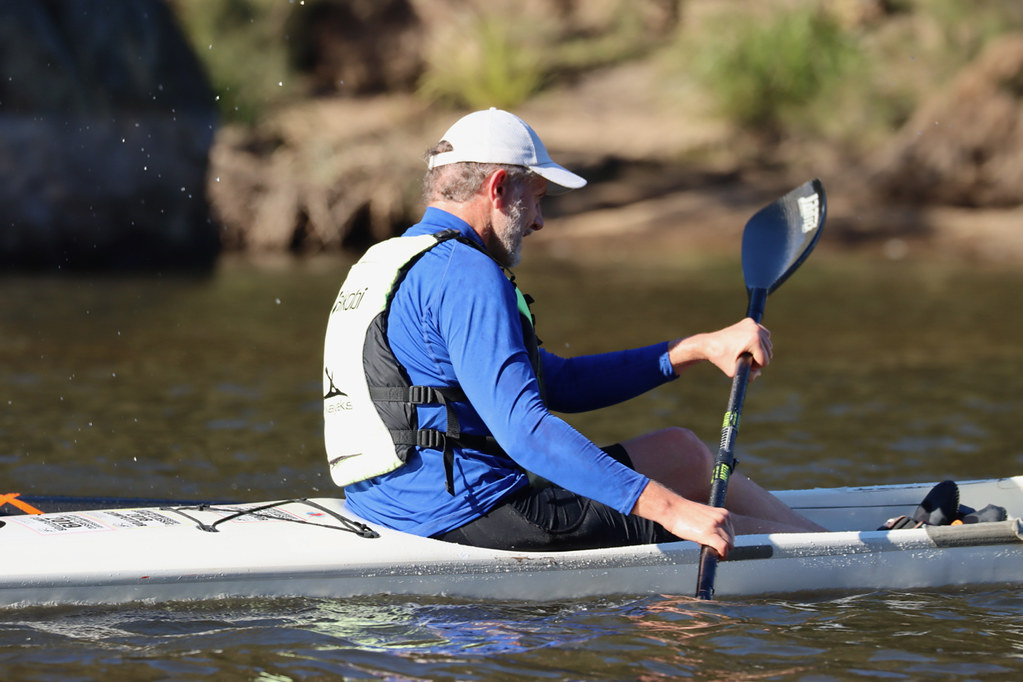 In Division 4 with 9 starters we were represented by 3 paddlers Mr John Duffy, Chris Dickman and Jeff (me!). Our division is becoming very competitive because a lot of the faster paddlers have moved up to Div 3 and now we have a very solid core of fairly even paddlers and the start proves this with everyone off together. John and Chris got off to a great start and were in the leading bunch of 6 paddlers for the whole race. I made some bad choices in the first 2kms and lost my ride so I was left on my own. Then Emily O'Rourke from Burley Griffin dropped off the bunch and I sprinted to catch her up so we could work together but she was not paddling well (injury) and dropped off - so I ended up paddling the whole course on my own, but very happy with the paddle and it was so warm and seeing Ian and John Lambert at the 5km distance turn taking photos and video was nice. Amazing photos Ian, looking forward to seeing Johns video because they will be front on and we can all ask Tony to look at them and tell us what we are doing wrong. Anyway, back to the race. Chris had a great race working with John and got his best result of the year 3rd with John coming in 4th and Jeff 8th.
John Duffy Reports: I really enjoy the Penrith course up the gorge and this year was similarly enjoyable with perfect conditions and nice scenery. Chris Dickman and I relished the smaller field and we shared the lead of the main pack for the first 17km with the Penrith President taking a turn when necessary.
At 18km I was unable to make up a gap of a couple of boat lengths and I faded and left it to Chris to fight it out with the opposition pres. Chris showed the fruits of all his training and tough TT's – he battled it right to the finish and only missed out to 1st and 2nd by a few seconds. Jeff Hosnell crossed the finish line with a broad smile very shortly after us and looked like he could have continued another 10km's. A well organised race and well worth the effort of travelling to Penrith.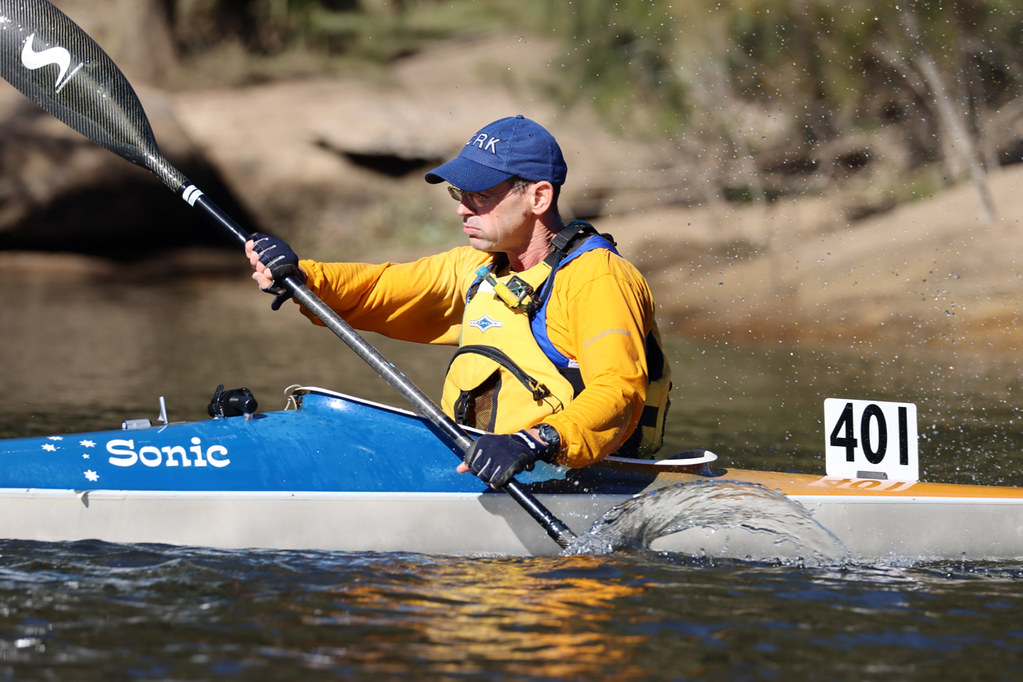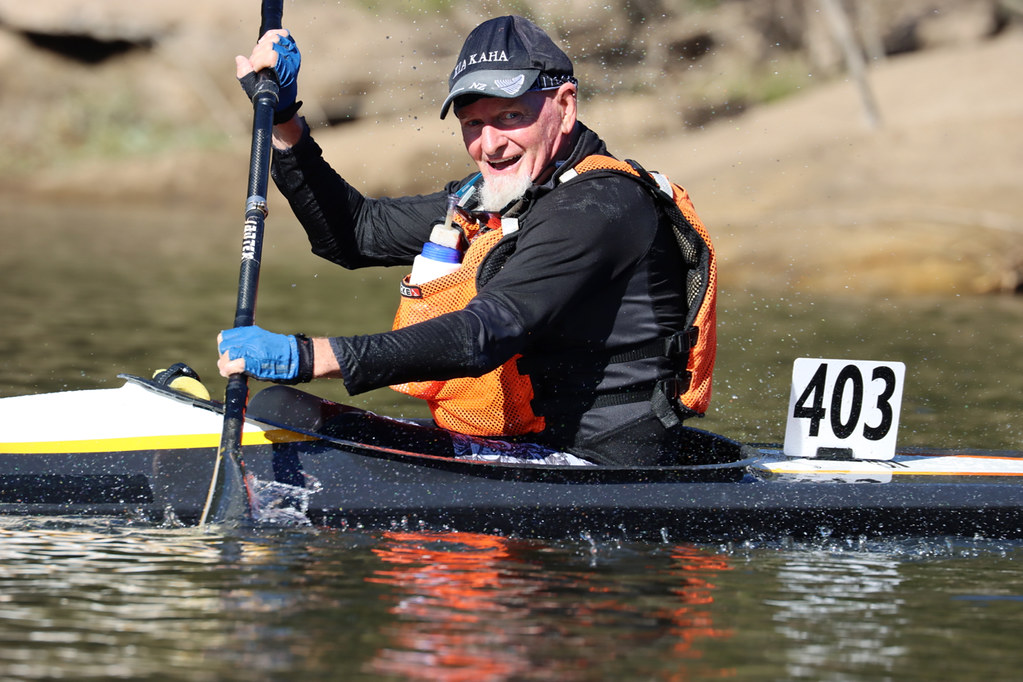 Div 5 No Starters
Div 6 with 6 starters. We were represented by Karen and Derek, now Karen is making a habit of finishing in the top half of the field and she did another great race finishing 2nd and her only disappointment was she wanted to get under 2 hours. She missed by 21 seconds, but still a great time. Derek finished in 6th place, but he was just out enjoying the scenery and thinking about his big bike race in NT later this month. I think his legs have been getting a big work out, not the arms.
Karen Hadjinicola reports: Race 7 Div 6 - I'm in second place overall. Oh, the fear of travelling to Penrith in June in the coldest winter in 120 years, what are we thinking. I was so excited for this race, I'm 4 points behind first place and I have a race plan - well so I thought. We arrived early to a brisk to 8 degrees on the beautiful Nepean River but at least we weren't in in SA with our braver LCRK paddlers.
'My strategy: 1. strong start, 2. don't blow up, 3. stay close, 4. jump on washes when higher divisions go flying past. We start - I forgot about point 1 and focused on 2 which then impacted 3 - dumb, dumb, dumb. I missed the start, no idea where my head was, well yeah it was on point 2. 1st in Div 6, David took off, he normally he sits on someone else's wash and then powers home. I thought if I stayed close I could finish strong but he noticed my strong finishes so he changed strategy. Div 6 isn't known for wash riding packs, as I have discovered but it seems friendships are being formed. There are only 7 of us but we all know each other by name and we are very friendly.
We hit the Narrows, it was spectacular, this was my first race on the Nepean, who knew it was this beautiful but I needed to stay focused. We reached the 10km turn point and Div 6/first place was 2 minutes in front and then Div 1 came through on the turn. I held on but the rest of my pack got dropped so I had no one left to help me close the gap but I still had my secret weapon. Re point 4. I was paddling my heart out before "They" arrived (They = Peter Manly and his Div 2 pack to give a wash to jump on) but this time I didn't make it. It is the bestest experience when you hear that voice from a fellow LCRKer call out 'Come on, jump on'. Thankfully, I hear this a lot and I try to jump on every time. But sadly this race, there weren't anymore that came by to give me a lift.
Not too worry I had a second goal, sub 2 hours. And I tried, and I tried, averaged a 170 HR for the last 3km, I was on track. In the end, I did 2hrs 20sec - absolutely gutted, 20 bloody seconds.
It was beautiful and next time I will do it 💪 - I'm still in second place and now 5 points behind. But I love representing the gorgeous supportive club. Thank you Lane Cove and T2R. I will succeed 😇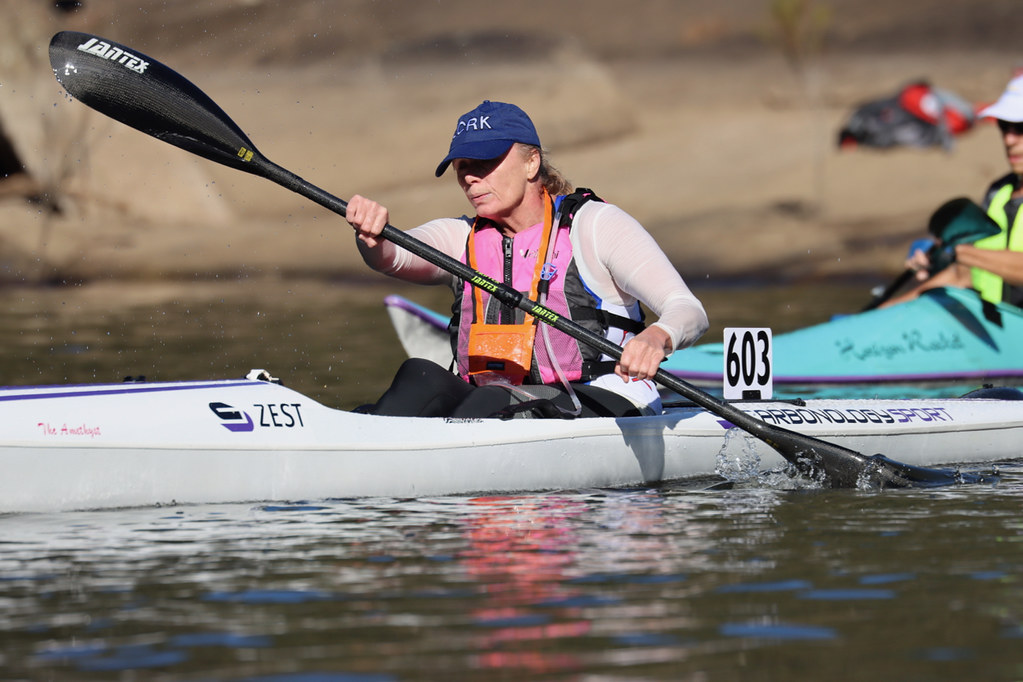 Div 7 with 2 starters we had David Veivers representing us. Now I had breakfast with David and he said that he was going to be on the podium . Well he certainly was - he WON - our only winner on the day, and man he deserved it. David has been at every race this year that he is been able to make, unless he is on call at the Hospital - so well done David.
David Veivers reports: It must have been the cold that kept the paddlers away ( or maybe quite a few were on the Murray), but in any case at around 8 am at Tench Reserve on the Nepean , it was 3 Celsius. They were saying that the riverbanks of the Murray in SA would have been colder?
The concept of a "warm up" on this day was to stay in the sun until the last possible moment. There were only 2 paddlers in Division 7 and since it was an out and back course, we had clear water out in front for more than an hour. This, plus a still day made for a pleasant paddle. The only worry I really had was wondering when the fast paddlers come by, and sure enough, it happened at 'the narrows'. It was a bit of a squeeze and also a bit more turbulent. Nonetheless, it was an enjoyable paddle and well organised by Penrith Valley.
In Div 8 with 7 starters, we were represented by Tim McNamara. Now I have said in the past this is a very hard race, 15kms and some very fast paddlers, and always some doubles. Well the first 3 boats were 2 doubles and young Lachlan Stokes. These 3 boats had a race between themselves, crossing with 3 seconds between them and the closest finish of the day, with Lachlan sandwiched between the 2 doubles. The other 4 boats had a similar battle and all crossed within 2 minutes of each other, with Tim coming in 6th - well done mate.
Tim McNamara reports: At 74 years and one day, I was again privileged, to be immersed in the awesome grandeur of Warragamba Gorge - mud coated the trees, at least 10 metres above recent flood level. I was mentally prepared for the long challenging straights, but not being left behind by the whole of Division 8. Only a C2, breathing down my neck, kept me focused, as we travelled at the end, toward the bridge that never arrives.
It is over 10 years since I paddled the Penrith course, and that was with Derek Simmonds, in our $250, TK2, "Blazing Paddles". BP was a great little boat, with a legendary Hawkesbury Classic pedigree (Don Rowston and Dave Warlters). Its' short and low nose used to disappear underwater, particularly when wash riding. When the wind chop got above 30cm, waves belted me in the chest, slowing us down. So I concocted a wave deflector stuck onto the deck, made of halved 90mm PVC pipe, mitre cut - we christened it "The Opera House". Despite this rule challenging and effective device (protests from Lilli-Pilli clubbies), we still had to stop and empty out. Oh, what memories! It was a dark, stormy, cold and windy day - in the distance we could see K1's barrelling across the river, in a blast of wind out of Glenbrook Gorge, their hulls glinting in a shaft of sunlight.
Speaking of blasts (from the past), maybe next time I'll team up with Derek, in my (modern) Elliot "Vindicator", and give those two anti-social Division 8 doubles, a run for the money. It was a great day out again, in the awesome Warragamba Gorge, in the fine company of my fellow paddlers.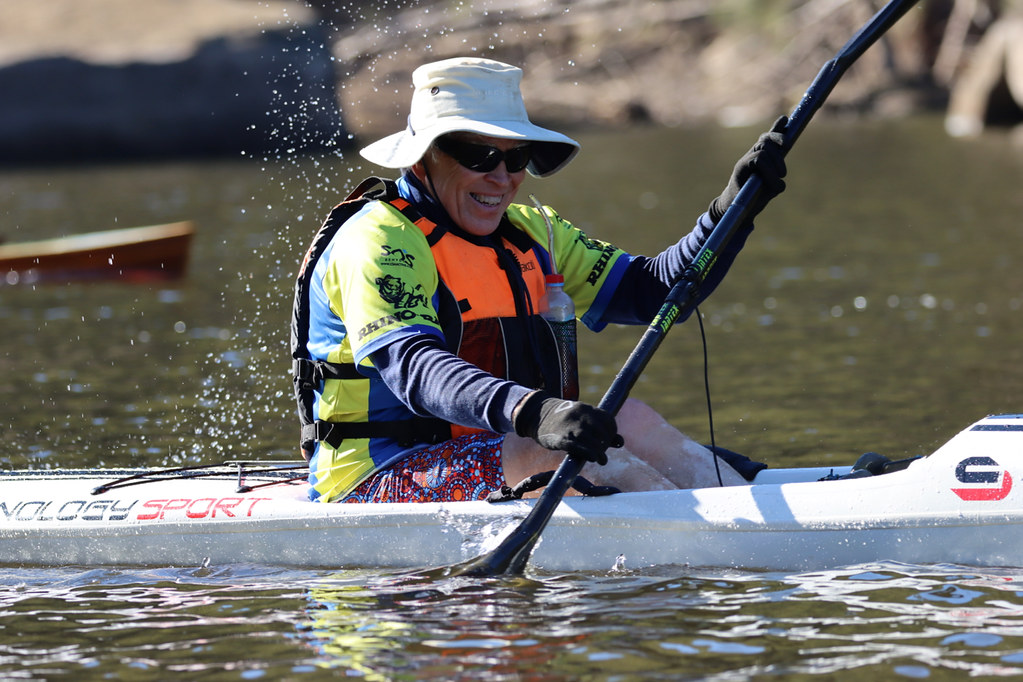 Div 9 & 10 no starters
Div 11 5 starters we were represented by Rod Skellet. This was Rod's first race in the marathon series where he can get the club points, and boy did he do his best finishing a great 2nd and his time was very good and I think with more races we will see him moving through the divisions.
Rod Skellet reports: Penrith was my first ever marathon series 'race', having done my qualifying paddle at Lane Cove in 2019, so there were a few butterflies in my stomach to say the least. I have come to realise you never judge a book by its cover so being surrounded by fellow paddlers who were 70+ and a lady gave me no reason for false confidence. There were 6 paddlers in the division, with 5 racing and a qualifier paddler.
From the start, 3 paddlers zipped to a handy lead and gradually extended to over 300m by the halfway stage. Barry Lowe, one of my fellow Div 11 paddlers was a local, so I thought given the deceptively long straights, I would tuck in behind him. This strategy worked and Barry and Gerry Foster from Burley Griffin towed me all the way up to the turning marks.
In the mean time the young kids in Div 12 in their K1's came zooming by. On of these youngsters rounded the turning mark 50m ahead of our group of three. I made a big effort to close the gap and hook onto his tail which worked. Then I hoped that I had enough petrol to hang on for the 5km to the finish. I did, and this young fella towed me up, allowing me to catch two of the group of three in front of us. 2nd place in the division and a time that put me comfortably in the correct division.
Now for the next race.
Div 12 no starters
Div 13 with 5 starters we were represented by John Greathead and Lachie Wrenford, now we all must thank John for again stepping up, he has been paddling nearly every race. Lachie has been busy this year with work, RFS and family so it was nice to see him on the water, and I think they had a nice paddle together finishing 4th and 5th.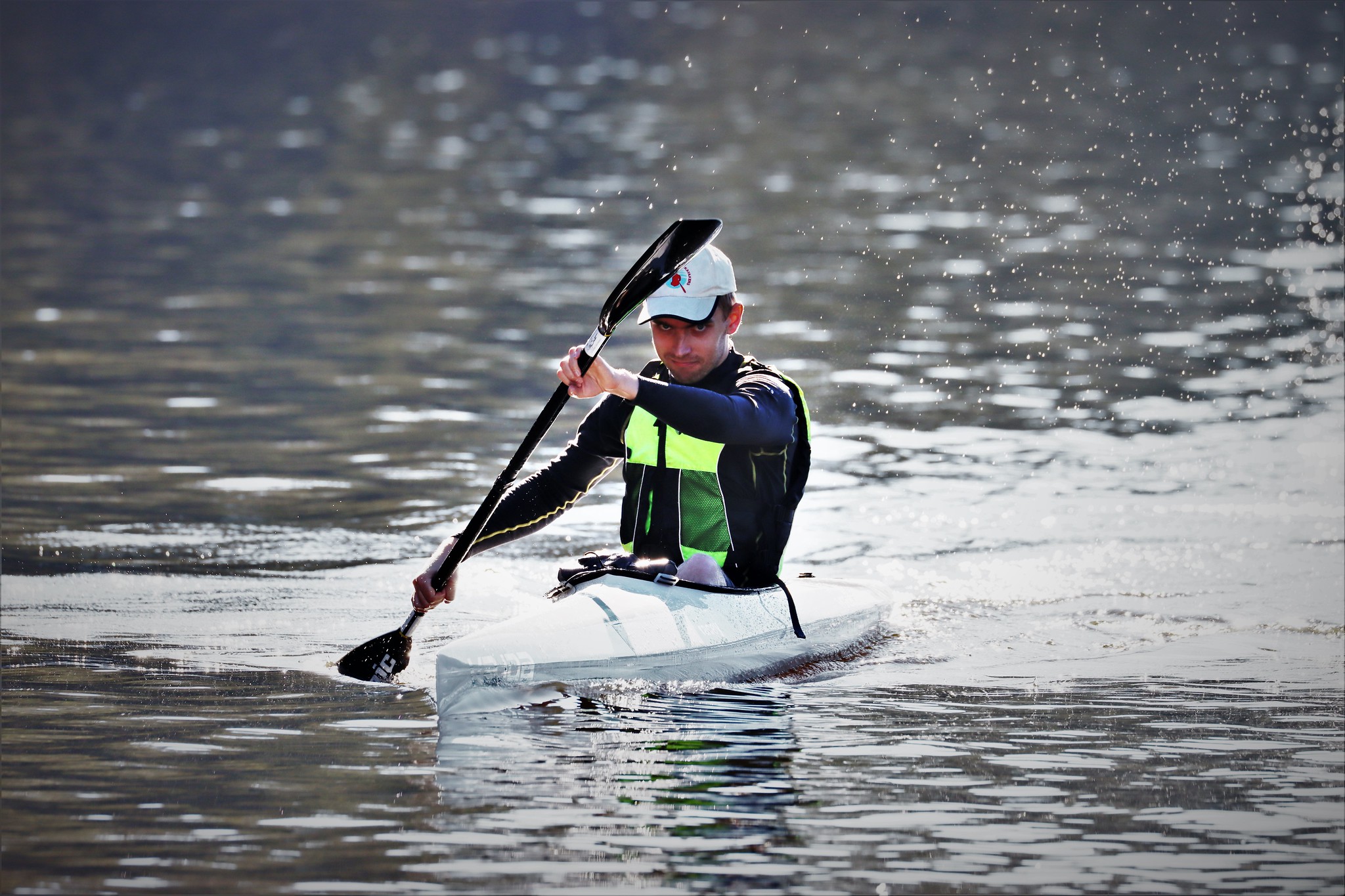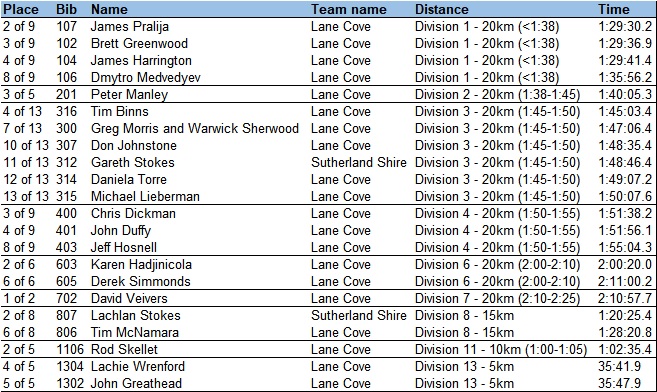 Race results for LCRK paddlers and regular TTers...
Marathon Series #6 Lane Cove - Sun 23 May
(the race report for the Lane Cove round is a monster! - and we've dedicated an entire web page to do it justice - click on the link above)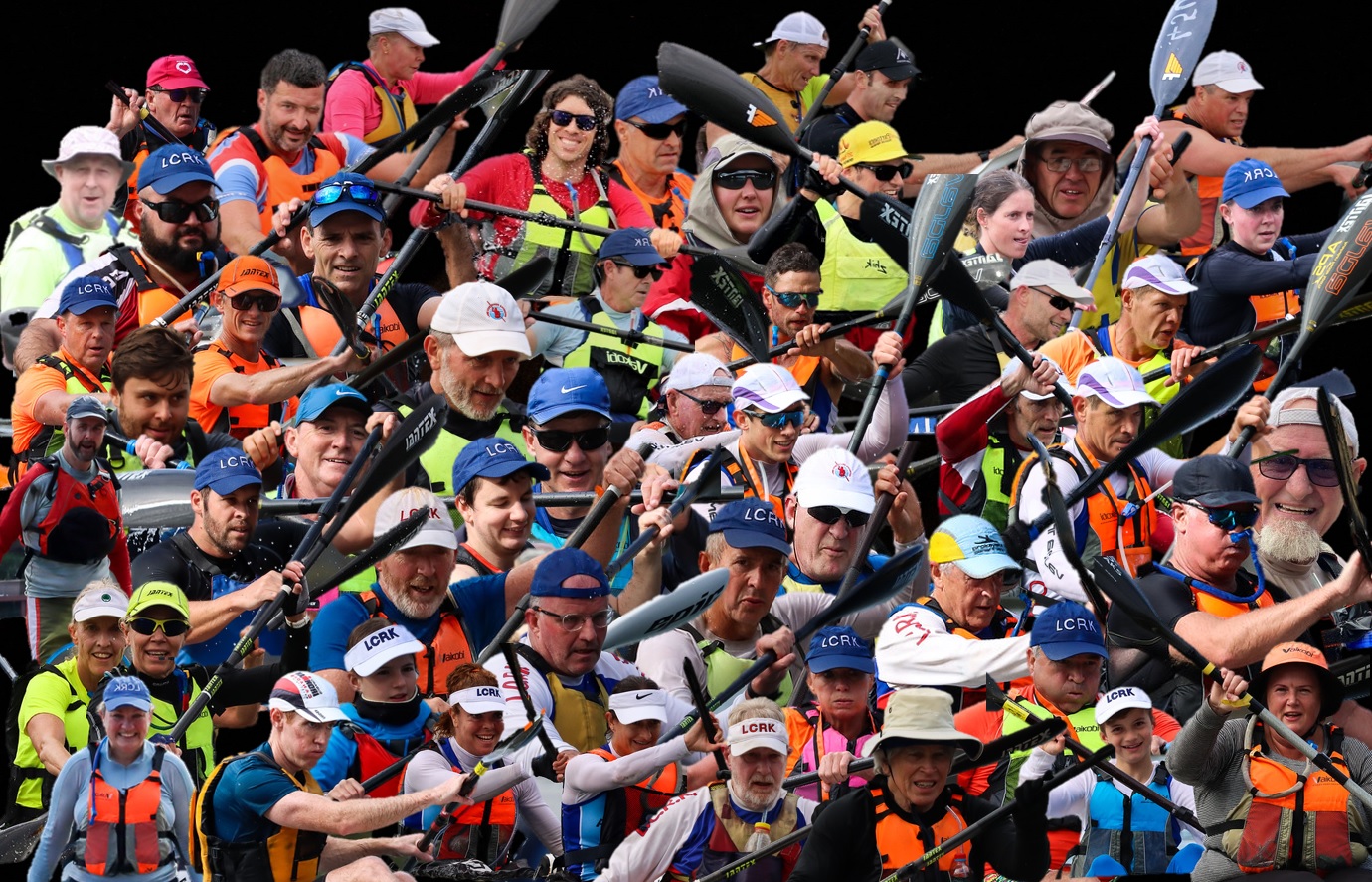 All the LCRK paddlers on Sun 23 May 2021...
Marathon Series #5 Teralba - Sun 2 May
Race 5 of the 2021 Marathon Series will be run at Cockle Creek, Teralba, hosted by Hunter Valley Paddlesports Club.
The Saga of the Lane Cove K4

The sun it was shining upon Cockle Creek,
And the Woody K4 had had quite a week.
Timetrial on Wednesday, a Saturday jaunt,
Then out to Teralba, her slick hull to flaunt.
Naomi up front, Tony H in the back,
Pauline and Alanna the RPM to attack.
As we left the launch point, too late to look back,
Alanna's seat base gave an ominous crack.
"Go" called the starter, we cranked up to speed,
With our eyes on the back of the pack in the lead.
Almost 2kms in came the thrill of the catch,
Up over the wash, we were back in the match.
But then came the bridge and the rocks and the turn,
And we had over ten metres from bow down to stern.
On went the brakes, off dashed the race,
While we tried to turn a K4 at some sort of pace!
We huffed and we puffed with all of our might,
In the hope that our circle might be quick and quite tight.
"We're round, now go, put your foot to the floor!"
And off down the course went the Lane Cove K4.
Each straight we were gaining, each turn we fell back,
But with four in the boat, who needs a wash pack?
We chatted and cheered to the boats that we passed,
With no leg drive, Alanna to our race stayed steadfast.
Back up the course 'gainst the push of the tide,
All my thoughts in seat one: "Remember to glide!"
One final corner, then one final sprint,
The thrill of the race in our eyes it did glint.
In a race of eight turns just the one was a mess,
With a flurry of paddles but no clear distress.
For the coming six weeks, we've more training to do,
As 80km days are a bit to get through.
But for now, what a vibe, who could want more,
Than the chatter and laughter of a Lane Cove K4?
Naomi Johnson, May 2021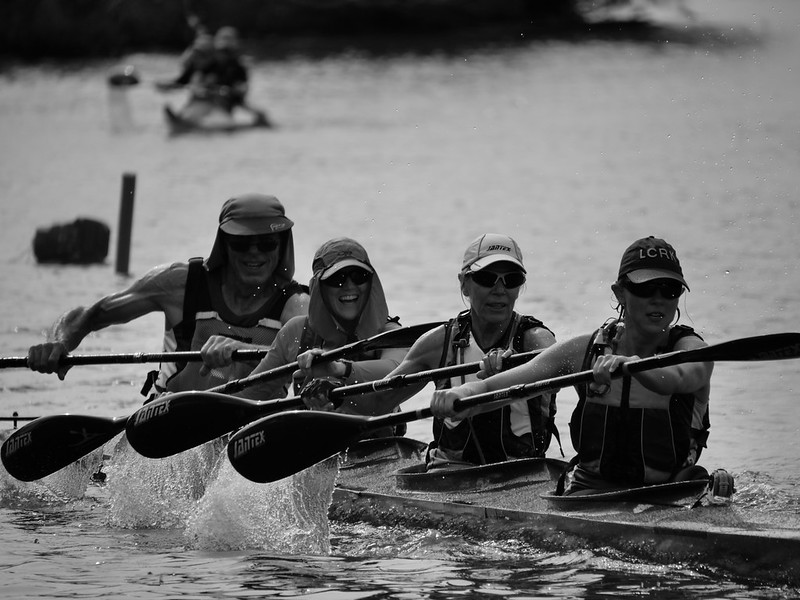 Race Report Hi Everyone
I must say what a great turnout of Lane Cove paddlers for race 5 at Teralba, 37 paddlers over a third of all entries, with 2 new race entries Rob Colins and John Burkett great to see you guys and you both paddled so well.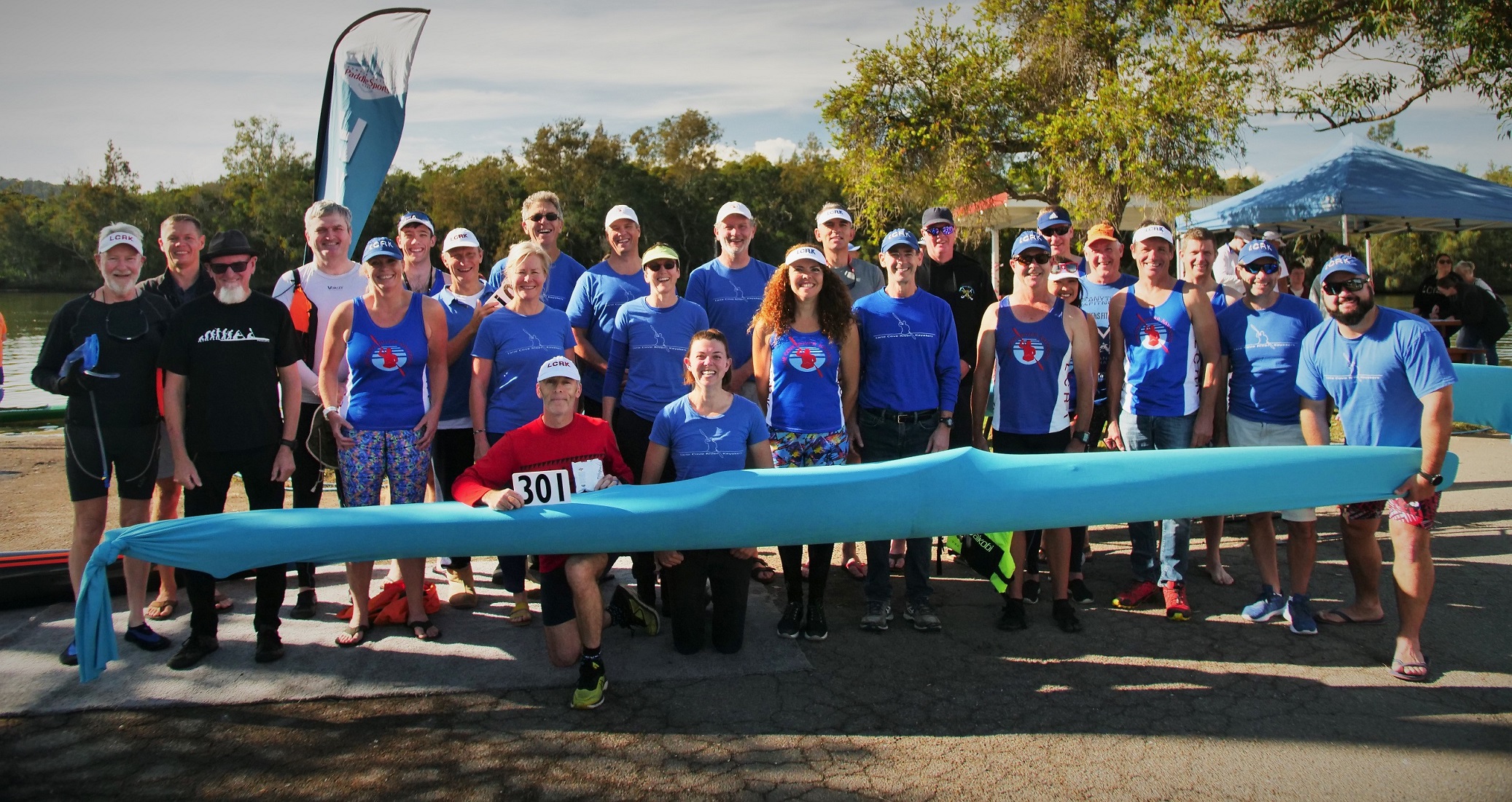 Most of the LCRKers at Teralba.
Again the Sun God was with us all day and the wind stayed away, so it was worth the drive up the coast, again entries from other clubs were down so some races had very small starters, I don't know if it's a result of Covid or some clubs members are just not racing now and are more into the recreational side of paddling.
On the water the river didn't give much assistance either way in fact it was a very slow course going by times.
Division 1: We had 5 boats from 10 starters, 4 single k1's Brett Greenwood, Dmytro Medvedyev, James Harrington, James Pralija and the mixed 4 of Naomi, Pauline Findlay, Alanna and Tony H in the beautiful timber K4 of Tony's ex Sydney Olympic boat look forward to reading all the stories from the crew. Brett got the win to continue his win streak but it was a tight finish only 4 sec's separated the first 4 paddlers, Brett crossed the line just in front of Casey Haynes from Cronulla Sutherand, with James P 3rd and James H 4th, followed by the K4 and in 6th place Dmytro Medvedyev.
Alanna Ewin reports: After our first hit out on Saturday in the K4 together in prep for the RPM in June, we backed it up the next day with our first marathon race together. We hopped in easily and were good to go until 100m into the warm up ,my entire seat unceremoniously detached itself from the hull! With no time to sort it out we agreed 'it is what it is' and we started fairly well without my legs and did lots of positional adjusting throughout the race.
It's amazing how tough it is to get that boat moving in a start, but then how quickly it warms up into a gliding dream. We caught the front runners and cruised with them until the first turn. We had practiced our turns so felt content we could wrangle them if we just left enough room on the inside for everyone else to pass us. And pass us they did! We slowly nailed every turn bar one, which of course was the only turn that Gareth videoed! The more people in the boat the more fun the marathon I say. 20km flys by as a team. There is still a K4 in the shed, so if you like team sports then maybe it's got your name on it for the next marathon!
Division 2: We had 4 boats from 8 starters, Trevor Nichols, Pete Manley, Simon Stenhouse and David Young and Allison Bilbow paddling the Club k2 getting ready for the Lane Cove marathon race, Trevor paddled an amazing race in a very fast time getting close to Div 1 Trev, when are you going to start paddling a k1, he got home clear of Peter Hughes from Windsor and Michael McKeogh from Cronulla Sutherland these 3 have been having some great competition and it was great to see Trev beat them comfortably, Pete came in 5th with Dave and Allison 7th Simon had a DNF.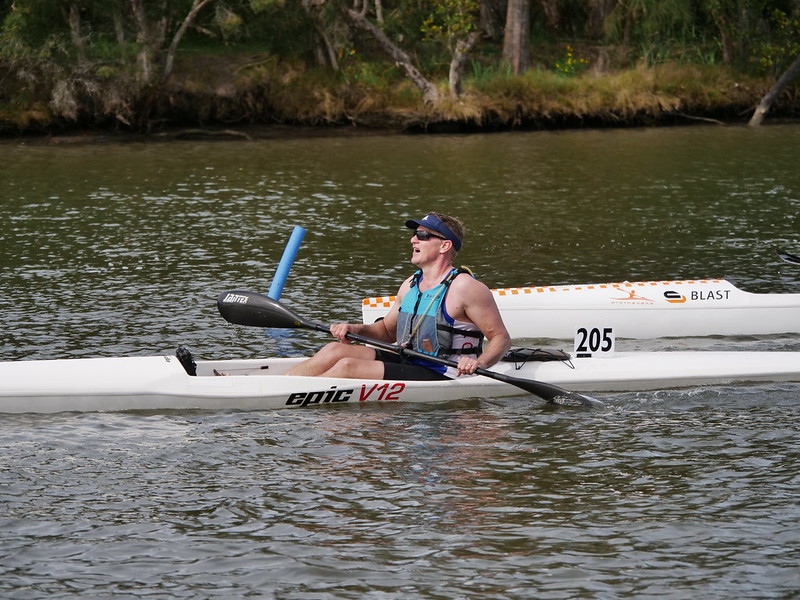 Trevor Nichols' tells us the story: Having not paddled the river before I was really looking forward to this race. In chatting to Don during the drive up I realised my focus had changed from simply competing in div 2 this year to aiming for overall series honours. I enjoyed the nice warm day and having my sparring partners of Michael McKeogh and Peter Hughes on the start line. The wild card was Simon Stenhouse who I had not paddled with before but knew he was of div 1 ability. This turned out to be true as Simon started very fast and quickly split the field up. Peter and I shared the leads with Simon and a ranking paddler, Dan, tenaciously sat on our wash. On lap 2 we expanded the gap of the rest of our division by at least a minute and began thinking second place would be between Peter, Dan and myself. Simon was so strong on his leads I knew he would blitz the finish. However on the 3rd lap he began slowing and pulled out at the start of the 4th as his borrowed boat was taking on water!
Peter fell away after 16kms and Dan keep following me. At the top turn I "explained to Dan" that if he wanted to have a sprint for line honours he needed to do some work upfront. So he duly did so for a chunk of the next 2kms. I was then able to get ahead in the sprint for my first win in div 2. I felt pretty clever about this until "Don the mathemagician" told me I had a fast time by 3 seconds. So now I not only have to keep ahead of Michael and Peter in the remaining races I need to avoid another fast time. Good to see Pete Manley have another solid race and get good points for Lane Cove. I have it on wise authority that div 1 is a lonely place when you are not yet good enough for it as you end up paddling 20kms on your own!!
Division 3: We had 5 boats out of 12 starters, Tim Binns, Daniella Torre, Don Johnstone, Michael Lieberman and Richard and Tony in their double SR2, Tim came 3rd with Richard and Tony 5th great encouragement calling from these guy's every lap although it didn't work for me!! Don had a steady paddle coming in 9th with Daniela not having a good day she seemed very sore before and I'm sure this affected her paddling and I heard she had a swim, Michael had a DNF I heard he had a sore shoulder.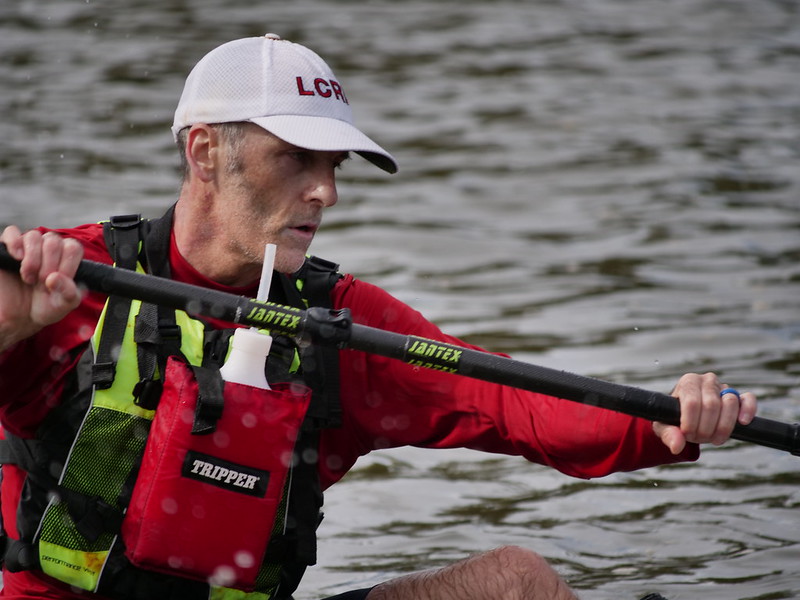 Here's Tim Binns' story: Div3, the start was fast and furious with my GPS reading over 15kph off the line. I was sitting where most people wanted to be - on Keg and Rich's Black Betty wash. After a few minutes Keg's arms needed a rest and things settled down. Two K1s took over the lead and we didn't see them again. Fair enough because the one that won (Scott Tyers) got promoted to div2 and second place (Mick Carrol) will be promoted if he gives a similar performance next race.
So after Black Betty dropped off our wash, that left Dominic Hyde from BGCC and me, on our own, vying for 3rd place for the rest of the race. Dominic was definitely stronger than me and took more than his fair share of leads. I reckon I only managed 30% of the lead in the first lap, falling to 5% in the last. We really slowed in the last lap and I'm sure Dominic could easily have dropped me if he tried. I told him as much after the race. But I stayed with him and to my amazement he actually slowed down and let me have the inside run at the last turn, just 300m from the finish line!
All's fair in love and paddling so I gave it everything I had after coming out of the turn in front. Not knowing how far behind he was, I didn't ease up until I hit the line, when my body rewarded me with a wave of nausea. Fortunately I didn't actually feed the fish that day. I got my breath back and slowly crawled out of the cockpit to learn that generous Dominic was a massive 10 seconds behind me! He had given me the 3rd place points and bragging rights till next time. But the truth is that I probably would have been way back in the rankings if Dominic hadn't carried me most of the way around the course.
Division 4: We had 5 boats out of 12 starters, Wade Rowston, Jeff Hosnell, Chris Johnson, Chris Dickman and Pressy John Duffy. Chris J contacted me asking what Division he should enter he thought 5 I said after his time trial PB on Wednesday he would kill Div 4 and get some familiar faces to wash ride and chat with will he must have forgot about my advice he went of like a horde of Zombies were chasing him, he put 50 meters on the field in the first 100 meters, Olympics in July 500m a sure thing. The rest of us had to contend with side wash and a narrow channel Jeff did not like this and dropped to the back. John, Chris and Wade stayed together with Wade saving all his energy by wash riding for the final sprint. Chris J finished 2nd but he had a double wash riding him for a good half of the race well done buddy, Wade came in 4th in a sprint followed by John 7th, Chris 9th and Jeff 11th, I had a video sent to me by Gareth who couldn't paddle not feeling too good, the video was me coming around the bridge at top - my stroke looked like it was my first ever paddle everything looked wrong.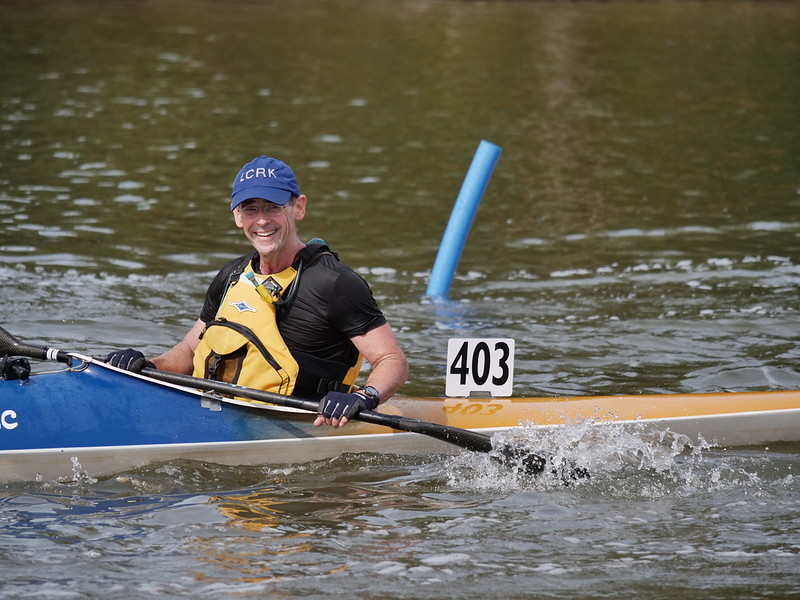 John Duffy tells us his story: Mr Continuous Improvement, Chris Johnson, shot to the lead very early with a pace the pack could not stick with and was unfortunately relegated to 2nd place behind the Manly double during the later stages. A great effort by Chris in his first Div4 event and he clearly is the Div4 paddler to watch for the rest of the marathons. The main pack some 6 minutes behind stuck together like glue and Wade, showing his experience, lead them home in a great turn of speed with 200 metres to go to claim 4th place. John Duffy was slightly behind as was the double of Duncan and Craig Ellis in their ranking race; they generously paused for a capsize and this cost them a better finish. Chris Dickman was mixing it up and showed his fitness is improving by hanging in until the last half lap. Jeff Hosnell had rare seat and equipment problems but finished and will be back.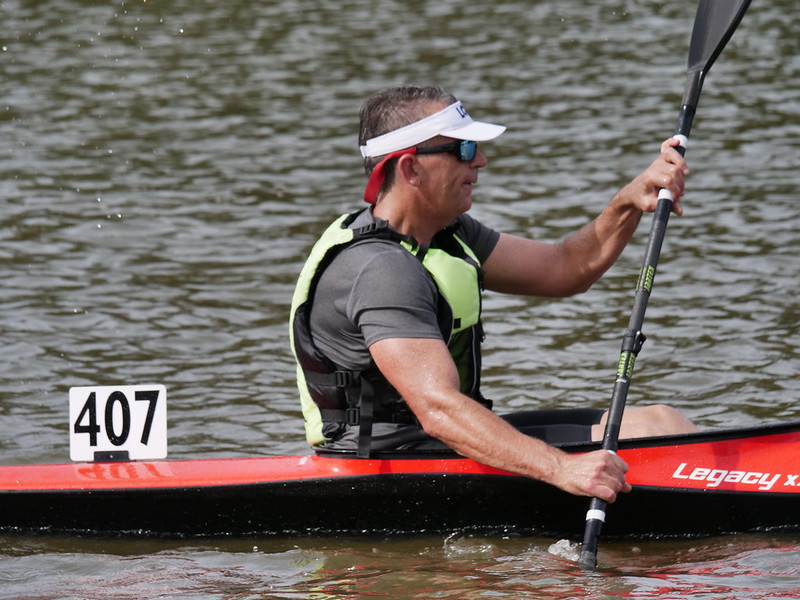 And here's Chris Johnson's report: Great to see so many Lane Cove River Kayakers at Race 5 of the Paddle NSW Marathon series – hosted by Hunter Valley PaddleSports Club.. Perfect weather, fantastic location, easy drive and good company for Division 4, 20 km. On arrival at Teralba bowling club first up was inspection of where to get in for the race, then find toilet, decide which top to wear and get organised. The course entry point looked good and the course itself not too wide, it is a four loop course, I tried to work out the tide flow once on course going "up" or anti clockwise was harder (uphill). Warm up was a short paddle with lots of other paddlers, arrived at the start line behind John and Wade, then we were off.
If an effort to get clean water I managed to sneak in front of the Div 4 field, but the "uphill" section was relatively long and I was not sure whether to stick hard to the right bank or middle, kind of had that issue all race. Going cautiously around for the first 180 degree turn there are old stone bridge pylons looks like they are from an Avengers movie, neat.
Lots of LCRK faces out on course, V impressed with Div 1 front of the race Brett and James, how do they get their K1's to move so consistently fast. Keg was providing motivational comments , Kermit and Richard's crew had Derrick close behind. The K4 looked great! On about lap 2 a Div 4 Fenn double ski was just behind and starting the turn for lap 3 both of us navigated behind a SUP, it was about then I thought a drink would be good. Lap 3 was just keeping the K1 moving, or running well and trying to get technique reasonably good (Superman chest, left exit wide etc). Start of final Lap 4 again there was an SUP and the chap in the wooden kayak (no rudder), so both me and the double ski turned cautiously and started the final lap. The Ski pair then commenced a stroke rate that a kayak sprinter would be proud of they literally powered off to finish great.
Great day out lots of very good results for Lane Cove, don't forget to Register for our HOME Lane Cove event. Special call out to Merry + Rob Collins + Rob LJ + Karen who paddled great too. LCRK's Wednesday night races give our members such a great template to be confident to Paddle the NSW Marathon Series – we are very fortunate. Items to practice for next Marathon race. Pacing / Starting / Wash Riding / a plan for the final lap (if required).
Division 5: We had 1 boat Rob Llewellyn Jones out of 4 starters Rob won the race in a very good time, he is paddling his ski and he looks very strong I think he will be joining us in div 4 soon.
Division 6: We had 3 boats out of 6 starters and 3 rankers including a Dragon boat from Bathurst, Karen Hadjinicola, Derek Simmonds, Rob Collins doing his ranking race, also Linden and Richard Barnes, this was a good race with Karen coming 2nd Linden and Richard 4th, Derek 5th, Rob had a great paddle and would have won by his finishing time, this is great for the future. Richard should have paddled Blue Moon (his trans-tasman boat) he could have kept the Dragon boat company.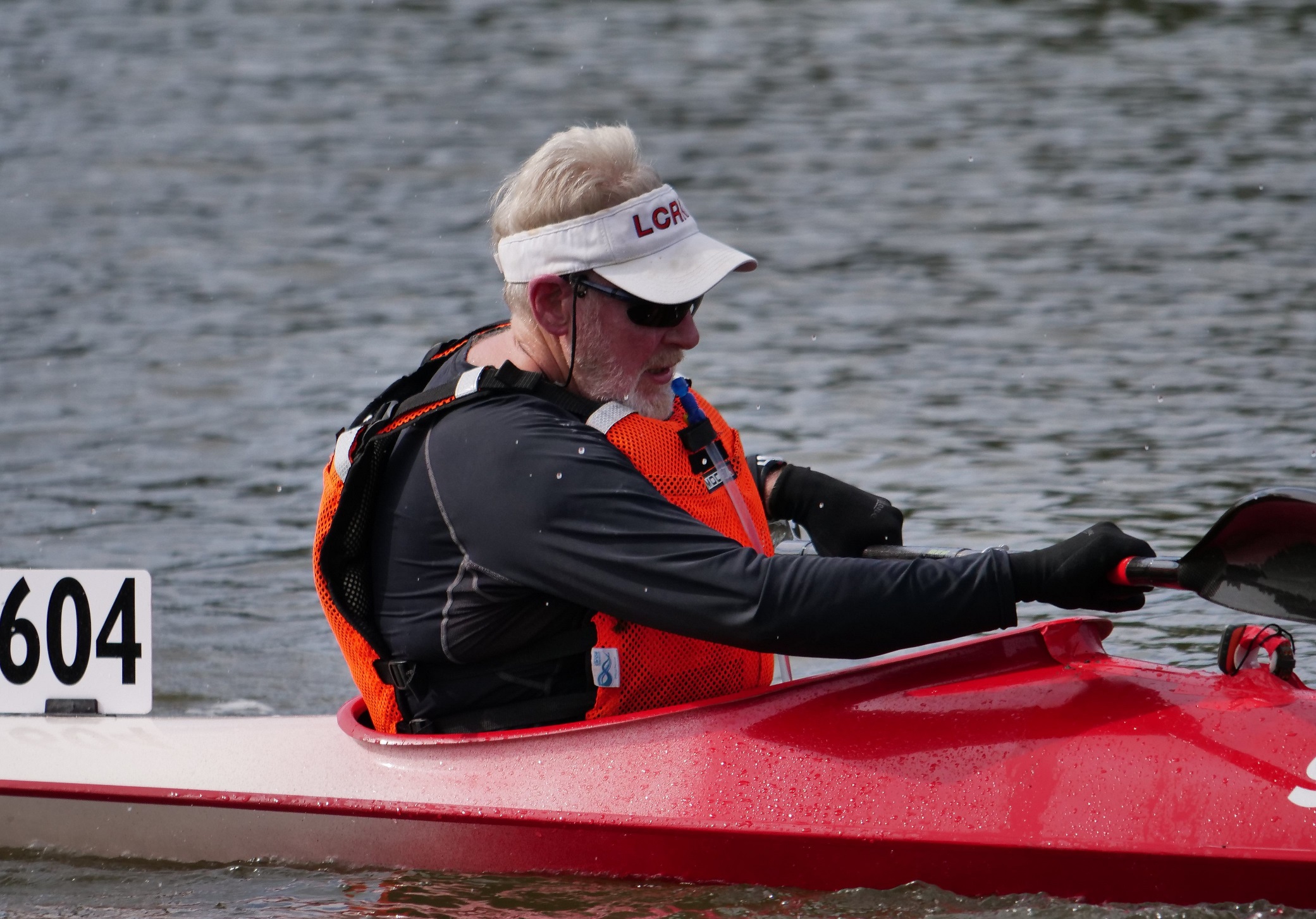 Derek Simmonds reports: A Tale of Two Tails: A Race to the Bottom. At the start, I manoeuvred onto the tail of Richard and Linden Barnes' beloved Kermit. My old Sonic washrides well, and I was so comfy I resolved to stay in tow for the whole 20. I did have to put in some effort now and again when I had to pause while I reached down to retrieve my hydration tube which kept slipping between my legs.
''Nothing lasts forever. At the beginning of the final lap my tail started to burn such that I thought I had hot coals under my right bum cheek. I'll spare you any further details, suffice to say I dropped off Kermit's tail while simultaneously wriggling on my seat amid making the final turn. Try as I might, I couldn't resume my Kermit tow and fulfill my race strategy. The Barnes team finished about a minute and a half ahead of me. Chatting later I learned that I wasn't the only pain in the arse at Teralba. Once again, I discovered that I had dodged being performance managed down from Division 6 to Division 7 despite being outside Division 6 times. The race to the bottom continues, bottom allowing.''
Division 7: We had 2 boats out of 4 starters, Merry Sugiarto and David Veivers, it was so good to see Merry racing and choosing to paddle a K1 earning 1st place and valuable K1 points for the club, David came home 4th he has been coming to every race what a great club member.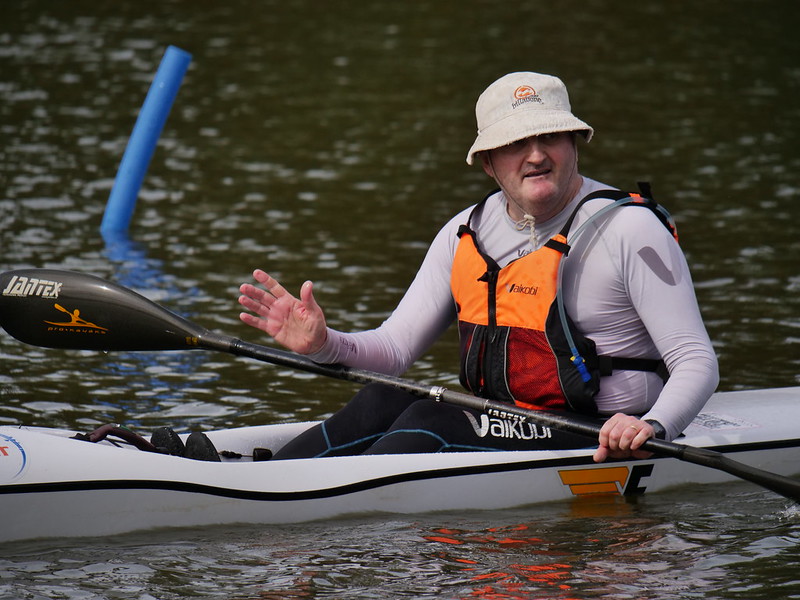 David V reports: From Back to Front - A very pleasant start to the Teralba race occurred at 9:30 am sharp by 5 Div 7 paddlers (2 SUP,3 SDP). Two of us were from Lane Cove. The two SUPs bolted off the line but when we got onto the creek proper after the first red marker, there was a headwind and somehow I was in the lead. So for the first time up the creek I had to remember where the course was. Now, I don't normally read instructions, but on the briefing notes it said keep green to the right and just for the occasion there seemed to be two new green buoys well to the right. All good ? Not so - the next red marker ( keep on your left ! ) was to the right of the next green beacon ( keep on your right !) : ( The answer to this problem was to ignore it, keep paddling up the creek and ignore what might have been a wormhole.
After around 30 minutes we found ourselves back at the bottom and had the unusual experience of trying to pick a course around the boats warming up and starting. Division 2 were holding at the start as we sauntered past, and soon enough they flashed by us. Anyway after 2.99 more laps, Merry blew past to take out the division. An enjoyable experience and type 1 fun. Thanks to the timekeepers and organisers.
Division 8: We had 3 boats out 14 starters, Jeff Collins, Tim McNamarra, and David Hammond, again a very strong field with some good Double crews and 15yr old Lachlan Stokes, so the pace is always on in this race, Lachlan came second, Jeff came home 6th in a good time only 4min's behind the place getters, followed by Tim in 11th and David 13th.
Division 9: We had new member John Burkett he was in his new boat brought from Brett, now this boat has won World and European Marathon Titles, it doesn't matter who paddles it you are going to win, so true to boat form it destroyed the field great paddle, this was Johns first race in a while so he is going to slowly build back to the 20km races, but I think if the boat has a say it will be next race.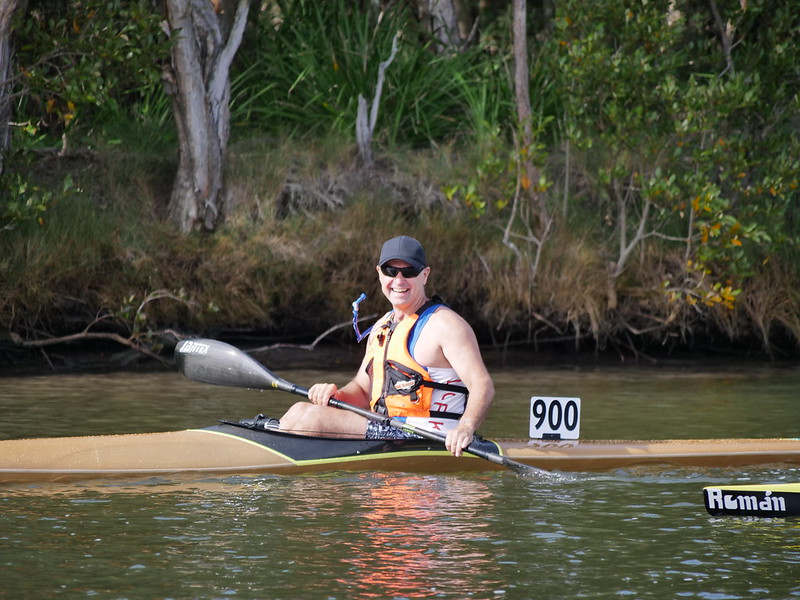 John B reports: Racing at Teralba is a unique place of shallow muddy water to test everybody. This is apparent as we all squeeze down the boat ramp and step into the sinking mud trying to splash it off before we place our feet in our boat.
A paddle around to get warmed up and see some familiar faces all smiling or grimacing with nerves. We start to line up in division order before we are sent off. Luckily for me there were only two of us in Div 9 which meant maximum points for my club ! - but mostly a calm start, especially as I was paddling a new vadja kayak I'd never paddled before. Going up was pleasant enough but notice a headwind and maybe some slight current to paddle against. Coming back was much better although feeling the heat now. Both these conditions were to compound on the second lap although not having paddled much lately I also noticed my stomach in the way ! - Wow, I was so glad I only did two laps.
The other advantage of doing 10km was that I could watch some of the other races finish, some close sprints to the line and some just determined to cross the line. Then came the after race part of gathering with friends at Pippis on the Point to celebrate Dicko's birthday - but thats another story. A good weekend away!
Division 10,11 &12 No Starters, We missed Ian (sore back) and Lachie (newly blackened thumb).
Division: 13 We had 1 boat out of 5 starters, we were represented by John Greathead, this was again a great race by John he came 4th he is doing really well in the division standings, because he has been coming to every race.
A shout out to Frazer Ruddick - who was the man behind the lens - and giving a new camera a workout. You've certainly captured the action Frazer - well done!
Here are the Race Results: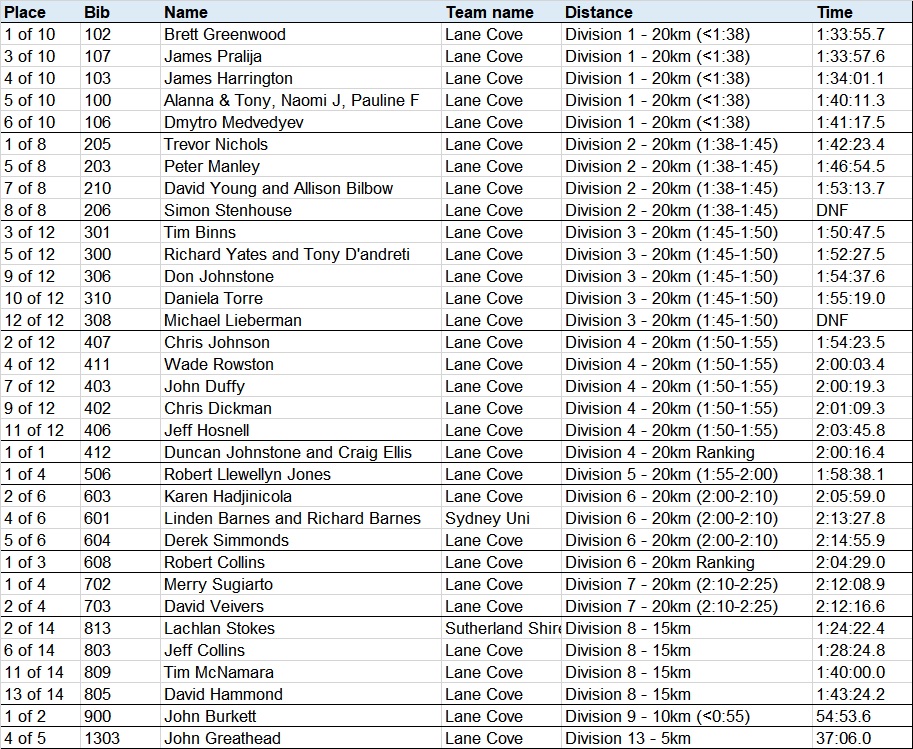 Marathon Series - Bonus Round Batemans Bay - Sat 17 Apr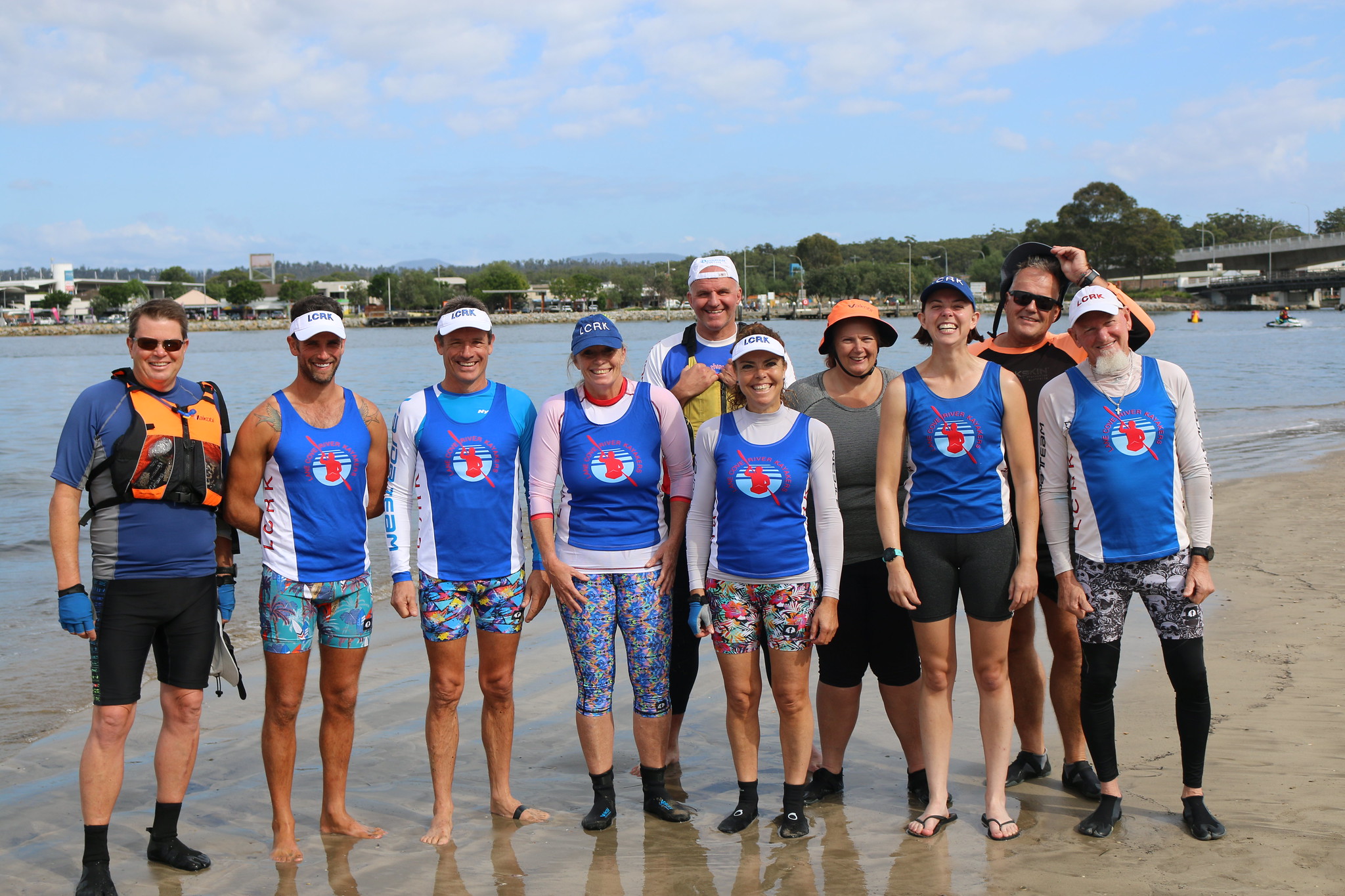 Above: LCRK Group photo at Batemans - looks nice eh?
Batemans Bay 26km Race Report
By Jeff Hosnell
We had a small but very strong team of paddlers make the journey south for this great race, conditions were perfect the organisers selected the right weekend 11am start then with an incoming tide so lots of help and then outgoing on the way home. We had 11 entries from Lane Cove, Daniela, Anjie Lees, Naomi, Brett, James P, Jeff, David Hammond, Warwick and Greg in the double ski. We all were starters in the 26km race which had a good starting list, again Lane Cove took line honours with Brett and james finishing 1st and 2nd and we finished 1st in a number of categories. Lachlan and Gareth Stokes were racing too (although with SSCC colours for the occasion)
I must mention again it was a really well run race, Paddle NSW and Batemans Bay race committee put together an amazing team on and off the water. This year I have noticed the safety boats have been terrific in every race! not moving around unnecessarily and causing problems, again this was the case at Batemans Bay between NSW Rescue and Maritime they were terrific, a big thank you.
Now my race report! from Jeff Hosnell
I am really enjoying my racing this year even though my times have not been my best I think I am paddling better, my technique is I think better, posture straighter back and better leg drive and rotation! thanks to Naomi, Kieran and Tony.
I must say I am finishing my races feeling like I could go again, this was the same in this race, I started well got on the back of Warwick and Greg's double who were following Naomi there were a line of 6 of us, after 1 km Naomi pushed on to catch up to the group in front this was big distance for her to make up because she started slow to find her in the large second pack on the return leg was amazing will done.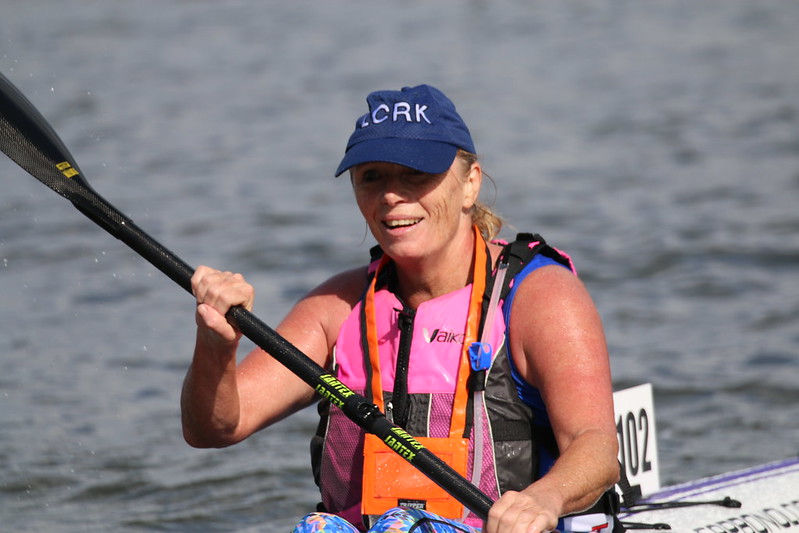 Above: Karen
Our group had lots of movement over the 13km to the top turn I got dropped because a power boat came close and I had to paddle across the wave whereas the skis just paddled on. So for the rest of the race I was on my own but I kept up a good pace and when I came to the top turn I felt so good, 2 years ago I paddled a double and felt really tired, so really powered to the finish. Along the way we encountered thousands of large jellyfish - when your paddle hit them it was like hitting a log.
Warwick and Greg kept up a steady paddle, this was a big paddle for them because they have done very little long paddling together of late with Warwick doing plenty of adventures around our beautiful country, they stayed with Brodie from Malikai paddlers in her ski to help her, Brodie has a lot friends from our club, she is looking very fast in her new NK ski.
Towards the end around 2 kms it started to get a side chop this happens every year and in a K1 its tricky, this year there is a lot of work going on around the new bridge near the finish line, we were given instructions by the race director to stay away from certain colour buoys around the bridge, problem is there were so bloody many and my brain was trying to remember was it yellow, red, blue, pink! And I'm colour blind - Oh bugger I just aimed for the easiest channel no police came so I must have been right. Once through the bridge it gets really tricky big right to left current, by this time of day the tide is well out, one of the large chequered finish buoys is on dry land so you need to all of sudden aim left and with the current and chop it gets hairy in a K1, great to cross the finish line upright.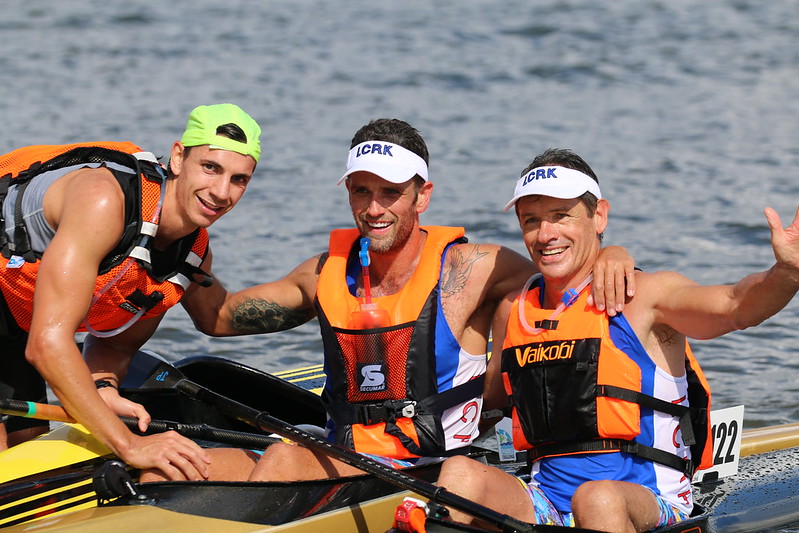 Above: Div 1 winners
Again lots of support from the Lane Cove supporters and paddlers, we were all waiting for David and Anjie, they paddled most of the race together, David put in a bit of a sprint in the last 5kms and crossed ahead of Anjie, although he missed the finish buoys and had to come back through from the other side, he said he just couldn't get the boat on the right line because of the current. Angie really enjoyed her paddle this was her first race in a long time.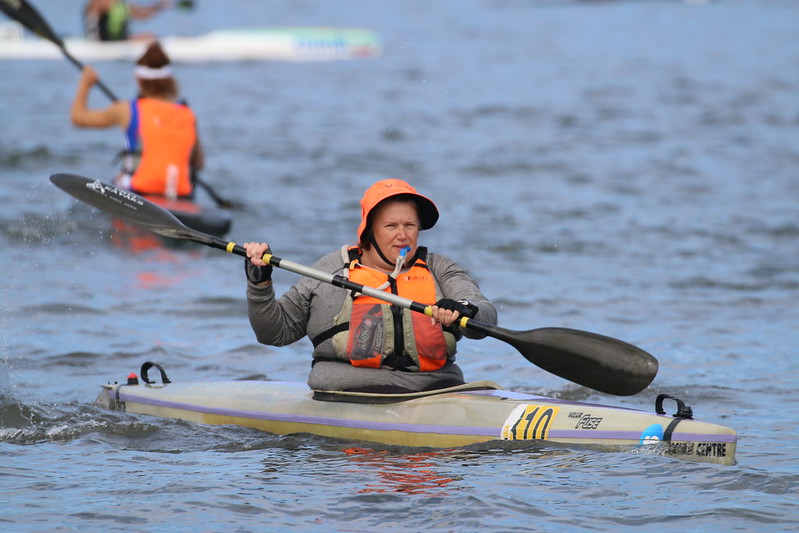 Above: Anjie
After the race we all stayed around talking and having lots of laughs. Saturday night the group that stayed meet at JJ's Marina restaurant and had a wonderful fun night! It is great to do this after a race and I have noticed the club is building a nice social side be it breakfast after training paddle or after a race. Looking forward to seeing you all for Race 5 at Teralba on 2nd May.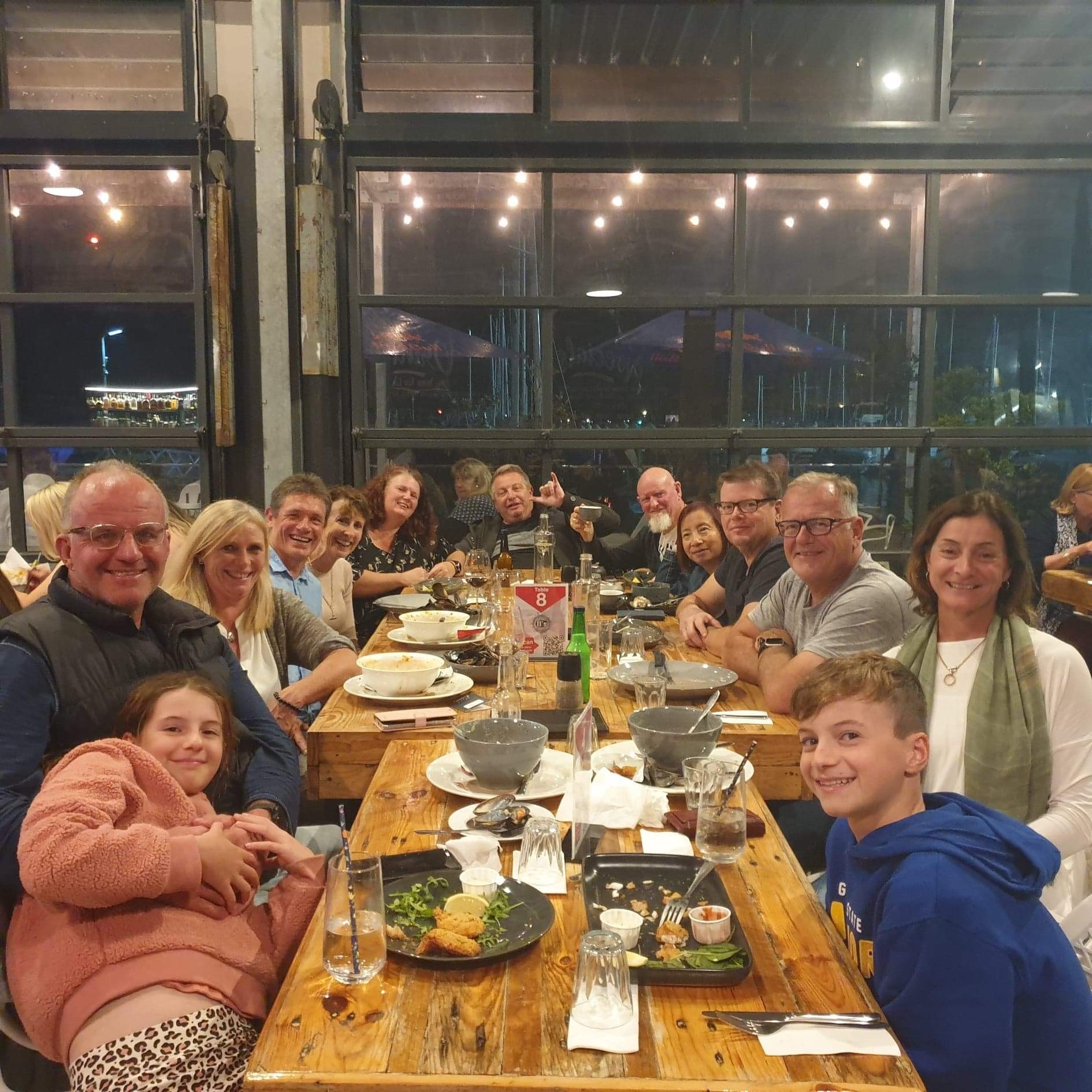 a bit of post-paddle socialising
Daniela T reports: It was with great excitement I headed to Batemans Bay. This was going to be my third time in the 26 kilometer race. I hadn't been able to paddle in Davistown the week before, so I was very keen. There were a large number of girls who I was looking forward to race against.
The first and last 600m were very open and choppy water, but then the water flattened out and was quite suitable for a K1. I quite like it when it's choppy as there is the opportunity to focus on making sure your technique holds up. Where to start the race? The channel markers were quite close together. The far left of the starting line seemed like the place to be. I found myself in front of the start line, and the choppy conditions were making the pre-start challenging. The Starter Bob Turner, was calling out for me to turn around and come back behind the line. I feared the gun might go off with me facing in the wrong direction. My team mates were calling out to me…just to relax..and paddle backwards. I took their advice.
Relaxed and behind the line, ready to go. The gun went off, and the three boys, Brett, James and Casey, flew off the line. The adrenaline rushed and I followed the boys to the bridge. I didn't really notice that I'd got off the line better than I expected until I looked around and couldn't see the girls. The alarm bells did start to ring. This was a 26 kilometre race, and that was a pace that might not be wise. Happily Laura came up beside me not too long later. We worked together taking alternate leads, switching every 500 metres for most of the next 20 kilometres. We were really enjoying the paddle. Laura's wash was so clean, it meant the speed was solid but the effort was measured. Larissa joined us a further up the river. Matilda was up ahead paddling strongly. The scenery was so beautiful we were just taking it all in. Along the course we came across herds of jellyfish. As our paddles were getting stuck at every stroke, the race became even more challenging.
After the 13km halfway mark, we were joined by Naomi. Naomi had been working with Gareth, but when Naomi joined, Gareth left the girls to compete. At around 16km, Larissa had dropped off. Awakening us from the beautiful scenery, Naomi pointed out she could see the bridge in the distance. Even with my new contact lenses in, I couldn't see that far. There was still a way to go, even with the bridge in sight. As we closed toward the finishing stage, I was feeling good and felt comfortable enough to lift the pace. I was expecting a kick from Naomi and Laura. With the bridge now in sight, I began to speed up; Laura had dropped off ever so slightly, so it was now Naomi and I, and ahead the water was to become quite rough. On the way, I was distracted by a man in a jet ski trying to tell us something about the course. In the confusion of the moment I decided to stop, thinking I had to turn around. However, as Naomi continued determined ahead, I kept going too.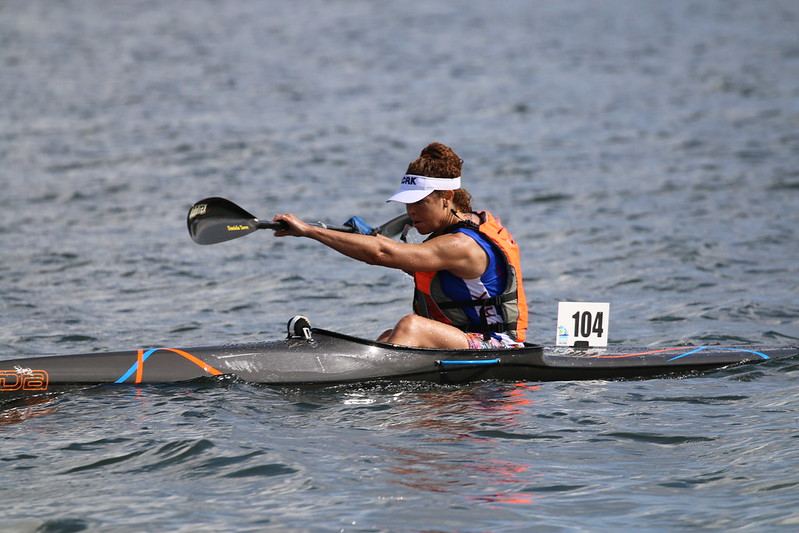 Now you see me... (pic Frazer R)
Just before the bridge, the channel markers define the course. Perfect. I put my head down, and redoubled my effort, paddling hard to the line, I couldn't sense Naomis' presence. I thought I had crossed the finish line between the green and the red buoys. Woohoo. But... No…that was the black and white chequered buoy off to my left. I was still ahead of Naomi and had time to get there ahead of her. From there, everything unfolded in slow motion. Remember how I said I quite like the chop? I was hit side on by a wave. No problem. A quick brace stroke. My blade didn't crack the water, though. It went through it. And so 5m short of the line I fell in. The paddle went one way, my visor went the other way. The boat had spun 180 degrees. Now swimming, I grabbed my paddle and threw that to the line. I pushed my boat through the line…the only way I could - stern first.At the time I thought, that was an eventful way to finish second to Matilda. Just after Naomi paddled past. It had taken about another five seconds for the bow of my boat to cross the line. Oh well, It was a fabulous paddle. Thanks to the girls for the amazing race.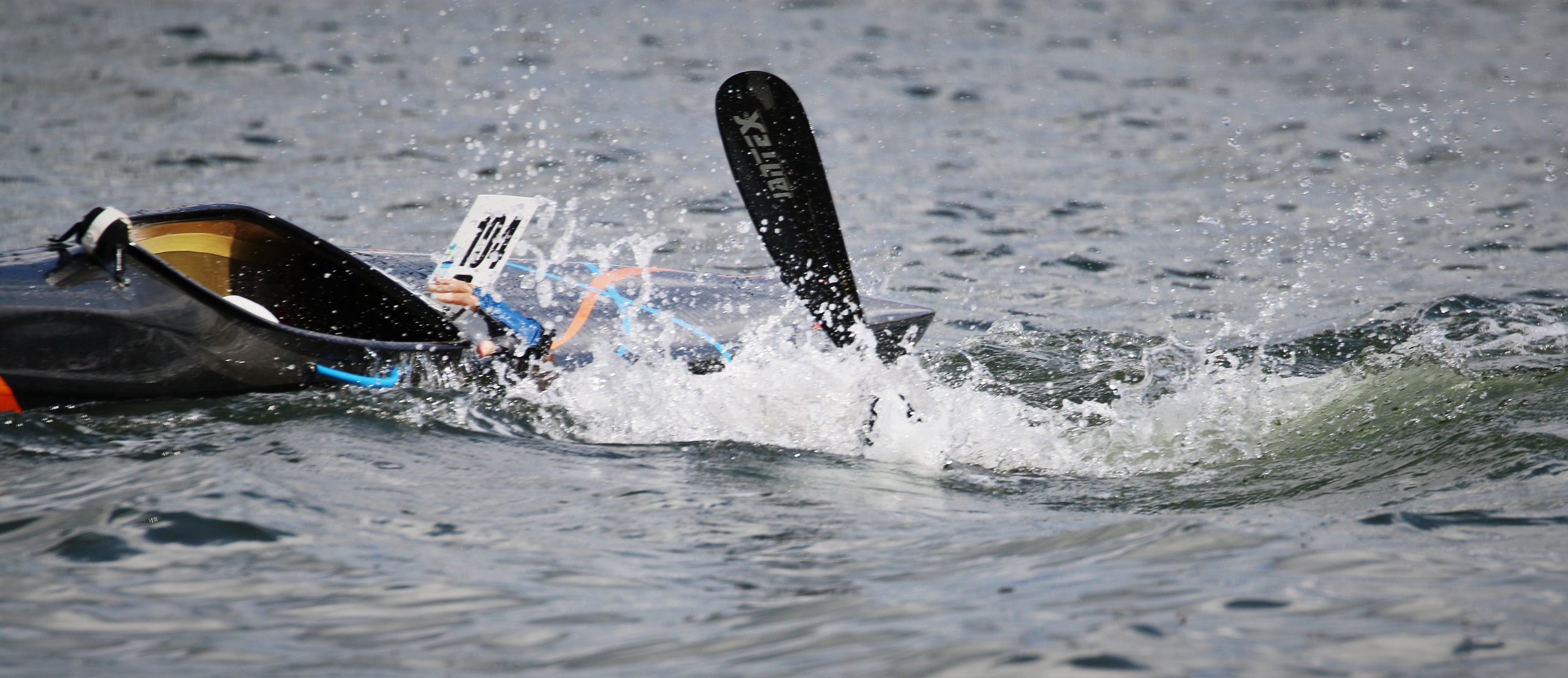 ...Now you don't (pic Frazer R)
And I take away four lessons from the weekend.
1 Decide where to position myself at the start
2 Know where the finish line is before you start the race
3 Keep focus on the race and leave conversations with strangers for later
4 The front of your boat is not the part that is the first thing that crosses the line.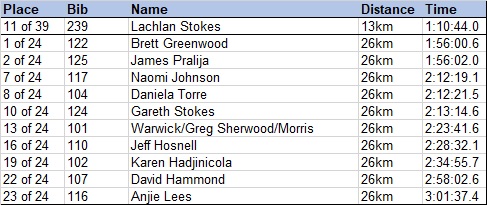 Above: Results for LCRKers and regular TTers
Marathon #4 Brisbane Waters - Sat 10 Apr
Race Report - Jeff Hosnell This race is run by Central Coast Paddlers on Brisbane Waters which is a very exposed area of water and has a race in the Harbour Series there. It's a race you either love or hate, I have always felt the latter because I paddle a K1 and it really suits the ski's, but yesterday I really enjoyed it. We had a great team of 27 paddlers the only thing missing not enough females only Naomi, and we had a late scratching of Daniela, so hopefully we will see more ladies next race.
The conditions were tough even though it was a beautiful day, a bit of wind slight chop and out going tide and I must mention the half hour Ferry and other boats to navigate. In all we won 4 races and 5 if we include Linden and Richard Barnes in the double.
Division 1: Had 10 starters we had 4 from Lane Cove, Brett Greenwood, James Harrington, James Pralija and Dmytro Medevdyev, we had drama at the start Dmytro clipped someone's paddle and capsized so he had to swim back to shore he still didn't give up and powered to the finish in 1.53 without any help on the way. There was some very close racing from the 1st 5 or 6 boats spectators got to see them wash riding behind the Ferry which I saw up close and it was spectacular. Coming to the last turn bouy a ski capsized in front of Brett and James P they both lost all momentum and had to start there sprint to the finish line from a standing start! Brett crossed the line a second in front of James, 4th was James H. Followed by Dmytro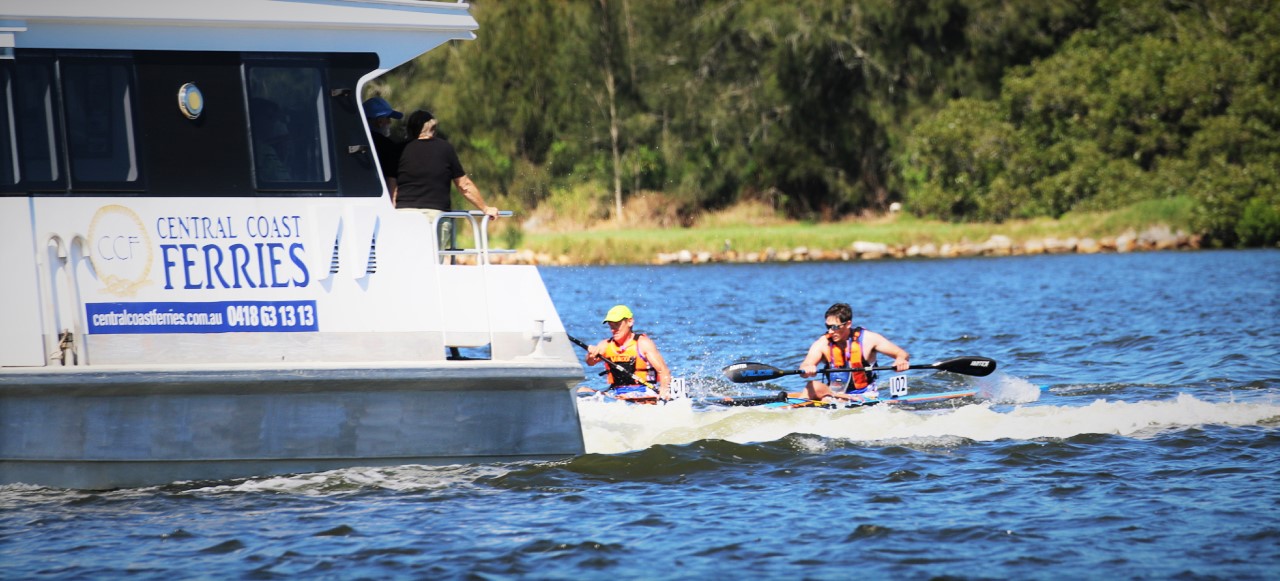 Above: Ferry washing..
Dmytro Medvedyev reports: It was very nice to be back to Davistown for a Paddle NSW Marathon series race. This was the venue I had my very first marathon race some years ago, and the place brings some good memories. I also remembered this course to be one of the hardest and slowest in the series, due to the strong tides, wind, lots of weed and ferries crossing the course every half an hour or so. It was very much like that this year as well. The only difference was that the portages were scrapped for Div 1 - due to the high tide there was very little room for the entrance and exit, which could make it unsafe for paddlers approaching the portage in a pack. Also, according to my GPS the total distance ended up almost 1 km longer, so I don't think there was much of PB records set on the day.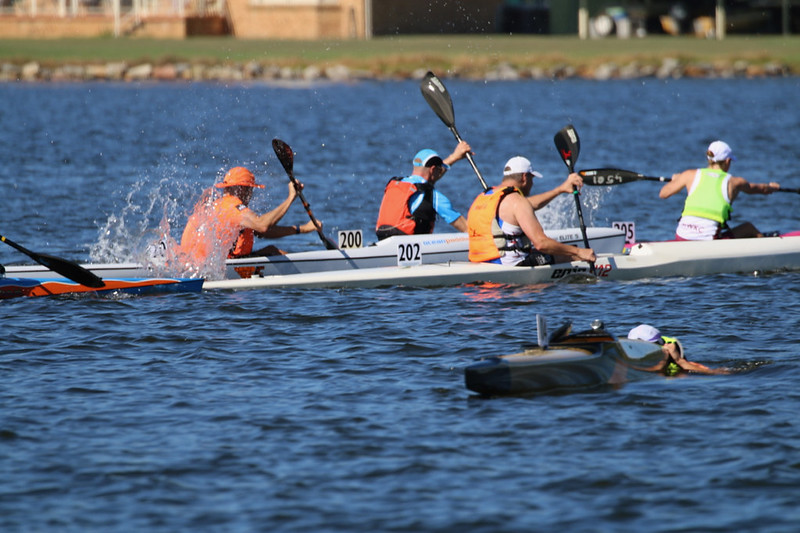 There were 10 boats in Div 1, including one double crew. I've been training a lot with Brett and two Jameses, who win most of the Marathon races these days, so I knew that my best chance would be to stay with them as long as I can so I don't fall behind the rest of the field. And once the pace settles to find someone of similar abilities to work with. The reality was different though, just after a few strokes at the start as I navigated towards a good spot in the pack, I must have put a paddle in a turbulent water and found myself swimming next to my boat. And just like that the race was lost for me.
Lost, but not over - I did not come all the way from Sydney for a little swim, so with the permission of the race officials I restarted on the back of Div 4. Very soon I was in front of all of Div 4 paddlers and started pushing to get back into the race. It took me about a lap to overtake all Div 3 paddlers and less than two laps to catch Naomi and Catherine who raced in Div 2. At this point however I realized that the front guys are getting further away from me and I am hardly making any ground on the rest of Div 1. Being almost a kilometer behind and with no assistance from a wash riding the chances of catching any of Div 1 paddlers started to look very slim. It was hard to find a good reason to push myself much further so I paddled the rest of the course at a slower pace and could only overtake Ziko. At the end I finished behind Peter Manley who raced in Div 2, with the slowest time in a few years.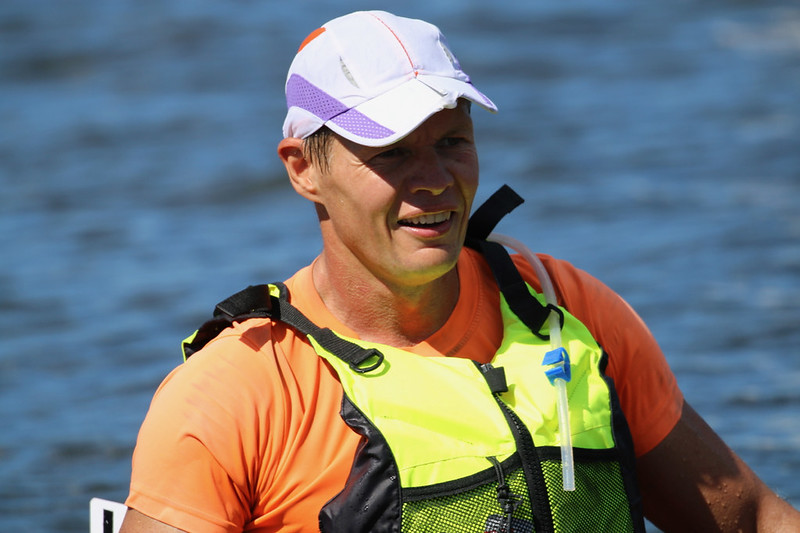 Above: finished!! (photo: Frazer)
There was a lot of cheering for my performance despite the result, which was very nice to receive. I was also very happy to see my training mates paddling strong and taking top spots in their divisions, and for the rest of the Lane Cove members racing very well. Going forward, I've got a bit more experience in this race, which despite not being all-positive, will make me stronger for the next ones.
Division 2: Had 6 starters of which Lane Cove had 3 Trevor Nichols, Pete Manley and Naomi Johnson. This was a race of the ski paddlers with 4 against 2 k1s paddle by Naomi and Catherine Atkinson from Manly, only Naomi finished the coarse, Catherine came to grief and called it a day. Trevor had a great battle with Michael from SSCC this is becoming a common event between the 2 very good ski paddlers Michael got Trevor on the finish line. Trevor 2nd, Pete 4th and Naomi 5th.
Naomi Johnson reports: ' A quick flick through the historical Davistown pics and it's easy to see that just about everyone paddling a K1 (and many that don't) has had a swim there at some point in time. I attempted to look graceful swimming my boat over the finish line there in 2017, Tony and Alanna did the same with a K2 in 2019. I feel like every year I put Davistown on the maybe pile for marathon races, and then every year rock up to paddle anyway! This year, the stars seemed to align for pretty good conditions, by Davistown standards at least. Not too windy, check, not hot enough for oodles of pleasure boats, check, no white caps....why are we checking that off in a marathon race?! After watching Dmitri's swim off the Div 1 start, I was a bit too tentative about the Div 2 start, watching Pete, Trev, Cat at the others speed off into the distance rather too quickly. Settling myself in for a few laps solo until the front of Div 3 inevitably caught me, I chided myself for being so nervous about the course. It really wasn't that bad, and with the exception of the 8kph return from the far turn buoy and a few weedy patches was shaping up to be good fun.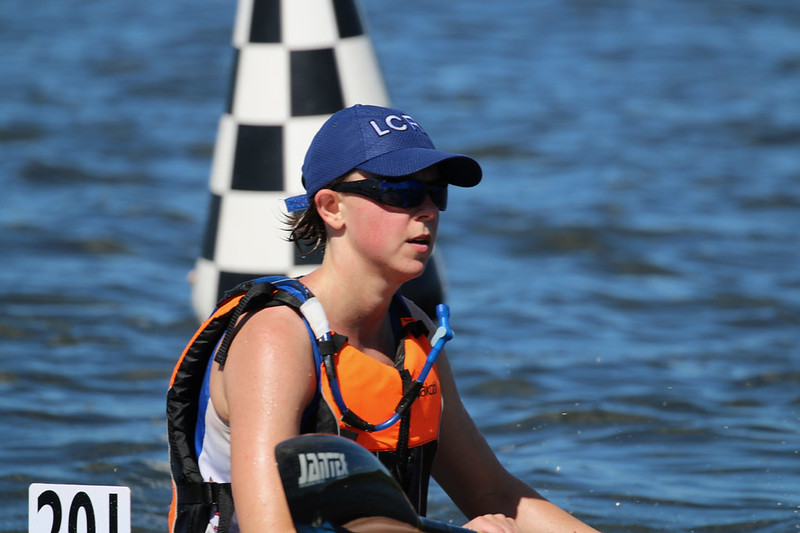 Above: Naomi at the finish. Photo - Frazer
The front of Div 3 did catch me by the start of the second lap, and I had some fun sharing leads with Scott and Mike in the K1s, then dropped back to Rich and Keg's wash for a bit. In the final stretch of lap three, we were surprised to catch Cat, who didn't look like she was having the best day. By the beginning of lap four the extra mental energy of this course was beginning to show, and just when I felt like sitting on a nice comfy wash for the remaining 4kms, one of the K1s capsized in front of me. He sent me off to get a safety boat rather than requesting assistance with reentry, but in the 30secs I had stopped the front of Div 3 had disappeared off into the distance, while the next group of them seemed quite a bit further behind. I finished the race feeling strong, but posting a time quite a way outside the Div 2 bracket. Still some work to do there. So having ummed and ahhed about this race, I'm glad to have given it another crack. Bring on Bateman's Bay!
Division 3: A big field of 17 boats, Lane Cove had 5 starters, Dave Young, Rodrigo, Don Johnstone, Tim Binns and Richard and Tony in there Double. Dave brought his V14 ski not his k1 and really flew around the coarse finishing 7s in front of Richard and Tony in the double, Tim came 3rd this was a great paddle in his K1 Don came 10th and Rodrigo 13th in a k1.
Division 4: A large field of 12 + 2 ranking paddlers we had 5 starters, Wade Rowston, Michael Lieberman, Graham Cleland, Chris Dickman and Jeff Hosnell. The start was very even Jeff got of to a fast start, Michael started in behind the front bunch but by the end of the first lap was sharing the lead, Wade had a very strong paddle and moved slowly up the field with Chris and Graham finding the conditions hard. At the finish Michael crossed 1st, Wade 7th, Jeff 9th, Chris 10th and Graham 11th. Jeff said: Every year it throws something at us this race, in the past I hated it but Saturday I enjoyed it I just went out and paddled and treated the different challenges as fun.
Chris Dickman reports: There were five representing the mighty Lane Cove in Division 4. Graham Cleland, Michael Lieberman, Jeff Hosnell, Wade Rowston and Chris Dickman. The conditions were "freshening" and as we were going to be on the water after most other divisions, the challenge from the tide was only going to exponentially increase late in the race. Every minute counted. We were joined at the start by Dmytro Medvedyev, who had to reload after the Division 1 start. We didn't see Dimi after that. With significant intestinal fortitude, he carved his way back through the division 3 and 2 paddlers – solo - to finish just off the pace in Div one. Well done Dimi
Mike and I started toward the far left of the start line, based on where we thought the best water movement was. Noting that it was a dog leg right to the first mark, Graham, and Jeff were more in the middle and Wade to the right. The pace was on and it stayed on to the first mark. Jeff in particular got off to a magnificent start, and was the quickest of us off the line The k1s had it over the skis. As he did in Canberra, Mike was very measured and ground his way into about 6th place at the first turn, with Jeff hot on his hammer. From there, the field started to spread. The top 6 had become the top four by the end of the first lap. Mike was in a tussle with two ranking paddlers and one of the Newy lads. Jeff was paddling well in about 6th spot. I was 50 metres behind Jeff, and Wade about 50m behind me.
The wind had notably picked up for the next grind to windward. Wade had paddled a very smart race to this point; working with the one double in the fleet. Taking alternate leads with the double. he cruised up through the fleet, allowing a couple of us to reset and move into the middle. Eventually, during the down wind of lap two, the double split the pack of about six boats. Wade responded best to the move. The rest of us were left to face the grind upwind rather more isolated. It must be said, every time we passed the start finish line, we were definitely lifted by the cheering and support of Daniela, Jill and Jeff's wife, Laura. At the front of the pack, Mike was duking it out . Heart rate monitors were creating new maximums. Fair to say that a few of the paddlers were "economical" in their observation of relevant markers. Mike, being a marine surveyor, was crystal clear on where course was – and what line to take. None the less four became three, and then two, as the pace quickened. The double was now up into third spot and Wade up to 5th.
It was great to watch the Div1 competitors surfing the ferry wash downwind. Our next thought, though was " oh crap, that ferry wash is now on our side". No harm done, but conditions were only getting tougher. The chop on the side toward the bottom mark was splitting the field. Jeff had now found a double from another division and was climbing back through the field when the double went for a swim on the turn, and Jeff did everything to not T-bone them, but lost some momentum as a result. Back to the grind and digging deep.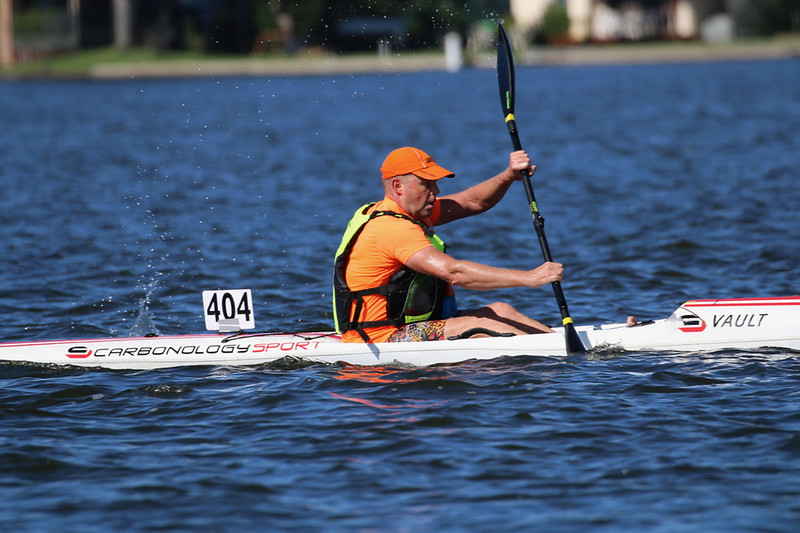 Chris. Photo: Frazer
You can tell a lot about the spirit of a club. It struck me at Windsor and again at Davistown. As soon as team mates finish their race, they come back to the water's edge to cheer the next team mate home. The noise for Lane Cover paddlers was just getting bigger and bigger. Any close finishes, the noise was to be measured in decibels. And so it was for division 4 paddlers, as Mike was in a sprint finish for the line with the racer from Newy. Great race and great finish, with Mike taking the chocolates. Wade finished superbly in seventh. Jeff came up on my right side with 300m to go and took ninth. That was a gutsy paddle. Graham finished in eleventh, passing a number of ranking paddlers and a couple that had set a blistering pace off the line.
Next was the highlight of my day. Lunch with my team mates at the local café. Post race debrief. Cramp and dehydration had to be addressed. I took Don Johnson's wise counsel on board. James Pralija is an expert in post race food ordering. The big breakfast would help with the slow recovery. The only issue was one being too buggered to chew. Caffeine would help with the drive home. In a brutal day at the office, where there were quite a number of DNFs across the divisions, Lane Cove Div 4 paddlers took home 217 points.
Division 5: There were 5 starters with Darren Williams and Craig Salkeld for Lane Cove, this was the first time they both had paddled Davistown but being good ski paddlers in the oceans this coarse suited them, Craig had a great paddle finishing 1st with Darren crossing 3rd.
Craig Salkeld reports: First time for me at Davistown, a classic piece of waterside Australiana with weatherboard houses, grass verges and crumbling roads. I was keen to improve on my first race at Windsor which I spent in a futile chase of John Duffy. For this one, Darren Williams and I were placed in a field of five in division five, clearly where the real competition begins. Excitingly, I had no clue on what lay ahead and making it a good days adventure paddle. Conditions looked perfect as we hit the water for a warmup, my only plan was to follow someone quick as I had only a vague idea of the course.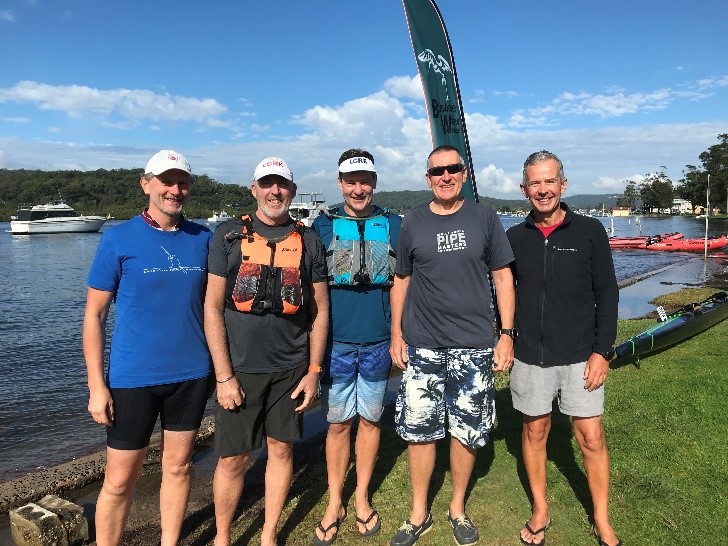 Above: Ski team!!
Lap one was a learning curve understanding that the wind/shallow water was going to provide some bumpy patches, that I should be avoiding all this weed, that ferries/pleasure craft shared the course with us and our division leader had a high cadence. Felt just like previous social Sunday paddles on Sydney Harbour. As the course doubled back on itself you had a good view of other LCRKers progress and the chance to yell encouragement at Barnesy. By mid lap two it was like wow, my high cadence leader can keep this pace up and he had opened up a gap on me. The wind was starting to build which is always a welcome opportunity to do a little surfing on the down wind leg. As I normally do I had a song playing in my head, this race it was Midnight Oil which certainly helped my energy.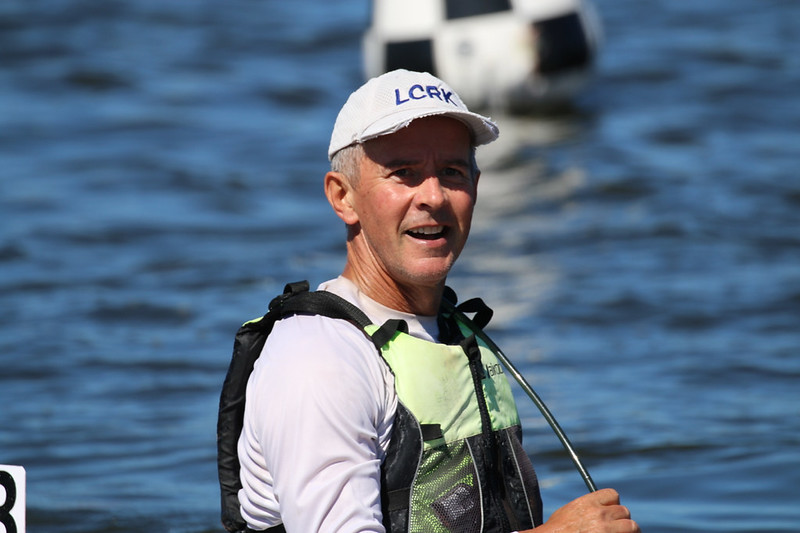 So I was surprised to be caught approaching the last turn of lap three by a competitor (great effort) but a loud diesel ferry plus the bottom turn being like a washing machine, created the interference I needed to jump ahead again. On the last lap I could no longer see our division leader but gathered my lack of remaining resources for the chase. By now it was a slog into the wind in bumpy water and a few boats were being rescued/retiring. What a relief to finally finish and to be cheered over the line by the Lane Cove team for a satisfying second. Unbeknown to me the man I had pursued had retired and so I had the bonus of moving up to first place !! How about that, my clever race plan worked. It was a fun eventful race, congrats to all LCRK finishers.
Division 6: there were 5 starters with Derek Simmonds and Paul Van Koesveld Paul had a very complete race a couple of swims and still finishing 2nd with Derek 3rd he had a very good race with no problems in his stable Flash. The winner was Linden and Richard Barnes in there trusty Mirage I notice d Linden having a few rests letting Richard train for his Tasman crossing I'm surprised Richard didn't paddle Blue Moon Linden could have sat on the back and called out stroke and beet a drum.
Paul van Koesveld: Thought I was smart bringing 2 boats, selected slimmer one because there was no wind. Wind immediately sprung up and boat traffic began. Sun came out though, which felt good. First two laps were fine despite ferry movements and a deep displacement converted fishing trawler sneaking up from behind; lap two included the a nearish escape from a pincer movement by the ferry and the "trawler". Somewhere a bit further on, Richard and Linden's big double and I moved past the early Div 6 leader.
A bit later in a less bumpy section (I'm a lot less slow in smoother than bumpier) I found myself in front of Kermit and going away. However, as the tide fell revealing more shallows for waves to stand up on and the wind picked up further, smoother sections became rare and I continued to hear Richard's cheery voice not that far behind. Distracted by someone falling in in front of me, I followed suit but the good Samaritan Kermit stopped to help me get back in more quickly. Unfortunately, I failed to notice that the paddle offset had become 110° R during the remount and I immediately dismounted again. Next remount and the paddle offset was 100° L but I noticed in time and wobbled off after adjusting. Richard and Linden were pulling ahead and I had no thought of chasing them after the first few hundred metres of shallows and bumps. To round off, someone just in front of me fell in at the notorious last turn and I immediately followed suit AGAIN. Chose to swim to edge to remount and STILL came in second due to the small field being really spread out in the conditions; Derek, who had also picked his tippler boat was next in. Thanks so much to the Rich Yates and Keg boat carrying service. Thanks to the organisers and thanks for the sun.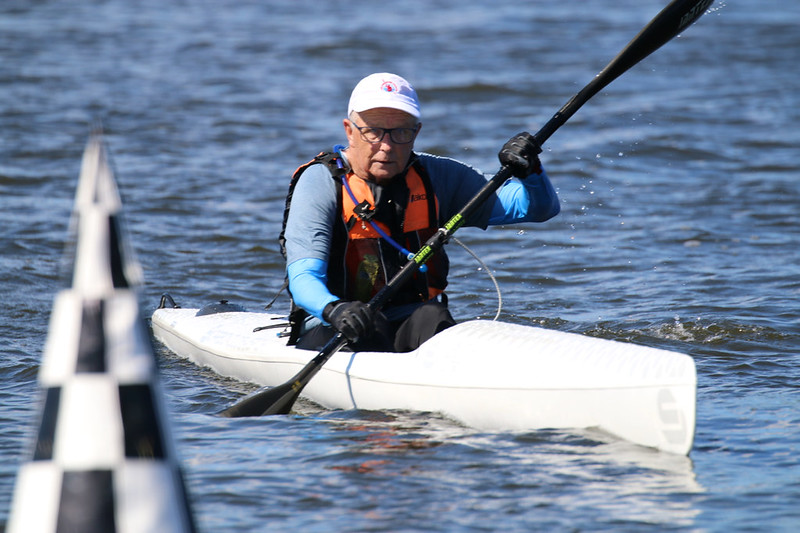 Above: Paul finishing... Photo: Frazer
Division 8: there were 11 starters with Jeff Colin's, Robert Llewelyn-Jones and David Hammond, this is always a very competitive race our 3 paddlers all paddled skis and had no problems. Jeff finished 3rd in a very good time, Robert 6th and David 9th.
Jeff Collins reports: Travelling up the M1 I was reflecting on the last time I had done this race. The first thing that came to mind was "it can get choppy'. On arrival all was calm and the sun was shining. However the closer it came to race start the stronger the wind and the more frequent ferry traffic through the warm up area. Lucky I was paddling a ski !!! With race start looming I could see the trepidation on some of the K boats paddlers faces.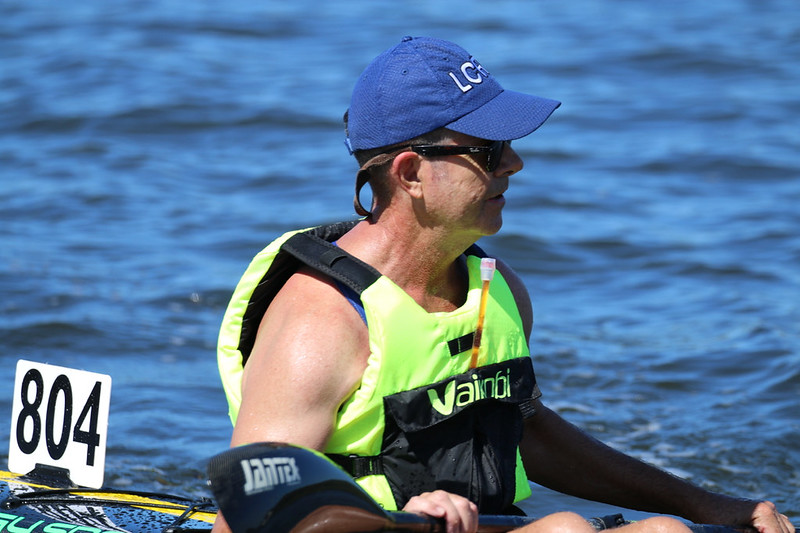 Above: Jeff enjoying the chop (Pic - Frazer)
After a good start I managed to stay with a double the entire race changing leads several times only to be beaten on the last turn. Coming in 3rd behind 2 doubles in division 8. Hats off to all those who paddled K boats in these trying conditions. We all should marvel at their skill levels. Well done to all the Lane Cove entries. The camaraderie was outstanding, as always. Considering the conditions (wind, chop, ferries, weed and numerous pleasure craft), it was a challenging and enjoyable paddle.
Division 10: There were 3 starters with Cameron Dickman paddling for Lane Cove it was really great seeing Cameron racing he picked a hard race but finished 3rd I am sure we will see him in a lot more races.
Division 13: Only 2 starters and the GREAT John Greathead battled the conditions and finished 2nd getting Lane Cove some very valuable points.
I must say the race at Davistown was a really great day of racing and inter club competitiveness Lane Cove showed what a friendly club we are, special thanks To Richard and Tony for the cheering and help at the finish getting out of our boats and Tony for carrying mine.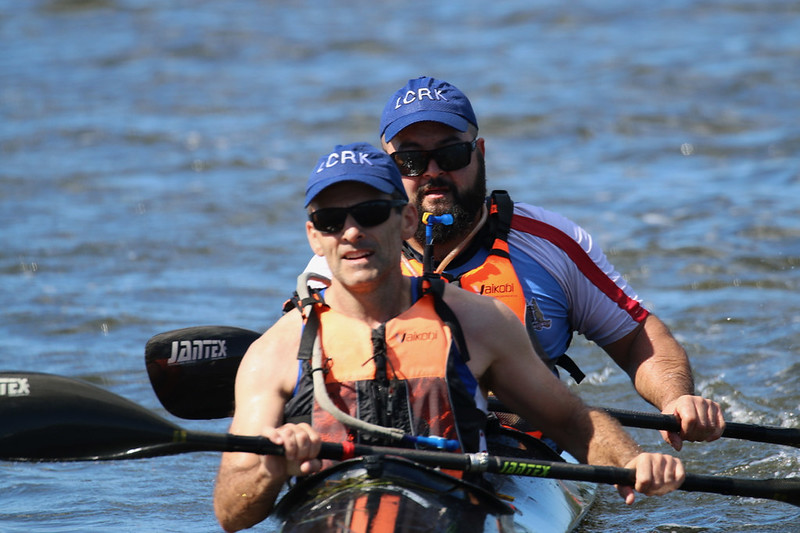 The LCRK Porter Service - Rich and Keg. Photo:I Frazer
Batemans Bay Bonus Race
Hope to see another large entry for Batemans Bay there are different distances or maybe look at teaming up with someone in the double. Would the K4 be an option? I would be interested in paddling that!!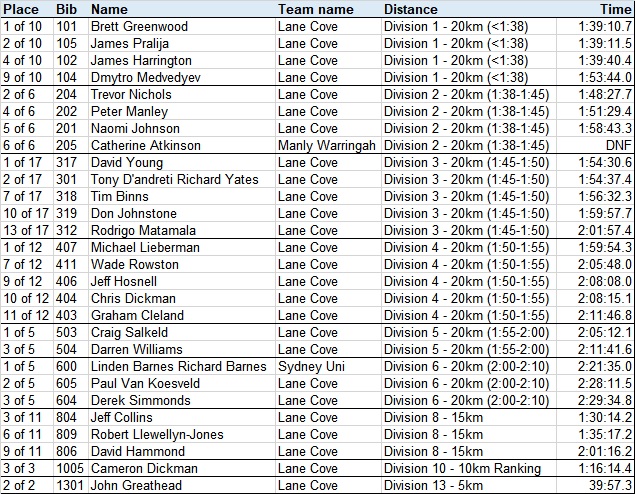 Above: Results for LCRK Members and regular TTers
Frank Harrison Memorial - Re-run - Sat 27 and Sun 28
Below is cut/paste from the Mitta Mitta race details...
Welcome to the 2021 Frank Harrison Memorial race. The FH race first ran in the 1980s as an alternative event to the Australian Marathon Champs for paddlers who were unable to travel to Perth. This year, in the absence of Marathon nationals, the FH race will again be run as an interstate event. Points will be awarded (100 points per class, with 1st 50, 2nd 30 and 3rd 20), with the winning state taking home the "Frank Harrison Interstate Marathon Cup".
There are two races over two days, with singles on Saturday and doubles on Sunday (you may paddle whatever boat you want on either day, however, only singles earn points on Saturday, etc.). You may enter one or both days. Standard entries close 8 pm, 25 March. Late entries (+$10) close 5 pm, 26 March.
Wearing an approved Life Jacket / PFD (Personal flotation device) is mandatory for this event.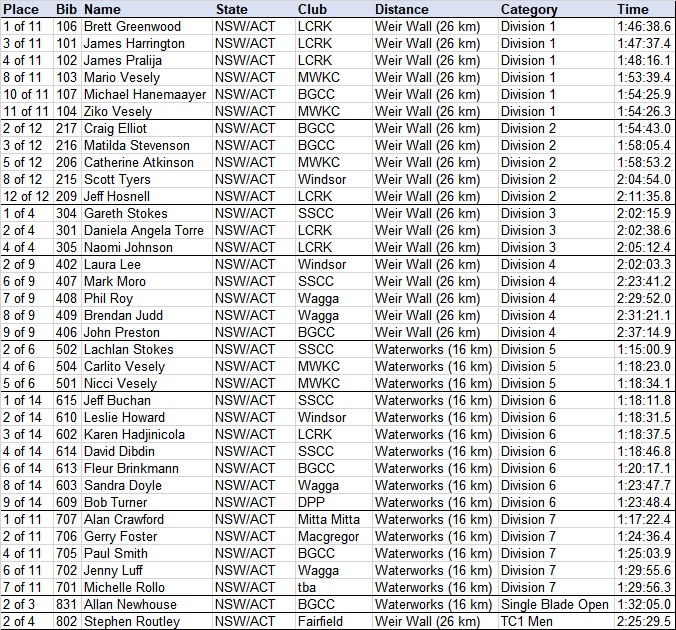 Saturday 'singles' Results for NSW/ACT entries

Sunday 'singles' Results for NSW/ACT entries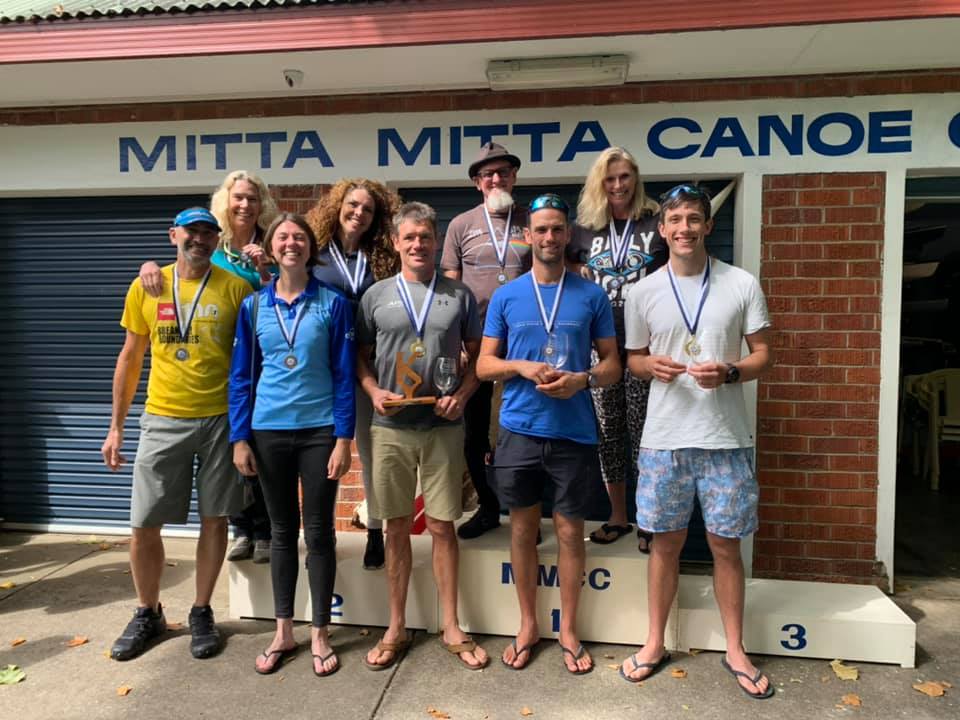 The LCRK contingent (incl regular TTers) - pic: Pauline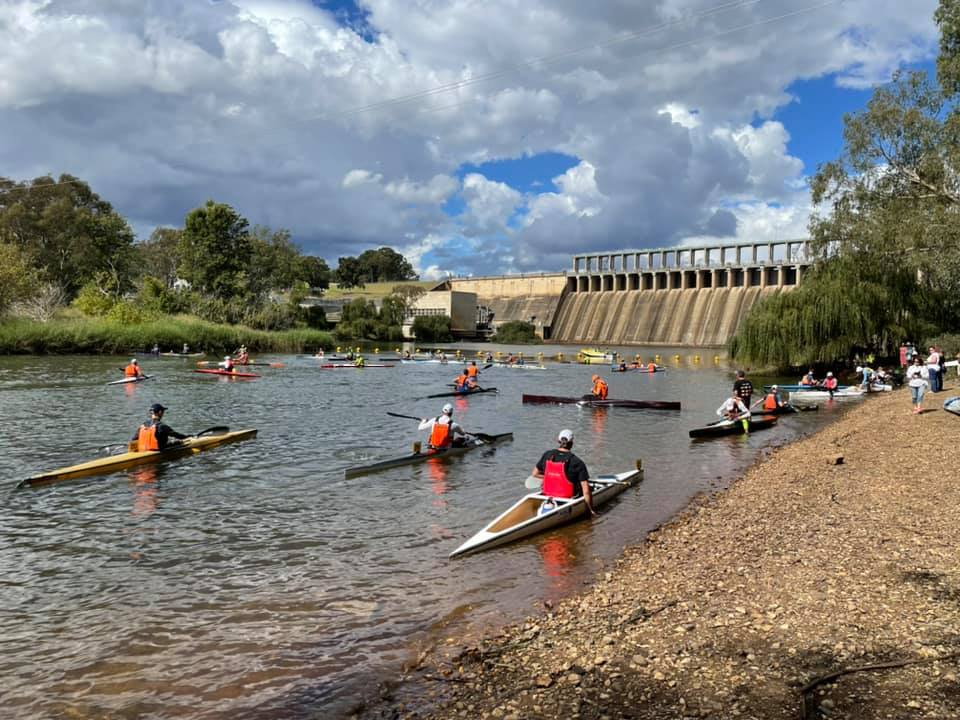 The start line under the dam wall - pic: Brett
The Burley Bash - Sun 21 Mar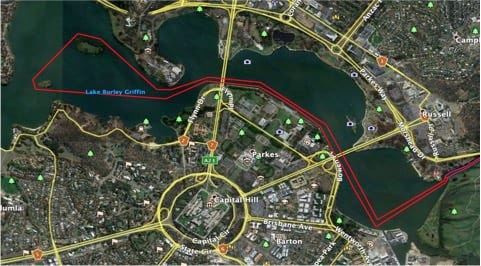 Map of course
Marathon #3 Canberra - Sat 20 Mar
MARATHON RACE 3 CANBERRA SATURDAY 20TH MARCH BY JEFF HOSNELL
We had a good turn out of paddlers from Lane Cove 23 + 5 regular Wednesday time trialers, and the club had good results across most divisions. This is a long trip for a race so thank you to all the club members who came to Canberra, and it was certainly the right place to be with all the bad weather in Sydney and surrounds. Canberra missed the bad weather, but it was a little windy, so the organisers decided to shorten the race and not let us paddle out into the bottom part of the lake, making the 20km race roughly 1.1km short.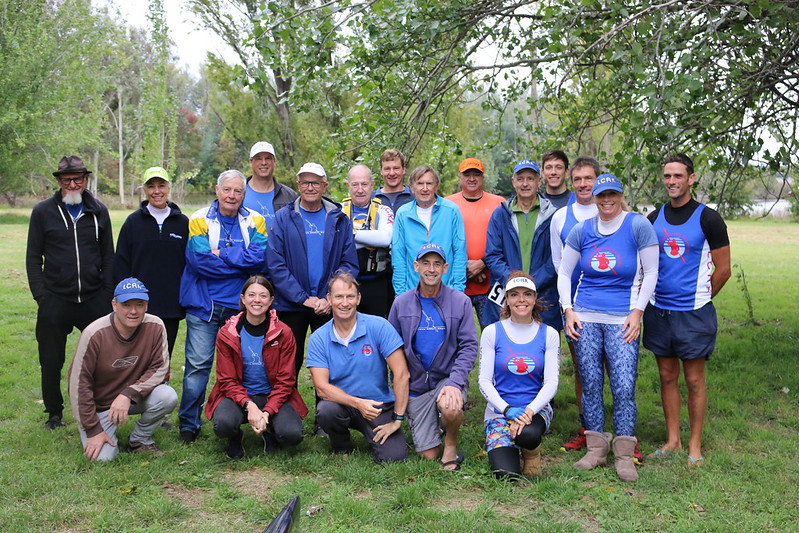 Above: Most of the LCRK contingent
Division 7: was off first but we had no entries in fact there were only 2 starters, all our new marathon paddlers should look at starting in this division at Davistown in 2 weeks!
Division 6: We had 3 starters out of 8, Karen Hadjinicola, Paul Van Koesveld and Phil Geddes, Karen paddled a great race and got her first win in a marathon race and a very fast time 1.52.27 for the division well done Karen, Paul finished 5th in 1.56.55 and Phil 6th 1.57.30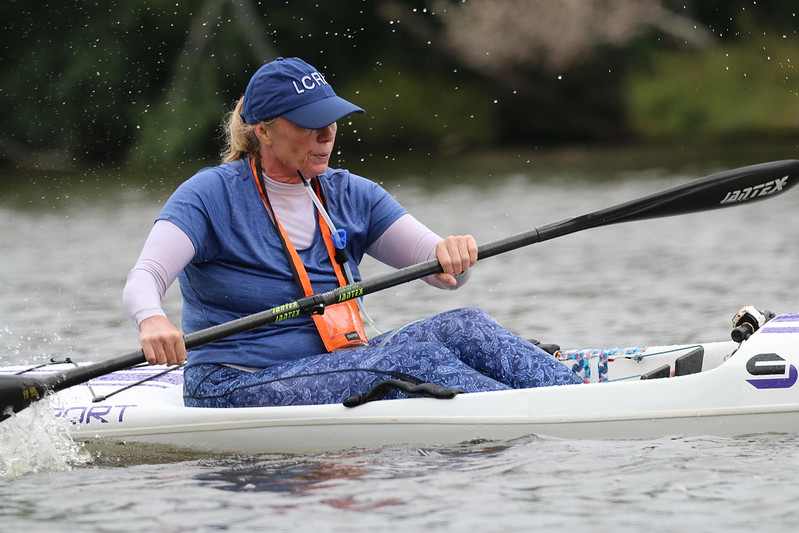 Above: Karen's strong finish
We had no starters in Division 5.
Division 4: We had 4 starters, Michael Lieberman, Presie John Duffy, Wade Rowston and yours truly Jeff Hosnell also 2 dual members Pauline Findlay and Richard ultra-Marathon-Barnes. This was a big field of 16 paddlers and I knew the pace would be on from start. I started at the back with Wade and Richard, and I noticed John, Michael and Pauline got off to great starts. Michael kept a strong paddle going throughout and eventually got up to 2nd place 1.41.40 should be in div 3 soon, this was great race by Michael who was off paddling for a number of months and is just now seeing the results from a slow buildup of training and time trials. John kept up a strong paddle to finish a very good 5th (1.44.07), Pauline 7th (1.44.25), Wade came home strong in 12th (1.46.28), then Jeff 14th (1.46.54), then Richard in a borrowed sea kayak 1.51.51. Wade Rowston reports: "There was a big field of 16 boats plus one ranking paddler in Div 4 with LCRK paddlers Michael Lieberman (with newly installed turbo charger i.e stent), John Duffy (shoulder now fully recovered), Jeff Hosnell, Wade Rowston, Pauline Findlay (in form & representing MWKC) and Richard Barnes (representing his beloved Sydney Uni). John And Pauline got off to a flying start and were with the lead group. Michael and Jeff had solid starts with Wade splashing around at the back listening to Richard have a nice chat to people on the river bank. There was good pace on across the field on the first lap with the leaders still in sight. Michael, now warmed up, powered through the field and was chasing down the leader John Denyer from Sutherland Shire. John managed to get a small break on Pauline of only about 20 metres which seemed to be maintained the whole race. After a lap, I settled in and started to catch a few paddlers, one of them being Jeff who had been going strongly. Richard was still lingering at the back of the field which he usually does for a couple of laps then puts on the afterburners and picks up half the field or more. However it was not to be this time. Think he left the after burners at home. Michael maintained his pace with a strong paddle to finish 2nd just 20s behind. John went very well too right to the end and came home in 5th holding off Pauline in 7th with a double separating them. Wade led a small pack trying for the last lap and a half trying peg back another small group about 50 metres ahead. With 100 metres to go Richard Fox from Canberra overtook and we got to within a boat length. Wade came in 12th with Jeff finishing quickly only a few lengths behind in 14th. Richard had a lovely paddle and was very happy to finish 16th. "
Division 3: We had 4 starters, Tim Binns, David Young, Daniela Torre and Don Johnstone with dual member Gareth Stokes, 12 starters in this div and again some very fast paddlers, Tim got across in 3rd place in 1.38.51 a very good result because Tim is slowly building up to race speed after a long layoff. Gareth got home 4th in 1.38.52 after some close racing with Tim, and David close behind in 1.39.11 must have been a good tussle between these 3 with Daniela close behind in 1.39.54, followed by Don in 1.41.31. Don provided the following "Canberra for me was a last hurrah before a heart procedure and a couple of weeks with no paddling. I was backing up for the Burley Bash on the Sunday so the aim was to get around the course without getting my heart rate over 160 (after hitting 250 a couple of times earlier this year - which I don't recommend). The good thing about paddling at a heart rate below 160 is that I could be last off the start line for Div 3, and have clean water all the way around the course. I could holler out encouragement to my fellow Lane Covers. And I could hope for a Steven Bradbury moment. As it turns out, only one of the 10 paddlers in front of me crashed and burned, so it wasn't much of a Bradbury moment, but it was a great day out with a wonderful community of paddlers."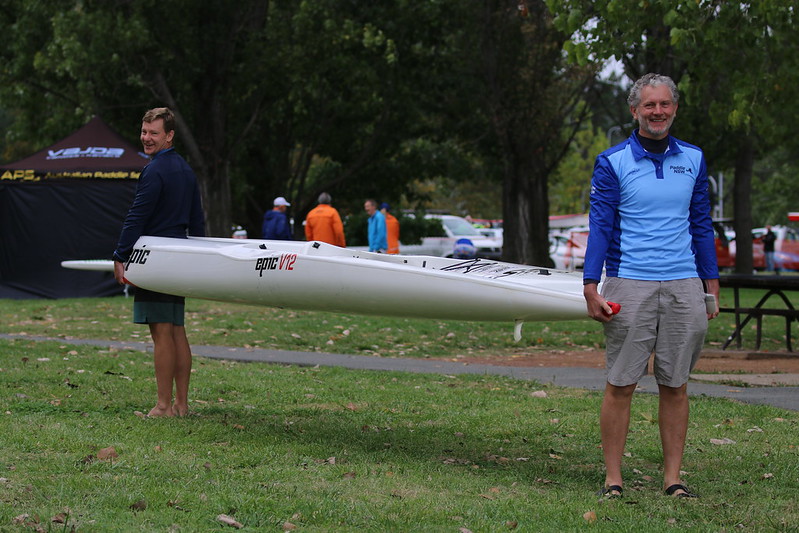 Above: Trevor and Don - luckily they weren't in a double!
Division 2: We had 4 starters, Simon Stenhouse, Trevor Nichols, Peter Manley and Naomi Johnson, 12 starters in this div again this was a very fast race. Simon in his first LCRK race came in 4th (1.32.57) followed by Trev 5th in 1.33.24, Peter 9th in 1.35.58 and Naomi 1.39.10. Simon Stenhouse is a new LCRK Member but long time friend of Alanna/Tony from down at 'the Cottages'. Simon was out in the ex-LCRK Epic V14 in his 2nd ever run – a great result with more in the tank. Peter Manley Reports: "THE VIEW FROM THE BACK OF THE PACK - It started the same way as for many other participants - alarm startles you at 4:50am only to hear the delicate patter of torrential rain. Do I have to go? I could sleep. Damn, told Dave Young I would travel down with him, and my boat is already on the roof of the car. Luckily by the outskirts of Sydney the rain had cleared and so it remained for the rest of the day (until we were heading back to Sydney). Having got over the early start we eagerly jumped out of the car at Molonglo only to turn around and look for something warm - bit cooler than anticipated. I'd had a look at the start list and realised that it was a fast field, and I've lost my edge since going back to work. Canberra seems to be a hoodoo race for me also, so I went in with low expectations. The start was quick and I found myself a boat length behind (with Trevor) by the first corner. No problem I thought, I can ride some wash and hopefully catch up. Trev stayed with me then edged forward for me to enjoy his wash, though he was keen to catch the next ride and I couldn't hold the 2nd pack. From there it became a lonely race as the leaders, enjoying each other's company, extended the lead little by little. No matter I kept plugging away with the next goal that no-one in the Division behind was going to pass me (achieved). The course ended up being fairly protected despite a good wind blowing, and the temperature was good for paddling. In the end I finished 9th but time was acceptable proving the standard in Div 2 has gone up a notch. Guess this means more paddling and less wine. It was great to see some old faces from other clubs and to have a BBQ for the first time in forever. Burley Griffin always put on a good race and this year didn't disappoint."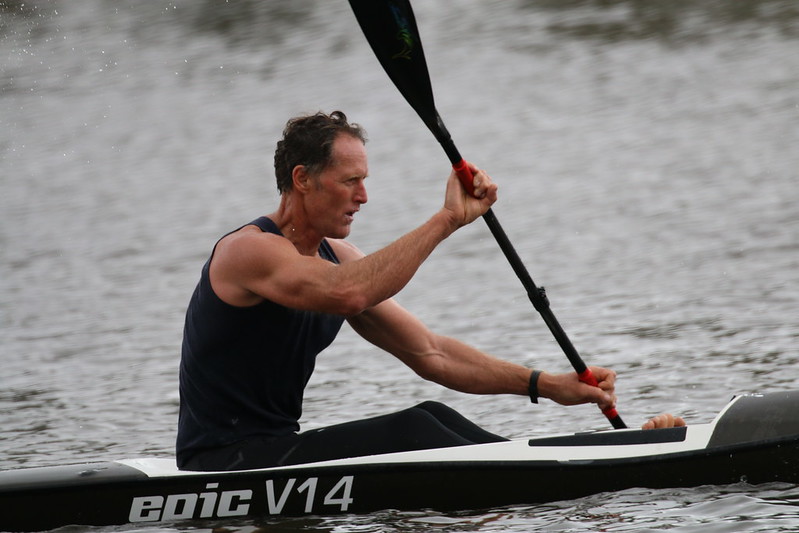 Above: Simon looking comfy in 2nd V14 outing
Division 1: We had 4 starters out of a field of 7, Brett Greenwood, James Pralija, James Harrington and Dmytro Medvedyev. The div 1's was a true marathon race with 4 portages and please look at the photos to see the effort these paddlers put into each leg of the race. What a close race this was, Brett got home by .01 of a second from James Pralija now this was Jame's birthday now I'm sure Brett was trying to give it to James but didn't tell the judges, but that looked like a great Birthday Cake after the racing. Third was James Harrington in 1.26.21 with Dmytro 6th in 1.32.07. James Harrington reports: "We started the morning with discussions about our configuration of the portage if we wanted Pontoon-Pontoon, Pontoon-beach or pontoon-you decide. All of us agreeing it was good to practice pontoon portage. After watching div 6 and 7 start we all made our way to warm up area with all of us looking to practice exit and entry for the pontoons. Clearly I don't portage off the pontoons enough going for a pre-race swim (to cool down). At the start of the race we had seven people all who could be part of our pack. We started fast with a number of quick changes in the group as everyone started trying to find a spot. By the top turn the four of Brett, Michael and two James, had been established with a small gap on Mick and Dmitry with Jason chasing them. For the remainder of the first lap there was a number of small lifts as everyone worked out who was feeling good. In the lead up to first portage the pack changed a number of times as Brett and I worked to each get to our favoured portage side. Lap 2 and 3 were calm and steady laps until we entered our final portage. Brett and I pushed the pace on the run and re-entered first. Seeing a gap we kept the pace on. When James P caught Brett lifted dropping me off the wash. I slid back to Michael as we pushed to try make up the 2-3 length gap. Both pairs pushing hard for the rest of the final lap but not rejoining."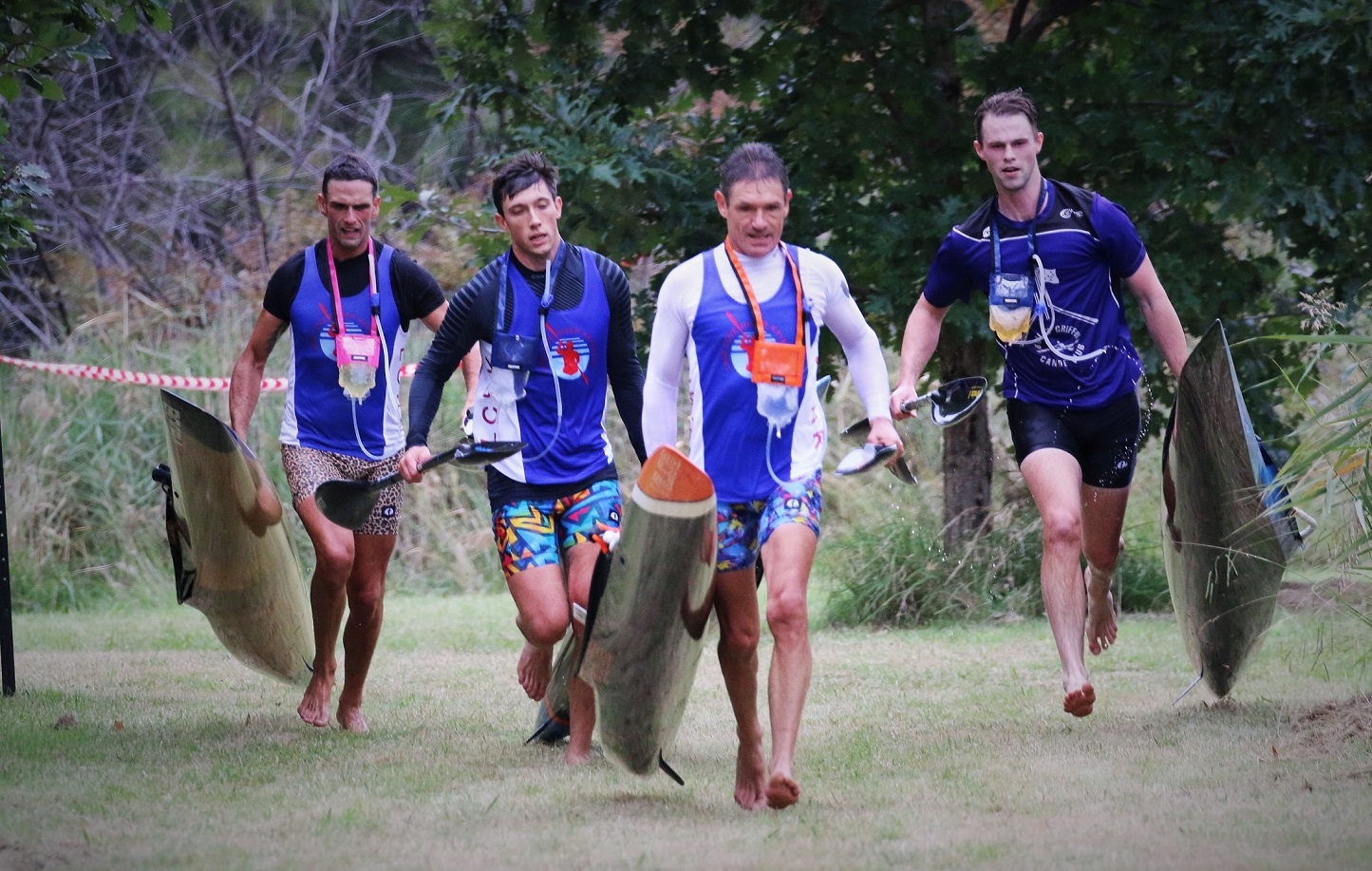 Above: fleet footed Div 1 portage - Photo: Frazer
Division 8 15km: We had one starter David Hammond and Gareth's son 15 yr's Lachlan Stokes a dual member and regular time trial paddler. This is always a very competitive race we normally have a strong Lane Cove entry but because of the distance to Canberra they stayed home and got wet. It was great to see David out racing he is taking every advantage to paddle. Lachlan had a very good paddle and came in second to another under 18 paddler in a time of 1.15.53 so the future is looking good for marathon paddling, David came 9th in 1.31.50.
Divisions 9, 10 and 11 we had no starters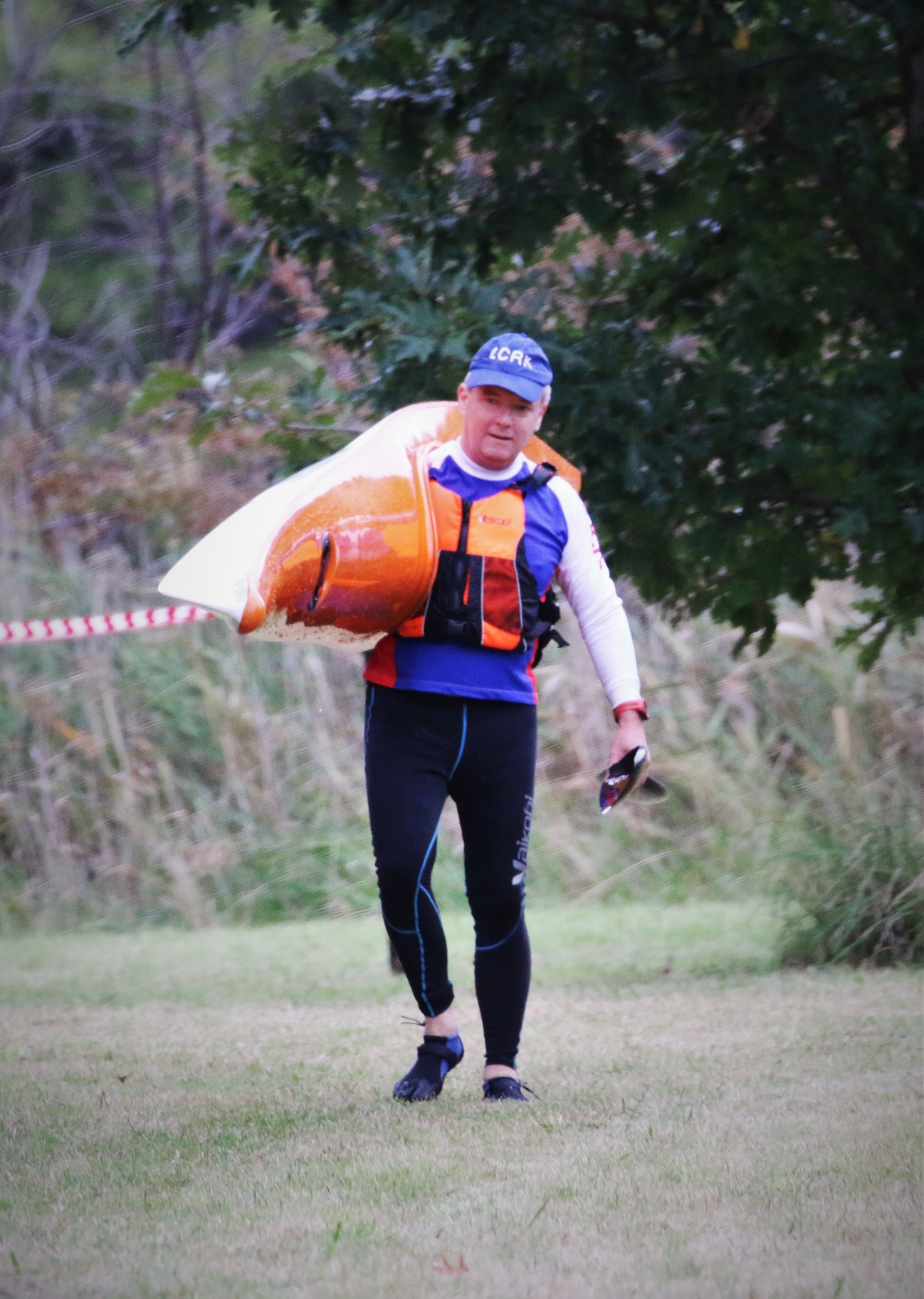 Division 12 10km: we were represented by Ian Wrenford minus his son Lachlan (helping his Aunty shift house in Queensland). Ian came in 6th in a time of 1.05.41 which included a portage. Ian reported I needed a stretch after the first 5km (sore back, sore seat) so elected to try out the portage. Didn't speed up proceedings but sure felt better having had a stretch.
Division 13 5km: We had 2 starters John Greathead, and Kevin Mulally in his first marathon race, Kevin came second in 29.31 and the feedback was he really enjoyed it, so good to see your always smiley face Kevin - see you at Davistown? John came 5th in 32.51 another good paddle John. Just quietly they both launched 45 mins before their start which gave ample time for a 5km course recce before the main event?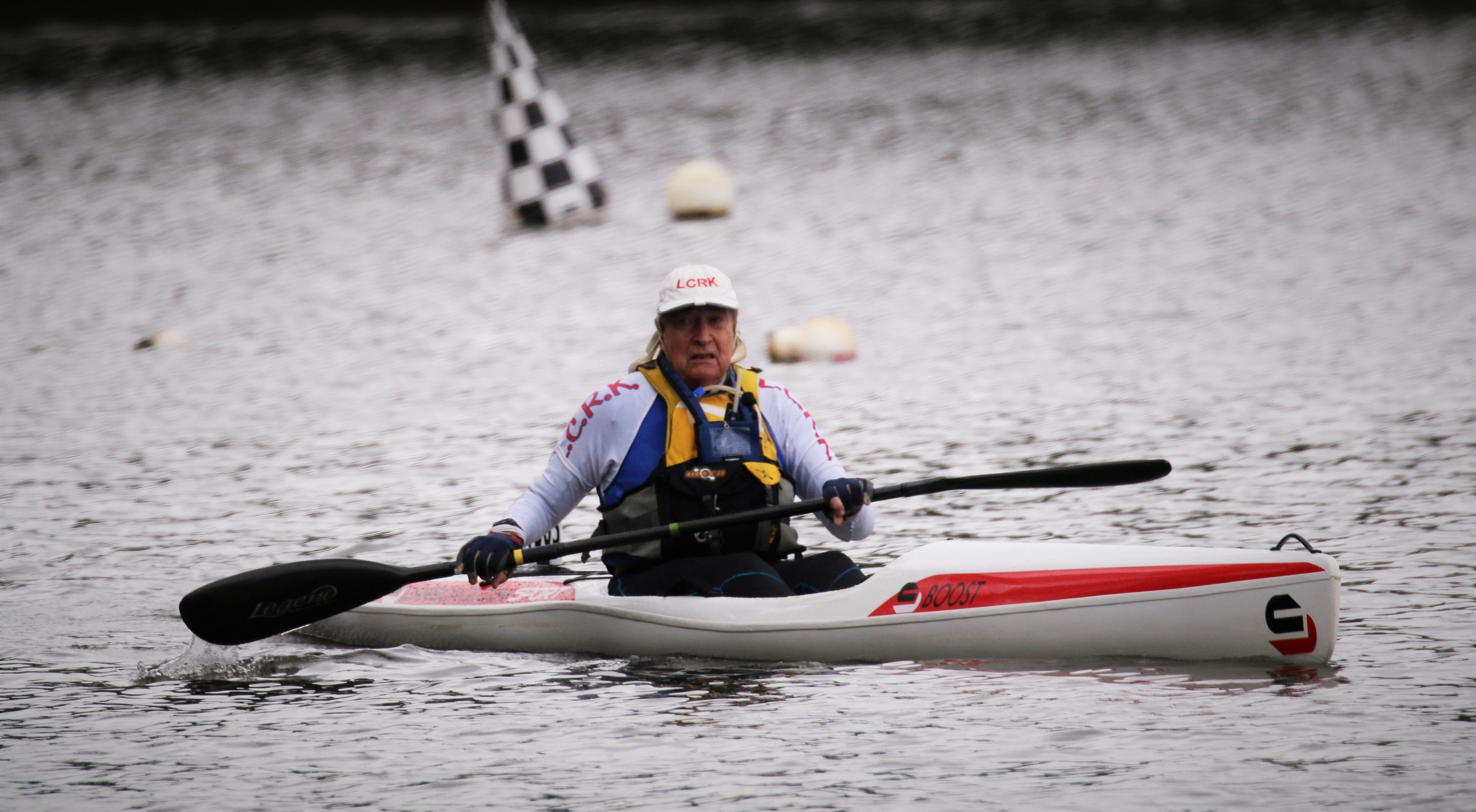 Above: John freshly finished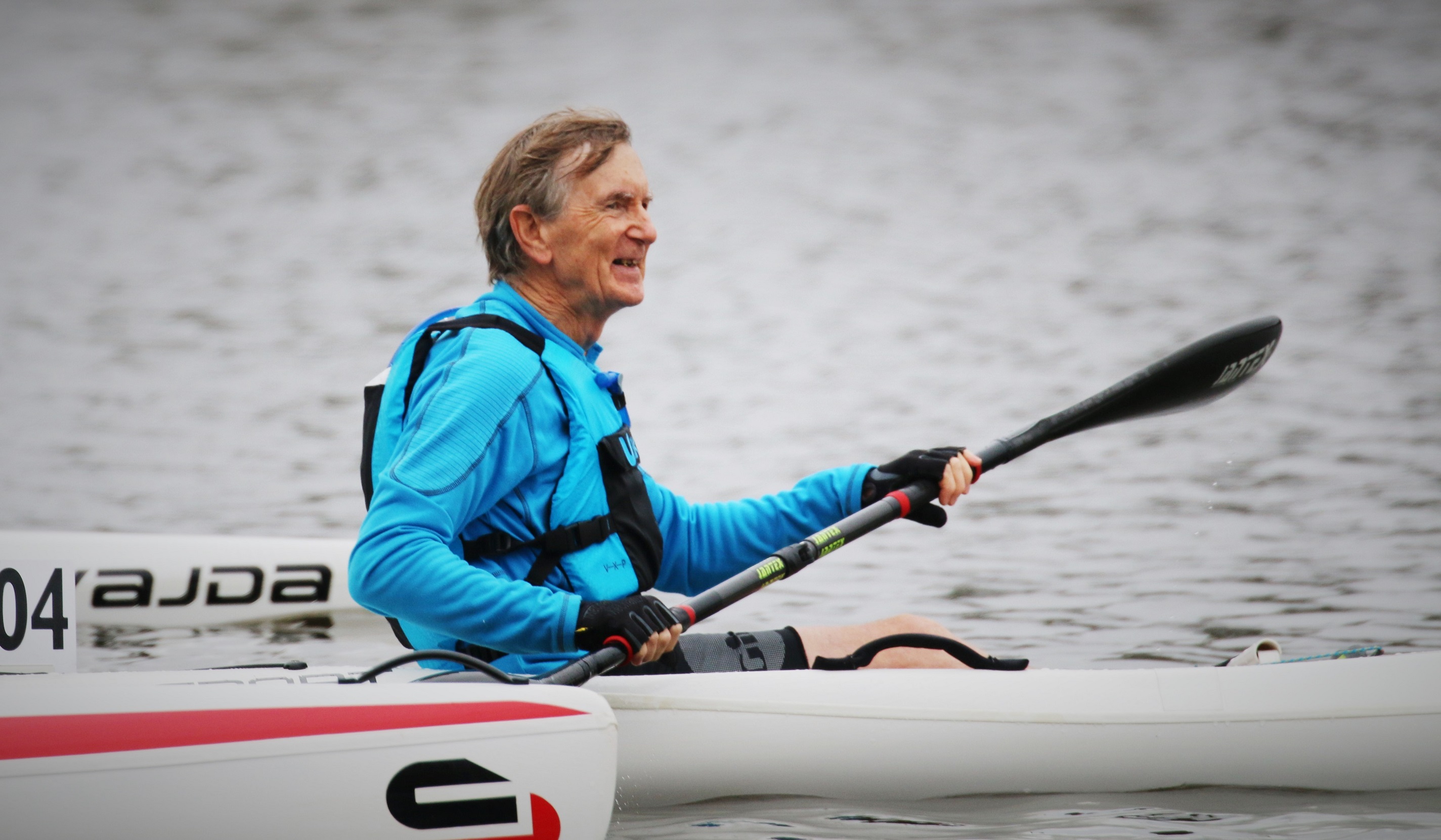 Above: Kevin freshly started
Again another great event run by PNSW and the host Club Burley Griffin. Frazer Ruddick (Naomi's partner) took charge of the camera again while Ian got his paddle in. Some great shots of the start, portage and early finishers. Frazer and Ian discovered some undiscovered camera features which improved the chances of good shots! The next race is the rescheduled Frank Harrison in Albury this coming weekend. Remember this is a bonus round for points and you have singles on Saturday and doubles on Sunday.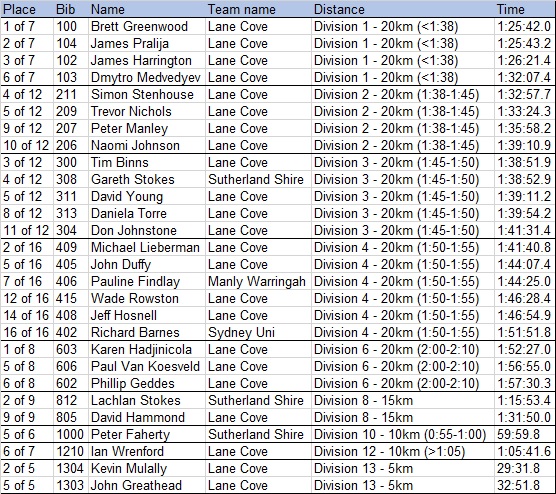 Above: Results for LCRK Members and regular TTers
Marathon #2 Windsor - Sat 6 Mar
From Jeff Hosnell
This was the first major race we have had for 2 years and a number of Lane Cove paddlers have been chafing at the bit to get into real racing, training has been in full swing with 3 race training groups and looking at the PB's happening on Wednesday night it has been a success and they were ready to race.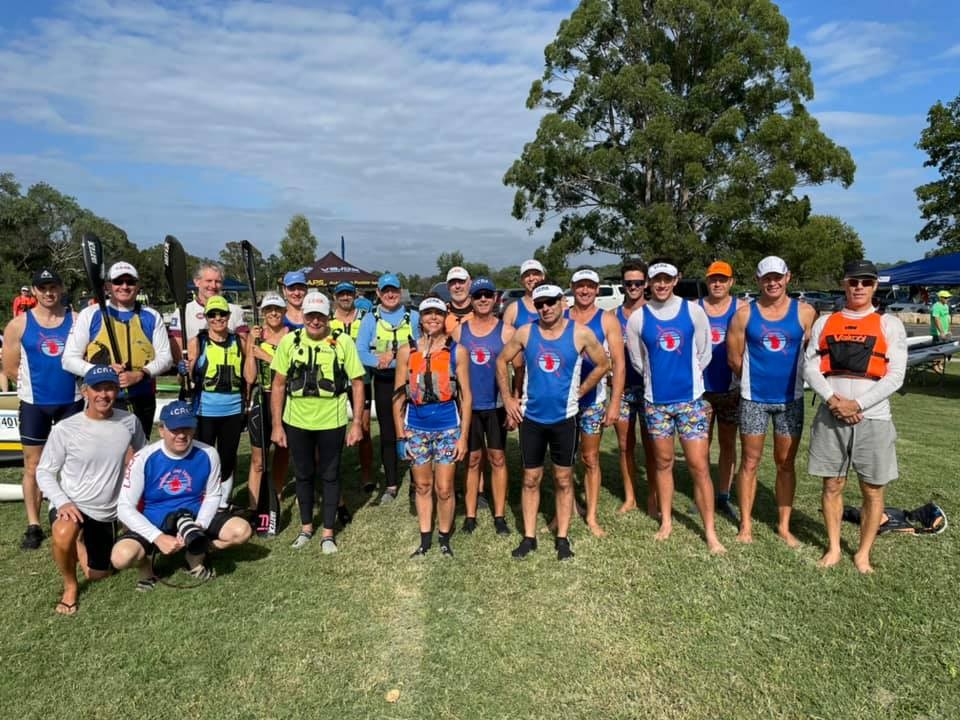 Above: Some of the LCRK paddlers at Windsor (image: Jill Greenwood)
Lane Cove had an amazing turn out for the event across all classes 38 paddlers plus a number paddling for other clubs who are regular Wednesday nighttime trial paddlers, and I must mention a large number were in K1's for States. Special mention to (K1 States) first timers Alison, Merry, Caroline, Richard and after many years Duncan.
We had amazing success 10 Gold Medals and a number of Silver and Bronze, well done everyone who participated, and I must say the support on the water and at the portage and finish line was fantastic. Please check out all the results at Webscorer..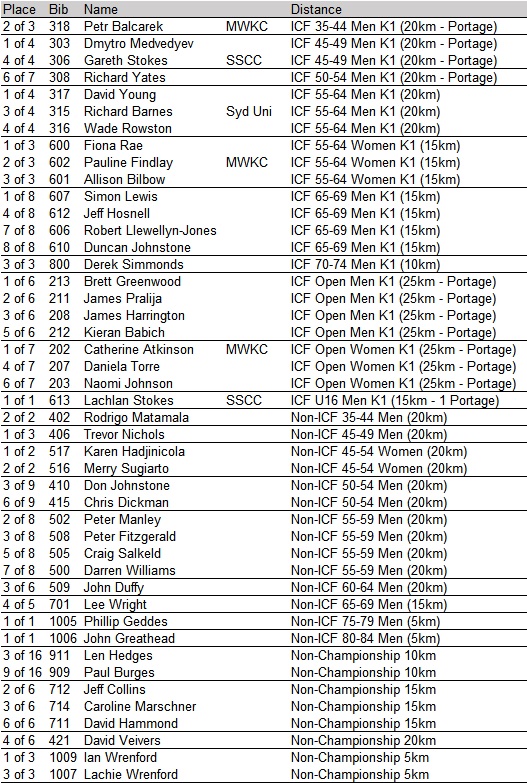 Above: Results for LCRK paddlers (and regular TTers)
STATE CHAMPS - from one of the LCRK female paddlers..... Fi's Race Report
The state titles were held 2 days before International Women's Day and it was great to see the entries for the Open Women's division out numbering the Open Men's division!!! In total there were 134 paddlers racing of which 20% were female.
The day began with clear cool skies and I was thinking to myself what a great temperature for racing, however, by the end of the race Windsor had well and truly warmed up. Word before the start was that Warragamba Dam had let some water out so the river had quite a flow to it. The course had each division heading upstream with 5km laps. Naomi's advice of hug the riverbank upstream and head out to the middle of the river on the downstream was welcome. Whilst this may be second nature to many club members, for me being my second race outside the regular Wednesday TT it was great advice. I was racing in the 55-64 years Age Division (15km), and once completed had a great opportunity to see most of the remaining paddlers finishing their races including the beach portage.
Catherine Atkinson was impressive to watch winning the (25km x4 portages) Open Women's by 3 minutes. Daniela Torre had a tough sprint to the finish just pipping Montannah Murray for 4th place (0.4 sec) and Naomi Johnson finished in 6th place. It really was inspirational to be able to watch the Open Women in full flight.
Pauline Findlay and I had a great race in the 55-64 Division, with the main difference being my better start - jumping on and wash-riding fellow LCRK Simon Lewis for the first couple of laps. Allison Bilbow came in 3rd giving LCRKers a clean sweep in this division.
Karen Hadjinicola -1st and Merry Sugiarto – 2nd took out the 45-54 non ICF 20km division.
Caroline Marschner paddled the 15km non championship division coming in 3rd place (with a double taking out 1st place).
It was great to see so many paddlers back racing after a difficult / COVID-19 interrupted year.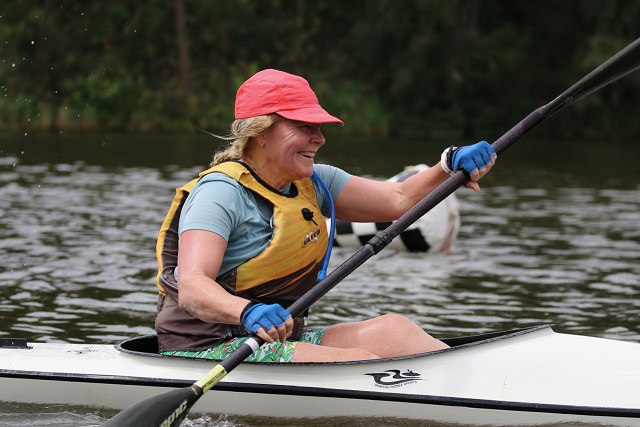 Above: Allison all smiles at the finish (cheer squad assisted)
Merry's Race Report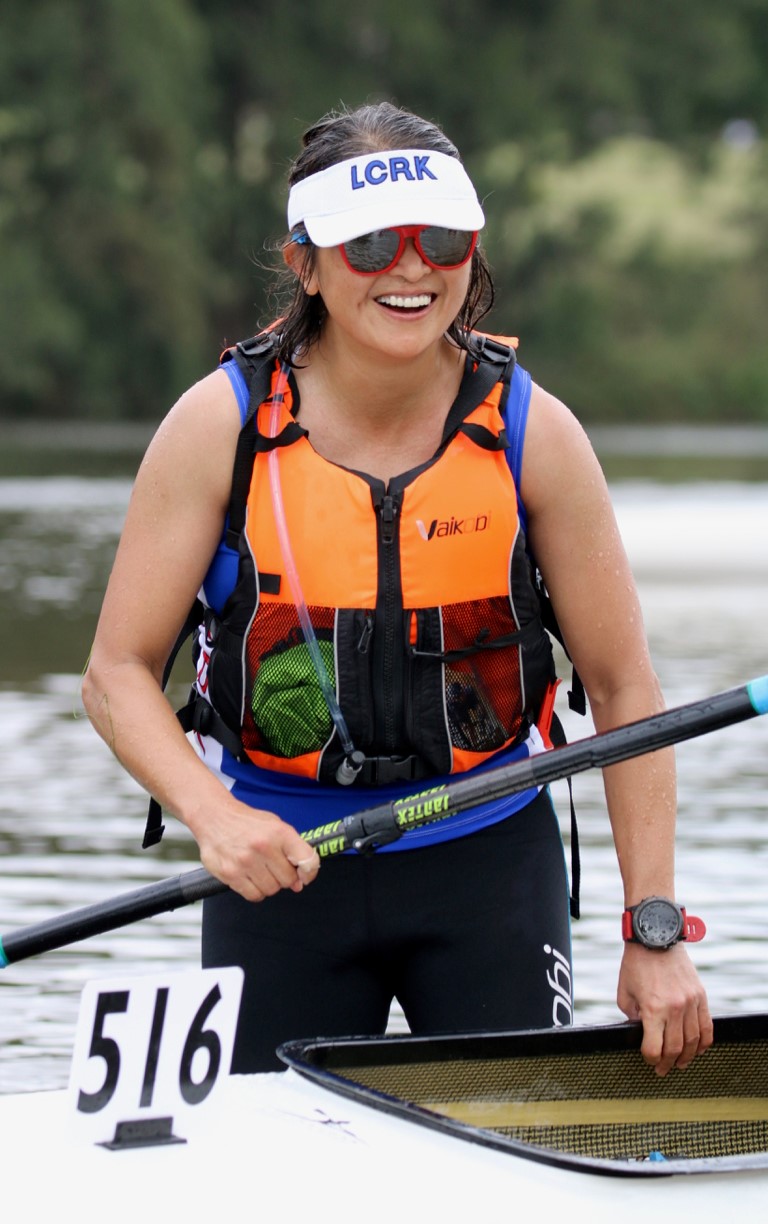 I don't have much 😊 apart from being my first K1 race, and not understanding the water condition I was paddling in the middle of the current upstream. Until on my last lap a friend who paddled her canoe, told me to move to the bank, as I was running in the middle of the current which explained the spin and the resistance!
So overwhelmed and grateful to have the encouragement and support from the other paddlers and LCRK paddlers cheering at the finish line and Dave even carried my boat to my car.
Trev's Race Report
I had never participated in a state or national event before so was looking forward to something a bit different. The race was over the same course as the traditional marathon series at Windsor but with no K1s in my start.
My age group only had 3 entrants so thankfully started with the over 50s which is more competitive and included a div 1 paddler, Todd Boreland. I had a good start and very quickly was up front with Todd. It was relatively hard work into the tide and current for the first few kms but wow what a pleasure to turn around and paddle back at over 13kmh. That is just fun.
On the second lap we started to catch some of the K1s who started a few minutes before us and had to portage (which my start did not have to do). On the third lap we caught Petr after his portage and he joined Todd and myself to share the leads. Petr and I have been tussling it out in recent TTs and it was good to do so again in what was his first marathon.
I pushed the pace on the last lap doing most of the leading as was on track for a PB which I got. My time was a few seconds over the magic 100 minutes. Next time I will have to be better or hope for a course that is not 300m longer than the required 20kms :) For the record Todd outsprinted me but I was faster than the other div 2 paddlers who did 20.3kms although I suspect the portaging adds a few minutes...

Above: Trev's big finish, Petr just behind
Jeff's Paddle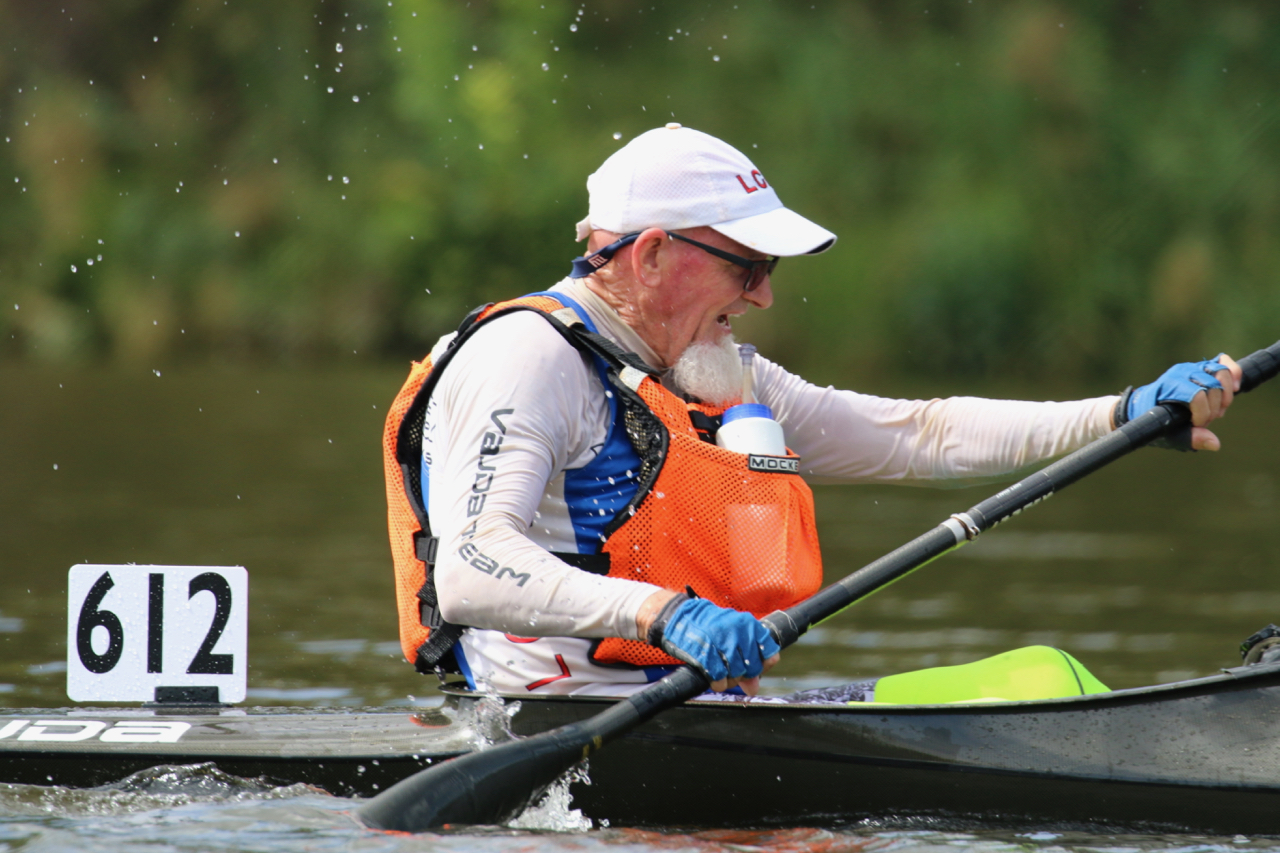 I was in the 65 to 69 K1 class, this was my first race in my new boat and I knew I was not going to be fast I just wanted to finish. There were 8 starters of which 4 from our club, Simon, Duncan, Robert and me! I didn't realise they added others into our group until on the start line, Lachlan Stokes from Sutherland under 15 Champion, Fi and Pauline. Well I knew the start would be fast because I started with Lachlan on Wednesday night and he went of like a rocket - same happened in the race. Lachlan took everyone out quick smart, except for Robert, Duncan and me. I just wanted to finish and get better as the race went on, I had no dramas and finished very fresh. Robert had a new boat Vajda 46 supplied by James and Matt at Prokayaks and loved it. He would have placed 3rd or even second if he hadn't fallen in at the bottom mark first lap, he loved the pedals.
Simon stuck with Lachlan for most the race and won our class easily, Lachlan who finished in front won his class, Fi won hers and Pauline was second. I really enjoyed watching the finishes of the open men's and women's races the strength in both classes has really come on will done everyone in those race's.
Rich (Yates that is)
Question: When's the best time to make your portage debut?
Answer: The same time you make your K1 marathon debut, State Champs? Even better.
Yes after flirting with the idea for a while I took the plunge and enrolled to compete in my trusty Legacy for the State Champs. We have had a few low tide portage lessons at squad with great demos from Wade and Naomi, so I had an idea of what I was supposed to do. We also practiced starts at squad, and the importance of a good start and consequent washride opportunity it provides was not lost on me. Alas, my start was marred by an errant paddle from my neighbour who unfortunately ended up in the water and he very nearly had me for company. So, in arrears from the get go, I was quickly joined by Richard Barnes for the first lap. Richard hugged the shore on the upstream leg while I stayed deep.
Soon enough, into portage number one. Success!, sort of. A less than graceful exit but a solid run saw me gain a little ground on Barnsey (probably cos he stopped to have a chat with some spectators). The portage handles (graciously installed 1 hr prior to the race by Kieran, thank you) worked a treat and provided good handling ability out of the water).
Lap 2 was a rinse and repeat for Richard and I. Portage number 2 was much better with a steady exit and balanced entry, narrowly avoiding being run down by Don J and co on their portage bypass. Richard and I held on to the back of that bunch of three. Don had spied Richards bank hugging antics and proceeded to hug the bank with about 2m to spare. That left 2 metres for Richard B to squeeze up into with me in his wash. Honestly, I saw more earth on that upstream paddle than on my portage. The local farmers can plant crops in the furrows my rudder left in their paddock.
Portage 3 was a shambles, too tired, I fell out of the boat at the exit, it filled with water. I lifted it up and nearly took Duncan's head off as he paddled in behind me. Sorry mate. The last lap just hurt, but I enjoyed the race, didn't quite come last and helped out the farmers in the process. I felt buoyed on by cheers from the crowd at various stages. Lots of encouragement for me apparently, until I worked out they were cheering for Richard Barnes, not Yates necessarily. Still I take it when I can.
Duncan's Report 65 to 69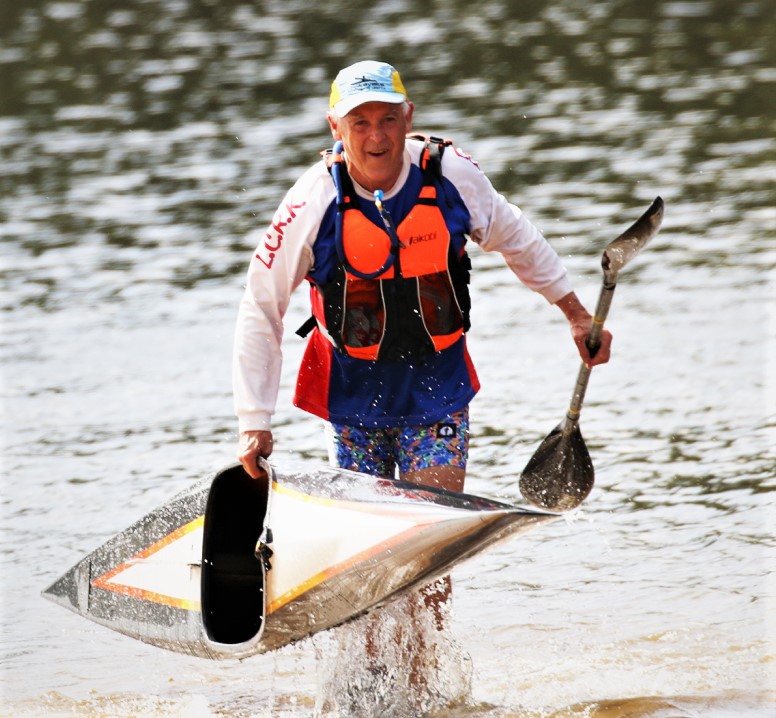 The Windsor Marathon promised much for me as I explore the world of K1 paddling. With 8 or so outings in the Club Bettong, Jeff Hosnell very kindly offered his marathon Bettong. A tryout to set up the boat last Wednesday and a rather pedestrian TT result on Wednesday night was my preparation for Windsor State Champs.
What a joy to be back competing. A beautiful cool morning greeted us overlooking a faster flowing Hawkesbury with an outgoing tide and water release from Warragamba Dam. With everyone getting away to clean starts and following a close in-shore course to avoid the tide up the long stretch to the top mark we were greeted by a brisk wind, choppy waters and eddies, just to add to my already challenging task.
How quickly you discover your weak spots in technique and fitness level in the K1 and with competition around it became a struggle to last the distance before all the wrong muscles gave way to sitting back in my seat, losing leg drive and relying on shoulders to rotate the paddle. A fleeting loss of concentration put me in the water after rounding the top Mark the second time and then began several futile attempts at a deep water re-entry before swimming to the steep bank and using a standing entry to continue after 10 plus minutes in the water.
Suddenly portaging became a good idea and entering into the portage area behind a Richard Yates struggling to empty his boat of water, I had to admit to the Marshall that I was now only doing this just for fun, but it gave me an opportunity to stretch every muscle in the nether regions that now seem to be so tight. Relief for what was shortly to come.
Greatly refreshed but pretty tired it was good just to get round and finish. Good racing and great to just be part of a well organised and run event. All praise to Windsor and PaddleNSW
My First State Championship - Karen H State Championships and looking at the entries across all ages and disciplines- it felt like it was Lane Cove versus NSW. What an amazing line up. I was so proud to be representing LCRK.
I was very apprehensive about this event after all it was a State Championship and I had only done two 20km Marathon races before. I love the Marathon Series because it based on time, not age or gender. So I didn't know where to be in this format, I knew there were some LCRK Superstars on my start line but where I should position was my homework.
But us non-ICF 45plus had an impressive line up 13 guys and 3 gals. Everyone put in their best and I was so excited to beat my previous Windsor Marathon time by 8 minutes. Merry was the only other Chick in our group and it was her first Marathon in a K1 (Merry is my inspiration to get to K1) what a superstar.
Huge call outs to the LCRK Open Men taking 1,2,3 and 5; especially when first place refuses to paddle his age group (sorry as an "old" person over 50, I'm PROUD) how awesome to see Brett at 56 still blitz the field.
And to watch Daniela Torre do an amazing 4th at 52 instead of hiding in her age group. Also a huge shout out to all the awesome efforts of every other LCRK paddler, I'm to scared to start naming names in case I miss someone but I was grateful to everyone that gave me an encouragement or little wash ride along the way.
Looking forward to the next one.
A view from the back of the pack – Ian Wrenford 5km, 10th start
My main focus for Windsor was actually to do the photography justice for States – but wasn't going to drive out to Windsor without having a paddle. Even if just 5km. And Frazer very capably looked after the starts and portage pix while I had my paddle.
There were 10 boats in the 5km distance (10th start), with 4 of those being LCRK entries. The paddlers were a mix of racers: Octogenarians (John Greathead); Septuagenarians (Phil Geddes); and some young Denarians. Then a few non-competitive Quinquagenarians (me) and a Vicenarian (Lachie).
Phil took off like a scalded cat, with a couple of Denarian's in hot pursuit at least for the first 500m sprint. I followed at a measured pace and caught up with the Denarians – only to find it heavy going on the way up to the top turn with the current and the heat of the sun – so chose a paddling line in the shade of the trees up against the bank. The Denarians didn't seem perturbed and made a couple of boat lengths on me – after they latched onto a Septuagenarian who'd found his legs after an even more measured start than me.
The run downriver from the top turn was a relief -with me heading straight down the middle of the river, whilst the Denarians stuck to the bank. I made up a few boat lengths on one of the Denarians (the other had latched onto the Septuagenarians wash) – and we'd all caught up to and passed some of the trailing 9 series 10km paddlers by then. The final turn worked to my advantage and I found myself a boat length in front with just a sprint (a relative term) for the line remaining. I dug in (just a bit), and had my Quadragenarian nose 1.5 seconds in front of the Denarian's at the line! • Septuagenarian Phil Geddes paddled a 30:32.0 for top spot in the Non-ICF 75-79 Mens (5km) • Octagenarian John Greathead paddled a 35:40.7 for top spot in the Non-ICF 80-84 Mens (5km) • I was surprised to see I had the fastest time for the non-competitive 5km event (33:55.4) • And Vicenarian Lachie enjoyed his 37:03.6 for 3rd (first paddle for 2021!)
Report From John Greathead Race 80 to 85 5kms
Firstly some general comments. Congratulations to Bob and the Windsor team for running an excellent days racing. It was great to see many of my old acquaintances again and to be received by the usual friendliness of the Windsor Club. They are looking forward to their new clubhouse being built (well-deserved and long overdue) and I am sure they are pleased with the new toilet block (as were the paddlers on the day) . The weather was kind with a moderate breeze making a head wind for the starting straight. There was a noticeable run in the river which made it a little tougher on the "uphill" leg.
The race: My start was the tenth wave (5k) and consisted of a mixed band of paddlers. Ages ranged from 13 Years to 82 years. Finishing times ranged from 30.32.0 to 37.03.6. Phil Geddes was the fastest of the men and disappeared over the horizon early in the race followed home by Gerry Foster 33.06.1 and Ian Wrenford 33.55.4. The two 13 years old guys were within a minute of each other at around the 33-34 minutes. I observed the "canny" Alan Newhouse and Kevin Nettle hugging the bank together to minimise the wind and current and as Kevin was the only other over-80yo in the race I set out from dead last to try and catch him. Not to be! I managed to pull back two or three other paddlers suffering more than me from lack of condition but could not catch Kevin.
As usual It was great fun and a pleasure to join with the paddling "fraternity" on a great day out. It was also great to see some of the close finishes of the other waves.
At the pointy end - with James P The open men's and women's start kicked off in a flurry of spray and paddles. Everyone got away cleanly, with James H taking the first lead. Plenty of lead changing ensued throughout the first lap with Canberra's Michael Hanemaayer making a dive for the first can. The following reshuffle set up the pack for a fast run back downstream to the bottom turn can.
There were no successful tilts for inside line at the bottom turn, so Brett led in to the first portage. There was some confusion over whether the portage lane was high or low, or whether the high line was the feed lane. James H took the safe route and went high, while Brett and Kieran went low. I chose the extra special option and promptly dropped my boat at the entrance.
A quick sprint and tidy re-entry put me just on the back of the pack again. The next four laps were far less eventful with all portages and lead changes going to plan. There was some conjecture over the tactics for the final turn - would it be faster to go the inside line and get the run out of the turn but into heavier flow and around the big eddy. Or, take the outside line, slower run out of the turn but shallower water with no flow and possible eddy flick? I'm not sure which line was faster but Brett managed to maintain his lead to the line, I inched closer on the inside line to second, while James H battled the outside line to third. A great hit out with a bunch of great competitors. Thank you to WCC and PNSW for their efforts in organising a superb event.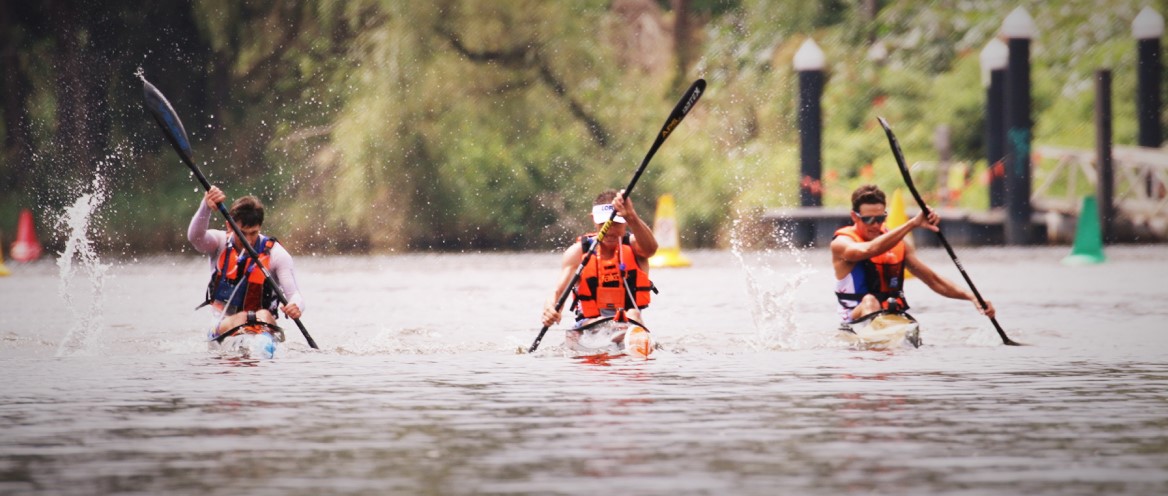 Above: Big finish in open mens for Brett, James, James where LCRK took 1st, 2nd, 3rd and 5th (Kieran)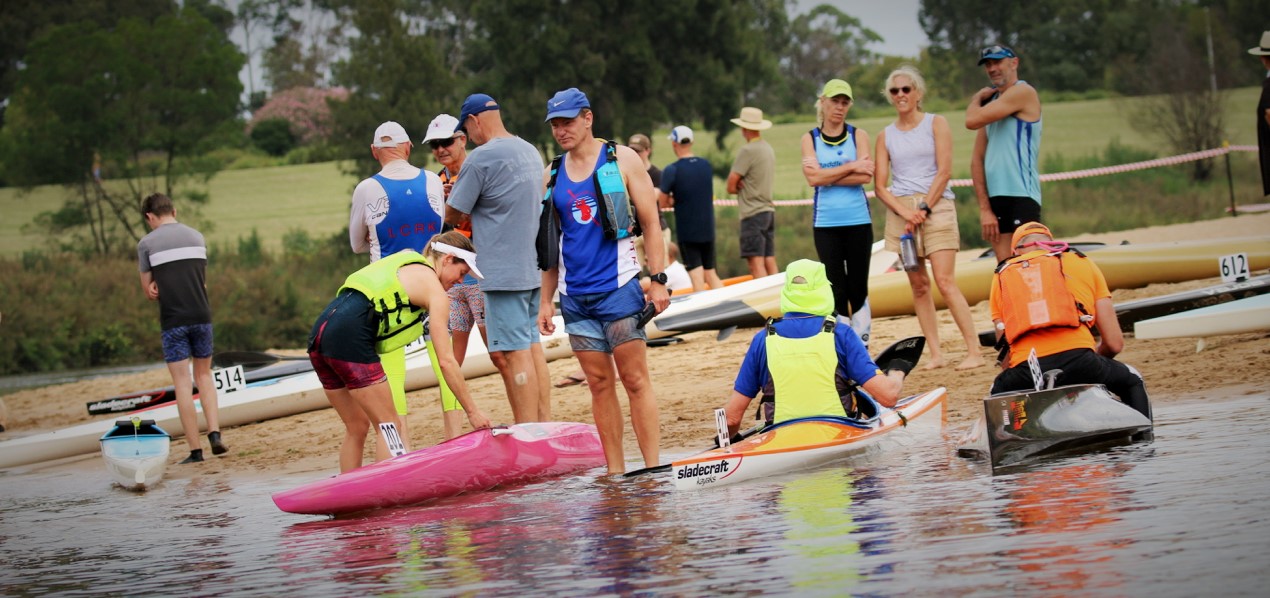 Above: Plenty of LCRKers - apres ski
Marathon #1 Wagga - Sat 20 Feb
Race 1 of the 2021 Marathon Series returned to Wagga, and a return to a favoured past format of the Murrumbidgee River race, with one-way, down river courses offered for all Divisions.
Divisions 1-7 raced from Oura Beach, Oura, to Wagga Beach (26 Km all downstream)
Divisions 8-12 raced from Braehour Reserve, Braehour Road, Forest Hill, to Wagga Beach (17 Km all downstream)
Division 13 raced from Eunony Bridge Reserve, Wagga, to Wagga Beach (7.5 Km all downstream)
Race report Marathon #1 - Wagga Wagga by Trevor Nichols Over breakfast after the Sat morning squad session just over a week ago there was much excited discussion of the Wagga race including the fact that the high water level would mean a fast event. I confidently wished those going good luck as the 11 hour car trip was daunting. However, over the next few days I could not forget all the talk of doing 26kms in the time it would normally take to do 20km in. Gosh that would be fun as would paddling down an inland river for the first time….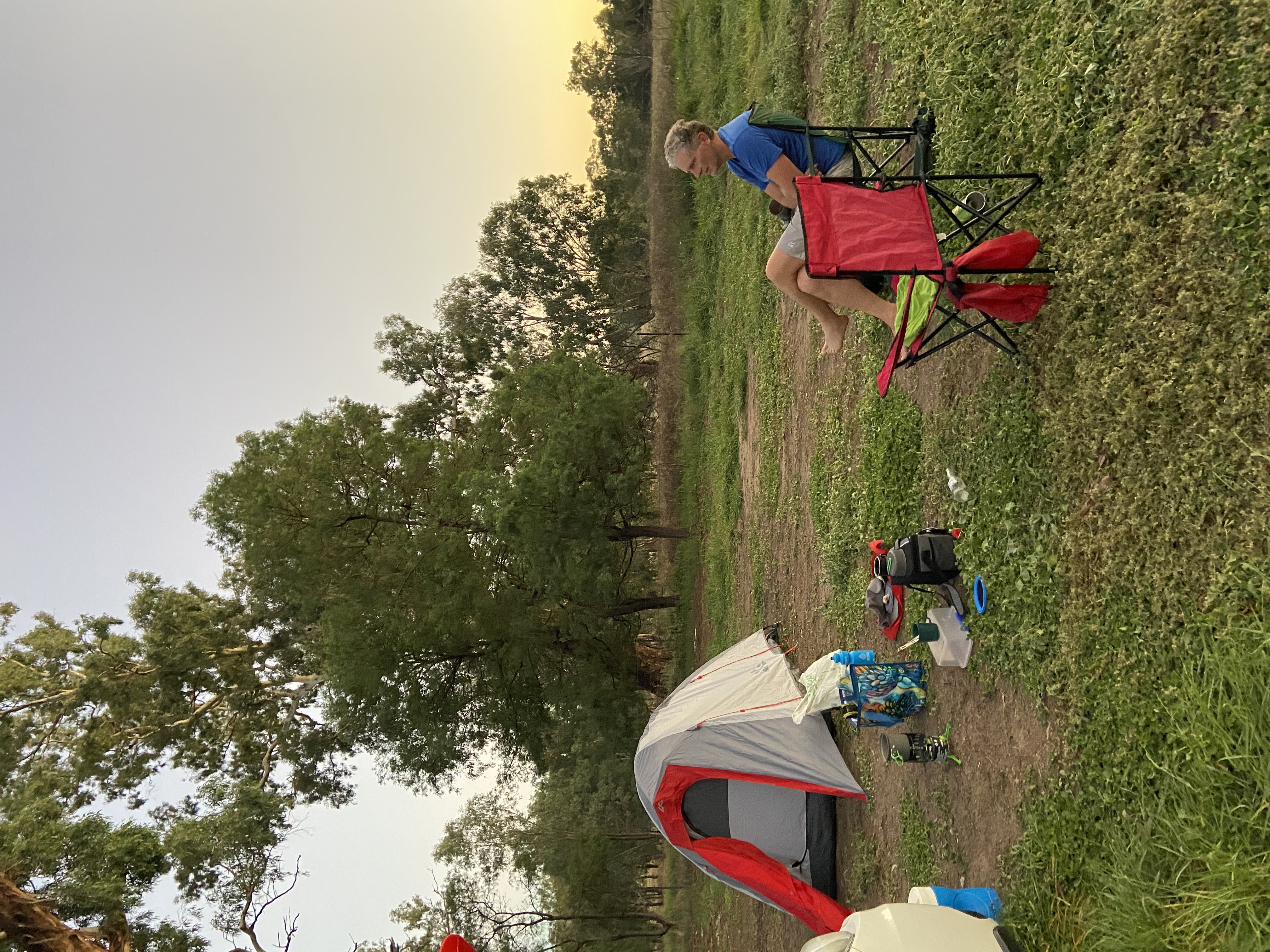 Above: Oura Beach campsite - Don psyching up
During the Wed TT warm up I mentioned the race to some of my regular paddle partners and noticed a spark of interest. What the heck, who knows when the Murrumbidgee will next have this much water in it so decided to "just do it". The icing on the cake was snagging a lift down on Friday afternoon with Don and a return with Fitzy after the race. So no driving for me to do and I get to camp at the start line at Oura Beach. Gold. Thanks Youngster for the tip on the free campsite. I highly recommend it, just remember to bring water, loo roll and ear plugs if you want to miss nature's magnificent 5am alarm clock from all the abundant bird life along the river.
Great to see more than 20 Lane Cove members and TT regulars out of a start list of 105 paddlers which thrilled the organisers. Guess I was not the only one tempted by the 2.2m water level which made it very different river from previous iterations where the water has been as low as 0.7m.
Conditions by Kieran Babich
Having learnt to paddle on the Murray River through the Albury I was sad during the week having missed a great weekend of river races with the cancellation of the Frank Harrison, run by the Mitta Mitta Canoe Club. This melancholy didn't last for long with a week later the Wagga Bidgee Canoe Club's race being held from Oura Beach to Wagga Beach on the Murrumbidgee River. The forecast for the river was to be 2.2m (a decent height), with no dam release (slower) and a chance of strong eddies scattered throughout the race. It was also held in the middle of the day to miss the infamous 5 o'clock Wagga Wave release from the weirs.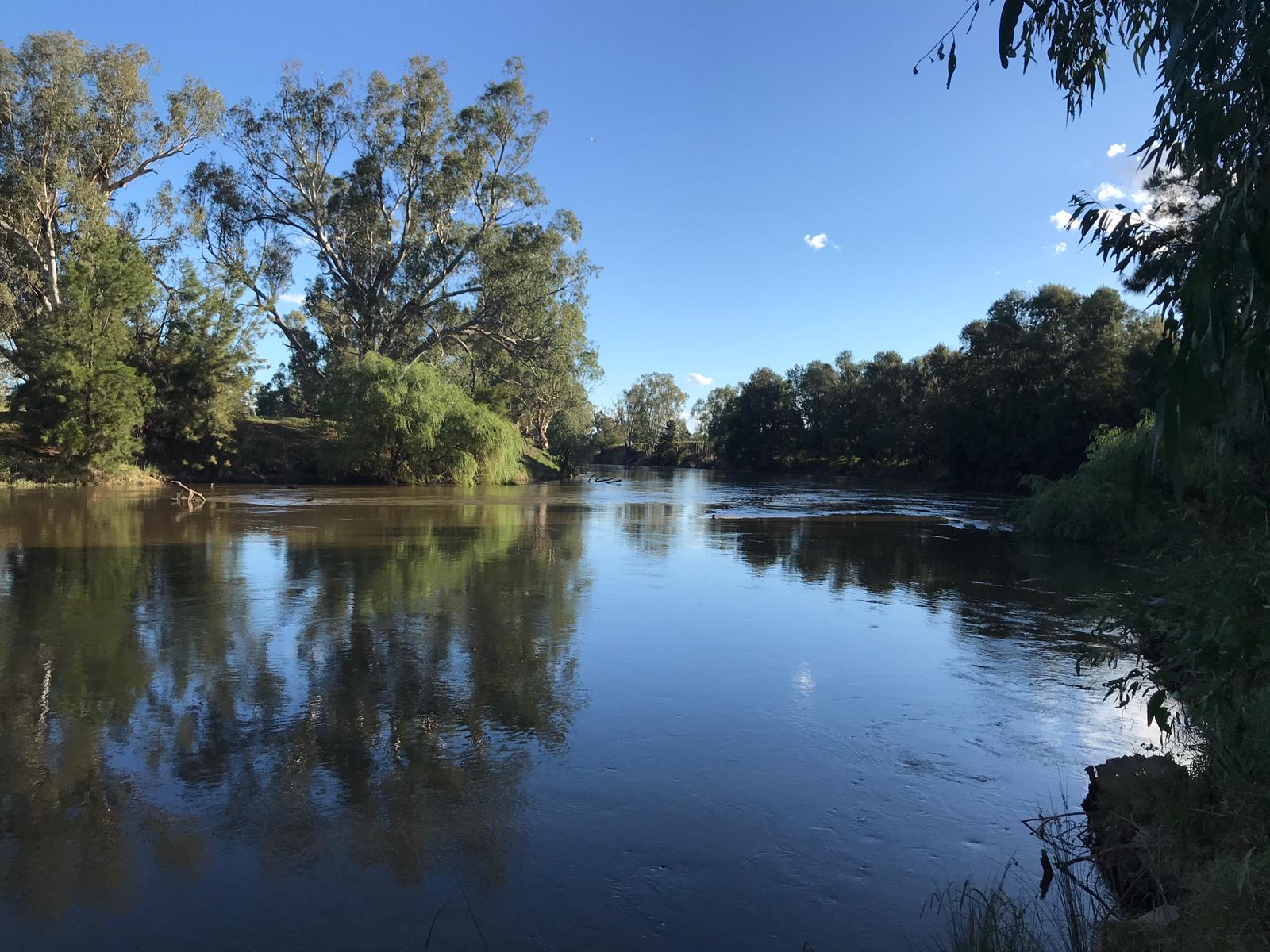 Above: The Mighty Murrumbidgee shows its swirly stuff
As many Lane Cover's know, the Murrumbidgee River demands a few more changes to our race plans than an outgoing tide on a Wednesday night time trial. River racing is fast and therefore fun. However, some thought needs to be given to the following:
Starts and break aways – you have to go hard from the start in a river race. As many found on the weekend once you lost contact with the leaders, they were always just in front of you but never close enough to close the gap. When everyone is going so fast with the flow it takes much more effort sustained over a longer distance to make up the lost ground. The same also applies to making a breakaway with much more effort needed to drop someone from your wash and build a gap.
Relaxing in the swirls – the Murrumbidgee is scattered with swirls and snags throughout and at this water height there were a few hidden ones too. These create little stoppers, boils and other river features which our tippy flatwater boats really feel and get moved around on. Hearing a few post-race war stories, it sounds like many Lane Covers learnt how to relax on the eddys as their kayaks shifted direction in the water underneath them making little pre-emptive steering adjustments as they broke in and out of the eddy lines.
Point to Point – the fastest route down the river is nearly always the shortest line. Paddling from the apex of one corner to the apex of another corner while staying in the middle of the flow on the straights. This maximises your time in the fast stuff and cuts out distance from the race around the wide sweeping corners.
Having been a fun event on some new fast flowing water, if the Frank Harrison race is rescheduled in Albury this year, who is game for another river run in some swirly stuff?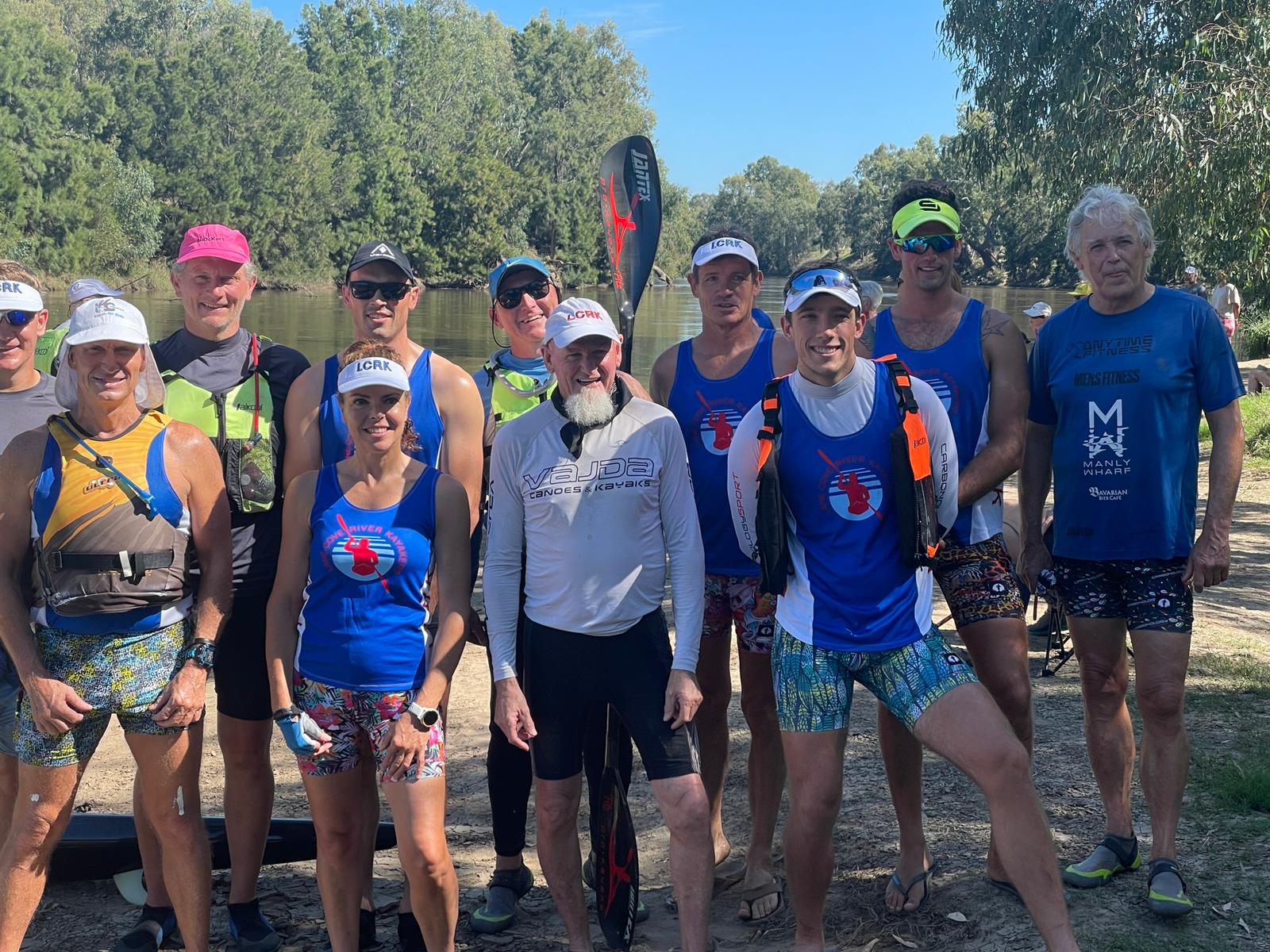 Above: Group photo I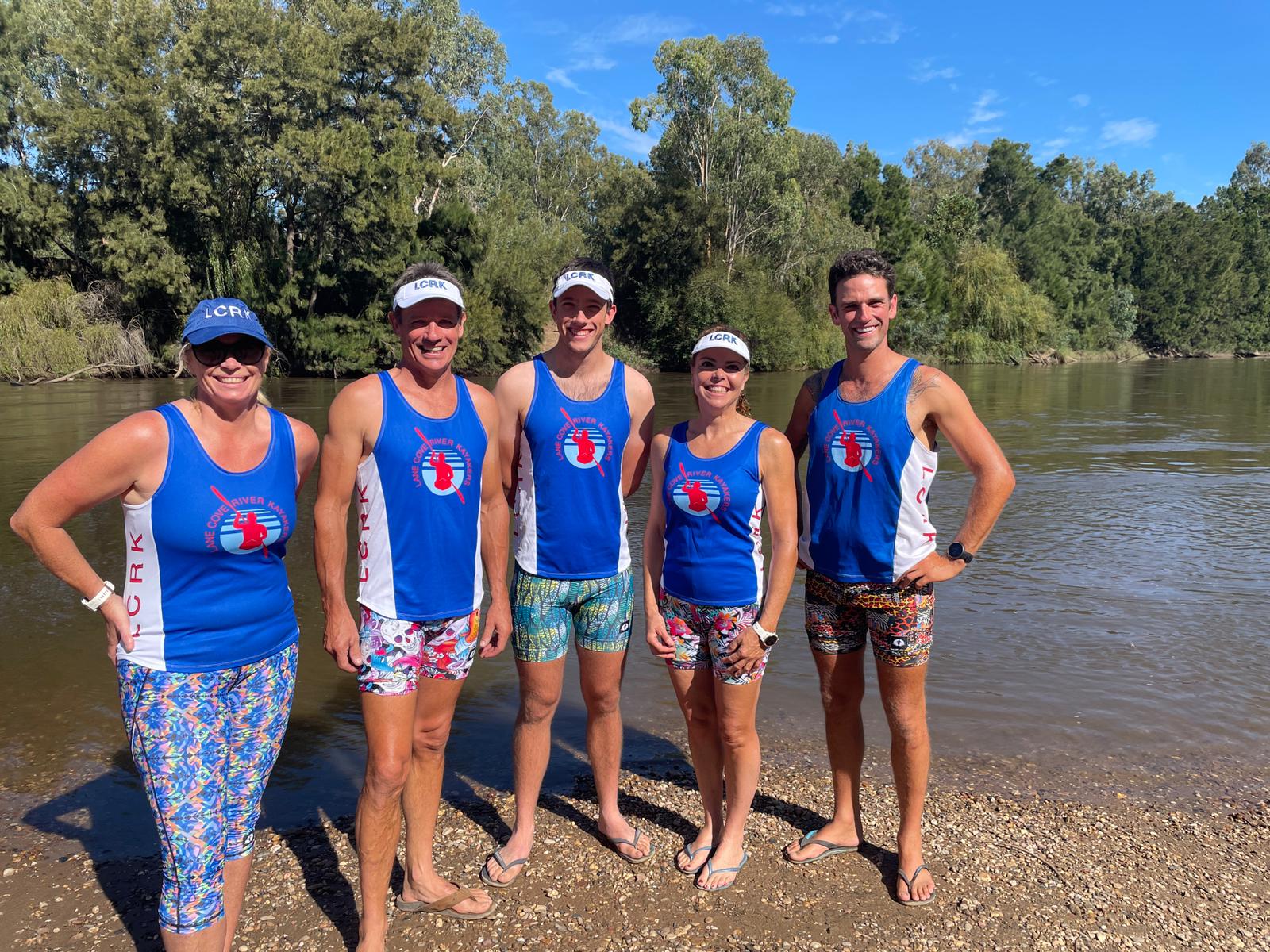 Above: Group photo II
Div 1 by Brett Greenwood
It has been a few years since we raced in Wagga Wagga and it was good to finally kick off the Marathon series with some country hospitality. It was especially good that Wagga Bidgee CC took the initiative to break away from the recent 5km loop format and opted for the one way downriver option. This was especially commendable as they have limited personnel to call from so the added logistics would have been a challenge. In Division 1 we had 6 singles and 1 x double on the start line. In K1 : Myself, James Harrington, James Pralija, Kieran Babich representing LCRK and Michael Hanemaayer from BGCC. In Ski: Todd Boreland. In K2: Tony & Alanna. It was a well-controlled start , even in the rapidly moving water and within 500m a front pack was made consisting of the 5 K1's. Due to the river flow we were consistently doing 17km/h. With this speed and the added challenges of eddies and water movement the advantages of sitting on a wash was lessened. After about 5-6km I found myself alone with one of my usual training buddies James H. We routinely swapped leads every kilometre and very little was said between us as we found that the changing water conditions and unfamiliarity of the river required a fair deal of concentration at the speed we were doing. Unfortunately for James the black & white checked buoys appeared from around a corner when I was doing a lead, leaving very little time for James to respond for a sprint finish. I think a lucky break for this Old Man. A really enjoyable race and clean sweep for Lane Cove taking the 1st 4 places in Division 1.
Div 2 by Trevor Nichols
12 of us lined up for the start on what was a very hot day. There were 5 doing a ranking race and this was my first div 2 start after promotion from div 3 last year so I was curious to see how I would fare. As usual the start was frantic and I ended up in no mans land behind a group of 7 for the first 5 kms. Luckily a few paddlers dropped off the front pack and I was able to share wash rides with Michael McKeough from Cronulla only to watch our very own Catherine (but paddling for MWKC) pull further and further ahead. Delighted to see her challenge for line honours even if was pipped at the very end. I just loved paddling that fast and went through the 20km mark in 1 hour 18 mins. I also did my fastest 1km split ever in 3:45 which was worth the long car trip for me. I was delighted with my finish and had it been my turn in the lead at the final bend I may have placed higher. Well done to Fitzy for travelling both ways in one day and a strong paddle in his first marathon series race in a single. Also well paddled to Naomi in her first race in div 2.
Div 3 by Dave Young
The start was a rather orderly affair and a group of 5 paddles that included Daniela, Gareth (paddling for SSCC) and myself soon formed the lead V formation, with Don desperately trying to get into the pack; but alas, he was not to be seen again. This group prevailed for the first 5km, until a Windsor paddler decided to and successfully split the group. I fell off the pack only to be gradually assisted back by another upcoming Windsor paddler. We all meandered down the river, now in a group of 6 until we encountered a tricky eddy that sent 3 boats sideways and resulted in a swimmer (Windsor paddler). Given the competitive nature of the group and that the swimmer seemed to have his boat in tow, we continued down the river, but now with the heat starting to take its toll. I was continually dropped from the pack, but clever (well I thought it was clever) reading of the river and wash riding assistance from Gareth enabled me to maintain contact. Eventually it was Gareth who was the next to drop off. Daniella (who looked very strong throughout the whole race), the Windsor paddler and David (on occasions) took the lead heading into Wagga, with the other (local) paddler refusing to take a turn… much to the annoyance of Daniella. I made a tactical mistake 2km from home and dropped off. Then it was a sprint to the finish with the local paddler utilising his knowledge of the river to take the win, very closely followed by Daniela taking a well-deserved podium place. I was just behind her with Gareth next and Don, with ticker in hand, finishing a very creditable 9th.
Div 4 by Wade Rowston
Only Jeff Hosnell and myself represented LCRK in the field of 9. Jeff had warmed up the day before by doing the complete course on his own. Come 11am it was hot already and the sun was burning. The start was fairly well organised with paddlers spread across the river, although Jeff had to back paddle to avoid crossing the start line early. Jeff started very well and I had a great view from the back of the pack where I struggled with the river eddies taking control of the boat. It took me about an hour to settle into a reasonable race pace and manage the moving waters a lot better. It took about another 30 mins to catch two paddlers ahead then I had Jeff in my sights and was closing the gap. It was not to be and Jeff deservingly came in 20 secs ahead in 6th in 1:56:40. When we pulled up on the river bank at Wagga Beach I reached to my right side and back a little to shake hands with Jeff. I then started getting a really strong pain around my upper right ribs on the side. It escalated quickly and felt like a blunt screwdriver was being rammed into them. Alanna and Alison noticed I was in a lot pain and started applying first aid (thank you!). It was ongoing for several minutes and I was struggling to breath normally with the pain. I then laid down in the cool shallow water. After a few minutes the pain dissipated and was back to normal. Just a cramp (I think) in the end I but the pain was 10x that of a calf muscle cramp. No residual after affects happily. It's always a great experience paddling down the Murrumbidgee. With the rivers assistance I averaged 13.4km/h so the mind boggles at the average speed of Div 1 paddlers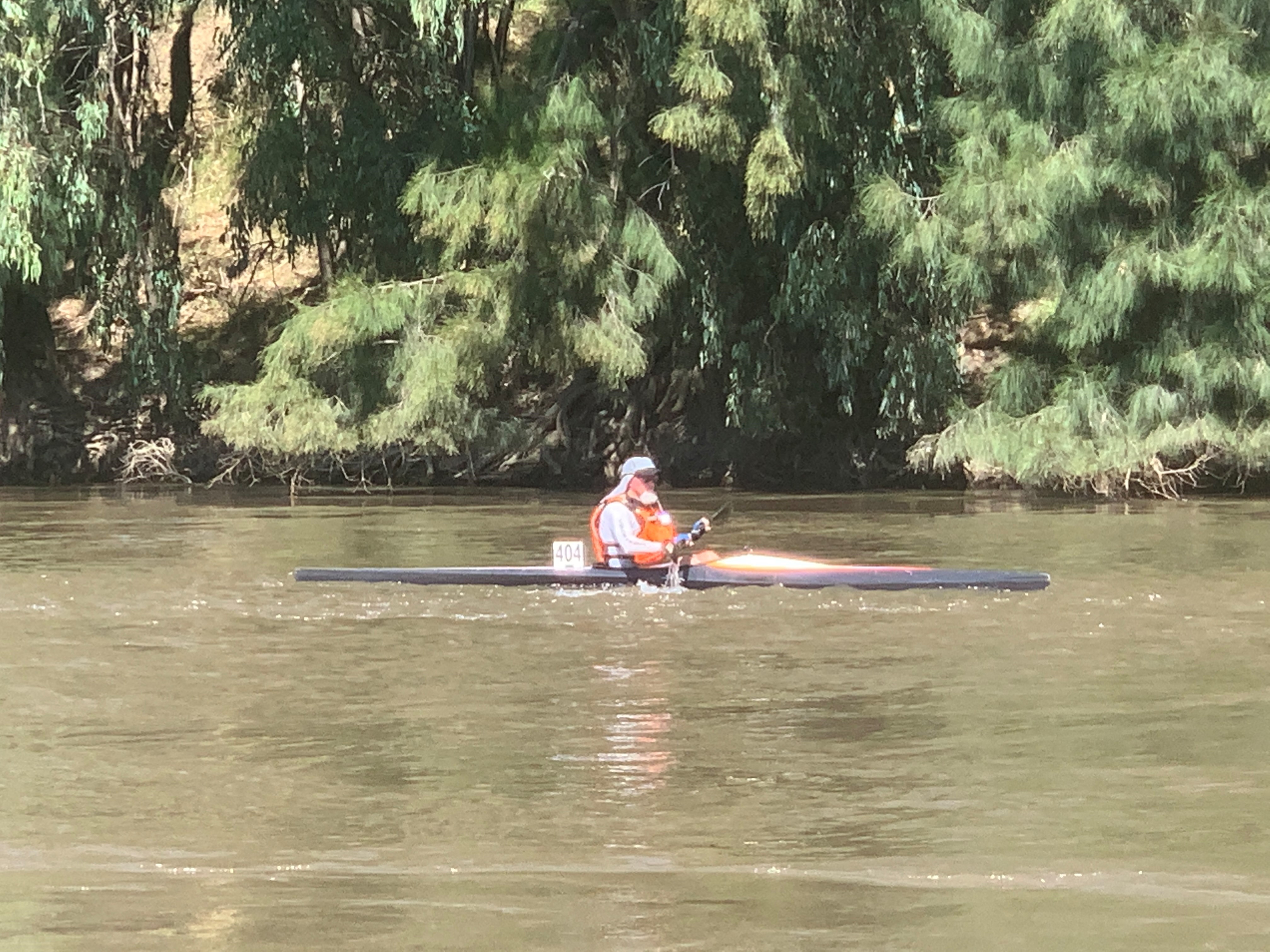 Above: Jeff proving you didn't have to paddle to maintain a decent pace!]]
Div 5 by Duncan Johnstone
There were 10 paddlers including a double and the 5 doing a ranking race. The ranking paddlers headed by Sue Smith And Greg Hillier from Hunter Valley broke away early. I lead the other 4 who were in the main race, ie were not in the ranking race, and was closely followed by the double of Danielle Winslow and Bob Collins of Burley Griffin for the first 10 before they steadily pulled away. Around the 18 mark I was caught by John Preston and then the effervescent Burnie Craggs who stormed through us to finish a strong second. We all finished to paddle another day.
Div 6 by Karen Hadjinicola
"26km equals 20km" they said, "Yeah, right" I replied. As if I was ever going to average 13km an hour but I did - yay! It was a brilliant experience and I totally recommend it to everyone regardless of level. Well except for the heat - it's seemed a long time since paddling in 36 degrees, it did knock me out at the 20km mark but the water cooled me down real quick and I was able to power on. I was so excited to do my first race in the Lane Cove colours and to see so many of us down there, representatives in 7 Divisions. My favourite thing is encouraging paddlers during the race and most notable was calling out to one "You are looking good, 1200" the reply was instant "You too, 603" another LCRKer. I should have known for after all this is the friendliest club. I am looking forward to finally being able to complete my first full Series. Richard Barnes (paddling for Syd Uni) was also in Div 6 and commented "Linden and I were in Kermit and had the peleton in sight for only the first few bends. Serenity then reigned with only the galahs, cockatoos and river gums as company until the Div 1 hotshots caught and overtook us from their 15min later start"
Div 13 by Steve Johnson (psst - Naomi's Dad)
Div 13 was a sociable start. Only seven, a mixture of wounded warriors, first timers and not so sure about those eddiers. After much mutual encouragement we were ushered onto the water, to be told it was not an 11am start but rather after all the others upstream had gone. The river was flowing too fast to linger in the middle, so we all bunched together in the shallows for 30 minutes. Then in a flash we were away. An early pack of two broke away. The older hand picked a good race line but the author struggled with the big flow and eddies, and became intimately familiar with a number of species of willow along the way. Then the green buoy and over the finish line second home. Probably the only time in my life that will happen! Memories of a beautiful river, so different from the race routes in Victoria, a great atmosphere and such an impressive turnout.
[Steve paddles with Fairfield Canoe Club in Melbourne, and Wagga was his second race in a K1!]

AFTER RACE DRINKS AND PRESENTATION by Jeff Hosnell


Above: Great innovative race prizes!
30 or 40 racers, family and friends went to the Palm & Pawn Hotel, a great pub excellent food and music. We had a couple of hours of mixing with the event organisers and other racers. The Wagga Wagga Club did so much work to get this event on the calendar and it was a great success, hopefully it will stay on the calendar it is very similar to the Frank Harrison race in Albury, maybe they can look at including a doubles race on the Sunday, that would be fast. The presentation of prizes was a bit of a let down out of all the divisions only one person was there to receive there prize this was very disappointing for the organisers and the effort that they put into making this event happen and the Timber Chopping Boards made from local native timber with the name and year of the race and a map of the river.
A special mention must be made about the work Bob Turner and Don Johnstone did to get the event to run so well, Don had to place all the entries from the Paddle NSW site to Webscorer in less than 24hrs, and Bob ran the start and finish of all divisions from the finish line having to stay in contact with each starting point. Well done you guys.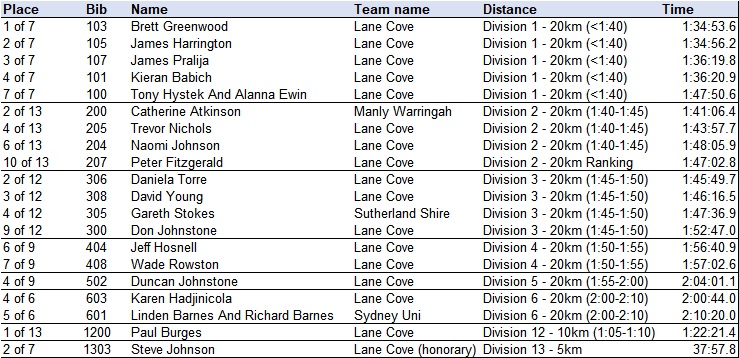 Above: results for LCRK paddlers incl regular TTers
Marathon #0 (Bonus round) Frank Harrison Memorial (Unofficial) - 13 Feb 2021
From Duncan Johnstone
Unfortunately a snap lockdown in Victoria literally the night before race start meant the well laid plans of Mitta Mitta Club came to nought - well not quite nought. A contingent of early-birders from NSW were on site and weren't going to be left up the creek without at least a paddle.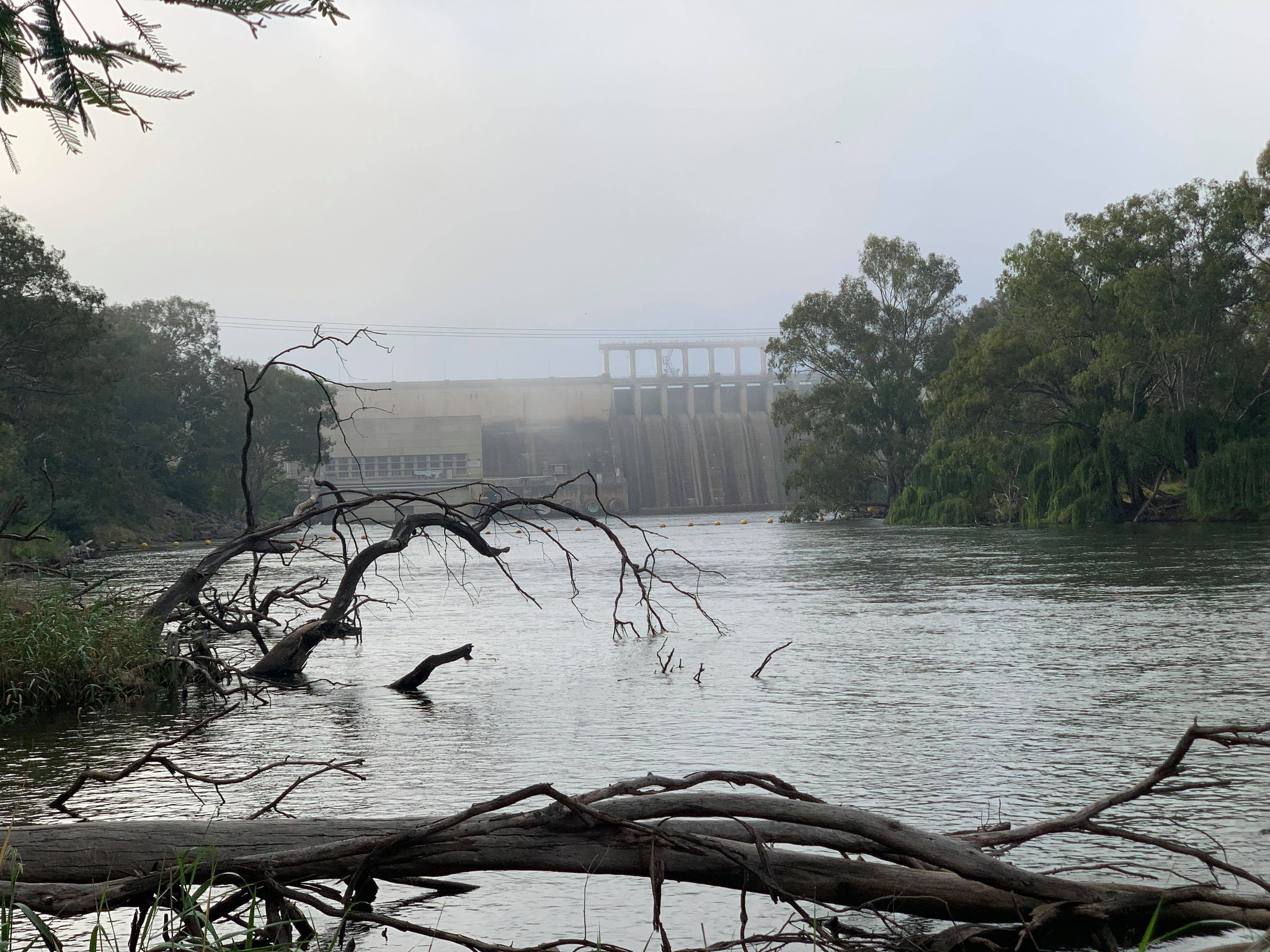 Above: The Hume Dam wall.
Start of the unofficial 2021 Frank Harrison Race. All of 7 paddlers including Greg, Sue, Duncan, Stephen, Allan, Michelle and Frank. A mix of boats, Greg and Sue paddling an Elliott Vindicator double, Duncan in a Vadja Voyager, Stephen, Allan and Frank in a mix of TC1's and C2's and Michelle in a stable Elliott. River was up but times tended to be slower and distances a little longer as paddlers sought to find the faster water. So river height does mean more speed but fewer snags and some big eddies. Times varied from a 1:47 to 2:40. Good to get our boats wet and enjoy the great day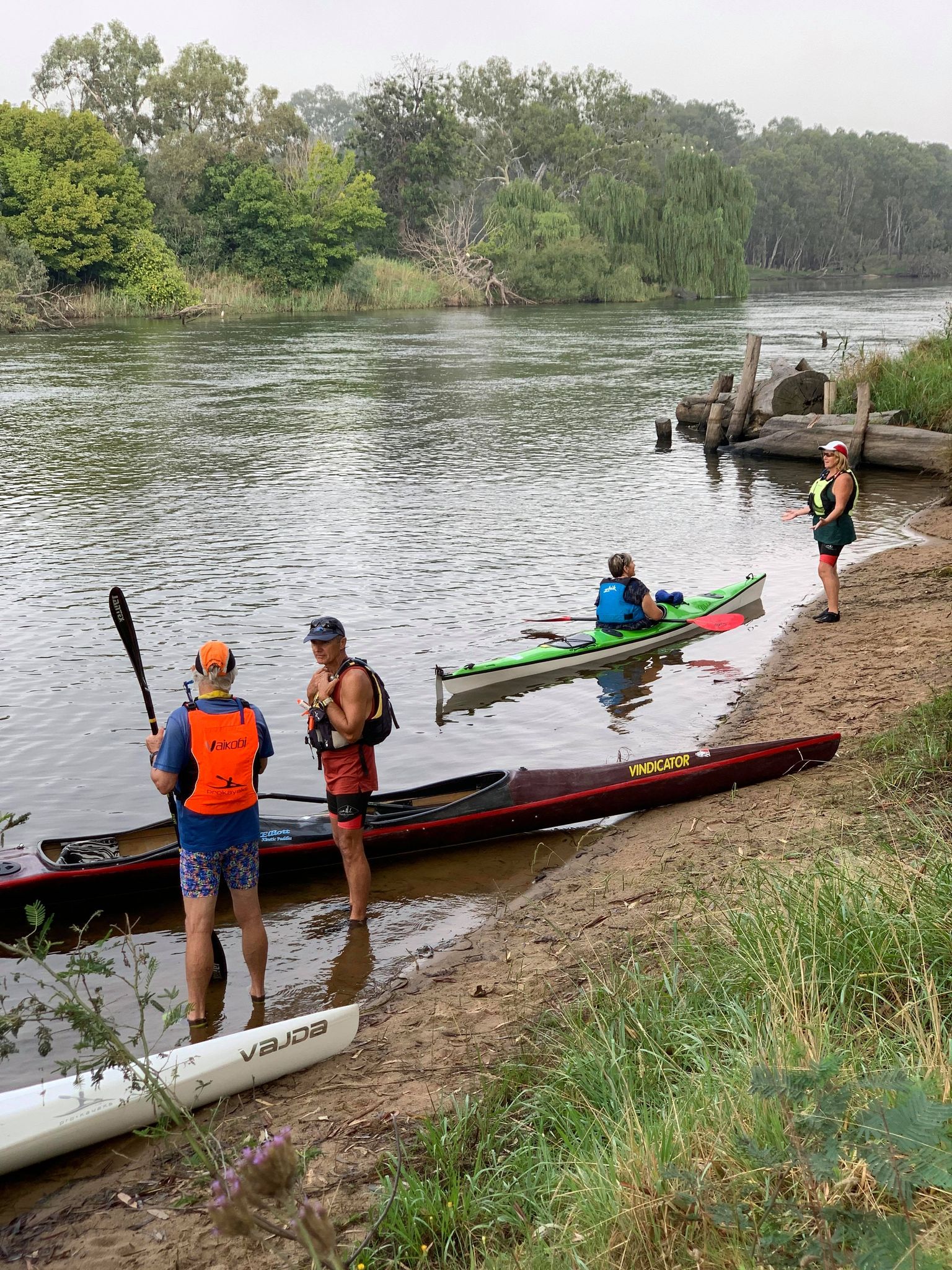 Above: Race tactics playing out at the start line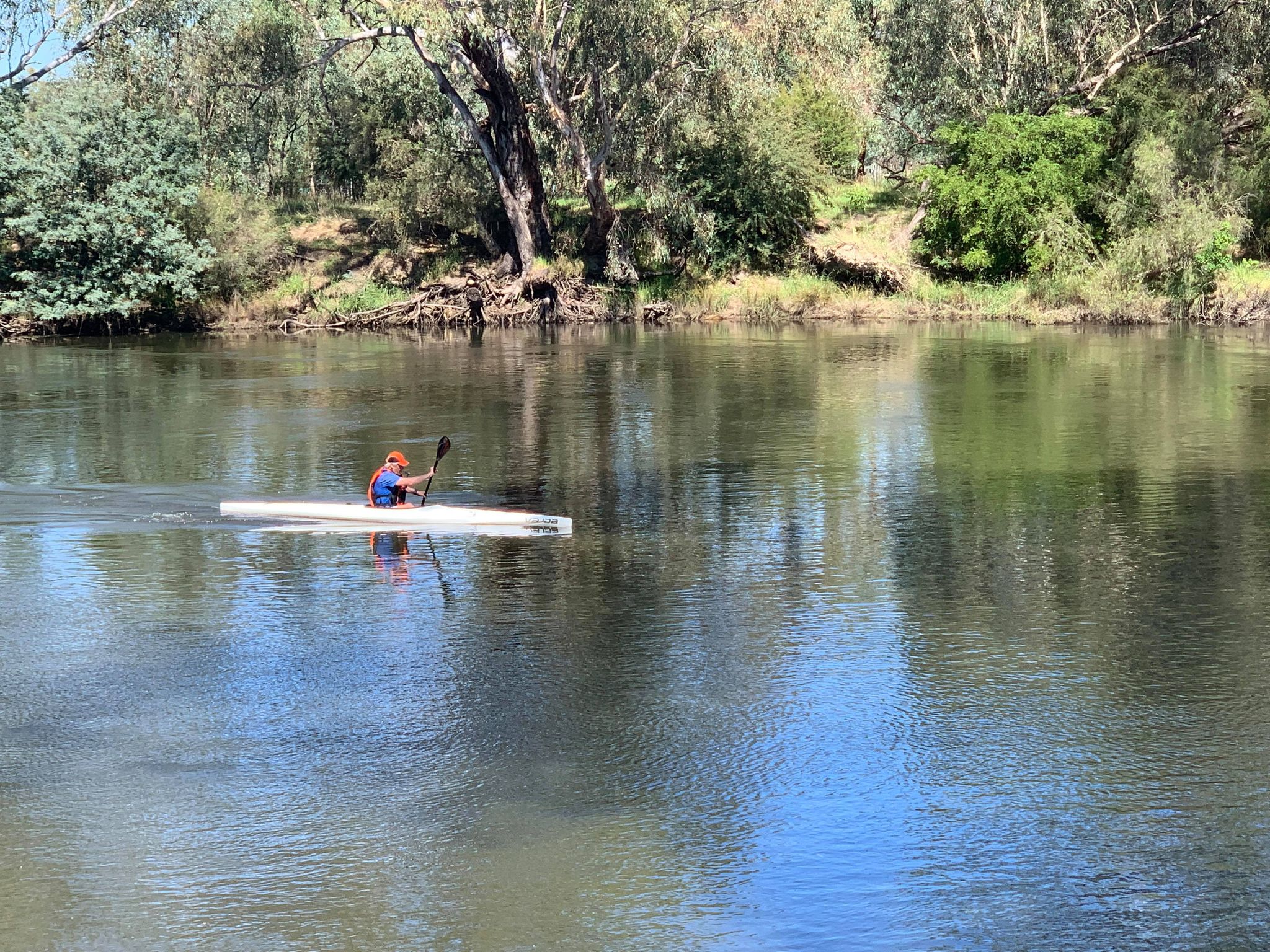 Above: Duncan looking for a wash ride