And some other Marathon events to slot in...
General Info for the 2019 Marathon Series (from PNSW)
Some key info for the 2019 Marathon Series:
We'll have separate State Championship events for singles (Canberra in March) and doubles (Lane Cove in April)
State Championships will follow the new class and age group structure at Nationals (three class, age groups in 10-year blocks for masters) with a non-championship classes for those who don't want to paddle one of the championship classes
If you paddle in a one of the championship classes, you will earn placing points in the normal manner (50 for 1st, 49 for 2nd etc and you can carry these back into your regular racing division)
If you paddle in a non-championship class, you will receive a fixed 46 points regardless of placing.
For all 2019 Marathon Series races, anyone who voluntarily portages (even in non-ICF boats) will earn bonus points towards the club ICF Trophy
The doubles round (and doubles state championship) will again see paddlers earn bonus points towards the Brian Norman Club Championship Trophy.
At the Portage Round - those who portage will also earn bonus points for the Brian Norman Club Championship Trophy.
The median-based promotion rule has been retained.
Demotion remains voluntary.
It's going to be another great year...lock the dates in you calendar!

2019 Australian Canoe Marathon Nationals
Round 3, Tacoma (CCP) - Sun 31 Mar
If this is your first race (or you are voluntarily entering a ranking race) - please choose the relevant 'Division # Ranking Race'.
Early Bird Entry closes at midnight on the Tuesday before the race. ALL Entries close at midnight on the Thursday before the race. There is no provision for Entry on the day of the race.
Race Briefing is at 10:15am Division 7 starts at 10:45am Division 6 starts at 10:50am Division 1 starts at 11:00am All subsequent Divisions start at approx 1-2 minute intervals thereafter.
Note also that Lifejackets are a requirement for ALL paddlers in this event.
Round 2, Woronora (SSCC) - Sat 23 Mar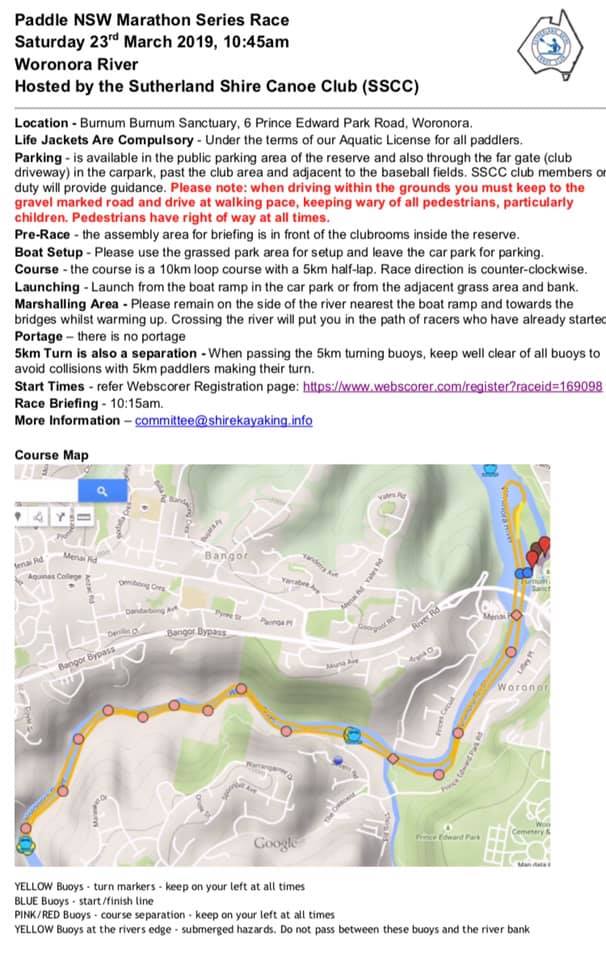 Above: Race info sheet from SSCC - thanks guys!
If this is your first race (or you are voluntarily entering a ranking race) - please choose the relevant 'Division # Ranking Race'.
Early Bird Entry closes at midnight on the Tuesday before the race. ALL Entries close at midnight on the Thursday before the race. There is no provision for Entry on the day of the race.
Race Briefing is at 10:15am Division 7 starts at 10:45am Division 6 starts at 10:50am Division 1 starts at 11:00am All subsequent Divisions start at approx 1-2 minute intervals thereafter.
Note also that Lifejackets are a requirement for ALL paddlers in this event.
Round 1, Canberra (BGCC) - Sat 2 Mar
Race report by Tony Hystek
With the recent influx of K-boats into the ranks of LCRK craft, our reps at the State Marathon Champs must have felt duty-bound to return with some bling. They didn't disappoint!
Leaving just enough time for a pre-dawn espresso, we were on the road at 6am with many other Sydneysiders filing in, line-astern as we approached the Capital of Promises.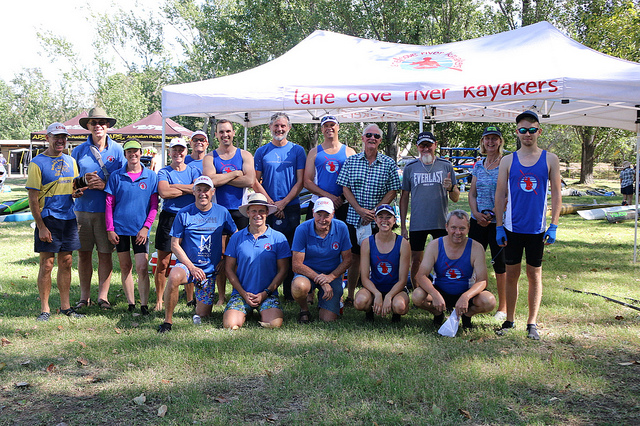 Above: LCRK paddlers primed and ready to tackle the first marathon race of the season
With the forecast approaching 30 degrees, we were fortunate that lifejackets were an option only. Most chose not to wear them, opting instead for some novel approaches to keeping cool. Some chose to have a quick dip at the start-line, as paddlers jostled for position in increasingly congested starts. Others chose the pontoon option, sliding gracefully under the surface before hauling themselves out. Fortunately in both cases the water was only chest-deep, making for a reasonably quick re-entry, but not deep enough to wash away blushes.
The Marathon Committee did a great job of combining a State Championships event with a standard Marathon Series race. This resulted in many more entries on the day than for a championships-only event, and most people came away very satisfied with the results.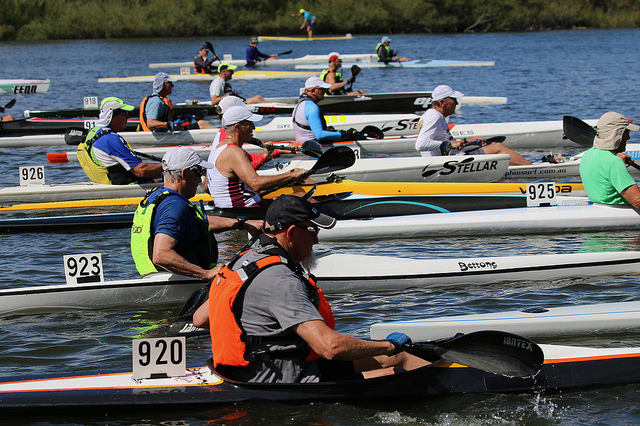 Above: Jeff (front) and Duncan on the start line
Then first four early starts included recreational classes and non-portage classes, with big fields making for some great racing. Some commented that the laps seemed to go by quickly, no doubt due more to hyperactive medicinal supplements than the picturesque river meandering through interesting countryside.
Starting with the elder statesmen, Paul VK won the two-horse LCRK race over Peter Harris in the V70 ski race. Jeff Hosnell came in a valiant 2nd to Warwick Nichols in the masters selection 15km V65 race, with Duncan Johnstone in the club Bettong coming in 5th – obviously some weed on the rudder. Occasional club paddler Raewyn Duffy recorded a win in the Women's V55 rec class.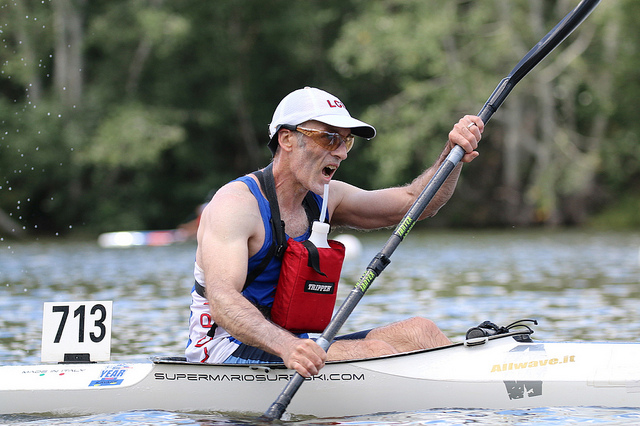 Above: Tim with the best finish line face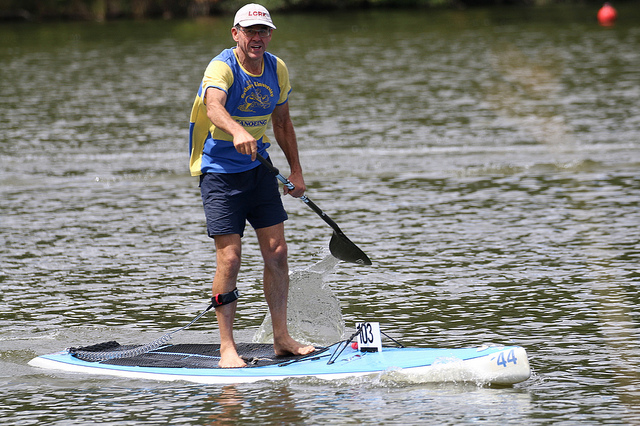 Above: Has Richard done a SUP HCC yet?
Richard Barnes introduced a new take on 'recreational' when he turned up with a S.U.P. and managed 6th out of 8 starters in his race. I'm sure I saw a deck-chair gaffer taped to the board…. Don Johnson paddled round and round, and round and round for a 7th in the V50 ski category.
Allison Bilbow smiled all the way to a 6th place in the Women's V55 K1 in the club Voyager, portaging despite an ankle injury with a little help from Lesley Manley. David Young took out the top spot in the Men's V55 K1 race, with Wade Rowston 3rd.
There were mixed fortunes in the V50-54 race, with Tim Binns mowing down the field for a gold medal after a relaxed race start. He was very happy, to put it mildly. Peter Manley suffered his usual leg cramps and went for consecutive swims at each portage as he tried to stand on unforgiving legs. After the second collapse he had cried enough, but is still determined to find a solution that will release his full potential. Look out Tim Binns!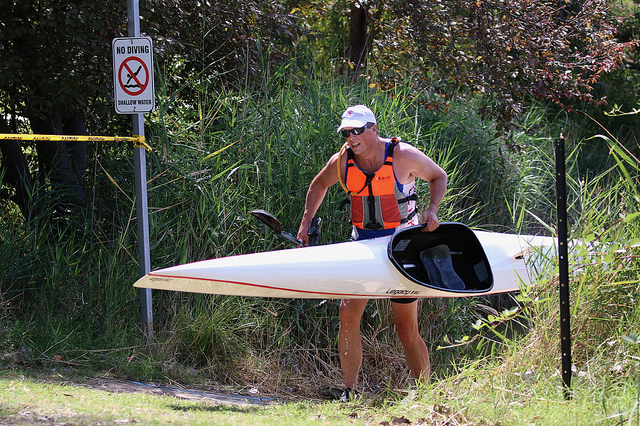 Above: ...bit more like it!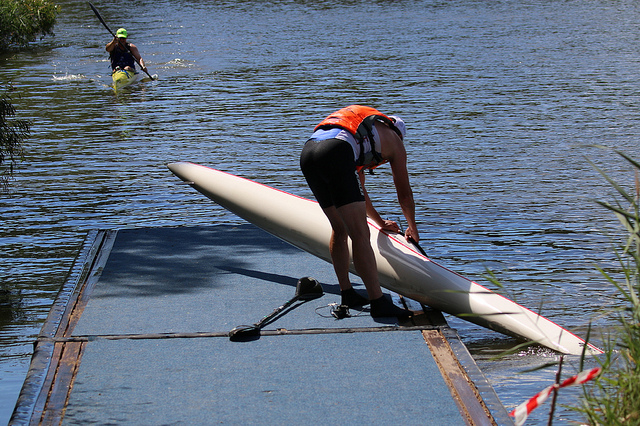 Above: Umm...Pete...that's not the fastest way...
In the 10km non-competitive distance the Wrenford family proved that paddling is faster than swimming when both father and son beat Peter Faherty, who chose the most distant water from the bank to cool off. It was quite a swim.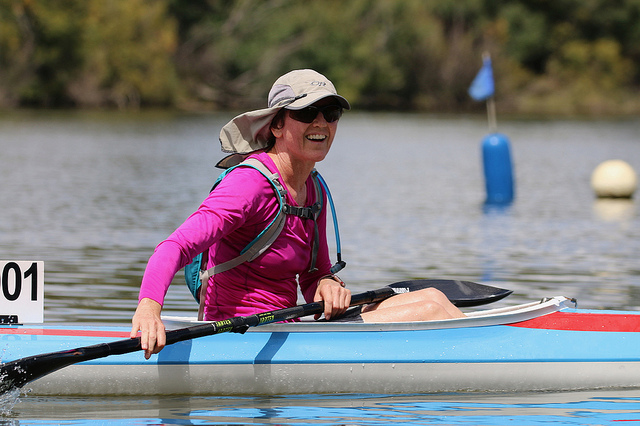 Above: Alanna all smiles at the finish
Alanna Ewin took to the water in a completely unfamiliar boat, having had second (and wise) thoughts about paddling her skinny Tygeur in the expected wash. Having fitted her swivel seat in the club Tornado the night before the race, she came back beaming with joy after a test paddle. Even though we poured water on her aspirations (and the rest of her), she went on to win silver in the Women's V45 K1 race behind MWKC powerhouse Daniela Torre.
Gareth Stokes had a good paddle in his K1 to gain 3rd in V45 K1, and we expect his times to improve rapidly over the coming months.
Now to the fast folks! Club regular Brett Greenwood defied his age (55) and changed his entry to Open class, winning a tight race against James Harrington (U23) a minute in arrears. Brett's skill in portaging came to the fore, and it was only James' superb running speed that kept him in the race. Between them, they dropped the rest of the healthy Opens field, doing the 25km (and 4 portages) in less than 2 hours, an average of well over 12km/hr. Stuart O'Reagan was second in the opens, just a couple of minutes further back, with James Prajlia (6th) and Kieran Babich (8th) rounding out the field. The fact that James was only 9 minutes behind the winner is testament to the amount of work he has put into his paddling since starting just a couple of years ago. I'm not sure Maroon suits him though.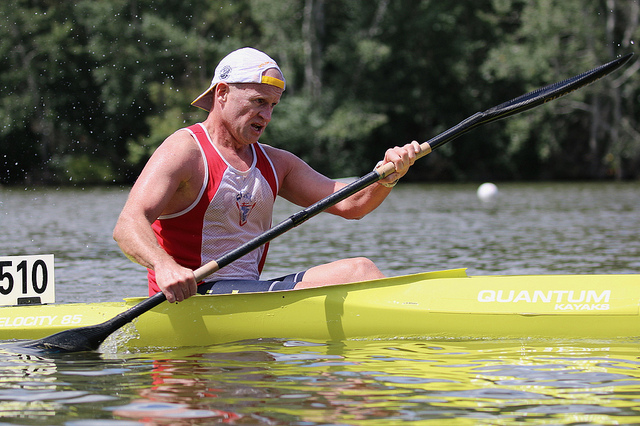 Above: Stewart finished 2nd in the Open Men's K1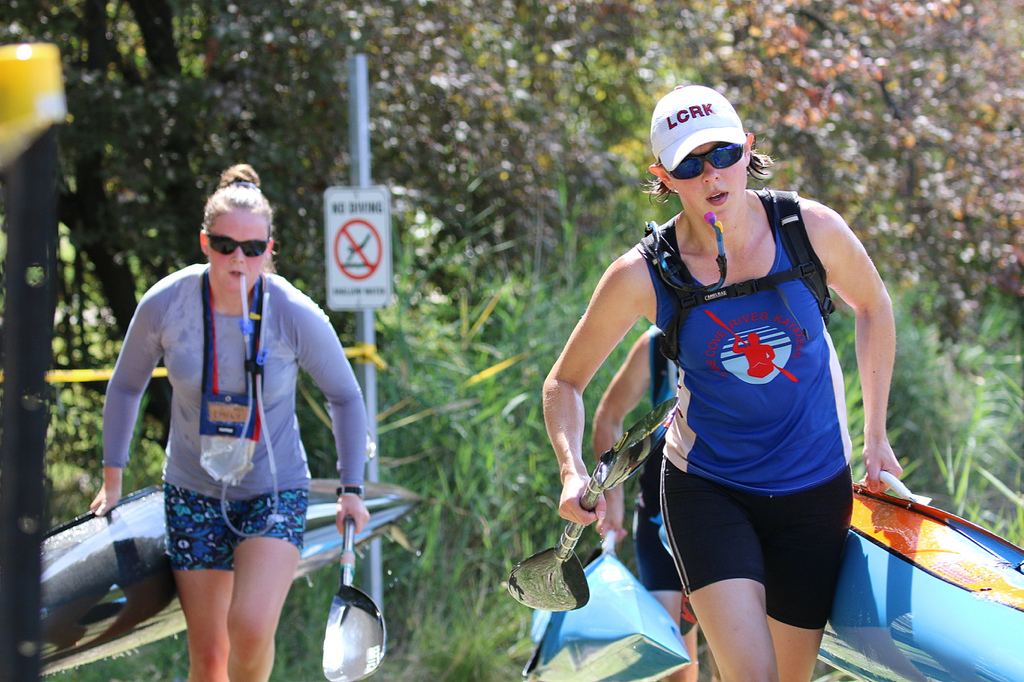 Above: Naomi counting down the remaining portages!
And then there was Naomi Johnson. With only a three-paddler field in the Women's Open race, her main competition was Laura Lee, former World Marathon team paddler. In hindsight, Daniela Torre would have been a welcome addition to the opens field, as her lap time was very similar to Naomi's and the race would have been very tight. Unfortunately, Laura suffered recurring arm problems again forcing her to slow her pace, and Naomi went on the record a fine win. Bring on more Open Women in the sport!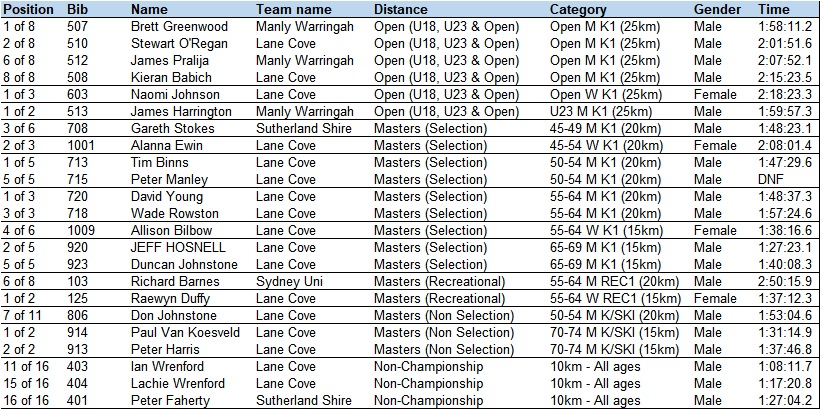 Above: Results for LCRK Members (and regular TT paddlers)
View from the field – Wade Rowston
I was lined up for the start of the 700s which consisted of the 'Selection' veterans men's K1s, about 20 boats from the various old codgers age groups. Thinking there was still 30 secs to the start I noticed my drink was leaking from the valve and was checking it out when suddenly the starter called 'SETGO' in a couple of milliseconds. I was slow to get going and immediately found myself at the back of the field with no washride. I fell further behind in the sizeable wash and had a very unsettled slow first lap of four laps (i.e. 20km). After the first portage I settled and started to paddle OK. There was hope of catching the 700 boat ahead. On the second portage I found Peter Manley struggling at the pontoon with a boat full of water and numb legs due to K1 seat issues. I got away and picked up the next 700 paddler. Peter caught up easily then I was fortunate to catch a wash ride for half a lap and another 700 boat looked reachable. Peter with worsening leg numbness dropped out at the pontoon on the next portage and I was on a roll and caught the next 700 and stayed ahead to the finish. I was 3rd out of 3 in my age group, miles behind David Young as usual, the winner.
Great conditions on a beautiful course. An excellent day of racing and enjoyable portaging. Thanks to BGCC and the PaddleNSW Marathon Committee for excellent event.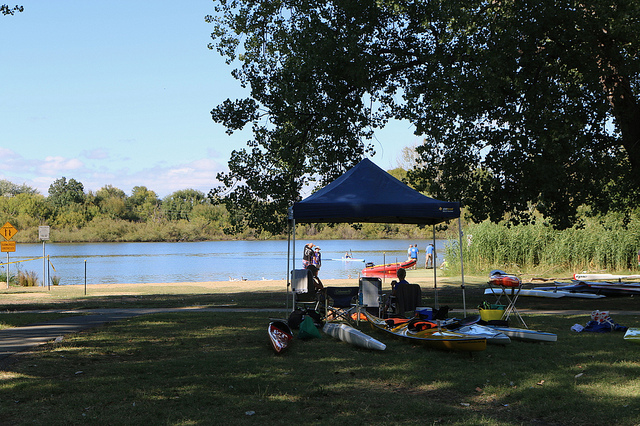 Above: View of Molongolo Reach on Saturday morning
Epilogue: The Burley Bash – Naomi Johnson
Sunday morning dawned, and while most would have picked post-race sleep-in as their preferred activity for the morning, a handful of stoic LCRKers decided to make the most of their Canberra trip and compete in the 43rd Burley Bash. Reasons for adding the early start and 30-odd kilometres of paddling to already aching shoulders varied: Duncan seemed keen to knock over a twentieth of his Very Big Year in the one weekend, I was honestly just relishing a different view in my regular Sunday 30km session, and Richard...well what else would one do on a Sunday morning in Canberra?
Clear, bright and already threatening a lot of heat, the conditions were just about perfect for a trip out into the Burley proper, with minimal wind and an idyllic view. Duncan, Richard and I all elected to do the 30km course, which took us on a two-lap tour of the lake, past the fountain and National Museum, under both bridges and around two islands which cleverly masqueraded as parts of the bank. Along with the 20-or-so other boats doing various distances of the Bash, the lake threw up plenty to keep us occupied: a dragon boat training to the steady throb of their drum, cyclists dashing and meandering along the footpath, and the local Carillon (bell tower) chiming Tchaikovsky's 'Dance of the Reed Flutes' into the new day. What a way to see Canberra!
Of the seven paddlers in the 30km race, I came 3rd with honourable mentions for being both the only woman and the only person bonkers enough to paddle a K1 in the 30kms. 6th place, and first in the 'Grand Master' (emphasis on Grand) 60+ age group went to Duncan, who looked much happier in his ski than the Bettong he paddled on Saturday. And Richard came 5th, with an honourable mention for delaying his start in favour of race photography, and as usual being the loudest and happiest paddler on the course. He did confess, though, that returning to the SUP for another day of paddling wouldn't have gone well – it uses some different muscles to a kayak!
The Burley Bash is a fun race with a laid-back atmosphere and an emphasis on enjoying the unique paddling experience that Canberra has to offer. It would be great to see a few more LCRK paddlers taking up the challenge in coming years.
Bonus Round, Albury (Mitta Mitta Canoe Club) - Sat 23-Sun 24 Feb
Race History (quoted from the MMCC website)
The original Albury race began in 1979 and was the first race on the VACA calendar and was run from the Weir Wall to Albury in winter. These races were soon after cancelled because there is traditionally little water in the Murray during winter.The second version of the Albury Race was staged in 1985. It was run in summer and was a two day event, upstream and back from Noreuil Park It was much harder and longer than it is today. In 1986 this two day event was called the "Milo Marathon", it was sponsored by Milo and was very competitive with about 30 K1 paddlers.

The format of the race was finally changed to downstream from the Weir Wall to Noreuil (26kms) probably to accommodate the touring boat paddlers who found the upstream course too challenging and long. After Frank's death in 1990 The Albury Race was named the Frank Harrison memorial Race to honour the long association and wonderful contribution Frank and his wife Fran had with the Mitta Mitta Canoe Club
"A Marathoning Weekend that had it all" (Race report from Duncan Johnstone and Jeff Hosnell)
Who would have thought? Hurricane Oma battering the Queensland south east coast and northern NSW. The Bridge to Manly Beach Paddlers would have been revelling in the five-meter swells sweeping in through the heads, but still, a dull, grey rainy day greeted us for our departure South to Albury on Friday to compete in this year's Frank Harrison Memorial Race. (Read how the Albury Race got its name here - here)
580kms, apparently! 5hrs and 30minutes. More like six and a half hrs. So, we had big expectations for a massive weekend.
LCRK were ably represented by Kieran Babich, who incidentally was the only one who proudly wore our Club colours, Anjie Lee's, Jeff Hosnell and Duncan Johnstone. Duncan contracted a severe bout of Gastro on Thursday evening and thought he could sleep it off. Fat chance! "We loaded the Vault after nine and I forgot the red flag so we left after ten via the M7". As Liz put it "I'm just his Uber driver. Duncan slept for six hours as I chatted and sang to myself". Anjie's partner, Clayton and Jeff with his partner, Laura, her Mum and Jenny & Robert provided the balance of a serious support group. What would we do without our partners and support crew, seriously?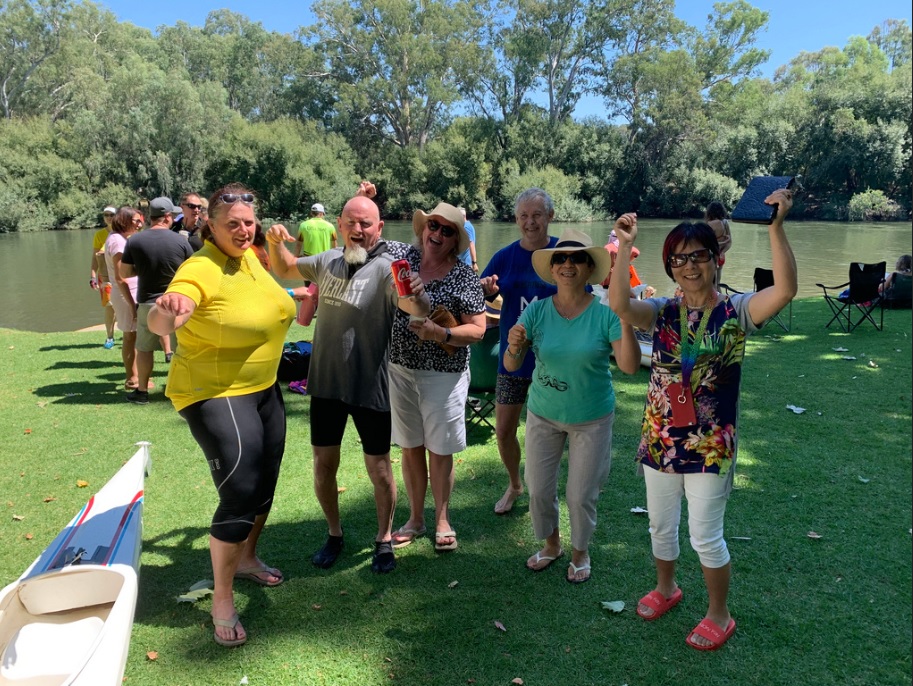 Above: LCRK team AND support crew!
Our Messenger group and Facebook worked tirelessly at keeping us in touch with one another. All accounted for in Albury by 6 pm Friday evening as a magnificent sunset bid us good night and gave hope for a good day to start the first of two marathons the next day.
Oh! Where were we staying? Accommodation offerings vary from the Mantra and Quest Group Hotels, plenty of reasonable Motel and Motor Inn style accommodation and Airbnb of course. Your choice depends on the level of accommodation you want and your priority for location. The CBD has all the nightspots and some good pubs and restaurants out on the wide main street. The Albury Paddlesteamer, being adjacent to Oddies Creek Park and Noreuil Park, in which the Mitta Mitta Canoe Club and Riverdeck Cafe are, is well located. The Club and Cafe have the prime spot overlooking a big sweeping right-hand bend of the Murray River.
Dinner at the Commercial with Anjie, Clay and Liz. A marvellous one-stop shop catering for all your "night out on the town" activities. Pokies, pubs, dance floor with live band, upstairs fine dining, sports bar for the slightly more retiring. Put simply, a hive of activity, everybody in town must have been there.
Relieved to make it to bed and looking forward to a late start on Saturday morning. Kieran promised us all a unique trip up the creek and around the island. Maybe next year, Kieran!
This race makes for a wonderful weekend of marathon racing but make it a weekend where you come down on the Friday. There are a myriad of cycling and walking tracks, Hop in upstream from the MMCC and float down the Murray in the heat of the day. Enjoy the wonderful enormous shading elms that abound in the park with coffee shops nearby and a picnic just waiting to be laid out on the expansive lawns along the river bank. Who could resist not enjoying themselves relaxing with friends and family while waiting for the more serious to complete the challenges the weekend's main show offers – The Frank Harrison Memorial Kayak Race Weekend. Remember too, this race is also offered as a bonus round for the NSW Marathon series. The Saturday dawned with a magnificent sunrise heralding the promise of a good but hot day of afternoon racing.
Anjie, Jeff and Duncan did a lazy warm up paddle upstream for about a km before being swiftly swept back down to the start. Anjie now happy to start in her Zest having fitted a new sporty rudder.
The start of the Frank Harrison Memorial Kayak Race is 26kms upstream from the MMCC headquarters just below the Hume Dam Weir Wall at 3pm in the afternoon, yes, it's a fast paddle back to the Clubhouse. The race also offers a shorter distance. This starts across a beautiful old wooden bridge opposite the Waterworks 16kms upstream from MMCC at 4pm after the 26km front runners are through.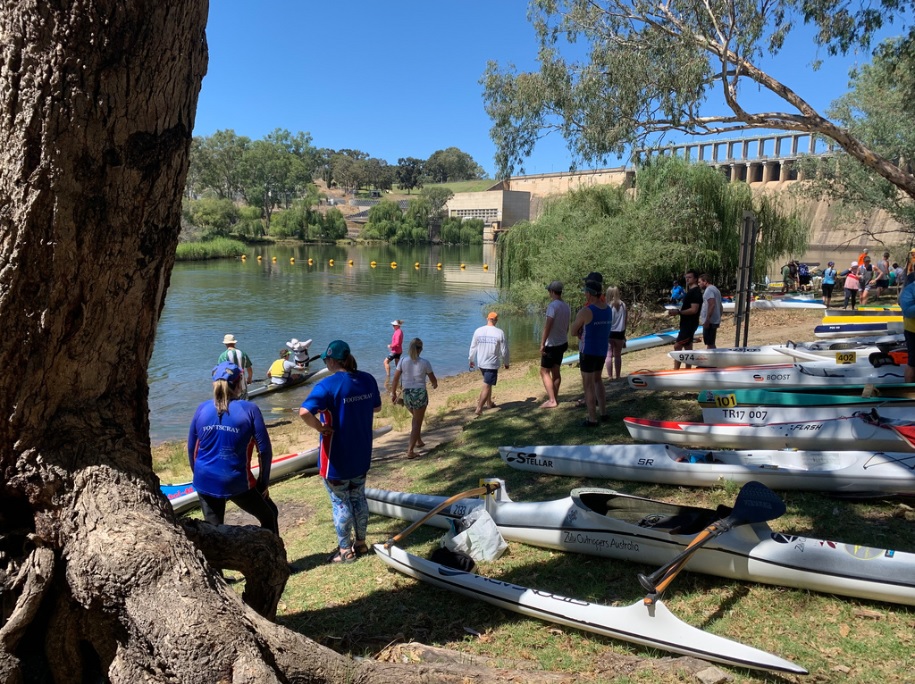 Above: Start at the dam wall
The first day essentially provides for Seniors in all classes to race singles and Juniors doubles and this is reversed for the second day of racing on the Sunday.
The major focus is of course on C1 and C2 and K1 and K2 classes.
Whilst Kieran (K1), Anjie (Ski) and Jeff (K1) took the high road to the weir wall, Duncan (Ski), still nursing his gastro, stole away for an early attempt at an elixir at the Waterworks.
The river flow this year was well down from previous years. The area is really suffering from no rain, so times were slow. We all enjoyed the 1st race and having a flowing river provided a good challenge to find the fastest passage and carefully navigate the big logs and big, multiple eddies thrown up by the swirling waters.
All safe and somewhat relieved and elated at completing the first day we exchanged brief notes over a cold Coke, yes some of us earned it, before we all retired to the Bended Elbow for the first days Presentation and dinner.
Kieran had birthday commitments elsewhere, celebrating a 1st birthday with friends. Yes, Kieran the time will come for you too.
The bended Elbow is on the main street and was a busy modern pub inside an old shell. So, food was a while in coming but gratefully received before the presentation began.
The locals of course cleaned up in the main race of the day. (Refer to the link for the overall results and LCRK results)
The FHMK Race achieved a notable milestone this year registering the largest fleet to start the 26k single ever. 99 starters for the singles. Duncan you spoiled the show, it could have been 100 with you, mate!
There were 59 registered for the doubles, proof the popularity and format of the MMCC race is getting better and better every year.
And so, to an early night to dream of another big day and a much earlier start time of 10am.
Sunday morning greeted us with a cooler, clear morning. Being doubles day, Anjie took the opportunity to do a 35km cycle trip around the Hume Dam with Clayton and Kieran took a rest day to help out MMCC with race logistics as his back injury had flared up again exacerbated by the long trip down from Sydney.
So, Jeff and a recovering Duncan were the last men standing for LCRK as they launched their repaired TK2 after a short briefing which highlighted the falling river levels since the previous day and the increased likelihood of snags and eddies.
3 starts got everybody away without any capsizes. The C class boats, the traditional river boats, the K2's and the rest of us in the final start.
Jeff took the gamble that Duncan would know better than himself on what to do in the front of the boat This proved to be a much bigger challenge than we both anticipated as we tried to co-ordinate where we thought we should be on the water and how we should approach the ever rising swirling water and eddies.
Our strategy was fine until we tried to wash ride, or pass another boat or ourselves be passed by other craft particularly after we had got through Waterworks before the 16km competitors had started.
Yes, the TK2 somehow had a mind of its own and wouldn't go in a straight line. We certainly had speed but lost our wash rides as we veered off to one side and then the other as we tried to recover. With the shallow river and 6 or 7 boats and canoes jostling for position on the bends, waves would suddenly stand up, usually offering opportunities for increased speed, but these would send us off on our own destructive path, usually in the wrong direction.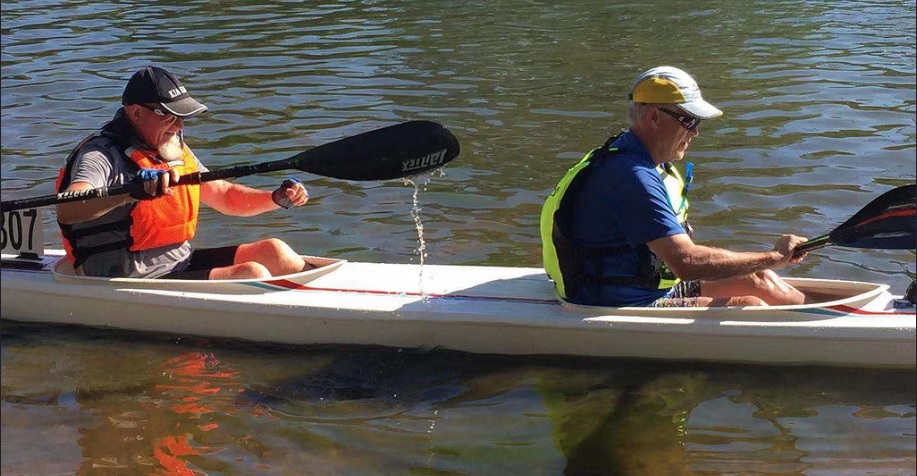 Above: No, the OTHER left Duncan!!!
Gradually we mastered the balance of the boat and discovered a magic new word called "anticipation" and for the last 10kms or so, we started making amends for our inexperience and perhaps lack of a plan based around what we could expect and how we would approach it.
Jeff, you tried valiantly, and we did get there in the end. Great, great fun, if not a little frustrating.
The wind down to the final presentation and converted trophies in the MMCC club house was a fitting end to a magnificent weekend.
Congratulations to the MMCC and all your volunteers on a wonderful event and fitting hosts to us all.
I only wish we could take some of those trophies back home. Maybe next time.
Finally, a big thank you to our own partners, and support crew. You all play a bigger part to the success of a weekend like this than you imagine.

Above: Results for LCRK participants
Riverland Paddling Marathon - 8-10 Jun 2019