And some other Marathon events to slot in...
General Info for the 2019 Marathon Series (from PNSW)
Points progress as at final Round #10 - LCRK 3rd overall (leaves room for improvement in 2020)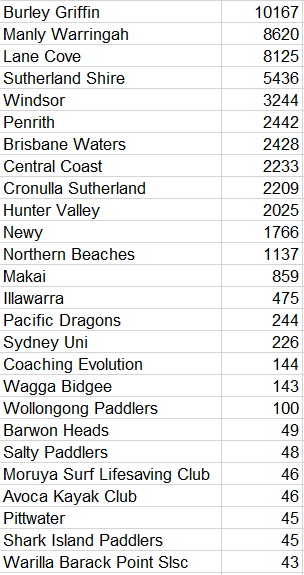 Above: Brian Norman Memorial Club Trophy (Rd10)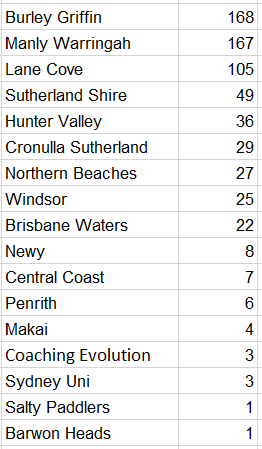 Above: ICF Club Trophy (Rd10)
Some key info for the 2019 Marathon Series:
We'll have separate State Championship events for singles (Canberra in March) and doubles (Lane Cove in April)
State Championships will follow the new class and age group structure at Nationals (three class, age groups in 10-year blocks for masters) with a non-championship classes for those who don't want to paddle one of the championship classes
If you paddle in a one of the championship classes, you will earn placing points in the normal manner (50 for 1st, 49 for 2nd etc and you can carry these back into your regular racing division)
If you paddle in a non-championship class, you will receive a fixed 46 points regardless of placing.
For all 2019 Marathon Series races, anyone who voluntarily portages (even in non-ICF boats) will earn bonus points towards the club ICF Trophy
The doubles round (and doubles state championship) will again see paddlers earn bonus points towards the Brian Norman Club Championship Trophy.
At the Portage Round - those who portage will also earn bonus points for the Brian Norman Club Championship Trophy.
The median-based promotion rule has been retained.
Demotion remains voluntary.
Round 10, Teralba (HVPC) - Saturday 24 August iNCLUDING Presentation Dinner
Race Report - Naomi Johnson For the grand finale of the 2019 marathon series, the racing was on no matter what the wind factor!
This year saw a much earlier finish to the marathon series, with the ten races wrapping up in late August to make way for the Ultramarathon series to kick off the following month. The series finale took us to Teralba's Cockle Creek, a day trip up the Pacific Highway for a day where spring was definitely in the air but not quite ready to burst into full bloom. Fielding a consistent but somewhat slimmer team than in previous years, Lane Cove was just out of running for the club trophies, but some individual paddlers had their eyes on divisional trophies.
An early start saw several LCRK paddlers at the shed picking up boats just after 7am, before hitting the road north. All had been nervously checking the weather, with an eye on the strong, gusting winds forecast to come through around midday. Just how sheltered was the course? Would we fare better in Cockle Creek's shallow water, or just feel the gusts that bit more. The race briefing, however, concluded that all would be fine, the wind "doesn't touch this part of the river". Spurred on by this reassurance, some 100 boats took to the water for the season decider.
Three Lane Cove paddlers left it until the very end of the season to start their series campaigns. Cameron Cox completed his Div 2 ranking race in 1:44:58, which would have given him the race victory over MWKC's John Burkett while Adrian "I'm sure I should be Div 7" Clayton proved that his was definitely a Div 6 paddler, working solidly with Phil Geddes round the course. Naomi's partner Frazer Ruddick made his racing debut in Div 13, finishing the 5kms in a very respectable 39:26 and eager for more. Lesley Manley is now taking expressions of interest for a new apprentice photographer with some urgency!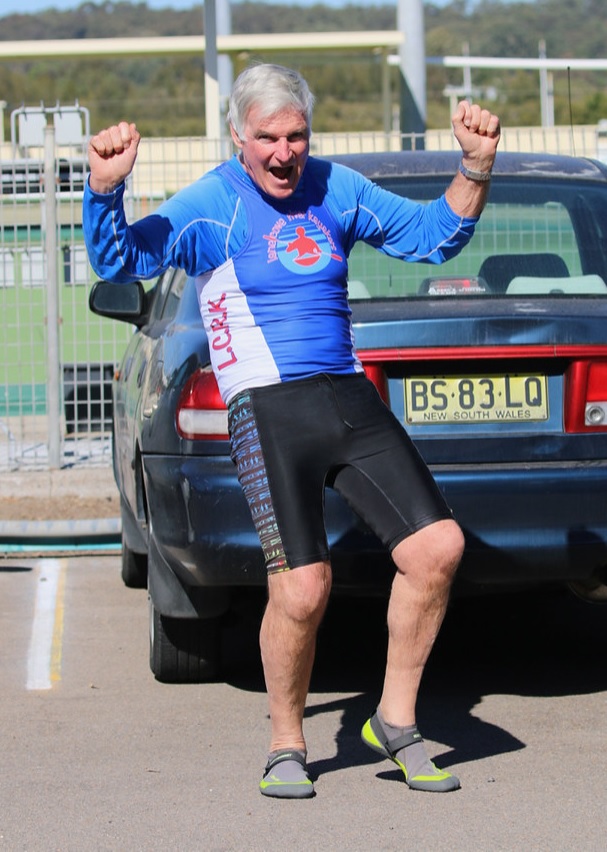 Above: Adrian "Hulk" Clayton (photo: Ian)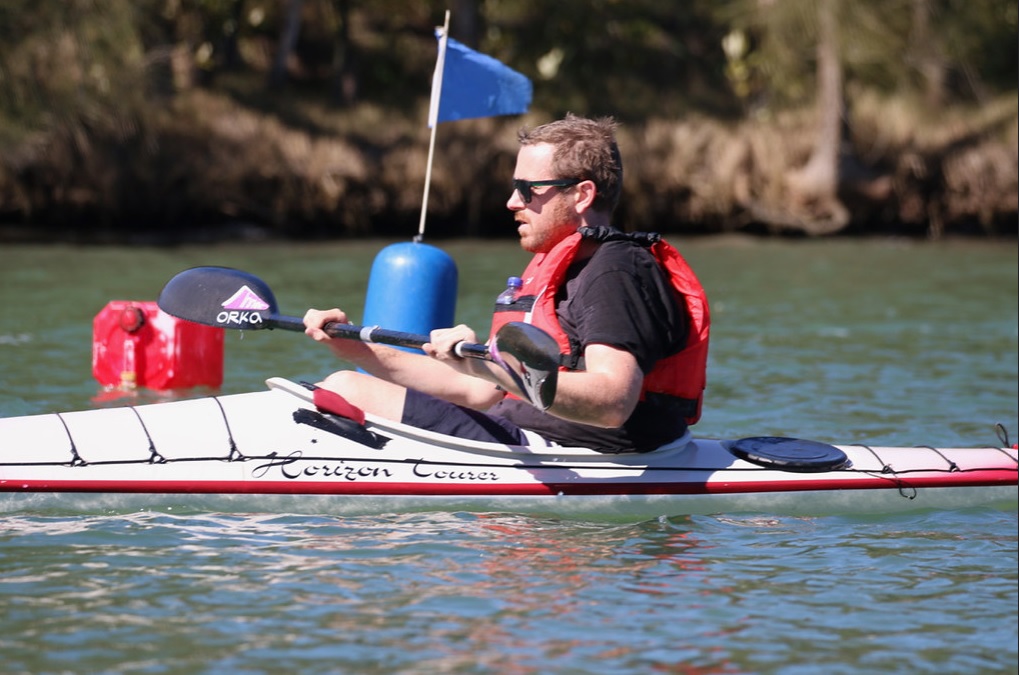 Above: ex photographer Frazer (photo: Lesley)


The 15km Div 8 has been far and away the most popular this year, with no fewer than 137 different boats (singles and doubles) registering across the season. Does that make it the sweet spot distance? Or is the popularity more a reflection of paddlers jumping between the 10km and 20km distances? Tim McNamara was the only LCRK paddler this time round, finishing 9th in 1:32:24.
The 10km divisions saw a number of Lane Covers racing to secure their spot on the podium. In Div 10, Paul van Koesveld and Peter Harris continued their season of stalking each other around the course, with Paul crossing the line in 1st and Peter in 3rd (only 38 seconds) to secure 1st and 2nd respectively across the season (separated by only 6 points). David Veivers finished 10th, and can report that the Paul vs Phil paddle-off looked perfectly fair from a few hundred metres back. Things could get interesting next season, however, as Paul's efforts earned him a promotion to Div 9!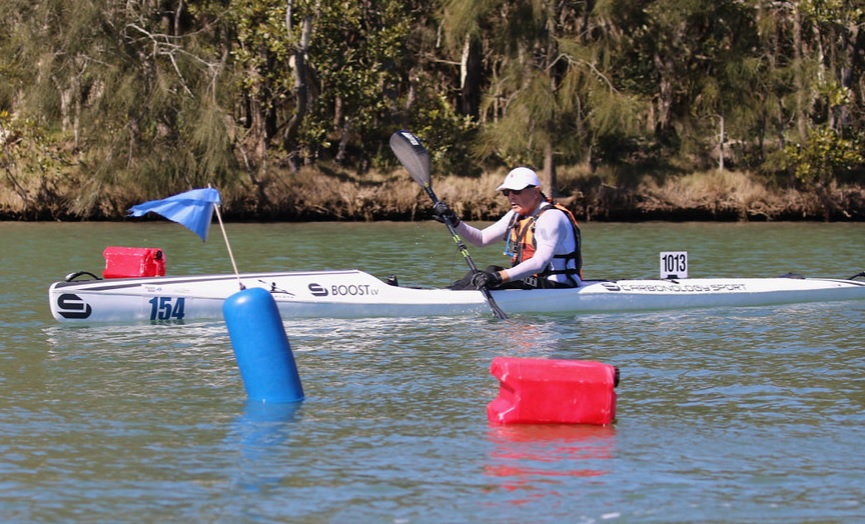 Above: Paul 1st and 1st in Div 10 series (pic: Lesley)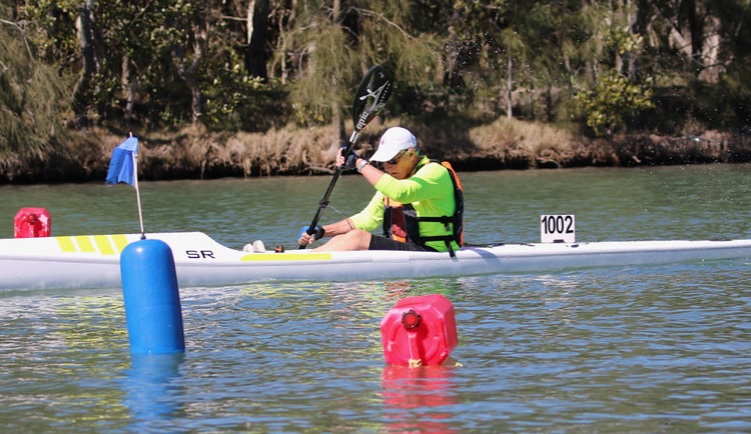 Above: Peter 3rd & 2nd in Div 10 series (pic: Lesley)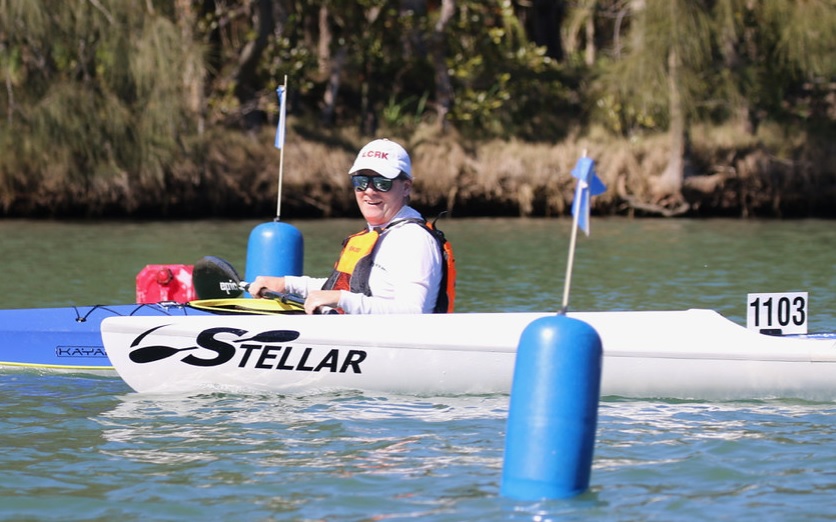 Above: Ian 2nd & 2nd in Div11 series (pic: Lesley)


Of the four boats in Div 11, Sue Huehn from Penrith reportedly gave 'the boys' a washride for the first 9kms, only to be overtaken by series winner Barry Lowe (also Penrith) on the downwind leg past the bowlo, and then be pipped by two seconds on the finish line by Ian Wrenford. Ian also secured himself 2nd in the overall Div 11 standings, confirming that 49 really has been his favourite number in the 2019 season.
In Div 12 Lachie Wrenford was back in his K1 for a 5th place finish (and 3rd in the overall series but with 1 race short to be able to claim a Div 12 medal), while Div 9 saw Alanna Ewin make her 10km debut for the season in order to earn her 100% participation medal. She finished 8th, a little way behind returning powerhouse double Matt and Liberty Blundell. The ever-improving duo stormed to 3rd in a fabulous time of 54:56, and were awarded the Vet-Junior Trophy for their racing through the season.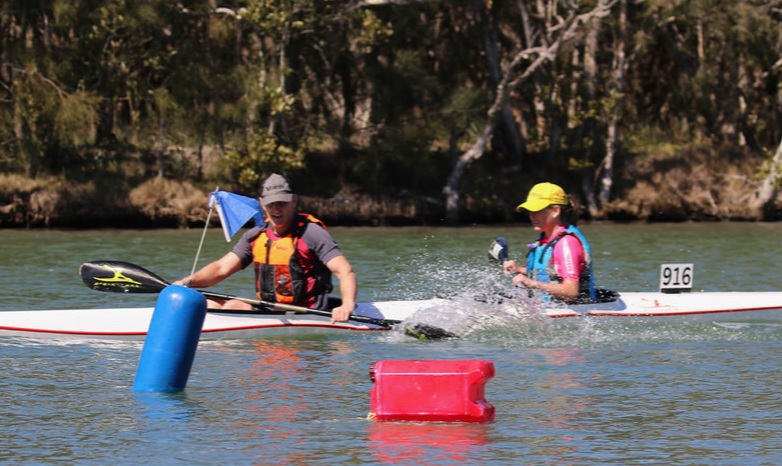 Above: Team Blundell (pic: Lesley)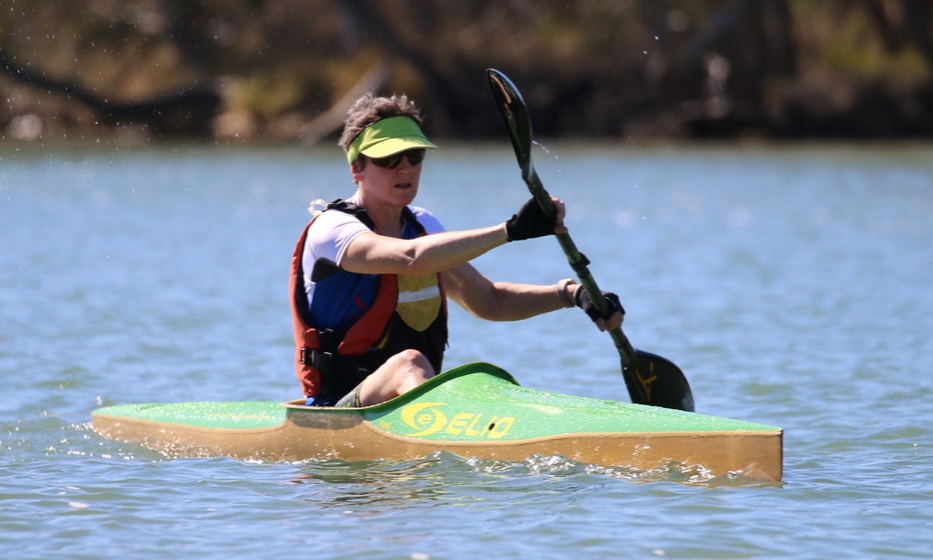 Above: 100% Alanna (pic: Lesley)

While the promised shelter of Cockle Creek held true down around the bottom turn and in front of the bowlo, the upper part of the course was not so protected. On the downstream half of the lap, gaps in the trees beside the river meant destabilising gusts of wind that seemed to toss you about in a different direction each time. While ski paddlers might have been moderately oblivious to the weather, those with a less stable boat were really beginning to feel the core kick in by the end of lap two! No LCRK swims were reported, in fact Nemo was noticeably absent from the day's proceedings!
Div 1 saw Brett Greenwood (MWKC), freshly returned from his victories in the European Masters Championships, take out 1st in a commanding time of 1:34:28. James Harrington (MWKC) and Stewart O'Regan had a very close race for 2nd and 3rd, crossing the line with only two seconds separating them, and James Pralija (MWKC) finished 5th. In the overall standings for the division, Brett was 1st, James H 2nd, and James P earns an honourable mention for earning 4th after only his first season in Div 1.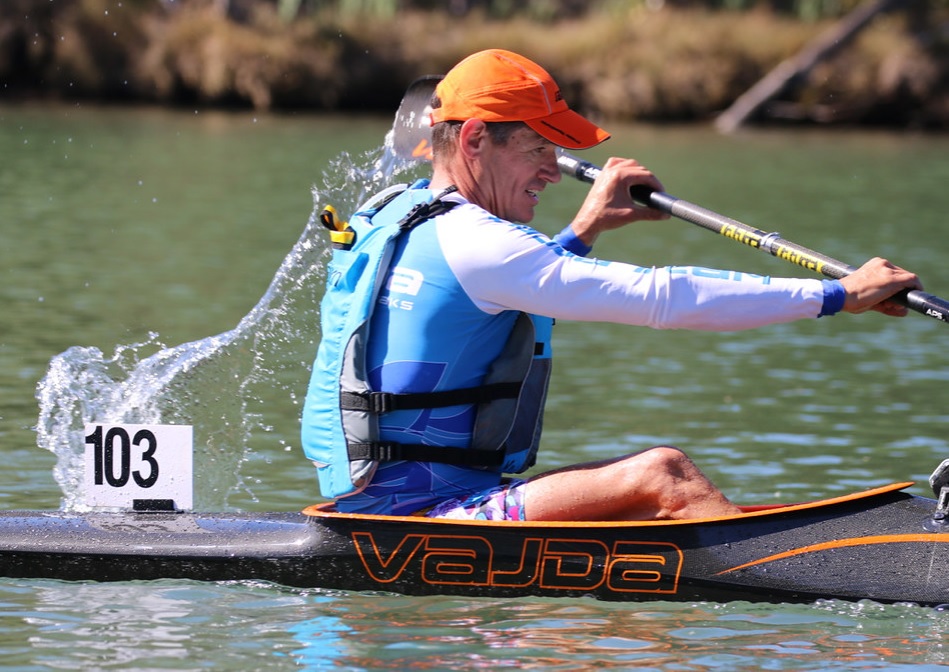 Above: Brett 1st and 1st in Div 1 series - paddling for MWKC (pic: Lesley)

Lane Cove made a solid effort in the slower half of Div 2, with Tony Hystek and Peter Manley apparently tailing each other all the way round to finish 5th and 6th only a second apart. Allison Bilbow and David Young rounded out the field in 7th, with "diddly squat training" again given as David's reason for the result.
There was a broader spread of results in Div 3, with the season results still not settled heading into the final race. Gareth Stokes (SSCC) wasn't content with 3rd in the overall results, paddling the race of his life to make it 1st over the line and 2nd overall for the season. Naomi Johnson was always going to be just out of the trophy placings, but after a shocking start spent the race happily picking off other paddlers to finish a surprise 3rd for the day. 30km training paddles are beginning to pay off! Don Johnstone didn't have a great start either, with a steering malfunction leaving him right at the back of the field off the start line. He finished in 12th, while MWKCer Daniela Torre finished 5th to match her 5th overall for the season.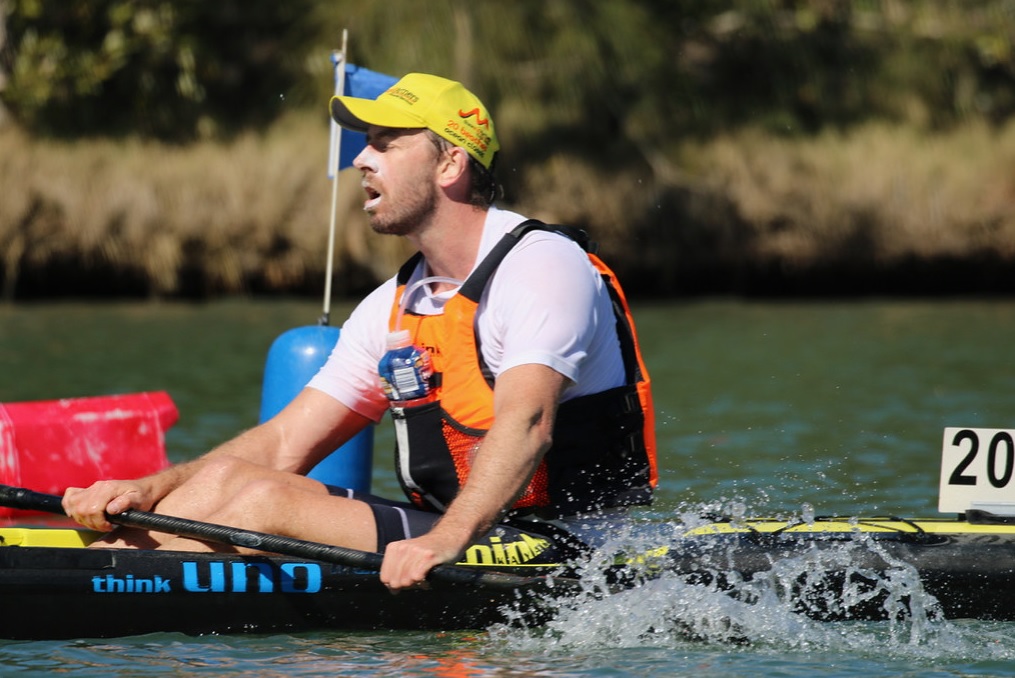 Above: Cameron ranked! (pic: Ian)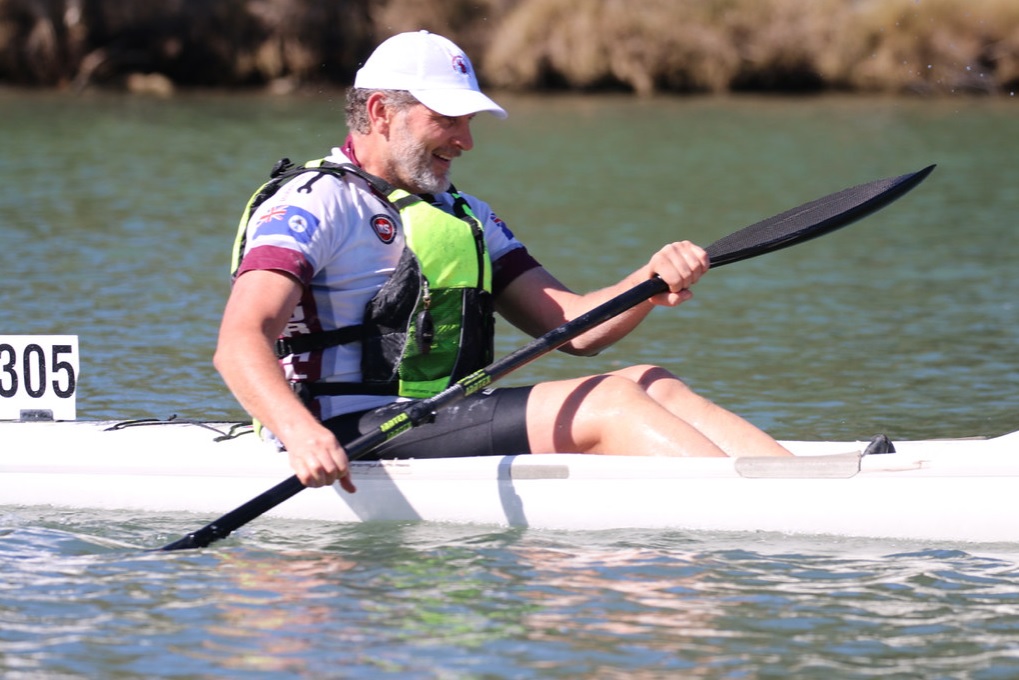 Above: Don sans rudder (pic: Ian)

Wind certainly didn't help matters in Div 4, with several paddlers overheard muttering "good until the wind came up" or "well once the wind settled down"! Richard Barnes took out the race in 1:55:46, while Wade Rowston finished 9th and Ruby Ardren (MWKC) 11th. Justin Ryan's efforts in his K1 this year have been paying off, with an almost 4-min victory in Div 5 that sees him kicked up a division for the start of next year. And in Div 6, Phil Geddes paddled with Adrian for most of the race only to "leave me for dead" in the final kms, finishing 2nd in the process.
Following the race, Teralba bowlo put on a buffet dinner for the annual award presentations, and it was great to see a few LCRK paddlers hang around to share stories of the 2019 season. Lane Cove finished 3rd in both the Club Trophy and the ICF Trophy, with Burley Griffin pulling out all stops (and driving a heck of a long way in the process) to take out the top gong in both. It has been great to see a number of LCRK paddlers jump in K1s for the first time, with others taking on new distances or indeed jumping into the marathon series for the first time. According to Ian Wrenford, a total of 59 unique (aren't we all?) LCRK paddlers undertook at least one race in the series – that's almost half of the club! Congratulations to all who paddled, whether it be to set PBs, achieve goals or just for the fun of paddling.
The 2020 marathon series dates have already been released both in handy flyer and digital form, and it would be great to see LCRK field a strong team for all the races! In the meantime, there's always the Ultramarathon Series, with five unique races across the coming months. Hawkesbury Classic anyone?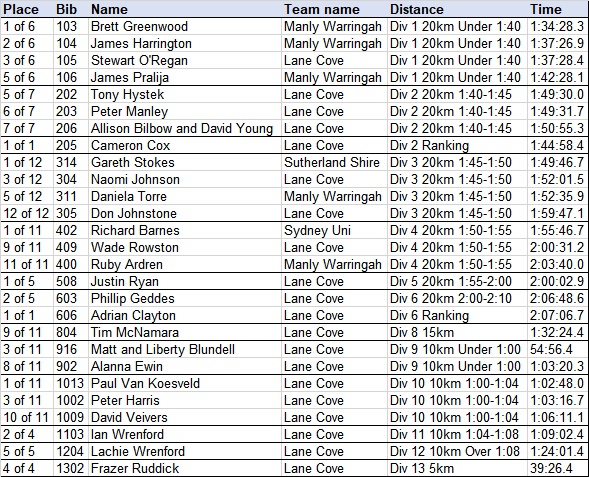 Above: Results for LCRK Members and regular TTers
Round 9, Windsor (WCC) - Saturday 3 August
6am....
Me: "Ok Google, (Siri if you are rich), will it be a nice day for paddling in Windsor today?".
Google: "In Windsor today it will be 21 degrees Celsius, no rain and a light westerly breeze". Perfect!
Me: "Ok Google, will I win my kayak race today".
Google: "I'm sorry, I don't know how to help you with that". Useless!

But the day didn't start off warm. It was a crisp 4 Cel in Windsor and with the early morning fog, it resembled something out of Jurassic Park, with tall cranes from the bridge construction breaking through the mist looking more like brontosaurus than anything man made. A photographer's heaven! But it wasn't long before the mist burned away, the BBQ was set up, the place filled with kayaks and people, and Tony's loud speakers were put into action sound!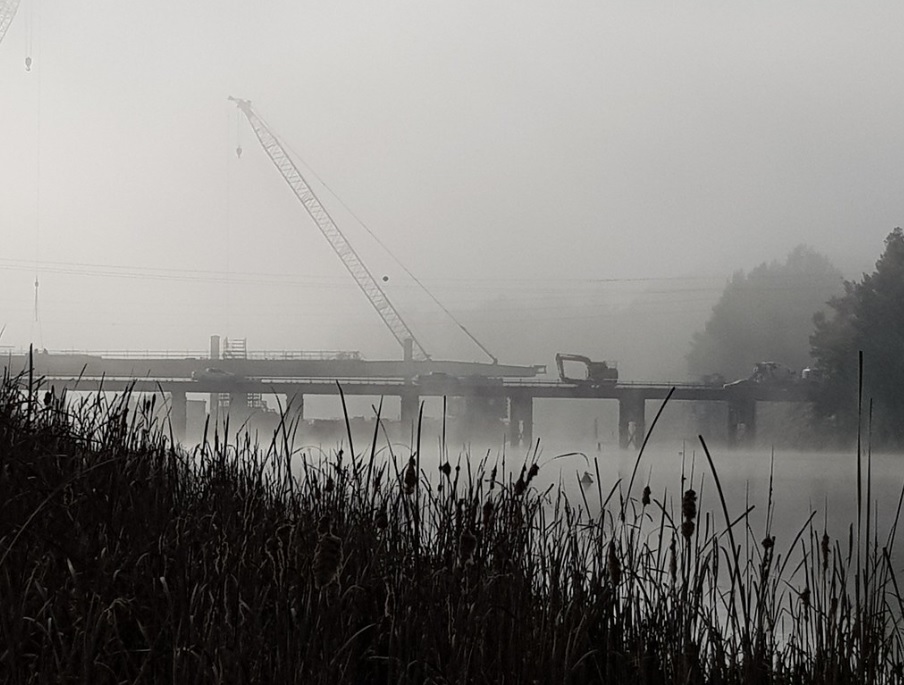 Above: Brontosaurus Wrecks (photo: Oscar)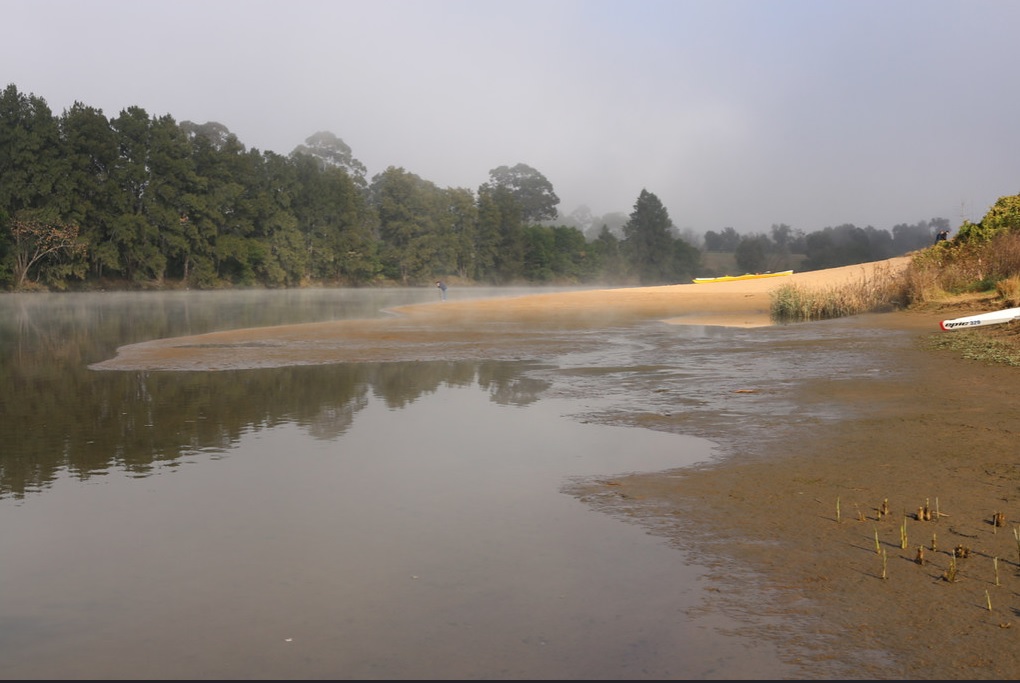 Above: Fog Hollow (photo: Ian)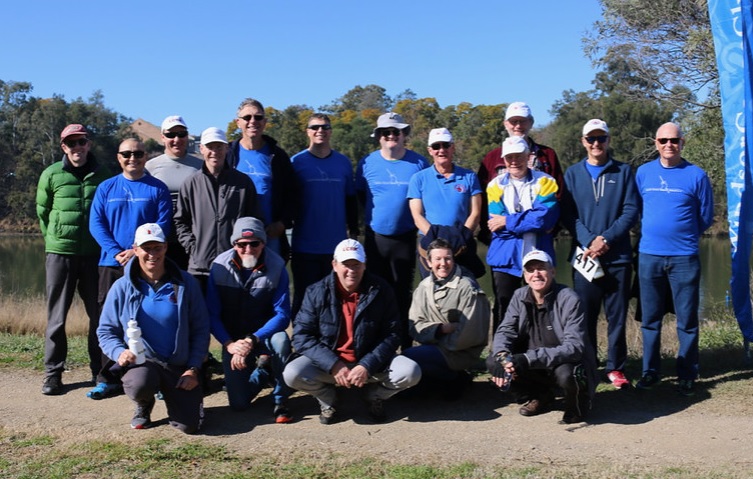 Above: Most of the LCRK contingent

Of course the big conundrum for paddlers was whether or not to do a portage. Yes, it was 2019's Portage Round where you get 50 bonus Club points if you chose to portage on each lap. Div 1 had to portage as they always do, but in the other divisions, anyone and everyone could opt to give it a go. It didn't come without a price however as you lost at least 50 meters on each lap to someone who opted to skip the portage, but the more adventurous paddlers gave it a go and had fun at the same time. 65 paddlers in all did a portage, 12 from Lane Cove, 13 from Manly and a staggering 29 from Burley Griffin! For many, like me, it was my first portage ever! As for the course itself, it resembled a wide reverse 'J' and was a 5km loop. From the sandbank, you paddled around the corner and then it was a straight dash up river to the top turn and then back down almost to the old bridge. (Well, it will be old once the new bridge is finished!)

We can't have a report and ignore the bridge completely! It was built in 1874, cost just over 10,000 pounds, and as everyone knows, it is 111km downstream to the next bridge on the Hawkesbury River (according to Roger Deane and if you don't cut corners). The new bridge is to cost $100m and was originally scheduled to be complete in late 2019. Once the new bridge is operational, the original bridge will be removed. It's called progress.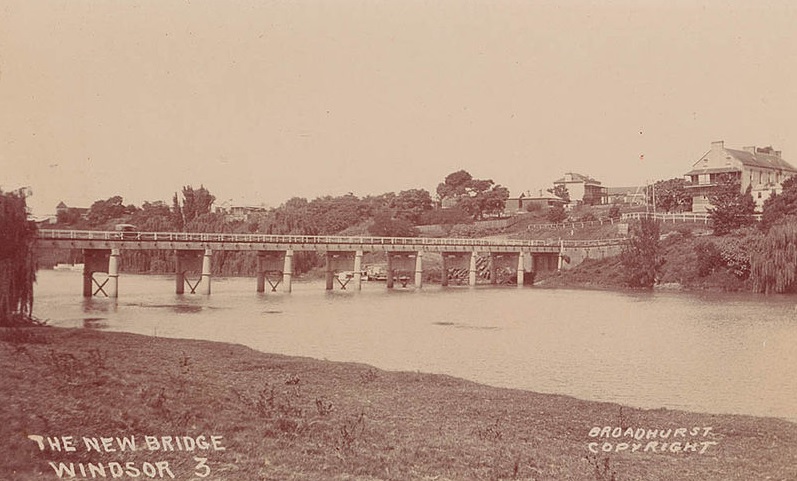 Above: The New Bridge (soon to be Ye Olde Bridge)
As for the race itself, let's just say that portages divided divisions in two, so the times were not typical and neither were the placings! I asked Stew O'Regan for some gossip in Div 1….nuttin…it was a very "clean" race and had almost had a photo finish for first, second and third. James Harrington crossed first at 1:33.24.2 followed by Stewart at 1:33.25.4, with Michael Hanemaayer at 1:33.26.3. James H forgot his LCRK hat so Stewart can claim first over the line for Lane Cove (we still love you James!). There were 7 starters in total, four being from Burley Griffin. If you want to see how close the leaders were, have a look at this early portage :
  

Div 2 was well represented by Lane Cove with four boats flying the flag out of 10 starters. Andrew Love took out first place with a time of 1:38:27 , followed by Tony and Alanna who crossed at 1:39:05. Alanna's synopsis: "we were pleased to fit portages in (hilarious as they were - falling over ourselves with the big fella trying to get in and out of the cockpit) and still stay ahead of the field who didn't portage. Enjoyed Lovey's company for 3 of 4 laps but he got sick of waiting for us after the portages and headed out alone to rake in a good time for the last lap." So even with waiting, Andrew Love's stellar time means that he has been promoted to Div 1. Well done Andrew. Tony and Alanna, your streamlined well practised portages have also done you no favours. Congrats on your promotion too!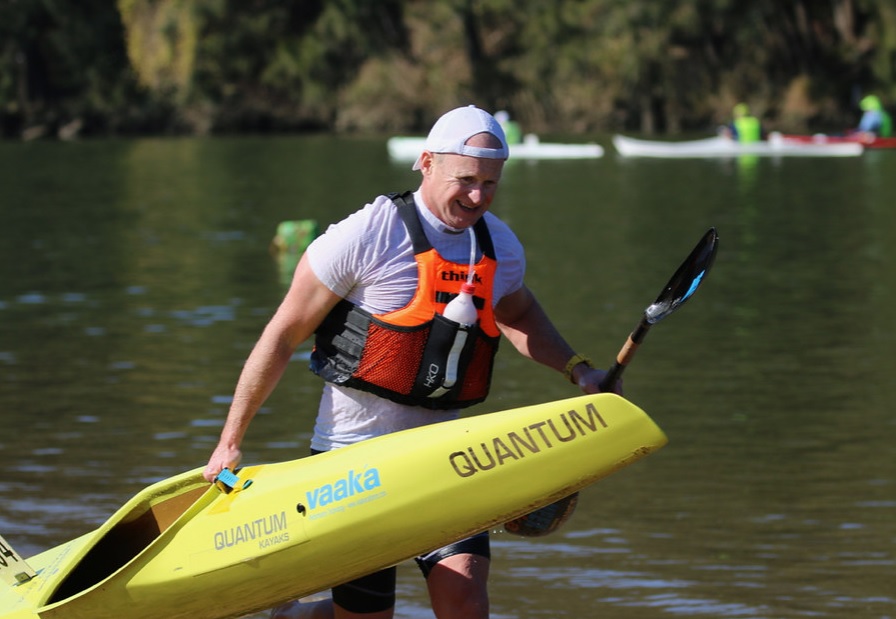 Above: Stew O'Regan (photo: Lesley)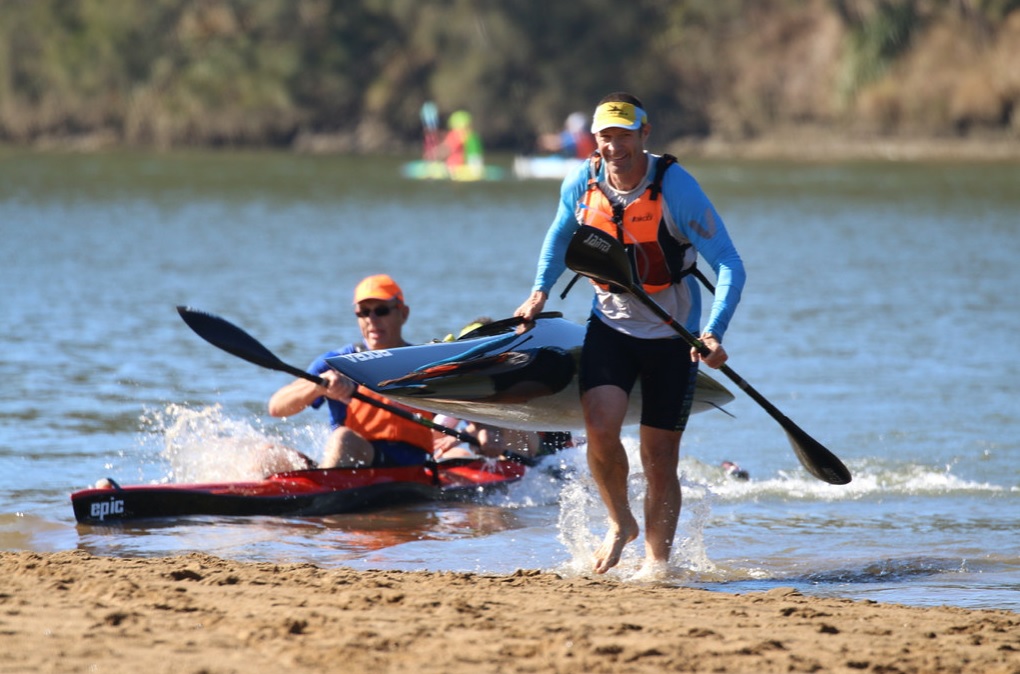 Above: Andrew Love (photo: Lesley)

I (Oscar) was delighted with the start of my racing day. I managed to catch up with Ian Hofstetter, over take him and stay a few boats ahead for the good part of 15km. We were then both overtaken by Peter Harris and there he stayed until the bridge. Sadly that was pre-race on the M7/A2! As for Ian's kayak race, Ian was the third Lane Cover to cross the line, followed not far behind by Tim Binns. Ian and Tim also picked up portage points for the club. Go Lane Cove!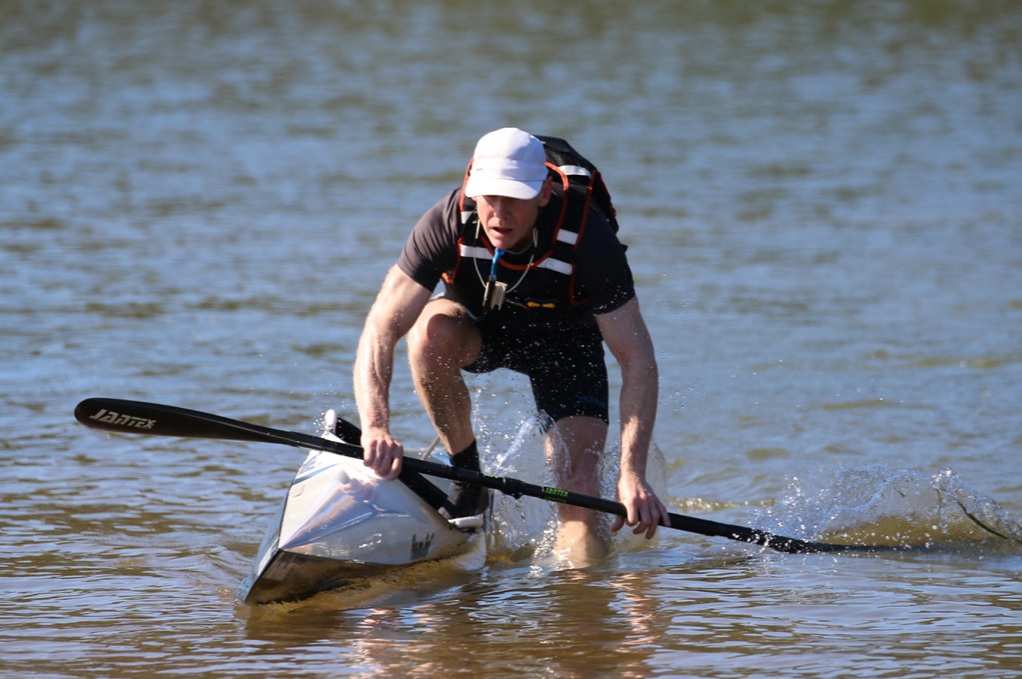 Above: Ian Hoffstetter (photo: Lesley)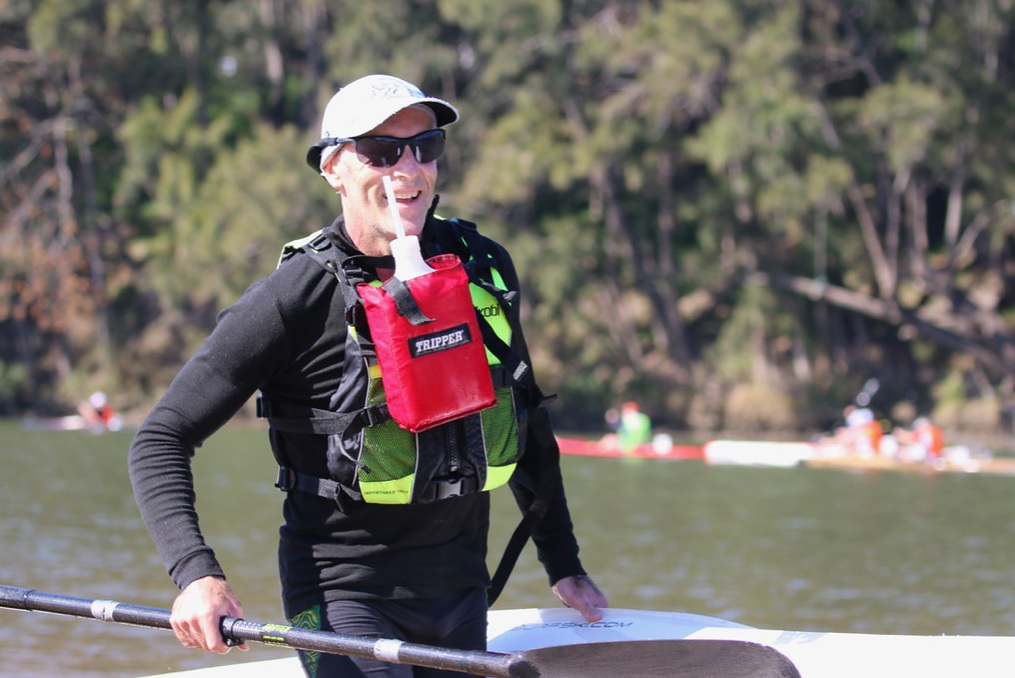 Above: Tim Binns (photo: Lesley)
Div3 had a huge field of 16 kayaks with 4 paddlers from Lane Cove. Trevor had an awesome race and crossed the line second with a time of 1:45:20. A little bit down the field in 8th was Rodrigo with a time of 1:47:12. Don Johnson joined in the portage fun and was the fourth Lane Cover over the line. David Young was trying out the club Sting, also picked up portage points. He liked the Sting boat but his bum didn't like the sting! Daniela was also in the middle of the pack flying the MW flag. Did she make our club photo?

Div 4 had an impressive 14 starters. After some solid long training paddles, (minus the portage) Jeff paddled a solid race and crossed in 7th place despite a pain in the neck (keep comments to yourself!) Wade wasn't sure how many in the first half of the field did a portage, but 5 of the 7 paddlers in the second half tried their hand at it. Here is his mini report: "The first lap was exciting as I arrived at the portage with Ruby (paddling for MWKC) and Scott Harris (also MWKC). Ruby showed most competence on the boat exit, while I was left wishing I had actually practiced the theory of exiting the boat that I rehearsed in my mind. We were up and running and not sure how but I managed to get ahead and get back on the water without incident. The other thing I wished I'd practiced was running to get some aerobic fitness because once paddling I found I needed at least 200 metres to recover from the run. Is that normal? Anyway somehow I managed to stay ahead of Ruby and Scott but dropped about 50 metres to the non-portaging paddlers for each portage. My other portages were highlighted by pulling or temporary cramping of a stomach muscle on portage 2 and then a lower shoulder muscle on portage 3.
This year I think the course was favourable to the non-portaging paddlers and I would like to see them sent on more of a detour next time. Anyway all good fun and something different" Indeed!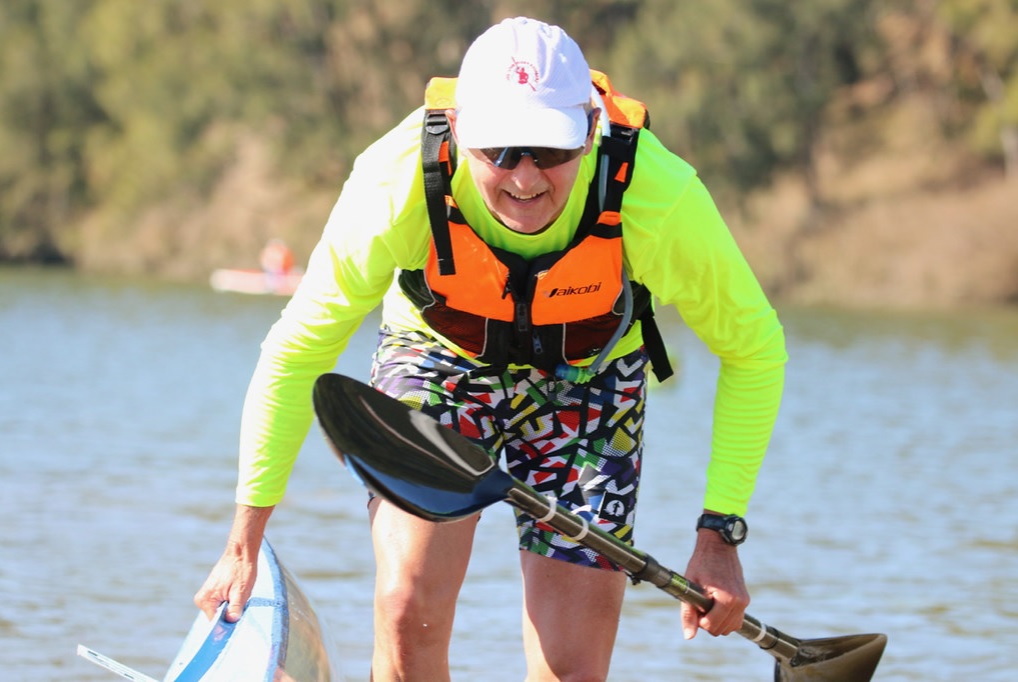 Above: Wade enjoying himself far too much! (Photo: Lesley)

Div 5 is easy to report on. There were 5 boats and no one from Lane Cove! Burley Griffin had two.

Div 6 had 8 people on the starter list but only 5 turned up at the actual starting line. The field was further divided in two, with two opting for portages. Phil led his tight group of three for the first three laps, only to have all his hard work go down the river (or up the river?) and crossed the line in third with a very commendable time of 2:03:07. Oscar chose to portage and was literally pipped at the post by Jeremy from Burley Griffin who also kept him company at all the portages and throughout the race. (As an aside, Jeremy pushed too hard at Davistown and ended up in the back of an ambulance after that race. So it was great to see him back on the water. But remember, we paddle for fun. If you're not feeling well, pull over and ask for help. Your family will forgive you if you don't come first!)

There were 7 starters in Div7 and they all chose NOT to portage! They must have missed the email. (That's how Oscar was the first person to actually do a portage… probably the last one too of the day!) Gaye Foster (MW) got a podium position with a nice time of 2:17:30.

So much for the 20km divisions. There were 19, yes, 19 boats in Div8, which is the 15km division. First to cross the line had a time of 1:16:44, and 19th to cross had a time of 1:43:28. So it was quite a spread. Tim McNamara had a great race coming 8th in the large field. Well done Tim. We need more Lane Covers in Div 8!

Div 9, 10km, had an impressive field of 18! Div 9 is more of a 10,000 meter sprint these days and is tough going. Pete Manley , yes Pete Manley, took out third place. What was he doing in Div 9? Pete is still in recovery mode from a dodgy knee and apparently he is expecting retrospective permission from his doctor for the race! Shhhhhhh. But he did skip the portage…… his knee was thankful! Burley Griffin had 8 boats in Div 9….gulp!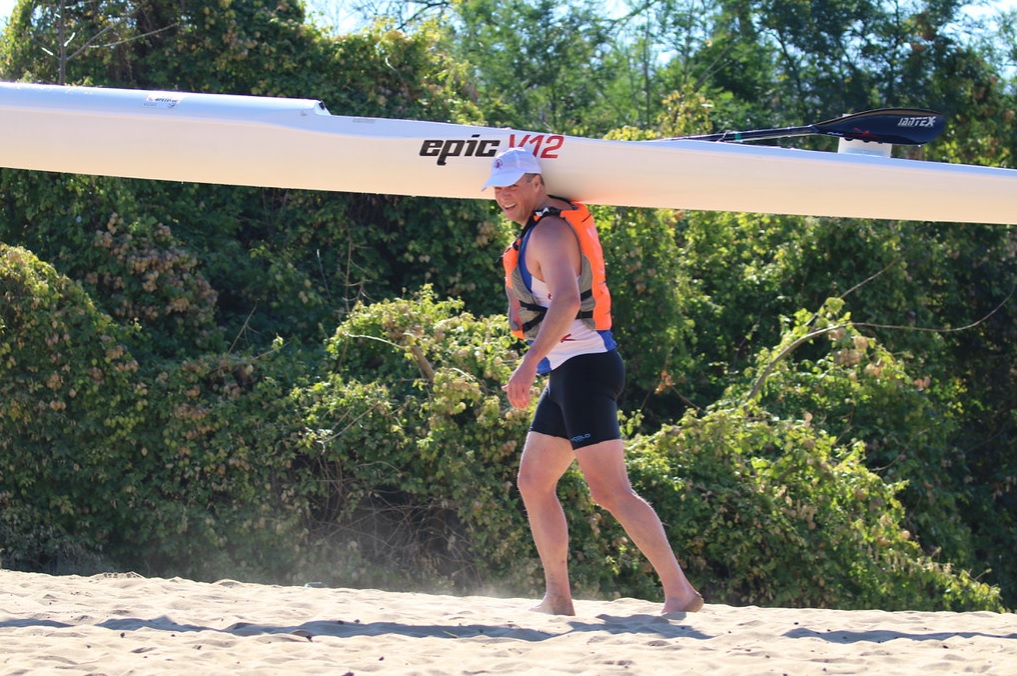 Above: Peter Manley resting his knee - honest! (photo: Lesley)

Div 10 had a few more Lane Cove paddlers. Paul Van Koesveld was the first of them, crossing the line 5th with a fast divisional time of 59:43. Not far behind him was Peter Harris and then David Veivers. The sand was too hot to walk on apparently so they all opted to skip the portages! David had a great race and knocked out a 2019 PB. Well done!

Div 11. This was Christopher Armstrong's first point scoring race having done his ranking race in Davistown a few weeks. He crossed the line in fourth but all those ahead of him skipped the portage. So I reckon he would have won without portages. Ian Wrenford also did a portage. He wasn't going to even race due to an elbow issue (thank goodness it wasn't his drinking arm) but those tempting points were better than Voltaren, and Ian hit the water, did his 10km paddle, one maiden portage (something like the beach scene from Chariots of Fire) and crossed the line in style…and points!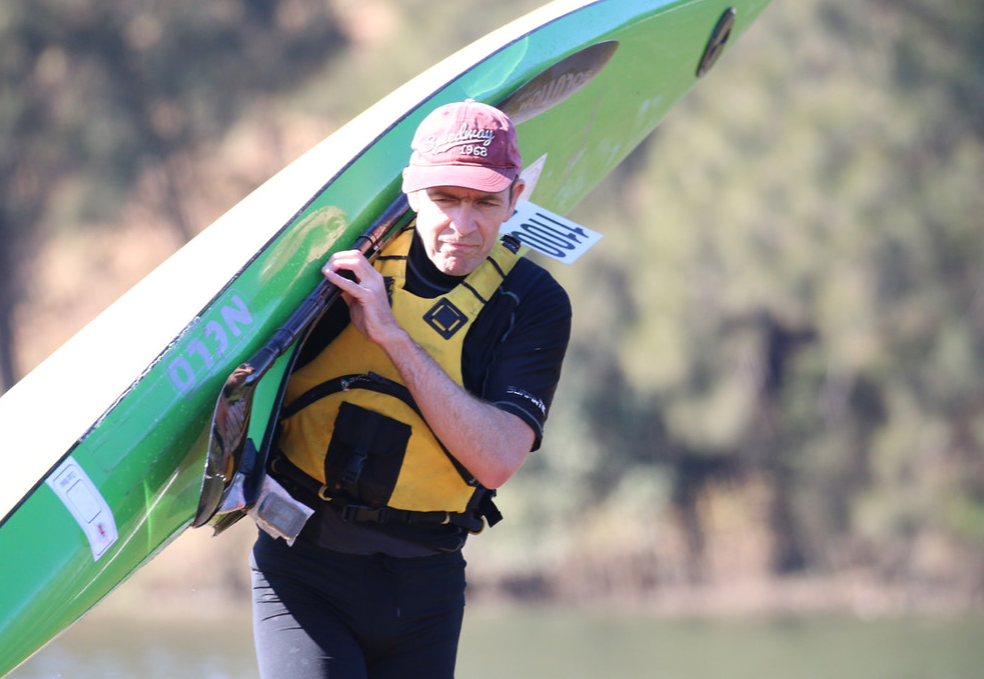 Above: Christopher Armstrong (photo: Lesley)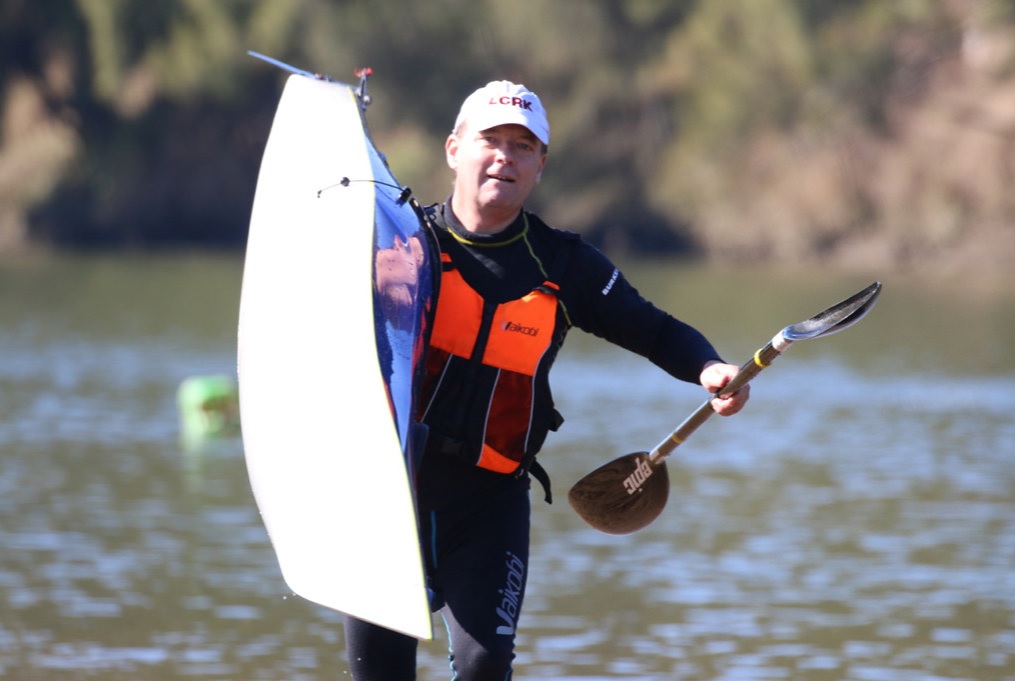 Above: Ian Wrenford - Chariots of Fire (photo: Lesley)

Div 12 and 13: No Lane Covers to report on here….! Where was Lachie Wrenford when we needed him most!
Thanks to Ian and Lesley for all the awesome photos!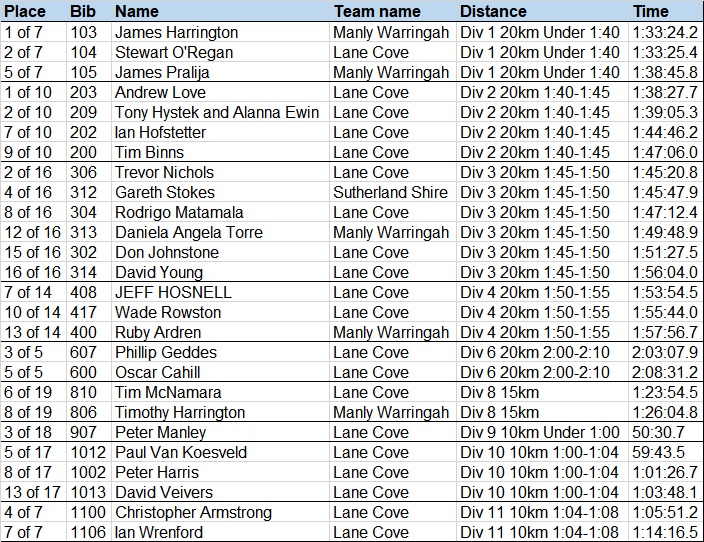 Above: Results for LCRK Members and regular TT paddlers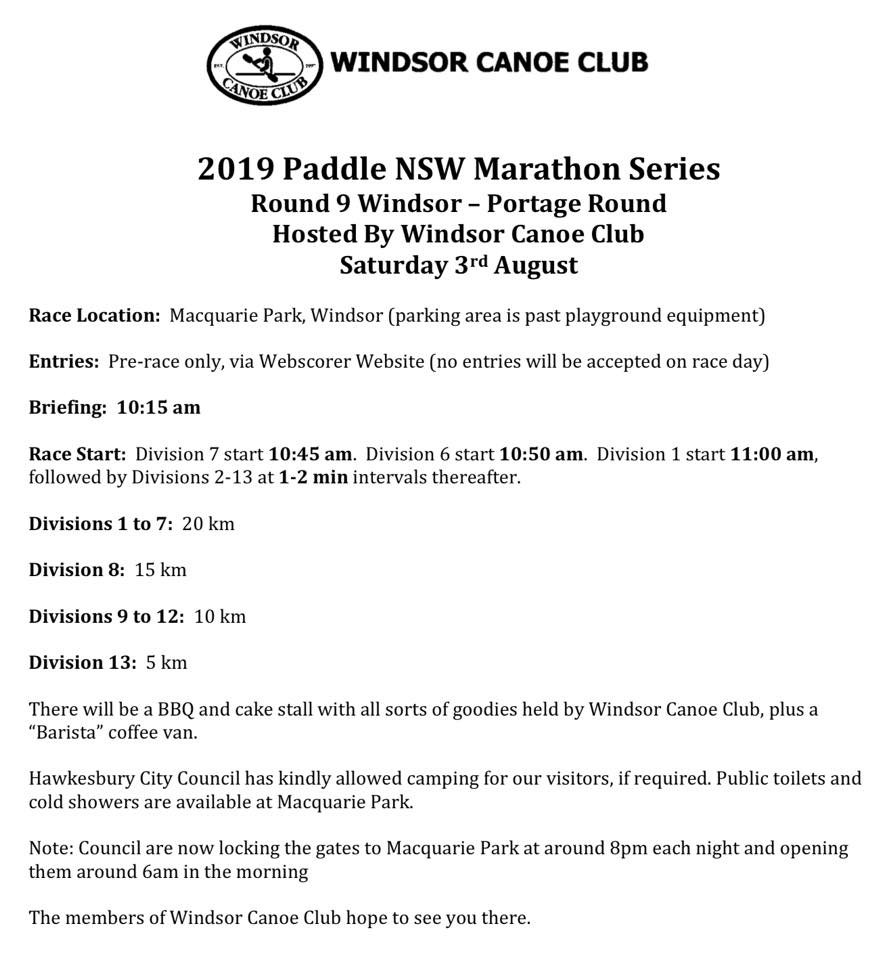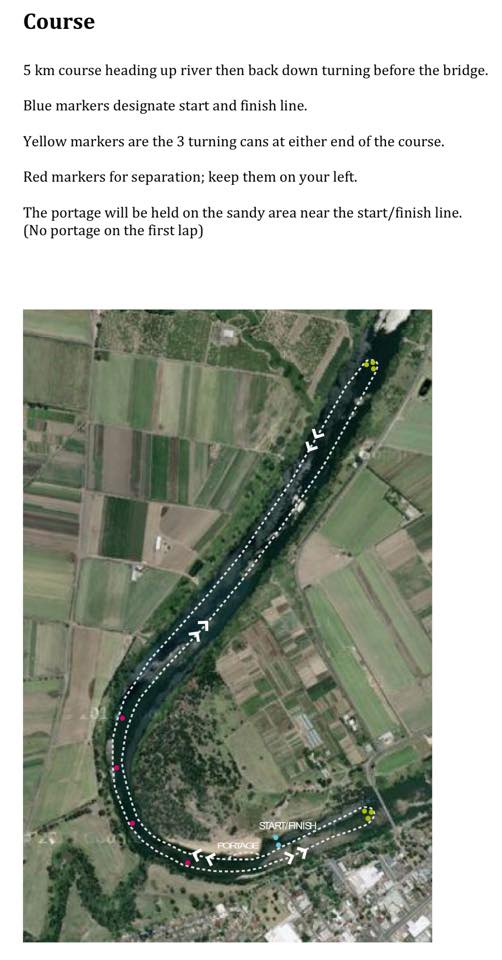 Welcome to race 9 of the 2019 PNSW Marathon Series.
If this is your first race (or you are voluntarily entering a ranking race) - please choose the relevant 'Division # Ranking Race'.
Please note that ALL paddlers are required to complete the Registration process.
Early Bird Entry closes at midnight on the Tuesday before the race. ALL Entries close at midnight on the Thursday before the race. There is no provision for Entry on the day of the race.
Race Briefing is at 10:15am Division 7 starts at 10:45am Division 6 starts at 10:50am Division 1 starts at 11:00am All subsequent Divisions start at approx 1-2 minute intervals thereafter.
Note also that Lifejackets are a requirement for ALL paddlers in this event.

Round 8, Davistown (BWP) - SUNDAY 14 July
Race Report by Naomi Johnson
With several Lane Cove paddlers attempting to tame a frustrated lion on Saturday, everyone hoped that weather on Sunday for the Davistown race might be a bit calmer. As always with Brisbane waters, though, appearances can be deceiving…it's the weather out there that really counts!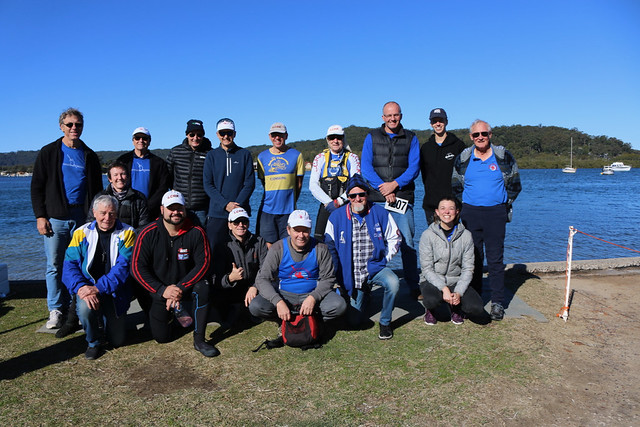 Above: Most of the Lane Cove team ready for a windy race.
The day dawned bright, clear and cold, with paddlers scrambling for sunnies and long sleeves in equal measure. With the end of the 2019 marathon series suddenly in sight, a slightly reduced turnout in many divisions had paddlers eying up precious points and keeping tabs on key rivals.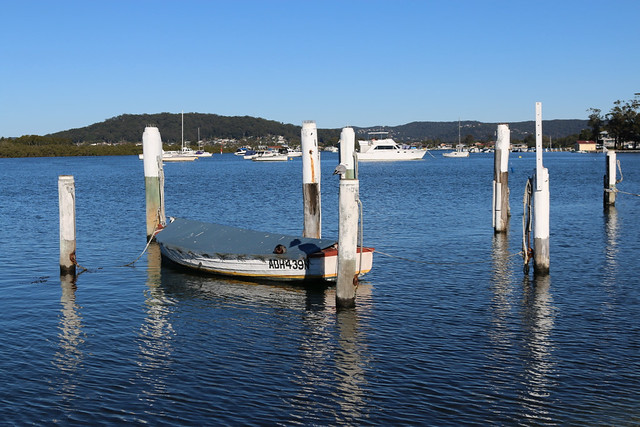 Above: Well it looked calm to start with...!
Starts were brought forward to 10:55am for Div 1 and onwards in order to outrun the local ferry, which was due to pass through the start line at 11:10am. From there, paddlers were buffeted by winds from every possible direction: a strong headwind down the first long stretch of water to turn one, then a somewhat lighter effort from the side down to the far turn. Bach down the long straight felt like the windy climax, with a the now strong tailwind mixing with an incoming tide to produce some solid chop. To cap off the experience, the incoming tide created a fabulously tricksy eddy just around the final turn buoy, sweeping several unsuspecting boats round the third can rather too quickly for their liking!
There was a solid LCRK turnout in Div 10, with Peter Harris taking line honours in a fab time of 1:02:35. Rumour is that Peter has been putting in some solid training, and it looks like he picked the right boat for the conditions as well. Paul van Koesveld opted for his 'safe' boat, finishing 3rd and looking pretty comfy for the whole race, followed by Lachlan Stokes (5th, Sutherland Shire) and David Veivers (8th). Div 11 saw close competition for the line, with Ian Wrenford finishing in 2nd just 37 seconds behind a Penrith boat. Apparently his 'winter' Marlin was a willing helper in the day's racing, helping him catch a few downwinders on the return straight.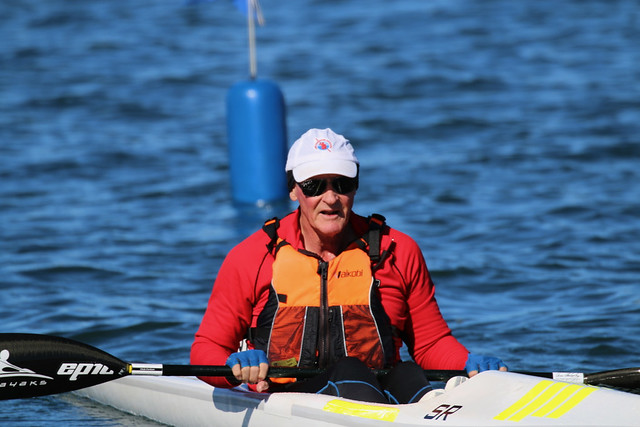 Above: Pete H with the Div 10 win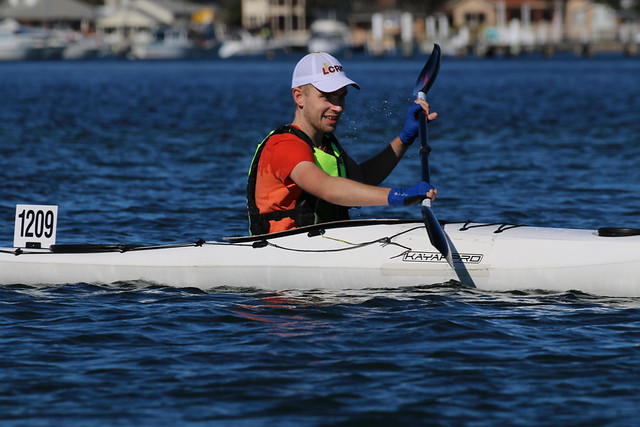 Above: Lachie in the LCRK Marlin
Lachie Wrenford opted for the LCRK Marlin in place of his regular K1 in Div 12, and was much happier in the chop than last year, finishing 6th. Dave Hammond was busy recruiting even more family to paddling, inviting his niece Emma to share a double for the 10kms. She reported having a great time, though decisions on whether she'd be back would need to wait on the relative soreness of her arms the next day! Also in the 10km divisions, a shout-out to new LCRK member Daniela Angela Torre (MWKC), who went for a ferry-induced swim just after the start of Div 9. Hopefully better luck and fewer big boats at Windsor. And John Greathead should be pretty chuffed with his 2nd in Div 13, finishing just a few minutes behind Div 3 regular Michael Lieberman.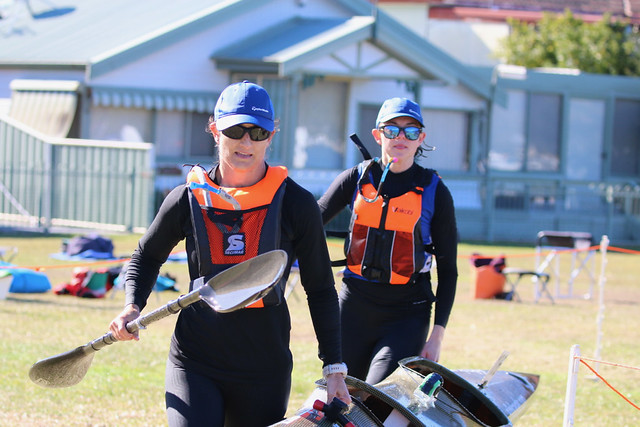 Above: Naomi and Laura on the portage
At the pointy end of Div 1, Brett Greenwood (1st, MWKC) and James Harrington (2nd, MWKC) seemed almost oblivious to the prevailing wind and hared off at their usual pace. A tumble from Brett on his second portage produced a bloody knee but no noticeable dint in his time. A little further back, Naomi Johnson and Laura Lee (6th, Windsor) teamed up in Alanna's sleek K2 to start the ball rolling on their China campaign.
In Div 2, Tony Hystek/Alanna Ewin struck out strongly at the start, paddling at what might have looked suspiciously like Div 1 speeds if it hadn't been for the wind. Sneaking past Laura and Naomi on the portage (no washride offered at all!) they were headed for what looked like a commanding victory. Then, 30 or so metres from the finish line, thy suddenly found themselves in the water for no apparent reason! Alanna reported that the shock of the cold water quite took her breath away, making an in-water remount impossible. The choice, then, was to swim across the finish line, boat, paddled as all. When asked by finish line officials what their number was, it was held aloft, split in two, by a seemingly disembodied arm in a rather lady-of-the-lake-style gesture! The duo still won the division, and perhaps through the swim managed to avoid being kicked back up to Div 1, but it was hard to recapture that commanding look while also putting in an application for the Nemo award! Ian Hofstetter rounded out the LCRK contingent, pushing his K1 to 5th in 1:49:19.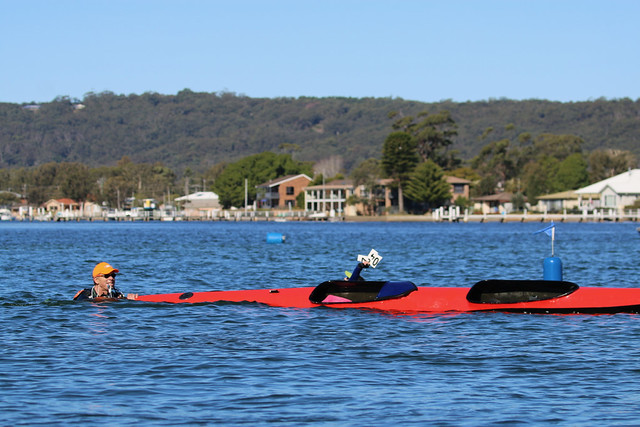 Above: Boat 204 crosses the line in something resembling one piece!
With a few regular faces on holiday or paddling a higher division, Div 3 was a rather lonely affair for LCRK. David Young paddled to a solid 7th (diddly-squat time to train, we're informed), just behind Gareth Stokes (6th, Sutherland) who was brave enough to race in his still-rather-new K1. Richard Barnes was a rare K1 sight in Div 4, paddling to what looked like a pretty leisurely 2nd while chatting with everyone along the way, with Jeff Hosnell finishing in 12th.
Wade Rowston was another paddler to benefit from good boat decisions, paddling his stable K1 to 1st in Div 5 in a time of 2:01:10. Bets are on as to whether he'll be back up in Div 4 after the Windsor portage round. Rounding out the division were Justin Ryan (5th) who was brave enough to tackle Davistown in his newly 'regular' K1, and Keg D'andreti (7th), who was down a Richard Y and opted for a nice leisurely paddle in his Fenn ski. Oscar Cahill made up for his 'lanterne rouge' at Penrith by winning Div 6 in a time of 2:16:39. Phil Geddes (3rd) had paddled the harbour series race the day before and still had his long rudder fitted. It proved particularly effective at clearing weed for paddlers in his wake, though clearing the weed out every km or so probably had an overall negative effect on his time!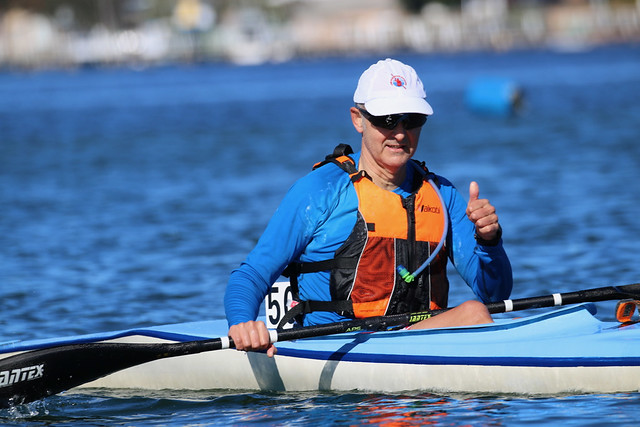 Above: Wade happy with the Div 5 win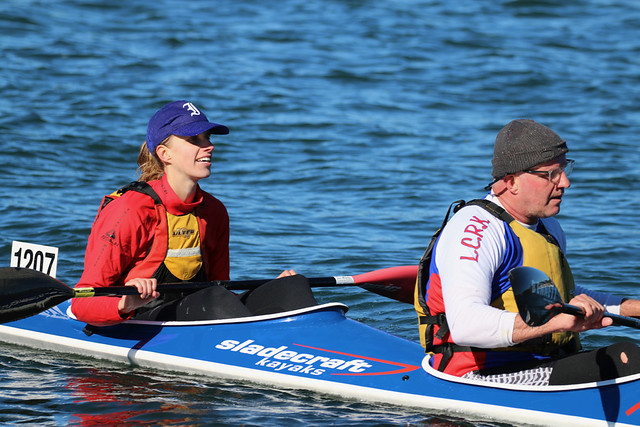 Above: Dave and Emma cross the line
After eight rounds of the 2019 series, Lane Cove finds itself in the rather unusual position of 3rd in the club points tally. Is there time to pull us back up the ladder? That depends on who makes it out to Windsor on August 3rd and Teralba on August 24th. Hopefully neither is quite so windy!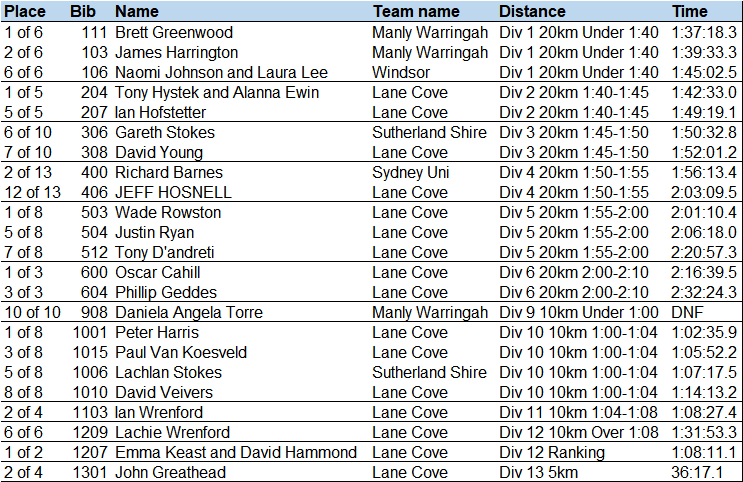 Above: Results for LCRK Members and regular TTers
Round 7, Penrith (PVCC) - SUNDAY 23 Jun
Race report by Naomi Johnson
Winter finally made an appearance at Round 7 of the 2019 Marathon Series in Penrith. Nevertheless, a strong team of Lane Cove paddlers braved the elements for an idyllic paddle up into the Nepean Gorge.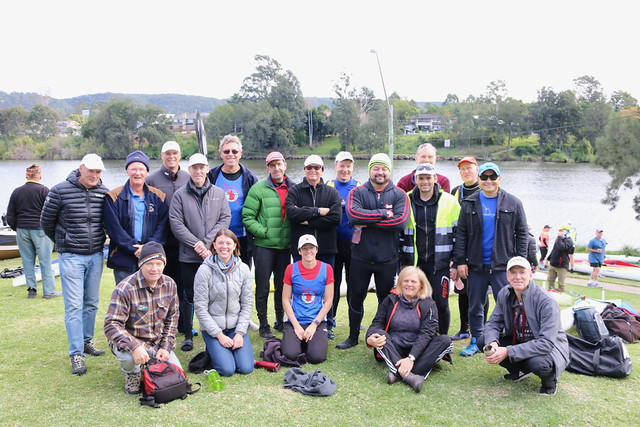 Above: Yes, it's coat time! The Lane Cove team ahead of a chilly Penrith marathon.
After Burrill Lake, the Penrith round of the 2019 Marathon Series is little more than a hop, skip and a jump up the M4, and it was great to see a renewed enthusiasm in the series from Lane Cove. All arrived rugged up in jumpers and beanies, many clutching warming coffees from across the road (it was on the way from the carpark!). Well...all except Richard Barnes, who is known for having little regard for the seasons. He was briefly spotted wearing long sleeves with his shorts ahead of the race, but quickly stripped down to the usual SydUni T-shirt before heading onto the water.
The Penrith course offers the rare marathon series opportunity of an up-and-back race. Apparently a favourite of the skis (someone said they don't like turns?), the long 20km loop took paddlers deep into the Nepean Gorge with fabulous and sometimes distracting views. From the start to the 5km turn at the narrows was particularly gusty, with a headwind doing its best to lower the temperature a little more. Marg Fraser-Martin had positioned herself on a rocky promontory to capture all the action as paddlers careered past.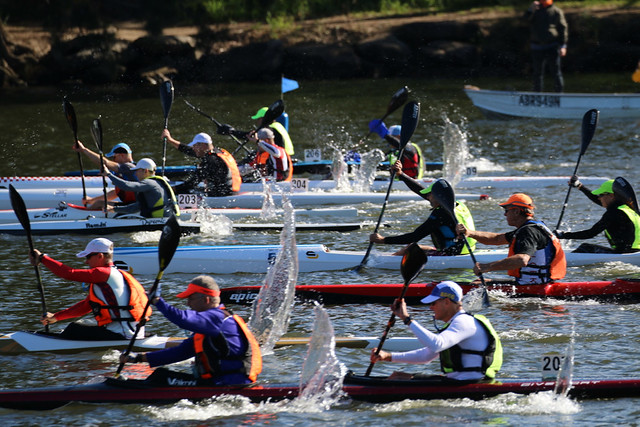 Above: A few LCRK boats in the Div 2 start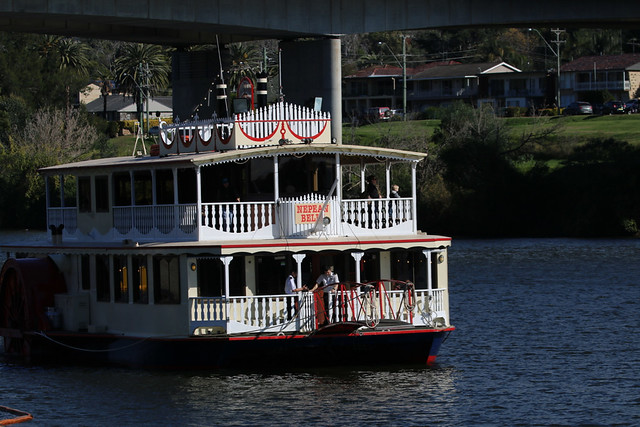 Above: The Nepean Belle
The race coaxed two new LCRK paddlers into trying the series. Graham Cleland might have had his arm twisted by Trevor Nichols, but was looking cheerful in his Div 5 ranking race, while Christopher Armstrong opted for a leisurely 10kms in his first go at the series. Hopefully both will be back for more!
For others, it's getting towards the pointy end of the season and there are divisional placings in sight. Div 1 was shaken up by a few new faces and interstate visitors, and saw Victorian Mick Leverett take out 1st ahead of James Harrington (2nd, Manly). Brett Greenwood took a swim after some boats got too close, somehow only losing a minute and a half to finish in 5th just ahead of James Pralija (6th). Div 2 was a bit more of a LCRK affair, with Tony Hystek/Alanna Ewin off to a strong start that saw them finish in 2nd. Peter Manley finished 7th and Ian Hoffstetter 9th in a tight field of 11 boats.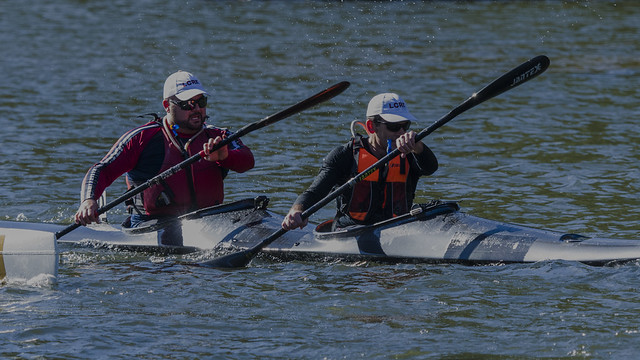 Above: Rich and Keg after their paddle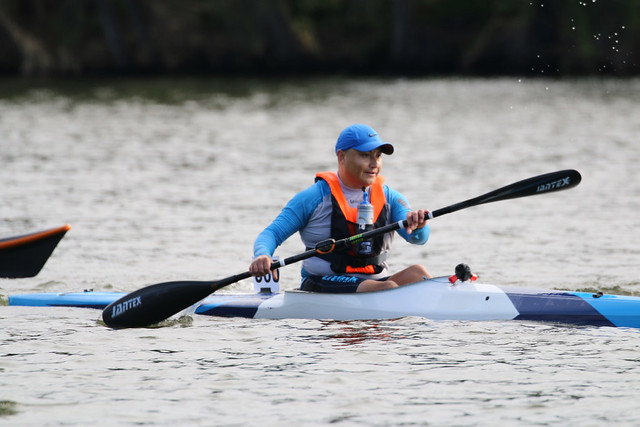 Above: Rodrigo with a PB!
You could almost say Div 3 was packed with Lane Cove boats, with a third of the 15 starters wearing blue. Richard Yates/Keg D'andreti (2nd) paid no heed to carefully mapped-out tactics, speeding off at their usual 'just get to the pontoon' pace for the first few kms. At least it seems that Trevor was able to hang on finishing 3rd only 25 seconds behind. Despite declaring that he wasn't in any shape for a 20km marathon, Rodrigo Matamala made a triumphant season debut in 5th with a very solid time of 1:46:27. A little further down the pack were Gareth Stokes (10th, Sutherland) with the excuse of a new boat, Don Johnstone (12t) with the excuse of little training, and Naomi Johnson (13th) with the excuse of a holiday!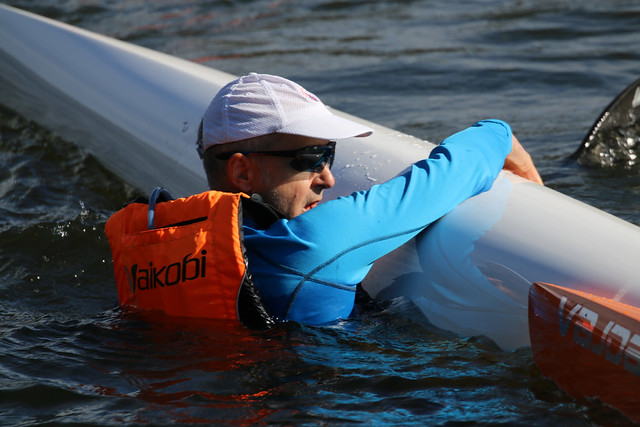 Above: Wade confirming the water was cold!
Following the removal of his long-sleeved top (apparently it wasn't cold at all, he just liked the logo), Richard paddled his K1 to a relaxed 9th in Div 4, with plenty of chatter along the way. Jeff Hosnell, looking a little less impressed with the weather (he has just got back from France), finished in 13th. Div 5 saw Ruby Ardren (Manly) storm to a win, with a time of 1:56:32 and a promotion to Div 4. Wade Rowston tested the water at the entry ramp on the way in, declaring that it definitely was a little colder than his recent European holiday! He finished 6th, followed by Duncan Johnstone (8th), Justin Ryan (10th) and Peter Faherty (12th, Sutherland).
Div 6 had just two LCRK paddlers. Oscar reports:
"From the start, Phil spear-headed the tightly packed main group all the way to the top turn. Just passed the turn I had one K1 on my right go for a swim. The wash rider on a ski behind collided with her and then did the same! I immediately chucked a U-turn, and glad I did as the water was freezing and we were in the middle of quite a wide section. I had just about gotten to the bank with her and her K1, when I somehow I flipped out too! Lots of people offered help including Duncan, Richards and others. So thank you all. A message for a rescue boat was sent and after a few minutes the big yellow barge arrived, loaded the first paddler and her boat into the big barge, broke out a space blanket and a nice warm woollen blanket, made sure that I was OK to proceed, and then headed back. That was the last I saw of them. She was back on dry land after the 10km trip back and as warm as toast. A big thanks to the rescue team. The ski paddler had managed to get back in and finish the race, as I did too. I even found both my flip-flops that were by then wanting to do the Hawkesbury Classic without me! I crossed the finish line last!"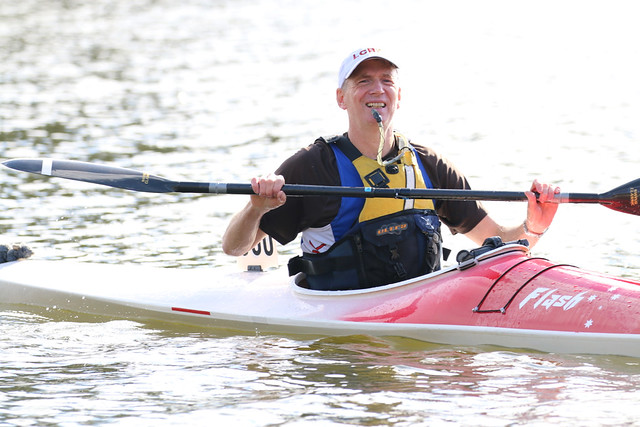 Above: Can anything dampen Oscar's spirits?!
Maybe it was the stunning gorge scenery to blame for numbers being a little down in the shorter race distances! Over 10kms, Peter Harris and Paul van Koesveld finished 5th and 10th respectively in Div 10. Apparently Paul was slowed by the effects of a gardening injury - more paddling less weeding? Ian Wrenford was the sole LCRK paddler in Div 11, and took up his finish line photo spot on the bank this time rather than brave the water.
In the 5km Div 13, John Greathead finished 9th and Pam Withnall 10th in a big field. Pam says of her second marathon race: "Thanks for encouraging me to do the race. I enjoyed it. I thought I was unfit, but...the field kept slipping away in the distance. I found that i had been mowing the sea grass bed and brought a great wad back with me."
Once the racing was done it was a beeline to change into warm clothes, with post-race chatter saved for once everyone was rugged up again. Well...Richard B probably hung around in his wet T-shirt for a while!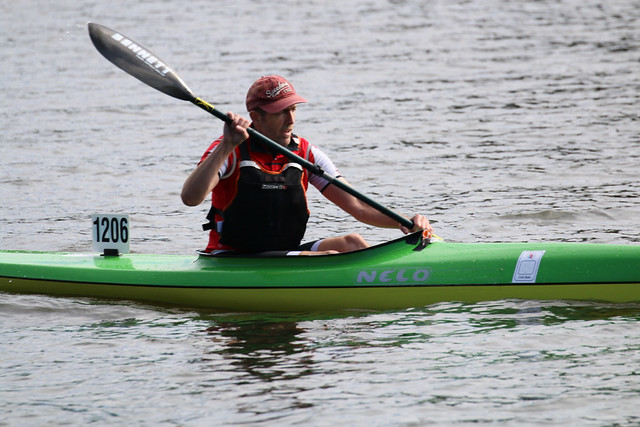 Above: Christopher finishes his ranking race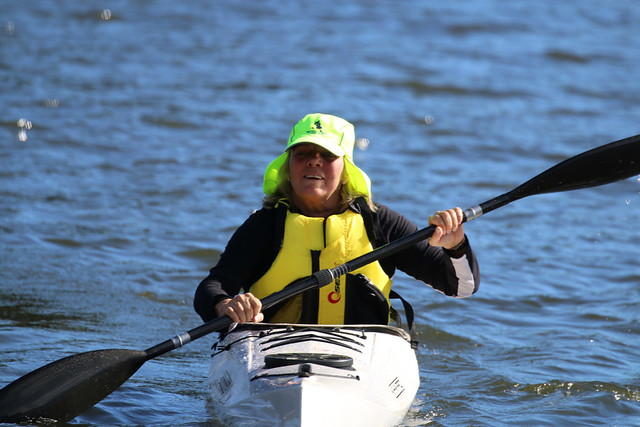 Above: Pam in marathon No. 2
A big thank you to Oscar and Wade for bringing LCRK boats for Pam and Christopher respectively. And also to Ian, Marg and Frazer for taking such lovely pictures. Next on the calendar is Davistown on July 14th. There are also some ultramarathons round the corner...just saying!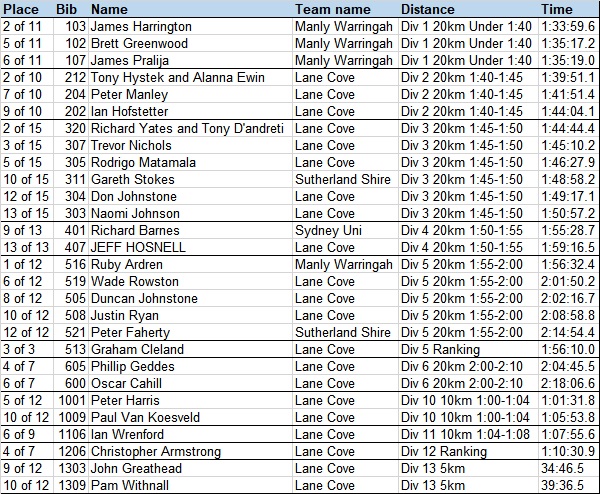 Above: Results for LCRK Members and regular TTers
Riverland Paddling Marathon - 8-10 Jun 2019
Race report from Warwick Sherwood
2019 Riverland 200
The participant list from Lane Cove for this years Riverland looked pretty good up until about two weeks to start time where the field reduced to just two representatives being Warwick and Duncan Johnstone. Having selected to do the race in a double and being careful not to overtrain, we decided a 9k time trial on the Wednesday prior to the race would be sufficient to determine both our compatibility and bring us to race readiness. Not having paddled together previously we figured tapering was the best strategy.
The drive across to Wakerie , which was to be our base for the event was a memorable 1300km through the Southern Highlands,Riverina, Hay Plains and through to Riverland , on the River Murray in South Australia.

Day 1 : 79km from Martins Bend to Moorook South. Wakerie is located about two thirds of the way down the course requireing a 4.30am start and a 70km drive to Martins Bend where we registered had scrutineering, and preparation. Temperature was around zero as we gingerly dropped the Vindicator in the water and paddled away with another 18 competitors all hoping to go the distance. To my horror there was no flow down this far on the Murray, meaning a fair slog for the next three days!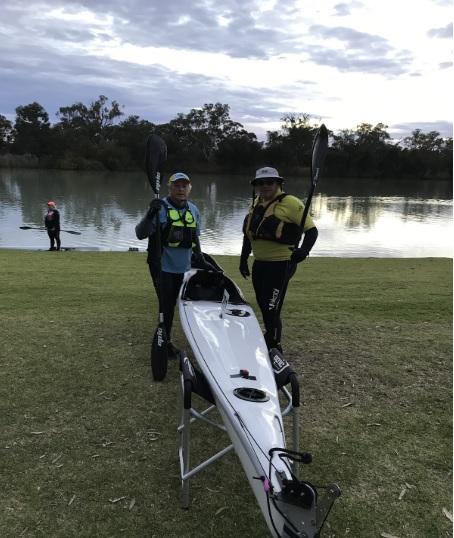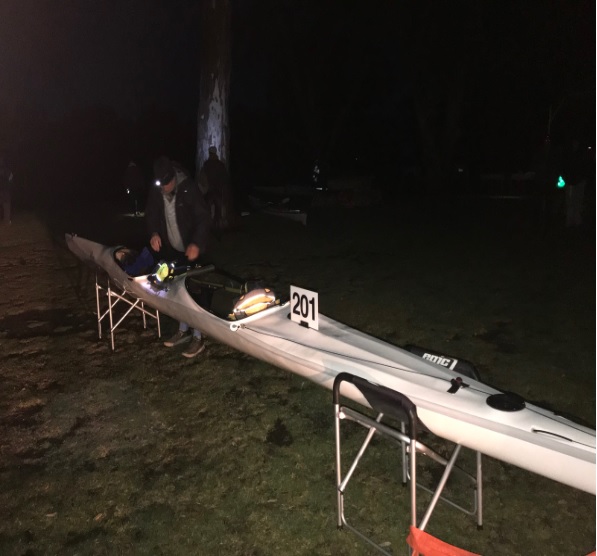 The first 20 km down to our first lock was uneventful, a quick turn around and we were into the first lock of the race. The locks are necessary as there are large weirs across the river at strategic points, and they enable river traffic to be raised and lowered to pass them. It is a strange feeling ,rafted up to other kayaks and having your kayak drop 30-40ft while you are inside a concrete box. The doors open and you simply paddle away. Cool. It turned out we had one lock each day, generally within 20km of the start of each day. The weather warmed , and we eased down the river stopping at each of the nominated rest points to be pampered by Duncan's partner Liz, who would have warm clothes, hot noodles and loads of encouragement ready for us.
The wide bends in the river provided memorable vistas of massive red cliffs that disappeared into the distance. We were third 200km competitor out of the water behind a well paddled C2 which was being drafted by a ski all day.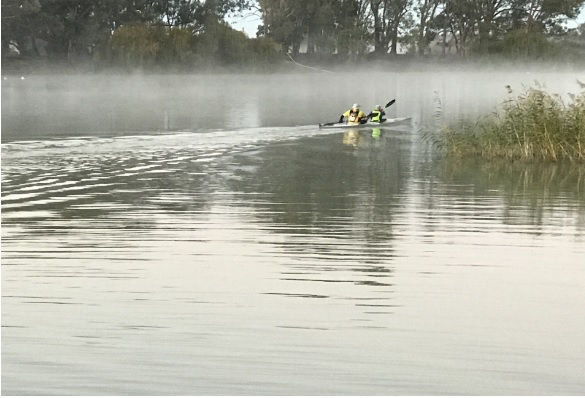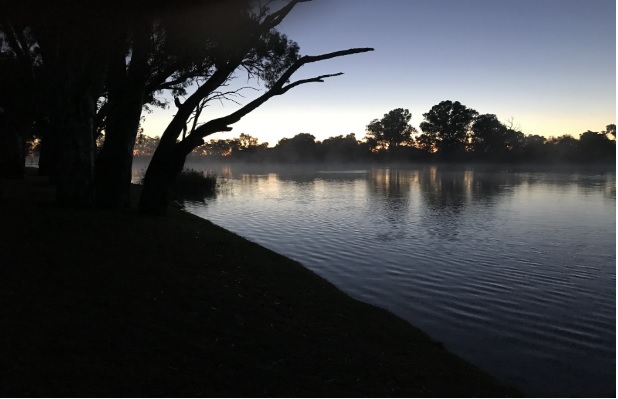 On water time 8.16 hrs Average speed 10.4kmh
Day 2 : 69km from South Moorooka to Wakerie Another 5.00am start and a drive back to our exit point of the previous day. Readying the boat and getting moving proved a bit easier and again Liz was always there to help out. We had a brief 12km sprint down to the first lock where Duncan wisely grabbed some padding for his seat. The Vindicator has Bumftable Branded seats , which are nicely ergonomic, and are very comfortable for 12km time trials and 20km Marathons. Over 50-60km the foam material they are made from compacts and they become instruments of torture. Duncan was fast to act, however I did not get some additional padding for another 40km which was very distracting.We made great time to our lunch stop, passing kangaroo, and emu, who were outnumbered by huge flocks of pelicans.
Our great progress came to a halt just after lunch, when we both decided to check out the rudder for a possible snag and tipped the boat over. To make matters worse our upturned boat blocked the K1 100km sprint start as well as being in sight of many on the shore. All was well and we were called back for a check up, changed clothes and scuttled down to the finish at Wakerie. Best we could tell , we held our position although increased stops had eroded our buffer. A fun finish of the day coming in behind a 9 man canoe , providing a brilliant tow for the last few km.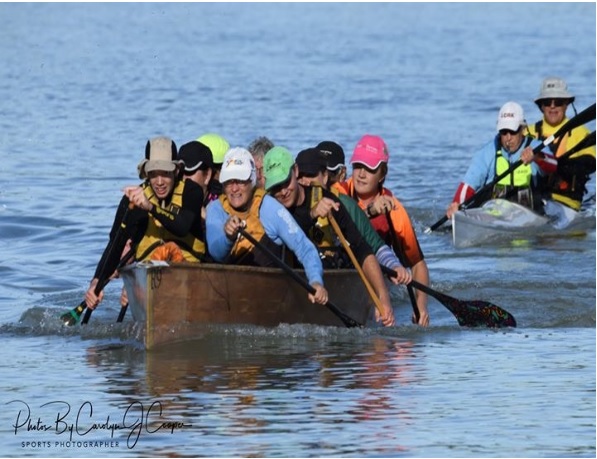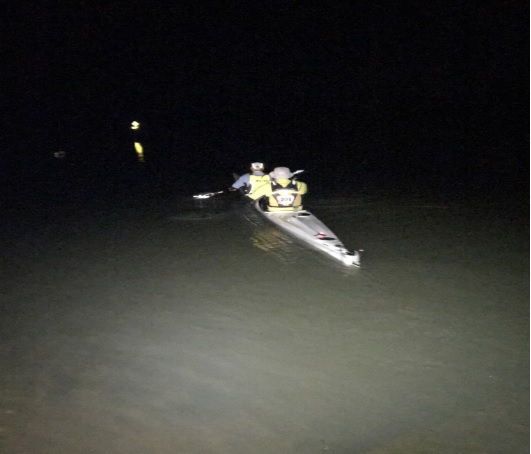 On water time 8.01 hrs Average speed 10.0kmh
Day 3 a relaxing 63km from Wakerie to Morgan A 5.30am start was appreciated as we were both a little sore as we prepared the boat in a slightly warmer 5 deg. Another lock at about 20km provided much needed respite and Liz was expertly keeping us fed and organised. We had resolved the seating issues and made steady progress throughout the day. Joining the 100k and 50k starters from midday provided an interesting and competitive last 50k to the finish. Rounding the last right hand turn and seeing the ferry and the finish line in the distance was memorable.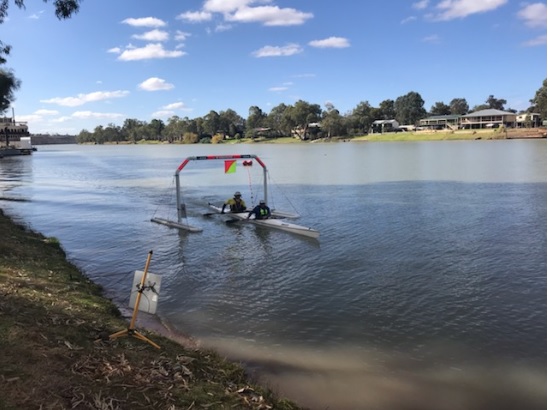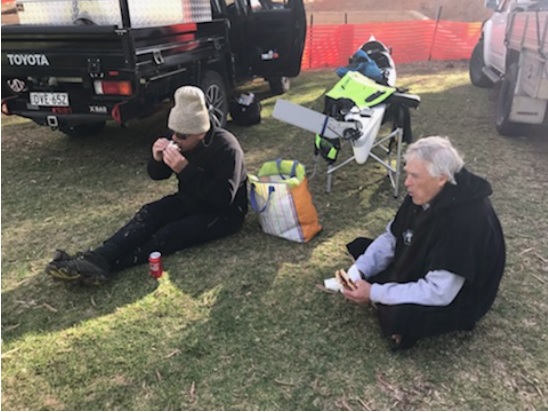 On water time 7.28hrs Average speed 9.9kmh
At the time of writing the organisers had not published official times and placings. We reckon of the approximately 18 boats that started the 200km event only 8 finished and we were third over the line after a C2 and a single ski. In all a great week end. The event is well organised and the 200km with Duncan proved fun and rewarding. Liz was always there with encouragement and some hot food, making the event a great experience. Duncan is well on his way to attaining his 1000km year !!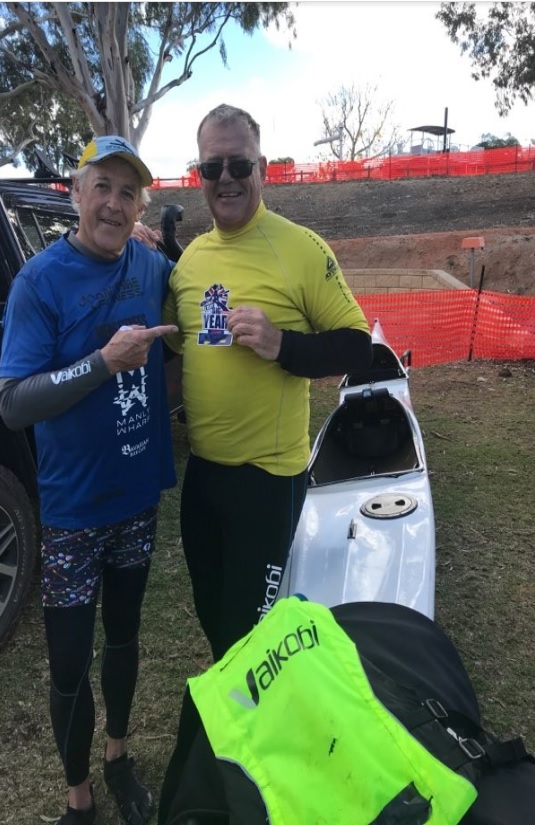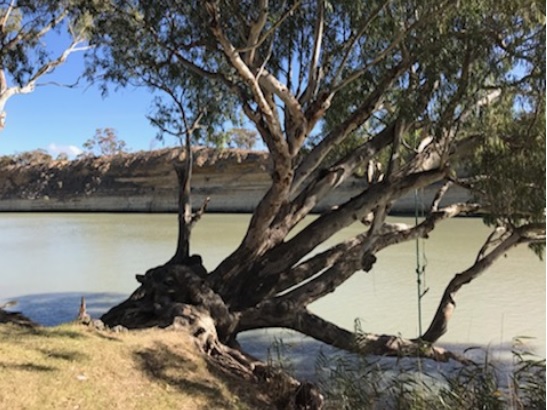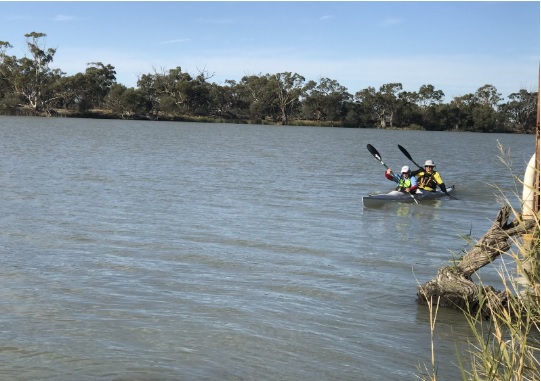 Round 6, Burrill Lake (Makai) - Sat 1 Jun
Race No. 6 in the 2019 marathon series took a rather small LCRK contingent down to Burrill Lake for a beautiful day of racing in the late autumn sunshine (yes it was first day of winter but it felt like autumn....)
Just past Ulladulla on the way down the south coast, Burrill Lake is a substantial commitment as a daytrip but just about manageable. Most of the Lane Cove crew stayed down south on Friday evening, with only the Ian H, Don and Naomi car trip turning up bleary-eyed at about 9am. Good job the local coffee cart was already raring to go! Several marathon series regulars were overseas, with Jeff, Laura and mum Hosnell in France, and Wade and Carly Rowston on to to the England section of their France/UK travels. Is Paul van K off somewhere nice and warm as well?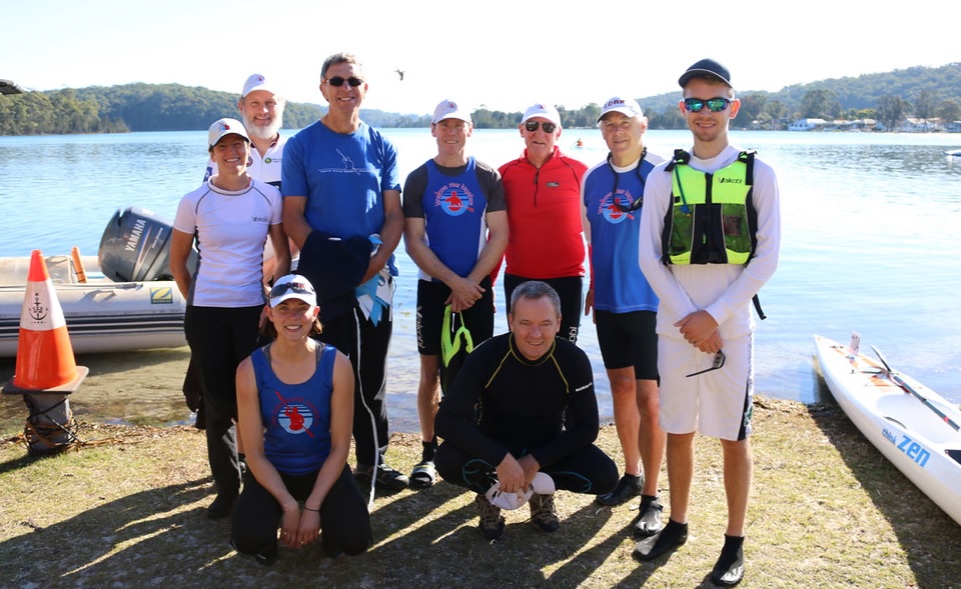 Above: the LCRK contingent (Phil & Anjie absent)
What had started out as a cold, windy and rather unpromising looking day (at least from the 5:30am viewpoint) was suddenly shaping up to be gloriously sunny by the 10:15am briefing. Paddlers scrambled around for short sleeves and singlets, sunscreen and sunglasses, and the number one conversation topic was whether the wind might pick up as the race progressed. While ski paddlers were cheerfully optimistic, those in K1s seemed a little more wary.
Div 1 saw the return of Tony and Alanna in the K2, much to the apparent delight of both. The course was a tad on the short side (or gradually reducing in size thanks to the tidal pull on buoys), and even with portages made for a fast race. Brett Greenwood (MWKC) crossed the line first in a stellar time of 1:30:04, followed by James Harrington (MWKC, 2nd) and James Pralija (MWKC, 5th). Tony and Alanna stopped to assist a Div 2 swimmer, and were also spotted getting their team portage mojo back, finishing in 8th with an optional ticket down to Div 2 for the next race.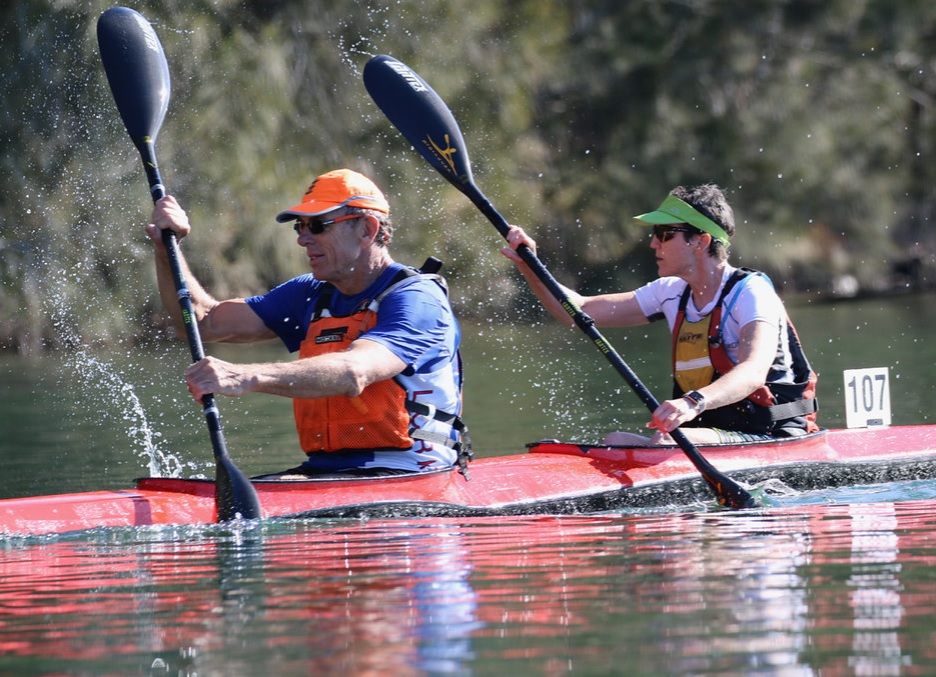 Above: Alanna and Tony at finish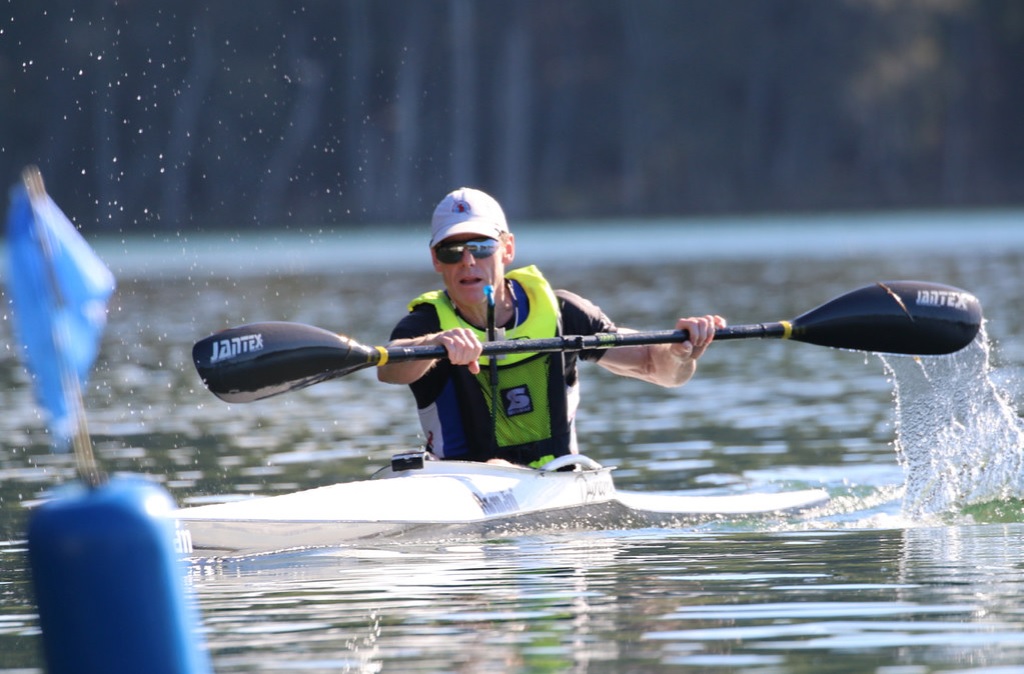 Above: Ian Hofstetter finishing

Ian Hoffstetter was the sole LCRK paddler in Div 2, finishing 7th in a solid time of 1:41:53 despite doing the lion's share of the driving. Perhaps wisely, he chose not to do the first portage for the season outside of states (it's only compulsory for Div 1). Set up right beside the start/finish line, the portage was about as quick a hop-out, run, hop-in as one could manage while still having the run involved!
Meanwhile in Div 3, Naomi did choose to do the portage...because why not? It was a fast start, with Gareth Stokes (Sutherland) and Naomi making it into the chase pack. Showing off a brand new K1 and some footstrap-induced rubbing to match, Gareth was keen to show that his new craft was exactly the speed machine he needed, paddling a great race to finish in 3rd. Naomi peeled off for her first lap portage, falling back to the next group of chasers, eventually finishing in a solid 6th with Don Johnstone just behind in 7th. All three look like they earned marathon series PBs - let's hope they can replicate the good times at Penrith!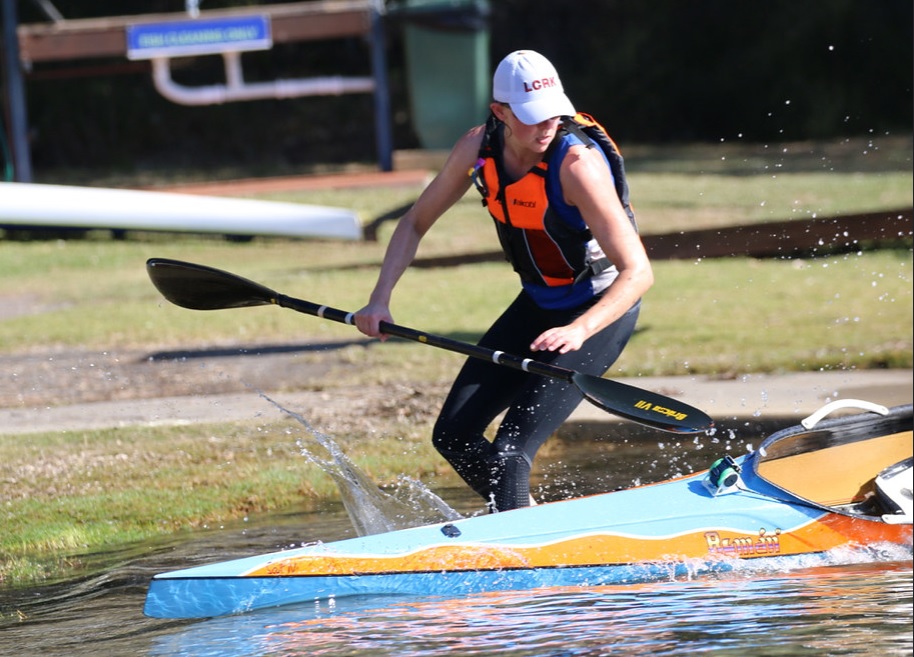 Above: Naomi with optional portage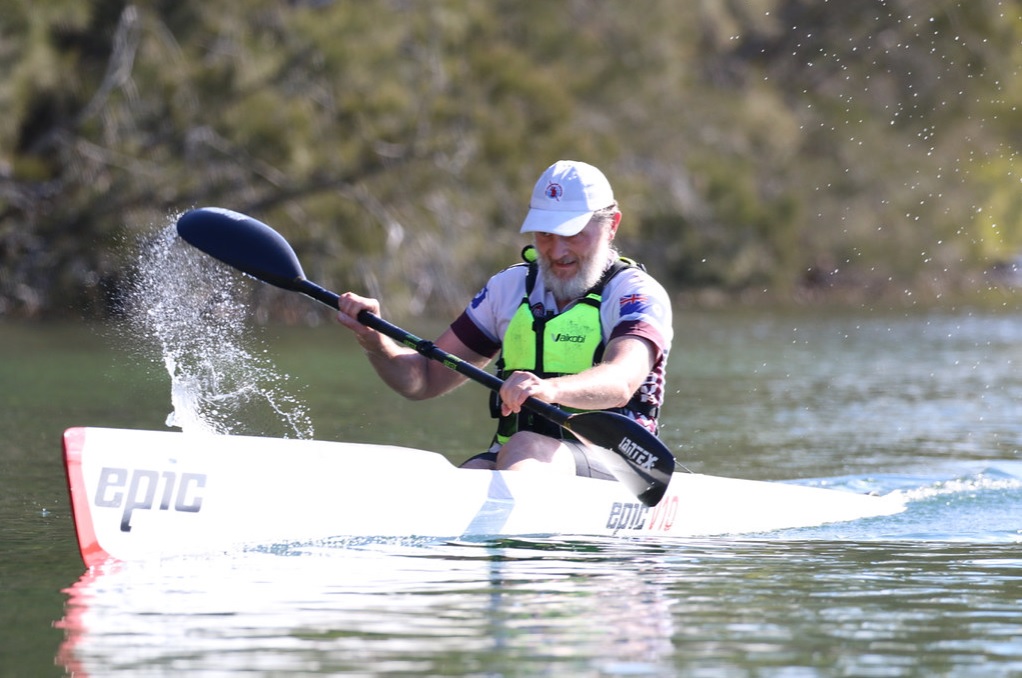 Above: Don J finishing

As predicted, the wind did pick up a bit as the race progressed, all the more noticeable for the different twists and turns the course took. A friendly tailwind would suddenly be contributing to irksome side-chop as we rounded one turn-buoy, then become a chilly headwind round the next.
Div 5 saw Ruby Ardren (MWKC) finish in a strong 2nd, with Duncan Johnston a bit further down the pack in 7th. Gradually eating the Very Big Year elephant one race at a time, Duncan is headed for the Riverland Paddle Marathon this coming weekend, paddling doubles with Warwick Sherwood. Anjie Lees also has travel plans afoot, and paddled her new river K1 (trailing rudder for the Avon) to 7th in Div 7. And the final LCRK paddler doing the 20km distance was Phil Geddes, who showed he was in excellent form by crossing the line first in Div 6.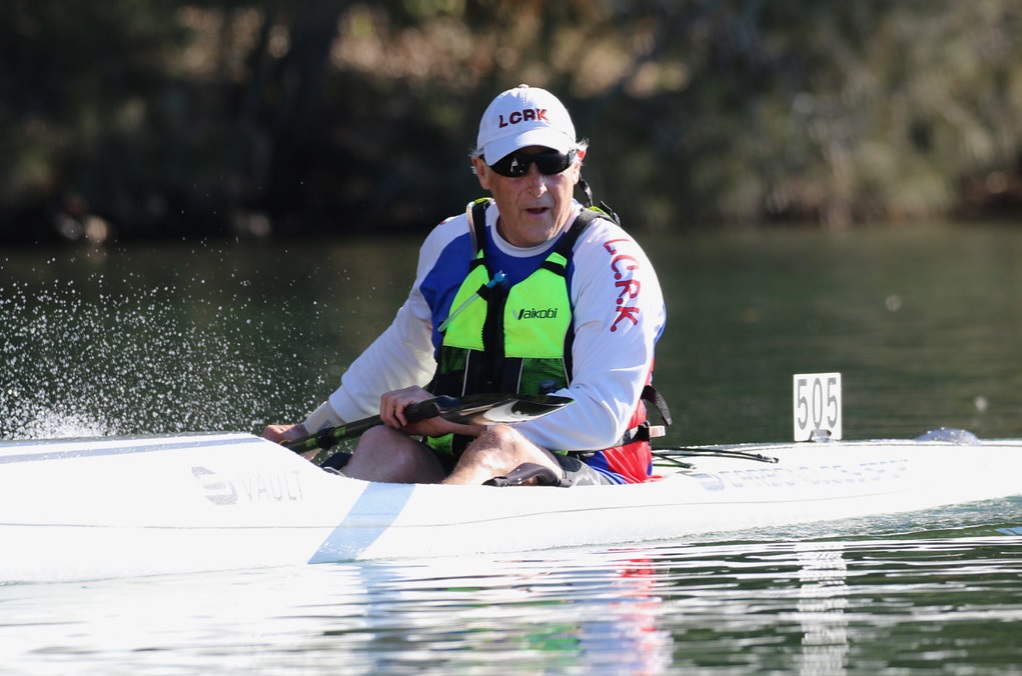 Above: Duncan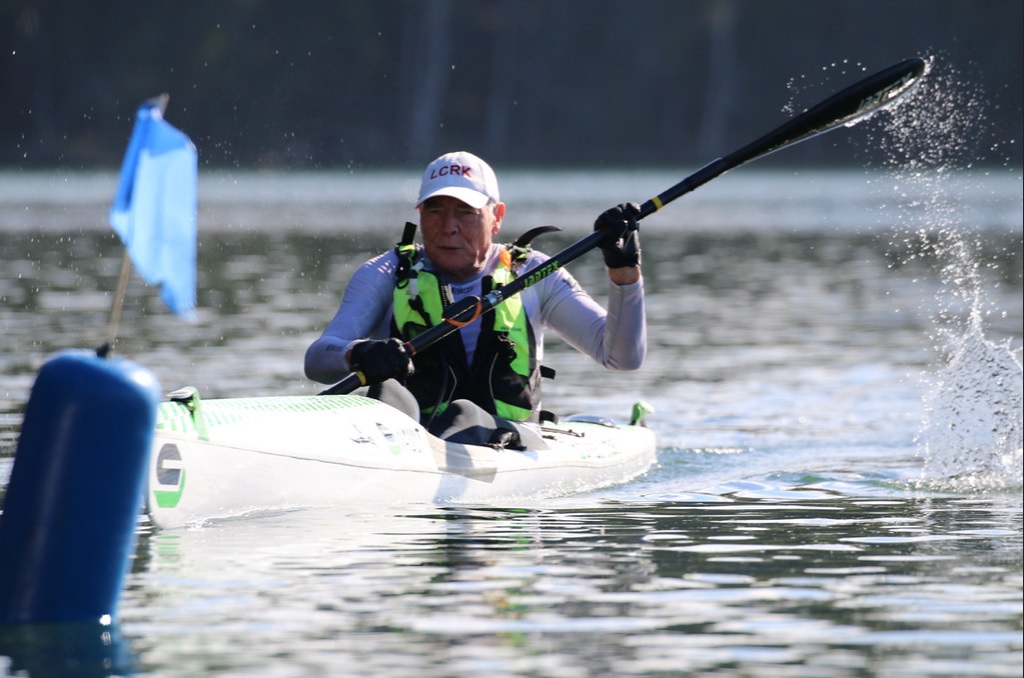 Above: Phil wins Div 6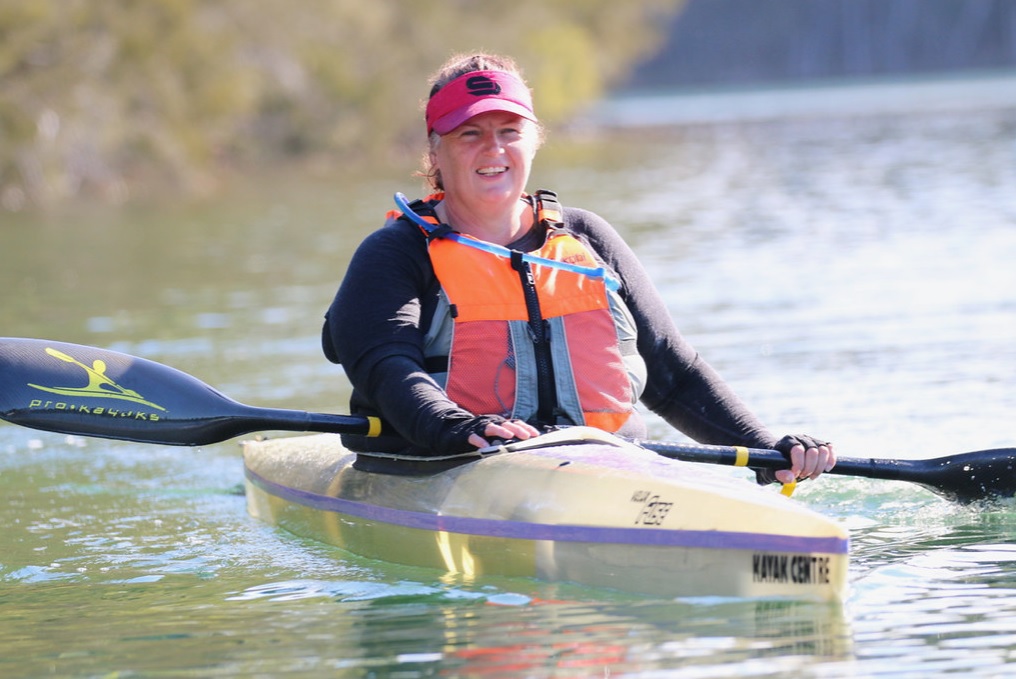 Above: Anjie with new Avon boat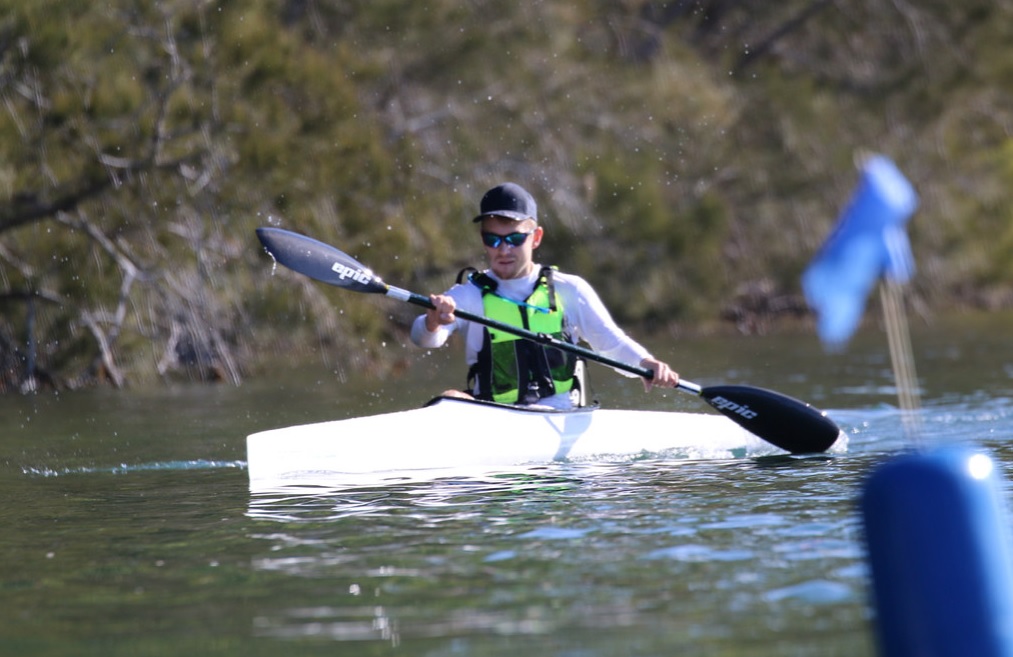 Above: Lachie finishing

Over 10kms, Peter Harris (2nd) in his ski narrowly pipped Peter Faherty (Sutherland, 5th) in a K1 in Div 10. Ian Wrenford, having found a willing cameraman in Jono Staunton, paddled to 2nd in Div 11 before taking up his usual waist-deep finish line photo spot. Hopefully the water was still an ok temperature! And Lachie Wrenford finished 8th in Div 12.
While many were dashing or meandering back to Sydney that afternoon, Makai also put on a dinner for paddlers at the Ulladulla Ex-Servo. Duncan & Liz, Anjie & Clayton, Ian & Lachie, and Ruby from LCRK went along and were treated to a backdrop of photos from the days paddling and a set from the Nationals.
Next on the calendar is Penrith on Sunday June 23rd, with a fabulous long paddling loop up into the gorge. We're one past halfway in the 10-race marathon series, with a bit of catching-up to do if we want to be in for a crack at the club points trophy.
Results for LCRK Members and regular TTer's below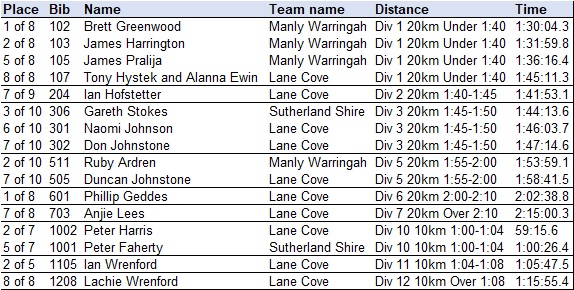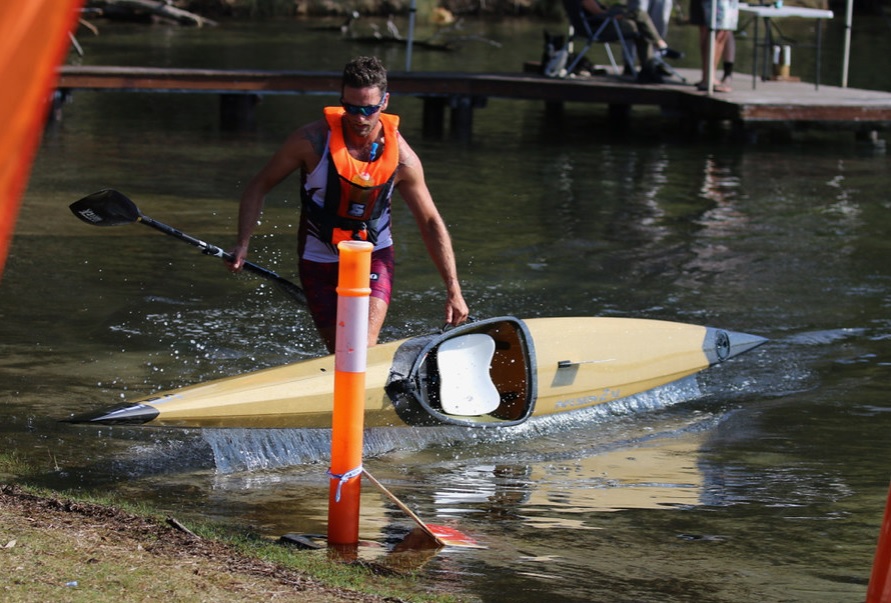 Above: Sticky water for James P
2019 Australian Canoe Marathon Nationals

Race report by Naomi Johnson
The pointy end of marathon racing in Australia, this year's Canoe Marathon National Championships were hosted by Ascot Kayak Club, Perth. With a jam-packed weekend of racing and more than 250 paddlers taking to the water, it was quite the spectacle for competitors and spectators alike. And there were some regular Lane Cove faces in the mix.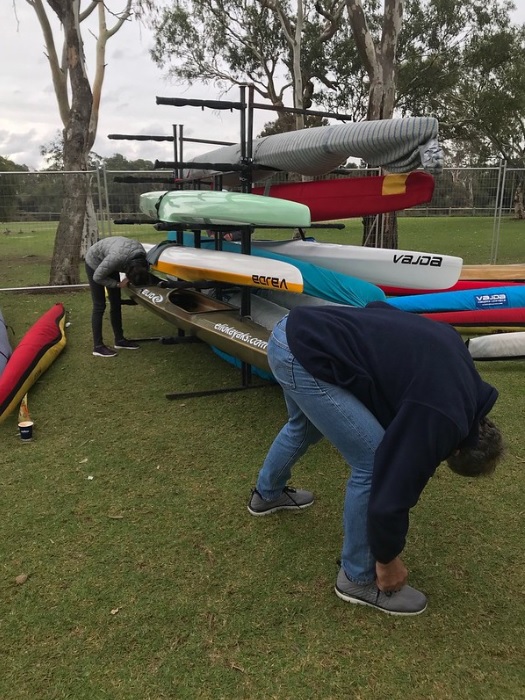 Above: "Ahhh Tony - the Shiraz is stuck up in the bow"
While I had been busy with state team admin for a few months, things really started to feel like they were happening on the final Sunday in Sydney with a cold and windy morning at Narrabeen spent loading boats on to a huge container to be driven across the Nullarbor. Many paddlers saw the overland route as a way of lightening their luggage, with lifejackets, paddles, clothes and more tucked away inside boats. Though not registered to race, Tony H decided it was best to pack a paddle and kit anyway…just…in…case. Better Richard the Kayak Courier driving than us! We could spend a few more days in Sydney getting in that last-minute training paddle, squeezing in a bit more sleep, and hoping that we had packed everything for the trip. It was surprisingly cold when we touched down in Perth on Thursday, with gusts of wind that didn't make standing around outside the airport terribly pleasant. Luckily for me I was treated to the Tony and Alanna airport pick-up service (via a totally different terminal), and we headed for nearby Ascot Kayak Club. It was already busy with activity as rudders were reunited with their boats and eager paddlers checked out the course. It's a gorgeous location, with 3.75km laps of the river taking in verdant banks without too much disruption from wind or tides. Find the local IGA, then confess that Perth really does have a time difference before more of the same on Friday, with a few meetings thrown in for good measure. The State Team Managers meeting only went for an hour (should've bought a large coffee), and then a flurry of blue arrived for the NSW team briefing at 3pm. Pasta and an early night was in order for all, with an early start ahead.
Saturday was day one of racing, and the alarm went off at 5:45am. By the time we left the AirBnB at 6:30am, Alanna had already talked through three different clothing options, and Naomi was fielding questions from paddlers about the day ahead. Riverside was chilly to say the least, with mist rising off the water and cold groups of paddlers analysing how many layers they needed. The morning session started at 8am, with all Masters classes and Juniors in the U/16 and younger classes. Starts were quite the spectacle, with upwards of twenty boats spread across the river in the glare of the morning sun. And once one start was gone the others were quick to follow, as the U/12 and U/10 Guppie K1s needed to be released before the fast 35+ men's masters came hurtling back through the start line.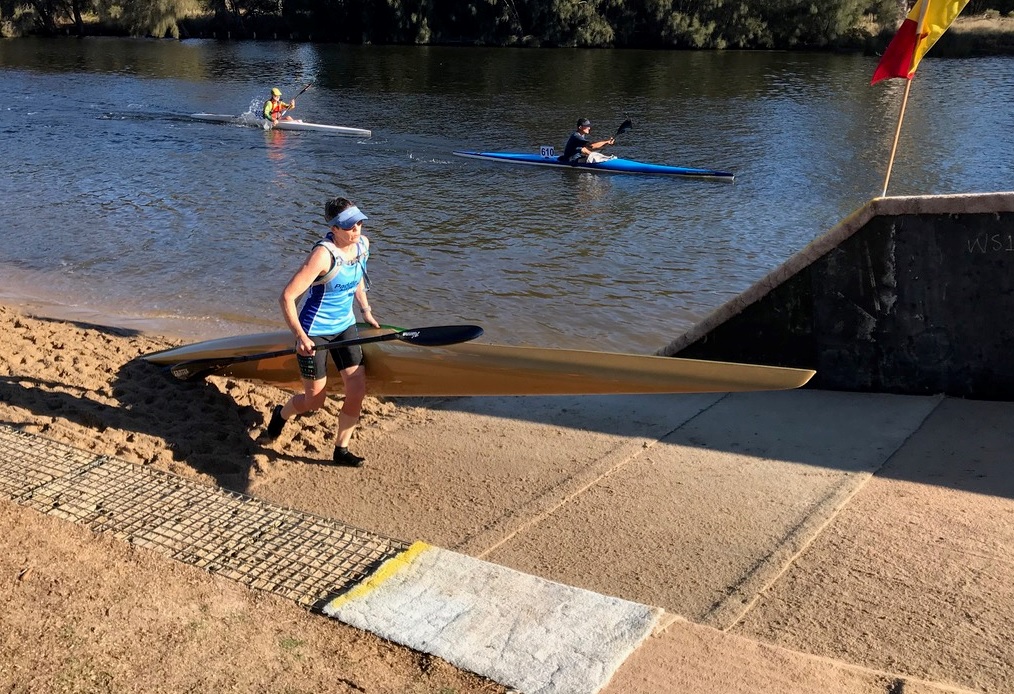 Above: Alanna portaging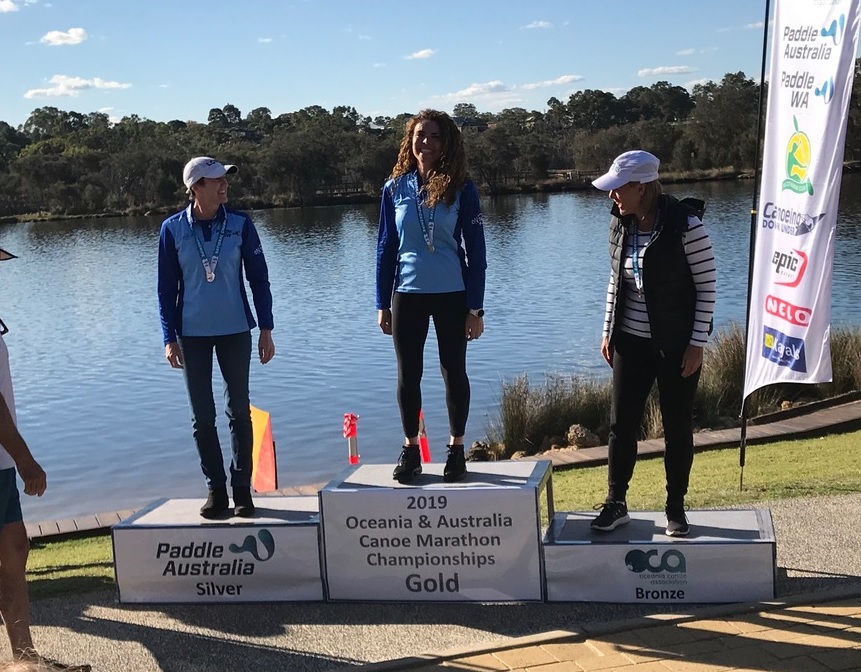 Above: Alanna result!
Then it was round and round the course, with most of the K1 paddlers portaging at the end of every lap. Out at the first sandy beach, up a ramp to run 100m on the riverside grass, before descending back down a very steep ramp and onto the water. Now do that gracefully! Alanna, having finally decided to go with just a singlet, ran strongly through all five of her portages. In her nationals K1 debut, she posted a time of 1:54:11 over 18.9kms, and won the silver medal behind NSW's Daniela Angela Torre. In the Men's 50-54 K1 race, Brett Greenwood wasn't content to finish first out of his own start in grid two, and seemed intent on catching every paddler who started in grid one as well. He flew through each portage and back into the boat, and can be pleased that his gold medal time of 1:42:06 was the fastest posted over 22.6kms for the whole competition!
A short break, then it was time for the afternoon session, with the Open, U/23 and U/18 paddlers racing for coveted spots on the Australian team. James Pralija decided to sit the Open Men's K1 out in favour of giving everything in the K2, while James Harrington was up for both singles and doubles races. He put on a strong paddle to finish 4th in the U/23 Men's K1 with a time of 2:03:01 over 26.3kms. Over the same distance, I was one of only four women who lined up for the Open race, and promptly watched the other three in my start sprint off a speeds I could only dream off and form into a tight wash pack. So I settled in for a nice long solo paddle, broken up by a whopping seven portages. Yes, they decided to add one more at the beginning of the final lap for good measure! Nevertheless, I was happy with my time of 2:19:45, which was a way off the winning pace but an 18min PB over my previous nationals effort in 2017. More pasta, another early night, and my dreams at least were filled with the sensation of running endlessly down a very steep ramp…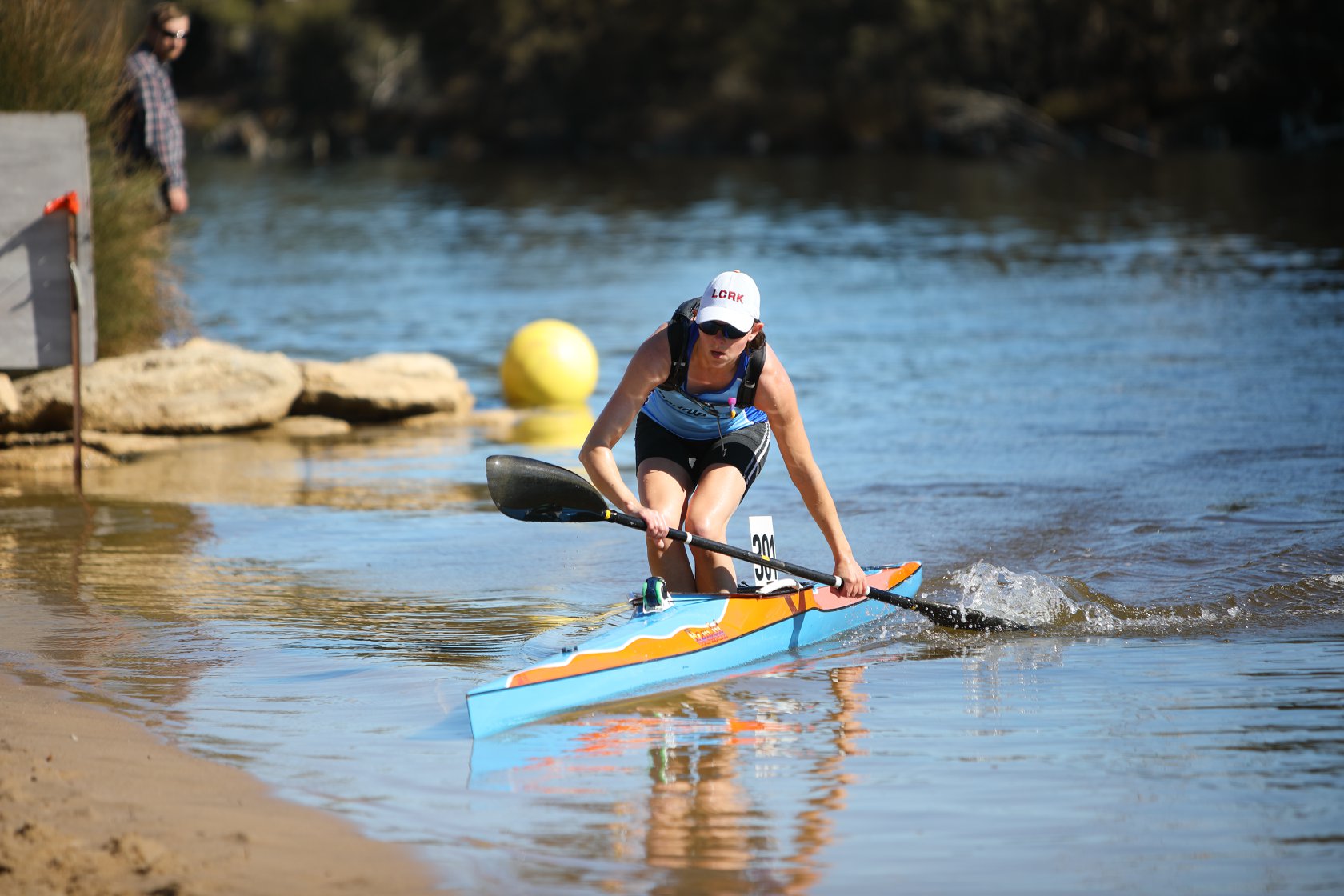 Above: Naomi prepping for the SUP race. Photo: Kristopher Smith
Sunday was doubles day, and honestly, this is where the fun really happens! Brett G and his partner Brett MacDonald (WA) had made a last-minute change to the Open Men's K2 for a bit more fun, and so the only to LCRK paddlers contesting the morning races were Alanna and Tony. Yes…Tony's optimism had paid off, and he found a partner in the NZ team manager Marshall Hollister-Jones. With a gentleman's agreement that a sore thumb and combined lack of paddle fitness would be factors from the outset, a spare NSW singlet and the pickings of the leftover Ascot K2s, the pair made it round 18.9kms and five portages to place 3rd in the well-populated Men's 55-64 K2. Alanna teamed up with Scott Tyers from Windsor in the X45-54 Non-Portage event, showing off her beautiful new Elio K2 in the process. The duo paddled strongly throughout, and the jury's still out as to whether the gold medal or a time some two minutes faster than the Tony & Kiwi combo is the bigger victory!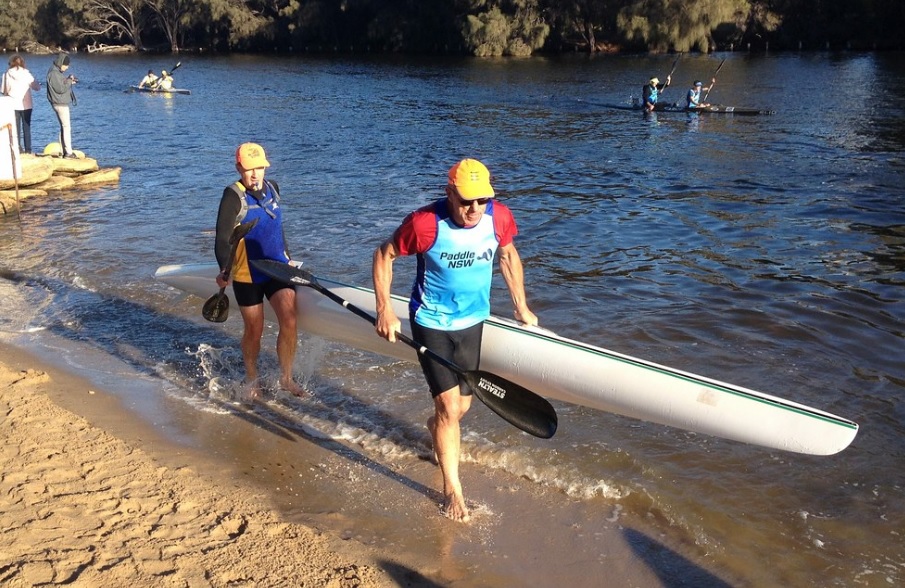 Above: Tony and Marshall
Again, the day warmed up into the afternoon, and by the 12:30pm Open and U/18 doubles start the weather was absolutely glorious. Brett and Brett (B1 and B2, appropriately colour-coordinated) joined James H and James P (not to be outdone with matching blue shorts) in the Open Men's K2. The J team were in the mix off the start line, but then had rudder problems that pushed them to the back of the race, where they finished with a solid time of 2:19:55. B1 and B2 stayed in the thick of things to win the bronze medal and Open bragging rights in 2:10:18.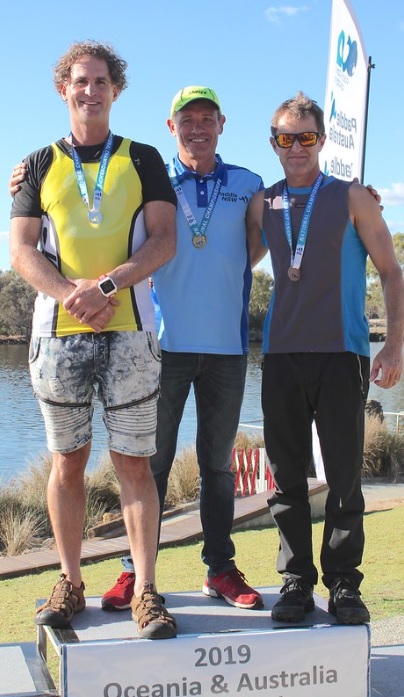 Above: B1 and B2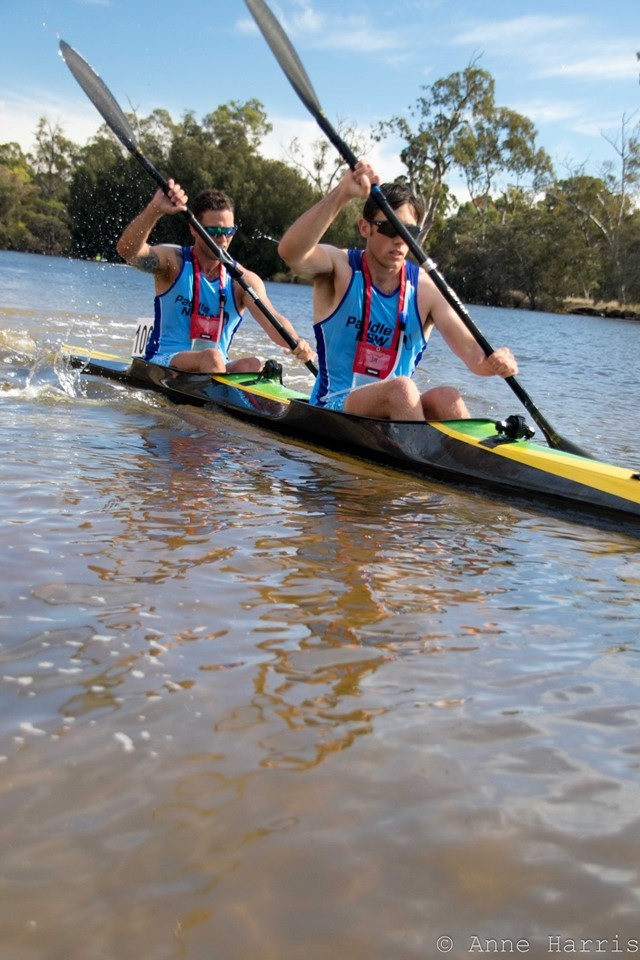 Above: J1 and J2 - Photo credit Anne Harris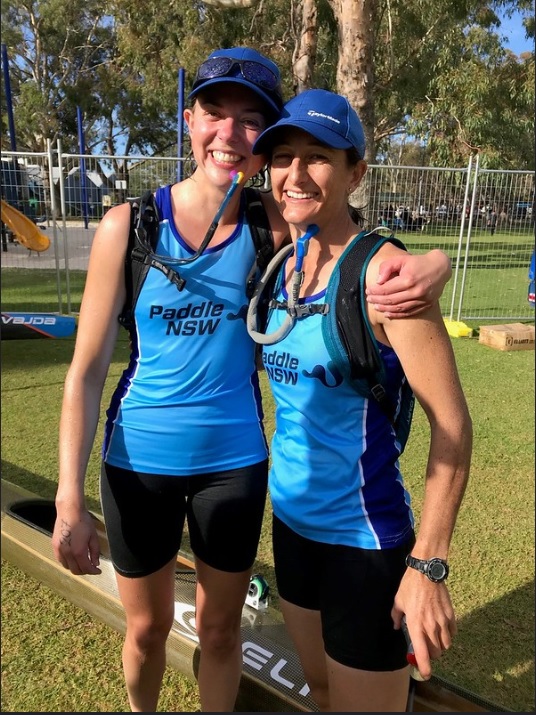 Above: Naomi and Laura - Silverists!
I teamed up with Laura Lee from Windsor in the Open Women's K2, where several local paddlers coming out of the woodwork and a flush of U/23s saw six boats on the start line. We put in a strong start, just missing the tail of the lead VIC boat and gave a second VIC crew a lift round the first lap. First portage over, nerves a little more settled, and we were able to drop the tailing boat. With clear water both ahead and behind, the game was on, and its sole aim was to finish within four minutes of the lead boat! It made for an exciting race, with coaches Tony and Lyle giving us time updates as we ran through each portage and a strong crowd of spectators (they had also opened the bar by this point) cheering us along. Eighty seconds difference, four portages down meant only three to go, and then two, and then suddenly we were running through the final portage, taking in the turn-buoys of the short final lap, and paddling hard for the finish line. Our time of 2:07:43 earned us both the silver medal and, at only 2:31 behind the winning boat, consideration for the Australian team at worlds! What a feeling!
Ascot Kayak Club backed up two fabulous days of racing with a catered dinner in the late afternoon sun to round off the weekend. It was great to chat with other paddlers from interstate, celebrate our achievements and feel part of the lovely marathon community. NSW did a stellar job through the competition, and it was great to see bright blue singlets on the podium across all age groups. With options to paddle Ski and Rec boats, nationals really is an event for everyone, and I hope that next year we might see a few more LCRK paddlers making the trip to Vic to compete. At least it's closer than Perth!
Thank you to all those who supported us in getting to Perth for nationals, be it partners who cheered from home or the sidelines, paddle buddies that fronted up at ridiculous hours on the weekend to do a long training run, and those that gave boats a lift to and from races this season. And of course, a huge thank you to those that give their time as coaches to help us achieve crazy goals! Tony H has been wonderfully supportive of my own crazy goal over the last six months, somehow achieving a balance between being a hard task-master who has pushed me to rethink what I'm capable of, and being infinitely patient while I worked things out over and over again. He not only seeks to make those in his squad better paddlers, but to help them understand where they're going and give them the skills to problem solve for the future.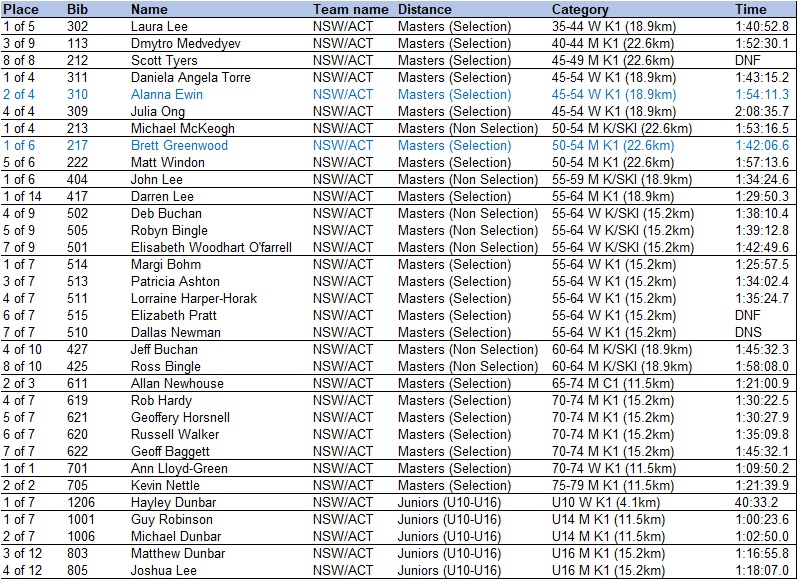 Above: Saturday AM Results for NSW/ACT (LCRK Members highlighted)


Above: Saturday PM Results for NSW/ACT (LCRK Members highlighted)


Above: Sunday AM Results for NSW/ACT (LCRK Members highlighted)


Above: Sunday PM Results for NSW/ACT (LCRK Members highlighted)
Round 5, Batemans Bay - Sat 27 Apr
Location: Drop off at Korners Park, Wharf Road Batemans Bay (right under the bridge)

Above: Results for LCRKers and regular TTers
Race report - Ian Wrenford
LCRKers were smaller in numbers than we've become accustomed to, for the Marathon Series #5 round at Batemans Bay. Entries overall though saw circa 160 paddlers in 145 boats thanks to the promotional efforts of the Batemans Bay Paddle Challenge organising committee. Numbers were well up on the ~80 entries from 2018 and organisers were well pleased with the influx of paddlers in this the 3rd year of the event. Kudos to the BBPC comittee for negotiating their way through the challenges of new Bridgeworks at the start/finish. This included arranging with John Holland Constructions to provide a thoroughfare to the water through the construction site, agreement from Big4 Easts Holiday Park to provide access to their waterfront lawn as a staging area (and a few cabins for Admin), and sorting out local Lions Club, SES and school(s) to provide support for the event. There was a great sense of the local community getting behind this event (now in its third year) – and no doubt the visiting paddlers have given just a little bit back - and maybe more in the future now they've seen what is on offer!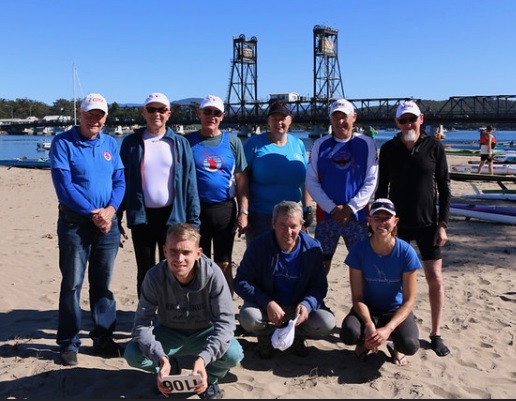 Above: LCRKers *all present other than Alanna & Tony!?!
Those arriving on Friday battled through gale force winds during the drive down, which thankfully settled down completely overnight. Race day dawned with clear skies, no wind and single digit temperatures which rose with the tide and were into the low 20's at race start.
The Clyde River was a new waterway for many of the 2019 paddlers. The start line was set just downstream of the iconic Batemans Bay Bridge and headed upstream 13km to the Nelligen Bridge. The course was an 'out-and-back' for each lap distance (6, 13, 26km) and adopted the Hansel and Gretel approach to course marking. The PNSW orange baubles provided a siting point although were not specified as being separation buoys in the normal manner – "stick to the right of the river" was the main message in race briefing. In retrospect, the oranges were probably intended as 'do not go shoreside' hazard markers and most paddlers seemed to take the common sense approach and observe this? Turn buoys were single conical markers for the 6km and 13km course – with the top turn conical accompanied by 3 x offset turn buoys. All of this was probably just fine for most paddlers, although some more precision is likely for the 2020 event.
So let's tell some stories of individual paddlers trip (we can do this because there weren't THAT many of us).
Jeff Hosnell and Duncan Johnstone both arrived early with respective families in tow making a proper long weekend of it – Jeff with Laura and Mum staying offsite in a rental house, and Duncan and Liz onsite in one of the cabins. Jeff & Duncan were continuing their 2019 doubles partnership in Division 3 and had a fantastic race. "At the top turn we were in 4th position by some 200m and resolved to give chase. This worked a treat, with 3rd place claimed half way back, and 2nd place in our grasp before the final Batemans Bay bridge" This spurred on a sprint for the line which saw Jeff (a musician at heart) calling on his inner reggae by paddling on the off-beat right the way through to the finish. In Jeff's words "Dunks, I'm going to just GO for it bro". Yes – they secured 2nd position (actually by a fair way, as unbeknownst to them, their sprint opponent was a BGCC ranker!). Post-finish photos attest to the true delight generated by their paddle – what a great pairing!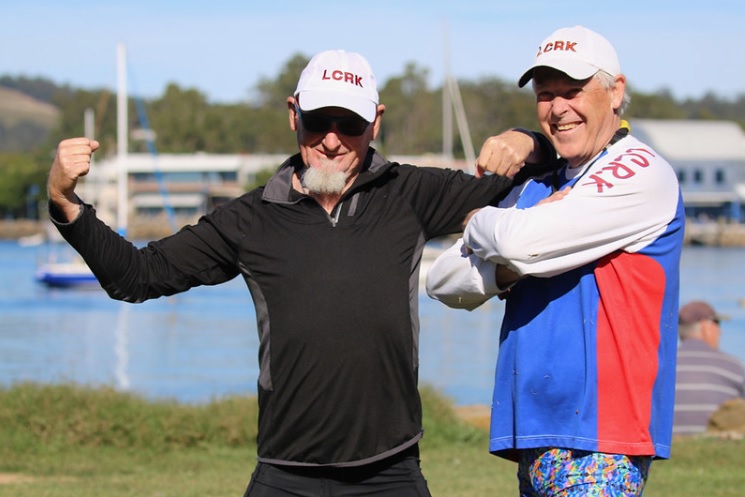 Above: Jeff n Duncan getting the mojo workin' (Photo: Liz Johnstone)
Naomi juggling work ("there's still 5 days of work to do regardless of Public Holidays") and Marathon Nationals admin duties ("can someone pleeeeease write the BB race report – these Nationals are turning out to be a full time commitment!") meant a trip down after work on Friday (with Tony/Alanna) and a trip back post-race on Saturday (with Tony/Alanna) in order to then have a Sunday test paddle with Laura Lee at Windsor in Alanna's Elio K2 (with Tony/Alanna). Phew!! In amongst all that, Naomi pounded round the 26km Div3 course in 2:16:34 to achieve a commendable 6th place. Naomi also commented on the tough K1 conditions through to the finish line – outgoing tide, incoming wind, ongoing (4-stroke) boat wash.
Alanna in Div6 had a carefully orchestrated trip, leaving Sydney 5:30pm Friday sharpish with Tony Hystek and Naomi Johnson, arriving (on schedule) for a pre-booked dinner at a restaurant in Berry, and a late evening arrival in Batemans (still on schedule). Alanna was one of 5 entries in Division 6 (one of which was Phil Geddes [DNS – see below]) so was up for good points. It was a close race with Alanna finishing first, just a few seconds in front of Jeremy Cook of BGCC – some teamwork clearly happening to get that result. Alanna noted the last 4km was a real slog with a fast, incoming tide, a bit of boat wash (4-stroke), and a little bit of breeze. Alanna was greeted with the full LCRK concierge service at the finish, assisted from her boat and having it drained and portaged back to the beach.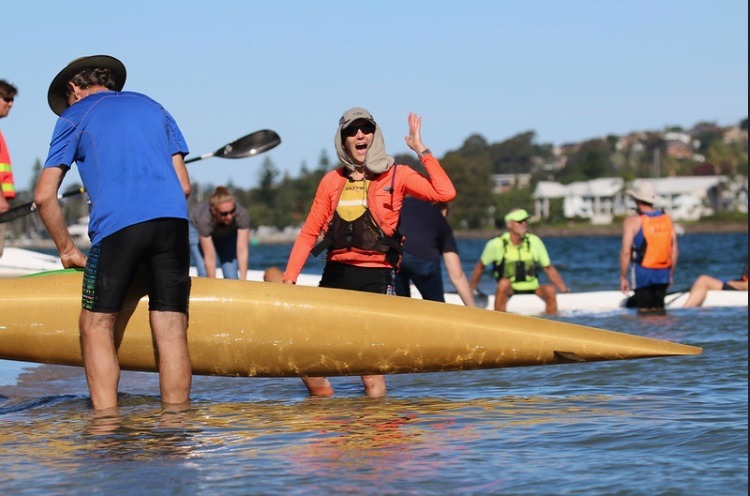 Above: Alanna - happy!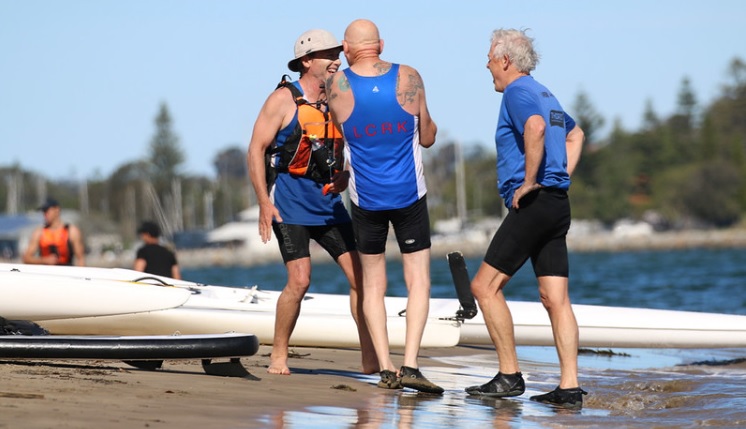 Above: Jeff: happier!
Phil Geddes was all present and accounted for but unfortunately prevented from starting his Div 6 race due to illness. A chest infection meant that despite the long drive (x2!) he was destined for cheer squad duties. Phil did his best to soak up the Vitamin D in the hope this'd blow away the 'lergy.
Anjie arrived a couple of days early with Clayton in their self-contained VW Transporter. Their van is fully kitted out with life's essentials including 2 x boats, 2 x shopping trolleys (mountain bikes), solar panels, cooking and shower facilities and an art gallery. A true Tardis! Not only did Anjie have a boat for her Div 7 paddle – she also had a spare for Tony Hystek to tackle Div 13 (see below). Anjie achieved a great 2nd place in Div 7.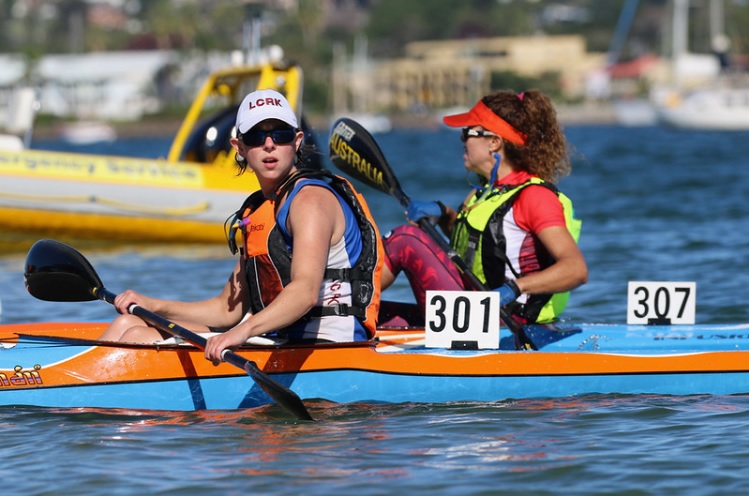 Above: Naomi!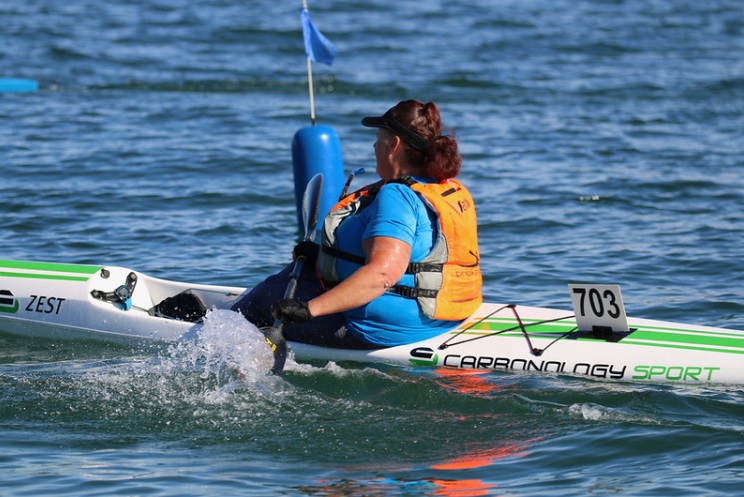 Above: Anjie!
In division 10, Paul van Koesveld reported a strange bumping noise throughout his paddle. Initially he thought it was a loose lifejacket strap, but no, that was not the explanation. On finishing, Paul discovered it was actually the tie down strap from his roof racks. And it was the buckle-end going thump, thump, thump around the entire course. His second place of 1:15:38 was excellent but did that buckle cost him first place? Bring on Burrill Lake Marathon #6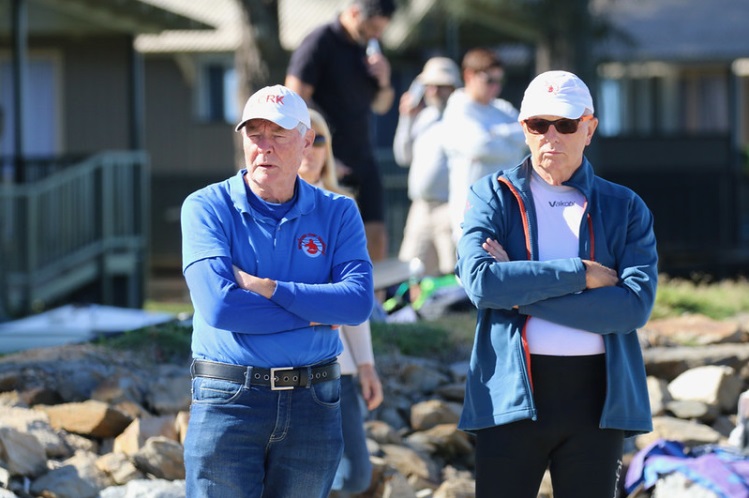 Above: Phil and PvK race ready-ahhh-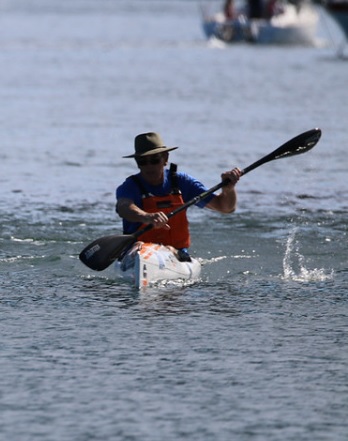 Above: the colt from old regret!
Also in Division 10 was Peter Harris who travelled down with Nettie ahead of race day (whilst passing on boat transport duties to Paul vK). Peter happily travelled around the 13km in a respectable 1:16:00 for a fourth place.
10km paddler Ian Wrenford, rounded UP to Div 11 13km from his usual distance, rather than rounding down to Div 13 6km. And was rewarded with a 4th place in 1:29:59.9 (hey let's call that 1:30!). 10km paddler Lachie Wrenford rounded DOWN to Div 13 6km from his usual distance, rather than rounding up to Div 12 13km. And was rewarded with a 4th place in 48:49. Lachie and Ian travelled down on the Friday (copping traffic and wind), stayed on site and scurried back to Sydney on Sunday before school holidays officially ended. Ian had a civilised paddle around in his 'winter boat' (Kayakpro Marlin) quite unperturbed by the boatwash and breeze near the bridge. In a rare Marathon Series occurrence - at one point there was a Div 9, Div 10, Div 11 and Div 12 all paddling together (none washriding of course). Also of note was a Div11 paddler who had the courtesy of a local fisherboatperson casually casting their line between P1 boat and them (?!?) – successfully snagging the rudder on their ski and requiring a safety boat to bring in the jaws of life. Despite the 'chase' the catch was not exactly a swordfish - words were spoken. Lachie noted he had a few moments with boat wash in his K1 but managed to stay upright and preserve his race position and dignity.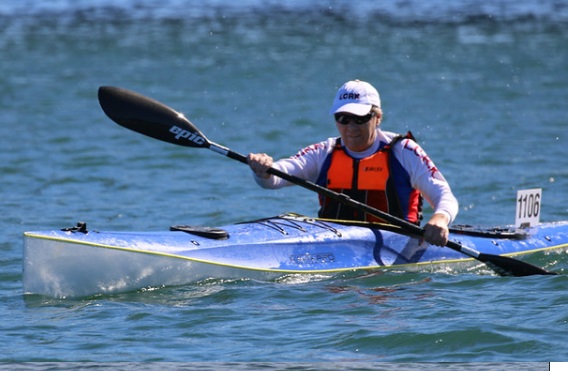 Above: Ian!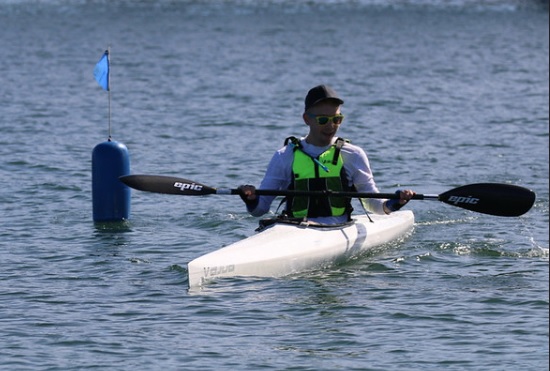 Above: Lachie!
Tony Hystek was a bit of a last minute entry. Still not fully recovered from throwing himself from moving motorbike – he was delighted to find he could throw himself into the Division 13 6km 'Dash'. With the help of a Carbonology Boost (borrowed from Anjie's surplus stock), and an Akubra Hat – Tony blazed his way round the 6km course. He was the first to find the 6km turn (no easy task mind you, tucked up as it was in one of the bays) – and directed many a 6km paddler in that general direction. For his efforts he picked up 1st place by about 9 seconds – and then went on to assist with timekeeping and assisting finishing paddlers (see Alanna Ewin above).
Also in the mix was Brett Greenwood (a Div 1 2nd) and Ruby Ardren 5th in Div 5 both paddling for MWKC. Also Gareth Stokes (3rd in Div 3 paddling for SSCC) and probably within sight of the finish line antics of Duncan and Jeff.
The Batemans Bay Paddle Challenge had plenty of medals on offer including 1st/2nd/3rd for each of the distances and medals for fastest across age divisions for each distance, including singles vs doubles – oh and juniors! The trophies were manufactured from locally sourced Spotted Gum and designed by wooden canoe aficionado and south coast local Allan Newhouse. In the medals department – LCRK were well rewarded. Tony Hystek picked up fastest 6km paddler, and fastest 6km medal for his age. Naomi picked up the Open Women's 26km, Jeff Hosnell/Duncan Johnstone the gong for their doubles age category. Thanks to Bob Turner for working out all the medals – all the data was there but it was no doubt quite a feat sorting it out!!
This event was a great addition to the 2019 Marathon Series calendar – a different river with a nice long course, keen and well organised organisers, and lots of new paddling faces who may well add to ongoing PNSW event participation levels. Don's regular post race 'ranking' email attested to the significant number of first-timers – many of whom will surely be at Marathon #6 at Burrill Lake on 1st June.
Above: The trip home - random sunset stopover (photo Tony H)
Round 4, Lane Cove - Sun 14 Apr
Race report compiled by Naomi Johnson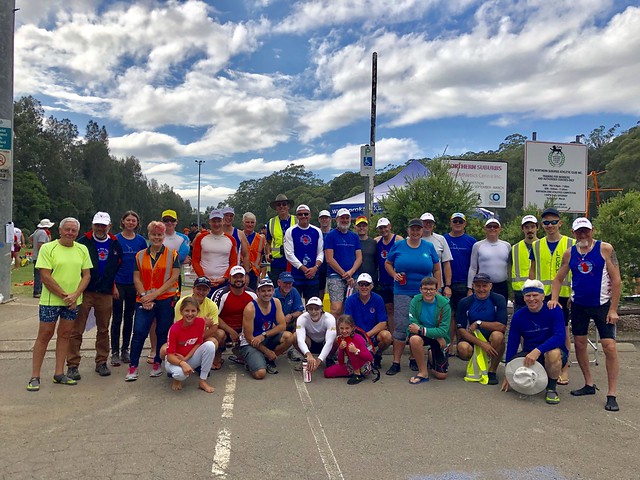 Above: Almost all of the LCRK team ahead of the marathon. Minus safety boat crews who were already busy at work!
When most race reports begin with comments on the long drive and early morning fatigue of paddlers, it's refreshing when that one race rolls around which is squarely on home turf. Cue the Lane Cove marathon, an extravaganza of boats, logistics, enthusiastic paddlers...and hands down the best bake sale of the marathon series. As with 2018, the LCRK race was the nominated doubles bonus round, and this year it also included state doubles titles within the usual divisional structure. And this year it turned out to be an even bigger affair, with 224 paddlers in 85 doubles and 54 singles.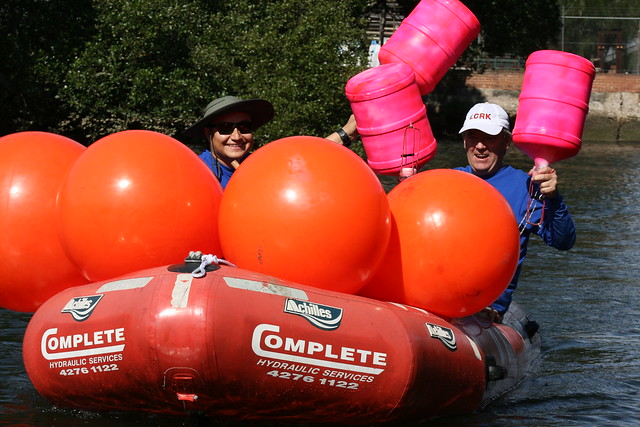 Above: Ian and Rodrigo – far too much fun!
So as would be expected, the day dawned pretty early for Ian Wrenford and the safety boat crews:
"The LCRK Marathon course is one of the more complicated courses on the Marathon Series – partly to do with setting an accurate course on the circuitous Lane Cove River, and partly to avoid setting the course any further below Fig Tree Bridge than we have to.
The result is we lay out 41 buoys and an entire gym of weights to hold them in position. The layout includes separation buoys pushing paddlers up into bays, hazard buoys to prevent shortcuts (eg the mudflats) and of course turn buoys so paddlers can do it all again. This requires an early 6am start at the Burns Bay Boat Ramp to launch and load the boats and lay out the course whilst heading up to the Pontoon. Not forgetting to pick up debris and set hazard tape on the way. At 10am we head back down to assigned positions for the race, returning to the pontoon with course buoys around 2pm after the race, then again heading downstream to take the boats out at Burns Bay around 3:15pm. Phew!" – Ian Wrenford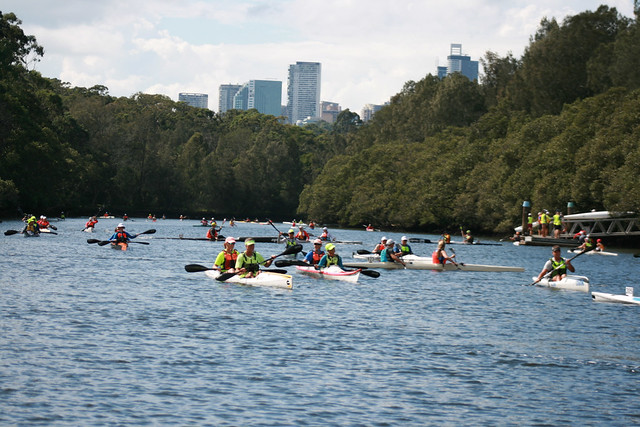 Above: Paddlers congregate for the start.
Back at home base, canteen and BBQ set-up were already well underway, with a small army of volunteers busy preparing all the various elements. Caught in the spotlight of a behind the scenes interview (see Tony H's video), John Duffy confessed that 'The Lot' was by far the most popular choice on the menu, and that meant a LOT of veggie options. Meanwhile, up on the grassy hill part one of the carefully planned strategy of getting over 200 paddlers onto the water was underway, with signposts set up to mark marshalling for each of the 13 divisions. Paddlers, boats and trailers began to roll in, under the watchful eye of parking official John Greathead:
"A great day. I had no issues to report except to acknowledge the excellent assistance from the parking team including Tony Walker who is an old but not current member. I also am particularly impressed year to year with the cooperation and good humour of the paddling fraternity. It was great to see the bridgeworks site compound, scaffolding and barge unexpectedly moved before the day. The only small drama was having to move the coffee cart briefly to allow the UTS folk to obtain the keys to use their gym." – John
Tony Hystek decided to make up for not quite being up to racing by taking on as many roles as physically possible for the day. Alongside delivering a race briefing that included notable indigenous landmarks to look out for on the course, and being the event's official starter, he also decided to film a quick mini-doco alongside. Nobody is quite sure, how he managed to film starts from atop the freeway bridge while yelling at errant paddlers from beneath it, but the footage is well worth a watch!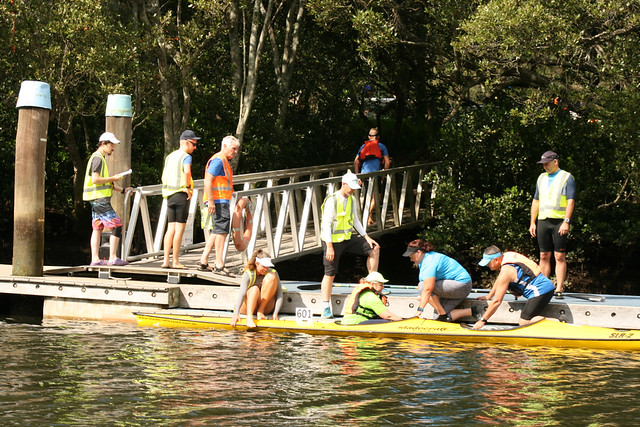 Above: LCRK pontoon services in action.
Briefing complete, and paddlers began to file down to the pontoon under the watchful eye of Elke van Ewyk. Adrian Clayton was head honcho on the pontoon itself:
"The vibe on the pontoon was extremely positive throughout. Only one swimmer observed at the start. No swimmers at the end. Many appreciative comments coming from participants from visiting clubs regarding the assistance they were given with getting their kayaks to and from the pontoon, on to and out of the water, etc.
Thanks to Maya's help, a system was found to remove last year's confusion of number plates not lining up with the numbers issued through the Webscorer on-line registration system. Elke did a great job feeding the divisions to the pontoon in an orderly fashion.
We did the Club proud by finding a replacement kayak (the Civet double) from the shed for the Div. 9 MWKC team of Anne-Lloyd Green and Johnathan Papalia after their kayak returned to the pontoon with a broken rudder soon after their race started. Fingers crossed that this magnanimity does not bite us on the bum at the end-of-season points tally!
Brendan Gay, backing up from last year and Ross Bingle from Sutherland were on the pontoon throughout. LCRK racers Anjie L, Jeff T, Rod S, Lachie W, Liam C, Duncan J and Dave Hammond also helped out at the start and/or finish. Visiting paddler Shari Goodman also was a great help at the start although her work ethic almost caused a DNS in Div. 12. Rod LeLievre's ranking race in Div. 10 was similarly affected by his pontoon diligence (I expect him to do well in his next marathon outing!). The contributions of all these folks made my job a breeze." – Adrian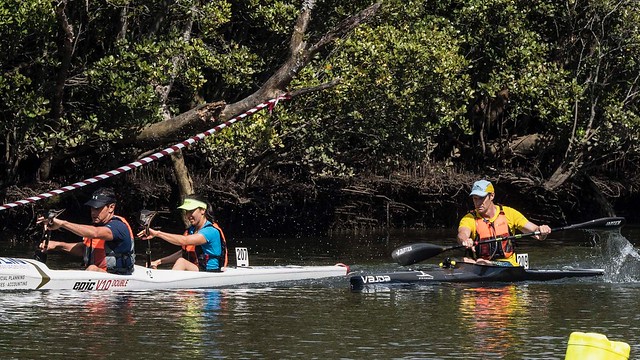 Above: Mark and Caroline sprint for the finish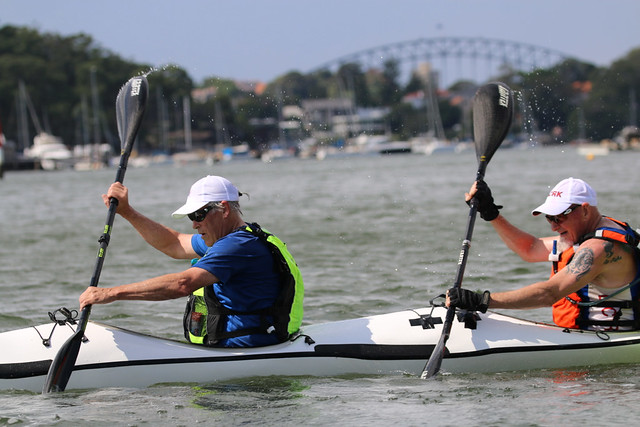 Above: Duncan and Jeff continue their partnership
And then came the race itself! Starts were packed to say the least, with a whopping 23 boats (12 doubles) in Div 8 and 24 boats (19 doubles!) in Div 9. Though the starts were pushed out to a little downstream of the freeway bridge, there was little room to manoeuvre, and these two start groups called for a few rows of boats and a watchful eye. Jeff Collins finished 15th in the jam-packed Div 8, closely followed by Rob Llewellyn-Jones (16th) and doubles combo of Phil Geddes and Tom Simmat (20th). In Div 9, Matt and Liberty Blundell finished 7th in a speed that also clinched them a gold in the X Open K2 state title, followed by Paul van Koesveld/Tim McNamara (13th) and Bruce Goodall (18th). Rod Skellet, completing his ranking race, was the only LCRK paddler in Div 10.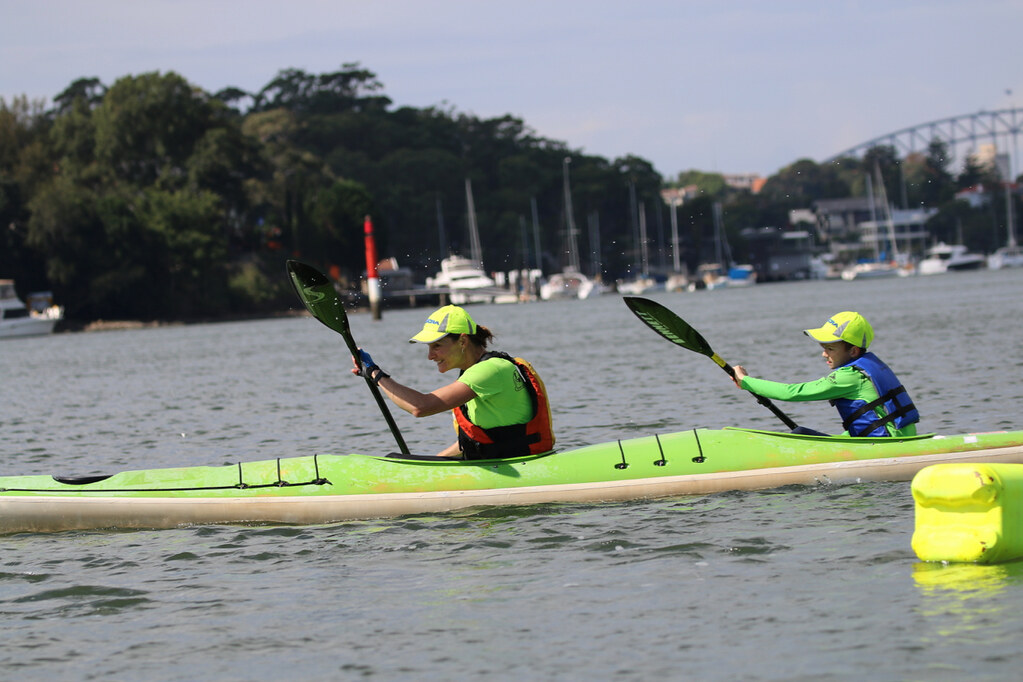 Above: Hammond team #2 – Maria and Thomas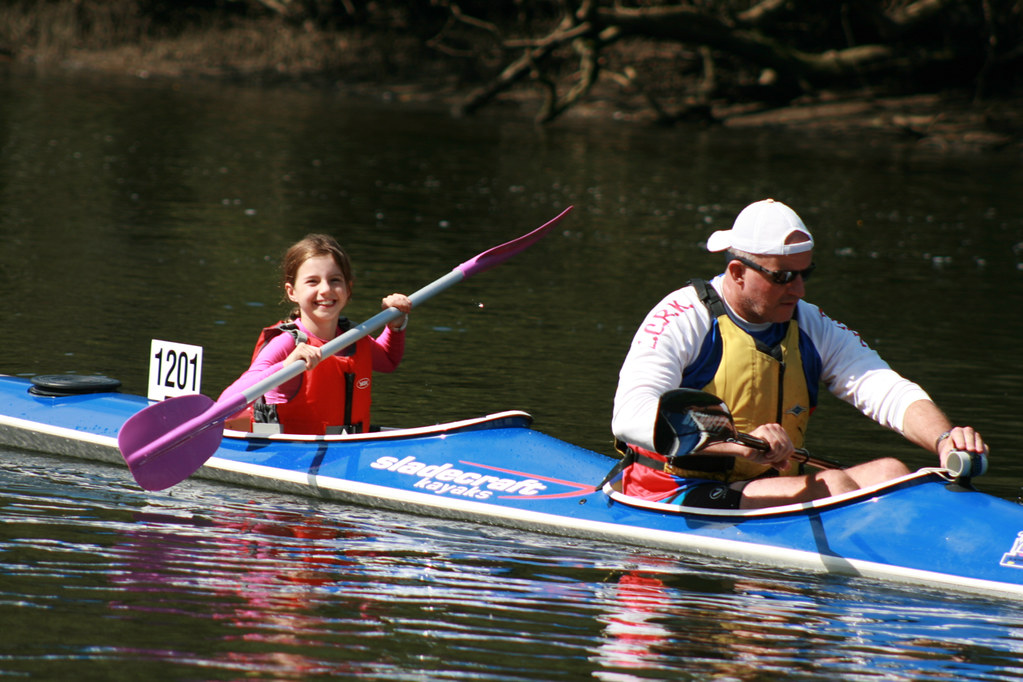 Above: Hammond team #1 – David and Areti
Div 12 was the race of the Vet-Junior doubles, and alongside timetrial regulars Matt and Liberty, LCRK turned out three more smiling family combos. Following an ace ranking race at Wyong, Anjie Lees' nephew Jacob Chetcuti was back for more. Rumour has it he was already a keen back seat driver, declaring that they were "going to go faster now" as the pair closed in on the divisional win. Following David Hammond's conspicuous "doing a Barnsey" training, the whole Hammond family turned out for the race. Dad and nine-year-old Areti teamed up (complete with a fab pink paddle), while Maria and timing pro Thomas (seriously, check out the photos) took Kermit for a whirl. What a wonderful way to experience paddling!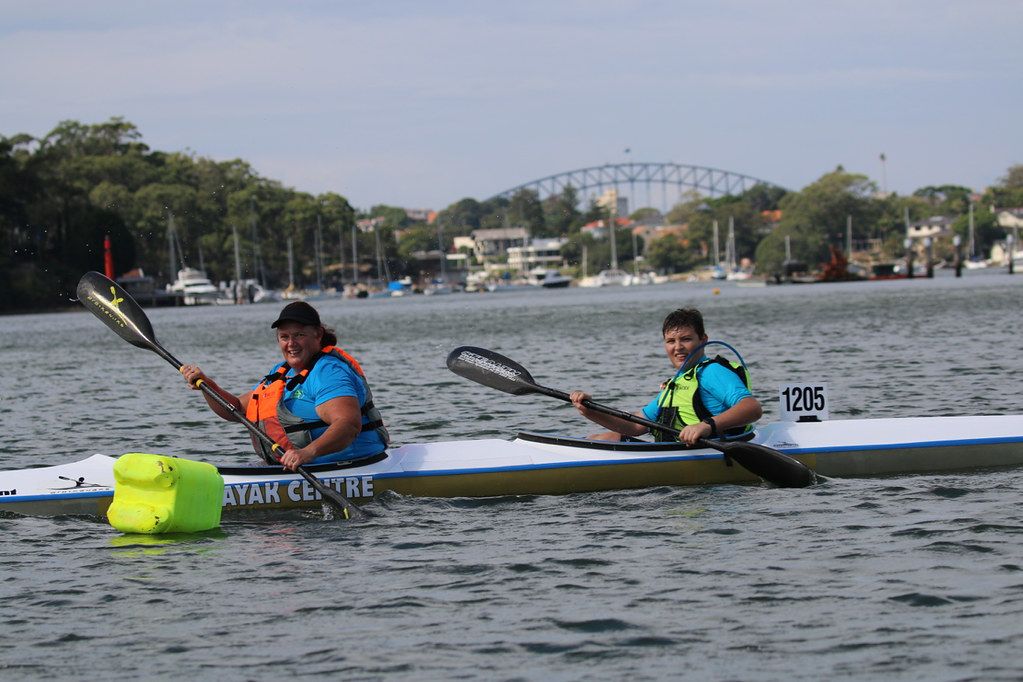 Above: Anjie and Jacob, Div 12 winners!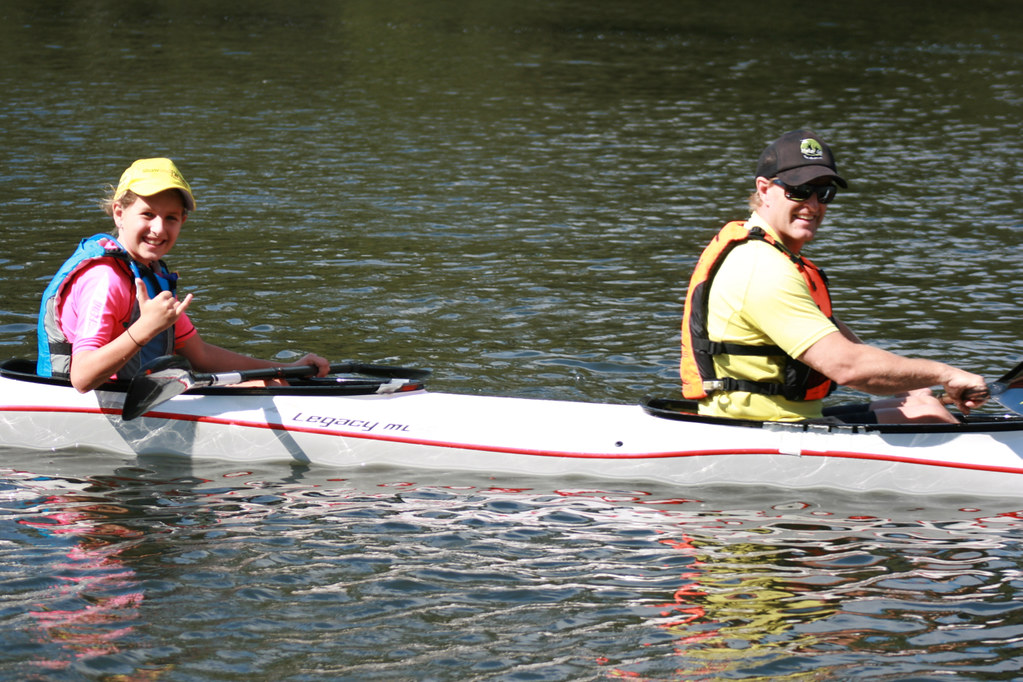 Above: Matt and Liberty, X Open K2 winners!
Div 13 was another great show for juniors and paddling, with doubles out in force and nine of the 20 paddlers under the age of 15! Though perhaps a little older than the divisional mean, Jeff Tonazzi finished 3rd, while Lachie Wrenford teamed up with Liam Cahill to finish 7th in Liam's very first race.
If you thought that the starters can breathe a sigh of relief after Div 13 heads off, think again. Oscar Cahill reports:
"Oscar and Peter had a long busy day with lots of fun. One of the challenges was the setting up the top turn after the start. So what's so difficult with that? After the start, the two blue starter markers had to be moved to under the bridge; one separation buoy at the start corner removed and the other repositioned and the three yellow top turn markers had to be laid and all at specific GPS coordinates. But that wasn't the problem. With the bottle neck at the beginning of the race getting people to the pontoon and on to the water, some of the starts were slightly delayed. So by the time the last DIV 13 group started, DIV 1 were screaming back to the top turn, which wasn't even laid! So for the first super fast DIV1 paddlers, the top turn looked a bit out of the ordinary with only two of the three yellow turn markers laid and one separation buoy missing!" – Oscar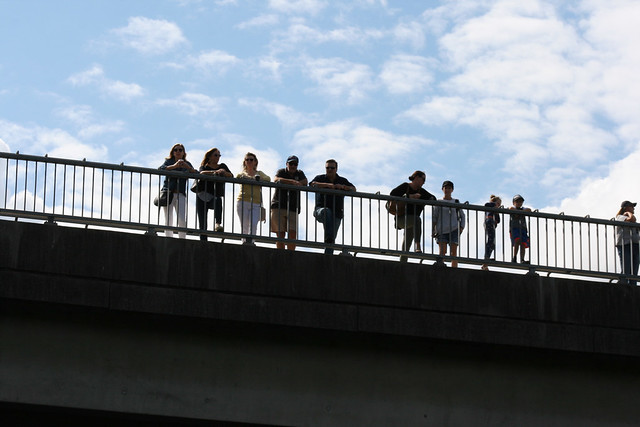 Above: Eager spectators on the freeway bridge.
With so many doubles and the requirement to race a division up from that of the highest ranked paddler, LCRK numbers in the 20km divisions were stacked at the pointy end. While Justin Ryan put in a solid solo effort to finish 4th in Div 5, Div 3 fielded an impressive four Lane Cove doubles. New pairing of Alanna Ewin/Richard Barnes finished 1st after a tight-fought race that saw four doubles storming round almost the entire course together. Regular pairing of Richard Yates/Keg D'andreti finished 20 seconds later, maintaining that their sprint to the first corner is the real win. Another duo to look out for is Duncan Johnstone/Jeff Hosnell, who are paddling a few races together this season and recorded a solid 5th, while another regular Div 3 combo Greg Morris/Warwick Sherwood rounded out the field in 11th. Gareth Stokes (7th) looked a little lost without Hobbiting partner-in-crime Peter, but reportedly stayed in his boat for the whole race.
Another three LCRK doubles took to the water in Div 2, while Andrew Love completed his ranking race. Looking strong throughout and throwing in voluntary portages for good measure, Caroline Marschner/Mark Hempel kept their cool to take out 1st in a close-fought race with a crew from Windsor. New pairing of Don Johnstone/Tim Hookins seemed pleasantly surprised to find themselves crossing the line in 3rd, though Don reported that Tim's call for all-out efforts in the final 5kms was a bit of a shake-up in the tactical department! Ian Hofestetter (5th) stuck with the K1, while Allison Bilbow/David Young finished 7th complete with portages.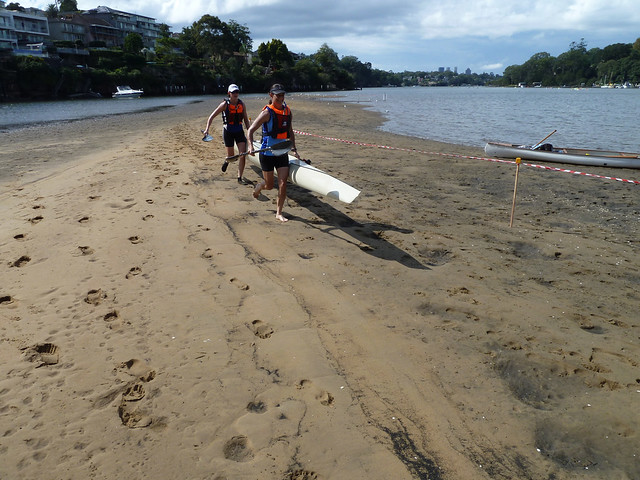 Above: Naomi and Laura, perfect footwork timing?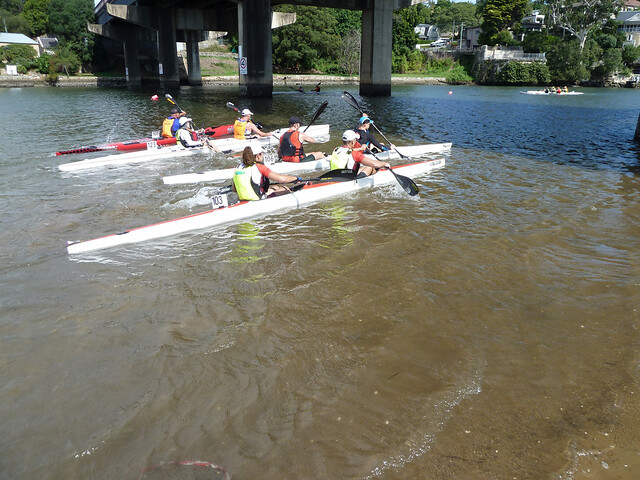 Above: Plenty of action in the Div 1 Portage
Finally, there was a bit more than the usual in store for those in Div 1, with a special 25km course and two portages in preparation for Marathon Nationals in Perth this May. It turned out to be a speedy division, with 11 of the 12 boats doubles and some fiercely competitive crews in the mix. Paddling for MWKC, Lane Cove regular Brett Greenwood teamed up with Brett McDonald (WA) to take out the race, and not wanting to be outdone for the Bananas in Pyjamas Prize, James Pralija/James Harrington finished 3rd. Photos show there might have been some rudder trouble on one of the portages. Windsor paddler Peter Hughes joined Kieran Babich to finish 7th, followed by ski crews Brendan Trewartha/Trevor Nichols (9th) and Tim Binns/Peter Manley (10th). Naomi Johnson and Laura Lee (Windsor) rounded out the field, choosing to paddle the 25km distance rather than race Div 2.
There are always an abundance of cameras at the LCRK marathon, with event photos numbering into the hundreds. This year, new member Margaret Fraser-Martin added to the paparazzi:
"I was delighted to be there taking photos from under the Western side of the M2 Epping Rd Bridge on Sunday. I wanted to capture the action at the rounding marks and any close finishes. As a newbie to kayak racing and LCRK I was fascinated to watch the seasoned paddlers race. I could see the competitors doing all the moves with arms and legs that I struggle to do, and with such precision!! I enjoyed the fierce competitiveness and complete focus of the racers. The different tactics used for rounding the marks to get an edge on their rivals was fun to watch. Yet they still had time to respond to the different cheer squads calling from the bridge, losing the fierce race face for a second. I learnt a lot and had an amazing time." – Margaret
Racing done and it was time for BBQ, comparison of wind and portage stories, and state medal presentations. This year the marathon committee introduced a new system whereby paddlers could race in the divisional format and state titles were extrapolated from average speed over the distance. From a participation point of view, it turned out to be a great success, and a few paddlers in 10 and 5km divisions were delighted to find that they were in contention for a medal. Congratulations to all who earned a state title!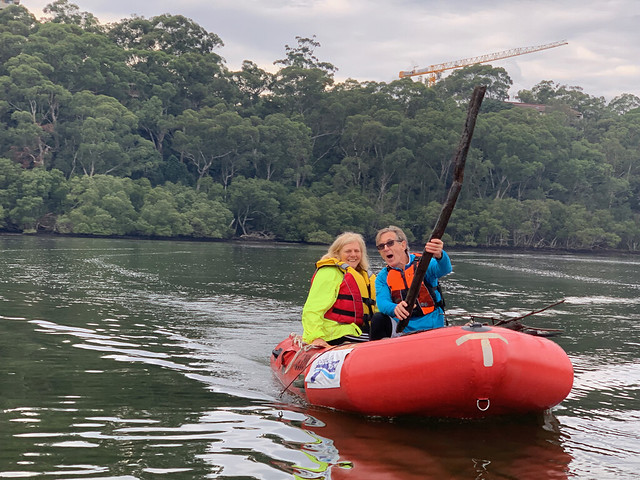 Above: Pam and Kevin up to who knows what.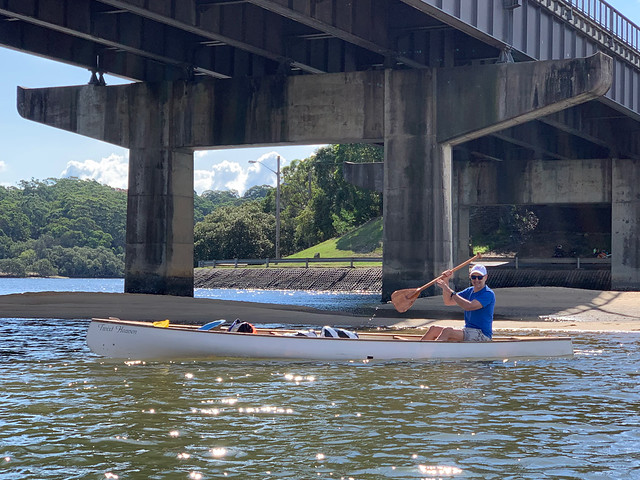 Above: No, Wade isn't about to portage a TC1!
Of course, the last on the water were the safety boat crews, rounding out a long day with deconstructing the course they had put together hours earlier. Pam Withnall reflects on the day:
"Skipper Pam and First Mate Kevin had a successful trip with Kevin doing all the real work. There was a moment where I nearly lost Kevin as he stood on the edge of the boat , tying hazard tape to a pole and the tide was taking the boat away. But despite my efforts he didn't fall in. Although he got mighty wet walking in the mud and climbing a slimy rock to tie the tape to the other side and also while out of the boat, depositing a very large log above an oyster bed. We collected enough wood for a bonfire and then ( as the pictures show) collected a lot of buoys on the way back. Our buoy collection skills went from 1/10 to 8/10 very quickly. The payback for this was having a front row seat for a great sporting event. Watching all the serious competitors vying for position in tight formation around the nearest buoy was certainly more exciting than any cricket match." – Pam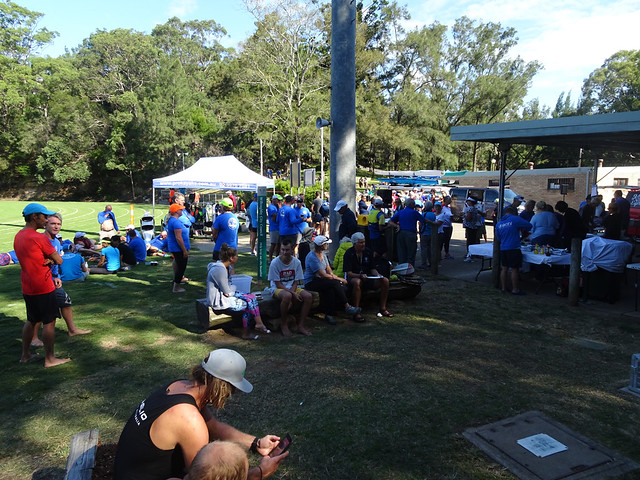 Above: BBQ yarns and good tucker.
As for Ian and Rodrigo, they had more tall tales:
"The biggest bit of excitement for the day was while laying out buoy #2 while threading a rope through the buoys concrete weight. My fingers were all set to grab the rope as it appeared out of the hole – but the rope was preceded by a cranky red-back spider! A dexterous flick of the hand and the red-back spider was now in the boat. Alive. Somewhere. Thankfully, Rodrigo was aboard (he's a professional) and the Latrodectus Hasseltii was hunted down and the safety boat made safe.
Safety boating otherwise was pretty straightforward with no assistance required for any rescues and the Safety Boats at anchor to minimise the 2 stroke fumes and wash! Downstream of Fig Tree Bridge is normally the problem spot – invariably because of powerboat wash which 'stacks up' in the shallow waters leading down to bottom turn. This year there were only two powerboats spotted through the entire race and neither caused any capsizes.
In the thank you department:
To Alanna and the catering crew for putting together a splendid packed lunch (incl play lunch!) for all the Safety Boats – very much appreciated.
To LCRK Member Justin Ryan – who kindly lent us his Safety Boat, and fuel as the primary boat for course laying etc. We would have been stuck without that one!. Also Phil Geddes for the use of his Fat Yak as a safety boat.
To Roger Deane – our Safety & Comms Officer back up at the Shed on the other end of the mobile phone
And of course to all the safety boaties – Pam Withnall, Kevin Mulally, Oscar Cahill, Peter Harris, Ian Wrenford, Alex Brown, Ally Davis and Rodrigo Matamato? A super efficient crew this year – we had the course laid out, and then packed up at the end of the day quicker than we've managed in the last 5 years I've been involved." – Ian Wrenford
Results for LCRK Paddlers and regular TT'ers below: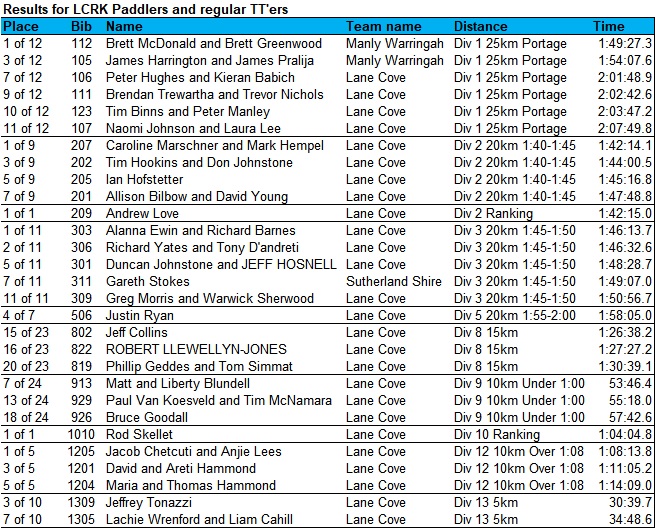 And a few dishonorable mentions in the timing department: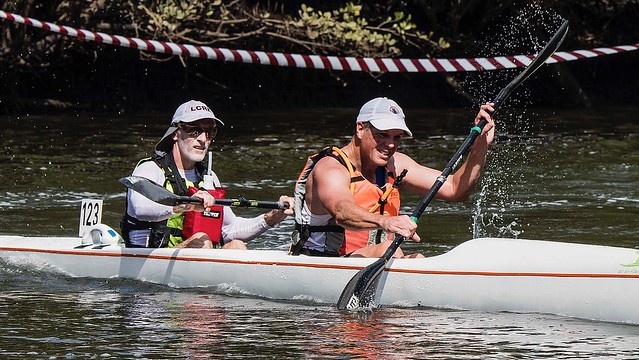 Above: Pete clearly sure that Tim is doing his bit!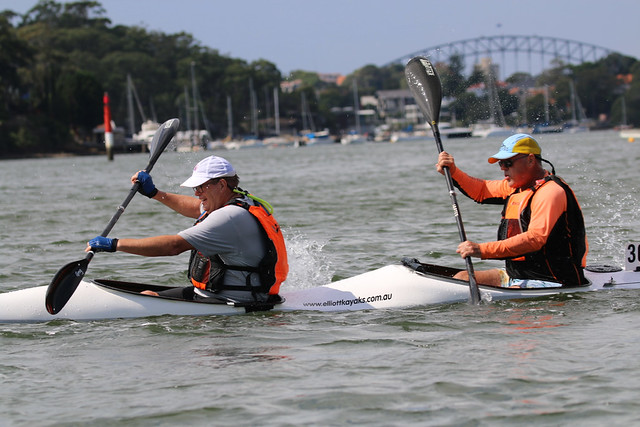 Above: Most improved from 2018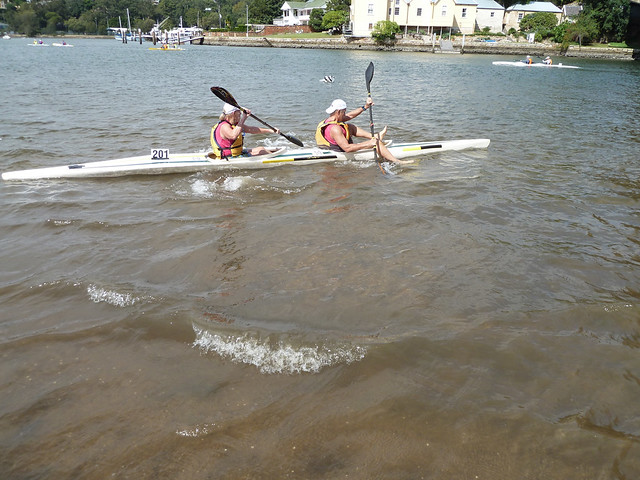 Above: ...and by the portage factor!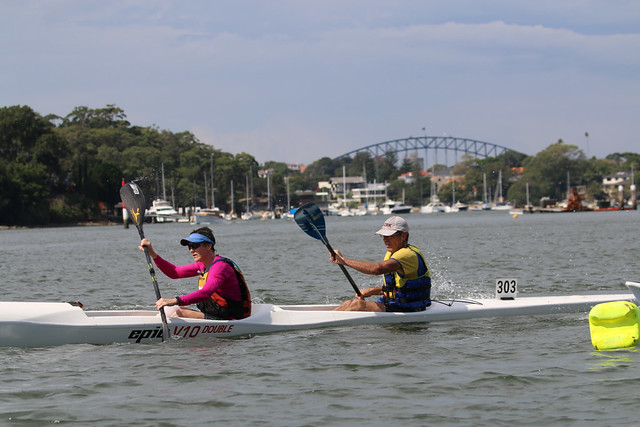 Above: Saved by the turning factor...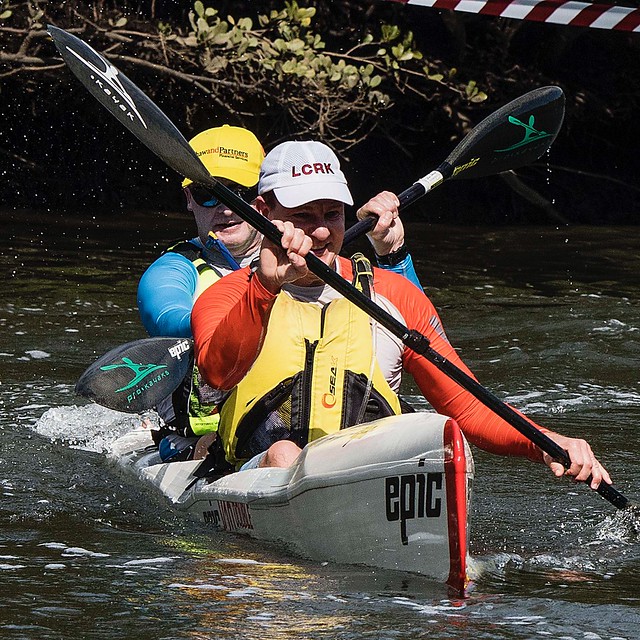 Above: Report writer's choice prize. If you look at it for long enough, there is actually a beauty in the symmetry!
Next round - Batemans Bay!
 

 


Round 3, Tacoma (CCP) - Sun 31 Mar
Location: 1 Wolseley Ave Tacoma
Race Report by Oscar Cahill
An impressive 26.5 Lane Cove boats braved a cold start to the morning and headed up the M1 to Tacoma for Round 3 of the 2019 Paddle NSW Marathon Series, hosted by the Central Coast Paddlers. On arrival it was bright, sunny, cold and very windy as per the weather forecast. Perhaps it was a taste of the winter season to come, but there was no talk about people overheating wearing lifejackets! Instead, there were multiple conversations on whether to wear long sleeves, shorts or "longers" or even double up! A little sunscreen was definitely in order too as there wasn't a cloud in the sky all day.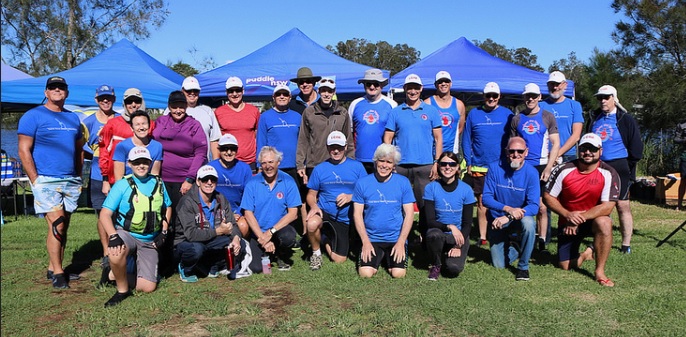 Above: The majority of LCRKers - shorts and longs. Photo: Lesley
I always listen to Gary's opening address at the race debrief where he acknowledges the traditional land owners. It is incredible to think that they are the oldest continuous culture on the planet, certainly longer than our Federal leaders! Tony Hystek gave a plug for our Lane Cove Marathon Doubles round that is happening VERY soon (details here), and Naomi gave a plug for the Nationals. As for the race course, well, if there was such a thing as Kayak Dragster Racing, Tacoma would be ideal. It was a 5km course and a straight 'L' shape. There were three separation buoys on the whole course, compared to over 50 at Lane Cove. Unlike Woronora, the only crafts on the water were Kayaks and rescue boats. A big thank you to the rescue boats too, as not one I saw moving on the water had even the smallest of wakes. Thank you, thank you, thank you!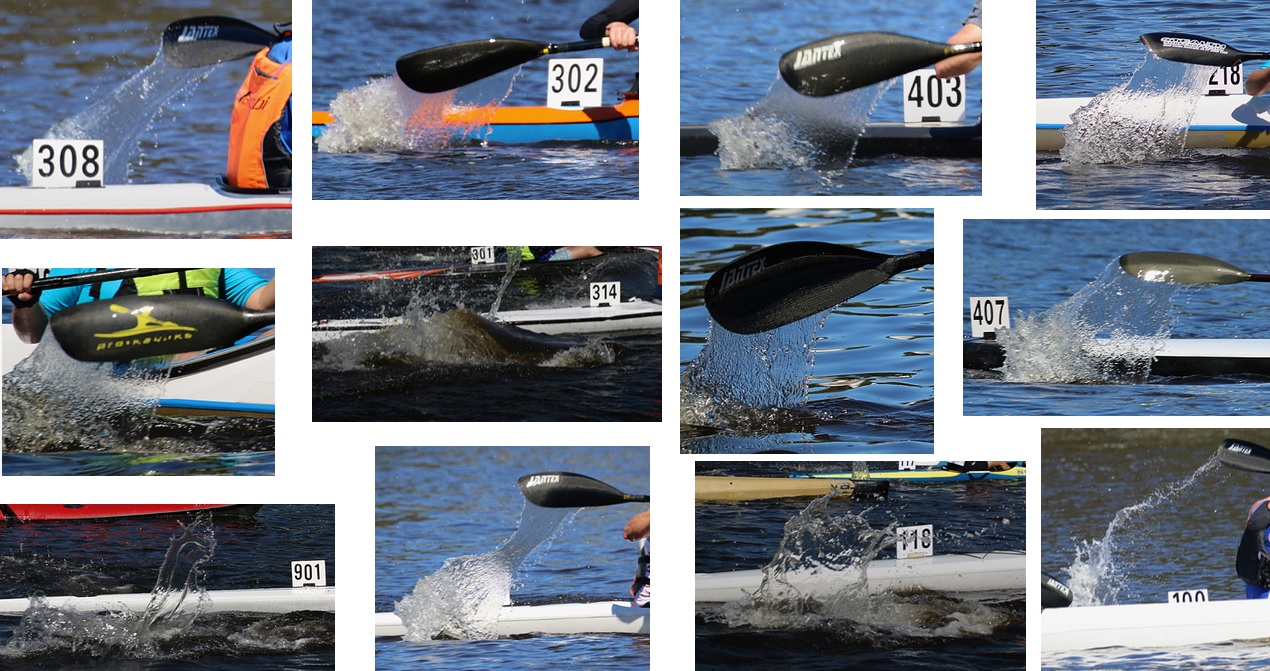 Above: Wyong River - a bit splashier than your average LCR crudslime
A great thing about Tacoma is that everyone parks along the river bank and you can literally enter the water a few feet from your car. So after the briefing there was no panic trying get through queues of launching kayaks and no chance of missing your start. Before the race, Anjie's double partner, her nephew Jacob, was having problems with the lifejacket zipper and Anjie was on the hunt for some WD40 (and I only tell you this as she thought it was worth mentioning). I told her I had some silicon lubricant that may help. And where do I get it from? I looked high and low for it about a year back, only to get a tip that the best and cheapest place to buy it is in the "grown-ups" section in Woolworths! Needless to say I remove the labelling from the bottle!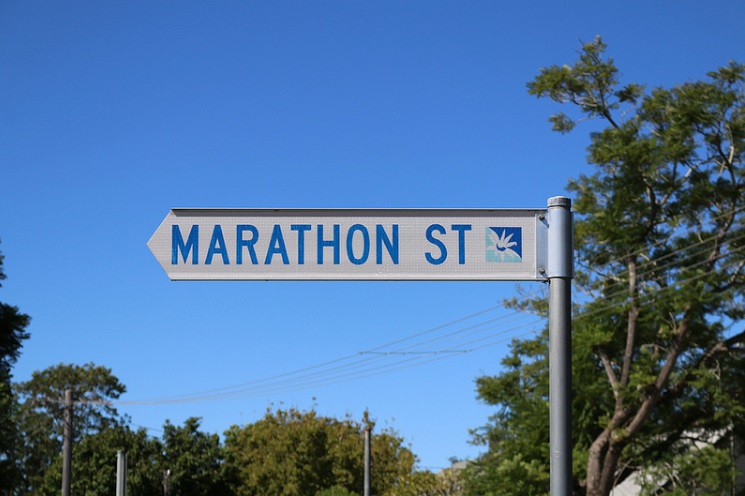 Above: CCP pulls some weight with the local Council!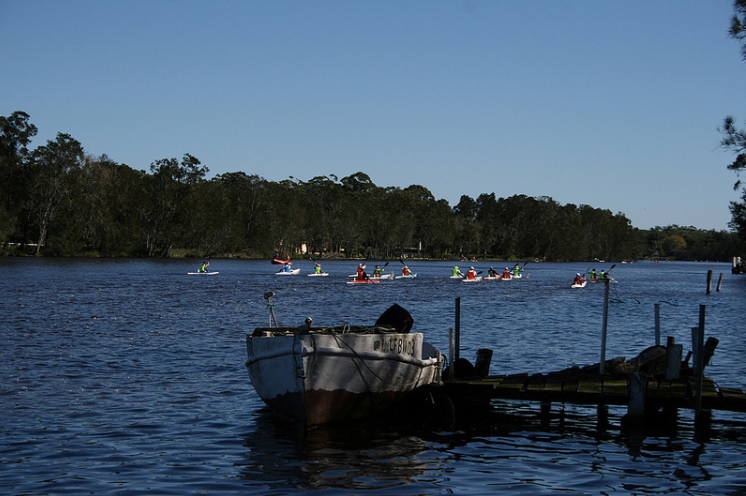 Above: and what an idyllic location
As always, Division 7 headed off at 10:45am followed by Div 6. Then Div 1 at 11:00am followed by all other divisions. By the time Div7 had completed the first 5km loop, Div13 had just about started, so you can imagine no one on the course was ever lonely! Upriver from the start was straight into the fresh wind, so anyone wearing a hat that kept it did well. But as always with the wind, in the opposite direction and going with the wind, there seems to be no cooling, but thankfully with the short course and the 20cel midday temperature, it was fine.
As for the race itself, there were some great battles, great results, lots of excuses and a few stories.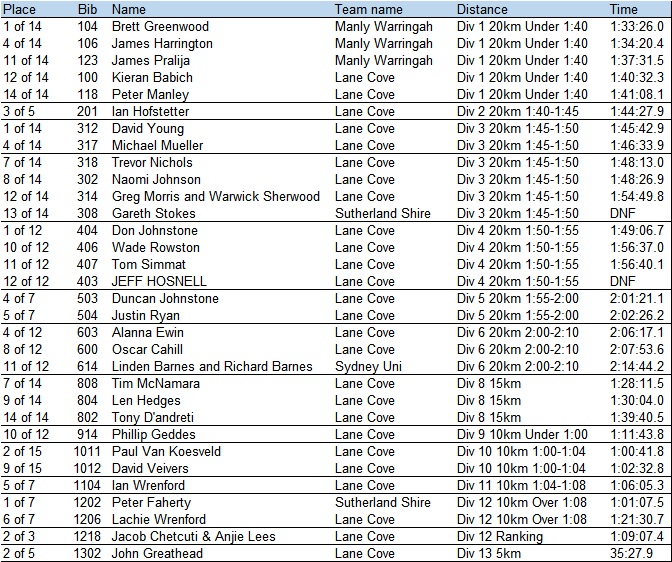 Above: Results for LCRKers and regular TTers
If it was a training session, Brett Greenwood only trained for 1 hour and thirty three minutes. You should be ashamed Brett… compared to me who trained for 2 hours and seven minutes! Sadly for me, it was a race and the 1:33:26 gave Brett line honours in Div 1. James Harrington wasn't far behind in 4th with a time of 1:34:20. James Pralija followed in 11th (all three under the MWKC flag). Under the LCRK flag though, Kieran Babbich came in 12th and then Pete Manley. Div1 is very competitive and a big field, so well done all. Div 2 had a smaller field with Ian Hofstetter taking out a podium position with 3rd place.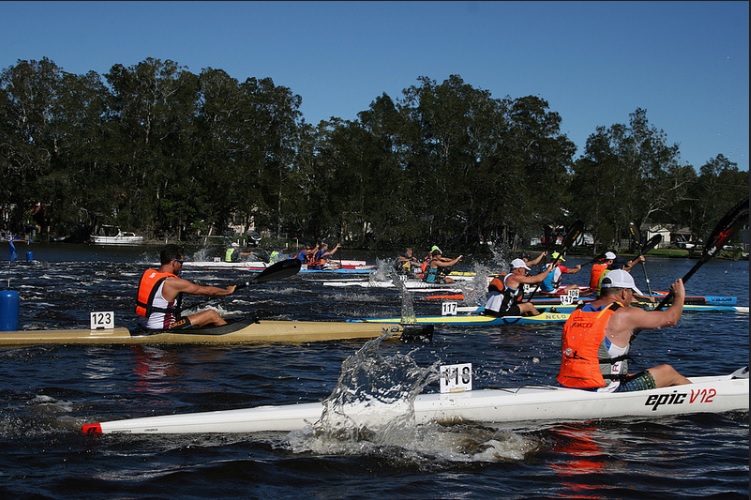 Above: Div1 starts with a splash. Photo: Maya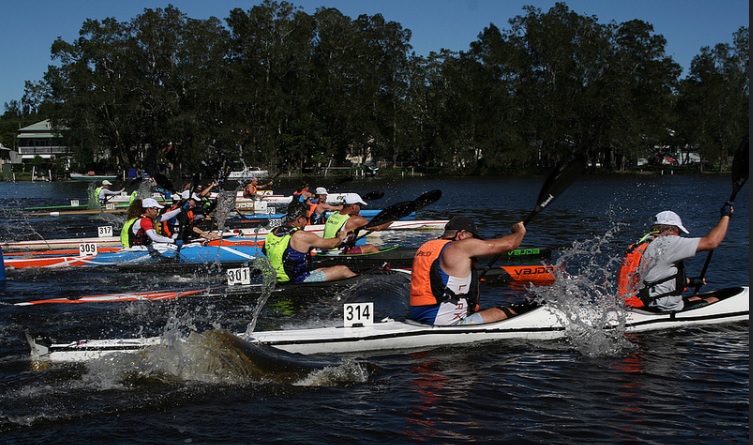 Above: Look at the amount of water Greg & Warwick move! Photo: Maya

In Div3, sometimes referred to as the Lane Cove Division as half the field is from Lane Cove, David Young had a ripper of a race and took out line honours in a large field of 14. Michael Mueller just missed out on a podium position and came 4th. I spoke to him after the race. At the start, someone beside him snapped a cable so he lost a few boat lengths at that critical moment when his neighbour popped over to say hello! He managed to catch up on the straight sections but wants to work on the turns before the next race. Trevor got three full laps of wash riding from Greg and Warwick who were in a double but then tragedy hit. Greg and Warwick's rudder locked hard right and the resulting pandemonium split a very close field into two, and Trevor lost his wash ride and the boys had to go to the side and lock the rudder in a straight position after hitting the bank twice and crashing into trees. They claimed that they were a sure podium position up until then! Trevor finished 7th and the boys finished 12th. I'm not sure what happened to Gareth [ED: Steering malfunction]…..but no points were earned for Sutherland there.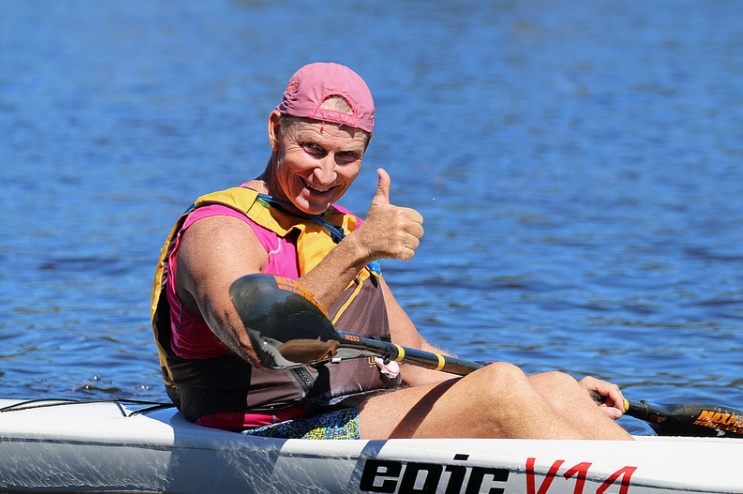 Above: Nice win David!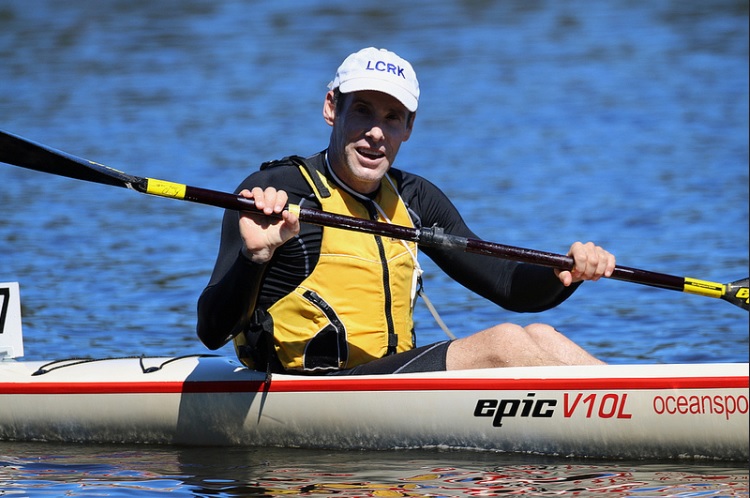 Above: And a happy Michael

So whilst this was going on, the battle of the day was playing out between Naomi and Laura Lee (Windsor). At the start Naomi got stuck in the wash but eventually made up ground. Phew… but then those trouble makers in the double blew their rudder and split the field, adding to Naomi's work load and determination! And hot on their tail was Daniela…. No pressure Naomi! But winners are grinners and Naomi crossed the line a whisker in front of Laura. Awesome work! After the race they were spotted trying out a double together. What a great team they'll be for the LCRK Doubles Round and the Nationals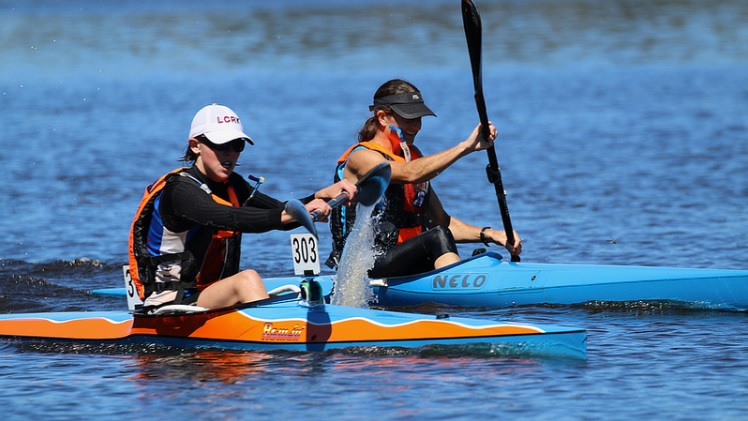 Above: Naomi and Laura - may as well be in a double!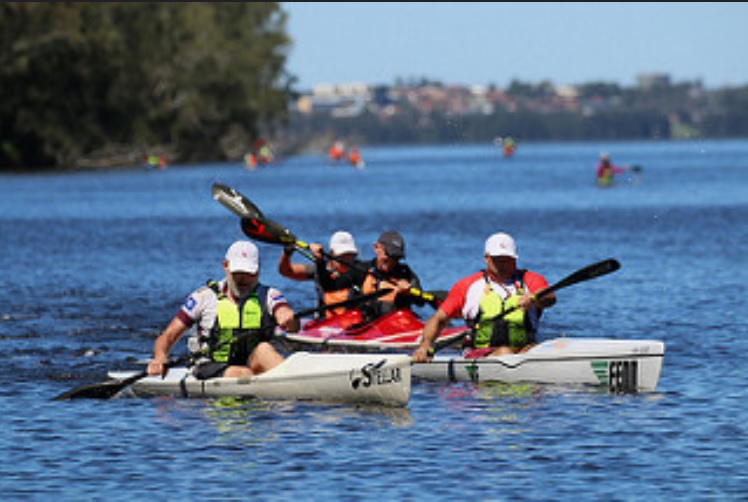 Above: This Don is good! Div3 next round!

Div 4 was also well represented by the club, with 4 of our paddlers. Don Johnstone studied the course on the first lap, and picked up at least a boat length on the remaining three laps by sticking over to the right. Aided by this, plus the wind factor on his beard a spreadsheet on his trip computer, and a solid race, he took out line honours. Wade Rowston and Tom Simmat battled each other all the way to an all-out sprint to the end, cheered on by people on the bank. I only cheered for Tom as I didn't recognise Wade's new stroke! But yesterday was Wade's turn and he pipped Tom at the post (AND scored a ticket back to Div 5!!). And our fourth entry in the division was Jeff Hosnell. It was an incredible effort for Jeff to turn up and race after such a sad week having lost Laura's Dad De Xu. Dad and Mum have been an almost permanent fixture on the banks of the rivers for some years of the marathon series keenly watching paddlers (esp Jeff!) at work. Our thoughts are very much with you Jeff, Laura and family.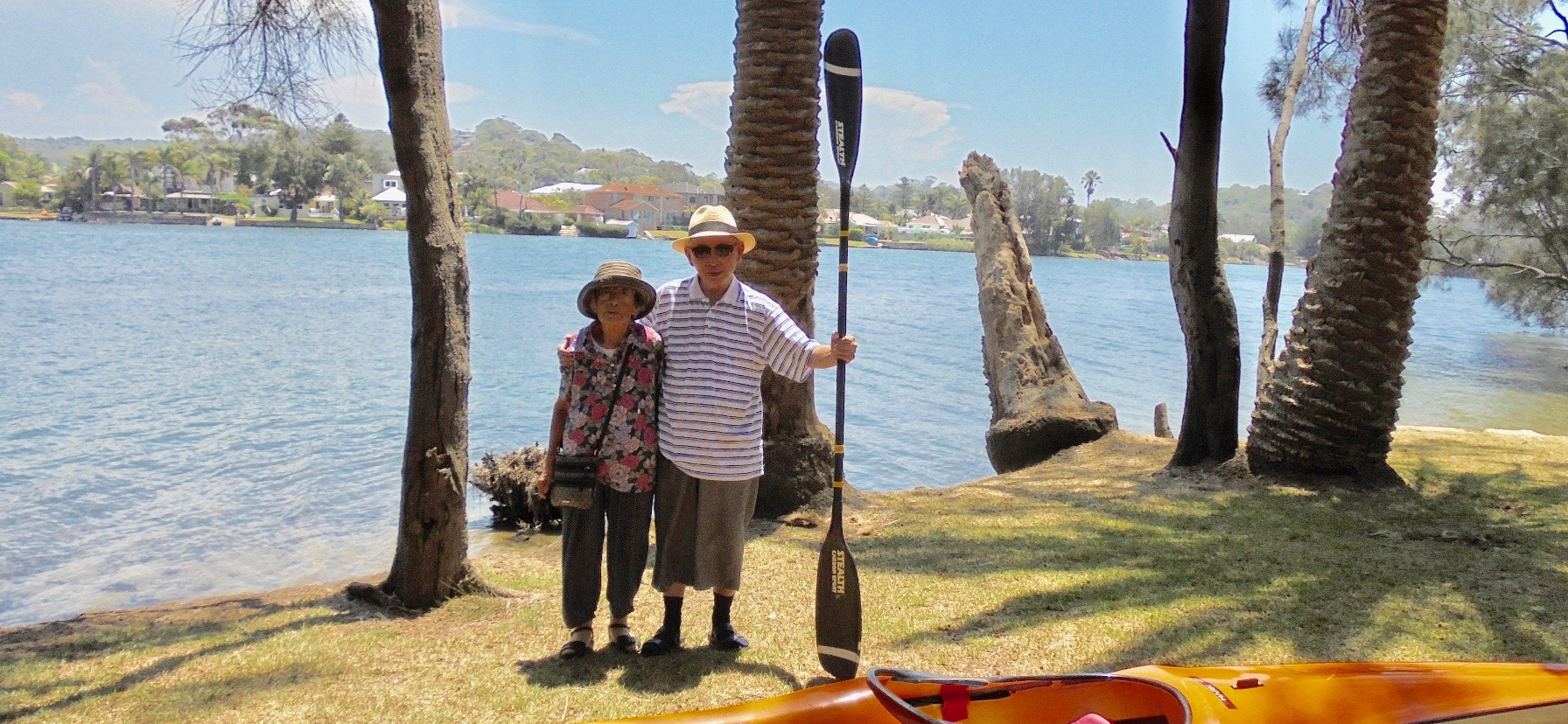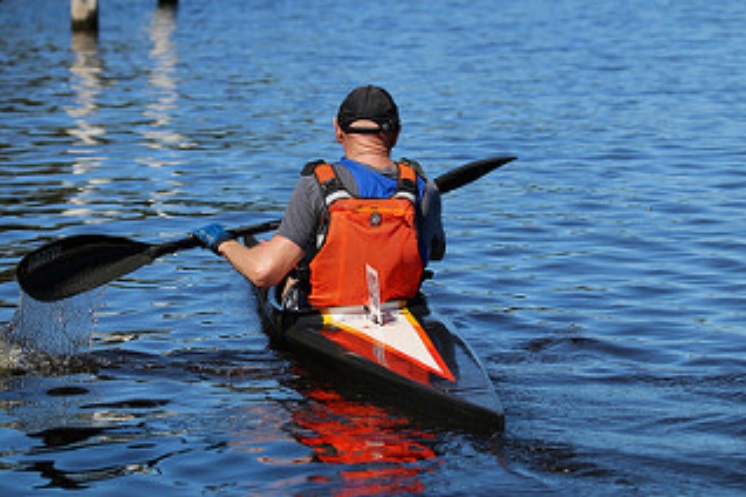 Above: Jeff. Onwards!

In Div5 we had Duncan with a very nice 4th position on the line. He had a good strong and enjoyable race. Justin Ryan came in behind Duncan. Again, a great division for the club. In Div 6 we had Oscar and Alanna. Alanna reported that the race was a bird watchers dream. Along the river bank, she recalls seeing about 10 different cormorant nests with big fluffy chicks. Did you know that there are 30 species of cormorants in the world and five in Australia? Alanna spotted at least two of them, one being the Pied Cormorant. She had a super start to the race. Well, it helps if you were the only one in the division who heard the starter's "Ready…go". She had a super strong race and came 4th in a field of 12. Oscar, whose excuse is that he hasn't raced since last October, came in 8th. And Richard Barnes and his sister Linden, paddling Kermit, came in behind Oscar.
So that's all the 20km divisions. In Div 8, 15km, we had three paddling in a large field. Tim McNamara had a good race, 7th, and described the conditions as perfect. He was followed by Len Hodges and Tony D'Andreti. In Div 9, 10km, we had Phil Geddes. Div9 is a 10,000 metre sprint! So well done Phil. It's a very tough division. In Div 10, we had Paul Van Koesveld. He had an awesome race and came from 6th in a tight pack to cross the line in 2nd place! And followed not far behind was David Veivers. In Div 11 we had Ian Wrenford. With high winds forecast, Ian left his Flash at home and opted for a more stable craft. It was so stable that he turned it into a rescue craft and aided (with Phil Geddes) a contender for the Nemo prize! Well done Ian. In Div12, we had Peter Faherty (must have been trying out a very unstable new K1!) Peter took out line honours for Sutherland in a worthy Div10 time. Lachlan Wrenford had a bladder problem half way through his Div12 race, (NO, a backpack bladder problem!). His tube was recovered post race, so thank you to whoever found it. Also in Div 12 was Anjie and her nephew Jacob. Hopefully we'll be seeing more of them throughout the year. They had a great race. And finally, in Div13, John Greathead came second, beaten at the post for the second week in a row. Drat! But he did say it was his best paddle in a long time and was a happy chappy!
So well done everyone for another great day on the water and thank you Central Coast Paddlers for a very well run race.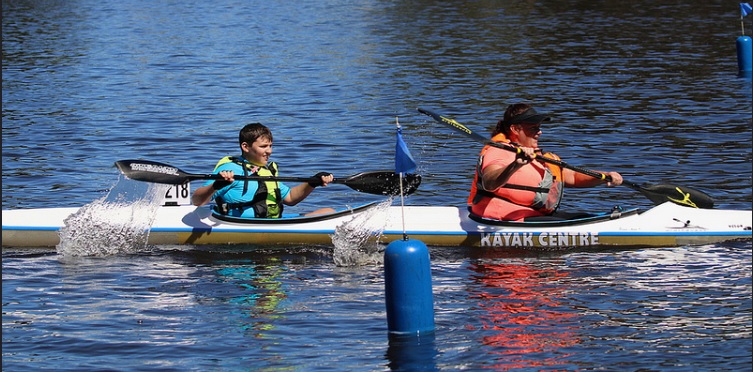 Above: Anjie & Jacob - nicely paddled!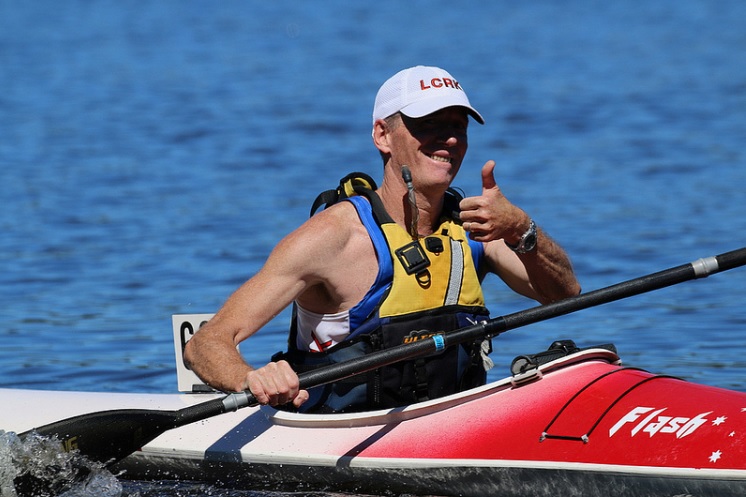 Above: Oscar - cheers!

Thank you to Ian Wrenford, Naomi's Frazer and Maya Gibson for photography - some good coverage in there and some new angles from different photographers (Lesley was helping out with Timekeeping in readiness for the LCRK Doubles Round on Sunday 14 April).
Oh - and did we mention next round is the LCRK Doubles Round on Sunday 14 April?
Round 2, Woronora (SSCC) - Sat 23 Mar
Race report by Naomi Johnson
With a substantial lay-in compared to the Canberra race, paddlers arrived at Burnum Burnum Sanctuary bright-eyed and ready to race. And what a turnout it was, with 143 boats out on the water across 13 divisions for the first standard divisional race on the calendar. The Woronora race has turned out hot days over the last few years, and though this time around it wasn't quite as scorching as 2018, the sun still had some bite. After a slow start to the season in Canberra, LCRK paddlers were out in numbers to make their mark on the season with paddlers across all but two of the divisions. We had two ranking-ish paddlers, with Michael Mueller making a triumphant return to the marathon series after a few years absence and Justin Ryan choosing to re-rank in a K1 rather than his regular ski. Michael's time almost earned him a ticket to Div 2, while Justin confirmed that the K1 is still a bit slower than the ski.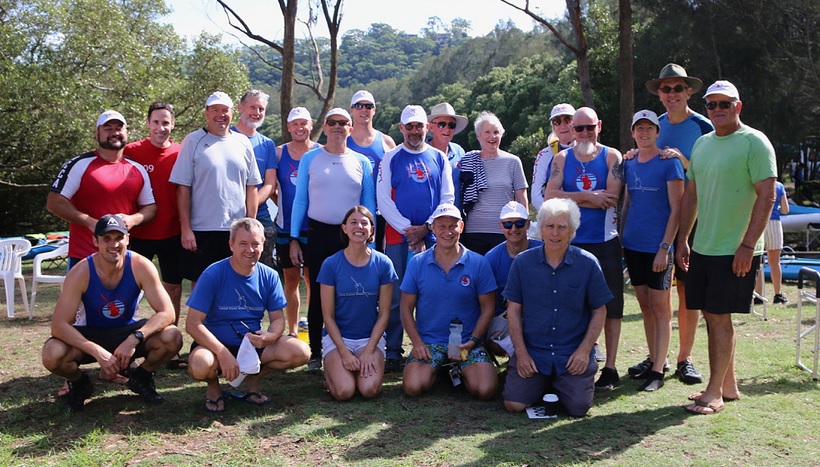 Above: most of the LCRK contingent. Remember - straight after briefing!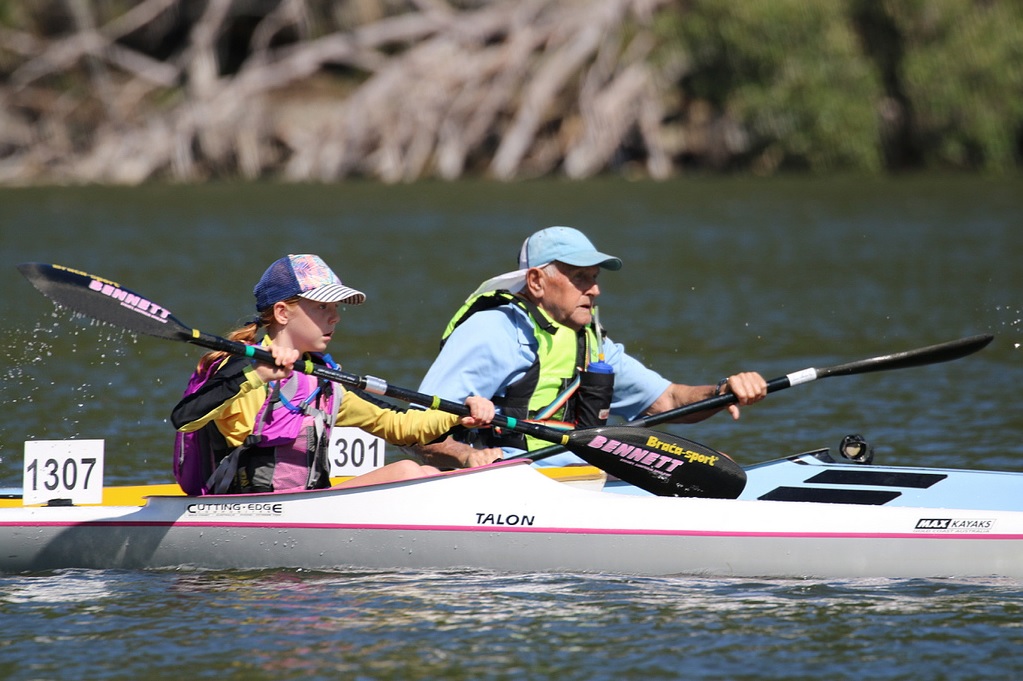 Above: A great demonstration of what the Marathon Series is all about - 87yo Albert Laurendet (SSCC) competing with 10yo Hayley Dunbar (Northern Beaches). Photo: Lesley Manley
The downside of such glorious weather was that speed boats were out in force, churning the river up and making for more than a few washing machine experiences. It's unfortunate that several of those living along the Woronora River can only access their property by boat, making river closure for the race impossible. Now a bit of a LCRK timetrial regular, Gareth Stokes ('Hobbit 2', racing for SSCC) decided to check the water temperature right on the start line in Div 3 and took a quick dip. He then executed a rather effortless deepwater re-entry into his K1, before confessing he didn't have a pump and pulling over to bail out. He somehow made the start, shooting off the line like a rocket. Pre-race swims must be good for adrenaline! After the start, the race course turns quickly right to loop around an island before joining the river and heading upstream. Lesley Manly set herself up in prime photography position, snapping shots of each division as they tried to fold and squeeze themselves through the slot without catching a rudder on any submerged rocks. When there are over 15 boats and a few doubles in the mix, it's easier said than done!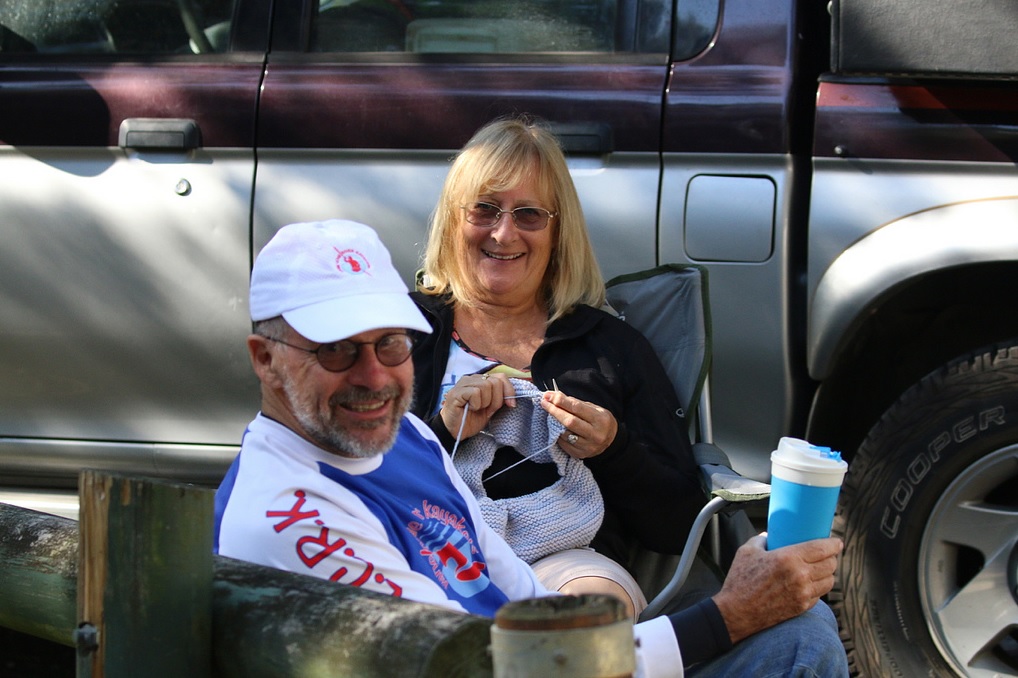 Above: Is Christine really knitting Tom a Kayak sock?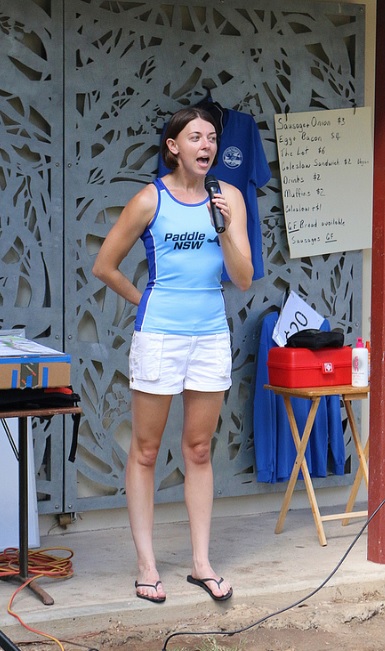 Above: 'Nationals' Naomi @ work
There were more than a few new K1 paddlers (or at least new to the marathon series) out on the water, some possibly regretting their choice of craft. In the 15km Div 8, Keg paddled the LCRK Tornado to a solid 12th, while Tim McNamara stuck with a ski to finish in 7th. While Matt and Liberty Blundell were probably totally oblivious to any wash due to their forward momentum (mostly coming from the back, apparently), Peter Faherty ('Hobbit 1', SSCC) swam no fewer than seven times over the 10kms. His consolation prize was Nemo, who remains a stoic supporter of the most prolific or brilliant swimmer in the marathon series races.
After stalking each other round the course in the 70-74 ski race in Canberra, Paul van Koesveld and Peter Harris decided to do it all again in Div 10. This time, though, Peter was only about 40 seconds in arrears, with the placings of 3rd and 6th showing just how tight a race the division was. Ian Wrenford finished a strong 2nd in Div 11 (claiming a Steven Bradbury result he said), before taking up his usual position in the water just next to the finish line to snap action paddle shots. Div 12 regular Lachie Wrenford was a noticeable absence, missing his first race in over three years for a non-negotiable rehearsal at the Opera House.
The 5km Div 13 saw three LCRK paddlers, with John Greathead (5th) pipping new member Pam Withnall (6th) by less than 20 seconds(first Marathon series event), and Roger Le Lievre (first Marathon series event) finishing 8th a few minutes later. Pam will be one to watch as the season progresses – that was only her fourth paddle!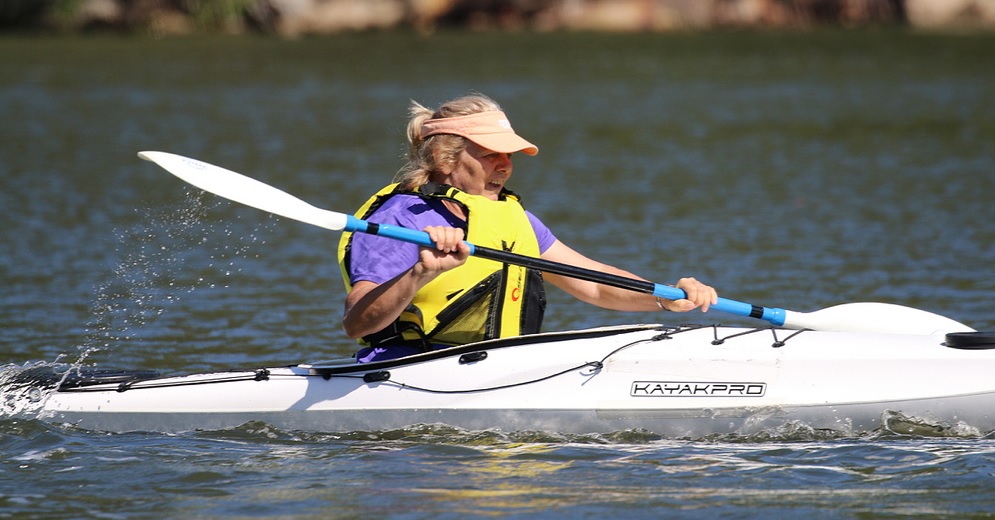 Above: Pam's first Marathon Series event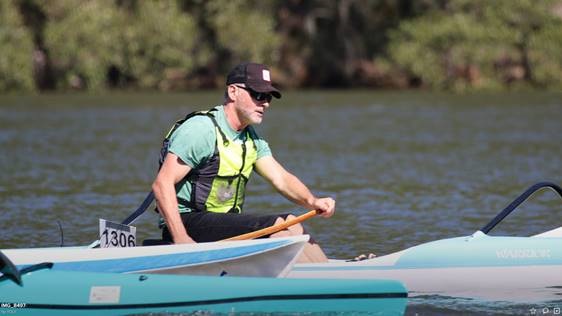 Above: Roger's first Marathon Series event
From Burnum Burnum Sanctuary, the course winds its way up Woronora River, past houses and jetties, then trees and rocky outcrops. With a high tide just after 12pm, sand bars were less of a problem than in previous years. On the way back down to the bridges, the long lines of paddlers shouted encouragement and commiserated about the speed boat wash.
While there were no LCRK paddlers in Div 7, Alanna Ewin was spurred on by her recent success at states and paddled another 20kms in Div 6, where she finished 6th. Tom Simmat took full advantage of his Div 5 start (behind Wade) to creep up on his teammate as the race progressed. The pair shared leads, with Wade reporting that Tom had an advantage in the rough water, before posting something of an inter-divisional photo finish over the line. With a 2nd overall, Tom will be joining Wade in Div 4 at Wyong. Also in Div 5, Ruby Ardren (MWKC) finished 4th, proving that crossing Bass Strait is excellent training for the marathon series. Don Johnstone was an impressive 2nd in Div 4, followed by Wade (8th) and Jeff Hosnell (9th), while Justin Ryan completed a ranking race in his rather tippier K1.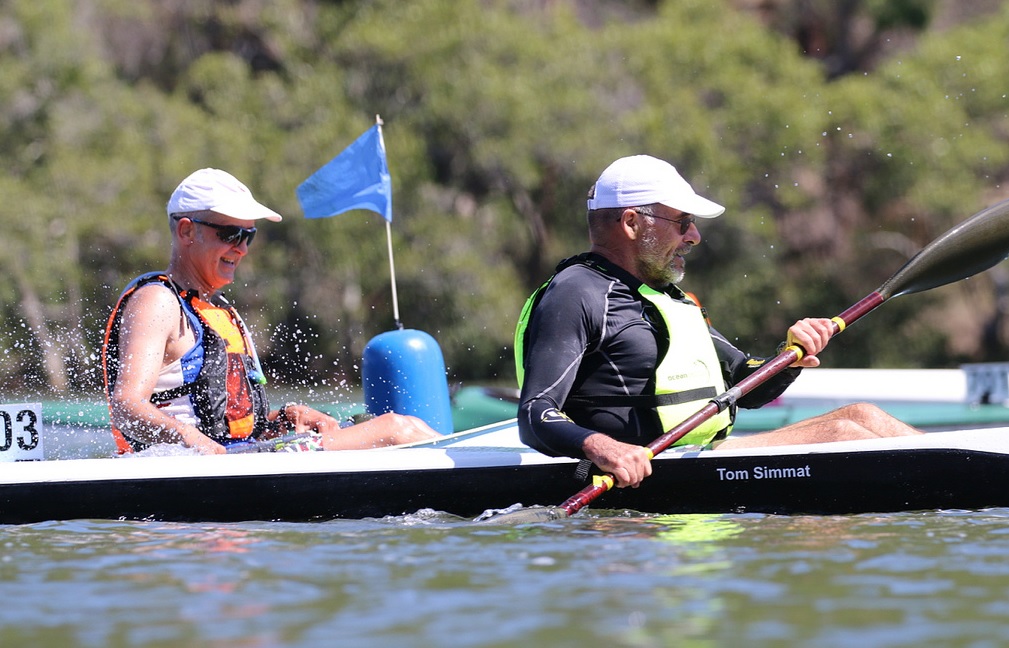 Above: Tom & Wade's interdivisional photo finish
The second LCRK ranker for the day was Michael Mueller, whose time of 1:45:56 would've earned him 3rd outright in Div 3, and narrowly avoided a fast track to Div 2. Following a second swim, Gareth Stokes teamed up with new Div 3 paddler Naomi Johnson to finish 5th and 6th respectively. Naomi is sure that she would've evened out the one second separating them with a couple more metres in the sprint! Doubles combo of Greg Morris/Warwick Sherwood finished 9th, and David Young 13th.
The heat was on in Div 2, with Kieran Babich and Ian Hofstetter flying off the start line. Kieran perhaps paddled a bit too briskly, finishing 1st in the Div 1 time of 1:39:51 – looks like he'll be up there for the rest of the season! Ian was 2nd in 1:43:26. There were an impressive 13 boats in Div 1, with a pack of three breaking away together. Of them, Brett Greenwood (MWKC) and James Harrington (MWKC) took out the top two spots in 1:32:42 and 1:32:47 respectively, followed by James Pralija (unfortunately still wearing maroon) a little further down the field in 13th. Peter Manley was the sole ski in the division, finishing in 13th.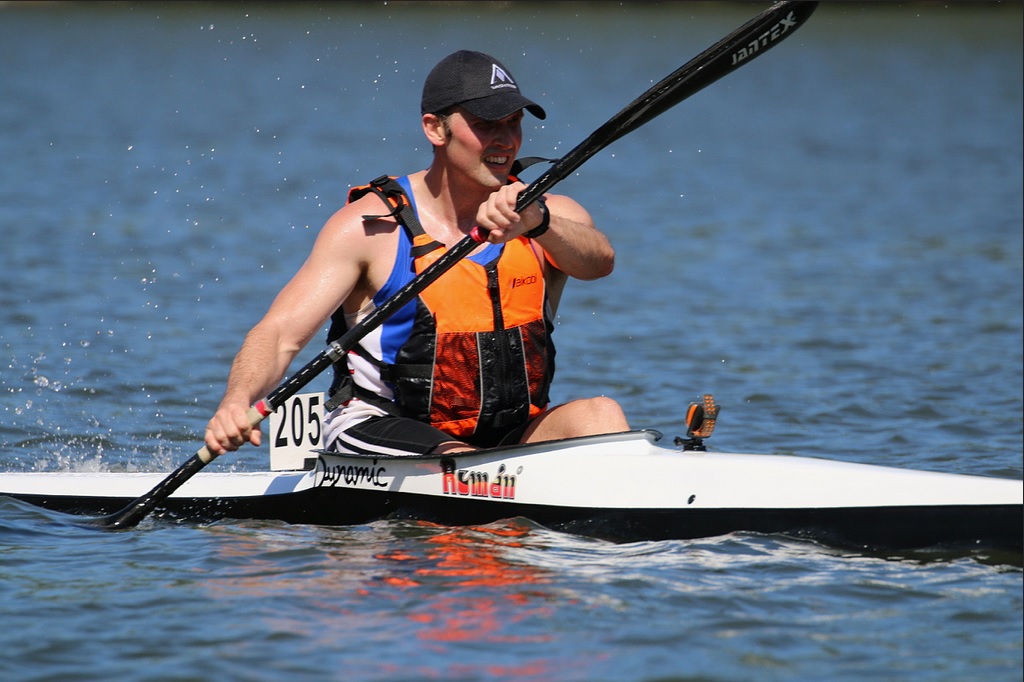 Above: Kieran Babich won Div 2 now Div 1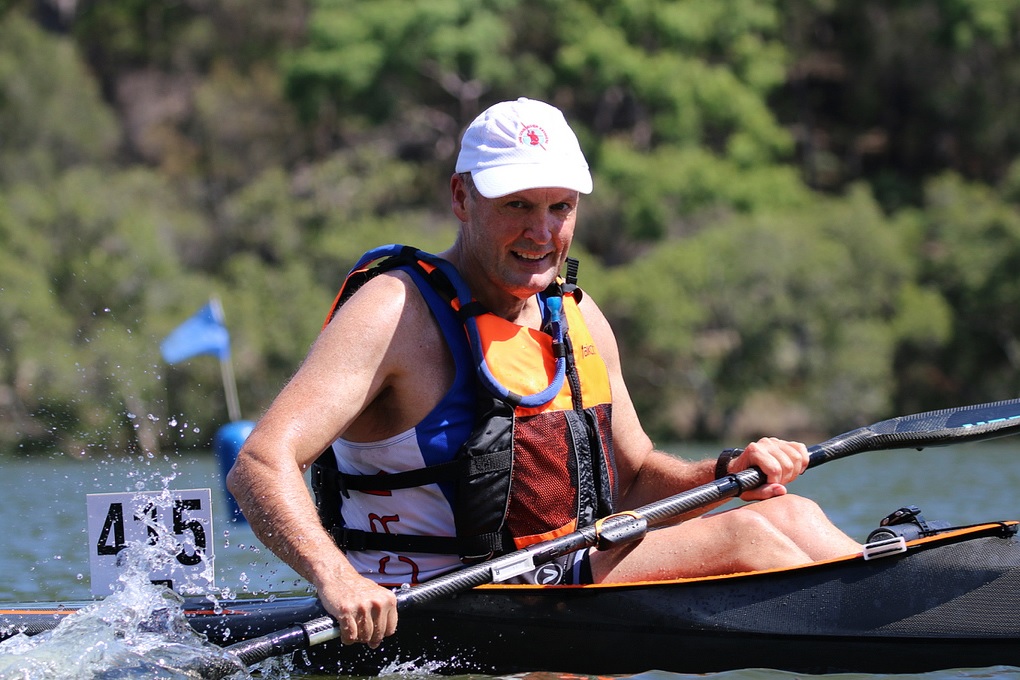 Above: Justin Ryan now K1ing
From Woronora, it's a quick turn-around to Wyong (Tacoma) next weekend, and LCRK still has a little work to do to establish ourselves on the club points. Hopefully with fewer speed boats!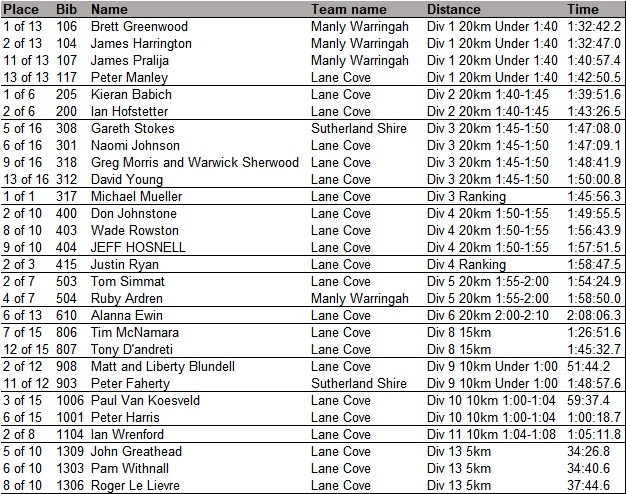 Above: Results for LCRKers and regular TTers
Round 1, Canberra (BGCC) - Sat 2 Mar
Race report by Tony Hystek
With the recent influx of K-boats into the ranks of LCRK craft, our reps at the State Marathon Champs must have felt duty-bound to return with some bling. They didn't disappoint!
Leaving just enough time for a pre-dawn espresso, we were on the road at 6am with many other Sydneysiders filing in, line-astern as we approached the Capital of Promises.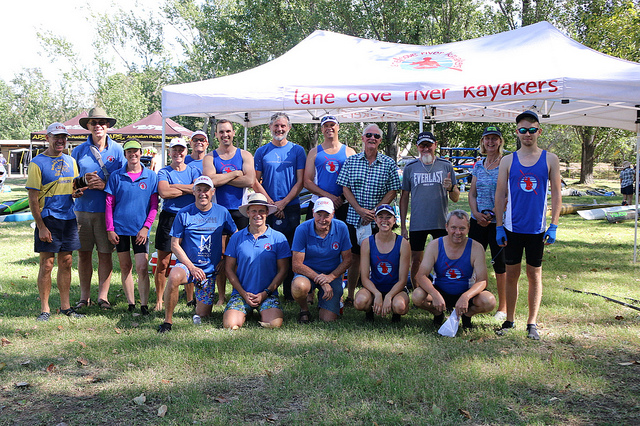 Above: LCRK paddlers primed and ready to tackle the first marathon race of the season
With the forecast approaching 30 degrees, we were fortunate that lifejackets were an option only. Most chose not to wear them, opting instead for some novel approaches to keeping cool. Some chose to have a quick dip at the start-line, as paddlers jostled for position in increasingly congested starts. Others chose the pontoon option, sliding gracefully under the surface before hauling themselves out. Fortunately in both cases the water was only chest-deep, making for a reasonably quick re-entry, but not deep enough to wash away blushes.
The Marathon Committee did a great job of combining a State Championships event with a standard Marathon Series race. This resulted in many more entries on the day than for a championships-only event, and most people came away very satisfied with the results.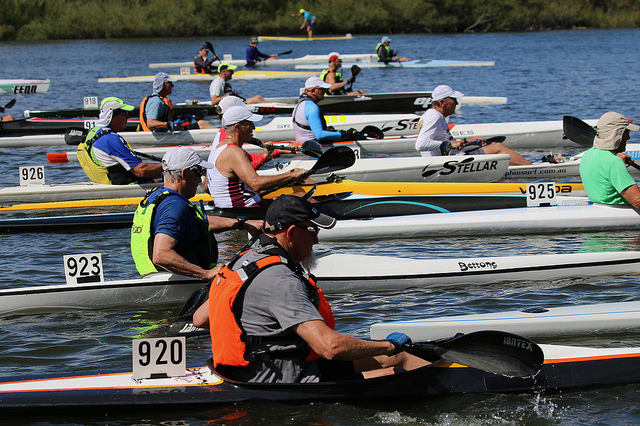 Above: Jeff (front) and Duncan on the start line
Then first four early starts included recreational classes and non-portage classes, with big fields making for some great racing. Some commented that the laps seemed to go by quickly, no doubt due more to hyperactive medicinal supplements than the picturesque river meandering through interesting countryside.
Starting with the elder statesmen, Paul VK won the two-horse LCRK race over Peter Harris in the V70 ski race. Jeff Hosnell came in a valiant 2nd to Warwick Nichols in the masters selection 15km V65 race, with Duncan Johnstone in the club Bettong coming in 5th – obviously some weed on the rudder. Occasional club paddler Raewyn Duffy recorded a win in the Women's V55 rec class.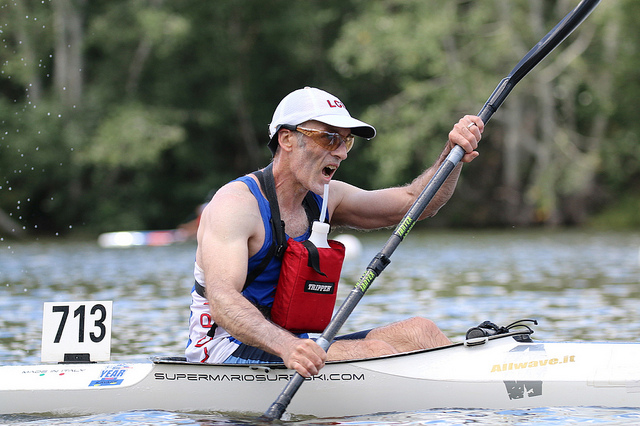 Above: Tim with the best finish line face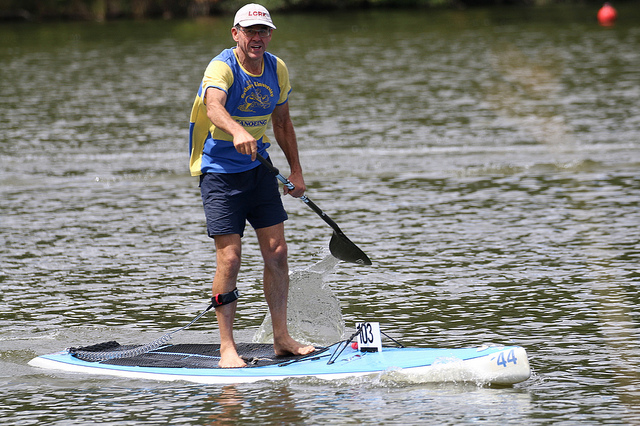 Above: Has Richard done a SUP HCC yet?
Richard Barnes introduced a new take on 'recreational' when he turned up with a S.U.P. and managed 6th out of 8 starters in his race. I'm sure I saw a deck-chair gaffer taped to the board…. Don Johnson paddled round and round, and round and round for a 7th in the V50 ski category.
Allison Bilbow smiled all the way to a 6th place in the Women's V55 K1 in the club Voyager, portaging despite an ankle injury with a little help from Lesley Manley. David Young took out the top spot in the Men's V55 K1 race, with Wade Rowston 3rd.
There were mixed fortunes in the V50-54 race, with Tim Binns mowing down the field for a gold medal after a relaxed race start. He was very happy, to put it mildly. Peter Manley suffered his usual leg cramps and went for consecutive swims at each portage as he tried to stand on unforgiving legs. After the second collapse he had cried enough, but is still determined to find a solution that will release his full potential. Look out Tim Binns!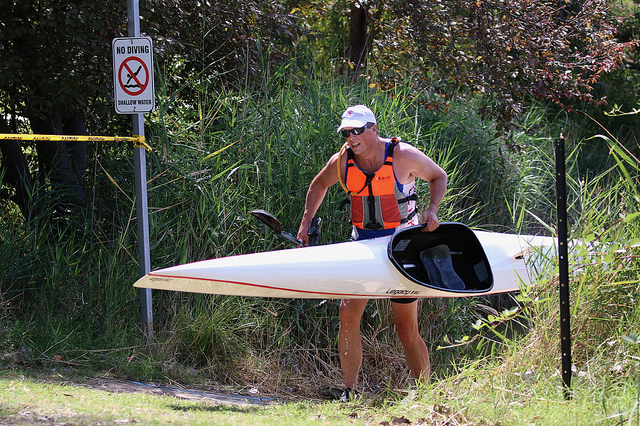 Above: ...bit more like it!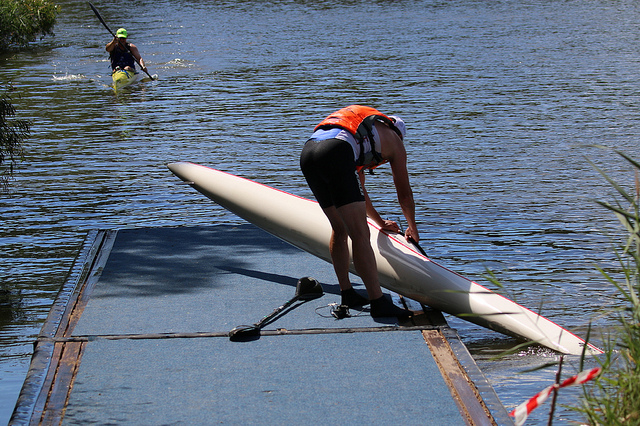 Above: Umm...Pete...that's not the fastest way...
In the 10km non-competitive distance the Wrenford family proved that paddling is faster than swimming when both father and son beat Peter Faherty, who chose the most distant water from the bank to cool off. It was quite a swim.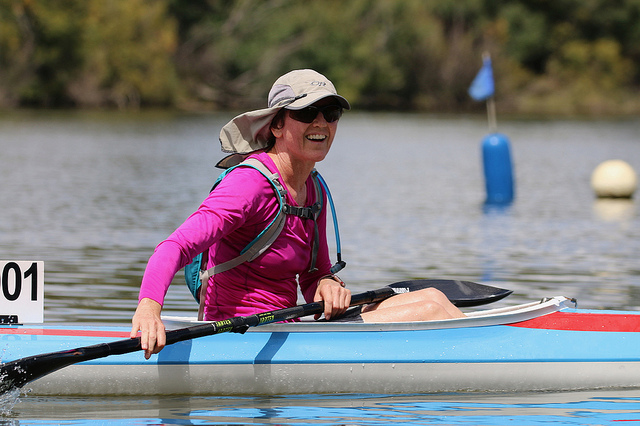 Above: Alanna all smiles at the finish
Alanna Ewin took to the water in a completely unfamiliar boat, having had second (and wise) thoughts about paddling her skinny Tygeur in the expected wash. Having fitted her swivel seat in the club Tornado the night before the race, she came back beaming with joy after a test paddle. Even though we poured water on her aspirations (and the rest of her), she went on to win silver in the Women's V45 K1 race behind MWKC powerhouse Daniela Torre.
Gareth Stokes had a good paddle in his K1 to gain 3rd in V45 K1, and we expect his times to improve rapidly over the coming months.
Now to the fast folks! Club regular Brett Greenwood defied his age (55) and changed his entry to Open class, winning a tight race against James Harrington (U23) a minute in arrears. Brett's skill in portaging came to the fore, and it was only James' superb running speed that kept him in the race. Between them, they dropped the rest of the healthy Opens field, doing the 25km (and 4 portages) in less than 2 hours, an average of well over 12km/hr. Stuart O'Reagan was second in the opens, just a couple of minutes further back, with James Prajlia (6th) and Kieran Babich (8th) rounding out the field. The fact that James was only 9 minutes behind the winner is testament to the amount of work he has put into his paddling since starting just a couple of years ago. I'm not sure Maroon suits him though.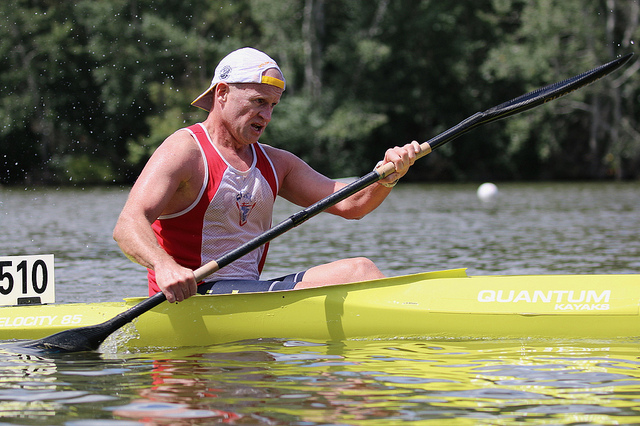 Above: Stewart finished 2nd in the Open Men's K1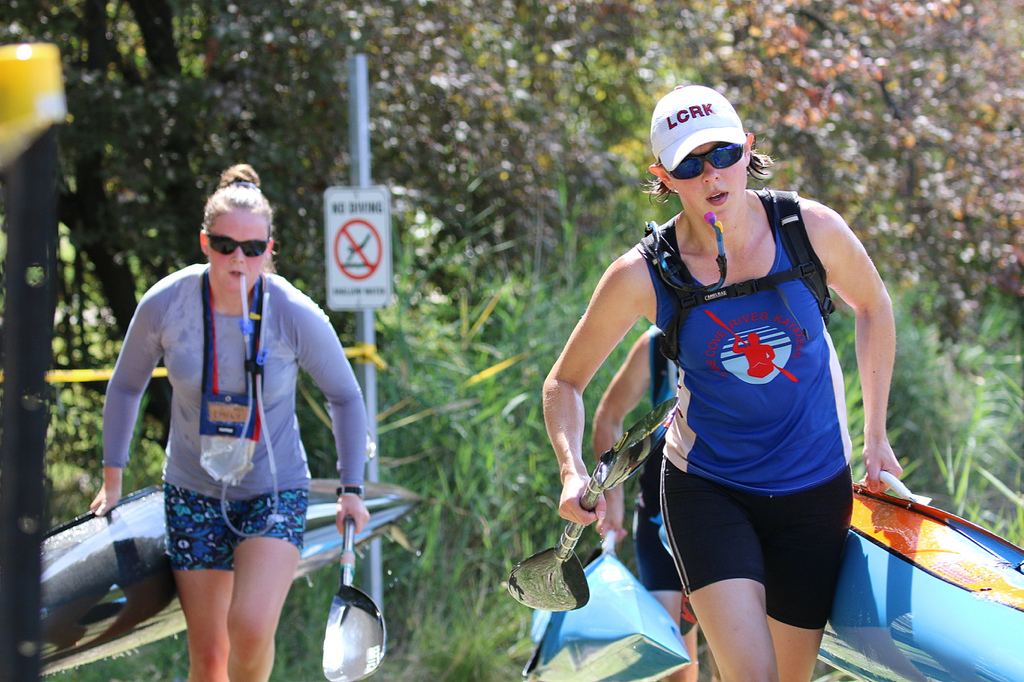 Above: Naomi counting down the remaining portages!
And then there was Naomi Johnson. With only a three-paddler field in the Women's Open race, her main competition was Laura Lee, former World Marathon team paddler. In hindsight, Daniela Torre would have been a welcome addition to the opens field, as her lap time was very similar to Naomi's and the race would have been very tight. Unfortunately, Laura suffered recurring arm problems again forcing her to slow her pace, and Naomi went on the record a fine win. Bring on more Open Women in the sport!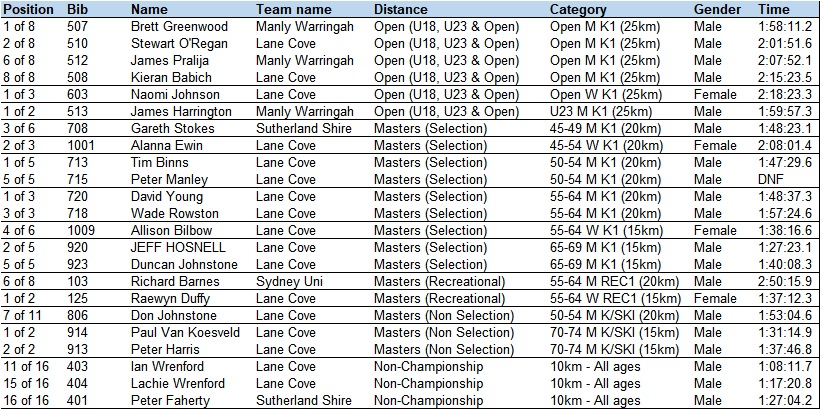 Above: Results for LCRK Members (and regular TT paddlers)
View from the field – Wade Rowston
I was lined up for the start of the 700s which consisted of the 'Selection' veterans men's K1s, about 20 boats from the various old codgers age groups. Thinking there was still 30 secs to the start I noticed my drink was leaking from the valve and was checking it out when suddenly the starter called 'SETGO' in a couple of milliseconds. I was slow to get going and immediately found myself at the back of the field with no washride. I fell further behind in the sizeable wash and had a very unsettled slow first lap of four laps (i.e. 20km). After the first portage I settled and started to paddle OK. There was hope of catching the 700 boat ahead. On the second portage I found Peter Manley struggling at the pontoon with a boat full of water and numb legs due to K1 seat issues. I got away and picked up the next 700 paddler. Peter caught up easily then I was fortunate to catch a wash ride for half a lap and another 700 boat looked reachable. Peter with worsening leg numbness dropped out at the pontoon on the next portage and I was on a roll and caught the next 700 and stayed ahead to the finish. I was 3rd out of 3 in my age group, miles behind David Young as usual, the winner.
Great conditions on a beautiful course. An excellent day of racing and enjoyable portaging. Thanks to BGCC and the PaddleNSW Marathon Committee for excellent event.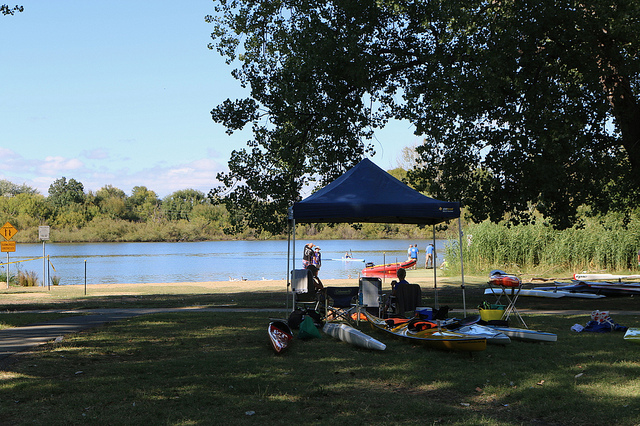 Above: View of Molongolo Reach on Saturday morning
Epilogue: The Burley Bash – Naomi Johnson
Sunday morning dawned, and while most would have picked post-race sleep-in as their preferred activity for the morning, a handful of stoic LCRKers decided to make the most of their Canberra trip and compete in the 43rd Burley Bash. Reasons for adding the early start and 30-odd kilometres of paddling to already aching shoulders varied: Duncan seemed keen to knock over a twentieth of his Very Big Year in the one weekend, I was honestly just relishing a different view in my regular Sunday 30km session, and Richard...well what else would one do on a Sunday morning in Canberra?
Clear, bright and already threatening a lot of heat, the conditions were just about perfect for a trip out into the Burley proper, with minimal wind and an idyllic view. Duncan, Richard and I all elected to do the 30km course, which took us on a two-lap tour of the lake, past the fountain and National Museum, under both bridges and around two islands which cleverly masqueraded as parts of the bank. Along with the 20-or-so other boats doing various distances of the Bash, the lake threw up plenty to keep us occupied: a dragon boat training to the steady throb of their drum, cyclists dashing and meandering along the footpath, and the local Carillon (bell tower) chiming Tchaikovsky's 'Dance of the Reed Flutes' into the new day. What a way to see Canberra!
Of the seven paddlers in the 30km race, I came 3rd with honourable mentions for being both the only woman and the only person bonkers enough to paddle a K1 in the 30kms. 6th place, and first in the 'Grand Master' (emphasis on Grand) 60+ age group went to Duncan, who looked much happier in his ski than the Bettong he paddled on Saturday. And Richard came 5th, with an honourable mention for delaying his start in favour of race photography, and as usual being the loudest and happiest paddler on the course. He did confess, though, that returning to the SUP for another day of paddling wouldn't have gone well – it uses some different muscles to a kayak!
The Burley Bash is a fun race with a laid-back atmosphere and an emphasis on enjoying the unique paddling experience that Canberra has to offer. It would be great to see a few more LCRK paddlers taking up the challenge in coming years.
Bonus Round, Albury (Mitta Mitta Canoe Club) - Sat 23-Sun 24 Feb
Race History (quoted from the MMCC website)
The original Albury race began in 1979 and was the first race on the VACA calendar and was run from the Weir Wall to Albury in winter. These races were soon after cancelled because there is traditionally little water in the Murray during winter.The second version of the Albury Race was staged in 1985. It was run in summer and was a two day event, upstream and back from Noreuil Park It was much harder and longer than it is today. In 1986 this two day event was called the "Milo Marathon", it was sponsored by Milo and was very competitive with about 30 K1 paddlers.

The format of the race was finally changed to downstream from the Weir Wall to Noreuil (26kms) probably to accommodate the touring boat paddlers who found the upstream course too challenging and long. After Frank's death in 1990 The Albury Race was named the Frank Harrison memorial Race to honour the long association and wonderful contribution Frank and his wife Fran had with the Mitta Mitta Canoe Club
"A Marathoning Weekend that had it all" (Race report from Duncan Johnstone and Jeff Hosnell)
Who would have thought? Hurricane Oma battering the Queensland south east coast and northern NSW. The Bridge to Manly Beach Paddlers would have been revelling in the five-meter swells sweeping in through the heads, but still, a dull, grey rainy day greeted us for our departure South to Albury on Friday to compete in this year's Frank Harrison Memorial Race. (Read how the Albury Race got its name here - here)
580kms, apparently! 5hrs and 30minutes. More like six and a half hrs. So, we had big expectations for a massive weekend.
LCRK were ably represented by Kieran Babich, who incidentally was the only one who proudly wore our Club colours, Anjie Lee's, Jeff Hosnell and Duncan Johnstone. Duncan contracted a severe bout of Gastro on Thursday evening and thought he could sleep it off. Fat chance! "We loaded the Vault after nine and I forgot the red flag so we left after ten via the M7". As Liz put it "I'm just his Uber driver. Duncan slept for six hours as I chatted and sang to myself". Anjie's partner, Clayton and Jeff with his partner, Laura, her Mum and Jenny & Robert provided the balance of a serious support group. What would we do without our partners and support crew, seriously?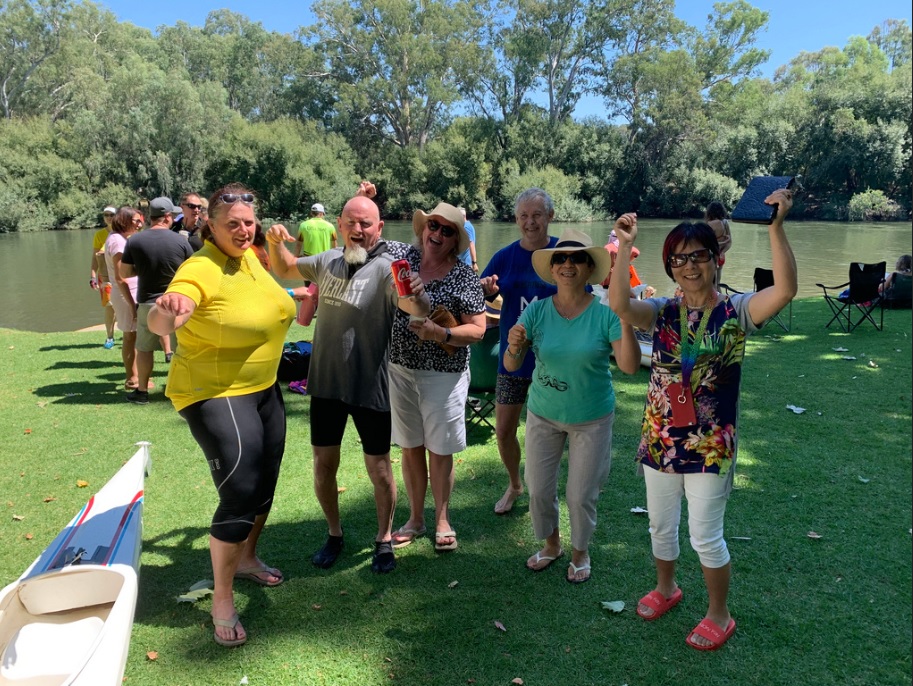 Above: LCRK team AND support crew!
Our Messenger group and Facebook worked tirelessly at keeping us in touch with one another. All accounted for in Albury by 6 pm Friday evening as a magnificent sunset bid us good night and gave hope for a good day to start the first of two marathons the next day.
Oh! Where were we staying? Accommodation offerings vary from the Mantra and Quest Group Hotels, plenty of reasonable Motel and Motor Inn style accommodation and Airbnb of course. Your choice depends on the level of accommodation you want and your priority for location. The CBD has all the nightspots and some good pubs and restaurants out on the wide main street. The Albury Paddlesteamer, being adjacent to Oddies Creek Park and Noreuil Park, in which the Mitta Mitta Canoe Club and Riverdeck Cafe are, is well located. The Club and Cafe have the prime spot overlooking a big sweeping right-hand bend of the Murray River.
Dinner at the Commercial with Anjie, Clay and Liz. A marvellous one-stop shop catering for all your "night out on the town" activities. Pokies, pubs, dance floor with live band, upstairs fine dining, sports bar for the slightly more retiring. Put simply, a hive of activity, everybody in town must have been there.
Relieved to make it to bed and looking forward to a late start on Saturday morning. Kieran promised us all a unique trip up the creek and around the island. Maybe next year, Kieran!
This race makes for a wonderful weekend of marathon racing but make it a weekend where you come down on the Friday. There are a myriad of cycling and walking tracks, Hop in upstream from the MMCC and float down the Murray in the heat of the day. Enjoy the wonderful enormous shading elms that abound in the park with coffee shops nearby and a picnic just waiting to be laid out on the expansive lawns along the river bank. Who could resist not enjoying themselves relaxing with friends and family while waiting for the more serious to complete the challenges the weekend's main show offers – The Frank Harrison Memorial Kayak Race Weekend. Remember too, this race is also offered as a bonus round for the NSW Marathon series. The Saturday dawned with a magnificent sunrise heralding the promise of a good but hot day of afternoon racing.
Anjie, Jeff and Duncan did a lazy warm up paddle upstream for about a km before being swiftly swept back down to the start. Anjie now happy to start in her Zest having fitted a new sporty rudder.
The start of the Frank Harrison Memorial Kayak Race is 26kms upstream from the MMCC headquarters just below the Hume Dam Weir Wall at 3pm in the afternoon, yes, it's a fast paddle back to the Clubhouse. The race also offers a shorter distance. This starts across a beautiful old wooden bridge opposite the Waterworks 16kms upstream from MMCC at 4pm after the 26km front runners are through.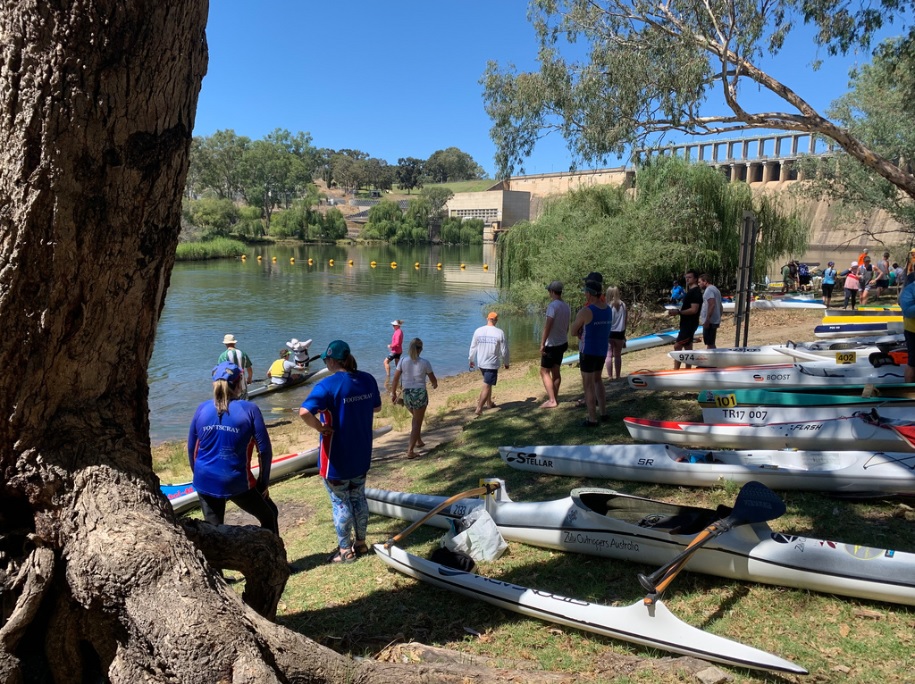 Above: Start at the dam wall
The first day essentially provides for Seniors in all classes to race singles and Juniors doubles and this is reversed for the second day of racing on the Sunday.
The major focus is of course on C1 and C2 and K1 and K2 classes.
Whilst Kieran (K1), Anjie (Ski) and Jeff (K1) took the high road to the weir wall, Duncan (Ski), still nursing his gastro, stole away for an early attempt at an elixir at the Waterworks.
The river flow this year was well down from previous years. The area is really suffering from no rain, so times were slow. We all enjoyed the 1st race and having a flowing river provided a good challenge to find the fastest passage and carefully navigate the big logs and big, multiple eddies thrown up by the swirling waters.
All safe and somewhat relieved and elated at completing the first day we exchanged brief notes over a cold Coke, yes some of us earned it, before we all retired to the Bended Elbow for the first days Presentation and dinner.
Kieran had birthday commitments elsewhere, celebrating a 1st birthday with friends. Yes, Kieran the time will come for you too.
The bended Elbow is on the main street and was a busy modern pub inside an old shell. So, food was a while in coming but gratefully received before the presentation began.
The locals of course cleaned up in the main race of the day. (Refer to the link for the overall results and LCRK results)
The FHMK Race achieved a notable milestone this year registering the largest fleet to start the 26k single ever. 99 starters for the singles. Duncan you spoiled the show, it could have been 100 with you, mate!
There were 59 registered for the doubles, proof the popularity and format of the MMCC race is getting better and better every year.
And so, to an early night to dream of another big day and a much earlier start time of 10am.
Sunday morning greeted us with a cooler, clear morning. Being doubles day, Anjie took the opportunity to do a 35km cycle trip around the Hume Dam with Clayton and Kieran took a rest day to help out MMCC with race logistics as his back injury had flared up again exacerbated by the long trip down from Sydney.
So, Jeff and a recovering Duncan were the last men standing for LCRK as they launched their repaired TK2 after a short briefing which highlighted the falling river levels since the previous day and the increased likelihood of snags and eddies.
3 starts got everybody away without any capsizes. The C class boats, the traditional river boats, the K2's and the rest of us in the final start.
Jeff took the gamble that Duncan would know better than himself on what to do in the front of the boat This proved to be a much bigger challenge than we both anticipated as we tried to co-ordinate where we thought we should be on the water and how we should approach the ever rising swirling water and eddies.
Our strategy was fine until we tried to wash ride, or pass another boat or ourselves be passed by other craft particularly after we had got through Waterworks before the 16km competitors had started.
Yes, the TK2 somehow had a mind of its own and wouldn't go in a straight line. We certainly had speed but lost our wash rides as we veered off to one side and then the other as we tried to recover. With the shallow river and 6 or 7 boats and canoes jostling for position on the bends, waves would suddenly stand up, usually offering opportunities for increased speed, but these would send us off on our own destructive path, usually in the wrong direction.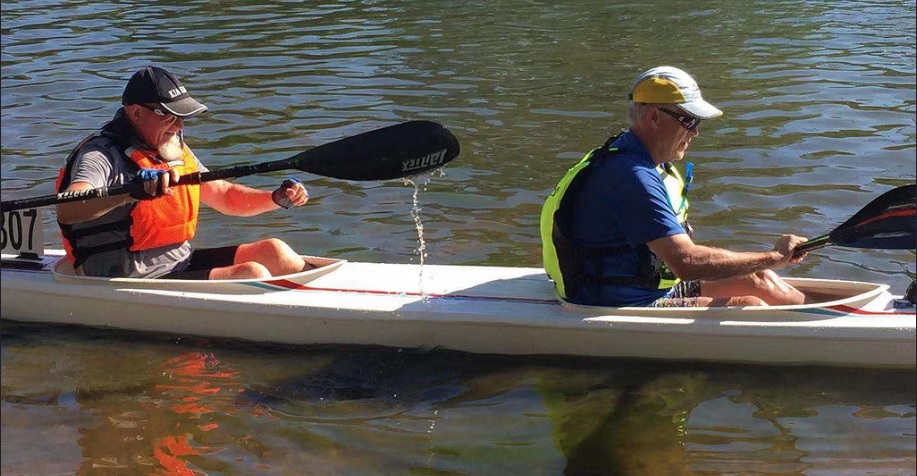 Above: No, the OTHER left Duncan!!!
Gradually we mastered the balance of the boat and discovered a magic new word called "anticipation" and for the last 10kms or so, we started making amends for our inexperience and perhaps lack of a plan based around what we could expect and how we would approach it.
Jeff, you tried valiantly, and we did get there in the end. Great, great fun, if not a little frustrating.
The wind down to the final presentation and converted trophies in the MMCC club house was a fitting end to a magnificent weekend.
Congratulations to the MMCC and all your volunteers on a wonderful event and fitting hosts to us all.
I only wish we could take some of those trophies back home. Maybe next time.
Finally, a big thank you to our own partners, and support crew. You all play a bigger part to the success of a weekend like this than you imagine.

Above: Results for LCRK participants