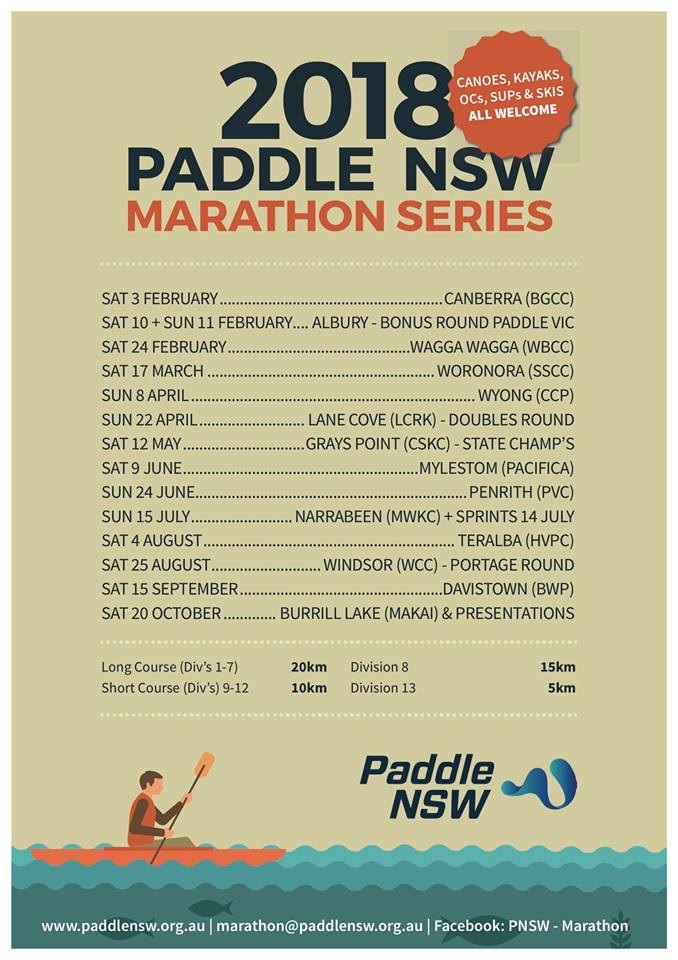 Club Point Score - after Round 1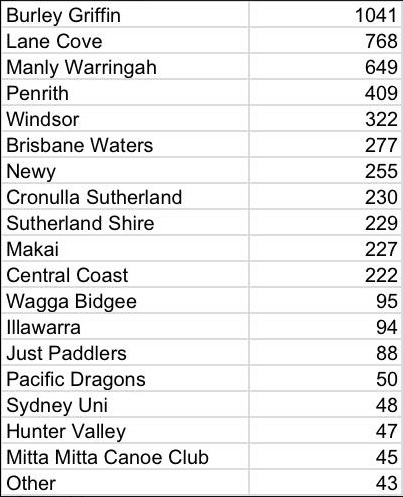 Round 1, Canberra (BGCC) - Sat 3 Feb
Race report by Naomi Johnson

With the start of February comes the start of the 2018 Marathon Series. The first race of the season saw a strong Lane Cove team trek down to Canberra for a day of sunshine, showers and a test (or perhaps reassessment) of holiday paddling endeavours.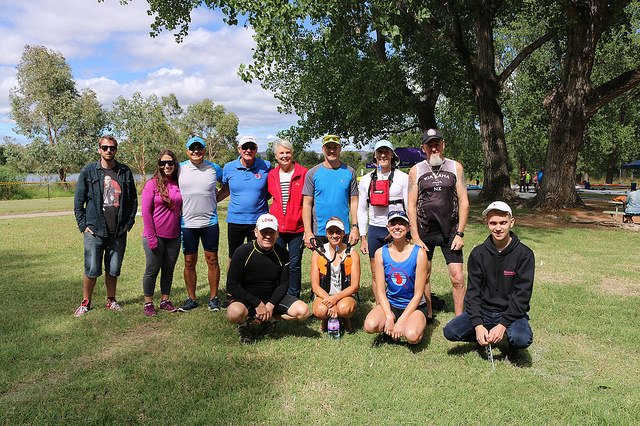 Above: Some of the Lane Cove team and landcrew
Apparently it was tipping it down with rain in Sydney at about 5am on Saturday morning – a cool and drizzly start to a day which turned out almost idyllic racing conditions. Most set off early in the morning to head for Canberra, and anyone watching the Hume from sunrise would've been distinctly surprised at the number of kayak-carrying cars dashing south. By the time we arrived in Canberra the ground was dry (had it ever been wet down there?) and the sun was shining on an almost calm Molonglo River.
Lane Cove fielded a strong team of 25 boats, with particularly solid numbers in divisions 4 and 5. While some were raring to go with their 2018 paddle goals, others were, shall we say, still getting back into shape for the year. Div 5 saw impressive performances from Lee Wright and John Duffy in 2nd and 3rd, with Lee taking out a ski and John sticking right behind him for most of the race. Tim Hookins (5th), Jeff Hosnell (7th) in his new Bettong K1, Suzie Rhydderch (8th), Rob Manning (9th), Duncan Johnstone (12th) and Ruby Ardren (13th, MWCK) rounded out the competitive paddlers, with Lane Cove making up almost half the division. James Pralija completed his ranking race in a time that would've seen him in the thick of the field.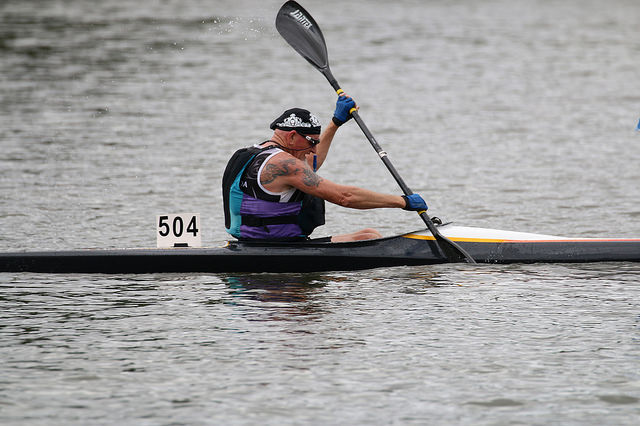 Above: Jeff H in his new Bettong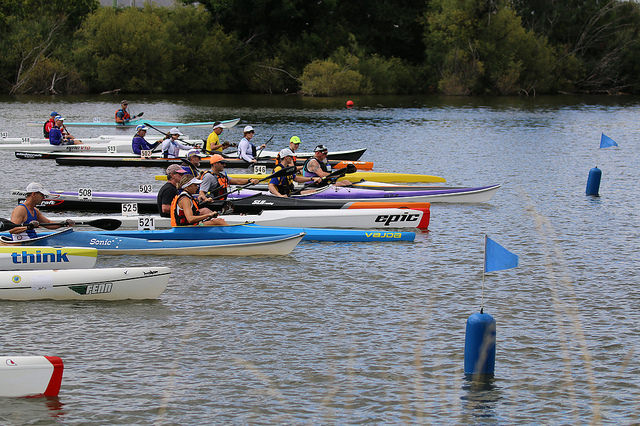 Above: Div 5 ready to head off


Another four Lane Cove paddlers, along with Richard Barnes in the Syd Uni colours, lined up for the Div 4 start. For those just moved up from Div 5, it was a bit of a shock to the system, with a fast and ferocious start and an initial lap that left many panting for air. It was a division of new(ish) boats, with Rodrigo Matamala (7th) and Naomi Johnson (9th) in brightly-coloured Romans, Wade Rowston (13th) in his new light-blue Bettong, and Tom Simmat (14th) in a boat that is either new or he hasn't paddled since Naomi started writing the race reports! Richard was the dark horse of the division, starting at the back of the pack to spend two laps 'catching up with old friends' before rocketing past nine or so boats in the final 8kms to finish 4th!
Div 3 saw familiar faces of Tim Binns (an impressive 3rd) and Peter Manley (5th), along with David Young stepping down a division following his Christmas wrist surgery. Both Lane Cove paddlers in Div 2 were ranking, with Cameron Cox pulling off a particularly impressive time of 1:37:33 – surely that'll mean Div 1 next time! With 2017 regular K2 of Tony Hystek/Alanna Ewin absent, the sole Lane Cove paddler in Div 1 was Stewart O'Regan. Several thrilling portages later (check out the photos) he finished 3rd in a heated sprint for the line. 2018 sees a big change in the way that club points are allocated across all the divisions and races. This year, the top two boats in each division for each club earn club points, no matter where they finish. Bigger clubs still have an advantage, but it does mean that they can't monopolise divisions in quite the same way by knocking other clubs out of the points entirely. To maximise Lane Cove points, then, we need to have at least two boats per division, a great goal for the season!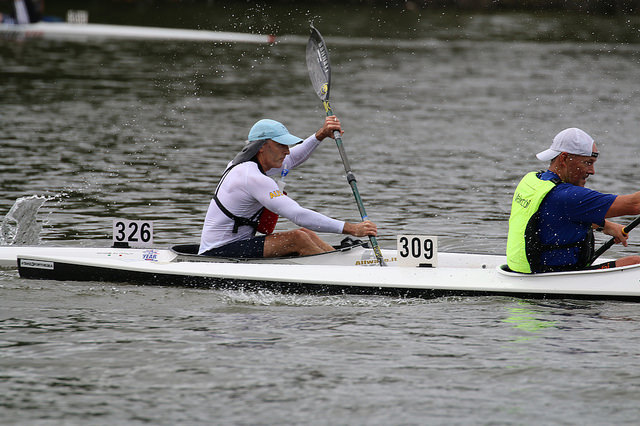 Above: Tim racing to 3rd in Div 3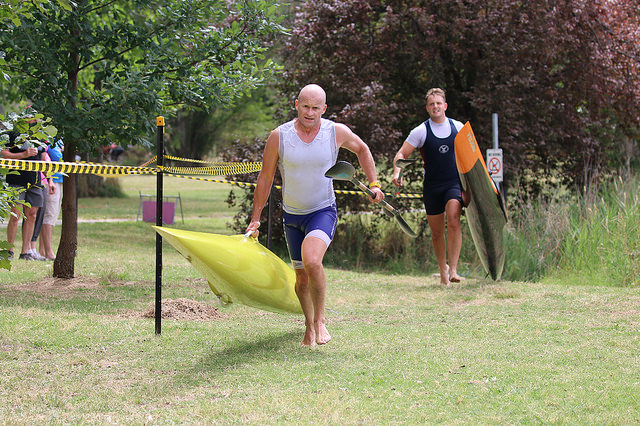 Above: Stewart on the portage run
On that note...in the slightly more laid-back 20km divisions LCRK faces were a little scarcer. Div 6 saw David Hammond paddle to a solid 10th in what he has declared will be a 'very small' 2018, and Lindsay Frost finished 12th. Anjie Lees (8th) and Gaye Foster (5th, MWKC) paddled in Div 7.
The other big shake-up of the 2018 season is that there are now four different 10km divisions, with Paddle NSW acknowledging that some might want to race the shorter distance at speed without being promoted to 20kms. Time-based divisions 9 to 12 allow paddlers to be competitive no matter what their speed or distance goals. Though there were several familiar LCRK faces in amongst the action in these groups, we could certainly do with a few more racers to maximise on club points!
Peter Harris and Allison Bilbow jumped back into Div 10, with Peter finishing in 9th and Allison declaring she was 'just happy to finish' in 12th. In Div 11, Brendan Gay showed some early season form finishing in 2nd with a time that will probably see him in Div 10 next round, and Ian Wrenford finished in 5th. Lachie Wrenford steps up to 10kms this season, posting a 1:22:22 for his first crack at the distance.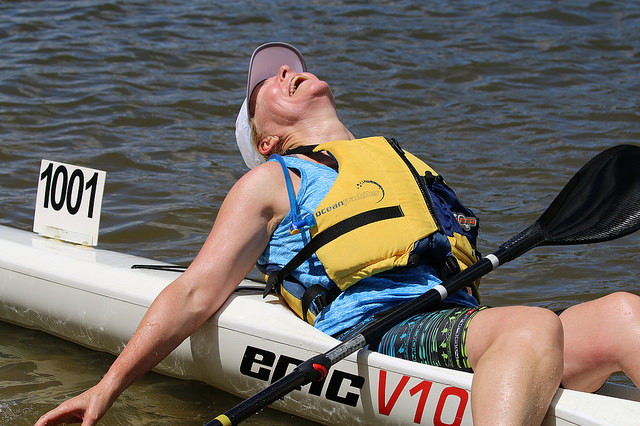 Above: Allison, happy to have finished or exhaused?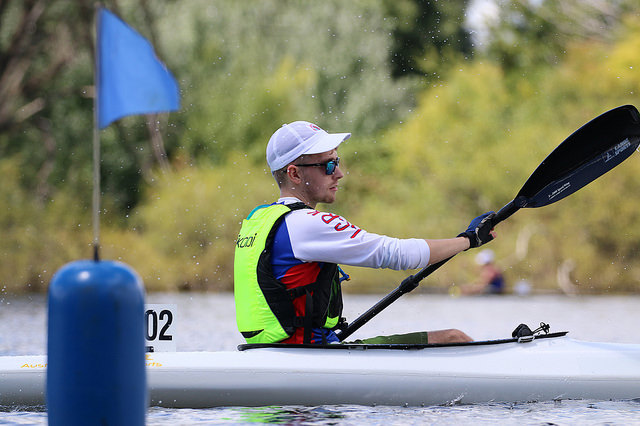 Above: Lachie finishing off his first 10kms
The 5km and 15km distances certainly haven't been forgotten in the 2018 system, with Div 13 proving particularly popular. Of the 17 boats who lined up on the start line it was really pleasing to see six juniors having a go at the sport. Meg Thornton went for something a bit different in the maiden race of the year, paddling a SUP round in a time of 1:01:16 for what we're guessing is the single-bladed race of her Very Big Year? Finally, Div 8 took on a bit of a twist this round, with officials deciding to start the group ahead of Div 4 rather than in their usual spot behind Div 6. There was certainly confusion for some on the start line (the lesson: always stay for the whole briefing), but the goal of denying Div 5 and 6 paddlers a potential washride was certainly achieved. Jeff Tonazzi, the sole LCRK paddler, finished in 3rd, and took full advantage of the new start position to get in some washrides of his own!
On Sunday, the annual Burley Bash attracted a small but dedicated crowd of paddlers, and with sun glinting on a glassy Lake Burley Griffin it looked like a great day of racing. There were four distances of 30kms, 16kms, 5kms and 3kms, with the Splash Bash and Dash Bash new additions to this year's race. Over 30kms, Richard Barnes finished in 2:43:45, with new guest boat in the Lane Cove time trials Gareth Stokes and Peter Faherty clocking the fastest time of 2:23:04. Keen to get in a few more kms at the start of her Very Big Year, Ruby Ardren paddled the 15km course in 1:18:06.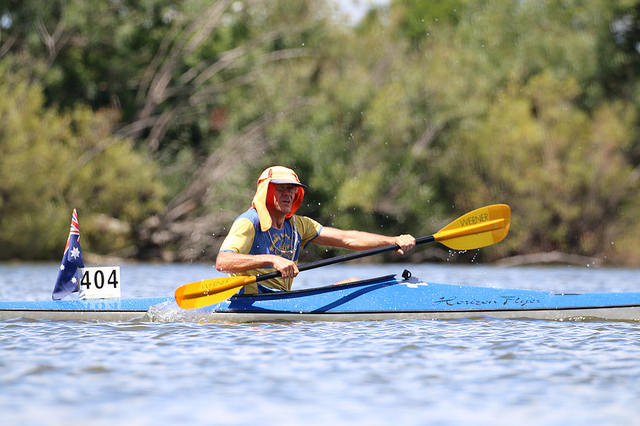 Above: Richard Barnes cranking up that pace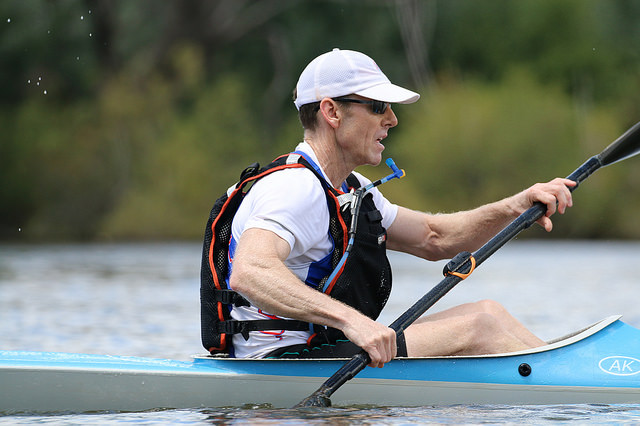 Above: Ian Hofstetter completing his ranking race
Driving down to Canberra, be it for the day or the weekend, is a big commitment, and it was great to see such a strong LCRK turn-out. Thank you in particular to those who provided lifts for both people and boats, to president Phil Geddes for his very detailed advice on lifejackets and hot weather paddling, and to Leslie Manley and Ian for their brilliant camera-work. February continues to present races for the steely travellers, with an optional round in Albury on Sat 10th and then Wagga Wagga on Sat 24th. Then again, just think about how many early points you could get in the bag!


Round x (optional), Albury (Mitta Mitta) - Sat 10-Sun 11 Feb
PNSW Facebook (at 25 Jan) says "This is an optional race...earn points towards your series and race against mates from Victoria. Frank Harrison Memorial. Singles race on Sat and Doubles race on Sun. More details to come"
The Mitta Mitta website advises the race is in "Albury, NSW, starting at either the Weir Wall (26 km) or Waterworks (16km). No Portage'
Advice at the BGCC round was that any finishing paddler would be awarded 46 points towards their individual point score (ie contribution to best of 8). It would seem that the event will be the Frank Harrison Memorial course - ie 16km or 26km downstream. Still investigating if there are divisions/categories vs a dash.
Round 2, Wagga Wagga - Sat 24 Feb