And some other Marathon events to slot in...
Round 1, Windsor Sat 21 Mar
Welcome to Race 1 of the 2020 PaddleNSW Marathon Series, which will be run as the PaddleNSW Marathon State Championships (Singles).
This is also Race 1 of the 2020 Junior Series, with dedicated Junior age groups and distances for Juniors who are new to the sport. (U8, U10, U12, U14, U16 & U18)
Paddlers can choose from one of the following race categories:
State Championship Race - ICF K1/C1 craft Only - (Portage as per ICF Rules)
State Championship Race - All Single craft types (No Portage)
Non Championship Race - All craft types - inc Doubles (4 distances offered)
SUP Race (3 distances offered)
Junior Series Races - all craft types (multiple age groups)
ALL paddlers are required to complete the Registration process. This means BOTH paddlers in a double, ALL paddlers in larger team boats, and Accompanying Adults. Accompanying Adults should identify themselves as such by choosing the "Accompanying Adult" option in the "Race Category", "Class", and "Membership Category" questions.
ALL paddlers are requested to register using an individual WebScorer Account/Profile.
Early Bird Entry closes at midnight on the Tuesday before the race. ALL Entries close at midnight on the Thursday before the race. There is no provision for Entry on the day of the race.
The Entry Fee includes the Paddle Australia Single Event Licence (Limited Insurance) required if you are not a member of a Paddle Australia affiliated paddling organisation.
Race Briefing is at 10:15am Race Starts are from 10:45am Medal Presentations to start between 1:15-1:30pm
There is a MINIMUM PROGRESS requirement for paddlers as follows: 20km paddlers must complete the first 15km by no later than 12:30pm. 15km SUP paddlers must complete the first 10km by no later than 12:20pm. No paddler shall commence their final lap after these times.
Lifejackets are mandatory for ALL paddlers, and also for 'accompanying adults' with U8/10 paddlers.
Bonus Round 2, Frank Harrison Memorial Challenge - Saturday 23 Feb and Sun 24 Feb
Kieran Babich, Warwick Sherwood, Greg Morris, Jeff Hosnell and Duncan Johnstone all raced.
Race Report From Jeff Hosnell This is Laura and my favourite weekend away, to visit beautiful Albury and race on 2 days, singles on Saturday and Doubles Sunday. We arrived on the Thursday and stayed in a motel handily across the road from the Mitta Mitta Kayak club and finish line.
On the way down we detoured to Wagga to have a look at an old K2 that Bob Turner had organised for me to look at. The guy had held it since Nov for me, very happy with it so am now the owner of a K2.
On Friday, Duncan and Liz arrived about 8.30 so we went to the pub for dinner. Saturday race start was 3pm to give the Victorian paddlers plenty of time to get to the start. In the spare time, Duncan and I took the K2 for a paddle - we didn't fall in, negotiated running water, even performed a perfect ferry glide across the river so thumbs up on the buy, but we weren't prepared enough to use it on Sunday.
Duncan, Kieran and me did the 26ks singles. There were a number of different starts but we were all in the K1 division. Well, I thought I would start on the front line centre, shit was that a mistake with running water; wake from the big boys; and bloody river eddies my boat went crazy, no control, so many slap strokes just to stay upright - I certainly didn't want to fall in at the start. Duncan did the right thing, sat at the back and waited for it to smooth out. I finally got in control, and started to pick up some paddlers and got into a good rhythm.
I had a really good race and in the final 3kms Ian Cooper from Windsor joined me and we really dug in 1km from the finish he upped the pace and I struggle to get any leg drive and got dropped, when I finished I had noticed my seat had moved about 10mm this is because stupid Jeff had made a cut between the holes in the seat so I could make fine adjustments but with my strong leg drive it doesn't stay in the same place for a long race. I fixed it now after advice from James.
Saturday night was the dinner organised by Mitta Mitta at the Bended Elbow. It was a good night, the girls knocked off a bottle or 2, and we all got to meet paddlers from other clubs.
Sunday was doubles and we were joined by Warwick and Greg at the start, Duncan and I paddled the Clubs Popemobile, which handles the eddies well, but it's not a comfortable boat to paddle long distance, hell my bum hurt, and Duncan had made some adjustments to his seat because he had so much trouble club night paddling the boat.
We had a good race both very happy with the time we did, I was calling out instructions to Duncan showing him where the faster water was, couple of times we hit 18km/h, I had a couple of scary moments, one was at the bridge where the 16km start is, it's on a bend and all the starters were on the water so you had to go wide but Duncan decided to cut inside, and we were heading straight for a pillar I was shouting get to the middle of the pillars I knew the eddies and current that were there could push us into the pillar thank god we just scraped by. The girls were on the bridge and all they could hear was me shouting, sorry Duncan. The other scary bit was the finish - the organisers said don't cut the last corner because there would be swimmers in the water. Well there were, and yes we cut the corner dodging heads (might have been a high score if it was a whackamole game!).
Again a great weekend and so happy we made the trip. .
Bonus Round 1, Batemans Bay Paddle Challenge - Saturday 1 Feb
Location: Drop off at Korners Park, Wharf Road Batemans Bay (right under the bridge)
Race Report by Naomi Johnson
After its inclusion in the 2019 Marathon Series, the Batemans Bay Paddle Challenge was back on the calendar as a Bonus Round in 2020. The race committee confirmed that all would proceed as a planned despite the area being hit by catastrophic bushfires only a month beforehand, and invited out-of-towners to come with empty eskies and a view to staying the weekend in support of the local community. It was really great to see the marathon community getting behind this request, with over 100 boats registered across the 6, 13 and 26km distances.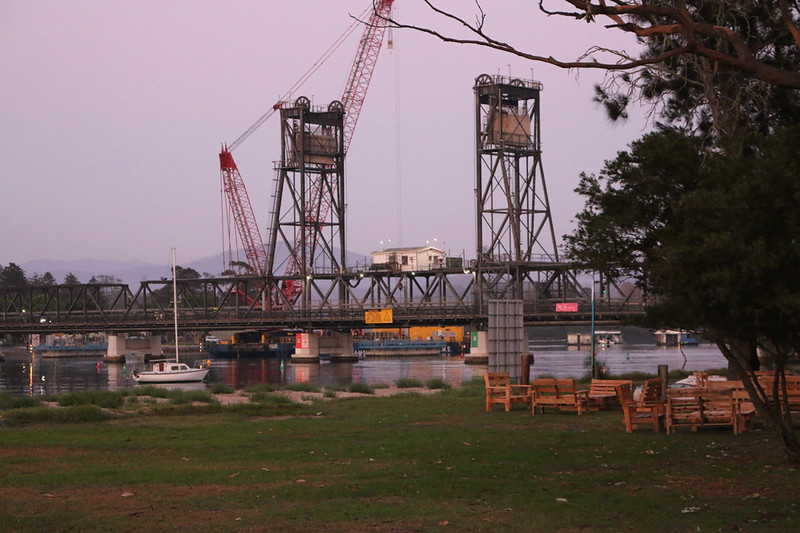 Above: View of the Batemans Bay Bridge on the Friday evening.
Then as we neared the weekend the thermometer began to creep up, with a forecast for 40 degrees down at Batemans Bay on race day. With solid communication from the race committee and Bob Turner on behalf of PNSW Marathon, the decision was made to start the race at 10am, two hours ahead of the original 12pm. As an additional safety measure, the race course was also shortened, pulling an out-and-back style race back to laps of a 6km course. There were still three race distances on offer, but the long course of 26kms was reduced to 18kms (three laps) in the hope that paddlers wouldn't be out on the water too long after midday.
The road down was an eye-opener, whether one went via Berry and the coast or inland. Burnt trees and paint-stripped road signs, along with great swarths of the countryside totally blackened while neighbouring areas remained untouched were shocking reminders of the reality of recent bushfires.
By the time we rolled into the Big 4 Holiday Park at Batemans Bay at about 9am it was already hot, the sort of hot where one does begin to wonder whether intense exercise for a few hours is necessarily a good idea. But paddlers are a hardy lot, and though there were more than the usual numbers of DNSs and DNFs, most seemed resolved to have the best crack possible given the circumstances (and hopefully within the realms of common sense). With a briefing strongly focused on safety, all headed for the water keenly aware of the importance to keep an eye out for each other, and to steer well clear of any houseboats!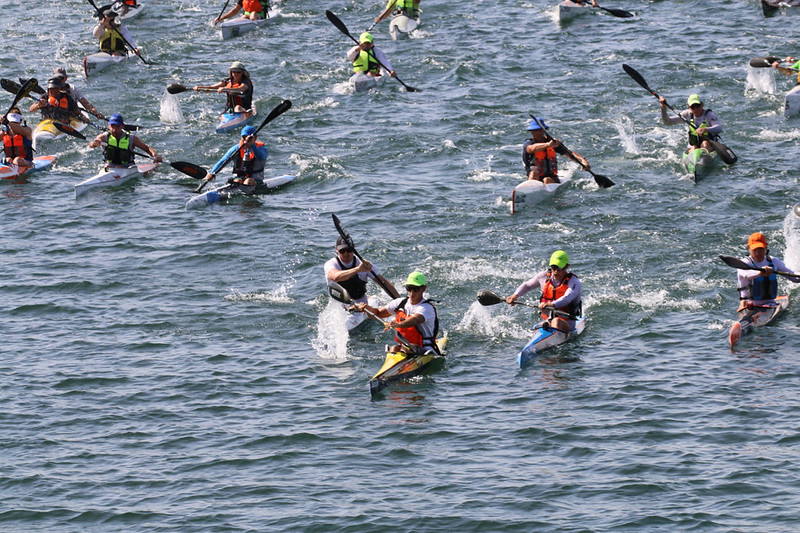 Above: Great vantage point atop the bridge for a view of the 18km start.
Many took a pre-race dip on the way in, and 10am saw all 18km paddlers lined up for a big mass start. It wasn't feeling too bumpy yet, and those (including the race report writer) who had spent the week umming and ahhing about which craft to bring down were generally feeling like they'd made the right choice. We headed off quickly upstream with a strong incoming tide, Frazer kindly capturing the rush of starting energy on camera from his vantage point atop the Batemans Bay bridge. The 12km and 6km starts followed at 10:15 and 10:30am respectively, with all settling into a rhythm that they hoped would achieve a balance between avoiding over-exertion and getting around the course as quickly as possible.
Most of the LCRK contingent opted for the full 18km distance (when trekking all the way down to Batemans…) but those that opted for a shorter distance ended up doing rather well for it. Ian Wrenford made a last-minute switch to the 6km distance, pretty sure that he couldn't handle 12kms in the heat. Clearly keen to resume camera duties as quickly as possible, he dashed around the course chop and all to post the second-fastest 6km time, and the fastest for a 50+ Male over the distance. Upon crossing the finish line, Ian demonstrated some paddle-duathalon inspiration, running sand sprints back and forth to his cabin in order to empty out a rather unruly memory card on his camera. "I think I expended more effort getting the card swapped than my 6km race!" he confessed, though still managed to snap most finishing 12 and 18km paddlers from his trademark half-submerged position. Also over the 6km distance, Lachie Wrenford finished 7th overall, kindly helping many LCRK paddlers with their boats at the end of the race.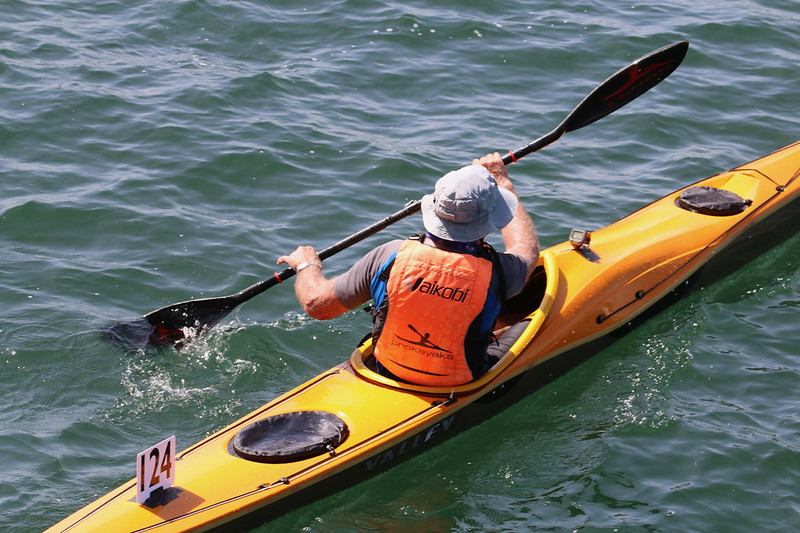 Above: Bridge view of Adrian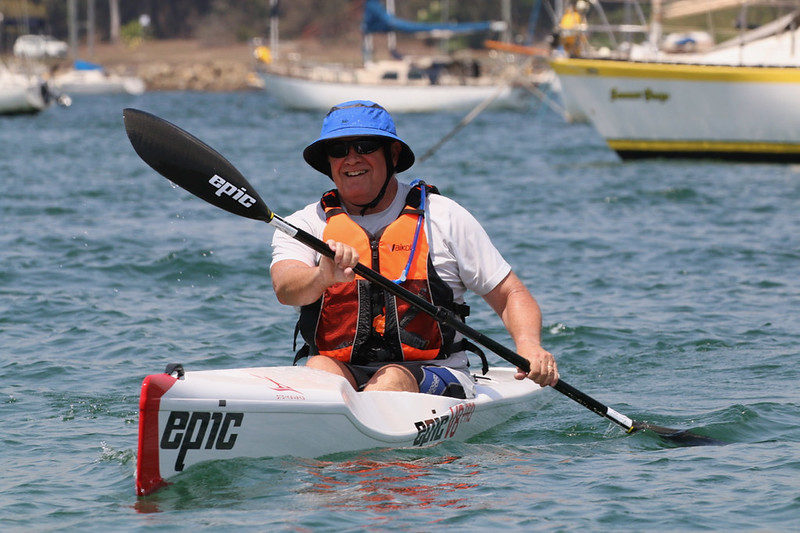 Above: Paul crossing the finish line with a smile
Over 12kms, Tim McNamara was the sole LCRK starter, deciding against his trademark broad-brimmed hat in case it might blow off in the wind. He opted instead for a LCRK cap, which promptly blew off at the start line and sank before he had a chance to retrieve it. Despite paddling bare-headed (how's the sunburn?), Tim finished 5th overall the 12km distance, and was the fastest 65+ Male over the line.
Once paddlers were past the bridge, the race course headed right up the centre of the river, hung a left and then kept going in a more-or-less straight line up to the top turn. More-or-less was the key word here, with a fair amount of chop and some funny little gusts of wind forcing lighter and less-confident boats to zig-zag gently along the way. At least the GPS speed looked good in the process! There were more than a few jellyfish riding the incoming tide, and by 11am it was often a task to place one's paddle in the water without hitting one. Round the top turn, and then the force of the incoming tide was really clear. GPS showed speeds that one might equate with a slow stretch on the Hawkesbury, and the chop if anything seemed less predictable. The final challenge of the course was of course the bottom turn, which was just past the start line if one was travelling downstream from the bridge. Here, the chop didn't arrange itself into predictable waves headed in a single direction, but rather went for a cross-hatching effect clearly designed to throw as many as possible right out of their craft. Add in a few passing boats (speed boats, SES boats, the odd oyster barge) and the experience was somewhat akin to being in a washing machine.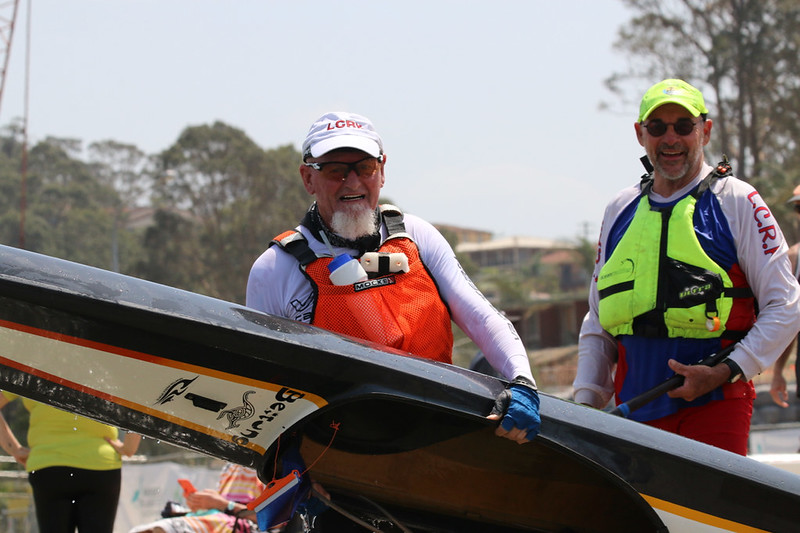 Above: Jeff and Tom: Yes, a K1 was possible!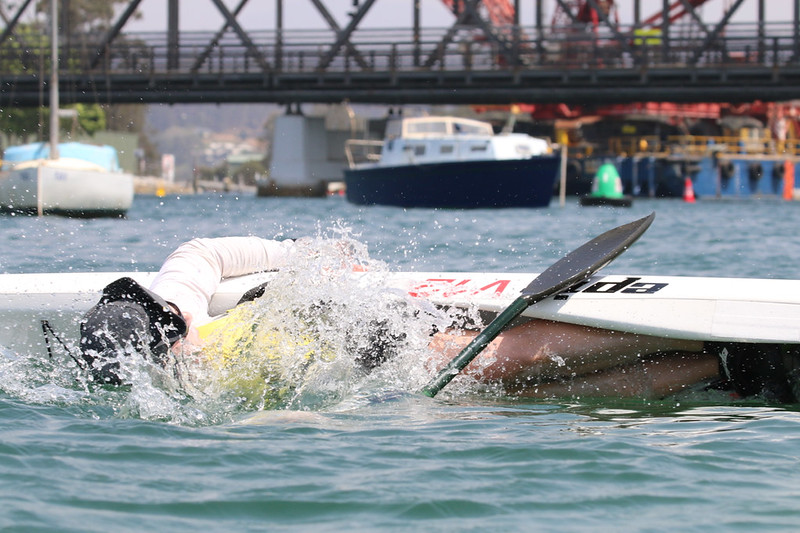 Above: Trevor exits quickly for a swim
Lane Cove managed almost a quarter of overall entries for the Batemans Bay Paddle Challenge, and with few in the mix over the shorter distances it really did seem like half the 18km field was a LCRK paddler or timetrial regular. In the RSG (Rather Senior Gents) 65+ Male category, four out of seven singles were sporting LCRK colours, along with Paul van Koesveld and Phil Geddes in the double ski. Birthday boy Jeff Hosnell paddled his K1 round to a fab 2nd in the class, closely followed by Tom Simmat (3rd) in his ski. Jeff took about three seconds after crossing the finish line to flip his K1 over and have a swim, with rumours that he might have had another one entirely unfounded (Jeff reported mastery of "survival strokes"). Paul and Phil unfortunately had to call it a day after lap one due to the heat, while Duncan Johnstone and Adrian Clayton were making solid ground but were pulled off on their final lap due to (apparently) concerns over them being out on the water for so long as the temperature rose. Epic effort guys, and may the heat be a bit less overwhelming by the next race!
In the NSSG (Not So Senior Gents) 50+ Male category, Darren Williams, Wade Rowston and Paul Burgess all decided that a ski was the way to tackle Batemans Bay. They finished in 7th, 8th and 9th respectively, but with some of the bigger finish-line smiles of the event. Daniela Torre was the only 50+ Female paddler, posting a fab 13th overall in the 18km field despite recent European trips rather curtailing training. One of only two Open Female paddlers over the distance, Naomi Johnson crossed the line about 10 secs behind.
Of the 13 Open Male entries, LCRK paddles and friends made up a solid six in the field. Brett Greenwood and James Harrington shook off the rest of an early wash pack to cross the line in 1st and 2nd respectively, while Kieran Babich posted a very solid 6th after stopping to help a paddler who fell in. Trevor Nichols (7th) looked relieved to be in a ski, and seemed to gain ground every time we were heading downstream against the incoming tide. Gareth Stokes (8th) came prepared with two boat options, decided on his K1 and then managed to miss the start entirely while standing on the beach. Rodrigo Matamala also got his K1 round the course swim-free to finish 9th.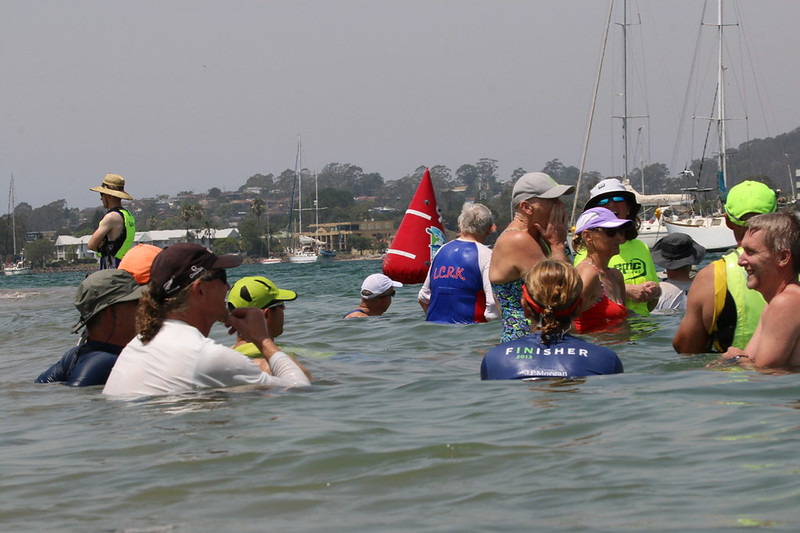 Above: Paddlers and volunteers alike taking a refreshing dip in the Clyde River.
The highlight of the day was without a doubt the post-race swim, with paddlers exiting their boats in record time after crossing the finish line for a cool off!
It was great to see so many LCRK paddlers making their way down to Batemans, both in terms of supporting the event and the broader local community, and (hopefully) as a prelude to the 2020 Marathon Series. With Canberra currently postponed due to lack of water in the river, the next race on the series calendar is State Singles at Windsor on Saturday March 21st. For those who are up for another long drive, the Frank Harrison Race down at Albury on Saturday 22nd (singles) and Sunday 23rd February (doubles) is well worth looking into.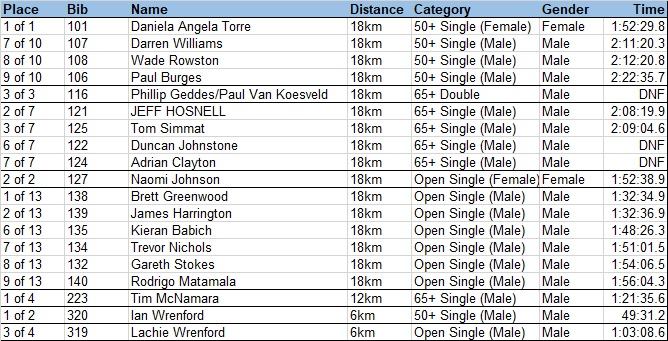 Above: Results for LCRK Members and regular TTers
Paddle Australia Canoe Marathon Nationals, Geelong, Vic 16-19 April 2020
Event CANCELLED due to Covid-19 concerns - see link above to Paddle Australia announcement.
The info below has been copied from the entry info as at 20 Jan 2020. Check out the PDF for plenty more detail: Welcome to the 2020 Paddle Australia Canoe Marathon Championships.
This registration system will be utilised for entry to both the Short and Long Course Championships.
Event Shirts, post event function tickets, and other merchandise will be available for purchase through a seperate link, which will be opened in coming weeks.
''Note that ALL paddlers must complete a registration for each event that they wish to enter. For the avoidance of doubt, this means that BOTH paddlers in a doubles craft must complete individual registrations.''
''For Masters competition, initial registrations will be in 10 year age groups. If sufficient entries are received, and both 5 year sub-brackets can be constituted, classes will be restructured and raced accordingly.''
For 2020, the PAMC will recognize both U21 and U23 age groups for ICF-selection class singles events (assuming there are sufficient numbers to constitute classes in both age groups). We shall also recognize an U23 age group for ICF-selection class doubles events.
Please note, however, that Selection to the Australian Team to compete in Norway will be consistent with ICF age categories (i.e. U21 and U23 singles paddlers will be eligible for U23 team selection; U23 and Open doubles paddlers will be eligible for Open team selection) subject to the performance requirements stated in the PA Marathon selection policy.