New PNSW ULTRA MARATHON SERIES 2019

Commencing in September 2019, the PaddleNSW Ultra Marathon Series will comprise the following events:
Race 1 - Wyong Ultra (30kms)
Race 2 - Myall Classic (47kms)
Race 3 - Clarence 100 (100kms)
Race 4 - HCC - Wisemans Dash (65km), HCC & BoB (111kms)
Race 5 - Burley Griffin 24 Hour Challenge
Paddlers can enter as many events as they wish, to achieve the following objectives:
Level 1 Ultra Marathon Paddler - 200km completed
Level 2 Ultra Marathon Paddler - 250km completed
Level 3 Ultra Marathon Paddler - 300km completed
Level 4 Ultra Marathon Paddler - 400km completed
Level 5 Ultra Marathon Paddler of the Year(furthest distance completed) - Trophy & Perpetual Trophy
ALL paddlers who achieve Levels 1-4 will be awarded a PaddleNSW Shirt with the Level 'x' Ultra Marathon Paddler wording or artwork on the back or sleeve.
The winners of Level 5 in each class will receive a Shirt and Trophy. Paddlers CAN change boat classes through events and still accumulate kilometres for a Level award (eg paddle a K1 in Race 1 and a ski in the other events). The Level 5 awards (minimum of two events must be completed) will be:
Female Single
Male Single
Female Double
Male Double
Mixed Double
U18 Female
U18 Male
We will also award the following Prizes:
Fastest Female Single
Fastest Male Single
Fastest Female Double
Fastest Male Double
Fastest Mixed Double
Fastest U18 Male
Fastest U18 Female
The 'Fastest Paddler' prizes will be determined on the following basis: 1. Paddlers must use the same boat class for all eligible events (eg K1, Long Rec, Ocean Ski) 2. Paddlers eligible for consideration are those who have completed the greatest number of events (minimum of two) in their demographic group - (eg if 4 Female Singles complete three events and 2 paddlers complete four events...the prize will be determined between the 2 who completed FOUR events). 3. The calculation will be: Total Distance/Total Time. Highest average speed wins. Distances and times will be based on the official results.
Race #1 Wyong Ultra Sat 7 Sep

Race Report by Ian Wrenford
The first of the Ultra-Marathon Series was held on Saturday on the Wyong River from Tacoma. On offer was a 30km course or a 17km course. The 30km course consisted of a long lap (17km) up the river, and then a short lap (13km) not as far up the river. A hardy bunch of 15 from LCRK made the trek (some paddling in MWKC colours, one in SSCC and most in LCRK finery). Most are 30km closer to earning their PNSW UltraMarathon T-shirt (and you can work towards yours by entering Ultra-Marathon #2 the Myall Classic on Sat 21 Sep!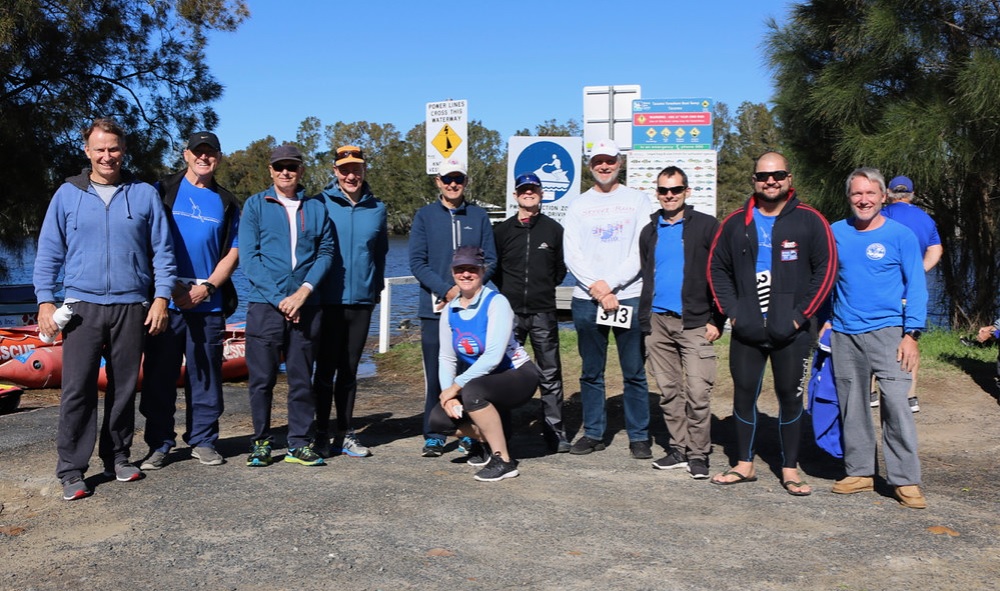 Above: Team LCRK (pic: Ian)

For the race, the Wyong River was up a fair bit due to recent rain and a corresponding outgoing current. The weather forecast whilst fine was rather umm windy – with a strong westerly blowing straight down the main straight. The combination of outgoing tide and outgoing wind made for a real slog heading up to the first corner and until the river narrowed and some protection was afforded by the shrubbery. Conversely the last km run down to the bottom turn was fast favouring those with broad shoulders and SUP's.
Whilst over 100 paddlers had registered for the race, 34 of those were accounted for by just two Dragon Boats, which made a formidable sight on and off the water. There were a few DNS's possibly weather induced – which saw 48 boats on the water. There were 4 starts for the 30km distance at 15 minute intervals split roughly on Marathon Series Division times – the less fast paddlers off first and the most fast paddlers off last. The 17km distances similarly had 3 starts after the 30km had been waved off. As a concession to the wind, the separation markers for the first km were removed – allowing paddlers to tuck into the lee of the shore (although there wasn't really a lee to tuck into).
The first start at 9:30 was somewhat scraggily with the westerly wind in their faces and the outgoing current requiring a fair effort simply to remain at the line. The Dragon Boats take a bit longer to launch with the crew having to climb aboard in the correct sequence, then reverse out into the wind, perform a 180 degree turn and line up – all of which was achieved with remarkable precision (like watching a Manly Ferry reverse out of Circular Quay). Anyway – off they went although no sign of Paul van Koesveld the single LCRK entrant in this start. Oh, hang on here he comes, he did say he needed to get his boat ready and he only had 10 mins after the team photo to do that. One of the SUP entries went for a swim at the line, with the subsequent remount leaving him facing down-wind with the requisite turn leaving him a good 200m behind the field.
The 2nd start was a little less scrappy with Wade, Ruby and Duncan/Jeff all involved and relieved to be sent on their way. At that point, I made tracks for my selected upstream photography location Porters Creek which was a sharp 180 degree bend about 1km short of the 17km turn – with the sun on my back and sheltered from the wind. I could snap the boats on the way up, and on the way back – and get everyones best side. Beautiful!
First on the scene was one of the Dragon Boats who looked super slick and tackled the 180 corner with deft precision. Check out the photo – they were more in time than many doubles crews! The "1 series" boats had sorted themselves out by this time and there was a good spread across the fleet. There was a lot more wash-riding in evidence by the time the "3 series" boats arrived and then the sole "4 series" paddler (Brett Greenwood) intent on chasing down every last 30km paddler despite an up to 45 minute head start! He almost did it too with fastest time of the day by a good margin! There were plenty of smiles to be had at this point (just 8-9km into the race) and once the 17km paddlers had come through I headed back to the finish line.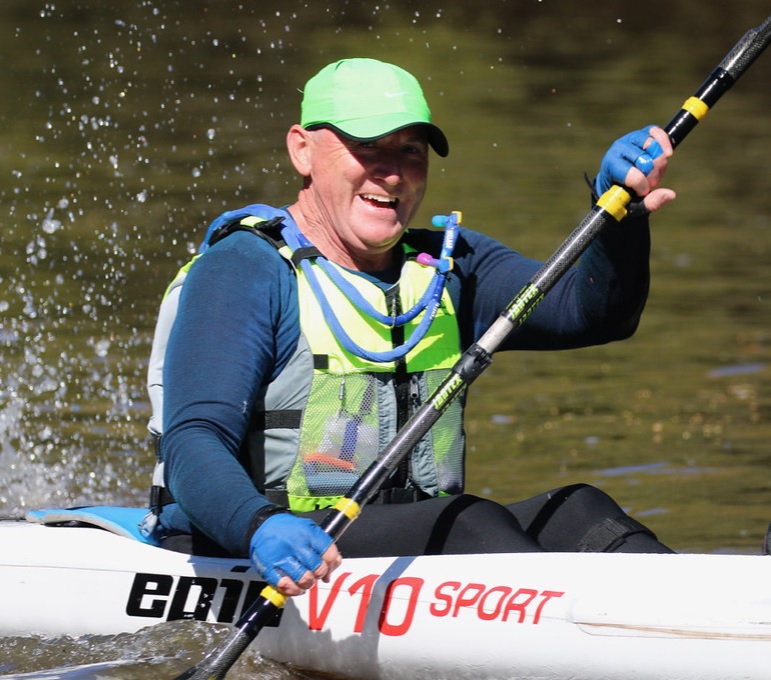 Above: Fitzy still smiling (pic: Ian)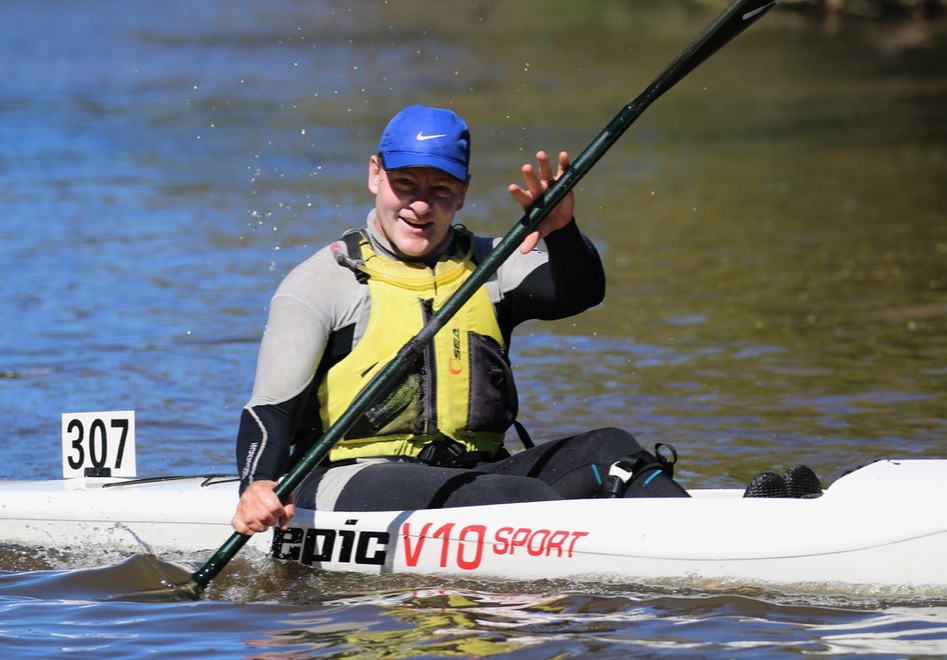 Above: Trevor gives a wave (pic: Ian)

The finish line was looking pretty formidable with the gusting westerly blowing paddlers straight down to the bottom turn. Thankfully the waves weren't "too" bad (well that's the way it looked from my comfy position on the wharf) but a real slog back up from that bottom turn.
Rob Llewellyn-Jones was the sole LCRKer in the 17km distance and came in with a respectable 1:35:38 (3rd in the mens) – his longest paddle for quite some time.
For the 30 km distance, first over the line was James Pralija (MWKC) with a 2:29:12 although he had a 15 mins start on Brett Greenwood (MWKC) who had fastest time with 2:18:04. Fastest in LCRK colours was the double of Rich Yates/Tony D'Andreti (2:38:16), just ahead of Gareth Stokes (SSCC in 2:38:34). Not far behind was Duncan Johnstone/Jeff Hosnell (2:44:30) with Jeff apparently hiding behind Duncan while trying to keep the spray out of his face. Peter Fitzgerald was next (2:45:51) although he'd lost the smile he had at km 8, and then Don Johnstone (2:51:00) in full control of his rudder, David Young (2:53:43) and Trevor Nichols (2:57:57). The happiest pairing was Ruby Ardren (3:01:42) and Wade Rowston (3:01:44) who'd wash rode around most of the course it seemed – both were in fine form. Ruby picked up the Silver medal in the Womens 30km (and Laura Lee WCC picked up Gold). Paul van Koesveld rounded out the LCRK 30km entries with a 3:14:30 – not bad considering he hasn't done 30km for ages and was initially eying off the 17km.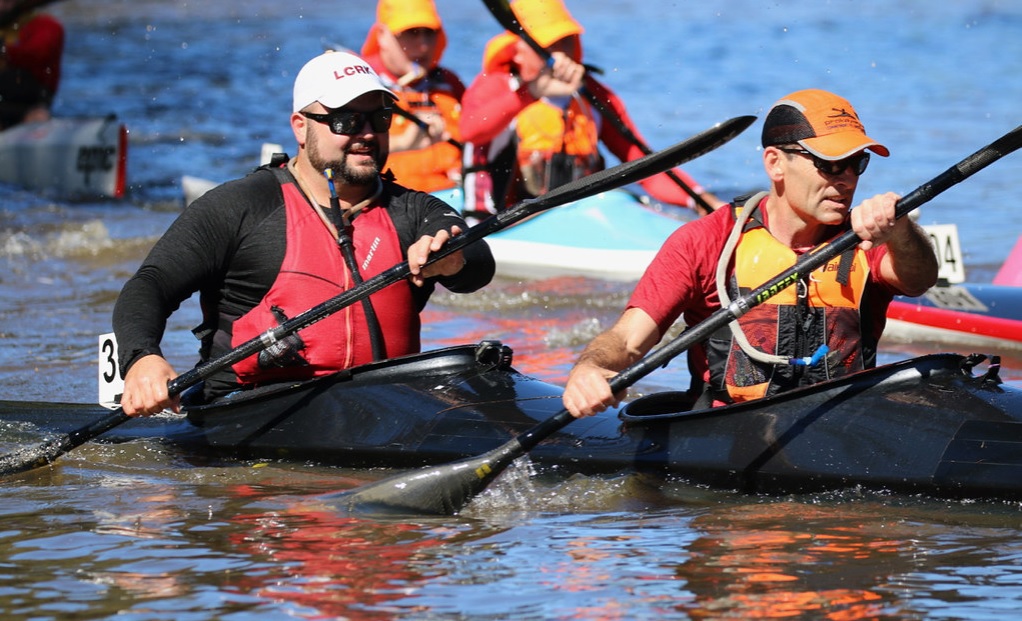 Above: Rich & Keg in a pack (pic: Ian)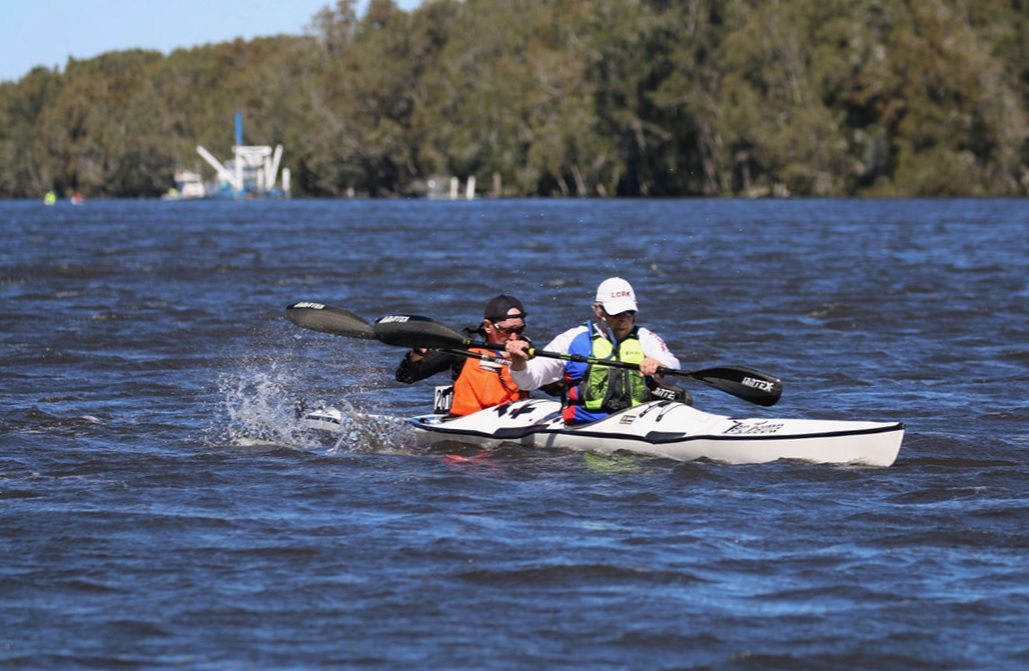 Above: Jeff & Duncan - hunkered down (pic: Ian)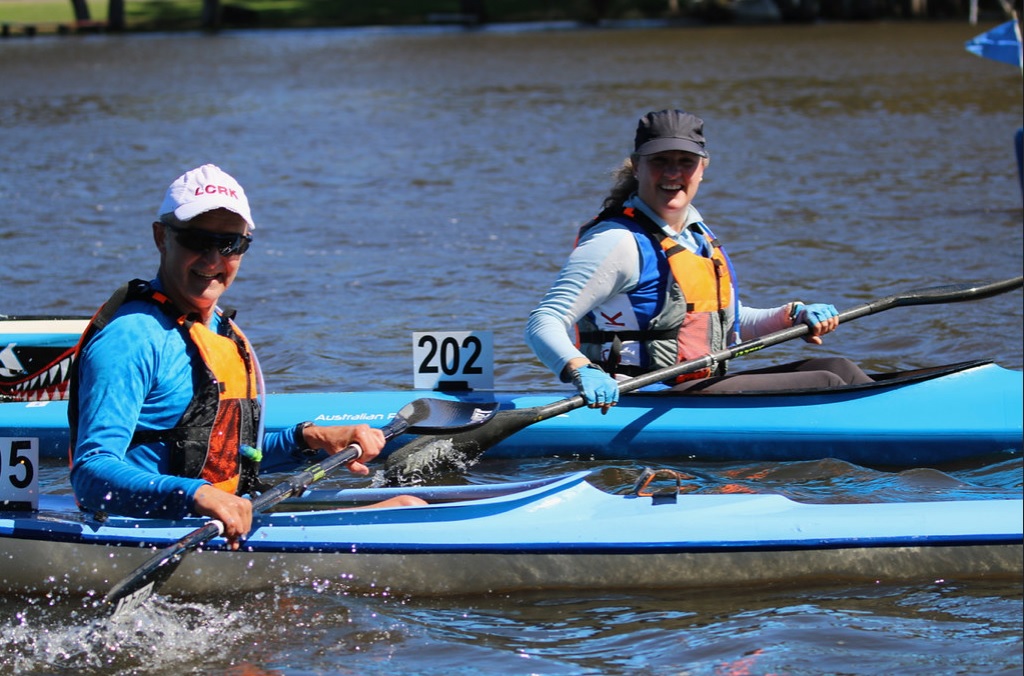 Above: washriding Wade & Ruby all smiles (pic: Ian)

The event was well organised with strong support from host club Central Coast Paddlers, safety boats from Tuggerah Lakes Marine Rescue and The Lakes SLSC, with North Gosford Rotary providing the BBQ and the Cafe2U coffee van. Bob Turner was starter and looked after webscorer. Thanks everyone!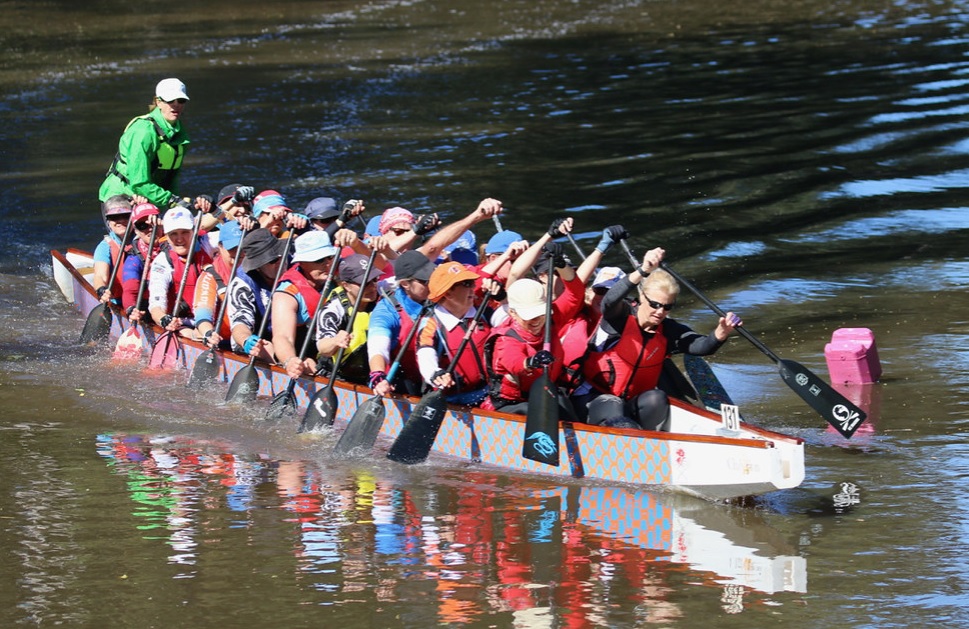 Above: Precision Dragon Boating (pic: Ian)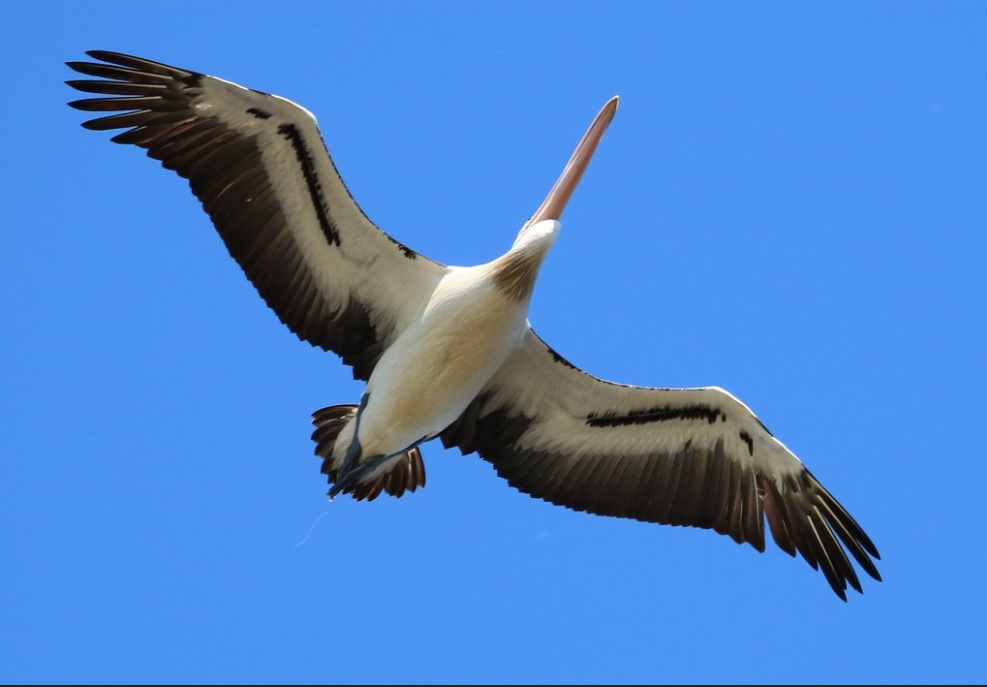 Above: Undercarriage up, Flaps up (pic: Ian)

Remember, next event is Myall Classic on at 21 Sep – details here. You KNOW you want that T-shirt!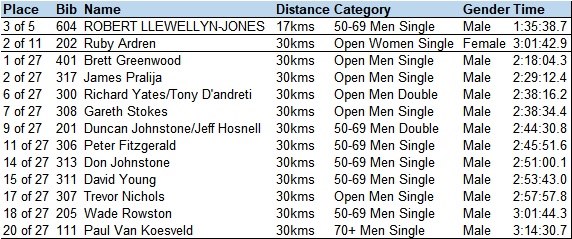 Above: Results for LCRK Members and regular TTers
Race #2 Myall Classic Sat 21 Sep

The Myall Classic is a major ultramarathon event on the NSW paddlers calendar. It is held on the Myall River at Tea Gardens each September on the last Saturday before the school holidays, taking both competitive and recreational paddlers up the Myall River and return.
There are a range of distances and starting times, intended to see all paddlers complete their chosen course by early afternoon, and in time for Presentations at 2:15pm.
Distances offered are 12km, 27km and 47km, the longer course being a perfect shakedown for the Hawkesbury Canoe Classic held in late October.
Due to its protected nature, the Myall Classic is a safe, scenic though testing event in the largely unspoilt Great Lakes Marine Park. Conditions can vary considerably though the usual scenario presents paddlers with clear blue skies and warm weather. A light Easterly breeze is usually present in the early afternoon.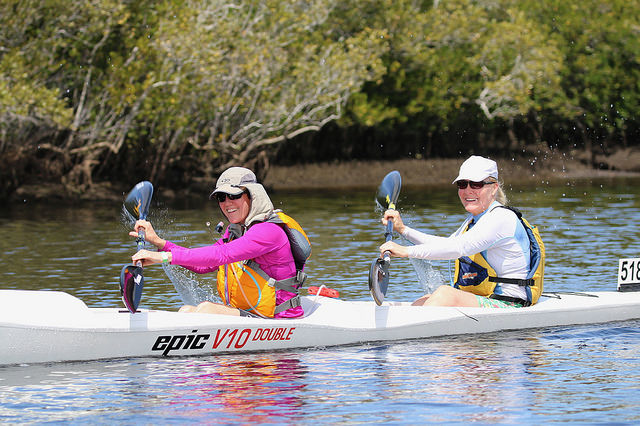 Above: Alanna and Allison paddling the 2018 Myall
Start Times:
08:00am. 47km General Entry Early Start
09:00am. 47km General Entry Late Start
09:30am. 27km Student Challenge (for Students only)
10:00am. 27km General Entry Early Start
11:00am. 27km General Entry Late Start
11:30am. 12km General Entry Start

Additional information relating to the event including briefing and start times, parking, compulsory equipment, minimum progress cut-off times, etc, is included in the Event Guide which will be attached to the Confirmation email you will receive when you complete your entry.
Remember that the Finish Line does not open until 12:30pm, and paddlers finishing before then will be given a finish time of 12:30pm. Select your start time wisely if you are a faster paddler.
Race #3 Clarence 100 18-20 October
A 100km paddle over 3 days from Copmanhurst to Yamba on the North Coast.....
Quoting from the offical website: In 2015, a group of local and ex local paddlers came together to undertake a personal physical challenge and renew some old friend ships. The task ahead was to paddle together 100km down the "Mighty Clarence". This was such a great experience for those paddlers; it just had to happen again
Due to its overwhelming positive feedback, it has been held each year since growing in size gradually mostly due to a great format that caters for both the competitive and social participant....
The Clarence 100 also known now as the C100 comprises a three stage, 3-day paddle and passes through numerous river townships from start to finish. Each day paddlers aim to finish by lunchtime whereby paddlers can refresh themselves, rest and enjoy the local hospitality provided by the river hotels and eateries...'