New PNSW ULTRA MARATHON SERIES 2019

Commencing in September 2019, the PaddleNSW Ultra Marathon Series will comprise the following events:
Race 1 - Wyong Ultra (30kms)
Race 2 - Myall Classic (47kms)
Race 3 - Clarence 100 (100kms)
Race 4 - HCC - Wisemans Dash (65km), HCC & BoB (111kms)
Race 5 - Burley Griffin 24 Hour Challenge
Paddlers can enter as many events as they wish, to achieve the following objectives:
Level 1 Ultra Marathon Paddler - 200km completed
Level 2 Ultra Marathon Paddler - 250km completed
Level 3 Ultra Marathon Paddler - 300km completed
Level 4 Ultra Marathon Paddler - 400km completed
Level 5 Ultra Marathon Paddler of the Year(furthest distance completed) - Trophy & Perpetual Trophy
ALL paddlers who achieve Levels 1-4 will be awarded a PaddleNSW Shirt with the Level 'x' Ultra Marathon Paddler wording or artwork on the back or sleeve.
The winners of Level 5 in each class will receive a Shirt and Trophy. Paddlers CAN change boat classes through events and still accumulate kilometres for a Level award (eg paddle a K1 in Race 1 and a ski in the other events). The Level 5 awards (minimum of two events must be completed) will be:
Female Single
Male Single
Female Double
Male Double
Mixed Double
U18 Female
U18 Male
We will also award the following Prizes:
Fastest Female Single
Fastest Male Single
Fastest Female Double
Fastest Male Double
Fastest Mixed Double
Fastest U18 Male
Fastest U18 Female
The 'Fastest Paddler' prizes will be determined on the following basis: 1. Paddlers must use the same boat class for all eligible events (eg K1, Long Rec, Ocean Ski) 2. Paddlers eligible for consideration are those who have completed the greatest number of events (minimum of two) in their demographic group - (eg if 4 Female Singles complete three events and 2 paddlers complete four events...the prize will be determined between the 2 who completed FOUR events). 3. The calculation will be: Total Distance/Total Time. Highest average speed wins. Distances and times will be based on the official results.
Race #5 BGCC24hr 7-8 December
10 a.m. Saturday 7th December to 10 a.m. Sunday 8th December
All grades of paddlers are welcome to come and try their best - to paddle hard for 24 hours; to encourage others to keep going; to compete against teams from other paddling clubs; to enjoy an night out, under the stars - to stay awake!
Paddle solo or in relay teams. Paddle a kayak, canoe, SUP, ski, outrigger or dragon boat. Paddle for the greatest distance you can in 24 hrs, or for the greatest fun you can have with your team and bank
Online Entries at: 24 Hour Entry Entry fee/paddler : $0 for U18 $20 for U23 $30 for over 65 $35 for all others These fees are for current members of PNSW, Dragon Boat NSW and SLS NSW. Other paddlers must add a $20 surcharge. Early Bird entry fees up to 3rd December; all entries close on 5th December Minimum age: 15 years
For full details. see below or email info@bgcc.org.au

Race #4 HCC 26-27 October
Report has it's OWN LCRK webpage - soooooon....
Race #3 Clarence 100 18-20 October
A 100km paddle over 3 days from Copmanhurst to Yamba on the North Coast.....
Quoting from the offical website: In 2015, a group of local and ex local paddlers came together to undertake a personal physical challenge and renew some old friend ships. The task ahead was to paddle together 100km down the "Mighty Clarence". This was such a great experience for those paddlers; it just had to happen again
Due to its overwhelming positive feedback, it has been held each year since growing in size gradually mostly due to a great format that caters for both the competitive and social participant....
The Clarence 100 also known now as the C100 comprises a three stage, 3-day paddle and passes through numerous river townships from start to finish. Each day paddlers aim to finish by lunchtime whereby paddlers can refresh themselves, rest and enjoy the local hospitality provided by the river hotels and eateries...'
Race Report
Day 1 (from Duncan):
James blitzed day one of the Clarence approx 3:08 for the 40k. Jeff and Duncan 3:32, Wade 3:49, Ruby 3:53 and Anjie 4:47 (exact times below).
Beautiful cool morning, outgoing tide and 7:30 start. Competitors quickly split into wash riding packs matching their speed. Shallow sections mid river kept a lot of us guessing where the deep water was and the final 6km run into the finish against a turning tide and big shallow sections across the river made for a challenging but enjoyable first day

Above: LCRK results day 1 (adjusted for start times!)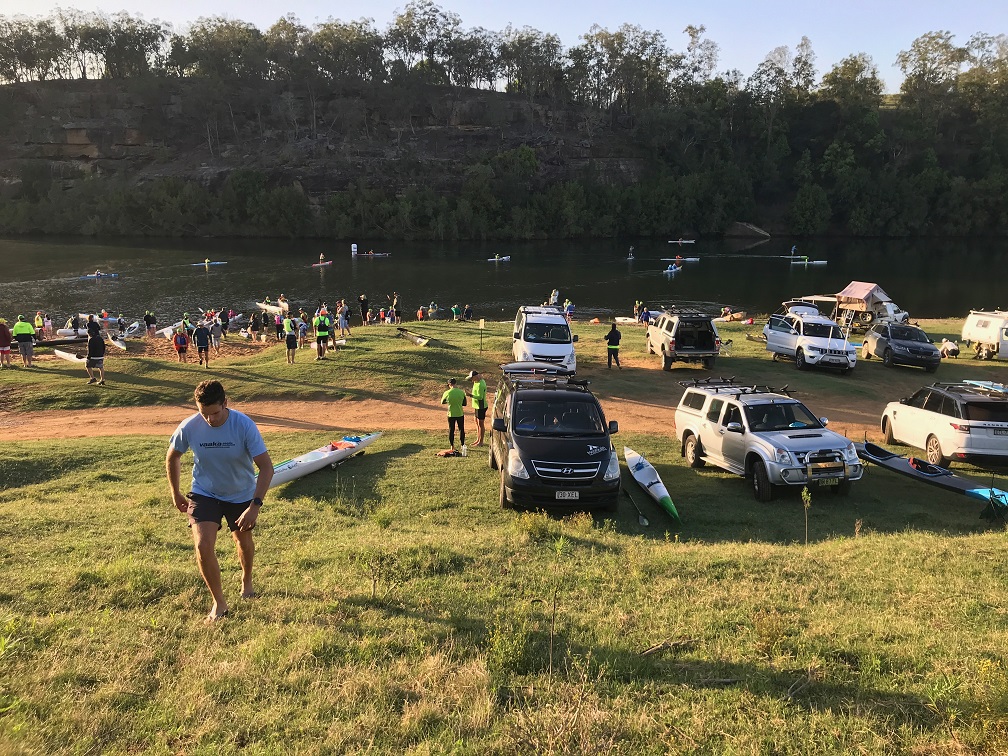 Above: James - Iron Man training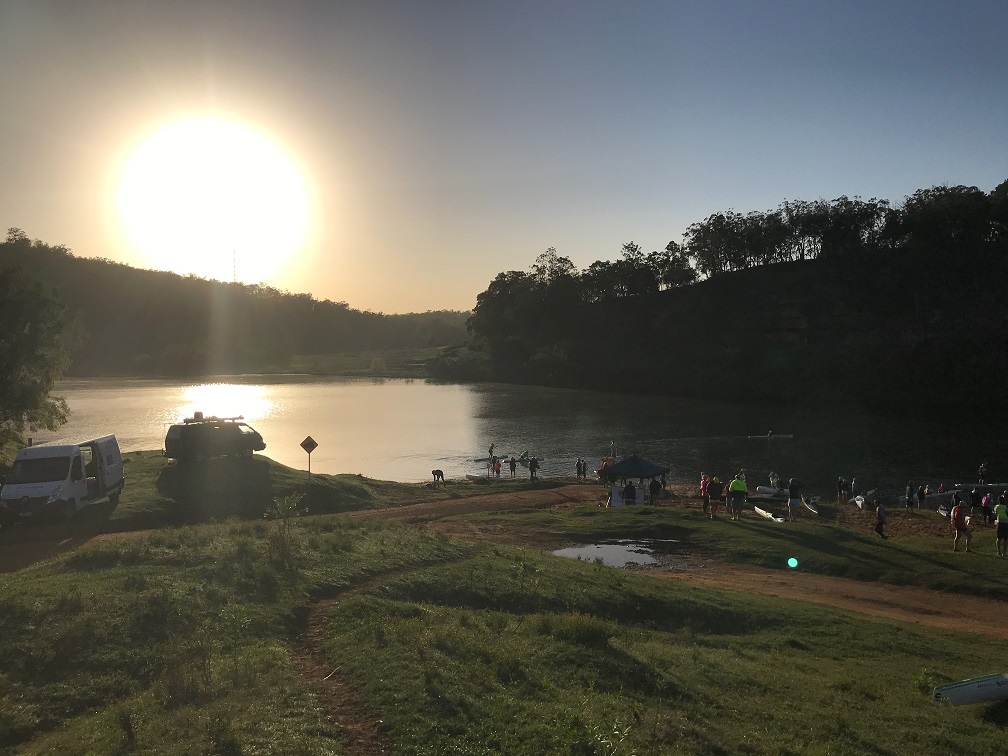 Above: Here comes the Sun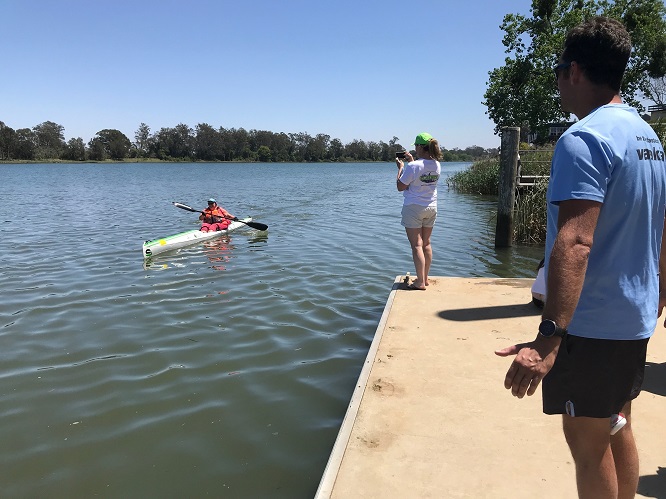 Above: Anjie finishing Day 1 Grafton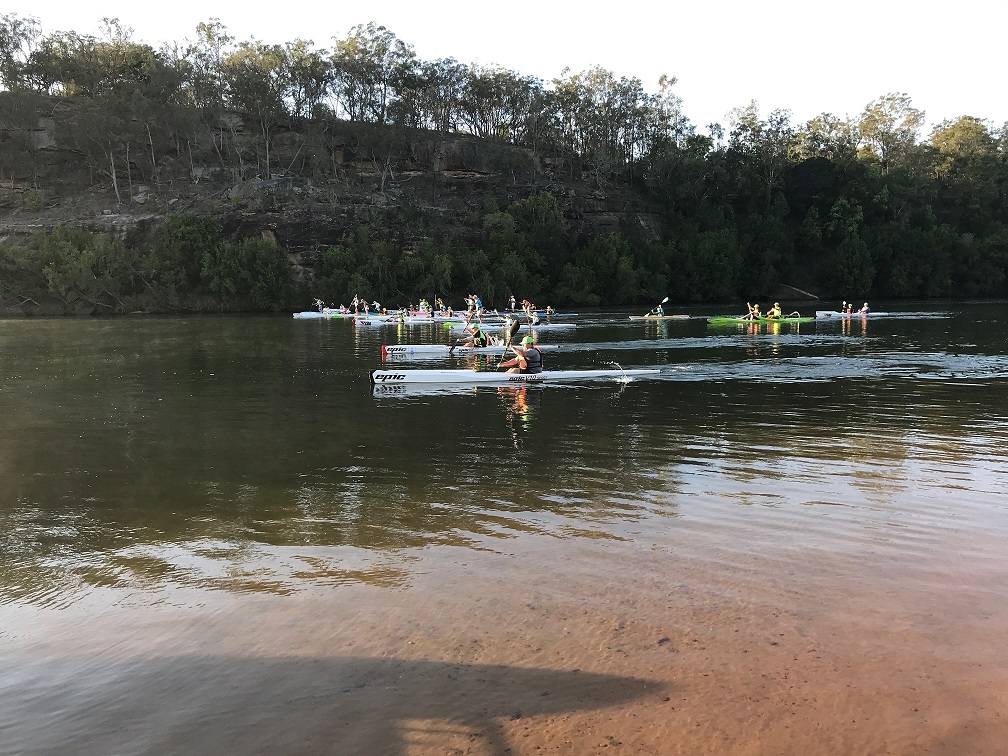 Above: And they're off - start Day 1 Copmanhurst
Day 2 (from Duncan and Ruby):
Beautiful morning for a kayak race on the Clarence River from the Grafton Rowing Club to the Upper Clarence Rowing Club, Maclean.
James was out to protect his slender lead played a waiting game with the front group making a slower start on a good outgoing tide. Jeff and Duncan followed in a group behind. Ruby started out to improve her time on yesterday to try and make an impression on Brody Cambourne in her new ski. Wade fighting off some fatigue from his big effort on day one told us all before the start that today was going to be a slow and steady day. Anjie moved her start time up half an hour and was seen to be taking a break at the 20k checkpoint.
Great viewing points of the race along today's course made it an entertaining day for our land crew Laura, Carly and Liz with rousing support echoing out from the shoreline along the way.
So to the results; James pipped his nearest rival in a close finish getting the better end of their wash riding turns into the finish. Duncan and Jeff took a couple of long routes chasing speed in the turning tide and enjoyed some robust conversations on where they should be on this big river. Wade true to his word came in behind Ruby having spent the morning paddling most of the way on his own. Ruby paddled well but not enough to dent Brody's lead and is thinking she needs to adjust her competitiveness to her current fitness level. And finally Anjie,what can I say, she was the only one to improve her time today.
A great day on a magnificent river, with effortless organization. We all look forward to the final leg to Yamba tomorrow.
Ruby: Second lot of 40km today. Few minutes slower with wind and tide against us for the last 10km. Bit warmer too at 30 degrees so getting a bit of water into me. Sore bum as I'm not familiar with the seat and a couple of blisters but otherwise okay. Bit cranky because I couldn't keep up with the fast wash ride even though I kept up 12km/hr for the first 10km.

Above: LCRK results day 2 (adjusted for start times)
Day 3 (from Ruby and Duncan):
Ruby: Finished the Clarence 100 in 25 knot winds and big waves. I was the only K1 to do the race. 106km in the end (didn't see that in the small print). Very happy today. Loved surfing in a following wind for 10km 😁 Getting the hang of it now! Up here with a great crowd from Lane Cove River Kayakers and all the usual ultra-marathon crowd.
Duncan: Clarence 100 2019 Signing on for the final time.

A big southerly change swept in overnight, the dark evening cloud build up an early sign of what was to come. The fleet was greeted by a beautiful morning but by the start the SSE winds were building to the 20-30km/h southerly winds forecast the night before.

The nine odd SUP paddle Boarders set off at 7:30 and a mass start of over 50 boats saw the fleet on its way for the final leg to Yamba. The fleet proceeded right out of South Arm, under the Harwood Bridge, which carries the Pacific Highway north, without incident.
Then, in the words of Jeff, the man watching it all unfold in front of him: "Then all hell broke loose spreading the fleet quickly over the next 3kms. The strong SSE winds had built a deep, rolling side chop from the right of our double Zero Tolerance. We just couldn't handle the difficult steering conditions with our over hanging rudder. We quickly lost contact with our competition of the last two days. Once we were able to get the boat running with the swell we were able to start to work our way back into contention.
This was truly a day for experienced Paddlers and at the front end those with ocean paddling skills really came into their own. No longer a Flatwater Marathon race, for many of us it was a question of survival and then just heads down for the hard slog into the finish, through long sections of shallows, strong headwinds and chop from the front.

James was not able to hold his lead, but ran a really creditable 4th.
Anjie ran into trouble in the really challenging section after Harwood bridge and had to retire to avoid damaging her boat on the rocks of the lee shore.
Ruby, paddling the only K1 in the race was able to hold out the rolling waves and finish strongly again! (See her fb posts and comments above)
Wade had stop to do running repairs to his rudder that said it had had enough in the conditions. The rudder repaired he headed on and simply glided into the finish looking very fresh and as if nothing had happened after we feared the worst.
Jeff and Duncan, after rounding the sharp right hand corner opposite Goodwood Island were as on the previous two days able to finish strongly working their way back into contention finishing less than a minute behind their second placed competitors.

A very big thank you from all of us to our magnificent land crew of Liz, Laura and Carly. To Ben Sullivan and all his Clarence 100 crew, volunteers and supporting organizations, congratulations on the running of a magnificent event. Not just on the water, but off it as well. Wonderful hospitality on display from Grafton to Yamba and yes "never underestimate" the Clarence 100.
Definitely one for the bucket list everyone

Above: LCRK results day 3 (adjusted for start times)
Race #2 Myall Classic Sat 21 Sep

The Myall Classic is a major ultramarathon event on the NSW paddlers calendar. It is held on the Myall River at Tea Gardens each September on the last Saturday before the school holidays, taking both competitive and recreational paddlers up the Myall River and return.
There are a range of distances and starting times, intended to see all paddlers complete their chosen course by early afternoon, and in time for Presentations at 2:15pm.
Distances offered are 12km, 27km and 47km, the longer course being a perfect shakedown for the Hawkesbury Canoe Classic held in late October.
Due to its protected nature, the Myall Classic is a safe, scenic though testing event in the largely unspoilt Great Lakes Marine Park. Conditions can vary considerably though the usual scenario presents paddlers with clear blue skies and warm weather. A light Easterly breeze is usually present in the early afternoon.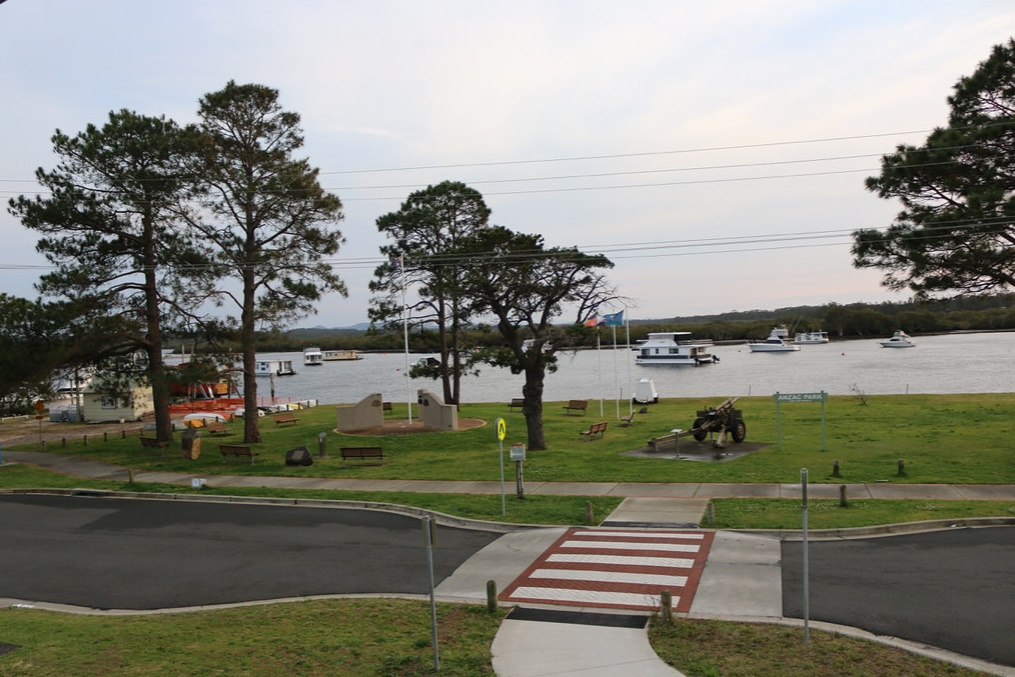 Above: Race day 6am - a mere zephyr
 


Kicking off with probably the 'most resilient' paddler award for the day is Ruby Ardren: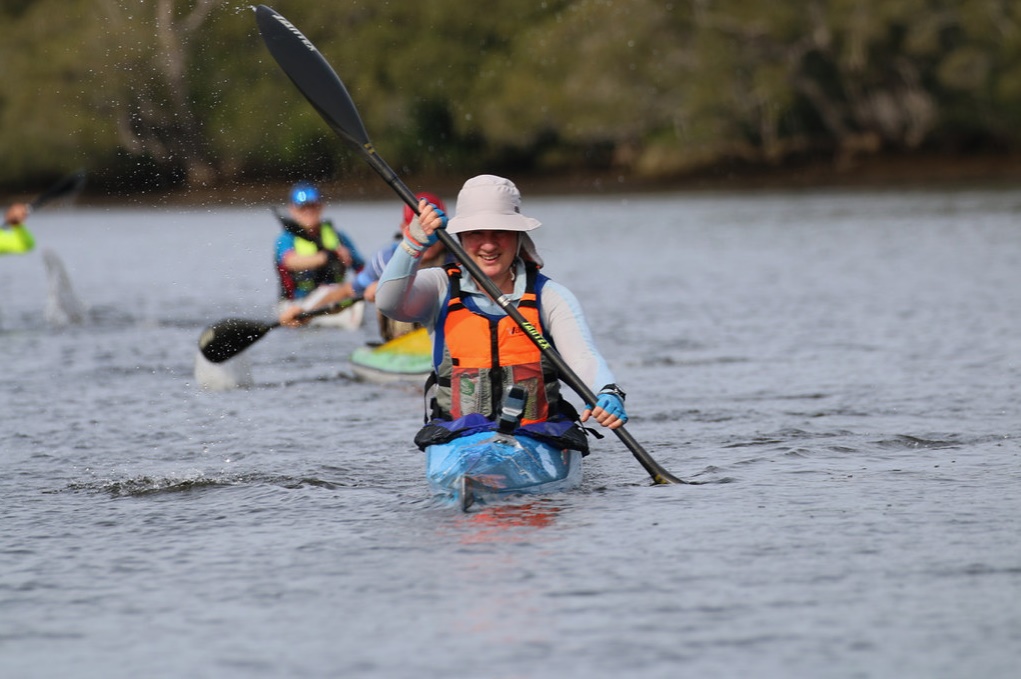 Above: Ruby on the first (fast) 44km leg of her paddle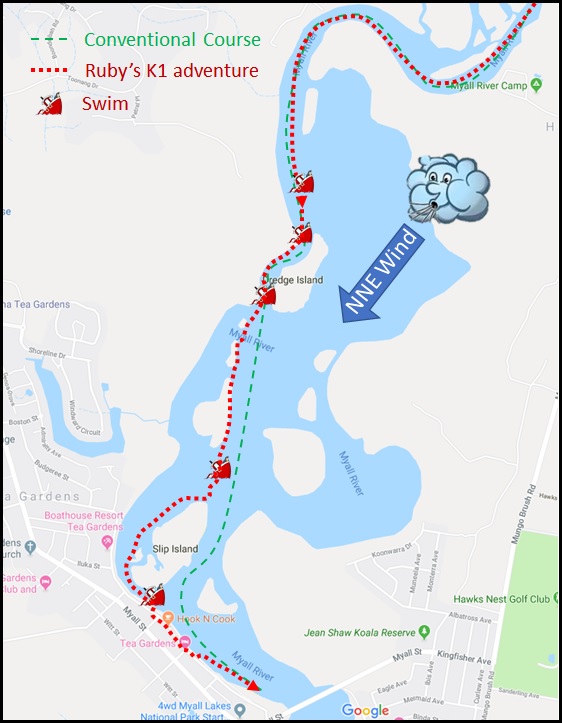 Above: Ruby's path
"I was really appreciating being in my fast boat (the Spirit) because the wind didn't bother me too much and I had the first 44km done in 5 hours. Not too bad given the tide. Richard worried me a bit when on his return run for the 27km he said the lake had picked up a bit.
I first fell in just short of Dredge Island where the water really opens up. Big waves were coming broadside, so I turned to the bank, to paddle with them but it was no good, I went in. Wade helped me to the shore. From there I attempted to get back in my boat but with big sloppy waves hitting the shore, I couldn't get away from the bank and fell in again.
Brodie Cambourne came to check on me there, but I didn't want to keep her, knowing that there was still kms to go, so sent her on her way. I then waded around the edge, finally getting back in at Dredge Island and muddling my way along the edge until I fell in again, Gareth checking on me as he went past.
I got back in, facing the crossing to Slip Island. It was daunting, but I hit out and made it 3/4 of the way across before falling in again. John, a student from Duval College helped me to the edge of Slip Island, where Maritime turned up to speak to me. They ordered me to paddle around the other side of Slip Island where it was more protected. I made it all the way around there but fell in again when I was heading back out onto the river.
I swam to the edge, picked up my boat, emptied it and then walked down the footpath past all the section of river where I wouldn't have been able to access the edge, then jumped back in again (with Pete Fitzgerald nearby saying "You're not going out there in that are you?", and then paddled to the finish.''
I was so determined to finish no matter what. I wasn't about to paddle 44km and not finish the race, even though I did look at the river at one stage and think how on earth I was going to get back. It took me an hour to do the last 3km.
Pretty proud I finished - next time I'll bring the more stable boat!
 


And from Wade Rowston:
There was some expectation that we may get assistance from the tide on the outward leg of the 47km event as it was low tide at Tea Gardens shortly after the 8am start. Wrong! Instead we copped the full force of an oncoming gale, an outgoing tide and lots of shallows.
With a chequered history of becoming ill over the past 10 years in the HCC my goal was to ensure I stayed relaxed and feeling well for the 47km of the Myall. So I ate well, trialling various foods and tried to remain relaxed whilst paddling in a Stellar SR ski for stability. Progress was so slow that the 13km cut-off at 9:45am suddenly came into play and I had to put in more effort than I wanted to just scrape within the time. In fact I was pretty sure the leaders of the 8am start were only about 5-10 mins ahead of the cut-off so difficult were the conditions.
After making the cut-off I stopped to take in some food. Within about 10 secs I was heading back down the river backwards at 4km/hr such was the strength of the tide and wind. I headed off again shortly after I came across Rob L.J. who was having great difficulty with his seating. Rob caught up to me again after while and we paddled together for a few kms.
It took me just over 3 hours to the Tamboy turn. That is less than 8km/hr! A very welcome site. The homeward leg was fairly uneventful in the enclosed river section and I was enjoying the beauty of the river when I found Ruby having a lunch stop. Unfortunately Rob had to stop again for seating issues. Then we came to the last few kms.
Ruby was about 30m ahead at the first open section and suddenly was in the water thanks to large side chop and wind. I was able to assist her to the shore where her adventure to the finish line was just beginning. She was fine and relaxed about her swim and prospects when she insisted I continue to the finish line. I think it was easily the roughest finish I have experienced on the Myall but happily I was fairly comfortable in the ski. I finish the 47km feeling really good so I was very happy with that result.
Here's Jeff Hosnell's view of the race:
"As half of team Dragon Hunters (Duncan head hunter), I have to say this was my hardest race ever, the paddle up to the top marker of the 47k race was a real grind for me, I worked too hard to stay with the bunch and my right shoulder started to hurt really bad, thank god conditions coming back were easier, I had to drop my arms down to take the pressure off the shoulder, Duncan heard a lot of foul words coming from the back in this race, but I am so proud we toughed it out and finished very strong. After the race I was ready to throw the towel in on the Hawkesbury race, but on reflection we did bloody will so bring on the race!"
And from the front half of the same boat - Duncan Johnstone:
''Never underestimate the challenges of paddling, particularly the full distance, in the Myall Classic. The weather, winds and tide will always throw up something to make you rethink your strategy half way through the race and of course, unless you're lucky, the last three kilometres on the return to the finishing line will always surprise you.''
''This year was no different with big winds forecast. I would suggest the winds were manageable but the eternal mystery of the tides wasn't and then when you thought you were in the home stretch the wind, tide and long fetch conspired to challenge the best creating a massive side chop and blowing many onshore. The tides on the Myall have long fascinated punters of the Myall Classic and this time I am half convinced that perhaps rains received in the area of the upper lakes had a major influence in negating the incoming tide to the extent that it was difficult to get over speeds of 8-10kph on the way up and at three quarter tide at the top mark the Myall was actually flowing strongly downstream being the outflow of fresh water from the upper lakes providing for speeds of over 11.5kph plus against an apparent incoming tide. This gradually reduced as the finish was approached.''
Given that this was a race made it even tougher as Jeff and I tried to stay on the wash rides of Terry and Scott (MWKC) and Tom and Tim and Trevor in his single Ski. From time to time we were accompanied by other single craft. This group fell apart around the 20km mark and we left to battle it out by ourselves and trying to stay in touch with Mark in his Rocket and Trevor and another Ski. We eventually broke through them all and with the assistance of a Maritime Cat enjoy the fun of some good wash rides on the tight winding bends before getting passed it.
''The challenges of this race put pressure on us as a doubles team too, with some fractious moments as we individually tried to deal with our own pain thresholds and scream for timeouts for brief moments to eat or stretch. There are still skills to learn on how as a team to best keep the boat moving in choppy conditions. Until Jeff had a chat to Matt B about stroke technique I thought our participation in the Hawkesbury was done, but we live to fight another day. Thanks Matty and to Bob and his crew.''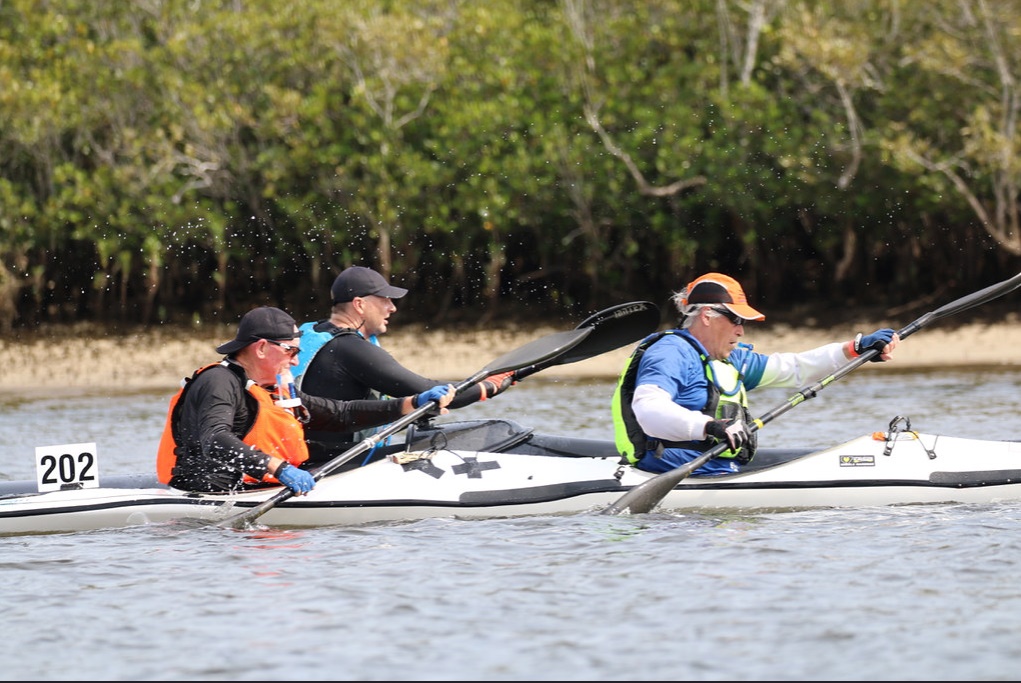 Above: Jeff n Duncan - hunting dragons!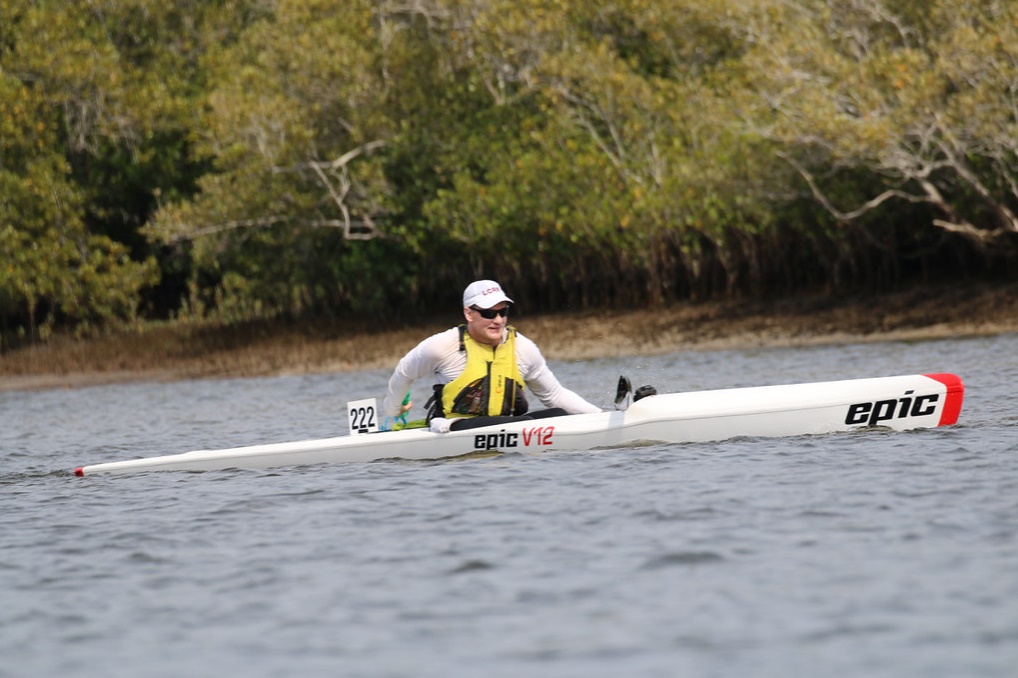 Above: Trevor with his drink system
 


And from Trevor Nicholls:
"What a difference a year, and conditions….., can make. I was over 47 minutes slower than last year. I found the very race tough despite being able to wash ride a few doubles for the first 15km. After that it became a mental game as my shoulders were screaming out stop yet knowing any breaks would just extend the finishing time. At one stage I convinced myself I must have weed wrapped around my rudder as I was going so slow. I then backed up and nothing floated to the surface, that just sucked. On the positive, I solved my long-standing hassle of where to store my drink bottle with energy drink in it. I did this by attaching a water bottle holder from a bike to the elastic behind me. It worked well and found it easy to put the bottle back into the holder. (see photo)
Call out for my mate Darren Williams who paddled the event with his wife Anne and son Reece. Great to have them all in the race together having solved the logistics of getting 3 skis up to Tea Gardens. Now to do a few more long paddles, with the tide….., before the Hawkesbury. Not long until race day now."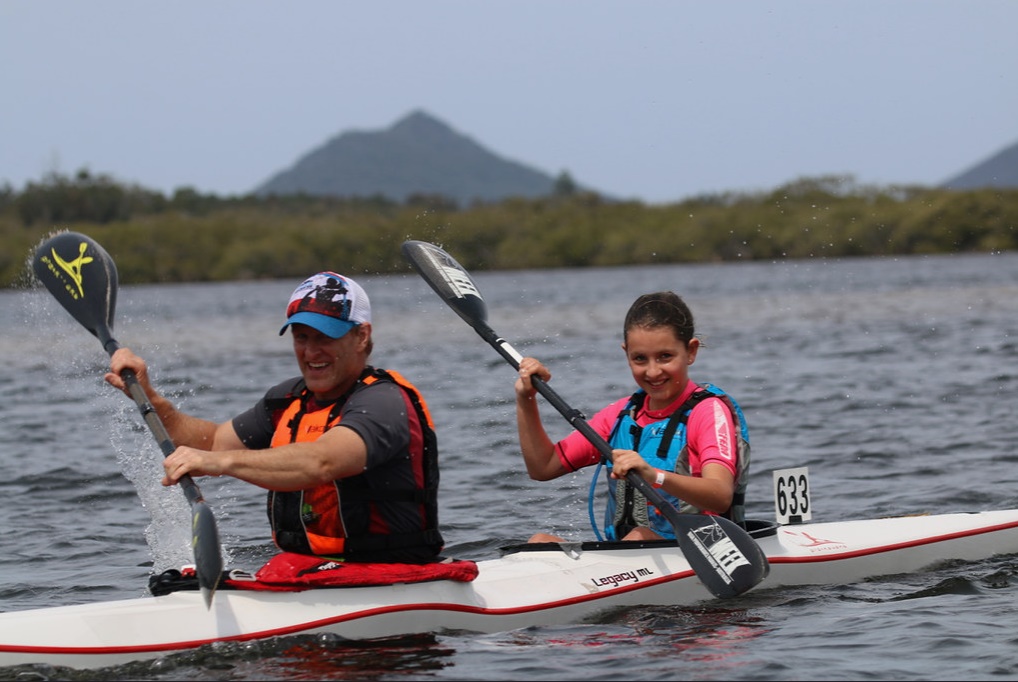 Above: Matt and Liberty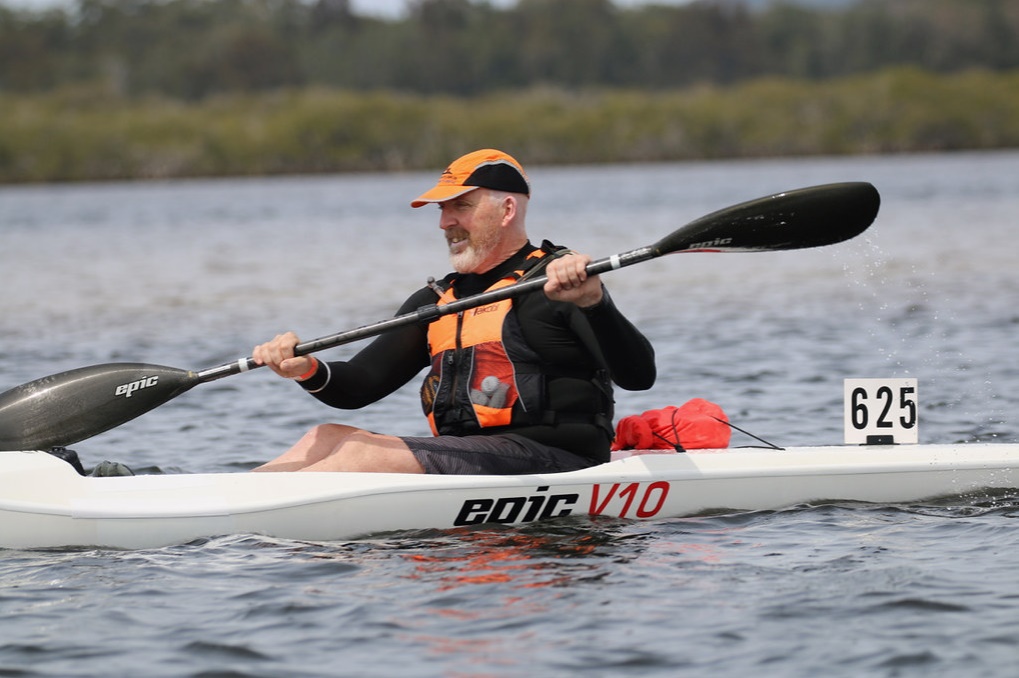 Above: Darren Williams and...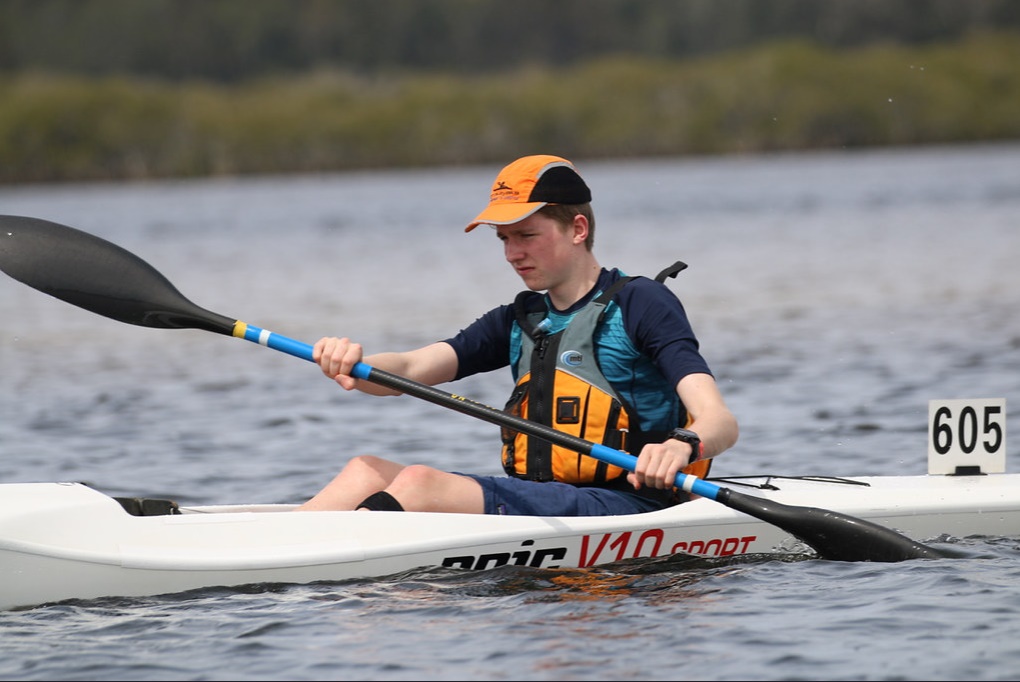 Above: Reece Williams and...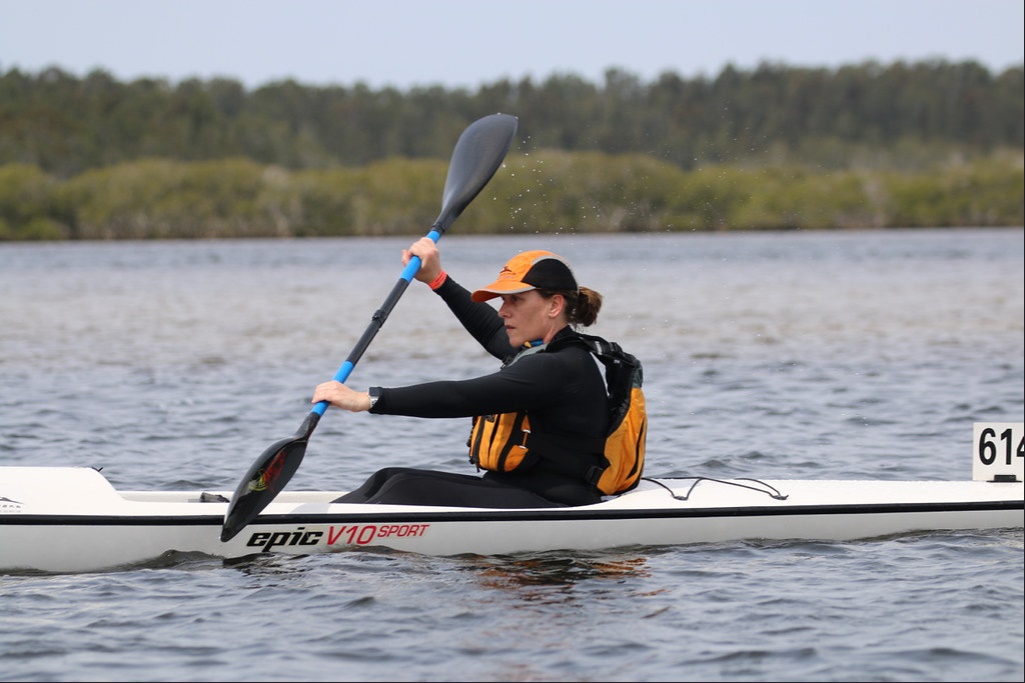 Above: Anne Williams.
 


Derek Simmonds reports:
The Myall has a mercurial nature. It can be almost stationary with a surface like glass, or tempestuous and wild, depending on winds. This year's Myall Classic gave a taste of both extremes.
Heavy rain earlier in the week resulted in minor flooding, and on the day there was still a lot of fresh water draining down from the lakes into Port Stephens. This current somewhat cancelled out the nice big spring incoming tide that might otherwise have pushed us up river in the first half. Added to this, the trip upstream was mostly into a north easterly headwind. On the way home after the turn, all but the slowest paddlers were still pushing into the incoming tide most of the way. On the broader reaches near the end, the wind really hit, throwing up a nasty and often unpredictable wind chop. It was especially bumpy crossing the broadwater in the last three kilometres. I saw a few swimmers as I struggled past, calling the usual, "You OK?"
I've done most Myall Classics since 2004, and with the exception of 2009 when the race was stopped and paddlers turned around due to high winds, it was the most difficult I can recall. My time reflected it. For the average paddler, times on the Myall are as much a measure of the river as the paddler. The champions seem to achieve great times regardless. Interestingly, when I compared my time over the 27 kms this year with the last few years, the difference between mine and the winners was a consistent 30 minutes give or take a minute. As per tradition, Max Lyons from Central Coast wash rode me most of the way and crossed the line on my tail - seconds behind me this year compared to a minute last year. The river is variable but some things never change. Who knows what the old Myall will dish up next year. If you haven't done it, give it a shot over any of the three distances. It never fails to please.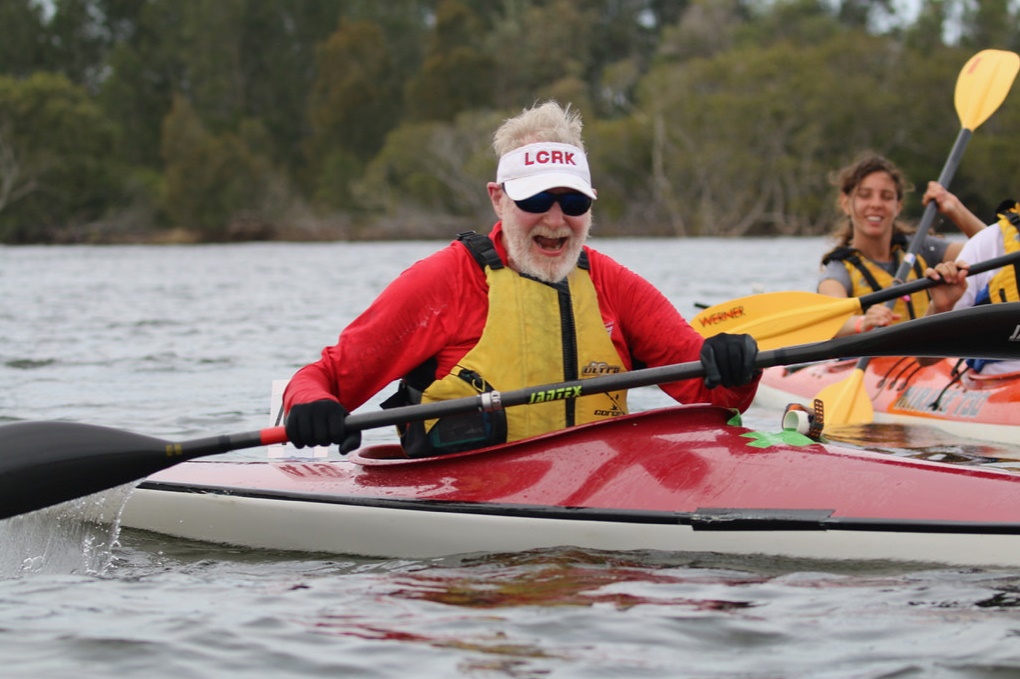 Above: Derek Simmonds - colour coordinated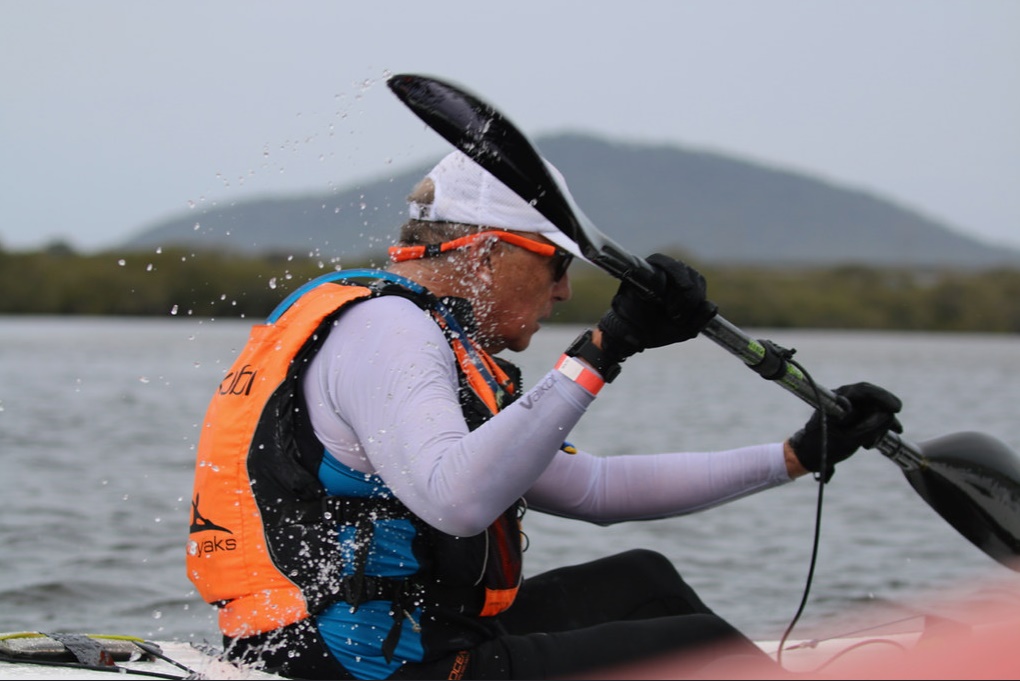 Above: Paul van Koesveld - determined
 


Paul van Koesveld reports:
Useless mental gymnastics before the event:
I can't make the full 47km but I completed the 30km Wyong Classic so should be able finish the 27km event;
Weather forecast is for high winds so I better take my more stable ski;
Friday evening: winds as high as predicted, lucky I chose the steady ski;
Early Saturday morning: no wind, chose wrong ski;
Mid Saturday morning: here comes the wind; now happy;
10 am Start:
Again failed to get to the front row so swamped by 33 other boats; all possible wash-rides lost;
Tidal flow strongly with us but low water and very strong wind chop against across the "non-Broadwater" broad water; speed too slow to contemplate further;
River more sheltered around every second bend but still lots of shallow areas;
Passed a few boats but the double Wenonah canoe zig-zagging too much to offer the hoped-for washride; struggle on;
There's Ian and Lachie in the safety/photo boat; smile – failed again.
Top turn for we 27kmers; time ugly, must try harder;
Better speed on way back against the tide; maybe also more desperate;
Into open water, gale behind (well, on back quarter); feels like flying but not actually faster;
Surfing, not necessarily where I want to go; would have swum in other boat;
There's Ian and Lachie again; no attempt at a smile;
Time slow but not passed by any of the 8am 47km paddlers; must be hard for everyone;
Provoked sprint to finish line;
3:00:42 and body didn't collapse – could be worse;
Getting out of boat a major task and climbing up off beach even harder; thanks to the smiling young people helping;
Reflections after:
Great event; very well organised, thanks to Bob, Ian, Kent and others;
Participant numbers again strong; we paddlers again broke record for last-minute entry;
Head straight off for grandparent duty and fun in Victoria; sorry can't stay around to chat with friends;
Next year …
 


View from the Safety Boat – Ian Wrenford Lachie paddled the Myall 12km last year – but this year wanted a dose of Safety Boat. We duly arrived in Tea Gardens Friday afternoon with two IRB's in tow – and were called on to launch one of the safety boats to help lay out the 'Paddle Scrabble' (ie kayak rogaining) markers for the River Canoe Clubs parallel event. At that time, the wind was a strong NNE whipping up white caps in the first open stretch of water up from Tea Gardens (Swan Bay apparently) – hopefully race conditions would be calmer than this!
Saturday dawned and a look out the window at Anzac Park at 6am suggested conditions were benign – apart from a mere zephyr of wind flicking the flags – actually more of a Ford Zephyr.. There was a fair bit to do (hence the lack of pre-start photos) and we were out on the water at 7:40am with two of the SES boats to get ahead of the 8am start to assigned stations. The wind was at that stage 'brisk' on the open sections, and the outgoing tide was also 'brisk' – making for what looked like hard work for paddlers. No qualms for the safety boat though – we made a slight adjustment to the throttle, and carried on to just past Dredge Island, threw out the anchor and waited for the 8am start. All good – they came through – more smiles than grimaces at that stage.
From there we proceeded up to the Tamboi Queen wharf (the 12km turn) to await the 9am (faster 47km) start. Whilst the tide had apparently turned down at the river mouth, at this point the tide was still ripping out. The 9am starters duly came ripping through with some tight washriding in evidence and some careful selection of line - over on the far side of the river in the relative lee of the wind.
A little later, the 9:30am start 27km Students Challenge came through with strong numbers from Duval College (UNE) and a good showing from Sydney Uni (including our own Mario Lendvai). Most of them had music blaring – with what seemed like a John Duffy playlist. Pleasingly – every single student entrant made the cut-off at this point. (side note: music was not blaring on the return trip for most - Duracel could not cope with the amp-hours)
The front runners in the 10am 27km start had caught up to the tail end of the Students challenge and were taking similar 'far side of the river' lines to the 9am 47km paddlers. It seems all the students optimised their paddling lines for photo opportunity vs speed. Anyway – we did get plenty of good pictures of the students!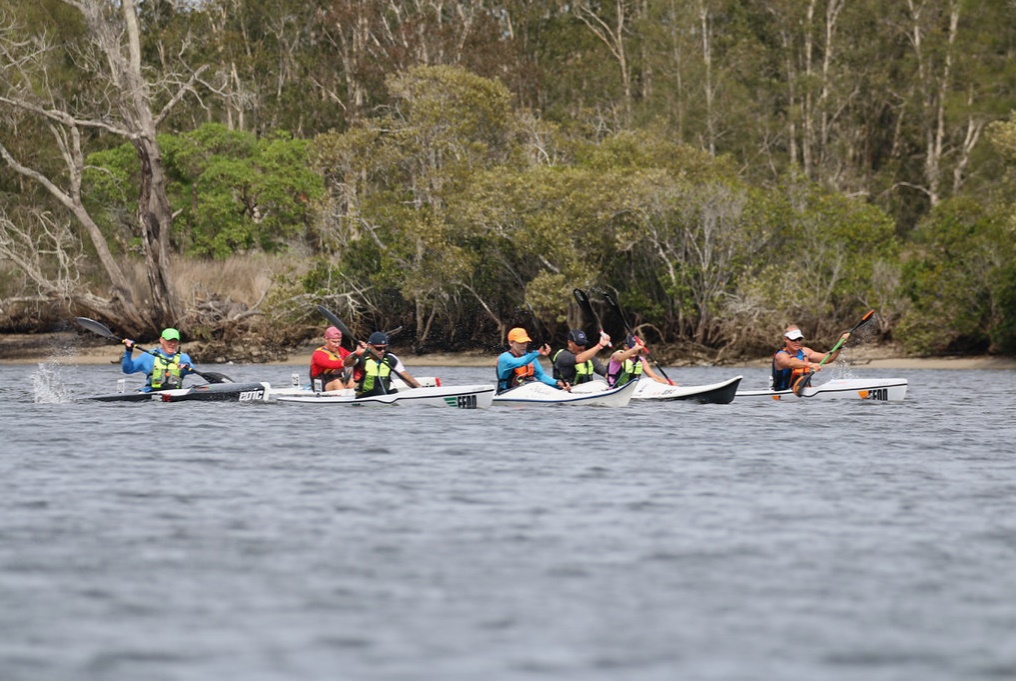 Above: Youngster, Fitzy & Stokesy testing the zoom lens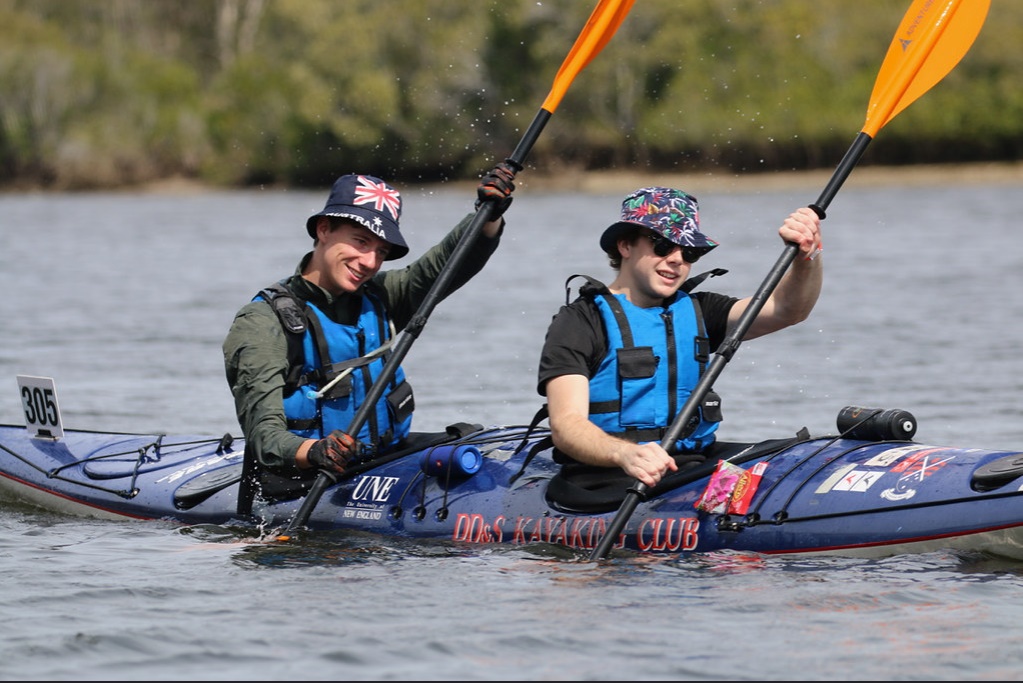 Above: DDS crew not testing the zoom lens
 


From that point we were relieved by one of the SES boats and headed off back downstream to oversee the stretch down from Dredge Island while the 12km paddlers came through. The wind had died down relatively from what we'd seen coming up at 8am (per weather forecast) which was encouraging at the point. LCRK entries in the 12km distance was very much a family affair. Darren Williams paddled with son Reece in a double last year – but this year Darren, Reece and Anne Williams were ALL in singles. Matt Blundell and Liberty Blundell were also out in a double – Liberty noticeably taller than 12mths ago and comfortable pushing Matt along.
A lull in proceedings gave us the opportunity to head further downstream and find a posse off Slip Island where we could observe the open waters and get passing shots of the paddlers in their last 1km of paddling. The wind at this stage was still looking 'sensible' although that was about to change. The 12km came back through the 8am 47km paddlers, the 27km and the first of the 9am 47km. James Pralija was in fine form in his ski and had opened up a ~50-100m lead on 2nd place. It was Anjie Lees who alerted us that conditions had deteriorated up near Dredge Island with paddlers going in left, right and centre – which is why the photos effectively stop at that point.
Congratulations all paddlers – all reports suggest that was one of the toughest Myall Classics for some years.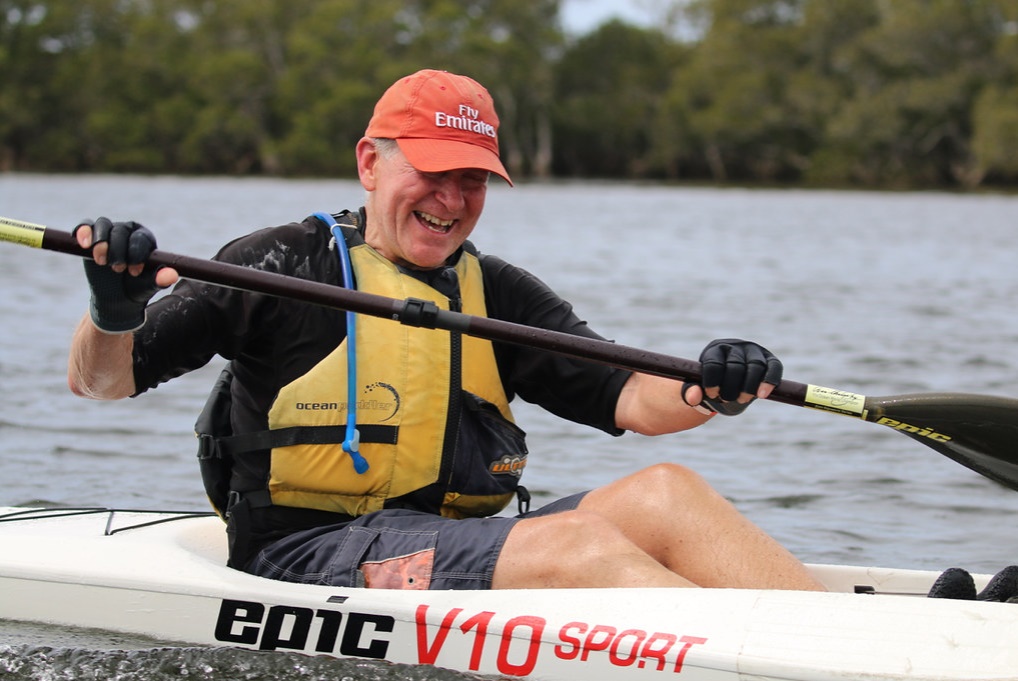 Above: Graham Cleland - can almost see the finish!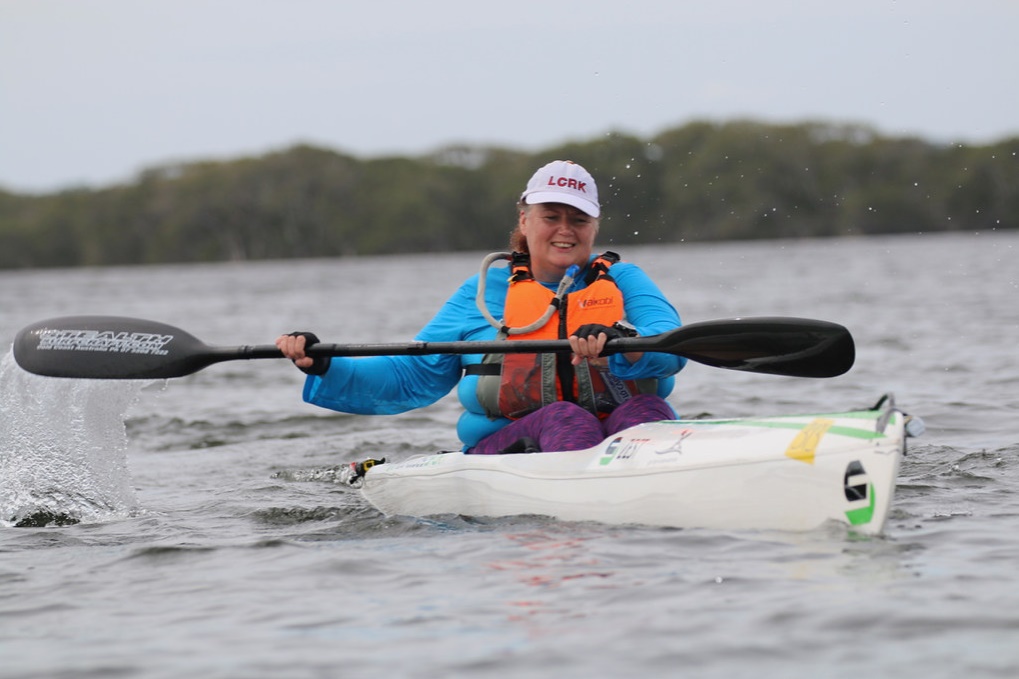 Above: Anjie Lees - "it's getting rough out there!"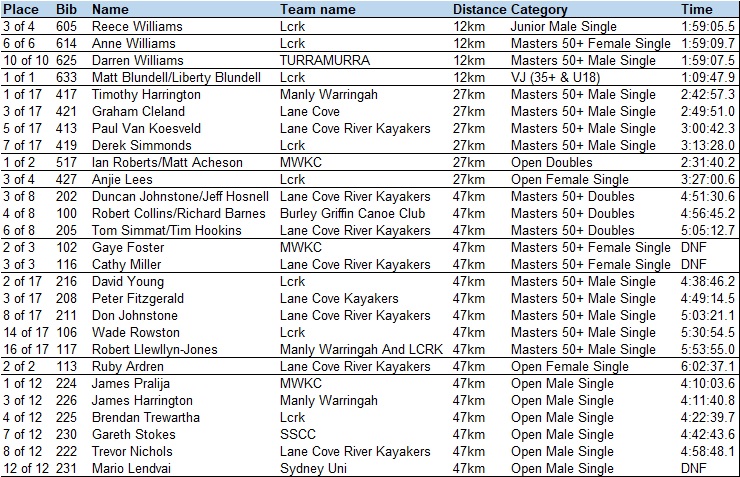 Above: Results for LCRK Members and regular TTers
Race #1 Wyong Ultra Sat 7 Sep

Race Report by Ian Wrenford
The first of the Ultra-Marathon Series was held on Saturday on the Wyong River from Tacoma. On offer was a 30km course or a 17km course. The 30km course consisted of a long lap (17km) up the river, and then a short lap (13km) not as far up the river. A hardy bunch of 15 from LCRK made the trek (some paddling in MWKC colours, one in SSCC and most in LCRK finery). Most are 30km closer to earning their PNSW UltraMarathon T-shirt (and you can work towards yours by entering Ultra-Marathon #2 the Myall Classic on Sat 21 Sep!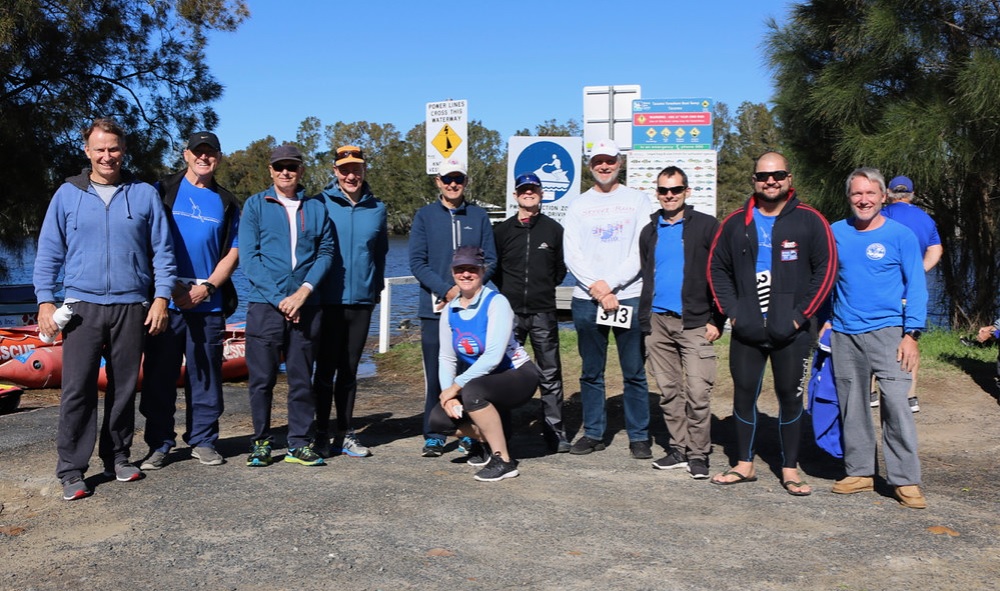 Above: Team LCRK (pic: Ian)

For the race, the Wyong River was up a fair bit due to recent rain and a corresponding outgoing current. The weather forecast whilst fine was rather umm windy – with a strong westerly blowing straight down the main straight. The combination of outgoing tide and outgoing wind made for a real slog heading up to the first corner and until the river narrowed and some protection was afforded by the shrubbery. Conversely the last km run down to the bottom turn was fast favouring those with broad shoulders and SUP's.
Whilst over 100 paddlers had registered for the race, 34 of those were accounted for by just two Dragon Boats, which made a formidable sight on and off the water. There were a few DNS's possibly weather induced – which saw 48 boats on the water. There were 4 starts for the 30km distance at 15 minute intervals split roughly on Marathon Series Division times – the less fast paddlers off first and the most fast paddlers off last. The 17km distances similarly had 3 starts after the 30km had been waved off. As a concession to the wind, the separation markers for the first km were removed – allowing paddlers to tuck into the lee of the shore (although there wasn't really a lee to tuck into).
The first start at 9:30 was somewhat scraggily with the westerly wind in their faces and the outgoing current requiring a fair effort simply to remain at the line. The Dragon Boats take a bit longer to launch with the crew having to climb aboard in the correct sequence, then reverse out into the wind, perform a 180 degree turn and line up – all of which was achieved with remarkable precision (like watching a Manly Ferry reverse out of Circular Quay). Anyway – off they went although no sign of Paul van Koesveld the single LCRK entrant in this start. Oh, hang on here he comes, he did say he needed to get his boat ready and he only had 10 mins after the team photo to do that. One of the SUP entries went for a swim at the line, with the subsequent remount leaving him facing down-wind with the requisite turn leaving him a good 200m behind the field.
The 2nd start was a little less scrappy with Wade, Ruby and Duncan/Jeff all involved and relieved to be sent on their way. At that point, I made tracks for my selected upstream photography location Porters Creek which was a sharp 180 degree bend about 1km short of the 17km turn – with the sun on my back and sheltered from the wind. I could snap the boats on the way up, and on the way back – and get everyones best side. Beautiful!
First on the scene was one of the Dragon Boats who looked super slick and tackled the 180 corner with deft precision. Check out the photo – they were more in time than many doubles crews! The "1 series" boats had sorted themselves out by this time and there was a good spread across the fleet. There was a lot more wash-riding in evidence by the time the "3 series" boats arrived and then the sole "4 series" paddler (Brett Greenwood) intent on chasing down every last 30km paddler despite an up to 45 minute head start! He almost did it too with fastest time of the day by a good margin! There were plenty of smiles to be had at this point (just 8-9km into the race) and once the 17km paddlers had come through I headed back to the finish line.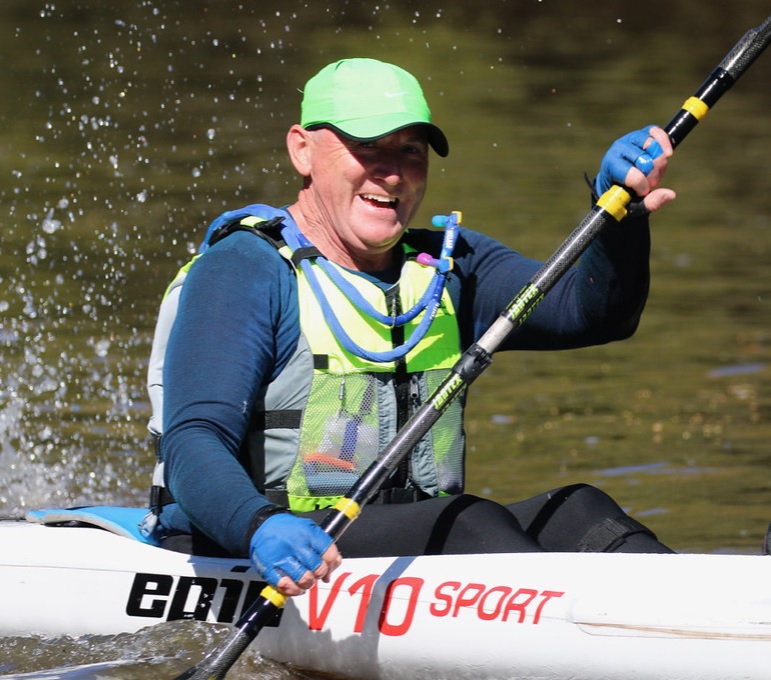 Above: Fitzy still smiling (pic: Ian)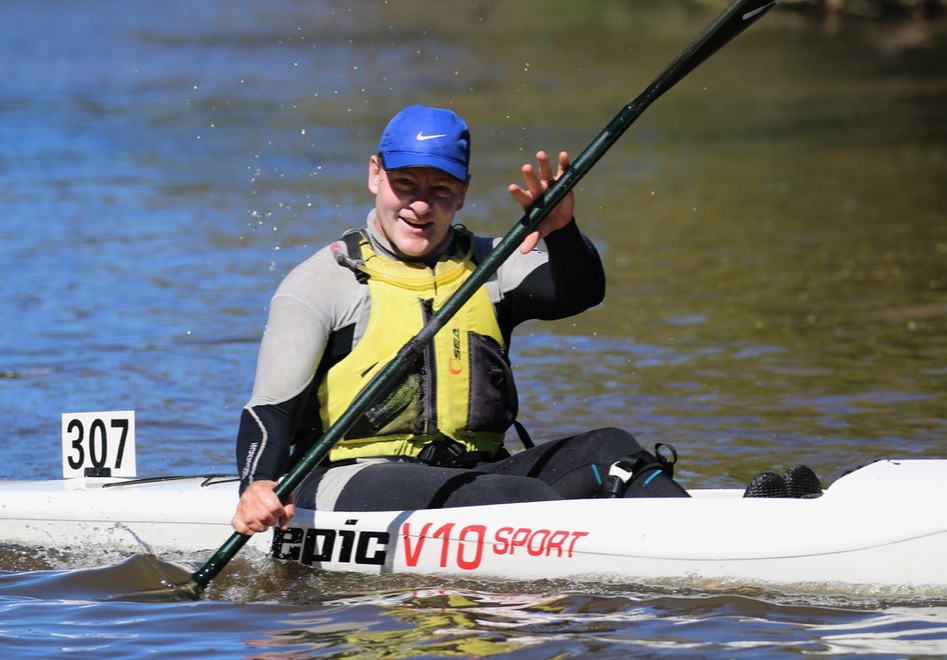 Above: Trevor gives a wave (pic: Ian)

The finish line was looking pretty formidable with the gusting westerly blowing paddlers straight down to the bottom turn. Thankfully the waves weren't "too" bad (well that's the way it looked from my comfy position on the wharf) but a real slog back up from that bottom turn.
Rob Llewellyn-Jones was the sole LCRKer in the 17km distance and came in with a respectable 1:35:38 (3rd in the mens) – his longest paddle for quite some time.
For the 30 km distance, first over the line was James Pralija (MWKC) with a 2:29:12 although he had a 15 mins start on Brett Greenwood (MWKC) who had fastest time with 2:18:04. Fastest in LCRK colours was the double of Rich Yates/Tony D'Andreti (2:38:16), just ahead of Gareth Stokes (SSCC in 2:38:34). Not far behind was Duncan Johnstone/Jeff Hosnell (2:44:30) with Jeff apparently hiding behind Duncan while trying to keep the spray out of his face. Peter Fitzgerald was next (2:45:51) although he'd lost the smile he had at km 8, and then Don Johnstone (2:51:00) in full control of his rudder, David Young (2:53:43) and Trevor Nichols (2:57:57). The happiest pairing was Ruby Ardren (3:01:42) and Wade Rowston (3:01:44) who'd wash rode around most of the course it seemed – both were in fine form. Ruby picked up the Silver medal in the Womens 30km (and Laura Lee WCC picked up Gold). Paul van Koesveld rounded out the LCRK 30km entries with a 3:14:30 – not bad considering he hasn't done 30km for ages and was initially eying off the 17km.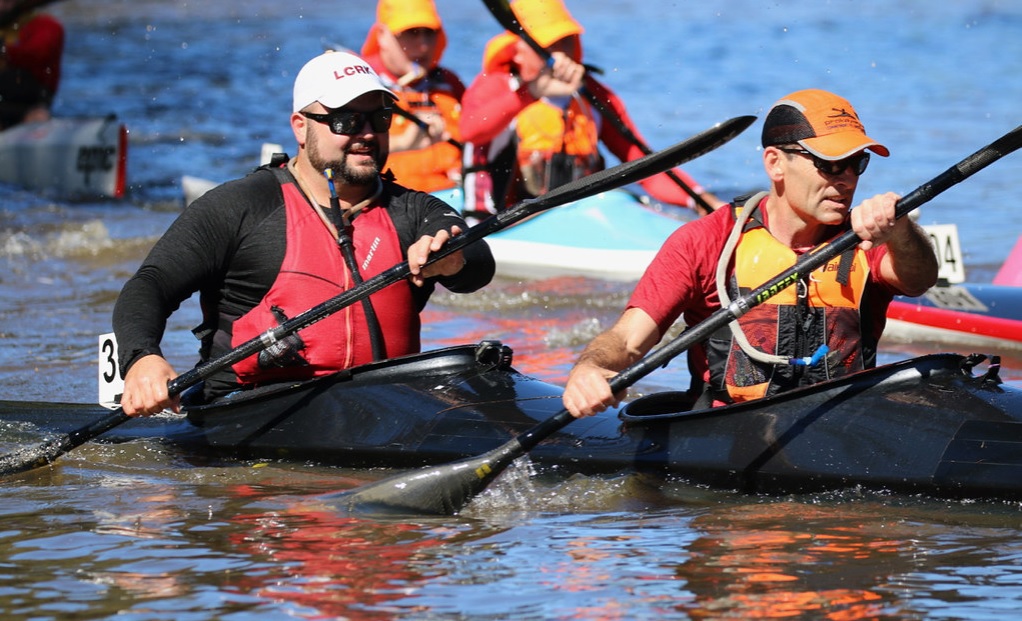 Above: Rich & Keg in a pack (pic: Ian)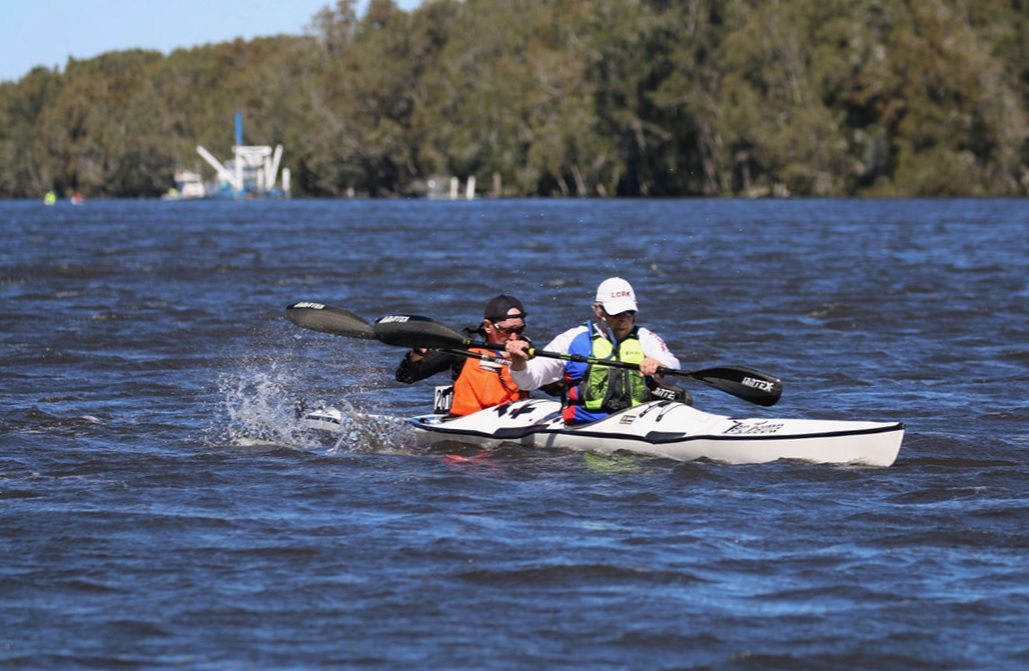 Above: Jeff & Duncan - hunkered down (pic: Ian)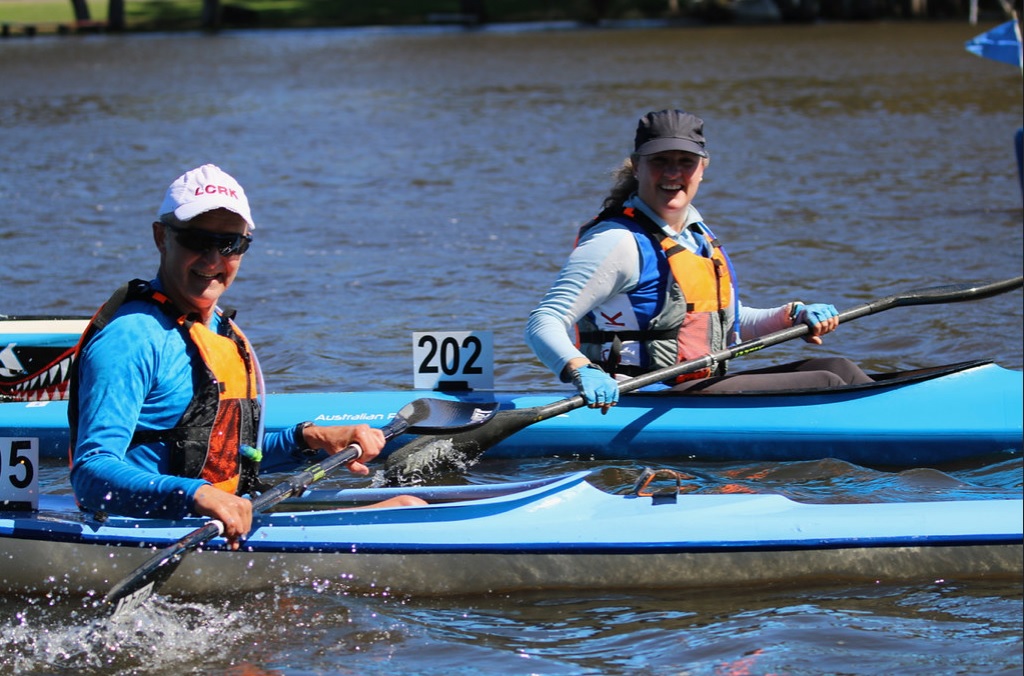 Above: washriding Wade & Ruby all smiles (pic: Ian)

The event was well organised with strong support from host club Central Coast Paddlers, safety boats from Tuggerah Lakes Marine Rescue and The Lakes SLSC, with North Gosford Rotary providing the BBQ and the Cafe2U coffee van. Bob Turner was starter and looked after webscorer. Thanks everyone!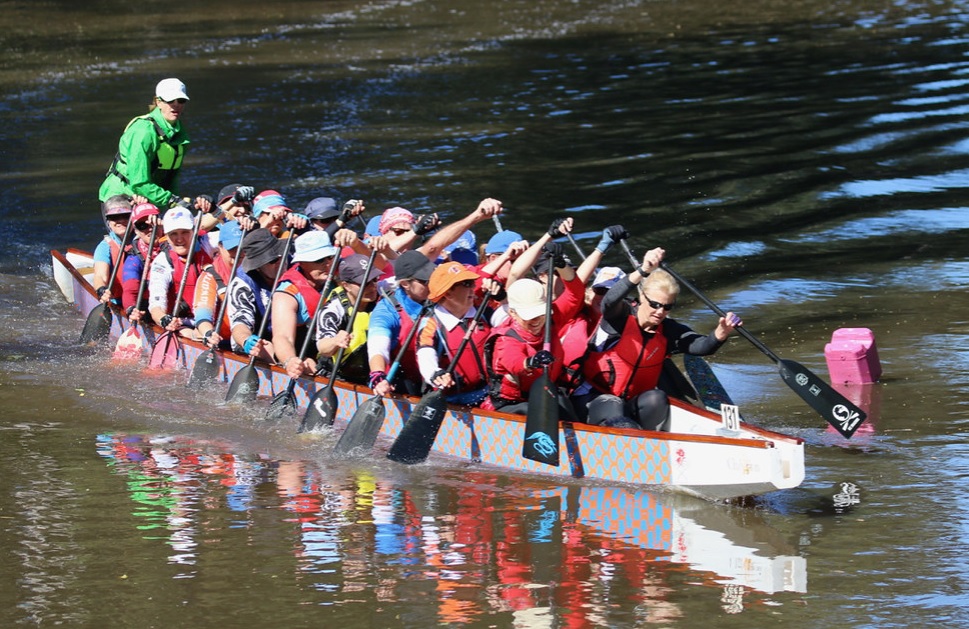 Above: Precision Dragon Boating (pic: Ian)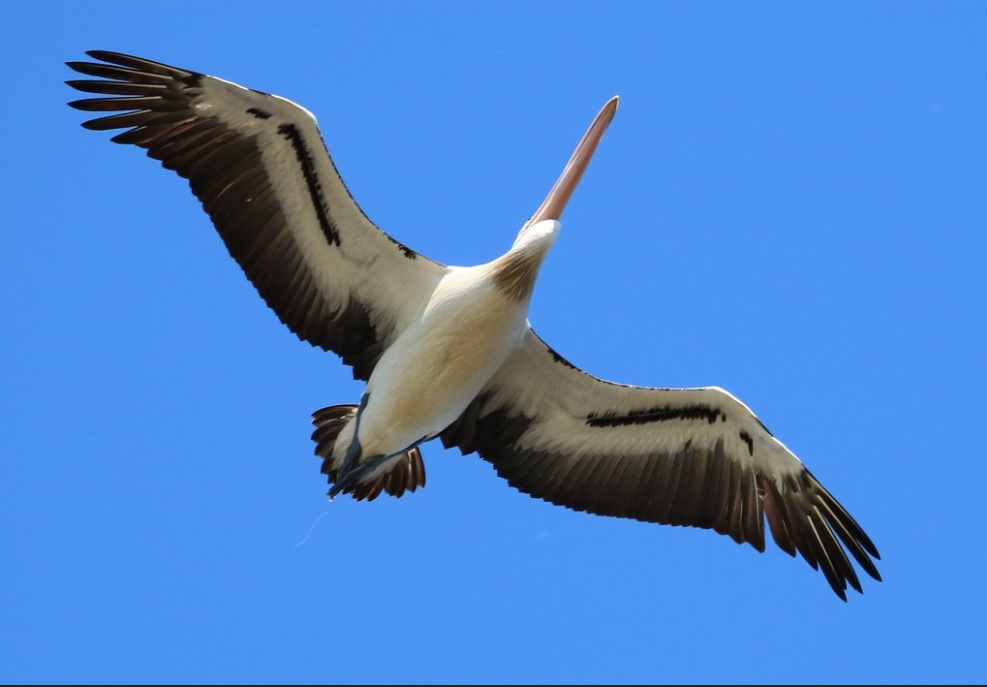 Above: Undercarriage up, Flaps up (pic: Ian)

Remember, next event is Myall Classic on at 21 Sep – details here. You KNOW you want that T-shirt!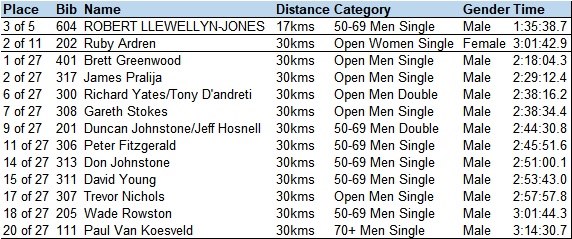 Above: Results for LCRK Members and regular TTers