The Harbour Racing Series offers paddlers new to open water unique courses in the lower risk racing environment of enclosed harbour and lake waters. Long courses are generally between 14 and 18kms, while short courses are between 8 and 12kms.
The 2022 series will run on the first weekend of the month between May and October.
Race 1 - Pittwater Challenge, Sunday 1st May
Race 2 - The Iron Cup, Sunday 5th June
Race 3 - Newy Harbour Classic, Sunday 3rd July
Race 4 - Dolls Point Classic, Sunday 7th August
Race 5 - Brisbane Waters Open, Saturday 3rd September
Race 6 - Hacking Classic, Saturday 1st October
20 Groynes - Sun 9 Jan 2022
by Naomi Johnson

I've decided that 2022 is the year of living dangerously, at least in terms of my paddling and choppy water. I want to try some new races and new experiences, with the only caveat being that I'll need to borrow a ski each time. With this in mind, I told Gareth Stokes from Sutherland Shire that of course I'd be up for the 20 Groynes on Sunday 9th January…as long as he could organise me a boat! A race whose policy is "Arrive – Paddle – Beer – Leave" looked like a great start to the 2022 season.
The event challenges solo paddlers or teams to complete as many laps of a 4km Botany Bay circuit as possible in four hours, paddling parallel to the beach and past a number of the bay's iconic groynes. Needless to say, groyne humour was a key part of the day, with fastest solo male and female paddlers awarded King and Queen of the Groynes, and one of the SSCC relay teams naming themselves 'Unused Groynes'.
Doll's Point at 7:15am on the day was a tad overcast, with a certain blusteriness to the wind and water that looked choppy rather than terrifying. I elected to paddle Gareth's V10L, having previously borrowed them from Alanna and Rich for various harbour and Hawkesbury paddles. While most paddlers were heading out on some form of ski, Jason Han was gearing up to paddle an OC1 and Gareth had accepted the challenge to do one lap of the course in a K1! Thoughts of a Le Mans-style start where paddlers have to run to the water with their boat were quickly scrapped, and we all sat in the shallows waiting for the starting horn.
A little pack confusion about direction on the initial lap saw Mike McKeogh from Cronulla Sutherland gain an early advantage by heading immediately left towards the bay, while the rest of the field seemed to be heading out first before a sharp turn. Not that any of us were going to catch Mike anyway! Gareth was surprisingly not far behind, making the conditions look very easy indeed in his regular marathon K1. A little behind, I rounded the first Groyne chasing some other skis and trying to settle into the messy chop.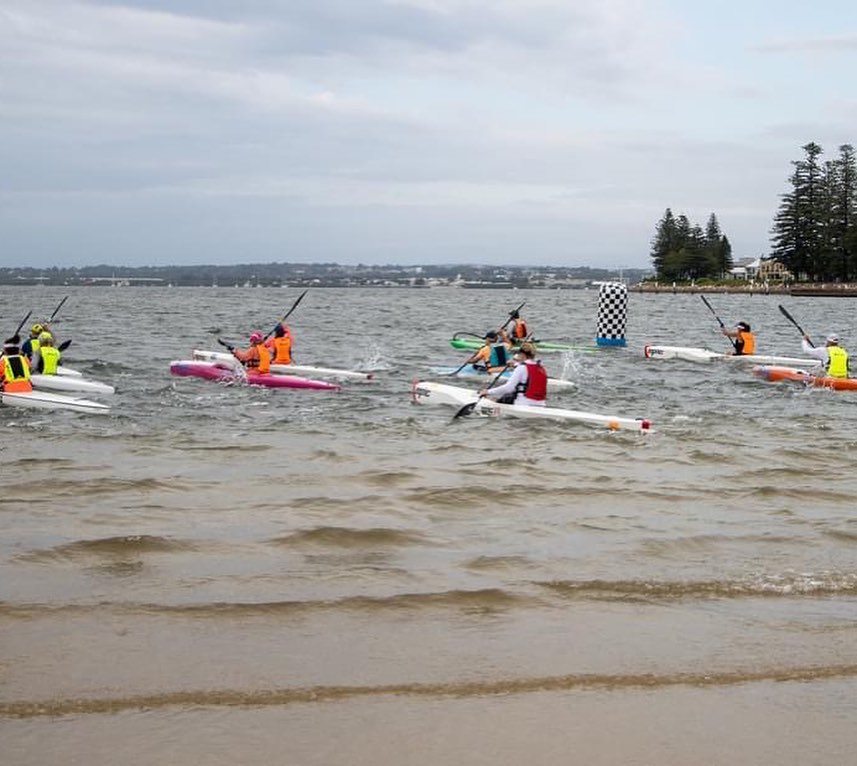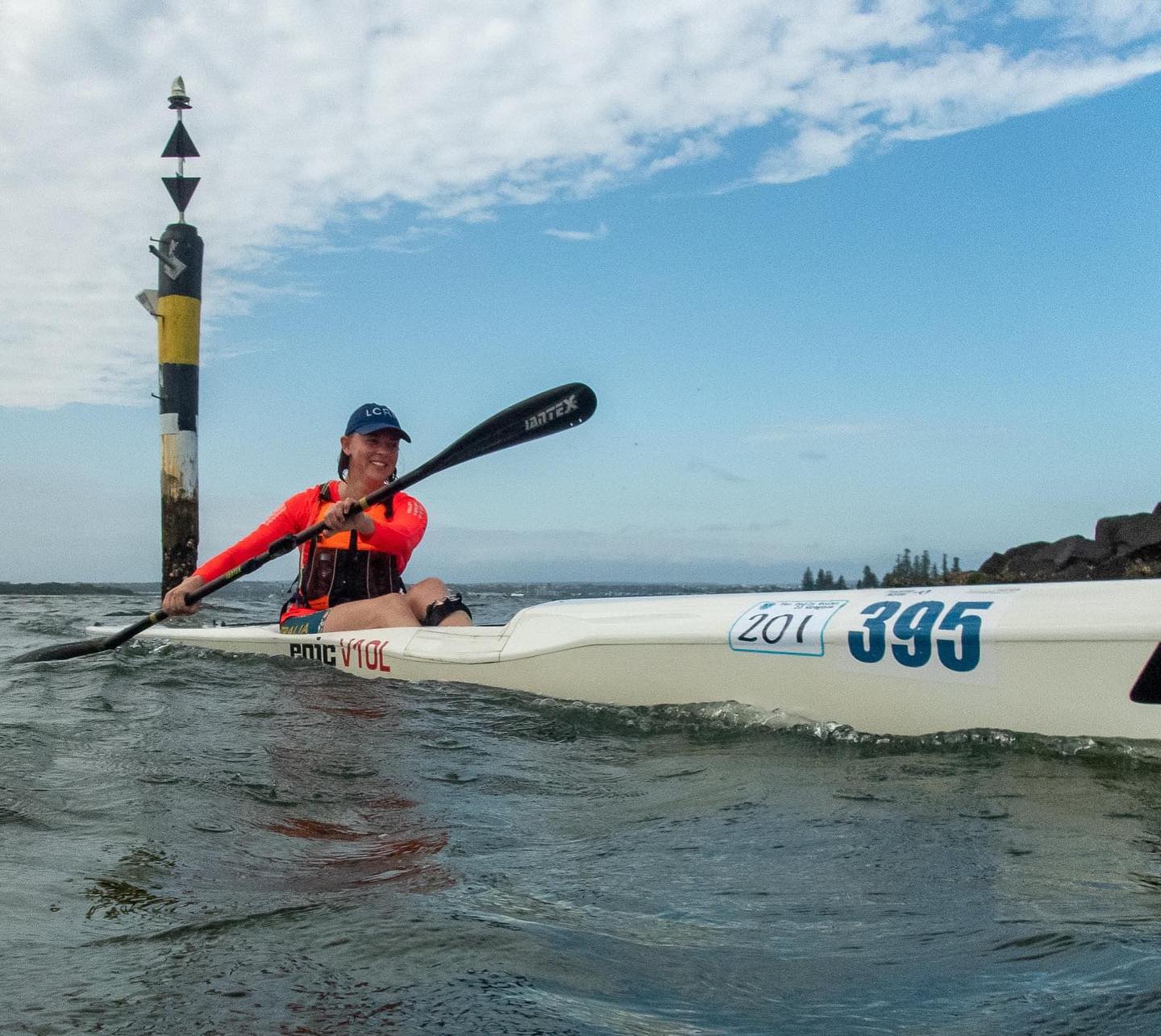 Up to the yellow buoy, around and back into the headwind, I soon realised that I wasn't at risk of falling in, but that this paddle was going to be a lot more tiring than 30-odd kms at Lane Cove in my K1. Just exceeding 10kph in one direction, the way back was looking demoralizingly like a maximum speed of 8kph if that. I resolved that maintaining a steady rhythm that didn't try to put too much power into any one stroke was key. Stanna, stationed on a ski beside the first groyne, was snapping artsy pictures with a camera held low down to the water while also cheering us all through the lap. I reminded him the wind was supposed to die down as the day progressed – "you're not the first person to say that" came the reply.
My second realisation was that dealing with food packaging is a little different to on flatwater. The apricot bar that I decided to tuck into about 2hrs in (I probably should have thought about eating earlier) was not to be accessed while sitting out in the waves, and I ended up taking an impromptu pit stop on the beach with a view through to the relay change-overs. Gareth sidled up in the third boat I'd seen him paddle for the day to ask if I was ok, promptly advocating for pulling off for a beer if I was in any way inclined. Kathleen, who had been completing laps just a tad slower than I was and was also paddling solo, sidled past, so soggy apricot bar it was to fuel the catch.
The final hour and a half were tougher going; I certainly hadn't eaten consistently enough and was starting to feel a tad nauseous from either the chop or my focus on rock solid core engagement. Thankfully, it looked like everyone else was feeling it too because the 'well done-s' and 'keep it up-s' each time one boat passed another were definitely on the rise. Coming up the back end of my final lap, I realised Mike was trying to squeeze yet another one in, but thankfully I really didn't have the time!
I managed 32kms in 3h48, earning me the auspicious Queen of the Groynes 2022 trophy and title, and a very welcome beer! While I was in bed by 7pm that evening, the race was a fab start to broadening my paddling horizons in 2022, and it would be great to see more LCRK paddlers taking on the challenge next year. SSCC and Doll's Point Paddlers run an event with just the right combination of challenge and fun (and beer), never take themselves too seriously, and are generous with their boats and encouragement alike.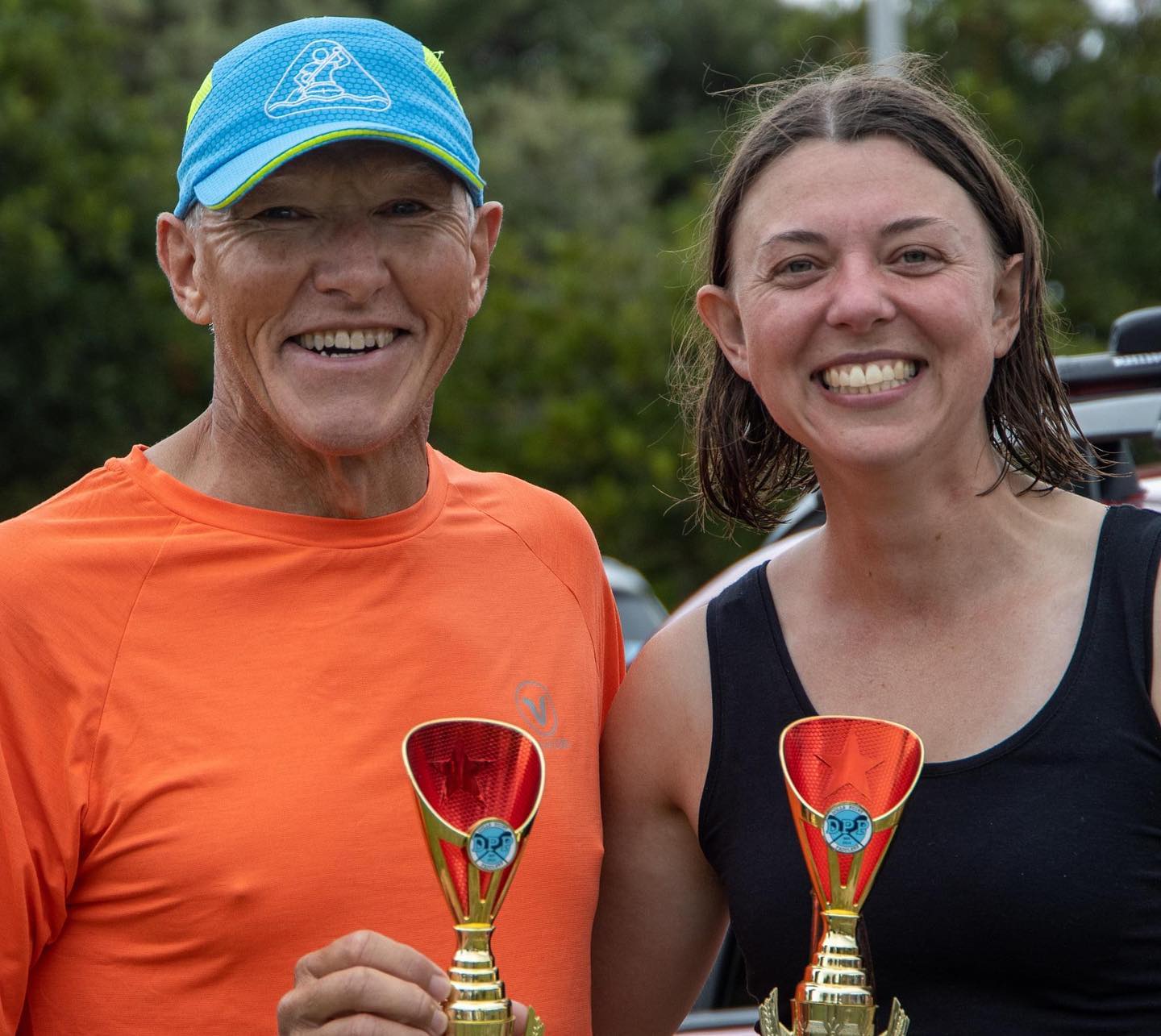 Above: Amongst royalty - King & Queen of the Groynes