The Harbour Racing Series offers paddlers new to open water unique courses in the lower risk racing environment of enclosed harbour and lake waters. Long courses are generally between 14 and 18kms, while short courses are between 8 and 12kms.
The 2022 series will run on the first weekend of the month between May and October.
Race 1 - Pittwater Challenge, Sunday 1st May
Race 2 - The Iron Cup, Sunday 5th June
Race 3 - Newy Harbour Classic, Sunday 3rd July
Race 4 - Dolls Point Classic, Sunday 7th August
Race 5 - Brisbane Waters Open, Saturday 3rd September
Race 6 - Hacking Classic, Saturday 1st October
Newy Harbour Classic - 3 July 2022
Race 3 of the 2022 PaddleNSW Harbour Racing Series is the Newy Harbour Classic, hosted by Newy paddlers on Sunday 3rd July 2022 – Carrington Beach, Tully Drive, Carrington NSW
Early Bird entries close Monday 27 June, final entries close Wednesday 29 June
Race Check-in: 7am to 8:15am - Please bring your ID.
Race Start:
8:25am Division 1 – Open Long Course (Wave 1)
8:27am Division 2 – Intermediate Long Course (Wave 2)
8:30am Divisions 3 & 4 – Short Course (Inc SUP) (Wave 3)
Site Plan and Course Maps - watch the amazing drone course guide at link above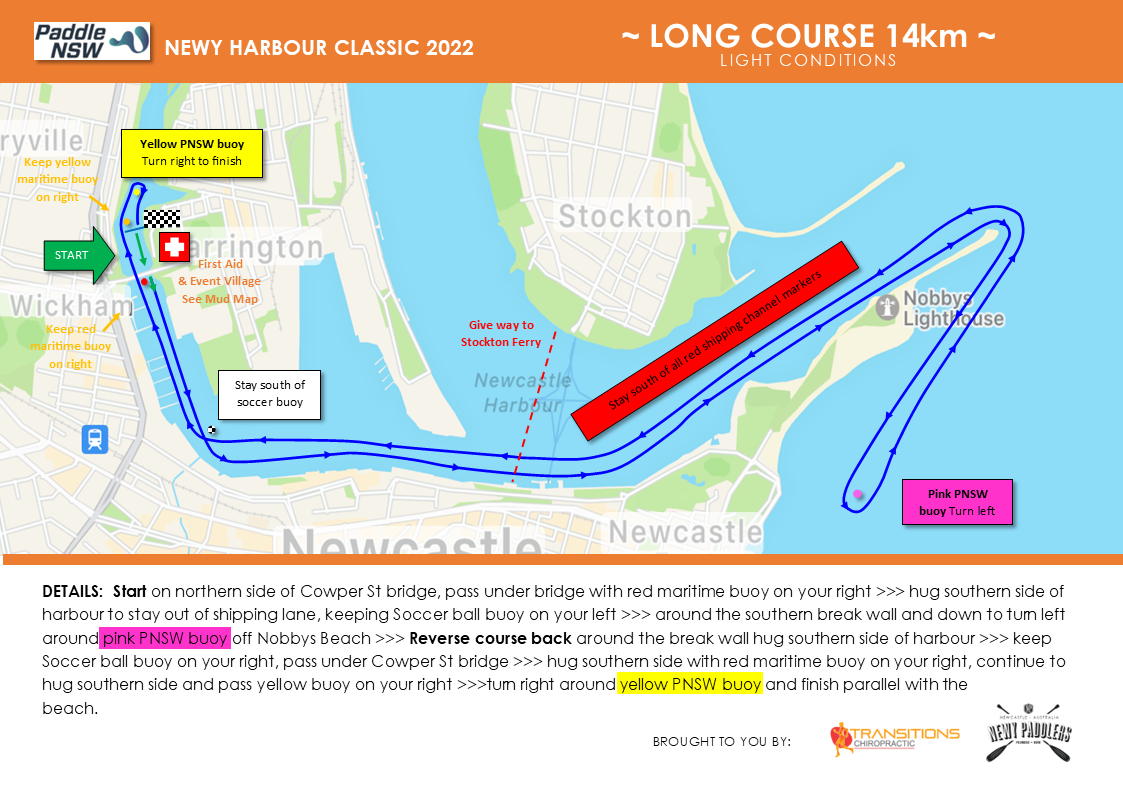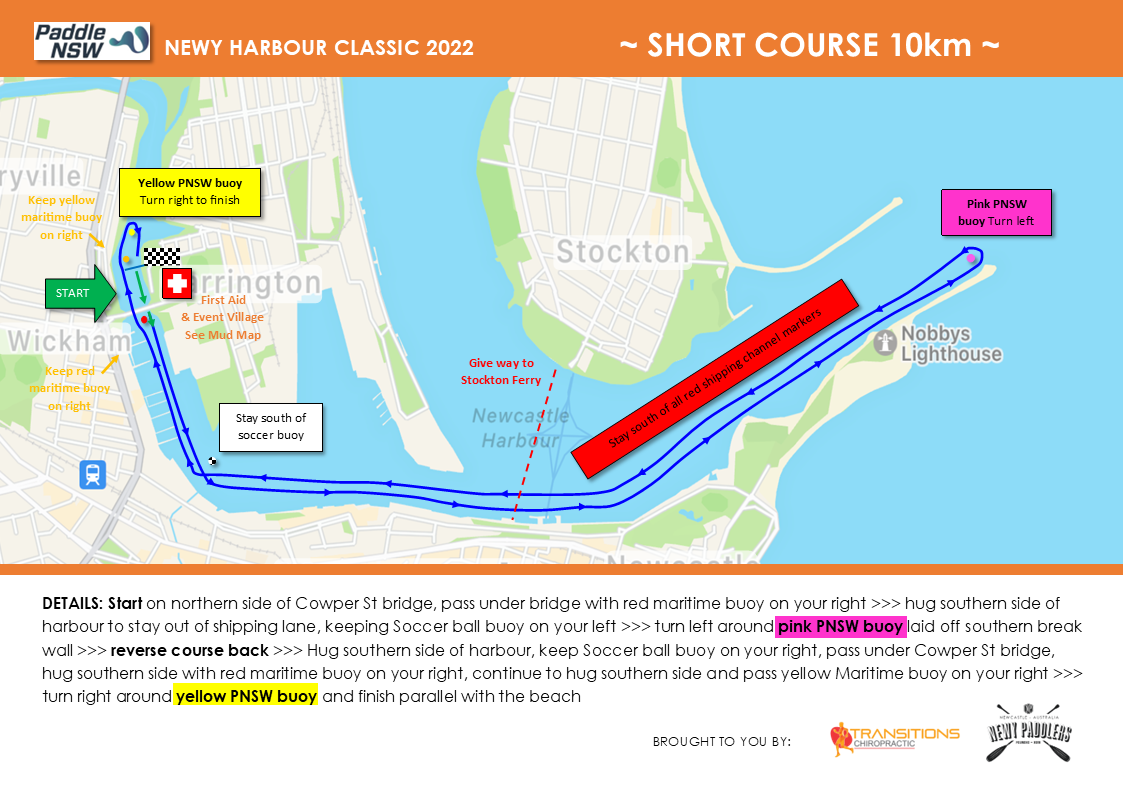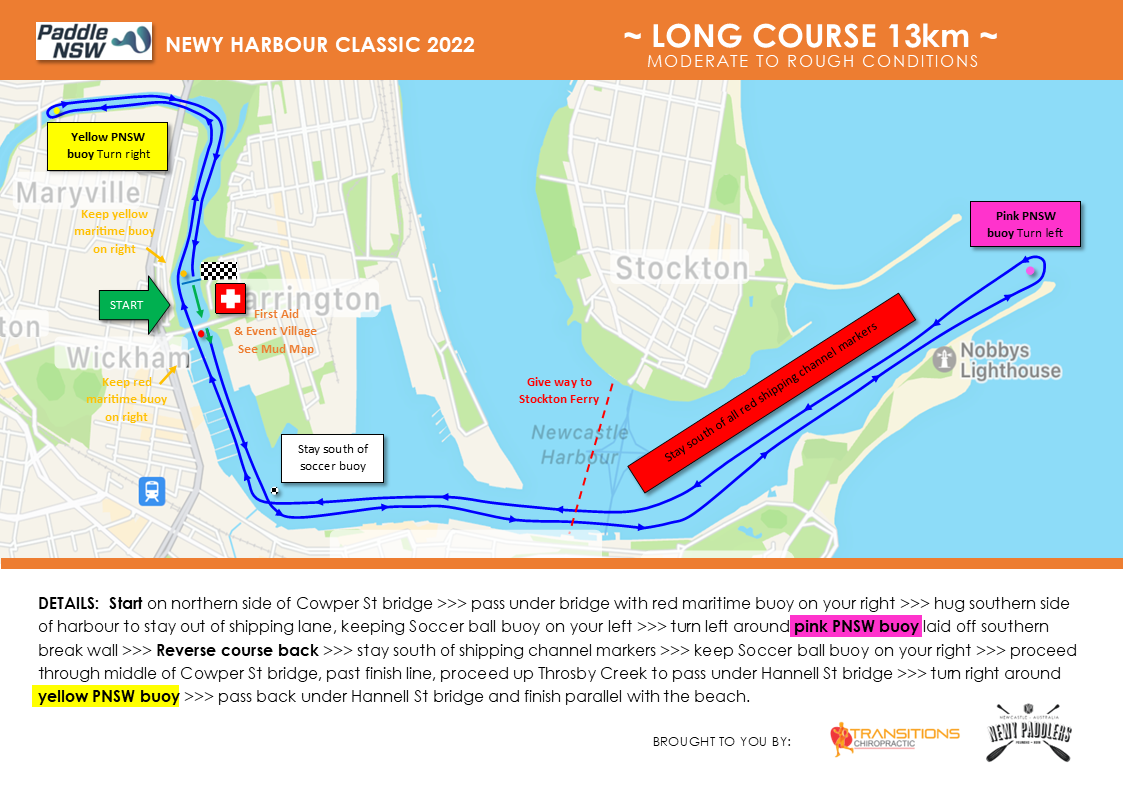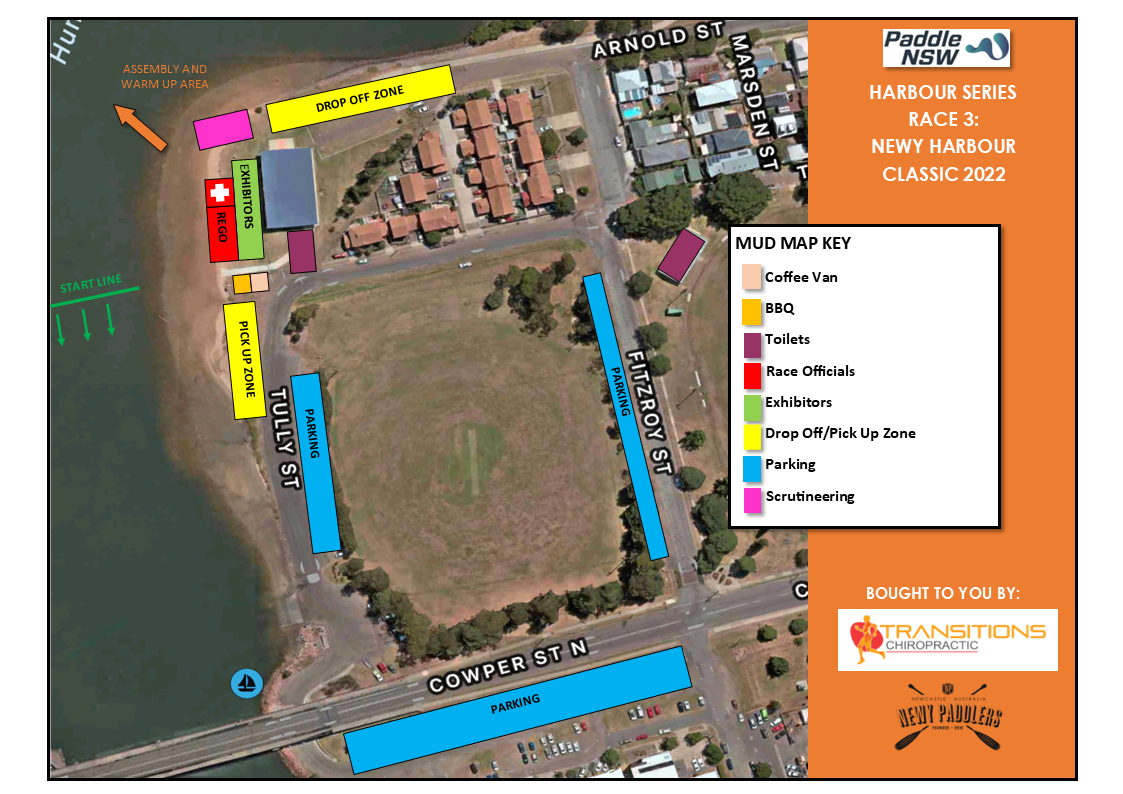 Iron Cup - 5 June 2022


Above: Results for LCRKers
Location: Salton Reserve, St George's Crescent, Drummoyne NSW
Early Bird entries close Monday 30 May, final entries close Wednesday 1 June
Race 2 of the 2022 PaddleNSW Harbour Racing returns to Drummoyne for The Iron Cup, hosted by Pacific Dragons.
Race Check-in: 7am to 8:15am
Briefing via email and on-site (Covid permitting) at 7:50am
Race Start:
8:25am Division 1 – Open Long Course (Wave 1)
8:27am Division 2 – Intermediate Long Course (Wave 2)
8:30am Divisions 3 & 4 – Short Course (Inc SUP) (Wave 3)

Pittwater Challenge 29 Apr 2022 REPORT
Tingira Challenge. 9th April 2022 REPORT
from Tim Hookins
After weeks of rain and the event being delayed by a week because of bad weather, Saturday dawned with a bit of sunshine and a lot of shiny happy faces at the Tingira Reserve, Rose Bay. The ever-present Rozanne Green was there to direct people to registration in the Yacht clubhouse where, breaking with tradition, they were handing out lucky door prizes at the beginning, not at the presentation. Good thinking!
There was a briefing on the sandy flat in front of the start buoys but when the short course starting hooter went no-one moved. The competitors had to be shooed off like chicks scared to leave the nest! The course started from in front of the Tingira Reserve to the seaward side of Shark Island and then clockwise around the buoys to near Watsons Bay. The turn was at Village Point in front of Parsley Bay at the outer mark and then home. Same for the long course but the long course paddlers had to turn round a buoy in front of the start/finish line and then go directly back to Village Point for a second lap. There were quite good little runs from Bottle and Glass Point back into Rose Bay and people riding those managed to get a little advantage there.
Our first boat home was Dave Coward paddling the double with Suzie Rhydderch. They were 8th home in a time of 1:09:14 just 2 minutes and 42 seconds behind Casey Haynes the winner. Young Casey paddles at Wollongong and is ripping things up this season. To illustrate how good Dave and Suzie's effort was, they were ahead of John Diggin who has won the event in previous years and the evergreen Tommy Woodriff. Both these two are paddling really well this year.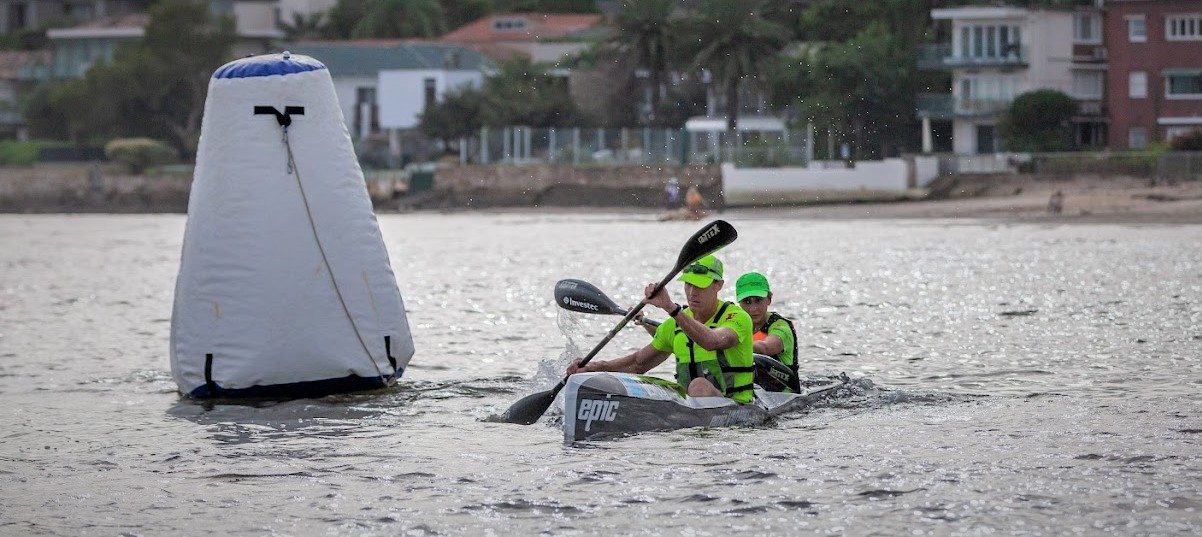 Above: Dave and Suzie round the turn. Photo - Snakey
The results for some may have been affected by the Watsons Bay ferry which hooted and stopped a group of the Long Course paddlers. They just had to stop and let the ferry through. Then of course there were those that tried to get the wash ride of the ferry!
Our first single once again was Mark Hempel who was 16th overall in a time of 1:12:40 just 6 minutes 12 seconds behind the winner. Next from Lane Cove was Peter Conway in 33rd position and Ben Hackett 37th out of 71 long course finishers. Then was Tim Hookins in 64th place in a time of 1:30:45. Tim managed to come in ahead of 7 other paddlers and was second in the over 60s category.
The short course featured our Jeff Collins who came in 9th in a time of 44 minutes and 36 seconds. He probably deserved to be higher up the order except that a bunch of Shark Island Paddlers including Jezza Spear elected to do the short course because they were managing the event!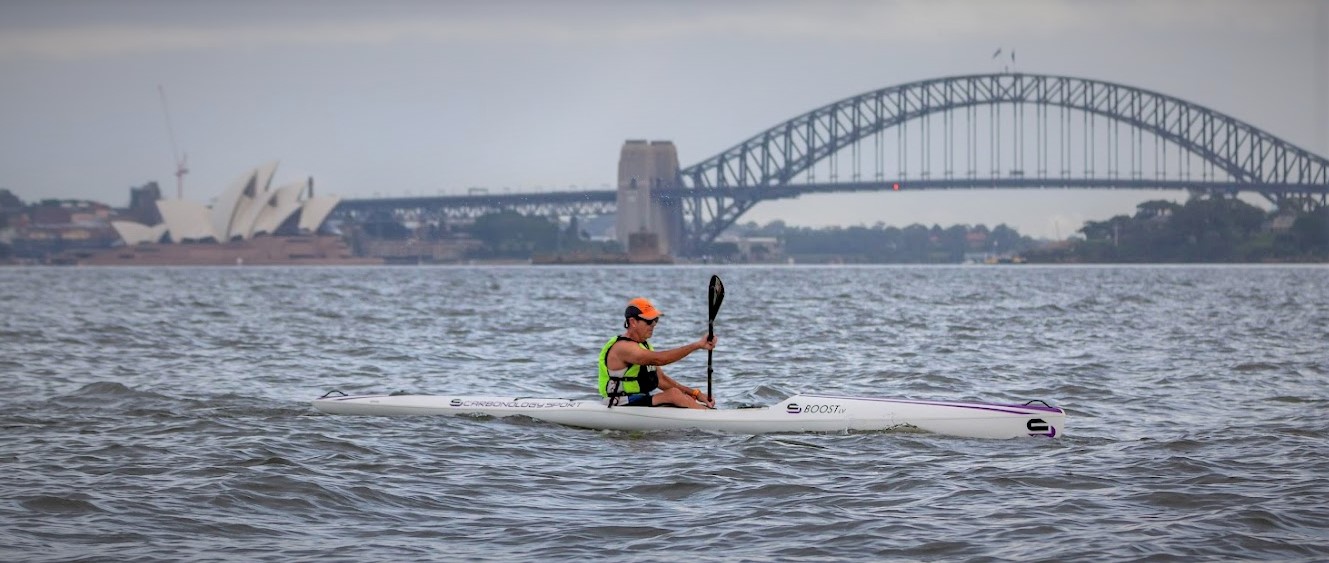 Above: Jeff positions himself for the SOH and SHB. Photo - Snakey
There were twenty finishers in the short course. The short courses of events like this and the Mosman Marathon are excellent opportunities to get your ski out in the open water and extend your skills especially if you are a bit apprehensive of progressing beyond the river.
Another improvement to the series made by the Shark Island Paddlers was the dropping of the "Intermediate" course entries. Everyone doing the long course was in the same result section. This is the way it should be. The Intermediates have done exactly the same course as the Open Paddlers.
The event now features a lot of silverware trophies and sponsorship prizes which were distributed to grateful paddlers. The Shark Island Paddlers including people like Rozanne Green, Jezza Spear and many others were out there in force and ran the event impeccably. Our thanks to them.
Mosman Marathon - 26 Feb 2022 REPORT
Race Report by Tim Hookins
The rain was pelting down in the hours before the start but that wasn't going to deter the 153 entrants to the Mosman Marathon held in perfect but very rainy conditions. The start was at about 8am on Saturday 26th February at Middle Harbour Yacht Club.
With the rain pouring down the briefing was held in the new Sandbar restaurant of the yacht club and the paddlers were sent on their way in three starts: First the 20k intermediates including all types of craft, then the 20k open and finally the 10k short course paddlers. All starts included the doubles.
See attached short and long course maps. The start was a belter across to Grotto Point, round Washaway Beach to Dobroyd Head and then across to Middle Head. This was where the less experienced started to slow down! The chop and sideways swell made the flat-water paddlers grit their teeth and concentrate for a few kilometres until they got beyond Georges Head. Then flat-water specialists got ahead on the flat up to a buoy just before Bradley's Head. Then back the same way. Those comfortable in the chop had their revenge once again between Middle Head and Dobroyd Head as they were able to ride the chop and sideways waves. By the time we finished the rain was gone and it all seemed as though it had never been there.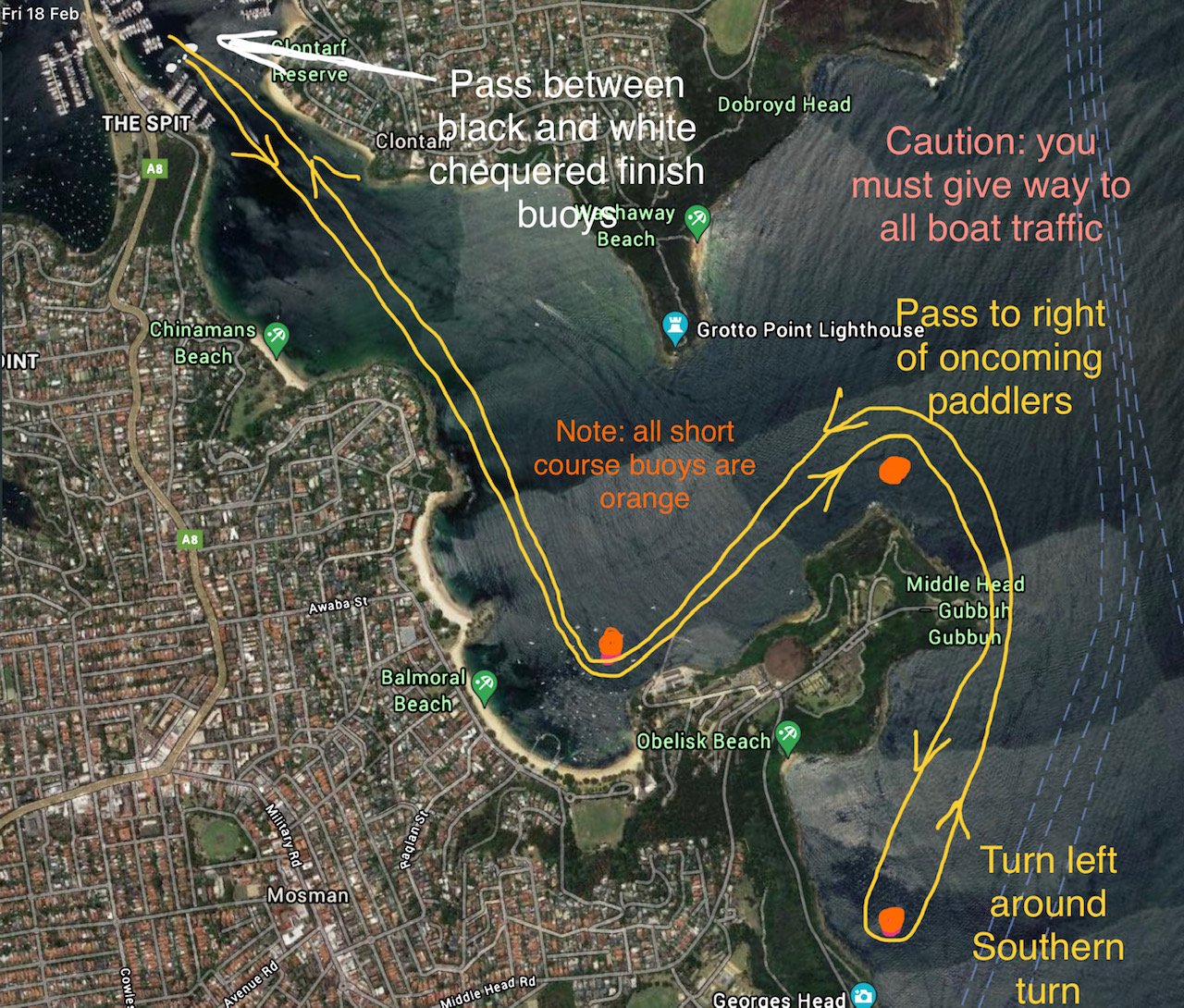 Above: Short course
There were quite a few doubles who came in early. Our James Harrington partnered up with Bruno Colos to come in third across the line in a time of 1:24:07, four minutes and 20 seconds behind the winners. The first single ski was John Diggin, known to many in Manly-Warringah as a taciturn but competitive paddler.
Once again our Mark Hempel was the quickest from Lane Cove. He came in 14th out of 96 who did the long course. Mark's performance out in the rougher stuff is constantly improving. Next from Lane cove was Craig Hutchinson in a time of 1:37:50, then Craig Macfarlane 1:40:24. David Young and Allison Bilbow modestly entered in the intermediate division and came in in the very acceptable time of 1:42:00. They of course won the intermediate division but would still have been 34th out of 72 in the open division.
Peter Conway came in next in a time of 1:43.55 followed by Don Johnstone in 1:48.40 and Tim Hookins rounded off the Lane Cove contribution in a time of 1:54:34. You might think this was a slow time, but Tim was ahead of 20 other paddlers.
Also in the mix were some mixed doubles (LCRKers and friends!) including Suzie Rhydderch and Dave Coward 1:27:59 and Jeff Collins 21st in the short course in a double with Tracey Work in 53:35.
The atmosphere of the event was very upbeat especially at the presentation by Ed who is one of the Sydney Harbour Surfski Club coaches among other things. The SHSC folk are a rowdy lot and the organisation led by Luke Hordern put on a seamless event in difficult circumstances. The race was jointly hosted by SHSC and Manly Warringah Kayak Club. Peter Grimes the President of MWKC and Luke Hordern of SHSC were the joint race directors. Vaikobi race gear were the sponsors of the event and handed out a lot of cool gear featuring their new sunglasses as lucky door prizes.
Last week I forgot to mention Tom Burke, a new member of Lane Cove who took 18th spot at the Bridge to Beach in a time of 53 minutes and 48 seconds. This put him in 111th spot overall in a very competitive field and only about 4 minutes behind Mark Hempel our Lane Cove leader. Well done Tom!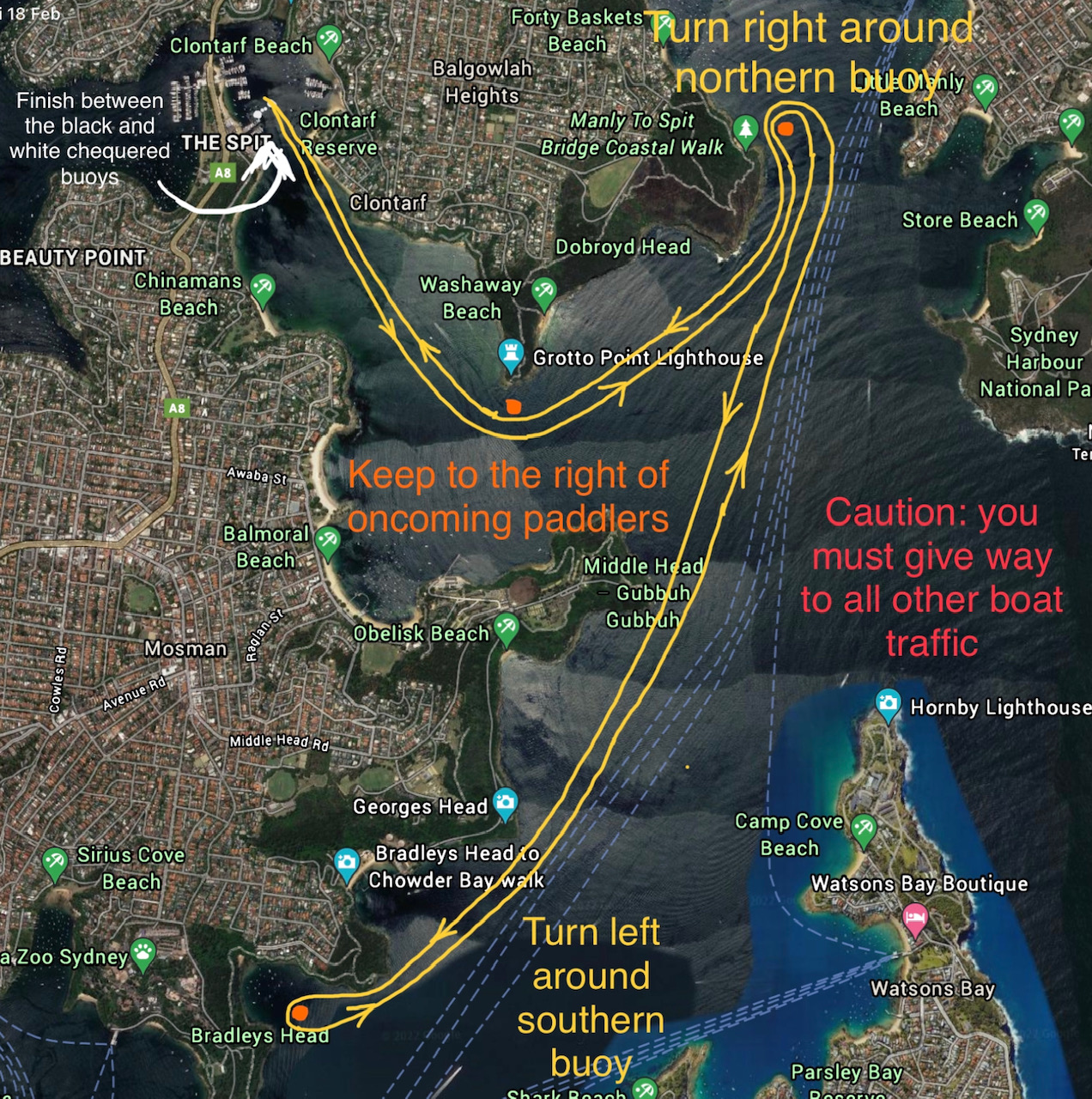 Above: Long Course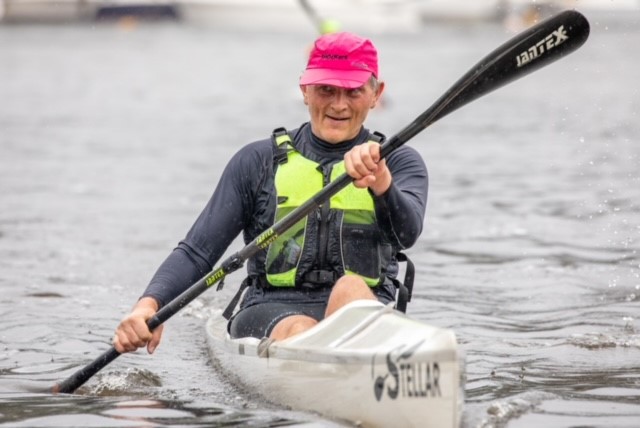 Above: Don Johnstone photo: Allan Coker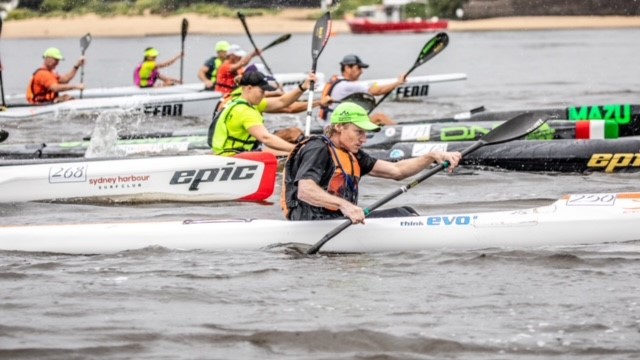 Above: Pete Conway photo: Allan Coker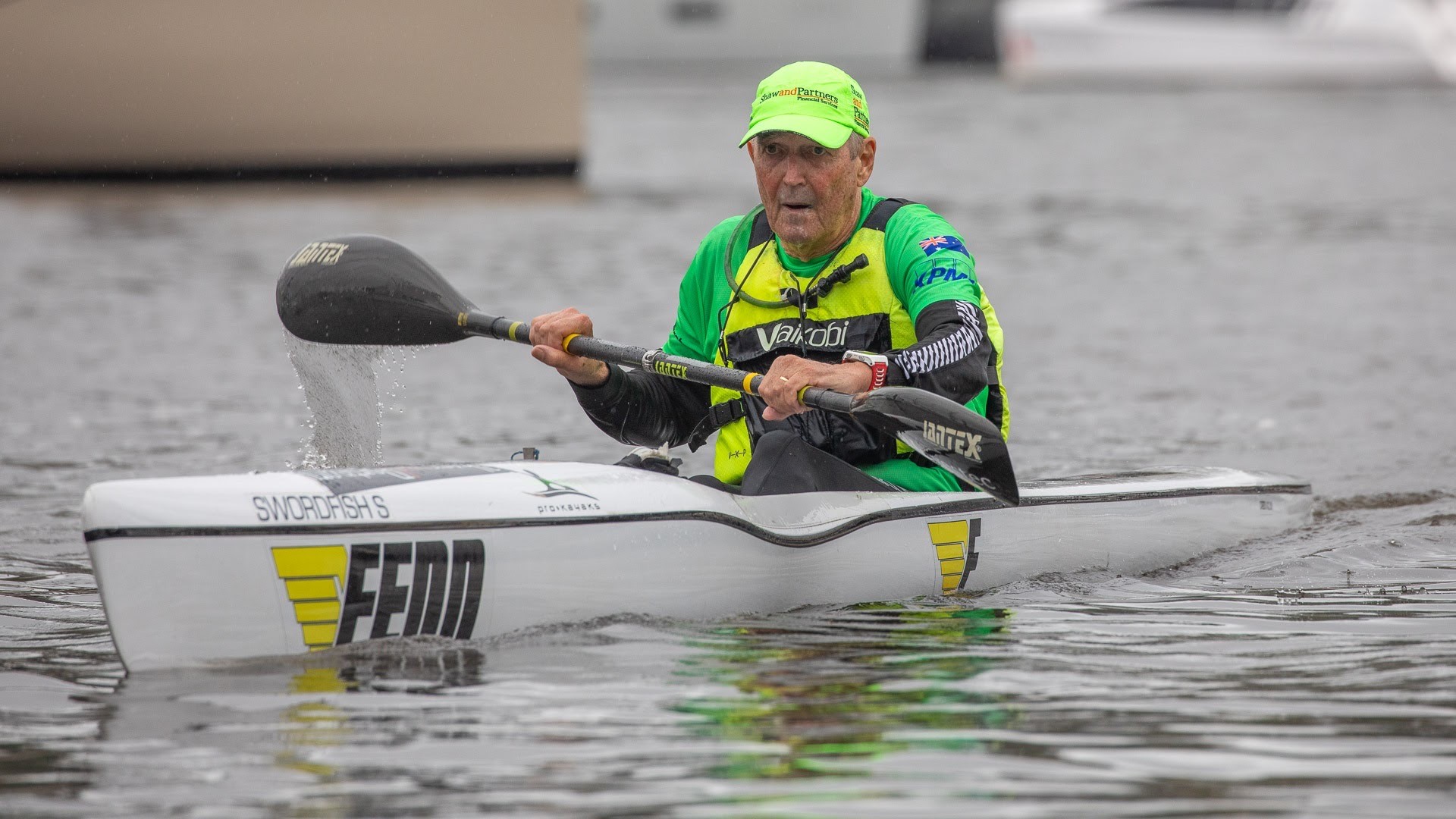 Above: Tim Hookins photo: Allan Coker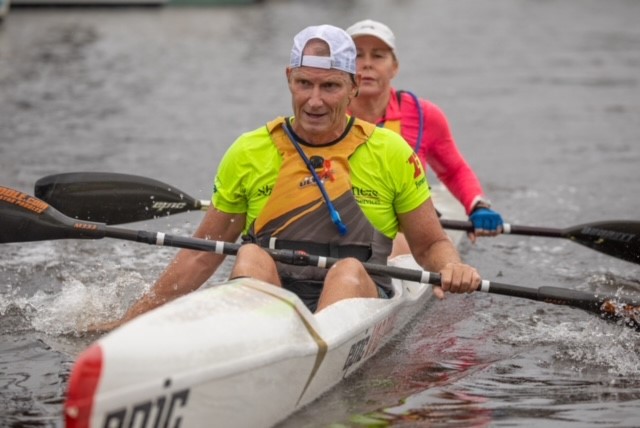 Above: David Young/Allison Bilbow photo: Allan Coker
Bridge to Beach - 20 Feb 2022 REPORT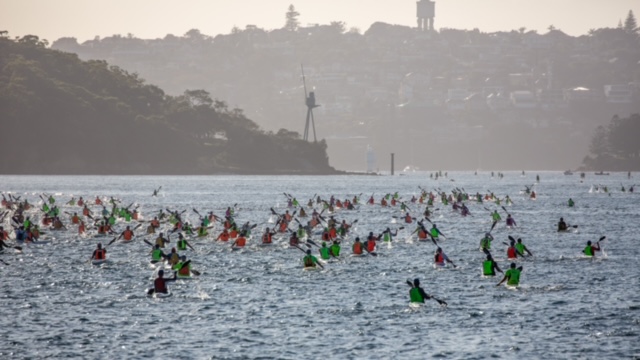 Race Report by Tim Hookins
The 2022 Manly Wharf Bridge to Beach Race was held last Sunday 20th Feb on a glorious sunny morning with a light breeze blowing in the paddlers faces as they paddled down Sydney Harbour.
The race, featuring 351 skis, sups, paddleboards and a kayak, started in Kirribili Bay at just after 8am with nine paddlers from Lane Cove competing. The course took us round Bradley's Head, past Middle Head and finished on the little beach of Manly Wharf.
Our quickest was Mark Hempel who came in 51st overall but a very creditable seventh in the highly competitive over 50 men's ski class in a time of 49 minutes 24 seconds. Our next was David Young who came 10th in the over 60s and in 169th overall in a time of 56 minutes and 39 seconds.
The water was pretty calm with some nice little ripples starting from Georges Head that could be run down every now and then.
It was an event attended by the best ocean paddlers in Australia, many of them travelling from Queensland where they all seem to have congregated on the Gold Coast. The winner of the Open Men's ski was Tom Norton who hails from Tassie in a time of 42.26 followed by young local Luke Morrison, 43.03, and third was world surfski champion Cory Hill in a time of 43.10. He was quite unfazed at being beaten into third spot.
The quickest in the Open Women's class was Danielle McKenzie in a time of 46.29, only 4 minutes slower than the winning men's single. She came in 21st overall!
Jeff Bannerman called out to me just before the start saying he had been out on the harbour but has not been seen at Lane Cove for a few years. He came in 174th but 43rd in the men's open in a time of 56.49.
Naomi Johnstone put in a gritty 57.56 to come in 8th in the Open women and 199th overall. She was followed one second later by Liberty and Matt Blundell, Team Pro-Kayaks, in a mixed double in 57.57. They were in 199th and 200th places respectively.
Don Johnstone came in in 58.43, in 211th overall and 166th in the men's ski open class. Next was Tim Hookins in 60.47 followed by Tom Simmat in 68.41. Tim and Tom were 2nd and 3rd respectively in the over 70s category, both podiumites.
Also in the fray was Peter Fitzgerald 41st in double with Dave Smurf Smith 48:44 (7th double), Tom Burke 110th 53:48, Justin Ryan 118th 54:15.
The race was run by Dean Gardiner of Oceanpaddler supporting the FragileX association. It is a great event for starting ocean or harbour racing, shortish, and with a lot of rescue boats looking on.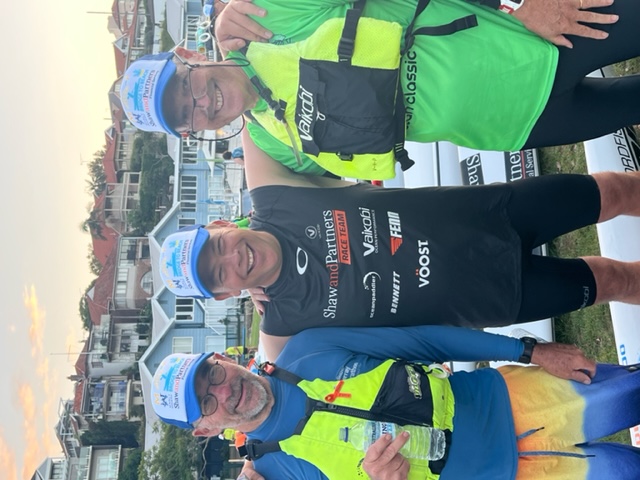 Tom, Tim & Pete Langley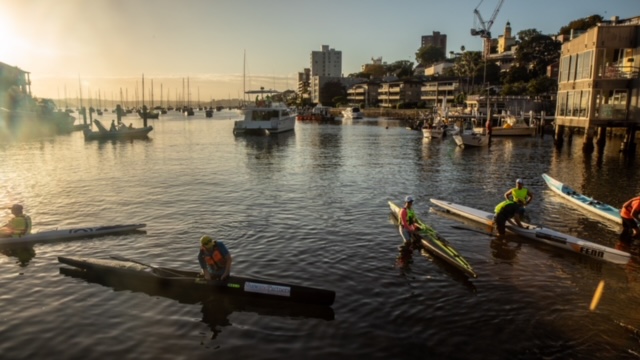 Palm Beach Pursuit
Race report - anyone?
Cockatoo & Cupcake Cup - 26 Jan
Race report - anyone?
20 Groynes - Sun 9 Jan 2022
by Naomi Johnson

I've decided that 2022 is the year of living dangerously, at least in terms of my paddling and choppy water. I want to try some new races and new experiences, with the only caveat being that I'll need to borrow a ski each time. With this in mind, I told Gareth Stokes from Sutherland Shire that of course I'd be up for the 20 Groynes on Sunday 9th January…as long as he could organise me a boat! A race whose policy is "Arrive – Paddle – Beer – Leave" looked like a great start to the 2022 season.
The event challenges solo paddlers or teams to complete as many laps of a 4km Botany Bay circuit as possible in four hours, paddling parallel to the beach and past a number of the bay's iconic groynes. Needless to say, groyne humour was a key part of the day, with fastest solo male and female paddlers awarded King and Queen of the Groynes, and one of the SSCC relay teams naming themselves 'Unused Groynes'.
Doll's Point at 7:15am on the day was a tad overcast, with a certain blusteriness to the wind and water that looked choppy rather than terrifying. I elected to paddle Gareth's V10L, having previously borrowed them from Alanna and Rich for various harbour and Hawkesbury paddles. While most paddlers were heading out on some form of ski, Jason Han was gearing up to paddle an OC1 and Gareth had accepted the challenge to do one lap of the course in a K1! Thoughts of a Le Mans-style start where paddlers have to run to the water with their boat were quickly scrapped, and we all sat in the shallows waiting for the starting horn.
A little pack confusion about direction on the initial lap saw Mike McKeogh from Cronulla Sutherland gain an early advantage by heading immediately left towards the bay, while the rest of the field seemed to be heading out first before a sharp turn. Not that any of us were going to catch Mike anyway! Gareth was surprisingly not far behind, making the conditions look very easy indeed in his regular marathon K1. A little behind, I rounded the first Groyne chasing some other skis and trying to settle into the messy chop.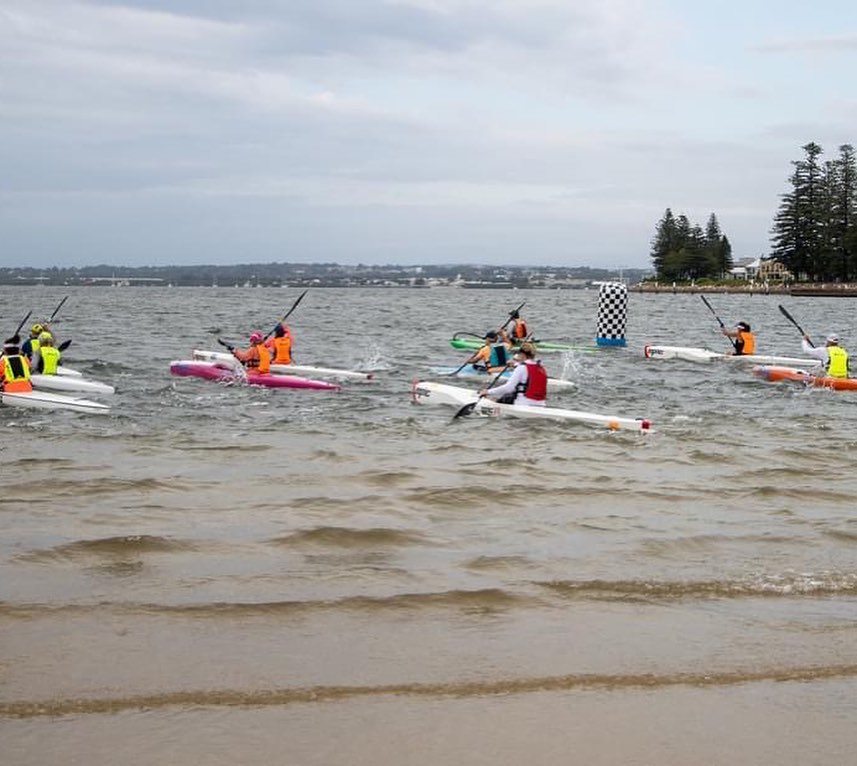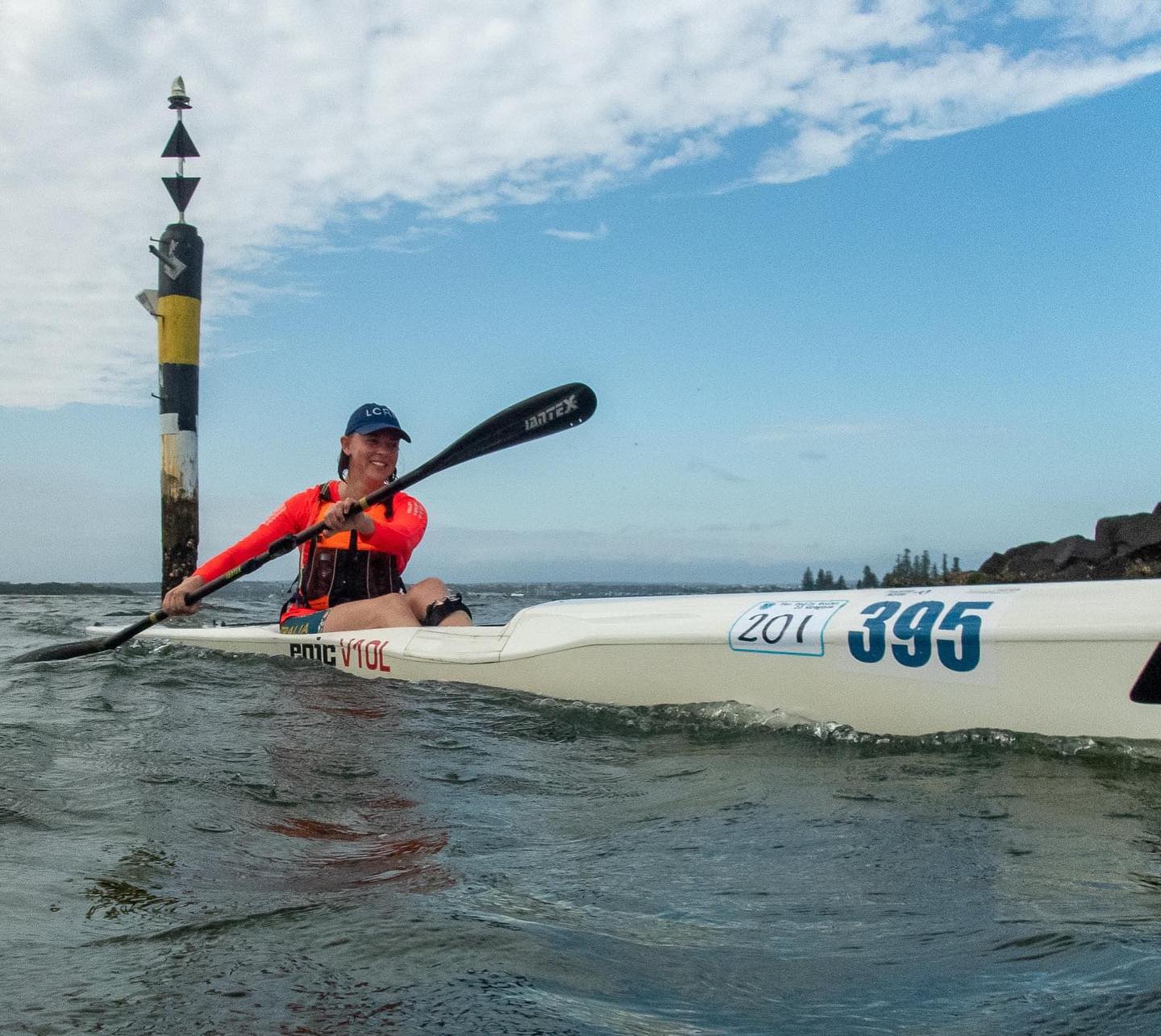 Up to the yellow buoy, around and back into the headwind, I soon realised that I wasn't at risk of falling in, but that this paddle was going to be a lot more tiring than 30-odd kms at Lane Cove in my K1. Just exceeding 10kph in one direction, the way back was looking demoralizingly like a maximum speed of 8kph if that. I resolved that maintaining a steady rhythm that didn't try to put too much power into any one stroke was key. Stanna, stationed on a ski beside the first groyne, was snapping artsy pictures with a camera held low down to the water while also cheering us all through the lap. I reminded him the wind was supposed to die down as the day progressed – "you're not the first person to say that" came the reply.
My second realisation was that dealing with food packaging is a little different to on flatwater. The apricot bar that I decided to tuck into about 2hrs in (I probably should have thought about eating earlier) was not to be accessed while sitting out in the waves, and I ended up taking an impromptu pit stop on the beach with a view through to the relay change-overs. Gareth sidled up in the third boat I'd seen him paddle for the day to ask if I was ok, promptly advocating for pulling off for a beer if I was in any way inclined. Kathleen, who had been completing laps just a tad slower than I was and was also paddling solo, sidled past, so soggy apricot bar it was to fuel the catch.
The final hour and a half were tougher going; I certainly hadn't eaten consistently enough and was starting to feel a tad nauseous from either the chop or my focus on rock solid core engagement. Thankfully, it looked like everyone else was feeling it too because the 'well done-s' and 'keep it up-s' each time one boat passed another were definitely on the rise. Coming up the back end of my final lap, I realised Mike was trying to squeeze yet another one in, but thankfully I really didn't have the time!
I managed 32kms in 3h48, earning me the auspicious Queen of the Groynes 2022 trophy and title, and a very welcome beer! While I was in bed by 7pm that evening, the race was a fab start to broadening my paddling horizons in 2022, and it would be great to see more LCRK paddlers taking on the challenge next year. SSCC and Doll's Point Paddlers run an event with just the right combination of challenge and fun (and beer), never take themselves too seriously, and are generous with their boats and encouragement alike.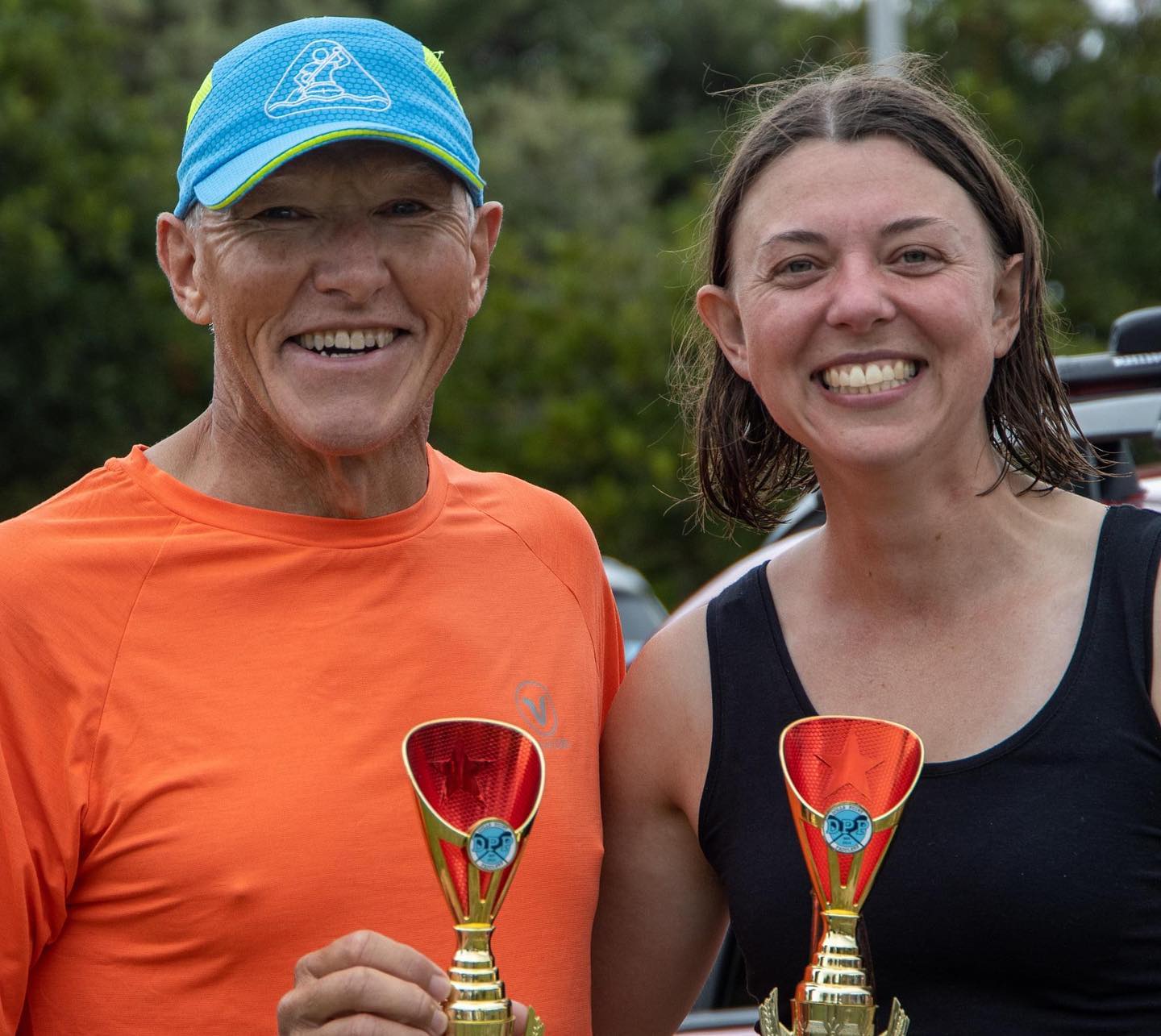 Above: Amongst royalty - King & Queen of the Groynes