Page Navigation:
Lane Cove River Kayakers are building a team (40+ boats) to tackle the 2018 HCC
With a long history supporting the event and with LCRK holding a good number of the HCC race records, we are very keen to again put in a strong performance. If you are contemplating taking on the event, then think about joining the Lane Cove River Kayakers team.
Our weekly 6:30pm time trials (6/9/12km) give you invaluable night time paddling experience,
Members have access to (free) organised HCC training paddles covering the HCC course and other courses.
Members include experienced HCC, marathon and ultramarathon paddlers - willing to share, advise and motivate. A series of HCC Workshops are provided after some of our Wed night Time Trials.
LCRK has a wealth of HCC information/tips/and resources built over many many years.
LCRK will be providing support crew and Club camaraderie at the various scheduled stops of the HCC.
The Hawkesbury Canoe Classic primarily supports the Arrow Bone Marrow Transplant Foundation, and every LCRK entry and the associated fundraising activity helps this great cause.
HCC Dates: Saturday 27 and Sunday 28 October 2018
'The Classic' was Started by NSW Outward Bound Ex Students Association in 1977. It now always runs overnight at the end of October (to fit with school terms) starting at Windsor and finishes at Mooney Mooney. In 1977 the race had 250 paddlers and raised $8,500 for the Arrow Foundation. In 2016 the 40th anniversary of the race, some 500 paddlers took part with fundraising approaching $200,000. Those paddlers just wanting to have a fun and social evening can enter the Brooklyn or Bust or Dash classes whilst the more competitive paddlers challenge themselves to beat previous records or their own PB's.
 


Above: LCRKers Paddlers and Support Crew at the 2017 HCC 



HCC 2018 Tides and Weather and Moon
The conditions for 2018 (at least from a moonlight and tide perspective) are likely to see a high tide at Windsor at ~16:00 on Sat 27 Oct, a low tide at Wisemans Ferry at 19:30 in the evening noting the current change will have a bit of a lag [please check this for yourself!]. There'll be a big moon rising (~10pm on Saturday) and the tides will be correspondingly high.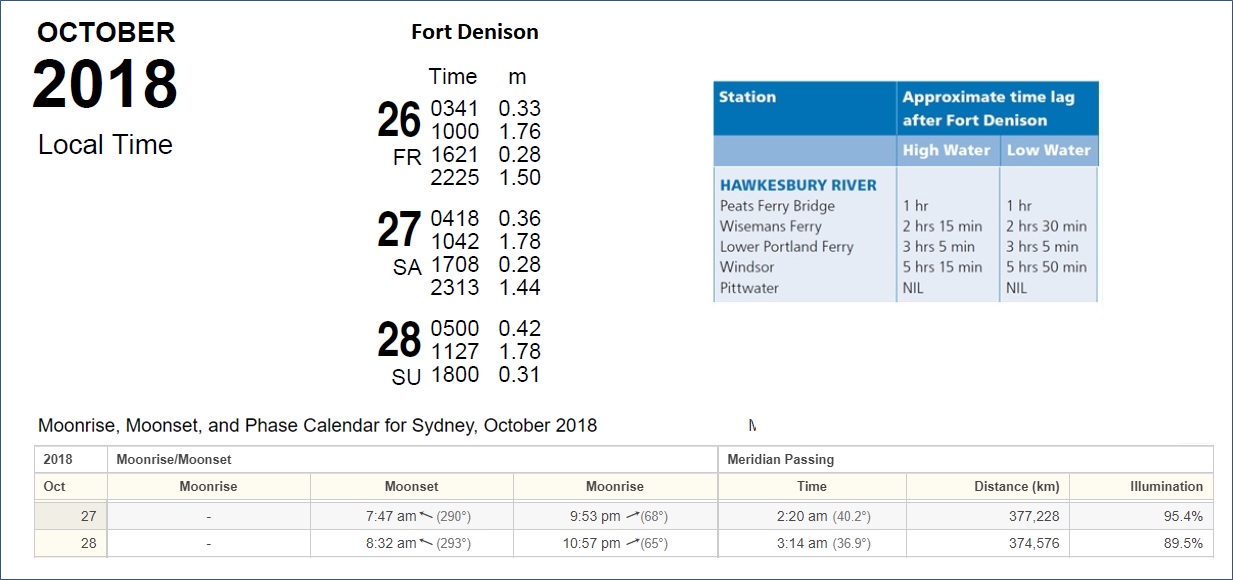 Above: 2018 tides and moon (weather tba)
Club Support
LCRK Training Paddles
LCRK always provides a series of training paddles to prepare for the HCC. The set below are ALL on sections of the Hawkesbury River. The early starts are aimed to pretty much match the tidal conditions you will experience on the Hawkesbury - and get a head start avoiding too much river traffic (ie powerboats etc).
Sunday 29th July - Sackville to Wiseman's. Briefing: 7:00am First Start: 7:30am.
TIDE Sackville 07:15am LOW

Sunday 19th August - Mooney Mooney to Spencer Return. Briefing: 7:00am First Start: 7:30am.
TIDE: Moooney 9:12am HIGH

Sunday 2nd September Windsor to Sackville. Briefing: 6:30am First Start: 7:00am. Even this start is going to make it difficult to get to Sackville before the turn.
TIDE: 05:30am HIGH 12:15pm LOW and Sackville 10:20 LOW 16:50pm LOW (Tide with us if we start early enough)

Sunday 7th October Wiseman's to Spencer. Briefing: 7:30am First Start: 8:00am. Later start will allow for longer trip from Spencer to Wiseman's. Can we get trailer onto the Ferry????
TIDE: 09:53 HIGH 4:03pm LOW and Spencer 08:48am HIGH 2:43pm LOW

To register interest for these - see Duncan Johnstone or Rich Yates at the Shed - and/or keep an eye out for specific comms.
At Windsor - From 10am to 5pm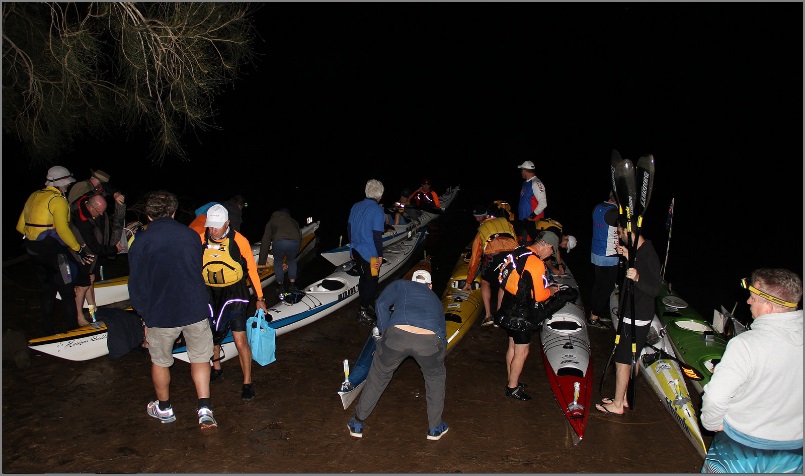 Above: Wisemans Ferry Support. Photo Jana Osvald 2015
LCRK Marquee for shade and meeting point
Club shirts and caps for sale
Issue of LCRK tokens for ID at Wisemans BBQ
Issue paddler, start list and contact list
Experts to offer advice, smiles and positive vibes
Group photo 2:15PM (Be at the LCRK marquee at 2:10pm)
Mandatory race briefing is at 2:45pm
Marquee will be moved to Wisemans at 5pm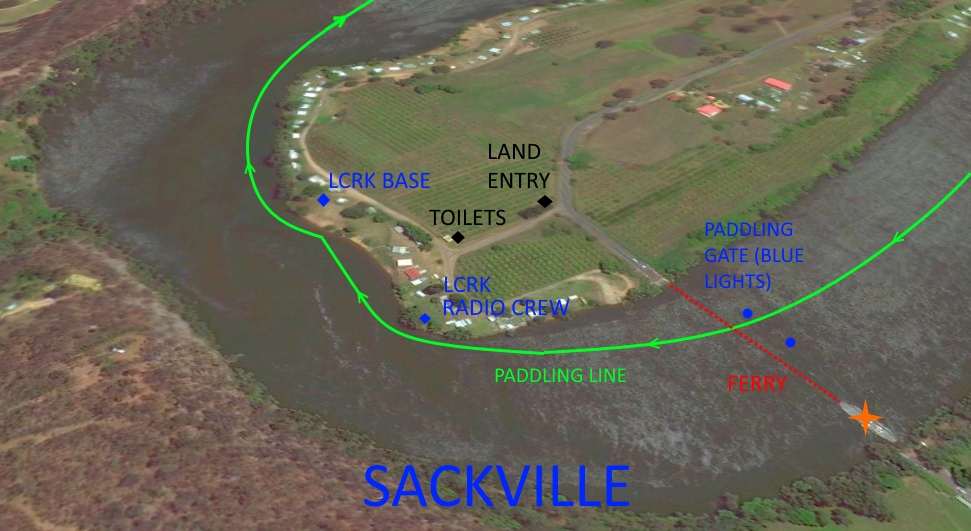 At Sackville - from 6:30pm until last LCRK paddler through
Radio warning to your land crew of your approach
Illuminated LCRK sign to identify our shared meeting point
Shared land crew support in landing and re-launching each paddler
Informal tracking of LCRK craft passing through\\Reminder to paddlers to check out at 2nd Sackville checkpoint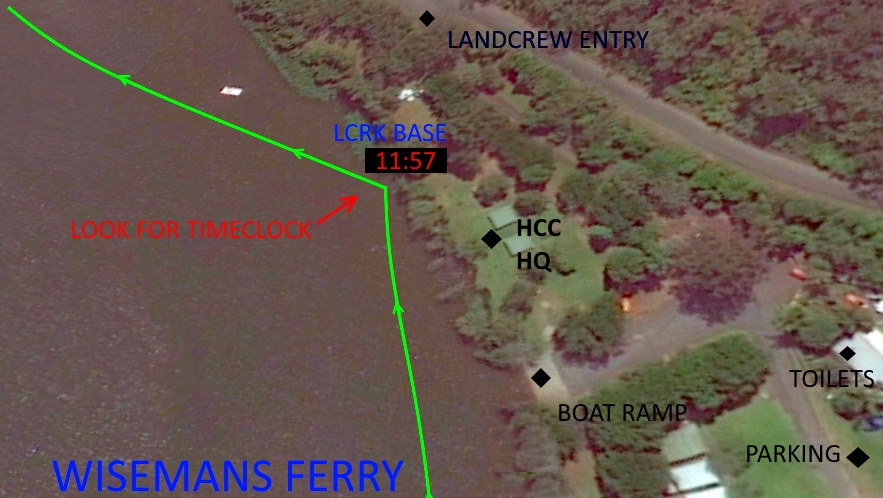 At Wisemans - from 8:30pm until last paddler through
LCRK meeting point 40 metres downriver from main launching ramp (see photos below - look for the red electronic timing board used for our Time Trials)
LCRK marquee
Free catering for LCRK land crew and social HCC paddlers (thanks Andrew MacKay and Joanne!)
Informal tracking of LCRK craft passing through
Club support for land crews in landing and re-launching their paddlers
Reminder to paddlers to check out at 2nd Wiseman's checkpoint.
Low Tide Pit-Stop
If you need a last stop on your down-river run and succumb to the "sirens", you will, as usual, be offered smiles, "mud angel" landing and re-launching services, sometimes "paddle through" service; fire for warmth; smiles; hot food and drink; and more smiles - this is not a club facility but a wonderful service volunteered annually to all participants. Remember the location this year is about half a kilometre upstream from its former spot shown on the maps –it is at a boat ramp (= less mud!)
Preparation Reading
General Advice
Nutrition
Clothing
Stretching/Injury Prevention
Landcrew Advice
Maps & Planning
Garmin GPX Track
HCC.zip Unzip, copy into your Garmin, and set to visible using garmin menu.
For planning and safety purposes please note: The HCC is not 111km, it is actually 100km. Also, it does not finish at Brooklyn, it finishes at Mooney Mooney (Deerubbin Reserve)
LCRK members past and present currently hold over 20 class records.
| Boat | Class | Name | Year | Time |
| --- | --- | --- | --- | --- |
| K1 | Vet60+ | Tom Simmat | 2009 | 11:09:12 |
| K1 | Ladies Vet60+ | Ann Lloyd Green | 2016 | 13:57:29 |
| K2 | Vet50+ | Bruce Goodall, Jeremy Spear | 2014 | 9:33:57 |
| K4 | Ladies | Margaret Cook, Merridy Huxley, Buzz Powell, Sandra Burwood | 2006 | 9:29:40 |
| K4 | Mixed Vet40+ | Margaret Cook, Merridy Huxley, Warren Huxley, Bernard Craggs | 2008 | 10:07:36 |
| K4 | Mixed Vet50+ | Margaret Cook, Merridy Huxley, Warren Huxley, Rob Cook | 2010 | 10:18:23 |
| K4 | Ladies Vet50+ | Our Rae Duffy with Merridy Huxley, Dee Ratliffe and Clare McArthur | 2013 | 10:53:59 |
| TK1 | Ladies | Margaret Cook | 1985 | 10:44:49 |
| TK2 | Ladies Vet40+ | Margaret Cook, Merridy Huxley | 2003 | 10:46:04 |
| Short Rec | Vet50+ | Tom Simmat | 2007 | 9:58:35 |
| Short Rec | Vet60+ | Tom Simmat | 2012 | 10:35:24 |
| Med Rec | Open | Toby Hogbin | 2010 | 9:18:22 |
| Med Rec | Ladies Vet50+ | Rae Duffy | 2012 | 10:55:09 |
| Med Rec | Vet60+ | Tom Simmat | 2010 | 9:54:05 |
| Long Rec | Open | Bruce Goodall | 2000 | 9:37:50 |
| Long Rec | Ladies Vet50+ | Liz Winn | 2008 | 10:59.33 |
| Long Rec | Ladies Vet60+ | Ann Lloyd-Green | 2013 | 14:02:57 |
| Long Rec | Vet50+ | Bob Turner | 2014 | 10:02:49 |
| Long Rec | Vet60+ | Tom Simmat | 2011 | 9:59:07 |
| Long Rec 2 | Mixed | Kristy Benjamin & Bob Turner | 2012 | 8:58:02 |
| Rec 2 | Vet40+ | Kenji Ogawa, Genkai So | 2000 | 10:36:34 |
| Long Rec 2 | Mixed Vet 50+ | Urs Mader, Arni Mader | 2007 | 10:06:20 |
| Ocean Racing Ski | Ladies Vet50+ | Roz Green | 2015 | 12:47:59 |
| Ocean Racing Ski | Ladies Vet40+ | Anjie Lees | 2014 | 11:08:12 |
| Ocean Racing Ski | Vet40+ | Brendan Trewartha | 2017 | 8:38:47 |
| Ocean Racing Ski | Vet60+ | Tony Hystek | 2016 | 9:06:32 |
| SSK2 | Mixed Vet40+ | Joy and Rich Robinson | 2015 | 9:28:31 |
| Unrestricted | Open | Toby Hogbin | 2012 | 8:18:19 |
| Unrestricted | Ladies | Julie Stanton | 2006 | 10:13:30 |
| Unrestricted | Ladies Vet40+ | Anjie Lees | 2015 | 11:41:14 |
| Unrestricted | Vet60+ | Tom Simmat | 2016 | 10:16:02 |
| Unrestricted | Vet70+ | Adrian Clayton | 2017 | 11:54:12 |
| Unrestricted 2 | Mixed Vet40+ | Bruce Goodall, Christine Lalor | 2007 | 8:57:57 |
| Unrestricted 2 | Mixed Vet50+ | Alanna Ewin, Tony Hystek | 2017 | 8:50:42 |
| Unrestricted 2 | Vet50+ | Tony Hystek, Timothy Hookins | 2007 | 8:57:00 |
| SSK2 | Mixed Vet40+ | Joy and Rich Robinson | 2016 | 9:05:38 |
HCC - The Whiddon Trophy (Fastest Time)
2009 Matt Blundell
2010 Matt Blundell
HCC - Participation (incl 2016)
| Completed | Name |
| --- | --- |
| 35 or more | Richard Barnes |
| 20 or more | Kenji Ogawa |
| 15 or more | Margaret Cook, Don Rowston, Merridy Huxley, Peter Fitzgerald, Tom Simmat, John Duffy |
| 10 or more | Martin Dearnley, Bruce Goodall, Rob Vallis, Warren Huxley, Urs Mader, Derek Simmonds |