Report compiled by Naomi Johnson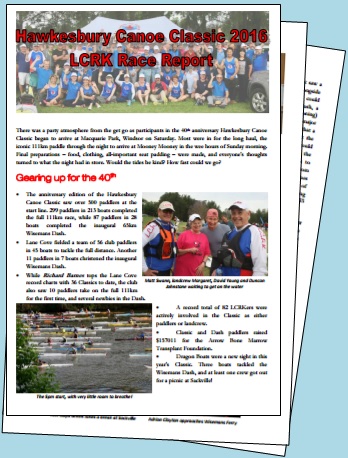 You can download the FULL HCC Race Report in two parts:
or read on below to see a subset of the content.
A few links....
The Lane Cove Turnout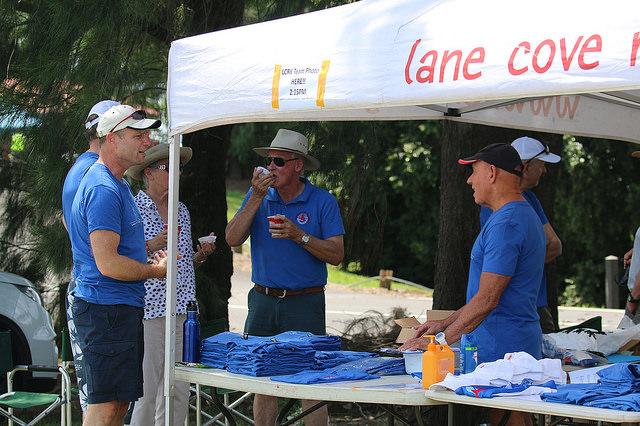 Above: Landcrew and paddlers at the Lane Cove Marquee
Spirits were high on Saturday October 28th as participants and landcrew for the 41st Hawkesbury Canoe Classic made their way to Windsor. Warm and sunny, with the river looking almost glassy, weather conditions at least seemed almost perfect for the 111km race into the night. Yet with final preparations being made, the niggling question for many was the tides. How would we fare in a mental battle with the incoming water? And just how muddy could Wiseman's get?
It's no secret that numbers were down for the 41st Classic, both in the race overall and those paddling for Lane Cove. Yet it was a night of high spirits, beautiful conditions and lots of encouragement from other paddlers...if you could find them on that massive river of course!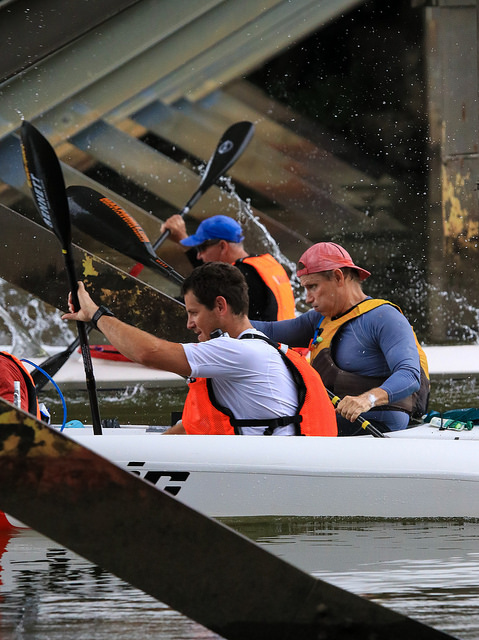 Above: David Y clears the bridge in the 4:45pm start
Lane Cove fielded a strong team of 37 paddlers in 29 boats, with 17 crafts paddling competitive classes, 11 paddling Brooklyn or Bust and Elke van Ewyk the Wiseman's Dash. Three records were broken, and six boats completed the race within an hour of the record time. Yet it was without a doubt the strength in numbers both on and off the water that secured the Commonwealth Bank Cup for the second year in a row!
Lane Cove landcrew were out in force at all the checkpoints and even selected photo spots in-between. 2017 might be remembered as the year of the grand prix-style boat fixes, with landcrew securing footplates and replacing rudders to ensure that paddlers could get back on the water.
2017 was also the year that one double became a triple, and another became a single. Phil Newman and Bob Kenderes paddled a double canoe in the BoB2 category, with Emma Ridgeway along for the ride in the middle. Meanwhile Kenji Ogawa and Justin Paine set off together, but when Justin withdrew at Sackville Kenji decided to press on and complete the Classic alone...still in the double kayak!
Wonderful Volunteers
It's official, Lane Cove has the best volunteers and the best landcrew. From those who set up marquees at the crack of dawn to those who stayed at Mooney Mooney until dawn the next morning. Those who sponged out the boats at Sackville, who pulled us out of knee-deep mud at Wiseman's Ferry, and then threw us back into it to finish the race we'd started. Who fixed rudders, forced us to eat the food we said we'd eat, and didn't once question our sanity in undertaking such a crazy event.
Paddling the Classic is hard work, but you made it a fantastic and much easier night. Thank you!
HCC Organising Committee: Roger Deane, Richard Barnes
Equipment and transport: (both HCC and LCRK): Tony Hystek with Oscar Cahill
HCC direct volunteers: Mark Sier, Derek Simmonds, Margaret Heine and more
Photos and video: Jana Osvald, Tom Holloway, Ian Wrenford, Oscar Cahill, David Young and Ruby Ardren's video
Windsor set-up, sales and decamp: Oscar Cahill, Wade Rowston, Tony Carr and several others packing up
Sackville checkpoint team: Peter Harris (coordinator), Nettie Harris, Tim McNamara, Rodrigo Matamala, Paul van Koesveld, Louise White AND Keg D'Andreti deep in the water
Sackville boat technicians: Peter Harris and Rodrigo Matamala
Wisemans set-up, lights, shelter and BBQ: Andrew and Joanne Mackay with our Action Sound team
Wisemans checkpoint team: Tom Holloway, Duncan Johnstone, Matt Swann, Oscar Cahill (again) – all mud larks – Wade Rowston as coordinator with Paul van Koesveld and Tim McNamara and others
Wisemans boat technicians: Kieran Babich and Rodrigo Matamala (again)
Wisemans masseur extraordinaire: Don Rowston
Finish line welcome, support and video: Ruby Ardren, Phil Geddes with Rodrigo Matamala (again) and others

Hawkesbury Famils: Duncan Johnstone
River guru, tactician and dark arts: Tom Simmat
General coordination, hassling and systems: Paul van Koesveld, Rich Yates and Ian Wrenford
Report author and editor: Naomi Johnson


Above: Just some of the wonderful LCRK volunteers. From left: Keg, Rodrigo & Ruby, Jana