Hawkesbury Canoe Classic 26-27 October 2019
2019 HCC Tides and Boat Choice from Tom Simmat
As of May 2019 and the publishing of Start Times:
Women singles start at 4:15pm
Women's doubles and mixed and men's singles at 5:00pm
Mens doubles 5:15pm
BUT this is subject to change.
Tides
Everyone starts WITH the tide, but the tide turns against you, generally between checkpoints B and C. there is a brief tide against you, through Snackville, then the tide turns with you; (the fast guys at about Checkpoint G and the slower guys between E and F. So somewhere about the big W. The tide is with you then through Wisemans to the finish for the fast ones and slower ones will catch the turn at about Spencer.
You need to try and finish before the tide turns near the finish at about 2:30am. That is a race time of about 10hr 45min for women and 9hr 30 min for men, otherwise you will be battling a very strong tide against you between Spencer and the finish.
So in order to avoid the second tide against you this year, pick a fast boat or a double. Stop at Sackville when the tide is against you. Do not linger at Wisemans when the tide is with you. Landcrew this year the tide at Wisemans is high and going out...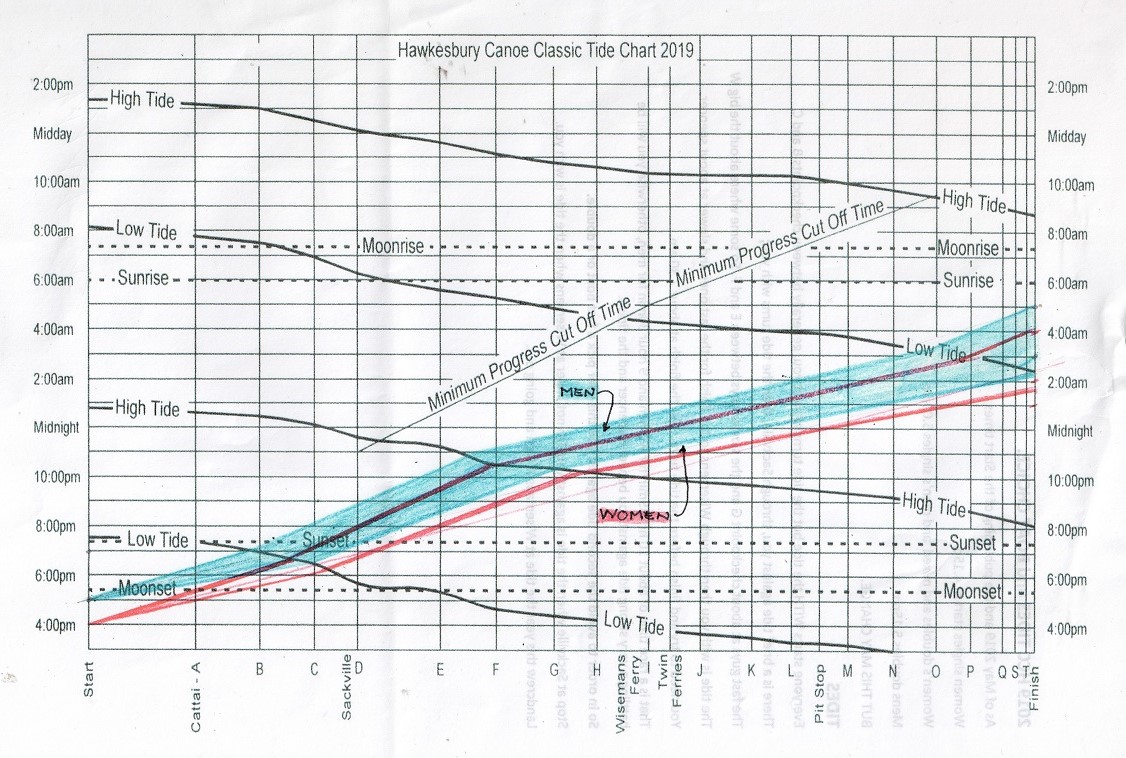 Above: Typical paddling times 4pm vs 5pm starts