Page Navigation:
HCC Dates: Saturday 29 and Sunday 30 October 2016
'The Classic' was Started by NSW Outward Bound Ex Students Association in 1977. It always runs overnight close to the full moon in late October or early November starting at Windsor and finishes at Mooney Mooney. In 1977 the race had 250 paddlers and raised $8,500 for the Arrow Foundation. In 2016 the 40th anniversary of the race, the aim is to approach previous peaks of 600 paddlers and fundraising exceeding $300,000. Those paddlers just wanting to have a fun and social evening can enter the Brooklyn or Bust or Dash classes whilst the more competitive paddlers challenge themselves to beat previous records or their own PB's.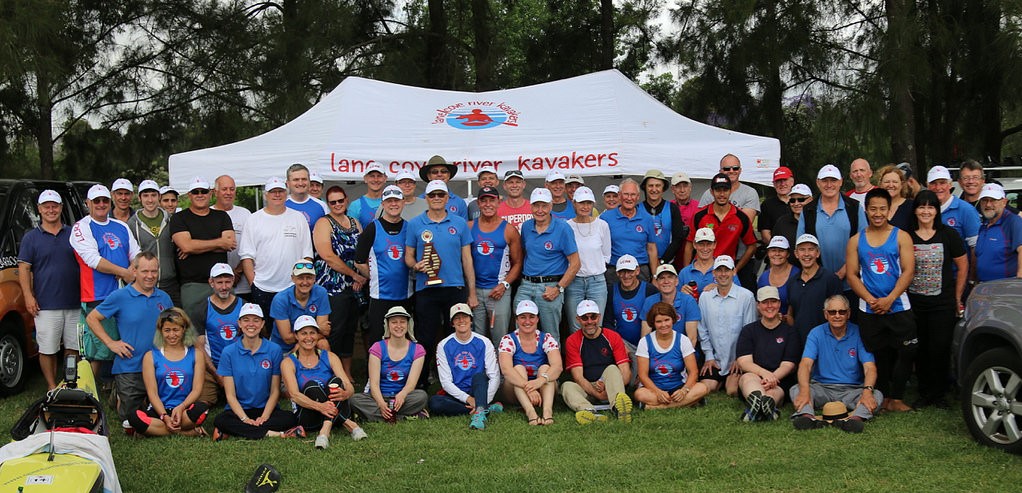 Above: Some of the LCRK participants at Windsor in 2016
Lane Cove Hawkesbury Heroes - 2016 Results
 


2016 Support jobs and volunteers
Thank you Volunteers!
Volunteer's Name
Location
Job
Comment
Naomi J
Omnipresent
Write race report
Jeff Hosnell
From Shed to Windsor
Transport club stuff from the shed
Jeff Hosnell and Tony Carr
Windsor
Set -up marquee, table, chairs etc
"We'll be setup by around 8:00am"
Tony Carr
Windsor
Sell Club caps and shirts and issue club cylumes
"Wear a white cap on the water
Get your land crew to wear a club shirt or cap"
Jana, Ian, Nigel, Oscar, David Y
Windsor
Photos
Ken Holmes, Ross Fraser, Jeff Hosnell, Tony Carr and anyone still around
Windsor
Take down marquee, clear club site, pack cars
Ken Holmes, Ross Fraser
Windsor/Wisemans
Transport marquee, table, chairs, etc to Wisemans
Louise White
Sackville
Paddler checklist and arriving paddler lookout
Good eyes and operates radio
Don Rowston
Sackville
Coordinator|Meeting point, supports LCRK sign and flag, announces paddler arrival to land crews
Peter Harris with Nettie
Sackville
Boat handling coordinator/checklist coordinator, also with radio to find landcrews
Assists land crew at beach
Jana Osvald & Oscar
Sackville
Photos
Tony Carr, Kyle Wilson
Sackville
Libero
Andrew in Tony Hystek's van
Wisemans
Direct transport
Bring clock/battery, hose, BBQ gas bottle(s), tables (2), folding chairs, urn, toolbox
Andrew, Ken and Ross
Wisemans
Setup marquee, clock, lights generators, etc. at Wisemans site
Meg Holmes & Sue Fraser
Wisemans
Paddling checklist, arriving paddler lookout, departing paddlers list
Andrew and Joanne
Wisemans
SPECIAL free catering for LCRKers
Jana Osvald
Wisemans
Photos
Ross Fraser
Wisemans
Boat Handler 1
"Mud lark" or cold water lark organising/supporting land crews
Ken Holmes
Wisemans
Boat Handler 2
"Mud lark" or cold water lark organising/supporting land crews
Kyle Wilson
Wisemans
Boat Handler 3
"Mud lark" or cold water lark organising/supporting land crews
John Greathead, Tony Walker, Sue Fraser, Tony Carr & Ian Wrenford
Wisemans
"Libero"
Coordination/Assistance across all roles until 10:30ish
Andrew and everyone still there
Wisemans
Take down and load all items
About 1am
Andrew
Wisemans to home (next day)
Transport all items
1am onward
Tim Hookins, Tim McNamara
Mooney Mooney
Club member welcome (with LCRK flag) and assistance, some video
from arrival at Deerubbin Reserve until at least after peak paddler arrival period
Jeff Tonazzi
Mooney Mooney
Photos +
1:00 am onwards
 


Above: LCRK paddlers and support crew at Wisemans Ferry. Photo Jana Osvald 2015




Club Support
At Windsor - From 10am to 6pm
LCRK Marquee for shade and meeting point
Club shirts and caps for sale
Issue of LCRK tokens for ID at Wisemans BBQ
Issue paddler, start list and contact list
Experts to offer advice, smiles and positive vibes
Group photo 2:15PM (Be at the LCRK marquee at 2:10pm)
Mandatory race briefing is at 2:45pm
Marquee will be moved to Wisemans at 6pm
At Sackville - from 6:30pm until last LCRK paddler through
Radio warning to your land crew of your approach
Lighted LCRK sign to identify our shared meeting point
Shared land crew support in landing and re-launching each paddler
Informal tracking of LCRK craft passing through\\Reminder to paddlers to check out at 2nd Sackville checkpoint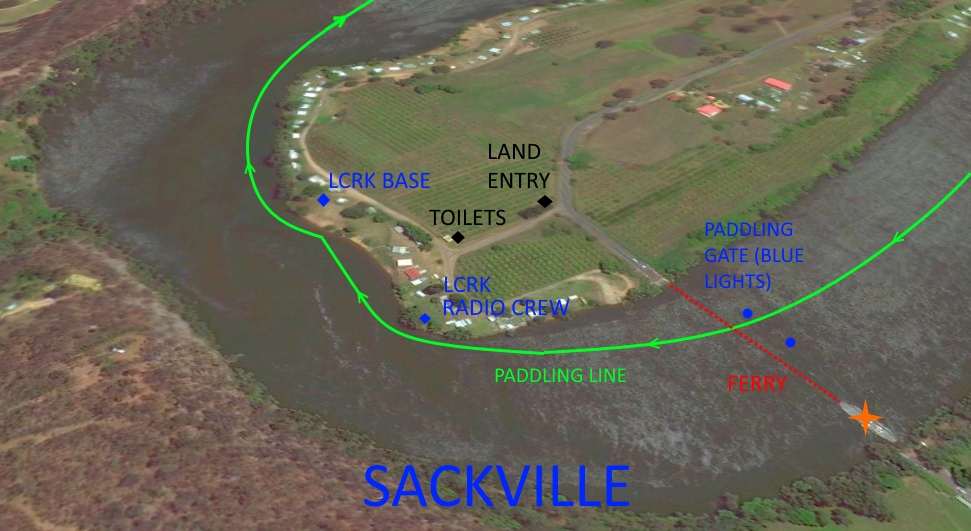 At Wisemans - from 7:30pm until last paddler through
LCRK meeting point 40 metres downriver from main launching ramp (see photos below - look for the red electronic timing board used for our Time Trials)
LCRK marquee
Free catering for LCRK land crew and social HCC paddlers (thanks Andrew MacKay!(
Informal tracking of LCRK craft passing through
Club support for land crews in landing and re-launching their paddlers
Reminder to paddlers to check out at 2nd Wiseman's checkpoint.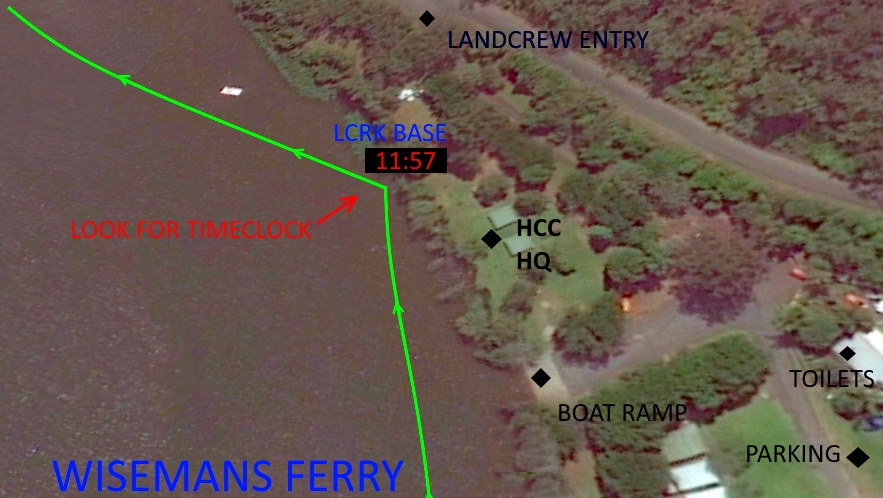 Low Tide Pit-Stop
If you need a last stop on your down-river run and succumb to the "sirens", you will, as usual, be offered smiles, "mud angel" landing and re-launching services, sometimes "paddle through" service; fire for warmth; smiles; hot food and drink; and more smiles - this is not a club facility but a wonderful service volunteered annually to all participants. Remember the location this year is about half a kilometre upstream from its former spot shown on the maps –it is at a boat ramp (= less mud!)
2016 HCC 'Calculator'
LCRK is please to provide this Microsoft Excel based 'calculator' which is preloaded with HCC 2016 Tides all the way up to Windsor and incorporating associated tidal and riverine flows (all other things being equal which they never are!!). To use, download the tool, open up Excel, adjust ONLY the yellow shaded cells ie:-
Update your Windsor start time
Update your expected base speed (either constant for whole 100km, or you can slow yourself down as your energy flags)
Adjust your expected stop time (eg if it's 1/2hr then enter as =0.5/24 to keep excel happy!)
The calculator will then derive your ETA at respective checkpoints, including adjustments for current.
The course map (separate worksheet) will be automatically updated and can be printed out on a single A4 page for you &/or your landcrew.
Print out different versions eg at 9km/h, 10km/h, 11km/h base speed - you'll know by your first stop which one you should be using!
How do you work out your base speed? See Tom Holloway's excellent article for more detail but he recommends assuming you paddle at 90% of your time trial speed. Stops are additional as are delays waiting for one or more car ferries. Your average speed overall will probably be around 85% of your time trial speed, all else being equal.
See: http://www.lcrk.org.au/pmwiki/uploads/Main/HowFast_HCC.pdf
Note that whilst there's a bit of science behind this tool - there are many other important variables in play including wind, river knowledge, washriding etc - which can make the tool a bit of sideshow. Use the tool in conjunction with ALL your planning.
For those wanting more detail. The new calculator identifies tides at Fort Denison (HH, LL, H, L), then adjusts that tide all the way up to Windsor some 5-7 hours later. Current patterns have been modelled for 3 sections of the river (between stops) using data from MHL, DPW etc. Your ETA at a particular checkpoint is adjusted based on your base paddle speed and the anticipated current at the time you are travelling. Short or long stops will affect the tide you catch (or are caught by). Further fine tuning CAN be done - but no point over-engineering it, you might be affected by winds, unplanned swims etc. Good luck!
Preparation Reading
General Advice
Nutrition
Clothing
Stretching/Injury Prevention
Landcrew Advice
Maps & Planning
Garmin GPX Track
HCC.zip Unzip, copy into your Garmin, and set to visible using garmin menu.
For planning and safety purposes please note: The HCC is not 111km, it is actually 100km. Also, it does not finish at Brooklyn, it finishes at Mooney Mooney (Deerubbin Reserve)
LCRK members past and present currently hold over 20 class records.
| Boat | Class | Name | Year | Time |
| --- | --- | --- | --- | --- |
| K1 | Vet60+ | Tom Simmat | 2009 | 11:09:12 |
| K1 | Ladies Vet60+ | Ann Lloyd Green | 2016 | 13:57:29 |
| K2 | Vet50+ | Bruce Goodall, Jeremy Spear | 2014 | 9:33:57 |
| K4 | Ladies | Margaret Cook, Merridy Huxley, Buzz Powell, Sandra Burwood | 2006 | 9:29:40 |
| K4 | Mixed Vet40+ | Margaret Cook, Merridy Huxley, Warren Huxley, Bernard Craggs | 2008 | 10:07:36 |
| K4 | Mixed Vet50+ | Margaret Cook, Merridy Huxley, Warren Huxley, Rob Cook | 2010 | 10:18:23 |
| K4 | Ladies Vet50+ | Our Rae Duffy with Merridy Huxley, Dee Ratliffe and Clare McArthur | 2013 | 10:53:59 |
| TK1 | Ladies | Margaret Cook | 1985 | 10:44:49 |
| TK2 | Ladies Vet40+ | Margaret Cook, Merridy Huxley | 2003 | 10:46:04 |
| Short Rec | Vet50+ | Tom Simmat | 2007 | 9:58:35 |
| Short Rec | Vet60+ | Tom Simmat | 2012 | 10:35:24 |
| Med Rec | Open | Toby Hogbin | 2010 | 9:18:22 |
| Med Rec | Ladies Vet50+ | Rae Duffy | 2012 | 10:55:09 |
| Med Rec | Vet60+ | Tom Simmat | 2010 | 9:54:05 |
| Long Rec | Open | Bruce Goodall | 2000 | 9:37:50 |
| Long Rec | Ladies Vet50+ | Liz Winn | 2008 | 10:59.33 |
| Long Rec | Ladies Vet60+ | Ann Lloyd-Green | 2013 | 14:02:57 |
| Long Rec | Vet50+ | Bob Turner | 2014 | 10:02:49 |
| Long Rec | Vet60+ | Tom Simmat | 2011 | 9:59:07 |
| Long Rec 2 | Mixed | Kristy Benjamin & Bob Turner | 2012 | 8:58:02 |
| Rec 2 | Vet40+ | Kenji Ogawa, Genkai So | 2000 | 10:36:34 |
| Long Rec 2 | Mixed Vet 50+ | Urs Mader, Arni Mader | 2007 | 10:06:20 |
| Ocean Racing Ski | Ladies Vet50+ | Roz Green | 2015 | 12:47:59 |
| Ocean Racing Ski | Ladies Vet40+ | Anjie Lees | 2014 | 11:08:12 |
| Ocean Racing Ski | Vet40+ | Glen Orchard | 2016 | 8:51:12 |
| Ocean Racing Ski | Vet60+ | Tony Hystek | 2016 | 9:06:32 |
| SSK2 | Mixed Vet40+ | Joy and Rich Robinson | 2015 | 9:28:31 |
| Unrestricted | Open | Toby Hogbin | 2012 | 8:18:19 |
| Unrestricted | Ladies | Julie Stanton | 2006 | 10:13:30 |
| Unrestricted | Ladies Vet40+ | Anjie Lees | 2015 | 11:41:14 |
| Unrestricted | Vet60+ | Tom Simmat | 2016 | 10:16:02 |
| Unrestricted | Vet70+ | Adrian Clayton | 2016 | 13:07:24 |
| Unrestricted 2 | Mixed Vet40+ | Bruce Goodall, Christine Lalor | 2007 | 8:57:57 |
| Unrestricted 2 | Vet50+ | Tony Hystek, Timothy Hookins | 2007 | 8:57:00 |
| SSK2 | Mixed Vet40+ | Joy and Rich Robinson | 2016 | 9:05:38 |
HCC - The Whiddon Trophy (Fastest Time)
2009 Matt Blundell
2010 Matt Blundell
HCC - Participation (incl 2016)
| Completed | Name |
| --- | --- |
| 35 or more | Richard Barnes |
| 20 or more | Kenji Ogawa |
| 15 or more | Margaret Cook, Don Rowston, Merridy Huxley, Peter Fitzgerald, Tom Simmat, John Duffy |
| 10 or more | Martin Dearnley, Bruce Goodall, Rob Vallis, Warren Huxley, Urs Mader, Derek Simmonds |