Clean Up Australia Day - 13 Mar 2022
by Caroline Hempel
* CUAD Flickr Pix
This year "Clean-Up Australia Day" took on another dimension and meaning after the floods hit NSW. A substantial raise in water level and drifting rubbish prompted us to cancel the original event a week earlier, on the 6th Mach, with significant rain still falling on that Sunday morning. Lucky we did as the actual flood hit Sydney a few days after. Hence on the 13th of March we had an even more rewarding "Clean-Up Lane Cove River"- Day.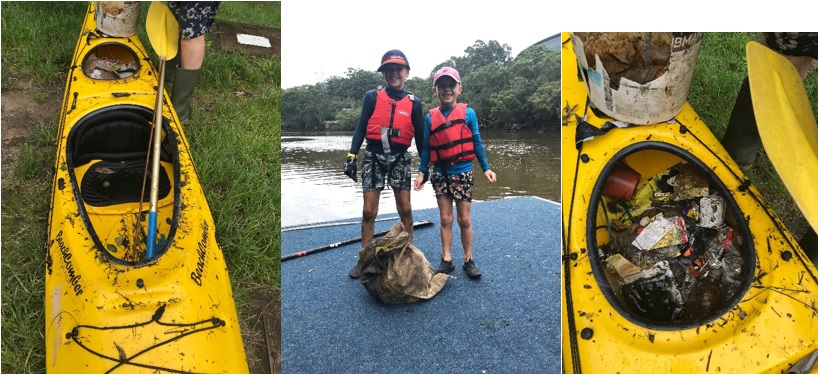 Our members were extremely supportive. A crew of 20 people (from which were 5 land rats and 15 water rats) managed to clean up a significant part of our beloved river from Fullers Bridge to Sugarloaf Point. Thanks to the great sacrifice of individual participants and our club we had a fleet of mostly plastic kayaks but also a ski, a TK2 and 2 big canoes. All boats and folks were covered in serious mud afterwards, required extensive cleaning but everyone secretly or obviously enjoyed it.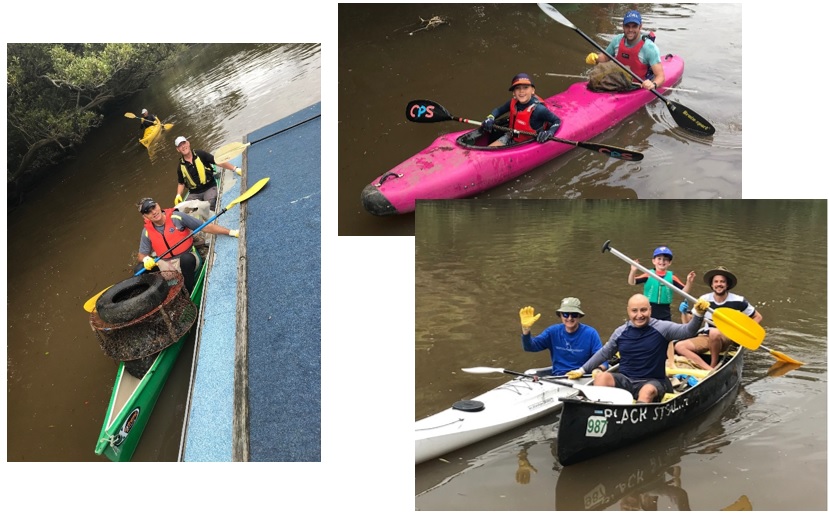 The event started at 9am, crews were set to their allocated section of the river and were supported by the 2 canoes which were placed on both distant ends of the covered area.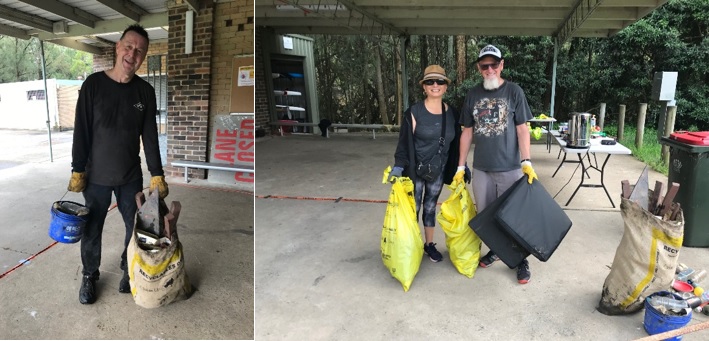 Our land crew didn't have any easier job walking on soggy ground and picking up more mud covered rubbish.
 

"Clean-up Australia Day" organisers provided all equipment including gloves, bags, paperwork and a scale so we were able to do the stats afterwards. A total of 135 kg of rubbish was collected by 12 pm! A major shout-out to everyone! The type of rubbish that was found leaves room for great stories (can't wait to hear yours). I was considering a Tennis court nearby, a casualty lawn mower, a Lane Cover River mud crab business (our newest local health food business)? Amongst other things there were milk crates, a garden rake, buckets, fishing lines, and all kinds of plastics. Unfortunately no hundred dollar bill this year!
 

Not to forget to mention that Mike Thom took on a serious job cleaning Wirong boat ramp from a thick layer of toxic mud with his portable pressure cleaner and hopefully with PPE.

Afterward the clean-up everyone, but one, was rewarded with hot or cold drinks and homemade pumpkin muffins. The kids evidently had a good sugar hit and enjoyed each other's company.
  

Some extra keen members kept working weighting and packing up the rubbish for council clean-up.
Thank you to all participants (see list below), also PaddleNSW, "Clean-up Autralia.org.au" and Willoughby Council, for a successful event. There's definitely more rubbish out there so I encourage every paddler to continue to pick up pieces of plastic on land or on the water. List of attendees: John D., Laura and Jeff H., Matt S., Duncan J., Andrew P., Jeff T. Jeff C., Richard+ Tom+ Matthew A., Chris J., Craig+ Franky (alias Dinosaur) H., Wade R., Craig S., Mike T., Rodrigo M., Don Johnstone, Richard Y., Anjie L., Dave H., Caroline H. (event coordinator and author of this report)