At LCRK much of the attention is on the Wednesday Night Time Trial, the Marathon Series and the Haweksbury Classic. However, some may not realise that LCRK regularly has a strong showing at sprint events like the Sprint Series and the State Championships. The usual comment from first timers is "I had no idea it would be so much fun!".
A Window into Sprint
(Race Report from the Sprint Masters held at Penrith Regatta Centre 15 Sep 2019 - by Naomi Johnson)
Doing new things can be scary, but it can also be great fun!
With this thought in mind, I turned up at SIRC in Penrith at a chilly 7:30am on Sunday morning to attend the Paddle NSW State 'Masters' Sprint Championships. I hadn't done a sprints race since I was 18, and my not-so-fond memory or that day involves spending more time swimming around the start line than sitting in the K1. So it was with a bit of trepidation that I had said yes to Laura Lee's suggestion that we enter the regatta in preparation for our World Marathon Champs campaign in China. In a rather bizarre show of preference for thing I've managed before, I was finding the thought of a quick jaunt up and down 47kms of the Myall less intimidating than a handful of short, sharp sprints!
A quick note on the 'Masters' nature of this race…still being on the favourable side of 30 I hadn't yet contemplated the thought of being a 'Master' at anything, kayaking in particular. However, it turned out that the new initiative of the State 'Masters' Sprint Championships even had a 25-29 age category, seemingly in an attempt to entice paddlers who thought themselves a notch outside the heat of open age competition. On the day itself, it meant that we were given our own heats for K1 before being mixed in with the rest of the paddlers for finals, as well as the opportunity to paddle K2 in the 200m and 500m distances.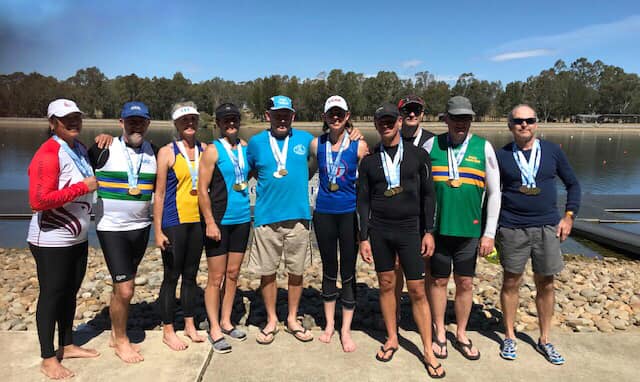 Above: Masters of the Sprint Universe (well, Penrith)
My first race was the K1 1,000m, and my gradually rising panic about doing a sprint had me sitting on the start line feeling a strong preference for the 100-odd km Hawkesbury Classic! Having held my (slightly under sprint weight) boat on the start line for what felt like an immeasurably long time, the starter finally called "ready-set-go" (yes, they say "set" in sprint) and I hurled myself off down the course. Out the corner of my eye I could see Laura over in lane 9 inching out in front, but the other paddlers were out of my peripheral vision. Did that mean I was doing ok?! With 200m down I had to settle into a more manageable pace, and really focused on putting in powerful strokes with lots of leg drive (in coach Tony's voice: "slow it down Nomes, big rotation"). 500m down..gosh this goes on forever…200m to go…100m to go…finally I was across the finish line heaving and panting like nobody's business. It turned out that the time was 4:50:47 (that's minutes, not hours), and that I had held on to finish 2nd only 8 secs behind Laura.
Then it was time for the 500m and 200m events. Our 500m heat saw me finish another 8 secs behind Laura despite a small coughing fit 100m from the finish (I've had a cold). In the K2 500m event, we proved that two is much better in the boat than one, clocking a time of 1:51:45 which, with some further research, seems to be quite acceptable by open age sprint standards.
But let's face it, the 200m is not my event. Quite contrary to marathon paddling where the start isn't everything and you then have a whole lot of time to overtake people, the 200m sprint is a start and nothing else, the craziest minute of high-octane paddling that you can possibly pull out of yourself. So clearly more work is needed on high-octane! In the K2 200m I had a bit of an insight into the octane levels possible, sitting behind Laura who is a very competent and explosive 200m paddler, and who was also pretty keen to beat the Avoca boat a few lanes across (they won, but only be a second).
For the K1 finals we were mixed in with the "young-uns" (ok, some of them were basically my age), but it didn't matter because the ten of us "masters" were quite happy to have a laugh about the whole thing. In the D final of the 500m I managed to finish 2nd behind someone that looked about 14, while the 16-year-olds in the 200m B final proved a bit too fast and I finished last. Laura and I each received five gold medals across the day for our efforts, each being the only paddler in our age category to compete. I think it's the sprint committee's ploy to get us back next year! I also earned a sunburned back for failing to pay heed to the spring weather.
More importantly though, I learned a lot about my paddling, starts, how to start in the back of a K2, and how long my brain is capable of pushing my body to its absolute max. I made a few new friends along the way, and would highly recommend the next iteration of the State 'Masters' Sprint Championships to more Lane Cove paddlers. Those on the experienced side of 25 were definitely having the most fun!
What is Canoe Sprint?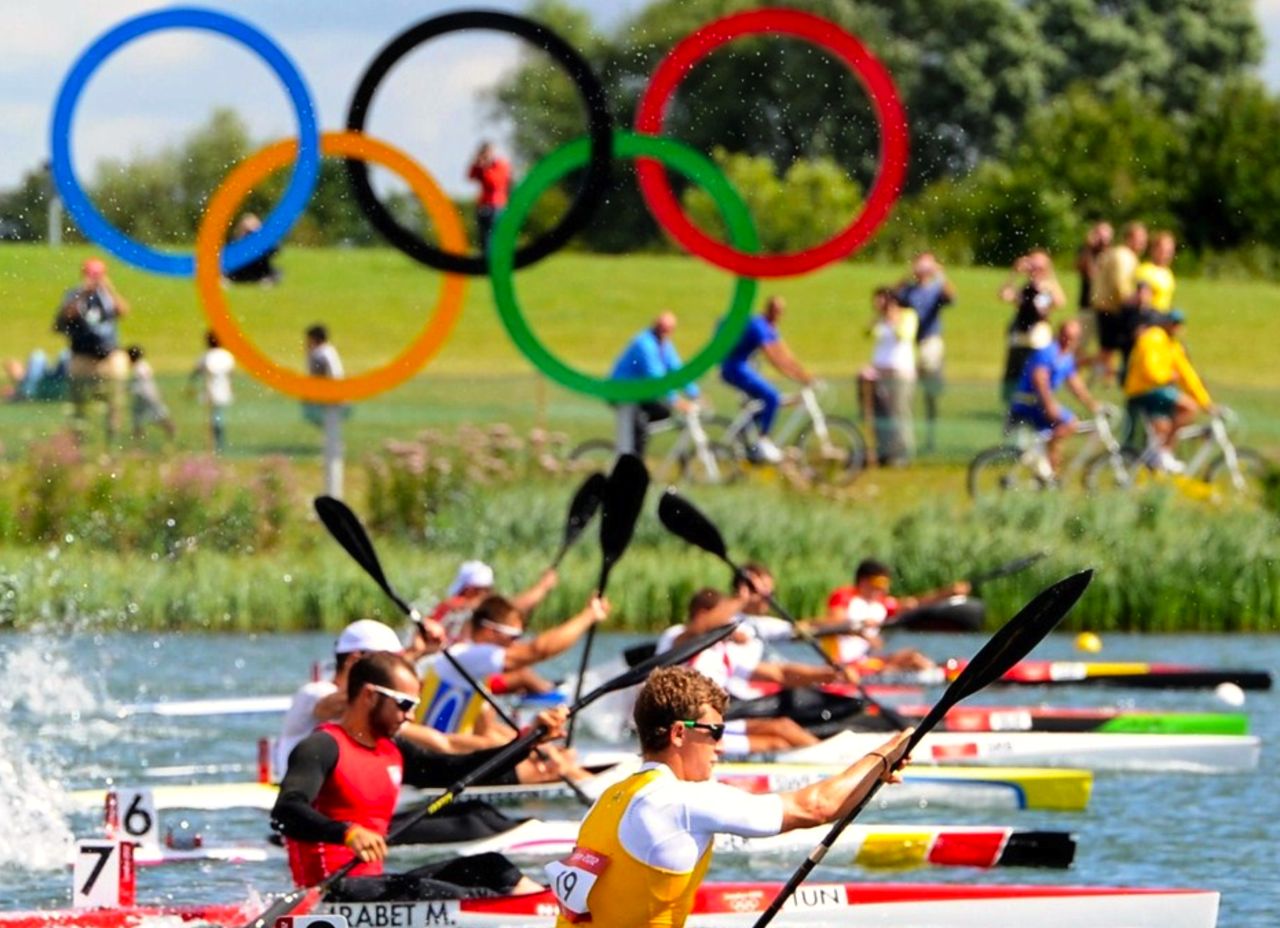 Previously called Flatwater, Canoe Sprint has been a competition sport in the Summer Olympic Games since the 1936 Games in Berlin. Since then Australian sprint paddlers have won 18 Olympic medals. Some might say sprint is the purest form of paddling. Tippy, lightweight boats designed with little consideration for anything but straight line speed. Races are on a straight course, in lanes and usually over 200m, 500m and 1000m. Top paddlers hit speeds over 20km/h.
Whilst the HCC is indeed challenging, no paddler is complete until they have enjoyed the pain of the 1000m sprint! Not only that, sprinting is a great way to improve some of the technical aspects of your paddling applicable to marathon races, namely race starts, short burst acceleration and power work, essential skills for getting and maintaining that all important wash-ride.

The Boats
The ICF sets several criteria for "K" boats but length and weight are the key ones. In 2000, after the Olympic Games in Sydney, the ICF withdrew width restrictions on all boats, spurring a flurry of innovations in boat designs. Narrow and wide boats can qualify.
K1 - Must be less than 520cm long and must weight more than 12kg
K2 - Must be less than 650cm and must weight more than18kg
K4 - Must be less than 1100cm and must weight more than 30kg
Full details in the ICF rules.
Note: You don't need one of these boats to have a go. The PaddleNSW Sprint Series allows you to use whatever boat you want - See below to learn more.
How can I get into sprint?
First thing to do is come and watch or volunteer at an event such as the PaddleNSW Sprint Series or NSW State Championships. It's also important to have a go in a K1. Stability will be an issue for some and it may take some time to feel comfortable in a full blown ICF racing boat. It's been said that it takes a tenth of your age to get it! Fortuantely more stable beginner and intermediate boats are available.
What events are there?
PaddleNSW helps out for people wanting to have a go at sprinting.
Follow PaddleNSW sprint on Facebook
The best place to start is the PaddleNSW Sprint Series.
Once you're comfortable there is the PaddleNSW State Championships.
For more experienced paddlers there is the Australian Canoeing Grand Prix series and the National Championships.
How does the PaddleNSW Sprint Series differ from other National and International Sprint Regattas?
The PNSW Sprint Series groups competitors into races with others of similar ability. You don't have to paddle a tippy K1/K2 sprint boat to be able to compete. All you need to do is estimate your time to paddle 1000m and nominate this on your entry. If you know your times over shorter distances, all the better, but it is not crucial.
Based on the times provided, competitors are placed into similarly timed heats, so you will be racing people of your own speed and ability, no matter what boat you paddle. K1s, ocean skis, racing sea kayaks like the Sonic or Flash are all perfectly acceptable even a K4. The point here is it gives you a chance to race your current boat over an Olympic course and develop all the skills sprinting entails.
Sprint Calendar
Venue
SIRC - The Sydney International Regatta Centre is Sydney's paddling and rowing Olympic Venue. A truly world class facility and a wonderful experience to paddle there. Map
Links


Looking down the SIRC Competition Lake from the finish line. Control tower and starter's huts on the left.