LCRK has always had strong participation in a range of accessible and iconic ultra-marathon events. For 2023 Ruby has taken on the ultra-motivator role to coordinate LCRK's participation. For 2023 the events include:
Wyong Classic 30km 24 September 2023
New LCRK Ultra fitness program! (or a chance to think a lot)!
Update #1 - Intro
If you're like me and are still to get back to pre-Covid fitness, or you want to get to know club members better, or you really need time to think through your next adventure (a la Richard Barnes); now is the time to sign up for the club's ultra fitness program!
There is no limitation to new members of this program - if you can paddle, you can join. Let's not think about this as getting fit so we can paddle ultra-marathons, rather, let's think about it as using the ultra-marathons to get fit.
I had barely paddled more than a 6km time trial before I entered my first ultra marathon in 2012 - the Hawkesbury Canoe Classic. While I scraped in a 30km paddle just before I undertook the 100km, I certainly wouldn't recommend this approach. A little bit of preparation goes a long way, and that's why I'm kicking off preparation now for the first ultra-marathon of the year (and in my opinion, one of the best), the Riverland Paddling Marathon.
The Riverland Paddling Marathon is from Berri to Morgan in South Australia from the 10-12th June. You can commit to the full 208km over the three days, or there are plenty of other options to share the experience, including shorter distances or relays. We often team up in cars to share the driving, stay in Hay on the way down (unless you're short of time), stay in Waikerie, eat at the pub together before an early night, and get up before the birds and experience the most beautiful sunrises over the river each morning. The scenery is spectacular, with standouts including the drowned trees in the lake, and the cliffs near Waikerie. Best of all is the friendly paddlers, who are all happy to cheer you along as they (or you) pass by. Accommodation gets tight - so it's a good idea to commit early and book your room now. Camping is possible but gets pretty frosty and after sitting in a kayak all day, having to sleep on a mat on the ground is only for the toughest competitors!
Once you've got a taste for it, there's plenty more you can join in on. Do one, or do them all! The Myall Classic at Tea Gardens, The Clarence 100 at Grafton, the Hawkesbury at Windsor (which needs as much support as the club can muster to guarantee its future), the Burley Griffin 24 hour, and the Murray Marathon in November are all planned to go ahead (pending natural disasters). There's a lot of fun to be had, endless experience in the club from past events, and lots of people willing to make this happen.
I'm taking on the role of ultra-motivator for this fitness program, so once I've got an idea of who's involved, we'll start talking about our training programs, and maybe even organise some fun training sessions. The focus will be not only on developing a kevlar bum (we might chat to Richard Barnes about that), but how to use other disciplines to build the necessary fitness - like cycling and swimming.
Come and talk to Ruby about getting involved. It's only a few kms of paddling...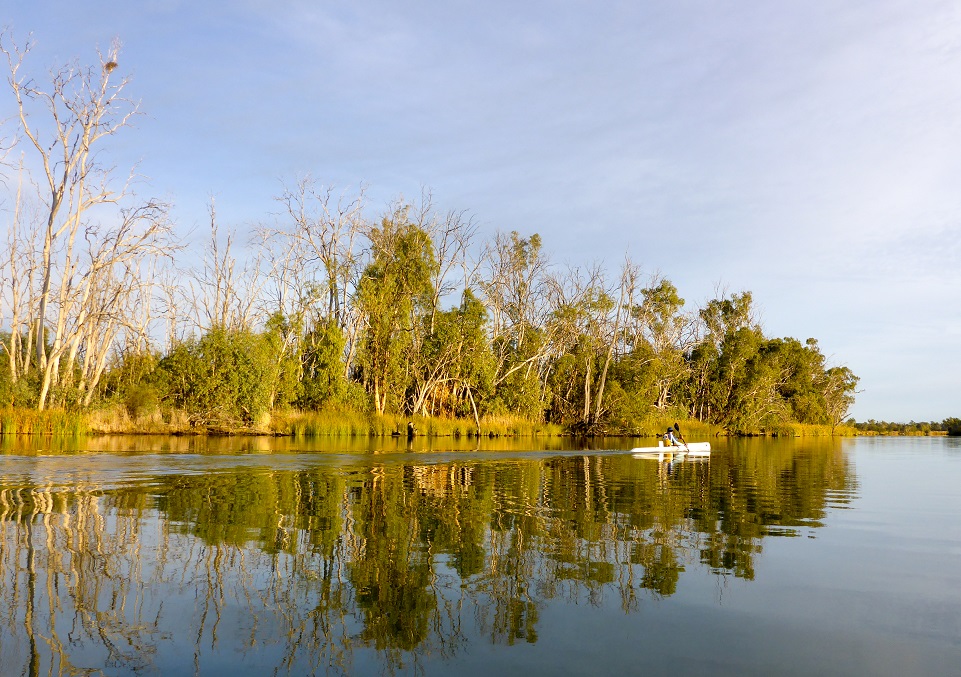 Tom Simmat in the 2015 Riverland
Update #2 - Getting fit
I've put together a getting-fit program for myself and thought I'd share it for those of you wanting to do ultra-marathons but you're starting from a low base. I'm not a guru, I'm not tracking my speed or my heartrate (yet), I'm not using sports gels, I don't go to a gym. If you want that kind of program, there's lots of people in the club who are better informed than me.
My plan involves starting at a level where I'm a bit uncomfortable then gradually building so that I stay uncomfortable. I want to have a raised heartbeat, I want to be tired after training, and I want to feel a little sore the next day.
For an ultramarathon, your program should have four activity pillars: cardio, strength, endurance and balance.
Cardio: This type of exercise helps your heart and lungs supply your body with oxygen, essential for endurance sports.
Fit in a minimum of two kayaking sessions a week, preferably three. I'll be starting off with the Wednesday time trial, pushing myself so I keep my heart rate up. My second session will be on the weekend, and although I'll start with 18-20km, I will definitely be increasing this so my sessions are a minimum of 30km after a few weeks, aiming for 40km if I have time. Because I've only got these two on-water sessions, my weekend session needs to be longer to build endurance. In my long paddle, I will be incorporating ladders. Anjie and I used to do these all the time when we were training in the double, and they're great for building fitness and speed. Paddle 10 at 90-100%, then paddle 10 strokes at 70%. Step these up in 10's, keeping your rest period at 10 strokes at 70% ie. 10-10,20-10,30-10, etc. Build to 60, then go back down to 10.
Endurance: This comes from the longer paddle, but also consider climbing stairs, swimming (at least 20 laps) – BEST form of cross-training for kayaking, cycling etc. Closer to the ultramarathon, I try to do at least a couple of weekends where I paddle two days in a row. Getting back in the kayak the next day is a challenge and it's good to feel a bit more confident that you can do it.
'Strength: Three sessions a week. Kayakers benefit most from work on arms and shoulders, and hips, but as you're using your whole body kayaking, most things help. Avoid building too much bulk – your focus is on resilience, not power.
Try things like:
shoulder presses with weights (use cans or other things at home if you don't have weights)
using a resistance band, kneeling, pull the resistance band from high to low across your body, changing sides, and then reversing by having the resistance band low and pulling it up across the body
bent over rows (bent over at hips with flat back, lifting a bar or similar to your chest)
for your hips – standing kicking foot up to outreached hands, standing on one leg, doing circles with the other leg, doing side steps with a resistance band around your ankles, lying on your side with knees bent and butterflying out your knees with feet still together.
Balance: Good balance will give you a more efficient paddle stroke, and you'll be able to paddle longer without getting tired. The key to developing balance is building core muscles. Incorporate these with your three days a week exercises, but you can add this in more regularly too:
plank – starting with at least 30 seconds and building each time you do one.
sit ups – aim for 4 sets of 20 and mix it up between standard crunches, crunches with lower legs raised parallel to ground, lifting legs to vertical, sit up with twist, mountain climbers and burpees (these last two are also great cardio and strength)
push ups – on your knees or on your toes. Pro level is lifting one foot off the ground.
sit to stand and stand to sit – sit on a chair or a step and stand without using your hands. Pro level is sitting on the ground and going to a stand!
Rest: Make sure you have two rest days a week and avoid doing two cardio or two strength sessions in a row. Allow your muscles to recover!
There's lots of information online about how to get fit for kayaking. My plan is something I think I can manage and should see definite improvements. Personalise your program for what you know you need to work on, and how much time you have.
Keep an eye out for notices in TT reports or pre-reg emails for opportunities to join in on training paddles on sight.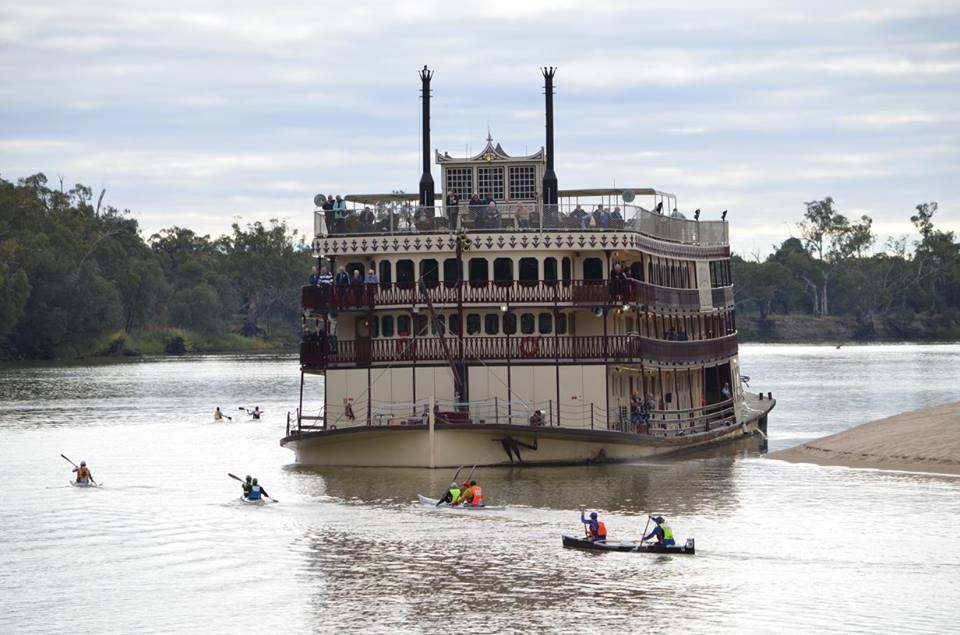 Above: Tim B & Dave H in 2017 RPM off the bow of Cunard's Queen Murray (tbc) Photo: MCC SA