Trans-Tasman 2021
Everyone needs goals and dreams. This is the story of a dream to paddle a kayak solo and unassisted from Australia to New Zealand. The goal is to inspire more people to be more active and adventurous and to follow their own dreams.
Useful Links
Richard will be providing periodic short reports via his internet connection (satellite). These will be provided below with newest posts at the top.
Trip Report - Contents
(hotlinks to specific days...)
Day 17 1 Dec 2021 (Blackhead to Harrington)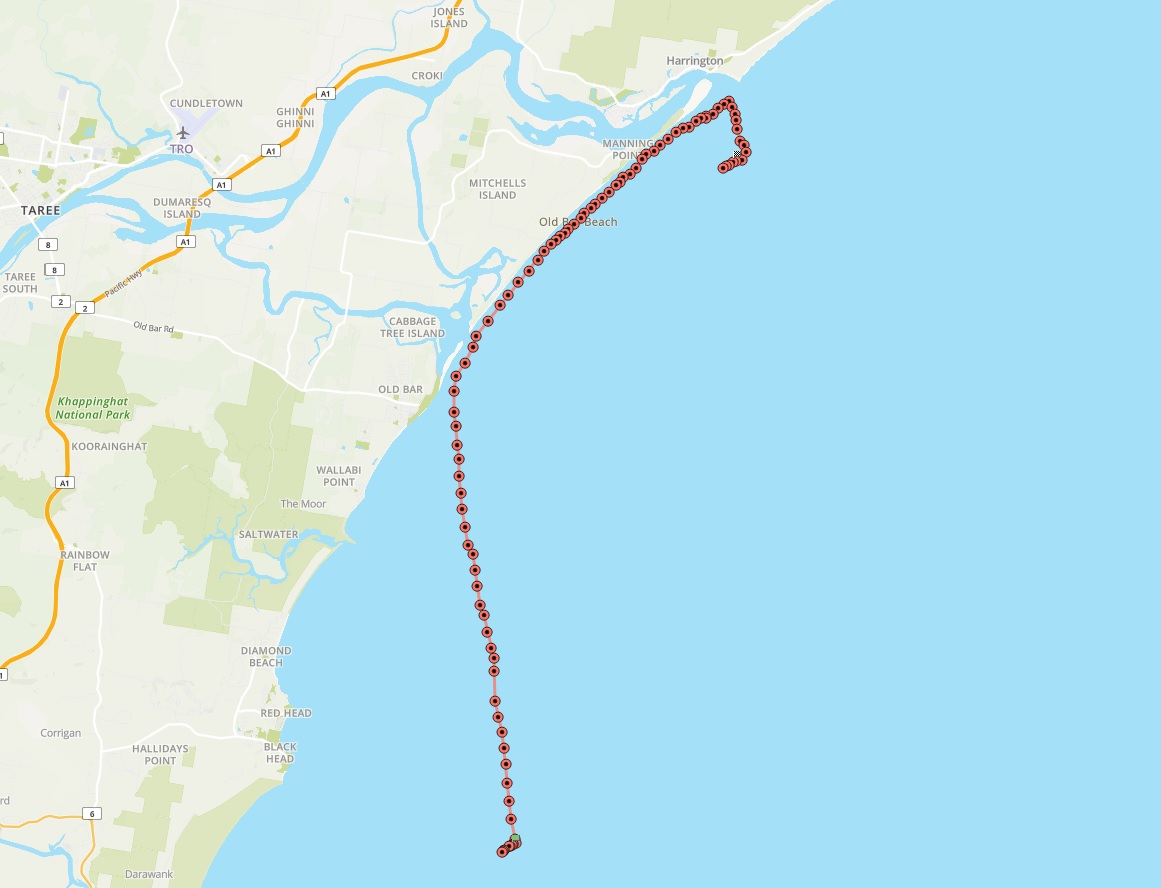 Above: the days paddle courtesy of RB's Spot tracker (slept offshore on sea anchor)
Day 16 30 Nov 2021 (Forster to Blackhead)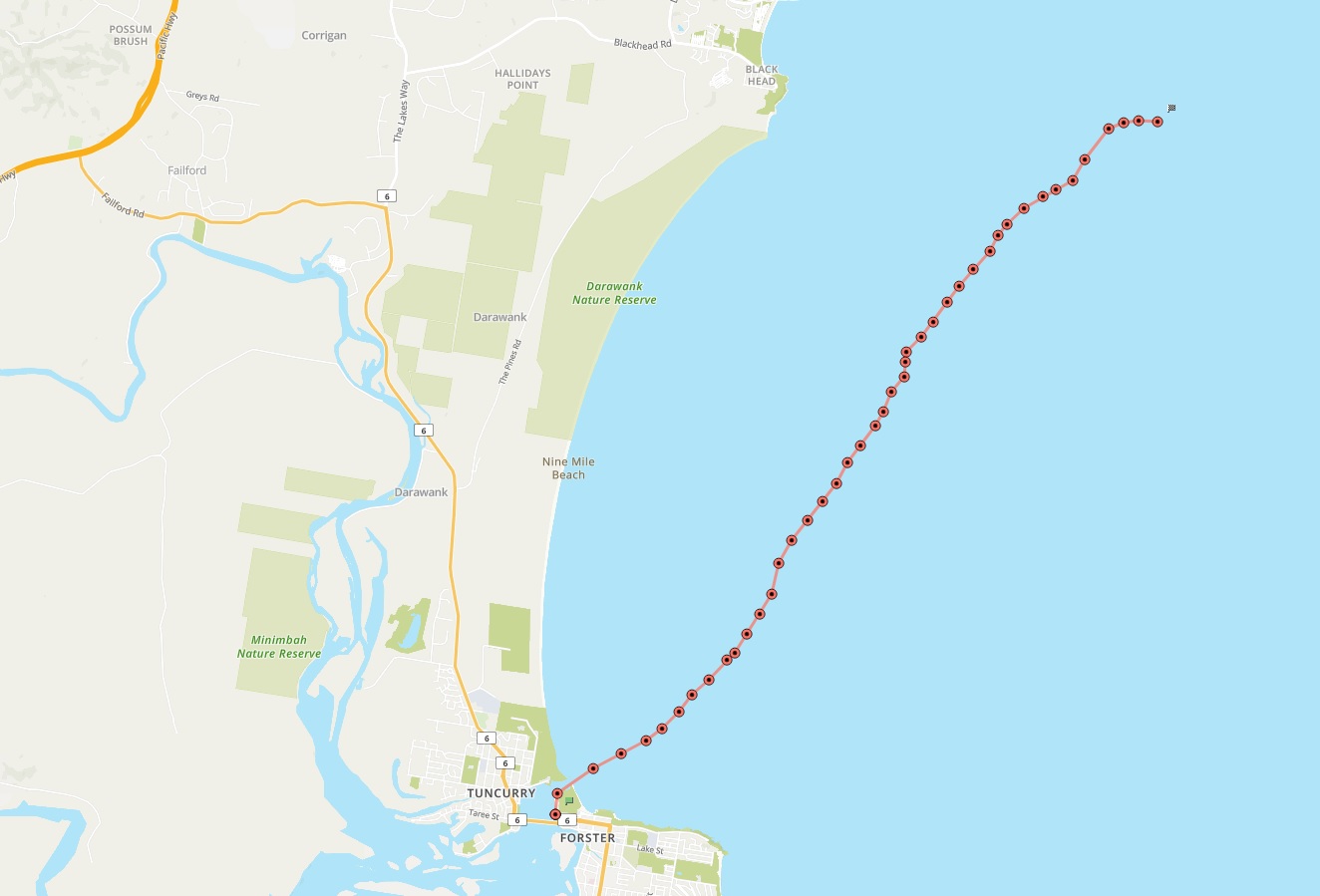 Above: the days paddle courtesy of RB's Spot tracker (slept offshore on sea anchor)
Day 15 29 Nov 2021 (Seal Rocks to Forster)
People have been asking how much wildlife I've seen? Sadly the answer is less than I had hoped. Maybe I need to look in the right direction?
It seems it is too late for the whale migration, with not even stragglers popping up for a look. Fortunately dolphins and seals are as inquisitive as ever, and have been cruising by for many looks. I've not seen any sharks, but others report they are around.
One big old turtle popped up off Seal Rocks, looking more like an old buoy coated in barnacles until it showed off its speedy ability to dive. On the microscopic scale, there was one of the best ever displays last night of luminescent creatures around my anchor line.
Birds too have been relatively few. No chips on board, so no seagulls. Not yet far enough into the wilds to get albatross. Yellow-billed gannets have been flying by in groups. Their interest is always clear, as their beaks point where they are looking. Very unlike an albatross, which regally never hints at having a stickybeak. Shearwaters have been circling for multiple viewings before heading off again in search of real food. One almost had a head-on with Blue Moon, it came so close.
The most prolific wildlife is of the human kind. Much of this afternoon was spent chatting with a band of happy wellwishers.
Today served up idyllic paddling conditions, with Blue Moon speed averaging over a dizzying 4kmh. More light winds tomorrow should help with progress northward.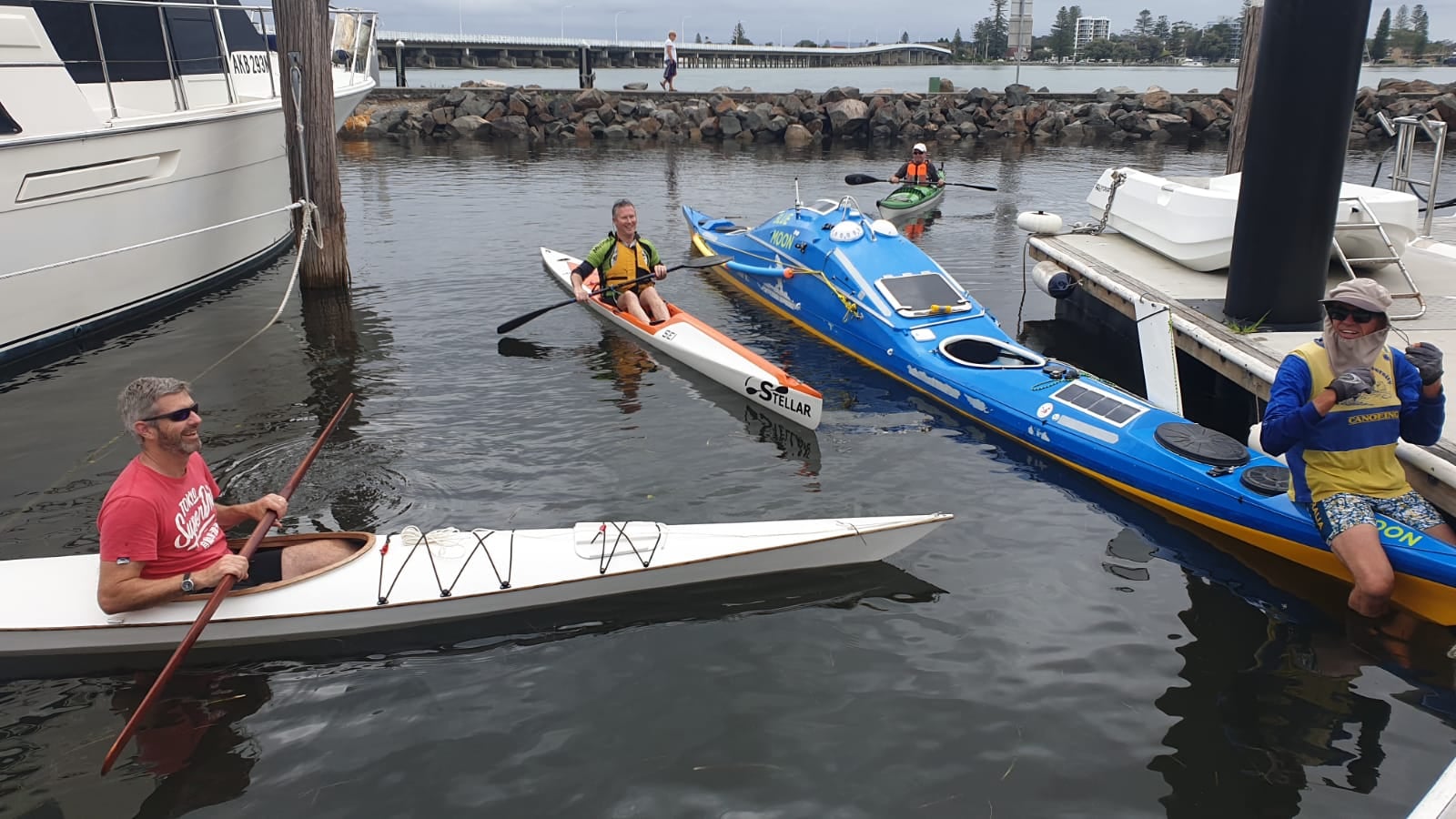 Above: Forster - classy lodgings... (photo: Garry Byrne)
Day 14 28 Nov 2021 (Providence Beach to Seal Rocks)
I'm a firm believer in giving a task that needs doing to the busiest person as the best way to be sure it will be done. The opposite is the procrastinator.
In this situation the procrastinator was me. Generally on this trip I only have three things to do: eat sleep and paddle. This morning there was one new task, to put on a jacket. I started paddling in my long sleeve Lane Cove top (thanks President John), but as I got more into the wind and rain I was starting to shiver. The conversation in my mind started with the argument that any minute now the sun would pop out and I'd be hot again. That was very optimistic. Another bit of my mind said if I didn't put the jacket on now, it would be too rough. I would have to get my life jacket off to get jacket on underneath. That would mean cap and glasses and leashes would all need to come off, be put somewhere, then put back on after the jacket. Oh for a simpler life. Take a guess at how long this conversation waged in my mind?
Ultimately the jacket went on, and stayed on to the end of my paddling day. When waves later engulfed Blue Moon and I to chest deep, it was a good decision.
I saw another beautiful lighthouse today. Actually it's light was visible last night as I lay in Blue Moon. Today it has been the target all day, sentinel on the skyline. I did have to take a wide pass of it to avoid some big surf on Seal Rocks. There were a group of people waving very enthusiastically to me from below the lighthouse., Have yet to find out who they were. Tonight I'm parked close by, but just out of sight beyond a protective rock island.
If you were wondering, Seal Rocks has zero permanent moorings. Locals Doug and Keith have loaned me their tinnies anchor and line for the night.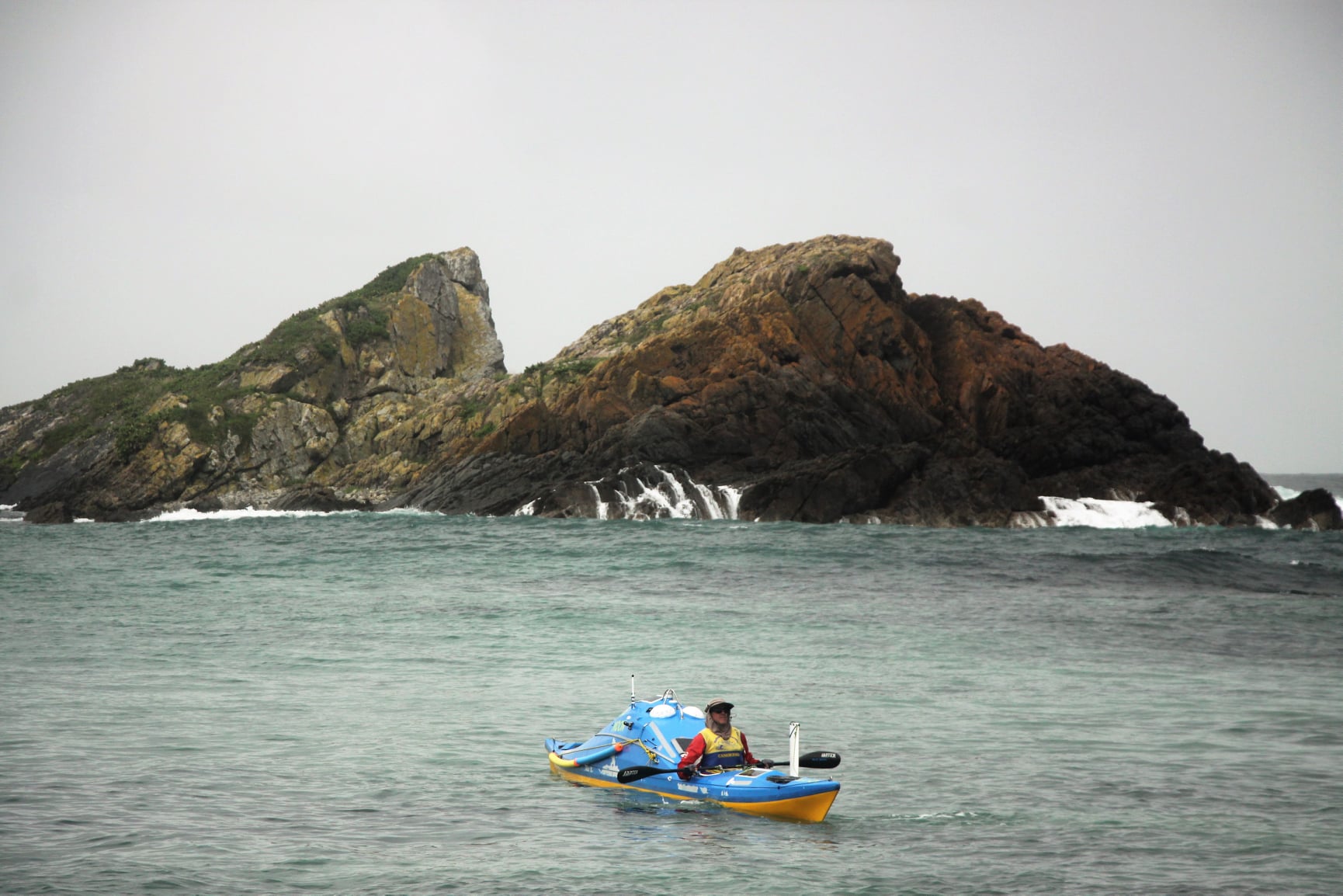 Above: Seal Rocks - calm waters (photo: Rob Marlow)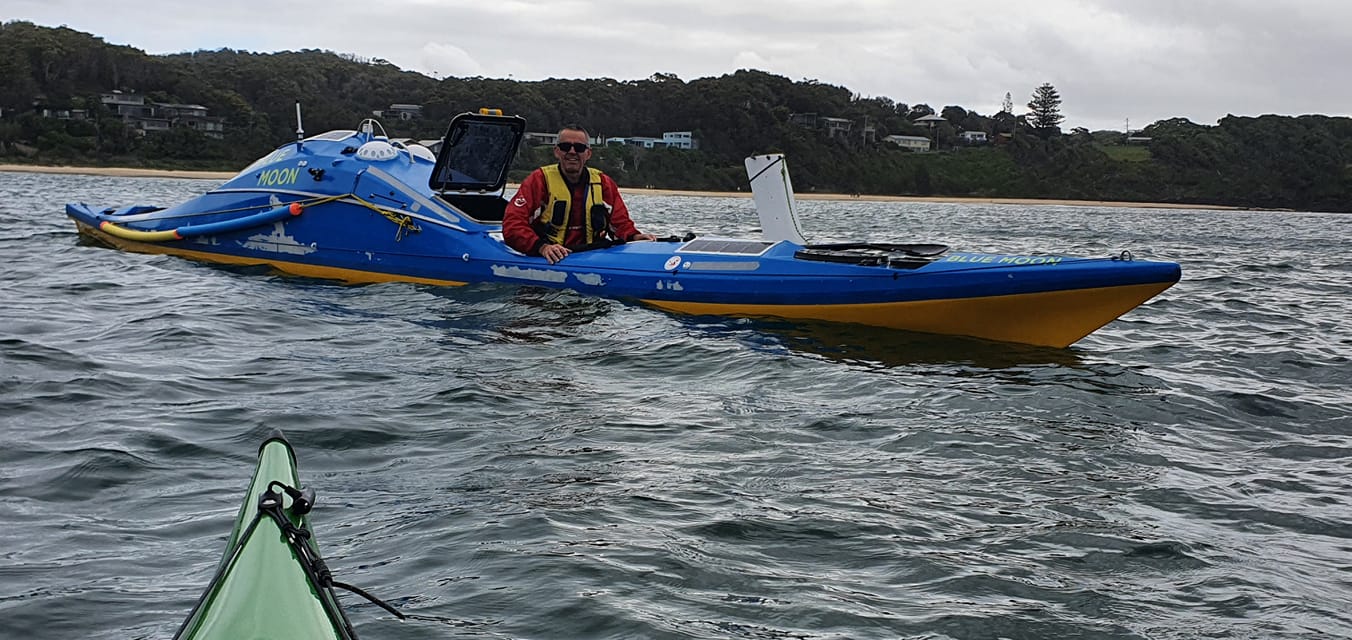 Above: Seal Rocks - settled in.. (photo: Greg Smith)
Day 13 27 Nov 2021 (Esmeralda Cove to Providence Beach [Broughton Island])
Today I went to Luna Park. To the most exciting roller coaster Big Mouse.
At least that is what it felt like out in the rebound off the eastern tip of Little Broughton Island. When I rigged up in the morning, there were two possible plans. The more ambitious was to make Seal Rocks. The more conservative was to relocate to the northern beach of Broughton Island ready to set sail on Sunday.
Paddling started sketchily when I managed to tangle the mooring line round Blue Moon's rudder. Normally peaceful Esmerelda Cove had a carpet of white caps, plus bullets of wind. We slogged on past Looking Glass Island keeping a respectful distance from bombies and surging reef breaks. No chance of entering the Tunnel today.
Little Broughton was on my lee side, with plenty of crashing waves reminders to keep clear. Out at the tip, rather than breaking, the waves simply rebounded. Inbound and outbound meeting doubled their standard height. If it was 3m swell coming in, my roller coaster gave me 6m instant elevator rides. Even at 600kg, Blue Moon tossed round like a cork in this powerful ocean display. Yet again I was reminded of how stable she is. Like at Luna Park, if we trust the engineers, then we can thrill at the ride. This set a new benchmark for 'rough' experienced in Blue Moon.
After rounding the backwash tip, I floated into calm behind Broughton. Decision made on not heading further today, if only on the prospect of facing similar conditions after 35km rounding Seal Rocks guarding headland. That is for tomorrow.
Rainstorm after rainstorm have been my companions this afternoon. No one else has ventured out to normally-beautiful Broughton.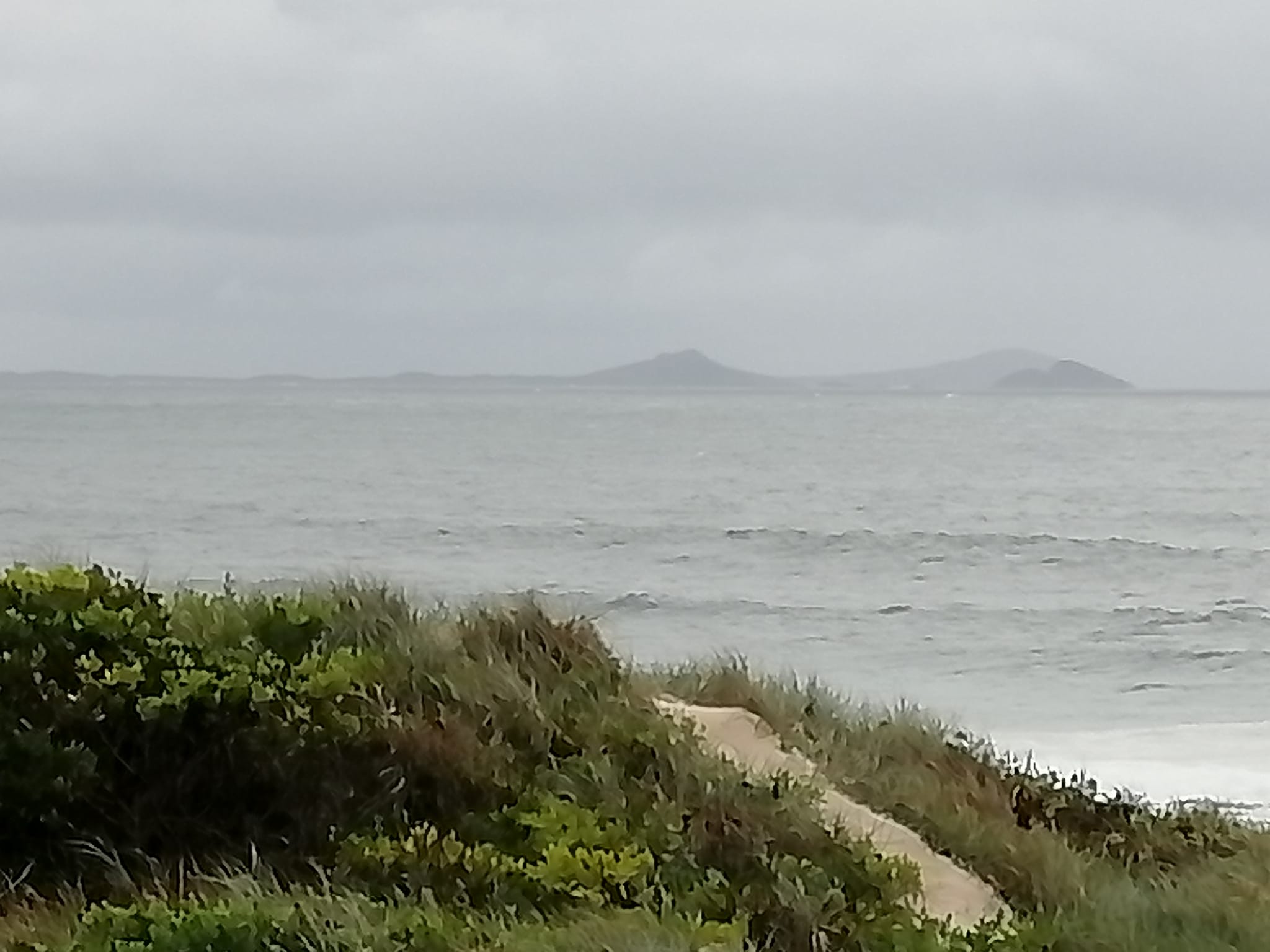 Above: Broughton Island from Hawks Nest (photo Gaye Hatfield)
Day 12 26 Nov 2021 (Shoal Bay to Broughton Island )
Rain shouldn't really matter to a kayaker, since our sport is intrinsically wet. However at both ends of my paddling day there were torrential downpours with dancing waterspouts all around. Lots more rain in between too.
My weatherman Roger B was up even earlier than me, making a last check and report on the impending southerly change. I left with a small dose of trepidation with his warning ringing in my consciousness. There would be no turning back into the teeth of this southerly with gusts of 30-35knots. I was committing to Broughton Island tonight.
I did get blasted out of Port Stephens. 3km in the first 40 mins. Out from the shelter of Cabbage Tree Island, the wave conveyor was going my way. Blue Moon jumped aboard and we cruised effortlessly up to Broughton. In the same starting point as yesterday, 100m of progress had taken 15mins slogging. Today was a southerly to enjoy.
Those who know Broughton will also know Looking Glass Island, and a tunnel slot which can be paddled through on a calm day. I was sorely tempted to take Blue Moon through. Instead we burnt some spare energy bouncing up and down in very colourful backwash on the end of the Island.
Within Esmerelda Bay it's all peace and quiet, with only one other moored boat. I swam to shore and had a walk in the rain along a couple of the sandy beaches. Undecided as I head to bed whether to wait out tomorrow's southerlies or try to ride them to Seal Rocks.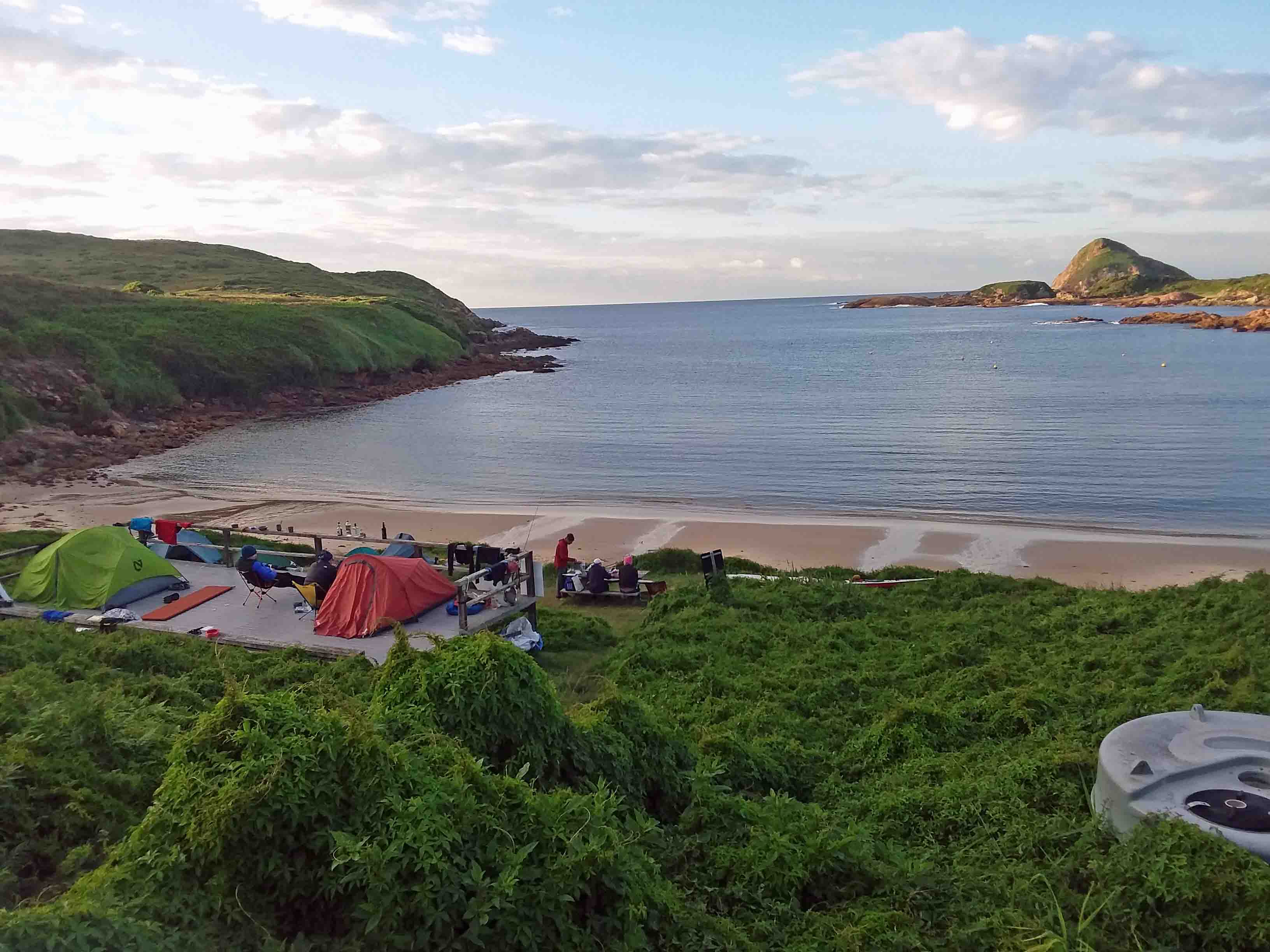 Above: Just so you have some bearings - a photo of Esmeralda Cove in quieter times - an April 2021 LCRK overnight trip led by Adrian Clayton with Lee Wright, Mark Hempel, Don Johnstone Trevor Nichols and Bruce Moller (SIP).
Day 11 25 Nov 2021 (Nelson Bay to Cabbage Tree Island to Shoal Bay)
Winnie the Pooh had a particular fondness for elevenses, particularly where honey was involved. I was given a big jar of honey today by old SUCC members Juliet and Mick, straight from the beehives they tend in their backyard in Nelson Bay. The thought of the sticky catastrophe that might occur within Blue Moon however, mean this honey treat will have to wait till post NZ.
I did wonder if there is an eleventh day equivalent to elevenses? Without Eeyore or Piglet on board to consult, a celebration of reaching Day 11 was unanimously approved. Out came a can of Coke to celebrate over dinner. It has joined some pasta, dehydrated beef and beans, and a huge chunk of Woolworths fruit cake as a feast fit for kings. Or paddlers, or bears.
What is there to celebrate on the canoeing front? Passing 11 days since setting out from Roseville Bridge. Meeting literally hundreds of well wishers along the way. Paddling for nine of the eleven days. Covering a total of 273km in 77hours. Port Macquarie is still a way off, and turning east for NZ only starts after Port.
Today was another loopy paddle. For those watching the tracker, stop 1 was in the lee of Cabbage Tree Island, a calm oasis in which to pull out lunch. Stop 2 was very shortly after pulling into the main NE chop and bluster out from Cabbage Tree's calm. At the pace of those first few hundred metres, there was no chance Blue Moon and crew would make Broughton Island before dark. So we retreated, and hopefully with moderate tailwinds will make lovely Esmerelda Bay on Broughton tomorrow.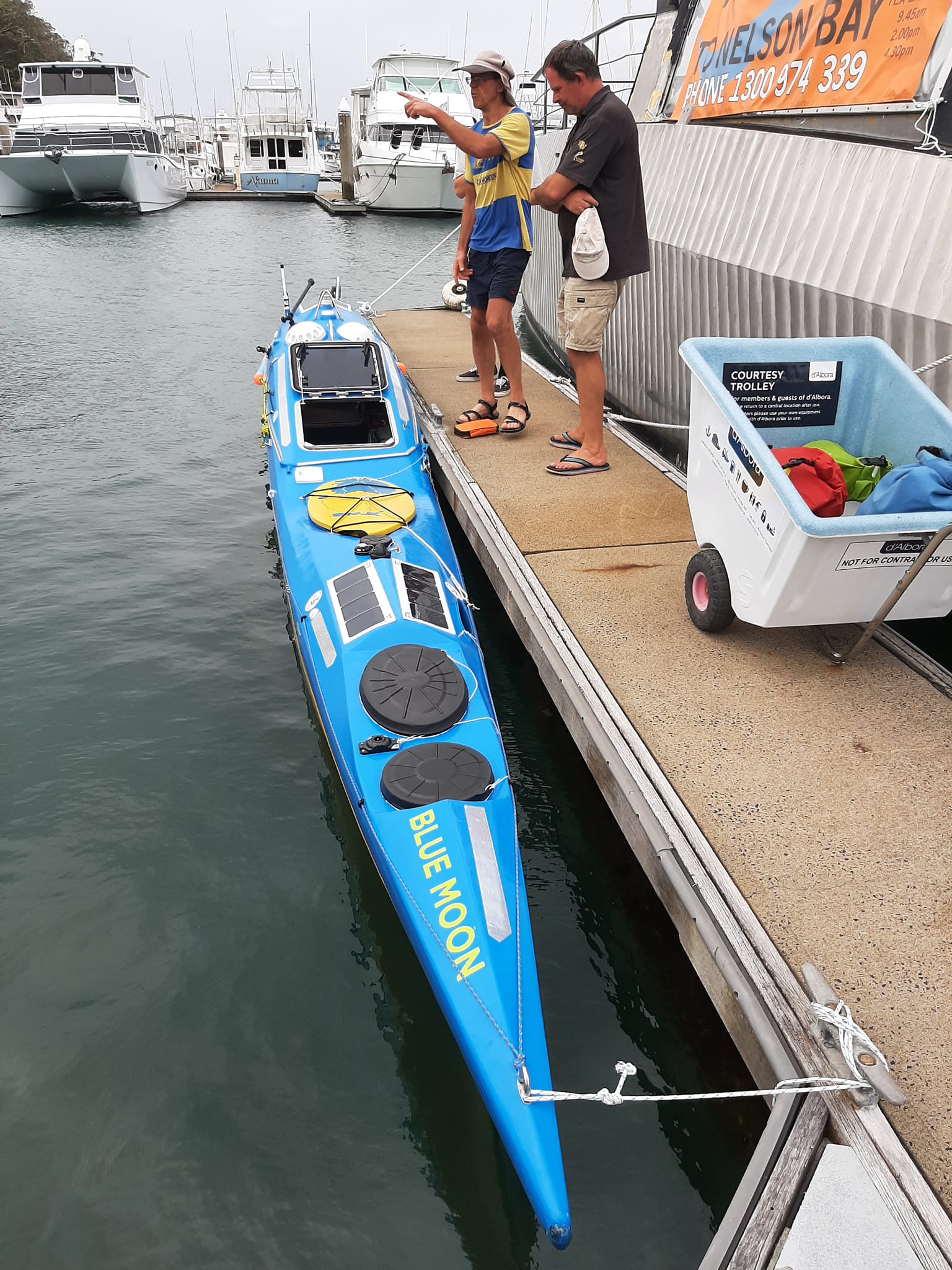 Above: Nestled in Nelson Bay - fixing stuff (photo Guy Holloway)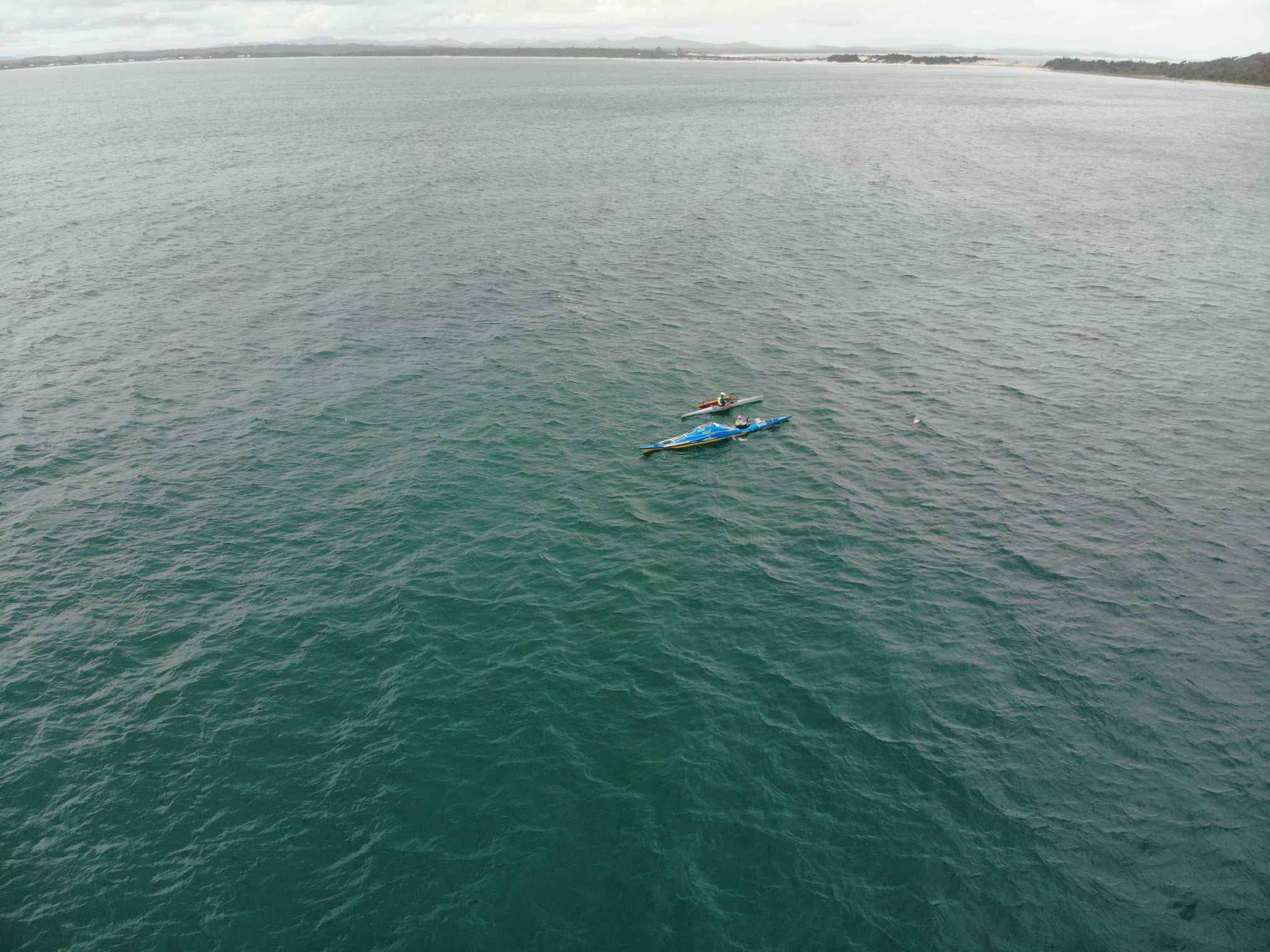 Above: leaving Nelson Bay - temporarily (photo Jay Beam)
Day 10 24 Nov 2021 (Shoal Bay to Nelson Bay)
...tapped as I enjoy dinner in Nelson Bay Marina inside Blue Moon.
Nelson Bay has been a day of temptation, surrounded and urged on by friends. The key plan was to find a marine electrician who could solve the electron riddle of why power from my bank of solar panels was not energising my batteries. Tom is now on the case, and d'Albora Marinas are helping out with a berth alongside.
My brother and his wife Peter and Louise planned a holiday to Nelson Bay pre Covid and it just happens to coincide with my arrival. They were waiting on the shore to greet me after I'd slept in yesterday. Many passers-by note the boat and stare awhile longer. It's surprising the number who correctly guess New Zealand as the goal. Is it the legacy of James and Justin, or Andrew, or Scott?
The end of the day saw a happy reunion of old Syd Uni canoe club friends. Both Steve and Juliet had joined SUCC back in 1986/7. Neither had seen the other, or their now partners, in over 30 years. There were many tall tales to relive of the daring canoe trips pre the new millennium we had all shared. The strongest temptation was to also share an ice cream, just as we did as uni kids 40 years ago on wild whitewater adventures.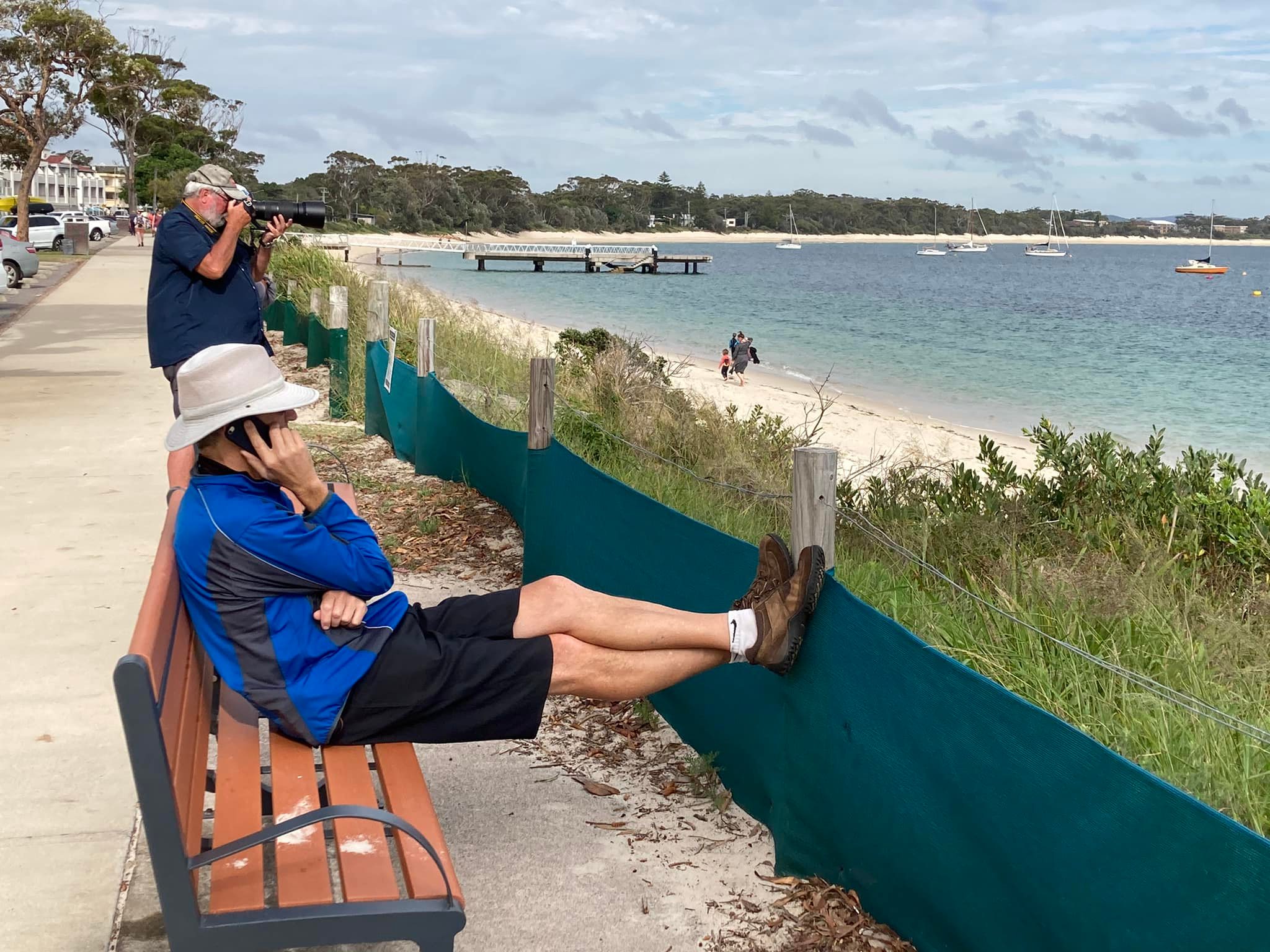 Above: Kayakarazzi await Richard's awakening (photo Louise Barnes)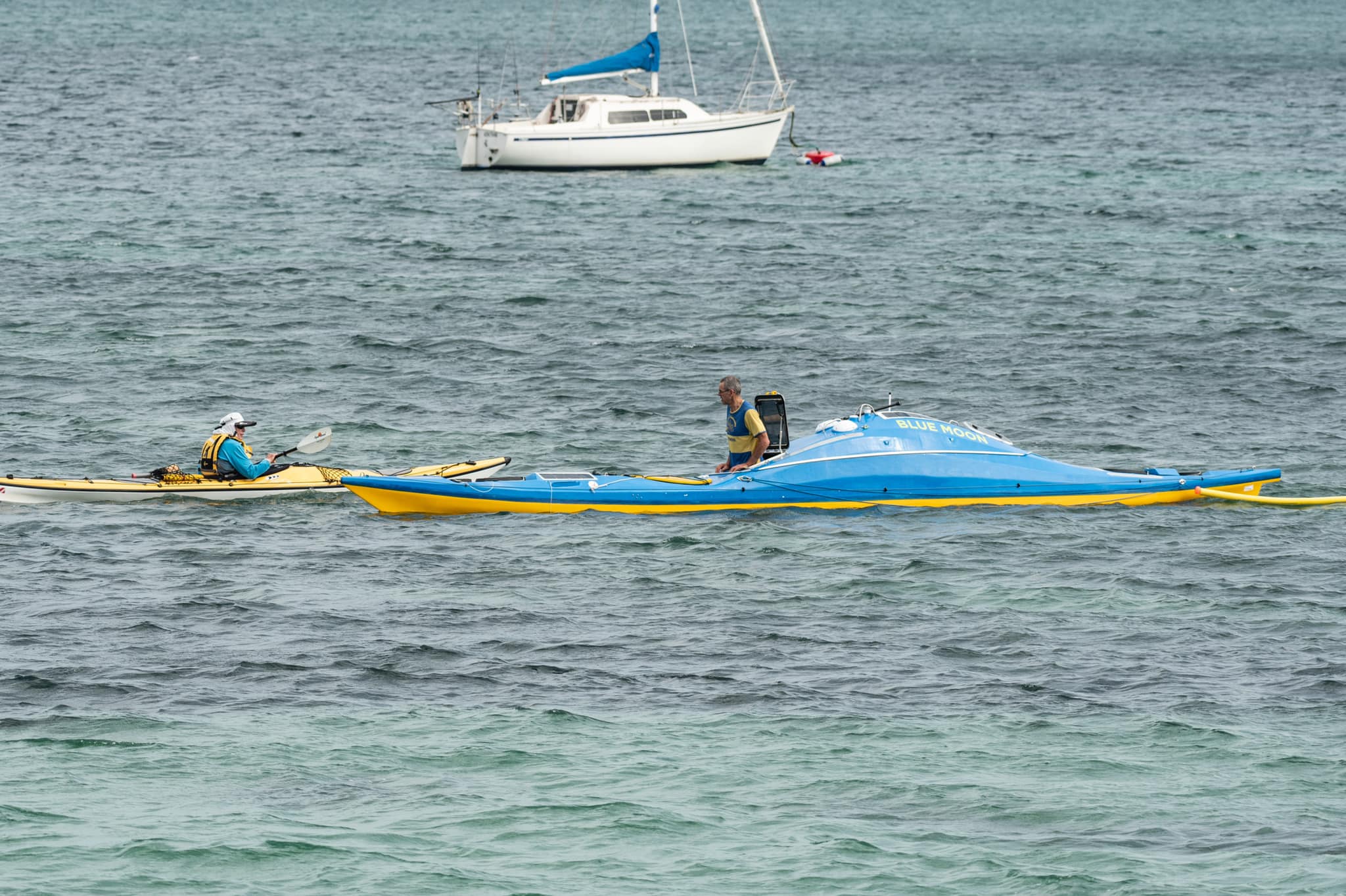 Above: Are you the boat ordered a skinny latte and egg & bacon roll? (photo Col Sheringham)
Day 9 23 Nov 2021 (Newcastle to Shoal Bay)
Today set a new Blue Moon record for distanced travelled in one sitting. 55.7km on my little faithful GPS. Not such a big number if going at Brett, James and James K1 speed, but this is chugging along at max 3.5kmh, and took as long as a novice in the Classic, or 15 hours. I really should have checked the distance on a map more carefully before heading out.
The shearwaters gracefully skimming the waves, and the RAAF jets screaming overhead all taunted my humble progress. There was a thick fog as I cleared Newcastle's breakwaters. Even as I passed the last lead in buoy, all sight of land was gone. It was a dress rehearsal for Port Macquarie when I can turn toward New Zealand. There was a bit of rain, but the important weather parameters were all in my favour. Zero wind rising to next-to-nothing wind all day.
Long lazy swell to rise and fall, sometimes taking and sometimes giving glimpses of the sand dune shoreline. No nasty chop to pound a path through. My land navigation needs to step up, or my wishful thinking tone down - approaching Boat Harbour I was feeling confident I was approaching Fingal Head. Alas still a hidden extra seven kilometres, and then the spectre of sunset intervening. I could see well wishers cheering from the shoreline, so that did provide a paddling boost. My land crew had packed an extra bag of dried fruit that went down a treat about now.
As darkness took hold, it seemed time to turn on my white Nav light. Not that there were any other boats around. I'd seen three sailing boats all day, plus the big cargo ships way out on the horizon. Unfortunately not one photon emitted from my light. Battery 1 was clearly taking a holiday. I crawled inside to the inner reaches of my cabin to switch to spare battery 2. Presto we are alight for the world to see.
Port Stephens lighthouse was starting to blink happily ahead. In the impending dark, should I round the light for Shoal Bay, or cut into Fingal? About this time guardian Guy motored into view in his 40' yacht. He knew for certain there were no safe moorings in Fingal, the only choice was Shoal Bay. He did offer a tow as well, or advice on navigating round the lighthouse and its hazard reefs and bombies in the dark. Those who have tried to navigate white water rapids when dark overtook progress will know the feeling. There is plenty of noise to indicate wave action, but little to show how close or how paddling skill should be applied to avoid the danger. Big thanks to Guy for hanging around at snail pace to guide me into Port Stephens proper. There was great relief and a few tired muscles when I latched onto a mooring at Shoal Bay.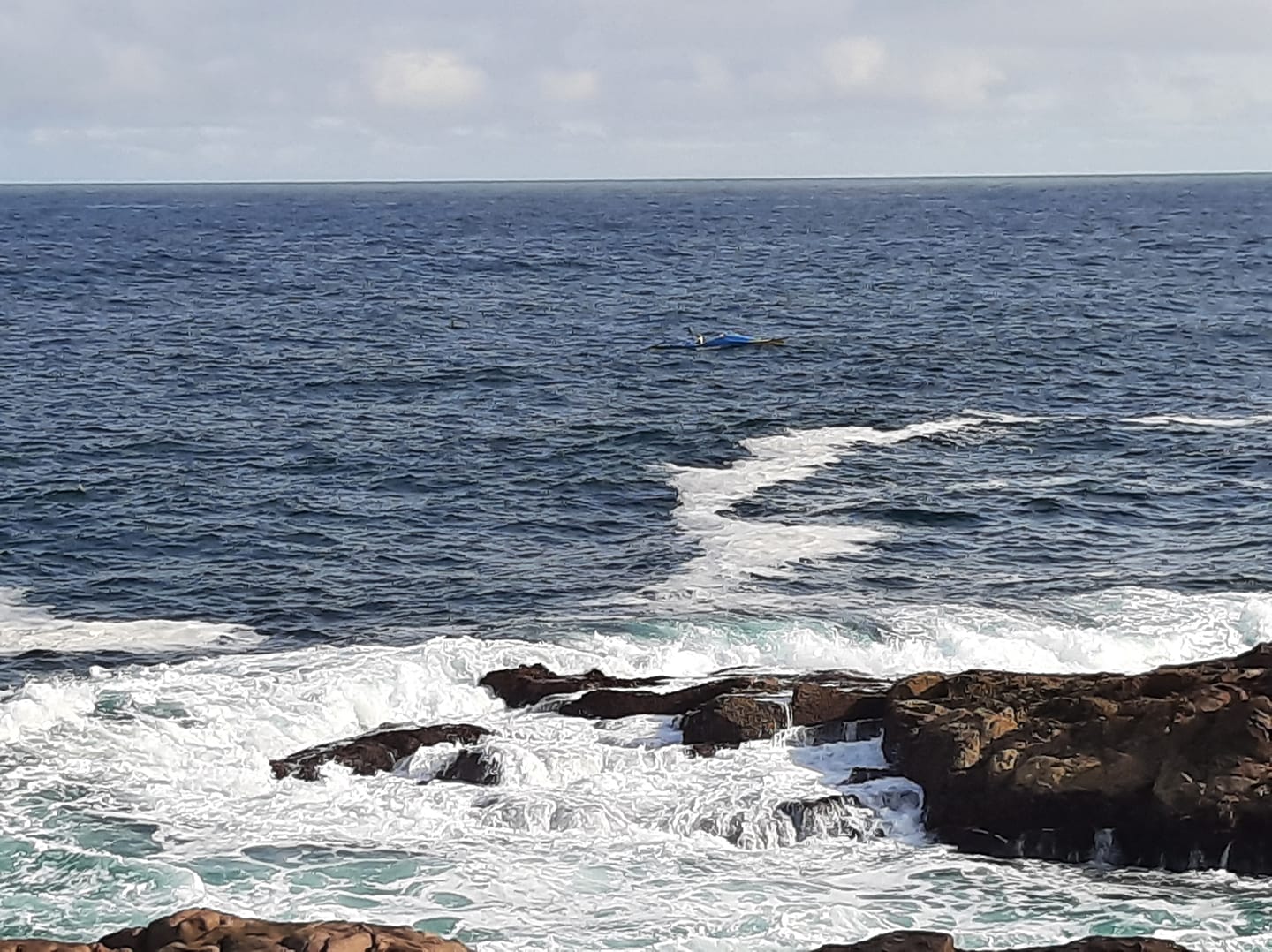 Above: Passing Boat Harbour - not very harbourish! (photo Russell Brown)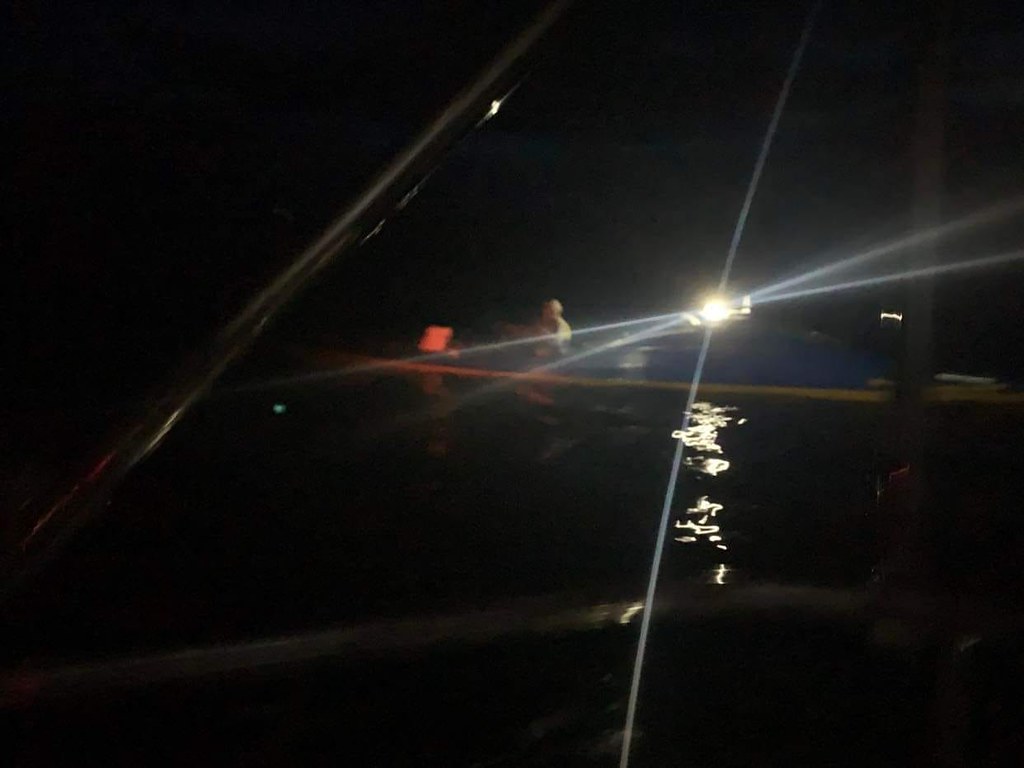 Above: A welcome Shepherd from Fingal to Shoal Bays (photo Guy Holloway)
Day 8 22 Nov 2021 (Newcastle layover)
The No-paddle day in Newcastle.
Like doing an exam at school, relief comes from doing something totally different. So Day 8 on land was the complete contrast to Day 7 paddling into Newcastle. Paddling was tiring but exhilarating. Day 8 was the day-after calm.
The main reason for a day off was to approach Border Force, and arrange officially leaving Australia. Helpful people in the Newcastle office pointed out I can't actually be signed out till I 'leave Australia', at Port Macquarie. So they are arranging to send staff to meet me at Port Macquarie to complete the formalities.
I walked back over to Newcastle Beach to see whether it looked as rough as I had imagined it was. Walked may really have been waddled - it had been seven days at sea, and my early attempts at standing on firm land assured me the whole world was shaking.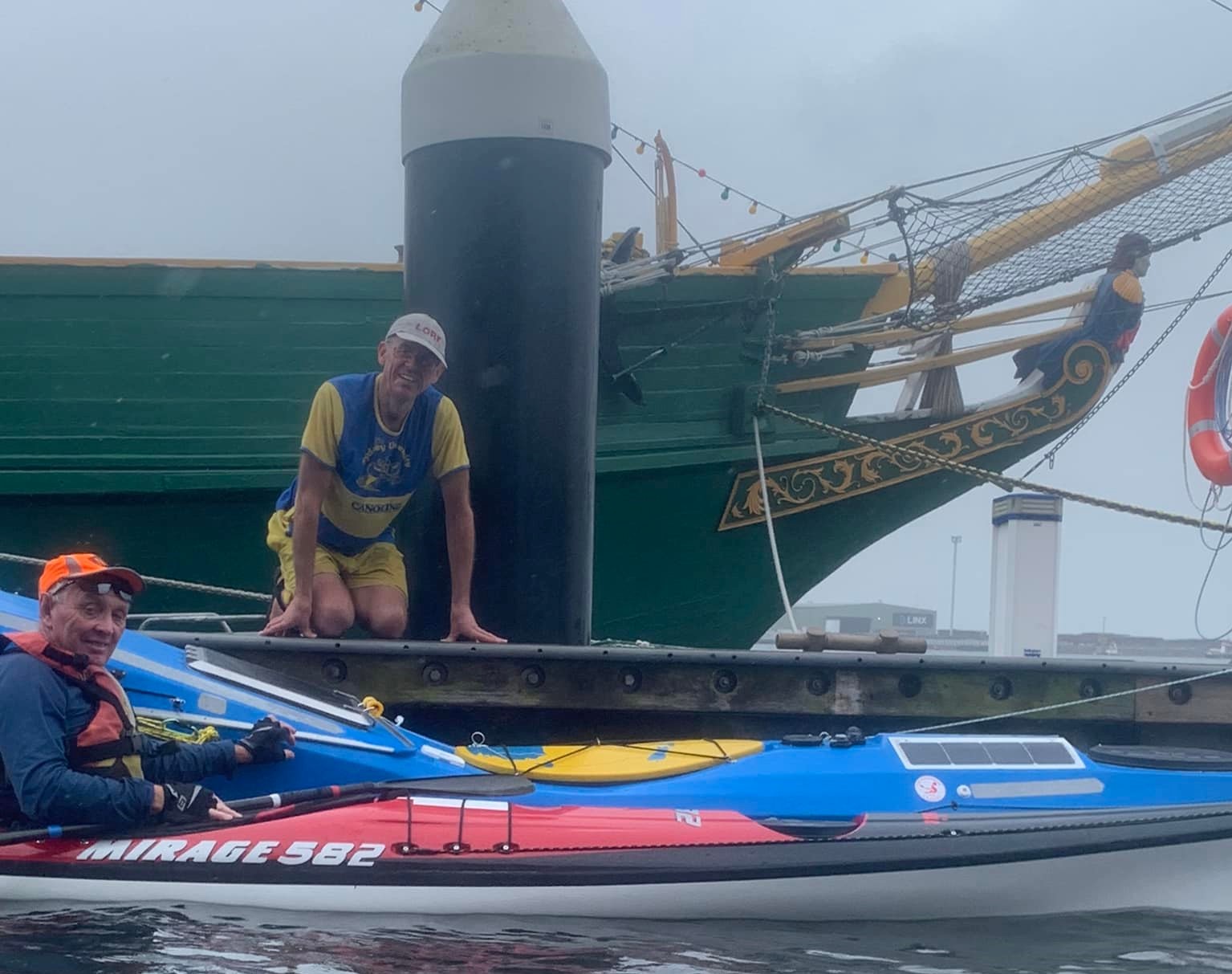 Above: Newcastling... (photo Ross Ferguson)
Day 7 21 Nov 2021 (Swansea to Newcastle)
A wise adventurer once said never anticipate: too often it can lead to disappointment.
Weather forecasting can be like that. If the forecast is for a sunny day yet it rains, we all feel let down. So today, I had anticipated an easy tailwind ride from Swansea to Newcastle. Contrary to my imagination, today I got the choppiest ride in the strongest winds yet encountered, and they seemed awfully close to in my face. Yet at least to some extent experiencing nature in all its moods is part of why I'm on this journey. The downside was the impact on my friend Phil who had driven up from Sydney to help sort out a desalinator problem. Planned meetup was an extremely optimistic 12.30, which turned more into 4pm.
Today's highlight was seeing a sea of orange waving from the tip of the Newcastle breakwater, who else but the ever-enthusiastic Newey club members. They braved rain and wind and a lot of crashing wave spray to cheer me into Newcastle. They also organised my safe mooring near Honeysuckle Wharf, in a quiet calm spot. You might be wondering how rough was today's benchmark? Rough enough to forgo lunch on the water because opening hatches would have let rogue waves spill inside. Still calm enough to be able to stand up in my cockpit to reach forward to adjust the centreboard when needed. At times tough to make headway into the wind. Regularly having Blue Moon's bow buried under a wave. Occasionally having side waves wash over my head. The 'o-my-goodness' moment for the day was on my approach to the Newcastle Breakwater. I'd straightlined 15km from Redhead, but in that distance been pushed well downwind, closer to the surf on Newcastle Beach. Hidden till close approach in the surf waves next to the breakwater are nasty jagged rocks. It took some anxious, nervous-fuelled paddling directly into the wind, to claw back just enough searoom.
Tomorrow I hope to sort out border clearance with the border force stationed in Newcastle, in case NZ borders open to wandering kayakers. Hope they don't want me to unpack everything to check for stowaways.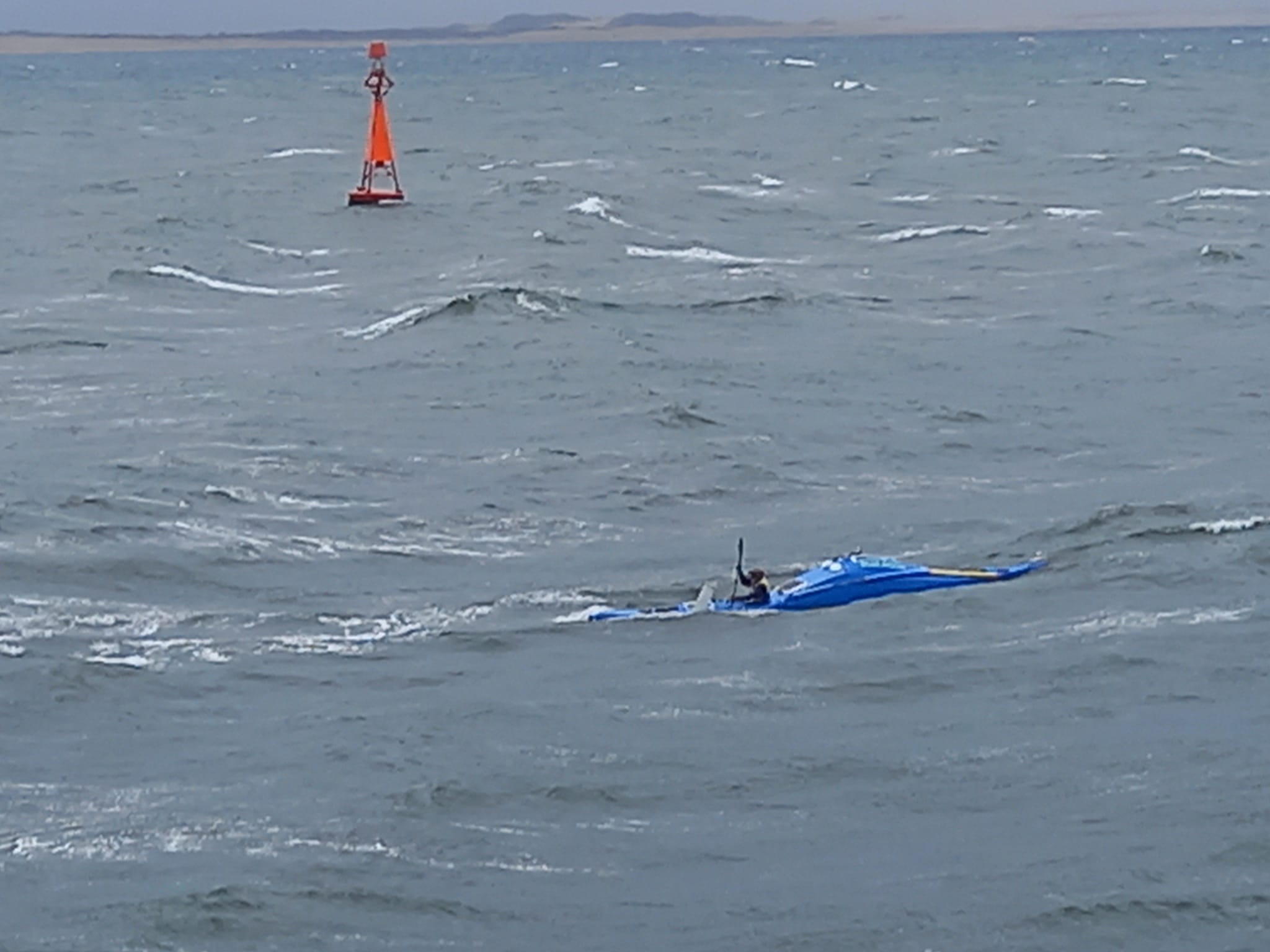 Above: 'Interesting' swell coming into Newcastle (photo Vicki LB)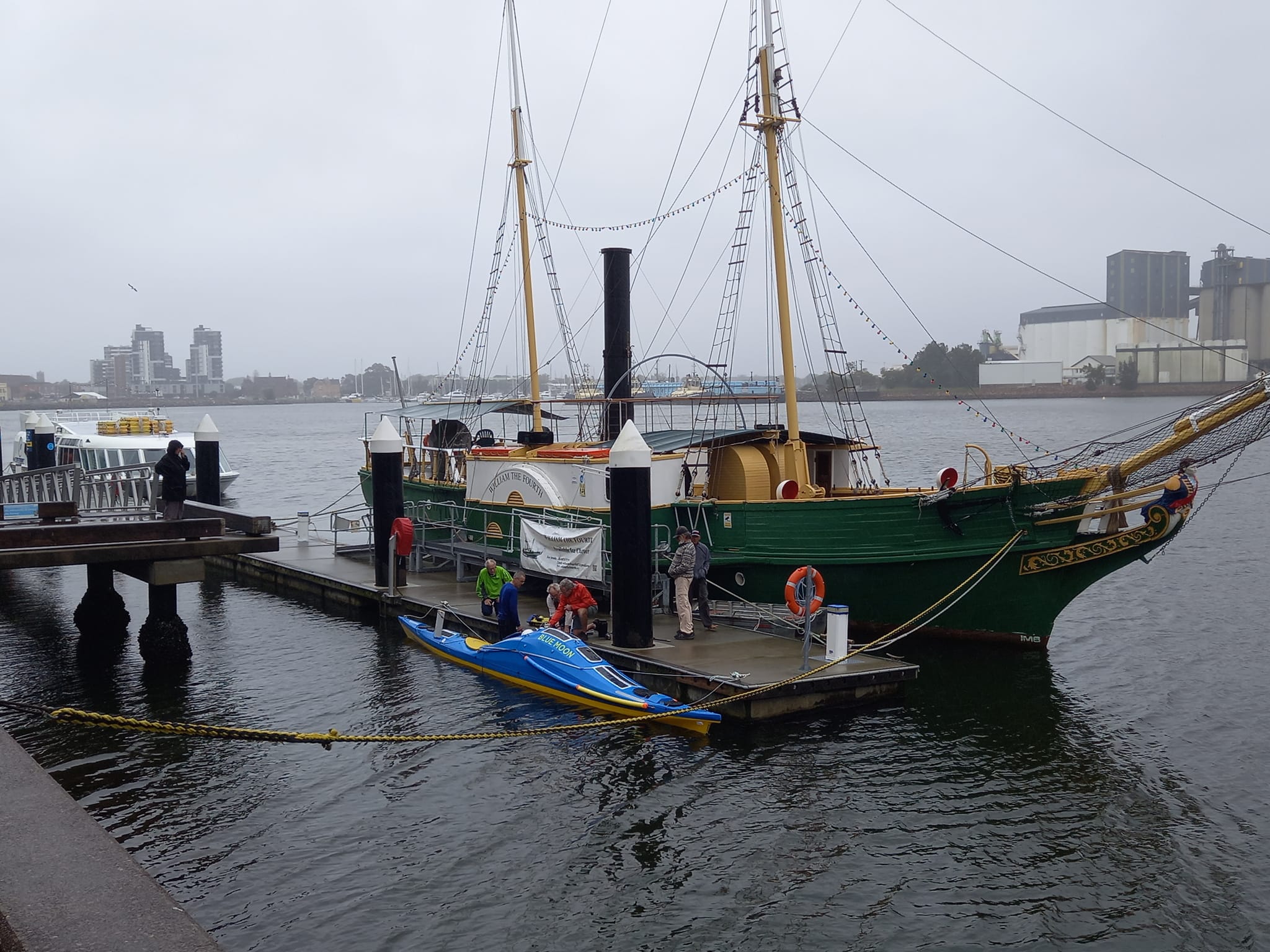 Above: Cosmopolitan location for the night (photo Vicki LB)
Day 6 20 Nov 2021 (Norah Head to Swansea)
Who ever thought ocean paddling was solitary? Maybe the ocean concept needs clarifying, as I've turned my trial journey for now into a series of mooring hops. Last night tied up directly under the sweep of Norah Head lighthouse was pretty special. Each mooring stop brings out a host of well wishers, and there have been paddling partners as well. Jason Slade and his family have been around a few bends with loud encouragement. Rob and Marg Cook enlivened the leg from Norah Head to Bird Island with tales of their recent trip down the Darling. Marg solved a very practical problem by removing a bag of my garbage. Next a trio of NSWSKC members slipped in alongside for a slow ride from Catherine Hill Bay to Caves Beach past spectacular cliffs caves shoreline. Together Campbell, Reece and Caoimhin have an encyclopaedia of practical sea kayaking experience. Tales from Reece on ways to stab a screwdriver through ones own hand made quite a few kilometre disappear. A band of locals led by Anne Moore were at Swansea Bridge to cheer. Sue Smith and Greg jumped on the water to guide me to a safe mooring for the night. There I shared a dinner with James Farrell. This was James' first post Covid drive out of Sydney. Through trial and error we determined that two paddlers simply won't fit together in Blue Moon's dining room. The jet boil coped with heating water for two dehyd meals. James got to sit in the puddle in his ski to eat whilst I got the high chair on Blue Moon's deck. Great company I'll miss when the real oceaneering begins at Port Macquarie. Tomorrow forecast weather is a 20kt SE tailwind to blast me into Newcastle. I was reminded all the locals are driving down to Narrabeen for the marathon series race!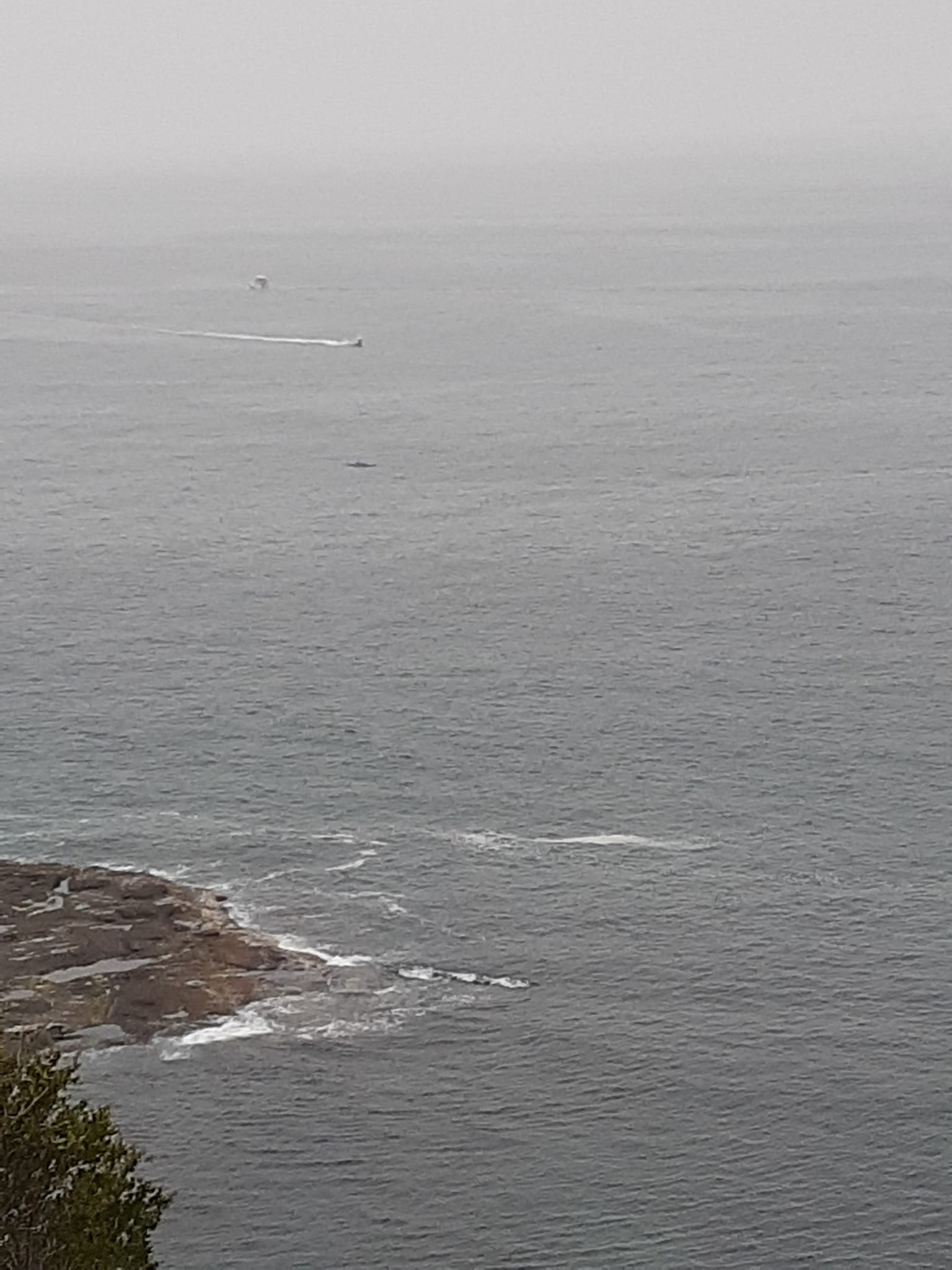 Above: A speck passing by Wybung Head (photo Anne Cowper )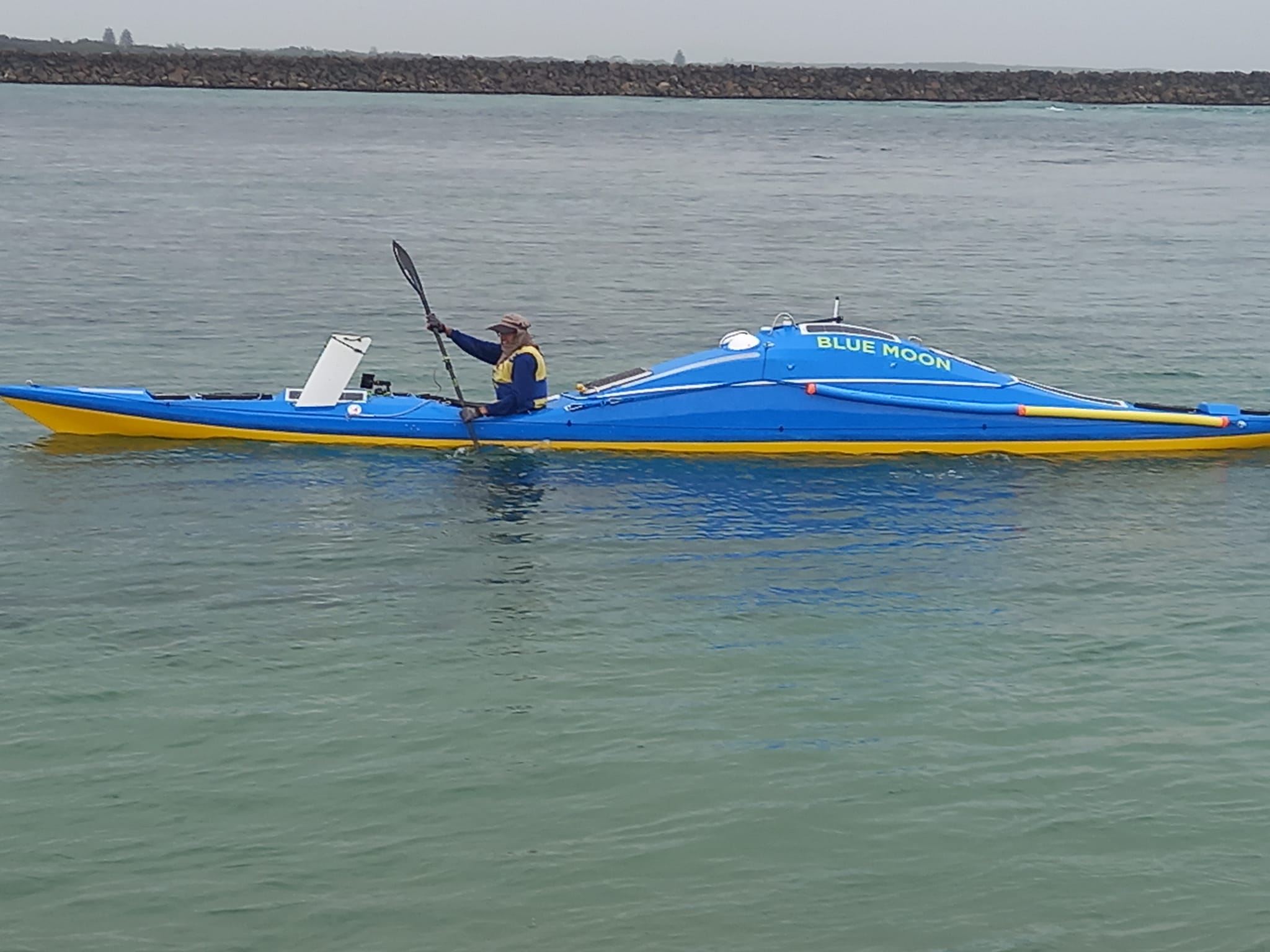 Above: and into Swansea inlet (photo Jason Slade)
Day 5 19 Nov 2021 (Terrigal to Norah Head)
Plan had been hatched overnight to have a relaxed day, spend a bit less time paddling so there was more time for eating. I did do less, lazy paddling, but not sure about the more eating. Acclimatisation does seem to be working and no seasickness all day a big relief. 25km over 8hrs for an average 3kmh, on glassy calm ocean. I love a good lighthouse, and Norah Head lighthouse is a classic, with a white tower, slowly revolving prism and nearby keepers cottages all set on a jutting rocky headland.
I'm now parked directly under it moored to a Marine Rescue buoy. Legend of paddling Cam Tunbridge came out to meet me on a SUP, and guided me into my haven. He'd already cleared the tie up with Marine Rescue.
Jason Slade paddled out again too, this time with his two girls Kimberley and Briony balancing on the back of his ski. Cam and Jason both tempted with (declined) offers of land accommodation and meals. Another Richard, a fellow old SUCC member and Bass Strait crosser, swam out to say hello whilst treading water.
Full moon tonight. Tomorrow I'm hoping for a southerly to push me to Swansea.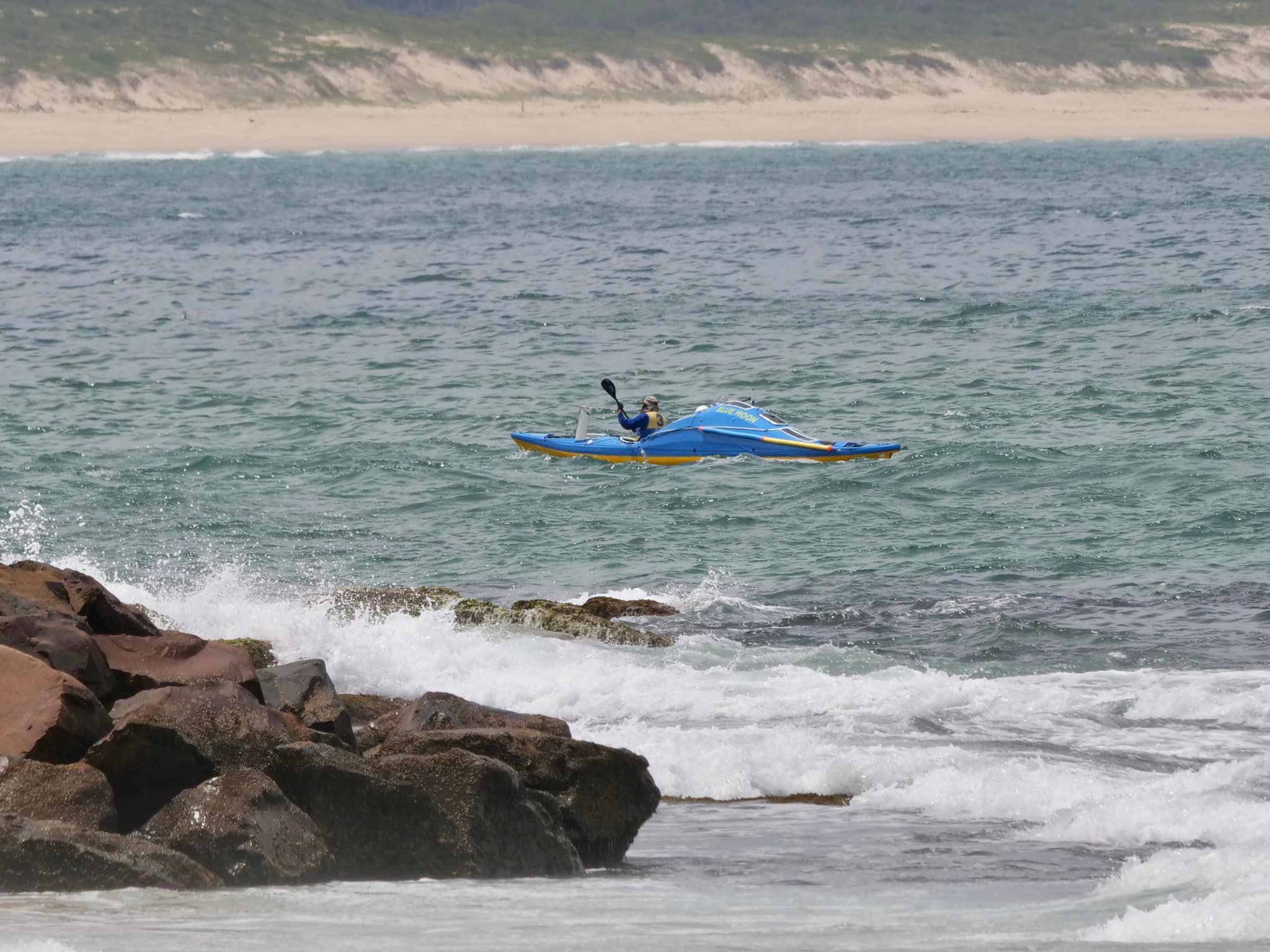 Above: Approaching the Entrance for the 2nd time (photo Lindsey Williams)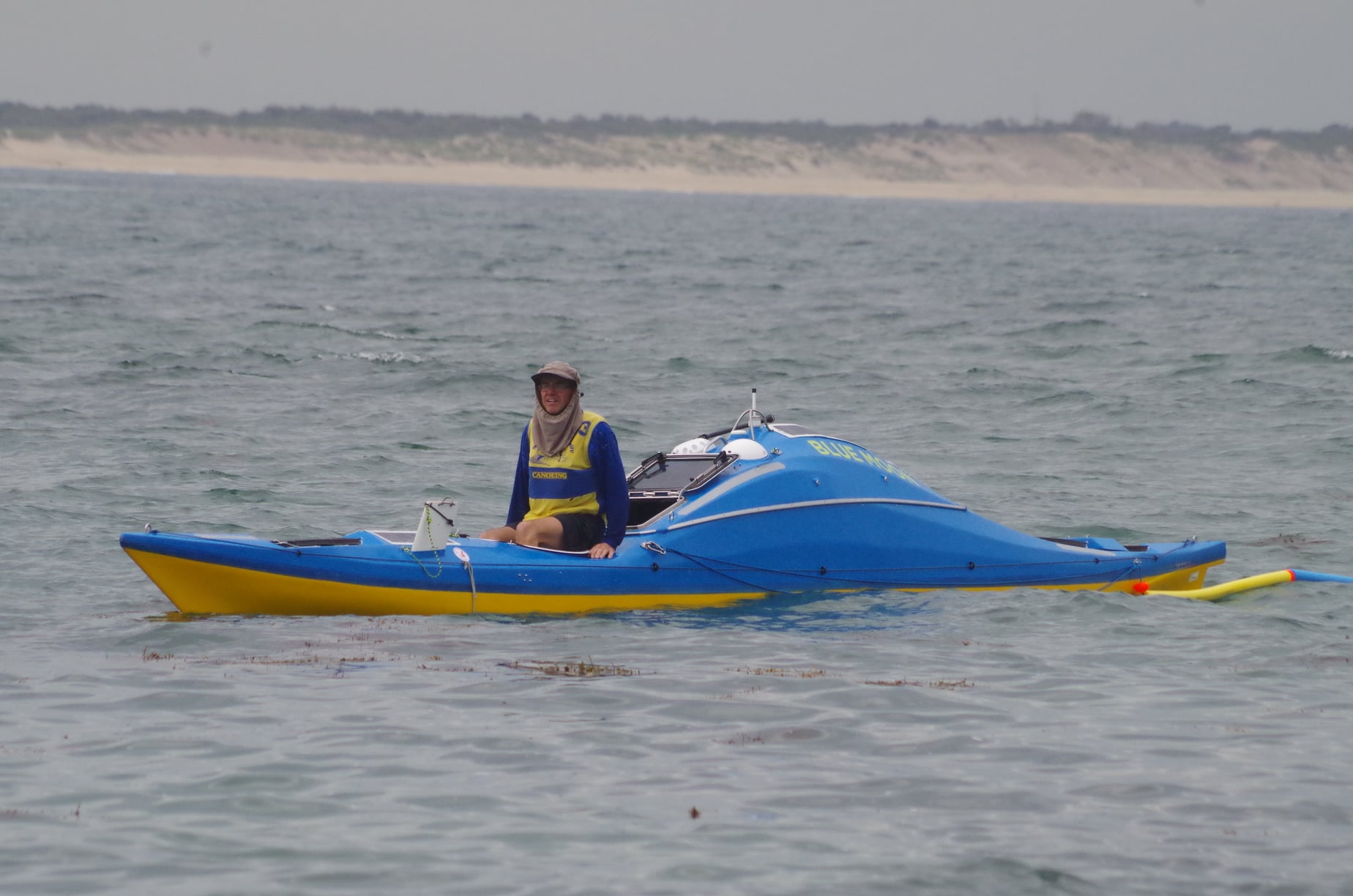 Above: Norah Head for bed (photo Allan Newhouse)
Day 4 18 Nov 2021 (The Entrance to Terrigal)
So to today, and a loop ending back in Terrigal Haven. I've learnt something, and that is that Blue Moon has a terminal forward velocity, of approximately zero, in the chop created by 15-20kt predicted headwinds. Speed rises to about 3kmh cross hop, and is flying at almost 4kmh downwind. Not wanting to drift into the coast I decided to head more directly back to Terrigal to use a buoy to stop crash landings. My weatherman Roger has forecast more favourable wind speed and direction tomorrow, so I'm going to head out hoping to make Swansea by nightfall. On a positive, no seasickness tonight so celebrated with my first Coke of the journey.
Missed seeing everyone at the time trial last night, and reading the TT news today.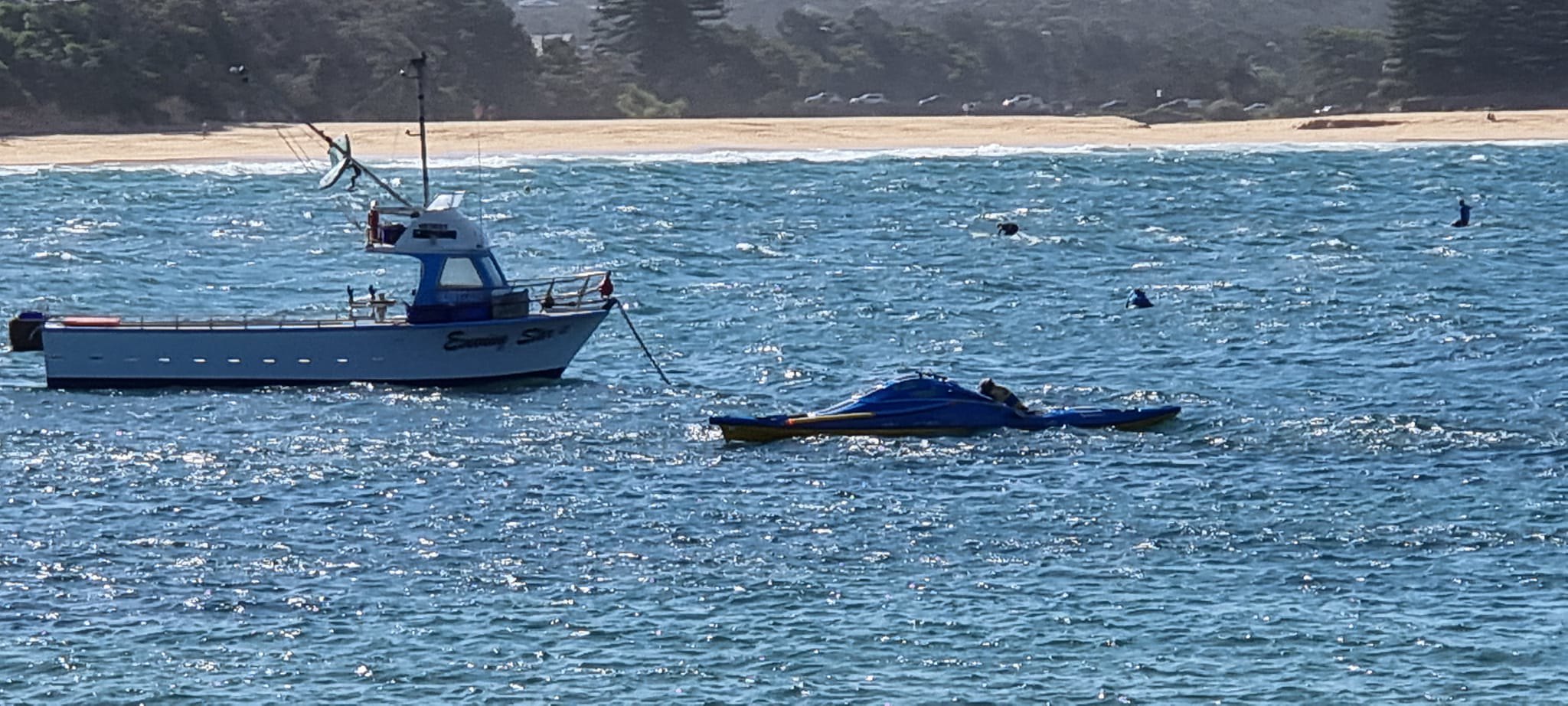 Above: sheltering at Terrigal Haven (Photo Peter Thomson)
Day 3 17 Nov 2021 (Barrenjoey to The Entrance)
Yesterday's route made great progress, at Blue Moon pace, from a start at Barrenjoey to The Entrance. Unfortunately, the entrance is not an entrance for ocean kayaks. 200m of surf separated me from safe lake sanctuary. So at 6pm I took the only option and headed east to put space between me and crash landing. Tougher going into a headwind but infinitely uplifted by being joined by Greg and Jason Slade on a double ski. From when I stopped paddling round 8.30pm, drift set in. Fortunately along the coast, not in toward shore. Unfortunately backward, undoing some of my day's mileage. Just like James and Justin, and Scott Donaldson, on a mini scale.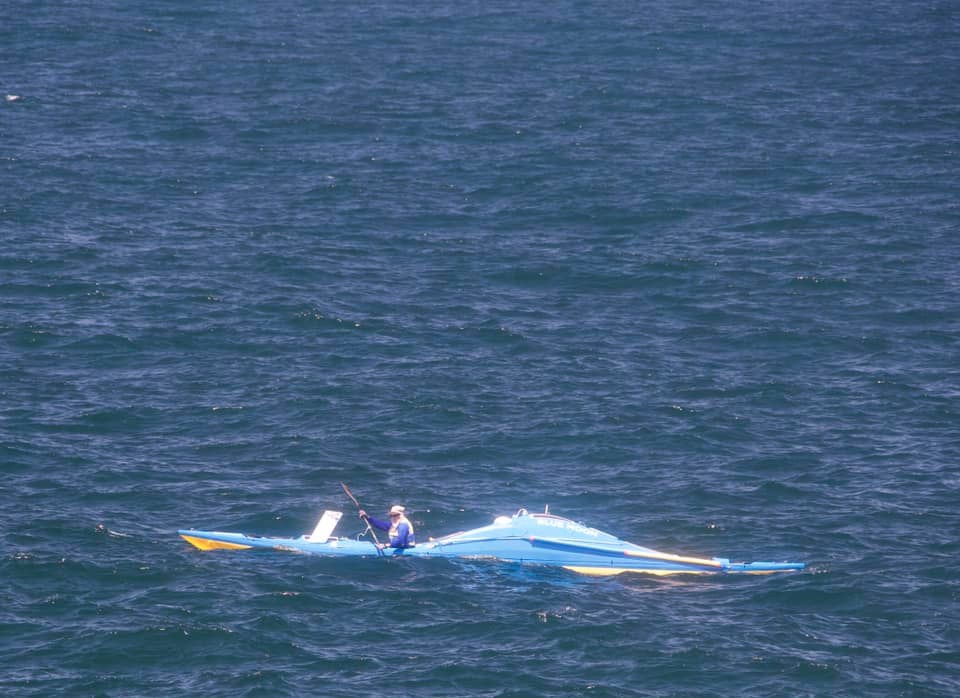 Above: heading north past central coast (Photo Peter Thomson)
Day 2 16 Nov 2021 (Sydney to Barrenjoey)
A mini update via iridium. 34km in just under 9 hours, so average round 3.5kmh. And that is with a great tailwind. It was however hampered by seasickness. I'm reminded I should acclimatise in a few days. Highlights were meeting up with lots of people during the day. Anjie and Kerry at The Quarantine station, followed by Jeremy Spear and a merry band of Shark Island Paddlers. Then in the afternoon under Barrenjoey lighthouse I was met by Ruby and Caoimhin, then Col Campbell in kayaks. Mardi arrived straight off a bus walking the bush tracks along the shoreline. So too Eric Filmalter - he swam out to Blue Moon, arriving like an otter with gifts of a huge slab of biltong. Thanks to all for making the second day of my journey feel special.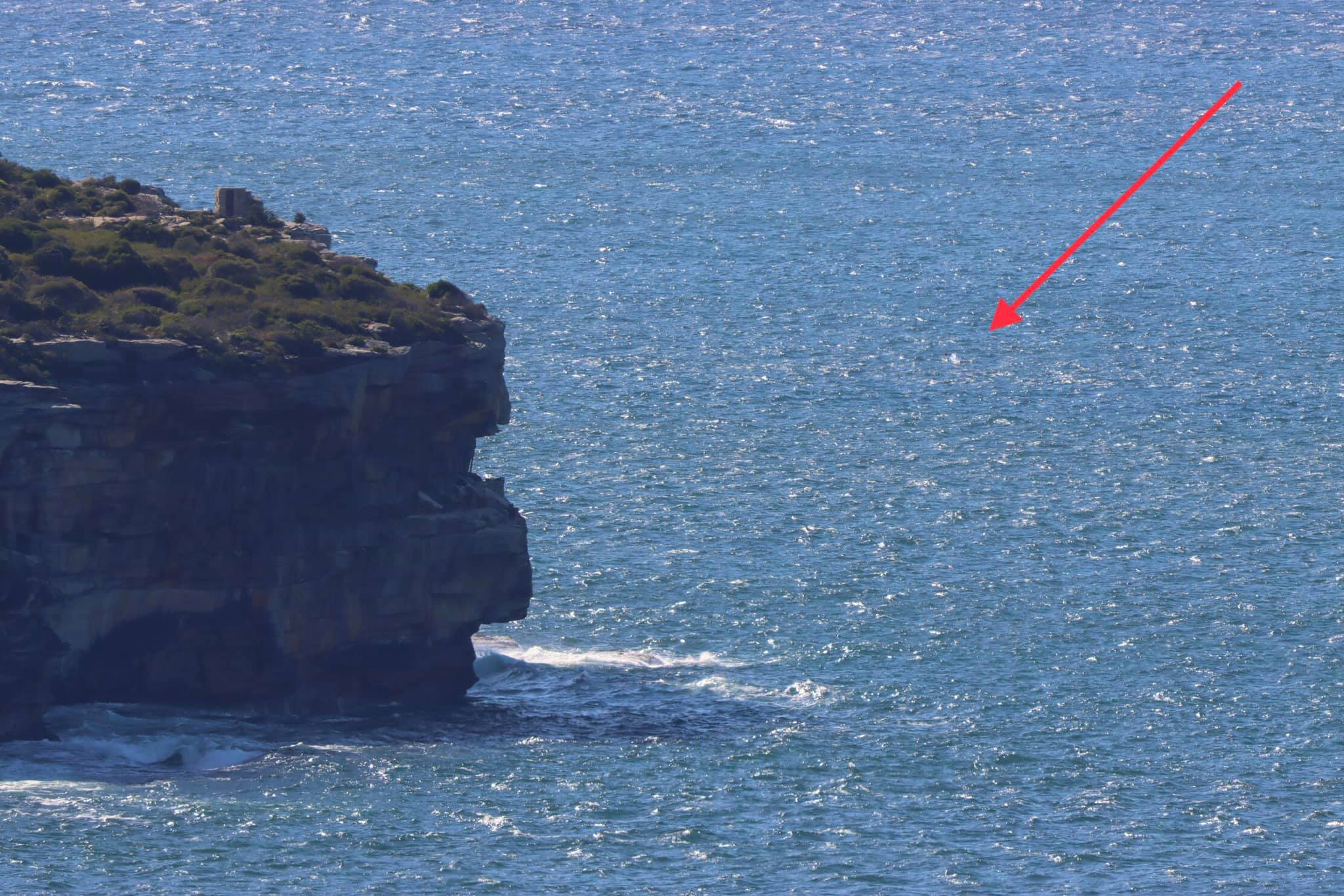 Above: Out of Sydney Heads (photo Tom Holloway)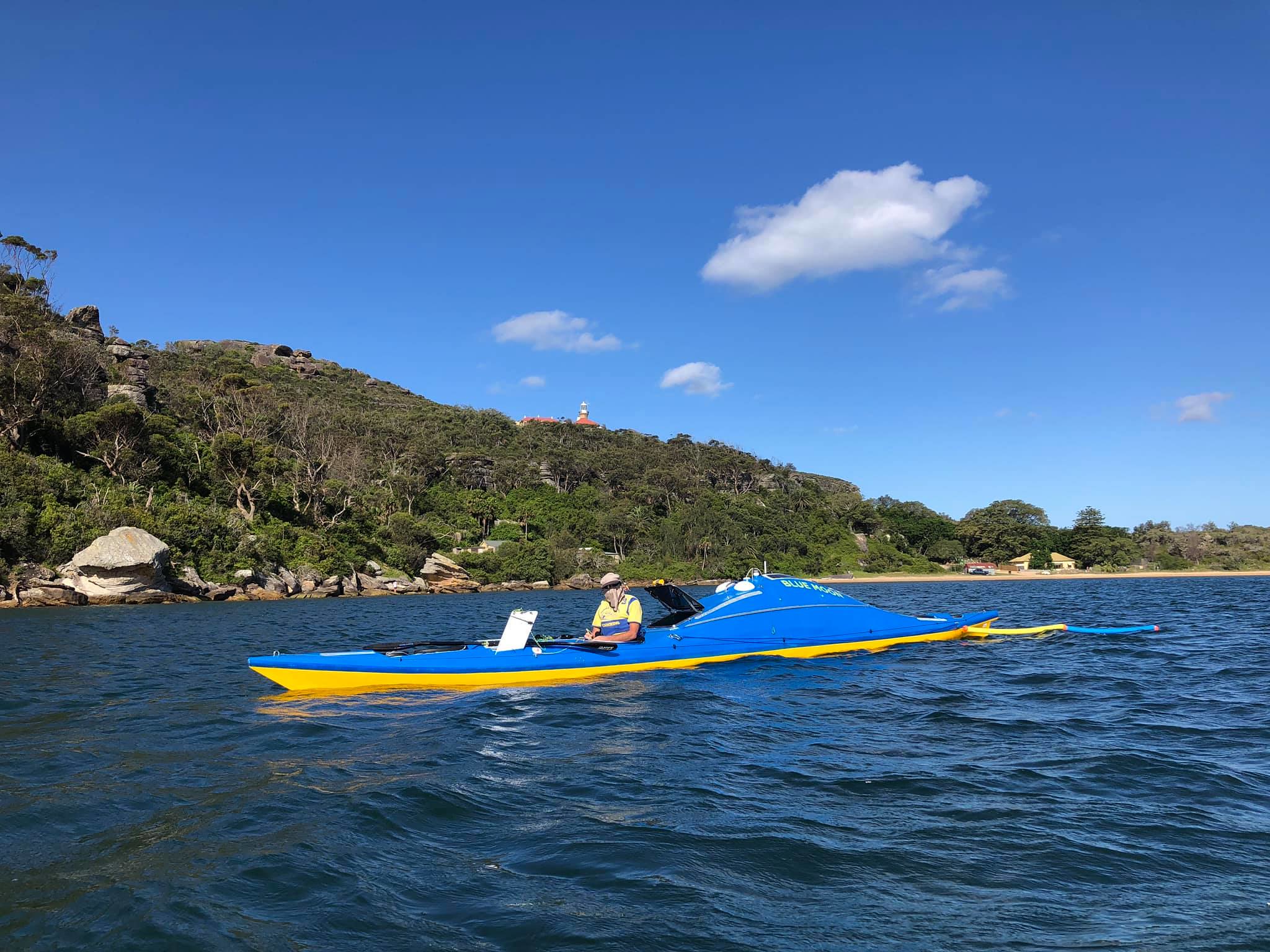 Above: Barrenjoey for the night (photo Ruby Ardren)
Day 1 15 Nov 2021 Departure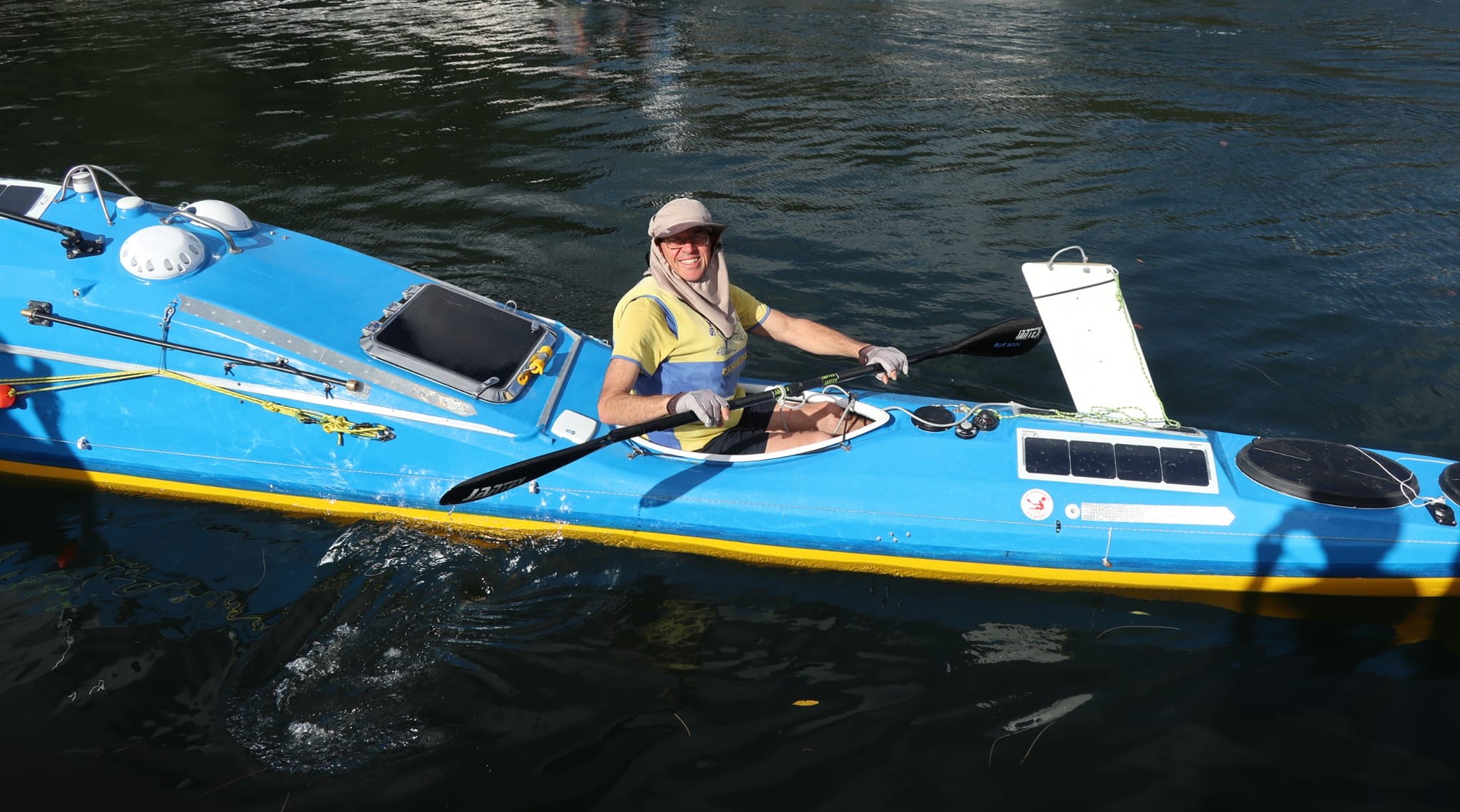 Above: Departure (photo John Bowe)

!!Day -8 6 Nov 2021 Launch but not Leave Party
So many friends have sent messages wishing me well for my adventure. Thanks to each and every one of you. Many would like to know departure plans. The main event is a covid-compliant launch party spread on Saturday afternoon, 6th November at the boatramp under Roseville Bridge.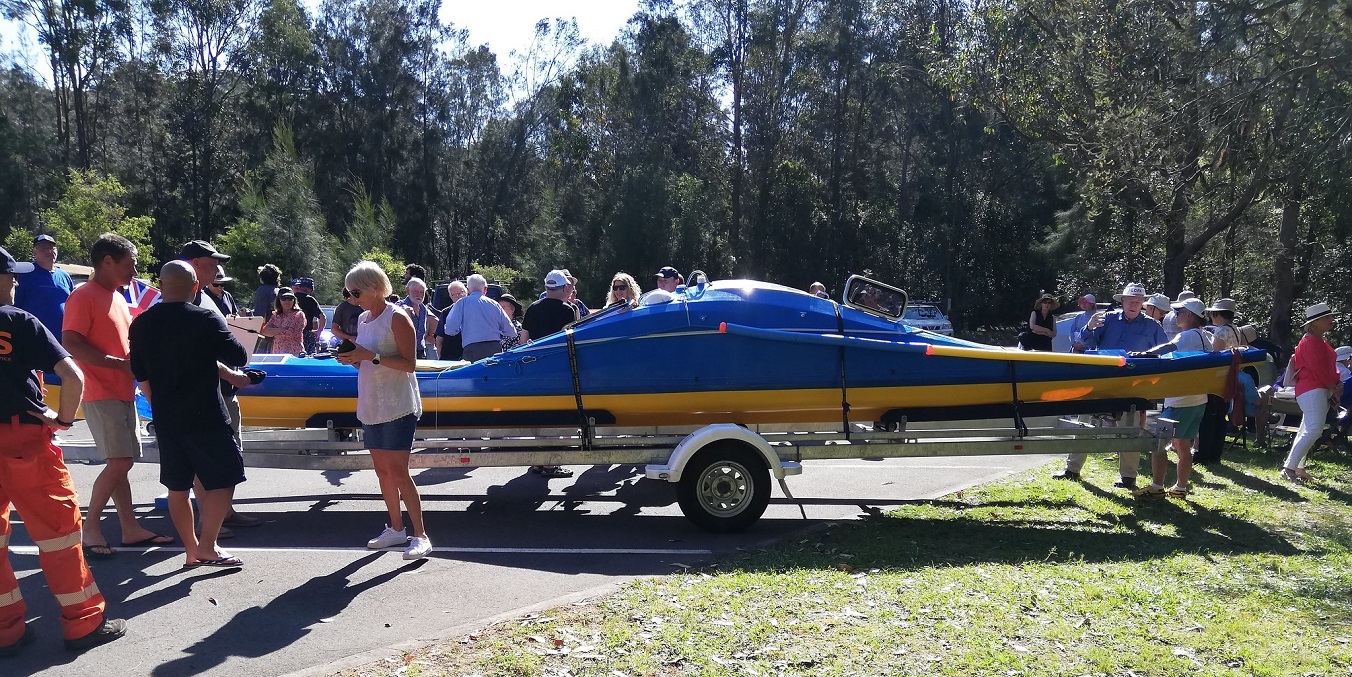 Above: Blue Moon and friends on 6 Nov
Later the following week, when final preparations are complete and a favourable window of weather is forecast, I plan to slip very quietly out Sydney Heads.
Day -15 - 30-31 Oct 2021 Hawkesbury Classic 2021
But for covid, last weekend would have been the Hawkesbury Canoe Classic. For a few paddlers, the river had survived the pandemic, and was still inviting paddlers. Five paddlers in four boats set out from Windsor on Saturday afternoon.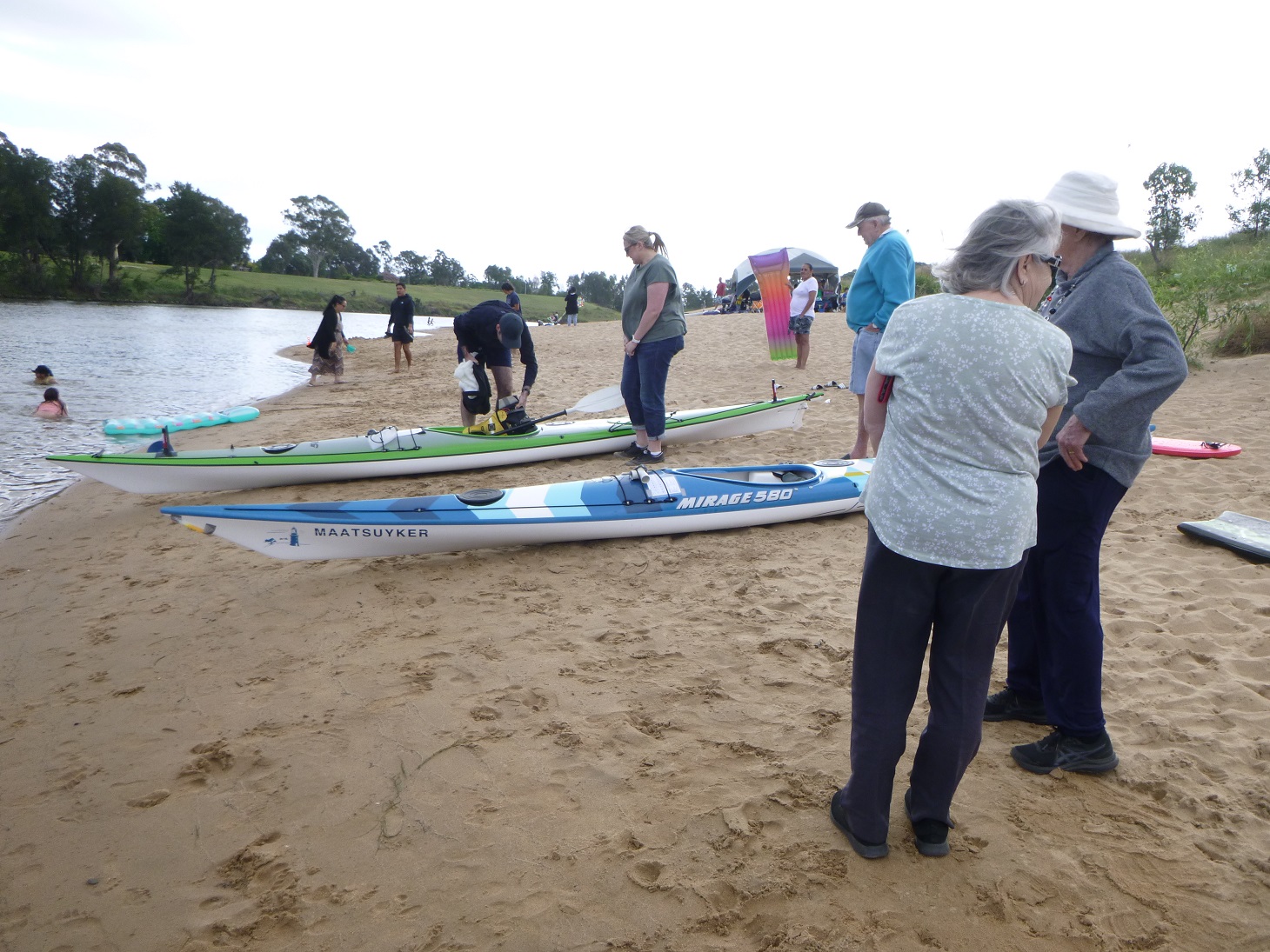 |Classic start at Windsor
What better way to warm up a few muscles in preparation for launching into the Tasman? On the Tasman trip, the aim is to use Spot satellite tracking to keep followers updated on progress. The Classic run was a chance to trial that technology - and here's the track for the HCC paddle (breadcrumbs are 10 minute intervals).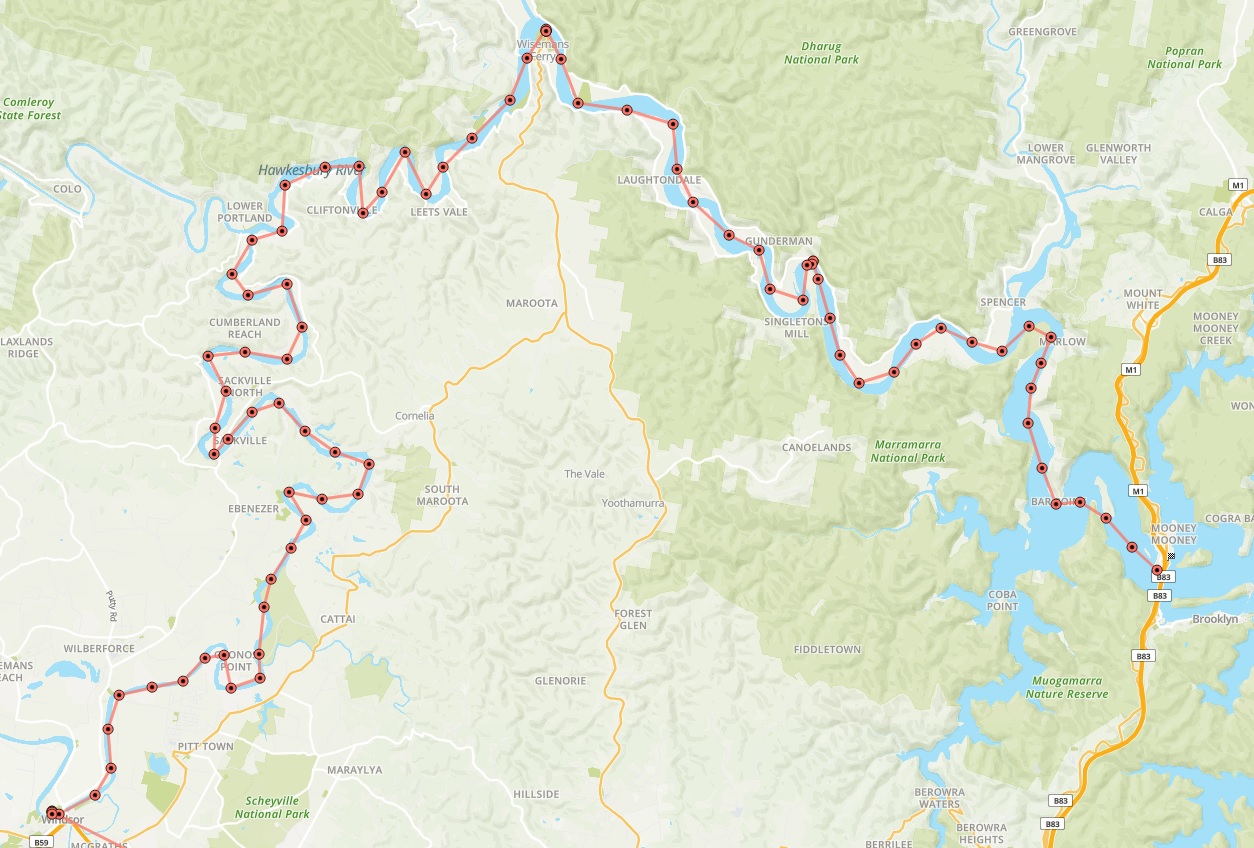 Nature's quirk was to serve up mild, rain-free, wind-free conditions all the way, a paddler's dream.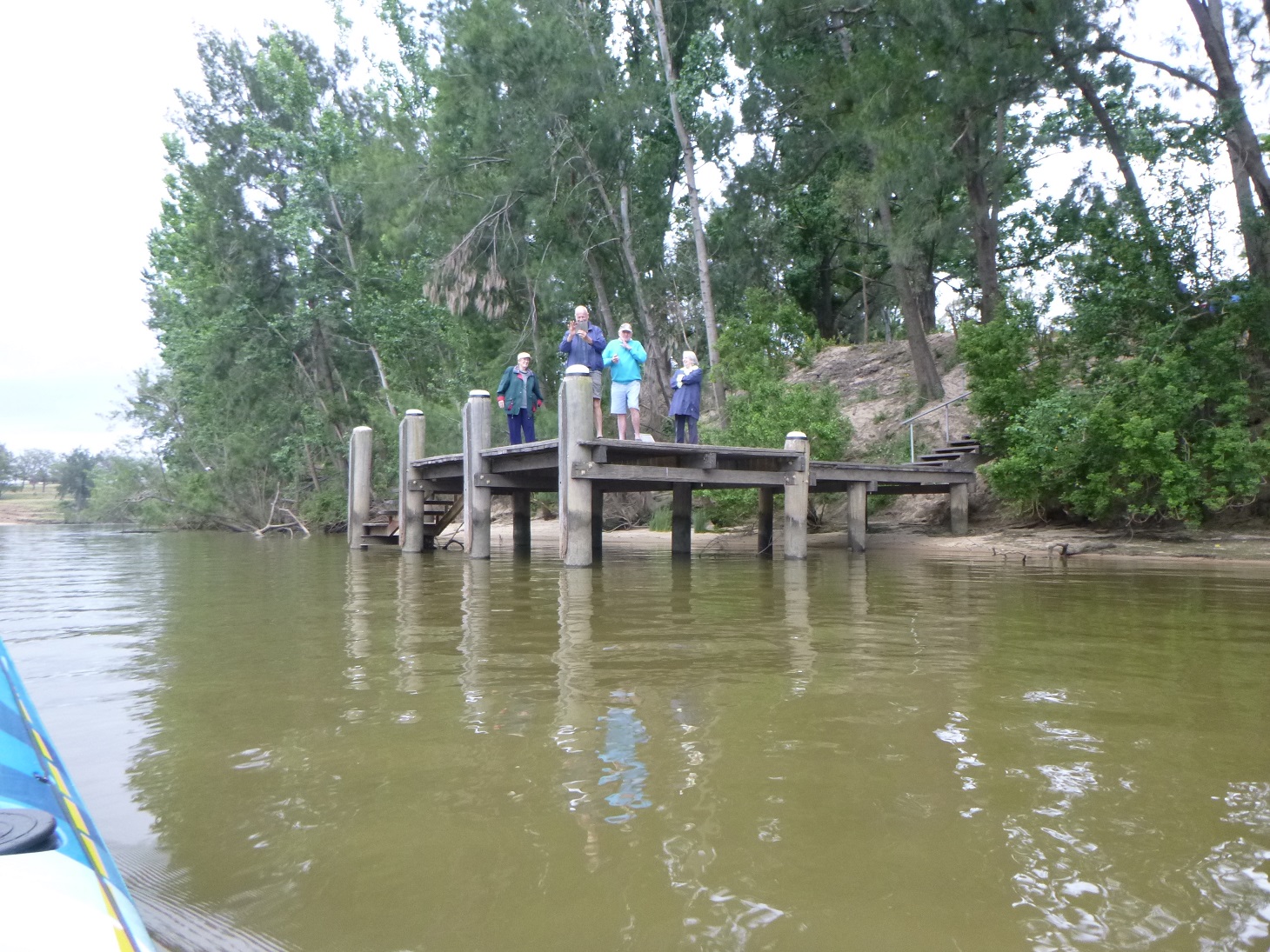 Above: Checkpoint A was a little quieter than normal...