This is the series of paddles organised by the PaddleNSW Open Water Committee on various open waters in the harbours and bays of Sydney. There are 7 events in the 2019 Harbour Series. This year races are being hosted by various kayak clubs.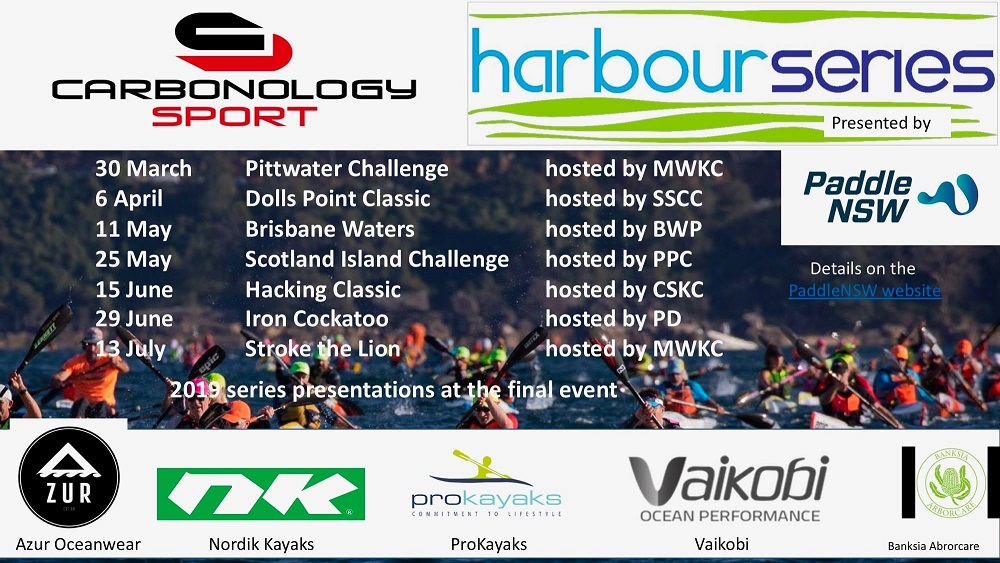 Race #1 Pittwater Challenge - Sat 30 March
Welcome to race one of the 2019 PNSW Harbour Series.
Lifejackets are required to be worn by ALL paddlers in this event. Leg Leashes are required for all paddlers in this event.
Early Bird Entries close at midnight on Tuesday 26th March.
All entries close at midnight on Thursday 28th March.
Tingira Challenge - Sat 16 Mar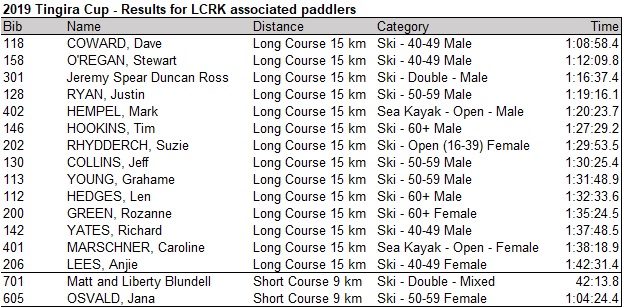 Above: Results for LCRK Associated Paddlers
Race report to follow......
Bridge to Beach 2019 - Sun 24 Feb
Race report from Josh Chant
While I'm sure there were a few other LCRKers racing in the bridge to beach, unfortunately I don't know them so this is going to be a pretty one sided report!
This year the race kicked off from Milsons Park in Kiribilli, as the usual launch point Blues Point Reserve, is having the foreshore rebuilt. With the new start of the end of the marina at Royal Sydney Yacht Squadron the race kicked off almost straight into the 15 knot Sou'Easter that was prevailing. A lot of people, including me, took a while to get settled into the choppy conditions as we bashed towards Bradleys head.
3kms later, it was a relief as we turned Bradley's head and started running toward Middle Head. It wasn't quite straight downwind running through the harbour as the breeze and chop had quite the side angle to it. As challenging as it was, most were handling this section of the race well and occasionally even catching the odd little runner that lined up. That being said every time the Manly ferry came past it was a bit like skittles with whole groups going over.
That was nothing compared to the conditions as we crossed Middle Head and over to Manly. With two days of southerly swell built up as well as some swell from Cyclone Oma reaching Sydney it was rough to say the least.
This was where I had my first swim, followed immediately by swim #2. Swims #3 through #6 followed not long after as I precariously made my way across. Even when upright I could only manage 6km/hr through this section. Slow going!
The fleet of kayakers, skis, SUPs, and prone board all compressed here as the majority of us went into conservative mode. Many of the SUPs were down on their knees or even bellies.
The front runners put in a really impressive display, with Sam Norton coming in at 43.07. Reportedly the rough conditions barely slowed him and the rest of the front pack down.
Just prior to Middle Head I was doing some mental calcs and thought I was in with a chance of finishing around 55min. Even though I picked it up as we started to get some shelter from North Head I crossed the line at 1:09:37, though very happy with the effort and looking forward to next year.
Compared to my last two attempts at the Bridge to Beach, thanks to the Wednesday night TT's, I was really comfortable with the distance and was pushing hard all the way to the finish. This year I was well out of practice in the rough conditions and it showed!
I hope next year some of my fellow LCRKers will join in for a bit of practice in the lead up as well as the race.

Above: Results for LCRK Members and regular TTers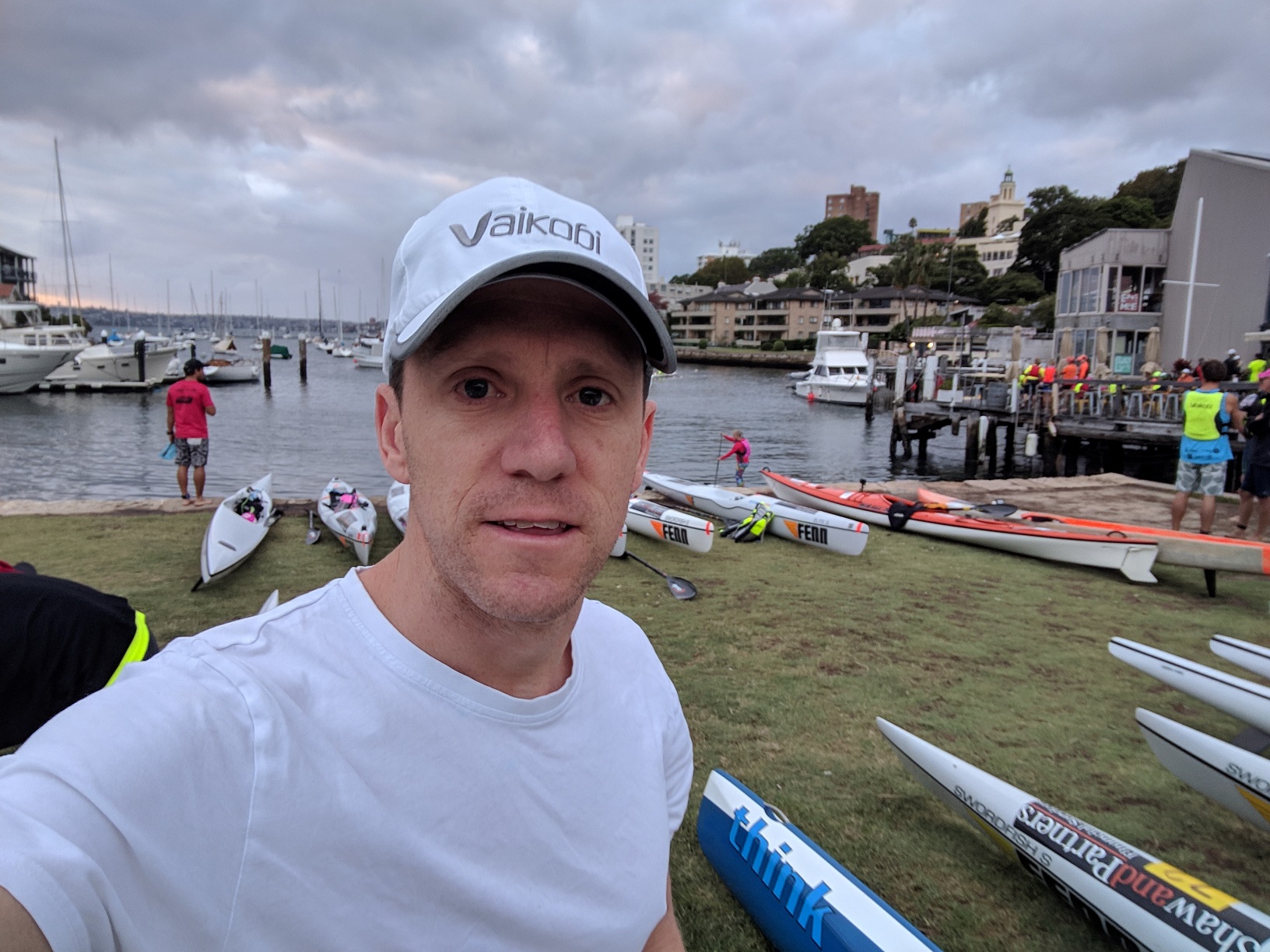 Above: Selfie at the start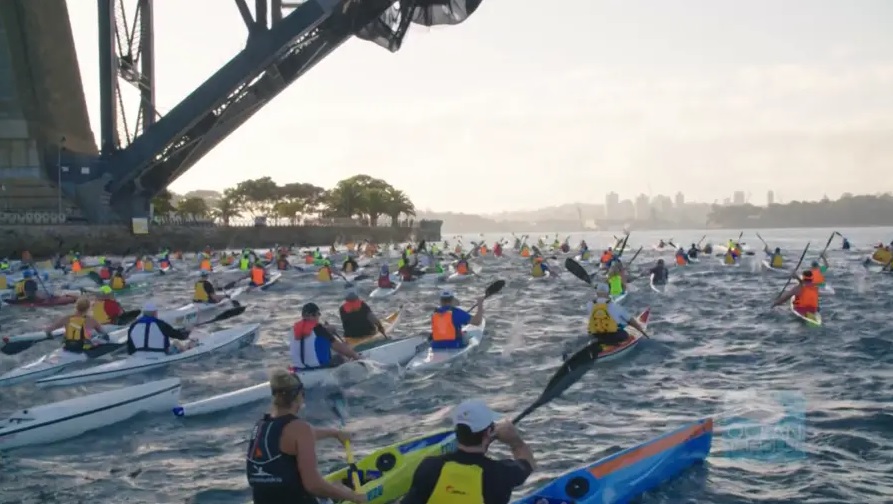 Above: Under the bridge (Photo: Oceanpaddler)