This is the series of paddles organised by the PaddleNSW Open Water Committee on various open waters in the harbours and bays of Sydney. There are 7 events in the 2019 Harbour Series. This year races are being hosted by various kayak clubs.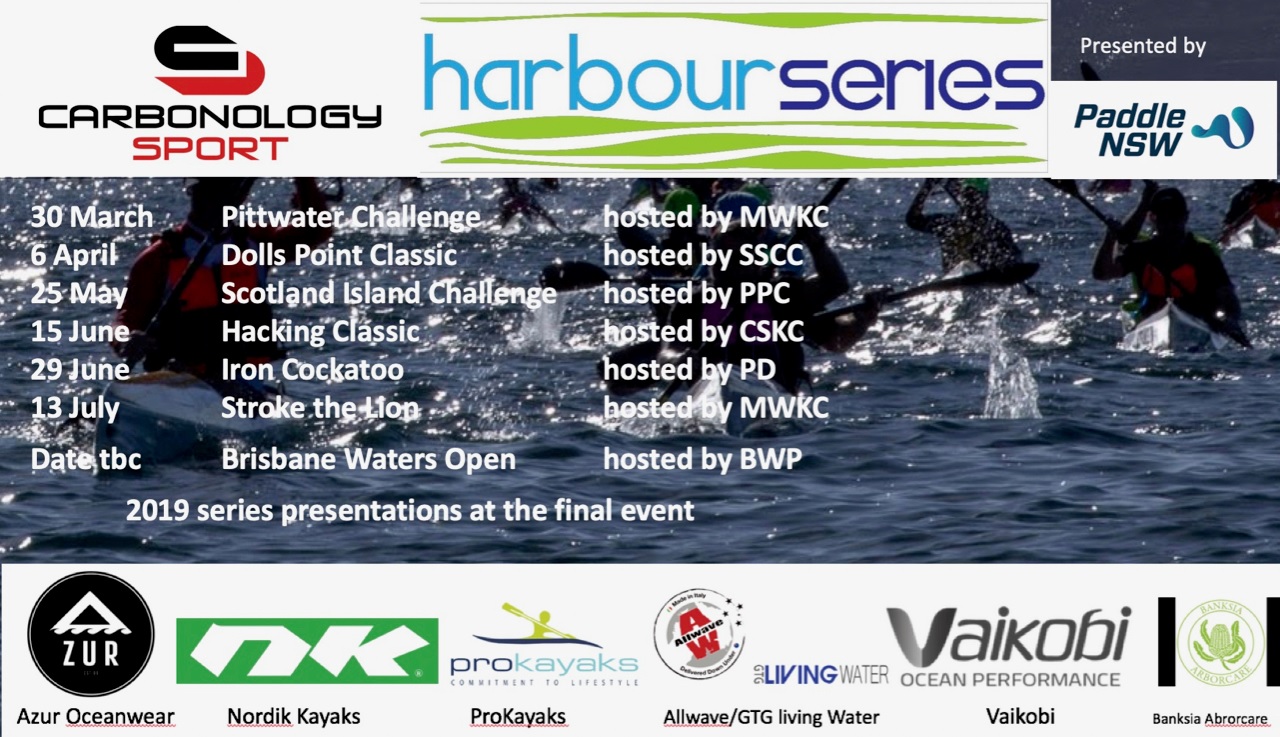 Race #3 Scotland Island Challenge Sat 25 May

Welcome to The Scotland Island Showdown, race four of the 2019 PNSW Harbour Series, hosted by Pittwater Paddle Club.
Lifejackets are required to be worn by ALL paddlers in this event. Leg Leashes are required for all paddlers in this event.
Early Bird Entries close at midnight on Tuesday 21st May.
All entries close at midnight on Thursday 23rd May.
Race Start is at 8:30am.
Race Briefing is at 8:00am.
Paddler Check-in is available from 7:00am, and closes at 8:00am.
On the Day Registration is not available

Race #X Brisbane Waters Sat 11 May Apr

STOP PRESS Fri 10 May Midday - Brisbane Waters Open POSTPONED
Yesterday the weather forecast was quite acceptable. This morning, it is not. With regret, The PNSW Harbour Racing Committee have decided to POSTPONE the Brisbane Waters Open race scheduled for Saturday 11 May
Unfortunately, we are at the mercy of the weather, and while we do the best to hold races in the conditions served up to us, we must err on the side of safety. Our upper wind speed limit is 18kts, which is around 32km/hr. The forecast is well above that.
The race will be rescheduled for a date after the 'Stroke the Lion' and you will be informed of the new date as soon as relevant permits have been granted. All entries for tomorrow's race will be transferred to the new event date
''*****************

Welcome to The Brisbane Waters Open, race three of the 2019 PNSW Carbonology Sport Harbour Series, hosted by Brisbane Waters Paddlers.
Lifejackets are required to be worn by ALL paddlers in this event.
Leg Leashes are required for all paddlers in this event.
Early Bird Entries close at midnight on Tuesday 7th May.
All entries close at midnight on Thursday 9th May.
Race Start is at 9:30am.
Race Briefing is at 9:00am.
Paddler Check-in is available from 8:00am, and closes at 9:00am.
On the Day Registration is not available

Race #2 Dolls Point Sat 6 Apr

Race Report - courtesy of Mal Odgers The Dolls Point Kayak Club hosted their popular event again this year with 120 paddlers registered and 110 on the water. The weather was calm with light NW with expectations of increasing to 15Kn north. The morning started chilly as we all entered onto the well-located parking area for chat and prep.
Following the well organised registration some took to the water for a warm up and inspection of the much anticipated first turning marker with Jezza noting strong incoming tide. The well organised race briefing followed at 8am with the 10Klm short course turning can at Novatel whilst the 14Klm Long course turning 90 degree at entrance to Cooks river heading east along runway then turning 90 degree again for the straight run home.
Three starts were had with Long course doubles leading off followed by long course singles and lastly short course. Tony Hystek voice was a feature at the start successfully containing the line jumpers. With the doubles away the single long course contenders started in a flurry with Tony Haines noting he hit 20Klm off standing start, so the pace was on! The participants in all three starts settled well into their groups with wash riding and turning buoy tactics much considered during the long straight-line hauls.
Long course female line honours were Montannah Murray first 1:15:250, Danielle McMahon 1:17:26.9 second followed by Suzie Rhydderch third in a time of 1:22:17.0
Male long course line honours went to Luke Eltham 1:05:11.1 followed closely by Cade Barnes 1:05:35.0 and Brett Greenwood in third place with a time of 1:06:07.7.
Short course female winner was Samantha Johnson 56:04.4 with second place only 5 seconds behind going to Sue Hobbs 56:09.08. Third place Michele Parker with a very respectful time of 56:55.6.
Male short course was taken out by James Haigh on a spec ski in a very fast time of 49:44.08 with Mal Odgers hot on his heals at 49:52.2. Third place short went to Riaan Bredell in 51:33.8.
Many thanks to all the organisers for hosting what is a great event on a lovely patch of water, well all be back next year!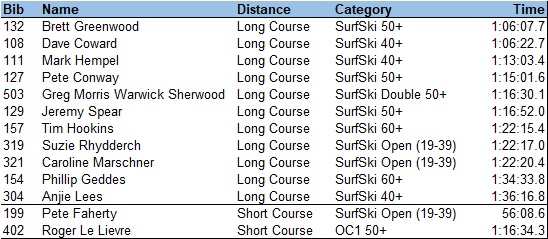 Above: Results for LCRKers and regular TTer's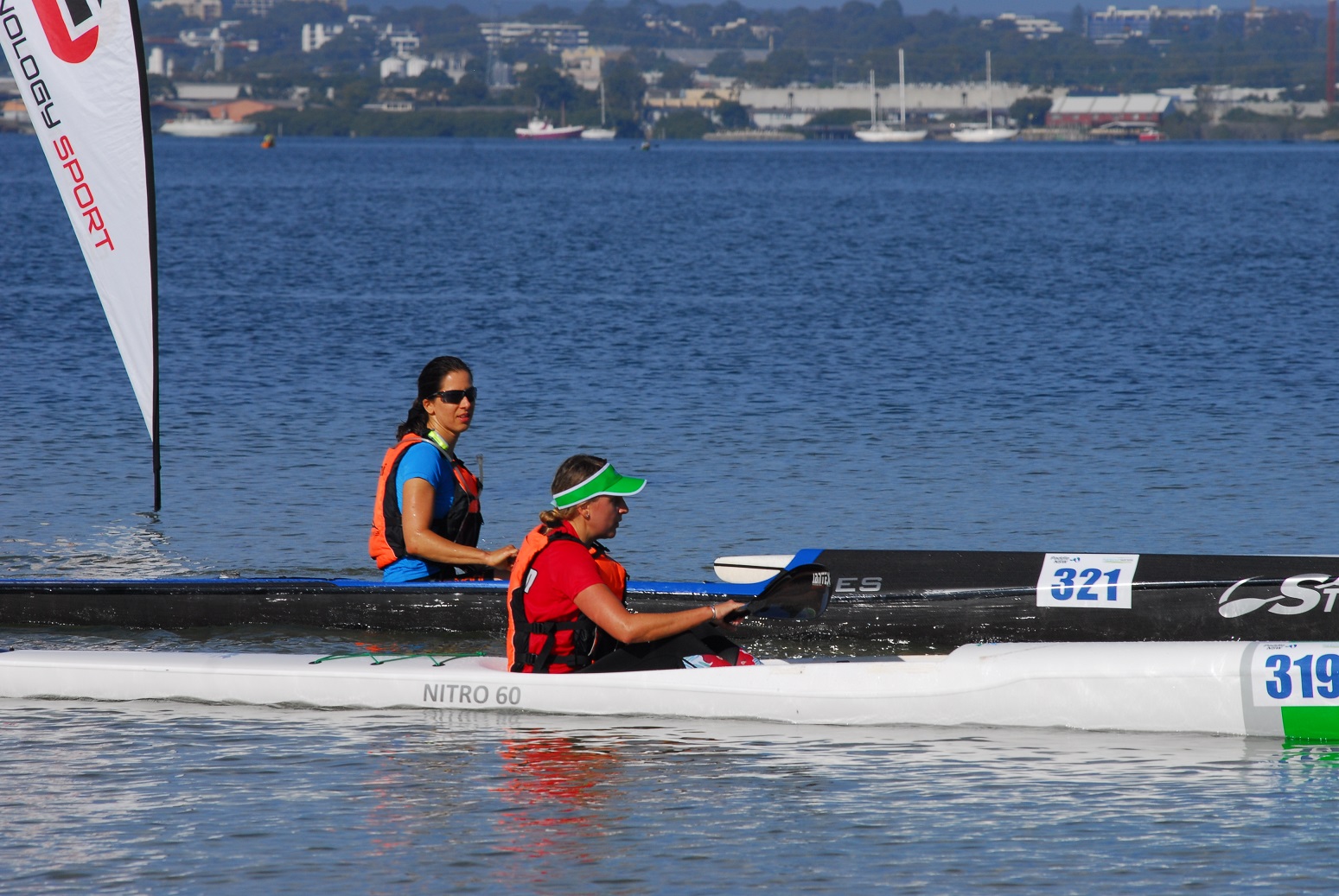 Above: Caroline & Suzie @ finsih
Race #1 Pittwater Challenge - Sat 30 March
Rece report courtesy of Andrean Duffy (pending a LCRK specific report from a LCRKer!)
Under wet a dreary skies, the 2019 Harbour Series kicked off with the Pittwater Challenge from Bayview on Sydney's Northern Beaches The rain didn't impact the turnout or the enthusiasm however, with 110 paddlers heading out for the 8km short and 14km long course. The rain eased and paddling conditions were favourable for a safe and fast race, with little wind and chop out on Pittwater. The local jellyfish population were out in force forming the bulk of the spectatorr crowd!. Paddlers were hopeful for a forecast northerly wind to help on the return leg, but it didn't eventuate until much later in the day. The winning long course double crew of Byron Chadwick and Tinus Koekemoer brought home line honours in a fast 1.03.17, and Luke Elman was the first soloski paddler over the line in 1.03.39, followed by Cade Barnes and Jamie McRudden. Young kayak superstar Nicci Vesely won the female long course in 1.15.48, followed by Danielle McMahon and Caroline Marschner. The winning short course double crews of Colin Biggin and Luke Hayes brought line honours in 45.51 followed by by Ian Heath John Nicotra, then Isaac and Peter Moran. James Haigh was the first solo ski paddler over the line in 50.27 followed by Riaan Bredell then another young Vesely, Ziko. Michele Parker won the female short course in 58.17 followed by Joy Robinson then Leisa Aitken. Short course mixed doubles was one by Lee Anne Andersen and Nigel Carson followed by young Liberty with dad Matt Blundell. The Series moves to the other end of Sydney on Saturday 6th, with #2 race taking place at Dolls Point. We look forward to another good turnout and an exciting race season ahead.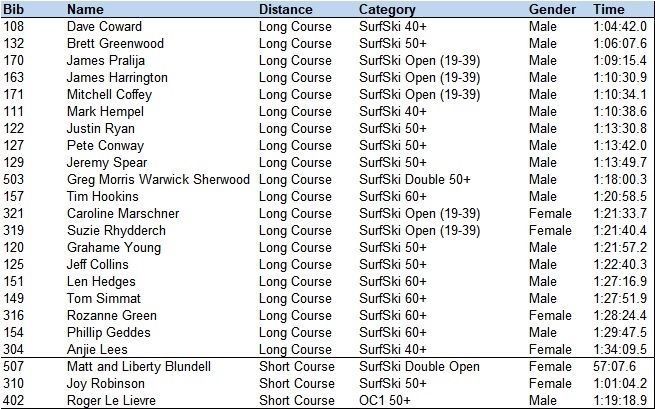 Above: Results for LCRKers and regular TTer's
Tingira Challenge - Sat 16 Mar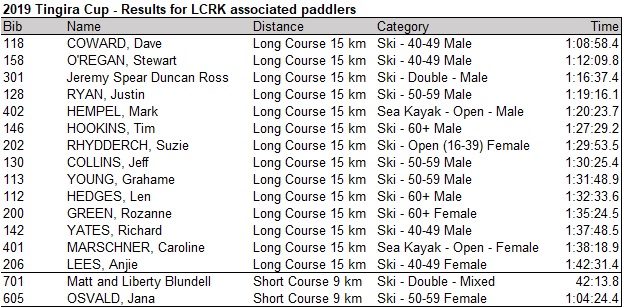 Above: Results for LCRK Associated Paddlers
Race report to follow......
Bridge to Beach 2019 - Sun 24 Feb
Race report from Josh Chant
While I'm sure there were a few other LCRKers racing in the bridge to beach, unfortunately I don't know them so this is going to be a pretty one sided report!
This year the race kicked off from Milsons Park in Kiribilli, as the usual launch point Blues Point Reserve, is having the foreshore rebuilt. With the new start of the end of the marina at Royal Sydney Yacht Squadron the race kicked off almost straight into the 15 knot Sou'Easter that was prevailing. A lot of people, including me, took a while to get settled into the choppy conditions as we bashed towards Bradleys head.
3kms later, it was a relief as we turned Bradley's head and started running toward Middle Head. It wasn't quite straight downwind running through the harbour as the breeze and chop had quite the side angle to it. As challenging as it was, most were handling this section of the race well and occasionally even catching the odd little runner that lined up. That being said every time the Manly ferry came past it was a bit like skittles with whole groups going over.
That was nothing compared to the conditions as we crossed Middle Head and over to Manly. With two days of southerly swell built up as well as some swell from Cyclone Oma reaching Sydney it was rough to say the least.
This was where I had my first swim, followed immediately by swim #2. Swims #3 through #6 followed not long after as I precariously made my way across. Even when upright I could only manage 6km/hr through this section. Slow going!
The fleet of kayakers, skis, SUPs, and prone board all compressed here as the majority of us went into conservative mode. Many of the SUPs were down on their knees or even bellies.
The front runners put in a really impressive display, with Sam Norton coming in at 43.07. Reportedly the rough conditions barely slowed him and the rest of the front pack down.
Just prior to Middle Head I was doing some mental calcs and thought I was in with a chance of finishing around 55min. Even though I picked it up as we started to get some shelter from North Head I crossed the line at 1:09:37, though very happy with the effort and looking forward to next year.
Compared to my last two attempts at the Bridge to Beach, thanks to the Wednesday night TT's, I was really comfortable with the distance and was pushing hard all the way to the finish. This year I was well out of practice in the rough conditions and it showed!
I hope next year some of my fellow LCRKers will join in for a bit of practice in the lead up as well as the race.

Above: Results for LCRK Members and regular TTers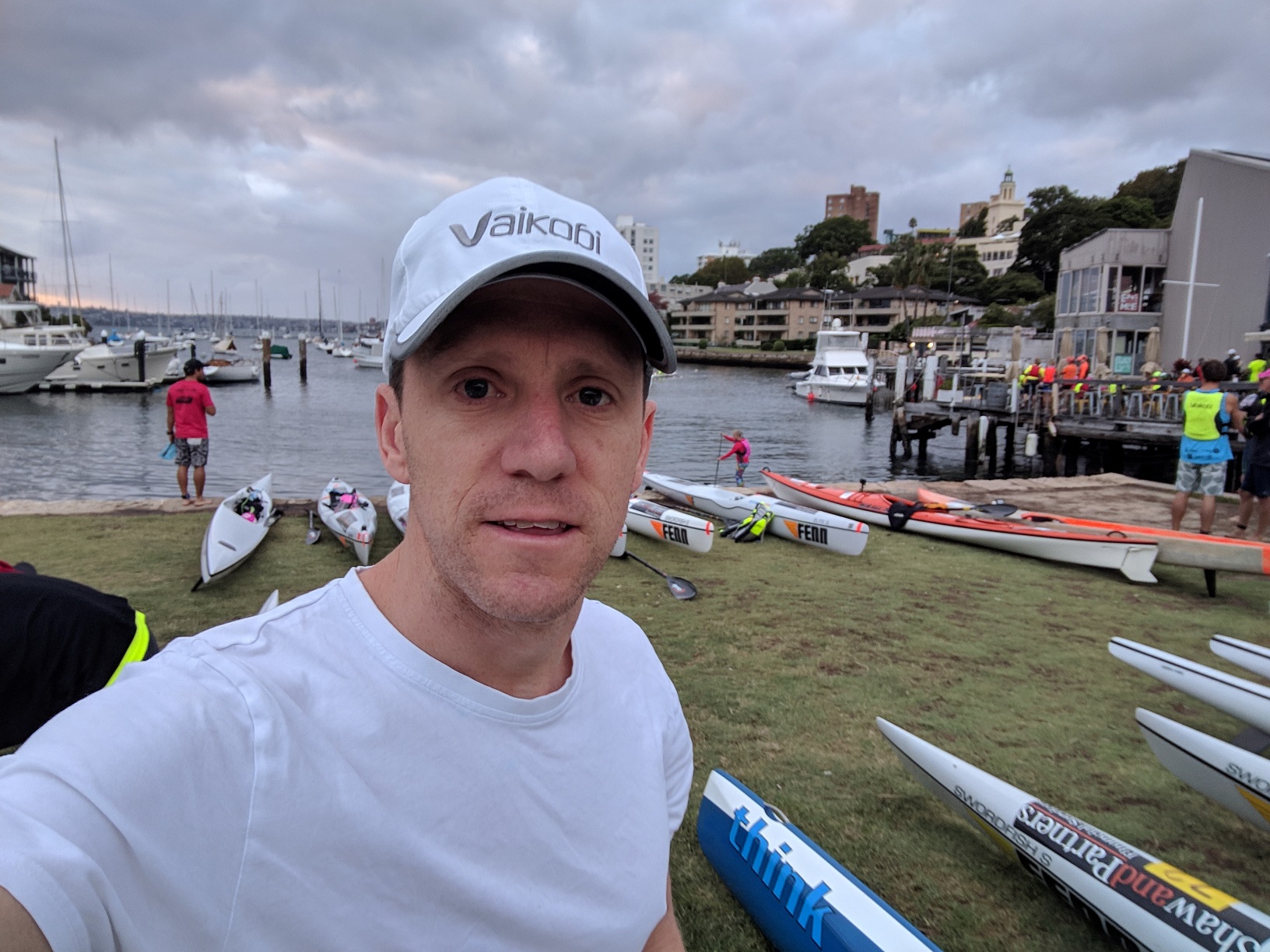 Above: Selfie at the start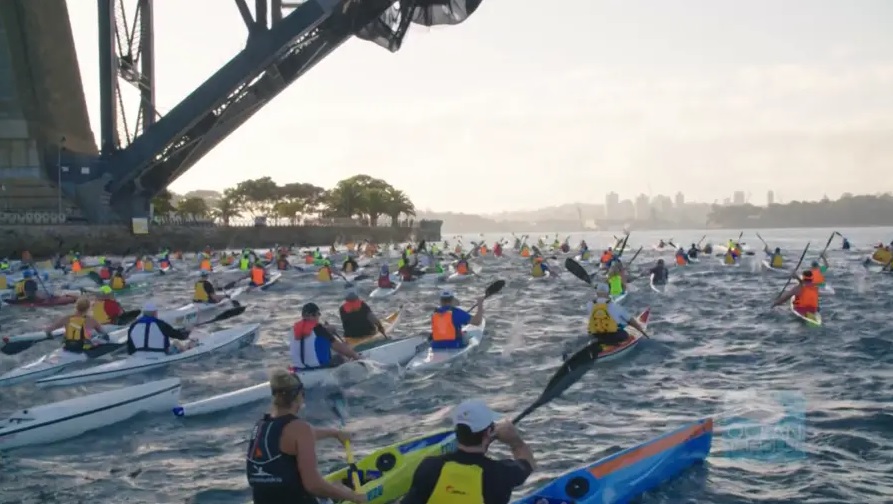 Above: Under the bridge (Photo: Oceanpaddler)