This is the series of paddles organised by the PaddleNSW Open Water Committee on various open waters in the harbours and bays of Sydney. There are 7 events in the 2019 Harbour Series. This year races are being hosted by various kayak clubs.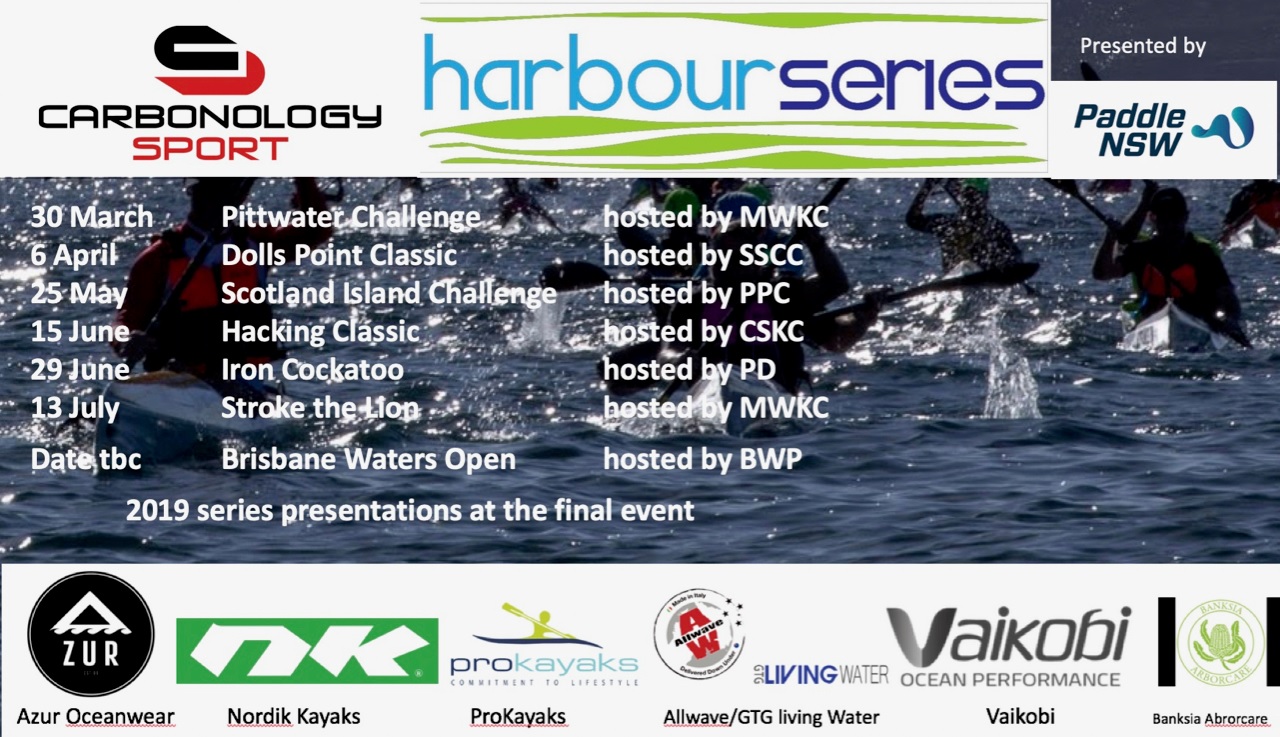 Race #7 Brisbane Waters Open Sat 27 Jul

Race Report - Newbie view from the back of the pack from Paul vK
The scene:
The Brisbane Waters Open was held on 27 July, launching from Davistown, home of hosts, Brisbane Waters Paddlers. This was the last race of the 2019 PaddleNSW Carbonology Sport Harbour Series. It was also the event chosen by this old paddler to try out Harbour Series paddling.
With most series winners already known and some paddlers overseas, entries were probably a bit down on earlier races but still healthy enough. A good proportion of the gun ski paddlers had entered but none of LCRK's "gunnish" ski paddlers were present. LCRK paddlers there were the five oldest paddlers entered (Phil Geddes, Tim McNamara, Tom Simmat, Tim Hookins and me, all of whom clear the 60+ age bar by more than 10 years) plus youngster Tony Hystek, also in the 60+ age group, and the much younger Don Johnstone (paddling with Tim Hookins) and Anjie Lees, preparing for her upcoming Avon tilt. All had entered the long course with the exception of Tony Hystek who needed to get back to base quickly to return to his event coordinating role with Maya Gibson and the BWP.
The sun was out but the temperature was very cold initially. The wind, which had earlier been forecast to be quite high, seemed benign from the protected launching point.
The best boat for the expected conditions was one aspect to consider but a possibly more important decision was which rudder to use: a weed shedding rudder certainly helped passage over the healthy sea grasses in the extensive shallows at low tide.
The weekend decision to finish the race as well as to start it well away from the shallows and ferry wharf made lots of sense but reduced the long course distance from 15km to just under 14km of coast side and cross-bay sections. The short course would have similarly shorter than the advertised 10km.
The race:
One thing immediately obvious to the older LCRKers was that their earlier selection of wide and very safe boats was not justified but did offer secure comfort during the turbulent start, the occasional power boat wash, minor crosswinds and the usual Davistown ferry wake.
Phil G grabbed the best washrides, Tim Mc chose a better wash-ride than Tom S and I wash-rode no-one and came in last of the males but had some satisfaction in nearly catching Tom's sea kayak when the 15km race ended at under 14km. Tim H and Don J in the Supersonic double kayak had no problems with stability and rocketed away. Tony Hystek in the V14 flew past us to the short course turn and back to come in five minutes or so ahead of the second place getter in the short course event.
Wash-up:
The Brisbane Waters Open was well run and greatly enjoyed by this old newbie and the other LCRK paddlers present. More of us next year? Maybe more wind too?
Series presentations were held at the nearby RSL. Congratulations to all the gun ski paddlers winning outright and class/age divisions.


Above: Results for LCRK Members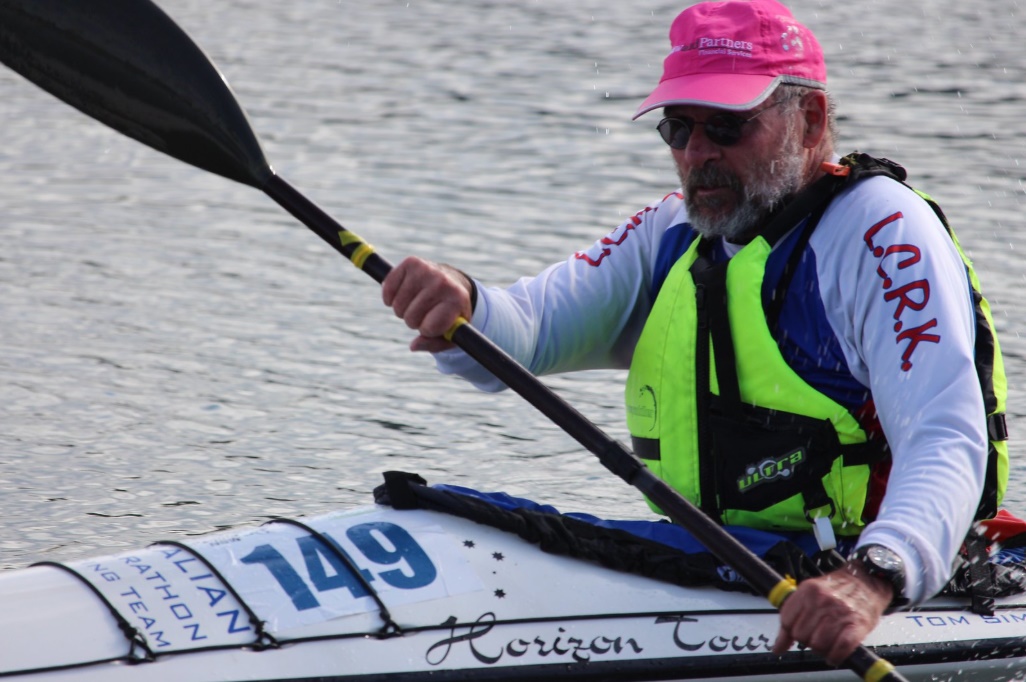 Tom Simmat looking photogenic (Photo: PNSW)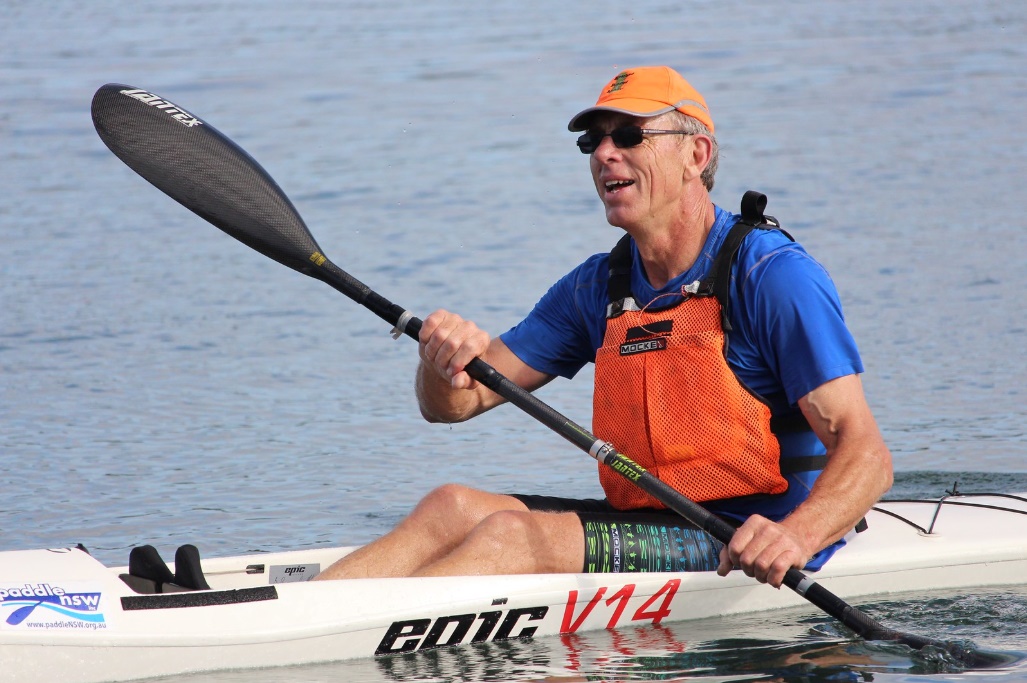 Tony Hystek at the finish - 1st in the short course (Photo: PNSW)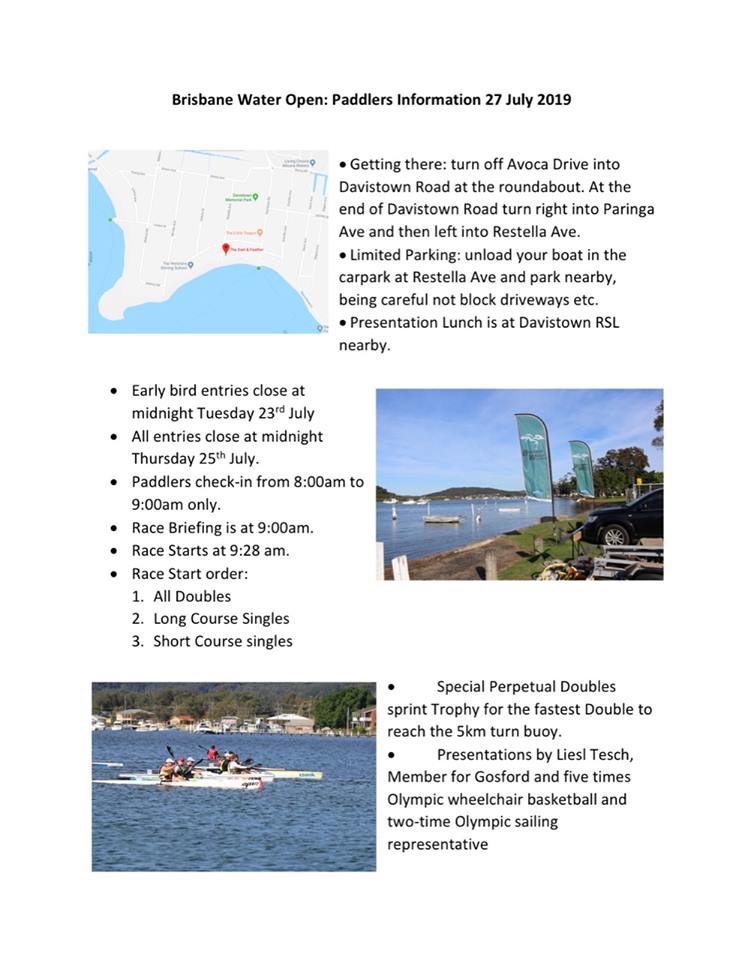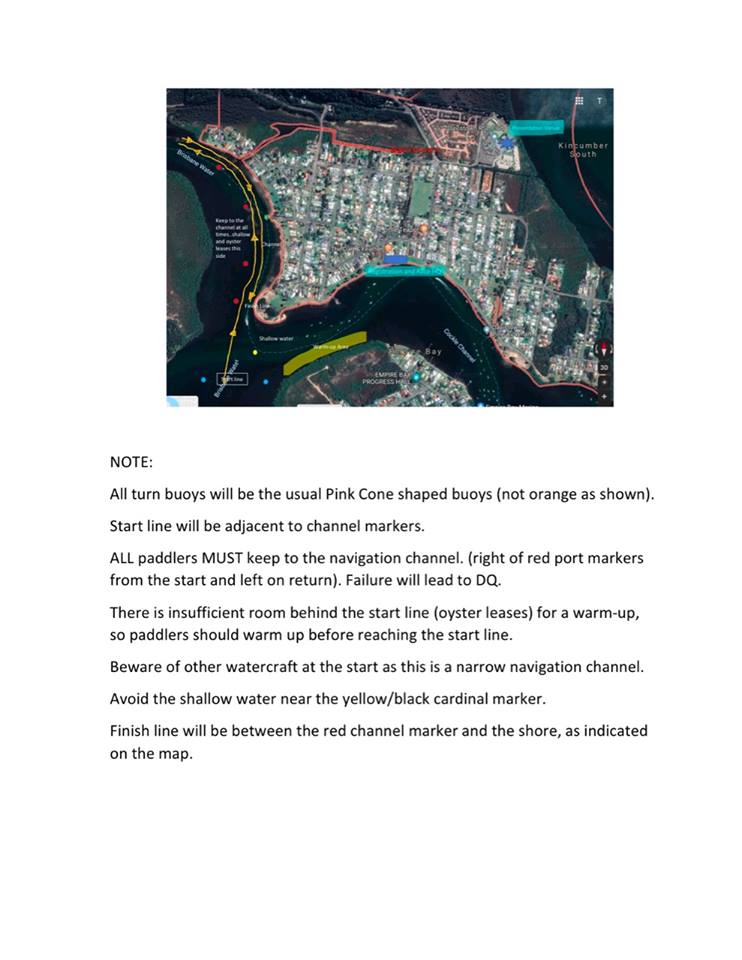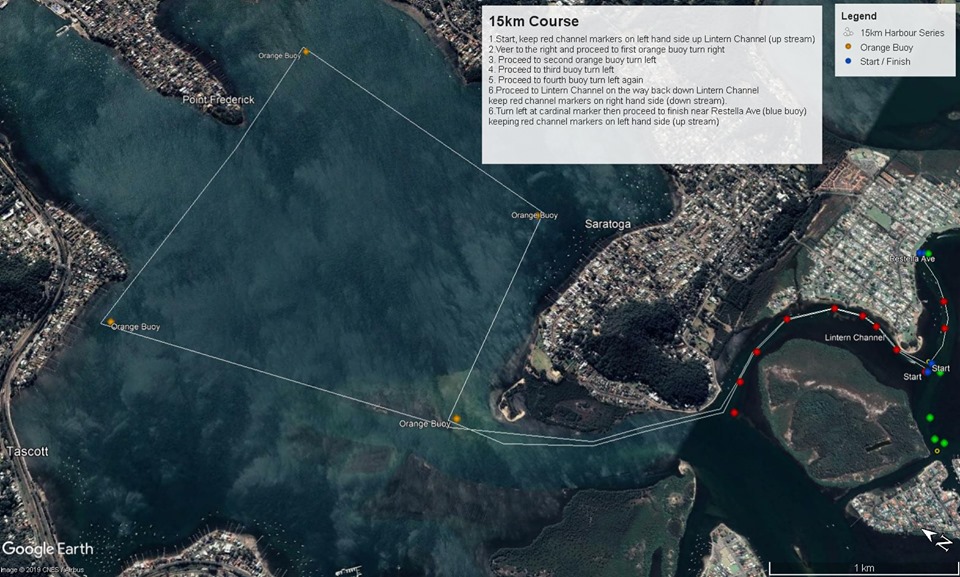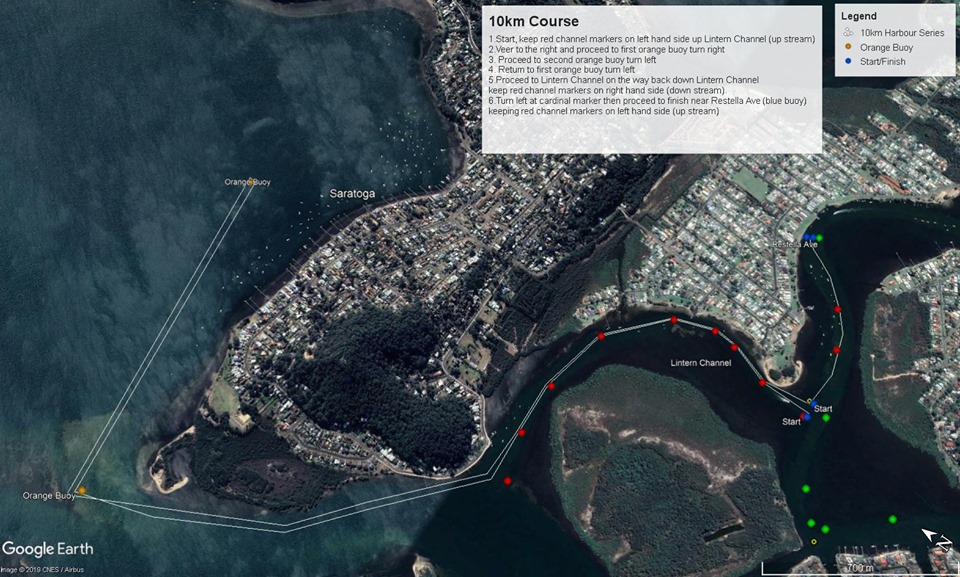 Race #6 Stroke the Lion Sat 13 Jul



Above: Results for LCRK Members and regular TTers]]

Race report below is from Michele Parker and republished from the PNSW website
"Stroke the Lion" at Governor Phillip Park, Palm Beach was Race 6 of the 2019 Carbonology Harbour Series. Hosted by the Manly Warringah Kayak Club, a big day was anticipated with the Perpetual Mike Snell Trophy for the outright fastest singles male and female paddlers and the Carbonology Sport Ski draw both up for grabs.
The predicted strong westerly winds prevailed creating a challenge for all paddlers and organizers. This left no choice but to avoid "stroking the Lion" this year and running the long course inside Pittwater to try and make the best of the wind direction and runs.
The beach start created difficulties for some trying to jump into boats being blown around by strong winds which persisted to the first buoy. Some relief was enjoyed from here with protection by the headlands and then more challenges on the home run with cross chop, some runners and plenty of sun glare making it difficult to see the finish. Thank goodness for the lighthouse on Barrenjoey Headland.
The 14.5km long course was won by Cade Barnes 1:08:42 closely followed by Luke Eltham 1:08:48 and Jamie Mc Crudden 1:09:04. The female winner was Georgia Sinclair 1:16:27 with Carla Papac so so close at 1:16:28. Third went to Nicki Vesely 1:32:22.
The 10km short course was won by Todd Cunningham 56:16, second Riaan Bredell 58:14 and third Ziko Vesely 1:00:04.The female winner was Sue Hobbs 1:04:47, second Jacque Grimes 1:06:50 and third Michele Parker 1:07:34. Sue had the thrill of being accompanied by a beautiful dolphin along Coasters Retreat creating a magical experience for her.
The Mike Snell Perpetual Trophy was won by Cade Barnes and Georgia Sinclair.
The Carbonology Sport Ski was won by a very lucky Jake Wilson. Thank you to Jill and Brett Greenwood for their sponsorship this year and kind donation of this beautiful ski.
Fortunate paddlers were recipients of some great prizes including a Vaikobi prize pack, PFD's from Nordic, a restaurant voucher to Acqua Fresca from Allwave & GTG Living Water, thermal tights from Azure ocean wear and gift vouchers to Pro Kayak from Matt Blundell. These gifts are greatly appreciated by everyone, Thank you.
A big thank you to Sioux Fine who provided us with some much needed sustenance and warmth with her delicious pumpkin soup. And thank you to the Manly Waringah Kayak Club volunteers who did a great job of organizing this event and showing up in freezing conditions with a smile on your faces.
The final race at Davistown in a fortnight is going to see quite a few paddlers fighting it out for places in the series. Looking at the point scores to date, there are some very close paddlers which should make for some terrific times. See you there.
The comprehensive info below is from a Facebook post from Surfski Australia
The Lion has roared.
But we won't be deterred. We will Stroke the Lion from a distance if necessary. The predicted Westerly winds will make Lion Island circumnavigation a difficult paddle for many, so we will make the call on the morning whether to use the alternative Long Course. The Short Course will remain unchanged. Both courses will have substantial protection from the wind on the Southern leg, while the return should be interesting with the wind on the rear quarter.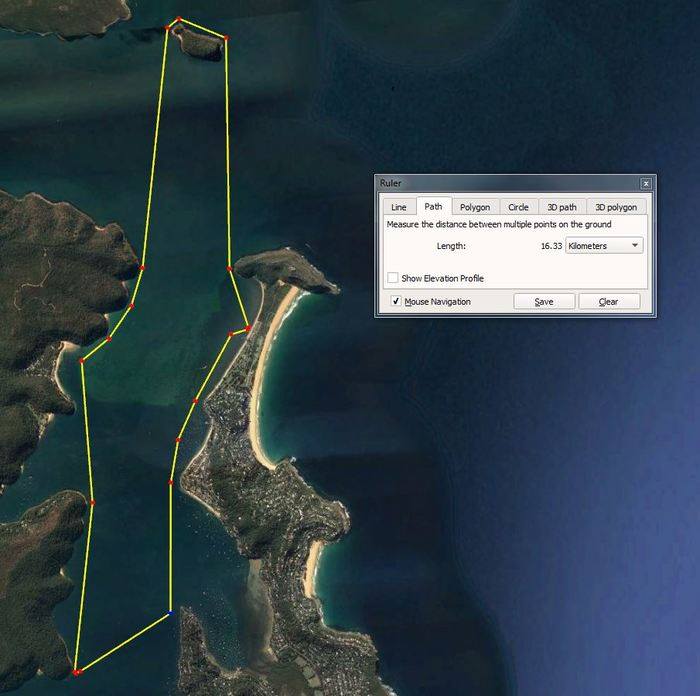 Above: Original Long Course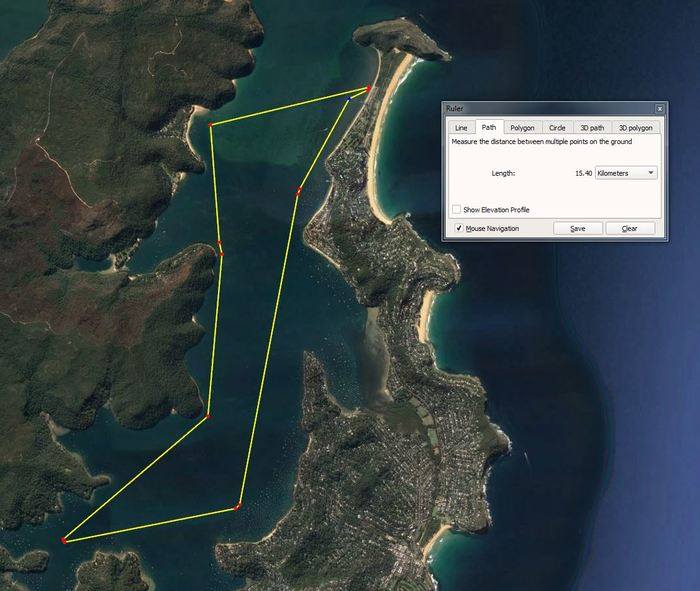 Above:Alternative Long Course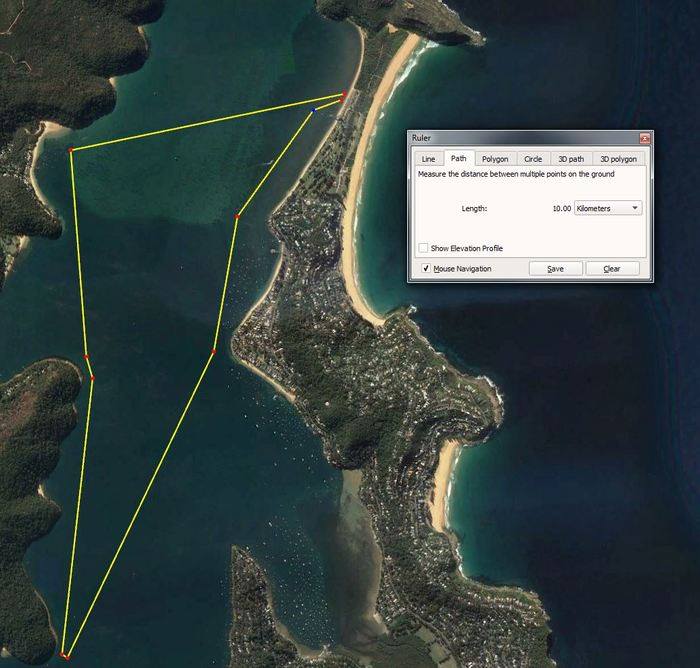 Above:Short Course
Here's some additional information for you:
1: Parking • Parking fees for Palm Beach are $8.00/hr…in the off season. That is more than Thredbo overnight, or the Opera House. Normal fee is $10.00/hr. • It is highly recommended that paddlers car-pool and share costs. • Please use your Nthn Beaches parking permit if you have one. • There will be a very LIMITED number of parking permits available, however most of these will be allocated to sponsors and event officials/volunteers. • Any remaining vouchers will be distributed on a first come/first served basis to CAR POOLED cars only. If you are travelling alone, you will not receive one. Assume they will all be gone when you get there anyway. • Consider dropping off your paddlecraft and parking elsewhere.
2: Leg Leashes • Leg leashes are compulsory for ALL paddlers in ALL courses. • Doubles/multis one paddler only is required to be leashed in each craft
3: Race Start • There will be a beach start for this event. • Starts will be the usual Doubles/Multis, then Long Course Singles, then Short Course singles, at 2x minute intervals. • Paddlers will stand beside their craft ON THE BEACH, with leg leashes attached. • As the short and long courses may be heading in different directions, the Short Course doubles will start on the southern end of the start line and Long Course doubles on the northern end of the start line.
4: 'Win a Carbonology Sport Ski' draw. • Make sure you are entered in the draw by visiting the Carbonology Sport / Funky Pants headquarters and filling in your entry. • The Ski will be drawn at the presentations for the 'Stroke the Lion', and we have all Brisbane Waters entries in the draw so far. • If you haven't entered the Brisbane Waters event yet, make sure you do it now so your name will go in the draw for the ski.
5: The Mike Snell Trophy • The perpetual Mike Snell Trophy will be awarded to the first solo paddler in the long course. • Please stay for the presentation of this esteemed trophy.
6: Series Presentation Lunch, Davistown 27th July • This will happen at the Davistown RSL, 3 mins from the race venue. • Please select your lunch option by purchasing your meal on the webscorer link. • Main meal of beef rump, chicken or vegetarian options available. Side salads provided. Only $15.00 per head…exceptional value. • Please include your partners/friends if they are eating also. • Photograph of the series will be selected by a series luminary, the prize a dinner for two! • It promises to be great finale. The $500 Banksia Aborcare Women's prize will be awarded, plus trophies for class winners and the photographers prize.
Check the PaddleNSW Website 'Events - Harbour Racing page for extra details.
Race #5 Iron Cockatoo Sat 29 Jun



Above: Results for LCRK Members and regular TTers]]
 


Race report from Tony Ruane - republished from the PNSW website..

This will be my first Iron Cockatoo and my 4th year paddling an OC1 so it's all new to me.
I'd be out paddling anyway so may as well race and have fun in a well run event with other like minded people in some of the best waterways in and around Sydney.
The outrigger season doesn't start until 31st of August so the Harbour Series gives us the chance to up the intensity for some solid winter training .
Rough game plan is to pull in behind the ski's then paddle like the clappers until I'm stuffed and the most important thing of all , have fun !
Today is the day. Weather is looking good except for a thick pea-soup fog that has blanketed Sydney . Expecting it to warm up once the sun burns through. Wind is almost non existent , tide going out.
Got to Birkenhead about 6.30 , parking spots are filling up fast but it's not too bad and free at least for a couple of hours. I scored a good spot with an easy walk to Salton reserve.
Set up, register, all set to go and looking forward to a great morning of racing. Coffee run at Birkenhead and I'm all sorted.
Had to wait a while for the fog to lift before race start . Race director was keeping a close eye on conditions which seemed to improve once he took his sunglasses off.
Still a bit foggy as we took off around Spectacle island then around the old cranes and historical buildings on Cockatoo island before heading down the straight , under Iron Cove bridge and around Rodd island . The sun had well and truly broken through by now and it was a cracker of a day. Head up past the marina at Birkenhead then do it all again.
Congratulations to Georgia Sinclair 1:09:31 first female across the line in the long course surf ski and to Brett Greenwood 1:03:02 first male.
And well done to Ella Beere 1:00:35 and Todd Cunningham 54:13 first female and male short course surf ski.
Fiona Rae and Grant Kretzmann snuck home on the double surf ski 1:07:28.2 with Darren Tye and Spencer Richards hot on their tail with a time of 1:07:28.8. What an epic tussle.
It was a really good morning of racing with near perfect paddling weather and I enjoyed every minute. So good to see a few OC's having a crack. More of a race against the clock for us but all part of the fun .
Thanks Pacific Dragons for putting on such a well run event.
Looking forward to the "Stoke the Lion"race 6 of the Harbour Series , July the 13th . Bring it on.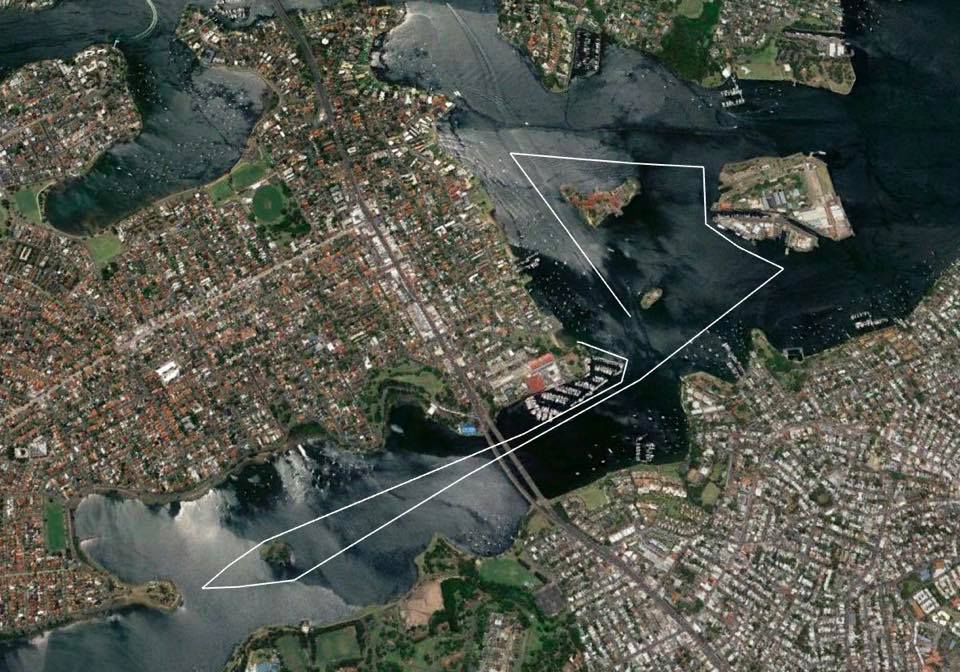 Above: Long Course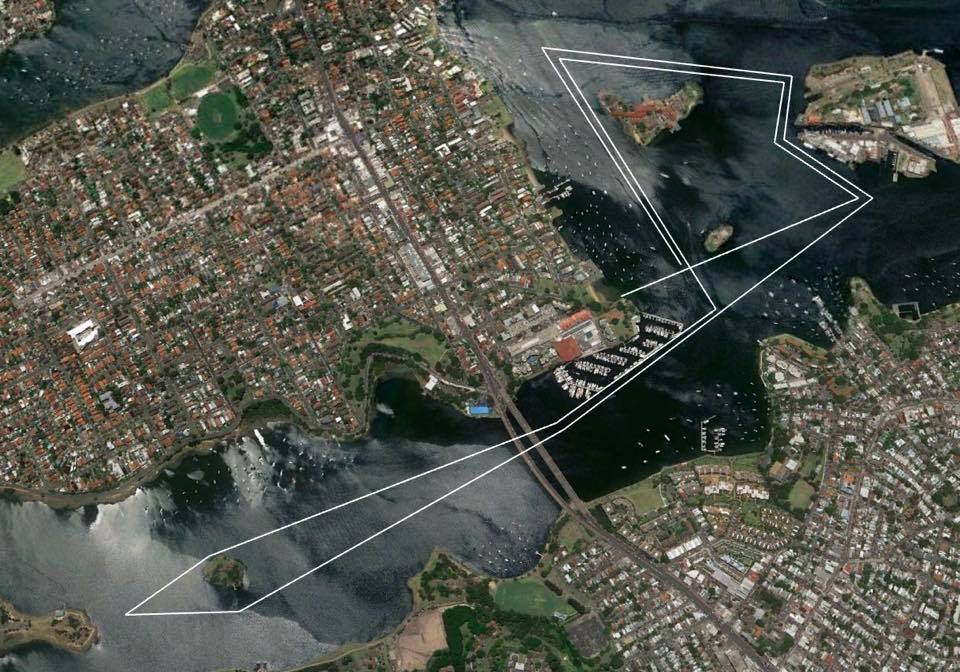 Above: Short Course
Race Start is at 8:30am. Race Briefing is at 8:00am. Paddler Check-in is available from 7:00am, and closes at 8:00am. On the Day Registration is not available
Race #4 Hacking Classic Sat 15 Jun

Hacking Classic Race 4 : Justine O'Connell reports
The Hacking Classic hosted by the Cronulla Sutherland Kayak Club on Saturday 15th June 2019 is an iconic event, steeped in history, and one not to be missed on the paddling calender. And the reason for this, the pristine waters of Port Hacking make for a blissful mornings paddle.
Unlike previous races in the Harbour Series, there was no weed, no dodging giant jellyfish or pesky ferries, no wind, no exorbitant parking fees, no parking meters, no parking rangers, did I mention the parking was FREE all day, no putting up tents at the crack of dawn for organisers(there is existing infrastructure) and a coffee shop with all the trimmings across the road. The sun was shining on this picture perfect day and when I saw the sweet little putt putt Curranulla Ferry, commissioned in 1939 and now the oldest commuter ferry in Australia, leaving the shores of Gunamatta Bay for Bundeena, it was like stepping back in time to the days of old. It truly is "God's country" down here, as the locals say. The perfect location to host a paddle race.
The anticlockwise course snaked it's way through crystal clear water, where you could see the sandy bottom most of the way, past beautiful homes of Burraneer, around the Maianbar sand bar and onwards to Lilli Pilli where the turn can for the long course could be seen in the distance. The short coursers had peeled off earlier just after Maianbar. The outgoing tide made the run back to the channel slightly easier but upon reaching the two turn cans off Bass and Flinders Point, the lack of swell outside, unlike the previous weeks, was slightly deflating as there was not a single runner to be caught on the way back in. It was a race where you had to paddle the entire 15km without any help from wind chop or ocean swell.
We were all lined up at the start eagerly awaiting the MV Curranulla's departure so we could get the race started. She goes at a top speed of 7 knots so the organisers made us wait a few minutes so no one could wash ride her down the channel.
The doubles took off first with David Little and Pauline Findlay taking the long course win in a time of 1hr 6mins 59secs and Lee-Anne Anderson and Nigel Carson winning the short course in 59mins 15secs.
Next up was the singles long course. It was a close race with the two lead paddlers splitting from the rest of the group and finishing with a gap of 3 minutes ahead of the rest of the pack. The overall winner was again Luke Eltham beating Jamie McCrudden by only 5 seconds.
The leading ladies stayed close to each other yet again with Georgia Sinclair taking out the women's long course in a time of 1hr 10mins 22secs just beating Carla Papac by 9 seconds and Montannah Murray coming in close behind in 3rd place in a time of 1hr 11mins 5secs. These ladies are having a terrific time paddling against each other. Well done girls.
The mens short course was won by James Haigh in a time of 53 mins 20 secs and the womens by Daniela Angela Torre in 57mins 36secs.
A local dual was had between the two Cronulla six man outrigger canoe teams with both chomping at the bit on the start line. At various points along the course, the teams could be heard yelling at each other providing some light entertainment for the serene paddlers. The win was taken by the Myhill5 team(599) by 3 minutes.
The youngest competitor in the race was 14 year old Isaac Moran who completed the short course and the oldest competitors were two 66 year olds Paddlepop Gillett, presumably an alias, and Gary Gilchrist proving that paddling is a sport to be enjoyed by the young and the young at heart. The sport offers paddlers the benefit of a cardiovascular workout with few injuries allowing you to paddle on into your twilight years.
The next race in the Harbour Series is the Iron Cockatoo at Drummoyne on 29th June.


Above: Results for LCRK Members and regular TTers]]
Race #3 Scotland Island Challenge Sat 25 May



Above: results for LCRK Members - female vs male long vs short courses (apologies to mixed teams showing as male!)


'SCOTLAND ISLAND SHOWDOWN 25TH MAY 2019: ANOTHER GREAT HARBOURSERIES EVENT……Tim Hookins Reports
(republished from PNSW website)
As the dawn broke on Saturday 25th May 2019 a dedicated squad of volunteers and sponsors could be seen erecting a little village of marquees for registration, paddling accessories and sparkling new skis for sale, ready for the steady flow of competitors arriving in keen anticipation of a great event which was about to unfold. Tony Hystek and Maya Gibson could be seen setting up the rego while Pat Langley was setting up the Vaikobi stand and Jill and Brett Greenwood were putting up the Carbonology and Vajda displays. A picture of energy!
Helen Morrow of Paddlecraft, the event director, welcomed the paddlers and Tony Hystek gave his usual stern warnings about fair play and not breaking the start.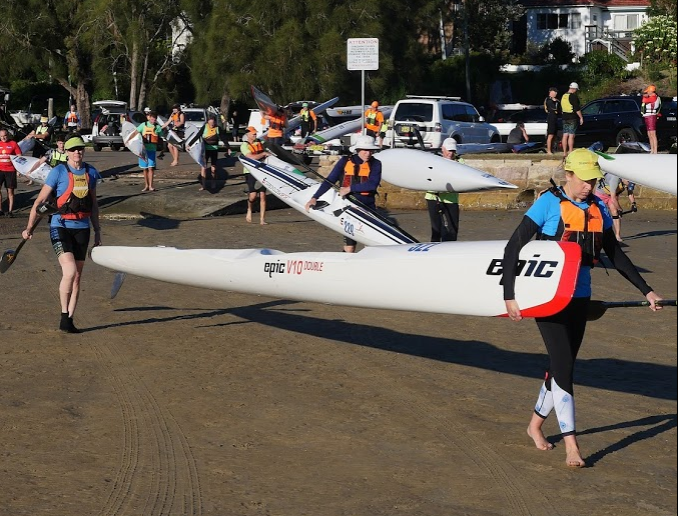 Above: Alanna and Suzie Photo: K.Mulally
The start was in the channel opposite Haystack Point. The course was clockwise across to the South of Scotland Island keeping outside all the moored boats. Skis took a course close to the boats all the way round the island and the conditions and chop changed slightly as you went around. Long course did a lap completely around Scotland Island first and then headed North to Woody Point and then on to Longnose Point. At each of those was the pink PaddleNSW cones. Then there was the long run back to Rowland Reserve with the breeze behind and some boat washes to contend with. The finish was between the two Carbonology banners on the beach at Rowland reserve. The short course was the same except the was no first lap around Scotland Island. A picturesque, different course and it was good to see a wide range of paddlers from the grizzly old regulars like Paddlepop Gillet and Gazza Gilchrist to plenty of keen newcomers. Apparently there were still opportunities to get lost and take the wrong course!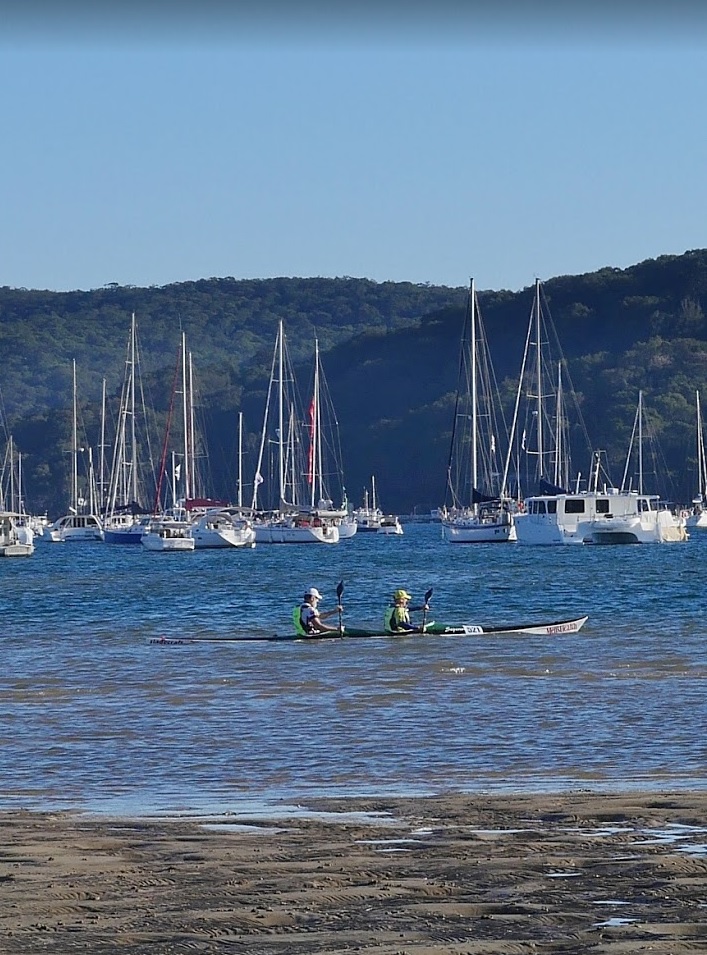 Above: Don and Tim Photo: K.Mulally
Long course doubles were first off and soon got into a cluster of 4 doubles, James Pralija and Matt Windon, Mario and Nikki Veseley, Cam Middleton and Tracy Wilson, Fiona Rae and Grant Kretzman and they eventually came in in that order. James and Matt came in second overall in a time of 1 hour 3 minutes and 53 seconds, 31 seconds behind the Overall winner, Luke Eltham.
The next start was the long course singles. The paddlers soon settled into clusters.
At the elite singles level Dave Coward noted that there were about 6 in the leading cluster and in the melee paddlers were getting spat out of the group every so often and left behind. That group was Luke Eltham, Brett Greenwood, Jamie McCrudden, Dave Coward, Paul Stone and Matt Rees. Luke managed to get away from the fleet by less than a minute and there was only a little over 2 minutes between the first 4 home.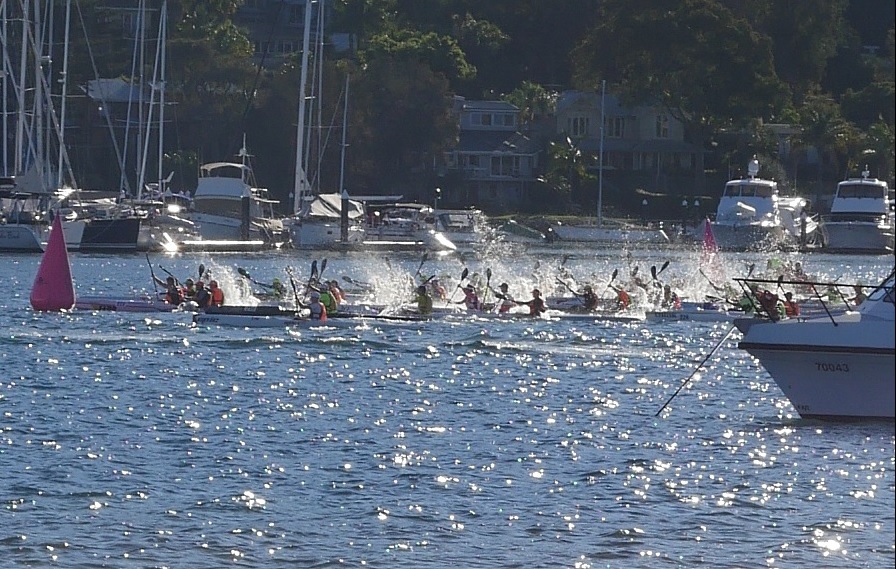 Above: The start melee. Photo: K.Mulally
There was a great competition in the women's 19 – 39 ski class with Georgia Sinclair coming in 7 seconds ahead of Carla Papac with Montannah Murray only another 10 seconds behind that. All three came in in a very creditable 1 hour and 12 minutes.
We have to take note of the performances of the very young and the very old! There were 7 paddlers in the over 60s skis, led by Gary Hancock back at his best in 1 hr 12 minutes and 22 seconds, ahead of Peter Grimes and the irrepressible Paddlepop Gillett on the virtual podium. At the other end of the spectrum in the under 18 skis was Fletcher Armstrong in an amazing time of 1hr 9 minutes and 20 seconds over Ben Rees, Ashby Allen and Ziko Veseley.
There was a single start for all short course paddlers. Jana Osvald, who went on to do a time of 1 hour 16 minutes in the women's surfski 50+ says the start was orderly and smooth. She said it was a lovely day for a race and she was intrigued at the number of jelly fish she kept on hitting with her paddle. She was pleased to be definitely not last. She was quicker than 3 others! Well done Jana.
First across the line in the short course was James Haigh in the surfski 19-39 in a very creditable time of 51 minutes 54 seconds, almost two minutes ahead of Isaac and Peter Moran in second place in a surfski double with Freya Alston, in the Open surfski 19-39 coming in third.
Mike Lieberman who came in 4th out of 9 in the short course surfski men's 50+ noted that quite a few short course paddlers, including himself, went for a swim because they were disturbed by the unexpected Westerly gusts and boatwashes.
Scott Powell, who came in 10th overall in the surfski men's 50+ was just rounding the pink buoy at Woody Point when a combination of wind and boat wash unexpectedly tipped him in! He got himself safely back into the ski and shortly after, a girl also doing the short course paddled past him and asked him "Can you tell me where Scotland Island is?" I'm sure she has benefitted from navigating this race! We can all reflect that you can't take anything for granted as you gain experience in the Harbourseries.
Mike is managing the forthcoming "Stroke the Lion" event and suggests that paddlers use the time between now and then to hone their open water skills because the long course will be around Lion Island. "Stroke the Lion" will test our skills
Thanks to the Race hosts Paddlecraft, to the Open Water Committee of PaddleNSW and to the sponsors:
Carbonology Sports
Vaikobi Ocean Performance Gear
Azure Ocean Wear
Nordic Kayaks
Prokayaks
Allwave GTG Livingwater
Banksia Arborcare
See you all at the Hacking Classic on the 15th June.
 


Race #X Brisbane Waters Sat 11 May Apr

STOP PRESS Fri 10 May Midday - Brisbane Waters Open POSTPONED
Yesterday the weather forecast was quite acceptable. This morning, it is not. With regret, The PNSW Harbour Racing Committee have decided to POSTPONE the Brisbane Waters Open race scheduled for Saturday 11 May
Unfortunately, we are at the mercy of the weather, and while we do the best to hold races in the conditions served up to us, we must err on the side of safety. Our upper wind speed limit is 18kts, which is around 32km/hr. The forecast is well above that.
The race will be rescheduled for a date after the 'Stroke the Lion' and you will be informed of the new date as soon as relevant permits have been granted. All entries for tomorrow's race will be transferred to the new event date
''*****************

Welcome to The Brisbane Waters Open, race three of the 2019 PNSW Carbonology Sport Harbour Series, hosted by Brisbane Waters Paddlers.
Lifejackets are required to be worn by ALL paddlers in this event.
Leg Leashes are required for all paddlers in this event.
Early Bird Entries close at midnight on Tuesday 7th May.
All entries close at midnight on Thursday 9th May.
Race Start is at 9:30am.
Race Briefing is at 9:00am.
Paddler Check-in is available from 8:00am, and closes at 9:00am.
On the Day Registration is not available

Race #2 Dolls Point Sat 6 Apr

Race Report - courtesy of Mal Odgers The Dolls Point Kayak Club hosted their popular event again this year with 120 paddlers registered and 110 on the water. The weather was calm with light NW with expectations of increasing to 15Kn north. The morning started chilly as we all entered onto the well-located parking area for chat and prep.
Following the well organised registration some took to the water for a warm up and inspection of the much anticipated first turning marker with Jezza noting strong incoming tide. The well organised race briefing followed at 8am with the 10Klm short course turning can at Novatel whilst the 14Klm Long course turning 90 degree at entrance to Cooks river heading east along runway then turning 90 degree again for the straight run home.
Three starts were had with Long course doubles leading off followed by long course singles and lastly short course. Tony Hystek voice was a feature at the start successfully containing the line jumpers. With the doubles away the single long course contenders started in a flurry with Tony Haines noting he hit 20Klm off standing start, so the pace was on! The participants in all three starts settled well into their groups with wash riding and turning buoy tactics much considered during the long straight-line hauls.
Long course female line honours were Montannah Murray first 1:15:250, Danielle McMahon 1:17:26.9 second followed by Suzie Rhydderch third in a time of 1:22:17.0
Male long course line honours went to Luke Eltham 1:05:11.1 followed closely by Cade Barnes 1:05:35.0 and Brett Greenwood in third place with a time of 1:06:07.7.
Short course female winner was Samantha Johnson 56:04.4 with second place only 5 seconds behind going to Sue Hobbs 56:09.08. Third place Michele Parker with a very respectful time of 56:55.6.
Male short course was taken out by James Haigh on a spec ski in a very fast time of 49:44.08 with Mal Odgers hot on his heals at 49:52.2. Third place short went to Riaan Bredell in 51:33.8.
Many thanks to all the organisers for hosting what is a great event on a lovely patch of water, well all be back next year!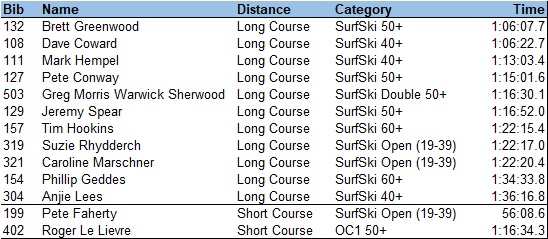 Above: Results for LCRKers and regular TTer's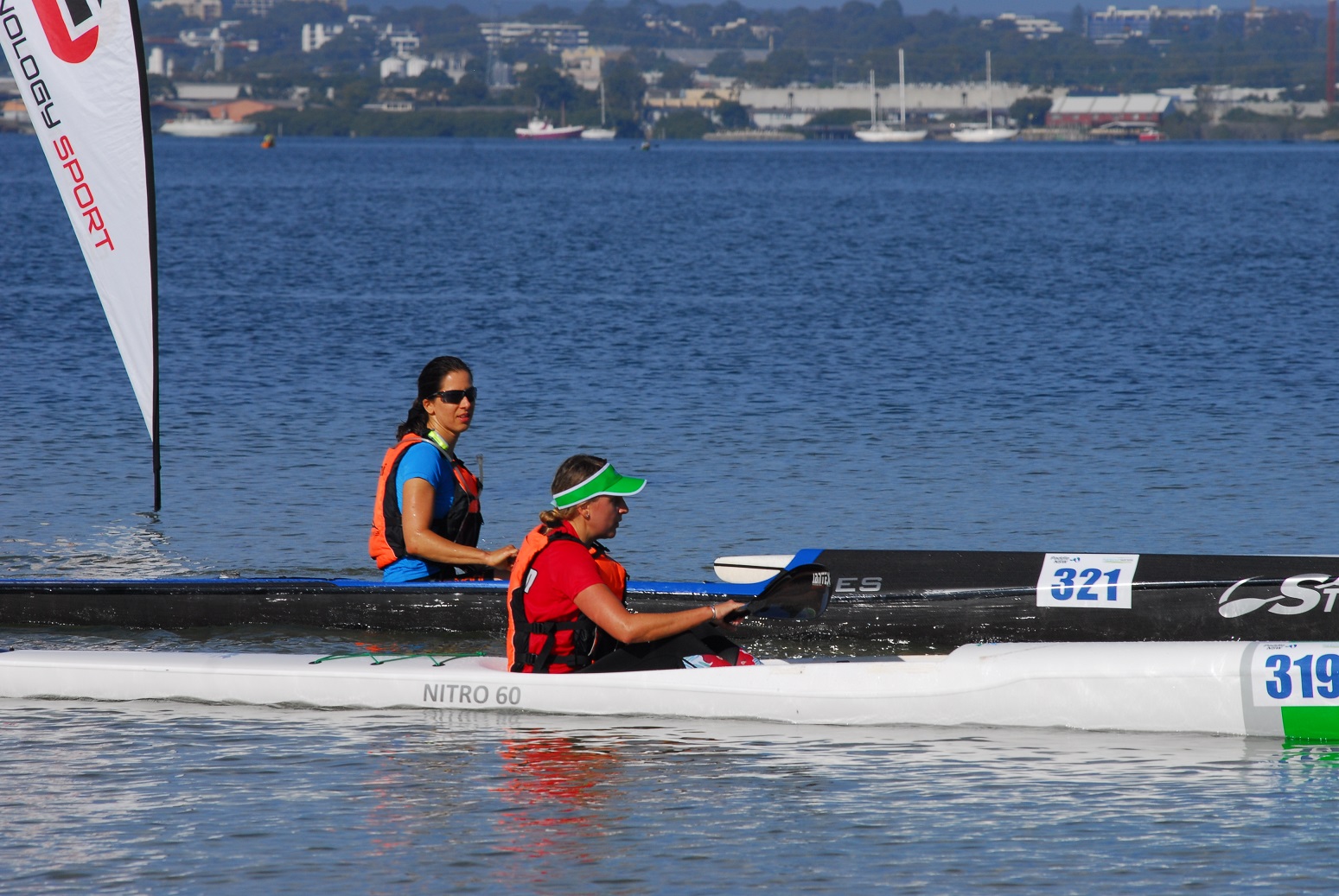 Above: Caroline & Suzie @ finsih
Race #1 Pittwater Challenge - Sat 30 March
Rece report courtesy of Andrean Duffy (pending a LCRK specific report from a LCRKer!)
Under wet a dreary skies, the 2019 Harbour Series kicked off with the Pittwater Challenge from Bayview on Sydney's Northern Beaches The rain didn't impact the turnout or the enthusiasm however, with 110 paddlers heading out for the 8km short and 14km long course. The rain eased and paddling conditions were favourable for a safe and fast race, with little wind and chop out on Pittwater. The local jellyfish population were out in force forming the bulk of the spectatorr crowd!. Paddlers were hopeful for a forecast northerly wind to help on the return leg, but it didn't eventuate until much later in the day. The winning long course double crew of Byron Chadwick and Tinus Koekemoer brought home line honours in a fast 1.03.17, and Luke Elman was the first soloski paddler over the line in 1.03.39, followed by Cade Barnes and Jamie McRudden. Young kayak superstar Nicci Vesely won the female long course in 1.15.48, followed by Danielle McMahon and Caroline Marschner. The winning short course double crews of Colin Biggin and Luke Hayes brought line honours in 45.51 followed by by Ian Heath John Nicotra, then Isaac and Peter Moran. James Haigh was the first solo ski paddler over the line in 50.27 followed by Riaan Bredell then another young Vesely, Ziko. Michele Parker won the female short course in 58.17 followed by Joy Robinson then Leisa Aitken. Short course mixed doubles was one by Lee Anne Andersen and Nigel Carson followed by young Liberty with dad Matt Blundell. The Series moves to the other end of Sydney on Saturday 6th, with #2 race taking place at Dolls Point. We look forward to another good turnout and an exciting race season ahead.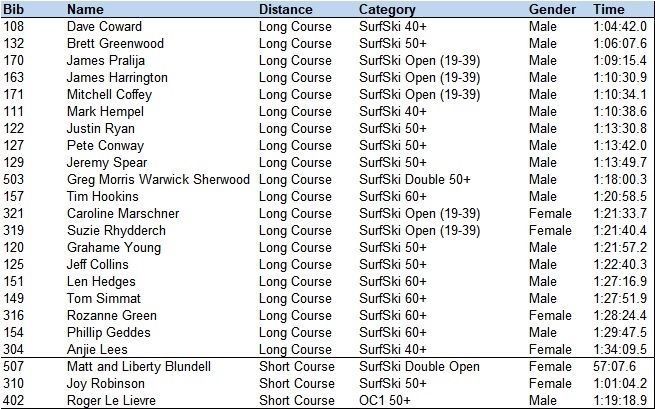 Above: Results for LCRKers and regular TTer's
Tingira Challenge - Sat 16 Mar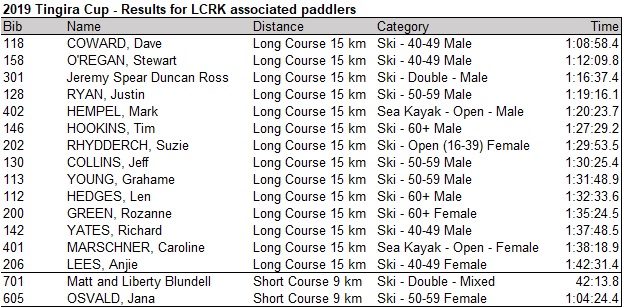 Above: Results for LCRK Associated Paddlers
Race report to follow......
Bridge to Beach 2019 - Sun 24 Feb
Race report from Josh Chant
While I'm sure there were a few other LCRKers racing in the bridge to beach, unfortunately I don't know them so this is going to be a pretty one sided report!
This year the race kicked off from Milsons Park in Kiribilli, as the usual launch point Blues Point Reserve, is having the foreshore rebuilt. With the new start of the end of the marina at Royal Sydney Yacht Squadron the race kicked off almost straight into the 15 knot Sou'Easter that was prevailing. A lot of people, including me, took a while to get settled into the choppy conditions as we bashed towards Bradleys head.
3kms later, it was a relief as we turned Bradley's head and started running toward Middle Head. It wasn't quite straight downwind running through the harbour as the breeze and chop had quite the side angle to it. As challenging as it was, most were handling this section of the race well and occasionally even catching the odd little runner that lined up. That being said every time the Manly ferry came past it was a bit like skittles with whole groups going over.
That was nothing compared to the conditions as we crossed Middle Head and over to Manly. With two days of southerly swell built up as well as some swell from Cyclone Oma reaching Sydney it was rough to say the least.
This was where I had my first swim, followed immediately by swim #2. Swims #3 through #6 followed not long after as I precariously made my way across. Even when upright I could only manage 6km/hr through this section. Slow going!
The fleet of kayakers, skis, SUPs, and prone board all compressed here as the majority of us went into conservative mode. Many of the SUPs were down on their knees or even bellies.
The front runners put in a really impressive display, with Sam Norton coming in at 43.07. Reportedly the rough conditions barely slowed him and the rest of the front pack down.
Just prior to Middle Head I was doing some mental calcs and thought I was in with a chance of finishing around 55min. Even though I picked it up as we started to get some shelter from North Head I crossed the line at 1:09:37, though very happy with the effort and looking forward to next year.
Compared to my last two attempts at the Bridge to Beach, thanks to the Wednesday night TT's, I was really comfortable with the distance and was pushing hard all the way to the finish. This year I was well out of practice in the rough conditions and it showed!
I hope next year some of my fellow LCRKers will join in for a bit of practice in the lead up as well as the race.

Above: Results for LCRK Members and regular TTers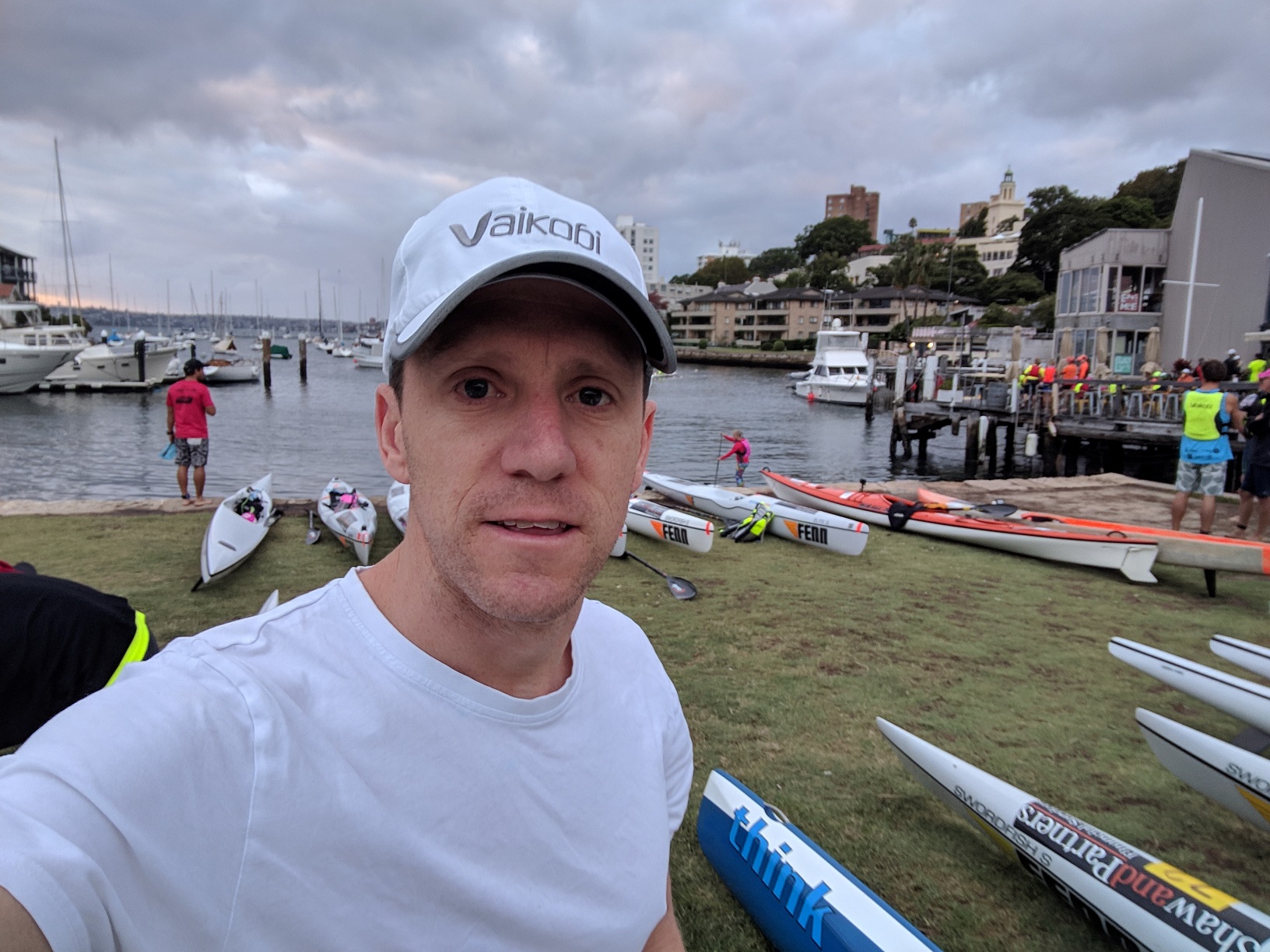 Above: Selfie at the start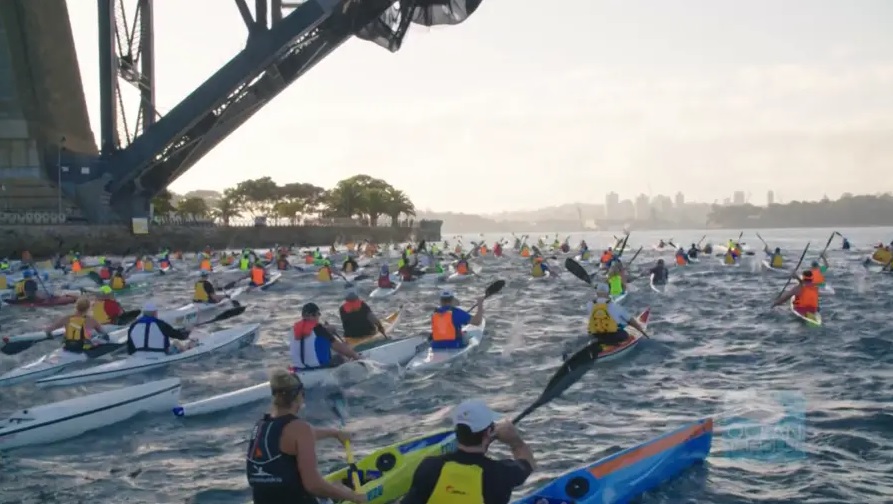 Above: Under the bridge (Photo: Oceanpaddler)