This is the relatively new series for the PaddleNSW Open Water Committee. There are 6 events in the 2017 Harbour Series. The series races are spread evenly over the months from January to August. Here is the official website.
Here are the dates for the 2017 Harbour Series:
2017 Harbour Series
#1 Thu 26 Jan - Cockatoo Cup - Drummoyne
#2 Sat 4 Mar - Pittwater Challenge - Bayview/Pittwater
#3 Sat 1 Apr - Tingira Cup
#4 Sat 13 May - Botany Bay Challenge
#5 Sat 10 June - Scotland Island Showdown
#6 Sat 8 July - Spit to the Zoo
Points Summary
(From Tim Hookins June 2017)
As we get to the pointy end of the Harbourseries this is what you are looking like! As you know you count your 4 best results of the 6 events. In some cases paddlers have done 3 events well and are lower on the scorecard as a result. By just doing the fourth they pop up into contention! We are preparing and polishing up the PaddleNSW Medals ready for the presentation on Saturday 8th.
Reviewing the Long course regulars:
30-39 Male Surfski sees Mitchell Coffey in top spot on 184 points. Though there was some serious competition at Scotland Island in the form of Daniel Tamsett who is poised on 148 followed by Andrew Wilkinson on 146. Andrew is on fire after his trip to Hawaii to do the Molokai. Not totally out of reach is Rodrigo Matamala on 124.
40-49 Male Surfski: Dave Coward is almost untouchable on 198 – well, he is untouchable- Bruce Dailey is Mr Consistent on 162 having done all 5 races. Graham Dadd comes up next on 156 having come a perky 7th in the last 3 races. We will have to watch John Diggin closely. His 142 points will jump to 190 plus if he does ok on Saturday 8th. Jamie McCrudden and Steve Sey are also there with 138 points apiece.
50-59 Male Surfski: In a field of 38 paddlers Bruce Moller reigns supreme for the moment with the threat of Greg Cardwell who has 142 from 3 races. This will be close! Not forgetting Justin Ryan who is at the moment in second place with 158 Another threat is Michael McKeogh who may jump places from 138 when all four races are considered. Brett Shepherd and Jezza Spear round out the placings with a tie in 5th place on 122 points.
60 plus Male Surfski: Tom Jones is cruising to victory here with a hard to reach 194 points followed by a dogged Jim Parker on 188. Yours truly, Tim Hookins, is amazed to be in such exalted company on 162 points but it probably won't last when Mark Gillett, now on 136, gets his full ration of points with another appearance on Sat 8th.
20-29 Female Surfski: Suzie Rhydderch is riding high on an unbeatable 196 but facing increasing competition from Montannah Murray on 150 from 3 races and Nina Malmstrom on 184. What will happen on Sat 8th?
40-49 Female Surfski sees Justine O'Connell on top with 190 points even though she been denied top placing by a series of one time paddlers! Consistency does it!
50 plus Female Surfski crown is safely in the hands of Rozanne Green on the full 200 points even though she won't be at the final event. Our best wishes go to Rozanne competing at the Maccabi Games in Israel in swimming events. An opportunity opens up for Sharyn Whitton, currently on 142, to get close to the magic 200 points if she competes on Sat 8th. This is the first time we have run the women's 50 plus category. There have been 7 different women trying out this one.
Female under 40 OC1: Kayleene Eagles will get this for certain with the full 200 points if she just enters on Sat 8th. See you there Kayleene!
Open Double Surfski: Lots of showboat entries have been recorded in this category this year, the only consistent ones being Peter and Isaac Moran. They are on 136 points but will reach the dizzying heights of 186 if they just front.
The short course competition is more serious than you would think:
40-49 Male Surfski: Tony Hawkins has won most of the time putting him on an unbeatable 198 points with Barry Archer coming up at 144 which could catapult to 194 if he does OK at S2Z.
50-59 Male Surfski: Ian Heath will take the crown in this category in which 13 different paddlers have competed so far. Michael Keenan is currently on second with 190 points. John Hobbs will be close on 184 and there are two outside chance medal winners in Steve Supple on 172 and Scott Powell on 126. Let's not forget Jules Hall on 126 could get up to the 170s on a good final result.
Open Double Ski: The consistent couple John and Angie Nicotra will take this one having won 3 of the 4 races they have done so far. Joanne Gillies and Bradley Field have a string of 48 point races and have ended up with 188 points so far.
Open Male SUP: Though there have been 17 SUP paddlers in the Harbourseries Drew Brown is the only one to have done 3 events. If he just does another one on Sat 8th he will get the medal.
Finally, the new category of 50 plus Female Surfski has attracted 11 paddlers over the series. In an unimpeachable lead is Sue Hobbs on 200 points followed by Michele Parker with a string of 48s and finally a 50 giving her a total of 194. Susan Fine is next with 190 followed by Julie Pearson who also has a chance to medal on 170.
There will be gold, silver and bronze medals for the placegetters at the presentation after the event on Saturday 8th on the beach of the Middle Harbour Yacht Club
Details
Sat 8 July - #6 Spit to the Zoo
Harbourseries: Spit to Zoo 2017 Race Report, by Suzie Rhydderch
"Paddling hangover" a state that describes waking up sore from the morning before, with a slightly blurry recollection of details from the race that was, with the promise of stories from friends you shared the day with, and the only possible cure is to get up and out on the water again! I imagine there are about 160 paddlers today that experienced such a state upon waking this morning after yesterday's Spit to Zoo race (and how many of you got out and "back on it" as they say?)
It might have been the final race of the Harbour Series for 2017, but that didn't stop 20 or so new paddlers lining up for their first event. And what a day they chose! With the sun up, the wind down, and almost no swell predicted, the harbour was about as inviting as it gets. Hard to believe it was winter out there.
Standing on the beach in front of the yacht club, it was so encouraging to see boats coming from all directions to take part in this iconic race on Sydney Harbour. What struck me the most was the number of young paddlers, and the biggest fleet of females I've ever had the pleasure of competing with - Women on Water woohoo! I think we have Jimmy Walker, and a rival crew from Newcastle to thank for bringing along these enthusiastic, competitive, confident athletes - I'm yet to hear who took home bragging rights...
A mass start for all competitors, long and short course, from single skis to OC6's took place at 9am (about 9.03 for a few people who were some distance from the start line when the hooter went off - oops!). With plenty of speed required up front to jump on the wash of three elite double crew, there was no time for hanging around. As the fleet neared Grotto point, those paddlers in the 8km short course veered right (some more drastically than others), and they continued a rectangular course that saw them hug the coastline inside middle head - taking in Balmoral, Chinaman's Beach and returning back to the moored boats at the yacht club.
Paddlers in the long course carried on out past grotto to a very tame middle head, which can offer up such a challenge on most days. But not yesterday (much to the disappointment of some paddlers!) In saying that, there were runs for the taking, and I found that when I took my focus off catching the group in front, and put my head down and tried to read the water, I gave myself a better chance! It's a spectacular scene to paddle past the coastline that includes Obelisk, Chowder Bay, Clifton Gardens, Tailor's Bay up to Bradley's Head (apologies to any bays I missed out!) Once around the "lighthouse" at Bradley's, it was a bit of fun in the choppy water down to the marker off the zoo, and out to the "Panadol" marker - so aptly named! The group I was in had to contend with a boat wash as we turned the marker, which made for some quality down wind waves all the way back to the lighthouse. A few decided it was a good place to cool off, and took a dip, only to ably remount a few moments later - nice work guys! The return leg was assisted by a gentle push from the SW'ly behind us and again, if you could find the lifts, they were a welcome push along.
Being a back of the pack paddler, I rarely get a chance to see who is fighting it out for line honours, but as the group did pass us on the way to the zoo, I can comment that there was some fierce racing by the doubles - made up of Andrew Love/Keithley Burn, Dean Gardiner/Mitch Trim, and Joe Kearney/Sam Hart - with Lovey and Burn taking the bickies on this occasion - impressive win! And in a battle for the singles title, and the honour of having your name engraved on the Mike Snell trophy, it looked like young gun Noah Harvard was going to claim the win. But showing experience, determination, and a massive heart, Dave Coward came from well behind (at least when I saw him) to dig deep, turn himself inside out (apparently) and win the title in a sprint finish - wow! Exciting racing over the 16km long course.
Middle Harbour Yacht Club, together with the Open Water Committee orchestrated a seamless event, from registration to presentation and all bits in between. These events don't run themselves, and without the work that goes on behind the scenes, us paddlers would not have the privilege of competing in such sensational and safe races. And a huge thanks to our race sponsors: APS, Barz Optics, Epic Kayaks, Jantex, Prokayaks, Vaikobi, Vajda who offered up such generous prizes, that some paddlers went home feeling like Christmas had come! Being July, maybe it is time to get the eggnog out, put the feet up, and recover from yet another paddling hangover...
Sat 10 June - #5 Scotland Island Showdown
Race Report - from Suzie Rhydderch
I'm going to start with an apology, as I've kept you all in suspense for far too long, waiting with baited breath (I'm sure) for this latest harbour series race report. It's not because I've been lost out in the Pittwater wilderness for the last two weeks (though that actually sounds appealing…), I simply dropped the ball and plum forgot! A significant other's significant birthday had me chasing my tail planning fun and frivolity. But the party's over now, and I'm back!
So let me cast my mind back… It was a wet old Saturday we woke up to for race day, but while most of us were slowly pulling the blankets off and wishing the rain would go away, the race organisers, care of the team at Paddlecraft Bayview were out there amongst the elements laying the course and wishing the torrential rain would go away even more than the rest of us!
And all this wishing must have worked! Because as the cars started rolling into Bayview, the clouds were holding onto all their precipitation (for a downpour later!), and we were able to mill about and register with our thermals still dry!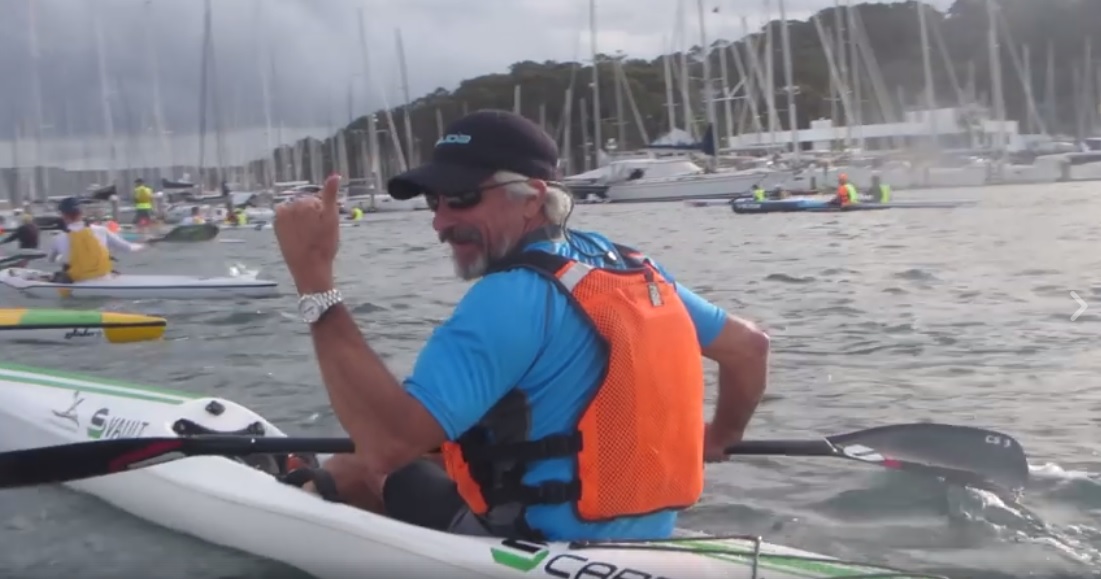 Above: Jez, giving the photographer directions
As always, our very own Jezza does a fabulous job of organising people and events so that we all know just where we're headed. And on this occasion, it was North, with the SW'ly providing a lovely push when the hooter sounded.
It was a case of choose a line and commit, with a handful of elite paddlers vying for position on the wash of super speedy, double trouble, Brett and Brett (Greenwood and McDonald). The most successful of these candidates was the ever reliable Dave Coward, who I'm told "turned himself inside out" just to stay in touch with the duo. The three of them pulled away from the field and I believe it was a race to the turning can off Longnose Point, before the double used their second engine to punch into the wind for the return leg, and Dave was left to battle on solo.
Speaking of battle, that's what it felt like when the rest of us turned at the buoy to head back down past Scotland Island and into Elvina Bay. When paddling into a head wind, I wish I could grow muscles like Popeye! But in the absence of that, I just put my head down and tried to stick with Jez, who by this stage had come up beside me and was quickly making a bigger and bigger gap. It felt like a looooong leg down to the bottom marker, but once we turned, there was some relief from the headwind and I was able to sit on Jez's wash as we hugged Scotland Island (thank you!). Out the other side, and it was a punish to the finish, with more than a stiff breeze determined to make me work hard for my soup and roll at the end.
We had a really great turn out of paddlers from Lane Cove, with Dave C, Mark Hempel, Justin Ryan, Pete Conway, Graham Jeffries, Jeremy Spear, Tim Hookins, Roz Green and moi taking on the long course distance, of 14-odd kms, while new (to LCRK), enthusiastic and super capable paddler Caroline Marschner tried out a ski in the short course event (way to go Caroline!) I do apologise if I've left anyone out of this list – it's so easy to get caught up in your own little race within the race (such as mine with Jez).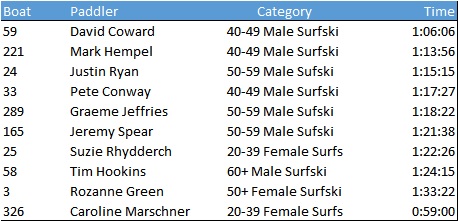 Above: Results for LCRKers (let us know any omissions)
There's something extra exciting about being out there with paddlers you line up next to every week and seeing who's going to take the bickies on this occasion. And by that I don't mean any prizes for coming first, second or third, but simply giving it your best and having a healthy rivalry with your fellow team mates, and then giving each other heaps off the water. That's probably one of the things I love most about paddling – such quality people, from all different walks of life, coming together with a shared appreciation of the sport of paddling – it doesn't matter what you paddle (does it Tom Simmat??), or how far you paddle, or even how well you paddle, just that you're out there giving it your best like you're vying for selection for the next Olympics. So, till next time, keep up the good work team!
Sat 13 May - #4 Botany Bay Challenge (Dolls Point)
From Suzie Rhydderch... At the risk of sounding British and (yet again) talking about the weather, HOW GOOD WAS THE WEATHER for Round 4 of the 2017 Harbour Series - The Botany Bay Challenge?? I did think, "where else in the world can you paddle two weeks out from winter in a t-shirt and shorts?" So as the phrase goes, it was suns out, guns out, and not just in terms of the hot field of contenders that rocked up to take the race title. Amongst the Lane Cove regulars vying for the top of the podium were Dave Coward, Stew O'Regan and Cameron Cox, who mixed it with the likes of Sasa Vujanic, Dean Blanche and Brett Greenwood. As you can see, these guys are successfully transitioning from flat water marathon racing to harbour/open water events.
In saying that, you could have effectively paddled your K1 there last Saturday - it was that flat! What a contrast to my first harbour race at Dolls Point, where I aborted and spent some time on a nearby sandy beach, wondering how I was going to get home - considering whether swimming without my ski was faster than swimming beside my ski. I suspect this had more to do with my lack of ability than the size of the waves that day, but needless to say, it truly was Botany BAY this year.
The course ran parallel to the beach, heading for Centre Point Tower (which we could just make out through the low fog), before turning sharply and running parallel to one of the runways of Sydney Airport. What a buzz to be keeping pace with a taxiing plane. Perhaps the only time I'd rather be doing what I am, than sitting on a plane heading overseas somewhere. Another turn at the end of the runway, and it was a race for home. For me, it was a day of many chances... Perhaps starting out too fast, I lost the wash of the group I was chasing, and then enthusiastically tagged on to the back of boat, after boat, after boat, after boat that came through. Finally feeling capable of keeping up with about the fourth gentleman to come my way. This was after he kindly told me that the guy ahead who had just dropped me was 61 years old. As you can imagine, spirits were soaring about as high as the grounded planes on my left...
In addition to the hot shots who to me are always a dot in the distance (and I eagerly await post-race rivalry stories over coffee afterwards), I was super proud to see the field littered with Lane Covers, stepping out of their "pristine" river environment to take on a different kind of challenge. Notable mention to Mark Hempel, who in a sea kayak finished in the midst of fast finishing Jezza Spear, Pete Conway (who's getting better every time he paddles!) and Graeme Jeffries, all on skis. Then a whole host of us continued on for a few more minutes... and perhaps were rewarded for our persistence when a pod of dolphins (how many are required for a pod - I saw at least three) cruised past (and I suspect under) us as we came in for the last turn.
I want to also make mention of those who took on the short course - Brent, Caroline and Anjie. A reminder that if you're looking to have a taste of harbour conditions, there's always a short course to partake in (and the next course in Pittwater on Saturday 10th June is pretty as a picture, whichever course you opt for). Now it's unusual to see Anjie take on anything less than about 1000km, but I believe she had to be in Springwood about half an hour after she was due to finish - always one to fit as much as she can into any given day.
All in all, it was Sydney Harbour at its best, and as always, a privilege to be paddling.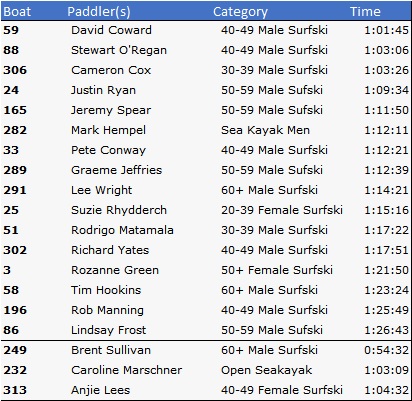 Above: Results for LCRK paddlers

Above: Some of the flotilla. Photo: Australian Paddle Sports
Sat 1 Apr - #3 Tingira Cup
(From Cado Barnes and Jamie Mc ex Facebook)
Shark Island Paddlers always make this race worth the effort, and 2017 was a couple of kilometres longer this year. With 18.8km to race, and a cash prize for the first male and female to the sprint can, it was going to be a race of speed and endurance. A very fair jump start got every one off and going. After Cade hit the sprint can first it was a matter of settling into the race plan and enjoying the grind. There were small runs and boats washes to work with out to South Head. The return leg also came good in spots, with small runs and some rebound off the rocks. The toughest section was the last 2km to the start finish, and it was not any better the second time around.
These harbour races are a great test of physical and mental endurance, and you only had to be at the finish line to see paddlers had left everything out on the water. Was great to see Cade on our Vajda Next Elite cross the line in first place, with myself managing to hold out on the Next Elite for third place. A thanks has to go out to Shark Island Paddlers, PNSW, sponsors, and all the volunteers, from boat safety on the water, to those who give their time to photograph and video the event. Looking forward to next year.