LANE COVE RIVER KAYAKERS
Marathon Series #4 - Lane Cove - Sun 14 April 2019
(Doubles Round - incorporating State Doubles Championships)
Welcome to Lane Cove River Kayakers hosting of race 4 in the PNSW Marathon Series. Many paddlers would recall the fun we had at the 2018 LCRK Doubles Round with 70 doubles, 75 singles and 215 paddlers! Well it's on again - this year being run in conjunction with the State Doubles Championship. We offer an interesting 10km deepwater course starting upstream in a mangrove lined stretch of the Lane Cove River, opening out to the waterfrontages of Hunters Hill and Linley Point, with distant views of the Sydney Harbour Bridge from the bottom turn.

Above: LCRK Marathon - bottom turn
Useful Links

Above: RMS tides
Racing Format
This is a Divisional Racing round with Divisions 1 – 13 per the normal Marathon Series format we're used to. Some subtle differences though to accommodate this as a Doubles Round and State Doubles Championships:-
Regular Doubles combos should enter their regular Division
New Doubles combos are not required to complete a ranking race. New Doubles combos should enter one Division faster than the fasted ranked paddler (eg if a Div 3 paddler pairs with a Div 4, they should enter Div 2 for this round)
Entries will be reviewed by the Marathon Committee and 'Fair Play' adjustments may be applied
Distances of 5/10/15/20/25km will be offered. Division 1 will race 25km (self-promote if you wish)
A mandatory portage is included for Division 1. Portage is a mid-river sandbar at Fig Tree Bridge (Burns Bay Rd) on the return from bottom turn (2 x portages for 25km distance). Any exceptions (eg injury) - 'no advantage' rules apply.
Points
Marathon Series Individual Points
Singles paddlers

(in a single) will earn points based on finishing position in their Division (50 points for 1st etc).

Regular doubles combos

will similarly earn points based on their finishing position.

As will

New doubles combos…

Additionally,

Regular singles paddlers

who paddle a Double will earn a flat 46 points to their

regular

Division.
Marathon Series Brian Norman Club Trophy Points
Per usual, Club points will be earned based on the best 2 boat performances per Club in each division.
In addition, each Double gets 50 Club bonus points (per finishing boat). Paddlers must nominate same Club.
Marathon Series ICF Trophy Points
Awarded to finishing ICF boats who nominate their boat as ICF.
State Doubles Championship Placings

Those nominating State Doubles Championship participation with their Webscorer entry will have their result determined by backcount – based on average boat speed for selected distance.
Schedule

After parking your car – please transfer your boat straight to the marked area for your Start in the staging area.
Each Start has an allocated staging area – please use the correct staging area for your Division
Register &/or collect your number per normal.
Race briefing will be provided at around 10:00am
After the briefing, each Start will be staged to the pontoon for launching. This is being done to minimise the risk of pontoon bottlenecks and associated frustrations. Please be ready to launch early when your Start is called.
First Start is expected at 10:45 then intervals of 2 to 3 minutes (larger starts will require larger interval to ensure all are launched etc).
BBQ, food and drinks will be on sale throughout the event
Safety boats will be deployed across the course including 4 powered boats. LCRK volunteers will be in attendance to assist throughout the event. A life jacket is mandatory and footwear is recommended for all paddlers.
The course map is as shown below (or click on the link above for a zoomable version).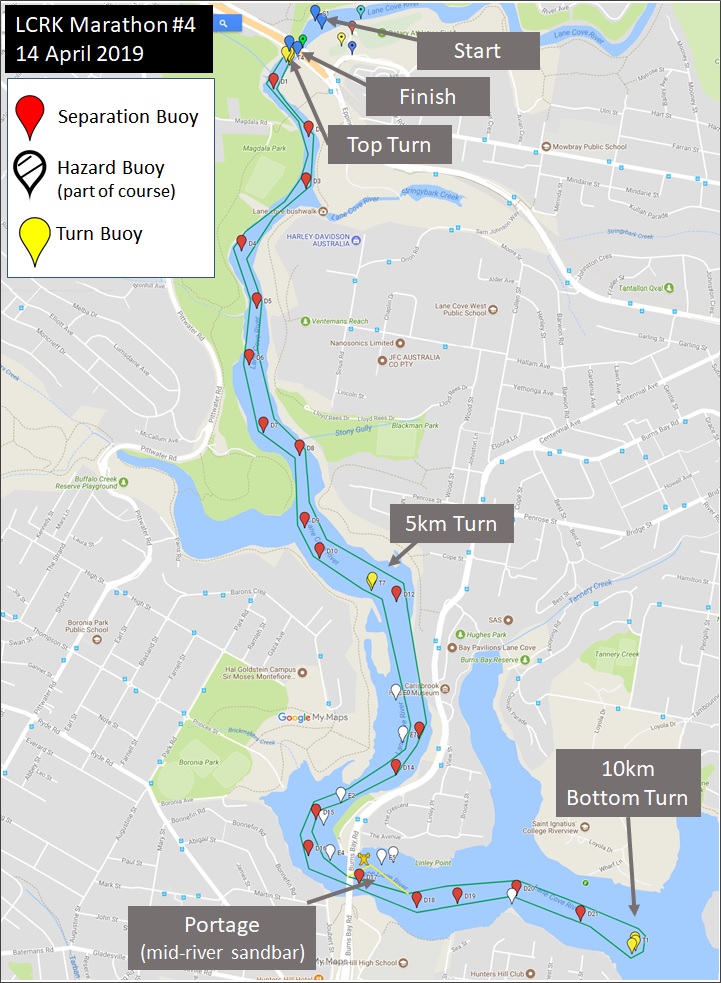 As can be seen from the map, the Lane Cove River has lots of twists and turns, and sections which are navigable at high but not low tide. Last year course length was 'just right' - due to it being set with both separation buoys and ALSO with Hazard buoys which are . The Hazard Buoys are black and white striped - signifying no corner cutting, do not go shoreside!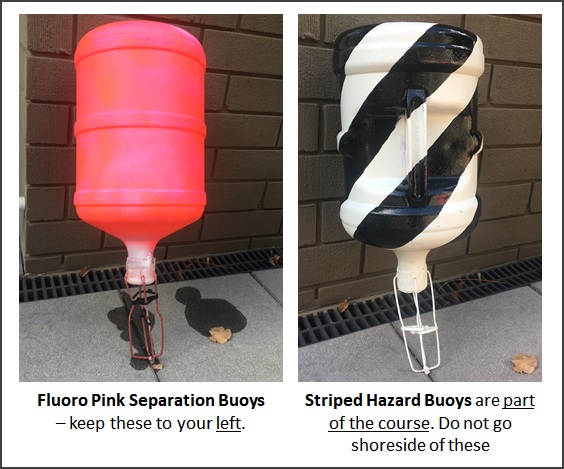 There wil be a portage which will be conducted on a midstream sandbar on the return leg from the bottom turn - both 1st and 2nd lap. Map shown below - bottom turn is to the right of the map. Footwear is recommended: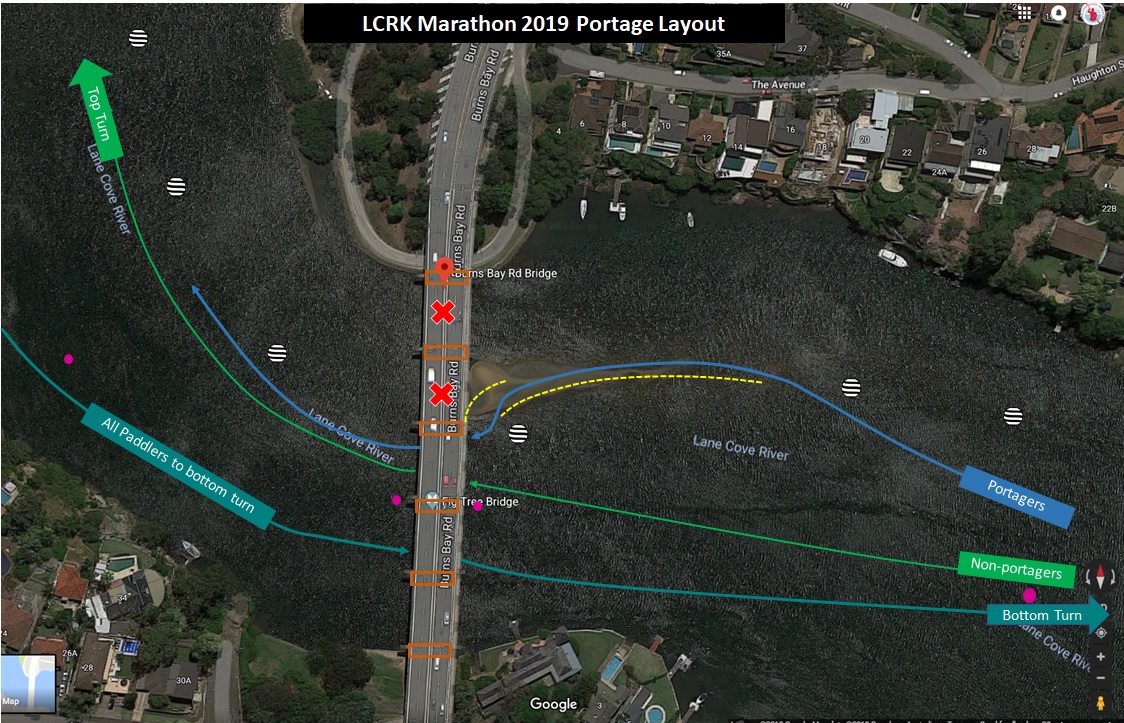 We look forward to seeing you there!

We have a strong membership base (over 120) with a broad range of ages and a reputation of being a relaxed and friendly club. While competitive on the water we are at all times very supportive of one another.
LCRK has established itself as one of the most active marathon paddling clubs in NSW with high levels of participation in events such as the: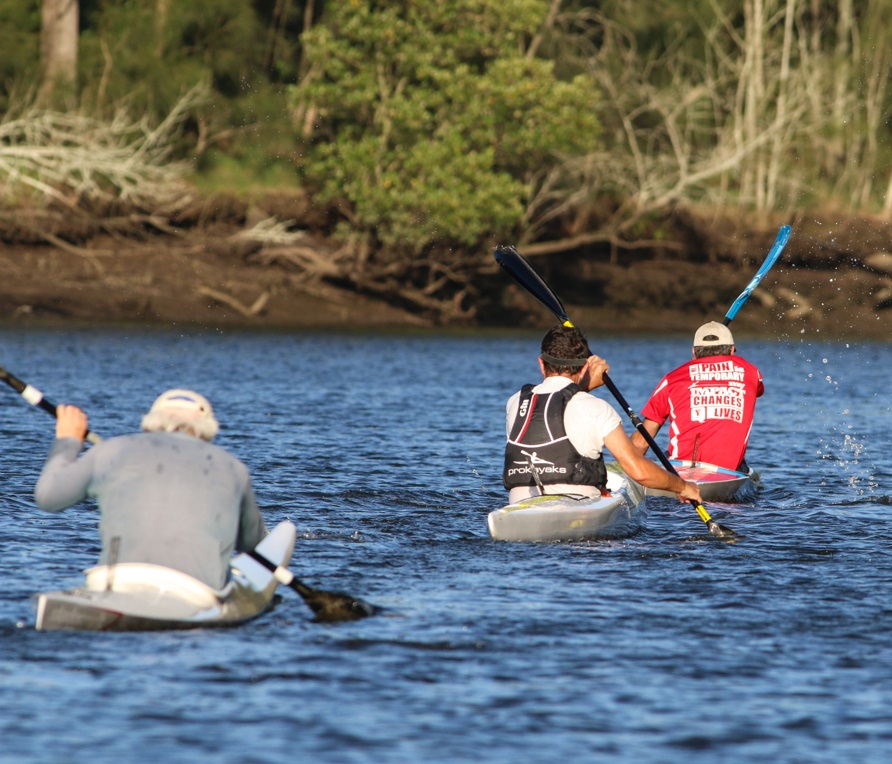 Amongst its many achievements the club is a regular winner of the Hawkesbury Canoe Classic's Commonwealth Bank Cup, with members holding several class records.
Members also participate in harbour racing and sprint events and internationally in endurance races such as the Yukon River Quest (Canada) and the Fish River Marathon (South Africa) and in associated sports like multi-sport and adventure racing.